Everton History
'Flicka' – The Life of Graham Williams (1936-2018)
Rob Sawyer

21/02/2019
10

comments | Jump to last
Share:
George Graham Williams was born in Wrexham on 31st Dec 1936. Like most boys, Graham (as he was always known) enjoyed playing football and soon displayed a clear aptitude for it. Progressing through his school teams, he was selected for the Wrexham & District Schoolboys representative side, going on to play for the Wales Schoolboys team against Ireland, Scotland and England (the latter including Duncan Edwards in the line-up).
After dalliances with interested club scouts, including those from Cardiff, Spurs and West Bromwich Albion, Graham started his senior career as an amateur with Wrexham whilst completing his apprenticeship in carpentry. Having signed pro-forms with Oswestry Town he followed the former Wrexham manager, Peter Jackson, to Bradford City in August 1955. Graham recalled how he was becoming dispirited in Yorkshire when there was a surprising turn of events in March 1956: 'I couldn't stand it at Bradford. I packed my bags one Saturday morning – we were playing at Chester. I said, "Boss, I am going home and not coming back." I was at my place of work, as a joiner, on the following Wednesday when Peter Jackson called in there and said, "I am getting you transferred to Everton." I was with them by the Thursday. He wanted to get what fee he could as Bradford were struggling to pay the wages.'
Graham's signing was the first made by the Everton Sub-Committee, set-up to oversee playing matters in the wake of manager, Cliff Britton's, resignation. Graham was thrown straight into the first eleven, at home to Sunderland, in place of the long-serving left-winger, Tommy Eglington. Graham garnered a positive review from Ranger of the Liverpool Express in the 2-1 defeat by the Wearsiders:
'The one consoling feature of the defeat was the promising display of Graham Williams, the small but stockily-built newcomer from Bradford City, who, remembering what a big jump he was taking in Soccer standing, shaped exceedingly well. Williams reminded me very forcibly of Jimmy Caskie. He has the latter's speed and positional sense and had he been brought more into the game he might well made an even more promising debut. While it is impossible to judge any player on one display, for the acid test is how he performs over a lengthy period and under varying condition, Williams certainly looks an excellent buy at the very moderate fee Everton have paid - which is not as high as most people think. Those who were inclined to be critical when they saw his lack of inches altered their opinion. Any player is big enough if he is good enough.'
What Graham, at 5'5" lacked in stature, he compensated for in attitude and confidence. Everton teammate Derek Temple recalls: 'I was on the Everton ground staff as a lad when he arrived - he must have only been 18 then, himself. He was a cocky devil - full of confidence. They brought him in as a promising youngster, but he never really fulfilled that promise for Everton.'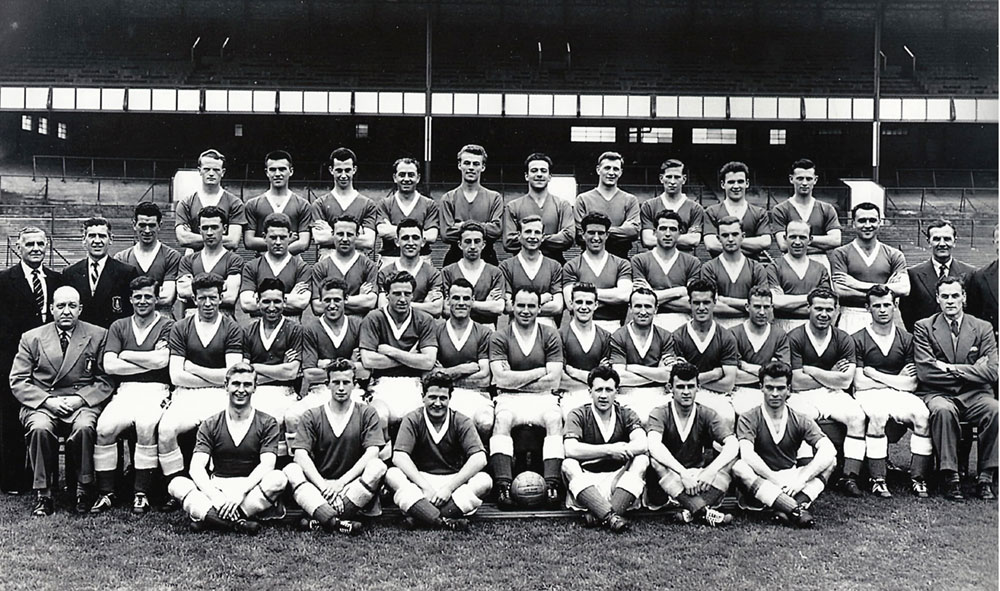 Graham Williams and the Everton team
After the debut Graham returned to the reserves, with Eglington restored to the first team. He would compete with Eglington and Eddie O'Hara for the number 11 shirt for much of his Goodison career. In the summer of 1956, Ian Buchan was engaged as Head Coach, in lieu of having a de-facto team manager. The former PT instructor set about trying to make the squad the fittest in the land – with, initially, promising results. Graham rated the novice coach, and his conditioning ethos, highly: 'Ian – God rest his soul - was an absolutely wonderful man You could not help but love him really, he was smashing. We had a gym under the stand at Everton and they introduced a weight training circuit.'
Graham's first senior Everton goal came almost a year after his arrival on Merseyside, in a 3-1 away defeat of Birmingham City. Early into the 1958/59 season, with Everton struggling, the directorate reverted to the traditional managerial model with highly-rated John Carey arriving from Blackburn Rovers. The Irishman gave Graham fresh hope that he had a bright future on Merseyside: 'I first met Johnny Carey when I played for the reserves at Blackpool. After the game he sat next to me in the changing room and said, "Graham , you had a lovely game today. I'm going to be your manager now - and you're going to be my left winger." 'That made me feel so good that I wanted to run back onto the Blackpool pitch.'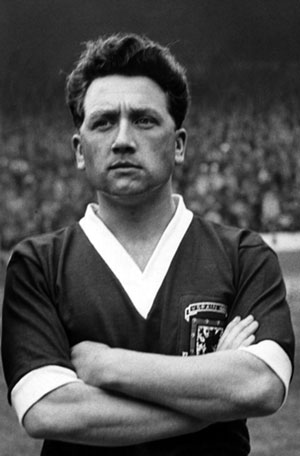 Graham Williams representing Wales
Sadly things did not pan-out as expected – due in part to Graham's determination to play, even when not fit: 'After playing about 14 games on the trot for Everton we played Charlton at the Valley in the FA Cup. I was in the Army doing my National Service (Ed. Graham made 10 appearances for the Army representative team) and I had a heavy cold and hadn't trained. Bobby Collins was my inside-forward and both of us had a stinker, but we drew the match, two each. Leslie Edwards, reporting on the match for the Liverpool Echo and Evening Express, wrote:
'It was clear, almost from the start, that young Graham Williams, who was suffering from a heavy cold, seemed a little over-awed by the occasion. Certainly he has rarely played less effectively. Had he shot as we know he can, Everton might, reasonably have spared themselves the risk of a replay.'
Horace Yates, observed, in the Daily Post:
'Williams did not do himself justice... Everton's attack at Charlton was lopsided because of the ineffectiveness of Williams, and the subjugation of Collins.  If Williams had been able to dance his way past Sewell as Jimmy Harris did against Townsend, the complacency of the defence might have been shattered much earlier than it was.' 
In the aftermath of the match, Graham received disappointing news: 'After the game I was in the canteen under the stand at Goodison Park, when Gordon Watson, the trainer, came in and told me that the boss wanted to see me in his office. I knew, then, that he was leaving me out of the team. But I would not have played in the match at Charlton had he not persuaded me to so! I'm afraid that I told he that he could stuff Everton up his arse!' He left me out of the team for the replay. I was raging – if I'd had had a car with me I would have gone home. The team beat Charlton 4-1 in the replay and I did not get in the first team ever again.' Then, when I played against Manchester City for the reserves, Trevor Morris was watching me and within 2 or 3 days I was a Swansea player'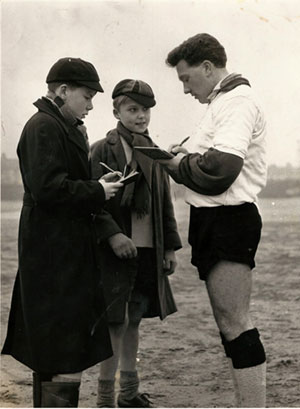 On 5th February 1959, Everton agreed terms with Swansea Town for Graham's transfer. He travelled from his army barracks in Stratford-Up-Avon to meet the Jacks' manager, Trevor Morris and look at houses in Pembrokeshire. The deal was concluded that evening and Graham never looked back: 'It was the best move I could have ever made. Once Morris recognised what he had in me, he gave me a lift; I felt like I could jump over the stand. I played in 91 consecutive games and scored 18. I was tapped by Leyton Orient and Ipswich (by Alf Ramsey) – this was the type of thing that went on quietly, if they got you on your own.'
The period 1959-62 was the most productive of Graham's career, playing alongside the likes of Ivor Allchurch. With his low centre of gravity, stocky frame and turn of pace, he was an effective raider down the left flank. Swansea won the 1961 Welsh Cup final against T.G. Jones' Bangor City – this led to his Graham's first experience of European football via the Cup Winners' Cup. It was, also, during this period of his career that Graham made all five of his international appearances. A career highlight occurred on 14th October 1961 when Graham scored the goal (captured on Pathé News) that earned a hard-fought draw against England at Ninian Park (Ron Springett also saved another excellent strike by Graham). Bryan Douglas of Blackburn Rovers equalised for England, whilst the likes of John Charles, Bobby Charlton and Bobby Robson were also on the pitch that day. Graham recalled: 'I scored the goal against England in front of a capacity crowd at Cardiff – I was the Welsh hero for a fortnight!'
The blossoming promising career came to a juddering halt at Ayresome Park on 10 February 1962 when Graham suffered a double leg break. In sharp contrast to today's arrangements for injured players, Graham's journey home was a convoluted. He was detained in hospital until fit to be transported to Swansea. Graham recalled: 'I can remember it like yesterday, I was in Middlesbrough Hospital, then it was an ambulance to Darlington, then a train to Cardiff. There was not another passenger train to Swansea for an hour, so I went from Cardiff to Swansea in a guards' van with the chickens!' A photograph taken at the beginning of the journey shows Graham, leg in plaster, being transported on a platform baggage trolley at Darlington station. Different times, indeed.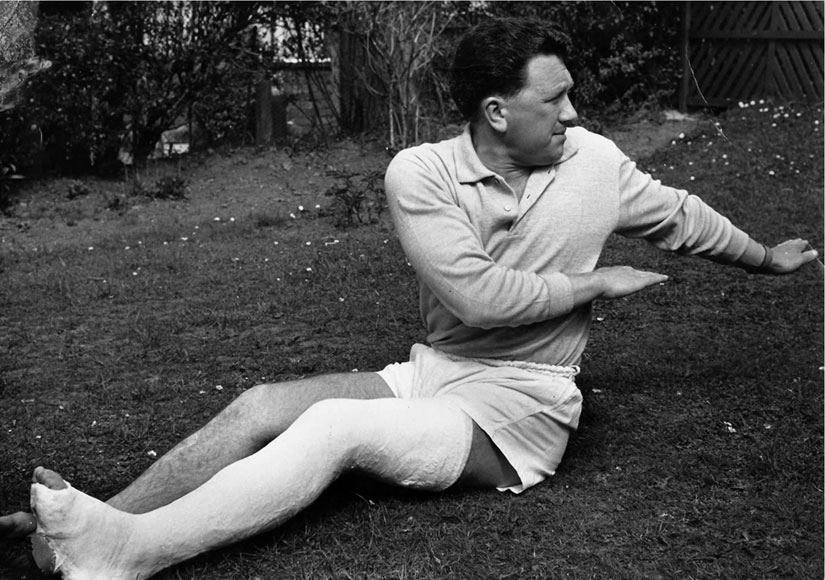 The injury, in spite of Graham's best efforts at rehabilitation, would take two years to fully heal and ended his Swans career. Looking back ruefully, he said: 'If I hadn't broken my leg I would have been in the class of Cliff Jones.' Granted a free transfer and heading back north, he spent the 1964/5 season playing, once again, for Wrexham (including a short spell on loan to Glentoran). From there, it was a season at Wellington Town (now Telford United). Graham still had his sights set on a return to League football and requested a trial period at Tony Waddington's Stoke City, to train and prove his fitness: 'Mr. Waddington let me have as much time as he could afford me (a month) to train with Stoke. I have always been grateful for that. I would have loved to have signed for Stoke but when it came to the time to make a decision, they had two left wingers and two right wingers. "Graham," Tony said, "I am not going to kid you on – if you come here you will be in the reserves and it is not worth it for the club." I was disappointed but I bounced back at Tranmere Rovers.'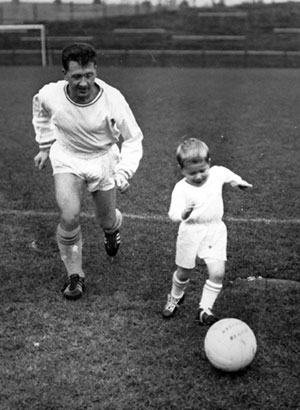 The switch to Prenton Park brought about a remarkable resurgence in Graham's footballing fortunes. Graham was instrumental in getting the club promoted from the Fourth Division in 1967. Graham recalls the elation of a return to the Football League: 'Tranmere was a wonderful club – I played over 90-odd games for them when I made my comeback. We had such a good team – apart from a couple of rogues! I was big mates with George Yardley, the centre-forward. We got promotion, with me playing 46 games. It was as if I had a new pair of legs.'
Graham's final season in the Football League (1968/69) was spent at Fourth Division Port Vale - this brought the curtain down on a 14-year Football League career with a total of 273 appearances and 48 goals. 'Flicka' (a nickname gained during his time at Swansea for his knack of flicking the ball up with his left foot) wound down his playing days at with Runcorn and a second stint at Oswestry Town (his son, Phillip, also played there in the 1980s and had a trial at Everton).
After leaving football Graham settled back in Wrexham working for the local council, utilising the carpentry skills he had learned in his teens. He poured his competitive energy into playing golf, securing a scratch handicap at his peak and maintaining a single figure handicap until knee problems brought an end to his enjoyment of the game in his mid 60's. Graham remained a lively character around his native Wrexham. In the autumn of 2018 he told me: 'I am 81 and, honestly, I have had a super life. I enjoyed being at all my football clubs. I have a beautiful wife and four lads.' Graham passed away unexpectedly on the 25th November 2018. Everton Former Players' Foundation was in attendance at his funeral in order to pay its respects.
Note: If any readers have original prints of Graham scoring for Wales against England in 1961, please get in touch via Lyndon at ToffeeWeb (or post a comment).
Thanks and acknowledgements
Rob thanks Max Williams for his help with this article
evertonresults.com
evertoncollection.org.uk
Bluecorrespondent.co.uk
Liverpool Daily Post, Liverpool Echo and Evening Express
Derek Temple
Amanda Lewis
Brendan Connolly
Mirrorpix

Follow @robsawyer70
---
Reader Comments (10)
Note: the following content is not moderated or vetted by the site owners at the time of submission. Comments are the responsibility of the poster. Disclaimer
Eddie Dunn
1
Posted 21/02/2019 at 08:17:14
Thanks, Rob.
Fascinating article illustrating the fickle role of fate in a chequered career. Travelling back with the chickens in the guard's van after a double leg break! How times have changed.
Dave Abrahams
2
Posted 21/02/2019 at 18:57:29
I remember his debut versus Sunderland in that 2-1 loss, a fast tricky winger but never one, unfortunately, to fill you with hope that he was anything special, that line "If I hadn't broken my leg,I'd havebeen in the Cliff Jones class" would have been better left out.
1956 was a bad period for Everton FC, indeed from the end of the First World War to then was a bad period for the club, Bobby Collins joining the club was the beginning of a style of play which offered hope that Everton could join the elite section of great football teams, and that hope turned to reality whenHarry Catterick became the manager and helped turn us into a really outstanding team and club.
Dave Abrahams
3
Posted 21/02/2019 at 19:32:53
Sorry, that should have been from the end of the Second World War, not the First, I'm getting on a bit but I'm not that old.
Phil (Kelsall) Roberts
4
Posted 21/02/2019 at 20:05:51
Thank goodness for that Dave.
Even my father was only just born but I keep being reminded about somebody called Dean, 2 League Championships, a cup win and a guy called Lawton in the period you first mentioned.
How come it took you 35 minutes to print a retraction? :-)
Dave Abrahams
5
Posted 21/02/2019 at 20:11:55
Phil (4), hey Phil, 35 minutes to wipe out 27 years isn't all that bad!!!!!
Bill Watson
6
Posted 23/02/2019 at 10:12:56
Thanks Rob.
1958-59 was my debut season so I don't recall Williams. I do recall the two Charlton cup matches though.
I think the Charlton goalie (Willie Duff?) was sent off for punching Dave Hickson in the first match? The replay was on a foggy night and I'm sure it was a full house of around 75,000.
Paul McGinty
7
Posted 23/02/2019 at 19:57:46
At age 14, I couldn't get a ticket for Blues away to Carlisle in 1968 so made the trek to Coventry, then a first division team, to watch Tranmere get a 1-1 draw.
Williams laid on the equalizer for John King (I think) and Rovers won a famous replay 2-0. I think I got on the field and celebrated with Williams at the full-time whistle.
That was a good Rovers team. Williams and Yardley akin to Thomas and Latchford, albeit in a lower division. At the time, I had no clue he was an ex-blue.
Thanks for posting.
Dave Abrahams
8
Posted 23/02/2019 at 20:54:15
Bill (6), yes Duff was sent off in the first game, Everton were losing but managed to draw 2-2, the second finished 4-1 to the Blues but I think it went to extra time and the gate was around 75,000 or possibly more, John McFarland will let us know.
Paul (7) interesting you mention George Yardley a prolific scorer for Tranmere at centre forward, I think he was an Australian and if I'm not mistaken later played in goal for The Rovers.
Rick Tarleton
9
Posted 23/02/2019 at 21:01:09
I remember him, he was one of that series of left wingers we had in the late fifties early sixties. Small and tricky, but not a lot different to O'Hara, Laverick, Kavanagh, then we had Ring – totally brilliant but, because of his injury, ephemeral – Fell, Veall and finally Morrissey and Temple. Williams in this article reveals his self-belief, but I don't remember him making me gasp at his skill.

Paul McGinty
10
Posted 24/02/2019 at 21:45:26
Dave, those were the days of Friday night football so could watch Tranmere my second team, selling programs at Goodison on Saturday and getting in for free for home games, Hardings coaches for the aways.
Yardley was a goalie but I don't think ever played in goal for Rovers. His partnership with George Hudson was prolific. "Give us a goal George Yardley" rung out from the cowsheds regularly. I checked back, he was born in East Fife, Scotland, played in Australia before trialling and signing for Tranmere. Sadly he passed in 2018.
In those days, his body took a hammering and his impressive record testifies to his bravery. In those days, Everton had good connections with Tranmere... Harry Leyland, Derek Smith, Johnny Morrissey Jnr etc. Seems like that has lapsed and the Reds now play them preseason pretty regularly. Still my second team, though.
Add Your Comments
In order to post a comment, you need to be logged in as a registered user of the site.
Or Sign up as a ToffeeWeb Member — it's free, takes just a few minutes and will allow you to post your comments on articles and Talking Points submissions across the site.
© ToffeeWeb