Everton History
Harold Uren and His Sporting Dynasty
Rob Sawyer

20/04/2019
0

comments | Jump to last
Share:
Harold Uren holds the distinction of being the first footballer to transfer directly from Liverpool to Everton (Arthur Berry moved from Liverpool to Everton in 1910, but did so via a short spell at Fulham).
John Uren, hailed from Cornwall, working in administration in the tin industry. Whilst living near Bristol his son, Harold John Uren, was born 23 August 1885. Four years later the family relocated to Liscard, on the Wirral, and John founded an eponymous food provision business.
Educated at the Liverpool Institute for three years, Harold started playing football as a left winger. He developed a distinguished 'swerving gait' when running down the left flank, according to reports, which bamboozled right-backs. He continued his studies at Calday Grange Grammar School when the family moved to West Kirby. In his youth he played for the school team plus New Brighton Wesleyans (who joined the I Zingari League). Upon moving to West Kirby he represented the village's team in the Wirral League – winning the Pyke Cup in his second season with them. Having made just one appearance for Harrowby of the West Cheshire League game he was selected by Liverpool FC to play in their Combination team against Barrow. Subsequently he signed amateur forms with the Reds for 1905-6 season but he finished it with Wrexham of the Birmingham and District League.
He returned to Anfield in 1907, making his first team debut on the right wing in November of that year against Manchester City at Hyde Road, before 25,000 spectators. The Pilgrim, writing for Athletic News reported: I must congratulate Uren, the amateur debutant, on a very creditable display on the opposite wing to that in which he has developed his talents…he has pace, skill and physique and should train on into a very serviceable player.'
The joint Everton & Liverpool programme, on 7th December 1907, tipped Harold for future stardom: "Standing 5'10" and weighing 12 stone, he is a promising specimen of a well-built athlete and, in his recent trials, he has shown that his football abilities are of no mean order. He can centre the ball splendidly, especially when playing on the left wing, and is in command of a few tricks that enable him to baffle the attentions of the opposing defence. To reach the highest flights, however, it will be necessary for him to increase his speed…"
The Nuggets column in Cricket and Football Field in March 1908 echoed the above observations: 'Harold Uren, Liverpool's reserve amateur, is a clever player but he badly needs a few yards more speed. However, in this respect he has improved since his first appearance.' Hopes of representing Great Britain at the 1908 London Olympics at football ended when Harold was persuaded by the manager, Tom Watson, to sign professional forms with the Reds - just before a match against Holland in which he was selected (Everton's own outside-left, Harold Hardman, did become an Olympian). Prior to this he had also represented the famed amateur team, Northern Nomads - as would that other fine amateur who represented Everton and Liverpool - Benjamin Howard-Baker.
When Harold lined up for Liverpool against Bristol City in October 1910, Richard Samuel used his Liverpudliana column in the Cricket and Football Field to praise the player:
'Another pleasing point of the play was the piquancy of Harold Uren, the good-looking young man who was on trial for a League team berth…the Livers' left wing proved more capable, and thus, more effective, than in any previous match this season. Uren isn't altogether orthodox in his methods, but he is forceful and clever.'
Reporting on the same match, 'Anfield Happenings' wrote:
'Uren deserves more than a passing mention…Uren had his opportunity. He has grasped it, and shown his ability. His play created great enthusiasm – the crowd likes a local, and it deserves to do so. Once he began to receive attention he never looked back, and the methods he adopted were as various as they were successful. He has many ways of beating a man and he can manipulate the ball in every small space. I hope he will go on and prosper.'
Olympian, writing for Cricket and Football Field, two months later, was equally full of praise: 'Harold Uren has shown himself one of the game's most promising young outside-lefts. He plays the game intelligently, dashingly and withal cleanly.'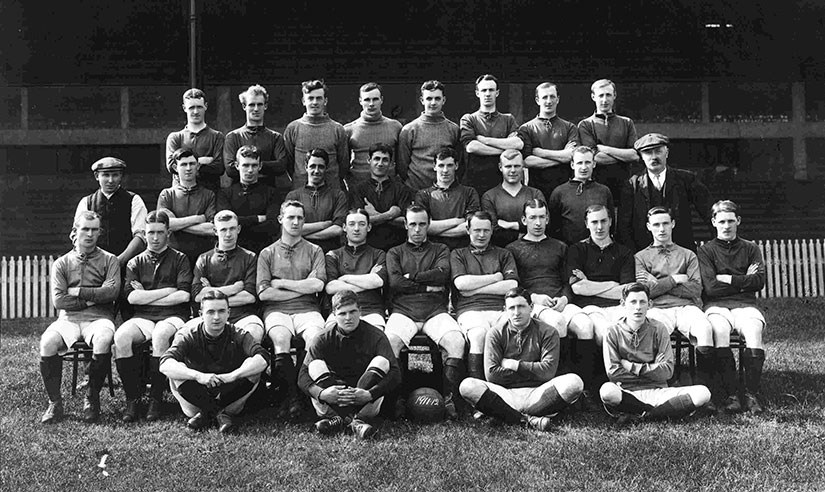 Liverpool FC team in 1911 in front of the Kop. Harold Uren third from the right on seat
Harold's most consistent campaign for the Reds came in 1911/12 when he appeared 24 times but, in February 1912, a thaw in relations between the Mersey giants would lead to him crossing Stanley Park. The part-exchange deal brokered saw with Billy Lacey and Tom Gracie moving to Liverpool in exchange for Harold and £300. The Echo wrote of the new Everton winger: 'He needs to curb his excessive dribbling and needs to be "hearty" at times. Still, he is a player whose style should fit Everton, and the club has done a good stroke of business in gaining his transfer.' Of his debut, against Bolton Wanderers, the Daily Post and Mercury wrote: 'To say the least, he gave a distinctly creditable display at times - dovetailing beautifully with Bradshaw.' That summer, Harold was pictured with his Everton teammates - the first known image with the letters EFC adorning the shirts.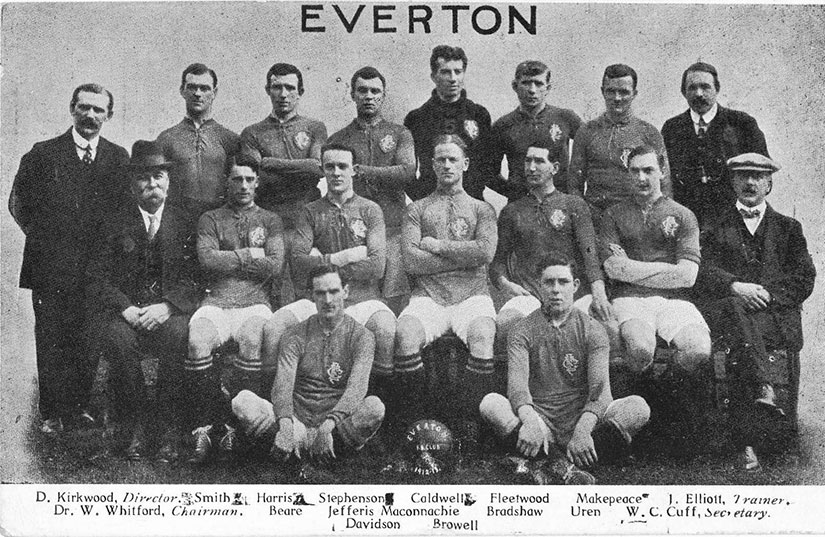 Everton's team in 1912 (care of Brendan Connolly)
Having made 24 Blues appearances, scoring three times Harold departed Goodison in May 1913 to have a second spell with Wrexham. Everton retained his Football League registration and he remained on the club's 'open to transfer' list until after the outbreak of war. In 1914 newspaper speculation linked him with a move to Sunderland or what was termed 'another senior club' but nothing came of it. The Great War seems to have brought Harold's playing days to a close, leaving him to focus on the family business. He did enlist as a private and was trained at the Inns of Court Officer Training Corps (by this stage the OTC were giving basic training to the rank and file, not just officers).  Harold transferred to the Royal Field Artillery but health issues saw him restricted to service on the home front.
Harold later served on the committee of Hoylake Cricket Club, arranging for Liverpool FC to send a team in July 1919 (Harold retained Liverpool FC in his affections and kept in touch with the likes of Jack Cox, Arthur Goddard and Joe Hewitt). Clearly he was a very able exponent of the summer sport. Whilst at Liverpool FC he had represented Birkenhead Victoria and Ellerslie, of Liscard. In 1913, bowling for Hightown, he took four Liverpool University wickets in successive balls. He also found the time to serve, for a period, as Commodore of West Kirkby Sailing Club.
Confirming his standing in Liverpool business circles – his business was based at 8 Victoria Avenue - Harold was elected president of Liverpool Provision Trade Association in March 1946. He was a keen supporter the Royal School for the Blind, on Hope Street, attending committee meetings until shortly before his death, at 69, on 7th April 1955.
Harold's football exploits were not forgotten, however. Uren family legend records that on one occasion Harold's grandson went to the Dublin Packet, Chester, for a drink with friends. When Bill 'Dixie' Dean, who was serving behind the bar, was informed of Nigel Meredith-Jones' lineage, he replied: 'Yes, I can see the likeness - Harold Uren, the gentleman footballer.' 'Dixie' proceeded to make the the six pints, that had been ordered, on the house.
Harold and Annie had seven children. Sadly, they lost their daughter, Annie, to meningitis, just short of her third birthday in April 1917. Their six other children lived into adulthood and were brought up in Seacrest, overlooking the marine lake at West Kirkby. Many of them exhibited their father's sporting gene - both on dry land and water.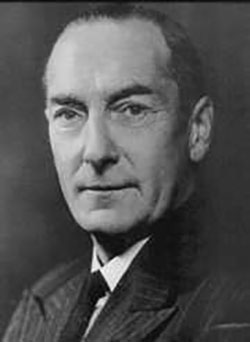 Harold Uren later in life
Their eldest son, Harold Junior was born 9th March 1912. Always known in family circles as Boy, he attended the same school as his father but played the Rugby code of football. He played at full-back for Waterloo and Cheshire and had trials, pre-war, for England. In 1936 he was in the great Great Britain party which toured Argentina (the Lions were undefeated in 10 matches). In the side was Prince Obolensky - the exiled Russian royal who later died whilst serving in the RAF. On the tour Boy he met his future bride, Dorothy Helena Knight - an Anglo-Argentine. They married three years later and lived on The Wirral. Having served on a naval trawler in the Second World War, Boy was finally called-up to the English XV in three Victory Internationals held in the 1945/46 season. Like his father, Boy was also a talented cricketer - playing for Hightown and Neston cricket clubs. In later years he coached Neston's junior players. After his passing in 1993, he was posthumously honoured with the Harold Uren Trophy, contested by local junior cricket teams.
Born in 1926, the youngest of the Uren children was Richard - better known as Dick. His life and times read like pages from a Boy's Own story. He followed in Boy's footsteps and their rugby careers briefly over-lapped. Also a full-back, Dick, initially struggled to get in Calday Grange Grammar 1st XV, having to find his way in the second team
Dick was sent to work on a local farm before enlisting with the Fleet Air Arm as a navigator, making several flights from an aircraft carrier in 1945. Having studied agriculture at college in the East Midlands (Midland Agricultural College) he returned to the Wirral to work in the family enterprise (which was incorporated as H.J. Uren and Sons in 1948). Having joined Waterloo RFC, his rugby career advanced quickly. He would later credit the influence on his game of the New Zealander servicemen that he had played alongside whilst serving his country. His father, through his contacts at Anfield, arranged for Dick to attend Liverpool FC training sessions in order to maximise his physical prowess - this was a very professional approach when Rugby Union was steadfastly amateur in status. Even with this training, Dick would struggle to keep up with his 60 year-old father on short sprints along the promenade near home.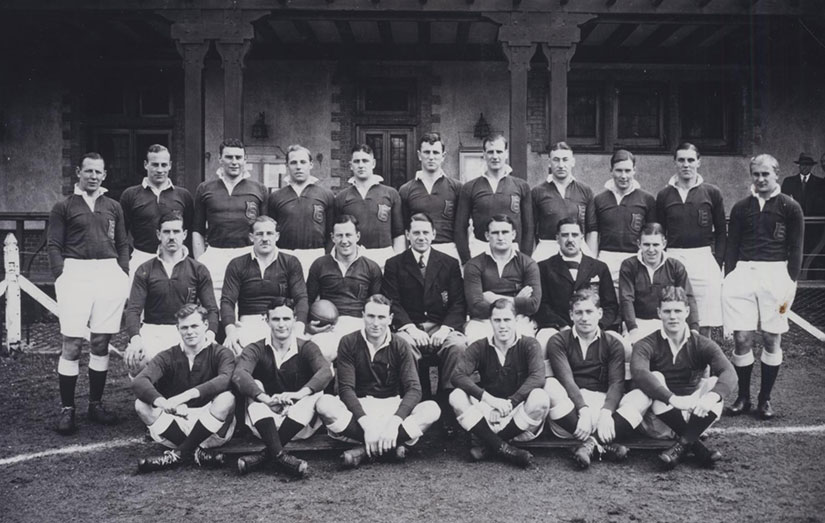 1936 Lions touring party of Argentina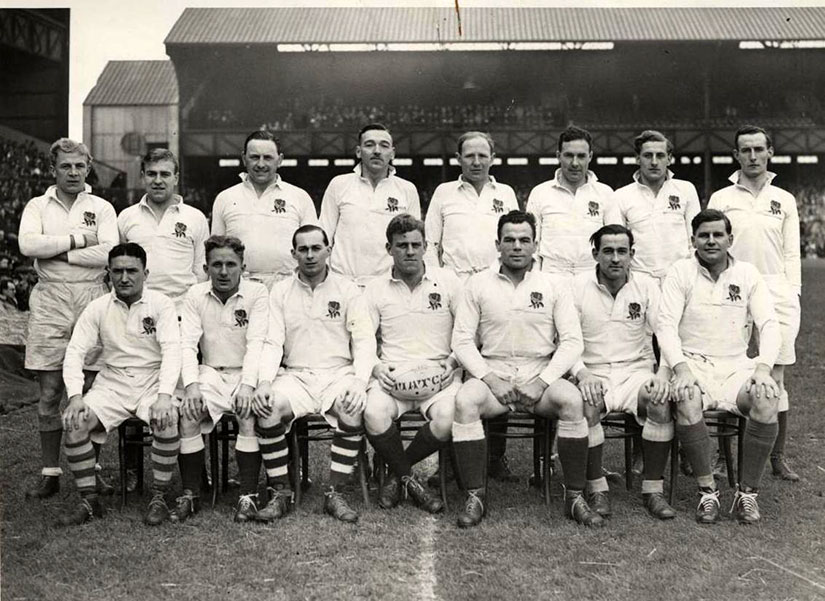 England XV to play Wales 1946
He was called-up by Cheshire in 1947 and, a year later, replaced Newman in the England team- winning three caps that season and he represented The Barbarians. Injury kept him out of the national team in 1949 but Dick was recalled for his forth, and final, cap in 1950. A fine kicker, Dick retired from the game in 1960. But this was far from the end of his sporting endeavours. He was a noted skier (a member of the Combined Services Winter Sports Association - he'd be on the slopes into his 80s), scratch golfer (representing Cheshire and being a member of several golf clubs (Royal Liverpool, Caldy and Royal St David's in Harlech) and sailor. Having learned to sail on the local marina he had an Olympic trial in 1948 in the Firefly class and won the Wilson Trophy for the West Kirby club – alongside him in that sailing team was Dick's sister, Joyce - an equally talented mariner.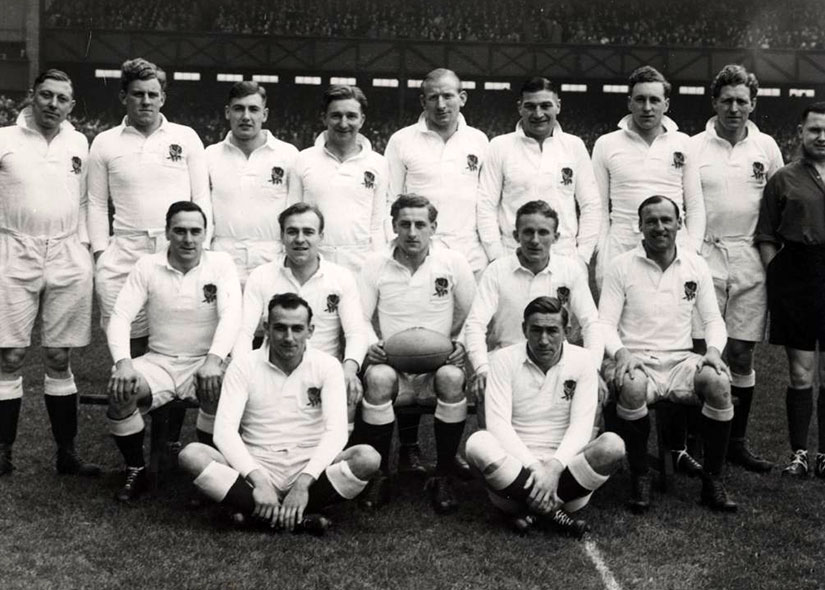 England team that played Ireland in 1948 with Dick Uren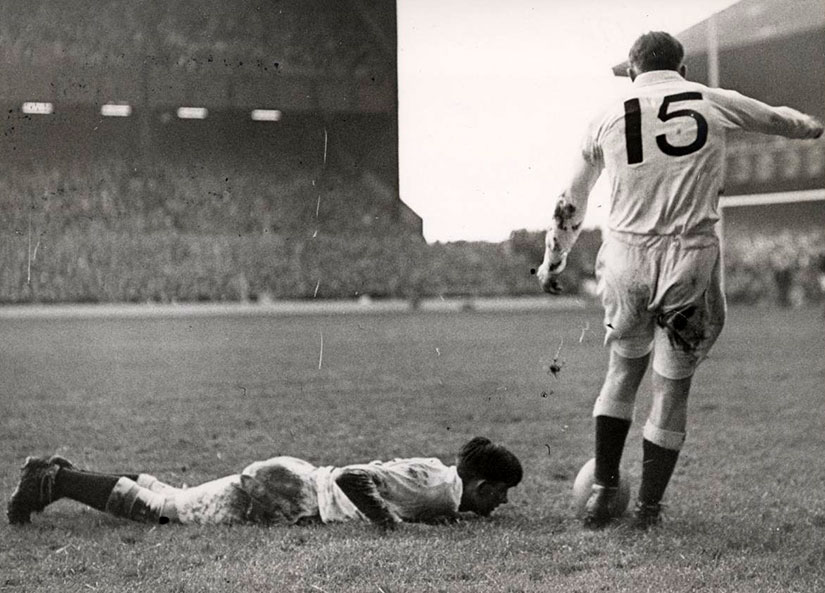 Dick Uren kicks to convert for England in 1950
When not competing on sea or land he was a keen pilot – harnessing the skills learned in the Fleet Air Arm to fly over the Merseyside area. Dick was appointed, in 1967, to the Liverpool Local Broadcasting Council - planning the output of, soon to launch, Radio Merseyside. In business he rose to Managing Director, and, later, Chairman of the family business before 'retiring' in 1986. In fact, (he'd still be coming to the office until practically the eve of his death on 30th May 2010, at the age 84. He left behind his widow, Diana, two sons and a daughter. Giving the eulogy at the funeral, Dick's son, Jamie, stated that growing up with such a polymath was like having James Bond for a father.
Dick, however, did not expect his children to emulate him, stating: "The thing is not, in fact to press on the children what the father has done, They must be allowed to lead their own lives"
Uren Food Group, as it is now known, continues to trade from the Wirral - specialising in the production and sourcing of frozen fruits, fruit juices, frozen vegetables, honey etc. to food manufacturers worldwide. Although there was a management buy-out a few years ago, the Uren family retains a minority interest. Jamie Uren started his own company specialising in organic food ingredients and animal feeds in 2009.
NB An abridged version of the article appeared in the Everton matchday programme for the Merseyside derby
Acknowledgements and Sources:
Jamie Uren
Kate Meredith-Jones
Mike Royden
Brendan Connolly
World Rugby Museum (for use of rugby union photos of Dick and Boy)
Various newspapers (credited in article)
Daily Telegraph
Everton matchday programme
bluecorrespondent.co.uk (Billy Smith)
evertonresults.com (Steve Johnson)
lfchistory.net
playupliverpool.com (Kjell Hanssen)
Uren Food Group website
The Everton Encyclopedia (James Corbett)

Follow @robsawyer70
---
---
© ToffeeWeb