Report
Blues squander two-goal lead after ridiculous Richarlison 'head-butt'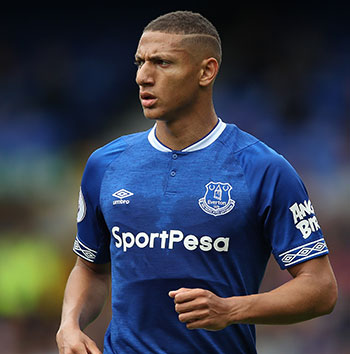 Everton's key player dismissed after allowing Adam Smith to sucker him into the softest of 'head-butts'
Bournemouth 2 - 2 Everton
A crazy game on the south coast, with Everton losing Richarlison after a poor first half for a nothing 'head-butt', then scoring two good goals in the second half, with Smith also seeing red, and Bournemouth scoring off a very soft penalty then getting an equalizer inside 4 minutes to tie the game before a massive collision between Gueye and Keane saw the Everton centre-half stretchered off.

Tom Davies started in place of Schneiderlin. New signings Digne, Zouma, and Bernard were on the bench, along with Kieran Dowell. No place for Ademola Lookman, who is expected to leave the club for RB Leipzig. (Kenny and Pennington were playing at Goodison Park today for the U23s, joining Galloway and Browning.)

For Bournemouth, Dan Gosling played in midfield.

Tom Davies kicked off, Everton wearing their third strip of white shirts, black shorts. Richarlison was double-teamed and dispossessed early and it was scrappy stuff while the teams felt eachother out, the home side getting in some early crosses via Fraser that Everton cleared.

Baines had a shot blocked by Cook, then put in a good cross but Tosun's path was closed. Gana played in Walcott who won the first corner, Sigurdsson delivering very well Keane not connecting well enough. Gana landed awkwardly following an aerial challenge.

Everton were pressing forward well, Coleman getting to the byeline and being fouled — not given. Tosun got his foot trodden on as he dallied a little, then had to overstretch.

Everton were starting to string together quick movement and passes with a half-chance created for Tosun that was fired over. Coleman took his eye off the ball and Bournemouth took advantage, Wilson in acres of space, curling his shot over the angle. In the build-up, Fraser went down heavily after a clumsy challenge on Coleman.

Walcott was gifted the ball by Cook, but was far too indecisive, and a glorious chance evaporated. At the other end, a good cross and a header for King at the post inhibited by Coleman's effective challenge.

A really scrappy Bournemouth attack had everyone scrambling but eventually the ball was cleared and Everton resumed their build-up but were having trouble getting Richarlison into the game, while the home side were ready to break but Wilson was offside. Tosun tried a shot from long range that was wide.

Richarlison fell very awkwardly on his lower back, running backwards and challenging for a difficult aerial ball. Coleman thought he'd won a corner; Richarlison finally got a good run behind and he did win a corner, Sigurdsson finding Richarlison but Keane and Walcott got it all wrong at the far post.

Everton were dominating play and trying to work the flanks but it was breaking down a little too early with no clear chance on goal after 30 minutes. Gueye played a nice ball out to Coleman who had plenty of space and time but messed up his cross.

Tosun and Sigurdsson combined, the Icelander whipping in a fantastic ball that was really inviting but Begovic got to it on the stretch. It went a bit flat, with errors creeping in, Geuye giving away a silly free-kick that was a gift for Ake, it coming off his shoulder.

Coleman did well to play in Sigurdsson but the cross went out for a throw-in. Meanwhile, Smith and Richarlison meeting heads off the ball, the slightest of a head flick, and the referee incredibly showed Richarlison the red card!! Utterly astounding!!!

Everton readjusted to a 4-4-1 formation after the break with Tosun now ploughing a lone furrow. A fine cross by Baines should have produced a clear chance but was spurned.

Evertom were pinned back with the man disadvantage, a strange shot almost fooling Pickford after Holgate dummies it. Everton were clearly rattled with little mistakes appearing all over the field. A poor poor yellow picked up by Sigurdsson for a weak pullback after a sloppy giveawy by Davies.

Somehow Sigurdsson got the ball back and slid a brilliant pass to Walcott who scampered off and fired home an excellent strike on the break, the perfect response to the madness developing in this crazy game.

Bournemouth pushed Everton back, but they defened well enough, giving up a corner. Everton broke and Smith was judged to have dragged back Walcott as the last man, but it was in fact very clever by Walcott, making it look far worse than it was. But Red card for Smith.

Baines curled in the free-kick and Everton really should have scored from the follow-up but the contrived to miss the chance, Davies firing well wide. At the other end, King could run into space and lash his shot over the angle with Pickford covering well.

A free-kick and Sigurdsson clipped over a brlliant cross, Keane climbing cvery high to head down and trough Begovic's feet into the back of the net for a 2-0 lead to the visitors.

Wilson got a free run on goal but Pickford stood up well to deny him an almost certain goal, with Hogate closing in. Tosun then got a stupid yellow for a ridiculous challenge from behind with the ball long gone.

A ridiculous penalty awarded against Baines for putting a hand on Wilson's back, the striker collapsing in a heap. King slotting it well beyond Pickford.

More terrible zonal marking saw Ake react first to return Wilson's header off the post and into the net. Gueye gets himself booked for a silly challenge from behind, and Everton were rocking on the ropes after having done so well to get a two-goal lead. Wilson getting a near-post header off the next home corner.

Tosun was dragged down by Cook but no penalty, says Probert, as Marco Silva made his typically late changes after the damage was done, Calvert-Lewin on for Cenk Tosun, then Bernard replacing Walcott for his debut.

Keane and Gueye both went for defensive headers on the same ball, clashing heavily. Keane needed a lot of treatment, with oxygen and a neck brace before he was finally stretchered off as 6 mins of added time turned into 10 before the game restarted, with Kurt Zouma on in his place.

Coleman git in a late cross that Calvert-Lewin almost beat Begovic to. Sigurdsson was gifted a shot from Begovic's poor throwout but opted to blaze over rather than score the winning goal. The final whistle went after 13 minutes of added to time to bring a crazy game to an end.

Scorers: King (pen:75'), Ake (79'); Walcott (56'), Keane (64')

Bournemouth: Begovic, Daniels, Steve Cook, Ake, Smith [R:58'], Fraser, Gosling, Surman (76' Lewis Cook), Brooks (65' Ibe), Wilson, King (90+12' Mousset).
Subs not Used: Boruc, Francis, Lerma, Defoe.

Everton: Pickford, Coleman, Holgate, Keane (90+7' Zouma), Baines, Gueye [Y:80'], Davies, Sigurdsson [Y:55'], Walcott (86' Bernard), Richarlison [R:44'], Tosun [Y:69'] (84' Calvert-Lewin).
Subs not Used: Stekelenburg, Digne, Dowell, Niasse.

Referee: Lee Probert
---
Reader Comments (276)
Note: the following content is not moderated or vetted by the site owners at the time of submission. Comments are the responsibility of the poster. Disclaimer
Frank Crewe
1
Posted 25/08/2018 at 14:19:55
Good to see Bernard on the bench. Lets hope we are in a position to give him some game time.
Jay Wood
[BRZ]
2
Posted 25/08/2018 at 14:34:51
Good to see Bernard AND Dowell on the bench.
Lookman sat on the naughty step again..?
Any confirmation that he didn't travel down south with the squad?
Bobby Mallon
3
Posted 25/08/2018 at 14:50:49
I here lookman is injured
David Pearl
4
Posted 25/08/2018 at 15:01:55
Yep, nice balanced bench. Better balanced squad. Coyb
Jay Wood
[BRZ]
5
Posted 25/08/2018 at 15:43:35
How. Fuckin'. DUMB. Was. That?
Michael Kenrick
6
Posted 25/08/2018 at 15:45:42
How absolutely ridiculous!!!
Ernie Baywood
7
Posted 25/08/2018 at 15:48:03
Slightly silly. But it's just another ref desperate to make decisions. He's been 'finding' them all game.
Michael Kenrick
8
Posted 25/08/2018 at 15:48:59
I am FUCKING LIVID!!! That is the stupidest stupidest moment of utter fucking madness!!!
Tony Abrahams
9
Posted 25/08/2018 at 15:49:21
A ref who has never been good enough by the way
Michael Kenrick
10
Posted 25/08/2018 at 15:51:12
But the lad Smith must have been doing the business on him. Richarlison had hardly been in the game. But shockingly poor discipline from the big lad to ever even get close to doing something as utterly fucking stupid as that!!!
Did I say I was FUCKING LIVID!!!
Dean Cooper
11
Posted 25/08/2018 at 15:51:33
Hope Richarlison learns from this. If he didn't have a target already, he's got an even bigger one now.
Michael Kenrick
12
Posted 25/08/2018 at 15:53:39
Blaming the ref is somewhat missing the point, If Big Ricky does nothing, there's nothing to punish, no red card. I don't understand it as he'd happily switched sides in previous games. Just keep well away from him, FFS.
Ernie Baywood
13
Posted 25/08/2018 at 15:54:20
Three gamer too. No chance in appealing it.
Ciarán McGlone
14
Posted 25/08/2018 at 15:54:22
Disappointing first half... culminating in what will likely be a fatal red card.
Never really started to play. Davies and Coleman are having terrible games and Michael Keane is an accident waiting to happen. I don't know why he insists on pushing up high leaving acres of space for Bournemouth to exploit.
The only player of ours who's having a good game is Gana.
The second half will be hard to watch with ten men. Richarlison should not have reacted but Adam Smith is an absolute disgrace.
Gavin Johnson
15
Posted 25/08/2018 at 15:57:07
Adam Smith is a complete shithouse and sneaky fucker!! Richarlison was a fool for being suckered in, as was the ref who was very naïve. You would hope the decision would be rescinded for the next game because it was nothing. I can't see that happening though because it's not in keeping with how players are meant to behave. Very annoying!!
Pete Clarke
16
Posted 25/08/2018 at 15:57:50
He should have showed Yellow to both of them but the ref is a dickhead for showing red.
Think we have been poor in this game. Coleman is not at the races, Tosun cannot hold the ball up and Walcott doing very little but I could go on.
Luckily we are playing Bournemouth so we may get something with a bit of luck.
Ernie Baywood
17
Posted 25/08/2018 at 15:59:11
Of course he gives him an opportunity to make a decision Michael, but should refs really be looking for them?
Not defending Richarlison at all - it's silly from him (and Smith who didn't do much less). But it's two dickheads putting their heads against each other. Not in any way could you call it a headbutt. In the grand scheme of things - you just book them both and tell them to grow up.
This ref has been picking decisions out all game. As opposed to just refereeing the game.
Tom Dodds
18
Posted 25/08/2018 at 16:00:25
Well at least we have Lookman to fall back on.
EITC.. aka the Player Luvvie we will wipe your tears away you go if you want to club
Jay Wood
[BRZ]
19
Posted 25/08/2018 at 16:00:33
I have absolutely ZERO sympathy with Richarlison.
We are preparing to take a throw in close to their penalty area. He is the nearest Everton player set to receive the ball, with 2-3 yards between him and the Bournemouth defender.
Something is SAID. Richarlison's English is not the best. There is no need at all to turn away from the throw in and walk back towards Smith.
Yes, they both dip their heads into each other. How very macho. It is clearly Richarlison who makes - I accept - a slightly forceful movement with his forehead into Smith.
But why the frig get involved like that and give the ref a decision to make, all the more so when we are in an attacking position?
Really, REALLY dumb by the Everton player for me.
This is going to be a test now. ANOTHER away game we have to play a full half with just 10 men.
It has been very stop-start. We are not playing as well as we were against Wolves. Richarlison was not playing well. Walcott needs to get into the game more. Coleman, I'm sorry to say, like last week against Southampton, continues to be off his game.
It's going to be interesting how Silva plays this in the 2nd half.
Pete Clarke
20
Posted 25/08/2018 at 16:12:37
Hard to watch this after the City Wolves game which was highly entertaining.
We are relying on our two centre halves to find the through ball or nice pass to open them up. Lots of discipline needed in the second half and let's hope the ref knows he got duped and looks for a reason to level the playing field.
Ernie Baywood
21
Posted 25/08/2018 at 16:20:34
Fitting
What a ball from Pickford
Jay Wood
[BRZ]
22
Posted 25/08/2018 at 16:21:13
I think you call that 'poetic justice'.
Ernie Baywood
23
Posted 25/08/2018 at 16:23:52
Think it's time to get Davies out of there. Not been a good day for him.
Would you trust Bernard in there?
Ciarán McGlone
24
Posted 25/08/2018 at 16:27:52
That couldnt have went any better.. 2 nil up and Adam Smith sent off..
Saturday has redeemed itself.
Glorious.
Christy Ring
25
Posted 25/08/2018 at 16:35:37
Stupidity by Richarlison, even though Smith probably said something, 3 game ban now. Great 2nd half so far, but Baines push, has given B'mouth a lifeline.
Max Murphy
26
Posted 25/08/2018 at 16:36:39
Baines as a senior player should know better. Stupid challenge.
Ernie Baywood
27
Posted 25/08/2018 at 16:40:03
FFS
Pete Clarke
28
Posted 25/08/2018 at 16:44:17
Keane in another world before that pen.
This is maddening to watch for us but Silva is getting a good education on our strengths and weaknesses today.
I would have pulled Davies off for a couple of ridiculously poor passes just before Walcott scored and then he goes and links some other passage of plays up. I love the lad but frustrating to watch. Same goes for Gana who decided to go backwards when there are players available and those passes backward really only put the defenders in a panic.

Gavin Johnson
29
Posted 25/08/2018 at 17:05:50
Let's hope Keane makes a speedy recovery. It looks pretty serious. A real shame because he's been looking good this season and was a contender for man of the match before he got hurt.
Harry Hockley
30
Posted 25/08/2018 at 17:10:48
Oh Everton you do give me palpitations.
John McGimpsey
31
Posted 25/08/2018 at 17:11:50
Playing with ten men is hard but, when you have Tom Davies in a shirt, it's a waste of space and time.
Shame really... the injury soured a good game but a tortoise first 40 minutes. Richarlson — what a fanny...
Ernie Baywood
32
Posted 25/08/2018 at 17:13:18
Frustrating. At 2-0 it looked like the perfect away performance.
No complaints about the penalty. It was soft but it gets given every time nowadays.
Ultimately what got Bournemouth in the game was a penalty from a nothing ball into the box and a set piece we didn't defend well nor react to. Set pieces look a major problem right now.
Still think Gylfi should have won that for us at the end. That was a very good chance for him.
Hopefully Keane is alright. Shame as he's done ok the last few weeks under a bit of pressure from new signings. At least we're reasonably stocked there now.
Phil Sammon
33
Posted 25/08/2018 at 17:13:55
Baines should get as much grief as Richarlison (and I love Leighton Baines). That penalty was one of the most unnecessary giveaways I've seen.
Paul Kelly
34
Posted 25/08/2018 at 17:14:29
I would argue I was Jags' 'biggest defender', (don't sound right but who gives a fuck, I'm wound up) when he was indiscriminately sent off for the most legitimate perfectly timed challenge and made a scapegoat for woeful refereeing (two different excuses) in the history of football, Richarlison-i have nothing to say-ish (idiot-moment of madness) .
No excuses.
Max Murphy
35
Posted 25/08/2018 at 17:14:46
Forget the sendings off. Baines must be held responsible for giving away that penalty. A senior player, and knowing what the referee was like, he makes an absolutely ridiculous challenge.
Zonal marking... Did anyone mark Wilson? Free headers all afternoon.
Conceded 5 goals in 3 games. Not good enough.
Jim Bennings
36
Posted 25/08/2018 at 17:15:50
Thoughts are with Keane, get well soon mate.
Thoughts on the game and the team in general.
We will never get better playing Baines, Davies and looking to the likes of DCL to save us as none are really good enough for a variety of reasons.
Peter Morris
37
Posted 25/08/2018 at 17:16:59
Deja vu Wolves. Two points squandered in a game we should have won. Lack of discipline and this zonal marking mullarky need urgent attention.
John G Davies
38
Posted 25/08/2018 at 17:17:46
I can't understand the comments saying Keane was having a good game.
I think he is a poor defender to be honest.
Gets done with channel balls, gets done with simple balls down the side of him. Ball watching for the penalty.
Simon Dalzell
39
Posted 25/08/2018 at 17:17:57
Gutted. Silva needed to change things a lot earlier. Very similar to Wolves. Poor management in both games. Crying out for fresh legs. It looked inevitable on both occasions without changes.
Ian Bennett
40
Posted 25/08/2018 at 17:18:01
3 points squandered due to a lack of discipline (Richarlison - if you're going to hit him, deck him in the car park after the game), shit defending (Keane and Baines again - Digne and Zouma have to take over), and a failure to sort out corners because if zonal fucking marking (again).
2-0 up you just get Zouma on and put 9 men in our half and hit Theo over the top. Hugely frustrating that we all knew wed conceed with last week's approach. Get fucking ruthless Marco!
Tony Abrahams
41
Posted 25/08/2018 at 17:18:21
A good midfielder is what's needed, someone to speed it up, but also be able to "SLOW IT DOWN" I hope this Gomez can be that player.
Cruising really, some frustrating pssses, but I'm sure this will improve, because it looks to me that Silva is working on this side of our game.
If Richardson was stupid, then what does that make Baines? Captain? He knows Keane is susceptible to the ball over the top, so with us being two up, I thought he could have offered us a lot more discipline.
That said, we are working as a team, and just need more composure and quality, which hopefully is already at the club?
Paul Kelly
42
Posted 25/08/2018 at 17:18:25
Oh and Baines, a player of his experience should know better.
Matt Muzi
43
Posted 25/08/2018 at 17:19:20
Bournemouth are our second bogey team, behind you know who!
Tony Twist
44
Posted 25/08/2018 at 17:20:05
Only at Everton, some things just don't change. Distinct lack of professionalism. We won't get anywhere finishing games with less than eleven on the pitch and grabbing draws from a winnable position. Silva needs to learn from these mistakes quickly. Oh look Watford are ahead of us with a game in hand. Get a grip blues.
Ian Riley
45
Posted 25/08/2018 at 17:20:09
Baines is done! A replacement is ready. Start him.
Our defence as a whole is not good. Two up away from home.
Silva has learnt a lesson. Certain players are simply not good enough.
Victor Jones
46
Posted 25/08/2018 at 17:20:54
Old habits die hard. Silva has squandered leads with Watford. And that's all we seem to do at Everton. We need to start seeing out games. We need to start converting these draws into wins. Or we will soon find ourselves stuck in midtable. We need to stay in touch with the top six.
Anyhow, we didnt get beat today so I suppose that a point is just about ok. But only just.
Huddersfield next week. Nothing less than three points is our aim. No bloody draw.
As for Richarlison, I cannot comment. I didn't see what happened. Just in, I missed today's match. We will miss him for a few matches but the rest just have to step up. Lookman should get a game.
And our defence needs to tighten up, but then we have all being saying that for years. Is Silva just like Martinez? I hope not but, as I have said, old habits die hard.
Steve Ferns
47
Posted 25/08/2018 at 17:21:03
Some might have taken a draw before the game. A lot would have taken a draw at half time. In the end we're gutted to get the draw.
Three games at home now. Get Zouma up to speed by playing him in all. I hope Keane's not out too long. Even if it's nothing he's out on the concussion rule. So it's time to see just how good Zouma is.
I thought we did very well for half an hour of the second half. Then it went silly after that dodgy pen.
Who'd be a blue eh?
Jay Wood
[BRZ]
48
Posted 25/08/2018 at 17:21:37
Two points dropped for me.
But positives first. Once again, Everton played very well 10 x 11.
Really lovely interplay between Sigurdsson, Tosun and Walcott and a thumping finish from Theo who had glanced up looking for support before beating the keeper on his near post.
An absolutely superb pick out and kick from Pickford for Walcott's run which induced Smith's red card. A Bournemouth player attempts to impede Jordan from making the play. The keeper simply pushes him away and launches a wonderful kick, one of many very accurate defence turning passes from Jordan today.
That is the kind of distribution and consistency we want to see more off from Jordan.
Now at 10 x 10 and already 1-0 to the good, very smart play on the free kick, catching Bournemouth dozing and Keane getting the header to double the lead.
Keane's attacking heading from set pieces has improved from last season when he tended to sky a few opportunities. This season, he is attacking the ball with more intent AND heading them down, making it more difficult for the keeper to react and defend.
How we contrived to only draw the game from there bemuses me. We were managing the game so well. Bournemouth weren't threatening at all. Rather, we looked as if we could score more.
Tosun led the line superbly. Theo woke up in the 2nd half. Gana was breaking up play well and moving the ball on well. But it was a soft pen to cough up from a ball that wasn't particularly threatening.
To then concede a 2nd, again from a corner with too many people switched off and not reacting to the play, was mightily disappointing.
OK. Unlike last season when we barely saw a shot on goal all game, we are scoring at two a game so far, but we are still conceding too easily. Improve that and continue with the forward playing intent we have thus far displayed and there could be plenty to enjoy this season.
Finally, I hope Michael Keane is OK. I note some criticism in this thread about his performance. I thought, once again, he had another very fine game. Holgate looked the more skittish of the centre backs today.
David Barks
49
Posted 25/08/2018 at 17:21:44
Baines needs to be dropped immediately. Digne must be given that spot now. Davies, I've seen enough. Jags shouldn't see any game time the rest of the year. So it is now that we'll start to see the new Everton team. And Coleman, he needs to be next. For all the criticism he receives, Keane showed all game how you attack a cross and win the header. A real shame that in the end that has knocked him out. Meanwhile Baines just stands and watches, in his own little world.
John G Davies
50
Posted 25/08/2018 at 17:22:06
I back the zonal marking Silva is implementing.
Tell you one thing though. We need someone on the near post zone who can head a ball.

Steve Ferns
51
Posted 25/08/2018 at 17:22:53
Tony A, Gomes is your man. He can also carry the ball through the middle. He goes missing at times, though, and there's complaints very lightweight for a big guy. We'll see though.
Robin Cannon
52
Posted 25/08/2018 at 17:23:41
Finding the balance between our new positivity and a changing defensive approach will take time.
Last season under Allardyce if we'd gone a man down we'd have lost 2-0 while "shutting up shop" and never got a shot on target. I'll take the more attacking approach any time.
Would like Tosun to get off the mark. He's been leading the line really well, but needs a goal soon for his confidence.
Game management at 2-0 was terrible. They just started lumping it long to Wilson and we looked all over the place. Set piece defending needs to improve.
Stephen McNally
54
Posted 25/08/2018 at 17:24:45
270 minutes under new management won't mean Everton are going to be the finished article. Yes, two points dropped but Everton are still in a period of transition. Here's to the next game and 3 points. In Silva/Brands I trust.
Ian Hams
55
Posted 25/08/2018 at 17:26:01
I think this could mark the beginning of the end for Bainse if that doesn't sound to dramatic. hes had periods out the team through injury but there has never been pressure on his place before now there is and I cant see him starting the next match. Digne a cert for left back.
Couple that with the likelihood of Bernard coming in for the now suspended Richarlison and Zouma in for the unfortunate Keane I think thats plenty changes for me for the next match thank you.
Maybe Lookman and the under rated DCL to come on from the bench.
Colin Glassar
56
Posted 25/08/2018 at 17:26:33
We are, technically, miles better than the last couple of seasons but still mentally weak (when in the lead) and cowardly and feeble when under pressure.
The old Moyes tactics of go deep, kick (or head) it anywhere takes control, towards the end of games, and we invite pressure on ourselves and concede.
Silva will get it right but some of the Old Guard might have to move on before we can change this.
Tony Marsh
57
Posted 25/08/2018 at 17:27:11
Keane, Baines, Davies and Calvert-Lewin are utter garbage. Gana Gueye is also fucking useless. Once all the new boys are up and running, hopefully these muppets are gone. I still can not believe we gave Gana a 5-year contract last season.
Richo lost his head but he is a baby being wound up by guys who know this league. The players in this side who continually keep letting us down are the same players who let us down today... I prefer Besic over Gana any day at least Mo has a forward gear.
Early days in the Silva era but we are still unbeaten and, with a bit of luck, could be joint top tonight.
Referees definitely concern me. Its as if we are not being allowed to join the party. Don't want a new look Everton upsetting the apple cart do we??

John Hughes
58
Posted 25/08/2018 at 17:29:05
David Barks has it spot on. Enough said.
Kieran Kinsella
59
Posted 25/08/2018 at 17:29:31
Oh ToffeeWeb. Heroes to zeroes in 103 minutes. Far from perfect but some comments are a bit OTT. Cannot believe Coleman has now joined the ToffeeWeb scrap heap. No one is safe.
Ian Hams
60
Posted 25/08/2018 at 17:30:33
Its habits drilled in over many seasons Colin I agree and will take maybe a whole season to really stamp out.
Christy Ring
61
Posted 25/08/2018 at 17:30:40
We were cruising and Baines ridiculous push gave B'mouth a lifeline, which cost us 3pts. The zonal marking is a disaster. Best wishes to Keane, hope he's ok.
Steve Brown
62
Posted 25/08/2018 at 17:30:56
It was Cenk's job to clear the near post at corners - he didn't attack the ball on the goal or shortly afterwards with another corner. Holgate was giving him pelters about it. That's why Silva changed his mind and replaced him with DCL rather than Niasse.
Mike Doyle
63
Posted 25/08/2018 at 17:31:11
Richarlison would do well to seek advice from former blues striker Gary Lineker who went thru his entire career without being booked. He was a marked man but exercised great self-control and never retaliated. He regarded the wind ups and provocation as confirmation that a defender was worried about him - which gave him an edge.
George Cumiskey
64
Posted 25/08/2018 at 17:31:26
The defence was again shambolic Baines had a nightmare and why we try and defend a lead when we are patently crap at it is beyond me.
I thought the substitutions were strange, taking our best and fastest player off and bringing on DCL who offers nothing is another strange decision.
Ernie Baywood
65
Posted 25/08/2018 at 17:33:37
I reckon there's an over reaction to Baines on here. He gave away a soft and clumsy penalty but otherwise did ok.
Still his shirt to lose and he is offering more in attack this season than last. Suspect that will be the reason he'll keep his place for the next two games where we'll need to break teams down at Goodison.
Will be interesting to see if Bernard gets the nod on the wing now.
Pete Clarke
66
Posted 25/08/2018 at 17:35:20
Baines only put his hand out to feel where he was while watching the ball and the lad goes down like a lead balloon with the slightest touch.
Everyone Is playing the cheating game these days and we got done twice today.
So not only did we show a lack skill today ( mainly first half ) but our players are not smart enough,
After being slightly heartened by our first two games, this game has showed me that we need much better quality all around. I will be happy to see the new lads in the team very soon but right now I'm hoping Michael Keane is OK.

Michael O'Brien
67
Posted 25/08/2018 at 17:38:26
Baines had a shocker today, just not a 90 minute player anymore, too slow, not sharp enough, digne in please. Coleman uncharacteristically having poor touches and letting the ball role under his foot, More than once. Davies still has issues making accurate passes. I thought keane had a good game today as well, hope he is OK, looked a nasty bang. That Lee probert is a shit house ref, but richalrson did deserve to get sent off, but that Smith go unpunished? Nah. I guess he got his in the end anyway.
Steve Brown
68
Posted 25/08/2018 at 17:43:44
I thought Coleman had a worse game overall than Baines, despite the soft penalty.
David Barks
69
Posted 25/08/2018 at 17:45:21
Baines was at fault for the penalty. He came running toward the player and ran into him. It was a penalty.
Then for the second goal he was placed perfectly to win the ball but he just stood there. He stood waiting for the ball to arrive instead of attacking the ball to win the header. That allowed the Bournemouth player to run in front of him and win the ball. Both goals down to Baines.
It's nothing new. We've watched him stand yards off his man to allow crosses to be sent in with ease for years. And in that first half today Baines was being ripped apart down the left.
As for Coleman, he has been shocking in attack all season. His crossing has been awful. Multiple times he's had great chances to provide a simple ball to a player in the box, twice with only one defender, and he's botched it horribly each time.
He's also been guilty of terrible lacks of concentration, letting the balk roll out of play and multiple times dribbling it out of touch for a goal kick when the cross was on. He can't beat his man anymore and just stalls.
For people saying it's the zonal marking, you need to inform yourself as to what zonal marking is. It is not, as Baines did today, standing in one spot and waiting for the ball. It is about setting the players up in zonal positions before the kick, adjusting as necessary, but not running around and chasing the opposition and dragged out of position before the ball is kicked. It is about getting set up and being aware of the ball and then attacking the ball. Again, not just standing there waiting for the ball like Baines did today.
Fran Mitchell
70
Posted 25/08/2018 at 17:45:25
Many excuses will come out: transition, point at Bournemouth okay etc, but never should a team throw away a 2-goal lead against a bottom-half team.
Richarilson should be fined for this petulance and gullibility. He should know he will be the target of wind-up merchants, he has to rise above it.
Keane & Holgate not solid enough. We need Mina or Zouma in first 11. Side note: I hope Keane recovers okay and is soon on our bench.
Baines is too slow, too weak. Digne needs to come in starting next game.
Coleman needs to up his game. Too many mis-controls, wasted balls and leaving too many gaps. Kenny deserves a chance in the League Cup.
Gueye needs to improve his passing, he's just too average on the ball. Give Baningime a chance in the League Cup, or on the bench.
Tosun is still not convincing. I'd like to see Walcott down the middle with Bernard out wide.
John G Davies
71
Posted 25/08/2018 at 17:47:01
David, 69
Keane was ball watching and let the forward run off him
Jim Bennings
72
Posted 25/08/2018 at 17:49:07
We, and I say we meaning the staff at the club aswell as the fans, need to accept sooner rather than later that this is no longer the Leighton Baines of 2008-2013 and it never will be again.
He's 34 in December and the energy has gone now from the days he partnered Pienaar to create the wonderful "Bainaar".
That Leighton Baines is gone and is not coming back and we didn't pay Barcelona good money for France international left back just to sit warming the bench so it's time now to see him start on Wednesday night and again at home to Huddersfield next weekend.
Sentiment gets you nowhere in life and football is no different.
For the record on the Coleman debate, it's hard to ever recover from an injury as bad as the one he acquired last year and being brutally honest he's not looking the same going forward as he once was a few years ago and even at his best he was never as strong defensively as say Tony Hibbert was.
Ciarán McGlone
73
Posted 25/08/2018 at 17:53:04
The knives are out for Baines.
Thought he had a decent game..penalty aside.
Andy Walker
75
Posted 25/08/2018 at 17:53:34
Mike 63, spot on. Richarlison has now identified himself to all the other EPL defenders as someone they can wind up easily. He's just made his life a lot harder, silly boy.
In the end a point was a good result bearing in mind we were 10 v11 at HT. But that's got to be the worse game I've ever seen Coleman have for us, what has Silva done to him because his other games this season have been pretty poor too.
Steavey Buckley
76
Posted 25/08/2018 at 17:57:19
Is Digne not a very good left back, because Baines has been a defensive liability for 2 seasons? The penalty he gave away along with the 2 points was the actions of a player who does not know how to defend properly. He should have been goal side to the Bournemouth player not pushing him in the back.
Tony Abrahams
77
Posted 25/08/2018 at 17:57:21
Couldn't argue with that Steve@68, but it's the lack of discipline that makes Baines, look like he's a young kid still learning the game?
Alan J Thompson
78
Posted 25/08/2018 at 18:00:42
A draw snatched from the jaws of victory.Something really has to be done about the standard of refereeing, that bloke was abysmal.
I don't know what Smith said but for a bloke who supposedly doesn't speak English it was a stupid reaction by Richarlison and if one had to be sent off then so did the other as both put the heads forward. As for the penalty, it was a none event but why was Baines the wrong side of his man to start.
And what do some of you have against Davies, the lad had a good game and is far superior to do nothing Schneiderlin while you couldn't find Sigurdsson for the first half and if he's worth 45M then heaven help us. I did like the look of Bernard even if stood alongside Pickford he looked almost midget like but his control and awareness of what was around him was most impressive.
Again, Silva's biggest problem is sorting out the defence but then we've been there with Martinez.
George Cumiskey
79
Posted 25/08/2018 at 18:02:27
You can bet your life Baines will start next week and DCL will come on as a substitute and do absolutely nothing.
David Barks
80
Posted 25/08/2018 at 18:04:57
John Davies,
What should Keane do, tackle the player, pull him back? The player was running toward where Baines was perfectly positioned. Had Baines simply done what you are supposed to do as a defender, which is attack the ball in the air, then the corner is defended with ease. Sort of like what Keane did when he ATTACKED THE BALL IN THE AIR and was knocked out by Gana.
That's how you defend, you attack the ball. You set up as a team and then watch where the ball is delivered and attack that spot. You don't stand and wait for it to arrive.
Colin Glassar
81
Posted 25/08/2018 at 18:05:58
I only caught the last 30 mins or so (1-0) so I saw the best and worst of Everton. Going forward we looked good but defending was shambolic at times. When they scored once again the lack of a leader was glaring. That's why I would've kept Rooney to bring him on for the last 10-15mins.
We'll be ok under this manager but it won't be a quick fix.
Jim Bennings
82
Posted 25/08/2018 at 18:07:40
Alan
Maybe you are right on some points but Tom Davies is not and I stress this, is not a Premier League footballer, not in a million years.
Can he shoot?
Is he quick or strong?
Head a ball?
See a pass?
Break up the opposition attacks?
No on all the above.
He is very good at making himself look busy doing nothing, he runs around into space where there is no action then arrives where the action is happening too late to have any impact on anything.
He's only 20 but he runs slower than my great grandad and never looks to have any "oomph" about him.
Chris Watts
83
Posted 25/08/2018 at 18:10:09
I don't want to single out players but..
DCL. Can something please suggest to me what he brings. Again when he came on he ambled around. Once ran the ball out of play. I cannot see anything encouraging as to what he adds. Neither has the knack of scoring like Kane or Shearer. Not pacy like Owen. Not skilful like aguero or salah. Not strong like costa.
He just looks to be a passenger and doesn't make any impact at all. Can someone advise anything different ?
George Cumiskey
84
Posted 25/08/2018 at 18:11:28
Colin exactly right lack of leadership especially with Baines as Captain, talk about man or mouse.
Eddie Dunn
85
Posted 25/08/2018 at 18:12:08
Baines made a few costly decisions passing back when there was no need, putting us under pressure as well as getting caught out of position. Coleman was even worse. he had a black five minutes were his touch was awful, and he too made wrong choices.
Keane scored a goal and got hurt clearing out from defence but was being taken on a ride by Wilson and co.
Davies is all running but again makes silly mistakes.
As for Richarlison, if he was playing for someone else we would hate him. Goes down too often, gets wound-up too easily and let the team down today.
Such a shame as at times we looked good.
The referee was atrocious.

George Cumiskey
86
Posted 25/08/2018 at 18:14:24
Jim@82 I say every time he comes on and get shot down for it.
John G Davies
87
Posted 25/08/2018 at 18:14:44
David 80,
You can't attack the ball if you have lost concentration and let the forward run 10 yards off you.
He did the same thing for Wolves second goal
John Pierce
88
Posted 25/08/2018 at 18:14:51
As dysfunctional performance as you will ever see.
Capable of dynamic transition and smart thinking we scored two very good goals, after spending 20minutes adjusting to the red card. Pickfords pass for Walcott, very good.
Sigurdssons quick thinking for the 2nd, brill!
Whilst Bournemouth changed tactics after the 2nd goal we were guilty of having thought the game was won. Sitting back rather than playing the way that got us the lead we deserved our fate.
Have I ever seen Coleman & Baines play so poorly? Never together. Seamus river danced through the game, his best touches with his head.
But ultimately Baines was exposed as soon as Richarlison was ordered off. Timid, without the strength and option of our Brazilian, Baines looked as poor as last season.
No matter your own hue on today's performance giving up a 2-0
lead is criminal in any circumstances both Silva, who introduced players too late, and the players need to hold their hand up. Not heads obviously that will get you sent off.
Alan J Thompson
89
Posted 25/08/2018 at 18:15:00
Sorry, Jim, but that's bollocks. Davies is involved which is a dam sight more than some of the more expensive players we have. Of course you will make mistakes if you are involved more and that applies to most but you give me the impression that you think that players who do nothing and never make mistakes are better players and I can't agree with that.
Jim Bennings
90
Posted 25/08/2018 at 18:15:00
Chris
On DCL I'll tell you what he brings shall I?
A great impression of Stuart Barlow version 2018.
Hits a shot like a four year old, runs around well but never makes a run that looks remotely threateningly likely to lead to scoring and basically when he has got into scoring positions he couldn't hit a bulls arse with a banjo.
But it's ok because he's under 22 people will have you believe he's "deffo gonna be great in three years".
Yeah right!
He's not even the player Vaughan or Anichebe were at the age of 20.

Jim Bennings
91
Posted 25/08/2018 at 18:17:11
Alan
Maybe you have just been watching endless reruns of the goal he scored against City 18 months ago, he's done bigger all since that day mate and it's not just me saying it, the vast majority of seasoned match going fans where I sit at Goodison feel the same way.
Paul Birmingham
92
Posted 25/08/2018 at 18:17:16
Positives to take into the next game, but hand on heart I for one and I'm sure many other TWrs, had a hunch that they'd make a go of it and we'd contrive to make it into a hanging on for dear life match.
Until the players learn to manage themselves then manage the game, we will be liable.
Other teams would have seen us off. To have this game an£ contrive to spew it is frustrating.
But based on the last 4 seasons, there's more belief in forward play than for many a year.
I'm not convinced DCL, is gonna ever be consistent, but you could argue, without regular starts it won't happen.
The same for Tom, whom I think is showing signs of improvement and focus, but like DCL, he'll needs regularly starts, else he works on his own focused improvement plan with MS, to make himself the first name on the team sheet.
Plenty to go for, early days, we aren't a dirty side, but I'm waiting for the shite hawks in the media and the MOD troglydite pair of Murphy and Neville to start professing the art of good teams and clean play.
Let's dust down, hope MK, is well, and recovers fully.
Richarlison must learn to control himself, and it will come with time, but he must learn fast. Every week, he's gonna get gouded, and we need him to keep the attacking balance of the team.
Siggy, for me should have scored at the end..
Darren Hind
93
Posted 25/08/2018 at 18:17:19
Any news on Keane ? I though he was excellent again today and was made up for him when he scored. I just hope he is ok.
Rich should never have been sent of for violent conduct. A fucking good kicking for his dumbfuckery would have been a far more fitting punishment for his crime
That said there was much to be pleased about today. I noted on the LF that, although we were down to ten men and not playing well, we were still throwing men forward - encouraging.
We shoulda,woulda,coulda, but we gave away a soft penalty and the second ? I've already had my say about zonal. those who are not blind devotees already know there will be more.
I don't think we did too much wrong, Bournemouth are renowned for finishing like Dancing Brave, so the cavalry charge was always going to come
.
A bit frustrating, but we are trying to play again. That's so nice to say after the horror shows of recent seasons.
Disappointed, of course, but the guy who has had to talk me down from all those window ledges every Saturday night these past couple of years can relax an have a bevy tonight
David Barks
94
Posted 25/08/2018 at 18:19:40
John Davies,
Again, if Baines attacks the ball that is being sent directly at him, do they score? If he doesn't just stand flat footed, as he so often also does while watching his man send in a cross, that ball is easily blocked.
Danny Broderick
95
Posted 25/08/2018 at 18:19:55
Reasonable first half performance.
Fantastic first 30 minutes in the second half.
Up and down last 15 minutes.
The game swung on the ref giving them a pen that never was. It was a coming together between Baines and their attacker. Nothing more.
The ref was very poor today and he gave them the momentum at the end.
Michael Keane had his best game in an Everton shirt today. Hope he is ok.
Jay Wood
[BRZ]
96
Posted 25/08/2018 at 18:20:36
Watch the play for their equalising goal carefully. From the corner, Steve Cook runs off Keane and past Tosun - both Everton players in the six yard box - which allows him the free header to hit the post.
Baines position is a good 3-4 yards OUTSIDE the six yard box, ready to protect the edge of the box from a possible outswinging corner. The role of the taller Keane and Tosun is to head the ball clear in and close to the six yard box. The role of Baines is to clear the ball out, or block efforts from the edge of the area.
Which player you 'blame', I fancy, is whichever player you most want to scapegoat.
You could also blame Gana and Davies who are touch-tight to Ake as the ball comes in, but the goalscorer runs off them and tucks in the rebound.
Baines was unfortunate on the penalty, soft as it was. He cannot be held principally responsible for the equaliser as some are attempting.
And as Stephen Brown wrote, Baines was not the worst full back on the park for Everton today. Seamus was very poor again for the second game running.
Jim Bennings
97
Posted 25/08/2018 at 18:20:46
Anyway enough of player opinions.
Three wins from the last thirty away league games since January 2017.
3 yes THREE in the last 30 yes THIRTY!!
That's a pile of utter rancid shit.
Peter Mills
98
Posted 25/08/2018 at 18:20:47
What a game to have after Mike Allison's "What is a good result?" thread!
Before the game I thought a draw would not be a bad result. When Richarlison was sent off I thought a draw would be an excellent result. When we went one up I still thought a draw would not be disastrous but was obviously hopeful we would win. At 2-0 up, only a win was acceptable. 2-1 I was fearful. At 2-2 a draw became satisfactory again.
I think, somewhere in amongst all that, I see coming away with a point as kind of ok, we are going to become used to such results under Silva, I suspect.
Chris Watts
99
Posted 25/08/2018 at 18:21:29
Jim agree totally. Hopefully someone will say something positive about him. I can't see the raw ingredients are there
Such a strange game. 2-0 up and 10 v 10 you'd bet everything on us winning. But a 5 minute meltdown. Just bizarre
I do think silva should have got subs on earlier. Baines was tiring and maybe gone to 5 at the back? Tosun didn't look sharp to me. Still a point isn't the worst thing in the world. 2-0 with 20 minutes to go through jeez
Paul Tran
100
Posted 25/08/2018 at 18:23:23
Zonal marking does not mean defenders stand still, have lapses in concentration or let your man get goal side. That's bad defending, regardless of system, and we've seen it for a few years. It's the reason why we've bought two centre halves and a left back.
That's two away games we should have won. That said, I love the fact than even in adversity, we're always getting men forward and trying to win games. That's refreshing.
Alan J Thompson
101
Posted 25/08/2018 at 18:23:59
No, Jim, it is based on this game and last week. Try watching with an open mind and then compare to those around him not those sitting around you.
John Keating
102
Posted 25/08/2018 at 18:24:54
Things are definitely changing under Silva, and for he better.
I think everyone accepts he can't fix the years of mismanagement overnight, however, surely there are some things he can do with a tweak here and there.
Many posters have mentioned that more or less the same team that were a disgrace to the shirt last season are showing a vast improvement this season. But has nothing been learned defensively ?
Individual defensive errors can't be legislated for and we have to accept them as part and parcel of the game but how we set up as a unit can.
I have no doubt Silva has good ideas how to set up but until his players come in we have to defend in a way that suits the present players.
We still look suspect and weak at the back, he's had a couple of months to work with the defence and sometimes it looks as if we are regressing not progressing.
Four points dropped from winning positions and all those goals preventable. Not acceptable and no excuse I'm afraid
John G Davies
103
Posted 25/08/2018 at 18:25:16
David,
Again, it's Keanes man.
If he doesn't lose him Baines 5'4"
is not left to win the header against the centre forward 6'2"
He is a poor defender in my opinion.
As soon as Mina is fit he's out.
On a positive note and by way of small compensation my betting banker of the day went in.
Hope you all took my advice
George Cumiskey
104
Posted 25/08/2018 at 18:27:41
I like Tom Davis but today he was off the pace, and to bring Walcott off and leave him on was ridiculous, especially when we needed an out ball.

Paul Tran
105
Posted 25/08/2018 at 18:30:08
Yes John G and apologies for my advice!
Christy Ring
107
Posted 25/08/2018 at 18:33:09
I hope Keane is ok, he was our best defender today. Baines has to be dropped, he's way too loose, when was the last time he closed down a winger, and stopped a cross coming in. Digne should play in midweek, to get match fit.
John Pierce
108
Posted 25/08/2018 at 18:34:16
When attempting to put right posters who you disagree with always best to get the details right hey? Callum Wilson with the header not Cook, Ake with the rebound.
But to be fair they both have a 3 on their back, breathe air and look like twins
But watch carefully people, as the poster said. Deary me. ☹️☹️☹️
David Barks
109
Posted 25/08/2018 at 18:34:28
Ok John Davies. So Baines is supposed to do nothing in the box because he's tiny. Got it. Makes you wonder what he's doing in the team. He's clearly not meant to win the ball, that is solely down to Keane running to the spot Baines is standing in to win the ball for him.
Gana is also tiny, but didn't stop him challenging for numerous balls in the air. Maybe someone needs to get in his ear and tell him to stand still, that's not his job. Be like Baines and stand and watch while others come running in front of you to win the ball for you. That sounds brilliant.
John G Davies
110
Posted 25/08/2018 at 18:34:41
My choice to back it Paul.
No worries mate.
Glad you got a bit back on the BTTS bet👍
John G Davies
111
Posted 25/08/2018 at 18:37:08
David Barks.
That's a nonsense response.
Look back at the goal then tell me Keane didn't lose his man.
David Barks
112
Posted 25/08/2018 at 18:39:01
So who was Baines meant to be marking John?
Steve Alderson
113
Posted 25/08/2018 at 18:40:01
John Keaton has already said what I was going to so I will just repeat that Silva has yet to show that he understands the problems or what he will do differently to solve them.
John G Davies
114
Posted 25/08/2018 at 18:41:23
Watch it again David.
I guarantee you will see it differently.
David Barks
115
Posted 25/08/2018 at 18:43:22
Answer the question John. Who was Baines marking?
Jay Wood
[BRZ]
116
Posted 25/08/2018 at 18:43:54
John @ 108.
So I got the identity and name wrong of the player who headed against the post.
Is my description of the play correct? Yes.
Which is most vital in the point I'm making?
Deary me indeed...
Steavey Buckley
117
Posted 25/08/2018 at 18:45:55
Everton have played relatively weaker opposition in the premier league yet have conceded 5 goals and were lucky not to concede more, which means, Everton need to score 3 goals to secure victories. I expected the defence to be sorted out the beginning of the season as a top priority yet Silva began the season with 2 players way passed their best when others were available.
John G Davies
118
Posted 25/08/2018 at 18:45:56
There is ONE player in the box.
Keanes man.
Who do you think Baines should be marking?
Brian Harrison
119
Posted 25/08/2018 at 18:49:42
I know its very frustrating having taken the lead playing 10 v 11 then increasing the lead when it was 10 v10. But I can only imagine had Koeman or heaven forbid Allardyce in charge for our last 2 away games we would have come away with nothing. Silva has said after the game he doesn't like his players doing what Richarlison did so don't go looking for sympathy there lad.
But there are positives 2 goals in succesive away games Richarlison and Walcott on the score sheet in 2 of the 3 games played. Also Silva has only been here a few weeks yet the mindset is completely different. Getting these players to go from man to man to zonal will take more than a few weeks.
Yet to see Everton with Digne,Mina,Gomes, Richarlison and Zouma all playing. Change cant happen overnight but I think its fair to say we can see the start of the acorns begging to grow. Beat Huddersfield and we will have 8 points from a possible 12, which will be a solid base to begin with.
Brent Stephens
120
Posted 25/08/2018 at 18:51:00
Meanwhile Balogun of Brighton gets only a yellow for (arguably) a worse tackle than Jags'.
Dermot Byrne
121
Posted 25/08/2018 at 18:51:00
Apart from usuals, reaction to this seems reasonable
So so frustrating to watch but ?
Game 3.
Unbeaten.
I can see happy clapping hope
David Barks
122
Posted 25/08/2018 at 18:51:19
Steavey,
Digne was just signed before the first match. Zouma confirmed after the window and Mina has a foot injury.
So, with Digne clearly being the left back of the future, with that future hopefully starting this week, that's LB done. Holgate was preferred at the back but was injured all preseason, which Silva spoke about repeatedly. That's why he wasn't in from the start, he missed most of preseason. So that's Jags done now.
Zouma will now be in for Keane alongside Holgate. Mina will be back in a couple of weeks. So what else needs to be done in your eyes right now? Presumably we will have 3 of the back 4 being new players starting next week.
Ian Riley
123
Posted 25/08/2018 at 18:51:21
The defence has no protection. Tom Davies is simply not good enough as a holding player. I don't know what position is best for him? Sadly he needs to have more influence on games or he is heading for the Rodwell and Barkley "what could have beens". Idrissa gueye does not work hard enough to help out the centre halves.
Last week against Southampton we were lucky in the end not to draw. Our midfield and defence are not working as units. The management has had their decision to change players made for them today. The midfield needs a calming influence especially when ahead in games.
For the first time in many years our forward play looks solid with pace. Genk tusun needs to exert his strength more. Sadly there are positives but old weaknesses are still there.
Brent Stephens
124
Posted 25/08/2018 at 18:52:24
"Deary me indeed..."
Language, Jay, language.
John G Davies
125
Posted 25/08/2018 at 18:52:54
Answer the question David.
Dermot Byrne
126
Posted 25/08/2018 at 18:54:21
By the way to watch replays to make sure your blame is accurate is a pointless thing to do and shows less understanding of the game than even I have methinks
David Barks
127
Posted 25/08/2018 at 18:55:17
Baines should be attacking the ball that is heading straight at him. Quite simply John. If he doesn't stand there flat footed as he so often does, then he goes and wins the ball.
John G Davies
129
Posted 25/08/2018 at 18:57:55
Each to there own opinion David.
Hope you post later when you have had a chance to see it again
John G Davies
130
Posted 25/08/2018 at 18:59:23
Who did you blame for the goal Dermot?
David Barks
131
Posted 25/08/2018 at 19:06:35
John,
You're just wrong, I'm sorry. You even said there was only one Bournemouth player in the box. Not sure what you were watching.
Baines is set up just in front of the near post, just outside the 6 yard box. He's standing facing the corner. The ball is sent in and is heading straight at him, but he never moves. The Bournemouth player runs right in front of him and takes the ball.
The Bournemouth player actually pulls away from Holgate first, before the ball is kicked, runs behind Keane and in front of Tosun, then beats the flat footed Baines to the ball. Keane was actually marking a man and was in front of his man.
John Pierce
132
Posted 25/08/2018 at 19:08:20
What sanctimonious crap from a poster who pulls others up on detail like pedantic nit picker.
Yet can only respond with 'so what' as they cannot hold themselves accountable to the same standard they hold others.
Prefacing a post with 'Watch the play for their equalising goal carefully', then in a tone as patronizing as it comes, proceed to lecture posters on what action occurs, yet incorrectly so.
So wrong details are okay as it does derail the posters point? Lets hope the poster affords others the same latitude they afford themselves.
David McMullen
133
Posted 25/08/2018 at 19:10:42
Missed the goals don't know what the fk when wrong but first off don't blame Richarlison, what a gobsh*te Smith was.
Aside from that it's extremely poor we blew a 2 goal lead (again at Bournemouth), time for Silva to dismantle the 17/18 team and bring his own men in.
Rob B Williams
134
Posted 25/08/2018 at 19:12:14
Very Very Disappointing result given the 2-0 lead.
Faults everywhere, apologists everywhere, we even have a moderator who acts like an extremist and this is only the third game into a season of BIG changes.
There are calls for MORE culling, get rid of the Old Guard - bring in the new, even the walking/hobbling wounded, Baines is fucked, Coleman is showing advances signs of a similar ailment, Jags was/ is/ will always be done. Richarlison is an idiot, Keane was brilliant/ a twat and now a saint.
THIS IS THE 3rd GAME - we have a new regime. What happened to the magic word that was being bandied about pre-season: PATIENCE?
Patience is said to be a VIRTUE but it seems we Evertonians will always moan! Shoot?
Sam Hoare
135
Posted 25/08/2018 at 19:13:32
Losing points when 2-0 up and 20 mins to play is not a great look.
But personally I'd have probably taken a point this morning. And I'd have definitely taken one at 3.45pm.
I'm not massively bothered if we finish 7th or 13th this season (I'd be surprised if it was higher or lower) as long as we are playing better football and laying the foundation for a better future. To my eyes both those things are happening.
I'm excited to see our strongest XI playing together under Silva in a few months time.
John G Davies
136
Posted 25/08/2018 at 19:14:07
David,
You know quite well we have been debating Baines involvement in the penalty.
Please don't switch it.
Raymond Fox
137
Posted 25/08/2018 at 19:16:55
Not a bad result in the end but we should have won.
Richarlison has been getting a good press recently, rightly so but his head has probably swelled somewhat. Anyhow that's three games he's going to miss, he should be fined for that stupidity.
Baines has never been a reliable defender, his game was going forward with the ball, I think the lad has now seen better days.
If the squad can miss serious injuries and we can finish with 11 Everton players on the pitch for a change, we'll have a excellent season.
I can see us finishing 6th.
David Barks
138
Posted 25/08/2018 at 19:17:10
Oh my God I was trolled again by John Davies. Dammit.
John G Davies
139
Posted 25/08/2018 at 19:18:25
Poor form from yourself David.
Typical but poor.
Dermot Byrne
141
Posted 25/08/2018 at 19:23:46
Rob B..LOL if you don't overreact you are not a proper fan.
If you saw improvement yet still in a poor game, you are blind.
Some of this stuff is so fucking childish it is beyond belief
"But mummy.. Baines messed up. Make it not happen Mummy."
David Barks
142
Posted 25/08/2018 at 19:27:00
No John,
You've now tried to change the subject as you have done so often in the past. You want to talk about the penalty and not the goal, even though repeatedly you referenced "the goal" earlier? Fine.
The forward runs off of Keane, a ball is sent into the box and Baines runs into the back of the attacker. Nobody is at fault for fouling that player and giving away a penalty other than Baines. Keane wasn't going to win the ball in the air but was adjusting to get between the player and the goal. Then Baines clumsily ran into the back of the forward and it was an easy call for the ref. Baines committed the foul, gave away the penalty while cruising at 2-0 up. No excuse for that.
David Barks
143
Posted 25/08/2018 at 19:29:57
Dermot,
I don't see anyone calling for their mummy. Just calling for the left-back we signed from Barcelona to now step into that spot for a player who had been on the decline and performed poorly today. Sounds reasonable and logical to me, no?
Dermot Byrne
144
Posted 25/08/2018 at 19:30:32
Oh for fucks sake. There are some on here who think others are "after them".
This is madness. Just perhaps someone can consistently disagree with the view of another.
Let's not get into making the other one a "type"
You know where that ends.
Dermot Byrne
145
Posted 25/08/2018 at 19:31:33
Tone David..tone
Jay Wood
[BRZ]
147
Posted 25/08/2018 at 19:35:22
John @ 132. Deary me again.
Don't be such a blert.
Pour yourself another drink and chill out.
John G Davies
148
Posted 25/08/2018 at 19:37:18
David, you take things far too personal.
Anyway, back to the debate. The fact I mentioned one attacker in the box is clear indication of which incident I was talking about.
David Barks
149
Posted 25/08/2018 at 19:45:01
I see a massive improvement in the team. I see a team that is being sent out to win the game, no matter whether home or away or if we're down a man. We have players in attack that are working together and working hard, chasing down the ball and connecting well together when in possession.
We also have some of the older players performing poorly. Luckily we have been buying their replacements. Jags has been replaced. It should now be time for Digne to replace Baines. We need players in the team that expect to win.
This was always going to be a process and take time. It was never about one single transfer window. The fact that the manager is saying he is disappointed with a point away from home, after being down to 10 men in both away games is a positive. He is sending the message to the players that 3 points is what is expected.
He's let the usual players start the season to see how it goes, while the new signings get up to speed. It will be key for him to be ruthless in the decisions going forward. A player like Schneiderlin has responded very well to that challenge, surprisingly, but was unlucky to pick up an injury. Overall the positives are easy to see, but it's always disappointing to not get the win when up 2-0.
Colin Glassar
150
Posted 25/08/2018 at 19:50:53
I have to agree with you David. I said earlier today we probably won't be 100% (as a unit) until around November.
To shake off the malaise and defeatism at the club is going to take time.
Dave Brierley
151
Posted 25/08/2018 at 20:04:30
David Barks, your obsession with denigrating Leighton Baines is becoming tiresome. Give it a rest and find some other whipping boy.
Jerome Shields
152
Posted 25/08/2018 at 20:08:12
The two Bournemouth goals where defensive errors. Both were caused by the forward being able to get in front of the defender. I was told as a schoolboy, playing in defence, to always try to get in front of the man you are marking. Both defenders marking the forward threating made this elementary mistake.
As for Richarlison, he is a marked man, since his solo performances of the first two games. He was beating defenders and causing organisational problems for the defence.
Defenders marking him will be told to spoil his play. Get a toe in, obstruct, spoil his play; even better – wind him up. Richarlison fell hook. line and sinker – into the trap.
At least Walcott is taking the pressure off him, but the rest of the forwards are not. Tonsun in particular looks good, but he is not beating his marker. He lays off balls and links play. This suits the defender that is marking him down to the ground. The defence can keep their shape and forwards running on to his passes are easily dealt with by zonal marking.
These defenders are not the top defenders in the Premier League. If Tonsun can turn and beat his marker this upsets the organisation of the defence. If you can put Richarlison out of the game, there is no other threat than Walcott, in the current Silva selection, set pieces aside.
Everton have played three teams that are destined for the lower half of the Premier League. These teams have exposed Everton's weaknesses. Everton are playing better than last season; they may have players who can come in a improve things, but it's urgent that Silva and his team improve the standard of play by coaching individual players how to best perform in their positions and replace them if they are not capable. There still is a lot of hard work to be done.
On the standard of play of some players in the first three games, Everton will get a hiding down the road against the teams capable of playing at the top end of the table. Arsenal will be the litmus test as usual, even with a new manager,
Darren Hind
153
Posted 25/08/2018 at 20:09:12
Hillarious stuff!
Two of TW chief apologists for zonal marking arguing about who should have been marking the scorer.

Absolutely clueless!!!
John McGimpsey
154
Posted 25/08/2018 at 20:13:47
Jim Bennings (82) hits the nail on the head. Anyone thinks different were probably the ones slating Ross while bigging up this useless bellend over his Man City goal. Laid on by Ross, by the way...
David Barks
155
Posted 25/08/2018 at 20:14:07
No Darren,
First goal was from a penalty which came from open play, due to Baines clumsily running into the back of the man. Not zonal marking.
Second goal from the corner, Baines was set up right where the ball was delivered, but he remained flat footed instead of attacking the ball. Nothing to do with who is marking at player. One was a stupid penalty and the other was failing to attack the ball in the air.
Darren Hind
156
Posted 25/08/2018 at 20:17:51
115 "Answer John who was Baines Marking ?"
David Barks
157
Posted 25/08/2018 at 20:23:01
Yes Darren,
Now for the context to that post. John repeatedly said Keane failed to mark his man. I said It had nothing to do with Keane marking a man, that the ball was sent directly to where Baines was standing but Baines never attacked it. So in reply to being told repeatedly that Keane wasn't marking his man, I sarcastically asked who was Baines marking while standing where he was.
But then the twist Darren. John said he was talking about the ball that led to the penalty, while I was talking about the corner that led to the second goal.
Darren Hind
158
Posted 25/08/2018 at 20:26:45
118 - "There is ONE player in the box: Keane's man. Who do you think Baines should be marking?"
I'd stick to happy clapping if I was you guys. This tactical lark is clearly not for you.
Paul Williams
160
Posted 25/08/2018 at 20:29:47
We just need consistency going forward. Carry on drawing every game we finish with 10 men and win with 11. Stats suggest we should walk away with it this season.
Chris Nolan
161
Posted 25/08/2018 at 20:29:47
Deeply frustrating after we did the hard work in getting comfortably ahead. Poor we couldn't see the game out.
Two problems as I see it: The midfield doesn't keep possession well enough and we're too mistake-prone at the back. Soft penalty resulting from Baines challenge but did he need to do it? And yes the one on Tosun was at least as debatable. And then yet again poor defending from a corner.
Positives all round and clarity re where we need improvement. Looking forward to seeing the likes of Digne and Zouma.
Two final comments:
- Seamus had a shocker.
- I expected Sigurdsson to do better with the chance at the end
Onwards Evertonians
David Barks
162
Posted 25/08/2018 at 20:29:56
Darren,
He was referring to the ball sent into the box that led to the penalty. So what point are you trying to make by copying and pasting individual sentences from earlier posts? As I said, he was talking about that opening goal while I was talking about the second goal.
Rob B Williams
164
Posted 25/08/2018 at 20:41:31
DB 149. - Yes, yes yes ffs.
Paul Tran
165
Posted 25/08/2018 at 20:49:14
Two goals conceded today due to poor defending.
I couldn't give a stuff what 'system' we play. I get a bit irritated by the argument that zonal marking means that defenders stand still in a space waiting for the ball to come into that space. That's bollocks.
When we have defenders with strength & presence, who can concentrate, who attack the ball, who stay the right side of their man, who actually mean it, we'll do better. And we won't be obsessing with 'systems', we'll be talking about good defending.
David Barks
167
Posted 25/08/2018 at 20:53:16
All the time he's had Dermot? Three games?
Brent Stephens
168
Posted 25/08/2018 at 20:53:52
It was ironic, David.
Joe O'Brien
170
Posted 25/08/2018 at 20:56:36
David @149 totally agree with everything you posted. We're all disappointed with letting a 2-goal lead slip... but under a new manager... new tactics we've been unlucky not to be on 9pts.
It'll take time to gel... Richarlison will learn a lot from that red and I can't see him making that mistake again after been wound up. He'll need to because he's going to be kicked around the place for the remainder of the season. For sure he'll be wound up.
Baines has been a great servant for us but today might see his place gone, a totally stupid challenge that let them back into the match.
All-in-all, I can totally see green shoots... we've come a hell of a long way from the dross we had to endure last season.
Terry Farrell
171
Posted 25/08/2018 at 20:57:08
Rob, spot on. Tony, I don't like what you say or how you say it. Utter garbage! Do me a favour!
Keane was excellent today. What makes you think the new guys will come in and go straight to their best form? Bainsey played well but made a stupid mistake for the penalty. Seamus is not on it but we all know it will come. Knee-jerk gets us back to Square One.
I agree with all about zonal. Never heard a rational arguement to go from having a man on each post, mark man for man, and speed merchant on the half-way line.
David Barks
172
Posted 25/08/2018 at 20:59:25
Ah, sorry Dermot.
Ed Prytherch
173
Posted 25/08/2018 at 21:00:23
A poor performance from Baines and an injury to Keane should mean starts for Digne and Zouma in the next game. Hopefully they will seize the opportunity to become first choice players.
If Lookman had been acting like an adult, then he too would have a great opportunity but maybe that train has left the station. We should soon see the new guys integrated into the first team and that should be a good thing.
Can you believe that we are missing Schneiderlin?
Lawrence Green
174
Posted 25/08/2018 at 21:13:30
It felt like a loss, it looked defensively speaking a loss but it was a point added to the total albeit it should have been three. I am happy with the manager saying that any player — no matter how old or inexperienced — cannot react in such a way as Richarlison did today.
Players with cool heads and not those who react emotionally are usually those that go on to become winners. Richarlison can learn from his mistake and hopefully quickly, so too can the team learn that when they are in charge of proceedings i.e. 2-0 up away from home, it is not good enough to retreat and offer the opponents a way back into the match as invariably that's the way to throw points away, and along with it any hopes of achieving things beyond seventh place.
The team is still learning about the managers methods, there are still some new players to come into the team in the coming weeks, but if the defence can't operate with more composure when under pressure all the good attacking play in the world won't help the team get victories, particularly on the road.
Five points is not really indicative of the performances in general but the lack of clean sheets is the Achilles heel that has been with Everton FC for far too long and it is in danger of undermining the progressive side of our game.
I've seen plenty of people saying that Marco is Martinez MKII but I don't see that, I see a driven manager with a steely eye who won't let players off the hook if they let him down. I tend to agree with Sam @ 135 when he says 'as long as we are playing better football and laying the foundation for a better future. To my eyes both those things are happening.'
A boring uneventul 1-0 victory at the Emirates would be most welcome but we have three games at Goodison to navigate before we travel there.
Mike Connolly
175
Posted 25/08/2018 at 21:15:27
Dave @149,
Great comment. Silva has given the old guard game time, and realised what we already knew. That's the reason he has two centre-back and left-back replacements ready to step in.
However, I think our centre-mid is our big problem. Tom Davies has gone backwards. He lacks creative abilities to drive forward, looses the ball often, his passing and shooting is not up to much. Also, he stands about 6 feet away from Gueye.
I know pundits will say "He's only young, give him a chance!" However, that's why the successful teams buy the finished article.
But this season has been a massive improvement on the last couple of seasons and I trust Silva will get it right
Dave Abrahams
176
Posted 25/08/2018 at 21:24:56
Disappointing and frustrating today; we will improve as the season goes on and mistakes will continue to happen but with much less frequency game by game.
What shouldn't happen again is Charlie allowing himself to get so foolishly involved in something that is easy to walk away from, not walk into. He will have to be given a walkover with that, with the proviso that it doesn't happen again, ever, a large club fine may help him in that direction.
We are looking better going forward but still very poor and too open defending, let's see what we are like in a few weeks when the team will look a lot different than those chosen today.
I agree with those who thought the manager should have done better with the substitutions and could have been quicker making them so maybe Silva learned something today as well.
Amit Vithlani
177
Posted 25/08/2018 at 21:33:32
Any news on Keane?
Bill Watson
178
Posted 25/08/2018 at 21:59:57
Piss poor refereeing once again but, once again, we made it easy for them to make a 'home' decision.
Seamus has been way off the pace all season and both he, and Baines, were poor, today.
The amount of crosses that get into our box is worrying!
Paul Mackay
179
Posted 25/08/2018 at 22:02:02
People on here last week knocking Pickford and his distribution. I thought he was great today.
The Echo saying Sigurdsson was our best player (??) and Gueye was poor. I didn't see it like that at all. Gueye was one of our better players. I thought Coleman was dreadful, Baines poor. Richarlison did nothing up until his red. Pickford MotM for me.
Keen to see some of our fringe players get a runout midweek and make a claim for a start next weekend. I suspect Digne, Bernard and Zouma will all start next weekend.
Grant Rorrison
181
Posted 25/08/2018 at 22:38:59
Gutted with the result and how it came about. But, plenty of positives. Depending on how you want to look at the games, we either need to improve defending corners better, or hope that the quality of refereeing improves, in terms of giving soft penalties and allowing free kicks to be taken from the wrong position and we'll be winning every week.
People can say we've had easy games but Bournemouth are 3rd, unbeaten and had a 100 percent record before today. Wolves held the Champions to a draw at home today too.
We're averaging 2 goals per game. Haven't been behind once so far this season. Have played 70 of 270 minutes a man down. Have a host of new signings to come in and make their mark in the team, including practically an entire back four.
So, assuming the defensive problems aren't entirely down to zonal marking/man marking and have anything to do with individuals themselves they can either improve or be replaced.
Our next 3 games are at home. Win all 3 and we'll have 11 points from 15 and be in the next round of the League Cup. Hardly the end of the world.
Ashley Roberts
182
Posted 25/08/2018 at 22:40:57
I really do not understand all of the negativity. Yes, we let a 2-goal lead slip which is clearly unforgivable. Having said that, I thought we played pretty well and the last 3 games have been such a breath of fresh air from the dour football last season.
Silva will get it right but we have to give him some time. The old guard as far as I am concerned are playing much better under his leadership. I know Baines was at fault for the penalty today but otherwise I thought he has done a pretty good job the last 3 games and so I think the criticism is a little over the top.
Also, while Davies was not Man of the Match, I thought he did okay and the folks on here who believe Schneiderlin would have protected the lead better with his 6-feet sideways passing and lack of tackling are totally delusional.
I know Keane has been the whipping boy for some time now, and rightly so, but I thought he has also played pretty well under Silva. The person I was dissapointed with today was Seamus. But we all know he will come good. I am sure Bernard will deputize for Richarlison over the next 3 games.
Always look on the bright side of life!!!
Ernie Baywood
183
Posted 25/08/2018 at 22:59:52
I'm similar, Ashley. There is still a lot to be positive about. There are no easy games, especially at this time of the year. Bournemouth had 6 points from two games. Wolves just drew with the current Champions. Unbeaten and 5 from 9 points after two away games isn't a bad start. And of course, we're better to watch.
But... there were lots of positive in the middle part of Martinez's reign. We would play ok and then be unlucky to drop points from winning positions. It's alright to have some bad luck but it became a theme under Roberto. It became very clear it was tactical rather than 'luck'.
And so here we are. Three games we were in winning positions in. Playing decent enough. Yet Wolves got back, Bournemouth came back, and Southampton were a lucky bounce from fluking a draw in a game they were never in.
For all the positive change, and the promise of further change, we're still playing to a familiar script. That needs to change.
Joe O'Brien
184
Posted 25/08/2018 at 23:35:59
In fairness Ernie we were down to 10 against a good Wolves team, as they proved today against ManCity today. A lot of teams will find it tough down at Bournemouth... only for a stupid challenge by Baines we would have got three points today.
Under Martinez. the team collectively were poor. Individual errors have cost us so far... a harsh red for Jags and a challenge that didn't have to be made by Baines.
Merle Urquart
186
Posted 25/08/2018 at 23:40:50
Pissed off with Richarlison's sending off, no need he should have known better l'd have rather he cracked him in the mouth than get sent off for that, pissed off with the performances of Davies, Coleman and Baines...this may have been Davies' last chance. A completely unnecessary shove from Baines has cost us there and the less said about about Seamus the better, never seen him so poor. The only consolation is that we never lost and we are at least trying to get forward more.
We still generally pass the ball very poorly and our control is shocking. Why does the big ball over the top cause us so much trouble? Tosun, l don't think he's up to much and DCL is a waste of a shirt, l was spitting blood when he ran that ball out of play on the flank...piss poor. Davies should have went off not Walcott too. The new arrivals can't come in quick enough and l think Marco Silva will have learnt a lot about certain players today. This match today for me was going to be a bench mark of our season, l think we will be better than last time but there will be plenty more frustrating weekends.

Chris Gould
188
Posted 25/08/2018 at 23:45:18
Much to be positive about, and I'm not overly concerned about our defensive frailties as I feel we have the players to get it right. I never felt that way last season.
Keane and Sigurdsson have been much improved as has Schneiderlin. Walcott also looks more of a threat.
My biggest concern after today was with Coleman. His head was elsewhere today. Twice he let simple passes run past him. There was a distinct lack of concentration and urgency about him.
Davies should not be a starter. He looks like a schoolboy amongst men. I don't care if he's a local lad. Right now, he is not good enough. I hear all the time how good he was when he was 16-17, well it would appear that he hasn't improved. He simply is not at the standard we need. I'm not writing him off and saying that he won't one day be a good player, but right now he shouldn't be in a team with top 6 aspirations. He makes poor decisions, plays poor passes and doesn't have any stand-out qualities apart from a good attitude. He needs to be learning away from our first team.
On another note, the zonal marking didn't work today for Bournemouth's second goal because Sigurdsson inexplicably pushed out as the corner came over and the Bournemouth player headed it. The ball then hit the post and landed where Sigurdsson was supposed to be standing. I can only assume that he thought one of our players was going to win the header, and that he was keen to get involved in a counter attack.We also should have had two penalties. One on Coleman and one on Tosun.

When it all comes together we are going to be a match for anyone.
Chris Nolan
189
Posted 25/08/2018 at 23:48:27
I just watched MOTD and there were three things that I picked up on
It was good to see them point out the pull on Tosun which should have given us the chance to go 3-2 up. Looking again at the Smith sending off it seems like a case of the ref levelling things up? It wasn't that a clear cut denial of a goal scoring opportunity though a definite foul. I'm disappointed they missed the chance at the end for Sigurdsson which I can't help but think he should have buried. I'm sure he will.
On another tack can we afford to let Lookman go now with our hot headed Brazilian is suspended for three games now and Bolasie now gone? I'm delighted the squad has been trimmed but in terms of wingers are we now potentially a bit thin?
Andy Williams
190
Posted 25/08/2018 at 23:53:11
Christ what a ridiculously boring and negative thread. 3rd game unbeaten playing a new system. Much more excitement and energy to the team but utter lack of patience on TW.
Merle Urquart
191
Posted 25/08/2018 at 23:55:42
Chris Gould 188
Good point about the challenge on Coleman in the first half, he was taken out inside the box by the touch line after he crossed, looks like that one has been air brushed out of all reports
Derek Thomas
192
Posted 25/08/2018 at 00:03:38
Spot on Ernie@183; Zonal Marking is just another name to hide/excuse poor defensive orginisation.
If its still happening at Christmas serious questions need to be asked and more to the point - answered.
Merle Urquart
193
Posted 25/08/2018 at 00:07:27
Andy does the new system involve competently passing the ball to one another? Because, although there has been an undoubted overall improvement in the first three games, we still have a big problem with short passing and basic control; it's not something we should bury our heads in the sand about. I would agree we are still unbeaten and with a tad more luck/concentration we could have 9pts.
Clive Mitchell
194
Posted 26/08/2018 at 00:14:26
Not had time to read many posts, but I don't suppose Silva is left wondering why he brought 3 first 11 defenders to the club after that.
Leaving to one side Keane's worrying injury, I expect to see Digne and Zouma start against Huddersfield. They might not be better, but they've not much room to be worse.
Merle Urquart
199
Posted 26/08/2018 at 00:37:10
Slightly off the thread but the introduction of VAR in the Premier League is vital to improve referees, but l also think it will be a big blow to the top six. They are the main beneficiaries of the bulk of the 'honest' mistakes and it was no coincidence that lots of the big teams at the World Cup went home early because of a lack of favourable decisions.
I don't think it would have helped Richarlison today though...
Peter Thistle
200
Posted 26/08/2018 at 00:58:23
Word to Silva - Zonal Marking is SHITE. Stop it now FFS.
Jerome Shields
201
Posted 26/08/2018 at 00:58:59
To clarify the necessity for a defender getting in front of the attacking players.
In the penalty instance: Keane was in front of the attacker but did not get the ball. Baines, to get the ball , had get in front of the attacker, who already had the initiative as a result of Keane not clearing the ball.
The penalty was caused by Keane's error, which put Baines in an impossible situation. . . The attacking player is never going to pass the ball to a defender, other than in error, so a defender has to have awareness and anticipation in his game. Keane had neither. They have to attack and get the ball.
The other factor was why was the crosser of the ball allowed time and space unchallenged to be so accurate in his cross? Similar to the Wolves goal resulting from a unchallenged cross from the same wing.
Ed Prytherch
203
Posted 26/08/2018 at 01:25:57
We are wasting our time complaining about refs. Quasimodo is one of the worst but there are many more who are little or no better. Our players need to understand that they must give the refs no opportunities to screw us.
I am optimistic as Silva seems to have the same philosophy as Moyes when it comes to team selection – don't drop a player who just had a decent game. Martinez damaged his relationship with the team when he benched Robles as soon as Howard returned from injury.
Koeman was so arrogant that the players knew that their performances had little effect on their prospects as he had made his mind up about them and was unlikely to change it. Unsy had no idea what his best team was and made too many changes. Sam was just a cynical arrogant bastard.
Now we have a manager who seems to understand team dynamics and chemistry.
COYB.

Kevin Dyer
205
Posted 26/08/2018 at 01:40:24
People will see what they want or expect to see. It's far too early to compare Silva to Martinez. The tactics are still evolving and the final starting 11 has not yet taken shape. The defence will improve, as will game management. The team has a spirit, confidence and proactive approach absent under Koeman and Sam. The red cards are individual errors, not down to Silva. In those circumstances we'd have lost both the Wolves and today's game under last season's managers.
Big error for me was leaving Baines on. Didn't see our bench but if Digne was there he should have come on when we went 2 up. They would clearly go direct and Baines cannot defend anymore. He'd look reborn the previous 2 games but with no Richarlison in front of him he reverted back to looking like a vulnerable player. Digne should be given his chance next game.
Our attack gelled in the 2nd half. Motm 2 games running for Sigurdsson, though some are determined he isn't good enough still, for reasons that escape me. Walcott is a threat and Tosun, whilst not yet scoring is showing intelligent forward play. Gana is improved, as is Davies. Our short passing is fired into feet now, tempo is far better. Players are adjusting. Coleman is I think struggling with this aspect, hence his poor start. Holgate is showing he is a talented CB. We have 4 new signings that will be getting integrated into the team over the next month. By October I'm expecting a smooth outfit.
Or we can moan that we aren't were we think we should be after 3 games, that Silva is the new Robbie, that Davies is a Championship player blah blah blah.
Jamie Crowley
206
Posted 26/08/2018 at 02:10:24
I'm bi-polar about our first three games.
On the one hand, we look a much better side in my opinion. We've created more opportunities in three games than we did the entirety under Allardyce. Feels that way anyhow. The games are actually enjoyable to watch again. We honestly should be on nine points in my opinion.
On the other hand, we're not on nine points. The Wolves game was "acceptable" in many respects to come away with a point. Today, however, feels like a loss to me. We should never lose a game where we are up two goals. And if we have ambition, and I believe the new regime does, we simply have to win games such as today against inferior teams who are below us.
And the penalty. Ah, the penalty! I've calmed down quite a bit since that moment. I think I was more angry than Michael Kenrick to be honest.
Forgetting that it was a braindead thing to do - and NO you can't take that out of the equation admittedly - the ref completely made the wrong decision.
That is not a red card. Never. The action of placing your forehead on another player's forehead is not, in and of itself, a red card. It is not violent conduct with reckless action or intent to injure. That's the barometer for a red in the Laws.
Both players freely placed their heads together. There was no intent to injure by either player, and it was not violent conduct. The ref should have shown a caution to each player (hence the existence of a yellow card in and of itself, to stop that kind of petulant, immature action) and had a chat.
Violent conduct is violent conduct - and violent conduct is a red card.
Richarlson's feather-like touch, "manning up" to a competitor, was not violent conduct.
If football sends players off for this type on innocuous action, it runs the risk of MORE simulation, and a bleached game devoid of passion, robust challenges, and physicality.
It was never a red. It did not meet the criteria of a red card offense.
Jamie Crowley
207
Posted 26/08/2018 at 02:11:45
In my country when you go to a sports bar and watch footy, there's inevitably "that guy" who says something along the lines of, "are you watching players roll around?" or, "pussies play that sport" or, "seriously they fake injuries and dive." That type of comment.
Now the people who say that have never, ever really watched a game. But they have a point.
I am not trying to play the "small penis compensation" argument. What I am saying is this game of soccer is a contact, physical sport. Men should not ever be sent of for having a "stand off" type of situation. And they certainly shouldn't be sent off for a head rub when they both came together that didn't even need a band-aid!
These are the most highly skilled, and most importantly, highly competitive athletes in the world. They are going to have those moments. If they don't try to hurt one another, show a yellow and don't ruin the game!
If Richarlson has actually headbutted the Bournemouth fella, he should be out, straight red, with an even stiffer penalty.
That didn't happen.
Never, ever, ever "violent conduct."
If that's violent conduct, why don't we just dress the guys up as Barbie dolls and prance around the field?
If you think that's violent conduct then all I can say is I have a very, very different definition of violent conduct!
Can I use the term "violent conduct" any more to hammer home why that head rub was not a red?
Violent conduct that? Please! You have to be kidding me!
Ernie Baywood
208
Posted 26/08/2018 at 02:34:54
I get that same set of comments in Australia, Jamie. The local game here is a hard game - and off the ball pushing, grappling, and shoving is completely expected and accepted. 'They are just showing passion' is the local argument - my view is that professionals should overcome that and be able to focus on the team and the game. There are plenty of opportunities to show true toughness elsewhere.
A strong tackle. Putting your head in where it hurts. Blocking a shot. They are the actions of a passionate, 'hard' man. Rubbing your head against someone knowing full well neither of you are going do anything about it isn't hard. It's stupid, selfish and weak.
I agree it's not enough for violent conduct. So I disagree with the ref who went looking for unnecessary decisions all day. But that doesn't get Richarlison off the hook. There should be a card category for being a petulant nob.
Jamie Crowley
209
Posted 26/08/2018 at 02:43:12
Ernie -
I can't argue with any of that. I agree full-heartedly.
And I can imagine the comments in Australia. They beat the shit out of one another without pads!
I actually think that crosses a line from "hard man" to "full on fucking crazy" but that's a convo for another time.
Never a red in my opinion. Pissed me off to no end, and clearly still does a bit.
The game is getting sterilized, and what's worse is there's a massive element of conning the ref which compounds the issue. It gives "that guy" in Aussie or the USA more ammunition to rip the shit out of the game.
And that seriously gets on my nerves.
Let 'em play FFS.
Jamie Crowley
210
Posted 26/08/2018 at 02:47:30
By the way Ernie, we saw the exact definition today of a "hard man" in Keane.
He went in to head that ball with zero reservations. Zero. Bravery personified. That's the type of action that makes a "hard" player in my opinion.
I'd've backed out of that without a second's thought. He knew he might be in for a collision, but he went in full bore, for his team, anyway.
I sincerely hope the kid is okay.
David Barks
211
Posted 26/08/2018 at 03:41:16
That was an amazing challenge Keane won. He showed massive commitment and bravery in that moment. I am gutted for him. He had been improving with every match and was rising to the challenge Under Silva. Right now I just hope he will be okay because that was a horrific collision and then impact with the ground.
Brian Porter
212
Posted 26/08/2018 at 06:29:37
Terrible refereeing from start to finish. Totally ignored a blatant penalty when Tosun was tugged to the ground and as for Richardson, yes, he was stupid to allow himself to be goaded into reacting by the twat, Smith, BUT, a referee blessed with an ounce of common sense would have taken both players aside, read them BOTH the riot act and booked them both. It would have put an end to a lot of the petty fouling and winding up the Bournemouth players were indulging in and earned him the respect of the players. Instead he effectively gave Smith and his ilk a green light to carry on doing their best to get fellow professionals sent off, something I hate to see.
Smith's reaction to the alleged head butt was also a delayed reaction one. Watch it in slow motion. Charli touches him, he takes a step back, then suddenly grabs his head and goes into an Oscar winning performance. Cheating of the highest order and the FA should be looking at these incidents, and taking retrospective action against the perpetrators.
Chris Corn
213
Posted 26/08/2018 at 08:22:57
I'll be positive and make the one point. I wrote Gylfi off as being potentially one of the biggest waste of money in the history of the game. It seems I was wrong. He was magnificent again.
Dave Abrahams
214
Posted 26/08/2018 at 09:16:08
Players cheating by conning the referee have for a long time made me sick, not because one of our players was, primarily, sent off by the acting of an opponent.
Arteta always got on my nerves when losing possession would feign a foul. Initially, he got away with it and was awarded the foul; referees eventually got wise to him and waved play on. I would get off my seat and tell him to get up and get on with the game.
He wasn't the only one but stood out for me because he was one of our players, a cheat no less. Now, each team has three or four acting "the twat" and it stinks but will carry on and most probably get worse.
Rant over, for now, going to church and lighting a candle for Michael Keane. It looked a very serious injury, hopefully it isn't.
Jeff Armstrong
215
Posted 26/08/2018 at 09:30:12
Dave your right, and I think our latest cheat is Richarlson!
Stephen Bird
216
Posted 26/08/2018 at 09:36:50
Let's be a bit more savvy like our Red neighbours.
I am about to scour Adam Smith's twitter account for the last 7 years, there is bound to be a Brazilian reference in there.
We can turn this into a racist hate attack have the decision overturned and have Adam Smith arrested.
John G Davies
217
Posted 26/08/2018 at 09:52:02
A good challenge from Keane, I hope he recovers quickly. But he's a centre-half who headed a ball and got a knock, that's his job. Let's not put him down as a hero.
Ray Roche
218
Posted 26/08/2018 at 10:03:10
John, so, by your reckoning, a soldier who gets shot or killed on active service shouldn't be regarded as a "hero" because he's just doing his job?
Some players show more courage than others, putting their head in front of a forwards boot for instance. Surely that's shows a degree of courage lacking in some players.
Open for debate?
John G Davies
219
Posted 26/08/2018 at 10:07:05
Ray,
You have just proved my point perfectly.
Ray Roche
220
Posted 26/08/2018 at 10:17:58
John, stand at the Cenotaph on 11th November and day they're not heroes but just doing their job. THEY can say that but you can't. Unless, of course, you have the right to say it. I don't, but my brother did.
Again, purely for debate.
Andy Williams
221
Posted 26/08/2018 at 10:18:39
Merle. I entirely agree. Still much work to be done but my gripe is that as soon as there is a minor set back the hordes come on TW eager to place the blame on their particular scapegoat for all ills.
Tony Abrahams
222
Posted 26/08/2018 at 10:22:31
Take a straw with you Dave, so you can wash your mouth out with holy water.
These type of discussions always fall into categories, he shouldn't have done it, it's the letter of the law, but as with most incidents, I just feel that football or more to the point referees, have just go no concept anymore.
The game of football is getting stripped bare, no tackling is around the corner, and although we all love skill, it shouldn't produce a foul, every time a clever little footballer over-runs the ball.
Maybe it's nothing new, Duncan Ferguson went to jail for a head-but that would have got him filled-in on the streets (is that all you've got mate) and if Smith would have reacted like this on the street, he would have got destroyed.
What's the street got to do with it, I know? But you can't cheat like this in real life, and the more emotion you take out of the game, the more you are going to damage it long term .Surely?
John G Davies
223
Posted 26/08/2018 at 10:29:41
Ray,
My point exactly.
To liken a centre half who challenged a header to the true heros, such as those who give their lives in service, is a step to far.
He's not a hero, he's a footballer challenging a header.

Eddie Dunn
224
Posted 26/08/2018 at 10:49:59
John G Davies - Baines is 5ft 7ins.
I thought that both he and Coleman looked puffed-out yesterday. I watched a good live stream and the two of them were gasping. Bournemouth do play at a high tempo and a few of our lads struggled to cope with it.
The were mistakes, there always will be, but on reflection, the biggest mistakes were by the referee. he could have sent both players off or done nothing, leaving it to retrospective action.
The penalty was ridiculous, the striker feeling Baines'a hand on his back and collapsing. (If our Niasse got a ban for simulation, then this is even more of a cheat.)
I would never have taken off Walcott, who was on fire and gave us an out option, and if a change was deemed necessary, then surely Niasse was the man to occupy the likes of Ake rather than Calvert-Lewin.
Brent Stephens
225
Posted 26/08/2018 at 10:55:45
Richarlison hardly touched Smith, if at all. There was no violence. There was overreaction from Smith. The ref might have been conned. Arguably (stretching it a bit maybe) the ref didn't have to give red, it could have been yellow. Other similar incidents (I can't think of any) might have led only to a yellow. The game has become soft. etc etc.
Can't disagree with any of that. BUT we all knew as soon as we saw it that the high probability was a red, regardless of all of the above. So Richarlison should have known that and not reacted. I might be pissed off with the ref. But I'm also pissed off with our man. It's not either /or. Now without him for 3 games.
Steven Jones
226
Posted 26/08/2018 at 11:01:01
Brian 212 Spot On …
In fact there was missed shirt pulling on Charli and then when he complains to the Ref … Smith then comes over and starts saying things and then he puts his head in Richi's face and then angles it forward - definitely Charli not the initiator or the only perpetrator ….
Retrospective action should follow - but no doubt wont
Brent Stephens
227
Posted 26/08/2018 at 11:06:32
Yes, Steven, and that - shirt-pulling initially, and goading. And then...

John McFarlane Snr
228
Posted 26/08/2018 at 11:09:34
Hi all, I'm as disappointed as anyone, but no matter how drilled footballers may be, they make mistakes, which may result in goals.
Goals cause delight or misery, it's football.
Steven Jones
229
Posted 26/08/2018 at 11:10:55
Jeff 215 … no he is not
Last season he was the most fouled in the Premier League
The stick he got against Southampton … every time he gets the ball the defender cheats by barging into him, little pushes and shirt pulls. Then when he gets half a turn he get slashed down – and you point the finger at him for cheating .. my god you've got some neck .
Martyn Thickitt
230
Posted 26/08/2018 at 11:13:27
Martinez Mk 2.
Rob Halligan
231
Posted 26/08/2018 at 11:19:55
Richarlison is going to be a target from now on. Teams will be doing everything to get a reaction from him and get him into trouble.
We were in the opposite corner from where the incident occurred, so obviously couldn't tell what happened. I was sent a video of the incident at half time however, and no way is that a red card. If anything, going by that video, Smith seems to be the one to make the "first move", followed by a pathetic reaction to the referee of "please sir, he hit me".
In the second half, Smith was on our side, and boy did he get dogs abuse, and I was kind of disappointed he was the one sent off. Football fans don't forget incidents, so let's hope when Bournemouth come to Goodison he gets the abuse he deserves.
Richarlison however, needs to just walk away from incidents like yesterday, let his football do his talking, and hopefully we will see a few opponents sent off for reckless challenges on him.
Rob Halligan
232
Posted 26/08/2018 at 11:29:02
Jeez, now having a much clearer look at the incident on Goals on Sunday, the intent is there by Richarlison, but it still didn't require the reaction which Smith did. They both moved their head forward, so by the letter of the law, both should have been sent off there and then. Smith got his just desserts in the second half.
Brent Stephens
233
Posted 26/08/2018 at 11:35:28
Agree Rob. Just desserts. Goals on Sunday also make the point that the law says that contact doesn't need to be made for it to be violent conduct. Agree - both should have been sent off.
Raymond Fox
234
Posted 26/08/2018 at 11:41:36
It's a tough job the refs have to do but there's game-changing mistakes in too many games. It's getting silly, any forward movement of the head and your off. Richarlison was goaded and he shouldn't have responded, but violent conduct, no not for me.
As for Coleman maybe he will never be the same player again after his injury; it's happened to many players in the past.
Draws against Wolves and Bournemouth are decent results in my book, there's no easy away games.
As I said before I'm more optimistic about this season than I have been for some years now and I think we will be right up there this season.
Jay Wood
[BRZ]
235
Posted 26/08/2018 at 11:46:47
Ray @ 218 and 220.
With respect, you're usually one of the fairest and more balanced posters on TW.
So it's a tad surprising to see you apply a completely false (and extreme) analogy to JGD's comment about Keane ' the hero'.
I think it unfair to John and an example of seriously distorting and exaggerating a simple opinion on a single incident in a game of footy.
Still awaiting some good news how Keane is this morning. A shame for the lad that his bravery has possibly cost him game time as he has played so well this season.
George Cumiskey
236
Posted 26/08/2018 at 11:49:29
I just wonder why Gana went for the header with Keane when he was facing our goal and it was clearly Keane's ball.
And don't forget, everyone, our two goals came from terrible mistakes by their goalie.
David Hallwood
237
Posted 26/08/2018 at 11:51:20
C'mon gents, I know football fans are the most fickle people you'll ever meet, but Coleman finished; seriously!
Let's start and finish with the old cliche about class and form. Yes, he had a 'mare but for every 'mare he's had, I'll give you 50 9/10 performances. He's still the bargain of the century and I'll remind posters of this when he puts the performances in we get a bit blase about.
Ray Roche
238
Posted 26/08/2018 at 12:10:48
John G and Jay (Brz)
As I said, purely for debate. Personally I don't regard footballers as "heroes"; I do, however, think that some show a degree of "courage" by attempting headers or tackles when they know that they are likely to get hurt.
Jay, fair comment, an extreme analogy but a similar principle. "Doing their job".
For the record, I now regard many footballers as overpaid, cheating, unprincipled arses who bring shame on their "profession". Would you want them in the trenches with you? I'd sooner have my cat.
Frank Crewe
239
Posted 26/08/2018 at 12:13:26
Played 3, scored 6, conceded 5. It is obvious where the problems lie. Richarlison is just a distraction. We still should have won.
Digne was bought to provide cover and competition for Baines so maybe it's time to see what he can do. Keane will not start the next game if he has been concussed. Mina is injured and Jags is suspended so Zouma and Holgate will be the centre-back pairing.
Coleman should be made captain. Hopefully Schneiderlin will be fit for the next game so will be back at defensive midfielder and since Richarlison is now suspended Bernard will no doubt feature or maybe Lookman if he's still at the club:
Pickford
Coleman, Holgate, Zouma, Digne
Schneiderlin, Gana
Walcott, Sigurdsson, Bernard or Lookman
Tosun
This line up should be more than enough to defeat Huddersfield. Then we have the international break.
After that, we should have Keane and Mina fit again and Jags suspension will be completed and hopefully Gomes will be available as well. All our summer signings will be available with the exception of the Richarlison suspension so we can take it from there.
John McFarlane Snr
240
Posted 26/08/2018 at 12:14:00
Hi George [236], you appear to endorse my view. The example that I generally use is this:
If an Everton striker scores with a 30-yard scorcher, "No goalie in the world would have saved that."
Ten minutes later, the opposing striker scores a similar goal and the inquest begins: "He should have been closed down, the keeper was too far off his line" etc.
I have learned over the years to make allowances for human frailty, it softens the blow. somewhat.
Jay Harris
241
Posted 26/08/2018 at 12:14:24
I just started making my way through the posts and I can't believe the negativity. Yes, it was disappointing to surrender a two-goal lead but playing with 10 men for a while is tiring and you can't keep the same shape.
Baines had a great game up to giving a very soft pen away and then his head dropped. Wilson should be ashamed of himself for the way he went down and I hope Eddie Howe is proud of the players who conspired to get Richarlison sent off.
Bournemouth are on a good run of form right now and it was always going to be a difficult game but, rather than looking for scapegoats for a 2-2 draw, we should be looking at heroes for playing so well and almost coming away with 3 points.
Yes, its a big concern defensively, but Silva has already recognised that in bringing in 3 new defenders.
Derek Knox
242
Posted 26/08/2018 at 12:35:15
I have just seen that Michael Keane suffered a hairline fracture of the skull, and is about to be released from hospital, so that's good news.
With an injury of that type, especially for a central defender, I would imagine a fairly long spell on the sidelines.
Which, if that is the case, it's a good job Silva recruited in that department before the window shut. The International break is approaching too so there's another fortnight for his recovery period.
Best wishes to Michael for a speedy and complete recovery.
Steve Cotton
243
Posted 26/08/2018 at 12:42:43
Just want to point out that, yes, we are all down. We lost a 2-goal lead, a bad injury, and an over-the-top sending-off but we could and should have won that. Tosun's penalty claim was obvious and Sigurdsson had a great opportunity at the end.
We could have had 4 with 10 men. So let's be positive, gents...
Jeff Armstrong
244
Posted 26/08/2018 at 13:01:40
Steven (#229),
Lots of comments on here in the last couple of weeks about Richarlison going down easily and buying fouls. Dave rightly points out that Arteta was guilty of the same type of thing; Pienaar & Mirallas too, if we're being honest. So, if we're talking necks... wind yours in and take off the blue-tinted glasses.
Brent Stephens
245
Posted 26/08/2018 at 13:34:52
Thankfully Keane is not too badly injured. A couple of weeks out. But a nasty injury anyway. Could have been a lot worse, just with the unbroken fall.
I hope he's back soon. And I hope that doesn't put him off similar challenges in future.
Jay Wood
[BRZ]
246
Posted 26/08/2018 at 13:39:52
Ray @ 238.
I just didn't care for the way that, in 2 posts, in response to his harmless post, you implied John would be the type who "stands at the Cenotaph on 11th November and [tell attendees] they're not heroes but just doing their job."
A tad unfair, as I said.
For what it's worth, I also think it's a tad extreme to label Keane 'a hero' for incurring the injury he did. I rather think it was simple collateral damage (to borrow a military phrase, if you like).
Keane simply went for the ball as he normally would, unaware of Gana's presence, and there was an unfortunate clash of heads.
Keane himself has now confirmed it is a hairline fracture of the skull which will 'heal itself'. I really hope this doesn't derail his career, or (heaven forbid) career ending as it was for Hull's Ryan Mason.
Jay Wood
[BRZ]
247
Posted 26/08/2018 at 13:48:17
Frank @ 239.
With a change in the suspension rules, domestic suspensions are no longer competition specific. That is, suspensions picked up whilst playing in the Premier League are NOT only served and reserved for Premier League games. They are served out across FA Cup and League Cup games also.
Therefore, Jagielka will be available for selection for the Premier League game against Huddersfield as the midweek League Cup game with Rotherham constitutes the 3rd and final game of his 3-game suspension.
Whether Silva selects him in place of the injured Keane is another matter.
Dave Abrahams
248
Posted 26/08/2018 at 14:01:42
Jay (247), if you are correct (and I don't doubt it) this will mean Richarlison will only miss two league games, as I presume he will be suspended for the Rotherham game.
Chris Gould
249
Posted 26/08/2018 at 14:12:19
Jay, I think you have that the wrong way round. Pretty sure suspensions are now competition specific. Richarlison will be available for Rotherham but not the following 3 league games.
Rob Halligan
250
Posted 26/08/2018 at 14:14:13
Just found this on the FA website, showing which Premier League players are currently under suspension. Jagielka's started on 18th August and ends on 29th August, meaning the League Cup game is included:
Currently on Suspension
Person	Club	Start	End	Total

Bissaka	Crystal Palace	20.08.2018	26.08.2018	1
Jagielka	Everton	11.08.2018	29.08.2018	3
Vardy	Leicester City	18.08.2018	01.09.2018	3
Hayden	Newcastle Utd	18.08.2018	01.09.2018	3

Chris Gould
251
Posted 26/08/2018 at 14:32:18
I must have it wrong then. Thanks for clarification.
Chris Gould
252
Posted 26/08/2018 at 14:48:43
Ah, it's cautions that will this season be competition specific. Tallying up cautions in one competition can not result in a suspension in another. Suspensions for reds are not competition specific.
Jack Convery
253
Posted 26/08/2018 at 14:49:24
Ludicrous from Richarlson – no excuses as he let himself and everyone blue down.
Can someone teach Smith what a Kirkby Kiss is actually like. He may then have something to complain about, when he eventually comes round. The kind of kid who ran to teacher every time his pen was borrowed or he wasn't allowed to play centre-forward. Pitiful!
Rob Halligan
254
Posted 26/08/2018 at 14:56:11
On a lighter, funnier note. I see the RS have hired a throw-in coach?
WTF is one of them? 😂😂😂
Brent Stephens
255
Posted 26/08/2018 at 14:59:03
Rob, you misheard it. It's a "throne" coach. You can guess the rest!
Dave Abrahams
256
Posted 26/08/2018 at 14:59:04
Rob (254), Rob, that's the coach they "throw in" to replace the coach that was supposed to bring the six-times winners home.
Rob Halligan
257
Posted 26/08/2018 at 15:16:13
Wonder what his name is? Maybe Percy Thrower. Or perhaps it is Max Bygraves singing "You need Hands" on the touchline. 😂😂
Pete Clarke
260
Posted 26/08/2018 at 15:48:38
The game has gone soft. The players often get caught up in this kind of situation but it's the referee who clearly gets duped and I thought from that moment he would try to even it up. Smith would never have walked if the other incident had not happened so piss poor refereeing for me.
Also, that reaction from Smith after Richie had feigned the Kirkby Kiss was not as bad as some I have seen and I still remember screeming at Kevin Ratcliffe to get up and fight after Vinnie Jones had laid a soft one on him many years ago.
I just hope Richarlison doesn't prove to be a Neymar type player and go rolling around or diving at the slightest touch.
Ray Roche
261
Posted 26/08/2018 at 15:48:41
Jay @246
Jay, I think you will find, if you read my post again (220) you will see that I don't accuse John of being the sort who would stand at Cenotaph at all. I was inferring that, if he did, his comments would not be welcomed. My posts were as I said, just for debate.
Some footballers do little more than go through the motions; others go that bit further and end up with a mouth full of boot.
Derek Knox
262
Posted 26/08/2018 at 15:53:20
Brent @255, which part of Vitreous China does he hail from? 😏
Soren Moyer
263
Posted 26/08/2018 at 15:59:54
Baines is finished. Calvert-Lewin and Gana not good enough!
Jay Wood
[BRZ]
264
Posted 26/08/2018 at 16:02:18
Ray, not wishing to belabour the point, but you yourself have already admitted your original analogy was an extreme one and in my eyes you compounded it with a second related post, describing a completely fictitious scenario, in association with John's name.
It was and is unfair on John, escalating a very simple football opinion he offered into a fiction you created. That's all I'm saying.
As for your opinion on modern day footballers and in response to your rhetorical question: 'Would you want them in the trenches with you?'
Given your comments to John, I am assuming by that you mean fighting alongside you in war trenches.
TBH, I wouldn't want myself, my son, or anyone for that matter fighting in any trenches, in any conflict or war.
Now that really is a topic open for a completely different debate, but probably not here on TW.
Brent Stephens
265
Posted 26/08/2018 at 16:06:34
Derek #262 "... which part of Vitreous China does he hail from?"
Pudong side of Shanghai.
Paul Tran
266
Posted 26/08/2018 at 16:08:53
I don't know if it's on YouTube, but if you want to see a proper headbutt, check out the young Kevin Ratcliffe nutting Tommy Hutchinson in the 1981 FA Cup quarter final.
A horrible, fractious game where City kicked everything except the ball. We were 2-1 up and with 5 minutes left Paul Power equalised. The last minutes got really nasty, culminating with Rats doing Hutchinson by the corner flag. If my memory's right, he walked straight off, after doing what all of us wanted to do.
Now, that was violent conduct!
Derek Knox
267
Posted 26/08/2018 at 16:09:26
Brent @265, I can't say I am familiar with it, but I believe it to be a Shit Area ! 🤔
Brent Stephens
268
Posted 26/08/2018 at 16:15:14
It was a poo hole only 15 or so years ago. It's now the mega new side of Shanghai, opposite the Bund where all the colonial buildings are.
Pete Clarke
269
Posted 26/08/2018 at 16:19:20
Remember it well.
Ratcliffe was a left back then and it was a nasty game.
Maine Road was a not a nice place to be after we got knocked out in the replay and I think Hutchinson scored that night to rub it in.
John G Davies
270
Posted 26/08/2018 at 16:41:58
Jay, Ray.
No offence taken lads.
Lets drop it out.

Ray Roche
271
Posted 26/08/2018 at 17:04:29
Okay by me, John, as long as Jay realises that "would you want them in the trenches with you" is an oft-used phrase and not one I've made up!

Merle Urquart
272
Posted 26/08/2018 at 17:32:22
In comparison to Richarlison's sending off yesterday, the last 3 yellow cards for Newcastle (vs Chelsea) on live now were all far worse cynical tackles with absolutely no attempt to win the ball... does this not constitute violent conduct then?
Lawrence Green
273
Posted 26/08/2018 at 17:38:42
Paul 266
I found the video for the game at Goodison but no video of Ratcliffe being sent off, but I found one of Trevor Francis being sent off against Everton at Maine Road. I'd forgotten all about that particular incident.

https://www.youtube.com/watch?v=Z2IDYXP3uAU
https://www.youtube.com/watch?v=xCwQW5EMsmQ
Derek Knox
274
Posted 26/08/2018 at 17:40:45
Merle, I got fed up watching that one so switched to Fulham v Burnley, there was a tackle from Schurrle that was worse than the Jags tackle, and I don't think he even got a Yellow!
This what really grinds, the inconsistency of poor refereeing in matches. It can be the difference between 3 points or none, and a player undeservedly gets a three match ban.
Jamie Crowley
275
Posted 26/08/2018 at 20:44:52
Brent @245 -
You say, "And I hope that doesn't put him off similar challenges in future."
Honestly, I'm not sure how you stick your head in ever again after that type of injury. I was scared the kid had done some serious, serious damage to his brain. Not that a concussion and hairline fracture aren't enough! But I thought it could even be worse. Keane was out like a light before he hit the ground. It was scary. Whenever there's a collision and you're just looking for movement - any movement - it's just bad.
How, after that, you go into a header with the same conviction of purpose is honestly beyond me.
Hard man indeed if he can. Tough as nails in fact. Anyone who can return after an injury like that without some degree of trepidation has my undying respect.
Seamus is another example - leg broken like a twig and now plays the game exactly the same. Yes, he had a stinker, but I don't see any of yesterday's performance down to fear. I think he'd get stuck in all over again, not giving his broken leg a second's thought.
That's bravery.
I broke my collar bone in the exact same place twice playing hockey. After the second time, I was never the same player. I don't know how some guys do it. #respect.
Brent Stephens
276
Posted 26/08/2018 at 21:00:13
Jamie, as you say, respect. I did the cartilage on my left knee 3 times; twice through football, the other time on the follow through in a golf shot, the final time also rupturing the ACL (went off like a gun). I had to ditch the football (though I felt as fit as hell otherwise, even at 50 at the time) and concentrated on the golf. But the barrier to following through on the golf shot is more psychological than physical.
Chris Nolan
277
Posted 27/08/2018 at 01:37:39
Re 269 Peter Clarke
That night at Maine Rd in 81 ranks as one of the great heartbreaks. Miserable Mancunian night in lashing rain and a hostile atmosphere. Their left back McDonald got two and then I think Paul Power got the third. Well beaten and a memorable cup run was in tatters. I was living in London at the time and a mate and I travelled back to the smoke in the company of some incredibly smug and obnoxious City fans.
Chris James
278
Posted 27/08/2018 at 06:12:09
Feeling oddly sanguine about the result this week – yes, we should have seen it out at 2-0 (and I'm glad Silva acknowledges this); and yes, there's plenty to improve... but we're still undefeated and, most importantly, creating decent chances every game (even 'without' our new talisman). Regardless of whether we end up cracking the top 4/6, isn't it nice to be genuinely 'excited' by an Everton side once again?
Oh and most importantly, despite Richarlison's rush of blood, I've managed to scale the giddy heights of the ToffeeWeb fantasy league after (almost all) of GW3!!!
Just wanted to record this for posterity before it all goes wrong with a little digital grafitti – I 'woz' 'ere!
David Ellis
279
Posted 27/08/2018 at 08:03:18
Am I the only one who finds complaining about refs utterly dull? It's like complaining about the weather. It just "is". Refs are a variable that have to be managed.
We should focus on what we (that is Everton) can control — so
1. Don't nuzzle other people's faces with your forehead;
2. Don't push people in the back in the penalty area.... etc!
Ray Roche
280
Posted 27/08/2018 at 08:20:10
David, yes it's true that you shouldn't push people in the back etc., but the problem I and I'm sure a lot of fans have is the inconsistency shown by refs.
Before last season the FA stated that grappling in the penalty area by centre-backs would be penalty as the laws dictate. This had increased over the years without punishment and a crackdown was long overdue. The first game of the season, Mike Dean penalised Stoke, correctly, and this made headline news. No other ref had the bottle to do it and now it's As bad as ever.
Consistency is what fans want and we' re not getting it. How many forwards have been suspended like Niasse? None, yet we see more blatant diving every week. Fans have a right to complain and will do until we see consistency and honesty in the game.
Robert Workman
282
Posted 27/08/2018 at 10:20:19
Have watched highlights. Our luck really is out this season. Clear penalty for push on Tosun at 2-2. However what could have been more significant was their equaliser. As the ball rebounds off the post their 17 goes towards it, but the ball goes straight to Ake. If their 17 had reached the ball and scored, he would have been in a clear offside position. Whether the wonderful officials would have disallowed it is, of course, another matter!
Tony Everan
284
Posted 27/08/2018 at 14:28:26
With regards to Richarlison being repetitively fouled he needs to take a close look at Eden Hazard.
Hazard gets fouled every 5 mins in every game, he rolls over holding his leg and makes sure that the referee has mentally logged it. Then gets up and turns on the style again.
Tom Bowers
285
Posted 27/08/2018 at 14:56:27
Everton, for many years, have long been on the wrong end of decisions or non-decisions that have cost points and other important games.
Some of us may remember a certain Clive Thomas in a cup-tie against RS.
They say that things even themselves out during a season but that is just a myth and the rhythm, momentum and/or confidence may have already been affected.
''Charlie Riches son'' needs to get a grip and realize he will get the rough treatment as long as he is a threat and in the Premier League there is a hatchet man in every team. (Everton's has just gone back to Boro -only joking!)
John Hughes
286
Posted 27/08/2018 at 16:18:49
As the other team hiring a Throw-in Coach does that mean their players don't know the laws of the game? Will the said coach sit on the bench with the 'how to fall down when an opposing player runs alongside you' coach.
Rob Halligan
287
Posted 27/08/2018 at 16:29:26
John, not only is he a throw in coach, but he's also a "specialist" throw in coach. Do you have to go through a series of training programmes to qualify for your "throw in coaching badges"?
Brent Stephens
288
Posted 27/08/2018 at 16:56:05
Rob, you have to start with the basic throw-in training programme and then become more specialised further down the line.
Mike Gaynes
289
Posted 27/08/2018 at 17:25:34
Rob and Brent, I think I'd make a hell of a goal kick coach. Where do I apply?
Jamie #275, "How, after that, you go into a header with the same conviction of purpose is honestly beyond me."
The usual answer is that you don't, not right away. You're a little hesitant to start with, and then you get over it. Heading was a huge part of my game until about a third of my neck was removed. When I came back after the layoff, I couldn't head the ball without pain, and it was probably a year after the surgery before I would go full-bore in for a competitive header.
But the knack came back. Just yesterday I put my head in front of a goal-bound shot. I'm sure Keane will feel some trepidation, but he'll get past it.
Brent Stephens
290
Posted 27/08/2018 at 17:39:20
Mike, jeez, what's the story behind the neck?
Mike Gaynes
291
Posted 27/08/2018 at 17:43:05
Cancer, Brent. Been a couple rounds with it.
Brent Stephens
292
Posted 27/08/2018 at 17:48:40
Ah, I noticed the cancer reference before. Didn't realise it was the neck. I think you said you'd recently had the all clear?
Steve Ferns
293
Posted 27/08/2018 at 17:51:08
Living life to the full eh Gaynes? I salute you sir. I hope you left it behind now.
Mike Gaynes
294
Posted 27/08/2018 at 17:56:27
Yep, thanks, full remission right now... whoooieeee!
Brent Stephens
295
Posted 27/08/2018 at 18:10:50
Good, good, Mike.
Barry Jones
296
Posted 27/08/2018 at 18:17:44
The worst thing about the Richarlison incident is that he has sent a message to every defender in the league that he is fair game for being wound up. I hope that this doesn't start "open season" on Richarlison.
I love the guy but he and Silva have to nip this in the bud right now.
Barry Jones
297
Posted 27/08/2018 at 19:33:31
Robert #282
Also Robert our players didn't react at all. Two or three Bournmouth players were moving in as they sensed a rebound. Davies just let Ake go and started waving his arm as if appealing for offside. This is both stupid and lazy. You have to be quicker mentally and physically and let the officials worry about the offside.
Tony Everan
298
Posted 27/08/2018 at 20:02:43
Great news Mike, Whooooieee indeed !
James Marshall
299
Posted 03/09/2018 at 12:55:08
It's worth noting that Marcus Rashford was sent off for exactly the same thing at the weekend. Both players pretty much the same age, play the same position (mostly), both wound up by an older pro, both same reaction, both same Tweet, both same manager response.
Add Your Comments
In order to post a comment, you need to be logged in as a registered user of the site.
Or Sign up as a ToffeeWeb Member — it's free, takes just a few minutes and will allow you to post your comments on articles and Talking Points submissions across the site.
© ToffeeWeb