Report
Two late subs, two great goals as Pickford saves Blues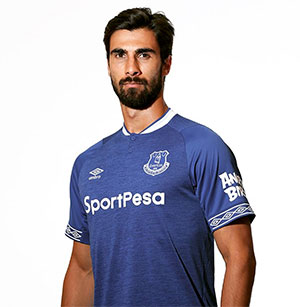 André Gomes starts his first game for Everton, over two months since joining the club.
Everton 2 - 0 Crystal Palace
Dominic Calvert-Lewin and Cenk Tosun both came on for the last 10 minutes and score late on as Crystal Palace make it very difficult, Pickford saving a penalty won by Zaha.

André Gomes started his first game for Everton, over two months since joining the club. Coleman displaces Kenny. Captian Tom Davies drops to the bench. For the visitors, Zaha is declared fit to start.

The game began with some physical stuff from each side and stop-start down the Everton right until Sigurdsson found Bernard but he Seemed to trip/backheel the ball. The attack was recycled before Sigurdsson launched a cross too deep for anyone to profit.

Gomes was understandably rusty and gave away a free-kick that could have been dangerous, as a physical battle between Richarlison and Sahko as Digne won Everton's first corner, which found the first defender. More recycling of the ball but far too slow to create any fear until Bernard's cross for Coleman was hit rather poorly well over the bar by the Everton Captain.

A brilliant long ball from Pickford to Richarlison saw him collide with Tomkins and go down far too easily. Richarlison got a chance to run at Palace with the ball but he was very easily dispossessed when he reached the area.

Richarlison got a chance to break with the ball but fumbled it badly and lost the Blues any initiative, but Everton benefitted from gift turnovers only to again squander any advantage with poor control under pressure, the quality leaving something to be desired in terms of composure.

Another free-kick for Palace but repelled well enough with Richarlison feeding Gomes who held onto the ball too long and saw it stolen off his toe. But a silly moment in defence, Zouma playing a strange backpass that Coleman finally woke up to. But some good pressing by Sigurdsson in turn almost won a corner. /p>

Yet another free-kick to Palace for very little, this time by Bernard, and Coleman did well enough. Pressure on Zaha, who was double-teamed way back into his own area, managed to release a good attack. But Digne cleared and Tomkins clattered Richarlison, giving away a foul.

Build-up play from the Bles was slow and deliberate until Walcott, who had been very quiet, lost a poor pass, allowing another yellow swarm up the field, the quality of football in the first quarter very poor at best, with Palace successfully chocking any Everton initiative.

Finally, a great exchange between Sigur and Col saw a fine shot on target saved by Hen but the corner was very easily cleared and Gana tugged on Zaha's shirt for a poor yellow card. Gomes clumsily trod on Zaha's ankle — another free kick, creating a really scrappy spell, Zaha pushing over Zouma. Pickford took the free-kick quickly trying to find Sigurdsson with another tremendous long ball.

But the ball was right back in the Everton area, Pickford unable to stop a corner that saw a dangerous glancing header flash wide of his goal. An attack developed but it was very scrappy and Sigurdsson lashed a shot high, wide and horrible.

Zouma was next to be called for fouling Zaha, yet another free-kick, forcing a good save by Pickford off the slick surface. Somehow, Palace failed to score, hitting the bar, and the next corner saw Sahko with a free header but penalized.

Bernard was not getting past his man and another foul committed. Next, Sigurdsson was fouled, another scrappy attack ensued, breaking down and Palace attacking strongly again.

Richarlison on a wandering run was fouled by Kouyate but Sigurdsson could not beat the wall. Bernard was again blocked, getting a corner that was headed well by Richarlison but a foot over the bar.

Some better passing but this time Digne lost the ball, recycled again until Sigurdsson saw a small space, slightly scuffed on the strike, shooting wide. A great break forward by Bernard, but Richarlison was immediately blocked by four Palace defenders.

A very niggly, physical, scrappy, stop-start half of earnest and competitive football that was never easy on the eye — anything but. 20 fouls — 10 each. Would Silva do anything at half-time to change the seemingly inevitable pattern of the game? The simple answer to that: A resounding No!

The match resumed and a little better, Bernard won a corner but got shoved hard into the hoardings. Digne swings it in but Kouyate falls over and Taylor blows. Very poor decision. Coleman does well to get a corner on the other side, Sigurdsson picking out Keane, headed well wide.

Bernard looked to beat his man again but failed. A horrible tackle on Richarlison looked worthy of red but only a yellow for Milivojevic. A rare intervention by Walcott, chipped into Hennessy's hands. Then he did much better from the right, then Gomes blocked after better pressure, a shot deflected. Digne's brilliant corner just over Keane. Coleman running in well but not picking out anyone in Blue.

A far better spell by Everton, with a free-kick deep left swung in by Digne, Bernard trying to find Richarlison who could not evade his marker. Zaha diving again roused the Goodison faithful but Palace attacked, fortunately breaking down. A horrible spell of non-football ended with Zaha going down again, caught on the ankle by Coleman as he turned, and Taylor correctly giving a penalty, but somehow it just didn't look right. Milivojevic's spot kick was saved brilliantly by Pickford with his foot.

Walcott got through off a great pass but fired too close to Hennessey, he really should have scored, as the game finally came to life. Bernard had another great run but just lost it trying to play in with his right foot, shockingly poor with Walcott free and ready to score off a ball that never came. Bernard, who had had a tough game, was sacrificed for Tosun with 23 minutes left, Richarlison moving out to the left.

Palace had a good spell, the ball coming back to them off every Blue touch until Pickford could grasp the cross. At the other end, a corner that Keane got toot but let it fly off the top of his head, with no attempt to direct it goalwards.

Palace tried to get behind the Everton defence and Zouma was forced to give up the corner, that the Blues defended away. But the play remained in Everton's half as Palace pushed up but it broke to Walcott who beat his man but had to backtrack for Gomes whose shot was curled wide.

With Zaha getting dog's abuse from the crowd, convinced he dived for the penalty, Tomkins was down and out after getting an elbow in the face from his own player, the crowd well unsympathetic. Slightly better play among Walcott and Gomes — who managed to tackle himself! — ended with a poor shot from Sigurdsson deflected wide.

Another Everton corner from the left was defended away and Coleman was booked for his foul on Zaha as Palace tried to break. Lookman and Calvert-Lewin were brought on for Gomes and Walcott, Everton switching to 4-2-4... very brave by Silva!

Digne's corner again bounced off the top of Zouma's head: no direction. Lookman was fouled, Sigurdsson delivering superbly but a defender connected, but on the recycle, Lookman, crossed in well and rising like a gazelle, powered in a very fine header past Hennessey for a very very precious goal.

A great clearance form the back landed well for Tosun who scampered away, controlled the ball very well on the run, and absolutely lashed his finish through Hennessey, a fine goal for the lad.

Tosun saw sight of goal and wellied another, this time into the side-netting as Everton played out 4 minutes of added time and a fine win that looked at times a very long way away, so massive kudos to Silva for two brilliant substitutions, giving Everton a third successive Premier League win and up to 8th place in the table.

Scorers: Calvert-Lewin (87'), Tosun (89')

Everton: Pickford, Coleman [Y:80'], Keane, Zouma, Digne, Gomes (82' Calvert-Lewin), Geuye [Y:29'], Sigurdsson, Walcott (82' Lookman), Bernard (67' Tosun), Richarlison.
Subs not Used: Stekelenburg, Baines, Mina, Davies.

Crystal Palace: Hennessey, Wan-Bissaka, Tomkins, Sakho, van Aanholt, [Y:51'], McArthur (89' Wickham), Kouyate; Schlupp, Zaha, Townsend.
Subs not Used: Guaita, Ayew, Kakai, Kelly, Puncheon, Riedewald.

Referee: Anthony Taylor
---
Reader Comments (148)
Note: the following content is not moderated or vetted by the site owners at the time of submission. Comments are the responsibility of the poster. Disclaimer
Ian Lloyd
1
Posted 21/10/2018 at 15:03:22
Good team selection – like it!
Dave Abrahams
2
Posted 21/10/2018 at 15:04:06
Jonjoe has been dropped, hope that works out, Jonjoe didn't deserve that.
Brent Stephens
3
Posted 21/10/2018 at 15:04:31
Wow. Gomes starts!
Geoff Lambert
4
Posted 21/10/2018 at 15:05:32
Dave, he is not even on the bench, could have picked up a knock.
Harry Hockley
5
Posted 21/10/2018 at 15:08:45
Wow, Gomes and Gueye in the middle... hmmm I'm salivating at the thought.
Coleman back in — woo hoo!
Simply 3 points — it's gotta be ain't it?
Pat Kelly
6
Posted 21/10/2018 at 15:09:33
Starting to look like a proper team.
Neil Lawson
7
Posted 21/10/2018 at 15:12:04
Still in the sun in Spain but this week I will be heading off to the bar to, hopefully, enjoy the game. Silva must really rate Gomes to throw him straight in. Hope it is proved to be the correct decision.
Sam Hoare
8
Posted 21/10/2018 at 15:12:27
Hmm. Brave to change a team after our best result of the season. Not sure I agree with it but the proof is in the pudding, I suppose.
Harry Hockley
9
Posted 21/10/2018 at 15:12:47
Dave, it's exactly what he deserves, his performances have got worse over the weeks with the worst coming last time against Leicester.
Imagine if Kenny wasn't a local boy and he was a German or a Swede... too many biased fans.
John G Davies
10
Posted 21/10/2018 at 15:16:41
Three points today lads.
Full of threat this side.
Steve Barr
11
Posted 21/10/2018 at 15:22:24
A nice little quote taken from today's Guardian which sums up our beloved Everton!
"One of the reasons we like football is because, unlike the daily mundanity of being us, we're not quite sure what's going to happen. However: then you have Everton.
Let's hope it's the first Everton that turns up today!
"They could quite conceivably batter Palace this afternoon, just as they could quite conceivably be battered by Palace this afternoon, just as they could quite conceivably perpetrate everything in between. And it's been like this for 30 years".
John Pierce
12
Posted 21/10/2018 at 15:24:57
The changes are what I expected, I suggested Lookman for Walcott too with the emphasis on ball possession and beating a man. But very happy with that.
The team is very top heavy with technical players against a side that will counter.
The duel between Zaha and Coleman will be interesting – both only nominally fit coming off injuries.
It feels like a good selection.
Jay Wood
[BRZ]
13
Posted 21/10/2018 at 15:25:19
Coleman before his injury this season was arguably our poorest player.
Jonjoe Kenny's performances at right-back have been superior to Seamus, even with the difficult 1st half he endured against Leicester.
I'm with Dave Abrahams. Tough on Kenny to be dropped.
A mixture of curiosity and anxiety to see just how Gomes fits in and shapes up in this team.
Christy Ring
14
Posted 21/10/2018 at 15:32:47
Hopefully Seamus will be back to form against Zaha today, and I'm looking forward to seeing what Gomes can bring to our midfield.
Harry Hockley
15
Posted 21/10/2018 at 15:33:00
Coleman has been poor, granted, but Kenny hasn't been any better.
Coleman will do better against Zaha one-on-one – he doesn't commit and fly in or go to ground as much as Kenny so I'm with Marco Silva on this one.
Dennis Stevens
16
Posted 21/10/2018 at 15:34:09
I think I'd have stuck with the winning team as far as possible. Players can always be introduced from the bench as necessary.
Stan Schofield
17
Posted 21/10/2018 at 15:40:08
On paper, that looks a very fine Everton side. Fingers crossed the performance reflects that.
Frank Crewe
18
Posted 21/10/2018 at 15:42:26
When you consider this time last year we had 3 players well over 30 in the back four. Now we don't have one over 30 in the entire 11 and only 2 including the subs and one of them is Stekelenburg.
Made up to see Gomes playing. Let's hope he's up to speed. Also Coleman and Gueye back. Wasn't expecting that.
Christy Ring
19
Posted 21/10/2018 at 15:44:47
Now with Gomes starting, Davies on the bench, and McCarthy nearly there as well, what does the future hold for Schneiderlin, who doesn't even make the matchday squad?
Annika Herbert
20
Posted 21/10/2018 at 16:12:06
Harry @9, we must be watching different games because I disagree 100% with your view that Kenny has got worse with each game. Just the opposite for me. Still, each to their own.
David Morgan
21
Posted 21/10/2018 at 16:54:17
I am watching live on TV in Townsville, Australia. I moved from Warrington in May... I get all 38 games live on TV but the catch is, it's 01:50 am.
This game is made for Lookman's big break. Fingers crossed he comes on in the second half if we can't break through. For the record, I am not a fan of Kenny either, for the debate going on.
Jay Wood
[BRZ]
22
Posted 21/10/2018 at 16:54:40
Mixed 1st half. Gomes possibly the pick of our midfield. Looking decent considering it's his 1st game in 3 months and 1st game for the Blues.
We are getting the ball out wide, but both Bernard and Walcott have both been poor with both their touch and ability to beat a man.
Not for the 1st time we are again too ponderous in possession and not doing enough to move the solid defensive block of Palace around.
Lookman on for one of the wide men may be the key.
Simon Dalzell
23
Posted 21/10/2018 at 17:20:48
Same old story. So frustrating! Change the bloody team. At least 2 subs.
James Flynn
24
Posted 21/10/2018 at 17:49:48
Hey, Hey!!
Great subs! Great finish.

Michael Lynch
25
Posted 21/10/2018 at 17:55:26
I thought we looked well balanced as a team from the start. Gomes was excellent in my opinion – did most things quickly and simply and will only get better as he gets back to match fitness.
Great subs from Silva. Fortune favours the brave, and he went all out for the three points. Great to see that positive approach from an Everton manager!
Jay Wood
[BRZ]
26
Posted 21/10/2018 at 17:57:57
So happy for both the goal scorers.
Could have made the subs earlier for me. Bernard in particular had a mare, but the 3 subs won it for us.
And let's not forget the importance of Pickford's penalty save.
Although he had some wobbly moments, I thought Gomes gave us a glimpse of what he could add to the team.
A hard earned 3 points, just about merited.
Jim Harrison
27
Posted 21/10/2018 at 17:58:25
And that is how you do it Mola! great ball, good header.
Lookman gets bigged up on here a lot, and today he delivered when it counted. But Calvert-Lewin and Tosun both get a lot of stick. Stoked for them to get on the score sheet.
Gavin Johnson
28
Posted 21/10/2018 at 18:00:12
A well-deserved win that had a 0-0 written all over it for long parts of the game. At the business end of the table, you are as strong as your squad, and we are now starting to look the part. The subs made the difference today with Calvert-Lewin, Tosun and Lookman all being involved in both goals. It's great when it works and we do have more options this season.
I was also pleased for Gomes who looks a class act. This is a great win to keep the momentum going. I think we can get something at Old Trafford next week.
Christy Ring
29
Posted 21/10/2018 at 18:00:39
Jay @22 You were spot on about Lookman, and Silva deserves credit for the late substitutions, and pushing for the win.
David Barks
30
Posted 21/10/2018 at 18:02:36
That why Silva and Brands were adamant that Lookman was not being sold. He's a very talented young man. The future is so very bright for Everton with this new structure.
Steve Ferns
31
Posted 21/10/2018 at 18:02:59
No time to jump into the convo and read what was said. I'm waiting for Davie Weir to come and give us his view.
Much better atmosphere today. The crowd were positive at kick off. They did become subdued when not much was happening. But the most important thing was that there was no moans and groans and getting at the players. Then the ground was bouncing after the second.
I think that the gloom has finally lifted and we're going to see the bear pit back in a few games.
Jamie Crowley
32
Posted 21/10/2018 at 18:08:13
There's now 7 points between 8th and 13th in the table.
We need to just go for it, as we did today. Nothing to lose in the least.
The two late subs – putting on two pair of fresh, young legs to win the game – was fantastic.
Playing to win needs to continue to be the norm. Again, there's no downside this season.
Have a go, Marco.
Great game.
Ernie Baywood
33
Posted 21/10/2018 at 18:08:37
There were some problems there. For an hour we lowered ourselves to their level. Turned it into a game of pace and strength instead of skill. We even managed to turn a Brazilian winger into an old-fashioned English centre-forward.
Walcott and Bernard really struggled to isolate defenders. There was no space at all for Gylfi.
Credit where it's due. There was no lack of effort. And Silva doesn't seem one to let games pass him by – he went for it!
Pleased for Dominic and Cenk. Gives us something to think about. Especially at home.
Jim Harrison
34
Posted 21/10/2018 at 18:12:31
I would love us to get Zaha. He was frustrated in the end, but he is so strong and just keeps on running. Take him out and Palace were nothing.

Phil Smith
35
Posted 21/10/2018 at 18:13:02
Bringing on Lookman changed the game, for me. We never really looked like creating anything until he came on. He needs more game time at Goodison.
Gomes was okay; he should have come off sooner though. Sigurdsson always looks dangerous. Brilliant from Pickford again. We needed that. Let's do the Mancs next!
Stephen Brown
36
Posted 21/10/2018 at 18:15:49
An unsung hero so far this season is Michael Keane! I'm very impressed. Zouma too has been great! Mina will have to bide his time!
Jamie Crowley
37
Posted 21/10/2018 at 18:18:54
Stephen @ 36 -
Keane has been very solid in the back. I agree with you 100%. He's having an excellent season and continues to improve.
I don't see the barge-turning any longer either. He's quicker on his feet and attacks the ball more instead of letting the situation play him.
He's been fantastic.
Frank Sheppard
38
Posted 21/10/2018 at 18:20:09
Not the performance we were looking for... but plenty of positives: 3 points, players kept going at it, and Silva made subs that worked. So pretty damn good, and as many points as if we had played well!
Jerome Shields
39
Posted 21/10/2018 at 18:20:16
Good result, consistency at last, at last.
Simon Dalzell
40
Posted 21/10/2018 at 18:32:53
James #24 Totally agree. I feel vindicated. To me, it's obvious the changes should be made much earlier, especially with the options we have now.
Gomes played well, but was bound to tire and should have gone earlier. We were crying out for a target man at half-time, and Lookman got 8 minutes when we were struggling to score... against Palace!
Generally I'm very encouraged, but the use of substitutions (or lack of) has been very frustrating.
Jeff Armstrong
41
Posted 21/10/2018 at 18:33:03
Silva made the difference today with positive substitutions. If that had been Koeman, Allardyce or even as far back as Moyes, it would have finished 0-0. Credit to the manager, especially as his "no recognised centre-forward" experiment was not working. I think that game plan is better away from home.
Neil Lawson
42
Posted 21/10/2018 at 18:37:44
A cold San Miguel or two and 3 points. Impressed with Gomes and with the desire to keep playing "in a certain way". Not great at times but it does appear to be a work in progress. The cameo from Lookman was encouraging and the ever-improving strength in depth bodes well.
A way to go yet, but the excitement is returning and this could be a decent team. Wembley maybe? If we take the FA Cup properly seriously.
Ian Lloyd
43
Posted 21/10/2018 at 18:41:30
Get in!
Sam Hoare
44
Posted 21/10/2018 at 18:41:34
I thought we played pretty well and mostly controlled the game apart from a 15-minute patch in the first half. The penalty was very much against the run of play.
We did struggle to create chances though with neither of the front 4 replicating their electric form against Leicester. Walcott and Bernard were especially mediocre.
Gomes looked sharp and tidy. Carried the ball well and mostly made the right decisions.
Gueye was MotM for me, he tackled, pressed and cleaned up countless situations. Though the best player on the pitch was probably Zaha; if only we'd paid Palace £28m for him instead of Bolasie who is struggling at Villa!

Christy Ring
45
Posted 21/10/2018 at 18:45:15
I have to agree with the comments about Keane, he's playing with a lot more confidence, and starting to justify the price tag. Even the ball forward for Tosun wasn't just a hoof, it was well judged.
Zouma has been excellent also. Gomes did very well, considering he's lacking match fitness. Heading to Old Trafford with plenty of confidence.
Ian Lloyd
46
Posted 21/10/2018 at 18:45:31
I said a month or so ago that Silva would be gone by November and got slated by Andy... :-/
I take it back: he is doing a good job and I wholly support the guy.
Okay, today wasn't great but I can see what the guy is doing and I support that.
Andy, I stand corrected. ;-)
Simon Smith
47
Posted 21/10/2018 at 18:50:43
Great to watch the game and have a smile on my face. I thought Gomes grew as the game went on and became much more involved in the second half. Great to see the impact subs be exactly that.
Made up for Tosun scoring that goal. I really want him to be a success with us.
Stephen Brown
48
Posted 21/10/2018 at 18:51:48
Although he might not be the long-term answer... but I think there could be a player in Tosun. I hope it works out for him!!
Dermot Byrne
49
Posted 21/10/2018 at 18:53:33
Enjoying how we are playing.
Great end to game.
Colin Metcalfe
50
Posted 21/10/2018 at 18:54:43
I was surprised by the fitness of Palace – they were everywhere for the first hour, at every angle they closed us down but the last half-hour they definitely started to feel the pace and there was a bit more space.
Good positive subs by Silva that proved decisive in getting all 3 points today and Lookman can hopefully push Walcott for a starting place very soon. It wasn't a great game but sometimes you have to be patient for the chances to come.
I thought the ref had an okay game but that was never a penalty!
Stephen Brown
51
Posted 21/10/2018 at 18:55:49
Beat me to it, Simon @47. Cenk is worshipped in Turkey so I'm hoping improved confidence can get him on a good run. Really seems like a team man too! Looks like there's a good team spirit in the camp!
Derek Knox
52
Posted 21/10/2018 at 18:57:14
I think I felt like most Blues did before today's match, that a good display and a comfortable win were a strong possibility.
It turned out a tad harder, a lot of it our own making, although thankfully we did secure the three points, a fairly organised Palace side with better finishing could have made the result so different.
A stark lesson to be learnt in 'not counting chickens before they hatch'. Let's face it, we are a work in progress but, while there are signs we are going in the right direction, there are equally painful reminders on how much further we need to go.
Wins do bring confidence though, and another 3 points are slowly pushing us up the table, but at a couple of junctures in today's game, I was thinking Huddersfield, or – even worse – West Ham!
There was no player who was really bad today, or alternatively anyone who really stood out either; although, having said that, considering it was his first outing in a blue shirt, I felt Gomes did well.
If I had to nominate a MotM performance, I would give it to Gana Gueye, the man is a machine and keeps going for 90 minutes; he covers every blade of grass, but he does let himself down with his erratic passing.
All-in-all, another welcome three points, but hopefully back to the drawing board before our visit to Man Utd.
George Cumiskey
53
Posted 21/10/2018 at 19:02:13
Great result but not a great performance. Gana for me was MotM, Walcott and Sigurdsson were poor. We will have to up our game next week.
Colin Malone
54
Posted 21/10/2018 at 19:03:52
Barn door Walcott frustrates the fuck out of me.
We have to get a Plan B for corners against big defenders.
Happy Blue.
Will Mabon
55
Posted 21/10/2018 at 19:06:34
It wasn't fabulous but it at least continues to look like football. We kept at it with the reward coming late on — that happened rarely in recent seasons.
Three wins on the run.
Phil Hoyle
56
Posted 21/10/2018 at 19:08:40
George, I agree with you that Gana was MotM. Thought he looked quality and also thought Gomes looked good next to him!
Palace played really well today but I thought we deserved the 3 points.
Joe McMahon
57
Posted 21/10/2018 at 19:11:21
Stephen @ 51, I was in Turkey last week and I can confirm that, yes, football fans in Turkey hope Cenk does well, but they certainly don't worship him, as you say. Sadly it's the high profile players such as Salah et al (like everywhere else in the world).
Chris Watts
58
Posted 21/10/2018 at 19:16:53
Liverpool scraped a win yesterday and we've won by 2 today. We've been unlucky so far this season with red cards, misses from our strikers, and teams coming back from 2-0. We deserved and needed this and these points are invaluable
I was thinking this starting 11 was our strongest for over 20 years. Bernard and Walcott didn't have great games but it looked slippy and for some reason all players seemed to be unable to turn quickly – which probably affected Bernard most of all.
We are so different from last season, I really hope we go to Old Trafford looking for the win and smash them to bits. Top 6 is definitely up for grabs this season, with the World Cup and Champions League taking its toll on our rivals who will become more fatigued.
Tony Abrahams
59
Posted 21/10/2018 at 19:22:26
I would also give little Gueye the MotM award but, other than our two wide players, I thought everyone really contributed today.
Gomes can play, and so can Everton now as well. Loads of rushed passes spoiled loads of good play but we have movement and skill and effort now. Although the game could have gone either way, I'm obviously made up we won it, especially because I can now see good things really beginning to take shape.
Chris Watts
60
Posted 21/10/2018 at 19:22:35
ps: Is anyone else still haunted by results earlier in the season? If we'd held on to the 2-goal lead at Bournemouth we'd be 6th. And if we'd got a goal against Huddersfield we'd be 5th. We missed multiple opportunities against West Ham and Arsenal before they scored...
Things are looking good now but we could have been in the top 4 easy with better finishing / keeping 11 men in the pitch.
Kieran Kinsella
61
Posted 21/10/2018 at 19:23:53
Give some credit to Hodgson. We were not poor – we just found it hard as he set Palace up very well to nullify us. Crowded midfield, high energy marking etc.
Silva then played his part to mix it up and it worked out well. I think a few players were a little off with mistimed passes etc but I don't think we were bad per se.
John Boon
62
Posted 21/10/2018 at 19:26:04
1. Koeman gone... Good!
2. Allardyce gone... Even Better!!!
3. Silva here... Evertonians can actually enjoy games again.
Football is such a simple game, often made complicated by pompous idiots.
Derek Taylor
63
Posted 21/10/2018 at 19:28:50
Pickford's save was responsible for that win. Plain and simple.
George Cumiskey
64
Posted 21/10/2018 at 19:30:06
Hodgson deserves a lot of credit: 3 passes and they were in our box; 30 passes and we were still in our half that's one of our biggest problems.
The game now is all about moving the ball quickly up-field, like Liverpool do. It was a big problem for us last season as well.
Raymond Fox
65
Posted 21/10/2018 at 19:30:19
The result is great and it was an okay performance considering we fielded a changed side again.
We were the best team but, if their penalty goes in, I doubt very much that we would have scored twice.
Small margins.
Brian Williams
66
Posted 21/10/2018 at 19:33:06
Different atmosphere today at Goodison. The crowd acknowledge that the football Silva is trying to get us to play is a million miles from last season.
Things didn't always go right today but all around me I could hear and feel that things were different. People still moaned, but in the main appreciated what the team was trying to do and what Silva is trying to do.
There were patches where we played football that couldn't even have been imagined last season thus was the "zombie" footy we played. We got what we deserved in the end and the team got the ovation they deserved at the end of the game.
For me, MotM was Michael Keane who won almost everything in the air at the back in addition to every header he challenged for from our own corners. I can't wait for MotD2 later.
Chris Watts
67
Posted 21/10/2018 at 19:44:15
I would love to see a massive bid for their right back and Zaha go in during January. Their right back matched our pacy forwards and looks an outstanding prospect.
Peter Mills
68
Posted 21/10/2018 at 19:44:46
It was an interesting, enjoyable game, obviously made into something much better by the two late goals. I was particularly pleased for Calvert-Lewin.
I thought Palace were pretty rough, they are not the first team to come to Goodison this season with a very "robust" attitude. How many fouls did Zaha commit?
Full marks to Pickford for his crucial penalty save, and to Gueye for a superb performance. Digne's final ball was lacking. Gomes looks short of pace and tackling ability, as some contributors have forewarned, but he can pass the ball.
We are some way off being the finished product, but are certainly making progress.
Dave Abrahams
69
Posted 21/10/2018 at 19:46:52
Good result. Gomes did very well considering he hasn't played for some months; he'll get better. Pickford's penalty save kept us in the game. Great subs by the manager with that quick thinking and brilliant centre from Lookman putting us on our way to another victory.
Gana was very good and so was Zouma; I thought he held the defence together. I think we can still see the faults in the team but it looks like we will continue to improve and, in the long run, we will be on the up and up; I don't feel like this is another false dawn. Much, much better going to the game now.
Stan Schofield
70
Posted 21/10/2018 at 19:47:44
Derek @63: You don't know that, nobody does. If the penalty had been scored, the course of the game would have been different, and nobody knows what the outcome would have been. Just appreciate that we won whilst not playing all that well. If you can play under-par and still win, that's a good sign.
Kieran Kinsella
72
Posted 21/10/2018 at 19:51:13
I disagree regarding the penalty.
I didn't feel he was going to score and I didn't feel it would be "one of those days". You can always talk about ifs and buts but we found a way to win.
Winston Williamson
74
Posted 21/10/2018 at 19:55:49
I thought Palace came to interrupt our play, by any means, and hit us on the counter. Hats off, they did very well too.
Frustrating game for us. I didn't think anyone had a bad game, all a solid 7 (or more in some cases).
The penalty miss changed the game, and we picked up a flow to our game, which Palace had denied us previously. Then our subs upped the tempo! I thought Lookman looked lively... quality cross and a great header from Dominic Calvert-Lewin!
Great reaction from the crowd after the penalty miss! Love the Goodison roar!
Derek Knox
75
Posted 21/10/2018 at 19:56:31
Brian 66, you made me look twice there mate, I had joked earlier that the poor, and negative coverage and publicity, that we get from the Media in general, and the BBC, that we would be on Match of the Day 2, with tongue firmly planted in cheek.
With us being the only match played on a Sunday, I doubted very much that we would be on, had it been most other teams especially those above us in the Table, oh wait a minute, we are actually above Man Utd as I type! (long may that last)
Doesn't it make you proud to have a win, and restore our faith in Auntie?
Ian Bennett
76
Posted 21/10/2018 at 19:58:47
I was at the match – but loved the Calvert Lewin can't score... pause – jump around like an idiot routine.
Tony Everan
77
Posted 21/10/2018 at 19:59:56
Great stuff from Lookman, Calvert-Lewin and Tosun. Fantastic cross, header and finish.
Also Jordan Pickford had maybe his best game, did he make any mistakes at all?
There is plenty of competition for places and I am now a bit confused as to what is the best team to start against Man Utd. There will be plenty of debate between now and then.
Martin Berry
78
Posted 21/10/2018 at 20:07:14
Inspired substitutions from our forward-thinking Manager to beat a stubborn well-organised Palace side.
Calvert-Lewin and Tosun took their goals well; Pickford, Keane and Gueye played very well and Gomes shows a lot of promise.
I think we will cause Man Utd all sorts of problems.
nb: Zaha is some player too.

Anthony Burke
79
Posted 21/10/2018 at 20:14:43
Without the subs and Pickford's heroics, this would've ended 0-0.
Silva should be praised for being positive. COYB!!!
Brent Stephens
80
Posted 21/10/2018 at 20:17:03
First game for Gomes. And I liked what I saw. A cool head, very good awareness and a slick passer. I doubt Davies will be first pick ahead of him from now on.
Mike Jones
81
Posted 21/10/2018 at 20:17:46
Gana man of the match. That was because Gomez was next to him, he is a player, you can see that even after 80 minutes. Bernard not great today but these new signings are a great improvement. I want three more transfer windows for Marco and Marcel. I think they get it!
Dave Williams
82
Posted 21/10/2018 at 20:21:13
A good game to win! Pickford was excellent – best game this season for him. Coleman and Walcott were weak spots for me and I wonder if the future will be Kenny and Lookman, whilst Bernard was just outmuscled and not given space to shine. Digne also quiet which shows how well their full-backs defended.
Palace are a very big and physically powerful side and we did well to keep fighting - some of our teams in the past would have allowed them to win the midfield battle but this one didn't. Gomes looked class and will only improve. Gana was immense and Sigurdsson kept at it even though he was finding space hard to find.
The centre-backs were superb and another clean sheet indicates that our defensive troubles of earlier are now being addressed.
Made up for Calvert-Lewin – a great header and great to see the critics on this site conspicuous by their absence. One swallow, etc but is that four or five he has now scored this season? Not bad for a young lad?
With this team we can go to Old Trafford with confidence. Gomes and Bernard will find more space than today and Richarlison will trouble their defence. I think we can compete once this team gets fully bedded in.
The team spirit looks good too!
Terry Farrell
83
Posted 21/10/2018 at 20:22:44
Ian yes it was great! You wont get fantasy football every week but we played some great stuff at times and went all out for the win.
Antony Taylor – worst ref performance seen in years. Gomes is class and will get better. Silva is God. Also good to hear Goodison Park buzz again.
Colin Glassar
84
Posted 21/10/2018 at 20:24:31
I did a Likely Lads today. Got home around 5:30pm and put on the (recorded) game without a clue about the score.
Without knowing the result I thought we were playing well first half albeit it a bit wasteful in the final third (Richarlison, Bernard and Theo) but we were well in control.
Second half much better but they are a very well organised team. With five minutes to go I as almost accepting a draw and was on the verge of checking out the score as I couldn't take it any more – Glad I didn't.
Thought everyone played well but Gana was a monster in MF. He was everywhere that little bugger and his passing has come on tenfold. My MotM without hesitation.
This team is still gelling and will need time but we are deffo going in the right direction under Silva. Long may it continue. Not since Martinez (season one) have I felt slightly optimistic as now.
Brent Stephens
85
Posted 21/10/2018 at 20:24:56
And Palace were cynical and the ref diabolical. The worst ref I've seen in a long time. Though Woy is a decent man and I suspect he tells them to "Go out and play with whythm, and without wanker on either side".
Steavey Buckley
86
Posted 21/10/2018 at 20:28:10
Palace played well today with very fit and athletic full-backs and wide players. It was very hard for Walcott, Bernard, Coleman and Digne to make much impression against them, until Lookman appeared with a sublime cross with the outside of his foot that found the head of Calvert-Lewin who powered a header past Hennessey.
Bill Watson
87
Posted 21/10/2018 at 20:28:16
I thought Gomes looks very promising but we really do need to learn to up the pace occasionally as we're a bit pedestrian at times and too easy to defend against.
Keane had an okay match, on the floor, but was regularly beaten in the air, especially in the first half.

Steve Ferns
88
Posted 21/10/2018 at 20:29:09
For me, the tide has turned. We've turned the ship around. Even if we get some bad results with a difficult run of fixtures coming up, we have a real buffer on the bottom 8 so we can forget about worst case scenarios, which in turn gives us the freedom to really attack the big sides, with nothing to fear nothing to lose, and everything to gain.
We struggled against Huddersfield and West Ham, at home. Palace seemed to follow the same pattern. The problem, as evident to myself, is that we are a small side in midfield and when teams bully us and kick us, we can get knocked off our rhythm, or struggle to find it in the first place. Today, though, we showed that we would just keep going, keep trying to stick to the game plan and not let them do that. Then when Silva made the subs, and for me it was the perfect time, we were able to turn the dial up to max, to really go for it, to go all in.
I'm reminded of these games under Moyes. Some on here used to refer to our midfield fondly as the "midget gems". Some sides turned up and stopped us playing and Moyes would not risk things. He'd try to win, but he wouldn't take any undue chances and risk defeat. Silva will. He does take risks, he likes to roll the dice, and I really like that. If we roll the dice on three such games, lose one and win the other two, then we've turned 3 points into 6. 3 points for a win favours the bold and the brave.
Palace played very well. They defended well, they got about us, they kicked us, they disrupted our rhythm, particularly when we started so well and looked like scoring very early and running away with it. Credit to them for that. But it's exactly the football we rejected under Allardyce. Silva saw that we had run them hard, and whilst Walcott, Bernard and Gomes were all off the pitch for the match winning moments, they played their part. The trio of subs came on with full tanks and got at a weary defence. Lookman needs to embrace his role as a late sub for now. He can do more against tired legs in a cameo than he can against fresh legs for 90. It's all good experience for him and he needs development before he can rightly say he's better than Walcott.
I made a point about the crowd earlier, and some have also commented. One case I point was when a pass was hit to the right flank. I think by Zouma or Gomes. Lookman could have got it, but he watch Coleman misjudge it, and then miscontrol it with a sliding motion and let it go out of play. Lookman should have made that ball his, he had all the time to do so, and Coleman was never going to get it easily. The crowd knew this, it was 0-0, and usually the groans would come. Not this game, there was encouragement, despite the frustration, and a belief. And this transferred through to the players and so we were able to win the game.
It was far from the best atmosphere at Goodison, not even the best in a short period of time, but the point is that the wind has changed, the gloom has lifted, and Everton, I believe, are ready for lift off.
Peter Cummings
89
Posted 21/10/2018 at 20:33:38
It was looking ominous until the penalty save as we allowed Crystal Palace to get into the game, hit the bar, and come close a couple of times.
The penalty save was the turning point as, even though we upped the pressure, we still struggled to hit the target until Silva made the subs, which were needed. Credit to him and, of course, to Jordan Pickford. An all-round excellent performance with the right result.
Gordon White
90
Posted 21/10/2018 at 20:49:31
Woo hoo!
Derek Knox
91
Posted 21/10/2018 at 20:54:38
Steve Ferns, I agree with a lot of your comments there, but I felt that although the substitutions worked well today, in general Silva does have a tendency to leave them a bit too late!
Next week, although Manure are not totally firing on all cylinders yet, will nevertheless be a bigger kettle of fish (not the fish puns again,= Live Forum Joke!) for us, but I think if he doesn't tinker with today's side we are capable of getting something out of the game.
Steve Ferns
92
Posted 21/10/2018 at 21:01:54
Derek, usually people want to see changes after 30 minutes, and unless someone is having a nightmare that's not going to happen.
He got the changes bang on. We needed Bernard and Walcott to run them ragged, and then Lookman was able to come on against defenders who were all but dead on their feet. Any earlier and he'd have not had the same joy. Also, Bernard looked dangerous. He looked like he was slowly getting the beating of the young right back. The double team on him was not getting onto him as quickly as the game wore on. Gomes was always going to tire, taking him off any earlier and Davies would have been on, and then we couldn't have had the triple change that won us the game.
The subs happened at the right time. Sometimes we need to be patient.
That said, I would not expect Richarlison to line up as the number 9 in a home game against another physical side. It's one best left for teams we can hit on the break, ie mainly away.
Graham Mockford
93
Posted 21/10/2018 at 21:05:58
Great to see Michael Keane looking like the player we'd thought we'd bought.
Mind you, what a prospect Wan-Bissaka looks.
Andy Meighan
94
Posted 21/10/2018 at 21:06:46
Did Gomes give the ball away? No, I think not. To me, he was head and shoulders above any player on that pitch today. And what a pity we scored the 2 goals when he went off. What a debut and brilliantly assisted by Gueye who once again was superb.
A poor game but Everton have found a way to turn draws into wins. It's been a long time coming.
Paul Birmingham
95
Posted 21/10/2018 at 21:07:25
Very good hard earned victory and the team stuck at it against a well organised team set to stifle and try and take us by our mistakes or on the break.
Good debit for Gomez, Gana ran the show and signs of a squad and strength in depth. JP saves and kicks awe inspiring .
Credit to Silva and the subs for being decisive.. last season we'd have lost this game.
Plenty of hope for the Manure trip.
John Malone
96
Posted 21/10/2018 at 21:10:22
The reason we struggle with the tight defensive team's at home is we are not yet slick enough in attack.
We have quality across the whole of the front four but we don't interchange passes instinctively and fluidly yet.
Plus the fact we don't excel in one attacking department i.e. speed, strength, height we have got to learn to move the ball a lot quicker between the lines with instinctive one and two touch football and be decisive with our play too many times we will take a touch begore crossing or lately Walcott will turn back when he has to go at and commit his man and Digne for all his endeavour was becoming predictable in his play.
There is also the conundrum that is Sygurdsson, is he really a ten? He can cross and he can shoot given time but are he his feet good enough? Is he very good at finding space and taking the ball in tight situation's and unlocking the door??
I'm not so sure he is that player, Bernard looks more suited to me at the central ten role in these tight games at home but obviously lacks in other areas.
It's a problem for the gaffer to solve but credit to Palace they are a big strong team and they made it difficult for us today they worked there sock's off and it took a great penalty save and some brave substitution's from the gaffer to get us a deserved win today.
Hat's off to Silva for the sub's, Gomes look's to have that touch off class we've been missing and Gueye and Keane were immense.
Onward's and upward's up the toffee's!
Jerome Shields
97
Posted 21/10/2018 at 21:50:56
The win was fantastic. Lookman really looked a good player.
The change in subs created problems for a well organised Crystal Palace. Till that point, they easily managed Richarlison at centre-forward, showing up his limits in that role, which I pointed out on a previous thread. When he was called on to fulfil a complete centre-forward role, he showed he's unable to link-up, lay-off, provide overlaps or good passes with Sigurdsson, Bernard or Walcott. Had the penalty been scored, Crystal Palace's gameplan could have worked.
Everton still need a centre-forward. Crystal Palace where unable to adjust to Silva's substitutions.
Ed Prytherch
98
Posted 21/10/2018 at 21:52:16
Keane and Zouma are playing well together but we will have a much better chance of scoring from set pieces with Yerry Mina on the field. We are no threat from corners and we almost conceded from one again today.

Michael Kenrick
99
Posted 21/10/2018 at 22:27:38
"The game began with some physical stuff from each side and stop-start down the Everton right" — it's funny how the pattern of a game seems to be set from the very earliest exchanges. I've noticed this quite often. They certainly made it very difficult right from the off.
I see quite a few people expressed enjoyment of the game, presumably even before the great ending. I admit to getting very frustrated but agree it was very competitive cut-and-thrust... but I found the mistakes, the poor control, the inability to string passes together or make much progress trying at times. Admittedly this was the Palace gameplan and we did very well not to succumb to it, even with the penalty call.
So a great result all round, and fantastic to see both Calvert-Lewin and Cenk Tosun finish their chances with power and conviction — that's all we've been asking of our strikers.
Chris Watts
100
Posted 21/10/2018 at 22:31:27
Did anyone else notice the players slipping? The pitch didn't look right on tele — was it wet, anyone at the ground? I do think that impacts players who rely on balance more, eg, Bernard.
Steavey Buckley
101
Posted 21/10/2018 at 22:48:23
If Silva is going to continue with a 4-3-3 formation, he will have to have the pace of Richarlison, Calvert-Lewin and Walcott upfront with the ball played as quickly as possible from the 3 in the middle. Otherwise, Everton will find themselves outnumbered in midfield without the advantages of being on the constant attack with the 3 upfront.
Peter Mills
102
Posted 21/10/2018 at 23:18:48
Michael (#99). I enjoyed the game in the same way as I enjoy unpicking a knot! I was trying to show my grandson that very art earlier this week, pick, pick, if one bit doesn't work, try another area, but take it steady, and don't lose your patience and start mauling at it.
That was kind of how I saw Everton's performance today. Not necessarily a scintillating pastime, but very satisfying when it comes off.
John Pierce
103
Posted 21/10/2018 at 23:19:13
I've just watched the replay following my own game.
Silva picked almost the side I wanted with the emphasis on possession and passing.
A new lesson to learn and fair dos we stuck at it.
Whilst ultimately he got his subs spot on I felt Lookman for Walcott needed to be much earlier. His ability to commit players will trump Walcott's instinct and more direct nature.
Gomes the best player on the field. One-two touch passing with a decent variety often quickened the tempo.
However the goals did guild the Lilly. It was a performance full of endeavour and effort but precious little quality.
I think Silva will, in time, need to change the right side. Both Coleman and Walcott are athletes and instinctive players neither possess a brain as such in footballing terms. It felt like most of our moves broke down on that side.
But a step in the right direction, Everton cannot just coast past that sort of team, they cannot be casual either.
Personally Walcott's days should be numbered.
Nathan Ford
104
Posted 21/10/2018 at 23:20:44
MotM for me was Keane – it's weird how he's braver heading the ball after a fractured skull than before it. Deserves a lot of credit for that kind of mentality.
Two Palace players I'd love in our squad: Zaha, I thought he was awesome today, and the right-back Wan-Bissaka – at 18, he looks frighteningly good.
Still, a great result; we fought to the end and Silva made positive subs. It will be interesting to see how we set out at Old Trafford next week but I'm looking forward to finding out.
Tom Bowers
105
Posted 21/10/2018 at 23:24:32
They certainly left it late but it may have been an injustice if they hadn't won it. The referee was poor and denying Everton a sure-fire penalty was criminal after giving Palace theirs.
Having said that, what about the clown officiating at Man City? Kompany should have been red-carded early before the first City goal and then the ball was clearly out when they scored another.
I can't wait for the TV replay to be used at all games.
Andy Crooks
106
Posted 21/10/2018 at 23:40:21
For the first time in ages we have options. Quality on the bench and pace. This really is the beginning. There will be setbacks but this is the most optimistic I have felt about our club in many, many years.
Fran Mitchell
107
Posted 21/10/2018 at 23:43:18
Coleman needs to up his game, as does Walcott.
Interesting how all our new signings seem to offer something, and great that Keane has turned it around and made it tough for Mina to get in the team.
Bernard was below par, but understandable; he was still dangerous.
Gomes, especially in the second half, did well. Controlled the ball well and passed forwards. I really liked the energy we played with in the second half.
For Man Utd, I'd probably play Tosun for Walcott and stick Bernard out wide. Keep Lookman as a sub for now, his pace and skill can really pull teams apart at the end of games.
John Raftery
108
Posted 21/10/2018 at 23:48:52
It was great to win the three points so late in the game but we started too slowly with our first shot on target not coming until the 28th minute. The names may have changed but the longstanding issue of the painfully slow build-up through midfield is still with us.
Silva deserves credit for seizing the initiative with his substitutions. The heavy caveat is that this was against a struggling team which can't buy a goal at present.
Sigurdsson is more a support striker than a creative Number 10. He was the only front player who looked like scoring in the first half; indeed, the only player who forced a save from Hennessey.
Gomes had an impressive debut but we will expect and need more from him in the weeks ahead especially in respect of moving the team and the ball forward more quickly. Let's hope he can deliver, starting next week at Old Trafford.
Jamie Crowley
109
Posted 21/10/2018 at 23:57:51
7 pm on a "work night."
About to crack open the first of a few cold ones, I'm so chuffed. [Love that word, work it into my vocab all the time as literally no one says it in America].
Using YouTube, here's pretty much how I feel about today's win and performance, 'Merican style, upper Midwest, Wisconsin.
Jay Harris
110
Posted 21/10/2018 at 00:03:18
I thought the midfield looked much more controlled and solid today with Gana and Gomes in there.
Having praised Bernard over the last few games, I was very disappointed in him today. I thought he had one of those days and Walcott seems to lose interest in periods of the game.
I thought Lookman and Calvert-Lewin gave us the dynamic that those two were lacking and Tosun kept the centre-backs busy.
A well-deserved three points but it's worrying how we continue to labour for 45 minutes in most games.
Great to see the belief coming back in the crowd and much-improved support for the lads.
Simon Dalzell
111
Posted 22/10/2018 at 00:25:45
Steve Ferns (#92). I am patient, but the subs were too late. ALL of them. Lookman came on with 8 mins to go at nil-nil!! Against Leicester, the same applied, when they were there for the taking with 10 men. Sigurdsson got us out of jail.
Ernie Baywood
112
Posted 22/10/2018 at 00:34:49
We've suddenly got some serious options.
Talk of Walcott being finished is premature. Away from home he's vital.
Talk of Tosun or Calvert-Lewin being not up to it is premature. Sure, don't play them to chase lost causes away from home but at Goodison they'll do a good job up top and let Richarlison attack from the flank.
We've finally got another non-defensive central midfielder! Always amazes me when someone like Gomes gets rave reviews. Did he do anything extra special? I think he's just a proper centre midfielder! It's strange there aren't more of his type getting around when they always get praised so much. Instead we get either limited defensive midfielders or attacking midfielders. This guy can carry the ball and put his foot in.
Only right back looks weakish but it's a low pass. I'm happy with Baines backing up Digne (he's almost been worth the wait). Centre-backs well stocked.
Then we've got this ultra-modern passing goalkeeper who is also a throwback to when keepers were known for not playing with a full deck!
Onwards and upwards!
Amit Vithlani
113
Posted 22/10/2018 at 04:23:35
I am thoroughly pleased for Lookman and Calvert-Lewin, who clearly have a role to play at the club. We should however resist calls for them to be anything other than squad options at this point. Walcott is not finished; he did not have a good game but that happens. For most of this season he has been dangerous.
I am not ready to lose Richarlison from CF not least because Bernard has to stay in the side, and whilst Tosun scored a really good goal, neither he nor Calvert-Lewin have the level of skill Richarlison have in holding the ball up. Richie had no problems in that regard and took the physical buffeting. He was let down for the largest part of the game as neither Bernard nor Walcott were at the races. Bernard primarily because he was up against a hugely talented right-back, whilst Walcott seemed off colour.
Coleman is beginning to worry me. It is not the penalty - I think that could have happened to anyone – but his lack of thrust going forward. He strikes me as someone who loves that part of the game and perhaps it affects his defensive side too. He did not contain Schlupp well at all and had Palace had a centre-forward, Zaha playing wide left would have been an even bigger problem for Seamie. However, we have to persist and hope he rediscovers his form.
There was no way Silva got the timing of the subs wrong. Palace started to drop deeper in the final 10 to hold on to their point and at that point we did not need to play through midfield.
Gomes brought back memories of Mikky at his pomp. This lad looks the best of the finds. Let's hope he can live up to the 20-30 minutes in the 2nd half when he was really controlling things.
Lastly, we did get lucky. As with Fulham, we could have easily fallen behind and it would have been a different game. They hit the bar and Pickford made a great save on the penalty. After our bad luck in the early part of the season, things are evening themselves out and we are back to where we expected to be.
Pressure is off next week, and all on Man Utd. They have to win, and they have the record. We can go there knowing if we put on a show they might get frustrated.
Jamie Crowley
114
Posted 22/10/2018 at 05:56:44
I've watched the two goals on replay about 150 or so times now, over and over and over again.
There is something so sublime, so magical, even from distance on a computer or television, when Goodison erupts with a goal and goes apeshit. That roar and seeing Gwladys Street jumping up and down; a sea of joy-driven hysteria.
I pray I can see that in person before God rings the bell.
There's something good happening. We're playing some really good stuff. Sure, there's been ups and downs. Personally I've wanted to see more results, the Cup exit was terrible, and we've not played well more than a few times this season. But when we click, it's really, really nice to watch.
I think we're on the up. And I hope to hear that roar often. It's magic.
Jerome Shields
115
Posted 22/10/2018 at 07:03:59
John #96,
Everton's pass completion rate in the final third has been poor since the start of the season. 4 at best per game, against Arsenal 2. They have relied on wing play and lately running into channels.
Tosun never turns a defender and most passes are laid off to incoming players, with his back to goal. Richarlison has a very poor final pass completion rate, 0. 75% at best in a game, and Calvert-Lewin is little better, but is better than Tosun positionally.
Lookman in his limited appearances is far better than any of them, regarding passing. That's why Richarlison was partly so ineffective in the centre-forward role. Tosun is far better than him in turnovers, layoffs and overlaps in a tight defence.
Everton still need a complete centre-forward. . . someone like Zaha.
James Marshall
116
Posted 22/10/2018 at 08:48:04
Jerome – Zaha isn't a complete centre-forward, he isn't even an incomplete centre-forward, he's a winger.
As for yesterday, I would like to give special mention to André Gomes who I thought was the best player on the pitch for long periods.
He's been out a while and oozes class in my view. Two-footed, calm in possession, spraying passes left and right with either foot, even occasionally breaking up play but more often had Gana doing the running for him.
Gomes and Gana in the middle looked excellent yesterday – two central midfield players that properly complimented each other in style and ability. Gomes looked a Rolls-Royce to me. He has a lovely touch, again with either foot, played it short, long, either side, rarely backwards and makes some nice runs, playing through-balls for runners, he has it all.
I can see why Barca bought him, and I hope we keep him on yesterday's evidence.
Neil Wood
117
Posted 22/10/2018 at 09:22:30
Gomes was immense. Nothing spectacular or Hollywood just great feet, level head, and an ooozing of class. Spraying the ball about left and right with ease and running the show for large periods of the game.
I am not calling for Walcott to be culled, full stop, but there comes a time when we have to consider Lookman being given that chance. In his short time on the pitch yesterday, he changed the dynamic completely and has a directness with deft of touch about him. Yes, like with Bernard, at times he will frustrate but he sure as damn it scares the hell out of a defender.
I'd love to see us go to Old Trafford and really put it to them. Gana has the snarling ability to break up play and disrupt them and I think our forward line can cause them real problems.
I think our issue is how do we shoehorn everyone in! I personally would be tempted with taking out Sigurdsson and playing Bernard as a Number 10 with Richie out wide and Tosun up top. Lookman in for Walcott.
Tony Abrahams
118
Posted 22/10/2018 at 09:37:43
I loved that description about picking a knot Peter, and I can understand why it was so frustrating for you watching the game on a television screen, Michael.
Jamie Crowley, has called it right from the telly though, and if he ever does get over here, then I hope he sees Goodison bounce like it was at the end.
Football is about loads of things, small details is what they say, but the thing I enjoyed most about yesterday, is that it looks like the team, is bringing the crowd back on-side and, when Everton have got the crowd onside, they will be a match for anyone, imho!
Tony Everan
119
Posted 22/10/2018 at 09:47:32
Gomes for his first game of Premier League football did incredibly well, and complements Gana. He has a good touch and can see an incisive pass. There is quality in him.
With the quality we now have fighting for a place and ready to step in for injuries or dips in form, we are going places. I am looking at the table and thinking 'how high can we go?' for the first time in a long time.
Ajay Gopal
120
Posted 22/10/2018 at 10:02:39
James (#116), the Gana - Gomes partnership reminded me of Barry - McCarthy during Martinezs' first season. They were a major reason we reached our best points tally ever in the PL. Hopefully, Gana and Gomes can maintain consistency and improve working as a team.
Yesterday, our Front 4 had a poor day – too many misplaced passes, running into blind alleys, poor decision making. I don't think we troubled their goalkeeper until the last 5 minutes (I count even Siggy's effort which Hennessey saved in the 1st half as quite harmless – because of an underhit pass from Walcott I think). Bernard had a really poor game, and I think Richarlison is most effective out wide – playing ahead of Digne.
We need a proper centre-forward, and I think we have Calvert-Lewin and Tosun who play that role quite well actually, although they are not as clinical in their finishing as we would like. But I feel confident that they will get more consistent in their goal scoring with more games. For Man Utd, at this point, I am inclined towards:
Pickford
Coleman Keane Zouma Digne
Gomes Gueye
Lookman Sigurdsson Richarlison
Calvert-Lewin
Dropping Walcott, Bernard and Tosun to the bench.
Chris Gould
122
Posted 22/10/2018 at 10:38:02
Simon Dalzell (#111),
What on earth are you complaining about? Silva's substitutions came on and between them got 2 goals and an assist.
How can you suggest that Silva should've brought them on earlier? Bringing them on earlier would have changed the outcome of the game, and you can't possibly know if it would have been positive or negative. How do you know we wouldn't have lost the game?
Maybe Silva knows something (or many things) about the tactics, players and game management that you don't?
The subs worked to perfection. You were also disingenuous about the Leicester result? How on earth can you criticise his management of that game? Saying Sigurdsson got us out of jail is ridiculous. Sigurdsson did what he was on the pitch to do. He's there to create and score goals, and work his arse off.
Silva has been getting it right and deserves praise for the recent performances.
Laurie Hartley
123
Posted 22/10/2018 at 10:59:47
Jamie (#109), I followed that link and found it quite traumatic – thousands of people in red shirts jumping up and down and taking selfies!! Nasty!!
Tony Everan
124
Posted 22/10/2018 at 11:25:45
Ajay #121,
That's the team (apart from Walcott) that will start, I think. Lookman will be used as an impact sub again.
Richarlison, at the moment, is best on the left using his pace and cutting in. I think he will be moved back there.
Jerome Shields
125
Posted 22/10/2018 at 14:25:58
James #116. Neither is Richarlison, but Zaha can hold up the ball, bring other forwards into play, lead the line, and pass accurately in the final third.
Jamie Crowley
126
Posted 22/10/2018 at 15:15:03
Holy shit, Laurie – never even crossed my mind but you're spot on!
Clearly I didnt think of the audience before I posted!
It's one of the coolest things in collegiate North American sports. With apologies – very sincere ones – please watch color-blind and forgive the American!
Jeez
Mick Davies
127
Posted 22/10/2018 at 15:57:18
Brent Stephens @ 85, Taylor is the worst possible ref we could have: he's proved how biased he is against us and if anyone has the 2013-14 DVD, check out the foul on Baines at Cardiff – stonewall pen, the Coleman foul that gave Villa a 'pen' not much later and the Fulham 'pen' for a foul by Barry.
We won – despite that horrible Everton-hating Manc – and Silva, Pickford and Gomes deserve great credit: onwards and upwards.
Craig Walker
128
Posted 22/10/2018 at 17:09:39
Haven't read all of the comments but I was impressed with Silva yesterday. I liked the starting line up. I thought we tried to play some good stuff. We rode our luck a bit at times. The substitutions worked incredibly well.
Gomes looked good to me although he tired in the second half and got caught in two minds a couple of times. Walcott needs to work on his finishing when one-on-one with the 'keeper. Tosun and Calvert-Lewin get a lot of stick but they took their goals really well. Bernard and Richarlison were a bit disappointing but they'll improve. Gueye was my MotM. I lost count of the number of tackles he made winning possession back for us.
When Goodison is rocking, like it was after the penalty save, then we are a very hard team to beat.
Geoffrey Williams
129
Posted 22/10/2018 at 17:28:34
Having attended the game I've just watched the game again to see if my views of the game were right but what surprised me was the tv pictures simply didn't do justice to the performances of Gomes, who was excellent, Gueye, who must have covered every blade of grass, and Keane, who is becoming the player we'd hoped for. I was disappointed with Bernard, Walcott and Richarlson when he was playing centre-forward although he looked far more comfortable out wide and nothing I saw changed my mind.
With Gomes playing I think Calvert-Lewin or Tosun would flourish and get goals. I would be tempted to give Lookman a go ahead of Walcott and maybe Bernard in Sigurdsson's position. I think we have genuine options in most positions.
Paul Tran
130
Posted 22/10/2018 at 19:03:11
Sometimes it's all about pushing, probing, forcing mistakes out of a tired opponent with attacking substitutes and an attacking mindset.
Yes, we need to be quicker, earlier. Yes, we can do a lot better. I'm starting to feel that we might just do that.

Jay Harris
131
Posted 22/10/2018 at 19:29:39
I can't understand the calls for Sigurdson to be dropped for Bernard.
Until the subs came on, Siggy looked the only one likely to score. His workrate is exemplary and he is one of the few players we have who can score from outside the box.
Bernard, by comparison' had a 'mare yesterday and seemed a shadow of the player we have seen in recent games.
I agree with the calls to give Lookman a run in the side. It looks like the lad is interested again and in a good run of form.
Barry Jones
132
Posted 22/10/2018 at 19:35:22
I would like to see Tosun playing centrally alongside Richarlison, Walcott and Bernard if possible. These players are creating a lot of movement behind the defensive line at the moment. Previously, Tosun was trying to do all this by himself.
Simon Dalzell
133
Posted 22/10/2018 at 19:50:33
Chris (#122),
I'm not complaining... just making a point. There's a difference, but I'll stick to my opinion.
Your words are very sarcastic and patronising. How dare I question Silva! Saying maybe Silva knows more than me is just childish.
''Sigurddson did what he was on the pitch to do .' You don't say!! what the hell has that got to do with it??
Ian Bennett
134
Posted 22/10/2018 at 19:53:54
I'd pick the same team again on Sunday.
The team is quick enough up top to trouble United on the break to take 3 points. And if we need to change it, we've 3 lads on the bench who can win a match.
Hopefully Juventus give them a really tough game tomorrow night.
Julian Exshaw
135
Posted 22/10/2018 at 19:59:08
Almost exactly a year ago to the day we were involved in that rather toxic defeat to Lyon in the Europa League, yeah the one with the melée involving Ashley Williams etc. It was an awful night; Koeman was on the ropes and we were heading out of another cup competition. And to think worse was to come!!
Jump forward a year and we have a happy Goodison Park, players playing for each other, hugs and joy at the final whistle. How good to was to see Davies embrace his teammates rather than sulking having been 'rested'?
This is the Everton we have waited three or four seasons to see, since Martinez's first year I would say. We are looking forward rather than dreading the trip to Old Trafford next week. We are by no means the finished article yet but this is such an improvement on 20 October 2017. Long may it continue!
Lev Vellene
136
Posted 22/10/2018 at 20:03:36
We need to remember that EFC at home, trying to break down a couple of parked buses, might be very different to going to Old Trafford! There, the home fans will expect us to be defensive! Let's hope the manager and players of Man Utd expect the same thing!
Derek Knox
137
Posted 22/10/2018 at 20:24:02
Julian #135, yes, there is nothing like the good old feel-good factor which lifts fans and players alike, but while there are very encouraging signs of progress, we are not quite there yet.
The forward role is indeed an enigma, just when many people were writing off Calvert-Lewin and Tosun, and to a degree Oumar Niasse, up they pop with a goal apiece (Niasse excepted).
Which obviously beggars many questions, was it the lack of service to the two players in the past, or something else? Admittedly Richarlison was playing out of position, and on at least a couple of occasions was guilty of going for glory, when a pass to a better positioned team-mate, may have yielded a goal.
As euphoric as we all are at the moment, we must also look at the teams we have beaten at home, and equally struggled and folded against Huddersfield and West Ham respectively.
I know Rome wasn't built in a day, and all that, but the true test will come against Man Utd, who are not exactly setting the Prem alight themselves, but surely are better quality than the teams we have played thus far.
Ian #134, while there is a strong feeling that you shouldn't (unless enforced) change a winning side, I worry where the goals are going to come from on Sunday.
Okay, Richarlison, Bernard and Walcott all seemed to have an off-day against Palace, hopefully it was just that, and are ready for the challenge against Man Utd in a partisan atmosphere at Old Trafford.
Jay Harris
138
Posted 22/10/2018 at 22:15:49
Derek,
I worry more about the goals we will concede.
They are ruthless going forward. I just hope Digne and Seamus have a good game defensively and we put a mdfield player out who can tame Pogba.
I don't worry about us going forward because they are weak at the back and goals will flow for us.
I have a feeling a 3-3 is on the cards.
Tony Abrahams
139
Posted 22/10/2018 at 22:23:49
Derek @137, even if we hammered Man Utd, we are still a long way away, mate.
But...We are also a long way away from those last two seasons of unadulterated pony, which is enough to make us all feel a lot better right now mate!
Justin Doone
140
Posted 23/10/2018 at 01:13:51
Another good 3 points that we should all celebrate. We're playing some good football and trying to change the mentality and methods of several players.
It's good to watch and I'm happy but hoping for further improvements over the season. There is so much positivity that I'm concerned when we don't win our next game the good points will soon be forgotten.
So, despite the smiles and cheers, the main difference in some of our wins to losses is simply effort and luck.
When put under pressure we still appear easy to get at. Palace aren't the first team to hit the woodwork against us. They also had a penalty saved (never a pen) and a few good chances that were not capitalised on.
We could easily have lost or at least be left chasing the game.
We got hammered last season at Old Trafford so for me any improvement on that will do as long as we continue to play good football, entertain and put the effort in. It's still very early days despite 3 wins in a row.
Minor point but pretty much from kick-off Zaha jumps in studs raised high towards Keane and the ref does nothing. I'm pretty sure had that been the other way around a card would have deservedly been shown against Keane. It just frustrates that so many obvious things go unpunished like Richarlison getting constantly fouled.
Sorry, please continue to smile whilst enjoying the 3 points..
Simon Smith
141
Posted 23/10/2018 at 10:07:15
Isn't it funny that after a good win and more importantly the third in a row, currently only 138 comments including this one. There was double that after a dour Allardyce home game.
Chris Gould
142
Posted 23/10/2018 at 12:23:30
Simon @133,
The point you were making was flawed and made no sense. We won the game because of Silva's subs. How can you criticise the timing of them when it worked to perfection? That kind of criticism is daft as you have no idea what would have happened if they were brought on earlier.
Criticising Silva for poor decision-making is absolutely fine, except in this instance he got it bang-on.

Brian Williams
143
Posted 23/10/2018 at 12:47:18
Simon #141.
Which goes to demonstrate that some only want to come on here to moan!
Tony Everan
144
Posted 23/10/2018 at 12:56:00
Simon @141,
When things are going well, there is less to worry about.
When things are going bad, we want it fixed, and will be primed to elucidate.
Hence the more numerous posts by rightfully concerned Evertonians.
Colin Gee
145
Posted 23/10/2018 at 13:12:01
I think after our next four away games – Man Utd, Chelsea, Liverpool and Man City – we will see where we really are. Get a win at any of them and we will be flying; four heavy defeats could well put us back a long way.
But, saying that, even so we are 1,000 times better than last season! I am actually looking forward to watching us every week now, rather than the back end of last season under Big Fat Sam when it was a chore.
Derek Knox
146
Posted 23/10/2018 at 16:55:45
Brian @143, that wouldn't happen on ToffeeWeb would it mate?
As Victor Meldrew was once quoted as saying "I don't believe it!" :-)
Tony Abrahams
147
Posted 23/10/2018 at 17:46:34
Get ten goals in our next four fixtures, and then score two at Anfield, with the winner being our 7000th top flight goal!
Neil Wood
148
Posted 23/10/2018 at 21:12:28
Tony... I love those kind of "fate" moments!
Laurie Hartley
149
Posted 23/10/2018 at 21:29:14
Jamie #126 – as they say in the land of Oz: No worries. ;)
Simon Smith
150
Posted 23/10/2018 at 23:32:21
Simon 111.
I see your point mate, but when it worked out you simply can't argue.
People on here jumping all over you for your comment, but I agree, he should be more proactive with subs, yes it's worked out but imo he's got a little lucky. (Long may it continue!)
Before anyone pulls me on this, I'm well aware that we won both games; I'm also well aware that subs had an impact but Walcott, for example, should have been dragged earlier in the last game as well as dragged vs Leicester. He's clearly one of our better players, but he's been awful. A little kick up the rear may make him hungry, Sigurdsson was dragged off early a few games back and didn't like it too much but he bounced back with a vengeance of late!
Derek Thomas
151
Posted 24/10/2018 at 01:13:10
Laurie @ 149; I thought what they said in Oz was... don't listen to the man behind the curtain (BPB).
I'm looking forward to our supporters singing about Oviedo Baby, followed by a rousing chorus of the 'Sacked in the Morning' song to Mourhino.
Add Your Comments
In order to post a comment, you need to be logged in as a registered user of the site.
Or Sign up as a ToffeeWeb Member — it's free, takes just a few minutes and will allow you to post your comments on articles and Talking Points submissions across the site.
© ToffeeWeb