Report
Dogged Cardiff make it hard work for Everton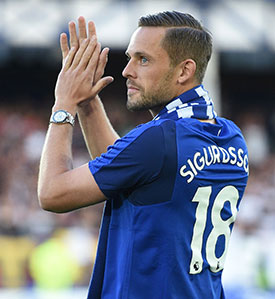 Everton 1 - 0 Cardiff City
Everton return to Premier League action with a home game against Cardiff this weekend with an unchanged side that started at Stamford Bridge a fortnight ago.

Marco Silva was able to select an unchanged side after Sigurdsson and Gomes were declared fit with Kurt Zouma remaining on the bench as Mina partners Keane in defence.

Everton kicked things off and moved the ball around well in the early minutes. Some bright ideas but the execution a little lacking. Bernard gave the ball away poorly and it allowed Cardiff to get close to goal. Richarlison flopped at the merest touch... very poor from him. In his next challenge, he feels head contact and collapses again. Ater slid in to take out Coleman. From the free-kick, Bernard completely misses his kick.

Walcott ran forward and looked to play in Richarlison, who was challenged well and form the corner Keane headed softly to Etheridge. More poor control, this time by Coleman, showed a strange nervousness, Gunnarson trying his long throw. Better movement and passing saw Bernard cross but Walcott could do little with it.

A long throw form Gunnarsson was met by Paterson for the visitors. Gueye ran a long way abut wasted it with one of his trademark utterly wasteful shots. At the other end, Paterson got behind but drove early and well wide of Pickford.

Richarlison got the ball wide right but did nothing with it when confronted by Bamba. He then tried to dribble in and pass but gave up the ball. So many mistakes from a very sloppy Everton getting a lot of possession but not using it profitably.

Coleman overlapped well but his good cross was into no-man's land, no attacker showing the required intent. Sigurdsson tried to get Walcott running in but there was no understanding. Sig powered in a cross that won another corner, delivered really well but Mina could not reach it.

A quarter of the game gone already with not a single decent effort, and another poor giveaway in midfield invited Cardiff forward, Pickford out quickly.

They finally worked it to Richarlison but he just gave it away cheaply again. Barnard was again guilty of a pass to no-one. Richarlison did better to switch play across to Coleman and it led to Everton's third corner. Another fine delivery but half-cleared by the keeper, Gomes dancing through but lashing his shot from an impossible angle into the side-netting.

Richarlison crossed harmlessly into Etheridge's grateful arms. Sig turned brilliantly and ran forward but the ball into Richarlison was overhit. A flurry of action came from a poor clearance but no-one could fashion a strike from the quarter-chances. Bernard tried to get free down the left. Gomes did a perfect Gueuye impression, shooting wastefully wide.

A spell of more open play ended with Paterson trying to rile Mina, and succeeding. Gueye gave the ball away again as Everton struggled to show any kind of fluidity, simply nothing at all was working for them.

Everton won a free kick off Arter, to some protest, a decent position for Sigurdsson, and a free header for Richarlison that he headed really poorly into the ground and Etheridge's harms. The best chance of the game, utterly squandered.

Mina ran forward with the ball half the length of the field, but it again came to nothing. Etheridge, dawdling on the free-kick, saw yellow for time-wasting. A charge which could be level at the entire Everton team.

Perhaps the best play came from Gomes, who danced in brilliantly and put in a delicious wicked cross but Walcott must have been sleeping at the far post as it bounced out hopelessly off his shins. Richarlison played in Digne and a heavy shoulder charge on Digne was deemed not to be a penalty. A fitting end to a really maddening half from Everton.

Everton structured a slow attack after some bizarre head-tennis following the restart, Barnard catching Harris, while Walcott sat on the turf, getting extended treatment for an ankle or calf problem. He finally walked off. Morrison headed into Pickford's arms and caught Keane with his head.

Gomes tried to release Richarlison with a lovely forard pass but it bounced back of his heel. Gomes then tried a long ball to Sigurdsson that flew behind for a goalkick, the second half so far worse than the first, if that could be possible. Sigurdsson at least tried a shot but it was too high.

Another attack broke down and Gueye lost the ball but Cardiff were if anything worse at profiting and Everton built better down the left, the game suddenly more open and Sigurdsson got around the keeper but there was Bamba on the line to kick away his goalbound shot.

Everton were trying to make the triangles and quick passing work but it still wasn't clicking. But Walcott got loose and ran in on goal with some fine determination only to have his shot parried nicely into the path of Sigurdsson who could not miss. What a relief!

Pickford was dreadfully taken out by Harris coming in very strongly from the right on a ball he had no chance of getting, the contact twirling Pickford in the air, the Everton keeper landing very awkwardly on his shoulder and head, but incredibly no-one injured. A yellow for Harris.

Everton had to defend a corner as Cardiff looked to get back into the game, Gunnarson doing his long throw. Richarlison and Bernard advanced but Bernard lost the ball. Walcott released Coleman but Bamab was across strongly to deny any advantage, and somehow Cardiff had an advantage that ended with Mina taking out Gunnarsson. A superb strike from Camarassa was palmed away well by Pickford.

Lookman came on for Walcott but found the tight marking equally hard to get around, Everton still struggling for any fluidity, Richarlison losing the ball in midfield. But Lookman then created something, the cross from Benard into empty space, though. More well-intentioned balls overhit as Tosun replaced Bernard.

Lookman agian made space and looked great on the ball but it evaded Coleman. At the other end, Coleman makes heavy contact on Cunnngham who goes down convincingly, Coleman was lucky here has he had not touched the ball, and it was a strong penalty shout.

A simply brilliant dribble in through four defenders by Lookman deserved a goal but Etheridge parried his shot away. Everton pressed at a couple of corners, Lookman getting too closely marked, and Gomes trying to make something of the second ball, but drilling his cross too close to Etheridge.

Live-wire Lookman won a free-kick in midfield as he tried again to drive Everton forward, Sigurdsson unable to make some quick close passing work, but it did win another corner that Keane nor Mina could not convert and Cardiff broke, three men needed to stop ___, giving away a free-kick, headed over by Paterson.

At the other end, Richarlison saw sight of goal but it was saved again, then more magic from Lookman who cleverly picked out Tosun across the area but the Turk didn't really strike it cleanly.

Gunnarsson threatened again with the long throe, as Kurt Zouma replaced Sigurdsson for the final change, in added time, to break up any final Cardiff resistance. Another long throw from Gunnarsson threatened again but Pickford collected. Cardiff attacked again and Murphy was closed down by two defenders, and it finally ended with the points secured after 5 minutes of added time.

Scorer: Sigurdsson (59')

Everton: Pickford, Coleman, Keane, Mina, Digne, Gomes, Gueye, Walcott (73' Lookman), Sigurdsson (90+3'Zouma), Bernard (77' Tosun), Richarlison.
Subs: Stekelenburg, Baines, Davies, Calvert-Lewin.

Cardiff City: Etheridge [Y:43'], Ecuele Manga, Morrison, Bamba, Cunningham, Ralls, Victor Camarasa [Y:58'] (85' Ward), Gunnarsson, Arter (74' Hoilett), Harris [Y:63'] (67' Josh Murphy), Paterson.
Subs not Used: Peltier, Bennett, Smithies, Reid.

Referee: Paul Tierney

Attendance: 39,139
---
Reader Comments (142)
Note: the following content is not moderated or vetted by the site owners at the time of submission. Comments are the responsibility of the poster. Disclaimer
Jay Wood
[BRZ]
1
Posted 24/11/2018 at 16:01:37
Not for the first time this season, Everton moving the ball too ponderously. I'm sure Silva will tell them to speed things up in the second half and to be more accurate with their passing.
Gomes has had a superb first half and is evidently growing in confidence in his ability to 'boss' a game. A good sign for us as to date he has generally had a quiet opening 45 minute and improved after the interval.
The weak link for me continues to be Bernard. He is far, far from becoming our 'David Silva' as some claim. Too often – and not just in this game – but things break down around him. Poor first touch. Poor passing – even a short simple pass. No speed to get away from players. No strength to ride a challenge. The boy has ability, but even in the Leicester game in which he made some good plays, he also showed some of the above failings.
For me, he clearly is not yet up to speed to the Premier League. He missed all of pre-season and that may be a factor. It may be a kindness to not start him for a few games.
Speed things up. Be tidier with our passing. Make better choices in the final third. Get a goal!
Jay Wood
[BRZ]
2
Posted 24/11/2018 at 16:57:19
Not pretty, but a win and three points and up to 6th, if only temporary.
We had a good 10-minute spell around the time of the goal, but Cardiff were always in the game.
Our game management in the final 15 minutes was appalling.
Happy for the win, but not much else to eulogise about.
Jamie Crowley
3
Posted 24/11/2018 at 17:01:54
Expecting about 40 comments after a fairly drab game.
Doesn't matter. Three points, 6th place.
Roll on.
Paul Richards
4
Posted 24/11/2018 at 17:05:14
Yep, 3 points for the win. Well done, Blues.
The rest was pretty much garbage, apart from Lookman who was brilliant at times.
Richarlison, Bernard, Gomes, Geuye so many mistakes. If that was preparation for next week... Well, let's not even go there just yet.
Frank Crewe
5
Posted 24/11/2018 at 17:05:36
@ Jay Wood
How do you figure only temporary? I can't see Bournemouth beating Arsenal so we will keep 6th at least this week.
Bill Gienapp
6
Posted 24/11/2018 at 17:07:29
Not a great performance, but we did what we had to to secure the three points, which is what good teams do.
A few misplaced passes aside, Lookman was electric. You have to think it's only a matter of time before he forces his way into the starting XI.
Clean sheets are also starting to pile up, which is a welcome change from early in the season.
Jamie Crowley
7
Posted 24/11/2018 at 17:11:25
Between Keane (outstanding this season, can't say enough about the kid), Mina, and Zouma, I don't worry about our defending.
We're solid at the back. And we go forward well.
I think we are seeing the makings of a balanced, total footballing team.
John Keating
8
Posted 24/11/2018 at 17:12:53
Not there today and only saw the second half on the internet.
I just didn't see us get it together, to be honest.
Gomes is class and can only see him becoming more influential. Keane 100% improved since last season.
Bernard and Walcott are definitely mysteries. Walcott's finishing this season has been poor and today again no exception. A proper goalscorer would have buried that. Lucky for us a decent rebound fell to Sigurdsson.
Still, I suppose the main thing is it's another 3 points, more confidence – and we'll need it next week for sure!
Ajay Gopal
9
Posted 24/11/2018 at 17:19:56
Keane, Gomes and Lookman were outstanding today. Mina, Coleman, Sigurdsson and Digne were okay, but the rest of the team were 'meaaah'. And how come Cardiff's set pieces were much, much more threatening than ours?
I think Bernard has to sit out the derby, he needs a break. Lookman has done enough to merit a starting place. I would move Walcott to the centre, Richarlison out left, and Lookman on the right. No other change.
Jim Harrison
10
Posted 24/11/2018 at 17:23:31
Job done. An ugly win.
Richarlison needs to go back out to the left, and a quality striker signed.
Derek Knox
11
Posted 24/11/2018 at 17:27:30
We will have to be more accurate with our passing, and try to keep tighter possession next week. They are on a roll now, but a derby is a different matter.
Mark Tanton
12
Posted 24/11/2018 at 17:34:55
It's been difficult against some of these plodders at home in recent weeks but we've found the goals to win despite the bus-parking. Things looking up with young Marco.
Barry Williams
13
Posted 24/11/2018 at 17:36:57
These were the stats!
Overall Possession %
71/29
Total shots
16/7
On target
8/1
Passing %
79.5/52.8
Attacking 3rd %
66.5/36.9
Goalkeeping Saves
1/6
and all's the co-commentator could go on about was Cardiff's resilience.
There was still a lot to like about the performance, despite a few sloppy passes etc.
This is a different team to even the one at the beginning of this season. We had 4 players who'd never played in the Premier League before in Gomes, Mina, Digne and Bernard. 2 were injured up until recently and one had no pre-season; we are bound to get a few sloppy passes and people operating on a different wavelength.
However, we are really good to watch, move the ball forward much much quicker than previously, and fight to get it back and close players down quicker.
My only gripe is Richarlison's occasional gamesmanship, I don't like it and don't want to see it at Everton. But overall, exceptionally good progress and we are higher at this stage than many of us predicted.
We look like a team!

Barry Williams
14
Posted 24/11/2018 at 17:39:12
Actually, we look like a squad. We have decent options off the bench and a bit of versatility too!
I was impressed with Bamba, a proper centre-half! However, we are doing pretty well in that department methinks!
David Pearl
15
Posted 24/11/2018 at 17:40:25
Ajay. There you go really. A good defence and midfield but up front we all have our own opinions on who to play and where. Walcott is probably our most experienced striker but is out wide. I agree the front 3 need a rejig.
Close but, so far, no cigar; Silva is giving them every chance and it's about time they clicked. Coleman was very lucky not to give away that penalty shout.
Jim Bennings
16
Posted 24/11/2018 at 17:41:14
Hard fought win against a team that set up not to concede and did a job on us.
Quite a few of our lads didn't seem up for it today and hopefully something is being kept on reserve for next week because, Christ, we are going to need to be at it.
Ciarán McGlone
17
Posted 24/11/2018 at 17:45:36
A lot of unforced errors but a lot of good stuff too. Gomes is the glue that we've needed for some time – what Schneiderlin should have been... everything just seems to come off for him.
Richarlison needs to go back to a deeper role where he clearly has more influence on the game. I have zero faith in Tosun... so it's either Calvert-Lewin or Walcott up top for me. I'd prefer to see what the latter could do in a No 9 role.
Lookman is making a great case for starting.
Shane Corcoran
18
Posted 24/11/2018 at 17:47:45
That's the second time we've been lucky with Coleman fouling in the box this season. Goal was fortunate too.
An easy-on-the-eye performance which is always welcome but we need a striker big time. I'd be inclined to stick Tosun up there again and try to get him going.
John G Davies
19
Posted 24/11/2018 at 17:48:13
The progress is sustained. Another 3 points, another clean sheet.
Can't understand the negative comments to be honest.
Andy Walker
20
Posted 24/11/2018 at 17:55:13
I agree, Shane, if it had been in our box we'd have gone nuts if we didn't get that penalty.
I think we just about deserved a win though. But there were so many times when a simple ball to create a real chance of a shot on target was wasted. Gomes was a mirror of our performance, did some great work to create space for that final killer pass to release someone, but then fucked up the simple pass.
Still, 3 points before two very hard away games, much needed.
Jim Harrison
21
Posted 24/11/2018 at 18:07:54
It's only one game, but worth noting, Man Utd drew with a stubborn lower ranked team at home today, couldn't find that one chance to make the difference.
Not a great performance, but we outplayed the opponents by a mile. When they did have chances, either the defence snuffed it or our keeper showed his class.
Liverpool next. A far more potent front line than today's lot, but they won't sit back and try to hit us on the break. Be a great gauge of how far the team has come...
Jay Harris
22
Posted 24/11/2018 at 18:18:51
I thought we were patient against a team of spoilers. I could never see us losing that.
Great games by Gomes, Keane and Pickford.
Tosun is not going to do it at this level and centre-forward remains our Achilles heel.
Dave Evans
23
Posted 24/11/2018 at 18:25:32
Cardiff worked like demons. Made it difficult. Even with below par forward passing, we should have scored at least four. Relax.
Shane Corcoran
24
Posted 24/11/2018 at 18:25:49
John #19, why can't you understand negative comments?
If we lose then there are likely to be some positive comments despite the defeat.
What would be the point of a forum like this if we all just agree that win = good and lose = bad?
Geoff Lambert
25
Posted 24/11/2018 at 18:30:12
It shows how far we have moved on when so many ToffeeWebers are finding fault with a win!
Let's just go back 12 months and look at the difference with our results.
I think it is only going to get better, starting next week please.
Paul Birmingham
26
Posted 24/11/2018 at 18:34:39
A hard earned win, against a team that played as expected, and to win ugly is a good trait. Last season, we'd have wobbled and lost...
So, at least we go there in a good positive right frame of mind on a good run of form and solid defence. It is vital to keep our belief and tempo against the neighbours.
If we stay injury free this week, we have every chance of getting a good result. They wont like it having a team not lie down and die in the dressing room, before the ball is kicked.
Genuine optimism and hope for next week, even a few of their supporters have noted the last few weeks and our consistency.
The derby's different and, if there's to be a tweak, I'd start Mola for Theo, but that's my view on the basis of the last 5 games.
Not looking for the referee as that's a lost cause this season, as the standards have gone as poor as I recall.
Onwards and upwards, Evertonians. Enjoy the beers tonight.
Danny Broderick
27
Posted 24/11/2018 at 18:49:36
I thought our game management was pretty good to be honest. We obviously didn't really click in the final third, but we defended resolutely. Credit to Silva for sending Kurt Zouma on for the last 5 minutes to shore it up when they went long.
I'd call that a professional performance. We weren't at our best, but we got the job done and were unlucky not to have added a 2nd...
John G Davies
28
Posted 24/11/2018 at 18:53:07
Because I didn't see anything in the performance to be negative about, Shane.
Did you?
Jim Bennings
29
Posted 24/11/2018 at 18:54:40
It's possible that Silva will move in the transfer window to get a centre forward.
He's going to want his own players and I don't think Tosun will be here that much longer,the lad works so hard and he's not the worst striker we have ever had but where we want to be going these days I think we need a better level than Cenk can offer.
I'm certain if a Turkish club came in for him it would appeal to him and us if the offer was considerable.
Calvert-Lewin has always been most effective as a sub and there's question marks over his true ability to hurt the top sides.
Niasse has already gone and Silva seems to have made his mind up quickly over him.
Richarlison is our best goal scorer at centre forward but there's games like today when you need something more than him to get on the end of crosses etc.
I think two strikers will leave in January and one (of Silva's choice) will arrive.
Kim Vivian
30
Posted 24/11/2018 at 18:56:06
David, Shane – I didn't watch all the game but, if you're talking about the tackle I think you are, that would have been a very harsh penalty call.
Michael Kenrick
31
Posted 24/11/2018 at 19:00:16
I agree with Shane, John. There was plenty to critique in that game, and with total justification.
It's not this "negative comments" garbage that some people feel the need to spout. It's realistic assessment of the game.
Sadly it shows a lack of quality which cost us 2 points at Chelsea, despite what was widely acknowledged to be our best performance, and numerous earlier opportunities in the season where we have thrown points away.
It's mistakes, and especially giving the ball away in critical areas and situations, that can lose a winnable game for us. I especially do not want to see that next weekend.
Shane Corcoran
32
Posted 24/11/2018 at 19:12:56
John #28, you thought every aspect of the game was good?
Yes, I certainly found many aspects of the game imperfect. I was going to list some out but then realised that most of them have been covered on this thread and you've presumably read them.
John G Davies
33
Posted 24/11/2018 at 19:13:49
"negative comments garbage" Michael?
That's nonsense.
I posted my opinion, based on what I watched and based on what I see as a continued progression from the garbage we watched last season.
Jay Wood
[BRZ]
34
Posted 24/11/2018 at 19:15:55
I'm not seeing any 'negative comments' of the 'moaning minnie' variety.
Just honest assessment of how a host of different spectators viewed the game.
Curiously enough, many of them are in agreement on diverse themes from the game and individual player performances.
Who'd have thunked it..?
Dermot Byrne
35
Posted 24/11/2018 at 19:22:24
Of course Michael. There was moments in the game that the right pass or losing the balloon could have made for a better win.
But big but are we progressing as a team and club?
I think so, so all about the perspective we have.
John G Davies
36
Posted 24/11/2018 at 19:23:25
Shane, in all my years watching football, I've yet to see any team give a perfect display. My point is more on the massive improvement the team, squad and manager have shown since last, and previous, seasons.
I prefer to look at them as teething problems in the 13 league games we have played this season. I'd rather concentrate on the positive improvement.
Christy Ring
37
Posted 24/11/2018 at 19:27:39
It was a win and a clean sheet, and Cardiff came to defend, and to be fair they were stubborn and hard to break down. Let's be honest, we always seem to struggle after an international break.
We have the mini derby tomorrow; I would love to see McCarthy get a runout, and play the full game, and hopefully be good enough for the bench at Anfield next week.
Dermot Byrne
38
Posted 24/11/2018 at 19:28:14
6th now and moving...?
Jamie Crowley
39
Posted 24/11/2018 at 19:29:18
There's been zero Negative Nancy comments.
There's a shit-ton of things to be critical of today.
As one who hates the moaning, none of the above comments are what trip my trigger.
A ton of wayward passes, some very poor giveaways, fouls in bad areas of the pitch at critical times, and some disjointed play.
Balanced with some excellent movement at times, attacking intent, and good defending.
I'd write all of this down to International Break Hangover Syndrome, or IBHS in the psychology world.
Three points. We did what good teams do – win when you're not at your best.
Steve Croston
40
Posted 24/11/2018 at 19:30:01
Overall, quite happy, we were okay without being outstanding and got the 3 points we deserved.
I think Bernard hasn't hit anywhere near top form yet and flatters to deceive a little. Walcott is unfortunately not up to it; his effort at goal that Sigurdsson followed up for the goal was pathetic. Watch it again if you don't believe me, it was so tame and flustered, he was fortunate Siggy had the wherewithal to follow up. I like Siggy more and more as Silva's reign goes on.
Defense is now very sound and another clean sheet to show for it. Loads of positives and a few minor gripes. COYB!!!!
Jamie Crowley
41
Posted 24/11/2018 at 19:37:25
Under Silva,
Stocks to buy:
Richarlison
Mina
Keane
Lookman
Sigurdsson
Gueye
Bernard (potential for big gains)
Gomes (can't buy it, closed to public sector by a Spanish conglomerate)
Digne
Stocks to sell:
Baines
Jagielka
Tosun
Schneiderlin
Stocks to hold:
Coleman (sentimental value, bought it at the IPO)
Davies
Calvert-Lewin
Walcott
Stocks to base your retirement on:
Pickford

Dermot Byrne
42
Posted 24/11/2018 at 19:41:25
Jamie #39. I agree with last para.

Martin Berry
43
Posted 24/11/2018 at 20:07:36
The quality is there! It's just slowly being refined... I think we will be a great team before long.
I thought Lookman was fantastic in places; surely he will start in the derby in front of Walcott?
Colin Glassar
44
Posted 24/11/2018 at 20:09:22
Haven't read most of the above comments but I'm sticking with Bernard. He's still finding his feet, and position, but he'll be a great little player for us.
Like I said, I don't know if he's being criticised or not but please be patient with him. He's worth it.
Ernie Baywood
45
Posted 24/11/2018 at 20:10:31
We've had plenty of seasons where we played well but couldn't get results, so I'll take a period where we have off days but continue to take points.
The two big things I take from this game are:
1. Goodison feels like a fortress again. Winning the vast majority of your home games means you're a top 6 or 7 team. Away games and games against the rest of the Big 6 dictate where you finish in that mini-league (I'm excluding Man Utd – they're bang average).
2. We have to figure out what to do with Richarlison. He's playing up top purely because the other options aren't deemed good enough but it's limiting a top footballer's impact. Bernard on the left isn't quite making this worth our while.
Big test next week. COYB
Bill Watson
46
Posted 24/11/2018 at 20:24:02
A hard earned three points from a, disappointingly, disjointed display.
If today taught us anything, it's that we desperately need a natural goalscorer.
Brent Stephens
47
Posted 24/11/2018 at 20:27:01
Lookman should start at Anfield. Very skillful and nimble on the ball today. He caused problems at "the other place" when he came on as sub there last season. A starter for me.
A lot of potentially dangerous final passes didn't succeed today. But at least we saw the pass – last season we couldn't see a pass if it waved at us.
Andy Crooks
48
Posted 24/11/2018 at 20:27:15
Jamie, #41, nice post. How about Williams, not Ashley, as one for your grand children.
Hugh Jenkins
49
Posted 24/11/2018 at 20:41:30
I know we are all aware of the BBC's bias. However their comment on our game today, really does take the biscuit, as far as I am concerned.
They could have said,"Sigurdsson strike takes Everton to 6th",
or, "Sigurdsson strike takes Everton above Man Utd".
What did they say?
"Sigurdsson strike keeps Cardiff in bottom three".
Jim Bennings
50
Posted 24/11/2018 at 20:42:36
Stick with Bernard and get behind him, don't forget Steven Pienaar initially started slowly in 2007 before forming a formidable partnership with Baines.
Bernard almost made that goal for Siggy that was cleared off the line.
I think the options are there now to mix things up anyway but give players time.
Neil Copeland
51
Posted 24/11/2018 at 20:42:46
I agree that today's performance was a mixed bag of good and bad. However, it is so refreshing to go to the game knowing I will be entertained by an improving team. We are still some way from the finished product (although not sure if a team ever reaches that point really) but lots to like and huge strides from the last 3 or 4 seasons at least.
I would much rather we huff and puff against the likes of Cardiff if it means we put in a strong performance against the RS next week. I am having to pinch myself at hoping for a Bournemouth win tomorrow because winning at Mordor gives an outside chance of climbing up to 5th.
We have some real quality in the team now and things have moved forwards much sooner than I expected. The only change I would make for next week is Lookman in for Walcott, I think this will help bring out the best in both players. The RS are strong in the middle of their defence so speed and skill in the wide positions is the best option that I see where we can hurt them.
Feels good to be thinking that we can snatch something from Mordor or at the very minimum give a good account of ourselves.
By the way, dId anyone else think that the challenge on Pickford was a red card? Although I thought the ref made a few strange decisions, it was good to see an opposing goalkeeper booked for time wasting before half-time.
Chris Corn
52
Posted 24/11/2018 at 20:51:13
Not going to trail through the posts but I get the impression Bernard is getting stick. For me, although some things never came off, he keeps the ball moving and is always at it. Like Gomes, he takes the ball in tight areas and creates things.
As good as Richarlison has been, he was awful today. Nothing stuck to him and he gave the ball away more often than not.
That was a hard fought win against a team of spoilers. I'll take those wins because we totally dominated and, other than Pickford's parry, they offered nothing.
Martin Nicholls
53
Posted 24/11/2018 at 20:58:09
Surprised that no-one has commented on that dreadful foul by Harris on Pickford – that would have been a sending off in rugby let alone in football. I can only think that him having the presence of mind to stay down and feign injury influenced the referee into being over-lenient.
Martin Nicholls
54
Posted 24/11/2018 at 21:03:00
Sorry, Neil #5 – I was busy typing (slowly!) when you posted!
Neil Copeland
55
Posted 24/11/2018 at 21:09:33
Martin, no problem – it wasn't just me, then... I couldn't believe he stayed on the pitch.
Paul Tran
56
Posted 24/11/2018 at 21:10:18
There's something good about watching an Everton team completely confident that it will keep a clean sheet and win ugly.
Winning ugly is a necessity in a league with very little between so many teams.
Despite the poor passing, especially in the final third, that's the kind of performance that gives me more long-term optimism. A solid team that finds a way to score and manages a game when below it's best.
Neil Copeland
57
Posted 24/11/2018 at 21:12:50
Paul @56, a very good post and I agree 100%.
Roger Helm
58
Posted 24/11/2018 at 21:18:07
It just goes to show there are no easy games in this league – even the bottom club can win away at a top club – and Warnock's teams are always strong and well-organised.
I thought we played some really good stuff today but it seems the players haven't fully gelled yet. When they get on each others' wavelengths better, we will be really hard to beat.
I thought Idrissa was excellent today and I was particularly impressed with Lookman. He has a smart first touch which gets him facing forward and on the front foot and I think a lot of defenders will struggle against him. Surely he deserves a run in the team at the expense of Walcott.
Kunal Desai
59
Posted 24/11/2018 at 21:20:34
Heading back home from the game. We didn't play particularly well but dug out a result. Just like Huddersfield, Cardiff were difficult to break down. Gomes was superb. He controls that midfield with Gana alongside him.
It's also time for Walcott to be benched and a chance for Lookman get a starting berth. 3 points is 3 points whilst not being particularly good. Roll on the derby.
Neil Wood
61
Posted 24/11/2018 at 21:28:08
3-2 to the blues next week with Mina scoring the winner! You heard it here first!!
Ashley Roberts
62
Posted 24/11/2018 at 21:32:51
Not the best performance today but to get a win when the opposition come for a point and set up not lose is a good sign. Just look what happened to Man Utd at home to Crystal Palace.
Too many unforced errors today and we will get punished next week if we do not improve in that area. At least we know that Liverpool will be going all out for the win and so this will give us the chance to counter-attack and, with our pace up front, who knows what might happen? As a result, we must stick with Walcott and maybe give Lookman a start ahead of Bernard.
I think Richarlison's best position is out wide so maybe start with Walcott in the middle. I also much prefer Calvert-Lewin than Tosun to come off of the bench. We have shown over the last few games we are strong in defence and so I am looking forward to how far we have progressed this season... I am optimistic for the first time in years for next week!
Tony Abrahams
63
Posted 24/11/2018 at 21:33:09
That was never a penalty, Shane, and although I heard a few moans when Digne never got a pen in the first half, Andy @20, nobody really went nuts because that didn't look like a penalty either.
Definitely turning into a team, Everton, I just hope that we can start to get our final pass off in the next few games, hopefully starting at Anfield next week.
I agree about Bernard, Jay, but also think he's gonna be some player when he really adapts to English football. He's not quite direct enough just yet, although the way he came inside and put Sigurdsson in on goal during the second half today showed how much natural ability this kid does possess.
The midfield three were very good, but we needed a focus point further up the pitch, and Richarlison never offered it today.
Don Alexander
64
Posted 24/11/2018 at 21:35:02
Couldn't watch the match but the Beeb stats state we had 71% possession and 24 shots, eight of which were on target. That's nigh on a season's worth under Allardyce so I too take heart that we're going the right way under M&M.
Jon Withey
65
Posted 24/11/2018 at 21:39:01
I was going to post exactly the same as Don at 64. Sounds like we weren't outstanding, but even then, 70% possession and plenty of chances – a marked difference from last season – and now keeping clean sheets too.
Neil Copeland
66
Posted 24/11/2018 at 21:41:42
Slightly off topic but does anyone know why the Cardiff fans were booing Tony Bellew before the game?
Shane Corcoran
67
Posted 24/11/2018 at 21:45:42
Really Tony? I only saw one replay and didn't see the ball moving. Not that means it was a penalty but Coleman's reaction told a tale. Regardless, he needs to be more careful in the box.
So is Schneiderlin injured or just not making the bench? Same question on Niasse.
Stan Schofield
68
Posted 24/11/2018 at 21:58:56
I think we're finding it easier to play against the better teams who attack more, than the more inferior teams with big players who park the bus.
I think we'll find it easier to play against Liverpool.
John Hammond
69
Posted 24/11/2018 at 22:03:58
It seemed like one of those days today but we still came away with 3 points and a clean sheet. Cardiff are well drilled and put themselves about.
Our front 3 just weren't at it and Walcott looked totally dejected at times, completely shot of all confidence. You knew he wouldn't score with that chance but luckily it fell to Sigurdsson. It's not the first time he's been one-on-one and takes such a lame shot. Gomes was brilliant, love watching him.
Overall, another happy Saturday evening!
Tony Abrahams
70
Posted 24/11/2018 at 22:21:02
I sit at the other end of the pitch, Shane, but neither looked like a penalty to me. Didn't see Seamus's reaction, but isn't it the way things have gone in football right now mate? Meaning it doesn't have to be a foul for the ref to give a penalty!
John Reynolds
71
Posted 24/11/2018 at 22:22:02
Michael, #31, love and appreciate the match reports, Lookman-tinted glasses and all, but this – "sadly it shows a lack of quality which cost us 2 points at Chelsea" is a bit delusional.
Chelsea have 40 players out on loan at the moment. 40!, including Zouma, Kennedy, Bakayoko and Batashuayi. They were unbeaten and hadn't been held scoreless at home in forever. It wasn't an opportunity squandered through lack of quality. It was an heroic performance to claim an unlikely point, and a positive signpost to a brighter future.
Craig Walker
72
Posted 24/11/2018 at 22:31:14
Still encouraged by Silva's Everton. I always dread the derby, especially at their place. I would definitely like to see Lookman start in place of Bernard.
We weren't perfect today with lots of mistakes but, in seasons gone by, that would have been one of those disappointing days where we get beaten unexpectedly.
There are lots of positives but please let my lad experience beating that lot. He'll be 8 in a couple of weeks and it hasn't happened in his lifetime.
Andy Meighan
73
Posted 24/11/2018 at 22:46:32
Neil #66,
I think the reason the Cardiff morons were booing Tony was because he beat Nathan Cleverley, who is a massive Cardiff fan. But that was at a different weight to what the great man is or was fighting at prior to him calling it a day.
Anyway, how could anyone in their right mind boo a man who is so respectful to his opponents? It completely baffles me.
Stephen Williams
75
Posted 24/11/2018 at 22:47:53
Overall the comments on here appear to balanced – hasn't always been the case.
There can be little doubt that whilst we weren't at our sparkling best, we were so much better than last season. Even under par we still deserved to win. Even if we had been brilliant, we still would have earned only the same 3 points.
We do need to recognise that there were two teams out there and the opposition will never just roll over. Even skill-limited opposition like Cardiff will fight till the end and be very well organised – seems to be the way nowadays. This results in no easy games, so when we don't play to our best, we still need to find a way to win – which we did.
Could have been so different if the poor excuse for a referee had given what looked like (admittedly from my position in the Gwladys Street End very far away) a very giveable penalty for Seamus's mistimed challenge. Seamus has mistimed a few of them this season and this continues to worry me. I'm hoping he just needs to play himself back to tip top form but the longer it goes on?
Bill Gienapp
76
Posted 24/11/2018 at 22:52:27
Shane (#67) – Schneiderlin and Niasse are both fit, but they've basically fallen to the bottom of the pecking order, so there's simply no place for them on the bench. I doubt many fans would quibble over it.
Chris Gould
77
Posted 24/11/2018 at 23:10:48
The International break will be the main reason that we weren't quite at our best today. The players haven't been together or training in the same way, and Richarlison has been playing in a different position for Brazil. Also, 2 or 3 have been nursing knocks and sprains.
I expect a much better performance next week.
Neil Copeland
78
Posted 24/11/2018 at 23:45:41
Interestingly, there was no mention of the Coleman penalty incident on MotD and nothing from Neil Warnock either. So I'm not sure what to make of that because, from where I sit in the Top Balcony, it looked like a clear foul.
Dave Bowen
79
Posted 24/11/2018 at 00:03:01
Neil @ #66. I assume that was because Bellew had a big rivalry with Nathan Cleverley. Something of a hero down here in South Wales — although not in Joe Calzaghe's league!
Jeff Armstrong
80
Posted 24/11/2018 at 00:06:42
I think the Coleman tackle was a penalty.
Mark Wilson
81
Posted 25/11/2018 at 00:38:03
When a fair number of players look tired and jaded early on, it's always good to dig in and secure 3 points whilst performing some way below your personal and team best. We did just that and, to be fair, a bit more besides. Gomes was outstanding even though he overhits about half his passes. He really is a class act but I find it hard too get too excited about a loan player who seems destined to return home at the end of the season.
This wasn't a classic but it's set us up for a derby where frankly I'd play the three in-form centre-backs and two wingbacks. Gomes and Gueye add cover and attacking intent and link play, particularly Gomes. Gylfi, Richarlison and Lookman make up the rather skinny diamond.
It could work really well at Anfield. I doubt it will happen but really feel it's a balanced approach that gives us defensive strength alongside a pacey front three.
Derek Knox
82
Posted 25/11/2018 at 00:42:03
I think that there is little doubt that we were the better side, but we made hard work of it, we should be more comprehensive against teams like this.
When we broke the deadlock, I thought that we would score at least a couple more, but no, in all fairness to Cardiff, they rode their luck, but at the same time looked capable of nicking something, against the run of play.
It was so evident today, even after the substitutions, that we are still lacking that killer instinct, a player in the striking role who can regularly score.
Is that asking for too much?
Will Mabon
83
Posted 25/11/2018 at 00:43:12
Bit of a rush on, so just the salient point: Everton – top six team.
John Pierce
84
Posted 25/11/2018 at 01:55:34
A game that won't live long in the collective memory of Evertonians.
Fitful and disjointed, but, at the same time, I see what we are about. It wasn't aimless just poorly executed. Gomes stood out whilst others toiled.
The continued lack of harmony between Coleman & Walcott all too evident. They just lack a cerebral touch as a combination. I'll continue to say one or the other needs dropping for a better-balanced combination.
When Lookman comes on, the combination starts to appear as he holds the ball and finds Coleman running into spaces.
Overall, a very average effort but some lessons players are learning, from similar games early in the campaign.
Each win earns Silva the currency of time and patience, he definitely is in credit with me. Progression.... albeit this week stemmed to a trickle.

Michael Kenrick
85
Posted 25/11/2018 at 04:14:17
Sorry, John (#71), but the game I saw, we had Chelsea running scared for 20 minutes and should have scored at least one or two of three excellent chances we crafted. That's our huge weakness at the moment — we are not taking the chances we create. Witness today: Richarlison, Walcott, Tosun...
I don't give a tinker's cuss about Chelsea, their riches, their legion of loanees (except perhaps Zouma), and least of all their dirty cynical so-called stars. That foul by that pig Jorginho and the fact that it didn't earn a straight red is still boiling my piss.
Why would you describe it as a "heroic performance to claim an unlikely point"??? Sounds like you're still steeped in 'plucky little Everton', and the mindset of Moyes's boyz daring to visit the homes of the top six with anything more than a penknife?

Jim Harrison
86
Posted 25/11/2018 at 05:48:51
John @69,
It was a poor shot in terms of power, but a good choice of where to hit it. Would have been easier to try and go near post to get more power on it, but shooting across the goal would, in the event that he missed or the keeper saved, increase the likelihood of a secondary opportunity. Which is what happened. So credit to him for getting the original chance and credit for making a good choice.
Laurie Hartley
87
Posted 25/11/2018 at 07:35:40
I thought Cardiff put in a really good shift today and, if I was one of their fans, I would feel a bit disappointed by the result.
Having said that – that used to be us – hard luck Everton. Not anymore. We deserved the 3 points yesterday and the point we got at Chelsea because, in both games, we kept at it even when things weren't going our way.
We didn't click in this match but I do think we have quality in every position. Having had doubts about Richarlison initially as a striker, I think we should keep faith with him up front.
Silva will take us to Mordor next week with the intention of winning. We are better than them in midfield – I would stick with the same starting line-up.
Jim Bennings
88
Posted 25/11/2018 at 08:46:05
Match of the Day as usual spent too much time talking about the game rather than showing the key moments. None of the possible penalties and nothing of the assault on Pickford and the resulting melee.
Laurie at #87,
I'm not going to get big headed and say we are better than Liverpool in midfield because I've seen far too many derbies over the last 15 years when we have had a better midfield than them but in derbies Liverpool seem to always make every area of the pitch work better than us.
Hopefully next week we can finally break the cycle.
Tony Abrahams
89
Posted 25/11/2018 at 09:15:52
I wish that MotD concentrated on this a lot more, Jim, unless a player has obviously tried to cheat of course, because this is what football needs to eradicate more than anything else, imo.
Let's get rid of the cheating and maybe even try and bring a bit of honesty back into the sport, because even the man in the TV studio seems to have an agenda these days.
Tony Abrahams
90
Posted 25/11/2018 at 09:30:15
Michael @85, very good point: "plucky little Everton" will hopefully be consigned to the bin forever next week.
I heard the commentator on MotD say "almost" when Walcott nearly played Coleman in with a one-two, and that's what I feel when I watch the blues lately.
Getting better, much better, but the final ball is just not getting there, and it seems to be because we are rushing the last pass; careless is what I'd call most of it.
The one were Lookman flicked it to Sigurdsson, who tried to flick it round the corner to Richarlison, was very unlucky but, most of the time, not enough care is being taken with the final pass.
Amit Vithlani
91
Posted 25/11/2018 at 09:39:41
So the derby looms large and (rather grimly) I found myself dreading the build up once the final whistle blew yesterday.
Robbie Fowler was in Nairobi to promote the Reds Supporters Club. I happened to have been invited for dinner and proudly wore my blue t-shirt. I got a few weird looks but in Nairobi, we don't really start fights over football partisanship. Not yet anyway.
He chatted to a closed group afterwards and talked about how much Liverpool have pulled away from Everton since Hodgson was sacked. Under Klopp, he expects complete domination of derby matches, although last season Everton surprisingly made things difficult.
I find myself agitated that I cannot reflect on yesterday's game without thinking ahead to next Sunday.
Anyway. Thinking back to yesterday. We struggled as we tend to do after international breaks (might be a coincidence, but I note how our first-half performances after a break tend to be a little disjointed).
What I enjoyed though was seeing Yerry Mina and Andre Gomes. Mina is exactly the don't-mess-with-me character we need, backed up by a big dollop of talent. He had a few jitters and conceded a sloppy chance but he defended well in the first half when we kept losing the ball in dangerous positions. I think he is going to get better with match fitness. I hope he can bring through the attacking aerial threat we saw in the World Cup. Mina vs Van Dijk will be an interesting contest (thinking ahead to next week again... need to stop).
Gomes was a monster. My word, I will be delighted if he is here next season and keeps up his form. Portugal seems to be excellent at producing all round No 8s – Gomes, Neves, Manu Fernandes, Tiago at Chelsea et al.
These two have the physical attributes to stand up to anyone. Lookman for me brings the skill and pace that Bernard has sadly shown only in patches. Throw in the tenacity of Gueye, the craft of Gylfi, and the blistering pace of Richie, and we have the core of a team here capable of taking on all comers.
Laurie Hartley
92
Posted 25/11/2018 at 09:40:24
Jim #88 – I saw what you did there. ;)
Mark Murphy
93
Posted 25/11/2018 at 09:50:24
Will – you're right – top six team.
So Gary Lineker introduced MotD as featuring all of the top four...
If we were 3rd, they'd become the top two!
James Marshall
94
Posted 25/11/2018 at 09:50:35
Am I alone in being a little bit in (man-)love with Andre Gomes? I don't swing in that direction but he's some footballer and, judging by his Twitter account, he's a bloody decent human being as well as being handsome (the bastard).
The love on Twitter for Gomes has gone stratospheric. We have to sign him.
Andy Williams
95
Posted 25/11/2018 at 10:18:00
No, Jamesm you are not alone. What a man! There is a fella, sits behind us, who shouts his love for him every game.
In terms of the game, I thought even though we were not at our best that there was still more skill and invention in those 90 minutes than there was in the entire last season.
Ernie Baywood
96
Posted 25/11/2018 at 10:22:13
Agree James... Whatever it takes. He's a sickeningly blessed bloke!
The thing I'm quite liking about this team is more than having good players. More than playing quite well. It's that we seem to have players with a real presence.
Gomes, Pickford, Richarlison... and I'll throw Mina into it too. These guys just seem so confident, to the point where the opposition look in awe. Like a late eighties Tyson, they've got people thinking twice before the whistle blows.
Laurie Hartley
97
Posted 25/11/2018 at 10:29:35
James (#94) – about
Gomez
Gomes – a few weeks ago, I was saying how impressed I was about his strength on the ball.
The last two games I would say his ball control and dribbling have been outstanding.
It appears he is enjoying his time and football at Everton and perhaps we are seeing why Barca wanted him. He is a Rolls-Royce footballer – we have to keep him.
Ernie Baywood
98
Posted 25/11/2018 at 10:29:53
Neil 78 - Warnock did make reference to a couple of refereeing decisions that went against them.
I thought the attacker 'was looking for it', but agree with others that Coleman's timing was out and it was very 'giveable'. When we complain about the decisions that have gone against us we should remember that we got the benefit of the doubt on that one.
I'm also not sure why the challenge on Pickford wasn't seen as a red card. He isn't looking at the ball, and he turns his body to charge Pickford with his shoulder while Pickford's in the air. That was deliberate at worst and seriously reckless at best and could cause some serious damage.
James Marshall
99
Posted 25/11/2018 at 10:43:12
Ernie @96,
That's a good point about the type of players we have, and the respect they command from the opposition. Mina is a unit and nobody wants to go up against great big centre-halves like him.
Gomes is as Laurie says, a Rolls-Royce footballer and he's really making us tick in midfield. Quality in every area of his game, he's the best central midfielder we've had for many years. Him & Gana really do compliment each other and give Gylfi the room to play as well. All good stuff eh.
Colin Malone
100
Posted 25/11/2018 at 10:55:39
I didn't think we could ever replace Arteta. We have in abundance. We have to offer a king's ransom, the captain's armband etc, to keep Gomes.
Let's not forget Idrissa Gueye – another gem.
Neil Copeland
101
Posted 25/11/2018 at 10:59:15
Andy (#73) and Dave (#79), thanks for the clarification about Tony Bellew. I thought it was disrespectful really and perhaps no applause from Cardiff would have been more acceptable.
Neil Copeland
102
Posted 25/11/2018 at 11:03:17
Ernie @98, yes I heard Neil Warnock complaining about a throw-in decision that indirectly led to the goal. Perhaps he didn't kick up a big fuss partly due to the Pickford incident which, like you, I thought was a definite red card and much worse than the Jagielka's challenge at Wolves.
Brian Harrison
103
Posted 25/11/2018 at 11:18:11
I posted yesterday before I went to the game that, without an early goal, we may see a game similar to the Huddersfield and Crystal Palace games and that's exactly what did happen. We are not clinical enough in our final ball or our finishing and that's the area we need to improve the most if we hope to ever break into the top 4.
I think it will be next season before we see the best of Bernard, but he and Walcott have been pretty average in our last 3 games, and yesterday was probably Richarlisons least effective game since joining.
I can understand why Marco Silva has stuck with Walcott and Bernard but surely Lookman has to start against Liverpool. When he has come on this season he has made a difference; I believe he is a talent and we need to play him or risk losing him. I would be also tempted to play Calvert-Lewin up front against Liverpool and move Richarlison out wide.
But the improvement in this team under Marco Silva is there for all to see, I know some had doubts about him but I had belief he would be good for us. When Watford refused us permission to speak to him I thought we had lost our chance to get him. But thankfully Moshiri knew who he wanted and got his man.
Top 6 is a real possibility but his biggest challenge might be getting Barcelona to sell Gomes and possibly convincing Chelsea to do the same with Zouma.
Colin Glassar
104
Posted 25/11/2018 at 11:19:39
Funny how the team sitting in 6th place today (yes, the fabled top 6, so beloved and admired by the media) is hardly getting a mention in today's (online) papers.
I suppose they are saving their "ink" for when, or if, Man Utd obtain that lofty position. Will it now become a Top 5?
Dave Williams
105
Posted 25/11/2018 at 11:26:14
Trying to piece it together from MotD, Sky Premier highlights, the Live Forum and this thread — not an easy task!!
On Sky, we looked to play very well at times with Gomes absolutely outstanding and Lookman very exciting. He looks stronger on the ball now and may be worth a start next week in place of Theo who I feel may go missing in the derby.
Mina looks just the character we need at the back —confident, vocal and will relish the atmosphere next week. On paper, we have a good enough team to do them and it will be a big test for Silva to get them in the right frame of mind which is the most essential aspect.
Do we go three centre-backs? Do we drop Theo and / or Bernard? Will Bernard be swatted aside in the heat of the derby? Do we play Calvert-Lewin up front and Richarlison wide left?
I'm glad I'm not the manager this week! Mind you... on £5M a year???
Colin Glassar
106
Posted 25/11/2018 at 11:35:56
Dave, Silva should make them watch the Liverpool - Seville final. First half, the shite swarmed all over them and could've been out of sight after 30 mins. Second half, Seville passed them to death, had them chasing shadows, and they were knackered after an hour.
Blood and guts won't work in this game, we need to be clever and dictate the tempo. The game will be won or lost in the first 30 mins.
Derek Taylor
107
Posted 25/11/2018 at 12:13:16
Colin, I think the media see our 6th as Everton being 'in temporary accommodation'. After all, we have the likes of Man Utd beneath us and that would never do – would it?

I see the Echo's gambling partners are offering 14/1 against a Blues victory in the derby game. Get on!
Dale Rose
108
Posted 25/11/2018 at 12:26:26
Hard game to dig a result out of. We did and last season we wouldn't. It's a different side now.
The current set-up is excellent. There is no doubt things will get better. Lookman is looking tremendous at the moment; I would love to see him in every game. Gomes is just a delight.
I'd be here all day extolling the virtues of this current team... I just hope we can send the RS packing next week.
Rob Halligan
109
Posted 25/11/2018 at 12:48:28
Looking ahead to the game next Sunday. We could have as many as five making their derby debut, six if we go three centre-backs. Another interesting point being it could be the first time in years we've got no local lads playing. Could this work in our favour?
There's always been the likes of Baines, Kenny, Tom Davies, Rooney (in two periods with the club) who have played in the cut and thrust of a derby match. I know all the summer signings have played in big games before, but will they see it as just another game, or will the occasion get to them like it has for the majority of the last 20 years?
John Raftery
110
Posted 25/11/2018 at 12:59:42
We remain heavily reliant on Sigurdsson and Richarlison for goals. If one or both have an off day, as Richarlison did yesterday, there appears to be no-one else capable of stepping up.
Many fans consider playing Richarlison in the middle is the best option at present. Some feel that works better in the home games than away from home. Others consider it works better in the away games where generally there is more space for him to work in. I am in the latter school of thought. Yesterday, with Cardiff defending in numbers, he often drifted away from the middle just to get involved in the play. That contributed to the sense of incoherence in our attacking play in the final third with final passes, shots and crosses going astray.
Next week's game will obviously provide different challenges. We have a full squad and a full week to prepare. Hopefully Silva will use the time well – not only to drill our defence but also to make our attack more clinical. Against a team which has conceded only five league goals this season, our attackers must make better use of any opportunities.
Anish Dosani
111
Posted 25/11/2018 at 14:17:45
With the height we have from Mina and Keane, why aren't our corners getting past the first post? Silva really needs Digne to work on his delivery to use that height advantage.
James Hughes
112
Posted 25/11/2018 at 14:17:51
It could well be in our favour that we will have a few playing in a derby for the first time. There will be little weight of the history of continued failure on their shoulders. Silva will be out to get one over on Klippety so will send them out to win, unlike nameless from last season.
One other thing they don't have for this game, our talisman will be there!!! So no pressure, Mr Gaynes, just continue your winning streak.
COYB and wishing Mike a great trip; the Midland Hotel sounds like fun next Friday. I am sure you will be in very good company.
Peter Mills
113
Posted 25/11/2018 at 15:02:08
It was great to see Adrian Heath being presented with his European Cup Winners Cup medal at half-time yesterday. Well done to the Everton Heritage Society for pursuing this with UEFA and making it possible.
Dave Williams
114
Posted 25/11/2018 at 16:46:13
Inchy back at Goodison? One of my favourite players — wish I'd been there for that. He used to love getting stuck into the RS. I remember his excellent goal in the Charity Shield in 1986 when we had seven first teamers out injured and we gave as good as we got and drew 1-1.

Simon Dalzell
115
Posted 25/11/2018 at 17:14:41
John # 110. That's a good assessment.
One thing that I would perhaps do for next week (this won't be popular) is play Calvert-Lewin up front, with Richarlison wide.
One particular incident summed it up for me, when Gomes got a tremendous cross in, 6 or 7 yards out in the centre of goal, there was nobody there. Richie was static on the penalty spot, and often there was a huge void in this vital area.
Lookman to start, but I think the team will be unchanged.
Michael Kenrick
116
Posted 25/11/2018 at 17:42:52
Laurie (#97) – and some others – important heads-up for next weekend:
Gomez plays for Liverpool
Gomes plays for Everton
I'd hate for you to get it wrong!
Peter Gorman
117
Posted 25/11/2018 at 17:47:08
Does Barclay still play for us, Michael?
John G Davies
118
Posted 25/11/2018 at 17:51:34
He doesn't play for anyone, Peter.
Michael Kenrick
119
Posted 25/11/2018 at 18:31:29
Good one, Peter, I think Barclay wants to nikel-and-dime me for what little I have in their vaults!
Brian Williams
120
Posted 25/11/2018 at 18:36:58
Talking of Barclay, I thought we could bank on him to score yesterday just as I hoped Daylafeyoo would score for Watford.
Bill Watson
121
Posted 25/11/2018 at 18:54:37
Did anyone else notice the adverts for Usmanov's mobile phone network, Megafon, around the perimeter walls?
Andy Meighan
122
Posted 25/11/2018 at 19:18:18
Rob @109,
Yes, the occasion will get to them. We're cursed by them bastards... Witness the U23s today! Flying and top of Premier League 2... we play them and we play absolutely shite and go to bits.
I'm sick of it and I've got a nauseating feeling we are going to get well and truly stuffed next week. Knocks me sick to think they're not even playing that well but are still on Man City's shirttails.
This run against them is nothing short of embarrassing and I cringe when I think of it. Like everyone else, I'm desperate to beat them but, in my mind, I know it's not going to happen. Sorry if I'm raining on anyone's parade.
Steve Ferns
123
Posted 25/11/2018 at 19:18:39
No, Bill. I didn't. I'll keep an eye out next home game.
Brent Stephens
124
Posted 25/11/2018 at 19:38:25
Rob #109, my thoughts exactly – a significant number of new players (and managerial staff) in our ranks with no experience of the derby and what it means. I'm hoping they go out there treating this as a game against a very good Premier League side but no more than that. The Chelsea game showed us the right attitude to adopt. This time next week, I want to be sipping something with bubbles.
Amit Vithlani
125
Posted 25/11/2018 at 19:53:12
Brent @ 124, let's hope it's not Alka-Seltzer!
Dave Abrahams
126
Posted 25/11/2018 at 19:56:23
I expect Everton to give Liverpool a good game next Sunday because we are now starting to believe in our ability (not before time).
Another small point, but maybe significant, is that Liverpool have possibly a make-or-break Champions League game in Paris midweek; they can't rest any players for this game.
John Reynolds
127
Posted 25/11/2018 at 20:25:02
Michael, (#85), I don't want to rehash the Chelsea game endlessly but yes we started brightly. I didn't see those early chances as gilt-edged as you did (apart from Mina's which was offside anyway). We were very much under the cosh in the second half when Hazard in particular was finding lots of space. Jags coming on sorted that out, but they had much better and clearer chances.
It's not a case of "plucky little Everton", it's a recognition that a year ago we were a shambles and are still in a rebuilding phase with lots to do. We can expect to be competitive now but it's a little early to be going to Chelsea or Man City or, dare I say, across the park expecting to win at this stage. They're considerably further ahead of us in terms of squad development, finances, investment, etc. But hopefully that will come soon.
There's loads to be positive about – I'm just not getting carried away yet. Chelsea was a glass half-full. So was yesterday. 3 points next Sunday and we can really get excited.
Brent Stephens
128
Posted 25/11/2018 at 20:44:28
Amit #125 - a nice bottle of cava, Amit. And a snort (no, not that - a snort of laughter).
Let's hope that shirt of yours brings us luck. And you survive among the rs.
Paul Birmingham
129
Posted 25/11/2018 at 21:16:53
Let's focus on us and not let the hype and stench of the RS game get to us.
Let them worry about us and we focus on us. They as Fulham prooved the other week, are still suspect at intense and accurate attacks.
With our players we can go into this game with confidence, why shouldn't we? Today's mini Derby shows what happens, next week EFC can break the mould, but we must take our chances and also watch out for giving too much space and angles for their three forwards.
Hopefully Mina will sort them out and also Keane will get his head on a corner or free-kick.
This time, hopefully Silva and Brands will have prepared well for our visit to our old ground. Injuries permitting, let's go for it, but we need calm and vision in the box and at the moment Sigurdsson and Richarlison are the ones we are relying on so all the team must start chipping in.
Here's to a good week for Evertonians.
Michael Kenrick
130
Posted 25/11/2018 at 21:45:57
Sorry, John, but you're just spouting media-standard platitudes about "plucky little Everton" and their 'rightful place' in the grand scheme of things, with all this stuff about "it's a little early". You're missing the entire point when you brush aside a key phase of the game by saying half-dismissively "we started brightly" and giving very little credence to those crucial missed chances that could so easily have won that game for us.
When I watch any game, the result is not predicated on the reputation (great or small) of who we are playing, and how much money they have, so much as how the 90 minutes pans out on the day. My main focus for judging our performance is what happens during that 90 minutes. The quality of play, judged versus the ability of the players, the chances created and missed, the mistakes that, in games of fine margins, often dictate outcomes.
When you have a new manager, a new Director of Football who really means business, a whole new regime at Goodison Park / the Royal Liver Building / USM Finch Farm, last season becomes thankfully relegated to the dismal annals of ancient history, aeons away from where we are now.
Of course it's better than last season. Thankfully, the team and the club have moved way beyond that absolute garbage. But, judging by comments like yours on here, some of the fans haven't and they still want to rationalise away the impediments to our progress.
"3 points next Sunday" — how's that going to happen if they are still "considerably further ahead of us in terms of squad development, finances, investment, etc"? You certainly don't stand any chance of beating them if you go to Anfield with that mealy mouthed attitude. How is it one iota different from "knife to a gunfight"?
Jamie Crowley
131
Posted 25/11/2018 at 21:57:34
The media ignoring "plucky little Everton" will stop in its tracks with a win this upcoming weekend.
If we beat an undefeated Liverpool at their place, the media will immediately swap "plucky" with "up-and-coming Everton under bright young manager Marco Silva".
They'll have no choice.
A massive statement of who we are and where we are going awaits.
And Mike Gaynes will definitely be in a gimp basement tied up and unable to leave Liverpool.
Derek Knox
132
Posted 25/11/2018 at 22:32:58
Jamie, I really do admire your optimism, but you never know in football. Today, I would have predicted all day long that Wolves at home would have beaten Huddersfield comfortably.
Let's just hope we can pull it off next Sunday!
Dan Davies
133
Posted 25/11/2018 at 23:09:06
If we beat them next weekend, I will personally get down on both knees and pronounce Mike Gaynes a God amongst men!
Neil Wood
134
Posted 25/11/2018 at 23:18:32
I wondered where you was going with that, Dan!!
Dan Davies
135
Posted 25/11/2018 at 23:46:36
Neil, now now, hang on – if we did win? Hmmm... I wonder if Mike would make do with a tray of curry and chips?
And a pint! Hahaha!!!
Dan Davies
136
Posted 25/11/2018 at 23:48:05
Or is that chips and curry!
Stan Schofield
137
Posted 26/11/2018 at 00:18:05
John @127: As far as I can see, player for player, Liverpool are no better than us. They had a better start to the season but, since we've settled down a bit, our form is as good as theirs. They have a front three arguably as good as anyone's, but then our midfield is now in that category, and our front players just need to click and get some momentum.
The way we've settled since Silva took over has been a hella of a lot quicker than them when Klopp took over. They've won fuckall for years, and I can't see why we shouldn't be able to beat them. Provided the ref isn't in their pockets.
Laurie Hartley
138
Posted 26/11/2018 at 00:32:09
Michael #116 - Thank you - Gomes it is.
Lyndon Lloyd
139
Posted 26/11/2018 at 06:17:09
Sorry, Michael, but far from having a "mealy mouthed attitude" about our prospects on Sunday, John has this spot on, in my opinion. It
is
a little early for us to be expecting to go to the likes of the top four or five sides and beating them.
It's got nothing to do with belittling us as "plucky little Everton" and everything to do with the reality of the top of the Premier League as it currently is, where we currently are and how far the playing field has shifted in just the last couple of years.
We patently are further behind those top five/six teams in terms of "squad development, finances, investment, etc," and the Arsenal (a), Chelsea (a) and, to a lesser extent, Manchester United (a) games were cases in point, ones that underlined the greater quality that each side possesses on the one hand and the fact that we still lack consistent quality/belief/consistency going forward on the other.
Three excellent chances against Chelsea? We had one shot on target in the second half and three half-chances in the first (Gomes's header off a corner, the ball from a free-kick that Mina was a yard or so away from and Bernard's effort from outside the box that flew wide). That performance was all about frustrating them rather than us really looking like winning it, which, again, is fine given the progress to date under Silva.
Now, does it mean we can't go to Anfield and win on Sunday? Does that mean we go there not looking to win? Of course not but an awful lot of things are going to have to go right for us to get three points. The quality is there but we are going to have to shut down their best players for 90 minutes which is a tall order.
They may not be on top, top form this season but this Liverpool side is arguably the best they've had since we last won a derby on their patch and they have had three seasons under Klopp to get to where they are. We're still less than four months into Silva's reign.
That's just reality; that's the gap we have to bridge. We can do it but I don't think anyone with any common-sense perspective on the differences between the two teams should be expecting us to win on Sunday. Hoping and willing them to? Abso-friggin'-lutely!
Amit Vithlani
140
Posted 26/11/2018 at 08:00:58
Michael, I would love to have your bombast.
Yet, the fact remains that, until we win again, I am grimly reminded of how confident/good form we have been in previous years in the run-up to a derby, only to have an anti-climax.
This has occurred on a few occasions since 2010 (2012 Semi, the 3-3 and 0-4 Martinez derbies, the 1-1 when Rodgers was sacked).
Like Lyndon, I will be roaring the Blue Boys on, and won't be taking a knife to a gunfight.
I will take a re-enforced spear with a poison tip, capable of doing damage if my aim is true.
Bill Watson
141
Posted 26/11/2018 at 10:16:30
The positive, for me, is that there has been so much change, for the better, in such a short time.
I think only three players started v Cardiff who started the last League Anfield derby: Pickford, Gueye and Sigurdsson.
We are likely to have a completely different back four and forward line up and they are all an upgrade on last season.
Hope springs eternal!
John Reynolds
142
Posted 26/11/2018 at 12:45:56
Thank You, Lyndon #139, you've saved me having to reply, as you've made exactly the points I would have. Of course we can go and win on Sunday. "Lesser" sides often beat "better" ones in one-off games. Hopefully Brands and Silva will take us to the point when we do expect to and succeed in beating the top teams regularly. Anyway, I'm getting over for the Newcastle game, my first one of the season, and am definitely expecting a win.
Michael Kenrick
143
Posted 26/11/2018 at 14:12:13
I'm not quite sure how we got from Everton having three good chances to score during a very fine early spell at Stamford Bridge that lasted a good 20 minutes where we took the game to our illustrious hosts (that was my original point)... to the utterly ridiculous concept in this day and age of "expecting to win" a Premier League match, which now seems to be the focus but was never ever anything I would or did say. Something clearly got lost in translation along the way.
What irked me with John's response to my original comment is his inherent expectation not to win at these places — that thinking we could have won at Chelsea "is delusional" and calling even a fully merited point "unlikely" — not based on who we are, how much money we have, or how many loan players the other team have, but on how we played.
Tom Bowers
144
Posted 26/11/2018 at 14:33:01
Winning is what it is all about and sometimes winning ''ugly'' is a phrase used which can be applied to narrow wins against so-called weak teams.
Everton have started winning and I don't give a toss how it's done. They have been in the doldrums far too long and they seem to be finally headed in the right direction.
Granted, they are far from the finished article and some more class players are needed but deservedly in the top six and ahead of Man Utd is a good sign.
The acid test may come over the next month and a good result against the RS would be most welcome. They managed to piss off Klopp last season so let's hope with this improving squad they can go one better.
Add Your Comments
In order to post a comment, you need to be logged in as a registered user of the site.
Or Sign up as a ToffeeWeb Member — it's free, takes just a few minutes and will allow you to post your comments on articles and Talking Points submissions across the site.
© ToffeeWeb