Report
Smashed teacups at half-time for rare Blues win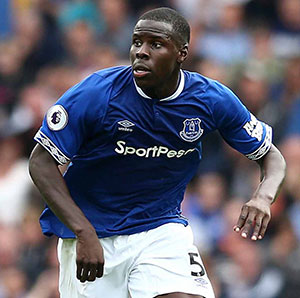 Kurt Zouma is ineligible to face his parent club so, with Phil Jagielka injured, it's a first start for Yerry Mina in two months
Everton 2 - 0 Chelsea
After an utterly abysmal first half were Everton offered absolutely nothing, they swarmed all over Chelsea in a fantastic 5-minute spell to score early after the break, and Richarlison then won a vital penalty, Sigurdsson scoring after Kepa had saved his attempt from the spot.
Coleman replaced Kenny, who was left out of the matchday squad; Zouma was ineligible to play against his parent club so Mina came into the fragile Everton defence. Pickford was not dropped despite his antics at Newcastle.
Ross Barkley starts for Chelsea, one of seven changes Maurizio Sarri makes from the team which beat Dynamo Kiev 5-0 in the Europa League on Thursday.
André Gomes got things underway, and Ross Barkley, appropriately all in yellow, was getting roundly booed by Evertonians no doubt unhappy that one of our own would want away to join the Chavs.
Everton were pressed high and went for the lofted ball down the line after some pass-the-parcel at the back, straight out of play. Chelsea playing confidently at a very low tempo until Coleman intervened and booted upfield. But Chelsea attacked again, and Hazard smacked in a shot at Pickford, the ball flying up off him and headed behind the first corner, defended away.
But Hazard dances through again and smacked the post, then Higuain got in behind but scuffed his shott allowing Keane to clear off the line, Everton all at sixes and sevens, Barkley chipping in a ball Pickford had to punch.
So much for the inspiring pre-match rallying siren. Most of the lads in Blue were yet to turn up!
Gueye twisted his ankle tackling David Luiz and needed treatment. Gomes fouled Pedro, Hazard clipping it deep, Everton clearing and Calvert-Lewin running into Jorginho, no foul. A forward ball to him was easily surrendered and Everton were again forced back to Pickford.
Coleman finally had acres of space but chose to pass straight to a yellow shirt. But the ball was fed to Calvert-Lewin who dug the ball out from his feet but could only shoot well over.
Barkley tried to jink in from the left but his end-product was quite bizarre, driven back toward the far touchline. The ball broke for Gueye but again, hopeless passing turned over precious possession back to Chelsea.
Another session of pass-the-parcel failed to get close to half-way and Barkley saw the chance for a soft shot straight at Pickford. But Everton finally got forward Calvert-Lewin manfully dispossessing Jorginho to force Chelsea back.
Gomes drove a shot from distance at Kepa. But Everton were easily turned, Chelsea swarming at Pickford, who gathered just in time. But with nothing happening, Digne somehow conceded a corner taken by Hazard, headed away by Mina.
30 minutes of really crap football, especially from Everton, looked only to continue as Chelsea attacked brightly but for Pedro to shank his shot wide, Pickford watching it thankfully.
Chelsea attacked again, without really structuring a clearcut chance, but it seemed only a matter of time with Everton offering the sum total of nothing to this game. Barkley clipped the ball in to Higuain who fired over.
Richarlison almost got free, Alonso clipping his ankles and seeing yellow. A chance for Sigurdsson to swing the ball in, Calvert-Lewin heading over with his trademark absence of any neck-muscle work, just letting it bounce off his forehead and go behind.
Coleman was embarrassed by the high-press conceding a thrown at the corner flag, Everton simply unable to break out, Richarlison tempted into a rash tackle on Hazard almost from behind. Barkley smacked the free-kick into the wall. In the second phase, Pedro does very well to shimmy across the 18-yard line and fire inches wide of both Pickford's despairing dive and the white of the post.
A long ball from a free-kick after a Gueye foul was hammered home by Pedro but he was just a fraction offside.
The lesser-spotted Sigurdsson made a rare appearance. firing a nice forward ball that went straight through Coleman to a yellow shirt, summing up the desperate state of Everton's torpid play. Bernard did get forward but his cross was carefully designed to split the pair of Everton players forward in the Chelsea area. Incredibly, Everton still in the game at half-time: 0-0.
A much better start to the second half, Sigurdsson and Richarlison finally combining but no belief at all from Barnard who should have hurled himself to connect with the ball
Another phase and Gomes lashed in a fine strike that forced a good save from Kepa. From the corner, Mina's powerful header hit Gomes and was cleared. But Coleman won another corner, the first header, a great one form Calvert-Lewin, parried down but Richarlison followed up to head in, a goal for Everton — incredible turnaround!
Everton kept pressing, the crowd now fully awakened behind them. But Pedro was better than Digne as the game got a great end-to-end feel to it. Chelsea tried to slow it down but some nice work from Gomes in the middle kept Everton in control.
A poor clearance by Kepa came to Gueye but he gave the ball up too easily for Barkley. Chelsea pressure was initially repelled. But the ball then fell to Alnos who drilled his shot into the side-netting.
A great move down the left but Calvert-Lewin didn't expect the ball to beat his marker and was unprepared to lash the ball home, the chance evaporating instantly. Gomes was harshly carded for a tiny clip on Pedro's heel. Higuain lashed a vicious shot off Mia that Pickford did very well to save low by the post.
Rudiger yellow-carded, also harshly, as Bernard ran into his elbow! Taylor perhaps evening things up. Barkley had a shot deflected away, and was roundly booed when substituted. At the other end, Richarlison tried a very ambitious first-time volley, that flew away from goal.
Schneiderlin replaced Gomes, who was struggling. Richarlison went on a run but his final ball was poor. Sigurdsson got the ball and powered forward, but it didn't break well for Calvert-Lewin. But from the 2nd phase, Coleman powered in and was blocked, but Richarlison was caught with a subtle ankle-tap by Alonso... penalty! Sigurdsson's first attempt saved, but he followed up to complete the job. And an astounding 2-0 lead for Everton!
Coleman broke well down the right but Alonso gave Richarlison a real shove to stop him as Coleman was pushed off the ball. But no second yellow for the Chelsea player.
Hazard lashed goalward, Keane in the way, with Pickford leaping. Walcott came on and was given a golden chance to score by Sigurdsson after excellent play by Calvert-Lewin to create space for the Iceman.
At the other end, a fine shot by Hudson-Odoi was palmed over by Pickford, keen to keep a clean sheet with less than 10 minutes left. Chelsea were piling on the pressure, Davies coming on for Sigurdsson. Everton with only one task now: to see the game out.
Chelsea kept piling it on, and won a late corner, Giroud's header blocked on the line. In the follow-up Hazard was kicked behind by Alonso, and Pickford's charmed goal somehow survived unbreached as the 5 minutes of added time played out to a fine win in the end.
Scorers: Richarlison (49'), Sigurdsson (72')

Everton: Pickford, Coleman, Keane, Mina, Digne, Gueye, Gomes [Y:59'] (68' Schneiderlin), Richarlison, Sigurdsson (86' Davies), Bernard (78' Walcott), Calvert-Lewin.
Subs not Used: Stekelenburg, Baines, Tosun, Lookman.
Chelsea: Kepa; Azpilicueta, David Luiz, Rüdiger [Y:60'], Alonso [Y:36']; Jorginho (74' Hudson-Odoi), Kanté, Barkley (65' Loftus-Cheek); Pedro, Higuaín (66' Giroud), Hazard.
Subs not Used: Caballero, Christensen, Kovacic, Willian.
Referee: Anthony Taylor

Attendance: 39,856
---
Reader Comments (171)
Note: the following content is not moderated or vetted by the site owners at the time of submission. Comments are the responsibility of the poster. Disclaimer
Neil Lawson
1
Posted 17/03/2019 at 16:00:38
Pointless posting anything intended to be sensible because none of us have a clue what will happen. Deep joy!!!
Jay Wood
[BRZ]
2
Posted 17/03/2019 at 16:06:41
With the exception of Calvert-Lewin starting in place of Walcott, it is EXACTLY the same starting XI that drew 0-0 with Chelsea in November. The only positional switch is Calvert-Lewin playing down the middle whilst Richarlison plays (presumably) wide right instead of Walcott.
It also is similar to the starting XI played well for an hour at Newcastle last week, with the forced change of Mina in for the unavailable Zouma and the (sick) Coleman returning for his last-minute replacement Kenny.
It is understandable people are exasperated and focus on the clusterfuck of the last 30 minutes against Newcastle, but actually, we've played – and competed – well for the vast majority of the last 3 games.
The trick is to maintain it over 90 minutes and choke off any chance of a comeback by the opposition.
Today should be an interesting watch.
Marlon Hoff
3
Posted 17/03/2019 at 16:31:21
I'm surprised that Pickford was not dropped.

Ian Lloyd
4
Posted 17/03/2019 at 16:56:55
Piss-poor, as usual.
Ian Lloyd
5
Posted 17/03/2019 at 17:03:09
It's just a matter of time until they score — this is dire... again!
There's more atmosphere on the moon as well.
Annika Herbert
6
Posted 17/03/2019 at 17:09:50
It's games like this where I expect to see Sigurdsson dominating proceedings and showing the way. But he always goes missing. He should be the playmaker trying to make things happen but he just disappears.
Henry Lloyd
7
Posted 17/03/2019 at 17:16:50
Absolute Garbage
Anyone disagree?
George Cumiskey
8
Posted 17/03/2019 at 17:19:50
Why don't they bring Siggy on?
Oh... he is on.
Jim Marray
9
Posted 17/03/2019 at 17:20:02
If you want Sigurdsson to dominate, then you need to give him the ball. Our inability to service the front players is a reason for our current problems.
Jay Wood
[BRZ]
10
Posted 17/03/2019 at 17:28:43
Strange tactics.
With virtually the same team as he put out at Chelsea in the reverse fixture, when we pressed high and made it hard work for the home side, today we are set up like the away team.
For the first 15-20 minutes we completely ceded the entire Chelsea half to the visitors and the inevitable happened: we were under constant pressure. How we got through that period without conceding, I don't know.
The pressure relented as the half progressed, but there is little or no threat going forward, as well as Calvert-Lewin is playing the lone striker role, he has no support within 30-40 metres of him.
Neither Richarlison nor Sigurdson are showing for, or getting on the ball. Apart from his shot on target, Gomes' contribution to the game has been to give away cheap fouls, getting caught on the ball and coughing up easy possession. Increasingly, I think we can do much, MUCH better than pay hard coinage for him.
Today's boo boy, Ross Barkley, is showing him how to do it. Best midfield player on the park today.
We need a similar high tempo 2nd half as we produced against Liverpool in the last home game to get anything out of this game.
Oliver Molloy
11
Posted 17/03/2019 at 17:28:53
Never worry, Coleman to score a winner in celebration of the greatest nation on planet earth.
Happy St Patrick's Day to all ye folks, drink and be merry!
Justin Doone
12
Posted 17/03/2019 at 17:32:54
We should use these games to experiment a little so I'm a tad disappointed.
I would have rested Pickford. Signal that he's not been good enough and it's not acceptable. It will hopefully help stop this nonsense of constantly passing backwards.
Glad Mina is given a run out even though it's forced. He needs to play more games just to assess if he's any good.
Kenny played well and should have kept his place.
Calvert-Lewin deserves to keep his place. He gets stick for not being good enough but for a 21-year-old playing in an inconsistent team he's one of the better and more consistent players for the past two seasons.
I agree, we should prioritise getting a top class striker but Calvert-Lewin is the best we have in that position until then.
Chelsea have completey outplayed us. But as I'm watching it's the same unsure play and set up from us. Are we supposed to be pushing up and marking them from the off or are we trying to sit deep?
I honestly can't tell. We appear to do a little of both unsuccessfully leaving huge spaces in the middle for them to dictate play. Silva needs to keep it simple and against a superior team in Chelsea we need to sit back for the counter-attack, close the gaps and let their keeper and defender play keep ball.
We have nothing to play for. They do. They will get desperate trying to win so we need to be patient and take our chance when it comes.

Andy Crooks
13
Posted 17/03/2019 at 17:34:18
Oliver, I think you have started ahead of us. Have a great day.
Marlon Hoff
14
Posted 17/03/2019 at 17:39:13
Yes, baby. Goal!!!!!
Ernie Baywood
15
Posted 17/03/2019 at 17:40:41
Jeez, play that first 5 minutes of the second half back to Clavert-Lewin on a loop. Remind him just how good he could be!
Jim Marray
16
Posted 17/03/2019 at 18:01:43
Silva clearly had something to say and for once everyone listened.
Ian Lloyd
17
Posted 17/03/2019 at 18:05:30
This is why Silva is so annoying / clueless. He clearly decided to attack after half-time and see what happens!
Stifling tactics don't work.
Attack!! I'd rather get beat 3-2 attacking than getting beat 1-0 in a bore defence tactical genius!
Oliver Molloy
18
Posted 17/03/2019 at 18:14:47
Ooh yes I have, Andy... thank you very many.
Annika Herbert
19
Posted 17/03/2019 at 18:18:03
Jim@9, same old excuses for Sigurdsson, never his fault
Colin Glassar
20
Posted 17/03/2019 at 18:25:49
Jekyll and Hyde team.
Kase Chow
21
Posted 17/03/2019 at 18:26:30
Boom!!!
Get in there, my Blues!!
John Graham
22
Posted 17/03/2019 at 18:27:11
Yes!
Great win...
We played very well after the break. Silva must have read the riot act and got a great response.
COYB
Ernie Baywood
23
Posted 17/03/2019 at 18:28:04
40 points achieved. Safety.
Kase Chow
24
Posted 17/03/2019 at 18:28:28
Absolutely buzzing
This could be vital for Silva
2 excellent homes performances and results. C'mon!!
Jim Harrison
25
Posted 17/03/2019 at 18:28:42
DCL. For me man of the match. A great game for a young lad, isolated in first half but just kept going. Was dead on his feet by the final 10.
Jay Wood
[BRZ]
27
Posted 17/03/2019 at 18:29:45
A game of two halves, or what?
EXCELLENT performance in the second half.
Did more in the first five minutes – and got the goal – then we did in the entire first 45 minutes. That set the tone for the remainder of the game.
Thoroughly deserved win and three points. Richarlison really came alive in the second half, but Everton's MotM for me – head and shoulders – was Calvert-Lewin.
George Cumiskey
28
Posted 17/03/2019 at 18:30:42
Absolutely fantastic result.
If I worked for the Premier League, I'd have all the Everton players drug tested, I've never seen such a turnaround.
Whatever they had, I want some, and I thought Seamus was magnificent in the second half — he must've realised it was St Paddy's day.
Colin Glassar
29
Posted 17/03/2019 at 18:31:59
Everton kill me.
Carlos Nunes
30
Posted 17/03/2019 at 18:36:33
Dominic Calvert-Lewin was massive today. He seems to be getting better with every game. He played a great part in that first goal.
Phillip Warrington
31
Posted 17/03/2019 at 18:38:45
I think, in the second half, they showed confidence in their ability to play football and not be intimidated by the opposition. Hopefully, this will show the team they don't have to be intimidated by any team.
Side note: just so glad Barkley wasn't on the winning team on his return to Goodison Park.
Kev Dooley
32
Posted 17/03/2019 at 18:39:04
Without Fat Frank at Goodison, Chelsea ain't shit.
I think I speak for every fan here, I'm now breathing out that "40-point" sigh of relief.
Well done lads, Coyb.

Barry Connor
33
Posted 17/03/2019 at 18:47:54
Can I come out from behind the settee now?
It's a hard life being an Evertonian!
What's the betting that we win all our remaining games but lose 7-0 to Fulham? Just joking... more likely to be 6-0!
Tony Heron
34
Posted 17/03/2019 at 18:48:15
Ernie @ 23. 40pts! Cause for celebration?
Look at the teams above us. Watford, Wolves, West Ham (for God's sake!) & Leicester.
How far we have fallen.
Steve Barr
35
Posted 17/03/2019 at 18:49:33
Put together the first half at Newcastle and the second half today for 90 minutes every game and we are in business.
Paul Armstrong
36
Posted 17/03/2019 at 18:50:04
Could be a contract extension for Silva!
Terry Underwood
37
Posted 17/03/2019 at 18:51:12
Who the fuck saw that coming?
Rob Marsh
38
Posted 17/03/2019 at 18:51:51
I'm so pissed of having seen the the Millwall v Brighton game, that should have been us, achieving safety feels hollow.
The teacups should have been smashed a long time ago.
Michael Kenrick
40
Posted 17/03/2019 at 18:55:44
Terry (#37),
Certainly not the white-flag wavers (horrible term from Darren... but I have to admit he's spot-on) who insist on giving their pathetic predictions of defeat seemingly every Match Preview thread.
I don't mind so-called realism but you'd think Evertonians would know by now you cannot predict any result in the Premier League, especially involving Everton.
You think you can, but you can't. So please, just stop!
Harry Hockley
41
Posted 17/03/2019 at 18:56:41
Why, oh why, can't we put effort in like that for TWO halves? At least against the lesser quality teams.
Calvert-Lewin is finally showing promise and is a weapon for us. If I'd have said that 12 months ago, I'd have laughed at my own comment! He was great today.
Simon Dalzell
42
Posted 17/03/2019 at 18:57:37
Great second half, really enjoyable. If Silva can change my mind on his abilities, the humble pie will be gladly consumed.
Neil Lawson
43
Posted 17/03/2019 at 18:59:16
Neil (1)
Good post!!
Truly deep joy.

Shane Corcoran
44
Posted 17/03/2019 at 19:02:20
Kev #32, yeah Lampard's weight really was a problem wasn't it?
I agree with the 40 points though.
Brian Wilkinson
45
Posted 17/03/2019 at 19:07:33
At 2-0 up, he had the sense to bring both Schneiderlin and Davies on, said it last week, why the hell after our mini-revival did he leave Schnids out after he has finally started to show up.
Schnids would have closed the Newcastle game out last week.
I have given the guy stick for his performances last season but give credit where it's due he's stepped up this season.
Overall, a great second-half performance – shows what we can do when the fans get behind the team and likewise when the players respond.
Jerome Shields
46
Posted 17/03/2019 at 19:08:02
Silva will be the Everton Manager next season. His team must be the most unpredictable of teams and extremes of performance in the Premier League.
Chelsea are in a state of shock and completely baffled.
Well done, Everton. Silva's substitutions where the complete opposite of last week.
Derek Taylor
47
Posted 17/03/2019 at 19:13:26
I've returned home a happy man. All I ask for now is for Silva to install that second-half mindset in his team for the remaining games. Please.
Annika Herbert
48
Posted 17/03/2019 at 19:15:27
Great result, terrific second-half performance, finally I can enjoy what little is left of this weekend!! I feel a beer may now be on the menu. . .
Dave Abrahams
49
Posted 17/03/2019 at 19:18:35
AND THAT'S EVERTON FOLKS !!!!!
John Graham
50
Posted 17/03/2019 at 19:19:10
Tony @34, how far we have fallen! Not too far...
Apart from one FA Cup win, the highest place we have achieved in the Premier League is 4th in 2004-05. We have been struggling for years, even though we don't like to think about it.
For me, we haven't had a really great team since the mid-80s when we should have gone on and dominated for years if it had not been for the European ban.
Time to start living in the present and realise we still have a long way to go.
Today we won, let's celebrate.
COYB
Dave Ganley
51
Posted 17/03/2019 at 19:21:06
I went today more in hope than expectation and, after the first half, it looked realistic. Great second half, though, and thoroughly deserved in the end. Really enjoyed it and makes a lovely change to come away happy.
I thought Pickford played really well today and went a long way to burying the demons from last week.
Ready for a celebratory beer now. Happy weekend, fellow Blues.
Andy Meighan
53
Posted 17/03/2019 at 19:27:04
Bitter-sweet for me... Had a 2-50 scorecast: Calvert-Lewin with the 1st goal and Everton 2-0.
Awful 1st half... Brilliant 2nd.
But I will say this: Sigurdsson should never be let near a penalty again. Shocking miss — and that's three this season.
Gueye had a superb 2nd half... Where has that 2nd-half performance been hiding all season???
Terry Farrell
54
Posted 17/03/2019 at 19:31:06
I'm sorry but people who think we should have played 1st half like we did 2nd half don't get it. Silva obviously decided wisely that the 1st half was all about not going in behind not to mention pickford on top form and a bit of good fortune. 2nd half we pick them off. Good performances all over but DCL is getting there.
Dave Lynch
55
Posted 17/03/2019 at 19:31:26
Ah... The wonderful world of Everton eh!
Absolute garbage first half and a fabulous 15-minute spell in the second secures us the win.
I honestly don't know what to think, sack the useless git or give him another season because we're in transition and there are signs of improvement.
Kevin Prytherch
56
Posted 17/03/2019 at 19:33:08
I think that Richarlison, and to some extend Sigurdsson and Bernard, were the difference in the second half.
In the first half, when we defended, we had too many players behind the ball and left Calvert-Lewin isolated up front.
When we were attacking we had too many players high up the pitch and the gap between midfield and attack was too big. We relied on long passes from midfield to attack and these quickly got cut out.
Our problem was, we were too slow to transition from a defending shape to an attacking one and vice versus, so when we won the ball back defending, we had no outlet, when we lost the ball attacking, we had too many committed forward.
Fast forward to the second half and Richarlison especially provided us with that cover in midfield and that body up front when we needed it. He was pivotal in our transition from defence to attack and from attack to defence. Sigurdsson and Bernard played their part as well, but Richarlison stood out for me.
We can't play with an advanced Number 10 and 2 wingers. In the second half Richarlison might as well have been a midfielder and winger at the same time. I firmly believe that it was his performances on the wing at the start of the season that helped us look better and his stint up front curbed the defensive part of his game which makes him a truly class player.
Sam Hoare
57
Posted 17/03/2019 at 19:33:30
I thought we were supposed to have no chance?! That we weren't getting any more points apart from maybe at Fulham?
Funny old game. So dire in the first half and yet pretty impressive in the second. Ultimately a very good result against a very decent team.
More please.
Jerome Shields
58
Posted 17/03/2019 at 19:35:22
Just worked out why Everton won.
It's St Patrick's Day and they didn't get tea at half-time.
Danny Broderick
59
Posted 17/03/2019 at 19:36:45
This win is very welcome, but it's obvious that we are fundamentally flawed with this team in its current state. Sigurdsson and Richarlison really struggled first half, and we were shite as a result because we have little other than them in the final third. They found their boots second half, and we looked much better.
The problem with these two is that they chip in with the odd goal and assist, but the game often passes them by.
I'm happy today but we got away with one really. The balance of the midfield / attack needs to be improved over the summer.
James Hughes
60
Posted 17/03/2019 at 19:43:52
So a great first half last week and a great second half this week. If we can both into one game well we can start dreaming again. COYB
Jay Harris
61
Posted 17/03/2019 at 19:46:43
First the bad news: Why can we only play for 45 minutes???
Now the good news: The workrate and application by the players was very good, especially second half (notice I did not say 'excellent').
Sigurdsson and Richarlison continue to be prolific in front of goal. Calvert-Lewin may well turn out to be the Number 9 that we need.
Pickford was much improved and actually commanded his area on a few occasions although I wish sometimes he would tip stuff around the post instead of just getting a hand to knock it straight back into play.
Seamus may have lost a yard of pace but hasn't lost his desire.
Mina looked quite settled for most of the game.
Dermot Byrne
62
Posted 17/03/2019 at 19:50:59
Shit, guys... Have we got a good boss or what?
Tony Hill
63
Posted 17/03/2019 at 19:53:17
I have never seen us come out so urgently and so transformed as we did second half. Right from the start. It actually shocked me and the credit for that must go to the manager. The crowd responded and Chelsea folded.
Everyone chipped in, but special mentions for Bernard, Mina, Gueye and Pickford. Seamus is slowly getting back to form.
Very pleasing.
Michael Kenrick
64
Posted 17/03/2019 at 20:00:16
In a pretty lengthy interview with Marco Silva during 606, he basically denied giving them any kind of bollocking.
No smashed teacups, broken hairdryers, etc. All part of his master tactics, sucking them in first half and then a swift uppercut off the ropes after the break.
Marco is a genius!!!
Trevor Peers
65
Posted 17/03/2019 at 20:00:24
The season is basically over after that much-needed win; we are none the wiser about Silva though, or his ability as a manager.
There will be no pressure on him now, so let's see what he can do in the remaining fixtures. It's up to Moshiri and Brands to decide if he's good enough for another season; playing well for 45 minutes every now and then just doesn't cut it with most fans though.
Barkley was rightly booed every time he touched the ball. He's a lucky boy because his ability doesn't match the reported £160k a week he picks up, we're well rid of him.

Darren Hind
66
Posted 17/03/2019 at 20:03:12
They don't give damn about any trumpet playing band.
It ain't what they call rock 'n roll.
And the Sultans... Yes, The Sultans played creole...
Paul Brown
67
Posted 17/03/2019 at 20:03:21
I remember Everton playing brilliantly at Maine Road in 1982-83. White Umbro kit, Heath scoring a well-worked free-kick.
The,n a game when we battered European Champions Aston Villa 5-0 ... at Goodison 1982? And also a 3-0 win over perennial cup winners of the time, Spurs, a few games later.
The point being, those games were hit and miss and in between hammerings, and then the rest is history, as they say.
My point is, until the whole team is Silva's, then let's give him until then, hey?
I for one wanted rid of Kendall in the dark days... so let's give him a go?
Derek Knox
68
Posted 17/03/2019 at 20:04:03
As many have mentioned, a game of two contrasting halves. Hat's off to Pickford for keeping them from scoring first half.
Second half what happened, something in the tea or what? If a neutral was watching that he could well be forgiven, to think it was a different team second half. So if they can do last week's first half, and this week's second half, and somehow string them together, with the same players, we would be happy.
While I can enjoy what is left of the weekend for a change, I am not totally convinced we have turned any corners, and still not sure about Silva.
Dave Williams
69
Posted 17/03/2019 at 20:05:28
Talk about a game of two halves!
We really didn't turn up in the first half with Sigurdsson and Richarlison leaving us to play with nine men. Second half and they were both prominent and the full-backs also came into it as an attacking force.
Whatever Silva said at half time clearly worked and all credit to him, though why we played like we did in the first half – no passion, no fight, no guts – is beyond me.
Calvert-Lewin had a cracking game, as did Pickford. I also thought Mina and Keane were both excellent after the opening ten minutes and little Bernard never stopped working. There is undoubtedly potential here and it remains to be seen if Silva can instil consistency.
Huge bonus at the end of the weekend and very well done. The crowd woke up in the second half too!
Tony Abrahams
70
Posted 17/03/2019 at 20:09:28
Don't want to sound like Jurgen Klopp but I definitely thought the wind played a part in that game today!
Mina has a presence so I hope he can adapt to the rigours of English football and, although we rode our luck, it was great to see the crowd stay with the team, and for us to get our rewards in the end.
I didn't think Sigurdsson could get into the game and it might just be because of Silva's tactics but it's great to see Calvert-Lewin improving and showing what can happen if you give people a bit of time?
Steve Ferns
71
Posted 17/03/2019 at 20:09:29
Michael, that's not the interview I heard after the game.
Sure, he didn't smash teacups or get the "hairdryer" out. But not many do these days.
All part of a master plan? No, he made it clear he was angry at the performance. No great tactical shift, just good old fashioned motivation and got the players to really get after Chelsea the way they were meant to in the first half.
We lost a game we should have won last week, we won a game we should have lost this week.
Season over? No, there's a lot to play for, pride and places in the side next season, and still Silva's job unless he wins a few more quickly.
One thing that has gone, though, is Europa League. Even 7th is not enough for that now. The FA Cup finalists will get it, ie wolves or Watford. They're also likely to take their foot off the gas now, so 7th is very attainable.
Peter Cummings
72
Posted 17/03/2019 at 20:10:51
Up until the interval, when I left to pick up a take out, like most Evertonians I expected a hiding after the Newcastle debacle, even getting to HT without conceding looked like a minor miracle, yet when I returned some time later, my flabber was well and truly gasted when my son told me that, not only had we scored against a 'top six' outfit, but we had done It TWICE.
While I was, to say the least, elated at this unexpected good news, I was one of those thousands who wrote us off from the start as we continue this erratic and unpredictable series of results which ultimately disappoint as we continually clutch at straws.
Martin Mason
73
Posted 17/03/2019 at 20:17:25
I hope we can now add the "Get rid of Pickford" into that section of the TW rubbish bin that has "Get rid of Lukaku" and "Get rid of Stones". Barkley too; he looked a class above our midfielders today.
Rick Tarleton
74
Posted 17/03/2019 at 20:18:16
I'm not a Richarlison fan, but that lad put in a shift today. His defensive work was excellent.
Joe McMahon
75
Posted 17/03/2019 at 20:18:54
Strong end to the season needed now, and a good start today! It is strange how we can only do 45 minutes though.
Brent Stephens
76
Posted 17/03/2019 at 20:18:57
The second half, we decided to move the ball in the same direction as we did in the first half - towards the Gwladys Street end. And what a difference. First half, so much anger-inducing passing backwards. From the kick-off in the second half, we were much more direct.
A suggested a few weeks ago that Calvert-Lewin was almost imperceptibly improving by the week. And so again today. Winning headers or at least preventing clean headers from their defence. Holding the ball up. Good passing. I think he might just be developing into a striker of worth.

Tony Hill
77
Posted 17/03/2019 at 20:20:00
We showed guts. An Everton side showing guts. God that makes me happy.
Yes, Calvert-Lewin coming on very nicely as well, thank you.
Ian Riley
78
Posted 17/03/2019 at 20:21:16
I do hope Silva gave them what for at half-time. Perhaps Silva has been too soft on his players?
Great result and puts the relegation talk to bed.
Brian Denton
79
Posted 17/03/2019 at 20:21:38
Dave Williams, I agree that Calvert-Lewin had a very good game. I feel that he has the makings of a good player, but I despair at the lack of service for him. He will not score many goals until we can do more at the business end of the pitch, especially in terms of quickly supporting attacks.
David Pearl
80
Posted 17/03/2019 at 20:23:00
Interesting to see how the comments change with further reading.
Gomes frustrating today, he really has to try to grab the games by the balls. You can see his effort but struggle to impose himself.
I thought Mina did well today, Calvert-Lewin too all game while Bernard and Richarlison lost themselves chasing back in the first half. So something to build on.
Brent Stephens
81
Posted 17/03/2019 at 20:24:06
I thought our best performance of the season prior to today was at Chelsea. So we've taken 4 points off them this season. Not bad.
Now we just need Mr Consistency to pull on a shirt for us.
Martin Mason
82
Posted 17/03/2019 at 20:25:37
I'd say that in the first half they tried to follow instructions and in the second half they finally decided to do it with their hearts. As the Sky Panel said, they didn't press with intensity in the first half – just went through the motions. In the second half they did it.
There is a good side in there somewhere but I think it has to include Tom Davies and it mustn't have Richarlison as an additional right-back. He is capable of causing havoc but not as a back tracker, have a midfield player do that and let Richarlison be available up front.
Dave Lynch
83
Posted 17/03/2019 at 20:26:29
The old rope a dope, eh, Michael?
Bobby Mallon
84
Posted 17/03/2019 at 20:27:54
Sam Hoare @57,
I eat humble pie, I did not see that coming and, after the 1st half, thought "This is it." How wrong was I?
Brent Stephens
85
Posted 17/03/2019 at 20:28:54
Does our second goal count as an assist and a goal from Sigurdsson?
Apparently next season it would be ruled no goal?
Jay Wood
[BRZ]
86
Posted 17/03/2019 at 20:31:22
Terry @ 54:
"I'm sorry but people who think we should have played 1st half like we did 2nd half don't get it. Silva obviously decided wisely that the 1st half was all about not going in behind."
Sure about that, Terry?
Here are Silva's own words about our 1st half performance:
"I said we have to do everything different to the first half. They tried but not in the way we planned.
"[The first half was] everything I don't want and the second half was everything the way I want to play."
Evidently, based on the manager's own words, our 1st half performance was not part of Silva's grand 'master plan' as your post presumes.
Ivan Varghese
87
Posted 17/03/2019 at 20:37:31
Chelsea looked tired. Whatever it takes...
Good win.
Jay Wood
[BRZ]
88
Posted 17/03/2019 at 20:39:03
Dave @ 49:
"AND THAT'S EVERTON FOLKS !!!!!"
Too right, Dave - players, manager, club and fans. Play like they did in the 2nd half every week and Goodison will be rocking every game, no question.
Terry Farrell
89
Posted 17/03/2019 at 20:43:34
Jay, based on Silvas words you quote, I have been busted! Although he's hardly likely to come out and say his plan was to be negative 1st half.
I hope we do the same plan against Arsenal. Throwing caution to the wind against the top 6 is dangerous.
Bill Watson
90
Posted 17/03/2019 at 20:45:15
I'm not a great fan of DCL but he had a great game, today. Probably his best since the 1-1 draw away, to Man City, at the start of last season
Andy Riley
91
Posted 17/03/2019 at 20:48:00
Steve 71 - losing finalists don't get the Europa League. If Man City won the final, it would open up 7th place but I would sooner we didn't get it with all the pre-qualifying games from July.
Tony Abrahams
92
Posted 17/03/2019 at 20:51:30
Sarri said that he thought that was as well as his team have played all season, during the first half today?
Henrik Lyngsie
93
Posted 17/03/2019 at 20:55:01
Steve @71. I believe they changed the qualification rules a few years back. The losing FA Cup finalists do not qualify for Europe anymore.
So we can still hope that Man City wins the FA Cup; Watford and Wolves lose focus in the Premier League, and we magically end up in 7th. And play in those Europa League qualifiers early July!
Ivan Varghese
94
Posted 17/03/2019 at 20:57:40
Watching the match again. 1st half was disrupt Chelsea at all costs. Even the commentator was commenting on the lack of confidence. They win the ball, but pass behind to safely build up instead of moving forward - show something in not right.
Mike Doyle
96
Posted 17/03/2019 at 21:02:47
On the live forum, Mike Gaynes mentioned that he was wearing his "lucky" Everton shirt. Clearly it was the key factor in today's win.
In days gone, Mike would have been in The Grafton tonight celebrating... and 'on the pull' of course.
Fran Mitchell
97
Posted 17/03/2019 at 21:05:53
Great 2nd Half, really makes the mind boggle. The Newcastle first half and today's second, we look like a top-6 team. However, what came in between was amateur.
What this means for the future, I have no idea. Is it a sign of Silva's potential? Or is it just an exception to the rule? Not a clue, tbh. I guess the rest of the season will give us more of an idea.
A special word out to Calvert-Lewin. The lad is getting better, his excellent header made the first goal and his general play was of a high standard. Compare to Higuain, would anybody swap? Compare to Mitrovic (whose slow play broke down almost every Fulham attack against Liverpool, yet many on here have said he'd be a good option)? The lad is 21 or 22, has a decent goal record, has all the attributes. He would fetch £20 million if we sold, but he could well become a £50 million striker.
Keep the team as it was today for the run in. Only changes – Lookman to take Walcott's place as sub. Davies to get more game time as a sub. Rotate Kenny and Coleman. Introduce some of the young lads (Gordon and Co) for a few sub appearances.
A good day.
Tony Abrahams
98
Posted 17/03/2019 at 21:05:53
Brilliant... it looks like Jim B, has sent us all to Coventry!
Ernie Baywood
99
Posted 17/03/2019 at 21:10:18
Martin Mason #73. Don't forget Calvert-Lewin too.
For some reason, it was just too difficult for some (actually, most) to see that a young player might benefit from regular games in his position.
Might never be a global star, but he's a Premier League centre-forward alright.
Rob Halligan
100
Posted 17/03/2019 at 21:13:03
I really can't see where our next points are going to come from?
Maybe at Bramley-Moore Dock if we're lucky.
Bill Gienapp
102
Posted 17/03/2019 at 21:18:56
Since the extended break, we've basically played one cataclysmic 25-minute stretch against Newcastle.
If we'd simply held our nerve in that game, we'd be looking at 10 points from 12 and (possibly) four straight clean sheets. That's not to dismiss what happened last week, but there's definite life in the Silva era yet.
Mina's a bit of an odd duck – it almost feels like he plays to the competition. He's actually looked quite good against the likes of Chelsea and Liverpool, but then stumbles around clumsily against teams like Newcastle. If Zouma's not going to be here next season, then Mina should really start the remainder of our matches – he needs the minutes.
BTW, we've now produced three straight clean sheets against Chelsea, which isn't bad, considering they were smashing us 5-0 not too long ago.
Steve Ferns
103
Posted 17/03/2019 at 21:25:11
I stand corrected on the Europa League. I don't want 7th then! It's the last time that there will be July games for us, as the competition changes from the following season.
I like Calvert-Lewin, but I would swap him for Higuain. He's been one of the world's best, but still has a few seasons left to offer. I think he's still a top-class finisher.
Dave Abrahams
104
Posted 17/03/2019 at 21:26:07
Brent (85), my grandson mentioned on the way home that the penalty today will not count next season as the ball becomes "dead" once the goalie saves the penalty.
It was the first time I'd ever heard of it... What will they think of next, why don't they leave the game as it is?
Steve Ferns
105
Posted 17/03/2019 at 21:28:25
Not quite, Dave. The penalty taker can't tap in the rebound like Sigurdsson did, but someone else can.
I think the idea is that Kepa saved it and it's "unfair" that Sigurdsson taps it home for a goal after he missed. Can't say I agree.
Brent Stephens
106
Posted 17/03/2019 at 21:29:22
Dave #104 – yes, I heard it for the first time today. I don't know the reason for it.
I agree – stop tinkering with the game – unless it disadvantages that team from the other place.
Brent Stephens
107
Posted 17/03/2019 at 21:31:23
Steve, thanks for the correction on that. In open play, you can tap in from your own rebound so why not from a penalty?
David Pearl
108
Posted 17/03/2019 at 21:34:44
Just watched Messi's hat-trick. How long before we see the likes of him again?
Dave Abrahams
109
Posted 17/03/2019 at 21:35:27
Steve (@145), well they have been taking penalties like today for over 140 years. I think it would be a better idea if those changing the rules kept their ideas to themselves.
John Pierce
110
Posted 17/03/2019 at 21:36:40
It's a pathetic rule change that. If you want the save to count then it's logical you stop the clock. Save, miss or goal. No rebounds allowed.... What is this? — 'Three and in'?
Tinker with something no-one gets upset about and leave alone massively dated laws that fundamentally affect the game.

Derek Knox
111
Posted 17/03/2019 at 21:39:40
Rob @100, if they can play something like they did second half, against West Ham (Away) I think that is possible for at least one point, but very possibly three. I watched the West Ham v Huddersfield game and felt Huddersfield were unlucky not to come away with anything.
West ham are very erratic, but then again, so are we, don't know if this International Break, will help or hinder our preparation, but I am really pleased for a change with our result and three points.
I thought more would have posted after an unexpected victory. :-)
Bill Gienapp
112
Posted 17/03/2019 at 21:42:00
While it was definitely irritating to see Pogba score off the rebound after Pickford saved his penalty following that obnoxious run-up, I'm generally of the mind "If it ain't broke, don't fix it."
Speaking of penalties, not quite sure what's happened to Sigurdsson – he was something like 23 of 24 in his career from the spot before his World Cup miss. He seems a bit in his own head now.
Not really sure who the alternative would be? Baines barely plays. I've heard Tosun actually has an excellent record taking penalties, but he barely plays either. Richarlison? Not after that ghastly miss in the League Cup. Digne *seems* like the cool-headed sort who'd be good at it, but I have no idea if he actually is.
Brent Stephens
113
Posted 17/03/2019 at 21:42:58
Scenario under the new rule: Sigurdsson takes the pen, the keeper saves and the ball comes out to Calvert-Lewin who passes it backwards to Sigurdsson who scores. A goal I assume?
Or, more uncertainty, as the ball comes out from the keeper's save, Sigurdsson and Calvert-Lewin go for it together and you can't say which boot it came off as it goes in the goal. More aggro.
Or the save comes back sharply to the taker, Sigurdsson, who has turned his back to goal thinking it had been going in, and it goes in off Sigurdsson's back. No goal?

Rob Halligan
114
Posted 17/03/2019 at 21:53:09
Dave, regarding this new penalty law. I heard it on Sky Sports a few weeks back, exactly the same way that you describe it. But then I was told by someone (can't remember who) that it was all a load of rubbish, and there was no changes.
I'm not saying Steve Ferns is wrong, but I cannot find anything to say otherwise that there is a change to the penalty kick.
Paul Le Marinel
115
Posted 17/03/2019 at 21:53:52
After the shambles of the Newcastle game, what a positive result this was. Against Chelsea was definitely a test of Marco Silva's character as a manager and under pressure; to be fair in this game he held his nerve.
Okay, the 2nd half was better than the 1st, but overall it was a solid team performance and they worked hard, for what was a well deserved 3 points. There's not that many games to go, so hopefully we can continue to perform well and maintain a winning momentum before this season draws to a close.
Rob Halligan
116
Posted 17/03/2019 at 21:58:15
Derek # 111. Hopefully mate, we can get a good win down at West Ham. I assume you know I was being sarcastic in my post, such is the negativity of some posters on here.
Ivan Varghese
117
Posted 17/03/2019 at 21:58:45
I was impressed by Calvert-Lewin and Bernard.
Ernie Baywood
118
Posted 17/03/2019 at 22:20:50
The rule change was going to be that the penalty was basically going to be a standalone event.
I can kind of see it. No need for players jostling around the box or debates over whether someone entered the box before the kick was taken.
But the rule change got dropped. It isn't happening.
Brent Stephens
119
Posted 17/03/2019 at 22:23:00
Ernie, so the rule change was blocked? I hope the guy who proposed it can't put it forward again.
Dave Abrahams
120
Posted 17/03/2019 at 22:30:21
Rob (114) and Ernie (118) — thanks for clearing that up.
Eddie Dunn
121
Posted 17/03/2019 at 22:31:06
Incredible change in the second half and our two leading goal scorers popped up again, but credit to Calvert-Lewin, up against a giant in Rudiger, who knows all the dirty tricks, did so well. The lad is improving every week.
Also great to see Seamus still strong at the end, winning the ball and brushing off his opponent.
We did ride our luck in the first half — I don't know what plan the lads failed to implement but thank god they did later on.
Mina looked fine in a back four, and Gomes looks classy on the ball, Gana worked hard and Schniederlin did his job.
Finally, Pickford not only made good saves but played in a circumspect manner which suggests he has been told off, and has learnt his lesson.
Silva looked determined on the sideline and his love for his players was demonstrated clearly at the end with his hugs and pats. He really likes Gana!

Derek Knox
122
Posted 17/03/2019 at 22:35:47
Ivan @117, I have always liked Bernard, and think he definitely adds something to the side when he plays, contrary to a lot on here who think he is a luxury/mercenary or whatever.
I think he has a good football brain and is often ahead of most of his team-mates, my only criticism if you can call it that, is that I would like to see more attempts at goal from him.
Steve Ferns
123
Posted 17/03/2019 at 22:44:50
Looks like you're right about the penalty change being dropped.
The changes for next season are mainly:
1. No attackers in the wall.
2. Subs leave at the nearest point.
3. Yellow and red cards for coaches.
Neil Copeland
124
Posted 17/03/2019 at 22:51:14
I, like many others, was well pissed off at Jordan Pickford for his antics at Newcastle and was calling for him to be dropped. Well, full credit to him for getting his head down and putting in a vastly improved display today. Really pleased to see him opt to push a goal-bound shot over the bar in the second half rather than try and catch it or punch it. It would be great to see him build on today.
Calvert-Lewin looked like a proper centre forward today and, at the moment, seems to improve game by game. He seems to be getting stronger and his control is getting better. Long may it continue.
I was impressed with Mina also; he did not allow himself to be bullied, held his own in the air and the defence looked good.
Silva seemed to learn the lesson from Newcastle that at 2-0 it is better to close the game out through the midfield than tinker with the defence.
Did anyone find Barkley applauding the supporters when he was substituted a bit strange? Bear in mind he was being booed and reminded of the score at the time.
Overall, I thought we did well although it would be refreshing to get a full 90 minutes performance.
Sean Kelly
125
Posted 17/03/2019 at 23:13:34
I will provide the cups and saucers every week if that's what it takes to get performances like the second half!
Now let's see what Lookman can do.
Tony Hill
126
Posted 17/03/2019 at 23:23:15
Was that a Mina tackle rather than a Pickford save for the Higuain chance? If so, it was very good work. I thought he had a solid game and started to look commanding in the air with a couple of clearances.
Dermot O'Brien
127
Posted 17/03/2019 at 23:26:06
Happy St Patrick's Day. We really had the luck of the Irish today.
Both goalscorers have Irish blood. Sigurdsson is descended from Irish captives taken to Iceland from Clare by the Vikings... and Richarlison's great great grand father was one of the O'Ristearlas's from Kildare who left during the famine.

Derek Knox
128
Posted 17/03/2019 at 23:40:03
Dermot @ 127, I have always said TW is truly an online Education, it's amazing those snippets of Historical Fact and Fiction, but sometimes there is even 24 carat bullshit too. :-)
You're right about the luck of the Irish in the first half, Pickford's sins of St James's Park were truly absolved then!
Dermot O'Brien
129
Posted 17/03/2019 at 23:42:44
Neil 124, not everyone was booing Barkley. Some were shouting "Cuuuunt".
Kase Chow
130
Posted 17/03/2019 at 23:44:32
Tony @126,
Mina's tackle... There's a good defender in there. A clean sheet by him at Anfield (ahem, you know what I mean) and a clean sheet today. Decent.
Brian Hennessy
131
Posted 17/03/2019 at 23:50:56
Dermott @127
If only we could summon St Patrick to get rid of all those snakes across the park. That would be his finest hour
Tony Hill
132
Posted 17/03/2019 at 23:51:22
Yes, agreed, Kase. I have high hopes of him actually.
Mike Price
133
Posted 17/03/2019 at 23:51:51
The aura of Tim Cahill, a true legend unlike some others, obviously raised the bar today!
I wish he was influencing this team rather than our other 'legend'.
Shocking season that can only be redeemed if Satan's team don't win their inevitable double.
Harry Hockley
134
Posted 17/03/2019 at 00:00:20
Darren #66,
Great song!
Dire Straits and Mark Knopfler are my fave band.
Dermot O'Brien
135
Posted 17/03/2019 at 00:03:48
Brian, only Satan can call back those snakes to whence they came. :)

John Malone
136
Posted 18/03/2019 at 00:05:27
Tony 126, Mina got something on it but it was him who let Higuain run off the back of him.
In all fairness, Mina didn't play too bad but he does not look one bit a top defender – he is very unorthodox.
Derek Knox
137
Posted 18/03/2019 at 00:06:21
I meant to mention before, and I don't know if anyone else has noticed:
Eden Hazard, who I think is a great, great player (wish we had him) has not been himself or as influential in games, since he has been linked with Real Madrid, or a move away from Chelsea.
Si Cooper
138
Posted 17/03/2019 at 00:12:16
Fran Mitchell, would rotating Coleman and Kenny be mainly to keep Seamus going as long as possible, speed up the development of the youngster, or just to see what happens?
Personally, I think Seamus is still the clear first choice (of those two) and wouldn't rotate unless Seamus himself said he wasn't up to week-in & week-out selection. I honestly feel that the gutsy and hardworking Kenny has still yet to prove that he deserves to be the expected successor for the right-back role. He was floundering quite badly at times throughout the game against the Barcodes.
I am surprised Gomes hasn't had more appreciative comments after the second half today. He showed real flashes of class I thought. Yes, he hasn't been as consistent as you would want but I think that isn't too surprising given the rollercoaster his career has been on for a while. Once he has settled (and I hope he does come to us) I think the consistency will come. He will need a brick wall and a terrier to back him up, but I think he could spearhead a midfield for us long-term.
Steve Ferns
139
Posted 18/03/2019 at 00:41:43
Neil, Barkley did the same running on to the pitch before the game kicked off. It's as if he was told to do it no matter what.
John Reynolds
140
Posted 18/03/2019 at 00:43:37
When I last posted here, we were on 33 points and there was a good rump of opinion that a relegation battle lay ahead. Several people suggested we might not pick up more than a couple of points before season's end.
Despite two and a half excellent performances since then, the same voices were in evidence yesterday, stating there was no possibility of getting anything out of today's game. Many of these voices wanted/still want Marco's head, decry Calvert-Lewin, write off Seamus, lambast Pickford, and see little positive in anything at all.
Worse than that, too often posters who try to be positive or plead for patience are decried and belittled by the apparently embittered loud few.
There's life in us yet. A Big Six team beaten. Onwards and upwards.
Derek Thomas
141
Posted 18/03/2019 at 01:05:43
You can only beat what is put in front of you and of the Sky darlings we do have a little bit of form at home Vs Chelsea, not too much, but some... but only if they're not firing on all cylinders.
I'm not sure just how many cylinders we had working, but we had more power than Chelsea. What we had today was KITAP1-lite, it worked and it is just what we needed.
Silva's 17-day Kevin Brock moment: decent performances – 3; Blips (at Newcastle) 1
I'm having an Oliver Twist moment... I want more please.
Mike Gaynes
142
Posted 18/03/2019 at 01:16:22
Dermot, you are a beauty!
Happy St Paddy's Day, sir.
John Pierce
143
Posted 18/03/2019 at 01:25:35
So Silva gets credit in the same way I hammered him last week for his tactical ineptitude.
He made the right substitution to change the game and not react to it. Schniederlin for Gomes was right, the Portuguese was tiring and offering nothing. Ironically it was the right sub... only 8 days too late. He also kept the team going forward and didn't invite Chelsea on once we were ahead.
Make no mistake had we been 2/3 nil down at HT there could be no complaints, were offered no counter to them at all. Passive and impotent.
Both last week and today were mirror images of each other, finishing stronger gives a better sheen to the game but let's be fair as performances go there were remarkably similar.
Whilst a trope, it's irks me Silva has not managed to get Everton out of the blocks at home; most of the better part of the games at home have been the second half.
It should be great cause for joy we beat a top-six side, but we know Chelsea are nowhere near all that. It means little in context of our season because we are competing for nothing. For me I was just mildly surprised but not shocked.
On to the players, Calvert-Lewin was stand out today. The only outfielder who could hold their head up in that apology of a first half. He was dead after 70 mins and needed to be changed. But the run of games is yielding a better player. I actually think his effort against Van Dijk will have made him understand what the bar is.
Pickford was focused, did everything calmly and with purpose, a performance which should be a given; more please.
Mina was steady; if Zouma is not committing next season, then sorry, Kurt, Yerry has to play; you can get splinters until May.
West Ham next; they are a schizophrenic as we are... so who knows?

Mark Wilson
144
Posted 18/03/2019 at 01:40:09
I have very mixed feelings about beating Chelsea 2-0.
It's a cracking result, totally unexpected, and overall deserved in as much as the turnaround in the second half took us from being toyed with to dominating large passages of play and scoring twice. And not conceding. Amazing.
Calvert-Lewin was very good in his support play today, hadn't seen too much of that before. If only we had someone to play in a two alongside who knows.
Richarlison looked almost like the player who spent two months at the start of the season putting one finger up to those who slagged him and the club off for spending £44M on a Watford player.
So it was a huge surprise and deserved.
But then I started to see the absurd reaction online. Posts which suggested we've turned a corner. Posts that had you expecting the announcement of an open top bus tour for reaching 40 points and attacking any of us who, with 36 pts on the board and ten games left were concerned at our firm and the much better form of a group of clubs beneath us. Like they all knew we'd be beating Chelsea, for certain crazy.
The biggest sorry now is that some Evertonians are going to turn this into a kind of cathartic experience. Don't. We have been utter shite all season. We face a nightmare summer transfer window trying to get shut of so much deadwood, it's not true, and a desperate attempt to reduce therefore a wage bill which rewards that total shite with absurd wages.
We face more conditioning statements from Mr Brands and the Board who, deep down, understand that the owner may well be pulling his support for quality and yes expensive squad building because he and Mr Walsh and three ex EFC managers have wrecked our transfer dealings. Money will go to the new stadium and my gut feeling is that the only cash available will come from a kitty comprised of any sales capital income, saved wages, plus around £30M to £40M only of the Sky TV Year 2 new contract windfall, with the rest of that £100M propping up the running costs inc wages of the shite we fail to shift.
The sum the above produces is going to be a long way short of finding the three or four top quality players we need. And anyway they won't come here. So we are left praying for the well respected Mr Brands to deliver us what I guess is part of his rep, ie, some Premier League ready decent non-top-six players in the summer at purchases in the £7M to £15M category that he and his scouts believe can realise their potential, and quickly. It's a very tough ask as alongside this Marco Silva will still be here and he needs to up his game, massively.
I can't wait for this dire season to end. Seventh place looks lost, the Newcastle surrender almost certainly sorted that. But you never know, this is Everton after all.
My feelings tonight are made up with that win which saw us get a little bit of luck that had deserted us in the last few months. But unless we win every game left it's 9th or 10th and honestly after watching our football and chaos at the back for nine months I'm struggling to see why some are doing cartwheels at achieving 40 points. Sorry, it feels like we are denying what has gone on.
Jay Wood
[BRZ]
145
Posted 18/03/2019 at 03:20:40
Mark @ 144, care to name and shame the posters post-match offering 'absurd reaction' or wildly celebrating reaching 40 points, as you charge?
I see a lot of balanced posts doing no such thing, but rather honestly acknowledging the paucity of the first half compared to the vastly improved second half which deservedly earned us our first victory against a top-six side in 2 years.
Michael Kenrick
146
Posted 18/03/2019 at 03:50:23
I think what happens, Jay, is some people come on here having indulged in the utter shite that passes for 'an exchange of views' on Twatter. I can only assume that's where this 'open-top bus' nonsense came from.
Mark Wilson
147
Posted 18/03/2019 at 04:14:37
Michael, I was reflecting on what I saw on Twitter after the game, next time I will of course provide a list of miscreants. The point being made was, about the need to keep perspective and look at the win as very welcome and a surprise but not to suddenly ignore all that has gone before this season. I know other online sources are of course inferior to here but heck, sometimes it's okay to mention them.
Seriously, I've been coming on here as you put it for as long as the place has been around and boy I must have talked my share of rubbish but today's post, well, I guess I'm just too fed up with a season of failure to get carried away by one win against a top six team in two years, and by the way, that's certainly the impression I get from you this season. Cheers, Mark.
Paul Smith
148
Posted 18/03/2019 at 07:20:03
I had a feeling we would win and told my mate so.
Liverpool and first half last week, we have been very good... but, make no mistake, if we had conceded first half yesterday, we were heading for another loss.
Could Silva be here next season? Stick two decent halves together in the same game and he might.
Martin Berry
149
Posted 18/03/2019 at 08:27:54
Dominic Calvert-Lewin played very well today; for such a young man to lead the line with little support, he deserved the plaudits.
He is going to be a real centre-forward as he has all the tools – they just need polishing, which will come in time.
Don Alexander
150
Posted 18/03/2019 at 08:57:33
To anyone expecting this squad to push on to the max, I say well done. 7th is eminently achievable and is worth £millions more than 11th. It's the least we should expect.
Derek Knox
151
Posted 18/03/2019 at 09:38:14
Don, I agree, but so many questions, virtually the same players, who have often struggled against the bottom and mid-table teams, never mind the Sky 6, was it a one-off, can it be repeated, if so, why this late in the campaign?
Is it personal motivation, team motivation, or something Silva has suddenly twigged, or did Chelsea (who have not been their usual self recently) have another off-day?
While I agree in the adage, better late than never, and as you so rightly say 7th has that more lucrative position than 11th. Someone said yesterday, when we were all euphoric, that even getting to 7th we would still not qualify, for Europa League because of the Domestic Cup (FA) permutations for runner-up spot.
I too hope that this is the start of a decent run-in and building a proper base for next season's assault on the Premier League. Or am I only dreaming and letting the win yesterday, cloud not only my hopes, but also reality?
Richard Mason
153
Posted 18/03/2019 at 11:46:20
First of all, great result yesterday. I see someone saying how bad the summer is going to be shifting the deadwood; I disagree (not that they are deadwood).
Jagielka's and Baines's contracts are up, and we have Robinson and Holgate as replacements. Bolasie is tearing it up with Anderlecht and I think he might stay. Martina is staying at Feyenoord.
No harm in keeping Schneiderlin as back-up. McCarthy would be snapped up, although I'd keep him; Mirallas was doing okay until injury. Callum Connolly will be bought by a Championship side. I think Sandro is the only player we will struggle to get rid of.
Colin Malone
154
Posted 18/03/2019 at 11:52:31
We've got to get rid of Mirallas, Williams, Bolasie and Co and make Idrissa Gueye an offer he cannot refuse.
Richard Mason
155
Posted 18/03/2019 at 11:59:55
Ashley Williams's contract is up, and again a Championship side would be all over Besic. I think Joe Williams will be given a chance next season. I don't know what's happening with Beni Baningime; he has not made the squad for Wigan since his first start.
Rob Halligan
156
Posted 18/03/2019 at 12:20:12
Derek, #151. Have the rules regarding Europa league qualification changed, were the FA Cup winners and runners up are concerned? It used to be the runners up would qualify if the winners also gained qualification to either European competitions, via their league position. This changed a few years back, whereby the runners up no longer qualified, and the Europa League place went to the first league position not qualified for Europe.
As Man City won the League Cup, the team finishing sixth gains entry to the Europa League, and if man city also win the FA Cup, then the team finishing 7th also gains entry into the Europa League.
So as far as I'm aware, this still applies, unless it has reverted back to the FA Cup runners up gaining the place in the Europa league. Of course, Watford or Wolves will be in the final, and could also finish 7th anyway.
Apologies if this was discussed elsewhere on this thread, but I can't be bothered reading back.
Bobby Mallon
157
Posted 18/03/2019 at 12:32:07
We have Vlasic, Onyekuru, Baningime, Dowell — all young good lads to build our team with. We do need a Gatuso type player; what I mean is someone with his aggression, a captain type
Steve Ferns
158
Posted 18/03/2019 at 12:32:54
Rob, someone corrected me yesterday, so I looked it up. The situation is that the FA Cup finalists no longer qualify for the Europa League automatically. If Man City win the cup, then the last EL place goes to 7th.
What has changed is the Europa League 2 competition. This starts from the 2020-21 season. (Is it just me or does 2020 seem like the far future rather than next year?). The EL2 will take all those smaller clubs that play in July in the EL. In order to guarantee the big TV money, the Premier League clubs all stay in the EL and not the EL2 and so we go straight into the groups with qualification and we would play our first game after the PL season starts.
This puts right all the EL problems but one, the problem that remains is that Champions League clubs still drop into the EL. That's revised slightly and the group winners get a bye in the knockout round, whilst the runners-up all play the CL drop outs for the right to play the group winners. It's a shorter competition more in line with the CL format.
The CL also loses it's qualifying rounds and those teams drop into the EL as well.
Justin Doone
159
Posted 18/03/2019 at 12:34:19
Is it okay to post that I'm happy we won? Well, yes, I'm very happy with the 2nd half performance and result!
I noticed 2 simple changes in the second half.
Firstly we played forward balls, usually down the channels that Calvert-Lewin or one of the wingers could run on to. Very simple. If you can't find a simple pass to a team mate do NOT pass back to the keeper, hit it down the channels into space which moves the ball and players in the right direction.
Secondly there was more support and movement in and around Calvert-Lewin to win second balls, create space and enable a quick 1-2.
Chelsea are a better team with better players and passing ability but once we were moving forward their fullbacks had to stay back to defend. This changed their whole shape and threat.
Silva said 'desire' was to strong a word but I disagree, I think desire, belief, effort and a basic passing it forward quicker plan all contributed.
I'm still critical of the centre-backs playing it too slowly or backwards. Colemans simple miss placed passes and Gomes needless tug backs when the opponent is turning and running away from our goal but we got away with it today.
I want shut of Schneiderlin. In the 20 mins he played, I saw 2 interceptions, a poor defensive header and one forward pass. But others will disagree and point to his contributions to another win and clean sheet.
But today is about the win.
Next game hopefully more time for Mina who done okay.
David Hallwood
160
Posted 18/03/2019 at 12:49:27
Being an Evertonian is like being married to a woman who gives you great sex, great everything... and then cheats on you with the guy next door.
I posted this numerous times, but the reason why the team play like strangers is because the players are. There's Coleman, Gana, then comes Tom Davies and Kenny all the rest came either last season or this one.
So sacking the manager would start the process all over again, and consistency will bring rewards. Personally, I've seen enough this season to believe we're on the right track, but unfortunately also seen more to believe we're on the wrong track!
But that's fickle football fans for ya – we should be patient but we aren't, and I still think they'll be more bumps along the road. But the managerial merry-go-round doesn't benefit medium-sized clubs, which unfortunately is what we are these days.
Martin Nicholls
161
Posted 18/03/2019 at 12:51:53
Derek and Dave - see discussion above, in particular, Henrik #93. Losing FA Cup finalist has not qualified for the Europa League since 2015 as apparently UEFA don't want losers in it – a bit bizarre given the fact that failure in a Champions League group stage qualifies you for it so long as you don't finish rock bottom!
Martin Nicholls
162
Posted 18/03/2019 at 12:56:35
Steve #158 – apologies. My tablet hadn't updated the thread when I posted a minute ago and "edit" facility doesn't work for me!
Rob Halligan
163
Posted 18/03/2019 at 13:15:12
Cheers Steve. I forgot about the EL 2. I will have to look it up to fully understand the format for it.
Paul Graney
164
Posted 18/03/2019 at 13:26:08
Regarding the criticism of Sigurdsson in the first half, which was totally dominated by Chelsea, I find it baffling... even Messi and Ronaldo would have struggled to have made an impact with our lot the way that half went.
We obviously overpaid for him but I think the lad is top quality he really came to the fore in the second half... just keep him away from penalties in future.
Christy Ring
165
Posted 18/03/2019 at 14:55:30
I couldn't believe the difference in the 2nd half, we started pressing and closing down the opposition. Calvert-Lewin is getting stronger with every game, he's still developing, a bit more upper body strength, and he could be the real deal. Impressed with Coleman and Richarlison showed a lot more desire, and Gomes looked a lot more composed, in the 2nd half.
Chris Locke
166
Posted 18/03/2019 at 17:36:01
Justin @159, I couldn't agree more.
I was shouting at the telly urging us to play the ball in behind their fullbacks if no other forward pass was on. It seems so simple and the sort of thing Sunday league players manage every week.
As for Morgan Schneiderlin, I too think he should be shown the door. He had ability but it seems to have left him. For a defensive midfield player, he has an amazing knack for being wherever the ball isn't. He needs to move on to have any chance of becoming a Premier League standard player again.

Steve Ferns
167
Posted 18/03/2019 at 18:15:23
Chris, it's all well and good saying to show Schneiderlin the door, but how do you get rid of a £22m, £120,000 per week (£6m a year) flop? Who's gonna pay his wages? Who's gonna pay even half the fee? Why would he take a pay cut?
This is the question for many of our players, and this is why we are held back at the moment.
Ian Horan
168
Posted 18/03/2019 at 18:36:02
Reading TW since Moshi took control is like reading an ill-informed Brexit debate. The wages we payout on players although are beyond our wildest dreams, we must remember market forces dictate what we pay.
Chelski lost Solanki because as an U20 reserve – he wanted more than the £40k per week offered. Man Utd's keeper was offered £350k per week, Sanchez at Man Utd on £425k per week. Rodwell on £70k per week in League One with Sunderland, they agreed a pay off for him to leave...
None of it makes any sense. We need to focus on can we get better for the wages we pay? The above examples show where EFC are pitching just to have the bog average Premier League players we have in many positions. The money is merely a result of Football selling it soul to Sky in the early 90s. Very sad times.
Neil Copeland
169
Posted 18/03/2019 at 18:50:00
Dermot #129 ha, ha!
Steve # 138, I didn't notice that. It's no wonder some people think he's a bit thick.
Martin #149, I am not if polishing his tool will improve Calvert-Lewin's game!
Chris Locke
170
Posted 18/03/2019 at 19:18:14
Steve, I've know idea how we're going to get rid. My guess is that Silva is giving him game time in the hope of convincing other teams to take a punt in the summer.
Brands has a job to do in the summer and it won't be easy.

Darren Hind
171
Posted 18/03/2019 at 20:29:58
Despite the dire pre-match predictions, I fancied us yesterday, so much so, I had a rare wonder outside my gambling comfort zone and put a hefty bet on us. I will be putting most of my winnings on us beating the Mancs and Arsenal.
Hear me out. If you take out the Spurs game where Silva had a nightmare and tried to match them up without his sniffer dog (Gana) I think our better performances have come against the top teams.
All season our inability to defend the long alehouse ball has been ruthlessly exposed by inferior teams, long balls that should be meat and drink to professional defenders, but we don't have a single defender who can cope with them. We saw it at Millwall, we saw it highlighted by Sky TV last week against Newcastle and we saw it again yesterday.
Chelsea only knocked two over the top and on both occasions Higuain found himself in. Mina misjudged one so badly Higuain was able to spin and take the ball right up to the 6-yard box.
It would be logical to suggest both Arsenal and Man United only have to do this and we will be beaten... but will they? I don't think so, its not their style. They tend to leave the alehouse ball to the Newcastle's of this world. Its a little too Sam Allardyce for them. They will believe they can play through us.
Our defenders are excellent at last ditch tackles and blocks. They are far more comfortable defending on the floor and I think with the crowd doing their part, we will have enough to trouble at least one of these teams.
I'm acutely aware of our record against the big boys, but it was the first time Silva's team played Liverpool and Chelsea at the old lady and it will be the first time for Man Utd and Arsenal too. The good thing about playing the top boys is you get very generous odds for a win.
I'm not saying we will win these games, but I am saying I will be availing myself of those long odds.
Laurie Hartley
172
Posted 18/03/2019 at 21:21:56
We are definitely a Jekyll and Hyde outfit but when we are the doctor, boy are we a joy to support.
I thought they all put in a shift yesterday, even in that Mr Hyde first half.
And a well done to Martin Mason who tipped us to win 2-0. Take a bow Martin.
Steavey Buckley
173
Posted 18/03/2019 at 21:52:22
Silva learnt his lessons from last week and brought on Schneiderlin and Davies as substitutes, once a 2:0 lead was established.
Mina should be mentioned as someone who started the match and did a good job helping to prevent the opposition from scoring. His extra height and strength were a great help.
I hope he will still be around next season after completing a preseason, which he was denied last season due to injury. In fact, all of Silva's signing are great improvements on the last manager's signings, that's where most of Everton's problems stem from.
Derek Knox
174
Posted 19/03/2019 at 12:22:24
Steavey, I will concur that we haven't bought or loaned any flops during Silva's tenure, and I will also go with the some, or most didn't have a full pre-season either.
But still fail to understand why it has taken (allegedly, master tactician Marco Silva) this long to produce the right game plan, and glimpses of what the supporters want to see.
I am holding reservation, as it has only happened in two different halves, in different games, and not getting carried along on the wave of euphoria.
Neither am I thinking that Silva has eventually emulated Archimedes, running and publicly exposing himself through the streets of Syracuse, and hailing his 'Eureka' moment!
I do hope of course that he has, but another of those damn International Breaks has halted any possible momentum built from the second half against Chelsea, hoping too that he doesn't use that as an excuse if we just happen to revert back previous form.
Dave Williams
175
Posted 19/03/2019 at 13:29:47
Steve #167 absolutely right. Same problem with Mirallas, Sandro and others with contracts guaranteed financial security for life. Steve Walsh should be shot!
Matthew Williams
176
Posted 19/03/2019 at 14:28:50
It just papers over the cracks... let's see if we can win in the Smoke verses the Hammers.
Stan Schofield
177
Posted 19/03/2019 at 20:01:40
Darren @171:
Good post. This season, we've played better against the top sides, which is what most of us have been wanting. Not getting the results, of course, but bad officiating and some bad luck and the occasional cock-up haven't helped.
We just need to deal with the ale-house teams better.
Add Your Comments
In order to post a comment, you need to be logged in as a registered user of the site.
Or Sign up as a ToffeeWeb Member — it's free, takes just a few minutes and will allow you to post your comments on articles and Talking Points submissions across the site.
© ToffeeWeb