New contract for Jordan Pickford?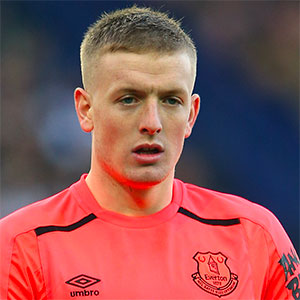 Everton are reportedly set to negotiate a new contract for Jordan Pickford, to fend off predatory interest from the likes of Chelsea who have been credited with uncorroborated interest in the goalkeeper.
The Toffees are determined to hang on to the 24-year-old after one season at Goodison Park and, according to Paul Joyce in The Times, will offer him improved terms to secure his immediate future when he returns from his post-World Cup break next week.
Chelsea are said by Sky Sports to have made Pickford their top choice as replacement for Thibaut Courtois should the Belgian 'keeper join Real Madrid.
The Belgian, who comments about Pickford ironically caused a stir in Russia this summer following the goal that the England star conceded during the two countries' meeting in the group stage of the tournament.
Courtois was forced to try and walk back his criticism of Pickford and his inferior height after Belgium's 1-0 win.
Pickford only arrived at Goodison Park last year in a deal from Sunderland that could eventually be worth £30m. Were Chelsea to firm up any in him, that price tag would almost certainly double at the very least and would likely need to eclipse the £67m Liverpool just paid for Brazilian stopper Alisson Becker.
His three-week vacation means that the England hero will not be in goal for Everton's final pre-season game against Valencia at Goodison Park this weekend.
---
Reader Comments (66)
Note: the following content is not moderated or vetted by the site owners at the time of submission. Comments are the responsibility of the poster. Disclaimer
Michael Morgan
1
Posted 29/07/2018 at 22:05:41
Sky Sports are mentioning that we are about to sit down with Pickford when he returns from holiday to discuss a new and improved contract.
If true, that's a great statement of intent from our club in warning off any potential moves on him. Plus reassures Pickford how much he means to the club and that he is every bit a part of the future of Everton.
Steve Ferns
2
Posted 29/07/2018 at 22:16:03
I saw that too, Michael. It's good news if we can tie him down to a new contract.
Oliver Molloy
3
Posted 29/07/2018 at 22:17:17
Michael,
Why should the club give him a rise? Personally I think he has loads to learn and right now is over-rated.
Michael Kenrick
4
Posted 30/07/2018 at 02:04:43
Oliver,
I imagine it's more about restating our faith in him and our desire to keep him, which in this day and age means keeping him (and his agent) happy. Nothing will do that quite like more money.
So not really the time to call him overrated, get pissy about him learning lessons, needing to improve his distribution and shot-stopping.
Victor Yu
5
Posted 30/07/2018 at 02:29:10
New contract means nothing these days. He can still sign it and force a move next summer if he wants to.
Darryl Ritchie
6
Posted 30/07/2018 at 03:07:03
Victor; a new contract means that when and if he wants to move, we can ask a lot more for him... but... he's not going anywhere for a while... hopefully.
Mike Gaynes
7
Posted 30/07/2018 at 04:18:39
Well in, Mr. Brands!
Michael Morgan
8
Posted 30/07/2018 at 04:27:28
Before Rooney and Klaassen left, Pickford was the joint 10th highest paid player on our books (so now joint 8th).
In his first season, he got voted:
1. Player of the season
2. Young player of the season
3. Players player of the season
He's just had an excellent world cup, which has brought him alot of media attention. Which now have him rumoured as being a top target for one of the top 6.
The lads stock this year has sky rocketed. So why shouldn't that be rewarded, as others have mentioned, it will keep both him and his agent happy and also give us more control in getting a higher price if we ever sold.
Ernie Baywood
9
Posted 30/07/2018 at 05:26:33
If it protects our interests then I'm all for it.
But... It stings a bit doesn't it?
If we buy someone who flops, we get lumbered with a player on big wages who is hard to shift.
If we buy someone who does well, we have to offer them more just to keep hold of them!
Then they take the extra money until they fancy forcing a move anyway.
Erik Dols
11
Posted 30/07/2018 at 06:16:48
Michael #8 you reckon Richarlison is on lower wages than that?
Pickford might be overrated a little after the WC but he had a good first season and I don't see us getting in anyone better. Good move to extend his contract.
Alan J Thompson
12
Posted 30/07/2018 at 06:28:29
It seems little has changed at Everton. Somebody has one good season (+ a World Cup) and he is automatically offered a longer contract with a 50% pay rise. It didn't work with Martinez and I'm hard pushed to think when it did. Otherwise, I wouldn't know how long his present contract is or how much he gets paid, all it seems to do is make an Agent's job so much easier. I suppose bought loyalty is better than no loyalty at all.
Michael Morgan
13
Posted 30/07/2018 at 06:52:24
Erik @11,
Richarlison was on £30,000 a week at Watford. Just because he cost what he cost doesn't mean he's on what Sigurdsson or Shneiderlin's on. I'm not saying he's not either, I'm just hoping we have learnt from Koeman/Walsh era.
Don't forget no-one else was interested in him, so it wasn't a bidding war, plus he wanted to be reunited with Silva. I'd be surprised if he's on more than £60,000 a week, if he is, we haven't learnt in my opinion.
Alan @12, reference increase in wages, again I'm not saying it won't be a 50% increase, but hopefully we've learnt from past mistakes. I mean you could offer him a 25% increase and he would become the 4th highest paid player at the club if Bolasie does eventually go.
Eddie Dunn
14
Posted 30/07/2018 at 07:07:01
It makes sense but it also demonstrates that the players, managers and agents are taking too much money out of the game.
The ground is a disgrace and we are fobbed-off as the new stadium is pushed back to a later date. Surely it is time for the PL to impose a pay ceiling.

Alan J Thompson
15
Posted 30/07/2018 at 07:09:13
Michael(#13); 50% was merely a figure pulled out of the air, I've no idea how much more he may or may not be getting, the point was, as we seem to agree, little seems to have been learnt from past mistakes.
Mike Gaynes
16
Posted 30/07/2018 at 07:13:31
The season hasn't even started yet and the moaning and groaning keeps reaching new heights.
This is good news, people. A commitment to keeping our best players is a GOOD thing.
Kunal Desai
17
Posted 30/07/2018 at 07:19:04
Increases his sell on value. He'll be gone next summer for a record fee for a keeper.
Alan J Thompson
18
Posted 30/07/2018 at 07:29:49
Mike(#16); Perhaps we should have moaned and groaned when King's Dock fell through and the commitment to Lukaku and Stones didn't work. Pickford has been with us for one season and I assume a contract for several years was agreed. You don't think there is a chance that this might just be jumping the gun? There doesn't seem to be this commitment at Spurs and not many seem to want to leave them albeit I know as much about what they offer as to what our players are paid. It just doesn't seem to have worked in the past.
Ash Moore
19
Posted 30/07/2018 at 07:46:26
I guess I just don't see the upside. He was our player under contract, and he had a good year on the wages he was on. Why pay him more? Is he going to try harder? Put more in than he already is?
Keep him "happy"? I would suggest that if he found his present wedge insulting he's not the sort of player this club can realistically go forward with.
There is so little upside in paying him any more that I fail to see the point.
Some argue "increases his sell on value". The rest point to the likes of Sandro and Martina and ask how big wages have increased their value. Like any footballer, goalkeeper Pickford is not immune to the risk of injury and this needs to be factored into contract discussions as well.
Just more poor business.
Colin Glassar
20
Posted 30/07/2018 at 07:52:43
Put in a £100m buy-out clause and we are laughing.
Dermot Byrne
21
Posted 30/07/2018 at 07:53:14
Oh how long ago it seems. Our Mike, in almost a ceremony, gave me his rattle. I was 7.
How I long for those days when my granddad talked about football with my Dad. I struggled to understand it as I double-stepped to keep up and looked up nervously at the huge police horse.
Jump forward 50 odd years and our discussions re. a player have lines like "If it protects our interests then I'm all for it."
Absolutely no criticism of the author of this line, we all write similar things.
Personally I blame Thatcher, the premier league, the media (mainstream and social), and anyone under 45!
Erik Dols
22
Posted 30/07/2018 at 08:00:46
Surely you must be forgetting to blame Hibbert, Dermot!
Michael Morgan
24
Posted 30/07/2018 at 08:16:06
Ash @19,
Absolute madness, so your saying don't offer him more money because if he's not happy with the money he's currenlty on then you don't think he's the right player for us?
If that's the case then you can forget keeping any successful player beyond their first contract with us. As successful players tend to have successful agents, and successful agents are always looking for the best deals for their players.
John Wells
25
Posted 30/07/2018 at 08:18:03
In all honesty folks if Pickford was watching that game the other night he could well be thinking of a switch. The defenders he has to work with are horrendous, they truly are, I'd say he will watch and see hopefully two new centre half's signed before he touches a pen!
Tony Abrahams
26
Posted 30/07/2018 at 08:21:24
They used to terrify me those horses Dermot, but I love them now. I used to love football then, it was never off my mind, but if I thought about it for to long now though, I would probably never go to another EPL game in my life.
Football stinks, you only have to look at some of the players in Everton"s squad to see this, with so many lacking in basic honesty, but Pickford is young, it seems like he cares about his profession, and for that reason I think the kid is only going to get better.
Give him his new contract, and put in a clause of £175 million if anyone wants to buy him. Goalkeeper, is one of the most important positions on a football pitch, it's even quite possible that it's the most important position, when you look at it through professional eyes?
Goals win games, but you only have to look at Karius, to see how important this position is. United would have never won the treble without Schmicel, and as good a deputy as Bobby Mimms was, I'm still convinced Everton, would have done the double if Southall had stayed fit?
Pickford has got loads to learn, but hopefully long-term, this kid will more than pay us back, especially if we can protect him with some decent defenders!
Matt Muzi
27
Posted 30/07/2018 at 08:31:09
If we are offering him a new contract, to me it strongly suggests there is serious interest in him & a club, or even clubs have made enquiries
John Kavanagh
28
Posted 30/07/2018 at 08:35:17
I'd have no qualms if we doubled his money. It's not as if, based on all the evidence of our pre-season, he isn't going to be called upon to earn it. The way we are playing he'll have the footballing equivalent of shell shock by September.
Drew O'Neall
29
Posted 30/07/2018 at 08:57:28
He's England's No 1 and should be paid as such. I wouldn't be leaping to do it at a time of Chelsea or a player's agent's choosing though.
We will conclude our contract reviews at a time of our choosing, after we have concluded our transfer business, and increased pay will be offered in line with term extension and no new minimum release fees/other clauses will be inserted in during the existing outstanding term time.
Derek Taylor
30
Posted 30/07/2018 at 09:17:07
Just one bad season for Everton and he'll be off. And who could blame him ? A blessing in disguise that he has missed this horribilis of a pre-season.
Enjoy him whilst we can.
Victor Yu
31
Posted 30/07/2018 at 09:22:08
My prediction:
If Courtois stays with Chelsea, then he will sign a new contract with us to make more money.
If Courtois moves to Real Madrid, then he will ask to leave (since he will make even more with Chelsea anyways).
Ash Moore
32
Posted 30/07/2018 at 09:47:38
@ Michael 24 -
Realistically, what possible benefit did the club get out of paying Pickford more right now?

Jim Harrison
33
Posted 30/07/2018 at 09:47:43
If Chelsea offer for him, do you think his sole motivation to leave would be money?? Most players want to be at the highest level they can. Moving to Chelsea would be a step up. Simples. It would also come with an increased package, which is of course a bonus, but really it would be about getting the chance to play at a higher profile club and more chance of CL football.
It's no as if we are talking about a shift to West Ham or Burnley.
Tony Everan
35
Posted 30/07/2018 at 10:25:25
He may have heard what Chelsea would pay £100k per week? He could well force a move if he isn't getting his market value.

Derek Taylor
36
Posted 30/07/2018 at 10:46:47
Remember, as he is still on holiday, he has not yet met our new manager to discuss what is expected of him in the new tactical structure.
As suggested any move by Chelsea will depend on the Courtois situation although I hear he has renewed his 'Family Box' for the coming season and London is a long way for rellies to travel from the North East !
Len Hawkins
37
Posted 30/07/2018 at 10:48:07
Who giving their opinion on him getting offered a new contract know the details of his Original Contract? How does anybody know other than the Club, Himself, his Agent what may have been promised should he become a regular International let alone England's Number 1. As already pointed out he swept the board in the club awards last season so that points along with his exploits in the World Cup that he is something special. To say he doesn't deserve it is a stupid thing to say if he doesn't deserve it then flog him for a profit and let Stekelenberg be number 1 then you can moan about that.
Ernie Baywood
38
Posted 30/07/2018 at 10:49:38
Derek 36 - He must have a reasonable idea of where he is going to play?
Michael Morgan
39
Posted 30/07/2018 at 10:53:00
Ash @32,
Straight away offering him more money could stop his head being turned, plus it would also keep his agent happy as he'd get a pay bonus as well.
Looking at it from a perspective from the player, he knows the club appreciate him by offering him better terms so shortly into his contract (he's the England no 1 keeper, on just above average wages for the premiership).
He has to know what other players are roughly on, how would you feel knowing you were on only half of what Sigurdsson, Shneiderlin and Klaassen are and were on.
Derek Taylor
40
Posted 30/07/2018 at 11:00:44
Of course, Ernie, but different managers expect different things from their goalies these days. It's not so long ago that he was expected to' welly' every clearance over the heads of all and sundry !
By the way, I should have made it clear that the Family Box I referred to is at Goodison -twixt Main Stand and Park End.
Oliver Molloy
41
Posted 30/07/2018 at 11:03:59
And how much should Englands number one be on then Drew @ 29 ?
The guy signed a contract with Everton last year and has been with us one season.
Looking back no other clubs seemed to be interested in buying Pickford from Sunderland.
Once again it seems silly from Everton.
I can't think of any player in the premiere league who has had a new contract offer after just arriving at a club.
Did Everton offer Lukaku a pay rise after his first season ( when we bought him ).
Picford winning the club award's show everyone just how bad his teammates performed !
He is extremely well paid right now!
In saying all of this, it may be a case of Everton promising Pickford they would look after him if his performances for the club etc warranted so.
I can not argue against this providing there is a buy out clause of the clubs choosing just in case he turns out to be as good as everyone thinks he will be which of course as an Everton fan I hope he does, but early days yet.

Ash Moore
42
Posted 30/07/2018 at 11:13:24
Of course IF promises were made then they need to be honoured. But in the absence of proof of that I fail to see the point. He's no more an Everton player than he was yesterday. He will not perform any better. He will not train any harder. And he is no more or less likely to leave for a big team than he was with his previous whack.
As someone else pointed out, it's not the money that would see him depart for the likes of Chelsea. It would be the obvious consistent higher standard of football.
Michael Morgan
43
Posted 30/07/2018 at 11:15:36
Oliver @41,
He's extremely well paid in comparison to normal everyday people. But in relation to the Premier league, the average wage is about £50,000 a week, and he's supposedly on £60,000. Shneiderlin's supposedly on £120,000 a week, now that's extremely well paid.
On other news, Sky Sports reporting that it looks like Lookmans on his way.
Erik Dols
44
Posted 30/07/2018 at 11:15:55
Oliver #41, I just googled Man City renewed contract and Tottenham renewed contract. See below.
I didn't go further than that but I am sure for most Premier League clubs you can find contract reneweals of players that did well in their first year. I'm sorry to say, claiming "I can't think of any player in the premiere league who has had a new contract offer after just arriving at a club." is perhaps not wrong, but the key part is in the "I". That you don't know those examples does not mean that it doesn't happen or that it does not get much media attention...
Derek Taylor
45
Posted 30/07/2018 at 11:27:14
Considering his absence from virtually all the pre-season rubbish, I think it was inevitable that he was on his way. I've always considered him over-hyped, anyway !
John Clowes
46
Posted 30/07/2018 at 11:59:36
I'm sure Salah got a new contract as well. We need to do all we can to get Pickford to stay at the club. If he leaves, we are screwed. The only other option of a keeper out there would be the guy from Stoke and he would cost at least 30m, and I know who I would rather have!
Derek Taylor
47
Posted 30/07/2018 at 12:23:28
Let me make it clear that I was referring to Lookman – not Pickford – in post #45.
Sam Bull
48
Posted 30/07/2018 at 12:28:21
Hopefully I'm wrong, but I read this as that we forgot to put in something in the contract (minimum release figure).
Jay Harris
49
Posted 30/07/2018 at 12:46:39
When is a contract not a contract? When it involves football.
It is only 12 months since Pickford signed a 5-year contract which should have been his commitment to us and our commitment to him.
I just can't see any sense in this. If Chelsea come calling, just tell them to do one.
Contract talks are as likely to put him off his game as any interest from other clubs. The whole transfer business and contracts needs proper legislation before it becomes totally out of hand.
Dermot Byrne
50
Posted 30/07/2018 at 12:59:45
Erik #22: yep, I forgot him!
I do think Pickford is good, not quite as good as the world cup mania suggested, but I get the sense he really wants to keep improving.
Some good defenders in front of him would help too.
David Gallant
51
Posted 30/07/2018 at 13:29:56
Jordan Pickford has been nothing short of fantastic since he arrived at Everton. I hope he spends his entire career here and that he wins many trophies along the way. I have absolutely no qualms about us offering him a new contract – he has certainly earned it.
My one worry is that he rejects this much-publicized contract offer. In which case, the cat will be truly among the pigeons, and Chelsea will feel they (or any other potential suitors) are in the driving seat.
Dave Evans
52
Posted 30/07/2018 at 13:34:25
This is what the top clubs do. It is a way of trying to keep their best players and fending interest from other top clubs. More so for us as we we do not have the appeal of the Champions League. Most in the league would simply sell Pickford and take the £80 million.
Trying to keep Pickford is at least some indication of the club's intent and ambition.
I wonder if it is the same fans who moan about us not behaving like a top club who find some convoluted hand-wringing way to have a good winge when we do?
Mark Taylor
53
Posted 30/07/2018 at 14:12:54
Are Chelsea tapping up Pickford in the same way we were supposedly tapping up Silva?
Jim Harrison
54
Posted 30/07/2018 at 14:27:09
It's funny, I read comments that he is as good as his performances at the World Cup suggest. There is/was a degree of media hype, but he quite simply did have an excellent campaign. One iffy goal conceded, plenty of assured quality work and some spectacular saves.
In the biggest shop window in world football, he performed brilliantly. What more does he need to do?
Oliver Molloy
55
Posted 30/07/2018 at 14:42:17
David @ 51,
I completely disagree that Pickford has earned a new improved contract (unless it was promised).
And please tell me how Chelsea or any other club are in the driving seat when Pickford has 4 years remaining on the contract he signed with Everton?
In my opinion, the publicity Pickford gained from the World Cup is way over the top. Where is Pickford anyway? Should he not be back with us by now training?

Rob Halligan
56
Posted 30/07/2018 at 14:43:42
Mark (# 53), if any tapping-up has been carried out by Chelsea, then it will have probably been started by Gary Cahill during the World Cup.
Cahill will know the situation regarding Courtois, with his contract rapidly running down, and having spent the best part of seven weeks in the England squad with Pickford, he could well have been in Pickford's ear about moving Chelsea?
Cahill only needs to report back to Chelsea saying he spoke to Pickford, and then, hey presto, Chelsea declare their interest in Pickford via the correct channels, ie, Sky Sports.
Rob Halligan
57
Posted 30/07/2018 at 14:51:11
Oliver, Pickford is not due back at finch until next Monday. Apparently he's on a compulsory 3-week break following the World Cup. He has been on an individual fitness plan to ensure he will be ready to play Wolves.
Stekelenburg will be in goal against Valencia this Saturday.
Alan J Thompson
58
Posted 30/07/2018 at 15:04:05
Dave (#52); We've done what "top clubs" do, we've got him on a 5-year contract that has 4 years to run. If he needs convincing of anything, then tell him, if he has another season like the last, then we'll talk about an improved contract; "Keep up the good work, lad, and there's something in it for you."
Shane Corcoran
59
Posted 30/07/2018 at 15:05:35
Pickford had a good World Cup, apart from nearly conceding bizarrely in the opening game. He's young and will most likely improve.
But let's not get all UK tabloid here. Anyone remember Ashley Barnes's goal from the edge of the 6-yard box last season?
At the end of the day though, this is all irrelevant. Everton should keep him and if a new contract's what's needed, then so be it, as it's not like there'll be a queue of quality replacements forming.
David Ellis
60
Posted 30/07/2018 at 15:25:53
This makes no sense. He's a national hero at the moment. Leave him on the current contact for another 12 months and he'll be easier to negotiate with when the euphoria has died down.
Mark Taylor
61
Posted 30/07/2018 at 15:26:22
Rob,
Ate you being ironic? I assume so. The 'correct channels' would certainly not be Sky! You are supposed to approach the club when a player- or manager- you want is on contract with that club, not issue a press release.
I believe that is what we did with Silva. The media speculation was just that and, at the time after Koeman's sacking, included an assortment of possible candidates, including Tuchel and Ancelotti. We formally approached Watford a few weeks later, were rebuffed twice and so gave up.
To be fair to Chelsea, I have found no club source directly linking them to a bid for Pickford. It may again be media speculation. But that also means 1) We can do as Watford did with Silva and tell them to get lost, albeit with the risks that Watford then faced and 2) If we have no case for Chelsea tapping up Pickford- and I doubt we do- then god knows how or why Watford think they have a case against us, but like an annoying fly, they are not giving it up.
As to a player tapping up another player, I'm not sure how the rules are on that and whether it counts. This is a trickier line to draw because players will naturally talk to each other about life and work and I can't see how you would stop that or indeed create proof of intent beyond merely normal conversation. That said, I know a few managers who were always uneasy about their players joing national squads because I suspect there is a fair bit of that activity happening, just hard to stop it.
Agents will, of course, be playing their part to stir things...
Pete Edwards
62
Posted 30/07/2018 at 15:34:49
There are all sorts of clauses written in to players contracts these days, who's to say the one he originally signed doesn't have one that says if he becomes England's No1 he gets a pay rise as realistically that would mean he's been doing something right all season for Everton! I mean, I'm sure we've paid Sunderland a bit more of the fee because of it too.
Personally I think it's a good move from us for a change, "rumoured" interest why not put out a statement we are offering a new contract (part of the original clause or not)! I like it myself!

Rob Halligan
63
Posted 30/07/2018 at 15:43:29
You got me, Mark. Of course I know the correct channels are to approach the club direct. Most of these so-called big clubs put their feelers out via Sky to try gauge some reaction. They try and unsettle the player, hoping they may put a transfer request in.
Alan J Thompson
64
Posted 30/07/2018 at 16:39:26
Pete(#62); Saying you are offering him a new, improved contract may have the opposite effect with interested clubs thinking he's not happy with the contract he's on as he sees himself as one of goalkeeping success stories of the WC Finals. I would think stressing he has another 4 years on his present contract would send a better message.
David Gallant
65
Posted 30/07/2018 at 18:50:00
Oliver #55 you are entitled to disagree. My thinking is that Pickford's stock has risen tremendously in a very short space of time given his performances at the World Cup (the pinnacle of the sport). As such, many big clubs would have been alerted and may possibly offer him a much higher wage than he's on at Everton.
For our part, we've acknowledged this and it may be one of the reasons we are now offering him an improved deal, one more commensurate with his stature as one of the best goalkeepers in the world. But money is only one part of it. Pickford strikes me as very determined, and very ambitious. He has proven he can play at the highest level, and may be keen to play for a club that can more realistically challenge for honours.
I have no problem with the club offering him a better deal, regardless of the fact he's only been here a year. His performances in the World Cup (and last season) have earned it - he's not a Davy Klassen or Sandro being paid well over a 100 grand a week for pulling splinters from his backside. Incidentally, that may be another reason for the improved contract offer - to make him among the highest earners at the club - again, well deserved in my opinion.
Oliver Molloy
66
Posted 30/07/2018 at 21:28:40
Rob @ 57,
Well if Pickford is not due back until today week as you say this means he will will play a game for the new manager until we kick off against Wolves, not ideal preparation in my opinion!
Rob Halligan
67
Posted 30/07/2018 at 21:34:25
Don't disagree with you, Oliver, but apparently "dem's de rules".
It's a compulsory three-week break following England's final game.
Victor Yu
68
Posted 02/08/2018 at 09:15:16
Sounds like Courtois wants to move to Real Madrid.

Steve Ferns
69
Posted 02/08/2018 at 10:33:49
Pickford has been speaking at some McDonald's event. No, it's not like when Rooney popped in for a Big Mac and happy meal, he's there for some sponsorship event.
Anyway, Jordan implies he's staying with us and that we're a massive club. He's targeting top 6 this season.
Nice one, Jordan.
Add Your Comments
In order to post a comment, you need to be logged in as a registered user of the site.
Or Sign up as a ToffeeWeb Member — it's free, takes just a few minutes and will allow you to post your comments on articles and Talking Points submissions across the site.