Sigurdsson takes No.10 as squad numbers are confirmed
Friday, 3 August, 2018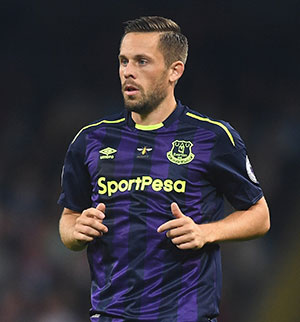 Everton have released their list of squad numbers for the 2018-19 season, with Mason Holgate, Gylfi Sigurdsson, Kevin Mirallas and Morgan Schneiderlin among the changes.
As suggested by the numbers worn in pre-season, Sigurdsson has taken the Number 10 jersey vacated by Wayne Rooney, with Schneiderlin moving to the Icelandic international's previous number, 18.
After Richarilson elected to wear No 30, Mason Holgate is now No 2 and Kevin Mirallas has selected No 8. Kieran Dowell reverts to No 28 after wearing the No 12 shirt in pre-season that was selected by new signing Lucas Digne. Beni Baningime moves up to No 34.
Everton Squad Numbers for 2018-19
1. Jordan Pickford
2. Mason Holgate
3. Leighton Baines
4. Michael Keane
6. Phil Jagielka
7. Yannick Bolasie
8. Kevin Mirallas
9. Sandro Ramirez
10. Gylfi Sigurdsson
11. Theo Walcott
12. Lucas Digne
14. Cenk Tosun
15. Cuco Martina
16. James McCarthy
17. Idrissa Gana Gueye
18. Morgan Schneiderlin
19. Oumar Niasse
21. Muhamed Besic
22. Maarten Stekelenburg
23. Seamus Coleman
26. Tom Davies
27. Nikola Vlasic
28. Kieran Dowell
29. Dominic Calvert-Lewin
30. Richarlison
31. Ademola Lookman
32. Joe Williams
33. Callum Connolly
34. Beni Baningime
38. Matthew Pennington
41. Mateusz Hewelt
43. Jonjoe Kenny
49. Antonee Robinson
---
Reader Comments (35)
Note: the following content is not moderated or vetted by the site owners at the time of submission. Comments are the responsibility of the poster. Disclaimer
Fran Mitchell
1
Posted 03/08/2018 at 15:41:19
Mirallas no8? Odd one that. Either leave vacated for potential incomer, or give it to someonle like DCL or Davies, and with it a huge confidence boost.
James Stewart
2
Posted 03/08/2018 at 15:55:01
Sandro No.9... Even worse than Kone having it.
Kase Chow
4
Posted 03/08/2018 at 15:58:21
Christ, are Sandro and Mirallas really being given squad (and first team) numbers????
What a joke
Sandro is atrocious. He's terrible. Not even a footballer. What does he actually offer aside from effort (which should be a minimum)
Depressed
William Cartwright
5
Posted 03/08/2018 at 15:58:57
No no. 5?
Jer Kiernan
6
Posted 03/08/2018 at 16:12:15
The fact that Mirallas is no8 is scary, reckon most on here would agree there should be at least one "0" after said 8
Please somebody tell me we will have a decent pacey CB before windows closed :( I am starting to worry . I like the look of Holgate but think is maybe too soon for him
Btw best of luck Siggy I am expecting big things from you this season, I felt Rooney was in the way last year
Minik Hansen
7
Posted 03/08/2018 at 16:13:20
William, we're soon gonna have a no. 5 (and eventually a no. 8).
With Sandro, I'm curiously and causiously looking out for a confidence boost for him, as he may get along better with a latino coach.
Hugh Jenkins
8
Posted 03/08/2018 at 16:14:53
William (5) Well spotted - I wonder if that is being kept for someone specific?
Robert Leigh
9
Posted 03/08/2018 at 16:18:25
Clever giving Mirallas the #8, Fiorentina may pay all his wages if he has a number.
Gordon White
10
Posted 03/08/2018 at 16:31:14
Don't understand why some of these are being given squad numbers?
Andrew Ellams
11
Posted 03/08/2018 at 16:41:40
I'm guessing these had already been decided before this week and 5 was vacated by Williams.
Kenny Smith
12
Posted 03/08/2018 at 16:44:13
Bolasie, Mirallas and Sandro will probably (hopefully in the case of Mirallas and Sandro) move on in this window so to me that suggests a new 7, 8 and 9 to come in to fill those shirts. Fingers crossed eh
Tom Bowers
13
Posted 03/08/2018 at 16:47:57
Giving squad numbers to some of these players is a joke.
Everton should take their licks and get shut of the likes of Sandro.
They were big mistakes made by Koeman and Allardyce.
If we are to see some of these players starting then it's going to be a mid-table finish yet again if that.
Dermot Byrne
14
Posted 03/08/2018 at 16:53:54
Shit .struggling to see who gives one.
Not long now to a real game. Thank Christ!
Butterflies are starting and optimism massive, as in every single of the last 57 years.
But...if number 8 is sold, incoming 57 scores v Wolves and No 1 lets in a howler...will be blaming someone.
Ed Prytherch
15
Posted 03/08/2018 at 16:54:37
My thoughts too Kenny. They are saving the places for the latecomers.
Rob Halligan
16
Posted 03/08/2018 at 17:07:48
I mentioned earlier on, on the Williams to Stoke thread, that there was nobody allocated the number 5. Ashley Williams would have had this number, but due to his loan to Stoke being announced late last night, I don't think the club had a chance to re-allocate the number before submitting the squad numbers to the Premier league.
Bobby Mallon
17
Posted 03/08/2018 at 17:08:21
Case chow BORING
Frank Crewe
18
Posted 03/08/2018 at 17:11:19
I don't see what difference it makes. These days it's just a number on the back of a shirt to identify the player to the ref. Might as well put the numbers in a hat and ask each player to pull one out. It's the position they play in that counts not the number on their shirts.
Jay Wood
[BRZ]
19
Posted 03/08/2018 at 17:11:32
For those fretting over this, it's just a frigging number.
It's not a mission statement by the club, Brands or Silva who is staying, who is playing, or how we will play this season.
Derek Knox
20
Posted 03/08/2018 at 17:16:42
Oumar thinks it's Xmas come early, a number and a locker!
Not sure why low numbers have been allocated to potential leavers. Presumably the lists were submitted, before those decisions were being made.
Bit like ' The Prisoner ' who is number 5?
Alan J Thompson
21
Posted 03/08/2018 at 17:41:09
What a waste of a number 18 shirt.
Mike Gaynes
22
Posted 03/08/2018 at 17:54:45
18 is my favorite jersey number. Worn it for years. Guess I'll have to change now.
Bill Gienapp
23
Posted 03/08/2018 at 18:51:54
I wouldn't read too much into any of this.
Mirallas took #8 for pre-season because Walcott took his #11 while he was on loan last year. I doubt the club would tell him "Pick something else, we're saving #8 for a potential big-money signing."
Mirallas still looks likely to leave on loan, but the deal wasn't completed before the squad numbers were submitted to the league. Simple as that.
Besides, when Koeman denied Niasse a squad number because he didn't rate him and expected him to leave, everyone said he was being a big ol' meanie.
Pat Kelly
24
Posted 03/08/2018 at 19:09:55
Could we put go fast stripes under the numbers ?

Darren Murphy
25
Posted 03/08/2018 at 21:07:22
They've kept #42 for me for next month. Fucking miles fitter than the majority of em. #69 was taken.
Phil (Kelsall) Roberts
26
Posted 03/08/2018 at 21:30:26
And missing from last year - without being sold
Tarashaj #24
Galloway #32
Feeney #48
Robinson has been given a number (#49) this year and then sent out on loan. Suspect his number was allocated before the loan, whereas Tarashaj was already loaned so that is why no number.
But Galloway no number (or Browning for that matter) and Feeney got a number last year but not this.
Kase Chow
27
Posted 03/08/2018 at 21:35:06
Bobby #17
I don't care if it's boring
I hope that the more I say Sandro is crap the bigger humble I'll have to eat if he turns out good. and you know what? I'd be happy to eat it
But I won't have to
Surely we can swap him for some up & coming striker plying his trade in Spain?
Phil (Kelsall) Roberts
28
Posted 03/08/2018 at 21:48:40
We are now down to Baines, Jagielka, Steckelenburg and Mirallas as the only over 30 year olds in the squad.
Coleman, Walcott will reach 30 during the season and Bolasie next off season.
Getting younger.

Neil Copeland
29
Posted 03/08/2018 at 21:54:02
Derek 20, he just needs a suit now!
Anthony Dove
30
Posted 03/08/2018 at 22:15:25
To my mind if you don't want to be numbered 1-11 there's something missing. Imagine Bob Latchford being e.g. number 30.
James Flynn
31
Posted 03/08/2018 at 22:16:13
Sandro has looked good this pre-season. Silva seems to like him.
Steve Ferns
32
Posted 03/08/2018 at 22:54:48
Can I please spell the Sandro situation out for you all very clearly. He's got a five year deal worth £120,000 per week. Yes, that's a contract worth £31m+. Sorry he's entitled to every penny. No, he's not worth it.
Do we give him £30m and tell him to find a new club? Or do we try our best to see if silva really is a top coach like I (and others) have said and wait 12 months, so he's only got 3 years and £19m worth of wages left to take.
As for the numbers, I expect 7 and 8 to be vacated shortly. New signings could take them either this month or in January.
Feeney hasn't lost his number. Eagle eyed guys will see him wearing it on the u23 vids. They've just released the first team list, not the youth team list.
Justin Doone
33
Posted 04/08/2018 at 07:53:14
Numbers aren't what they used to be. A lot less meaning to younger players, they prefer a lucky number or happy to keep the previous season number if they have played well, recently moved etc.
By the same token missing numbers from 1 to 11 doesn't signal incoming players. Simply because you never know what number a player may want.
But.. We need a top class center back, 5 or 55 I don't care. The same for age. 20 or 35 as long as they can give us a massive improvement for the new season that's what matters.
Planning for the future is all well and good but we need to focus on this season end of.
David Pearl
34
Posted 04/08/2018 at 14:09:39
Mike, 18. Some people would prefer you on the pitch. You should keep it just in case.
Liam Reilly
35
Posted 04/08/2018 at 22:04:26
Still have hope for Sandro. Ya don't get a shot at Barca and score that many in La Liga without having something about you.
Get off his back and see how he does in Silvas side.
Don Alexander
36
Posted 04/08/2018 at 22:41:34
Well said Steve (#32). Sandro has only just turned 23. He's a kid really, in a foreign country, bought by someone who now has next to no power at the club. Yes, his agent will be telling him he's unlikely to ever be able to match or improve his current absurdly high pay deal unless he improves on the pitch, and yes, Silva might just be trying to achieve the same outcome. Why not? Maybe it'd help him, a kid, if the fans and supporters tried to encourage rather than diminish him. Just saying .
Add Your Comments
In order to post a comment, you need to be logged in as a registered user of the site.
Or Sign up as a ToffeeWeb Member — it's free, takes just a few minutes and will allow you to post your comments on articles and Talking Points submissions across the site.