Silva: We should have seen the game out at 2-0
Saturday, 25 August, 2018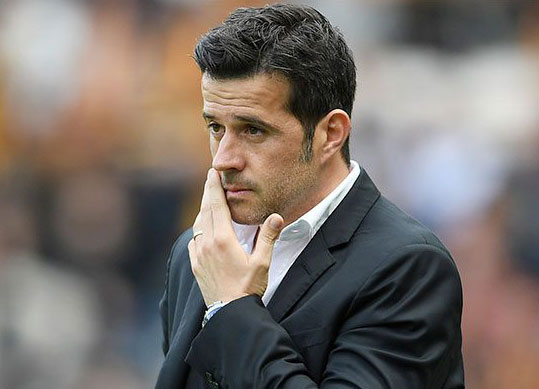 Marco Silva admits that his team should have claimed all three points from this afternoon's trip to Bournemouth after they had gone into a 2-0 lead with 25 minutes to go.
Everton had battled back from the loss of a player to a red card for the second away game in a row when Richarlison was sent off for a weak "head-butt" on Adam Smith to take a 2-0 lead courtesy of goals from Theo Walcott and Michael Keane.
However, a Josh King penalty in the 74th minute and Nathan Ake's goal off a corner four minutes later earned the Cherries a share of the spoils after Smith himself had been shown a straight red for pulling Walcott back.
Silva praised his players for their response to the setback which came in the same minute as Phil Jagielka's red card against Wolves two weeks ago. Just as was the case at Molineux, Silva was pleased with the manner in which Everton rallied and took the lead despite going down to 10 men.
"We showed again a fantastic attitude with 10 players. I spoke with [them] at half time and told them that it's not something new for us. It's the second time in three games we've played 55 minutes with 10 players but in the first 25 minutes of the second half we did a fantastic job.
"We didn't give a chance to them, we scored one goal and before the second we had a fantastic chance to score from a free kick. After the second we had to finish the match but we threw the 2-0 away.
"You can't concede goals from counter-attacks or penalties from counter-attacks. It's something we have to improve because at that moment it was really important to keep the three points."
Silva was accepting of the decision to send Richarlison off, saying that there is no excuse for the Brazilian's actions even if there was a degree of simulation by the opponent to make the most of the contact to the match officials.
The 21-year-old will be suspended for the games against Rotherham, Huddersfield and West Ham.
"It's something you can't do, even if it's minimal contact," the Portuguese said the fairly innocuous incident between Richarlison and Smith. "There are many times where these things happen and it's not a [red] card but it's something he can't do — him or the other player.
"It's something that needs to be out of our squad; our players can't do something like that, even if it's minimal contact. It's [a case where] you have to keep a strong mentality.
"Even if the fans or the opponents are provoking you, we are a professional football players. We have to keep our concentration and our focus every time."
Everton's first goalscorer, Walcott, said that the players were frustrated not to have won the game but he accepted that at half time with 45 minutes still to play with 10 men, the Blues would probably have taken a point.
The winger latched onto Cenk Tosun's pass in the 56th minute to rap a strong shot past Asmir Begovic to open the scoring before Keane doubled the advantage with a header 10 minutes later.
"We're a bit disappointed," the 29-year-old told evertonfc.com. "The guys worked tremendously hard.
"We were fantastic in the first 30 minutes in the second half and, for whatever reason — especially when they went down to 10 men — we dropped and let them back into the game. But overall you have to take a step back and think we probably would have taken a point at half-time.
"It's just a shame we didn't take three points as our fans were fantastic. They travelled a long way, showed great support throughout the whole game and that's what we need.
"We train so hard, the philosophy the manager has dug into the players is starting to show. We are playing with freedom. We are looking good, looking strong but there is more improvement to come, I'm sure."
This article has been updated following clarification of new disciplinary rules affecting the League Cup. Yellow cards only accrue within the competition in which they were awarded but suspensions from red cards are served during the next matches, regardless of competition.
---
Reader Comments (158)
Note: the following content is not moderated or vetted by the site owners at the time of submission. Comments are the responsibility of the poster. Disclaimer
Ajay Gopal
1
Posted 25/08/2018 at 19:27:13
I am sure the players are as frustrated with the result as the fans. But we all have to chin up and look at the positives. Silly individual mistakes have costed us 4 points this season, we should do better.
Derek Knox
2
Posted 25/08/2018 at 19:27:34
He's not wrong there, but looking at the positive side, it has always been a difficult place to come to, even with eleven men, and there is no way we would have gone two up under Allardyce.
Hate to single players out, but felt Davies was very weak in midfield, and Leighton showed again that he has difficulty lasting the 90 minutes.
As I have always maintained since Silva has been with us, no-one can say that he has not given players a chance to prove themselves, and a few have been found to be not good enough for a regular slot.
Watching the RS game against Brighton, and their defence seem much more organised than us (Brighton) at set pieces and in general play.
The only criticism of Silva today was that at 2 goals up, he should have shored the defence with Zouma and Digne, and held out for the final whistle. Having said that, I don't believe that is his style, but it has exposed that some surgery at the back is required, and not to leave the subs till the dying minutes.
David Pearl
3
Posted 25/08/2018 at 19:28:15
Yes we should. Oh for the days of Big Sam and seeing the game out. Joking aside, ish... Bernard looked like he has something but why Calvert-Lewin again instead of Niasse?

Steavey Buckley
4
Posted 25/08/2018 at 19:31:24
It could be a good idea to invite Moyes back as the Everton defensive coach. Everton have not defended properly for 5 seasons since he was the manager. Everytime the opposition attack, Everton defence is always suspect.
Derek Knox
5
Posted 25/08/2018 at 19:31:25
Forgot to add, that I sincerely hope Michael Keane is okay, and has no lasting effects from his injury. I do believe he has been a lot better this season, up to this injury.
John Keating
6
Posted 25/08/2018 at 19:32:01
Well Mr. Silva says what most of us thought in that at 2-0 up we should have seen the game out.
The problem I have is that, in my opinion, Mr Silva did nothing to help us see the game out.
2 winnable away games, in the lead in both, all goals conceded preventable.
Mr Silva has had these players for a couple of months now and hasn't appeared to improve us defensively.
The team is improving under his tenure so far. Hopefully when his players come in we will see further improvement in all departments but meanwhile I would suggest he plays to the present players strengths and if he sees deficiencies in the defence either change the system or change the players. Thus far he's done neither.
Dermot Byrne
7
Posted 25/08/2018 at 19:32:24
Bang on, Steavey.
Jimmy Hogan
8
Posted 25/08/2018 at 19:33:38
Derek, it cost the RS, £75 million (or however much it was) to buy a leader and an organiser. We haven't got that kind of money, but we need a real leader in defence, otherwise, we will carry on giving away soft goals. Let's hope Mina or Zouma can organise, because at the moment it looks as if no one is.
Steve Little
10
Posted 25/08/2018 at 19:34:04
We really missed Schneidelin today, particularly when defending the lead.
I like both Gueye and Davies but they can both give the ball away a little too easily.
Derek Knox
12
Posted 25/08/2018 at 19:39:00
Jimmy @8, you must have misconstrued my post, I was referring to Brighton's defence, hence the brackets.
Jimmy Hogan
15
Posted 25/08/2018 at 19:49:50
Sorry Derek, I assumed "us" meant Everton. I've just re-read your post. However, the point I was trying to make is before Van Dijk was integrated into the Liverpool team, they were giving away silly goals, throwing away leads etc.
They seem to have sorted that out now, but to give you an example from Everton's own history, until we find our new "Kevin Ratcliffe" who was a superb leader, we will continue to ship goals.
Steavey Buckley
16
Posted 25/08/2018 at 19:50:17
Dermot, if Silva can sort this defence out quickly, this season is going to be another helta skelta with no end in sight. No matter how good the forward play is.
David Barks
17
Posted 25/08/2018 at 20:02:01
To say he's had these players for 2 months, do you mean 2-3 weeks? Because he's only had Digne for a few weeks, and signed Mina and Zouma on deadline day, just before the opening game. We've only had 3 matches so far and Mina is injured.
So to imply that in 3 games, with 3 of the 4 new defensive players being here less than a month and one of them being injured, that this should all be sorted isn't quite fair. His defensive system had nothing to do with Baines barreling into the back of a player to give away a penalty. Baines should be one of the experienced players that can be counted on. That simply can not be put down to Silva and his system.
If you really want to look at it, we've had to use a different defensive group in each game. First game Jags and Keane but Jags gets sent off, brings on Holgate. Next match Holgate and Keane, but Schneiderlin gets injured in central midfield. Third match Holgate and Keane with no Schneiderlin in midfield, but now Keane is injured. So we'll see another new defensive set up in game 4. And in 2 of the 3 games so far we've been reduced to 10 men.
John Roberts
18
Posted 25/08/2018 at 20:08:24
I'm still confident with what I'm seeing, as said before some silly mistakes and some somewhat eagle eyed officiating in the two draws has cost us. I think in both draws we could have made changes earlier before conceding. Still positive mind.
Derek Knox
19
Posted 25/08/2018 at 20:08:27
Jimmy @15, I did mean "us" I was just trying to use Brighton's organisation in contrast to our haphazard defending.
Hopefully got there in the end. :-)
John Keating
20
Posted 25/08/2018 at 20:12:55
Well nobody mentioned the new players only in respect that WHEN they come in hopefully it would improve.
As far as I can recall Baines, Coleman, Jags, Keane, Holgate have been working with Silva for a couple of months.
However the thrust of the post was that Silva talks about the team seeing the game out at 2-0 but appeared to do nothing to achieve that.
Derek Taylor
21
Posted 25/08/2018 at 20:24:38
It's almost as though Roberto is back at the helm. "Let's outscore the opposition and if the defenders don't know how to defend, I'll get others that do" he almost seemed to say. That's my take on it and it's the philosophy that eventually led to Big Sam being brought in to 'save the day'.
Today's happenings firmed up my view that Silva is another one unprepared to 'close games out' and, unless his new but unplayed signings are made of sterner stuff naturally, we have a manager who will make history repeat itself!
Jim Bennings
22
Posted 25/08/2018 at 20:30:27
The defence needs to be picking itself and be set in stone by the middle of October and it's got to include Digne at left back and a settled sturdy centre-back partnership not chopping from Keane & Holgate to Mina & Zouma.
The players need to start taking responsibility at defending though, three weeks running we have conceded cheap as chips goals now and we haven't even played a top top side.
The poverty of away wins means we need to always win our home games and six points need taking from Huddersfield and West Ham before a trip to perennial bogey ground Arsenal.
Derek Knox
23
Posted 25/08/2018 at 21:17:44
Jim @22, spot on there mate, not making excuses but in the three games to date, the standard of refereeing has been bordering on farcical.
Jim Bennings
24
Posted 25/08/2018 at 21:22:09
The refereeing in the Premier League has been dreadful for years, Derek.
Years ago, there were a handful of good refs; now there are none whatsoever and that was reflected by no representatives at the World Cup.
What I will say, though, is I think Silva will be having a word with Richarlison about trying to keep things under wraps a bit more and not making himself an easy target for windup merchants because referees will have a field day with the lad if he reacts like that on a regular basis. It's just 2018 and football for you and you don't succumb to tit heads like that Smith.
Lawrence Green
25
Posted 25/08/2018 at 21:33:49
Silva says
"You can't concede goals from counter-attacks or penalties from counter-attacks. It's something we have to improve because at that moment it was really important to keep the three points."
that doesn't sound very Martinez to me - but I do understand the basic reasoning of those who see it that way.
No manager can legislate for daft decisions made by professional players, that he chooses because he thinks they are the best for the job at the time. As the players are learning about the managers methods, he too is learning about his players, to expect any manager to fix all of the ills that have beset the team in the last four or five years in three matches is asking a bit much, isn't it?
If his team are still making the same catastrophic errors on a regular basis in October & November, then it might be fair to be concerned about the manager's methods... but let's see what unfolds in the next few weeks and months – please don't be Roberto Mk II, Marco! I couldn't stand it!! :)

Don Alexander
26
Posted 25/08/2018 at 21:37:28
I think criticism of Silva on this and the match-day threads is OTT. Seamus is having a rare bad spell, Baines is very much at the back end of his career and has faded markedly in recent seasons (and yes, he can play well, but just occasionally, against weaker opposition), Keane and Holgate are inexperienced together as a pair and Lord knows what damage was done to them by the tomfoolery coaching before M&M took over.
So, to me, two draws away and a win at home is satisfactory, but slightly disappointing. I'm hopeful that, before the next window opens, we're seeing fewer soft goals being conceded because, by then, we'll have seen better players in the culprits' shirts.
Jim Bennings
27
Posted 25/08/2018 at 21:44:01
I don't think it's fair to criticise Silva at all yet either.
I said even when Allardyce was here that the players really shouldn't need a managers instruction when leading 2-0 away from home with 15 minutes remaining, surely it's pretty self explanatory?
Just use a bit of savvy and common sense and drop a bit deeper, make no space for the opponent to fashion a simple chance and try to take the sting out of the game by holding the ball wisely?
It does appear that this current crop of players are pretty slow learners really, you'd think after Wolves two weeks ago they'd draw on a bit of that experience and think "let's not make the same mistakes defensively again and give them a cheap goal".
But no, at 2-0 and cruising, we make the last 15 minutes a whole lot harder than it should have been.
Blame managers to some extent but the players need to be a bit more responsive and lead by example more on that pitch; that's where the call for vocal leaders of men comes in — and where are ours?
Joe McMahon
28
Posted 25/08/2018 at 21:50:22
I have asked myself this question for the past 4 seasons. "What are the benefits of have Baines in the team". His usefulness was a long time ago.
James Stewart
29
Posted 25/08/2018 at 22:08:55
Individual stupidity cost us. First Richarlison then Baines.
Agree with Derek @2 though. Silva should have been more pragmatic at 0-2. Zouma and Digne would have made a lot of sense. Holgate and Baines were poor and we needed help back there. Baines is sadly finished as first choice — and the sooner Silva realises that, the better.
David Pearl
30
Posted 25/08/2018 at 22:10:20
Joe, he adds good balance and a sweet left foot. He made a couple weak errors today but overall he's been good this season. His positional defending has improved with age but can be a weak link on occasion. No player is perfect and it's a bit ott to ridicule him. I'd expect Digne to come in soon but I'm not going to write him off yet.
I think more errors made by Silva but unlike Martinez I think he will learn... and also hopefully improve his substitutions because they come too late.
Sam Hoare
31
Posted 25/08/2018 at 22:16:51
Silva knows where the problems lie.
This Summer we bought in 1 goalkeeper, 1 attacker, 2 midfielders and 3 defenders. Almost a whole new back four.
And so far only Digne has had a few minutes.
Solid defenses take time to build and coach. But he knows it's an issue.
Gordon White
32
Posted 25/08/2018 at 22:18:57
Overall a lot of positives. The Cherries are playing really well, with confidence, under a good manager. So a draw away there is a respectable result in current circumstances, particularly with one less player for part of the game.

Really pleased how we reacted when Richarlison went off. Both goals were good. Immediately after the second, I could see us scoring more. However, the gloss was taken off with the Keane injury and a number of poor displays.

I thought Baines had a poor day at the office. And Coleman, who also had some heavy touches in the previous game. Davies was ineffective at best. For a team with top 6 aspirations he's just not good enough. And I'm afraid the same goes for Baines at this stage in his career. Silva was right - we shouldn't have surrendered a 2-goal lead.

But everytime the opposition comes at us, I fear the worst. A bit like under Martinez. I hope Digne, Mina and Zouma can help change this. In the meantime, we remain unbeaten.
Jim Bennings
33
Posted 25/08/2018 at 22:19:24
The only thing I'd say Silva could have done at 2-0 with 20 minutes remaining would have been to shore it up with bringing Zouma on possibly for Davies or for Tosun and just left Walcott up on the halfway line as the forward.
That's my only real slight criticism of the manager today and hopefully he learns quickly because he will know better than anyone that modern day football is a unforgiving business.
Gordon White
34
Posted 25/08/2018 at 22:32:13
Here we go again. Blaming the manager, blaming the ref. It was the players! Or at least some of then.
What were Richarlison and Baines thinking of? And who's that guy masquerading as Coleman with the lead boots?
David Pearl
35
Posted 25/08/2018 at 22:33:34
I'd've bought Niasse on for Tosun to give them something to worry about and sat deeper.
Definitely, when we conceded the penalty, I'd've gone to a back 3. No idea why I'm sat at home watching on an iPad...
Harvey Miller
36
Posted 25/08/2018 at 23:21:12
We did not win because of:
The Ref: absolutely, the contact was minimal and Smith was provoking and simulating so he should have gone also if anyone.
The Manager: yes, he did not react when we stopped playing after going 0-2 up. Should have put Zouma and Digne in straight away and this is not hindsight as every one of us could see that and said it during the game.
Stupidity: Richarlison really fucked up when he went there to confront that sucker Smith. He should try to concentrate on trying to help the team and while doing that make the boy lose his nerve instead of letting your team down.
The Positives: Quite an achievement to go 0-2 up while your best player (up to this) has been red-carded. Pity it did not last.
John Raftery
37
Posted 26/08/2018 at 00:28:26
The team played with less intensity once we went 2-0 up. We have won three away matches in nineteen months. Given our obvious defensive weaknesses, our inability to control central midfield and the fixtures over the next few months it is hard to see where we will get our next away win.
Not for the first time we overdid passing the ball back to Pickford. When we have comfortable possession inside the opposition half we should continue moving the ball forward not working it back to the keeper who has no option but to kick it long giving opponents at least a 50% chance of regaining possession.

Bill Gienapp
38
Posted 26/08/2018 at 00:32:44
Loving the Silva era so far – we've probably had more excitement and drama (both good and bad) in these first three matches than all of last season combined.
My only frustration – as cited by Derek (2) and James (29) – is that we didn't make those defensive adjustments to see out the win. I'm not sure why it's so difficult to strike a pragmatic balance between attacking and defending. It always seems like we either have Martinez swinging recklessly from the chandelier, or Allardyce sucking all the oxygen out of the stadium by parking the bus in the tunnel before the match.
Kieran Kinsella
39
Posted 26/08/2018 at 00:40:00
I had a feeling we would blow it at 2-0. The first red card seemed to kick us into gear, 2-0 seemed to make the players feel it was "job done." Little bit frustrating but give some credit to our opponents.
Peter Barry
40
Posted 26/08/2018 at 00:43:54
The Ref realized that Smith had conned him with the non existent 'head butt' so took the first opportunity to send him off to as punishment.
Pete Clarke
41
Posted 26/08/2018 at 01:44:35
A game of the good the bad and the ugly.
Defensively we are still very weak because they had two one on one opportunities early on too which coupled with our red card could have seen the game done for us.
We are definitely being a bit more attack minded with some nice interchanges but overall we still lack quality. Hopefully our new recruits will bring that quality.
Lots of things for Silva to think about including his own way of defending because we played Bournemouth yesterday who without any stand out players, gave us a hard game.
George Cumiskey
42
Posted 26/08/2018 at 02:23:56
I agree with John Keating, Silva made the wrong choices to win this match; taking off Walcott was the biggest mistake for me. He was our only out ball and having a good game.
Bringing on Calvert-Lewin to do absolutely nothing is always a mystery and though I like Davies, he was having a poor game today and should've come off.
And those saying Sigurdsson was MotM, well I can only shake my head.
Simon Smith
43
Posted 26/08/2018 at 05:08:43
My view is that the blame lies at Silva.
I'm a fan of the new gaffa, but fact is when ya team get 2-0 up after playing with 10 men they need help from the line.
A Mourinho or a Benitez would have brought on Zouma, gone 5 across the back and seen out the game.
Niasse or Calvert-Lewin for Tosun, or even Walcott up top for legs, but he had to do something before conceding 2 goals. His naivety was our downfall today, but he's young and will hopefully learn from today.
Richarlison isn't completely blameless that much is clear, but the team done what was needed, the manager did not.
Darren Hind
44
Posted 26/08/2018 at 05:41:59
The only way Davey Moyes should ever get inside Goodson again is if he buys a ticket.
People confuse defending in numbers with good defending. They are two entirely different things. To defend in numbers you have to sacrifice your own ambition, your own threat. Its looks to me like Silva is not prepared to make that sacrifice.
Steve ferns wrote so much about Silva it'd take about 20 years to find out if he was right or not, but he was most definitely right about one thing. He said we would love this guy and although the romance is still in it's early stages, there has been much, very much, to like.
When we went down to ten men at Wolves and Bournemouth. Moyes, Allardyce and Koeman would all have shut up shop and defended in numbers. We'd have gotten a 0-0 draw, or conceded a late sickener. This fella surprises the opposition by attacking in numbers. both our centre backs were right under their crossbar for our second.
Can Silva sort out the defence ? I don't know
Will we concede by pushing men up the park in pursuit of goals ? Yes we will.
Will the goals we concede cancel out all the good work we've done going forward ? We cant rule that out o the Evidence so far
By all means be critical, that's your duty as an Evertonian and It's ok to moan like fuck when the anger of losing a two goal lead boils over, but please: Lets not start calling for the return of the likes of Moyes and the anti football defending in numbers represents.
Enjoy the fact that your heart is pumping again.
David Barks
45
Posted 26/08/2018 at 05:50:40
Well said Darren.
Chris James
46
Posted 26/08/2018 at 06:13:50
Another honest appraisal and I'm sure he'll be taking some of the rap himself. Disappointed to have dropped 2 points here from the position we were in (I think Wolves was a different matter entirely) and yes a defensive change 'could' have made the difference - but as we've seen in previous seasons, playing more defensive players doesn't guarantee clean sheets - how long have we played a back 4 and 2 x DMs?
With 3 new defenders to work their way in (plus Holgate showing well and Keane certainly 'improved') I feel we'll get things right there sooner rather than later, the main thing for me is the performance at the other end. We're creating genuine chances every match, have put 6 goals away without the lead striker scoring and netted 2 today when our new golden boy was off the pitch. We finally look like a team that can cause problems for defence in a variety of ways - some smart passing from midfield, running at defence with pace, using the flanks or direct to a strong target man.
If we're to take some inspiration from across the park, surely scoring goals regularly is the first priority if we really want to challenge the big boys?
Ernie Baywood
47
Posted 26/08/2018 at 06:41:02
The games have been good to watch.
That's a start! We've got 5 points from 9 after two away games... I mean if we'd scraped another win that would be 7 from 9 and we'd be over the moon with that start wouldn't we?
So let's not get too down. It feels like we lost 4 points in the away games but at least we're playing in such a way that we feel we should be winning away games!!!
So I'll give Marco a pass grade at the moment. The big concern is the defence but, then, he's only been here 5 minutes and has already brought in 3 new defenders to the club. At least it looks like he knows it's a problem too!
Stay positive Blues. There's plenty of reason for caution but also plenty for optimism.
Paul Tran
48
Posted 26/08/2018 at 07:15:41
That's a good point, Darren, and I'll build on it by reminding everyone that for every backs to the wall 1-0 win over a top side at Goodison under Moyes, there were three 1-1 draws against mid table sides who equalised late while we were 'closing out' the game.
Yesterday's goals were down to lack of concentration and poor defending, which happen regardless of 'system'.
It's thirty odd years since we've had a defence I could completely trust. I'm not calling out any manager after three games.
Kase Chow
49
Posted 26/08/2018 at 08:34:55
It's going to take a while for the manager to implement all his ideas. And remember, he's not the finished product himself yet either so those ideas need to evolve
3 matches in and I'm ecstatic
We're showing attack mindedness, amazing team spirit (I assure you we would have lost to both Wolves and Bournemouth last season in those circumstances) and we have a sense of togetherness and optimism. We're disappointed because we know we could have got more. Last season we were disappointed because we were always rubbish
3 games in and there's much to praise. Lest we forget it's such early doors for Silva and hopefully he's here for a few years
Martin Berry
50
Posted 26/08/2018 at 08:35:24
Although disappointing that we lost two points again from a winning position, we will learn from it.
We have good if not better defenders to come in soon; also, the addition of Gomes in midfield could transform the team.
Sandra Bowen
51
Posted 26/08/2018 at 08:47:25
Nothing more than stupidity as far as I'm concerned. Why Baines makes that challenge is beyond me, as many have said, not much the manager can do about those brain farts from players. Completely gave the initiative to Bournemouth and so frustrating from an expernced pro.
Much better going forward. Genuine threat from our attacking players, feeling a bit for Tosun as he's now had about 120 mins playing on his own and sacrificing himself from getting into better positions to score himself. Hope he bags a couple soon as he's been doing lots of positive stuff.
Win the next two home games and these draws will hopefully be forgotten and seen as decent points.
Jim Harrison
52
Posted 26/08/2018 at 09:00:42
Moyes's credibility on defending got blown away by his stunts at West Ham and Sunderland.
Yesterday, we were let down by two stupid mistakes... Richarlison and Baines.
John G Davies
53
Posted 26/08/2018 at 09:05:21
Well said Darren, good post.
How's your head this morning?
Paul Kelly
54
Posted 26/08/2018 at 09:45:26
Sorry Darren Hind, but I can't agree.
Moyes should only be let in Goodison if he has Ron Jeremy poking his member in one ear and out the other in the centre circle before kick off whilst the crowd do a minutes applause.
The rest of the post is boss, la!
Dave Williams
55
Posted 26/08/2018 at 11:41:41
Disappointing of course but this season will be a steep learning curve for Silva with many ups and downs I suspect. Next season is the one when we should expect the team to be sorted, comfortable with the new style of play, bad influences gone, veterans gone and the defence a completely different animal.
Yesterday we had poor performances from Coleman (hasn't been the same since his injury in my opinion), Baines (how often does the attacker get in front of him in the box leading to a penalty or goal), Davies, Richarlison and Holgate was a bit shaky. Given that and down to ten men we did well albeit it could have been even better.
Tom seemed to miss Morgan, I thought Keane played well again, Siggy and Theo are class acts and Tosun is showing what a good CF he is. Richi seemed frustrated to me that he wasn't in the game and allowed his frustration to boil over – he will learn.
For me Digne has to play. Baines looks good on the ball but defensively he is too vulnerable now and Digne is bigger and stronger. We will see Zouma this week and Bernard with the injuries and suspension and I just hope we don't see Jags reappear next Saturday when I am travelling for my first game of the season with the West Country Blues!
Seamus worries me – is it the effect of his terrible injury or is he just struggling to hit form? He hasn't been his consistent best so far this season and if he gets back to that level then he and Theo will be dynamite down the right.
Lots to be optimistic about but please stop slagging off the kids. If the back four and Gana are struggling then Tom is bound to as well. Some on the live forum started on Calvert-Lewin before he set foot on the pitch – this is lunacy. Some fans were like that with the young Graeme Sharp and look how he turned out!
A 21-year-old centre-forward is not going to stand out coming on with ten minutes left with a man down but he puts in the effort and will become a top striker in my opinion. Give these lads a chance!
Brian Harrison
56
Posted 26/08/2018 at 12:07:04
I am sure Silva is as disappointed as any of us after surrendering a 2-goal lead made even more galling by the fact that we took the lead with ten men. But its early days in his tenure and lets remember it has taken the manager of our neighbours more than 3 seasons to correct their defensive frailties. I like Silva a lot and wanted him when we approached Watford but had to endure Allardyce till we could finally get him.
I can't remember when we have scored 2 goals in our opening 3 games with 2 of them being away. But I am sure one of our stats boys will soon tell me. I would also say remember last season when most of us said we just want to see an Everton team go out and try and win games especially away. Well you may criticize Silva for some things but he has certainly sent this team out to win every game home or away.
I think we also have to take on board he has brought in 3 defenders, so it didn't take him long to see were the frailties were in the team. But so far has not been able to start them because of injury, but hopefully in the coming weeks we will see his signings have an impact on the team. I know patience isn't something fans like to hear but let's give this man time, and I believe it will pay dividends. Most thought getting into the top 6 in his first season would be difficult, but I don't think he will be far off.
Gerard McKean
57
Posted 26/08/2018 at 13:35:06
Very good posts, Don #26 and Darren #44. Some folk have short memories.
Dave Abrahams
58
Posted 26/08/2018 at 14:13:58
I agree that the team should get better when the new signings come in and get used to the way Silva wants the whole team to play.
The big worry for me is: Is there a leader among the new men? Not just a captain but a player who can shout and instruct and liven up the team, make them aware that we are going to sleep etc. We certainly needed someone on the field like that yesterday, especially in the last 20 minutes or so
Stephen McNally
59
Posted 26/08/2018 at 14:16:59
Long may the Silva era endure. Silva, has been a breath of fresh air after stints from Koeman and Allardyce. In a short time, most of the deadwood has been shifted out of the club, with what appears to be a number of quality signings still to add their qualities to the team.
The biggest difference I've noticed, is how he is getting so much more from the players he inherited (apart from Richarlison) which is a sign of an excellent man manager. Silva, appears to have created a new spirit within the squad and with everyone available to choose from, I can see a marked improvement in a very short space of time which bodes well for the future. Onwards and upwards.
Danny Baily
60
Posted 26/08/2018 at 16:45:55
Circumstances aside, a draw away from home is a good result. Just a shame about the injury and suspension.
Steavey Buckley
61
Posted 26/08/2018 at 16:54:32
Silva is the 5th manager in as many years who doesn't know how to set up a defence that does not concede goals so lightly. Once the ball goes into the Everton penalty area, all hell breaks out. Premier League teams will be well and truly aware of this. They just need be patient and the goals will come for them.
David Barks
62
Posted 26/08/2018 at 17:04:42
Give it a rest Steavey. Honestly, we've played 2 of our 3 games with 10 men so far. 1 of our goals conceded from a penalty that was from a clumsy foul while under no real threat, just a hopeless ball into the box.
Another goal was from a free kick that was set up by Jags simply losing concentration when receiving a pass and then getting sent off. The free kick taken more than 5 yards closer than it should have been.
Watching Fulham vs Burnley, it's 3-2 Fulham at the half. A whole lot of man marking from set pieces, yet 5 goals in the first half alone, with the defensive Burnley being victims 3 times.
People act as if everyone else is keeping clean sheets. And also failing to see how we are threatening the opponent's goal far more. Chances are created in every game. The defense are still learning just as the rest of the team is. It's been three games with a different lineup in each game due to injury and suspension, with the new defenders not even brought into the team yet. Do ya think there might be a reason we signed three defenders in the window?
Jay Wood
[BRZ]
63
Posted 26/08/2018 at 17:18:14
Blimey, Steavey Buckley.
You do come up with some warped observations.
Everton's defence seems to be your current bone to gnaw over.
As others have already pointed out, the signings of Mina and Kouma came too late to be included for the opening game against Wolves. Mina is carrying an injury. For all those calling for Digne, Baines has started the season well and is not ready for early retirement as some are lobbying for.
Silva is but three competitive games into his managerial reign at Everton, has not yet had a full defensive selection to choose from, but already you are calling him out as 'the 5th manager in as many years who don't know how to set up a defence that does not concede goals so lightly.'
If this is still the situation come - say, the end of October - then you may have a case. But how about paraphrasing and applying to Silva and Everton's defence the advice and encouragement you offer opposition teams: 'just be patient and the goals against will dry up [as the team and defence improve under Silva's tutelage].
As for your suggestion of recruiting Moyes as our defensive coach, d'ya really not know yer 'istory? Moyes should never ever be employed in any capacity at the club again, given his comments and conduct towards the club in the wake of his move to United.
And I rather fancy the role is already taken by one, or many, of Silva's coaching staff.
Steavey Buckley
64
Posted 26/08/2018 at 17:29:52
Jay, I am watching the Newcastle v Chelsea game. For all of Newcastle's deficiencies, they know how to defend, as they are being outplayed. Yet, Newcastle have spent far less money than Everton on players. But for 5 seasons Everton have not been able to defend properly with all the money spent.
In all other sports, defending is most important. But at Everton it is treated as an occupational hazard, as a new season takes place with the same defensive problems of panicking whenever a ball is put into the Everton penalty area. So unless you have a solution, please don't have a go at me, just send your comments to EFC.
Brent Stephens
65
Posted 26/08/2018 at 17:40:33
It's depressing to see the knives out already for the new manager, after only 3 league games, 2 away from home, and twice involving periods being one man down. Some just can't wait (and I guess some are waiting for their moment). You don't have to be "ecstatically applauding". Just give the guy time, including the time to even start the new signings let alone bed them in.

David Barks
66
Posted 26/08/2018 at 17:41:03
Steavey,
Because Newcastle have set up to do nothing but defend!! Are you serious, you want that at Everton again? We just got rid of that with Allardyce, defend defend defend.
It does nothing but mire a club in the depths of the alsorans, mid table to lower table mediocrity and a bunch of "close" 1-0 defeats. Newcastle never even tried to win, just as they did against City last season while only having 19% possession.
Sorry, I'll take going to the win over 19% possession and losing 1-0 every single day of the week. You can go support Benitez if that's what you want to see. Enjoy, if you can stay awake long enough to see the inevitable conceded goal.
Steavey Buckley
67
Posted 26/08/2018 at 17:52:37
What is the point of spending huge amounts of cash on players when Everton cannot go away to the top 6 and get a draw or win, because Everton can't defend properly? It is a form of madness that has descended on this great club of ours, because Everton managers cannot fathom out who and what is wrong with the defence.
Brent Stephens
68
Posted 26/08/2018 at 17:56:37
"What is the point of spending huge amounts of cash on players when Everton cannot go away to the top 6 and get a draw or win".
A bit premature there, aren't you, Steavey? The defenders we've just splashed the cash on haven't started yet. And we haven't played any of the top 6 yet.
As I say, some just can't wait to stick the knife into Silva.
Richard Duff
69
Posted 26/08/2018 at 17:57:51
Hi All, first time poster,
I watched the game yesterday and clearly Bournemouth should have been one up through Wilson when he skied a clear one over and that came from Leighton's lack of pace and Coleman being dragged across. Allied to Keane being slow turning right to left, it was clear Howe had targetted the over-the-top into the channel between Keane and Baines as the main avenue. This was seen again in the 2nd half for the Wilson one-on-one and then the penalty.
Wolves did similar and to me it's clear that speed and turning ability are a liability for us. Unfortunately, we will now see a change due to Keane's injury but it will at least negate a deficiency that, if I was still playing, would be my target. Get well soon, Mike.
In the other half, we were busy and had good possession but lacking a target. I like Cenk but he doesn't worry defenders like a true centre-forward would. He's a 7 out of 10 but to get an 8 will cost £50M so let's stick by him and see what he can produce as the front quartet bed in. Bernard will have to get used to the pace and power quickly and I don't see him doing so until November.
Finally, Charlie's red exemplifies what I hate about modern football. Playacting and refs who have never played. Once upon a time, Smith would have been ticked of by his own captain.
I am so happy compared to last season and wish all fellow Blues an exciting season.
David Barks
70
Posted 26/08/2018 at 17:58:13
Your Newcastle lost Steavey. Did nothing but defend, 17% possession at home, and lost while conceding 2 goals.
Let's try this again to see if it penetrates that skull of yours. SILVA HAS BEEN IN CONTROL FOR 3 GAMES AND HAS NOT BROUGHT ANY OF THE THREE NEW DEFENDERS INTO THE TEAM.
You act as if everyone else has been defensive stalwarts. They haven't. The team is learning the new tactics and the manager is learning about the players. It's been individual mistakes that have cost us goals. Meanwhile we are a threat to win every game. The days of going to the "top 6" to defend for 90 minutes and hope for a 0-0 point are hopefully dead and buried.
John G Davies
71
Posted 26/08/2018 at 17:59:13
Steavey,
Come on lad, it's the third game into Silva's reign. Give him a chance.
Jay Wood
[BRZ]
72
Posted 26/08/2018 at 18:00:35
Steavey, you say you are watching the Newcastle game and flagging them up as a defensive model we should imitate.
You'll be able to tell me then that they kept a clean sheet and got at least a draw out of the game then, no?
Steavey Buckley
73
Posted 26/08/2018 at 18:02:47
Newcastle is not my team, I just have the privilege of watching it on sky in my home because I pay for it. Yet, Newcastle have spent little or nothing on new players this season so can have excuses, but Everton can't.
Brent Stephens
74
Posted 26/08/2018 at 18:05:31
"Newcastle have spent little or nothing on new players this season so can have excuses, but Everton can't".
That's staggeringly stupid! Everton have spent on defenders WHO HAVE NOT YET PLAYED! HOW FUCKING...[Don't want to get banned].
Steavey Buckley
75
Posted 26/08/2018 at 18:09:27
John, I am happy to give any new manager the benefit of the doubt when blending new players into the team. But Everton began the new season, not with new players, except for Richarlison, but the same players that supporters could not applaud at the end of the last home game last season.
Lawrence Green
76
Posted 26/08/2018 at 18:11:54
I think we all agree that last season was a complete write-off from beginning to end, if we defended resolutely we failed to trouble the opposition keeper on too many occasions. If we tried to play expansively, particularly at the homes of the top clubs we got our arses kicked.
I don't know how we'll fare at those grounds this season or indeed in most matches we play home and away against any team. What I do know is that we are far more fun to watch and that is a start, but I also agree that conceding too many goals too often has to be stopped as soon as possible, for everybody's sakes and not just Silva's.
Remember Baines and Jags are likely in their final season wearing a blue shirt, Coleman may not be as suited to Silva's tactics but I suspect that yesterday's below par performance from him was probably down to that heavy challenge he received when he should have won a penalty. We do have new players to come into the team at some point and we have to hope that they are capable of improving the defence.
Many of us have become accustomed to finding fault and highlighting the flaws in our players and team, but I honestly believe that if Silva doesn't put us on the right road in the next twelve months we will probably have to give up hope of Everton ever achieving anything of note in the next few years.
The sooner the decision is taken about the new stadium and the quicker that Silva solves the defensive conundrum whilst maintaining the attacking intent the better.
Brent Stephens
77
Posted 26/08/2018 at 18:12:13
So now it's changed from no excuse as we played newly-signed defenders, to no excuse as we played defenders who were already with us.
Couldn't make it up.
Steavey Buckley
78
Posted 26/08/2018 at 18:14:15
Brent, are you a fortune teller that knows how Everton are going to defend when all players are fit? The season has already started with the same defensive deficiencies as last. So nothing at this moment has changed.
David Barks
79
Posted 26/08/2018 at 18:19:01
Steavey,
Last season the issue was goals, not conceded but our dreadful lack of scoring them ourselves. This season we've scored 2 in each of the 3 matches, 4 of those goals while playing with 10 men. No changes, eh?
And please try to answer this, but think about it before you start typing: Why do you think Brands and Silva signed 3 defensive players this Summer? Maybe because they all knew that the players that were already here are not good enough, no?
Brent Stephens
80
Posted 26/08/2018 at 18:20:55
Steavey "Brent, are you a fortune teller that knows how Everton are going to defend when all players are fit?"
Steavey "What is the point of spending huge amounts of cash on players when Everton cannot go away to the top 6 and get a draw or win".
As we haven't yet played any of the top 6 this season, methinks you're dabbling with a bit of fortune telling.
Steavey Buckley
81
Posted 26/08/2018 at 18:22:11
David, Digne has not started a match even though Baines is a defensive liability. So what's wrong with him?
Nicholas Ryan
82
Posted 26/08/2018 at 18:23:51
Okay, it's not perfect; okay, there have been mistakes, but the following, are indisputable facts:
1. We are unbeaten after 3 games.
2. We have scored (twice) in each of those games.
3. We have won our [1] home game, and drawn our [2] away games – usually considered a recipe for success.
A point at Wolves should be considered hard-won and valuable – ask Pep Guardiola!
A point at Bournemouth, likewise; they were top of the league, for a few hours, on Saturday.
We are still very much a work in progress, but even the worst Silva-doubters (of which, there are, alarmingly many) must surely admit, that progress IS being made.
David Barks
83
Posted 26/08/2018 at 18:27:38
He's only been here a month, Steavey! He only just joined! It is fairly customary for a new signing from a different league that only joined the club the week before the season to not immediately be thrust into the lineup. Also, he picked up a knock after the first game and wasn't available the second week.
Richard Duff
84
Posted 26/08/2018 at 18:30:06
Also, Walcott is not strong enough in the breakdown so don't expect him to be holding up the opposition. Get him on the three-quarter facing the opposition goal, backed up by Coleman.
Brent Stephens
85
Posted 26/08/2018 at 18:30:08
Steavey, I apologise for calling your argument 'stupid'.
Dave Abrahams
88
Posted 26/08/2018 at 18:51:20
Brent (74) tut, tut, tut, wash your mouth out with soap, and on a Sunday, is there no end to your evilness.
Brent Stephens
89
Posted 26/08/2018 at 18:52:48
Thank you, Dave. A gentleman to the end.
Dan Davies
90
Posted 26/08/2018 at 18:57:23
I'm agreeing with Mr Barks first post, makes sense to me.
The captaincy is getting thrown about a bit mind.
Who should be our long-term captain?
Obviously not Jagielka or Baines.
Brent Stephens
91
Posted 26/08/2018 at 18:58:32
PS, Dave. I forget to say how I liked your story (The Lads in the Royal Blue Jersey thread) about your mam and Dixie Dean. Put you in yer place!
Dave Abrahams
92
Posted 26/08/2018 at 19:07:34
Brent (#91), if me mam was alive now and read that, she'd be around to see you and put you in your place. Mind you, Formby is a bit rough for me mam.
Len Hawkins
93
Posted 26/08/2018 at 19:20:28
Perhaps Steavey can recite the prematch talks from Silva especially the bit where he tells Jagielka at Watford and Richarlison yesterday to get themselves sent off.
Brent Stephens
94
Posted 26/08/2018 at 19:34:32
Formby was rough until Gerrard left for Rnagers, Dave. House prices have doubled since.
Dave Abrahams
95
Posted 26/08/2018 at 20:14:52
Brent (94), the prices will come tumbling down when people find out you live there.
Brent Stephens
96
Posted 26/08/2018 at 20:25:27
You b... Abrahams. And there's me thinking you're a gentleman.
Dave Abrahams
97
Posted 26/08/2018 at 20:30:00
Brent ( 96), I usually am the perfect gent, it's you, you bring out the worst in me with your constant provocation.
Dave Lynch
98
Posted 26/08/2018 at 20:34:02
I'd personally give the captaincy to new blood.
Gomes looks a bit of a snarler, it can't be any worse.
Raymond Fox
99
Posted 26/08/2018 at 20:46:07
We can't have it both ways; if you commit to an 'up and at um' style and push more players in the opposition half your going to concede more goals.
It's a trade-off and in the end it comes down to results; if the team is not good enough overall to play that way, you have to sign better players or change back to play more defensive.
All defenders make mistakes; you're going to get them every week if you want to be hyper-critical, it ain't easy.
John Pierce
100
Posted 26/08/2018 at 21:47:21
Silva is a coach who is attack minded, sets a team up to win and even with ten men shows intent.
We have begged for that for years. One Martinez season aside we've scrapped of crumbs of joy.
Football like this is current in fashion the attack is dominating the defence and the way the game is referees is also reflected in that.
Whilst defensive improvement is necessary, Silva firmly believes that attacking a side a scoring nullifies defending like 'the 300' against wave after wave.
I happen to agree with his view, had Everton taken their chances in the first three games we would not be as occupied with the defending.
As for Saturday I think he did stop attacking Bournemouth when we scored the second. Whether the team needed a breather or as I believe he failed to make changes to keep the momentum going and kill Bournemouth off.
They did have 10 too. But overall you can see the changes, see the style, players in the main enjoy executing the game plan.
Despite the drama, enjoyed nearly every minute of that game.
Neil Carter
101
Posted 26/08/2018 at 22:49:21
Frustrating after doing well to take the lead a man down.
Still much better than last season and a positive start.
Chance for the new boys to show us what they can bring.
Also chance for Holgate to raise his game and establish himself.
Lookman should now be given his chance too.
John Keating
102
Posted 26/08/2018 at 22:55:49
Raymond @99,
I think you can have it both ways. Unfortunately, and I hate to say this, but our close neighbours seem to be getting awfully close to proving that. Admittedly it has cost them millions but scarily after a few seasons they seem to be getting that balance.
My team were Catterick's early '60s team which were balanced and later obviously the Kendall '80s lads.
Silva needs to be given time and Moshiri's resources, however, although he has got 100% more from the players who were a disgrace last season attacking wise, he appears to have neglected the defensive side with last season's players.
Once his signings replace the old guard, hopefully we will see more of this balance but up to today we really are a shambles at the back.
Jeff Armstrong
103
Posted 26/08/2018 at 23:21:07
I don't believe Silva is attack-minded by any stretch of any imagination. Admittedly, he is a major upgrade attacking-like than Koeman or Allardyce, but that's not difficult, is it?
He has 11 back for all corners, then employs zonal marking, wtf... leave and Richarlison on the half-way line for corners, at least it's saying "Yeah I'm defensive, but I'll destroy you from corners," but no he just says "I'm scared, negative and defensive even from corners with these two in my team,"
Soz, just at corners I see a defensive coach, so does everyone else...
David Barks
104
Posted 26/08/2018 at 23:35:50
Hey Jeff,
Guardiola has all 11 men back when defending corners. Such a negative, scared manager is that Pep.
They also employ zonal marking. All 11 men back, zonal marking, Pep Guardiola. WTF indeed Jeff.
Lawrence Green
105
Posted 26/08/2018 at 23:48:43
Admittedly I do find it puzzling why so many managers have all eleven players back for corners, but having thought about it, if you want your team to be counter-attacking you would want as few opponents between the half-way line and your own penalty area as possible, so that if you do win the ball back you can play through their defence more easily.
What we desperately need as Andy C mentions in the piece linked below is a real leader on the pitch, someone who can make the right calls with the blessing of the boss.
David Barks
106
Posted 26/08/2018 at 23:59:23
The strategy around having all 11 men back at corners and counter attacking is that you have a flood of players breaking forward on both sides of the pitch. The defense can't just focus on one or two players that are standing 40 yards up field to try to receive a ball pumped up to them.
The idea is to quickly transition into attack, playing the ball in front of the player so he can run onto it instead of having to stand and fight off1-2 defenders. The idea is to create confusion for the team now on defense because they see multiple players getting forward, can't plan for which player will receive the ball, and can't just wrestle with an isolated man up top to send a headed ball right back toward our goal.
Karl Meighan
107
Posted 27/08/2018 at 02:20:31
I'm happy with the start, unbeaten if it stays this way and we get on a little run it can only breed confidence.
It was a mistake from Baines but many times has he come around the back in a similar position and cleared danger, the goal from the corner is another poor one to concede, Davies constantly loses his man at corners ends up standing in space whilst it's being put in the net. He has to learn to be stronger at set pieces Silva may be playing Zonal but men still need picking up close to goal, it's just unfortunate that a loss of concentration at set pieces is costing us.
Scoring goals... players to come in... lots to be positive about for the season ahead.
Victor Yu
108
Posted 27/08/2018 at 04:19:51
I know Keane scored and picked up an unfortunately injury. But to me he is not good enough.
He is so slow that he is getting exploit in counter attacks very often. He is a traditional CB who is very good in the air. But that's about the only thing he is good at. Soccer has changed and CB has evolved. If he gets beaten by average strikers so easily, imaging how Lukaku, Aguero, etc will exploit him.
I hope Holgate, Mina, and Zouma can carry us this season. Relying on Keane and Jags will drag our level down for sure.
John G Davies
109
Posted 27/08/2018 at 07:34:31
David @106,
City do bring eleven men back when defending a corner; Liverpool do it as well. When they do it, it is an attacking tactic; when we do it, it is defensive. We are informed, using coaching manual phrases, "Ah but City are on the half turn when defending corners" etc etc.
Victor, I agree re Keane. He will not be in the first choice eleven when we have a fully fit squad.
Len Hawkins
110
Posted 27/08/2018 at 11:27:54
Jeff #103
Can you lip read as you seem to know everything Silva says, I hope he covers his mouth when he talks about you. So that's Silva AND Guardiola not good enough for Everton are you one that wanted a really strong manager like Pellegrini or Dyche able to prop up the league.
Karen Mason
112
Posted 27/08/2018 at 15:13:26
Gosh, some of you boys have really embraced the 'blame culture,' that sadly exists in our world. Accountability is one thing, but blame is different. Those 'blaming' Silva or Baines or Richarlison or the whole team for an away draw?? Really ???
Can I cast your minds back to last season. It's virtually the same players, but Jesus, boys, if you can't see the improvement what are you looking at? And however good a coach Silva may be, he doesn't have a magic wand. He can't put it ALL right in a matter of a pre-season, carried out without the new signings, and 3 games into a season. Some of you may need to adjust your expectations or you will be constantly disappointed.
There was soooo much work to do with this squad and there is a marked improvement in the first 3 games. Shouldn't EVERY Blue give credit where credit is due and not be so quick to criticise your own team and manager?
To those who have been quick on the trigger to launch critical attacks based on the first 3 games... look up the definition of Support and see if you fit the bill. If you don't, may I suggest that you don't call yourself an Evertonian.
John G Davies
113
Posted 27/08/2018 at 15:21:07
Karen,
Well said. Great post.
Andrew Ellams
114
Posted 27/08/2018 at 15:27:24
Jeff @103 the cold hard fact is that right now we are not good enough defensively to be an attacking team. We need pragmatism until we are. Hopefully when all the new players, particularly the defensive ones, are fully integrated into the team that will strengthen us enough to allow a bit more attacking freedom.
Andy Williams
115
Posted 27/08/2018 at 15:37:36
Is right Karen. Can you just repost that comment on every thread until any real criticism is warranted.
Justin Doone
117
Posted 27/08/2018 at 15:46:20
The turnaround in play from last season is massive. Silva has done tremendously well in a short time frame as I suggested and hoped he would in bringing exciting and entertaining football.
I hope there is no sudden drop off with suspension to our key player and a fair few other injuries. It will be interesting to see how we do without Ricy.
Silva played a huge part in bringing Ricy and a few other highly rated players to the club which should ensure we challenge upwards and not be in a relegation battle.
However Silva also needs to improve and adapt to the situation on the pitch otherwise he's simply another gung-ho Martinez manager who refuses to kill off games.
After the last few years I'm more than happy with that. I'll take goals, entertainment and top 10 now. However more than a few fans wrongly think we should be title contenders which I find ridiculous.
We all need to stick together and keep improving, players, coaches, fans and owners. When the tough times come we need to show support and encouragement and not return to the negative / silence of the last few years because we could easily go back to a Sam manager and kill all hope and excitement of what could be.
Other Points:
Did we appeal Jags red card, why not?
Ricy was stupid but we should argue our case of provocation and why was Smith not yellow carded?
We need to be pushy and challenge off the field decisions as well as on it.
Holgate has done well. He needs a top CB partner and that is not Keane if playing a high line.
Dave Abrahams
118
Posted 27/08/2018 at 16:01:45
Good pos Justin (117) pointing out we should all stick together, fans, players and coaches while also making the point of where the team is possibly going wrong.
Zonal marking seems to be causing serious problems at set pieces, and of course Silva may adjust it or get the team to make it work.
Many will feel that, and I'm one of them, the manager should have made his substitutions much earlier than he did.
Both valid points, I would contend, seems to me it is fair to point them out.
David Barks
119
Posted 27/08/2018 at 16:09:17
Karen coming straight from the Trump school of support or you're the enemy. No criticism or else you can't call yourself an Evertonian. Wow. So am I to believe you supported the team and manager the same way last year, never a criticism for Koeman or Allardyce.
Asking for patience and pointing out all the good things being seen so far is one thing. Telling people to look up the definition of support and that they can't call themselves Evertonians? Okay. Sorry, this site must have been filled with reds all last season then as we all saw plenty to complain about.
Dan Davies
120
Posted 27/08/2018 at 16:10:09
Karen @112, well said. This culture of everybody wanting something NOW rather than working hard to get it is seeping in even on TW!
John G Davies
121
Posted 27/08/2018 at 16:20:03
Present tense David
Karen Mason
122
Posted 27/08/2018 at 18:28:41
Hi David #119.
I didn't state that supporters should never criticise. Do you think a proper supporter can justify launching very negative criticism at a team with a new manager only a matter of weeks in, new players only just signed, & generally a whole new set up at the club, as fair and decent? If so, I wouldn't like to be in any team under your stewardship.
Should a new manager & his players, existing & new, not be given at least a fair crack before their own supporters start raining criticisms down at them?
I believe that CONSTRUCTIVE criticism can be used in a positive way. I don't believe that slating players & manager before they have even been given a fair chance is just, or advantageous to anyone connected to the club.
Jim Bailey
123
Posted 27/08/2018 at 18:41:19
Karen@112,couldn't agree more.Unfortunately there will always be people to dissect an opposite or different opinion and make it about them,or to goad others into a pointless argument as to who is or has been right.
Stick to your guns,I'm sure more will agree with you than not.

Barry Connor
124
Posted 27/08/2018 at 18:48:46
We are fortunate that the Rotherham League Cup encounter counts as one of Richarlison's 3 suspended games as he is undoubtedly a player who strikes fear in the minds of any defence he plays against and so we need him back for Premier League games a.s.a.p.
It is a fact that however well Holgate and Keane have played against Wolves, Southampton and Bournemouth, they will struggle against the likes of Man City, Chelsea, RS etc. so the sooner Zouma and Mina are 'bedded in' the better for our prospects of handling the threats which will come from the 'Top 6' clubs.
David Barks
125
Posted 27/08/2018 at 19:00:02
No Karen,
If you scroll up or see other threads you'll see that I've been saying repeatedly that the signs are positive, this season is about implementing change and that patience is the most important thing for us this year. Also have repeatedly told others that the manager hasn't even had a chance to bring in the new defenders, which he and Brands obviously targeted because they knew that the defense needs a massive overhaul.
My issue is throwing in the line about people not being Evertonians. Put that to rest. Disagree with them, correct the hyperbole and overreaction, etc. But just leave the stuff about being a proper supporter and Evertonian out of it.
Derek Taylor
126
Posted 27/08/2018 at 19:01:32
As one of those apparent 'non' Evertonians who dared to express a degree of criticism of Silva's handling of the Bournemouth game once we went 2-0 up, I should be grateful if Bossy Boots Karen would let me know precisely when I can pass critical comment about our new manager? After nearly half a century following our team, I'm anxious not to be seen as no longer an Evertonian!
Darren Hind
127
Posted 27/08/2018 at 19:04:28
Karen
Sorry girl, but that's just nonsense. You want every blue to give "credit where credit is due" after just three games, but you think those who criticise the shortcoming after the same three games shouldn't call themselves Evertonians ? You are joking right ? do you see any flaws in that logic ?
From where I stand Silva has been given all the credit in the world for the good work he does, I've given hi a fair bit myself, but that does not and will not exonerate him for errors which cost us games ?
I know a few would on here will lap up what you said, I could even name them, but when the day arrives where football managers can not be criticised, football debate dies. When football debate dies Football dies too.
This manager may have only been in charge for three league games, but he had another 7-8 pre season games to hammer home his message. For every corner we have faced - every single corner - This manager has dragged the entire team back into our own box. Not the worst crime . . But do you not find it slightly alarming that our eleven players are repeatedly beaten to the ball, by the 5-6 opponents. Near post, far post, under the crossbar, edge of the box. It doesn't matter where it goes our players consistently come second.
We know there has been an improvement certainly in attitude and ambition, but that doesn't mask EVERYTHING.
Much as you may want people to ignore the alarming situation we face with every corner conceded, there are thousands of Evertonians who wont, they see it as their right, their duty to flag it up
If you feel you want to give absolute credit to Silva and ignore our problems that's your choice, but you are fooling yourself by trying to come across all superior to the guy who like to call a spade a spade. The very fact that they are taking the time to post on this website gives them the right to call themselves Evertonians.

John G Davies
128
Posted 27/08/2018 at 19:19:06
"but that does not and will not exonerate him for errors which cost us games"
Errr he hasn't made any errors that cost us games.
A win and two draws. Unless you want to score points by including friendlies.
" But do you not find it slightly alarming that our eleven players are repeatedly beaten to the ball, by the 5-6 opponents. Near post, far post, under the crossbar, edge of the box"
Using that tactical awareness are you suggesting our opponents leave 4/5 men not involved in the corner?
We have eleven in the box they have 4/5 in between the halfway line and the box?
Darren Hind
130
Posted 27/08/2018 at 19:37:12
I would have thought Every Evertonian would have seen the corner at Bournemouth which cost us the game when we had it in the bag.
Even those "zonal advocates" who hilariously spent Saturday evening arguing who should be marking who...
Lev Vellene
132
Posted 27/08/2018 at 19:48:34
Well, Silva fixed the problem of Evertonians dreading to go to the game, or even watching it online!
The defensive problems were so bad these last seasons, that I think most of us can live with those taking some more time to fix. Unless Silva seems like he's doing too good a job at the other end of the pitch, so that we want a walking-on-water solution in defense as a natural follow-up!... Oh, well... ;D
Matthew Williams
133
Posted 27/08/2018 at 19:50:08
Another away draw that feels like a defeat.
Karen Mason
135
Posted 27/08/2018 at 20:07:06
Darren & Derek, Bossy boots here. I do not see that my logic is flawed. Your logic that Silva has cost us games, is of course, complete common sense... not!
As I have said repeatedly, the man cannot waive a magic wand & all problems in attack, midfield & defence can all be cured in a few weeks. Mistakes have been made all over the pitch, not just defence, and at no point in the proceedings have I said, that here in fluffy land, I think everything is perfect.
But, having said that, there are some very promising indicators. On all the coaching & management courses I have attended for both sport & business, no tutor has ever given advice along the lines of, 'As soon as you see one of your team not doing as you think they should, give them a right ol' slagging off immediately & blame them for whatever went wrong.'
I have learned through experience that most people respond better to praise than criticism, and that people should be given time to learn & improve before you wade in with – that's all your fault!!
As another poster has pointed out, Silva has not even had the luxury of the same defenders available to him in 3 games, nor in pre-season as I understand it. So how you expect a perfect performance in these circumstances is beyond me.
We are all entitled to an opinion as to how & why we think things should be done differently on the pitch but, once again, to say that Silva has cost us games, is a very flawed logic, in my view and negative premature criticism.
Once again, as clearly, you have read things between the lines I did not write, I am asking that our supporters give the man a chance. Not sure which part of that you find so distasteful?
Dan Davies
136
Posted 27/08/2018 at 20:28:32
Karen, @ 135, another mature post. Thank you.
Darren Hind
137
Posted 27/08/2018 at 20:29:34
I don't find anything you said distasteful, Karen, All's fair in love and debate, but when you challenge the right for some to call themselves Evertonians because they disagree with you, you will be taken to task.
Silva has consistently and persistently pulled all his players back, it doesn't matter who plays, he still does it. You'll know what they say about the guy who keeps doing the same thing and expecting different results.
I'm happy about things in general this season. I have enjoyed all of the games, but I will continue to criticise the way he sets up his troops for dead ball situations, I felt strongly enough to pen a piece about it on here before Saturday's games.
I don't subscribe to the belief that you can only praise or criticise a manager. Nor that praise can be offered now, but criticism needs to wait a few months. These guys get paid a lot of money and, until they actually win something, every aspect of their management is fair game

Karen Mason
138
Posted 27/08/2018 at 20:41:36
Dave at 125,
Then I applaud your call for patience with our new man. It seems not everyone is prepared to watch and wait before wading in with the boot. I just feel that we, ie, Everton, get a bad deal from many of the pundits & media etc, and it seems really unfair on our new manager and our players who are clearly trying to learn and implement sweeping changes in what they are being asked to do, that they are slated on here by people after a very very very short time.
I suppose with hindsight, I should just let all the negative souls have their say and not waste my energy or time with a post. Lesson learned. We all learn better from our own mistakes do we not?
Karen Mason
139
Posted 27/08/2018 at 20:50:57
Derek at 126,
Bossy boots here again. I have just read your post about Silva again and would say that you just expressed an opinion or perhaps a concern as opposed to slating or outright criticism and laying blame.
My comment was not intended for posts such as yours. I hope that you accept my apology. No offence intended. Oh and yes, you have my permission to make constructive criticism without putting your status as an Evertonian at risk. :-) Bossy? Me? Never!!
Karl Meighan
140
Posted 27/08/2018 at 21:09:58
Never will there be a day or match that fans agree with everything the manager does, there is always improvement the perfect team or match has never been played imo. Nice reading the debates it is and long may it continue.
Lev Vellene
141
Posted 27/08/2018 at 21:20:15
I do think Silva needs to learn how to make substitutions earlier than in the 80th minute, though! If you can only introduce a new player after 80 minutes of stalemate, then you don't expect that player to be involved in anything except being a decoy for those who nearly made it up until then...
Get subs in at 60-70 mins, or don't bother!
Andy Williams
143
Posted 27/08/2018 at 22:41:10
Karen, I couldn't agree more. This is a team adapting to an entirely new system. There will be mistakes and it will not be a quick fix. But of course so many on here obviously know so much better.
They have just decided to take time out from their Premier League management career to moan about young kids who are still learning and have had to deal with at least 3 entirely different styles of football in the last couple of years, or players who keep receiving the plaudits of ex-professionals, the media and most other blues fans.
Ray Robinson
144
Posted 27/08/2018 at 23:13:36
Karen, apart from the questioning the "Evertonian" credibility bit, I also agree with what you are saying. The manager has had three league games to get his ideas across and many of the defenders bought to address defensive problems haven't played much or – at all in some cases.
Of course, some constructive criticism is always allowable but in this case somewhat premature surely? Don't rise to the provocateurs who love to cause an argument at the slightest excuse.
Laurie Hartley
145
Posted 27/08/2018 at 23:26:37
After our pre-season efforts, I have to say I am pleasantly surprised with our performances so far.
From what I have seen (every minute of every game) we are hopeless at defending corners and perhaps the manager has been late with his substitutions, but what I like about this season is that I haven't had that feeling of dread going into games.
That is because our manager has brought about two significant changes to the squad:
1. He has removed the defeatist attitude when things go against us.
2. We are likely to score more than one goal in any game home or away and from several sources.
I do think Mina and Digne will make a big difference to our defence when they become established so until that time we just have to keep scoring goals.
Don Alexander
146
Posted 27/08/2018 at 00:03:45
Well said Karen, a positive voice amid the various negative ones.
That said if by next year we're still conceding soft goals as per the last three matches I'll be posing questions again, of the players, the manager, or both, but as you and many other more sanguine souls have stated Silva needs time and we need to be patient.
And for what it's worth I read your "Evertonian" comments as no way derogatory to other posters. I'm sure you meant that Koppites might be expected to indulge themselves with such immediate criticism of Silva, whereas our fans should support until there's good reason to criticise which after three matches, five points, and a welter of new arrivals to embed is a long way off yet.
Barry Jones
147
Posted 28/08/2018 at 02:16:35
All good teams defend in numbers. They also attack in numbers. They achieve this by keeping the space between the lines to a minimum and moving the team up and down the field as a unit.
Some teams defend in numbers in the opposing half, which is called pressing, others defend in numbers in their own half which is called dropping off. If you don't defend in numbers, you are vulnerable.

Darren Hind
148
Posted 28/08/2018 at 07:29:07
Ray Robinson
You have systematically defended crap manager after crap manager all in the name of "positivity" and you have always been quick to round on anyone who doesn't clap so readilly. Silva has not just started defending corners like this, He's been doing it for years. So please, enough of this "new to the job" nonsense.
In this case IMO, Karen WAS the "provocateur" — I did not see any overly negative posts until she challenged the Evertonian credentials of others for voicing concerns. I personally have only said complimentary things about this new manager until now - see post 44.
Karen knows her stuff. Her posts are noticeable because she is one of the very few women to post on this site. She's as sharp as a knife... But I can't agree that people who criticise the manager should not call themselves Evertonians. just as I don't feel it would be right to tell those who have offered unquestioning blind faith the previous duds not to consider themselves blue.
It's fair to take the short period of time Silva has been here into consideration, but inherently wrong to keep silent about things which trouble you. Half the fan base voiced their concerns before the last fella had even taken charge of a game and rightly so... Should they not consider themselves Evertonians?
I'm made up with this guy. He has restored my faith in the game (yes he's done that after just THREE games) but when the day arrives when I feel an Everton manager is above criticism, that'll be the day I stop calling myself an Evertonian.

Dermot Byrne
149
Posted 28/08/2018 at 09:01:04
The right to criticise. Who is arguing against that? It is a bit more nuanced and for some what is irritating is how that is done.
Equally how people present positive reactions can annoy others.
We will all lean one way or another for all sorts of reasons and that is surely good.
What is worrying is that people get singled out for their track record. That turns a simple footy site into something approaching political debate.
And hands up, I have been guilty of that now and then!
😃👏
Ray Robinson
150
Posted 28/08/2018 at 09:05:22
Darren, I cannot let this one go, I'm afraid. You are a slippery eel sometimes who is wont to create smokescreens when it suits your argument. You're trying to turn this thread around into something it is not.
Where have I consistently defended "crap manager after crap manager"? I loathed Martinez, hated Koeman's aloofness and thought that it was a correct decision to sack Allardyce (even though he did the job that he was paid to do). No doubt, you'll start trawling through ToffeeWeb to find some quote that proves that I belong to the "happy clapper" tribe and have "rounded on anyone who doesn't clap so readily". I am not and I doubt you'll find any.
Karen certainly does "know her stuff" and is "as sharp as a knife". Yes, she is - why then do you start one of your replies with "Sorry girl, but that's just nonsense." Have you any idea how that sounds"? There's no "in my opinion" sentiment in there.
Finally "Half the fan base voiced their concerns before the last fella had even taken charge of a game and rightly so... Should they not consider themselves Evertonians?" Why are you directing this at me? Smokescreen again, Darren. Have I ever queried any Evertonian's credibility? Nobody is denying you your right to criticise an Everton manager. I'm sure it won't be long before you have a go at Silva!
I do admit however in the past to frequently calling out your opinionated delivery style, Darren, which I frequently find patronising to others. You could start an argument in an empty dressing room.
John G Davies
151
Posted 28/08/2018 at 09:22:44
Everyone is entitled to their opinion, Darren included. The issue is how you put that argument across without resorting to personal insult.
The condescension to fellow posters who disagree with certain posters opinion is an undeniable problem on TW. It inevitably provokes reaction.

Karen Mason
152
Posted 28/08/2018 at 12:39:52
Hi Darren, just one last comment from me on this one, in the hope that you have a sense of humour...
11 men behind the ball for a corner, or 11 men behind the ball for 90 odd minutes like under Sam's 'leadership.' :-) I know which I prefer.
Happy to hear that you have some positive things to say about Silva. I haven't been on the edge of my seat watchin' us play for some time. But, it's starting to happen!!
I think we've both made a mistake on this thread. I've reacted badly to the early criticism & fickle finger of blame being pointed (not opinions) about the Manager & team.
My comments on being Evertonians, was wrong. I know that now. Your posts have brought a song to mind... He's misstra know it all. :-). I like posts that make me think & challenge what I think I know. So let's call it quits and return another day to debate more stuff. :-)
Dave Abrahams
154
Posted 28/08/2018 at 13:26:00
Karen (152), that's the spirit, let bygones be bygones, knowing Darren, through his posts, he'll give you a hug and say " Fair enough girl, warra you having", right Darren?
Darren Hind
156
Posted 28/08/2018 at 15:21:37
Indeed I do have a sense of humour, Karen. I spend most of my time on here laughing – admittedly not always for the right reasons.
Dave A is right. I would give you a big hug. I firmly believe all is fair in love and debate and just because I disagreed with you in one post doesn't mean we won't agree tomorrow.
Let's hope next time we debate its because we disagree on who scored the best Everton goal in a big win.
Rob Halligan
157
Posted 28/08/2018 at 16:54:00
FFS, has anyone seen this from the red echo?
Marco Silva is a name on Manchester United's radar to replace Jose Mourinho'
Marco Silva is a name on the radar of Manchster United to replace Jose Mourinho should the Portugese boss leave, according to a report.
The Independent have claimed that Everton's manager could be one to move to Old Trafford if Mourinho does go.
Can't find this story anywhere in The Independent though.
Rob Halligan
158
Posted 28/08/2018 at 16:55:23
P.S
I don't believe it by the way. My post above sounds like I think it's true. 😕😕😕
Brian Harrison
159
Posted 28/08/2018 at 17:01:07
Rob
I despair at whats happened to the Echo, it seems they are now for some unknown reason trying to wind up the Blue half of Merseyside. When most people knew Allardyce was on his way they were talking about his pre season plans. They keep mentioning that Leipzig are favourite to get Lookman in this window. Yet when Barca were pursuing Courtinho they played it down, and said he is staying at Liverpool.
I get the feeling that they are begining to realize that the blue half has stopped buying the Echo, as most of its stories are about Liverpool.
Brian Harrison
160
Posted 28/08/2018 at 17:16:16
there was a vote today by Liverpool Council over proposed changes by Liverpool F.C, who wanted their ground to be used for NFL games and Music concerts. The Echo reported it as Plans for stadium changes were astonishingly rejected, and they went on to name some of the Councillors who voted against the proposal.
Stephen Davies
161
Posted 28/08/2018 at 17:41:49
Brian (#160),
That's interesting. I suspect the main reason for that was because of the issues with residents, noise etc.
I don't think Bramley-Moore Dock should have that issue, should it ever be used for such events.
Dermot Byrne
162
Posted 28/08/2018 at 17:52:05
Brian: love my fantasy of all round Liverpool posters and car stickers that say "Don't buy the Red Echo".
They would shit themselves in the accounts dept!
Anyway, aside from football, it is just a cheap tabloid now compared to a great local paper it once was.
Brent Stephens
163
Posted 28/08/2018 at 18:09:44
Send me the sticker, Dermot, and I'll display it!
Dermot Byrne
164
Posted 28/08/2018 at 18:17:48
Not sure where to put this but on subject of media, from a story
today
re Walcott:
"... so much so that his name is being floated for an England recall for the upcoming transfer window."
And we get wound up by this shite!
Dermot Byrne
165
Posted 28/08/2018 at 18:19:32
Wonder if we have a Blue printer on TW Brent?
Or may try and create one and send for all to print themselves.
Would be funny.
Karen Mason
166
Posted 28/08/2018 at 18:26:39
Don't know about Marco Silva being on the Man Utd radar. I wonder if the Man Utd owners have been in touch with EFC for Sam Allardyce's number?? How funny would that be?? :-)
I think it is more likely to be Zidane for United when Maureen is sacked. I stopped reading the Echo years ago. I couldn't continue to subscribe to the Red's fan magazine any longer.
ps: Darren #156 A big hug right back 'atcha :-) I look forward to debating the best goal of the season and hope there are many in contention. Ciao for now.
Brent Stephens
167
Posted 28/08/2018 at 18:36:50
Yes, Dermot - step forward a Blue printer. It would be delicious!
John G Davies
168
Posted 28/08/2018 at 18:37:07
😂😂😂😂😂😂
I effing love ToffeeWeb.
Andy Crooks
169
Posted 28/08/2018 at 19:56:30
The next person who puts a stupid yellow face accompanying their post will be found and dealt with.
John G Davies
170
Posted 28/08/2018 at 20:08:40
🤢 OK Andy.
Rob Halligan
171
Posted 28/08/2018 at 20:10:34
But harsh Andy .👿👿👿👿
Dermot Byrne
172
Posted 29/08/2018 at 11:15:06
Add Your Comments
In order to post a comment, you need to be logged in as a registered user of the site.
Or Sign up as a ToffeeWeb Member — it's free, takes just a few minutes and will allow you to post your comments on articles and Talking Points submissions across the site.