Everton vs Southampton
Tuesday, 2 October, 2018
Carabao Cup 3rd Round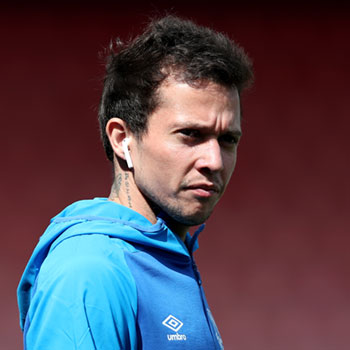 Bernard could finally get his first start as an Everton player following some exciting cameos
Everton and Southampton belatedly meet in the third round of the Carabao Cup this evening with Leicester City awaiting the winners.
The Blues are fresh from their uplifting weekend victory over Fulham and go in search of what would be Marco Silva's fourth win in all competitions with the club and the second over the Saints.
Everton beat Mark Hughes's side 2-1 at Goodison Park in August and a repeat of that scoreline would be more than welcome for a supporter base that is desperate to see the club throw everything at the cup competitions this season in a bid to end a trophy drought that is in its 24th year.
While a degree of continuity will be important, particularly, you feel, at centre half where Michael Keane and Kurt Zouma have formed a solid-looking partnership over the last couple of games, Silva is likely to make a number of changes to the side that started against Arsenal and Fulham.
Maarten Stekelenburg could be handed the starting role between the sticks like he was in the last round, Leighton Baines could be recalled after losing his spot to Lucas Digne, and Morgan Schneiderlin could come back into midfield, with Tom Davies either making way or, perhaps, moving further forward in midfield.
Gylfi Sigurdsson might be rested while Cenk Tosun and Bernard are good bets to start so that they can establish some rhythm in the first team while Ademola Lookman, a fringe figure so far, could also get a look-in at some stage.
Kick-off: 7:45pm, Tuesday 2 October, 2018
Referee:Chris Kavanagh
Last Time: The two clubs have never met before in the League Cup but have in the FA Cup: Everton 2 - 1 Southampton, 10 January, 1987
Predicted Line-up: Stekelenburg, Kenny, Keane, Zouma, Baines, Gueye, Schneiderlin, Davies, Bernard, Richarlison, Tosun
---
Reader Comments (111)
Note: the following content is not moderated or vetted by the site owners at the time of submission. Comments are the responsibility of the poster. Disclaimer
Jerome Shields
1
Posted 02/10/2018 at 06:58:05
I would like to see a Lookman get a game. But we need to progress to the next round. I don't expect a lot of changes – only where really necessary.
Sam Hoare
2
Posted 02/10/2018 at 06:58:38
I'd keep the back 5. Good for them to build on the clean sheet. Let's put our two Brazilians in and see if they connect to the samba beat.
Pickford
Kenny Keane Zouma Digne
Schneiderlin Gueye
Lookman Bernard Richarlison
Tosun
Paul Tran
3
Posted 02/10/2018 at 07:13:56
I'm torn between the same team as Saturday and wanting a start for Bernard. I'd be happy with either.
Dermot Byrne
4
Posted 02/10/2018 at 07:24:10
I can detect the whiff of a Bernard masterclass tonight.
Joe O'Brien
5
Posted 02/10/2018 at 07:31:53
I really don't want Stek between the sticks.. whatever about rotating players in case of injury or burn out..I don't that really applies to keepers.
If we want to take this competition seriously we need Pickford in goals.
Terry Hayes
6
Posted 02/10/2018 at 07:31:54
Hmm... so Sigurdsson has his best game and you drop him?
Gareth Clark
7
Posted 02/10/2018 at 07:53:59
I would agree that it's tough to go with a very similar team to Saturday - but I think Bernard, Lookman, Schneiderlin, Baines & Tosun deserve a start.
Pickford
Kenny Keane Zouma Baines(c)
Davies Schneiderlin
Bernard Richarlison Lookman
Tosun
Subs: Stekelenburg, Holgate, Digne, Gueye, Dowell, Calvert-Lewin, Niasse
Siggy & Walcott to get a rest.
Also we can change to a 4-4-2 very easily - with Richarlison going up top with Cenk.
Chris Locke
8
Posted 02/10/2018 at 08:01:38
I agree Joe, Pickford needs to start. Stek needs to stay on the bench.
After the kicking Richarlison received on Saturday (not mention last time we played saints) it makes me think he maybe rested this evening.
Be good to see Bernard, lookman and Dowell all get a start.
As a very southern blue I've watched a lot of Saints this season and they're poor at best. Their best 11 is average and everything after that is Championship quality.
We should be able to win this whilst keeping are very best players fresh for Leicester.
Terry Hayes
9
Posted 02/10/2018 at 08:04:42
Can somebody please explain to me why some of our players need a rest?
Victor Yu
10
Posted 02/10/2018 at 08:11:26
Let's give some fringe players a game. The draw makes it difficult to win the competition so let's focus on the Premier League and FA Cup instead.
Kev Jones
11
Posted 02/10/2018 at 08:14:45
I'd like to see us win this cup. For me keep the team from Saturday to build confidence and momentum except with Tosun in for Calvert Lewin. If all goes well bring Bernard on, try Richarlison in the middle for Tosun and Lookman on for Walcott.
Jon Withey
12
Posted 02/10/2018 at 08:20:56
Would be good to see Tosun and Bernard in as they made a difference.
Might as well get some minutes from Niasse at some point and give DCL a rest.
I have the same reservations about Stek and Schneiderlin as others.
Don't gamble too much with an effective team.
Jim Bennings
13
Posted 02/10/2018 at 08:26:43
I'm not sure I feel myself banging the drum for Lookman anymore sadly, his attitude has left a sour taste and he doesn't seem to want to be here.
Stekelenburg
Kenny
Zouma
Holgate
Baines
Gana
Dowell
Walcott
Bernard
Richarlison
Tosun
I'd just try that out, I'd sit Dowell next to Gana and see if his spraying passes of the ball is all the hype has it.
Put Bernard in the hole behind Tosun and see him buzz around.
I'd start Richarlison because after that suspension I think he needs games to get up and running again and sharp.
My only concern would be a back 5 with Stek and Holgate causing issues amongst themselves but Southampton don't possess wizard like attacking options so we might get away with that.
Dave Lynch
14
Posted 02/10/2018 at 08:39:41
Hughes won't play his strongest team, they are struggling and he can't afford injuries.
Play our strongest, put it beyond doubt at half time and make wholesale changes.
Jobs a good un.
Danny Baily
15
Posted 02/10/2018 at 08:44:43
Strongest team possible for this. Along with the FA Cup, games like these are what our season is all about! The following cup game with Leicester will mean more than this weekends game.
Gerard Carey
16
Posted 02/10/2018 at 08:46:00
Let's hope no wholesale changes. This cup remains are best chance of silverware. So let's take it serious.
Martin Berry
17
Posted 02/10/2018 at 08:51:37
Marco will be desperate to win this trophy so I don't expect too many changes. I think Bernard and possibly Lookman, with Tosun continuing with a view to him getting a goal to boost his slow start.
Midfield and defence will hardy change, especially after a clean sheet.
Ajay Gopal
18
Posted 02/10/2018 at 09:02:26
Southampton are a good team struggling under a dinosaur manager. We can't take this likely but I would like to keep Charlie, Siggy, Gana and Digne fresh for the Leicester game. Sadly Lookman seems not to be making an impression with Silva. In hindsight, we should have taken the 20 Million from Leipzig and run. A chance for Dowell to shine maybe?
Stek
Kenny Keane Zouma Baines
Davies Schneiderlin
Walcott Bernard DCL
Tosun
Subs: Pickford, Holgate, Digne, Siggy, Dowell, Niasse, Baningime
Jim Bennings
19
Posted 02/10/2018 at 09:07:56
I think from the vibes I've heard from the Southampton camp the only way we can lose this tonight is if we lose it ourselves.
Southampton know they will be fighting to stave off relegation as the season progresses, they have some decent players but it's highly debatable they will play tonight anyway.
We need to get the job done whoever plays, be professional and get the game won then move on to Saturday's match and try and score the first mental blow over Leicester by beating them and ending our away hoodoo, would stand us in good stead for the Cup game at the end of the month too.

Tim Gerrard
20
Posted 02/10/2018 at 09:43:47
I hope that we play a strong team tonight, that includes Pickford.
Pickford, Kenny, Keane, Zouma, Baines, Davies,Morgan, Bernard, Walcott, Dowell, Tosun.
I think that has a balance of a strong team whilst introducing a few squad players to keep their match fitness.
Brian Porter
21
Posted 02/10/2018 at 09:43:49
No way would I play Stek, in this or any other game. I'd rather we played the strongest available line up and that includes Pickford. Stek is pretty much over the hill and inspires little confidence in the players or the fans. One mistake from him and we could lose the game and a good chance of silverware this season and Silva would be slaughtered by the fans. No problem with the outfield but this one position is giving me the willies.
Robert Leigh
22
Posted 02/10/2018 at 09:55:22
We play Saturday afternoon again so time to recover, so hopefully a strong team.
Southampton will have half an eye on the league as they are one of the six poorest teams in the league. Also with their strikers it'd be important to have some pace at the back, so I'd give Holgate a game to let Keane's head heal further.
Pickford
Kenny - Holgate - Zouma - Baines (c)
Schneiderlain
Lookman - Davies - Bernard - Richarlison
Tosun
Stek, Keane, Digne, Gana, Dowell, DCL, Niasse
COYB!
Michael Lynch
23
Posted 02/10/2018 at 09:59:51
I agree with those who say play our strongest team. We've got a chance - albeit an outside one - of winning this trophy, or at least going far in it. Whereas in the league, I can't see us going down - we look far to good for that - but I also can't see us finishing top 6 as we're nowhere near at that level yet. We should be looking for steady progress in the PL over the next couple of seasons, but going full on for a cup win.
If we're going to rotate, we should do it in the league not the cups. I'd much rather beat Leicester in the cup than in the league.
Matthew Williams
24
Posted 02/10/2018 at 10:00:44
Strongest team as possible, please, Marco... all that matters is meeting Leicester in the next round.
I believe that by winning this Cup our fortunes will change for the better and the pain of past defeats in this competition can be finally laid to rest.
European football is a must for the future of our club... so let's win this Trophy eh Blues!
John Keating
25
Posted 02/10/2018 at 10:12:48
Continuity. Keep the same team unless someone is carrying a slight knock from the weekend.
Confidence needs building. A win and clean sheet against Fulham - the clean sheet was lucky - but don't change anything if possible.
Anyone not performing then change asap. Anyone picking up a niggle then change asap.
David Donnellan
26
Posted 02/10/2018 at 10:12:53
I wouldn't make too many changes, this trophy is there to be won. I would give Tosun & Bernard a bit more game time for this one.
Are there any streams of this game being shown tonight?
Mark Andersson
27
Posted 02/10/2018 at 10:31:03
My prediction that the dirty tactics employed by Sparky will make it a tough game unless we score early...
The crowd need to be 100% behind what ever team Silva puts out if we're going to progress...
Would love to see us give them a spanking but one goal and an other clean sheet will do...
Tony Everan
28
Posted 02/10/2018 at 10:47:25
Bernard / Tosun / Lookman

Richarlison and Walcott will be on the subs bench so they are fresh for Saturday . Fulham put the boot in on Richarlison throughout, they were lucky not to get a man sent off. He will benefit from a few days recovery.
The fact we have Bernard and Lookman ready to come in is a major plus. It is massive that we have quality in these positions. Even though it is the lowly Carabau Cup, it's probably the most I have look forward to one of these ties for a while. We can win this cup.
It will be physical at times but we can and should progress, build some momentum. We have got the players now to go on a winning run.
Tony Everan
29
Posted 02/10/2018 at 10:59:43
I agree with Brian#21
No need to play the Stek, one or two world class saves from Pickford can make all the difference. It's not as if he needs resting.
Alex Doyle
30
Posted 02/10/2018 at 11:02:35
Is this going to be anywhere on TV?
Aidan Wade
31
Posted 02/10/2018 at 11:26:19
Presume Stek will get a run out - unfortunately think he could cost us. He's not the worst by any means but he had a few howlers in pre-season.
Excited to see Bernard get a good run out. Trying to pick our best 11 is a much more interesting headache this year.
COYB
Gareth Clark
32
Posted 02/10/2018 at 11:30:35
Jim #13
Where have you seen or heard about Lookman having a bad attitude?????
Just because journalists write an easy story doesn't make it true.
Have you seen him have a bad attitude in training or heard from the coaching staff?
I think not.
Pat Kelly
33
Posted 02/10/2018 at 11:31:05
Field a strong team to start and get a couple of goals ahead before resting players. No point starting on the back foot. It's not as if we are likely to win any other competition this season.
Derek Knox
34
Posted 02/10/2018 at 11:42:35
Alex @30, I asked that question on the other thread about the Cup Draw. I have checked myself and according to Internet Sources, the only one listed as televising it, is Bein Turkey.
It may however be on other links but nothing has been indicated yet.
Chances are if you can get Bein, it will be shown, but probably in French or Arabic; I would rather see the match in any language that not see it at all!
Good luck!
COYB
David Ellis
35
Posted 02/10/2018 at 11:54:49
Keep the central defence pairing. They need time to gel (Zouma and Keane). Baines needs a run out and won't let us down so give Digne a rest. Kenny has to play with Coleman injured. Keeper I'd stick with Pickford, but think Stek can do the job.
In midfield I'd rest Gana and bring in Schneiderlin alongside Davies.
Bernard needs to start and think he'd replace Richarlison with Siggy staying as the No.10. However I'd like to see Bernard at 10.
Tosun needs a confidence booster and I'd rest Walcott so bring in Lookman. One of Siggy or Richarlison has to play in my opinion, with Bernard starting in place of one of them. Don't think we can risk starting with Dowell or Calvert Lewin on top of these changes, but maybe in the second half.
Alex Doyle
36
Posted 02/10/2018 at 11:57:04
Thanks Derek @34 - enjoy the game.
Tommy Carter
37
Posted 02/10/2018 at 12:19:46
Agreed that Gana needs a rest.
As for the others, I'd like to see Richarlison sit this one out. That is based on the treatment he generally receives and more particularly the treatment he received against Southampton in the league game earlier this season. They just kicked lumps out of him for most of the game.
I think it is a game in which Bernard should start as it will provide him with valuable game time and a test of his physical robustness.

I see no reason why Fraser Hornby shouldn't be given some minutes. I'd start with Cenk and have Hornby as a forward replacement. For me there is no need for DCL to feature.
James Ebden
38
Posted 02/10/2018 at 12:20:37
Hilarious seeing people saying we need to take this competition seriously and try and win it, then in the their next sentence list a team including Lookman!! Ha, ha, ha!
He will leave us so exposed down that side, it's not even funny. Can't sell him quick enough.
Jay Wood
[BRZ]
40
Posted 02/10/2018 at 12:50:26
I have no doubts Silva will make some tweaks tonight, but judging by the man's own words, I'm not expecting wholesale changes.
Watch his pre-match interview from around 2:25, when he talks about the need to have a settled XI (albeit with different options available) and around 2:50 when he says we 'respect and have ambitions in the competition. I don't think it's very good when you change many, many players...'
He also talks up Bernard and how he is pushing hard for a starting place.
Brian Murray
41
Posted 02/10/2018 at 12:57:58
Without tinkering too much, Tommy, you are right – we need to see Hornby against bruiser Premier League defenders to see what level he can be. Could be a star this lad.
Jim Bennings
42
Posted 02/10/2018 at 13:31:19
Gareth,
I never heard it anywhere, I seen it with my own eyes: his application when he came on as a sub was less than interested.
Michael Williams
43
Posted 02/10/2018 at 14:21:34
I hope Stekelenburg plays for at least two reasons:
If he did not get a game at all and Pickford were to pick up an injury, we would be in a hell of a mess.
Also, this should be a good game for him to build confidence against a lower-table team that is likely to rest some starters.
Jay Harris
44
Posted 02/10/2018 at 14:24:56
Simple for me.
Minimal changes Bernard in for Richarlison and Tosun in for Calvert-Lewin.
If things are going well, bring on Dowell, Bainesy and Holgate second half.
As Silva said, players need the stability to get to know how each other play.
Lookman may or may not have an attitude but has certainly done nothing to warrant a first-team runout.
Gareth Clark
45
Posted 02/10/2018 at 14:27:33
Jim,
Must be nice to be able to judge someone & outright define them as having an attitude problem in a matter of minutes of a football game.
Must be nice.
Kieran Kinsella
46
Posted 02/10/2018 at 14:41:06
Off topic but nowhere else to comment on it, Anichebe has reported his Chinese club to FIFA for match-fixing. Apparently, he was upset they told him "not to try" during games. Made me chuckle, wonder if they signed him after hearing him constantly berated by Everton fans for "not trying."
Back to the topic, Outside of Bernard and or Tosun, I wouldn't make any changes tonight. We need the centre-halves to build an understanding... other players are starting to come into form. Why change?
Jamie Crowley
47
Posted 02/10/2018 at 14:54:00
Anyone have any USA TV info?
If it's not televised, can you purchase a stream through the OS?
Hate dodgy streams
If anyone knows, it'd be appreciated.
Paul Birmingham
48
Posted 02/10/2018 at 14:58:26
The club must learn from recent poor shows in the various permutations of this tournament, to take it seriously. And to gel and get some consistency so a chance to build on from the Fulham game.
I'd stick with Saturday's team, but swap Tosun for Calvert-Lewin, and consider Bernard, and rest Sigurdsson, as Leceister will be a very tough game.
Please let's hope that the goalkeepers aren't swapped – that could be an Achilles heel if it happens.
Derek Knox
49
Posted 02/10/2018 at 15:24:55
Paul @48, I think most of us agree to stick with the same second-half team from Saturday, but I suspect he will change it; likewise totally agree about Stekelenburg, if I see his name on the team sheet along with Schneiderlin, I fear the worst.
What is it with Everton, nobody as far as I know would have Stekelenburg anywhere near goal, and he gets an extended contract?
From what I have seen of the young lad we recently bought (Joao Virginia) he looks a much safer pair of hands – and he is supposedly only learning!
Ognjen Mojovic
50
Posted 02/10/2018 at 16:07:09
Oh, I hope for the best possible team! Come on, Toffees!!!
Neil Wood
51
Posted 02/10/2018 at 16:08:16
Bernard has to play. Simple.
Robert Workman
52
Posted 02/10/2018 at 16:12:53
Totally agree with Brian 21. Pickford in goal.
James Hughes
53
Posted 02/10/2018 at 16:24:04
Just field a good team. Winning can become a habit and we need to develop the habit.
A good cup run all the way to Wem-ber-ley please
Mike Gaynes
54
Posted 02/10/2018 at 16:29:24
Jamie, I have found absolutely nothing on US TV. NBC Sports Gold is not carrying it either.
At this point I simply plan to log on to the Live Forum and beg somebody for a link.
Jay Harris
55
Posted 02/10/2018 at 16:34:58
Mike,
I think the problem is it is not being televised anywhere.
Sky TV have the rights and they are showing Hull, Aston Villa and Ipswich in preference to us.
The best case right now would appear to be EvertonFC.com TV broadcasting the commentary.
Kieran Kinsella
56
Posted 02/10/2018 at 16:35:16
Michael @43
I disagree. I don't want to risk a chance of silverware by resting Pickford on the off chance he gets injured. He is just as likely to get injured in training today or he could do a Richard Wright at home.
Also, the "confidence" argument for Stek is a bit weak to me. For one thing, assuming Pickford stays fit then confident or not Sket won't be playing. But moreover, the guy is 36 at the veteran stage. He should be able to manage his emotions by now. If he was 18/19, then I could more understand the confidence factor.
Tim Gerrard
57
Posted 02/10/2018 at 16:36:32
Some comments on here concerning Lookman. If he is picked it will be because he has tried and impressed in training, something none of us are aware of, and will have my full support during the game. From what I have seen I wouldn't have him anywhere near the team. He doesn't look interested and I would sell him.
Merle Urquart
58
Posted 02/10/2018 at 16:36:49
Why can't we pick our strongest 11, get our noses in front, and then bring on the deadbeats? I've seen us whimper out of this competition with also-rans proliferating the team too many times. Try something new, Everton – learn from the past for once!
I've gone from excited to on a downer just looking at the likely starting line up with Stekelenberg and Schneiderlin in it.
Kieran Kinsella
59
Posted 02/10/2018 at 16:37:23
Tommy Carter,
Hornby was only deemed good enough for a spot on the bench at Under-23 level last night. That suggests to me he is not first team. ready.
Mike Gaynes
61
Posted 02/10/2018 at 16:59:35
Tim #57 -- "
from what I have seen
"??
What have you seen? The kid has played exactly 46 minutes this year.
You and Jim Bennings should be top pro scouts if you can get a read on a player's attitude in 46 minutes.
Mike Gaynes
62
Posted 02/10/2018 at 17:04:27
Jay #55, yep, you're right, looks like that's our only alternative. Darren Griffiths and Ian Snodin doing radio.
Tim Gerrard
63
Posted 02/10/2018 at 17:05:05
Mike,
I'd love to chat but I have a coach to Goodison to catch. If he plays, let's hope he is brilliant and my future job prospects disappear!
Kieran Kinsella
64
Posted 02/10/2018 at 17:09:12
Mike 61
I think Lookman is in danger of becoming the next Garbutt. Based on a handful of encouraging performances, he is hyped up as the solution to our problems. But those who seem him train day in and day out (Ron, Sam, Marco) obviously see something lacking or they would pick him. Whether it is attitude or inconsistency I have no idea. But if his good days were his norm then it would make no sense to keep excluding him.
Mike Gaynes
65
Posted 02/10/2018 at 17:09:39
Enjoy the game, Tim. Most of us envy you seeing the game live. Bring your phone and post something here if you can.
Tom Bowers
66
Posted 02/10/2018 at 17:11:56
There are no easy games – especially between two Premier league clubs – despite players being rested on both sides.
We would all like to see Bernard start and really show what he can do and hopefully by the next round, the other two, Gomes and Mina, will be available.
Mike Corcoran
67
Posted 02/10/2018 at 17:14:04
http://www.sport365.live/en/home
Normally nailed on for a good stream but not listed for tonight. Worth checking nearer KO though.
Barry Connor
68
Posted 02/10/2018 at 17:14:57
How about Virginia instead of Stek ?
From reports, he would be a more than adequate replacement and would give him immense experience.
Brian Murray
69
Posted 02/10/2018 at 17:16:05
If not Hornby, well the Sambou lad is with a shot. We need a serious alternative to Tosun.
Mike Gaynes
71
Posted 02/10/2018 at 17:16:05
Could be, Kieran, could be. But on the other hand they've all seen enough to refuse to sell him to Leipzig, where he obviously wanted to go, and to keep putting him on the subs' bench at least. The fact that Silva ranks him behind Richarlison, Walcott and Bernard does not necessarily mean he sees something lacking.
Certainly I won't compare Lookman with Garbutt, whom I considered deficient from first sight. Back then I was in the small minority here, but I never rated him one bit. People would rave about his sweet left foot. I once asked if we could dump the player and keep the foot.
Jamie Crowley
72
Posted 02/10/2018 at 17:17:35
Mike -
I was afraid of no TV coverage.
I think I'll do the radio feed from the OS and the Live Forum.
TY man.
Kristian Boyce
73
Posted 02/10/2018 at 17:22:08
It's not being televised as even though no other game is going on, as it wasn't originally part of the original contracted games from last week. Because of the clash with the RS's games, and us being bumped to tonight, the TV companies never originally planned to show this game. Logically you would think they would have cameras there tonight, but they effectively 'shot their load' by filming last week's games.
I still think that us never winning this cup after all these years is absolutely shocking, even when we used to be good. Following up from the other thread and the 'Mickey Mouse' comments, when City got their new money, they made a huge effort in all the competitions including this cup. A cup is a cup, and it shows signs of success.
We've been starved of success for years, and one thing that couldn't stand Moyes for was his lack of interest in this competition. During his 11 years, some not very good teams made it to the final. Moyes never took this cup seriously or any cup to be honest, and had a number of embarrassing loses to lower league opposition. For some time during his tenure, many of the bigger teams fielded severely weakened teams, and Moyes was just the same. I think this mentality has had a knock-on effect to the fans, branding the cup Mickey Mouse as the club had no interest in it. My hope is that with this change in hierarchy, a new winning mentality will go with it, and winning this would be a great start.
Jamie Crowley
74
Posted 02/10/2018 at 17:22:27
Kind of hoping Dowell will play today.
Not sure who I'd rest in place of him.
I want us to win this damn thing, but I think Dowell on the pitch isn't that much of a downgrade, if any, and it's the kind of game a kid like him needs.
Jim Bennings
75
Posted 02/10/2018 at 17:27:59
Kristian
Agree with that about Moyes's 11 years here.
The only times he took Cup competitions seriously was 2007-08 when we got to the Semi of this Cup and then in 2008-09 when we got to the FA Cup Final.
That was his sum total of a decade in Cups, disappointing.
Paul Birmingham
76
Posted 02/10/2018 at 17:32:29
Derek @49, I agree, we must pick the best goalkeeper we have tonight.
It's now or never, I sense, to win this Cup.
Mike Gaynes
77
Posted 02/10/2018 at 17:33:32
I'd be surprised, Jamie. Hasn't played a minute this year. Hasn't even made the bench since Bernard got healthy.
Ashley Roberts
78
Posted 02/10/2018 at 17:46:31
I hope we see Bernard in the role behind the striker and not on the wing. I think he could be our answer to David Silva at Citi. I can see him pulling all of the strings in a forward midfield role. I am sure he will do well on the wing but we have 2 good players in that position already. Let's see if he can dictate play and hopefully become the best player in that role since Atterson.
Kieran Kinsella
79
Posted 02/10/2018 at 18:03:03
Jim Bennings
Even the year we got to the FA cup final we labored to get by the Man Utd reserves in the semi. I remember being shocked at their team sheet and with rumors of Fergie retiring, I even wondered if Fergie was trying to throw it to make his compatriot look good.
Kieran Kinsella
80
Posted 02/10/2018 at 18:04:17
Mike Gaynes 71
You make a good point. The whole refusal to sell is a bit mystifying given the lack of playing time.
Kieran Kinsella
81
Posted 02/10/2018 at 18:09:08
I am going to go against the grain (my grain that is not speaking for everyone else) and say it will be 6-0. Richarlison 2, Keane, Gueye, Tosun and Davies. Hughes will say that three goals were offside and the unfair red card changed the game. He will try and sow a seed with refs by saying Richarlison is a diver, make some remarks about his shoestring budget versus Everton's billions, while Paul Merson will say we "got lucky."
Harry Hockley
82
Posted 02/10/2018 at 18:13:29
I would've picked Lookman tonight but, hey ho, I guess Bernard deserves a start of anyone.
Nice to see Cenk back in there, he should be raring to go after his goal the weekend; I reckon he'll bag another tonight. 3-1
Kris Boner
83
Posted 02/10/2018 at 18:23:22
The quickest way to ruin my day on a Mexican sunbed is to find out I have to listen to snods for my fix of the blues.
American blues tell me that ESPN or something has our boys on today!
Kris Boner
84
Posted 02/10/2018 at 18:25:02
Kieran,
We may have laboured but watch us stick them away in penalties felt great. Jimmy Vaughan slamming one into the top corner followed by Pip sending them home was an excellent feeling.
Kristian Boyce
85
Posted 02/10/2018 at 18:28:46
Kris, you're going to have to find some tequila to drown your sorrows as no-one has it on over here either.
John Pierce
86
Posted 02/10/2018 at 18:33:05
With the international break looming and only one game after this, no reason to make wholesale changes. Winning a cure all. Momentum is important.
Kris Boner
87
Posted 02/10/2018 at 18:43:29
Break my heart, Kristian. Bloody hate listening to Snods digress about all of the times life was better back in his day rather than discussing what's actually going on in the match.
Colin Malone
88
Posted 02/10/2018 at 18:48:30
Please don't play Schneiderlin and Gueye in the same side.
Mike Gaynes
89
Posted 02/10/2018 at 18:51:17
Kris, take Kristian's advice. Drink. Snods improves with alcohol.
And don't forget your sunblock.
Joe O'Brien
90
Posted 02/10/2018 at 18:52:54
Stekelenburg starts... Why oh why? Bernard starts on a plus side.
Bill Gienapp
91
Posted 02/10/2018 at 18:57:04
Kieran (80) - I suspect, as Mike said, that it has more to do with Richarlison, Walcott, etc... simply being above him in the pecking order. I'm guessing the desire to hold on to Lookman had more to do with Brands and Silva's "big picture" plans for the club, i.e. young talents to be nurtured/developed.
Pat Kelly
92
Posted 02/10/2018 at 18:58:51
Lookman starts. Now's his chance.

Michael Lynch
93
Posted 02/10/2018 at 18:58:57
Should have played this team against Leicester on Saturday, and our first choice team tonight.
Does this club actually not want to win a trophy again in my lifetime?
Joe O'Brien
94
Posted 02/10/2018 at 18:59:08
Happy with the rest of the line-up... but, if we want to win this, Pickford will have to start once we start to get drawn against the bigger teams. No room for sentiment when we've been waiting for silverware for so bloody long.
Pat Kelly
96
Posted 02/10/2018 at 19:00:11
How long have you got left, Michael?
Just asking.
Paul Kossoff
97
Posted 02/10/2018 at 19:00:59
That team's not strong enough, hope we have a strong bench.
Hughes's job's far from safe and he won't want to go out of this cup easily beaten. Hope I'm very wrong.
Mike Gaynes
98
Posted 02/10/2018 at 19:02:27
Wow, Jamie, you called it. Dowell is starting. Nice work.
Stekelenburg, Baines, Zouma, Keane, Kenny, Dowell, Bernard, Schneiderlin, Davies, Lookman, Tosun.
Strong side.
Paul Kossoff
99
Posted 02/10/2018 at 19:04:33
So side's changed; I half take my misgivings back. 😁

Mike Gaynes
100
Posted 02/10/2018 at 19:05:51
Interesting... Sigurdsson not even among the subs.
Tommy Carter
101
Posted 02/10/2018 at 19:06:42
@56 Kieran
Richard Wright. Remember when he got injured diving into the 'stay out of the goal sign' at Stamford Bridge. You couldn't make it up.
It makes me wonder where Goalkeepers get their reputation from. Surely it's quite easy to tell of a keeper is going to be good or not.
We had Paul Gerrard, Thomas Mhyre and Steve Simonsen who were all absolutely terrible. But Gerrard and Simonsen came with big reputations. Mhyre was just about enough in order to replace Big Nev who was far and away finished as a player. But then Mhyre fumbled it against Coventry on the final day, a mistake that could've sent us down.
Jack Convery
102
Posted 02/10/2018 at 19:06:43
7 changes - WTF - we want some silverware not fn rested players earning a bloody fortune. Really disappointed with the team selection. EFC? No wonder I have bloody hypertension - 50 plus years of regularly winning fuck all. Cheers. COYBs ffs.
Fran Mitchell
103
Posted 02/10/2018 at 19:07:14
Dowell, Schneiderlin and Davies in midfield. Lookman and Bernard out wide. Interesting changes, and a real chance for Lookman and Dowell to stake a claim, I hope they do, both are fantastic talents I feel.
Excited about Bernard finally starting too.
But I do not understand why play Stekelenburg. Why not keep the same back 5, which is still learning to play together???
Ray Smith
104
Posted 02/10/2018 at 19:07:26
John 86
Totally agree.
Silva says that he is taking the competition seriously, and the team he has put out tonight will hopefully do the business.
I would like to see a consistent starting 11 whereby they can gel better than they have been doing.
Jay Wood
[BRZ]
105
Posted 02/10/2018 at 19:10:38
Too early yet, but I have found link that sees it will stream the game.
Whether it works or not come KO time is another matter...
More changes than I would have liked from the starting XI.
I want to win this trophy. We NEED to win a trophy.
Robert Leigh
106
Posted 02/10/2018 at 19:15:41
Is there a live forum chaps?
Bill Gienapp
107
Posted 02/10/2018 at 19:17:28
Big opportunity for Dowell and Lookman. I see some are already wringing their hands over the team selection, but there's no reason to think that this side can't win comfortably.
Kristian Boyce
108
Posted 02/10/2018 at 19:20:25
Looks like Saints are putting out basically their 1st team...
Neil Wood
109
Posted 02/10/2018 at 19:24:55
That link isn't working at the moment, but might come kick-off? Anymore?
Brian Garside
110
Posted 02/10/2018 at 19:26:47
We've certainly got some some heavy-duty subs available.
David Barks
111
Posted 02/10/2018 at 19:26:47
Nothing wrong with that team. You have to find these opportunities to give a couple of the players pushing to be in the team a chance to get some game time. Otherwise they're useless when injuries or suspensions hit. It's only a few real changes.
Baines isn't a fringe player, with the rest of the back 4 unchanged. Davies and Tosun are regular starters, as has Schneiderlin. So Stekelenburg, Dowell and Lookman getting some minutes are the only REAL second team players.
Gareth Clark
112
Posted 02/10/2018 at 19:26:59
Tim #57
Looks like you & Jim were wrong... Surprise surprise, you and Jim need to let Marco & Brands do their job.
Mike #61
Finally someone with a bit of common sense & intelligence!
Kieran Kinsella
113
Posted 02/10/2018 at 19:33:58
That line-up worries me but Marco works with these guys every day so obviously he thinks they can get the job done.
Ray Said
114
Posted 02/10/2018 at 19:34:15
This link is supposed to activate 10 mins before kick-off:
https://www.sportcast.stream/Everton-Southampton/
Lev Vellene
115
Posted 02/10/2018 at 19:43:28
It was stated way back that, since the match was moved, there would be no TV coverage. I was still hoping there was some country that insisted on getting it...
Oh, well, Everton Live it is then!
Add Your Comments
In order to post a comment, you need to be logged in as a registered user of the site.
Or Sign up as a ToffeeWeb Member — it's free, takes just a few minutes and will allow you to post your comments on articles and Talking Points submissions across the site.