Chelsea vs Everton
Saturday, 10 November, 2018
Match Preview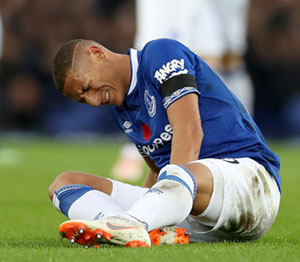 Richarlison wasn't able to train on Thursday but will be assessed on Saturday before Marco Silva takes a decision over whether or not he can play at Chelsea
Everton face arguably their toughest test to date this season when they travel to Stamford Bridge to face Chelsea on Sunday.
The Toffees have already faced an in-form Arsenal side and come away from the Emirates unfortunate to lose 2-0 in September but under new boss, Maurizio Sarri, Chelsea are the only remaining side from Europe's top five leagues that are unbeaten in all competitions.
That, coupled with the fact that an Everton side hasn't won on the Pensioners' home turf in 24 years makes a particularly daunting task for Marco Silva who, unluckily enough, has a significant injury worry on his hands.
Arguably his key player, Richarlison, hasn't trained with the main group this week because of an ankle problem and is a doubt for Sunday. [Update Richarlison trained on Saturday and travelled with the team to London.]
The Brazilian rolled his foot awkwardly on the touchline astroturf during last Saturday's 3-1 win over Brighton and it looked at one stage as though he would not be able to continue.
He remained on the field, however, and completed a brace with two fine goals but it may have been at the expense of being fit to face Chelsea this weekend.
Silva admitted in his pre-match press conference that Richarlison, Everton's top scorer this season and a vital component of the manager's strategy away from home, didn't train yesterday but did some individual work away from the rest of the team today.
The club's medical staff will assess him further tomorrow before a decision is taken on whether he can be included in the side.
Jonjoe Kenny, who missed the midweek friendly with Gor Mahia, is also a doubt for Sunday but Phil Jagielka and James McCarthy came through the SportPesa Trophy match unscathed.
Should Richarlison miss out, it would require that Silva change his attacking personnel for the first time in five games and likely open up an opportunity for one of Dominic Calvert-Lewin and Cenk Tosun to lead the line.
Tosun hasn't started a game since the Carabao Cup tie against Southampton at the start of last month but did scored as a substitute in the two home matches either side of that cup defeat. Calvert-Lewin also scored off the bench in the 2-0 win over Crystal Palace and the decision will probably come down to whether Silva fancies a greater aerial threat and braun for this one.
At the back, meanwhile, the manager will be forced into one change given that the impressive Kurt Zouma is ineligible to face his parent club. The on-loan centre half has been in great form since arriving on a season-long contract over the summer and Silva will surely be loathe to break up what has developed into a solid partnership with the rejuvenated Michael Keane.
Though Phil Jagielka returned from his latest injury problem in midweek against Gor Mahia, another summer signing, Yerry Mina, is the more likely beneficiary of Zouma's ineligibility.
The Colombian made a brief debut against Brighton and played the full 90 minutes against the Kenyans on Tuesday but his real baptism by fire will come against the team that begins the weekend sitting in second place behind Manchester City.
His getting to grips quickly with the pace of the English game will be paramount and the defence as a whole is going to need to be at its best to counter the Londoners' myriad attacking threats.
Chelsea are likely to make some changes from the team that beat BATE Borisov in the Europa League on Thursday with players like Alvaro Morata, Anton Rudiger, David Luiz and Willian, a perennial scourge of Everton, good bets to return to the starting XI.
The game will also be notable for the fact that it will, in all likelihood, pit Ross Barkley against his boyhood club for the first time since his £15m move to Stamford Bridge in January.
Everton's performances away from home, coupled with their increasingly more cohesive and attractive look in general of late suggest that they have what it takes to ask some serious questions of Chelsea and that they have the talent in their ranks to cause an upset by becoming the first team to beat Sarri's men this season.
It's a massive ask, however, and you can't help feeling that Richarlison is key to the Everton's chances. Given his commitment to the cause and the fact that he played through the pain barrier last Saturday, it would not be a surprise to see him start but, should he fail a late fitness test, the onus of creativity will fall very much on the shoulders of Bernard and Theo Walcott.
Kick-off: 2:15pm, Sunday, 11 November 2018
Referee: Kevin Friend
Last Time: Chelsea 2 - 0 Everton
Predicted Line-up: Pickford, Coleman, Keane, Mina, Digne, Gueye, Gomes, Sigurdsson, Bernard, Walcott, Richarlison
---
Reader Comments (76)
Note: the following content is not moderated or vetted by the site owners at the time of submission. Comments are the responsibility of the poster. Disclaimer
Jimmy Hogan
1
Posted 09/11/2018 at 17:49:34
That's a big blow.
Jay Wood
[BRZ]
2
Posted 09/11/2018 at 18:03:05
If you check out the 'behind the scene' club video of the Brighton game, towards the end you can see Richarlison (post-match, already in civvies) walking down the players' tunnel and climbing the steps to the pitch. He is clearly hobbling due probably to the ankle he turned in-game.
I wondered then, when I saw it a couple of days ago, whether he would be right for this weekend against Chelsea.
A chance for Tosun or Calvert-Lewinto step up if he doesn't make it.
Brent Stephens
5
Posted 09/11/2018 at 18:06:50
Sod it. We need him to keep Chelsea occupied in their half of the pitch.
Gavin McGarvey
6
Posted 09/11/2018 at 18:14:48
Whilst, as others are, I'm disappointed, there's no way I'd risk him if he wasn't 100%. Our biggest threat in my opinion, and we look much better with him on the wing. Who knows, by the end of the season we may be talking about Richarlison and Kanchelskis in the same breath.
As for the Chelsea game, well... we're not expected to get much, but I think we'll still give them a bit of a game. COYB

Andrew Merrick
7
Posted 09/11/2018 at 18:19:47
We can't risk crockin Richarlison. His cut and thrust will be a massive loss. So the squad will need to find a Silva lining to this challenge... Calvert-Lewin and Tosun are gagging for it... Lookman is waiting for his chance... let's see how this plays out.
Barkley own-goal, anyone?
Steavey Buckley
8
Posted 09/11/2018 at 18:20:09
Everton's striking problems will be made even far worse if Richarlison does not play.
Bill Gienapp
9
Posted 09/11/2018 at 18:35:07
No bueno. I don't think it's any coincidence that our two poorest performances of the season (Huddersfield and West Ham) were the two Premier League matches Richarlison was suspended from.
That being said, I wouldn't want to risk him exacerbating an ankle injury.
John Hammond
10
Posted 09/11/2018 at 18:48:29
Tosun will play right into Chelsea's hands. Calvert-Lewin up front for me. We need the pace to give their defenders something to think about. Lookman in for Walcott who looks dangerous but ultimately goes to shit and his tracking back is now nonexistent.
Amit Vithlani
11
Posted 09/11/2018 at 18:56:10
It is a blow, but I am not sure starting with Tosun or Calvert-Lewin for this particular game is the answer. If Richie is indeed out, I'd say try Walcott through the middle and Lookman on the right. Calvert-Lewin would be my first sub – his athleticism is a big plus late in the game.
Tosun is a good finisher but what we need upfront against Chelsea (I would humbly suggest) is pace to stretch the opposition and break quickly. That I feel is not Tosun's game, unless I have been watching the wrong player!
Paul Birmingham
12
Posted 09/11/2018 at 19:07:03
If he's not fit then he can't play nor is worth risking, we need him for the massive fixture list the next 2 months.
There's no one close to him upfront but it could be a chance for Tosun to prove a point or Calvert-Lewin.
Typical of the way it goes but let's hope that we can put on a show and surprise Chelsea, the bookies and Sky.
Jim Bennings
13
Posted 09/11/2018 at 19:11:45
Shit damn.
Why is it always our better players, I mean I wouldn't wish injury on anyone but we seem luckless at times.
I'm finding it hard to see Calvert-Lewin or Tosun having the prowess or mobility to perform over 90 minutes against the better teams; both are impact subs in my opinion.
May be worth a shot starting Walcott up top with Lookman on the right wing?
I just feel Chelsea need something to surprise them and they won't be surprised by Tosun or Calvert-Lewin plodding a lonesome role up front.
Jay Harris
14
Posted 09/11/2018 at 19:21:56
Jim,
I understand your point but we also need someone to take the buffeting from Luis and Rugani and keep them occupied.
I have no faith left in Tosun so I would give Calvert-Lewin the job who at least wins a lot of the 50/50s and links up play better than most.
He also has the pace and athleticism to chase lost causes which may be important in this one.
Martin Berry
15
Posted 09/11/2018 at 19:23:31
He will make it, yes he is carrying a knock but the fact he has not trained and is resting his ankles, rests my case.
I expect an Everton win and us being talked up even more.

Conor Skelly
16
Posted 09/11/2018 at 19:23:37
Mind games lads, mind games!
He'll play (I hope). If he is injured and unable to play it's a blow. I can't see Bernard getting a look-in against their defense either and I'd be surprised if he starts this one.
Silva may be tempted to park the bus and try and nick something from a set-piece during the game. With Mina in the side, this is a possibility.
May line up like this:
Pickford
Digne
Mina
Keane
Coleman
Gomes
Gana
Sigurdsson
Walcott
Lookman
Calvert-Lewin
Mike Gaynes
17
Posted 09/11/2018 at 19:33:12
I'm not the least bit surprised. He rolled that ankle BAD. Usually that's an injury you can strap up and finish the game, but it swells up afterwards and you're out for a couple of weeks. I wouldn't expect him to play against Cardiff either.
Agree with the consensus that Calvert-Lewin should get the call.
David Pearl
18
Posted 09/11/2018 at 19:48:16
The Calvert-Lewin that played so well last season at Etihad? Then yes, Silva has the call to make. We bought Tosun in and he now has an opportunity to show why he cost so much. Niasse offers movement and the obvious unpredictability.
However, I agree with Amit, I'd bring Walcott inside and have Lookman on the right and hope he finds the ball. I'm looking forward to the game as we have a number of players in form and a nicer balance than we've had in years.
Eddie Dunn
19
Posted 09/11/2018 at 20:00:54
I have watched various players struggle to cope with our ridiculous sloping surface along the edges of the pitch. Every week we see expensive players struggling to put on the breaks to save hitting the hoardings behind the goals and avoid taking a tumble along the touchlines. Surely the club could take some remedial action?
Derek Knox
20
Posted 09/11/2018 at 20:51:43
There is little doubt that he is probably the one player that would be missed the most. Such has been his impact since he joined us, and the evidence presented itself particularly, when he was suspended, in the games against Huddersfield and West Ham.
As Amit @11, mentioned I would try Walcott in the more forward striking role, as he has been more or less anonymous in the last few games on the right. This would allow Lookman and Bernard to occupy the wide slots.
With all due respect to Calvert-Lewin and Tosun, they have been better used from the bench, more in the case of Calvert-Lewin than Tosun who has been disappointing for me, his touch and control being very poor for a £27M 'striker'.
I feel we are still capable of giving Chelsea a game if we play to our strengths, but feel Richarlison will be sorely missed.
Joe Hurst
21
Posted 09/11/2018 at 21:37:04
A Disney-esque romanticism maybe, but I can't help but wish for situations like this to be a big "blimmin 'eck", startling 'new dawn' episode - for a so-far unappreciated pocket-rocket, Lookman
That's it, I'm out of lame catch phrases for now. I would love like the rest of us to think that such optimism will end up being something to smile about. COYB
Paul Hewitt
22
Posted 09/11/2018 at 22:00:51
He'll play, no worries about that.
Kev Jones
23
Posted 09/11/2018 at 22:16:22
Unless it's disinformation to keep Chelsea guessing, I'd protect Richarlison till injury is okay. Like Amit I'd go Walcott in the middle with Lookman left from start. Calvert-Lewin sub for Walcott if it's not working.
Looking forward to Keane and Mina together – although Silva in press conference played Mina down as an automatic selection. Jagielka, anyone?
Eddie Dunn
24
Posted 09/11/2018 at 22:38:42
I hope that this is all to keep Chelsea guessing. Perhaps, at worse he will sit on the bench, it would be a shame not to see him embarrass David Luiz.
James Flynn
25
Posted 09/11/2018 at 23:15:15
We keep in mind, his absence isn't just about goal scoring. He plays hard in both directions, is fast, strong and skilled.
Opposing managers fear him. They emphasize his importance to Everton's success. No coincidence every team we've played kick his ankles.
I've gotta a lot of love for Tosun and Calvert-Lewin. They both play hard, have determination and grit. But you need to combine their skills and athleticism into one player to get near the effect Richarlison has on opponents.

Steve Carse
26
Posted 09/11/2018 at 00:03:02
Eddie (19), you'll find that is common these days. I haven't noticed it as a particular issue at Goodison Park. Have you been to Old Trafford in recent years?
Harry Hockley
27
Posted 10/11/2018 at 00:04:26
I can't see him not being involved... just my feeling about it; got me all worried for nothing.
Peter Cummings
28
Posted 10/11/2018 at 00:33:57
If he isn't fit, he should be benched. Our job would be to shackle Hazard, who is their main man and a penalty risk. Hopefully Chelsea will be affected by their Champions League trip to Russia and won't be at their best so hope springs eternal that we can at least earn a point; I think we can.
Derek Thomas
29
Posted 10/11/2018 at 00:49:27
He played on so should be okay for the weekend, a bit of strappings for mental and physical support then after the game declare him not fit for International travel, has 2 weeks rest - sorted. (Same for Coleman too if required)... and no, I'm not advocating Keane-esque remedies. He turned an ankle, it happens... not like poor Welbeck, now that looked nasty.
John Pierce
30
Posted 10/11/2018 at 02:14:23
Interesting conundrum. Personally, if Richarlison is not fit, despite a fairly weak set of performances, Walcott goes in as centre-forward. Lookman goes right-wing and Mina on as suggested.
Pace is what we need and in this game more than most a counterattack is paramount. Neither Calvert-Lewin or Tosun can make something out of nothing. Lookman and Walcott can.
Up the Toffees, 2-0 the Ev!
Fran Mitchell
31
Posted 10/11/2018 at 02:56:03
Either Calvert-Lewin comes in (Tosun showed on Tuesday that he is either a) way off form, or b) just not good enough)
Or
Lookman comes in, and either he or Walcott play in the middle.
I'd put Niasse on the bench, in place of Tosun, as Niasse actually has an impact when he comes on in spite of his obvious failings. And his pace and energy at least fits our current style, Tosun is just way off.
Gonna be a very difficult game, but should also be an enjoyable one and we can win it.
Gavin Johnson
32
Posted 10/11/2018 at 04:20:24
It's a major blow if Richarlison misses the game. The ability to break at speed is a big part of how we set up away under Silva.
I'd play Calvert-Lewin. He's the fastest player at the club. He plays better when not wasted out on the wing. He should play as striker and take his chance.
Darryl Ritchie
33
Posted 10/11/2018 at 07:26:32
I've a sneaking suspicion Richarlson will play but, if not, the other two will not disappoint. This is the most entertaining Everton team I've seen in years, attacking, front-footed, but not neglecting the defensive side, either. All of a sudden, we've too many centre-halves. If Mina is up to speed (as we will soon find out), who sits?
We are playing well, but so are Chelsea. This game will provide us with a good opportunity to see just how much Silva has improved the squad, and just how much improvement is still needed.
A true learning experience for everybody.
John Pickles
34
Posted 10/11/2018 at 08:21:29
This is Everton, he's probably out for the season.
Ajay Gopal
35
Posted 10/11/2018 at 08:51:50
Yep, agree with posters saying we should play Lookman wide right, with Walcott in the middle.
Pickford
Coleman Keane Mina Digne
Gueye Gomes
Sigurdsson
Lookman Walcott Bernard
Subs: Stekelenburg, Holgate, Baines, Davies, McCarthy, Calvert-Lewin, Tosun
Jon Withey
36
Posted 10/11/2018 at 09:20:42
Walcott as striker is a good idea – I know his finishing has been off recently but he is a good player.
I'd almost start Calvert-Lewin just to tire them out – but we need Lookman, Walcott and Bernard to take on the defence.
Tony Everan
37
Posted 10/11/2018 at 09:30:44
Pickford
Coleman Keane Mina Digne
Gueye Gomes
Sigurdsson
Walcott Calvert-Lewin Bernard
That's if Richarlison is out.
Mark Brennnan
38
Posted 10/11/2018 at 09:39:23
Two wonderful succinct digs at the neighbours in that small article...
Richarlison would be a big blow but not insurmountable.
Pickford
Coleman Keane Mina Digne
Guye Gomes
Sigurdsson
Lookman Tosun Bernard

Brian Harrison
39
Posted 10/11/2018 at 10:03:53
It would be a big miss not having Richarlison to lead the line but, if he can't make it, then he will pull out of joining up with the Brazilian team, and will have 2 weeks to recover before the Liverpool game.
Out of the two who could replace him, I would probably go with Calvert-Lewin at present – there isn't much between him and Tosun. But he is young and hasn't played many games up top so he may be our best option. I know some have suggested Walcott to play there, as he did play up top for Arsenal on occasions, but I am not sure he is up to playing in that position any more.
Jerome Shields
40
Posted 10/11/2018 at 10:08:29
The same problems exist from last week: the right flank and forward line.
To improve the right flank, I would play Lookman rather than Walcott. When he replaced Walcott, he got more touches in 15 minutes than Walcott got in this last four games. Hopefully Seamus can hold up a bit better.
The forward line is a problem, especially if Richarlison is not fit. Bernard on the wing and use a lucky dip to select the centre-forward, since Everton really need to buy a replacement.
Clive Rogers
41
Posted 10/11/2018 at 10:59:34
If Richarlison doesn't make it, I wouldn't play Calvert-Lewin as he gives the ball away too often due to poor control. I would bring Lookman in, possibly interchanging with Walcott. The rest of the team picks itself really, although Bernard needs to show some consistency.
Clive Rogers
42
Posted 10/11/2018 at 11:07:51
Gavin (#32), Calvert-Lewin should take his chance? He has made 53 appearances for EFC and is 22 in March. He should be becoming established.
Dermot Byrne
43
Posted 10/11/2018 at 11:17:03
Bernard and Lookman tearing their defence apart with trickery!
David Hallwood
44
Posted 10/11/2018 at 11:29:06
I'm sure someone could do a thesis on our abysmal record against the top 5/6 clubs. How is that smaller clubs than us (I'm looking at this through Royal Blue glasses, as most footie fans would say clubs like us) the likes of Watford, Bournemouth, even clubs that are no longer with us: Stoke City, Aston Villa etc, can come away with results against these teams.
There's little doubt it's a tough ask to get anything from the game but any improvement on the last two visits is a must. I'm expecting the worst but hoping for the best regardless of what team we put out.
Tony Waring
45
Posted 10/11/2018 at 11:49:35
The fact is that we must contrive to be able to score goals and win matches even without Richarlison. If we are simply a one-man band in attack, we ain't going to get anywhere this season or the next! Others must up their scoring feats. That said, I do hope he is fit for tomorrow. Anyone know of any TV links?
Tony Twist
46
Posted 10/11/2018 at 11:58:51
Richarlison is a big loss but we have plenty of able attackers. I don't want him playing if he is not 100% fit. Lookman, who did well for Leipzig and Charlton up front, or Walcott are good enough it is down to the manager to coach the players into how to hurt the opposition. Everyone needs to man up and think of themselves as equals to Chelsea and we will do just fine. The team should be:
Pickford, Coleman, Mina, Keane, Digne, Gana, Gomes, Sigurdsson, Bernard, Lookman, Walcott. With Tosun & McCarthy on as subs in the second half.
Kev Jones
47
Posted 10/11/2018 at 12:12:51
Hoping we continue our recent improvement and take the game to Chelsea.
With the best will in the world at the moment, and going on past form at The Bridge, it seems likely a draw is the best we might do today tomorrow. I think that, if we could put away more of the early chances we have been creating recently, it would settle the side, give them the confidence to go on and win the game.
Jim Bennings
48
Posted 10/11/2018 at 12:17:44
I had a dream last night that we won 2-1 with a last-minute goal... woke up this morning, checking my phone and telly for confirmation of the result such a convincing dream this was. So who knows?
But, then again, last week I woke up at 2am convinced I'd got 6 numbers up on the lottery... lol.
Brent Stephens
49
Posted 10/11/2018 at 12:43:11
Jim, "I had a dream last night that we won 2-1 with a last-minute goal, woke up this morning checking my phone and telly for confirmation of the result such a convincing dream this was".
Get back to bed now, dream well and don't wake until Sunday evening.
Brian (#39) makes a nice point about Richarlison and availability for the Brazil and Liverpool games.
Terence Leong
50
Posted 10/11/2018 at 12:58:29
I think if we are to play Calvert-Lewin, it's because we are playing to cross balls into the box and have him battle for those.
I'm not up to speed about Chelsea's centre-backs... If they are the types who can be hassled by a more physical presence, and balls crossed into the box, then we can go with Calvert-Lewin at the top.
Other than that, I won't play Calvert-Lewin. Others have mentioned, in their earlier posts, having a front 3 of Bernard (left), Lookman (right), and Walcott (centre); this may actually give us a very mobile forward line which we haven't really have before.
In fact, these guys can switch up quick a fair bit (Bernard going right and Lookman left too); it might be akin to some false nine formation. There is enough trickery and pace between these guys.
The drawback to that is that these guys are on the small side, and it depends if they can hold their own when the play gets physical.
Just last week, Man City played with small forwards across their front 4. So, it's worth a shot.
And if it doesn't work out, we can bring Tosun or Calvert-Lewin on later in the game.
Tony Everan
51
Posted 10/11/2018 at 13:52:08
Jim @48,
Too many cheese butties before bedtime?

Simon Smith
52
Posted 10/11/2018 at 14:24:28
Richarlison is the exact reason we should be looking around the South American market much more often. He, like Suarez when he was at the Red Shite, and Sanchez at Arsenal, play through the pain barrier for their team; they will play until they drop.
I watched the game back on TV (Sky Sports 60 min) and I couldn't believe how badly he twisted his ankle. He was in clear pain, limped around like a dog with a sore paw, yet hit a brace.
Silva needs to bring us some more guys to the club to join Mina and Bernard as our South American trilogy.
Gavin Johnson
53
Posted 10/11/2018 at 16:18:06
Clive #42,
I'm not saying Calvert-Lewin is the answer. Playing him is far from the ideal scenario but I just think he's the best we've got to play in an away fixture once Richarlison is taken out of the equation.
Paul Curwen
54
Posted 10/11/2018 at 17:08:47
Where can a chap get hold of last-minute tickets?
David Hallwood
55
Posted 10/11/2018 at 17:21:01
If, if, if.
All the results have gone our way; if we manage a win, and Man Utd don't get the 3 pts we'll be up to 6th, and only 6prs behind Chelsea — it's the hope that kills you.
Jack Convery
56
Posted 10/11/2018 at 19:06:57
Luiz is terrified of pace so, if Richarlison is out, put Walcott at centre-forward and put Lookman on the right. COYBs!!!!!
Sam Hoare
57
Posted 10/11/2018 at 19:37:04
I wouldn't be surprised if he starts Jagielka over Mina, who would be quite a risk starting in a new league in our hardest game of the season.
Up front, I think Calvert-Lewin is the best replacement for Richie if not fit. Calvert-Lewi is apparently our quickest player and quite adept at winning pens from rash defenders not keen on pace (see David Luiz). He's strong and runs all day so is the best fit for our counter-attacking/high press system.
Paul Birmingham
58
Posted 10/11/2018 at 20:08:10
I think Bernard, Walcott and Lookman, would be an interesting and skilful attack, but I'm not sure there's enough killer instinct that is needed of a centre-forward, but perhaps if Calvert-Lewin, did start, as a centre-forward he'd, have taken stock of his positional play and descision making when we played Arsenal.
Experience and game time will help him. Tomorrow, I'm sure Chelsea will turn the screw early but also I believe we have enough ammo, to also do them damage... if we believe.
My vision for this weekend is that, Tony Bellew has a stormer and wins his fight and Everton tunes of glory set are set, for a long over due win at Stamford Bridge.
Siggy to score a stormer and Walcott regains his mojo, and bags a couple.
Deffo wishful thinking but I've more hope by far, than this time last year.
Silva will have them up for it, I'm sure and they'll learn from the mistakes at Manure.
No surprise.. no surprise, I didn't get no reply so far, from the FA, about cheating and diving by Martial. They've not even read the email, but may be it's filtered out and never got there.
Nb please Evertonians, TWrs, please say a prayer tonight for my uncle whose very,very poorly. Thank you.
Ashley Roberts
59
Posted 10/11/2018 at 20:08:38
Chelsea are strong in midfield and as a result I would bring in an extra player to counteract their particular dominance in that area. I would consider bringing in Davies and hopefully if Richi is fit play a 4-4-2 with him and Walcott up front. If not fit I would draft in Calvert-Lewin in the same system. If we can contain them and hit them on the break with speed who knows???
Depending on how this set-up works we could always bring on Bernard with 20 minutes to go to go for a win. I just worry if we don't flood the midfield we might get overrun and then there will be little chance of bringing in our fast counter-attacking approach. I think we have to play Mina tomorrow as he is our future.
Frank Sheppard
60
Posted 10/11/2018 at 20:20:30
I don't think it's worth risking him, aggravating the ankle could mean him out for weeks.
Joe O'Brien
61
Posted 10/11/2018 at 21:26:10
Paul @58, I hope your uncle pulls through whatever he's going through. Sending him positive thoughts, mate.
Paul Birmingham
62
Posted 10/11/2018 at 22:00:26
Cheers Joe, @61, very much appreciated, as the final match is playing.
"What's Our Name?"
Thank you.

Derek Knox
63
Posted 10/11/2018 at 22:11:48
Kevin Friend as the Match official, he's not too bad as referees go, and I believe him to be one of the better ones. Which is a plus, in a game of this type, it's never easy going to the Bridge, but virtually impossible, if you have a poor official.
Which leads me on to the Southampton v Watford game, surprise, surprise, the official was Jon Moss, who disallowed a perfectly good goal at the end of the game.
I have no affinity with Southampton or Mark Hughes for that matter, but when the official makes a blatant error as was this one, regardless of who the team is, it raises the question of the severity of wrong decisions.
Charlie Austin was fuming when post-match interviewed, and didn't hold back in any way, shape, or form with his scathing remarks about Moss's refereeing.
No doubt Charlie will be fined by the FA for telling the truth, the sooner VAR is a part of the game the better, I know it's not ideal, but surely better than the likes of allowing bad refereeing decisions to go unchallenged, at the time, later, is too late!
Again I have no affinity with Charlie Austin, but the lad was spot on, with what he said. Imagine if it was the last game of the season (he said) and they needed the three points to stay up, this decision or any similar would have the Club wrongly relegated, and a Manager possibly sacked!
Frank Wade
64
Posted 10/11/2018 at 23:19:34
Derek #63, the BBC site says ref was an inexperienced guy named Simon Hooper. Maybe Moss was 4th official? Hughes and Austin were fuming with the disallowed goal but not so scathing at the ref missing a very strong penalty shout for Watford.
Derek Knox
65
Posted 10/11/2018 at 23:30:52
Sorry Frank, must have got the name wrong, but the principle is still the same, and some officials always seem to be connected with controversy, so surely it's more than coincidence!
Duncan McDine
66
Posted 11/11/2018 at 07:11:00
I've got a ticket going spare for today's game. Can meet outside away turnstiles at 1:45. Face value £30. 07985901398
Frank Sheppard
67
Posted 11/11/2018 at 07:34:20
Don't want to be negative, but BBC website states " last top-flight win on a Sunday was 2-1 at QPR in March 2015". So omens are not good.

Laurie Hartley
68
Posted 11/11/2018 at 07:59:59
If Richarlison starts I think we are a chance to end their unbeaten record.
They have two good full backs but Luiz and Rudiger especially can be got at.
Alonso is good going forward so he needs watching but we could turn this into an opportunity if we can catch him our of position.
If no Ricky its Tosun for me.
Duncan McDine
69
Posted 11/11/2018 at 08:37:14
Ticket is now spoken for. Cheers
Derek Knox
70
Posted 11/11/2018 at 08:43:19
Without stating the obvious, the one player they have that we should be worried about is Eden Hazard, I am not saying Chelski are a one-man team, far from it, but he definitely adds a different dynamic.
As has been mentioned Charlie will be sorely missed, assuming that he doesn't play, but we must remember too that we can't solely rely on him alone week in, week out.
The last few games have illustrated again, that goals are more likely going to come from midfield, as opposed to the striking department, hopefully I have put the hoodoo on them and Calvert-Lewin or Tosun prove me wrong.
Alex Bennett
71
Posted 11/11/2018 at 09:34:12
I thought we won on a Sunday a couple of weeks ago. Does the BBC mean we haven't won away on a Sunday since then or just London?
Gordon White
72
Posted 11/11/2018 at 10:17:06
If Richy can't play it will be a big blow. But if Hazard couldn't play would Chelski fans be predicting a loss? No. That's because they have faith in the rest of the team to get a result.
We have a lot of talent too guys! We were really unlucky against Arsenal and Man Utd. The former – the only team to stop us scoring.
I'm backing us to win today. With or without Richy. Mina to score on his full debut and goals from Sigurdsson and Walcott. 3-2 Everton. So let's get with the positive vibes please.
COYBs
Joe O'Brien
73
Posted 11/11/2018 at 10:50:35
We're going there with the best team that I can remember in a long long time. Hopefully Charlie is fit, but we've got alot of other players that can hurt them also. The main thing for me is no bloody big mistakes from the ref or linesman for that matter. If we lose to the better team after playing well fair enough.. but I don't want the result being determined by a bad call.
I'm not getting my hopes up after seeing Kevin friend is in the middle, we've had issues with him in the past.
Joe McMahon
74
Posted 11/11/2018 at 10:59:09
"Calvert-Lewin and Tosun are gagging for it". I've heard it all now. Chelsea must be really pissed off that we have these 2 gems.
Lewis Barclay
75
Posted 11/11/2018 at 11:40:35
I'd really like to see Bernard and Lookman start either side of Richarlison today. With Sigurdsson and Gomes behind – I think we could really take it to Chelsea – and having Calvert-Lewin, Walcott and Tosun available from the bench isn't too bad!
Raymond Fox
76
Posted 11/11/2018 at 11:53:33
I can't see Richarlison taking part in this game if what we are hearing is true. Also, with my realistic hat on, I don't see us getting any points out of the match.
On the other hand, as a team we are on an upward curve performance-wise and it's a pity if Richarlison can't play – he might have been the difference.
I'm hoping for the best and anything will be a bonus.
Colin Malone
77
Posted 11/11/2018 at 13:09:50
Coleman needs protection, which he does not get from Walcott.
David McMullen
78
Posted 11/11/2018 at 13:14:28
Got a feeling we'll win this.
Add Your Comments
In order to post a comment, you need to be logged in as a registered user of the site.
Or Sign up as a ToffeeWeb Member — it's free, takes just a few minutes and will allow you to post your comments on articles and Talking Points submissions across the site.