Sigurdsson out of first Iceland game this international break
Monday, 12 November, 2018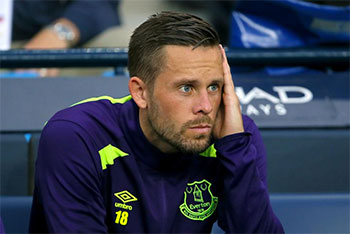 Gylfi Sigurdsson has been ruled out of Iceland's forthcoming match against Belgium and could miss their friendly with Qatar as well with the ankle inury he sustained on Sunday.
The midfielder was pictured leaving Stamford Bridge wearing a protective boot following the goalless draw against Chelsea in which he was the victim of an awful two-footed tackle by Jorginho in the first half that resulted in just a yellow card.
Sigurdsson limped back into the action and played on until 15 minutes from the end at which point he could no longer continue and was replaced by Phil Jagielka.
Manager Marco Silva's reacted strongly to the incident at the time and brought up the severity of Jorginho's actions in his post-match press conference while also casting doubt on Sigurdsson's availability for Everton's home game against Cardiff the weekend after next.
Meanwhile, Richarlison has joined up with the Brazil squad and is expected to be fit if selected to play despite being a doubt for the Chelsea game with an ankle injury and then hobbling our of the game holding his groin.
---
Reader Comments (47)
Note: the following content is not moderated or vetted by the site owners at the time of submission. Comments are the responsibility of the poster. Disclaimer
Simon Smith
1
Posted 13/11/2018 at 01:27:21
Jorginho should have seen red for the tackle, it's no wonder Sigurdsson is out!!
Good timing for us, hopefully he only misses the international break but, worst-case scenario, he could sit out the Cardiff game too.
Joe O'Brien
2
Posted 13/11/2018 at 01:37:16
We could probably cope without him against Cardiff, Simon... it's the match after we definitely need him on the pitch. For that alone, I'm delighted with this international break.
David Ellis
3
Posted 13/11/2018 at 02:43:52
A chance to try a few other options:
1. Bernard or Gomes in the No 10 role?
2. If Gomes is No 10, then Davies comes in at No 8
3. If Bernard is No 10, then we could:
(a) move Richarlison out to the left and Tosun down the middle (or Calvert-Lewin)
(b) bring Lookman in on the left-hand side.
My preference would be to go with Bernard at No 10 and start Lookman on the left-hand side – as few changes as possible.

Davie Turner
4
Posted 13/11/2018 at 02:51:57
I'd agree with your preferred option, David (#3), I think Gomes is in the correct position and Bernard the logical choice with Lookman coming in.
Bill Gienapp
5
Posted 13/11/2018 at 06:35:45
Fine with me re: missing the friendlies. Rest and heal up!
If he has to miss the Cardiff game, as others have suggested, it would be a good opportunity to try Bernard at No 10 and give Lookman a long-awaited start. Nice to have actual options!
Gary Russell
6
Posted 13/11/2018 at 07:31:17
Bernard in the middle could be good. He is quick and sharp and might be our answer to a Cazorla / Mata / Hazard / Silva kind of player. For me, he's still getting to grips with the speed of the Premier League and hopefully will find his feet soon and also stop picking on shithouse grock centre-halves!
I was gonna write Fàbregas too, who has great vision, but deserves a ban after his cheating foam antics on Sunday.
Peter Morris
7
Posted 13/11/2018 at 07:37:21
When you look at the tackle Jagielka got a red for on opening day, and then this tackle on Sunday, it only serves to show why we need VAR.
I can't help but conclude that there was an element of home and away team involved, plus who the respective teams were too. It can be argued that the 'over-zealous ' decision at Wolves directly cost us 2 points as well as the loss of our captain. Simply no consistency!
Derek Knox
8
Posted 13/11/2018 at 08:01:06
I am surprised in many ways that Richarlison has gone away with the Brazil squad, he was touch and go for the Chelsea game.
It doesn't surprise me though that Sigurdsson will miss the Belgium tie and I hope he misses the other one, which is only a friendly. At the end of the day, as we need him for the forthcoming fixtures.
Terry Farrell
9
Posted 13/11/2018 at 08:02:16
Peter, agreed but there is no guarantee that VAR will bring consistency either depending on who is in the chair!
David Pearl
10
Posted 13/11/2018 at 08:30:20
Fine with me having no international frendlies at all, being selfish I guess. They seem to be coming along too quickly this season. This time around we seem to have a number of players carrying knocks that need rest and not to be flying around the world.
Martin Berry
11
Posted 13/11/2018 at 08:52:26
The Jorginho tackle is the type that can end careers – how it was only a yellow is mystifying as is how Morata did not get sent off for persistent cheating via diving or falling over at every opportunity.
I am so glad that our players are made of different material and it was obvious Chelsea don't like losing (who does) but at what cost?
I hope they win nowt!
Robert Leigh
12
Posted 13/11/2018 at 10:56:22
Shame he's injured – but, as others say, at least it's an international break.
We could always go for a back three against Cardiff – they will pump balls into our box so the extra 'big man' at the back. I would also get Zouma back in the side (he doesn't deserve to be dropped).
Pickford
Keane - Mina - Zouma
Coleman - Gomes - Gana - Digne
Lookman - Calvert-Lewin - Richarlison
Bernard has struggled the last few games and will get kicked all over the park against Cardiff. Walcott needs a reality check and it leaves us with options off the bench.
Tony Everan
13
Posted 13/11/2018 at 11:08:53
Sigurdsson is lucky that it wasn't worse, it was a red card, potentially leg breaking tackle.
The Ref saw it and gave Jorginho a slap on the wrist. There is retrospective action for diving but' for nearly ending someone's career' you get away scott free!
I just hope that Sigurdsson recovers for Cardiff as he is finding his best form.
Sam Hoare
14
Posted 13/11/2018 at 11:14:24
If Sigurdsson is injured for Cardiff, then I think it's the perfect opportunity to try Bernard in the middle. He is probably our most intelligent player along with Siggy and that way we don't have to change what has been a good system for the last few games. It also gives Lookman a start on the wing which he deserves.
Dennis Stevens
15
Posted 13/11/2018 at 11:27:58
A shithouse "tackle" from a shithouse player in a shithouse team.
Peter Gorman
16
Posted 13/11/2018 at 11:58:14
Dennis, that was shitten well said. For me, Marcos Alonso sums up Chelsea in a single player: absolute quality at football but can't resist resorting to thuggery.
As Sigurdsson lay sprawling from that chop from Jorginho (at the umpteenth attempt) Sarri had the temerity to wildly protest at the ref. Not nice.
Peter Gorman
17
Posted 13/11/2018 at 12:02:22
All this talk of possibly going with three at the back makes me pinch myself that we are now struggling to drop either of Zouma or Mina to partner the rock that Keane has become when only this time last season we were watching Keane and Ashley bloody Williams bumbling about or sprawling on their backs like beetles in the bath.
Seeing how this new Everton is evolving is doing wonders for my therapy.
Jamie Crowley
18
Posted 13/11/2018 at 12:10:02
DK@ 8 -
I thought the same regarding Richarlison. If he travels to Brazil (or wherever it is they are playing, don't know, don't care) I sincerely hope he doesn't play a single second and rests that ankle.
Sigurdsson was mauled on the weekend. I'm relieved to read he's not playing for Iceland. And, as many have said, if he can't make it for Cardiff, play Bernard in the No 10 role and rest Sigurdsson for the next game.
I think the one after Cardiff is a bigger deal. ;0)
Rob Dolby
19
Posted 13/11/2018 at 12:27:10
It was a bad tackle made worse by the fact it was in-front of both the ref and linesman. don't want VAR involved for tackles as it could get stupid.
People on here have been saying Bernard and Mina were lucky to stay on the pitch and that's our own fans god knows what 5 refs in a room would conclude.
If VAR comes, it has to be for offsides or clear things that the ref hasn't seen like diving.
We need Sigurdsson back for the derby; we should have enough without him against Cardiff.

Brent Stephens
20
Posted 13/11/2018 at 12:35:01
Sigurdsson and Gomes are staying at Finch Farm for treatment.
Gary Willock
21
Posted 13/11/2018 at 12:35:02
I don't envy Marco's decision, but the formation is actually working with Gueye and Gomes in the 4-2-3-1 so he can't change it to accommodate Mina and Zouma (at least not as a starting formation) imho.
Take your pick but, for me, it is Mina simply for the threat in other box and the fact he's our player. Try to sign Zouma full time in January and if he signs then it's all bets off – form wins.
Rather than dragging Bernard in from the left, I'd also give Lookman a go in the No 10 role where he apparently did well for RB Leipzig? I'd also like to see what Dowell could do in a near full strength first team too if Lookman doesn't grab it.
A winning team, and vastly improved performances. Keep the changes to a minimum until we need to otherwise.
John Keating
22
Posted 13/11/2018 at 12:35:18
I think Keane is the most improved player since last season. I slagged him woefully last season and am delighted he is proving me wrong big style. His partnership with Zouma, although poor at the beginning of the season was getting better every week.
I say "was" as I believe it is now time to pair Keane with Mina permanently from now as they will be our backbone for the foreseeable future.
Zouma will be a good back-up with Holgate, however, as Sunday showed Jags still has a part to play. He was probably more vocal and captainlike in the short period he was on the pitch than he has been since he arrived!!
Jay Wood
[BRZ]
23
Posted 13/11/2018 at 13:49:41
From recall, Silva has played three central defenders during his term at Everton for all of 18 minutes. Bringing on Mina to join Keane and Zouma for all of four minutes against Brighton with the game already won, then on Sunday for the last 14 minutes with Jags joining Keane and Mina on the pitch.
The first was simply to introduce Mina to Premier League game time, the second a deliberate tactical switch to nullify Hazard's growing influence from Chelsea own tactical tweak.
Contrary to some claims, I have never heard Silva say in his time at Everton that he is contemplating going with three centre-backs. It certainly isn't a formation he has favoured at his previous clubs.
I for one would oppose it, unless Silva determines it is his best defensive option in single games due to how the opposition plays, or – as was the case on Sunday – as a counter tactic to what the opposition were doing, in-game.
The formation and the style we are playing is working. Changing to three central defenders has consequences for all aspects of our game and player selection throughout the team. Why 'fix' what isn't broken?
As for the international break, Jamie @ 19, Richarlison had a very easy commute to join up with the Brazilian squad after the Chelsea game on Sunday – a couple of stops on the tube (metro). They assembled in London and play Uruguay at the Emirates on Friday, then Cameroon – also in London – on Tuesday, so no long cross-Atlantic travel involved.
Coutinho, Marcel and Casimiro have all pulled out of the Brazil squad through injury. I tried to spot Richarlison in TV footage of the team working out at Arsenal's training ground this morning, but didn't spot him, so maybe he is being held back due to his knocks.
Harry Hockley
24
Posted 13/11/2018 at 15:01:32
Get shot of all these internationals in-between Premier League matches – it's ridiculous. I'd just have the World Cup if I had it my way!
Bobby Mallon
25
Posted 13/11/2018 at 15:02:52
That tackle was so much worse than Jagielka's when he was sent off. It pisses me off, the inconsistency in refereeing.
Harry Hockley
26
Posted 13/11/2018 at 15:07:51
Remember those saying Gomes has nothing to do with Schneiderlin's spot, saying they're different types and it's not a competition? Well, you're wrong.
Looks like I was right and he can play alongside Gana and has more defensive qualities than most were aware of, Barca bought him as a long-term replacement for Busquets, don't forget.
Mike Allison
27
Posted 13/11/2018 at 16:37:17
Bobby, I've been playing a little game of 'If Jagielka's was a red card then so was that' all season. There are around 2 or 3 in nearly every match.
John G Davies
28
Posted 13/11/2018 at 16:38:24
Extremely long-term, Harry.
Busquets is 29
Liam Reilly
29
Posted 13/11/2018 at 16:43:49
Hopefully we don't revert to 3 central defenders as it means we lose a body in midfield or lose the width upfront.
We shouldn't be shoehorning players into the side; play the best team and formation and if there's three good players for two positions then that should be a positive.
I'd be starting Mina and Keane as the preferred two as they are the likely future and Zouma is not keen on staying anyway.
Joe O'Brien
30
Posted 13/11/2018 at 17:07:29
Harry @27 this tread is about Sigurdsson missing Iceland's international matches. But at least you got your point across.
Frank Wade
31
Posted 13/11/2018 at 17:19:40
A lot of posts on replacing Gylfi if he is missing for the Cardiff game. I don't know if a superhuman workrate is a Silva requirement for the no 10 position, but Gylfi has been working his socks off, covering huge ground in every match. He sat in on Jorginho to cut off the Chelsea go-to ball, possibly adding to Jorhinho's frustration and leading to the assault (can't call it a tackle).
Of the current squad Tom Davies is the one who could possibly fill in workwise. Kieran Dowell would be my choice but brings the touch and vision, the hard bits, but not the constant involvement.
Ron #20, I for one look forward to VAR to root out players like Jorginho and Alonso.
Simon Smith
32
Posted 13/11/2018 at 18:27:09
If Sigurdsson is out, I'd simply bring in Lookman, I also agree with Gary @22 in playing Lookman in the No 10 role.
Looking at him, he's not a typical winger, I think he would suit the Non 10 roll, plus he and Bernard could easily switch up for 10 or 20 mins a half if needs be.
With Richarlison out, I'd go with Calvert-Lewin as he's a monster in the air and against a defensive Cardiff side the wingers crosses could prove vital. Silva will have a long term plan; if Calvert-Lewin or Tosun is due out in January, then I'd obviously play the one who's most likely to be with the blues long term.
Christy Ring
33
Posted 13/11/2018 at 19:22:44
The Sigurdsson tackle was a shocker, and definitely a straight red; how Souness could defend the tackle, and thought Mina was lucky to stay on the field, says everything about Liverpool pundits. Hopefully Siggy won't be absent long-term, he played on for quite a while after the injury.
Tony Abrahams
34
Posted 13/11/2018 at 19:28:47
I think that the best system a manager can play is one that suits his players so it's going to be very interesting to see what Silva does next?
Was it a coincidence that Everton players suddenly started contesting the referee's decision on Sunday when Yerry Mina made his debut?
Has Zouma been in really good form since he has settled in? And does Michael Keane look like our most improved player since the start of this season?
But has Gueye been a revelation since he started playing with Gomes, which is also improving Sigurdson's game?
We were really good against Chelsea, at closing the gaps, (stopping the passing lanes) but we are still wide open to the fast counter attack so although I'm very happy watching Everton, I'm really intrigued to see what the manager does next?
Eddie Dunn
35
Posted 13/11/2018 at 19:48:47
Christy, it's easy to see why Souness didn't see anything wrong – he was committing GBH, week-in & week-out.
Derek Knox
36
Posted 13/11/2018 at 19:54:04
Harry @27,
I couldn't agree more. Maybe I'm wrong but I don't remember so many International Breaks. Last year it was the World Cup run-up, but that's been and gone! What makes it even worse Harry is that a lot of them are only Friendlies.
Either way, it is another chance our players can pick up an unwanted injury. Every player dreams of representing their Country but not at the expense of their bread-and-butter football, surely!
Mike Gaynes
37
Posted 13/11/2018 at 20:20:10
Speaking of unwanted injury, another bit of bad news – Antonee Robinson has rolled an ankle in training for the USA and is unlikely to feature in the friendly against England on Thursday.
Harry Hockley
38
Posted 13/11/2018 at 20:24:19
Good point there, Tony, about Sigurdsson, his current run of good form has been undoubtedly better since Gomes arrived.
A player like Gomes can allow Siggy to have more of the ball and utilise his skills to better effect, ie, passing quickly through the lines and creating an attack. I think the players trust him – something that was being prevented with Schneiderlin or Davies partnering Gueye.
I don't want to throw all my eggs in one basket with Gomes because it's early days, but I've seen enough of him already to say we should sign him up as soon as we can but the ball seems to be in Barca's court there... so we'll see.
Harry Hockley
39
Posted 13/11/2018 at 20:30:52
Derek, my point exactly, gets on my tits all this Nations League bollocks, I couldn't care less about it.
Like you said, just another opportunity for our players to pick up injuries – all at the expense of this Nations League crap.
Liam Reilly
40
Posted 13/11/2018 at 20:46:25
I didn't like Souness as a player but I actually think he's a decent pundit who, although I don't always agree with (Sunday for example), calls it honestly.
The highlights reel that Sky showed after the Manchester derby looked like a completely different game to the one I watched earlier. Totally one-sided and you'd swear that it was all Chelsea; however, when asked if Chelsea were wasteful, Souness replied that he thought Everton got a deserved point and highlighted a few players: Gana, Gomes and Richarlison, along with Pickford to say that Everton are a team on the rise.
We need Siggy back for the derby ourselves, as we'll miss his work rate and his guile.
Peter Mills
43
Posted 13/11/2018 at 21:37:09
Gylfi Sigurdsson is an excellent footballer. He has always shown that when playing for Iceland, and a pal who is a Swansea season ticket holder loved him when he was there.
He has shown touches of class over the past 12 months playing under very poor management, but has also struggled to find (or be played in) his proper role He was over-priced when we bought him, but that is done, can't be changed now. He is a very important player for us, and I very much hope he is fit for the derby, he can do damage in that game.
Much of his improvement is down to the manager. I was one of many people who were dubious about Mr Silva, mainly about his defensive acumen, but over the past couple of months, notwithstanding the Carabao Cup flop, he has impressed me.
Gerry Quinn
44
Posted 14/11/2018 at 07:04:12
Worrying to hear that Gomes has failed medical to play for Portugal and has been sent back – wonder what that is all about?
Liam Reilly
45
Posted 14/11/2018 at 07:44:36
According to the OS Gerry; "Gomes sustained bruising to his leg."
Sensible decision to keep both of them at Finch Farm. I'm only surprised that McCarthy hasn't been called up by O'Neill!
Eddie Dunn
46
Posted 14/11/2018 at 08:56:04
Liam, I just hope Seamus avoids the injury curse of our Irish contingent.
Frank Wade
47
Posted 14/11/2018 at 11:48:39
I went back to the Sky recording of last Sunday's game and listened to what Souness had to say, as I couldn't remember anything controversial.
On Mina, "This one, what is it, reckless endangerment, a position when you leave the ground like that, from another angle, watch he's off the ground, that's a fair old clattering to the inside of his right ankle for Hazard. That would be a sore one. I think on another day that could have been a red card"
"Like this one with Jorginho, he's nibbling away and from another angle, you see he's clearly off the ground again, look that's another sore one, on another day that could be a Red." Redknapp chimed in with "if that's a head on tackle it would be a red"
"Theo Walcott, is unlucky there, Alonso is clearly going for the ball but unfortunately just catches his ankle, I think that's the less of the 3, that wasn't as bad as the other 2."
Forget his murky past, he's a good analyst.

Minik Hansen
48
Posted 14/11/2018 at 16:19:40
Here's a wish for a quick recovery for Sigurdsson. That Jorginho tackle was on tape, so it's not entirely scott free, EVERYONE saw that, including all the other teams. Treat him well, boys. ;)
As for Bernard, as much as I'd like to see him behind the striker, my guess is that Marco Silva keeps him as a winger and goes for Davies. Certainly he won't play as a winger, so it's his opportunity to shine.
Paul Birmingham
49
Posted 15/11/2018 at 22:30:32
Another terrible refereeing mistake and raises questions about the communications between linesmen and referees.
I am resigned to second-rate referees at the moment causing pain and injustice for Everton and other teams every week.
Get fully fit, Siggy, and well done to Marco Silva for turning the team around and improving the way we play with guts, style and manner.
Add Your Comments
In order to post a comment, you need to be logged in as a registered user of the site.
Or Sign up as a ToffeeWeb Member — it's free, takes just a few minutes and will allow you to post your comments on articles and Talking Points submissions across the site.