Blues dig in to frustrate reds in another goalless Goodison derby
Everton 0 - 0 Liverpool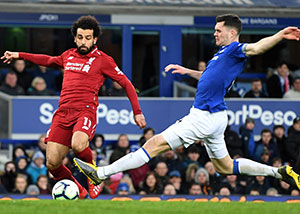 Michael Keane's crucial second-half tackle helped Everton grind out another goalless draw at home to Liverpool
Everton stymied Liverpool's much-vaunted attack and put another dent in the reds' title charge but couldn't grab the goal that would have ended a nine-year wait for a Merseyside derby victory.
Backed by a cacophonous Goodison Park crowd, the Blues set their stall out early with ceaseless commitment and running but they found chances hard to come by throughout and the key moments came on the defensive end.
Jordan Pickford made an excellent save from Mohamed Salah in the first half and Michael Keane pulled off a brilliant saving tackle to deny the Egyptian in the second while, at the other end, Dominic Calvert-Lewin had Everton's best chance with a header shortly after half-time.
Marco Silva made two changes from the team that started against Cardiff on Tuesday, bringing Bernard in for the off-form Richarlison and Kurt Zouma for Phil Jagielka as Morgan Schneiderlin and Theo Walcott retained their places in the line-up.
Walcott was harshly booked by controversial referee Martin Atkinson after just six minutes for fouling Divock Origi trying to recover from poor control and it was poor use of the ball that would put the home side under pressure for much of the first half.
Superb covering from Seamus Coleman took the ball away from Salah with a quarter of an hour gone and Pickford made a routine save from the Liverpool forward as he tried to curl one past him before Schneiderlin's giveaway in midfield allowed Salah in again.
He looked odds-on to score but Pickford covered his angles in impressive fashion and made an instinctive one-handed save to keep the game goalless.
Salah was the problem again 10 minutes before half-time, twisting and turning past Lucas Digne but Schneiderlin got back well to cover and put the ball behind before Walcott created a half chance for himself off a long ball forward from the goalkeeper but sliced his shot high over the crossbar.
Liverpool had the greater attacking momentum early in the second period as well, with Trent Alexander-Arnold forcing a save from Pickford with a direct free-kick and Virgil van Dijk allowed to maraud through midfield unchallenged before prodding the ball through the Everton defence for Salah.
Once more the former Roma man bore down on goal looking to break the deadlock but Keane scrambled back and made a first-class lunging tackle to divert the ball out for a corner.
Richarlison replaced Walcott just before the hour mark and the Brazilian had a tame header that was easily gathered by Alisson Becker in the reds' goal. But Everton had to survive one last scare in their own box before the tide began to turn in their favour.
Van Dijk's header back across goal fell to Fabinho just a few yards out but a poor first touch from the midfielder allowed to Digne to nip the ball off him and poke it behind, denying an almost certain goal.
As the match moved into the final quarter of an hour and the contest began to open up more, Everton's fans sensed an opportunity and willed their side forward and their Brazilian duo almost combined with 18 minutes to go.
Richarlison scampered down the right flank and crossed low in search of his compatriot but the ball was just inches off the studs of Bernard as he came flying in to try and meet it.
Cenk Tosun, a 75th-minute substitute for Calvert-Lewin scuffed a snap-shot off a free-kick that didn't trouble Alisson, Joel Matip put a free header wide for Liverpool and Digne wasted a promising free-kick at the end as neither side proved capable of finding a winner.
The draw represents more points dropped for Jürgen Klopp's Liverpool in the title race but a solid point gained for Silva's Everton in their bid to try and close the gap on Wolves in 7th place.
---
Reader Comments (49)
Note: the following content is not moderated or vetted by the site owners at the time of submission. Comments are the responsibility of the poster. Disclaimer
Jim Bennings
1
Posted 03/03/2019 at 23:08:06
Taking each game as individual and forgetting the poor derby record, this today was a positive point for varied reasons.
Stopping them scoring is satisfying and a second consecutive clean sheet given the circumstances over the last three months is another positive.
Obviously we need better quality in the attacking area and hopefully this summer Brands will work with Silva and rectify this.
We left everything out there in terms of work ethic today and that should always be the bare minimum every week even against the smaller sides.
It will be so frustrating if we put in a poor showing at Newcastle next Saturday because we can build on these last two results now and start a platform for the last two months of the campaign.
Work hard next week at St James Park and get the three points and we are moving onwards and upwards.
Karl Masters
2
Posted 03/03/2019 at 23:11:02
The crowd were fantastic today. MotM.
After the season we have endured, there was nothing to suggest they deserved, or would get, the support given, but the atmosphere was electric from the first minute and built up even more in the second half when the players were clearly all busting a gut for us.
You'd like to think that this may be a turning point for some of them. If they couldn't feel the sheer passion pouring out of the stands, and resolve to give 100% all the time to something very special, they need to go elsewhere.
Eddie Dunn
3
Posted 03/03/2019 at 23:16:14
Well said, Karl... spot-on.

Terry McLavey
4
Posted 03/03/2019 at 23:37:06
Just watched MotD (actually it's still on but have to post this!) Klipperty blaming the wind, well there's an expert on wind!
Didn't Everton have the same conditions ?...of course not!
It's like Alex Ferguson when he blamed the pitch, the other team weren't on the same pitch, were they?
Jermaine Jenas said Wallcott didn't have the best of games, it happens? Yes... every fucken game!!!! Get rid of that football mercenary!!
By the way, welcome back, Brendan Rogers, to a league where you don't have to worry about only one team to beat!
You said you enjoyed every minute? You lost, WTF?
Don Alexander
5
Posted 03/03/2019 at 23:54:21
I am genuinely pleased to have deprived Liverpool of two points. Make that very pleased, but in the cold light of day it's a sad reflection of how far we've descended under that twat Kenwright that we're even slightly celebrating drawing against anyone at Goodison.
Silva deserves credit for today but the players need to take a long hard look at themselves for turning up today, for once, with an attitude for once approaching "professional", that only earned us a draw mind you, at home.
Frankly I expect all the lazy, self-indulgent bastards to now fundamentally down tools to the end of the season safe in the knowledge that they've already just about secured their own futures by dispelling relegation. For the club's good, most of them don't give a fuck but I'll redress that opinion in the event our remaining matches see them busting a gut like today.
Kase Chow
6
Posted 03/03/2019 at 23:54:43
So pleased with the result and performance.
Obviously we potentially could have won it if we had more goal threats on the pitch (Bernard was excellent but he isn't a goal threat. Sadly neither is Walcott any more. Calvert-Lewin played well but he's not a regular goalscorer. Schneiderlin will never score for us) but hey ho, we all know the score.
Think we were a bit lucky Salah was off his game and also that they didn't take advantage of our poor defending at set pieces (Matip free header in our box as an example).
But we showed commitment, verve and fight and actually got a result. Given where we were 10 days ago and the very obvious attacking limitations of this squad, then overall I'm delighted with the outcome.
Liam Reilly
7
Posted 03/03/2019 at 23:55:32
There's very few Everton players would get in that Red team, so albeit that shite record without a win continues, we should look for the positives
it was a gutsy and tireless performance. All of the back four played well, the midfield was industrious but I felt we could've done with Gomes from the start.
Also, Richarlison was excellent when he came on and should've been on earlier.
For me, Sigurdsson was everywhere, battled for every ball. Great performance and great to see our old Seamus back. See him in the tunnel; no niceties, he was well up for it and it showed.
nick jones
8
Posted 04/03/2019 at 00:07:09
Bringing on Tosun for Calvert-Lewin was absolute b@llocks.
Julie Naybour
9
Posted 04/03/2019 at 00:53:02
Interesting to see David Moyes on Sky today, still referring to Everton as 'We'.
Simon Smith
10
Posted 04/03/2019 at 00:56:13
Lookman not being on the bench was a big issue today, we had an opportunity to get at a faltering Liverpool side after 60 minutes, Richarlison up top over Tosun would have left Lookman on for Walcot, which in turn would have lead to a more potent attack.
Lookman might as well leave, realistically, he doesn't seem to have a future under Silva despite him often calling Lookman the future of the football club.
Tosun showed again why he's of no use to us at all, along with Walcott, imo.
Bill Gienapp
11
Posted 04/03/2019 at 01:38:46
I agree with Jim. A lot of people are saying our season is now effectively over, but I think there's a lot riding on these last nine matches.
I don't think Silva will go unless we flat-out crap the bed down the stretch... but if we build on these last two performances and finish the season strongly (maybe even take a top six scalp or two along the way), it'll mean a lot more momentum and positivity going into next season. I think how we play against Newcastle will be very telling.
Jack Convery
12
Posted 04/03/2019 at 02:00:12
The Barcodes are managed by a RS who said we are a small club – ram it down his throat and bring home 3 points. Very good performance today but it's wasted when it's not backed up by a win. COYBs.
As to whether the RS will win the title – the answer appears to be blowing in the wind!
Laurie Hartley
13
Posted 04/03/2019 at 02:32:28
Karl Masters # 2 – I agree with every word of that post.
Listening to Goodison rock again made me very happy.
And the players – well every single one of them were at it today – everyone of them.
I listened to Henderson, Van Dijk, and Klopp post match interviews. They are gutted.
I thought the two commentators on Optus Sport were going to break into tears at the end of that. Every excuse in the book for Liverpool.
And Atkinson, despite his best efforts he couldn't spoil it for us. That foul he awarded against Coleman in the second half in a very dangerous area was a disgrace.
Happy to be a bitter today, we have upset everyone except Man City.
Up the Blues!!!
Derek Knox
14
Posted 04/03/2019 at 03:18:23
Nick @ 8, made about as much sense as starting Schneiderlin, and to a degree Walcott, which was proven in the second half when Gomes and Richarlison came on and nearly paid dividends. A pity Calvert-Lewin tired because I think he could have made more than the chances Tosun squandered.
Jim Harrison
15
Posted 04/03/2019 at 07:06:41
An extra little sweetener, listening at home to the commentators, you would have thought the game was a formality for Liverpool even before a ball was kicked.
So biased. They didn't know what to say by the end, and there was very little credit to Everton, just lamenting them not winning.
Sad really, a lot to praise. An amazing atmosphere created by the fans, a gritty and committed performance. And by the end, it's arguably our strongest 11 on the pitch (or 10 out of possible 11 as I am not sure we have a striker good enough!) we looked much more on a par with them. Again, the commentary predicted flagging from the blues, but of course the reds wouldn't get tired.
A good point against a clearly stronger and more settled squad. Play like that more consistently and we have the beating of 75% of the teams and a good chance against the rest.
Jim Harrison
16
Posted 04/03/2019 at 07:11:36
And the season isn't over. A number of these guys are playing for their futures...
James Power
17
Posted 04/03/2019 at 07:18:24
It has been mentioned but I have to say I was very pleased to see Coleman, eyes forward in the tunnel. No casual chatting matey matey alright "Carra / Stevie" about him. Our captain was serious and focused. It is the only way we can change our mentality to them.
I think it helped, we know we could have the measure of them. I spent the last 15 minutes thinking "Wouldn't it be great if we beat them now?" Rather than "I hope we hang on". It's coming, I really think it's coming; and when it does, I hope it ushers in a new era.
David Greenwood
19
Posted 04/03/2019 at 08:08:11
Goodison was rocking the whole game yesterday and very supportive of the players. Fantastic.
From my seat in the main stand I didn't hear any abuse of individual players (not even Schneiderlin when he kept giving the ball away). The crowd were with the players the whole way.
Martin Atkinson was an utter disgrace the entire game. He was blatant, didn't even try to hide what he was doing. I'm sure our first four tackles resulted in free kicks to them. Not every tackle or challenge is a foul.
The challenge for Marco and the players is to put that effort and commitment into every game between now and the end of the season.
We've got a long way to go but I'm starting to feel optimistic again.
Eric Myles
20
Posted 04/03/2019 at 08:13:54
Do they not practice passing in training??
It was like that old story of a training session at Melwood dribbling and passing around dustbins and the dustbins win 3-1.
Martin Nicholls
21
Posted 04/03/2019 at 08:38:03
Eric #20 – are you talking about the red shite?
Jim Bennings
22
Posted 04/03/2019 at 09:27:40
As we know it's what we do in the next few games that gives us hard evidence whether we are willing to progress.
Yesterday was a solid performance and the kind of passionate performance we've been crying out for but that needs to be the norm not the exception.
Newcastle will be a different test on Saturday and one that we equally need to apply ourselves correctly otherwise we'll be faced with Southampton and Brighton away again.
What we probably do need to do is start finding the net more consistently as the Cardiff game aside, we have only scored 8 goals since Boxing Day and failed to score in 3 of the last 4 games.
That's an area we greatly need to improve on and when better to start than Newcastle on Saturday.
Clive Rogers
23
Posted 04/03/2019 at 09:57:30
The goalie and defence were really solid and their passing was better than normal. The midfield battled well, but lacked a bit of creativity. Up front was the problem where Walcott was dreadful and Calvert-Lewin showed once again that he is just not a striker, heading a good chance into the ground.
Paul Bernard
24
Posted 04/03/2019 at 10:15:53
Very interesting 0-0 when you think about it.
Everton's game plan was to sit back and wait for their fullbacks to cross the halfway line and hit them in behind the flanks and drag Van Dijkout of position. On another day a couple of chances may have been taken. On the flipside, playing long balls in the air to Calvert-Lewin against a 6'-6" giant made him look terrible and Van Dijk class.
Liverpool's plan was to counter our counter and go long into space to Salah and Mane – it nearly worked.
Whilst Liverpool have dropped four points, its worth noting that the battled to a point away to United and Everton - not the easiest of things to do. I think the title is still Liverpool's as City still have to go to Old Traffordwith De Bruyne and Fernandinho injured lately.
Interesting comments from Klopp after the game. Referring to the 'playstation' and how he cant make the players attack more. Funny really because he can do just that, his subs were like for like and used to combat Everton's 'we can snatch this here' approach. I also believe is Van Dijk is to be the best in the world then he has to take responsibility like a Ramos or Silva and tell his team to press 10 yards to pen Everton in. Instead, he asked for more cover as Everton's game plan exposed their back line and created some doubt.
Overall, a good performance, we definitely need to keep Zouma and Gomes. Morgan and Theo need replacing as priority in the summer.
Paul Kelly
25
Posted 04/03/2019 at 10:21:19
Simon Smith, good shout, I too, thought Lookman would've changed the game.
Very valid point in sticking Richarlison up top and as that one and only chance I remember for Tosun, he kicked the deck instead of the ball/or mishit it totally, he also could've controlled the ball and took a touch, shot or possibly squared it.
Game winning opportunity, you don't get many in this league. (You don't get many with Silva either.)
Derek Knox
26
Posted 04/03/2019 at 10:44:08
Simon @ 10, good point regarding Lookman, but you said does he have a future under Silva; I would say does Silva have a future?
I am still nowhere near convinced we can achieve anything other than mid-table mediocrity under him, like Neville Southall commented in an allusion to Farhad Moshiri, when racing against Ferraris you have little or no chance in a Fiat Panda. Now that allusion could be aimed at some of the players, but also the Manager!
I just hope like many others do, that we can make a decent effort in the remaining 9 matches, if we play like that against anyone, it will surely yield something.
I am not including that wastrel Schneiderlin, who again was a passenger, get him on the next submarine with a hole in the hull to Outer Mongolia as quick as is possible. :-)
Jim Bennings
27
Posted 04/03/2019 at 10:46:13
It's just never happened for Tosun in England sadly, the lad desperately wanted to succeed, you can see that, but the British game just isn't suited to him.
There's times this season when even a striker like Troy Deeney probably would have seen us be more of a handful going forward and he arguably would have helped Calvert-Lewin more; whilst many don't like Deeney or he isn't stylish enough, he's a handful of a player.
We miss that ability going forwards to really mix it up at times and second half yesterday we put in some good crosses but nobody took advantage.
I'm guessing this area will continue to be a problem until summer when we simply must look to bolster with a proven Premier League performer, doesn't have to be world class just the ability to offer something different to us.
John G Davies
28
Posted 04/03/2019 at 10:49:36
Mitrovic?
Terry Underwood
29
Posted 04/03/2019 at 10:49:51
Watched on TV. Only twice before in my 10 years of going to Goodison, do I remember an atmosphere like it. The 2nd leg of the Cup Winners Cup against Bayern Munich and the 2-1 Eastoe and Varadi cup game against the RS.
There is no reason at all why Goodison Park should not be like that every game, even more so if we go a goal down. That is the measure of true support. I am convinced that positive noise gives the players a yard of pace and a bit of grit.

Derek Knox
30
Posted 04/03/2019 at 11:06:14
Terry @29, that Bayern Munich match was something else, probably the best atmosphere I have ever encountered at the Old Lady.
I must however defend the fans in general, what, and how many times recently have they had anything to cheer about?
People pay their money in good faith, whether it be through the turnstyles or via a Season Ticket, and expect to see not only entertainment, but commitment like yesterday for the most part from most players.
Not a bunch of millionaires half-heartedly having a kick about with no commitment or game plan.
Roy Coleman
31
Posted 04/03/2019 at 11:16:39
I think someone needs to have a word with Pickford as I honestly cannot remember for a long time seeing a goalkeeper kicking the ball out of play from a goal kick so many times... I know he is trying to distribute it left and right but it's no use if they keep going straight out of play.
It would almost be better to punt a hopeful one straight down the middle (which he also did on several occasions... only for it to go straight to the other keeper).
Jim Bennings
32
Posted 04/03/2019 at 11:33:46
Roy
That's where the claims of him being erratic come from.
At times the fella just needs to take a deep breath and calm down a bit and that's where our coaches need to come in and do their job.
James Hughes
34
Posted 04/03/2019 at 13:00:31
Pickford had a better game than the last derby but still needs to improve. Second half he was trying to go short and just put us under pressure. He kicked to Digne a few times, when he was being marked.
He really does need to start commanding the 6-yard box as well. That said, a great save from Salah to keep it goalless.
Kase Chow
35
Posted 04/03/2019 at 13:01:11
Roy #31,
Totally agree with your point.
I'm still so uncertain about Pickford in general. He obviously made a great save against Salah. But his lack of command of his box is incredible.
A play was played into his 6-yard box and he just watched it. We were so lucky that their headers were not more threatening
And Pickford's distribution is supposed to be one of his assets – I just don't see it. Yes, occasionally it's good but, as a general feature, I'd almost rate it as poor.
We wasted so much ball over-kicking it. He even tried to find Bernard's head a couple of times!!!
Steve Ferns
36
Posted 04/03/2019 at 13:23:13
The conditions didn't help Pickford. It wasn't just him, and wasn't just blue shirts giving the ball away or even kicking it straight out of play, whilst under no real pressure. The ball was bouncing in a way that made it more difficult and with the rain, the surface was slippery, and so was the ball and this affected all the players' touch.
Dave Abrahams
37
Posted 04/03/2019 at 14:20:03
Steve (36), see James Hughes @ (34), Pickford was kicking the ball from a standing position most of the time and doing it very poorly. He wants to calm down. He saved us with that save from Salah and generally did well, but kicking the ball he was terrible.
Steve, the surface is always slippery, they water it before the game, at half-time even when it's been pissing down all day – and there have been plenty of more windy days at Goodison than yesterday. Pickford's kicking is not very good at the best of times.
Paul Bernard
38
Posted 04/03/2019 at 14:27:06
I am not overreacting here when I say that the club should hire Southall to coach Pickford or if Pickford wants to be the best in the world he should seek out Southall's advice on a consistent closer basis.
Pickford does not command his box, he loses concentration and also can be quite erratic with his kicking. Having a wise head like Nev helping him to understand his role in any given situation would take Pickford to new heights IMO.
Fran Mitchell
39
Posted 04/03/2019 at 14:34:25
Paul, Big Nev is a club legend, and a brilliant person, but the man is not fit to coach anybody.
A world class goalkeeping coach would indeed be a huge asset, but world class coaches are not necesserily former world class players.
Brands, as DoF, should also be on the lookout for the best possible coaches – this job should not be left with the manager.
Steve Kidd
40
Posted 04/03/2019 at 14:56:52
I have to say that I was impressed with our performance yesterday; however, it was not without flaws.
The thing that I really found infuriating was how many times Schneiderlin would drop into the hole to receive a ball from a centre back, whilst facing them square on. By the time that he turned, he was therefore forced to play it backwards due to being put under pressure which led to the aimless balls up the channels.
For me, it is a fundamental skill that you should be able to collect the ball whilst pushing and turning with it, this counteracts the press by taking two or three out in one go.
I thought Gomes showed this when he came, demonstrating his ability to take the ball on the half turn and either drive with it or play a ball into space or a man.

Paul Burns
41
Posted 04/03/2019 at 15:17:56
One of the most poisonous aspects of modern football, and let's face it, the overblown circus reeks from top to bottom, is the horrendous bias in the media. How it goes unchallenged bewilders me.
They must have detectives ploughing through birth, death and marriage certificates to dig out gobshites who played for the redshite anytime in their sad lives. Some TV panels contain nothing but these ugly "experts" espousing their one-sided garbage to the public. They are all guilty including the executives who make the appointment decisions and allow it to happen, pandering to the woolyback hordes who will jump on any bandwagon.
The way to stop it is to get rid of any cable subscriptions because if you have them, all you are doing is funding sporting poison.
Paul Kelly
42
Posted 04/03/2019 at 15:21:09
I've thought long and hard (no Sam Hoare jokes please).
If Pickford was ten times the keeper Southall was, he'd only be half as good as him, maybe.
Brian Harrison
43
Posted 04/03/2019 at 15:24:18
I know that some have criticized Silva for his tactics in some games, but I think he has been spot on with his tactics in the last 2 games. He has played the same set-up in both games which have given us clean sheets, which had him playing 2 defensive midfield players that wouldn't get too far forward and out of position. But, while making us defensively better, with no Gomes in the side, it reduces our attacking options. That is a problem because our 2 wide men don't score, but I think he is right with his formation.
Now how you get Gomes into the team without weakening it defensively I don't know. There is no doubt Gomes is a good player but his natural game is to get forward which leaves us a bit open at the back when he pushes forward and we lose possession.
Ivan Varghese
44
Posted 04/03/2019 at 17:13:53
Brian #43. Spot On. Good Show Marco Silva, Liverpool's one touch game was dealt with by a compact Everton defense with 2 defensive mid-fielders. Ligne and Coleman dealt with outside channels.
But getting a new striker would set him up for failure
.
They need to feed forward players with quicker and better passes (like Gomes). If they had released Calvert-Lewin (impressive) or Walcott (muted game) earlier instead of 'hope and spray' passes, the outcome would have been different. Marco has some consistent players to build the team around.
Martin Nicholls
45
Posted 04/03/2019 at 21:02:22
Derek #26 – I hadn't heard the Southall analogy but Moyes has been vilified for his similar "knife to a gunfight" analogy.
John #28 – perhaps Mitrovic wouldn't give us 20 goals a season but he would give us a focal point and a presence upfront. Crucially, he is almost certain to be available in the Summer and would probably jump at the chance of joining us.
Ivan Varghese
46
Posted 04/03/2019 at 23:11:26
Watched the game again today. Runs are being made by Calvert-Lewin and Walcott but not being found. Looks like they play it safe to keep possession. Frustrating.
Jim Harrison
47
Posted 05/03/2019 at 01:17:48
Roy, 31.
I think if you look at it, he improved second half. First half was more into the wind I thought. Second half his kicks carried more to Allison so seemed to be carried more. I was watching on TV mind, someone at the game could confirm better.
The plan to kick out to then wing seemed to be to allow Calvert-Lewin chance to get something on the ball, as he stood no chance against Virgil. Punting straight down the middle into a strong head wind, the ball would hang up and just drop, no real chance for a knock on, and bread and butter for their unit of a defender.
Alex Mclellan
48
Posted 05/03/2019 at 01:36:26
Terry@ 29, Derek@ 30, I agree, although I wasn't there on Sunday, I was at the Bayern 2nd leg as a 10-year-old and it was unbelievable, I don't think I will ever witness a game like it ever again.
As for Marco, I think he needs more time. I remember Howard and the team getting booed off after a 0-0 draw with Coventry, New Year's Day, 83-84 I think. But he came good. It was a shock to me as a 9-year-old hearing the booing.
Have Marco and Brands brought in any deadwood? I can't see it. Has he got a lot to ship out? Yes. If I performed once every 8 weeks at work, I would be sacked. The players are on Easy Street, no pressure to win anything and we ain't going down, so they coast along... taking the money. That isn't Marco's fault, more Koeman's.

Jamie Crowley
49
Posted 05/03/2019 at 05:10:57
Paul @24 -
Your comments regarding Klippity are interesting.
The four-eyed, ballboy hater, also went on to say (paraphrasing here) that you can't always just attack. You can't start a game with four strikers, even though that's what the fans what to see. It doesn't work that way.
He's delusional. His subs were awful. Lalana and Milner instead of Shaquiri and pick-another-attacking player to go on and try to win the game! Why? Of course, I'm glad he chose those stupid like-for-like, poor options, but his choices were stupid. And everything I hear on the radio over here is rs fans - many expats now in America calling in - infuriated with Jurgen and his poor in-game subs and decisions.
Contrast that with Silva. Richarlison for Theo, Cenk for a run-your-ass-off Calvert-Lewin, and Gomes for Schneiderlin. Three very positive, attacking substitutions.
There was only one team that was ever going to win that game in the end, and it was us. Down to our manager and his tactical substitutions vs. Klopp and his brain-dead ones.
In my opinion, our manager "out-managed" theirs yesterday. Long may that continue.
Before the last derby in December, I was full of hope. That hope evaporated over the holidays and into 2019.
Hope is returning. For me at least. There's a lot of green shoots if you look for them.

James Hughes
50
Posted 05/03/2019 at 06:50:42
Jamie, on the RS fans and their opinions. I work with a couple and all they would say was that it was a very poor game and the weather stopped them playing their natural game. The wind stopped them — not us.... laughable gobshites.
Eric Myles
51
Posted 05/03/2019 at 11:30:55
James #50, I guess they're just not used to playing in the local weather conditions??
Add Your Comments
In order to post a comment, you need to be logged in as a registered user of the site.
Or Sign up as a ToffeeWeb Member — it's free, takes just a few minutes and will allow you to post your comments on articles and Talking Points submissions across the site.