Silva wants more desire and consistency from Lookman
Wednesday, 20 March, 2019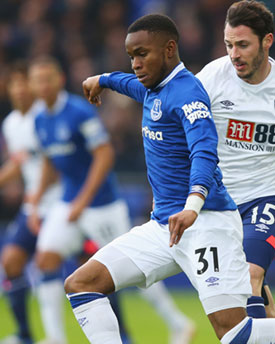 Marco Silva has called on Ademola Lookman to show more consistency so that he can fulfil his "big potential".
Despite Theo Walcott's struggles to justify his inclusion in the starting XI in recent weeks and Richarilson's own chequered form, Lookman hasn't started a match for Everton since January and his absence has been questioned by supporters who feel he could make a significant impact in the side.
Silva says, however, that the young winger has not been showing enough in terms of desire on an ongoing basis at Finch Farm and that has been a contributory factor in his lack of minutes in recent weeks.
Lookman has generally found it hard settling in the northwest since his £10m move from Charlton Athletic in January 2017 but found a new lease on life in the somewhat surprising environs of Leipzig last year with a half-season loan with Red Bull.
He made little secret of his desire to see a concerted effort by the Bundesliga club to sign him succeed last summer but when Everton dug their heels in and refused to let him go, Lookman appeared to have accepted the matter and said he was looking to knuckle down and earn his place in the Blues' side.
However, Silva has told the Liverpool Echo this week that he doesn't feel the 21-year-old has reached the expected level this season.
"We know what his quality is and you know I believe in his quality since the first day I saw him, so it has to be same Lookman everyday with the same desire everyday," the Portuguese said.
"He needs to understand what the coach wants coming from him, and any winger in our model, because, after that, the quality he has.
"He is a young football player but, being honest with you, I expect Ademola to be on a different level already this season.
"I keep believing, 100%, in his quality as a football player, there are no doubts about that, but what I want to see coming from him is the same desire coming from him, each day, to achieve that, to reach that level he wants and the level I believe he can play at."
Lookman's relative lack of defensive strength was a big factor in why he was eventually overlooked as a regular starter under Ronald Koeman and then the temporary tenures of David Unsworth and Sam Allardyce.
Silva was asked if that was another reason why Lookman hasn't been in the starting XI much this season and he indicated that, while defending isn't always a priority for his attacking players, there is an obligation there to help defend as a team.
"It is one of the things he has to improve, that is clear," the manager explained. "When you play against City, you will have 30 or 40% of the ball. [A]gainst these type of teams we have to be able to answer 90 minutes of high intensity with a good knowledge about the defensive process because they obligate that."
"Maybe it was not a coincidence what has happened and I agree with you, it is one thing he clearly has to improve but he also has to improve in his offensive part.
"I see one Lookman doing fantastic things one day and I say: 'Okay, it will be this week' and maybe the next day I have doubts. I don't want this because, in my opinion, he has big, big potential."
---
Reader Comments (121)
Note: the following content is not moderated or vetted by the site owners at the time of submission. Comments are the responsibility of the poster. Disclaimer
Sam Hoare
1
Posted 20/03/2019 at 06:41:07
Interesting stuff. Easy for us fans to forget sometimes that whilst we only get to see the players for 90 minutes a week (if that) Silva watches them for several hours.
Lookman does have great potential but Silva is right in saying he has to work hard every single day to achieve that. If the manager and coaches do not feel that is happening it would explain his lack of first team time recently. Which is a great shame.
It will be telling how the young man reacts to these words.
Andrew Laird
2
Posted 20/03/2019 at 07:49:01
It cannot solely be based on training whether you are included or not, a big part? Of course. Walcott must be Messi in training because nobody can argue that he has been anything better than poor over his last 10 games (probably more) ranging from abjectly abysmal to pish poor, yet he still either starts or is used from the bench... every single game.
It must be hugely demoralising for any other player to see this and not get a look-in regardless. Lookman is a bright kid with a good education, he surely sees what we all do. I would level this at Silva's door just as much because what incentive does Lookman have?
How the fuck can he be getting in the Leipzig team last year who are still on a different level to what we are? Would Walcott get near that team? Would he fuck.
All Lookman seems to get is public utterances to knuckle down, this should be strictly for Marco, Brands and Ademola – not the press. Marco clearly has favourites and the dressing room knows it.
Ken Kneale
3
Posted 20/03/2019 at 08:11:59
I would call on Marco Silva to show more consistency so that he can fulfil his "big potential" too.
John Raftery
4
Posted 20/03/2019 at 08:42:10
If Allardyce had said this, he would have been heavily criticised for stifling young talent.
Whoever we have playing on the right flank struggles to make an impact on the game offensively. Since January, Silva has preferred Richarlison and Walcott because they offer more defensively.
Eddie Dunn
5
Posted 20/03/2019 at 08:54:57
I imagine (because conjecture is all we have) that Silva has already urged Lookman to be consistent face to face and that there has been no improvement, so his last option is to go public. This way, Silva can let the fanbase know the reason for him not playing.
We have all witnessed somewhat unhappy vibes coming from the lad even when on the pitch. He is not a happy bunny. He will be off in the summer.
Chris Gould
6
Posted 20/03/2019 at 08:55:26
Silva isn't someone who would say this publicly unless all other efforts to motivate Lookman had failed. I don't doubt Silva's word on this – he appears to be a decent man and would not have said this if it wasn't the truth.
He's basically questioned Lookman's effort, desire, and motivation. He's either given up on him and is sowing the seeds for a summer move, or he's attempting to humiliate/motivate the lad into pulling his socks up and working hard.
It doesn't matter what job you do, or how much you get paid, if you aren't happy it's hard to give your all.
That's 4 managers now who haven't trusted him. It's been suggested before that Lookman has a sulky attitude. Maybe he does, or maybe he just hasn't settled and struggles with motivation when unhappy?
Simon Smith
7
Posted 20/03/2019 at 09:06:49
I'm yet to see much from Lookman anyway. I honestly wouldn't be too gutted if we got decent money for him in the summer.
First and foremost, we want every player to want to play for Everton. Having a lack of desire can only have a negative impact.
He's never going to be a top Premier League player anyway!
Tony Abrahams
8
Posted 20/03/2019 at 09:18:28
How can a manager get stick for saying this? Easy, I suppose if you don't like the manager.
If you are a young footballer, and you heard your manager talk about you, the way Silva has talked about Lookman, then you would/should feel ten foot tall, unless of-course you are not that interested, or just lack a little bit of the desire, that the manager is talking about?
Phil Sammon
9
Posted 20/03/2019 at 09:40:53
I think it's pretty well known that Lookman asked to leave Everton. Is it therefore surprising that motivation and desire are issues?
I don't disagree with anything Silva has said, though. The times I have seen Lookman I haven't been particularly impressed.
That said, Walcott has been hopeless lately too.
Spoilt for bad options it seems.
Henry Lloyd
10
Posted 20/03/2019 at 10:02:53
Fancy saying that about a kid he has rarely played and for the most part has given no chances to anyway.
I would play him every single game. Let's face it, he would make fewer mistakes than the dross we call a team that are playing every week.
We beat Chelsea – a very shit Chelsea it has to be said – and then Silva (who now obviously feels he can say what he likes given the Chelsea result), comes out criticising a young kid who he has not played for fuck knows how long.
Marco Silva will not be Everton Manager for very much longer – mark my words.

Paul Burns
11
Posted 20/03/2019 at 10:18:03
Same could be said about every single player at the club.
Steve Hogan
12
Posted 20/03/2019 at 10:52:49
Clearly there is an issue here with the player's attitude. Ironically, Lookman is one of the few player's in the squad who has the ability to put opposing defender's on the back foot.
With the continued poor form of Walcott, the lad is missing a massive opportunity to cement his position in the team, when we have so few players in the squad who can offer something different.
Ironically, he's one of the few players Brands should be able to move on quite easily in the summer, when the massive squad cull is expected to take place.
It's really up to the kid himself no.
Brian Harrison
13
Posted 20/03/2019 at 11:12:17
The lack of game time is down to Lookman himself, when he has come on he hasn't done that well – you have to take the opportunities when they come along. Both Brands and Silva both said within weeks of arriving that Lookman was the present and the future; that should have been the confidence boost Lookman needed to repay that faith.
I am sure Silva and possibly Brands will have had conversations with Lookman, about what part of his game he needs to improve. But the most telling part for me is Silva says one day he thinks, yes, he is starting to show him the desire, then the next day he doesn't. So this makes Silvas job so much harder, I am sure he would love to start Lookman but you cant start a player who only puts the effort when he wants to. Don't forget the other players are seeing this attitude as well as the manager, so I guess they wouldn't know which Lookman will turn up if picked. And if your the full back playing behind him you wouldn't be happy if he is having one of his I am not tracking back days.
I get the impression that Lookman wants away probably back to Leipzig, and with players having all the power there is very little Silva or Everton can do but to let him go in the summer. Sad because, like Silva, I do think he has talent.
Derek Knox
14
Posted 20/03/2019 at 11:16:32
Like Sam @1 says, it's difficult to know what is going on, at Finch Farm, in the players' heads, and of course the Manager's head.
I don't think that there are many who wouldn't want Lookman to succeed, but it does appear on the rare occasions he does play, that he is not 100% focussed. Whether that is down to the fact he is not played as regularly as he would like to be, or he is genuinely not happy, or maybe that is the lad's disposition. Who knows?
If it is that he is not happy at the club for whatever reason, maybe it's better that he moves on, hopefully for a decent profit.
Christy Ring
15
Posted 20/03/2019 at 11:52:02
I agree totally regarding Lookman, but that goes for every player to show consistency. Has Silva not being watching Walcott all season? He has been very poor, but still gets picked.
Ian Jones
16
Posted 20/03/2019 at 12:04:19
It would be interesting to see Ademola Lookman be given the chance to start in the remaining games and see how he gets on with a sustained run of matches. It could be said that Dominic Calvert-Lewin has benefited to some extent by having a run of games.

Mike Doyle
17
Posted 20/03/2019 at 12:39:01
Clearly, any player will be expected to show solid desire and effort in training. Looking at the effort Calvert-Lewin puts in it is no surprise he is front-of-mind with the manager. I guess Tom Davies scores highly in this area too.
If Lookman or any other player isn't doing what is deemed necessary and wishes to move on then so be it. Wise owls such as Shankly & Sir Alex didn't tolerate slackers – and with good reason.
Amit Vithlani
18
Posted 20/03/2019 at 12:41:25
Lookman did very well on loan at RB Leipzig, and for a stretch during October-November last year, when he was coming off the bench, he was electric for us on occasions. Against Bournemouth he showcased his talent and also electrified me in his home cameo against Cardiff.
There is no question in my head that he has the "big potential" that Silva describes. His potential outweighs anyone else's in the squad.
It is a shame therefore, for the player and his manager, that it has come to the manager saying this about him:
"I see one Lookman doing fantastic things one day and I say: 'Okay, it will be this week' and maybe the next day I have doubts. I don't want this because, in my opinion, he has big, big potential."
Silva has clearly not succeeded in bringing the best out of him – sadly, that appears to be true of Silva for many of our squad. Equally, Lookman now has had 4 managers – Koeman, Unsworth, Allardyce & Silva, who have each failed to get him to perform on a consistent level.
A sale in the summer therefore maybe the best option for all parties.
It will be a very sad day if that happens – unfortunately, I see him having the potential to match Jadon Sancho's exploits if he will end up in the Bundesliga.
Hopefully we will sell him for a rich fee with hefty add-ons. (None of Bungling Bill's ideas of add-ons, mind.)

Phil Smith
19
Posted 20/03/2019 at 13:00:50
His head clearly hasn't been right since we knocked back ze Germans. Initially, I wouldn't have blamed him but he has had time to deal with that, brush it off and get his head right.
He sees Sancho playing well in Germany and getting into the England team and is probably thinking "That could have been me if Everton had let me go". Whenever he's come recently he looks a little disinterested and sulky.
Maybe we should let him go to RB Leipzig with a buy back clause after two years for a bit more than whatever we sell for (something like what Barca had done to us with Deulofeu)?
Gary Edwards
20
Posted 20/03/2019 at 13:13:43
An understandable generally pragmatic reaction from ToffeeWebbers and hard to disagree with the general viewpoint.
3 managers have decided he's not the man for them, he doesn't turn out for the U23s, he hasn't impressed when given his opportunity, there are persistent murmurs that him (and his family) haven't been able to settle in the area. Then he seriously impresses in a half-season loan spell at RB Leipzig. Whatever the problem is, there doesn't appear to be a solution.
Time to cash in and focus our attention on talent that wants to give their all for the club and the opportunity given to them.
It is also quite possible that back in 2017 we were hoodwinked by Charlton FC's PR / Sales. Remember Ezri Konsa? Like Lookman, he was supposedly a superstar in the making & Everton supposedly interested (big money too, if memory serves me right). Konsa moved to Brentford in 2018 for £2.5m.
David Peate
21
Posted 20/03/2019 at 13:16:32
No manager, whether in football or in business should make comments about their employees as Silva has done about Lookman. These are the sorts of comments that managers should make in private face to face.
They should be stated in a practical way, not like Theo Kelly used to do when summoning players (like Tommy Lawton and Joe Mercer) into his presence. Silva's public utterances are examples of extreme mismanagement.
Steve Brown
22
Posted 20/03/2019 at 13:36:41
I agree, Amit, Lookman has been inconsistent in the opportunities granted to him. But on certain occasions, he has shown glimpses of his outstanding talent in taking on players and creating chances, as you say.
Walcott has shown only intermittent effort in supporting his right-back and zero effectiveness in attack. So I don't understand why he gets on the pitch more than Lookman. Calvert-Lewin is showing improvement with more gametime, so I want to see the same for Ademola.
John Daley
23
Posted 20/03/2019 at 14:05:27
It has got to be discouraging when a player in your position is in as dog rough form as Walcott has been this season, yet you still get nothing more substantial than a skosh of a sniff.
Lookman, as he himself asserted when quizzed about Leipzig's pursuit and Everton's reply of piss off, is a young player who simply wants to play football. If he is given the opportunity to do so then it is likely he'll be happy, if he is constantly denied that opportunity then he'll probably get a gob on if the situation persists. Perfectly natural and understandable in my opinion.
This is his third season as an Everton player and he has still to be given anything approaching a run of games, has been shipped out on loan when Walcott came in, and unfairly doubted and criticised in public by his manager (at the time) for electing to test himself abroad instead of dutifully dropping down to a lower level as advised.
After being praised by both Brands and Silva and proclaimed as simultaneously 'the present and future' during the summer, he was probably expecting this would be the season he would finally be granted the opportunity to show what he can do. Instead it has been more of the same. The odd fleeting start or cameo interspersed with overly long periods of being seemingly ignored.
Back in November, when asked what Lookman needed to do to be deserving of featuring from the start, Silva stated:
"He's doing enough, I don't have doubts about that. There's tough competition, not just for him but for all the players, but he's making it really difficult for those who are playing which is what I want."
He then proceeded to start Lookman in only one of the next 10 games.
In January, after scoring against Lincoln as a sub and being named in the starting eleven for the next game, Silva stated:
"He is playing because he is deserving. We have a good challenge with him and step-by-step we convinced him of his quality, although I don't think he has a doubt about that. He can help us and we can help him to achieve what he wants – to play football and enjoy football. He is a talent in my opinion, he has everything there. Some things he has to change and he knows what I want. He knows what I am demanding from him – and it is nothing different from the others. He can really improve and have a fantastic career."
Yet, despite those words, Lookman has again been given only one start in the 10 games since, setting foot on the pitch for a grand total of 38 minutes. I don't see how it can be claimed he has been anything but under-utilised given how gash results and performances have been during that period and the fact he has been spotted less than a sad bastard called Griffin during a bit of a bandage shortage.
So, when he was 'doing enough' to start games and was 'deserving' of starting games, he still wasn't actually starting games. I can see how that might have an adverse effect on application.
If you feel your manager doesn't trust you, that any words to the contrary are simple soft soothing when you see the actual team sheet, that your career is stalling and you're standing still, that you're not being given the chances offered to others, then...subconsciously...it is surely perilously easy for effort to slowly start to seep away.
John Malone
24
Posted 20/03/2019 at 14:18:22
The lad needs to grow up become a man and start putting the graft in on a daily basis!
Well done Marco Silva for the setting the standard's high at our club and not allowing gifted attacking player's who don't work hard for the team off the ball into the side and make us weaker for it just as Roberto Martinez did.
Too many of these gifted young players nowadays expect to be getting a place in the first team without earning their stripes.
The Premier League is a physically tough demanding league and the last thing we want to do is to do like we did under Martinez and become soft again.
Put the graft in Ademola or become another Dan Gosling it's your choice son!
Anthony A Hughes
25
Posted 20/03/2019 at 14:33:59
I hope Lookman and Silva can sort this out and he doesn't have attitude problems. I wouldn't like to see another Berahinho situation.
Liam Reilly
26
Posted 20/03/2019 at 14:34:38
If Lookman was the answer, then I suspect Silva would have turned to him over the recent poor run of results. The fact that he hasn't would indicate that the boy is not pushing himself nearly enough in training.
Silva doesn't appear to be the 'favourites' type. He dropped Richarlison for the derby, which I would've bet my house against.
I'm more interested to see how Silva's comments about reviewing how Everton fair against the 'Big 6' after Arsenal and Man Utd come to Goodison Park over the next few weeks and hopefully some payback to Tottenham on the final day of the season.
Jay Harris
27
Posted 20/03/2019 at 14:51:06
Lookman may have all the talent in the world but, if his attitude and teamwork aren't right, then he has to sort it out.
Sounds to me that Silva is frustrated by his attitude and that seems to have been mentioned before.
I know there's an anti-Walcott feeling on here but honestly has Lookman looked any better when he has played? It would also be detrimental to team spirit if he is a sulker and that's the last thing we need right now.
Jer Kiernan
28
Posted 20/03/2019 at 15:01:59
It's simple: Walcott is stinking the place out, week-in & week-out. Give the lad a run of games (our season is over) and, if he can't impress, move him on... But not before we show Walcott the door — he seems more concerned with what his next ridiculous haircuts are than repaying some of the hefty fee we paid for him
I think like a lot of TWebbers think this is poor management by Silva and my biggest gripe with him has been Walcott's inclusion but I also feel that letting this lad go could be something we regret going forward.
I can't help but feel if Lookman was playing for Fergie, he would be skipping by defenders and enjoying his football, Give him a run of games and let us see where we are? If he is our future, then it makes perfect sense as what is Walcott going to offer us moving forward? Some more image defining haircuts!!!
Rennie Smith
29
Posted 20/03/2019 at 15:04:14
I don't have a problem with Silva digging him out like this, he's clearly got to the point when he thinks he needs to go public to make him change his attitude.
It's all about setting expectations and the bar is set by the boss. It's down to the players to decide whether they can meet those expectations or waste a golden opportunity.
He's been okay when he's played, but nothing better than that.
Mike Gaynes
30
Posted 20/03/2019 at 15:21:58
John #23 (nice to see you post, BTW), I'm glad Silva finally spoke out about this, because it's been driving me crazy trying to figure out why the kid hasn't been playing, especially with the club (especially Theo) performing so poorly overall.
Silva is clear on the issue you raise of Lookman's inconsistent opportunities -- he hands the kid a start, is disappointed with his performance and effort, and sits him down again. And apparently the kid doesn't step it up in practice afterward.
Let's face it, if Lookman can't beat out Walcott for minutes, either the player or the manager is failing at his job, and based on the interview I tend to believe it's the former. I'm a much bigger fan of Lookman than I am of Silva, but it rings true when the manager says, "He has to be the same Lookman everyday." That's a simple, clear standard for the player to meet, and if he's not meeting it, Silva has every right to give the playing time to someone who is.
Even if it's (AARRRGGGHH!)...Theo.
Alan J Thompson
31
Posted 20/03/2019 at 16:22:14
I suppose he has spoken to the player about this and if so why does he feel he has to go public with it or has he just read Koeman's handbook and notes on dealing with talented players? If the question was about why he hadn't played more then the answer should have been; he will, in time, as all talented players do.
Trevor Peers
32
Posted 20/03/2019 at 16:51:31
Sell Lookman and Walcott in the summer – it is the only solution – and buy a decent replacement with the proceeds. We need to sort this out and stop dithering.
Neither of them are good enough. Lookman, in particular, seems determined to play in Germany and has a poor attitude.
Kieran Kinsella
33
Posted 20/03/2019 at 17:15:36
Easily solved. Get Lookman, Vlasic and Onyekuru together. Book them into a convention center for the weekend. Special topic of discussion: losers.
First round of speakers will discuss what it is like being a "diamond" kid with attitude who amounts to nothing. The line up to include Johan Hammar, George Green, Billy Kenny.
The next sessions is called "Best case scenario for hyped-up jokers." Speakers to include Francis Jeffers, Jack Rodwell, Duncan Ferguson, Victor Anichebe, Tony Grant, John Ebbrell.
Lastly, the third session will be titled "The 90%" and covers the topic of what becomes of most "young talents." This features Jose Baxter, Peter Degn, Jake Bidwell, Nick Chadwick, Jamie Milligan.
After session 3, we bring in Walter Smith to hand out "free transfer" passes to each player, then have David Moyes drive them on a coach up to Sunderland where they will be gainfully employed as indentured servants for the next 10 years... after which, they will be given lifelong contracts as Academy coaches back at Finch Farm.
Ray Roche
34
Posted 20/03/2019 at 17:20:12
I will be interested to see what, if anything, happens to Nikola Vlasic at the season's end. I must admit, I liked the look of him in the few opportunities he had and thought that the Number 10 role would have suited him. I'd sooner he was in the team before Walcott.
Frank Wade
35
Posted 20/03/2019 at 17:23:28
Hard to understand Lookman's mindset. He has the tools/skills to have a great career in football. Most players don't have the tools, just the application and willingness to do what is required for the team, which allows them get games and have a decent career, eg, Henderson and Milner, apologies, but good examples.
The hard work is the easy part. It's baffling, but I suppose 99% of lads his age would be happy with his lifestyle and prospects.
John Pierce
36
Posted 20/03/2019 at 17:51:35
No buying this BS from Silva at all. Every Everton wide player has suffered huge ups and downs, not just Lookman. Coincidence? Nah.
The imbalance in midfield and inability to retain the ball has killed the wider players, often asked to do too much covering for a poorly constructed mish-mash.
Wide men need the ball, no surprise how bad they've been. Try again, Marco.
Jay Harris
37
Posted 20/03/2019 at 17:56:55
LOL Kieran.
We could do with a bit of humour.
Ray Said
38
Posted 20/03/2019 at 18:08:08
First thing is to decide is if he is a wide player? I think his future best position could see him as a Number 10 playing behind a striker. In terms of effort and tracking back, then I see him as no worse than Walcott in this respect, but better now (and potentially much better) than Walcott in creating chances and being a goal threat himself.
I don't think it benefits the club for managers to single out players for this type of comment in public – save it for the dressing room and the training pitch.
Derek Taylor
39
Posted 20/03/2019 at 18:16:52
Lookman has had an open goal in claiming the right wing birth and has failed to accept it. Walcott has been a great disappointment ever since his arrival and both of them have fallen short of Lennon who did, at least, with his defensive work, make Coleman look good!
I would be rid of him (and Walcott) and – just because we won on Sunday – I would not, in any way, see Silva as part of our future in any case.
Paul Tran
40
Posted 20/03/2019 at 18:38:55
There are two, slightly contradictory issues here.
If Lookman's attitude and work rate in training aren't up to the mark, no wonder he isn't getting picked.
At the same time, he's never had a decent run in the team, from which he can build a good understanding with his team mates and iron out any mistakes he may make.
If he's the 'present and future', pick him; otherwise, what's the point in not taking Leipzig's money?
Bill Gienapp
41
Posted 20/03/2019 at 18:40:43
All the talk of Lookman vs Walcott feels a bit moot at this point anyway, as I'm guessing that Silva is pretty settled on Richarlison, Bernard and Calvert-Lewin moving forward for the rest of the season.
John Pierce
42
Posted 20/03/2019 at 18:42:51
Paul, I think that's a red herring. Richarlison's attitude on the pitch has been, at times, awful. Yet he gets picked. Walcott's form and lack of any attitude... in fact, absolute indifference on the field, yet he gets picked.

Steven Astley
43
Posted 20/03/2019 at 18:49:13
Bad egg. Get rid and move on. Getting boring now.
Derek Taylor
44
Posted 20/03/2019 at 19:03:50
Bernard is 'a powder puff' player, physically ill-equipped to give the team 90 minutes of all-out effort. He wouldn't get near a top-six team and has found it hard to earn a living sur le continent.
The manager's comments on Lookman are no more than an admission that he lacks the skills to motivate his players on anything like a consistent basis. Both Hull and Watford could have told Moshiri that – although I doubt he would have taken much notice!
Rob Marsh
45
Posted 20/03/2019 at 19:10:40
He shows a bit of potential and gets a full game, he then plays reasonably well and after this he might be dropped for the next game, either tactical reasons or just didn't impress enough.
There then follows a massive sulk and the toys are well and truly ejected from the pram. In his own mind (but no one else's) he's Messi's successor.
God help us if he does have a good run until the end of the season, he'll be demanding £500k pw or an instant transfer to Real.
That's my reading of him?
I'd keep him untill he shows form and then sell him for what we can get.
Darren Hind
46
Posted 20/03/2019 at 19:22:08
Yeah, let's throw away the key...
I sometimes wonder why any youngster would want to play for this club.
Rob Marsh
47
Posted 20/03/2019 at 19:26:33
No, let's use him for profit as he's used (if he can't patiently wait for his turn).
Dave Williams
48
Posted 20/03/2019 at 19:26:34
He should take a leaf out of Calvert-Lewin's book. That lad is grafting his socks off and his game is improving rapidly. A bit of dedication and hard work allied to his natural talent would make Lookman a top player but he seems to expect without giving.
Rob Marsh
49
Posted 20/03/2019 at 19:27:22
Well said, Dave, spot on.
Paul Kelly
50
Posted 20/03/2019 at 19:28:09
Stat attack... stat attack! In Lookman's first start in the league (70 mins, I think), he completed more dribbles, passes and tackles than Walcott had in any game before. I think that was the gist of it anyway.
So he's stepped up, sort of... just needs a run of games.
Tony Abrahams
51
Posted 20/03/2019 at 19:33:15
I personally wish we had a few more of these powder puff players, Derek.
Darren Hind
52
Posted 20/03/2019 at 19:43:39
"Seems" ? . . Seems to me that people are speculating wildly about a kid they have never even met.
The one clear difference between Lookman and Calvert-Lewin is that Calvert-Lewin was given a run of games.
Silva needs to get his head out of his arse and start managing this boy in private, not trying to justify his selection of Walcott in public.
Trevor Peers
53
Posted 20/03/2019 at 20:17:46
I seem to remember Lookman in a pre-season friendly looking very disinterested in proceedings, Oumar was trying to coax the lad out of his malaise by trying to get the lad to sign a few autographs.
He looked totally disinterested and his attitude hasn't changed since, according to Silva. Why bother with him if his heart's not in the club?
Jay Harris
54
Posted 20/03/2019 at 21:04:46
One thing I think we can agree on is that we would like to see more consistency from the players. Isn't Lookman a prime example of that? He blows hot and cold on the pitch and apparently he is the same in training.
The manager hasn't embarrassed him publicly: he has said he can be a great player as long as he pushes himself more in training. Shouldn't we demand that of all the players?
Andrew Laird
55
Posted 20/03/2019 at 21:32:18
The case of Nicola Vlasic, which also shows the mindset of a young player at Everton:
"There were a lot of changes at Everton and I didn't find my place there," he told FOX Sports Radio. "It's always hard there because if you don't take your chance first time, then it's hard to get another."
(This is the bit which resonates with Lookman's current predicament yet how can you get up to speed if you don't get a fucking chance?!)
"Here, I have a chance every time. Even if I play badly in one game, I know I will have another chance. It's the best thing that could have happened for me, this trust that I have at CSKA from the coach, the staff, the players, everybody. This is the main thing for a player to play in a good way."..
Dick Fearon
56
Posted 20/03/2019 at 21:32:43
Many months ago, my original observation about Lookman still holds true.
Despite the glorification of his talents, and here I include TW leader writers plus a hoi polloi of other fanatics he is less than half as good as he thinks he is... yet far too gobby with it.
When this wet-behind-the-ears kid made demands of our club, my first and enduring reaction was, "Hold on a minute, Sonny, who do you think you are?"
Eddie Dunn
57
Posted 20/03/2019 at 21:33:25
Darren, I presume that Silva has tried privately and now is resorting to this. He may also be preparing us all for the disappointment of the kid leaving us.
Lookman has got lots of ability and perhaps now that we are safe, he may get a few more opportunities. When we were still in danger of relegation he may have been viewed as slightly less able to protect the right flank with Kenny & Coleman being targeted regularly.
Bobby Thomas
58
Posted 20/03/2019 at 22:13:34
That will probably be another talented young player out the door then.
I very much doubt he will let himself be talked round for a second summer. That kid is gone and, if so, I wouldn't blame him at all as he can't even get a gig in a side that hasn't functioned in an attacking sense since late about November.
Brian Williams
59
Posted 20/03/2019 at 23:06:50
I wonder how keen people would be for Lookman, and Vlasic for that matter, to be played, week-in & week-out, to give them game time if they were making the mistakes that Vlasic alludes to in his interview.
The manager has to make a decision on how effective a player will be over 90-odd minutes – not just a total of a few flashes of great play adding up to no more than a couple of minutes per game and then very little else.
I don't believe it's anything to do with age, as other 20-somethings play regularly for other Premier League teams it's more a case of the level of performance over a full game.
Lookman's not there yet, IMO, and you don't want youngsters blooded in a struggling side though I would, now we're safe, give him chances IF his attitude is right.
If Silva sees something in training he's not happy with then Lookman has to listen and learn.
Bob Parrington
60
Posted 20/03/2019 at 23:42:16
What is it about motivation discussions that tend to put ALL of the onus on the managers? Agreed, team motivation is an important aspect but what about the onus on the players to self-motivate?
As if the money isn't enough... or is it the comfort level the players have that makes certain personality types somewhat lazy-minded?
Derek Thomas
61
Posted 20/03/2019 at 23:53:29
Bob @ 60; probably nail on head there mate
Mark Andersson
62
Posted 21/03/2019 at 01:25:15
Silva can't win on this one. I feel this sound bite, like others, is preparing the fans for the club selling Lookman. Lookman will be gone come the summer. If he can't get into this inconsistent team, then he can't be all that good...
Let's see how well he does once he is sold. We only want players that want to be at the club. Sulky bad attitude breeds disharmony... "bad apple."
If Lookman won't knuckle down and work hard, then time to move him on... Look at the difference between Gueye who was told No to his move to France. He has upped his game, that's what being a professional is all about...
Ian Hams
63
Posted 21/03/2019 at 02:14:46
Surely if you sell Lookman, Walcott, and Vlasic, you should have enough cash there for a pretty decent player in return? Get rid of all three.
Fran Mitchell
64
Posted 21/03/2019 at 03:35:42
Ian, both Lookman and Vlasic could become pretty decent players themselves. Whilst the money we would get would be what, £10-15M for Vlasic, £20M for Lookman, £5-10M for Walcott. That would be enough for anyone who would guarantee success.
Vlasic as back-up/competition for Sigurdsson, Lookman as back-up/competition for Bernard or Richarlison.
Lookman clearly hasn't set the world alight when given a chance, yet the team has been woeful as a whole. Keep and develop young players, that will make us the progressive and hopefulky successful team we all want us to be.
Darren Hind
65
Posted 21/03/2019 at 03:45:20
"If he can't get into an inconsistent team, then he can't be all that good."
Interesting thought, especially when you consider the very players who make us an inconsistent team are automatic starters. Keane, Zouma, Mina, Coleman, Digne and Pickford have all got a howler in them. Barely a game goes by without one or more of them dropping an almighty one.
Sigurdsson, despite his technical superiority, is more than capable of disappearing up his own arse. He does it almost as often as Walcott... yet when a young lad doesn't fire on all cylinders on the rare occasion he is thrown a begrudged bone, he's a complete fucking wrong'un.
I really do despair at the way a sizeable section of our fan base so readily accept howlers made by senior pros, yet make absolutely no concessions for young players trying to come to terms with what it takes to play at the top..
Fran Mitchell
66
Posted 21/03/2019 at 04:06:53
I agree, Darren. In fact, we put young players on a pedestal (I call it the Rooney syndrome). We expect a young player to come in and, in just a couple of games, show themselves to be World Class wunderkids. If not, they get hounded with "not Premier League standard" attacks. Just look at Calvert-Lewin, a very decent goal-minutes record for a youngster, but because he isn't M'Bappe, we should get rid.
Young players come in, often in first games, and have a bit of freedom – the opposition don't know them, they have no pressure, etc, but then that changes. The opposition press them harder, challenge them more, whilst the fans keep expecting some 'Rooney moment'.
For all the deadwood in this squad, Lookman, and with him Vlasic, Davies, Holgate, Dowell and Co are worth keeping and developing.
Jerome Shields
67
Posted 21/03/2019 at 06:08:27
Lookman has played under three Managers now and they have all come to the same conclusion. In a high pressing game, they need someone who is going to high press.
I don't agree with Silva publicly expressing his opinion, but he is probably continuously asked about Lookman and has decided to answer the question.
Walcott is better than Lookman at positioning and helping Everton keep shape but other aspects of his game are disappointing. He is smart enough to put an emphasis on what Silva wants and also smart enough to make sure he is not injured. What's more, he is successful at this, getting selected, week-in & week-out. It is telling that Silva mentions long periods of not having possession against teams like Man City.
Silva obviously has made clear to Lookman why he is not selected but Silva is saying that, in his opinion, there is no consistent effort by Lookman to work and improve in these areas.
Lookman has a problem: though Leipzig made a transfer offer for him, it was a low offer. No other club made an offer for him. Lookman has read into his good decision to insist on his move to Leipzig more than it was actually worth.
My advice to Lookman, having told him that his gripes are not going to get him anywhere, would be to knuckle down and improve his transfer value.
Lookman has to get himself playing for Everton at U23 or first-team level – and only he can do that.
Mark Andersson
68
Posted 21/03/2019 at 07:31:57
I agree Darren and Fran... but the manager picks the team, not the fans. I want every player to do well in every game.
Only the players and staff at finch farm knows whats going on... How do we know that Lookman was not promised his move come the summer? Fact is, he didn't want to play for Everton after his loan spell.
Dispite Silva big noting him, he has not played much football to prove if he has what it takes to make it in the Premier League. Silva can't or won't take the chance of playing the kids till the end of the season coz he is on borrowed time after a shite first season!
Frank Sheppard
69
Posted 21/03/2019 at 08:13:40
This is quite a conundrum. Difficult to say how good he is, as he features on TW much more than the pitch. If he doesn't get a decent run of 10 or so games in the side, we will never know.
Got to pick him every time before Walcott, IMO for the rest of the season, as we know Walcott and what he offers.
If Richarlison, Bernard, Walcott and Lookman are all wingers, we can't play them all, and have too many. Sounds similar to the too many Number 10s last season. Something has got to change.
Ken Kneale
70
Posted 21/03/2019 at 08:42:46
Kieran @33 – you missed out that, if you are especially fortunate enough to bring Bill an apple a day, you can progress to the first-team staff and remain in your seat despite all managers around you losing theirs.
It's a great system, don't you think?
Kevin Prytherch
71
Posted 21/03/2019 at 09:06:56
Hard work will always beat natural talent when natural talent doesn't work hard enough.
Charles McCann
72
Posted 21/03/2019 at 09:07:22
Dreadful from Silva. Bad enough that Lookman has had so little time on the field of play but then to basically question his attitude and desire in public like this is pathetic.
As others have said, Walcott has been awful for months and months but continually got picked. Not a bit of wonder Lookman is pissed off. He is already a very good player and has bags of potential to become a great player.
The way he glides past the opposition players and skill he has is obvious. He also has an arrogance about him on the field and looks like nothing phases him out on the pitch. Yes, he may have a few things to learn about the defensive side of things but that should come with experience. Unfortunately, it looks like he'll not get the experience at Everton which is a real shame.
Silva's judgement of players ability and performance seems to really be lacking. Maybe he is just a really slow learner? The past couple of team selections have been getting closer to what our first team should look like in my opinion but for how long will it take till we see Sneiderlinn and Walcott back in there dragging other players down with them again.
John Daley
73
Posted 21/03/2019 at 09:34:59
The Premier League 'stats centre' shows Lookman in 17th place in terms of minutes played for Everton this season.
He has totalled 535 mins on the pitch compared to 2,236 for Richarlison, 1,930 for Walcott, 1,553 for Bernard and 935 for Cenk Tuson. Even Mina and Kenny beat out Lookmans minutes, clocking up 802 and 790 respectively.
How is any player supposed to show 'consistency' (in either performance or motivation) when given such scarce opportunity?
Unless he's been strolling about starkers, sitting down, making a simulacra of Morgan Freemans face with his fucking scrotum, moving the wrinkly 'lips' with his fingers and saying out the side of his (real) mouth "Gollocks to you Silva you gad gell", then I struggle to see what he could have been doing so wrong in training to merit such woefully meagre game time. If it is because his attitude 'stinks' as so many infer from such disrespectful actions as... err... pulling his sweater over his mouth and itching his face, then why would he have made the bench so often?
Certain players have achieved consistency. They have been consistently crap, when it matters most, during actual competitive matches, yet it doesn't seem to have curbed their chances any.
"He is less than half as good as he thinks he is yet far too gobby with it. When this wet behind the ears kid made demands of our club..."
Here we go again with the utterly banal and ungrounded accusation of defo being an ungrateful egotistical diva with delusions of grandeur seemingly levelled against almost every young player to turn out in blue over the last few seasons.
Lookman has hardly said boo to a goose in public since joining the club.
He didn't say a word when transfer speculation was raging round about him in the summer.
He didn't say a word when Allardyce publicly declared he'd made the most hoopleheaded decision possible by haughtily declining the opportunity to drop down a league to the Championship, in favour of moving temporarily to Saxony, a strange otherworldly alien environment Sam had tried warning him was probably exactly the same as that Pandora out of pissing Avatar, populated by lanky feline looking blue bastards talking an unlearnable language and living off bizarre futuristic space sausages called "bock... wurst?".
He never kicked up a fuss in public or slapped in a transfer request when repeat bids from Leipzig were rejected. He just kept his head down.
Yet, he's a gobshite. A demanding gobshite.
"3 managers have decided he's not the man for them" — and their every judgement has proved uncannily unfailing in hindsight. The one decent manager he has played under during the past couple of seasons started him consistently, got goals and performances out of him, and sung his praises to the extent his club subsequently tried to sign him for £25m.

Charles McCann
74
Posted 21/03/2019 at 10:00:09
That's an excellent post, John 273. Points put across very well. : )
Dave Abrahams
75
Posted 21/03/2019 at 11:07:07
John (73) I think you made your case for Lookman much better in your post (23).
I can see the posts for Lookman, both for and against. I hope he stays, he is a good player now and I think he can be top class in a couple of years but, if you watch him in the limited time he gets at Everton, he definitely doesn't do himself justice.
He should seize every second he gets, and again I admit it's hard to do this in 10 and 15 minutes of gametime; hopefully he will be played more during the rest of the season.
Ian Flanagan
76
Posted 21/03/2019 at 11:44:22
If Silva wants consistency, why does he keep playing Walcott??
Mike Keating
77
Posted 21/03/2019 at 11:53:27
Ian @ 63 – you forgot to offload Bolasie.
Paul Cherrington
78
Posted 21/03/2019 at 12:09:44
I think when Silva talks about consistency it is more in terms of Lookman's attitude and desire to work for the team 100% of the time, rather than his ball skills or playing regularly. you don't need to be starting regularly to show the right attitude in training, on the pitch or around the club - that should be a given.
It is obvious from Silva's comments that this is the problem and it is hard to argue with. he might be more talented than others but if his attitude is bad and he will not always put the effort in, then he cannot expect to play. I have noticed myself when he has played that he does not track back enough or work hard enough off the ball when we are not in possession so would agree with Silva. we look more solid with other people there for me.
I don't think you can discount the fact that a number of managers have not played him regularly either. this clearly shows that there is some problem with the player if every manager we have had recently does not use him. when its 3 or 4 different managers then it is obviously not a personal thing and the player needs to look in the mirror a bit
Tony Hill
79
Posted 21/03/2019 at 12:30:36
He's the sort of player we want. I agree with Dave Abrahams that he hasn't seized his (limited) chances but I think he will and I also think Silva believes in him. I've always wondered if he'll do better as a Number 10 in due course or as an out and out striker.
God knows if he'll survive the summer churn of players. I hope he does.
Chris Gould
80
Posted 21/03/2019 at 12:45:32
John #73, I disagree with your assessment of the situation. Yes, sections of the fanbase write off the youngsters too early, but this is a different scenario. This has come from the manager, someone that works and talks with Lookman daily.
Silva has never publicly criticised any of the other younsters, but he has Lookman. He has previously gone to great lengths to make him feel wanted and publicly spoken very highly of him. Silva and Brands made it clear that he was part of their present and future plans.
All Silva expects of Lookman is a level of consistency and desire in training. If he sees that, then Lookman will earn a place in the matchday squad.
Obviously Lookman cannot or will not produce the levels expected of him. The same levels that others must be showing. So why should he be given minutes over others? No way has he shown anything which suggests that he merits a place without actually working consistently hard in training. Only a Hazard or a Salah could possibly expect such treatment, but no player will achieve their potential without hard work.
Lookman may not have made any public utterances in the summer, but he did post a few provocative and disrespectful videos on Instagram which have since been removed. One video was of him watching Leipzig on the tv with a caption of him supporting his teammates. He deleted it but only after it had already been viewed by many. He was back at Everton but it was clear to many that he did not want to be here.
I think it's reasonable to conclude that Lookman has not settled and it certainly sounds like he is not showing commitment in training. Therefore, it's understandable for some to question his attitude.
Tony Abrahams
81
Posted 21/03/2019 at 12:48:59
I can't see it myself, Tony, because it doesn't seem like his ability is in question, especially the way Silva, talks about him above?
Martin Mason
82
Posted 21/03/2019 at 13:12:30
I'd say that, if Brands, Silva and Unsy don't believe that he is a player that will fit into the Everton system and that he needs to work harder, then that will be good enough for me and he should go if he doesn't improve. From what I've seen, he does some good looking things but improve the team? I'm not sure.
It is so competitive now for lads at his age, many are on loan and many will not make it unless the rules on homegrown players change post-Brexit. I know that the big A or attitude can be a problem with these ethnic minority players and yet only those who combine their athleticism and talent with hard work and good attitude will make it.
If they're looking for role models, then it should be along the East Lancs Road to Marcus Rashford. He's a credit to his Club, ethnicity and to himself and a fine player.
Gordon Crawford
83
Posted 21/03/2019 at 13:14:31
If the boy isn't showing desire, then he shouldn't be near the team.
Kev Jones
84
Posted 21/03/2019 at 13:42:10
Good on Marco following up his previous public support for Lookman with a public reminder to work harder in training if he wants his talent to blossom.
Martin #82 – shame you spoil your comments with a racial stereotype. Ironic in a week when Danny Rose has supported Raheem Stirling's drawing attention to racism in the game. Renee Hector from Tottenham Ladies has also been victimized since reporting racist abuse against her on the pitch. We need to work harder around race awareness.
Dave Hutchinson
85
Posted 21/03/2019 at 13:44:14
Absolutely agree Kev and was just about to post in a similar vein.
Lyndon/Michael - can you please remove this offensive comment, it has no place on this brilliant forum.
John Daley
86
Posted 21/03/2019 at 14:28:48
"All Silva expects of Lookman is a level of consistency and desire in training. If he sees that, then Lookman will earn a place in the matchday squad. Obviously Lookman cannot or will not produce the levels expected of him."
That's the part where the 'bad attitude', 'lazy/lacking in effort in training' charges come tumbling down for me though, Chris. He has been 'earning' a place in the match day squad for the majority of the season or, at least, Silva has been naming him in said squad. He's just not been getting on the pitch that often.
If he's putting him on the bench repeatedly, then the manager must believe he's ready to play if the need arises. If he's been tossing it off in training and failing to meet the standards Silva sets, then why is he taking a sub spot from someone else so regularly? Do those who fail to make the bench drip even less sweat than the diddy 'desireless' one on a daily basis?
In a passage (omitted on here) from the same piece this story is taken from, Silva states: "He [Lookman] is trying, he is giving and what I want coming from him is more consistency in his daily work." To me, that doesn't equate to the simple lack of effort or poor attitude some are accusing him of.
Martin Mason
87
Posted 21/03/2019 at 14:37:03
Dave, the mistake I made was not putting "some" or "a small minority" and I can see that now. There was no intent for my comment to be racist, I didn't mean that it applied to all ethnic minorities as can be seen to what I said later about Rashford.
I'm married to a lady from the ethnic minorities btw, the concept that I'm racist is laughable.
James Hughes
88
Posted 21/03/2019 at 16:09:20
Martin, just don't mention it then, regardless of you are married to.
Do you greet your wife with, "I love you, Mrs ethnic minority"?
As for attitude, I live in Essex and I can sure you that attitude is a big problem regardless of whatever shape, size, creed etc you are. Not a lecture from me,
Tony Everan
89
Posted 21/03/2019 at 16:11:16
Wingers?
Richarlison starts, he will score goals.
Lookman is in the bag with Walcott and Bernard for the other berth. It is a damning indictment that Lookman has not been chosen before either of them two. Walcott has been very poor, and Bernard is improving over this last month but is still offering less than I was hoping for overall. I was expecting more goals and more assists. More fitness needed and he is a bit lightweight and diminutive in this ultra-aggressive league.
I think Silva wants more from those three; Walcott will be sold in the summer, especially if Onyekuru and Vlasic return for good. If one or both come in the summer, it will leave Lookman without even a spot on the subs bench, unless he improves markedly between now and then.
Marco, I think, is after a Bernardo Silva type player: aggressive, forward-thinking, but has a great engine for 90 mins and can tackle back. A super player. Who out of those five can match that. Onyekuru?
James Flynn
90
Posted 21/03/2019 at 16:11:49
Boy did Silva tear him to shreds.
"We know what his quality is and you know I believe in his quality since the first day I saw him, so it has to be same Lookman everyday with the same desire everyday," the Portuguese said.
"He needs to understand what the coach wants coming from him, and any winger in our model, because, after that, the quality he has.
"He is a young football player but, being honest with you, I expect Ademola to be on a different level already this season.
"I keep believing, 100%, in his quality as a football player, there are no doubts about that, but what I want to see coming from him is the same desire coming from him, each day, to achieve that, to reach that level he wants and the level I believe he can play at."
How cruel.
Myself, I think the kid still wants to go Red Bull Leipzig. Whatever happens this Summer, it's his head and ass. No one can pull the one out of the other but him.
Fran Mitchell
91
Posted 21/03/2019 at 17:23:50
Martin, nobody has ever said "Ronaldo is role-model to other Iberian boys", nobody ever says "Harry Kane is a great role model for white boys". So why feel the need with Rashford?
Rob Dolby
92
Posted 21/03/2019 at 17:50:58
The lad has ability but, like many of the others in this squad, he doesn't do enough off the ball.
Let's face it, Walcott gets in ahead of him as he gives the full back slightly more cover. Knuckle down and work your bollocks off, then you can't do anymore.
Martin #82, Are you winding us up with that comment?
Brent Stephens
93
Posted 21/03/2019 at 18:11:57
Martin #82 ". I know that the big A or attitude can be a problem with these ethnic minority players".
#87 "the mistake I made was not putting "some" or "a small minority"... "
Martin, I think the latter is still a problem. Why say some ethnic players have an attitude problem? Why not just say some players have an attitude problem?
Martin Mason
94
Posted 21/03/2019 at 18:59:33
I'm going to say one more thing in mitigation, a comment about my wife and then I will not be drawn into anything that is non-football.
I have read often and in many qualified places, that a disproportionate number of young black males have major problems with underperformance at school and in work (do I need to mention gangs, knife crime, truancy, etc?). I assume that this can only be due to an attitude that prevents them from, say, like middle-class white females, performing to their potential.
James@88 I love my wife and kids unconditionally after a very long marriage, they have no colour. My daughter at 28 is deeply autistic and my life is based around caring for her, she has no colour.
It's easy for snowflakes to cry "racist". Few understand the meaning.
I like Ademola, I really hope that he makes it.
Alan McGuffog
95
Posted 21/03/2019 at 19:46:55
He doesn't want to be here, that's evident. He's not as good as he, and many others, think he is. If we were offered a decent fee, show him the door. He won't be missed. If he makes it elsewhere, then good for him.
James Hughes
96
Posted 21/03/2019 at 20:04:36
Martin, from my end, absolutely no offence at either you or your beloved family.
Tony Abrahams
97
Posted 21/03/2019 at 20:51:56
I think I've given you more stick than most on these pages, Martin, but I don't see a person with any malice whenever I read any of your posts, mate.
Anthony Murphy
98
Posted 21/03/2019 at 21:28:15
Just to change the subject for a second, what do people think of a 'singing section' at Goodison? The GT8 section of the Lower Gwladys (next to the Bullens) will be a designated area for those wanting to create an atmosphere next season. Thoughts?
Not keen personally. Bit phoney for me and, if we end up having anything like those 'ultra' beauts at Crystal Palace, then it'll be embarrassing. I'm all for creating a fantastic atmosphere, but I want it to be organic rather than engineered.
Brent Stephens
99
Posted 21/03/2019 at 21:57:13
Martin, no malice from me either. I just think you could have worded it better.

Eddie Dunn
100
Posted 22/03/2019 at 07:18:39
Martin, you clearly have not intended to offend anyone. A case of unfortunate wording. Please keep on posting your views on all things Everton.
Mark Andersson
101
Posted 22/03/2019 at 07:33:31
Anthony Murphy, what does it matter if there is a section of the crowd who love to vocalize theirpassion for the club?
Our away fans are one of the best in the Premier League... is that manufactured? No! So why not have those same supporters in one designated part of the Old Lady to get things going? Nothing phoney about passionate blues.
Tony Abrahams
102
Posted 22/03/2019 at 07:54:30
I think it's a "Scouse thing", Mark, some of us are a bit snobby when it comes to things like this?
Hopefully the team is going to get better and GT8 will get drowned out by the rest of the crowd!
My favourite ever Goodison night was obviously Bayern Munich, and I don't know how the crowd was heard by Picton Clock, because I swear I could hear six different songs being sung at the same time once Trevor Steven made it three!
My biggest wish for my favourite place is that Goodison Park goes out with a bang.
James Hill
103
Posted 22/03/2019 at 08:56:27
Guess what – anyone who has played knows, if you're not in the team, you need to impress in training every time you train, and take your chance when you get picked. Lookman has done nothing on matchday to justify a starting place. Full stop. The Bundesliga is like watching training games so no comparison.
Lookman at the moment does not warrant a start – he is simply substandard and typifies what is wrong with Everton. I support Silva on that one – do it consistently or you are out.
Don Alexander
104
Posted 22/03/2019 at 09:34:38
Martin, I didn't see any racism in your comments. It's admittedly a very touchy subject but the weird thing is that non-racists, who predominate in my opinion, can easily be accused of the very thing they're not by using terminology that some well-minded folk take stereotypical exception to.
Dick Fearon
105
Posted 22/03/2019 at 11:48:36
I don't like the idea of a designated singing section. Next thing you know, it would have a Choir Master and, heaven forbid, a bloke with a loud hailer demanding everyone join in.
I have experienced that kind of phoney cheer-leading stuff and found it to be an embarrassment.
Stan Schofield
106
Posted 22/03/2019 at 13:23:14
The trouble with Lookman is his unusual talent. I don't know whether it's just an Evertonian tendency, a more general British tendency, or a wider tendency, but many people seem to love knocking talented people.
The worst example on here in recent years is the criticism of John Stones, the criticism being ridiculous at times and a ToffeeWeb vote of 80% in favour of selling him to Man City. And I just couldn't help thinking he's too good for Everton, we're dysfunctional shite and won't meet the aspirations of such a player. So he's having his aspirations met at a top club instead.
It's difficult to see Lookman being at EFC much longer. He'll be off to a better club to actually try and win some trophies.
Alan McGuffog
107
Posted 22/03/2019 at 15:14:56
Back in the days of Chairman Johnson was there not some kind of a "band"...a la the one that annoys us all at Ingerlund games. Or was it my tinnitus playing up?
Martin Mason
109
Posted 22/03/2019 at 18:06:23
It's so wonderful though to see these lads playing for England in the age groups and generally being up there with the very best in the world.
So sad that, while we once saw 16-year-olds like Colin Harvey and Joe Royle breaking into the first team, these lads are really held back by the Premier League demand for success – even when that is often just staying in the Premier League.
The Everton way, for me, should be to play Lookman, Calvert-Lewin, Tom Davies, Jonjoe Kenny and, dare I say it? Have a bad season.
Stan Schofield
112
Posted 22/03/2019 at 19:10:22
Martin @109: Spot on up to a point.
By that, I mean that you're right about the likes of Harvey and Royle (I recall Harvey getting his debut as a 16-year-old against Inter Milan, and Royle playing as a 16 year old against Man Utd at Goodison, with Young, Ball, Labone, Best and Charlton, et al on the pitch). But they came into a well functioning team, surrounded by great players.
Our current youngsters don't have that advantage, have had to deal with being thrown into successive badly performing Everton sides, with massive expectations on the shoulders of those youngsters.
Dave Williams
114
Posted 22/03/2019 at 19:52:42
Stan, I think Colin was 18
Kevin Prytherch
115
Posted 22/03/2019 at 19:54:47
Martin - I posted somewhere else asking people whether they would be willing to write a season off to make sure these youngsters get the chance.
Based on loan performances, we could even add Robinson (although he would probably just be given the role as Digne's understudy), Holgate, Dowell and Williams. Add them to the current young players (U25) of Pickford, Keane, Mina, and Richarlison and we have a very promising young squad.
I wouldn't advocate playing all of them at the same time all season, but giving them all a decent chance over the course of a season. Take the hit for one season in the hope that we save ourselves a fortune and challenge the top 6 a different way rather than blindly spending money.
I'd quite happily take the hit.
Lev Vellene
116
Posted 22/03/2019 at 21:25:28
We don't know anything at all, as fans, about what any player sees as success these days, I'm afraid.
My hope is that Lookman will see that he was just a medium fish in a medium to large'ish pond, while in Germany.
To succeed in the Premier League, you need to really believe in your own skills, and then act as if you are much bigger/better than the opposition's ability to handle those skills! Don't try, assume you CAN!
James Stewart
117
Posted 22/03/2019 at 21:29:14
Laughing my arse off at this. Look at the Comparison of Lookman, Bernard and Walcott stats here:
https://twitter.com/EFC_Statto/status/1109069552665722880/photo/1?ref_src=twsrc%5Etfw%7Ctwcamp%5Etweetembed%7Ctwterm%5E1109069552665722880&ref_url=https%3A%2F%2Fwww.liverpoolecho.co.uk%2Fsport%2Ffootball%2Ffootball-news%2Feverton-news-and-transfers-live-16011214
Makes a mockery of Silva's rubbish on this lad.
Stan Schofield
118
Posted 22/03/2019 at 21:52:47
Dave@114: My mistake, I'd just got it into my head he was 16.
Martin Mason
119
Posted 23/03/2019 at 11:18:34
Stan@112, fair point and hopefully we would blend them in carefully. I really don't see any downside really as it's not as if we're any good with the elder more experienced players in the side.
Len Hawkins
121
Posted 24/03/2019 at 21:41:25
Ian #76
I'm sorry to argue with you but Walcott is very consistent... unfortunately, consistently ordinary.

Terry White
122
Posted 24/03/2019 at 22:25:10
Stan (#118), sorry if I seem to be rubbing it in but Royle was 16 when he played at Blackpool in 1966 but was 18 when we beat Manchester United 3-1 in the first game of the 1967-68 season, the day of Alex Young's wonderful goal.
It's difficult to bring younger players into the team at this stage of the season now given the extra money available for each higher place finish dictating that teams must try to win each game..
Alan J Thompson
123
Posted 25/03/2019 at 04:18:25
James (#103); And anyone who has played the game also knows that those who pick the team have their favourites and I'd not be surprised at some being picked because of the transfer fee paid.
Dale Rose
124
Posted 25/03/2019 at 12:30:57
These players are paid a lot of money to play. So I have little sympathy here. He is an Everton player so step up to the mark and give your all.
Martin Berry
125
Posted 26/03/2019 at 09:03:31
Seeing what is happening to the England team and the opportunities that are given to young players, is the only incentive he should need, that applies to Tom Davies and DCL too.
Paul Burns
126
Posted 27/03/2019 at 18:49:36
The manager should dig players out publicly more often.
God forbid it would upset the pampered snowflakes.
If they don't like, get a proper job like every one else.
Add Your Comments
In order to post a comment, you need to be logged in as a registered user of the site.
Or Sign up as a ToffeeWeb Member — it's free, takes just a few minutes and will allow you to post your comments on articles and Talking Points submissions across the site.