Schneiderlin considering his Blues future
Saturday, 1 June, 2019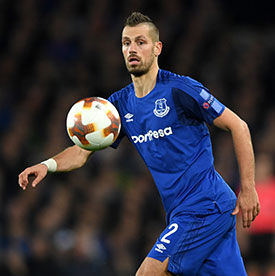 The Frenchman says that while he is happy to honour his contract at Everton, at this stage of his career he needs to play regular football.
The Frenchman underwent something of a transformation back to his best form towards the end of this past season after going through an alarmingly poor spell in 2017-18 and is once again being regarded as a valuable member of the Blues' squad.
Schneiderlin, who turns 30 in May, feels as though he is at the peak of his physical powers, however, and doesn't want a repeat of his experience at Manchester United where he was most often used off the bench.
He says that he won't agitate for a move from Goodison Park but would be interested in potential opportunities elsewhere if the right club showed interest.
Schneiderlin was kept out of the Everton first team last season by André Gomes but there are no guarantees as this stage that Marcel Brands will be able to secure the Portuguese on a permanent basis.
"I did not hesitate [when Ronald Koeman called me]," Schneiderlin told Winamax in France about his transfer to Everton in January 2017. "I wanted to play football and not spend all year on the bench.
"I may have been a bit rushed because it was only four months back [from injury] in Manchester; sometimes you just have to be patient in times like that, but it's a choice I made.
"Today I still have two years of contract, and I am a bit divided. I arrived, I had good performances, and the next season was a bit more complicated.
"For the moment I will respect my contract; after we will see. If the club wants to sell me and I am offered an interesting project for me, anything is possible.
"I mostly want and need to play. I feel that I have reached perhaps my best level physically, so we'll see."
One player who is clear on his future, however, is Richarlison who insists that he is happy at Everton despite inevitable speculation linking him with a move elsewhere.
The Brazilian had a much more productive second season in the Premier League with the Blues after struggling in the second half of his debut season at Watford.
He finished joint-top scorer with Gylfi Sigurdsson on 14 goals and is looking forward to improving on that in 2019-20.
"It's a nice feeling when you get praise for your good work, but I'm not thinking about a transfer at the moment," Richarlison told FourFourTwo.
"I've just arrived at Everton. I'm happy here."
---
Reader Comments (45)
Note: the following content is not moderated or vetted by the site owners at the time of submission. Comments are the responsibility of the poster. Disclaimer
John Cartwright
1
Posted 01/06/2019 at 16:51:14
Get rid
Alan J Thompson
2
Posted 01/06/2019 at 16:57:37
I didn't get passed the first paragraph before laughing and thinking how kind of him and has he put a starting date on it.
Jon Bentley
3
Posted 01/06/2019 at 17:00:40
This might be good news, if only from a revenue perspective. If it's the player (& his agent) looking for a move rather than the club, then we can play more hard ball. He was getting game time and looked half decent again at the end of the season, so on the face of it, he's part of the first team and therefore more valuable than if he wasn't.
At 30, we need to move him on sooner rather than later.
I actually think he's not as bad as people have made out and don't feel any ill will to him and wish him all the best on his way.

Derek Knox
4
Posted 01/06/2019 at 17:10:41
I'm with Jon and Alan, and although he has had a couple of decent outings at the end of the season, where were those performances for all those games when he did get regularly picked, and either went 'missing in non-action' or just stunk the place out, with Gana doing all his donkey work?
Now getting him off-loaded won't be easy either, considering what he cost, we will take a big hit on that, but more seriously the inflated contract he is on, will be difficult to match, but it rarely ever is the case, being 'matched' they or their agents always want an increase.
How magnanimous of him to say he will honour his contract, it must be hell picking up £100K + a week and not playing!
Christy Ring
5
Posted 01/06/2019 at 17:21:08
As the previous speakers said, nice of him to respect his £100k contract, but hopefully we'll sign Gomes, and possibly get rid for around £15m.
Kieran Kinsella
6
Posted 01/06/2019 at 17:25:19
I think you are all being a bit harsh. He isn't throwing a hissy fit a la Vlasic and saying "I am the best midfielder at the club." He isn't going on a sulk strike a la Diego Costa. He is simply acknowledging that he signed a deal here and will honor that but he would prefer to be playing whether here or somewhere else. Like everyone last year, he was dismal. This year he has been better.
With that being said, I agree that as a bit part player, aged 30 on 100,000 a week it would be beneficial if we could sell him this summer. But because it makes football and financial sense, rather than because he is some kind of pantomime villain draining the clubs resources for the fun of it.
Dean Johnson
7
Posted 01/06/2019 at 17:55:16
See ya
Kevin Prytherch
8
Posted 01/06/2019 at 18:06:12
Schneiderlin is a very good player, but only when he has bodies around him. He has thrived in a midfield 3 (with Gana and Davies), then again in a midfield 4 (Bernard, Gana and Richarlison). He struggled when it was just him and Gana and his limitations were exposed. He would be a very good squad player.
That said, I feel that by keeping him we are blocking the development of Davies and potentially Joe Williams, if he comes back, so I'm saying let him go for these reasons.
Brian Williams
9
Posted 01/06/2019 at 18:21:47
I'd fucking well honour mine if I was in his position too, not that he has much choice unless he means he won't angle for a move away which, if it is the case, is a real shame!
Fran Mitchell
10
Posted 01/06/2019 at 18:28:38
The Schneiderlin of hus first 3 months, abd final 2 months at tje club is a bloody good player.
But he kind of summed up everything that stunk at the place in that middle period. Lack of application, focus, desire.
A good Schneiderlin would be a peach of a player for the peomoted clubs or any mid table team. And if we miss out on Gomes, we could well maybe keep Schneiderlin and buy a young prospect and rotate the two.
Sam Hoare
11
Posted 01/06/2019 at 18:34:15
He was actually very good at seasons end. I'd even go so far as to say better than Gomes in many ways. And that comes from someone who hated his guts during the Koeman/Allardyce debacle.
I imagine that Silva/Brands would be happy to keep him if it wasn't for his extortionate wages which hike up a bill Brands is trying to cut.
Trouble is who will bid for him and is his desire to be a starter enough for him to take a massive pay cut?
Jack Convery
12
Posted 01/06/2019 at 18:45:46
Can't boss a game and goes missing when the team struggles. My MU mates were made up to see the back of him. When I told them he was playing really well, they said wait and see and sure enough he went AWOL. At 30 and a good offer comes in let him go. We need midfield players who want to win and give everything for the shirt this guy does it in fits and starts - not good enough. Get Doucoure from Watford.
Neil Lawson
13
Posted 01/06/2019 at 19:16:33
Must be tough having to decide whether to take the Bentley or the Lamborghini to Goodison. Tougher still to sit on the bench and to count your money at half time.
The correct approach would be "I want to play for Everton and be successful with them. If I can't be a regular team member then maybe I will have to consider going elsewhere."
There is just too much money available for too many average players. I would happily warm the bench and plan for my early retirement to Spain with a small fortune in the bank. Why not go in search of talented players with a real drive to succeed and to earn their fortune. There must be a large number of future Sheedys and Cahills and Jagielkas just waiting for their chance to shine at a higher level. Go find them.
'
Anton Walsh
14
Posted 01/06/2019 at 19:45:44
His end of season form was good but is it because he needs to be in a team that's playing well. Gueye can be great when the team is shit. Can schneiderlin?
Mike Gaynes
15
Posted 01/06/2019 at 19:47:32
After last season, he's lucky he didn't leave the city tarred, feathered and riding a rail. He finally pulled his head out of his ass in the last third of this season.
If Gomes stays, I say tag Schneids and ship him. If Gomes goes, keep him.
Tony McNulty
16
Posted 01/06/2019 at 19:49:19
Jack #12,
He went seriously missing when the team was struggling around the turn of the New Year. On at least two occasions he chickened out of tackling opponents in our penalty area leading directly to goals. Worth about one third of what we paid for him.
Admittedly Sam (#11), he played well towards the end of the season but that is the issue: plays fine when it is going well for the rest of the team. He's no Roy Keane. A fair weather performer and luxury of a player who is inadequate for where we want to get to as a team.

Pull together the youtube extracts from the last few games and see if you can get reasonable money for him. Move on.

Jason Broome
17
Posted 01/06/2019 at 21:02:11
Went missing for far to long only to rediscover his form far to late. It's a shame because initially I was a fan.
His name and International pedigree still carries a little weight. One of the newly promoted Premiership teams or French teams might fancy a 12 Million punt.
I wish him well.
Richard Duff
18
Posted 01/06/2019 at 21:06:30
I've also been considering his future. Its bright and it's behind him.
Peter Gorman
19
Posted 01/06/2019 at 21:41:15
His 'bit complicated' season was brought almost entirely upon himself: he looked like he hated football and nothing like a player who wanted to play regularly.
That said, he was decent enough ALL of last season, not just the end. But he never achieved the levels Gomes occasionally showed so it is hard to imagine Silva won't want to retain his man or find another replacement for Schneids. Too little, too late. The horrors of the previous campaign will regrettably live long in the memory.
Kristian Boyce
20
Posted 01/06/2019 at 21:57:00
His form has basically mirrored ours during his time at the club. When he's good, we're good. When he's bad, we were awful.
Danny Broderick
21
Posted 01/06/2019 at 23:03:11
He goes missing when the chips are down, so he's about as much use as a chocolate fire guard playing in midfield in the Prem. He will always be up against other players who want it more than him. Hopefully he's played his last game for us.
Paul Birmingham
22
Posted 01/06/2019 at 23:05:02
The lad came good and played well when in the squad last season.
He lost his father last autumn, and who knows the impact as many of us know, it's a massive time in anyone's life.
Fair play where it's due, it seems, he has got his mojo back.
Who we sign may decide what happens, but right now we need a solid base to build preseason.
The RS result tonight ups the stakes for Everton. If the club needs to still secure funding etc for Bramley-Moore Dock, tonight makes it more challenging than yesterday.
Interesting summer and hopefully a good one for all Evertonians.
Vijay Nair
23
Posted 01/06/2019 at 23:15:27
Perhaps Marcel Brands can work his magic and sell him to Marseille, with Strootman coming the other way on loan for a season. That would kill two birds with one stone, getting Morgan off our wage bill, along with the quality backup we need coming off the bench.
Si Smith
24
Posted 01/06/2019 at 23:29:24
Time to move him on, imo. Gomes in, Davies can take Schneiderlin's place on the bench, Baningime to come back also.
Mike Galley
25
Posted 01/06/2019 at 23:56:31
I'm sorry, but he's a fraud. There needs to be a mentality change at our club and players who sometimes play well and sometimes don't can go. I want players who dig in and get results for us when they're not playing well, not players who will 'honour their contract'.
David Connor
26
Posted 02/06/2019 at 00:36:11
That's big of him..Thanks for that, Schneiderlin. Fuck him off while we can get a few bob for him. His attitude stinks. Just like he has for the best part of two seasons... What a fucking gobshite.
Don Alexander
27
Posted 02/06/2019 at 00:42:38
Has he ever been good enough for a regular place in a top six side? Er, no.
Sell.
Justin Doone
28
Posted 02/06/2019 at 01:21:57
He's a decent player but I can't think of another Premier League team that he'd fit into. He's over-rated and he was never the player we needed nor one we should keep.
I disagree with those who believe he is or was anything better than that. Any offers over £6M to shift him off our payroll would be greatly welcomed.
James Stewart
29
Posted 02/06/2019 at 01:30:07
If Gomes comes in, he's finished here. Can't see many of us caring if he quietly exits even though he did improve towards the end of the season.
Paul Kelly
30
Posted 02/06/2019 at 08:34:06
I pity those who reckon he played well at the end of the season, I thought he done a job without being spectacular. He raised his game to the bare minimum, nothing more.
He's just a journeyman and jog on for all I care.
Sam Hoare
31
Posted 02/06/2019 at 09:00:08
Paul @30, you pity me?! What a weird thing to say.
Drew O'Neall
32
Posted 02/06/2019 at 09:27:23
Fair play to him if he wants to play football.
Not leaving for 'Champions League football' (money) and not saying 'he's leaving' with an ultimatum.
I don't blame him and it might end well for all parties.
Eddie Dunn
33
Posted 02/06/2019 at 09:39:51
He suffered a big dip in form and had personal issues which may have been to blame but, despite his decent end to the season, he is bang average and we overpaid for his services.
The future of this player is way down the list of priorities this summer.
Pat Kelly
34
Posted 02/06/2019 at 10:09:53
Who's going to pay £100k a week for him at 30 given his past record?
Answer: Everton.
Mike Kehoe
35
Posted 02/06/2019 at 12:19:46
He was a mistake, never what we needed and far too expensive. His form under Koeman and Allardyce was criminal and little short of fraud. Yes, he did improve and looked much improved but does that mean he was just better than all the previous woeful disinterested cowardly performances that preceded his mini-revival?
Take whatever we can get and give it to Brands to invest wisely. As far as I'm concerned he should have been fucked right off for his disrespectful attitude and intense apathy during Unsworth's tenure.
This prick manages to sound like a victim soldiering on heroically without complaint suffering the slings and arrows of outrageous (£100k plus a week) fortunes. Listening to him talk about 'honour' is an outrage: if he was serious he should give the wages he received during his offensively shocking period to a charity.
Michael Lynch
36
Posted 02/06/2019 at 12:30:15
Not really arsed either way. The important thing is for Brands to recruit the players and management he thinks best suit his project. Hopefully we've learned that much from the Shite – they only buy players who fit Klopp's style, rather than trying to pick up whatever is available and alter the style to suit.
We've committed to Brands, so the club should back him and his decisions. Obviously, if we're still looking shit at the end of next season, sack every fucker from the top down and start again.
Anthony A Hughes
37
Posted 02/06/2019 at 16:02:20
Don't let the gate hit your arse on the way out Morgan.
Frank Sheppard
38
Posted 02/06/2019 at 18:21:26
A none story, move on.
Peter Laing
39
Posted 02/06/2019 at 19:29:52
Wow, on possibly one of the worst days to be an Evertonian living in Liverpool with the redshite parade, our star man Morgan drops this bombshell. The irony, ha he can fuck right off, bawl bag, bag o'shite
Gaute Lie
40
Posted 03/06/2019 at 10:45:31
I've been a hard critic of Shneiderlin, I wanted him out for a long time.
But he silenced me With his displays the last six months, and if he keeps up that good work I see him staying. Because he bettered himself and that was just what I and others called for.
His dad died, he's been injured, so maybe there was good reasons for his sorry displays earlier on.
We wont get more than 6-8 m pounds for him, and for that we will not get any better player. So I say we keep him, if he wants to stay and fight for a Place in the team.
Can't believe I said this..
Alun Jones
41
Posted 03/06/2019 at 11:56:56
Well in my current season managing Everton in FIFA 2019 my whole season has been turned around by deploying Schneiderlin in a holding role after discarding Gomes. I am rubbish at FIFA so I vote to keep him !
Bobby Thomas
42
Posted 03/06/2019 at 15:49:27
Schneiderlin, Tosun, Walcott and Bolasie are an elite bunch of £25 - 30 million zombie footballers that contribute virtually nothing and take anywhere between 250 - 350k a week in total out of the club.
For each one, £8 - 10 million and just get them gone.
Gerry Ring
43
Posted 03/06/2019 at 18:00:28
We can't afford to carry the likes of this guy any longer. He's tame in the tackle & provides zero penetration. His last 5/6 games were a 200% improvement on his previous performances but that only gets him to about 30% of what's needed for a Premiership footballer. The more I see of footballers the more I realise that determination & attitude are much more important than skill & talent. Just look at Jordan Henderson!!!
Marc Hints
44
Posted 04/06/2019 at 09:57:50
It is quite a scary thought of all the players that need to leave this summer:
Maarten Stekelenburg
Leighton Baines
Phil Jagielka
Kurt Zouma (loan finished)
Andre Gomes (loan finished)
Theo Walcott
Cenk Touson
Oumar Niasse
Then you got to try and get rid of the loaned players:
Ashley Williams
Yannick Bolaise
Kevin Mirallas
Sandro Ramirez
Cuco Martinez
Muhamed Besic
Shani Tarashaj
Nicola Vlasic
That's 16 players. I would not like to be in Brands shoes to sort this mess out. On top of that, I think we would need 5 or 6 players to come in:
Centre half
Left back (if Baines goes)
Midfielder
Decent right winger
Striker

Paul Burns
45
Posted 10/06/2019 at 12:48:09
What a trooper... It's parasites like this, one good game in a hundred, that are crippling the club.
We've become a soft touch, a place to earn easy money for wannabes and never-weres and a semi-retirement home. Some of our so-called fans don't help, the likes of the ones who welcomed the bald version of Rooney back with open arms after he fucked us off. Fucken idiots.
I want to win trophies, by any means necessary, end of story. I'm not interested in how it looks or what players get burnt in the process or what anyone else thinks or says.
Fight fire with fire. We're not a charity. Get rid.
Add Your Comments
In order to post a comment, you need to be logged in as a registered user of the site.
Or Sign up as a ToffeeWeb Member — it's free, takes just a few minutes and will allow you to post your comments on articles and Talking Points submissions across the site.