Opinion
A look at Uefa's FFP, what they mean for Everton and how we solve our problems
Given Everton's prospects of finishing in the European-qualification places have improved somewhat under Ancelotti, it's worth examining how Uefa rules may impact Everton as against just the Premier League regulations
For some time there has been a recognition that Everton have had to consider carefully the Premier League Profit & Sustainability rules (usually incorrectly referred to as Financial Fair Play), particularly the maximum permitted losses of £105 million over a rolling 3-year period.
I suspect because there was little prospect, towards the latter days of Silva's time in charge, of immediate European qualification, little attention was placed upon how Everton's financial performance might stack up against Uefa's very different Financial Fair Play rules.
However, given those prospects have improved somewhat under Ancelotti, it's worth examining how Uefa rules may impact Everton as against just the Premier League regulations. It's also worth looking at the importance of European qualification.
I'll begin with Uefa's reasoning for Financial Fair Play to exist. (For the purposes of this, I will ignore the more political reasons relating to advantaging the largest European clubs.)
Financial Fair Play (FFP) exists with two primary objectives in mind:
To create an obligation for clubs to "balance the books" over a period of time
To create an obligation for clubs to meet all transfer, employee and social and tax authorities' payment commitments
Clearly for Everton, it is the former rather than the latter that gives rise to concern.
FFP is monitored by a separate body to Uefa, the Club Financial Control Body (CFCB). The CFCB consists of two chambers, one which is investigatory and the other adjudicatory. The CFCB has wide-ranging powers, but importantly can operate with a large degree of discretion in executing such.
Investigatory powers
The main consideration for Everton is the "Break-even requirement" (Article 58).
In the broadest of terms, clubs are expected to break even over a 3-year monitoring period. There is a permitted "acceptable deviation" of €5 million. However, that can increase to €30 million if covered entirely by equity participants (shareholders) and/or other related parties.
The monitoring period differs depending upon the financial performance of the club. It includes historical data and projections for future performance. The standard monitoring period is the year in which the club is competing in Uefa competition (assuming we qualify next season, that would be 2020-21) know as "T"; the previous year (this season 2019-20), "T-1" and the preceding year (2018-19 – the year of the latest accounts), known as "T-2".
Thus, in the first instance, the CFCB would look at last year, this year, and next year in checking for compliance or breach of FFP.
If a breach was apparent or likely, then CFCB move the 3-year monitoring period a year forward – in Everton's case, they would look at T-1 (2019-20), T (2020-21), and T+1 (2021-22).
For completeness, there can be a breach based on six different criteria – (i) going concern; (ii) negative equity; (iii) break-even result; (iv) unsustainable debt for T-1; (v) unsustainable debt for T; and (vi) player transfer balances outstanding greater than €100 million.
For Everton, criteria iii would be the likely concern.
Break-even requirement
The break-even figure is calculated by looking at the balance between income and expenditure.
Income for these purposes includes gate receipts, sponsorship, advertising, broadcast rights, commercial activities, Uefa revenue, other operating income, and finally player trading profits.
The notable exceptions in terms of income are profits through the disposal of fixed assets – for example, the sale of a club's stadium, and any income transactions with related parties that are deemed to be above fair value. The club, in the first instance, determines that fair value.
Expenses include wages, other operating costs, amortisation costs, non-stadium finance costs, and dividend payments.
Several items are not included in the expenses, including youth development costs, community development costs, women's football activities and finally the costs which are directly attributable to stadium construction or modification and or leasehold improvements.
Discretion
As mentioned earlier, the CFCB has considerable discretion when examining the potential for a breach. Among other considerations, they can look at the quantum of losses (clearly, the greater the losses, the greater the implications in a negative sense) but also the trend (reducing losses would be viewed more positively).
The CFCB can also request a long-term business plan which would look at the projected financial performance and future financing for up to T+4 – in Everton's case, that would be projecting forward to 2024-25.
Additionally, for example, factors such as the size of the playing squad can be a factor. Marcel Brands's optimal 23-member squad falls within the 25-member limit specified within the rules.
Within the investigatory chamber, the chief investigator can dismiss the case, agree with the defendant a settlement, impose disciplinary measures limited to a warning, a reprimand, issue a fine limited to €200,000, or refer the case to the adjudicatory chamber.
The settlement can include withholding Uefa prize monies, restricting registration of new players in Uefa competitions, and/or placing a limit on the number of players or the aggregate wages of the players registered for Uefa competitions.
Adjudicatory chamber
The adjudicatory chamber receives evidence from the chief investigator and asks initially for a written submission from the defendant. At the discretion of the Chair, or at the request of the defendant, an oral hearing may be arranged.
Once all the evidence is presented and all deliberations are heard, the adjudicatory chamber reaches a decision by simple majority, subject to a quorum of three.
The disciplinary measures consist of the following: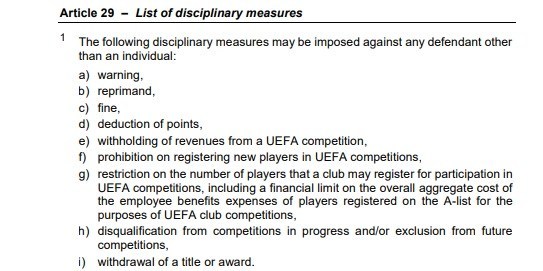 The chamber has the right to suspend the disciplinary actions subject to the conditions they place on the defendant and compliance thereof.
The defendant has the right of appeal. In this event, the decision can only be appealed before the Court of Arbitration for Sport (CAS).
So, how likely are Everton to be in breach of the break-even requirement?
Assuming Everton were to qualify for the Europa League, then the period that would be subject to investigation would be this current financial year (2019-20) and the following two years, 2020-21 and 2021-22.
It's obviously hugely difficult to project accurately what future profitability will be when a key component will be player trading. However, based on what is known about likely turnover, costs and player trading so far this year (2019-20), (turnover £220 million, costs £340 million) plus player trading profit (est £60 million) shows a loss of £60 million before adjusting for youth, community, women's and any financing costs and any no-capitalised costs also associated with Bramley-Moore Dock.
It is difficult to see in this year for the purposes of FFP calculations a loss smaller than £20 million (€23 million) for 2019-20.
In the following 2 years, income would rise due to participation in Europe (assuming qualification), but it is difficult to see a reduction in expenses to make the club comply with the break-even requirement under the FFP regulations, without a significant contribution from player trading (as is the case for this year, 2019-20) but also that being repeated.
In the absence of a huge and (less than obvious) increase in income, whatever losses the business makes over the next 3 years, and they seem inevitable, the shortfall will have to be made up in player trading profits.
Both Ancelotti and Brands have a significant task ahead of them, namely to reduce the squad size, improve the quality of the squad, keep cost increases on wages and amortisation at a minimum, whilst selling sufficiently valuable players to meet the projected calculated losses.
It might be that Everton can trade on the discretion built into Financial Fair Play to present a 4- or 5-year business plan that satisfies the CFCB. Perversely, it's obvious that we need European football to advance as a club. In qualifying for European football we make the financial constraints in which we find ourselves even tighter.
Winning trophies & success in Europe would help
There is, of course, another solution and that's to progress further in the Europa League – finalists can budget for £35-40 million in revenue. Even better is qualification for Champions League. Qualification at Group stages would solve our immediate compliance issues.
So perhaps, whilst we must plan financially for not qualifying for such, the easier way of solving our problems is to become much more successful much more quickly than planned.
At least with Ancelotti on board, we have some semblance of hope on that count.
Reader Comments (131)
Note: the following content is not moderated or vetted by the site owners at the time of submission. Comments are the responsibility of the poster. Disclaimer
David Pearl
1
Posted 16/02/2020 at 01:50:46
I can't see a name to this article/opinion... however the obvious point is that we must achieve success sooner rather than later.
It boils down to us having a manager, instead of a little boy, that can get a tune out of this squad. We have the up and comers (we know who they are), and then those that haven't hit the heights but we paid a kings ransom for (and we know who they are too).
In my opinion we have a good mix of age, experience and will... and of course we need Schneiderlin and Walcott to keep their form going. Regardless of FPP l actually think things have turned for the blues.
I'm looking up! Niasse and Tosun can go... to make way for a couple more. Apart from that l'm fairly happy with what we have and the improvement we expect to see. FPP will then take care of itself.
Chris Mason
2
Posted 16/02/2020 at 02:09:48
I can see Richarlison going in the summer for a ridiculous sum, which would be a huge blow to the team but would almost immediately reduce the FFP pressure. Getting rid of the 'deadwood' alone isn't going to be enough.
Add a bit more deadwood on top and the task of rebuilding would be made simpler, if not easier - finding a replacement to Richarlison notwithstanding
Minik Hansen
3
Posted 16/02/2020 at 02:38:18
Thank God - all respect to him - we didn't buy Zaha, or Everton for that matter just yet.
We sold Lookman and Gueye for good money, we might have to sell Jonjoe Kenny if it's good money as well, but we would have to buy Sidibe. Maybe bringing JJK back would do instead.
I think we're in for a good surprises this summer, depending on how our season ends. COYB.
Amit Vithlani
4
Posted 16/02/2020 at 04:37:23
New job/responsibilities mean I have had no time to meaningfully post on the site recently. Always grateful to Paul The Esk and others who do take the time to do this.
The crux of 2019/2020 results lies in the PL's assessment of the naming rights option with USM. If that is approved, the club is going to be fine on both the EPL and UEFA FFP fronts.
Also, this was always going to be the worst 3 year period as the massively bloated wage bill in 2018 and 2019 ate into all the gains in turnover & player trading the club has made. I expect to see a player trading profit from the period 2019-2020 as the book loss on Klaassen was more than offset by book gains on Vlasic, Lookman, Robinson, Williams
With the offloading of many players all projections point towards us being in better shape going forward.
European FFP in my view is softer than EPL FFP rules. The fact is that when we play in the competition, our 2019/20 (T) and 2020/2021 (T+1) results will show a positive trajectory compared to previous years. In the FFP debate I posted an extensive account of how the rules do view positive trading trajectory in a good light.
The harshest penalties have been imposed on clubs showing a negative trajectory. I need to find an article which listed all the clubs who were not break even and yet had not been sanctioned due to one of the myriad of exceptions that are available.
Also, City's ban as I understand it is because they apparently fiddled with their figures:
"..overstating its sponsorship revenue in its accounts and in the break-even information submitted to Uefa between 2012 and 2016", adding that the club "failed to cooperate in the investigation".

The crux lies in this naming options approval - if it is (a) allowed and (b) included in normal operating income we should be fine.
I am doubtful we will sell Richarlison in the summer.

Much of whether a player stays or goes depends on the players agent.
It seems, apparently, that Richarlison's agent is the Iranian Kia Joorabchian who is very good mates with Moshiri. Bernard's too.
The one I worry about (ironically) is Moise Kean. If he comes good, I suspect Raiola will engineer a move.
Jay Woods
5
Posted 16/02/2020 at 08:23:47
There can be fewer things more perfidious in life than framing something that is evil as ostensibly good and noble. A notable example that springs to mind is communist countries calling themselves "democratic" republics, as the old East Germany did. Another example is football's Financial "Fair" Play, a scam designed to keep clubs like Everton from ever rising to the top again.
If you haven't read it already, I would urge you to check out Martin Samuel's response to City's punishment. He revelas how Liverpool and United enjoy special privileges and leverage with the footballing authorities that even other elite sides, like City, are denied.
Personally, I would be all for letting LFC, Utd, Real, Barca, Juve and Bayern go off and from their own super league and let the rest of us reclaim football. Since those overlord clubs feed on success at the expense of us underlings, it wouldn't take long before they get upset and hurt at finding themselves not winning big every year or, most likely, having to endure Real Madrid win everything 9 years out of 10, seeing how even among the elite, Real seem to be top banana.
Robert Tressell
6
Posted 16/02/2020 at 08:24:10
This explains a few things.
1. Why Ancelloti is persevering with all the players we don't like. We need these players to come good because the high volume buying and selling is unsustainable financially and bad for team spirit / footballing stability too. Fortunately Ancelloti is getting performances out of those written off entirely. Only Sigurdsson is yet to show some form (and at least he's working hard / not sulking).
2. Why only one signing in Jan - and why that signing was under £1m for a 17 year old.
3. Why Brands has been chopping deadwood as best he can since he's been here. Lots more still to chop from a weird first team squad and even weirder u-23 squad with players who are miles off the first team having contracts into their mid 20s.
4. The rumours of a Richarlison sale. That would be deeply shit. As Richarlison is possibly our one player in the attacking third who looks Champions League ready.
All in all, this reinforces the buy young and buy cheap strategy + development of the academy. Happily that also makes sense from a football point of view also. Hungry young players on the up who we can flog for no loss (often profit as per lookman, vlasic and onyekuru) even if it doesn't work out.
Maybe no big signings this summer then - which would be a shame as we certainly need about 2 quality players to lift us to the next level (in addition to return for Gomes, Gbamin and Gordon coming good).
Hopefully we can hang on to Richarlison at least one more season - as success seems like the only other way to help balance the books and allow a bit of transfer trading on quality players.
Stephen Brown
7
Posted 16/02/2020 at 08:33:22
Am I being overly optimistic by thinking the world class accountant Moshiri will have all this in hand ?
Derek Knox
8
Posted 16/02/2020 at 08:37:50
Many thanks to the writer of the article which has clarified, what is a very grey area, to me at any rate.
For fear of banging the old drum it is so annoying to reflect on the amount of money that has been 'blown' on ridiculous transfers for very mediocre players, and the equally ridiculous contracts and wages.
While it's no use crying over spilt milk, or wishing to reverse the water that has flown under the bridge, we can only look to the future and trust that any future business will be conducted more wisely.
The fact we now at long last have a World Class Manager who is happy to be with us, is definitely a bonus and does augur well for the future of Everton Football Club.
Winston Williamson
9
Posted 16/02/2020 at 09:10:34
I love Ancelotti as our manager. I trust him. I do worry that we as fans, are placing too much of our hopes on him, especially in a financial sense, to sort us out.
Only Brands and Ancelotti are guilt free when it comes to wasting money on shite. The rest of the people who authorised that idiotic spree are still in their roles...
I'm hoping, like everyone else, that between Brands and Ancelotti they can fix us. But, I do worry certain powerful characters up high will somehow fuck us again and cause Brands and Ancelotti to leave early..
Winning will help enormously. Qualifying will help enormously. I suppose we just have to roll with the punches
Thomas Lennon
10
Posted 16/02/2020 at 09:14:54
The £30m permitted losses per year was set for a different world compared with the one we live in now - was it 2010 when £20m bought you one of the top players, needs adjusting when that price is now more like £100m.
Everton need a large sponsorship from a fair value source. That fair value is the stadium. Other clubs have used airlines for transformative deals. However if USM can be connected with Moshiri (and a cursory glance says they easily can be) then they are no good.
Ray Roche
11
Posted 16/02/2020 at 09:15:00
Jay Woods@5
Jay, can you post a link to the Samuels article please?
Drew O'Neall
12
Posted 16/02/2020 at 09:19:04
Derek @ 8
The 'water that has flown under the bridge' was presumably off a duck's back.
Colin Glassar
13
Posted 16/02/2020 at 09:27:53
Does anyone else find it slightly nauseating the glee the MSM are finding in Man City's plight? All sorts of suggestions about crippling fines, points reduction, relegation, even the stripping of their last three league titles and giving two to the red mancs and last years to the rs.
This is what we, or any other ambitious club, are facing if we ever seriously challenge the status quo. It's a closed shop, a cartel where the law of Omerta is practised.
I have no particular feelings towards Man City but the established super powers are out to destroy them. The same clubs that have been cheating for decades. The same clubs who make and break the rules to their own benefit. The same clubs who have a veto over European and world football. The same clubs who introduced FFP to protect themselves.
We should be worried about this, very worried.
Ken Kneale
14
Posted 16/02/2020 at 09:35:48
I think this is the article
https://www.dailymail.co.uk/sport/football/article-8005751/Financial-Fair-Play-UEFA-protection-racket-payback-clubs-hate-Manchester-City.html
Ray Roche
15
Posted 16/02/2020 at 09:52:37
Thanks Ken.
Sam Hoare
16
Posted 16/02/2020 at 10:05:56
A good article that clarifies how many backwards steps we took under the ill-advised Koeman/Walsh transfer splurge and why we do need to be more vigilant about the fees and wages we give out. No more "its not our money" lines from some on here I hope!
Thomas Lennon
17
Posted 16/02/2020 at 10:17:02
Daily Mail article trying to make us feel sorry for City dominance by cheque book? PL is already gone, never won CL, team already plateaued. Players to move away. Tough. That's life in the PL. It's competitive. More concerned about our red rivals.
If this triggers up update in ffp so much the better.
Paul Birmingham
18
Posted 16/02/2020 at 10:31:48
Hopefully, hopefully at the dawn of the biggest transition in EFCS his tort year, you'd like to believe that the board of directors has every source of actual potential compliance, legal and commercial issues covered, signed off and sealed water tight.
This is EFCs time and no screw ups can be afforded. Take the lessons learnt from previous clubs with FFP, breeches.
What's happening at City we don't want to see happening here, now nor never. There could also be a space now in the so called a Sky Top Six.
EFC must get geared up to step up to the plate on the park, in the board room, and overall as a club, galvanised to move forward and progress.
Everton counts, it's our time and with Carlo and Dunc, with some luck we can qualify for Europe this season.
Let's beat Arsenal, and see where we are in the league. No doubt VAR will be massive in the run in.
We need a few slices of luck.
Brent Stephens
19
Posted 16/02/2020 at 10:46:55
Thanks, Ken #14. Interesting article.
The whole situation seems a minefield in terms of trying to predict where Everton stand on this. I shudder at the thought that we might get rid of somebody like Richarlison to help us with FFP. I'm more encouraged by the point about "positive trading trajectory" and "the myriad of exceptions" (as per Amit).

Andrew James
20
Posted 16/02/2020 at 10:54:51
One suspects that European qualification can only help as it will sell shirts etc and expand revenue areas.
If Carlo can get a regular tune out of Walcott and Schneiderlin, that would really save us having to go into the transfer market for replacements. Tosun is probably done with us now although one can only hope he scores a few in South London so we can sell him on.
What has happened at City goes to show that we need to be careful. While we haven't spent as much as them and were starting out from a better place when the new money came in if you look at league position and size of fanbase, they had their new ground which meant they could accelerate their business faster.
I reckon the next two years will have to be modest: acquiring bargains where possible (Mr Brands will be important there) perhaps seeing a couple of big money sales and not doing what we did in the summer of 2017. The age of the squad must be kept down so there doesn't come a time when there's a necessity to replace a handful of players simultaneously. Fortunately we have brought in plenty of names under 27 during the last 2 years.
This should ensure that we are cash rich enough to go out and buy when Carlo needs specific positions filled due to age or injury.
It's not sexy nor exciting but we've been there and look what happened. You can't spend like we did over the course of 2 years and finish outside the Top 4 while paying out compensation for 3 sacked coaches. It's not sustainable.
Funnily enough, we might now be in a position where we return to the model under Moyes (albeit less austere) putting emphasis on the exceptionally well paid coach to get the best from what he has.
In that respect I am positive as under Moyes and Martinez - who was asked to operate in a similar fashion - we were exposed to taking punts on the likes of Drenthe and McGeady. Thankfully we've upgraded beyond that now and just have to bide our time.
Paul [The Esk]
21
Posted 16/02/2020 at 11:12:56
Just to say I was the author if anyone has any questions
Brian Harrison
22
Posted 16/02/2020 at 11:17:25
As I said in another post yesterday, a set of rules drawn up by some of the most corrupt men involved in the game. Seems there is one rule for Real Madrid and another for Man City, both have transgressed these silly rules but Real incur no punishment but they throw the book at City. These rules were brought in by the cartel to protect their status and it was done to stop anyone breaking into their club, which has been largely successful. There is no law of the land broken by breaking the FFP rules, unlike hacking another clubs computer, but as long as you reach a financial settlement no further action is taken.
I don't care about Man City only the unfairness of these rules, and I hope that when they take it to the court of arbitration it is thrown out. Then they can challenge the existence of these rules. Problem is that they will still have the cartel voting for the status quo.
Carl Manning
23
Posted 16/02/2020 at 11:23:52
We do need 3 or 4 of the U23s to really start pushing on. This will be the biggest helper in regards FFP.
I have also been keeping a close eye on Lewis Gibson on loan at Fleetwood. He will save us a fortune. Joey Barton has done nothing but rave about him. They have won all five games since he arrived, they hadn't won in 4 before. He's formed a very solid partnership with a certain Callum Connolly. They have only conceded 1 in the time he has been there and that was yesterday against a free-scoring Peterborough. One thing we know is Mr Barton will be making sure he has a nasty edge to him during games!
I think with him being placed in the first-team squad next season, Ancelotti may be happy with our centre-back options next season. Maybe just look to swap Keane for another.
Paul Tran
24
Posted 16/02/2020 at 11:36:46
City cheated, paid their paltry fine and carried on cheating while proclaiming they could do what they want. I'm glad they've been shopped - time will tell if they'll be properly punished.
I'll correct my earlier references to PSG. They 'got away with it' because UEFA broke their own rules during their pursuit of them and lost the decision in arbitration because of that.
When people cite governing bodies as toothless for so long, don't be surprised when they grow teeth. Breaking the rules, then carrying on breaking them with contempt is the main issue here.
No sympathy from me.
Bill Fairfield
25
Posted 16/02/2020 at 11:38:46
I hope at the end of this process, it exposes the corruption that is Uefa.
Brent Stephens
26
Posted 16/02/2020 at 11:48:24
Carl #23 that update on Gibson is interesting, thanks. I've liked Gibson (with Feeney) for our U23s. Do you think Gibson is the stronger in that partnership with Connolly? I think both are on loan there.
It does look as if the strategy (Ancelotti / Brands) is to develop and bring through more of the U23s.
Bill Fairfield
27
Posted 16/02/2020 at 11:54:26
#17
All the top clubs dominate by cheque book – not just Man City.
Carl Manning
28
Posted 16/02/2020 at 12:03:15
Hi Brent,
Barton has said we have a serious player on our hands many times. Connolly was apparently struggling at right-back for Fleetwood until Gibson arrived and they went three at the back, Connolly moved central also. Since then, they have both received huge amounts of praise from the manager. It seems Gibson plays to the left and by all accounts is pretty quick across the ground.
It seems to confirm what a few people on here were saying about him needing to play regularly as they had seen glimpses of a serious player in him. The league he's playing in will obviously also prepare him physically!
John Keating
29
Posted 16/02/2020 at 12:15:38
I think this only confirms the beed to concentrate more on our own youngsters and be more vigilant of who we buy
Do we really need to waste 12 million on Sidibe when we have JJK?
Do we really need to go out and spend God knows how much on a centre half when we have Feeney and Gibson just waiting for a chance to prove themselves. We have to give our youngsters a shot before we bin them
Nobody wants to sell our best players but if we have too we have to be more savvy in their replacements
Sell Richie for 100 million then spend that amount on the new Niasse? Crazy
If Celtic can find Dick Van Dijk and Odsonne Edouard why can't we?
We missed a great opportunity on a steal like McGinn we don't have to keep spending millions on nomarks
Carl Manning
30
Posted 16/02/2020 at 12:25:03
Our biggest problem john, is even the players we've deemed not good enough for our first 11 haven't gone for any money. Chelsea have been absolutely amazing at getting millions for players that haven't even played for their first team! They sent them on loan, for them noticed and sold them. This no doubt has been incredible for there FFP. I know the league are trying to put a stop to so called stocking up now. But Chelsea made hay while the sun shone.

Brent Stephens
31
Posted 16/02/2020 at 12:25:11
Thanks, Carl.
Chris Williams
32
Posted 16/02/2020 at 12:33:11
Paul@24,
City have been arrogant and aggressive in their dealings with UEFA since this case came up, when all the leaked documents were published in Der Spiegel. The ones I've read has them bang to rights in their attempts to deceive UEFA about the amount of money they've been receiving from their owners. Some the arrogance in the internal emails is breathtaking.
Even their rebuttal on Friday dripped arrogance. I struggle with the idea of City as victim in this case. The problem seems to be that they don't just disagree with the accusation but they don't accept the whole existence of FFP and the ability of UEFA to regulate them, period.
You can argue that the whole FFP is rigged by the established elite clubs with the collusion of a venal UEFA, and it may well be true, but that doesn't make the alternative of untrammelled investment by the Royal Families of Abu Dhabi, Kuwait, Saudi, and any others, plus the uncontrolled input from oligarchs etc i, any more likely to achieve a desirable outcome.
Multi billionaires, especially from omnipotent oil dynasties probably don't like being told what to do I guess.
Everton have their own issues to manage, and those are the ones I'll be focusing on
Andrew Ellams
33
Posted 16/02/2020 at 12:42:08
City buying their success is a story push on us by club like Utd and Liverpool.
The RS have the biggest wage bill in the league, Utd the second. Maguire, Lukaku, Allison, Van Dijk and Keita all cost more than any player City have ever bought. FFP and the CL were both invented to ensure UEFA could protect the brands of the clubs that make the men in suits even wealthier than they already are and it has killed the game.
Tony Abrahams
34
Posted 16/02/2020 at 12:50:24
Very interesting points Chris@32, and maybe City's arrogant owners, might be about to destroy the FFP CARTEL, because they seem to have no respect for these very shady laws?
Chris Williams
35
Posted 16/02/2020 at 13:02:46
Tony,
that may well be the case. Their in-house lawyer is quoted among the leaked emails as saying that the Sheikh would rather spend £50m on employing the best 30 lawyers in the world to sue UEFA for 10 years.
They've got more money than UEFA and the desire to do it, for sure.
If anyone will, they will. I won't hold my breath for a fair and balanced outcome though.
Andrew Ellams
36
Posted 16/02/2020 at 13:04:07
What this story does tell us is that those that get excited everytime the Usmanov name is linked with Everton should be very careful what they wish for.
Chris Williams
37
Posted 16/02/2020 at 13:06:43
Amen to that Andrew.
Tony Abrahams
38
Posted 16/02/2020 at 13:55:14
Let's see the eventual outcome of all this first, because Its not certain what's going to happen, even if City are proven guilty?
It will possibly get very messy, when you consider what Samuel reports, and it's also possible that City's owners and their lawyers, will have looked at everything, before deciding to carry on flouncing the rules.
Imagine the court-case? We owe nobody a penny, but our neighbours are in £700,0000 debt, and yet this is acceptable? I'm not sure the outcome will be straight-forward.
Chris Williams
39
Posted 16/02/2020 at 13:58:42
Possibly the whole structure of FFP Tony?
Jamie Crowley
40
Posted 16/02/2020 at 14:03:11
I don't agree that FFP equates to keeping the Big Boys in power. Citing Man City as an example of castrating an up and comer to keep the traditional clubs at the top smacks of scorned individuals not realizing success with their club, and looking for someone to blame.
The reason Man City is on the crucifixion block is because they engaged in fraud, and lied about their numbers intentionally to dodge FFP rules and regulations.
They cheated. They're getting called on it now. It has nothing to do with making sure Liverpool stay at the top. Liverpool is, hate to say, one of the best run sports franchises on the globe. They are run by a company who have no equal in the sports management and ownership landscape. No equal, they are, simply, the best at it. That's your dose of cold hard reality from the American, take it of leave it.
Finally, and almost as an aside, the first thing I thought of after reading this expertly written piece by Casper the Friendly Ghost, is?
We're going to sell Jordan Pickford to balance our books and finance one midfield acquisition this summer.
Denis Richardson
41
Posted 16/02/2020 at 14:10:56
Whoever posted the article, thanks for taking the time.
Will be interesting to see how our 'sponsorship' income from USM is treated as its hard to argue this is arms length imo. However, whatever happens we need to be successful to move forwards and clear a lot of the deadwood wage bill. Time will take care of some of the latter and Ancelotti will hopefully take care of the former.
If City's ban means effectively 5th is CL this year, then that's a whole new target to aim for. We've got a though 4 games coming up but if we can get through these with 6-7 points then we'll be in a great position to push for 5th as most of the big games will be behind us.
As usual it's one game at a time but the City situation has really put a new perspective on the season. Worry about FFP if/when we actually get to Europe.
The likes of Holgate and DCL cost us buttons but would get large fees if sold. There's also always the family silver in Richarlison who'd wipe out any FFP issues in a stroke if really needed. Hopefully we can sell more marginal players for a decent fee if needed. We really need to put more effort into signing youth and bringing players through the academy.
Tony Abrahams
42
Posted 16/02/2020 at 14:16:52
It's not about Liverpool, Jamie, it's about Man City, and why they have felt the need to carry on the way they have. Listening to Samuels, then FFP seems extremely flawed, and only the clubs who constantly qualify for the ECL, would'nt argue that it's creation, was the nearest thing towards a closed shop, especially once they brought in these new rules?
I don't really like City anyway, and I've seen my own club suffer from injustice in the past, so if we could claim 5th and get into the Champions Lge, I wouldn't care about City, but if they do end up having to take on EUFA, then I Hope City's lawyers tie them up in fucking knots!
Jamie Crowley
43
Posted 16/02/2020 at 14:24:52
Tony -
Viewing FFP as the implementation of a control source to keep the big boys in power is flawed, for me.
I only used Liverpool as an example, as they were mentioned earlier.
It's very, very easy to come to the conclusion that it's a system of control. It is run by a corrupt organization. Uefa is corrupt, FIFA is corrupt, they're all, to one degree or another, corrupt.
But FFP was put in place to curtail ridiculous spending by a few monied rich, so there's some control over the parity of competition, not to keep traditionally big clubs at the top. It was also put into place to ensure clubs don't overspend and end up in Administration.
You can argue all you want about whether or not it's a good system to achieve these ends. But the concept it was put in place to keep Real, Manchester United, Liverpool, Barcelona, etc. at the top is folly. I don't buy it for a second.
Dave Abrahams
44
Posted 16/02/2020 at 14:29:30
Isn't the case if City appeal this decision, which they will, then while they await that appeal, which can take a long time to be heard, then they will still enter next season's EurpeanChampions league competition?
Jamie Crowley
45
Posted 16/02/2020 at 14:31:30
Yes Dave. But from what I've heard / read, most of the experts believe this will be wrapped up soon, as Clubs need to know going into the summer what the landscape is.
Brent Stephens
46
Posted 16/02/2020 at 14:36:07
Jamie #43 have a look at this:
Link
A really interesting take on all this. It all feels like one member of a crooked gang has been shafted by the rest of the gang. So as an honest (?) Joe (Everton), which dodgy gang member do I side with? I like the look of what those gang members get, and I could actually replace that rotten gang member that's been shafted. And I've got my own (Uzbeki) minder.
Ray Roche
47
Posted 16/02/2020 at 14:42:58
Jamie@43
Wasn't FFP brought in AFTER the mentioned clubs had invested hundreds of millions in large squads etc as well as ground improvements ? What should have happened is that the so called big clubs should have been shackled by FFP so that other clubs could strengthen their position which would have made the Leagues more competitive. However, Liverpool, United, Chelsea, Real Madrid etc bring so much money into football, especially in the Far East, that the threat to their domination is unwelcome.
The Samuel article mentioned earlier that appears in the Mail is enlightening.
Ray Roche
48
Posted 16/02/2020 at 14:44:45
Brent,Thanks for adding the link I refer to in my post.
Tony Abrahams
49
Posted 16/02/2020 at 14:53:29
No point arguing Jamie, it's best to leave it to the lawyers, but the very nature of UEFA'S, major competition, has always seemed like a closed shop imo. It's nature of creating and then keeping wealth, in the hands of the elite few, is easy to see from the outside, and FFP, just creates an even bigger obstacle for others to join the party, is how I now see it. Sometimes you only get one chance in life, but whatever the outcome of City's appeal, sometimes it feels like there will be no winners, if that makes any sense at all?
My own view is that this could change things forever, and when you look at the teams who have come from nowhere in the recent past, I'm not sure any of them have ever gone into administration, and I'm just a lunatic Evertonian, and not one of these billionaire lawyers, that City will no doubt be using.
Jamie Crowley
50
Posted 16/02/2020 at 15:00:01
Brent -
I see the argument you posed in another thread: debt vs. deficit.
Also, I read about conspiracy and conjecture - the red power group of the Premier League.
Regarding Man U and their debt vehicle, it's manageable debt. FFP doesn't address debt structure, it addressed profibility (or the lack of it). I hear a lot of free market, right-wing speak defending owner's rights to spend as they please, but no "tilt of the cap" acknowledgment of savvy businessmen growing while borrowing a managable figure, allowing them to show "less loss" or an actual profit, as income outstrips liabilities with the loan payments.
Now, I'll readily admit that's me talking a bit of bollocks, as you might say. I do not like any business model that includes large sums of "managable debt." In fact, I detest it. I've mentioned before, I have a small business. It started in 2006, and with the economic correction and the seemingly impossible task of just surviving and not closing the doors, I simply had to borrow. The last decade all I've done is eradicate that debt. Every waking moment that was the goal.
So personally I'm not a fan. But Man U are on an entirely different level. If they can manage their debt and be profitable, what's the harm in that?
The bottom line is we have a Sheik who thinks rules don't apply to him. He brazenly ignored the rules, has been previously fined, lied about his injections of capital into Man City, and has now been caught.
Don't take your eye off the ball. This is about Man City, Man City's deception, and Man City's cheating the system. They need to be punished severely so this situation doesn't happen again.
And that's what FFP is there to do. It's not some conspiracy theory, Big Club invention. It's a very imperfect system to stop unethical business activities and keep some semblance of parity.
Most important thing to note? The above is my opinion, not fact.
Mike Dolan
51
Posted 16/02/2020 at 15:00:51
Very interesting article. Maybe I missed something but while it is easy to establish what a team cost it would seem to me an entirely subjective exercise to establish what any team is worth.
For instance if you take a player like Ritchie who we paid around 40 million it probably would not sell for much under 100 million then for the accountants out then how much is he worth? Or what about a players like Gordon or Simms who at the moment cost development money but if they blossom to become absolute worldies ( which would be how it happens in Roy-of the Rovers) what is to say they are not worth 200 million.
Jamie Crowley
52
Posted 16/02/2020 at 15:05:28
Ray -
FFP could have been adopted in the year 1567 of Our Lord, and you'd still be able to say:
Wasn't FFP brought in AFTER the mentioned clubs had invested hundreds of millions in large squads etc as well as ground improvements ?
They've been doing that forever. Any year FFP was brought into existence, pick one, your claim would still be valid. That's not a point to make if you're arguing FFP is an implemented, skewed system of control to keep those bigun's in power.
Tony Abrahams
53
Posted 16/02/2020 at 15:18:11
Jamie, you have gone from thinking like a scouser, to sounding like someone who has just been elected to Boris Johnson's new cabinet!
Jamie Crowley
54
Posted 16/02/2020 at 15:20:21
Tony -
I'll take the former, not the latter, thank you very much.
😜
Tony Abrahams
55
Posted 16/02/2020 at 15:23:23
I can't give you the first though, whilst your sounding like the second✌️
Brent Stephens
56
Posted 16/02/2020 at 15:30:02
Scouser Jamie!
Thing is, Jamie, I'm not sure yet which side of the argument I come down on. As I say, a gang member falling out with a gang? now a place in that gang for us? Kenwright wearing his Peaky Blinders cap; DBB his moll.
Mike Gaynes
57
Posted 16/02/2020 at 15:37:31
Tony Abrahams
58
Posted 16/02/2020 at 15:39:23
Don't listen to him Jamie, this is the exact type of story I could just imagine your new boss coming out with!
Jamie Crowley
59
Posted 16/02/2020 at 15:44:33
Kenwright wearing his Peaky Blinders cap; DBB his moll.
That made me laugh. By the way, outstanding show the Peaky Blinders. Just brilliant.
Mike Gaynes @ 57 - swing and a whiff?
Paul [The Esk]
60
Posted 16/02/2020 at 15:57:08
Just to add I wrote this article before the City news broke.
FFP is fundamentally flawed in that it focuses on an artificial construct - profit! As a result the leading clubs push their income generation to the extreme. Matchday, sponsorship, commercial are maxed. Directors of football have to generate player trading profits. When that's not enough to meet their costs the accountants and lawyers become creative in the first instance, and ultimately dishonest in extremis.
I agree totally with Jamie this second verdict and punishment is a reflection of City being found guilty of dishonesty and deception.
The PL response to their investigation will equally interesting

Ray Roche
61
Posted 16/02/2020 at 15:58:50
Jamie@52
I don't agree Jamie. The escalation in transfer fees etc began with Abramovich and his Chelsea adventure. Prior to that plenty of clubs could afford players and wages but the sheer scale of Chelsea's spending took everybody by surprise. In the Premier League United And LFC were required to join in. Real Madrid and Barca etc also have a stranglehold in Spain. It's these clubs that bring in the cash and I believe it's in UEFA, and the FA's interest the they keep a status quo. Football is, again in my opinion, corrupt. If you're one of the people who think football is beyond corruption read the articles on corruption in Italian football that I mentioned on a thread last week. Since Sky money started pouring into football the temptation to cream some off has been there. It's existed in other sports why not football?
If you're in any doubt, is what City have done on anyway corrupt? If the answer is " Yes" then there you are. Corruption in football. They've been caught, maybe others haven't.
Tony Abrahams
62
Posted 16/02/2020 at 15:58:56
Spurs scored late, 4pts the difference now.
Mike Gaynes
63
Posted 16/02/2020 at 16:00:32
Knowing absolutely nothing about this issue, I have a couple of questions for the more knowledgeable here, based on an obvious comparison between City and the other super-wealthy club that's effectively owned by a Gulf oil nation, PSG.
Both have a similar recent history on the pitch -- rampant success in league play, utter failure in Europe. Both have spent wildly, although PSG has never been profitable while City has. And both have generated resentment by their virtually unlimited resources. So why, then, is PSG apparently a member of the "club" while City is considered an outsider? Is it because City has a powerful in-country enemy in the venerable and despicable ManUtd while PSG does not? Or does PSG just have better connections?
Also, if I understand correctly, what City did wrong that PSG didn't -- or rather, what Abu Dhabi did wrong that Qatar didn't -- was lie about the source and amount of their primary revenue stream. Assuming City understood the rigged nature of the FFP structure and knew they would be targeted, weren't City's owners really stupid to set themselves up for this by presenting the cadre with a golden opportunity to gut them? Especially since they'd been caught and punished before? Did they really think they wouldn't be caught again?
The article Brent linked included this quote: "It is possible to acknowledge City's wrongdoing but still hold nothing but contempt for the system that has found them guilty." But shouldn't there be a healthy serving of contempt for City's ownership as well? How is it they have again stepped on the well-marked land mine that PSG have avoided for so many years? Help me out here.
Jamie, I inadvertently submitted this before completing it, so deleted it and resubmitted.
Brent Stephens
64
Posted 16/02/2020 at 16:06:00
Sod. Engels gifts Spurs 3 points. No marks for him.
John P McFarlane
65
Posted 16/02/2020 at 16:12:07
Comte the end of the season we'll find out if we've got foucault to look forward to Brent

Brent Stephens
66
Posted 16/02/2020 at 16:15:25
John, Kant argue with that.
Chris Williams
67
Posted 16/02/2020 at 16:16:00
A load of balzacs!
Paul Tran
68
Posted 16/02/2020 at 16:21:41
Mike, the reason PSG 'got away with it' is because when their case went to arbitration, it was found that UEFA closed the case, then re-opened it two months later. UEFA's own rules state that cases must be re-opened within ten days. On that basis, the Court of Arbitration closed the whole enquiry.
PSG were very lucky.
City have broken the rules, received a paltry fine and continued to break the rules. The leaked emails suggest some institutional contempt for UEFA and it's rules, which I think has a bearing on the punishment.
I'm not convinced by the 'biased in favour of the elite' argument in this case (though not in others!). Milan were banned and I don't accept City are a poor, downtrodden club. Their billionaire owners have flagrantly flouted the rules. They are guilty. They deserve maximum punishment.
Mike Gaynes
69
Posted 16/02/2020 at 16:49:34
Thanks, Paul, that was my uninformed impression. Martin Samuel's FFP indictment notwithstanding, it would appear they definitely have it coming.
Liam Reilly
70
Posted 16/02/2020 at 16:59:19
So LPL wait 30 years for a title and then 2 come along at once?
Surely the FA aren't going to retrospectively deduct points from City, thereby handing last years to LPL?
If they do, I'm done with football. If they take the title from City, then it should just be void.
Paul Tran
71
Posted 16/02/2020 at 17:07:01
What do you suggest, Liam? Suspend the law because City aren't Liverpool?
On reflection, the happiest person here could be Guardiola. He departs, blaming UEFA, while another poor sap has to replace a large part of an ageing squad, while finding a top-notch centre-back and striker.
Carl Manning
72
Posted 16/02/2020 at 17:16:43
Ray @61
Ray I always remember a time that a banker in my weekend slip always let me down and it was always an Italian match.
Then I saw an article in which the legendary vialli was asked why at the end of the Serie A season the bottom placed teams seemed to go on tremdous runs! After his answer I have never bet on Italian football after the month of Jan again. He said that in Italy it is seen as disrespectful of a team that had met its objectives for the season eg champions league or Europa league, to play their full strength side or to their maximum capacity against a team fighting for points to secure survival. Basically if a team has nothing to play for, against struggling teams they don't bother!
We're in that period of time now. Once the euro qualification is secured in Italy, watch the results! This year may slightly differ due to them actually having a title race with 3 teams involved. But historically you can predict it!
Nick Riddle
73
Posted 16/02/2020 at 17:21:39
Paul, thanks very much for taking the time to write such an informative and well timed article. When you first outed yourself as the writer @21 you invited questions, so here goes;
Presumably Everton have clever financial experts working hard to make sure the club does not fall foul of either Premier League or EUFA FFP rules, and the recent City judgement will reinforce the importance of that. My understanding is that while owners are prevented from subsidising an operating loss, sponsorship income from a third party is acceptable provided it's at a commercially justifiable level. Assuming Usmanov is already financially involved with Moshiri's ownership of EFC, does that explain why he (Usmanov) doesn't have a declared ownership interest? Do they believe that income by way of sponsorship from Usmanov companies will be acceptable to the Premier League and EUFA provided Usmanov himself is not part of the ownership structure? If so that seems to be a very high risk strategy as it would only need one leaked email linking Usmanov to the club's ownership to bring down the whole house of cards. Can you reassure me that I'm worrying unnecessarily?
I understand that costs associated with stadium development are discounted from the FFP calculation. Does that mean the fee for the option to secure naming rights at BMD cannot be shown as income for the purposes of the FFP calculation?
Jamie Crowley
74
Posted 16/02/2020 at 17:24:18
Ray @ 61 -
I have to bow to your knowledge of this, as it's before my time.
I would ask though, how would you respond to the "Merseyside Millionaires" buying a title? Doesn't that quip / title alone back the claim that money has been buying success for years in footy?
Chelsea and the Russian aside?
Mark Guglielmo
75
Posted 16/02/2020 at 17:31:00
Andrew 33 - not entirely sure where you're getting your numbers from but City has the highest wage bill in the EPL. Followed by United. Then Liverpool.
Jamie 43 - FFP was put into place as a precautionary safeguard to prevent teams from spending beyond their means. Because the richest teams are the ones who generate the most revenue - through table finish, biggest sponsorship deals, most TV games, regular European competition, huge merch sales from gigantic global fanbases - they can spend the most, which has resulted in FFP now "protecting" them. Make the most money, be able to spend the most. Stockpile the world's best players. Meanwhile the very same FFP regulations prevent every other team from improving because they generate far less revenue. You only need to look at the revenue gap between Tottenham (6th most) and Everton (7th most); it's $100s of $1000s of dollars.
The REAL problem is the corruptness of the UEFA. Everything they do is geared towards ensuring the final 16 teams in the CL - a huge global moneymaker - are pretty much the 16 "best"/richest clubs in the world. UEFA doesn't want a Porto vs Sevilla CL finals.
Until there's a salary cap for every flight governed by UEFA, this will just go on and on and on. I find it frustratingly maddening that there's no salary cap like there is in every other major professional sports league.
Ray 47, 61 - spot on.
Jamie Crowley
76
Posted 16/02/2020 at 17:35:05
One thing (more like the 11th or 12th thing) additionally -
It would appear to me there was a ridiculously simply solution Man City could have employed to dodge FFP implications.
Their ownership have, basically, untapped wealth.
They could have started a financing company, and made a substantial loan to Man City Football Club, with payment terms being manageable and keeping them profitable.
A thirty year loan of 500 million Euros payable in monthly installments, keeping Man City's P&L in the black, financed by Abu Dhabi Investments, Inc.?
Maybe that's breaking FFP but I don't think so? If not, why in the world didn't they do that? Private financing seems to be the massive loophole, or am I missing something?
Ray Roche
77
Posted 16/02/2020 at 17:44:57
No Jamie, the " Merseyside Millionaires" title doesn't tell the whole story. John Moores, Chairman, owner etc, didn't directly give Everton bundles of cash to spend on players. He stood as guarantor for LOANS that Everton took out to buy players. With decent gates and much lower wages, compared with today's salaries, debts were manageable. Moores was too canny a business man to throw or give money away. Lots of Chairmen in those days may have owned a chain of butchers or carpet shops, Moore's was a millionaire.he could afford to help out.
No comparison to Abramovich or Mansour etc.
Ray Roche
78
Posted 16/02/2020 at 17:55:51
Carl@72
Carl, Good post, Italian football has been tainted by corruption for decades. I can't believe that it's only in Italy that they have had this problem. It's only in Italy that it's surfaced. I believe that, in years to come, there will be a major scandal in football. Too much money, too many dodgy agents, too many people on the gravy train.
Blatter, Platini, Infantine. No corruption? Yeah. Right.
Chris Williams
79
Posted 16/02/2020 at 18:02:26
Ray,
He also helped out Liverpool, in the signing of Yeats, St. John, Milne and Thompson, at the very least. As well as providing management and accountancy expertise from Littlewoods. It got them promoted.
A lot was made of it at the time, especially by the London press, but Everton spent less than Spurs and Man U, both of whom spent a fortune on the likes of Greaves and Law from Italy.
So nothing much changes.
Ray Roche
80
Posted 16/02/2020 at 18:13:57
Chris, I honestly don't recall him helping Liverpool in the way you say but I am sure the family owned many LFC shares.
Billy Bradshaw
81
Posted 16/02/2020 at 18:19:10
Little bit off subject, Andre Gomes comes through friendly at finch farm today.
Amit Vithlani
82
Posted 16/02/2020 at 18:20:10
Jamie @ 76, except for interest charges borrowings do not appear in the P&L.
City's core issue was that player amortisations & wages were enormous relative to bona fide revenues.
It appears that UEFA thought that they inflated revenues via questionable sponsorships.
Finding money was not the problem. The problem was not having a big enough revenue stream.
The chess board is rigged in favour of those not likely to fall foul of the rules. New Money clubs will not be allowed to gatecrash the party.
For this reason, after City's experience, it ie worth keeping an eye on RB Leipzig's rise.
Tony Abrahams
83
Posted 16/02/2020 at 18:21:42
I don't know if you are missing anything Jamie, but it looks to me like City, might have already had some big plans drawn up to face this eventuality maybe?
Paul [The Esk]
84
Posted 16/02/2020 at 18:27:05
Nick, the club tell me they're working very hard to stay compliant with regards to the PL and UEFA financial rules.
I have to say I find it difficult to see how we can do so in the absence of significant player sales.
Regarding Usmanov, it is USM that is the connected party not Usmanov. Usmanov has no direct connection with Everton. USM is connected because Moshiri is both Chairman of USM, a 10% shareholder and obviously majority shareholder in Everton.
Thus because USM is connected the value of the sponsorship deals have to be at fair value, or if not, any calculations for profit and loss (as calculated by the PL and UEFA) would only include the fair value element.
Regarding the £30 million payment by USM for a right of first refusal on Bramley-Moore, that deal was put before the PL prior to it being signed. The club are not expecting any issues regarding this either with the PL or UEFA.
Regarding infra-structure spending - the element that is ignored for FFP purposes is the financial costs associated with the building of the stadium. Thus for argument's sake if our interest costs are £20 million a year when we draw down our debt to build the stadium that interest cost would not be included in the profit and loss calculation
Chris Williams
85
Posted 16/02/2020 at 18:30:14
Ray,
It's well documented now in a couple of books. Try 'Money Can't Buy Us Love' and a prior one by a Liverpool historian, Tommy Allen. It certainly wasn't common knowledge at the time. I recommend both.
His Everton shares came through the Grantchester family, via his daughter, Betty. The Liverpool shares, came via his brother Cecil, and ended up with the idiot, Peter, who sold them to the Cowboys.
Paul [The Esk]
86
Posted 16/02/2020 at 18:35:13
Jamie #76 - what you have described is effectively what Moshiri has done to date but at no interest cost to the club nor with any repayment schedule. However that is treated as capital not income, hence the current and future difficulties we face.
The FFP and Profit & Sustainability rules focus on profitability, ie the relationship between our costs (cash and non cash) and our income. Hence the importance of maximising turnover and the creative ways clubs are taking (including Everton) to increase turnover wherever possible.
Ray Roche
87
Posted 16/02/2020 at 18:46:13
Thanks for the info Chris. I knew about the Grantchester link etc and The long haired idiot and I shall look out for the books.👍
Ray Roche
88
Posted 16/02/2020 at 18:47:44
But the LFC thing is a surprise to me. Sorry about the double post, went off in my hand!
Chris Williams
89
Posted 16/02/2020 at 18:55:22
A bad business when that happens Ray!
It was a surprise to me as well.
Jerome Shields
90
Posted 16/02/2020 at 18:59:07
There is no doubt the perils that Everton faces in relation to FFP are to a large extent self inflicted. The Zaha saga of the Summer Transfer window, now looks like utter madness. The concern is that it happened within six months meaning that the perpetrators are still about.
It all comes down to performance on the pitch, and the background to building success. Even trying to achieve something in the near future, is hampered by previous actions.
FFP rules are going to feature as a consideration in any future plans and plotting a course around them is going to take wit and ablity. With Ancelotti, Everton stand a chance, because only a Manager of his experience and ability would be fit to hold up his end of the plan in such circumstances.
Everton will come under scrutiny, hopefully someone knows what they are doing.
Carl Manning
91
Posted 16/02/2020 at 19:22:35
Amit, the Red Bull clubs are Incredibly well managed. They have a clear strategy to make FFP doable for them. They have FFP covered for years. Timo Werner will go for a huge profit this summer. So will upemecano the terrific young centre back they bought off their sister club in Austria. He cost €10m and will reportedly go for €60m this summer. Leipzig are hated in Germany so know they have to be squeaky clean, because Bayern in particular are watching very closely.
Both players have already been replaced with more, young, hungry players. They took a risk on Schick after his big move "failed" and he's already scoring for fun for them.
Once teams have a reputation for playing and trusting young players they flock to a club. Leipzig and Dortmund are 2 excellent examples. Buy young and cheapish, sell 2 years later for huge sums.
Dortmund's balance sheet must look amazing! It will also get another huge boost when Sancho leaves this summer. Turning £6m into £120m in 2 years is insane. They did it with dembele also!
It seems the key to not having to worry about FFP is really having an amazing scouting network that find these guys the big big clubs have looked at but Ummm and arrrrr over.
Jamie Crowley
92
Posted 16/02/2020 at 19:39:26
Carl -
If that's the case, I'm worried for my surfer boi, Tom Davies. He of fantastic, rockin', purple shoe fame.
Many think he isn't what we need. I argue otherwise. It may all be a moot point because someone will surely buy him for a pretty penny. If we adopt this young talent model - and look at our players they are all relatively young - we could sell 1-2 every year to balance the books, and back fill with up and coming talent. I think Tom could be a candidate for the sacrificial lamb.
I'd argue Pickford could be sold at a bigger profit, and I don't see a massive change of fortunes with or without him. As much as I do like him, if we have to make a move, and I were in charge, he'd be the one to go as I think it makes the most financial sense / is the most savvy "sell/profit to performance dip ratio" move we could make. We'd make good money, and I don't think it would affect our performance as much as others leaving the squad.
Who knows. All of this is fascinating to me, but it's honestly so out of my league. I'm pissin' in the baby pool, while these business decisions are swimming in the adult deep end.
Amit -
Good point about the P&L. You're correct about the interest affecting the P&L only. I honestly forgot that. I might add quite thankfully as I was drawing in part on personal, albeit limited, experience.
John G Davies
93
Posted 16/02/2020 at 20:30:55
Ongoing dispute between a football authority and the ruling family of Abu Dhabi with a net worth of $150 billion.
And the winner is...
Jerome Shields
94
Posted 16/02/2020 at 21:45:20
Thank you, Paul the Esk, for the article; very informative and builds on your previous articles.
John Pierce
95
Posted 16/02/2020 at 23:08:54
The fundamental issue is most clubs bar 12 or so simply do not have the global appeal/reach to be able to spend money on players they want because there is a finite commercial market for them. For Man Utd, Real etc, that market far exceeds any even the astronomical amounts even they might spend on players. They can spend the maximum they want and still not breach FFP. The rest are confined by their fanbase, 'stay in your lane lads'.
PSG, Man City etc. have the funds but essentially cannot spend them, yet Man Utd are millions in debt but will never be restricted by FFP in the same way they or Everton are.
I guess this links back to the stadium and is the key point: the bigger the ground, the bigger our commercial footprint. It's not something I agree with and have long thought we should go ahead a spend, ignore FFP because eventually Man City or club with enough clout will take Uefa to court and blow the regulation to pieces, in effect doing the heavy lifting for a club like Everton. We aren't getting into Europe anyway under the current rules because we cannot spend on what we want when we want, so ignore them.
Man City have long been scoffed at for increasing their capacity and the Etihad is often seen only partly full, a futile attempt from them to grow beyond their natural hinterland. It hasn't worked.
The FFP regulation will be defeated; however, the need for reasonable financial control is still there. Let's face it, Moshiri could wake up tomorrow and take his ball with him because FFP, as it stands, is preventing him from bankrolling Everton. He could ask for his money back, à la Portsmouth; we don't have those funds, we would be ruined in one stroke. So what good is FFP? It's pretty much a restrictive trade practice.
FFP, I read, was about prevention of terminal debt. It feels like many clubs have stagnated and withered anyway because, as soon as they get good, they cannot spend (especially wages to retain their players) unless they sell their best asset, any success is fleeting and hence no clubs in our bracket have gotten near to challenging the elite under FFP. We cannot grow organically enough to compete.
I hope Man City destroy Uefa in court.
Derek Thomas
96
Posted 17/02/2020 at 00:13:05
John @95; "I hope City destroy Uefa in court."... which then leads them to frame
proper
financial doping rules. Rules that stop the cheats, but allow for growth – fat chance.
I have no confidence in Uefa's or Fifa's skill or will to get things right... I mean, look at VAR.
John Pierce
97
Posted 17/02/2020 at 00:44:50
Derek, so very true. You might argue the only reason for the underhand, artificial inflation of sponsorship etc is because the rules are basically a financial straight-jacket.
Any club should be allowed to live and die by legitimate sources of finance. If a club gets into bed with a nefarious benefactor, it's on the club for not doing proper due diligence, and if it's illegal by the law of the land, then take your punishment like a man.
Tony Abrahams
98
Posted 17/02/2020 at 08:15:11
Man City are ready for a big fight, and I think they've been gearing up to this for years. The propaganda has already started in the media, I've heard Liverpudlians tell me if Klopp wins the league, it will be the greatest achievement ever because he has taken on a very rich country, and beat them... but then I read on T/W that Liverpool have got the highest wage-bill in the country?
Imagine Man Utd coming 5th, then imagine how messy this will become, and if cheating is wrong, maybe it's only because the masters make the rules – for both the wise men and the fools, in this instance!
Tony Abrahams
99
Posted 17/02/2020 at 08:46:11
JP, surely Man City will only grow beyond their natural hinterland once they have been successful in Europe; going back to the '80s, this is why Heysel, and the consequent ban, really affected our own club.
City are like Everton, both of them have got huge fan-bases in their own country but, to become a super-club, you have to go and win in Europe's main competition.
I personally think City have got a lot of class as a football club right now, which is an absolute contradiction to the human rights issues that exist in their owners' land.
I couldn't believe they got off the bus and played at Anfield after what happened to their coach on the way into the ground two years ago, because I'm not sure any other club, would have went and done the same thing. And look at the paltry fine our neighbours got, probably because Man City just got on with it...
Brian Harrison
100
Posted 17/02/2020 at 09:16:54
The idea that Uefa introduced FFP to make a level playing field is fanciful – just like all Uefa rules, they are all floored and driven by the same select clubs.
Whether the rule regarding seeding in the Champions League, or the 3rd-placed club in the Champions League groups being allowed to enter the Europa League. This is all done to protect the chosen few.
Now if they really wanted to produce a level playing field, then it's simple: bring in a salary cap, which includes player purchases and player wages.
John Pierce
101
Posted 17/02/2020 at 15:33:41
Tony, you maybe right: Man City might grow if they are successful in Europe. But that growth won't be enough, I feel you have to be at the top table for years to have a demonstrable effect on your fan base. That growth won't be sufficient to match their spending ambition, so they'd still fall foul of the rules. There aren't many markets left to colonize and the dye for who supports who has mostly been cast.
They much like ourselves are hamstrung, very few clubs can sustain an incremental rise in line with FFP, because the top teams will always take you best players, because you aren't progressing fast enough (a top players career at the elite level might be only 10years) then they will leave. Therefore, the only realistic way is to catapult yourselves up there, which can only be achieved through a massive cash injection from sports groups or billionaires.
Whilst City might, we certainly cannot, so what hope a Forest or Villa, both previous champions of Europe? FFP stacks the deck to suppress growth in the name of preventing debt. The market place is meant to be free and dynamic in this case it prevents the mobility of a club to reach the top.
Look at social mobility, house prices have long since gone beyond the normal reach of regular people, that only they very rich can afford to buy and so the gap grows and very few now have the chance to make it big and bridge the gap. This feels like transfer fees which are a big problem. So inflated are the fees that it's impossible for Everton or others to have a competitive team. As such the big 12 can still buy under these market conditions more players than Everton can without it affecting their FFP, much like the richest can buy houses. The gap in both cases is so wide is now impossible to bridge unless you go outside the rules.
It's mad and very depressing, because really we don't stand a chance under these. Ask Paul if we wanted to increase our spending by say $50m (the price of one mega player?), what would the increased turnover be? I bet, with our footprint, it's almost impossible to generate enough money to stay compliant.
Tony Abrahams
102
Posted 17/02/2020 at 17:16:09
Good post, JP, loads of good points (bad for us though) and common-sense, but I don't think City's ban is cut-and-dry just yet. I read an interesting piece on the BBC website, and the only thing that surprised me was that Manchester City are part-owned by the Chinese?
It could be bluff and bluster, but it looks like Man City have probably been preparing their case for a long-time. It wouldn't surprise me if they come out smelling of roses, especially because this case is really about money. It's not easy trying to suppress somebody who has plenty of money, although I'm not sure it's going to be a test-case for Usmanov, because I'm not sure it's going to go that far...
John G Davies
103
Posted 17/02/2020 at 19:23:46
You're on the money there, Tony. Man City's owners will use every trick in the book to beat this. Look at the eventual downfall of Platini as an example. He made the battle with Man City almost personal and where did he end up?
The Qatar World Cup investigations played a big part in his downfall. We can only speculate that a large part of the strategy and related information was provided by members of the ruling party of Qatar, helping to remove a perceived enemy of the ruling party of Abu Dhabi.
They are both from the same tribe.
Tony Abrahams
104
Posted 17/02/2020 at 20:07:23
They have just been way too arrogant for someone who generally, usually know what they are doing, John G.
Jamie Crowley
105
Posted 18/02/2020 at 00:18:56
Tony -
Arrogant to the point of, "We don't like your rules. We aren't going to follow them. And we're so rich the rules don't apply to us because we can buy our way out of it. We're going to do whatever we like."
If you met a human being who thought this way, only one word would pop into your mind.
Douche.
I hope they fry.
Tony Abrahams
106
Posted 18/02/2020 at 07:33:11
I've met loads of those people, Jamie, and it's not a good trait, but I suppose I've also always felt that some rules are there to be broken, especially rules that protect the elite few. So I'm watching this space because this is something I'm sure Man City's owners have been feeling for a long-time now. Maybe they feel it's Uefa and their "protective laws" that are based on arrogance, so I hope it's the governing body that fry!
These out-dated laws (imo) are about protecting certain clubs (again, imo). I always remember, after English clubs were allowed back into Europe, that they introduced a law that said clubs could only play 3 foreign players, which was fair enough... But it was definitely designed to stop the English (imo) because an Irish, Scottish or Welshman, were all deemed to be foreigners, and it possibly stopped Man Utd winning that trophy a few times during that era...
Rules change, and very rarely because of an injustice, Jamie, so this is why I find this intriguing and have gone on about it a bit too much. I wouldn't be surprised to see Uefa back down a bit, because Man City have got a lot of money, which definitely brings power? As if an American wouldn't know that!
Rob Marsh
107
Posted 18/02/2020 at 11:59:19
Uefa's Financial Fair Play system looks very subjective and there's a reasonable chance Man City's ban will be knocked down to one year or no ban at all, a larger fine will be paid, and we can all merrily carry on.
By the time City's lawyers are through with Uefa, they'll have have wet themselves and given in. Bribes will be paid and, above all, the subjectivity of the process still gives Uefa its room for generosity towards City.
After all of Uefa's recent corruption scandals, only a few high-profile types were given the chop. The same crooks in the background are still running the show; it's still corrupt to the core.
Chris Williams
108
Posted 18/02/2020 at 12:10:13
The latest articles I've read, say that Man City are going for broke on this, driven by the Sheikh and his mates in Abu Dhabi. They seem pretty determined to defeat this; if it damages Uefa and it's governance and the football structure, so be it.
Whether this is more sabre-rattling remains to be seen, but they're not known as a dynasty to pussy-foot around. The strong belief within the club is that the only way to deal with Uefa is with strong aggression. They're certainly doing that. Rob is more than likely right that the fix will also be going in.
One thing it says that it is strongly rumoured is that they've compiled/are compiling a pretty powerful dossier of the activities of other clubs, whether purely to do with FFP or other activities is not clear. Now that might be worth seeing.
Carl Manning
109
Posted 18/02/2020 at 12:28:23
Rob, I despise Fifa and Uefa. I am a big advocate of the leagues and national associations breaking away and forming their own bodies. Thank god the Americans and FBI stood up and said "We're watching and we're coming for you" or who knows what state they'd be in now. How is Platini not in prison? Blatter too?
The World Cup revenue makes the Premier League look poor! Where does all that money go? Why isn't it published and broken down?
Fifa earn $1.2 billion dollars a year profit! Where does it all go?
Rob Marsh
110
Posted 18/02/2020 at 13:05:01
Carl # 109,
Where does it all go?
Swimming pools, jacuzzis, yachts and hookers!
Carl Manning
111
Posted 18/02/2020 at 13:30:41
Rob if I was as powerful as the owners of psg or city, I'd have instructed my secret service to have started investigating them all years ago in preparation for this! They will have seen it coming! That's why I think they'll walk away with a fine and a telling off. City would have been well prepared for this.
We all know they're crooks and live on backhanders. Sheikh Mansoor has the resources to blow them away.

Daniel A Johnson
112
Posted 18/02/2020 at 13:53:42
As much as I despise FIFA and the FFP rules Man City are not above the law.
They are being investigated for breaking FFP rules again and again, even after being fined and warned multiple times. On top of this they have been uncooperative and have fiddled the books. FIFA had no other option but to be firm with them.
Liverpool have shown with clever buys in the right positions and the right manager you don't have to spend billions to get a well organised talented squad.
I do fear Richarlison will be sold for close to £90M in the summer though, unless we gain entry to Europe it will be hard to keep him.
Rob Marsh
113
Posted 18/02/2020 at 14:08:08
Carl # 111
Remember the Brazil world cup, where ranking FIFA officials were actually caught openly selling bundles of WC tickets to touts?
The Brazilian authorities, themselves no angels when it comes the movement of cash under the table were so embarrassed by this they had them arrested.
Qatar's "winning" bid for the WC?
I feel absolutely sure there everything was above board and not a single brown envelope was passed under the table for that one.
Another Sporting body with only the interests of mankind at heart, the IOC was investingated by the FBI and the results were interesting. The FBI investigated the finances of IOC members with children at American universities. It was found that the costs of education and their material worth (houses, cars etc), where often way in excess of their salaries.
And strangely enough they all had a Porsche 911 registered to their close relatives at the same time?
Jamie Crowley
114
Posted 18/02/2020 at 14:12:29
Tony A. -
I've also always felt that some rules are there to be broken, especially rules that protect the elite few.
I understand that thought process and sentiment 100%. I'd argue that axiom is a wonderful one, outside of sport.
When the rule is set inside the construct of a game, you're looking at rich dudes thinking they can do whatever they want.
And think about what Daniel Johnson says:
I do fear Richarlison will be sold for close to £90M in the summer though, unless we gain entry to Europe it will be hard to keep him.
Why do we fear losing him? Because Everton are playing by the rules. A team that didn't kept a bunch of superstars, and because they ignored the rules and felt they were so high and mighty and entitled to, they won the league. Everyone else around them, sans Chelsea, played by the rules. And they suffered for it while Man City won a title, and pulled off a treble, by assembling an amazing squad they otherwise shouldn't have been allowed to assemble. They cheated.
Everything I need to know I learned in Kindergarten.
Cheating teams hurt those that don't cheat. That ain't right.
Fry. In hot oil, they need to fry.
John P McFarlane
115
Posted 18/02/2020 at 14:12:43
I wish we didn't have so many Evertonians citing the other lot as the club to admire and emulate, yes they are doing well, yes they are serial winners but for god's sake can we stop gushing about how savvy they are with their buys and how they do things.
I want Everton to be the best of the best but it may never happen, but I don't want Everton to be LFC MkII, we are who we are and they are who they are, quite separate entities and some would argue quite different in character.
Why should we sell Richarlison, why should he leave if he is happy? We'll never build a team if we constantly sell our best players prematurely.

Rob Marsh
116
Posted 18/02/2020 at 14:13:21
Daniel # 112
You're right no one should be above the law and City aren't, but the laws laid down by UEFA are so elastic and open to interpretation, I would be surprised if this two year ban happens.
A clever legal team and even more brown envelopes will see city through this.
Jamie Crowley
117
Posted 18/02/2020 at 14:27:29
I know this is very, very American of me, but I really believe one thing would stop this madness, and make the landscape [more] fair.
John Pierce talks about the inability of smaller clubs to attempt to make the leap upwards under FFP, and he's right. And whereas I'm arguing Man City should be harshly punished - and they should - I've consistently said the system is imperfect and severely flawed.
Uefa need to implement a salary cap. Pick a number that contracts / squeezes the top 10 to 12 clubs just a bit, adjust annually for inflation, and viola!
You have a competitive playing field at the top, new owners of smaller clubs can pump as much money as they like into the Club (gifts, NO LOANS by the way), and you've created a structure that loosely makes owners adhere to fiscal responsibility. They can't overpay the crap out of a bunch of players and buy a mega-team.
We have them here in the States. I'd argue they work pretty well.
I fully understand if you don't want to "Americanize" footy. But take the Stars and Stripes out of it, and it's a solid foundation to implement.
As long as you don't play Welcome to the Jungle at every sporting event at 200 decibels, you'll keep your independence from Uncle Sam's reach.
Daniel A Johnson
118
Posted 18/02/2020 at 14:35:40
I remember watching Watford (who I have no love for) get destroyed in the FA Cup final against Man City.
One was a team expensively assembled and brimming with players all £60M+ and the other team played by the rules and had Troy Deeney up front. These were two Premiership teams but the gulf in class was apparent and as City smashed in goal after goal it sat uneasy with me about how unfair and unjust it all was. I felt genuinely sorry for Watford at the time.
City have flaunted the rules and acquired a squad at great expense, a squad which has won them every trophy they could buy except the one where they come up against fellow crooks and rule flaunters (the champions league).
I 100% hope they do get punished.
Tony Abrahams
120
Posted 18/02/2020 at 15:13:59
Good posts Jamie, and also very admirable. I really wish that life was still that kindergarten simple.
Brian Harrison
121
Posted 18/02/2020 at 15:26:30
Jamie117
I said the same thing in post 100. This is not about trying to have a level playing field, as a salary cap would do that very easily but Barcelona couldnt pay Messi £600,000 plus per week and Real couldnt pay Bale £600,000 per week. But FFP was brought in by the cartel and maintained by the cartel, to stop upstart clubs like City acquiring a rich owner wanting to pump millions into his football club.
Football is a business and I cant think of a business outside of sport that prevents the owners from pumping millions of their own money into their business. As I say if you want to have a level playing field a salary cap will do it, but I hope Citys lawyers drive a horse and cart through the FFP rules.
Carl Manning
122
Posted 18/02/2020 at 15:30:27
Another brilliant article by Martin Samuel in the Mail. He really puts across his view and stance very eloquently and backs it up. He's quickly becoming my fav journalist.
Brian Harrison
123
Posted 18/02/2020 at 15:31:19
Jamie
I should have also added that I would make it a law of the land that anybody who takes over a football club and pumps millions into the club, must also be made to have a bond that will stop them walking away from the club and transferring the debt to the club. So they will then by law have to leave the club financially no worse off than when they took it over.
Jamie Crowley
124
Posted 18/02/2020 at 16:45:02
Brian -
I missed your comment at 100 - sorry! Didn't mean to plagiarize!
I love your idea of a bond needing to be issued for new owners.
No matter how this pans out, one thing is for sure, it's going to be very interesting to see how the CAS rules in this matter. The saddest thing is that due to the corruption in Uefa and FIFA, no matter what happens, the cynics will win. Payoffs, personal vendettas, etc. will always be spun due to Uefa's horrific history dealing ethically.
Credibility - a vastly underrated business trait.
Jamie Crowley
125
Posted 18/02/2020 at 16:49:08
Jesus I re-read a few of my submissions.
Where in the world is the EDIT button, Lyndon and Michael?
Poor Lyndon spent an hour (probably) on one of my posts a day or two ago, cleaning the damn thing up.
Bring back that edit button! Not for me, for you!
Chris Williams
126
Posted 18/02/2020 at 18:06:33
It looks like UEFA are looking at a SECOND investigation into the Abu Dhabi sponsored relationships with City, this time since 2016.
The current punishment relates to the sponsorships prior to 2016 and to City falsifying evidence.
Could get messy.
See David Conn, again in the Guardian. He gas a pretty good track record in these investigative reports
Tony Hill
128
Posted 18/02/2020 at 20:21:01
The modern game stinks and is going to devour itself. Fraudsters defrauding fraudsters. It's very hard to maintain interest and I'm sorry to say that, much as I love our club, there is little that is authentic in the game now.
Money spoils all.
Dave Abrahams
129
Posted 18/02/2020 at 20:43:26
Daniel (118), what Manchester City have done over the last few years Real Madrid have been doing since the early 1950s – buying the best players in the world.
Tony Abrahams
130
Posted 18/02/2020 at 22:08:23
Just when I find myself agreeing with Tony H, I put on the last 30 minutes of the Liverpool game, and had to listen to a very biased commentary off a Liverpool old boy.
When is a foul, not a foul? Usually when the ref doesn't give it, or when it's an ex-Liverpool player in the studios!
Listening to Robertson, is better, because he's telling everyone how to beat them, first you've got to just get under their fucking skin! Goodnight.
Don Alexander
131
Posted 18/02/2020 at 23:37:32
Martin Samuel (see above, various) openly again publicising Platini, Ruminegge and Uefa itself as "bent" would attract legal action for defamation from anyone/thing with an ounce of credibility.
Their silence speaks volumes.
Derek Thomas
132
Posted 19/02/2020 at 00:15:24
Jamie C; to steal ideas from one is plagarism, to steal from many is research.
A can of worms escaped from the genie's bottle when they opened this FFP pandora's box.
Jamie @ 124: Edit;...see, it does work. Uncle Sam in the form of the almighty Dollar or Pound or Euro is already here.
Who do we cheer for – bent Uefa for attacking bent City?
Or bent City for standing against the stupid status quo bent FFP rules... and that's before we even get to the bent VAR of the bent Premier League.
Jamie Crowley
133
Posted 19/02/2020 at 00:26:05
Love it, Derek.
---
Add Your Comments
In order to post a comment, you need to be logged in as a registered user of the site.
Or Sign up as a ToffeeWeb Member — it's free, takes just a few minutes and will allow you to post your comments on articles and Talking Points submissions across the site.
---
---
© ToffeeWeb