Opinion
The Bramley-Moore Dock Planning Application
A summary of the key points from the vast array of documents submitted by Everton to Liverpool City Council as part of the planning application for the new stadium.
Paul The Esk

26/02/2020
56

comments | Jump to last
It will not have escaped many Blues' attention that the documents containing and supporting the planning application by Everton Stadium Development Limited are now loaded on Liverpool City Council's "Planning Explorer" website. Whilst some will have read every page, here's a summary of what I believe are the key points.
The full list of documents can be found here
If you were minded to read just three documents, I would chose the Design and Access Statement, the Construction Method document and the Heritage Statement
Why choose Bramley-Moore Dock?
It is a vital part of the planning application to understand the reasons for choosing Bramley-Moore Dock. Why is it so important?
Because of the scale of the development, the heritage status of Bramley-Moore Dock and the resulting tests of the proposed development versus national planning policy, it was critical that the club, Liverpool City Council and Historic England understood the lack of alternate sites available and the reasons for their unsuitability.
The proposed degree of "harm" to the Stanley Dock Conservation Area and Grade II listed Bramley-Moore Dock walls is such that the case for Bramley-Moore Dock has to be exceptional and prove the absence of any other suitable or available site. The catchment area includes the areas of (i) North Liverpool (preferred), (ii) extended North Liverpool including the city centre and South Sefton, and (iii) a "wider area of search" including South Liverpool and South Sefton.
None of the 50 identifiable alternative sites meet all the criteria required. The criteria includes Suitable Size, Site Specific Planning Issues,  Availability, Viability,  Accessibility  and Visual / Environmental Impact.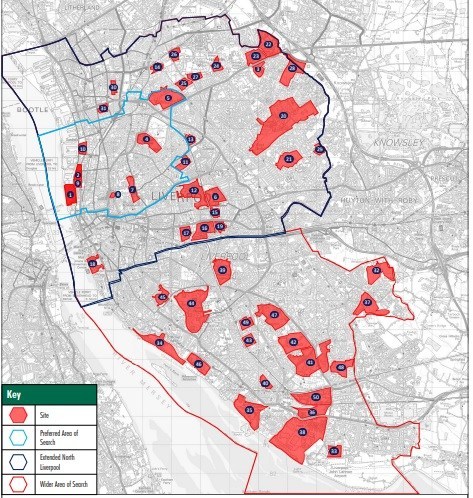 Interestingly, to support the case for Bramley-Moore Dock, Everton cite case law precedence in relation to Oldham Athletic (1997 – highlighting the importance of the traditional catchment area to a club) and Brighton & Hove Albion (2017 – the most relevant in terms of relocating to Bramley-Moore Dock).
3 design studies
The journey to Bramley-Moore Dock (ignoring the previous failed and well-documented potential moves) pre-dates Moshiri's involvement with Everton, starting way back in January 2015  when Meis Architects were provided with an initial design brief. Although the design brief contained no reference to budget or indeed location, it focused on six themes: football, atmosphere, sustainability, community, design and hospitality. Additionally, wherever the stadium was to be located, it would have the North stand as the home end (as does Goodison Park).
In the Spring of 2017, with the support of Liverpool City Council, Bramley-Moore Dock was identified as a potential site for the athletics venue of the 2022 Commonwealth Games bid. As a result, Everton commissioned a feasibility study for phasing a stadium construction that could accommodate an athletics mode for the games. The stadium, built on an east-to-west orientation, would have held 40,000 spectators in athletics mode and finally 60,000 as a completed football stadium.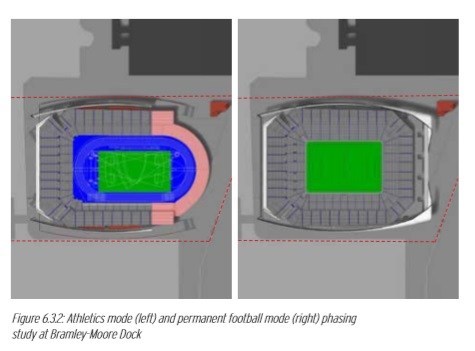 The Commonwealth Games bid failed with Birmingham (who were favourites from day one) awarded the games in December 2017.
Thus, in February 2018, a third design brief was created and released. This included the eleven "stadium principles" . Following from this were the incredibly popular Dan Meis workshops at St Luke's in April 2018. Much discussion ensued particularly around the topics of capacity, match-day experience,  and the atmosphere within the ground.
Consultations continued with the relevant heritage organisations (including Historic England) leading to the first of two large scale public consultations, first in November 2018 and the second in July/August 2019.
As a result of the public consultations (which received 63,000 responses) final plans for a 52,000 seat capacity stadium with a north/south orientation at Bramley-Moore were drawn up and submitted to Liverpool City Council on 24 December 2019.
52,888 capacity stadium
Regular readers will know I have long argued for a higher capacity with a significant number of premium seats in order to generate maximum levels of income for the club whilst reducing, as far as possible, the inevitable ticket price increases for season ticket holders and "walk up" spectators.
The proposed 52,888 capacity comprises of the following:
| | |
| --- | --- |
| Standard home seats | 43,880 |
| Premium seats | 5,334 |
| Box seats | 448 |
| Away seats | 2,968 |
| Non-revenue seats | 258 |
| Total capacity | 52,888 |
Although not referred to in the planning application, the club has on a number of occasions referenced the potential for a future increase in capacity. Stadium development director Colin Chong has been quoted "In the long term, we will be able to increase the capacity should there be a demand and requirement to do so."
How and when that increase arises is still undetermined. The club has said there is the potential to increase the capacity of the east and west stands in the future.
Others have pointed to the potential for safe standing (rail seating) to increase capacity in the future. The club plans to make the lower tiers of the South (home), North stands and the away section "future proofed". This means that a change in legislation permitting safe standing would allow the club to install rail seating in these areas. A leaked document in November 2018 suggested this would total 10,710 seats.
Whilst the dimensions of these seating areas would permit (under The Guide to Safety at Sports Grounds) higher densities (again subject to legislation) and therefore a higher capacity, the planning application appears to rule this out:

My final comment on capacity points to a table within the planning application, highlighting the increased capacities of the most recently built or significantly increased stadia (and potentially planned):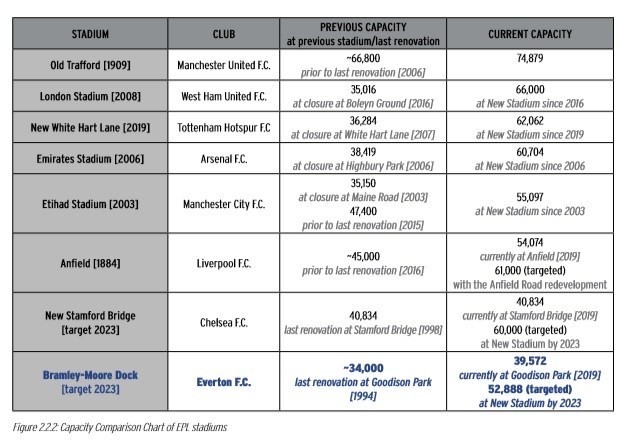 Timetable and planned programme sequence
One of the most interesting documents in the planning application is the "construction management plan"  provided by the preferred contractors Laing O'Rourke.
The club has indicated a target date of September 2023 for the stadium opening. Not only is this dependent upon no extension of the build timetable, but critically (i) the granting of planning approval in the summer and (ii) the completion of the stadium financing within that time frame.
The construction management plan suggests a 3-year build period (below). Compliance with the time table requires "optimal" conditions.

To save time and due to the "extremely constricted working zones behind them", the construction work on the North and South stands will begin at the same time as the main dock filling works. The dock, having been scraped clean and then lined, will be filled with nearly half a million cubic metres of sand dredged from a site some 23 nautical miles from Bramley-Moore Dock. From a heritage perspective, the listed dock walls will remain intact and, should the stadium ever cease to exist, Bramley-Moore Dock could be returned to its former condition.
Heritage
Heritage forms a very significant part of the planning application. It is extremely clear that this most sensitive of subjects has received a great deal of attention from the club, Dan Meis, and the many consulting and advisory firms involved in the application.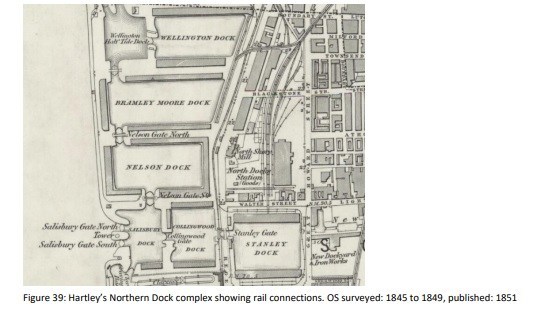 The Heritage statement is perhaps the most informative documents within the whole application. Heritage is interwoven into the planning application at many levels; at the city level, our World Heritage Status as a Maritime Mercantile City maintaining the outstanding universal value (OUV) in terms of innovative technologies and dock construction from the 18th to the early 20th Century; at site level, in terms of the Grade II listed retaining dock walls on both Bramley-Moore and Nelson Docks, the hydraulic tower, various pieces of historic dock "furniture", and the perimeter wall running along Regent Road, and in terms of the external design of the stadium  – mirroring the local brick warehouse architecture combined with an ultra-modern roof design.
In addition to the above, the opening of a section of historic dockland long closed to the public,, accessible throughout the year not just match days, with much of it's original heritage assets maintained, is a critical example of enhancing the heritage value of the location.
Furthermore, the heritage value of football itself, and Everton in particular, as we seek to build our third purpose build football arena in the city, cannot be over-looked. The city's sporting heritage, and Everton's role in that, is no less important than our maritime mercantile status, nor our city's contribution to the arts and music globally.
The combination of the historic riverside location, the heritage assets contained within, the enhanced access plus the footballing heritage of the city's senior club is a compelling and unique proposition that completely enhances the heritage value of the development.
Match day transportation
The ability to move large numbers of people quickly, safely and efficiently is obviously a key consideration in the planning process. The strategy paper states the following objectives:

Parking – the  stadium will hold a total of 481 parking spaces of which 70 will be accessible for disabled supporters. Movement in and out of the two car parks will be restricted before and after the game to enhance pedestrian safety. There will be 152 cycling spaces (potentially rising to 212).
The transportation plan leans heavily on existing infra-structure. The main points are:
Hard and soft road closures around Bramley-Moore Dock on match days
Local parking restrictions to encourage supporters to use Liverpool City Centre and Bootle parking facilities
Match-day shuttle buses to Liverpool City Centre and Bootle Town Centre
Existing commercial bus routes
Train travel – the use of Sandhills Station with crowd control measures (corralling) post match
Match-day taxi ranks
Walking
Cycling
Coach parking
There is a great emphasis on walking times to the transport hubs and parking facilities within the city centre. It is claimed all are within 40 minutes walk of Bramley-Moore Dock. How feasible or desirable this is for the senior supporters, those with disabilities and even those with young children remains to be seen. Having read initial thoughts on many supporter forums and social media, getting to and away from Bramley-Moore Dock does appear to be a significant concern for many.
What is next?
Residents, local businesses, stakeholders and the general public have the opportunity to give Liverpool City Council their views on the proposals as the Council's formal consultation on the planning application began on 21 February and ends Friday 20 March.
Comments on the application need to be made in writing by 20 March 2020, quoting the application reference number 20F/0001. Comments should be e-mailed to the dedicated council application email address efcapp@liverpool.gov.uk
A hard copy of the application has also been deposited at Central Library, William Brown Street, (1st Floor Reference Section) and is available to view during normal library opening times – no appointment required.
Comments can also be sent by post to The Planning Department, Liverpool City Council, 4th Floor, Cunard Building, Water Street, Liverpool, L3 1AH, quoting the application reference number 20F/0001.

Follow @theesk
Share article:
Reader Comments (56)
Note: the following content is not moderated or vetted by the site owners at the time of submission. Comments are the responsibility of the poster. Disclaimer
Mark Andersson
1
Posted 26/02/2020 at 01:24:57
Thanks for a very interesting read...
A 40 minute walk will suit Siggy..
Bob Parrington
2
Posted 26/02/2020 at 06:00:28
Thanks, Paul. Very helpful.
Mark, I doubt Sigurdsson will be with us by 2023 (smile).

John Zapa
3
Posted 26/02/2020 at 07:18:57
The financial feasibility of the new stadium makes absolutely no sense. Also, the motives of Usmanov pumping ridiculous amounts through dodgy sponsorship is a huge worry.
In which world does spending around £500m on a new stadium when the club is already running at a huge loss make sense? Especially considering that the increase in revenue will barely cover the annual interest costs of the loan, let alone pay back the principal.
Everything the new ownership has done on and off the field has me extremely concerned. The missing words from their actions are 'viable' and 'sustainable'. The new stadium is neither of them, nor is the way they have spent money on signings or the wages offered.
Shady sponsorship deals is not a real plan or a wise way to run any business. The good ship Everton is closing in on the iceberg...
Alasdair Jones
4
Posted 26/02/2020 at 07:57:15
Given the extensive threads following my last post and the comments on Michael Kenrick's latest article about the Planning Application there is clearly a goodly number of readers who have delved into the application. So much so I find that There may be little that I can add, notwithstanding my previous promise to review the details of the application.
Concerning the Planning Application, there are two points I consider are worth an airing.
The first is the capacity and size of the stadium. It is a boundary-constrained site that lies within the Mercantile City World Heritage Site, the Stanley Dock Conservation Area and in proximity to numerous listed buildings (see the CBRE Planning Statement).
The scale of the stadium complex and, in particular, the height and mass has to pay respect to those matters. The resultground is a that can hold 52,888 spectators. The scope for creating a bigger stadium with a higher capacity is constrained. Furthermore, the design does not lend itself to further enlargement, which could only be achieved by increasing the height and scale of the complex.
CBRE correctly point out in my view that the most important consideration about this proposal is the relationship between the surrounding Heritage Assets and the design/scale of the new building. Whilst that might be a finely balanced argument, the wider benefits in term of new jobs, income generated, and the fact that the proposal represents a catalyst to stimulate the continuing transformation of North Liverpool, sway the arguments in favour of the application. A bigger stadium might not at this stage.
My second point concerns the 3-week period for submitting comments to the Council. Normally this would be an opportunity for objectors to pile in, in order to sway the members of the Planning Committee. Fortunately, there aren't too many (if any) nearby residents. To the south, there are a number of tall residential buildings that overlook the river. Some may have a longer view towards Bramley-Moore Dock. But if you elect for urban living, it's generally in the expectation that you will be surrounded by "big" buildings.
Those who like to indulge their hobby of historic architecture or industrial archaeology may forensically crawl over the application and find some negatives but I cannot envisage those arguments outweighing the scale of support this scheme enjoys.
Nevertheless, I will submit comments in favour of the scheme and would encourage others to do so. The decision-makers must be left in no doubt where public opinion lies on this one.
Tony Abrahams
5
Posted 26/02/2020 at 08:03:35
Just as long as that iceberg isn't ring-fenced. In the last 25 years we have been in two cup finals, finished in the top 4 once, ran the ground we are leaving well into the ground, and the great Evertonians are waiting for their club to return to its former glories.
So maybe it would be better if Moshiri just fucked off!
Laurie Hartley
6
Posted 26/02/2020 at 08:51:05
A good read as usual, Paul. Could you clarify one point regarding the 10,710 seats you mentioned in your comments on safe standing.
Does this mean that the 10,710 seats earmarked would become (1.5 x 10,710) 16,065 standing spots or an extra 5,355 spots for spectators. That would bring the capacity up to 58,243?
The comment by Colin Chong about a possible future increase in capacity has me believing that a safe standing option has indeed been built into the design – as Brian Williams suggested @ 231 on the "Planning Application" thread.
I mentioned on that thread that the planning height restrictions mean that, once you have decided on the row height and the depth of the roof structure, the number of rows of seats is fixed.
The only way you can get round that, is by reducing the row height and / or row width which adversely affects both spectator comfort and lines of site. A compromise that I feel sure Dan Meis would never have agreed to.
My view is that given the site dimensions and the North to South orientation, Dan Meis has nailed it.
It also looks like the Club has put a lot of effort and thought into the heritage aspect of the application. I think it was very clever of the club to refer to the footballing heritage of the City and EFC.
I do share your concerns about the transport plan. It does look a bit half baked to me but I think that is a discussion for a seperate thread.
Derek Knox
7
Posted 26/02/2020 at 09:13:07
Thanks, Paul, for another well researched and informative article. Personally, I can find no argument in the Heritage Stament; let's face it, as it stands, it is an eyesore. If the Heritage people value it so much, why have they done very little over the years to preserve it?
I can see nothing but positives about the whole scheme and the regeneration, extra jobs and encouragement for others to develop in that area. My only reservation is the capacity, which I appreciate is restricted and obviously dependent on extra finance.
My reasons are by comparisons in the table provided, where you have reported the average attendances before either expansion of existing structures, or occupation of new stadiums, there has been a significant uptake in numbers.
If we are to become a great club once again, surely that would attract more fans and younger ones too. Hope all goes to plan and the next stage is preparation of the site.
Tommy Gourlay
8
Posted 26/02/2020 at 09:50:12
Thank you so much for this, Paul.
I hoped they would use the suggestion of transport via a ferry, which could drop fans at various car parks spread along the waterfront – hopefully making it one of the best stadiums for lack of traffic congestion. That's a shame, it was in the plans for Kings Dock.
I'm glad though they didn't suggest circa 1,000 fans would cycle to the stadium as they did in the plans for Kirby though!
Paul Turner
9
Posted 26/02/2020 at 09:55:55
Great piece, Paul, thank you.
Two observations - those turreted gate entrances on Regent Road are a little redolent of Rupert's Tower, in my view; and what an asset the "dockers' umbrella" (Overhead Railway) would have been. By the way, does anyone remember the "support Soiet vokers" (sic) graffiti on the Regent Road dock walls - and is it still there? I guess mid-late 60s vintage, so it may have faded by now. Possibly one of Bankski's? ;-)
Let's all hope the permission comes through on time and work can commence.
Now to carry on reading...
COYB!
Raymond McNamara
10
Posted 26/02/2020 at 10:09:53
The phrase "pleasing all of the people all of the time" etc comes to mind. Goodison has done its job for many years, but has run its course. A lot of work has been put in to get to this final decision stage.
A major development at a rundown but potentially brilliant area of Liverpool is just what the city and club need. Just let them get on with it.
Alex Kociuba
11
Posted 26/02/2020 at 11:22:08
John Zapa, I am under-qualified to get involved in a detailed financial conversation; however, isn't the answer to what you're puzzled about down to financial speculation?
The way football is continuing to grow globally and teams becoming increasingly valuable, isn't it perfectly reasonable that, with a new ground and with some more success on the field, we might be forecast to be worth £700m, £1bn, whatever it might be in 10 years?
The ground itself might be worth double its cost in 5 years time. I'm pretty certain without having the figures to hand that Kings Dock would be worth more today than it would have cost at the time...
Also, the new ground will presumably have scope for additional revenue for concerts, events etc.
Tony Abrahams
12
Posted 26/02/2020 at 11:57:41
And it's going to kick-start a massive regeneration project, on a scale that our city has never seen before, which is possibly why the transport links do not look that clever right now.
I haven't read anything about the plans, I cannot get my head around this type of thing... Maybe Everton and Peel Holdings are waiting for local government to take over this side of things?
Paul [The Esk]
13
Posted 26/02/2020 at 12:53:39
#6 Laurie – the dimensions of the proposed safe standing areas definitely meet the requirements of the SGSA in terms of increasing spectator densities, thus the capacity, yet it seems that the club is discounting that.
I am not sure we would allow the spectator density to increase in the designated away section with its near 3,000 seats.
Ultimately all of this is subject to legislative change and I'm sure the local authorities who issue the safety licences would want to see how safe standing works on a 1:1 ratio basis before allowing an increase in capacity.
#12 Tony – ultimately the provision of public transport is down to the combined authority. I think the club first has produced a plan which will meet planning requirements. I hope once planning is approved we will pressure them to provide more and they, themselves, will realise that for the stadium to be a success greater public transport resources and infrastructure is required.
Kevin Prytherch
14
Posted 26/02/2020 at 13:43:59
On the subject of transport...
Hasn't there been another train stop mooted for somewhere between Sandhills and Moorfields?
Julian Wait
15
Posted 26/02/2020 at 14:30:23
From the Environmental Statement (which is quite informative):
The current project brief confirms a minimum target capacity of 52,000, with the potential to increase subject to alteration to the stands and should safe standing be introduced in England in the future under a seating to standing ratio larger than 1:1.
EFC_TPP_Bramley-Moore Dock ES NTS_Final.pdf
James Flynn
16
Posted 26/02/2020 at 15:29:00
it would seem the city has more to consider about that area's road net than just Bramley-Moore. The whole water front, from the Liver Building up to the Liverpool2 works, is alive with massive construction projects:
Liverpool2: Link
Just Princes Dock alone:
Don't know who's in charge of adjusting the road net merseyside, but they have their work cut out over the next 5 years. Getting to, in, and out of our new stadium is just a piece of that.
Link for road work around the city,
Link
Tony Abrahams
18
Posted 26/02/2020 at 15:57:32
They are actually shortening the width of some of these very main roads James, and also doing the same to roads right inside the city centre. On top of this, we will not be able to go from north to south along Lime Street, and have also lost the flyover, which made it so much easier to access Lime Street Station by road, coming from the Dock Road, on the north side of the city.
They obviously want more people to walk, so the only things I can think of are congestion charges for the motorist, and a much better railway system, or the introduction of trams maybe? But as I've already said, the scope for a big station around 500 metres from Bramley-Moore Dock definitely makes a lot of sense for the future.
Billy Bradshaw
19
Posted 26/02/2020 at 16:31:23
Hi John Mcfarlane Snr @17,
I, like you, am hoping to renew my season ticket at the new stadium. Just wondering how they will allocate the new seats. Do you think they will try and keep it a like-for-like basis were possible? Anybody else got any ideas on this? Thanks.
John McFarlane Snr
20
Posted 26/02/2020 at 17:02:21
Hi Billy [19],
I would imagine that the fairest way, would be to give the season ticket holders with the longest history priority of selection, and then to process the remainder. Using the same system on the season ticket waiting list, failing that, they should find out how West Ham United and Tottenham Hotspur dealt with the problem, if indeed it is a problem. I would imagine that, no matter what system they adopt there will be objectors.
Ray Roche
22
Posted 26/02/2020 at 17:17:03
Billy, I would imagine an open day, of sorts, where fans can visit and apply for a seat in a section that they would like. The club can't just allocate seats.
Brent Stephens
23
Posted 26/02/2020 at 17:43:59
Billy #19. Have been wondering the same myself. Apparently West Ham didn't move their fans en bloc but in a less structured way? Seem to remember an outcry. I would hope we're smarter than that.
I sit in the Upper Bullens, on the halfway line. If we assume they would try to relocate us on a like-for-like basis, then I'd be located in the upper East stand at BMD. A rough count of seating numbers in the BMD upper East stand comes out at somewhat more than the Upper Bullens Road. So, hopefully moving us all en bloc would see us sitting in like-for-like seats, with seats left over.
Having said that, the away section at BMD is in the NE corner, whereas it's in the SE corner at GP. So, if we number the Upper Bullens, say, as follows: current away section in the NE corner as A; the home fans section from there to the halfway line as B; and then the remaining seats as C (halfway line to 3/4 way along; and D in the NE corner. Then, I see no reason why they can't relocate the current B and C blocks en bloc.
And surely they could relocate block D so that those currently nearer the halfway line would end up at BMD in a comparable position, and not disadvantaged.
Surely a simple computer programme would achieve all that. (There would be other considerations such as whether the number of rows is comparable from GP to BMD).
Brian Williams
24
Posted 26/02/2020 at 17:53:56
Billy #19.
I reckon there will be a seat that is deemed "the same seat" to the season ticket holders present seat and that that seat would be offered to them first and foremost. So if you're two rows back on the halfway line in the top balcony then you'd be in "the same" position in Bramley-Moore Dock.
That's my idea and I've no basis for believing that other than common sense.
Billy Bradshaw
25
Posted 26/02/2020 at 17:59:01
Brent, my seat is in the main stand halfway line probably opposite you. From what I can see at Bramley-Moore Dock with east and west stands at similar positions, there is quite a lot of corporate seating, which will probably take preference.
Brent Stephens
26
Posted 26/02/2020 at 18:15:25
Brian, you explain better than me!
Billy, I think you need to do a count: current seating Goodison Road; West stand at BMD. I thought there weren't that many corporate seats at BMD, and in any case there's probably more seating BMD West stand compared to GP Goodison Road stand.
I'm guessing. Brian is good at these things!
Brian Williams
27
Posted 26/02/2020 at 18:33:15
Brent, thanks for your confidence in me, mate, but mine's just a guess. Think it would work though.
Rob Halligan
28
Posted 26/02/2020 at 18:38:59
Brian, interesting theory. My seat is Row B in the Upper Gwladys, which, as we all know, is a two-tier stand. As the new home end will be a one-tier stand only, would this mean I would "be offered" Row B in the new home end, which I assume would be right down at the front? I prefer to be further back so would go for a seat somewhere on Row 28 to 30.
Brent Stephens
29
Posted 26/02/2020 at 18:41:58
Rob, one guess is that, in your example, they could start the like-for-like comparison halfway up BMD north stand??
Eric Paul
30
Posted 26/02/2020 at 18:56:55
Are my 5 season ticket new ground priority vouchers no longer valid?
Brent Stephens
31
Posted 26/02/2020 at 19:00:50
Expired, Paul.
Mark Andersson
32
Posted 26/02/2020 at 21:27:47
What happens to the season ticket holders who on big matches loose their seat and have to stand up
Will they get a free pie and beer to help energise their legs...
Brian Williams
33
Posted 26/02/2020 at 21:32:38
Mark #32.
Lose their seat?
Jerome Shields
34
Posted 26/02/2020 at 22:01:56
Thank you, Paul the Esk, for your insightful article. Below are thoughts of mine which have arisen regarding the article.
The selection of Bramley-Moore Dock as a site for a stadium was pre Moshiri, as Paul the Esk has pointed out. This explains the initial hype, without figures. It appears that, when the actual feasiblity of the stadium on the site available was examined that the 60, 000 capacity for the Commonwealth Games bid was found not to be feasible given site 'constraints', hence the lower capacity. (Don't worry – I am not going to blame Kenwright & Co for losing the Commonwealth Games bid. )
Elizabeth France, who came across as being very astute in her Lyndon interview, did query the size of the site and why Everton had not got a larger site from the Peel Group, considering that Everton would be in fact the anchor tenant in the whole Peel Group development site.
In the planning application, increased capacity is cited as potiential, giving the impression that the parties know it is going to be necessary. Safe standing is mentioned as a solution, which appears to be an embryonic thought, which Groucho Marx once described as a small town outside wishful thinking.
It appears that Everton know that they now need a 60, 000 capacity, as Paul the Esk says is necessary, but have not intially negotiated a large enough site from the Peel Group to build it on. It is obviously financially more feasible to build a 60, 000 stadium, than build an approx 54, 000 stadium and change it into a 60, 000 stadium afterwards. If other buildings are going to developed on the Peel Group site, they too will have an impact on the heritage of the site, which again would suggest that Everton have not negociated a big enough site. Which would not be like them.
Just saying.
Dick Fearon
35
Posted 26/02/2020 at 22:48:16
Just like John Mc (Snr), I also am at a venerable age and my concern is, to get me from the transport drop off points, will the new stadium have one of those moving pavement thingies to get me to my seat?
Ryan Holroyd
36
Posted 26/02/2020 at 23:00:44
I don't see how Everton could build a 60k stadium based on the height of the building and without impacting the sightlines. It would need a change in standing ratio to get to 60k.
David McMullen
37
Posted 26/02/2020 at 23:23:51
Jerome, I'm not sure the selection of Bramley-Moore Dock was at all pre Moshiri. It was in 2016, post Moshiri, that Gillmoss and Clarence Dock
were mooted
but, in April 2017, it was decided it was Bramley-Moore Dock.
I feel (sorry to be negative) that the club and the architect are selling us short with a stadium that could and should be at least 10,000 bigger. Don't go there with "size envy" (Meis) and measuring anatomy. We just want the best for the club, not settle for less.
Bill Watson
38
Posted 26/02/2020 at 23:35:12
Rob; #28
Eeek!
I hadn't thought of that! I'm also in row B Upper Gwladys and hate being right down at the front. Apart from anything else, you tend to get soaked if it's raining!

Andy Crooks
39
Posted 26/02/2020 at 00:00:35
Paul, in your view, what will the new stadium mean to overseas supporters (Ireland, for example). Will we be able to get tickets? I doubt it.
Eric Myles
40
Posted 27/02/2020 at 05:33:37
The download of the Construction Method document is corrupted from the link given.
Laurie Hartley
41
Posted 27/02/2020 at 10:24:15
John # 3 - perhaps those people putting money into the new stadium are looking at a bigger picture and "setting a sprat to catch a mackrel".
Liverpool had a very interesting overseas visitor the other week.
Worth a read.
There is going to be a lot of opportunity on Merseyside in the coming years.
Tony Everan
42
Posted 27/02/2020 at 10:30:08
With regards capacity I find the sentence below interesting.
''with the potential to increase subject to alteration to the stands ''
Does this leave the door open for when this planning application get the green light.
It's commonplace that as soon as the main principles of any project are rubber stamped then more minor alterations and changes are put forward.
It leads me to believe that once we have planning permission an amendment of the seating density will be put forward. It will have fully thought out supporting evidence and increase the seating capacity to beyond 55k.
Paul, do you think this is a possibility or even likely ?

Tony Abrahams
43
Posted 27/02/2020 at 10:49:36
Laurie, I've heard the plans for this regeneration, go from the edge of the City, all the way along to millers bridge, which is only a five minute drive from Liverpool 2.
I'm sure there might end up being a ship or ships to transport, these big trucks across the Mersey once this really gets going, akin to the Woolwich ferry, maybe?
This scheme reminds me so much of the one in your adopted city, it's been well thought out alright, and Usmanov's steel, must have been one of the main deciding factors!
John Raftery
44
Posted 27/02/2020 at 11:44:09
Two years ago before the Dan Meis sessions at St Luke's I was firmly in the 'it's got to be 60,000' camp. Now I am happy to acknowledge 52,888 is a realistic figure given the constraints of the site, the questions about the transport links and the experience of some of the big clubs which have expanded their capacity.
In regard to the latter I was struck by the number of empty seats, several thousand of them, in the upper tiers at Arsenal last Sunday. Then I read in their match programme that at a recent Fans' Forum 'The Arsenal Supporters' Trust raised questions about how we might drive better home attendances..'
Obviously the official figures for games at The Emirates show more or less a capacity attendance for each fixture reflecting the number of season tickets sold. Those figures mask considerable over provision and a consequential adverse effect on the atmosphere with the club resorting to a variety of measures to maximise attendance. They have frozen prices for general admission areas for six seasons in a row and they continue to develop their Ticket Exchange service with the aim of improving attendance. Work has also started to review the possibility of introducing home match credits.
Manchester City have had recent issues with empty seats while Manchester United continue to annoy their fans with their dubious methods of compelling fans to purchase tickets for less attractive or convenient games.
The three clubs I have quoted have enjoyed success beyond our dreams this century. In that context I think 52,000 seems about right for a club without any sustained success for a whole generation and which operates a heavily discounted season ticket pricing system.
Ray Roche
45
Posted 27/02/2020 at 14:12:06
Laurie @41
Interesting link Laurie, obviously someone is thinking beyond Brexit and exploring the potential for maritime trade. I'm quite excited by the whole north Liverpool development and I think that BMD will transform Everton as club and raise our profile at home and abroad. Imagine the cruise liners berthing close to the ground!! Can't come soon enough.
Jay Wood
[BRZ]
46
Posted 27/02/2020 at 14:32:33
Laurie @ 41.
Thanks for that link. It possibly comes as no surprise to you or I with both of us expressing the belief for some time now that the Everton stadium build is part of a much larger and grander scheme.
That some very smart people are investing BIG in Liverpool city due, in part, to what your linked article refers to:
Liverpool city docks being revived as, post-Brexit, the UK looks westward rather than eastward for its trade.
And what better west coast located docks are there in the UK than Liverpool?
Steve Carse
47
Posted 27/02/2020 at 15:01:21
Rob (28) the home end stand would in fact not be a single tier stand should safe standing become a reality since there would need to be a break between the safe standing and the seated tiers to allow for those in the first rows of the seated area to be able to see.
Jerome Shields
48
Posted 27/02/2020 at 15:56:15
David #37
I take your point of fact. Agree with you regarding the capacity.
Paul Richardson
49
Posted 27/02/2020 at 16:55:07
Agree with Laurie (6 and 41), Tommy (8) and especially Jay (46)...the current transport plan does not make enough of the fabulous riverside location at the moment, especially as the design clearly makes the proposed stadium a waterside landmark.
That must change, surely? Many thousands of people could get to the ground via the water, from as near to the west as Wallasey, as far as...where?
On a related subject, does anyone else agree the design facing the main road, which, in theory, according to the planning document, will be the main access point, is very disappointing when compared to the awesome riverside aspect?
Brent Stephens
50
Posted 27/02/2020 at 17:21:02
Rob #28 following up your post a bit further, in Figure 7.5.8 the South Stand (Home End) shows "Home Supporters - Upper Tier" and "Home Supporters - Lower Tier".
Rob Halligan
51
Posted 27/02/2020 at 17:50:03
Cheers Steve and Brent. I could have sworn it was a single tier stand, the same as Spurs. Row B on the upper tier will suit me fine. 👍👍👍
Jeff Hough
52
Posted 27/02/2020 at 22:19:54
Great news Jay at 46.
Can't wait for half time to try those chlorinated chicken burgers!
Paul [The Esk]
53
Posted 28/02/2020 at 07:02:05
Tony #42 unfortunately I doubt the seating density can be increased significantly or indeed at all given the seat dimensions only just comply with minimum British Standards.
Brian Wilkinson
54
Posted 29/02/2020 at 00:58:38
Well done, Paul, on another well-put explanation.
I managed so much on all the documents before my head was cabbaged, so cutting out the blah, blah, blah and highlighting the key points is a godsend for me, Paul.
Laurie Hartley
55
Posted 29/02/2020 at 07:56:10
Eric # 40 - I had the same problem on an iPad but I was able to open it on my computer with Adobe Reader.
Andrew Heffernan
56
Posted 29/02/2020 at 12:08:55
I'm confused by this assumption that rail seating will increase capacity. I'm sure I saw interviews with Celtic officials when they trialed this, are they still?? It had Interviews with club, fan group, council safety people and police.
The one thing that came out was that the seats they replaced were like for like, and the converted seat was again like for like... so where will the increase come from by using this type of seating?
Paul [The Esk]
57
Posted 29/02/2020 at 14:05:55
Andrew #56 rhe expectation of greater spectator density arises from the minimum space required in the SGSA green guide per standing spectator.
The guide says each spectator requires 0.21 sq metres. Using the dimensions and number of seats per row the theoretical calculation is as follows:
460mm (seat width) x 700mm (clearway) x 28 (seats per row) = 9.016 sqm. Divided by 0.21 sqm (space needed per fan) = 42.
Thus theoretically 42 could stand in a space with 28 seats (1.5:1)
My understanding is that it would be a number of years of data collection and study of crowd behaviour of safe standing in the Premier League (when permitted) before higher densities would be considered.
Julian Wait
58
Posted 29/02/2020 at 16:00:20
#44 John Raftery - that's a very solid analysis of the situation.
If we can really upgrade to ~62,000 later, I am perfectly okay with the current plan. If we can't, it's still hard to argue against to be honest, especially given the factors around having a full house and generating the Goodison "bear pit" atmosphere that can be so important to the experience and the result.
---
Add Your Comments
In order to post a comment, you need to be logged in as a registered user of the site.
Or Sign up as a ToffeeWeb Member — it's free, takes just a few minutes and will allow you to post your comments on articles and Talking Points submissions across the site.
---
---
© ToffeeWeb