Opinion
Misfits, Mysteries and Nearly-Men – Eric Dier
The mystery here is: why could we not keep Eric Dier? Why didn't he even make it into the Everton first team?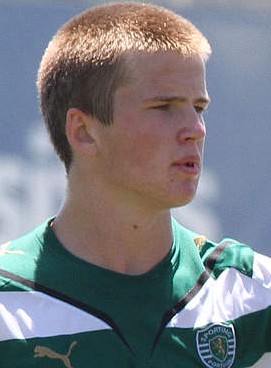 This edition of the Mystery Men series is spurred by some new quotes that appeared today at the Football365.com website:
"If I am completely honest, I absolutely… I didn't hate it but, at the time, I just thought: 'Get me out of here.' It was so different to what I was used to. The lifestyle, the weather, the place, the people… even the language was a factor.
"The scouse accent was tough for me. And, in football terms, it was a lot more aggressive," said Eric Dier, who nevertheless signed on for an extra 12 months in Everton's Under-18 and reserve sides after being sent to Merseyside by his father for a "kick up the backside".
Academy boss Alan Irvine liked him. Manager David Moyes liked him. But the "50% Portuguese" Dier eventually returned to Sporting Lisbon without ever making the step up to Everton's first team.
Sporting Lisbon defender Eric Dier joined Everton on loan in January 2011.   Everton initially signed the17-year-old English-born defender on loan from Sporting Lisbon for the remaining half of the 2010-11 season. 
He was the first Englishman to play for Sporting Lisbon.  Under the mentorship of the iconic Paulo Cardoso (the man who scouted Ronaldo and Nani for Sporting), Dier had been expected to break through into the Sporting first team setup the next season.
Dier was eligible to play for both England and Portugal.   The 6ft-2in centre-back was born in Cheltenham but moved to Portugal aged seven when his mother got a job working at Euro 2004; he was contracted to Sporting until 2013. Although his family have since returned to Britain, he stayed out in Lisbon.
Despite being just 16, he played for Sporting's Under 19s; he has been captain of every junior Sporting side — bar the Under 19s — since he was 11 and when he signed a professional contract in April 2010. Sporting had to fight off interest from Manchester United, Arsenal and Tottenham.
The player, who would be eligible for joint English-Portuguese nationality when he turned 18, is the grandson of former Football Association secretary Ted Croker, and great uncle Peter both played professionally for Charlton Athletic whilst his dad was a pro tennis player.
Before he joined Everton on loan, the Daily Mail reported no-one from the FA had been in touch with Dier about playing for England. It seemed the FA, as with the then Mainz winger Lewis Holtby, were unaware of Dier's existence.

"I think of myself as a little bit Portuguese but I still consider myself English," said Dier at Sporting's academy in Alcochete, on the outskirts of Lisbon. "My dream is to play for England but no-one has ever been in touch about representing them. I don't know if they know about me and maybe it's got something to do with me being abroad. I guess it's hard to come out and watch my games."
 Standing at 6ft-2in tall, he has the makeup to be a commanding centre-half and his coaching at Lisbon`s academy was such that the ball-playing aspect of his play had been greatly nurtured. Dier was a cultured young centre-back whose style has been cultivated by the marriage of contrasting football cultures.
His exploits had been recognised by the Portuguese national team, who attempted to select him for an U17 international. For Dier, though, there is only one international ambition, to attract the attention of the England FA and represent the country of his birth. His development was noticed by Umbro who pressed for Dier to front their England merchandising launch.
After his loan move to Goodison Park, Eric had been working with the Academy Under-18 side but, given his exposure in Portugal, he was expected to move up through the ranks rapidly and it was thought he could be in the first-team squad as early as the next season. Asked about whether he was a typical English centre-half, Dier said:
"I can do that as well but I can pass it and I`m very comfortable on the ball. In Portugal, it`s all very technical and that`s what they emphasise most. People tell me that I am a leader and very competitive. I`m not the quickest but I`ve been working on that — I have seen a speed specialist, Margot Wells, for the last two summers — but I think I read the game well, which compensates a bit. I don`t really like to compare myself to anyone but I like watching Nemanja Vidic, Ricardo Carvalho and Gerard Pique."
Dier helped Everton Under-18s to win their group in the FA Premier Youth League, and they went on to win the 2011 national Playoff Final with him against Fulham.
Already tipped as a future Premier League performer and England regular, Sporting sanctioned Dier's loan move to Finch Farm so he could "grow in a more competitive demanding and environment". He was ineligible for David Moyes's first team, however, and Sporting would want a multi-million pound fee for any permanent transfer. 
Another obstacle could be third-party ownership, with Sporting having sold 50% economic rights of the player to a third-party owner, "Quality Football Ireland Limited".
Eric Dier returned to Sporting Lisbon after his initial half-season loan expired, but was then secured on a full season loan for the 2011-12 season and went on to be a lynchpin for both the Under-18s and Everton Reserves as he notched up 29 more appearances, many of them as captain.
He looked to be an excellent prospect with the potential to make to the first team — if only he would have been allowed to play for the Blues! He had all the attributes a top centre-half could need: he's a tall lad so wins a lot in the air and is a threat from offensive set plays.
He has decent pace but also excellent reading of the game, he's not staggeringly quick yet is hardly outpaced. His technique is top notch and he likes to play the ball about on the floor and is comfortable in possession and starting plays from the back.
He was expected to make an excellent Premier League defender but it would not be with Everton. Sporting would not let him go cheaply, with a price tag of £5 million which was a huge amount for a 17-year-old back in 2012. He was also one of these players with strange registration agencies — much like Carlos Tevez.
Sporting said they saw his time with Everton as more of an experience to play at a tougher level than in Portugal, so they probably expected he would end up moving to the Premier League at some point in his career. It was hoped his time at Everton had put them in a strong position, and news in March 2012 that Sporting Lisbon had bought back that 50% interest from QFIL was expected to smooth the path for a future transfer...
But it was not to be, as David Moyes made it crystal clear he had no chance of breaking through into the first team, and he returned to Portugal after 18 months on loan at Everton Academy, without ever getting near the first-team squad.
A later interview with then Academy Director, Alan Irvine was revealing:
 "I didn't feel Eric was being stretched. I sat in a meeting with David Moyes [the Everton manager at the time] and told him that being with the Under-18s was no good for Eric and that he needed to train with older players — the first-team squad, the Under-21s.
"He was kind of coasting a little bit. I'm not saying the Under-18s was too easy for him but he was going through the motions and that wasn't good. I got the impression he didn't feel he was quite being tested enough.
"Some players are happy just to be the best in their age group but it was clear that Eric needed to be challenged. So David took him to work with those squads and he performed well enough to stay with them during the rest of his time with the club. David wanted to sign him but in the end he went back to Sporting."
The terms of Dier's loan made it clear that there was never any serious chance of him signing for the Toffees, despite the positive impact he made.
"Some boys will do what the coach asks and not think about it but you always had the feeling with Eric that it was important he understood why you had made a certain suggestion," Irvine added. "I have no problem with that because I like 'thinking' players.
"In order to play at the top level, you need to be intelligent and Eric was a thinker. Because of the Portuguese background, he was a bit different from some of the other kids and he always thought things through. He played at centre-back, right-back and midfield for the younger teams at Everton, though I don't see him as a right-back. I'd probably lean towards him being a defensive midfielder rather than a centre-back.
"He is a good size, he can head it, he is composed on the ball and he understands what it is to be a centre-back, so he can help them."
Dier joined Tottenham Hotspur in 2014 on a five-year contract for a fee of £4 million, and played an increasingly influential role in their defence.  In September 2015, he would attract the ire of Evertonians with a dubious scissors tackle on Tim Cleverley in the Premier League game at White Hart Lane that went unpunished but would put Everton's new signing out of the game for the next 3 months.
Dier would go on to be a lynchpin in the Spurs team that made an impressive charge at reigning in the runaway Premier League leaders, Leicester City in 2015. He would continue to have success at White Hart Lane, although his utilization has dropped significantly over the last two seasons there.
Reader Comments (15)
Note: the following content is not moderated or vetted by the site owners at the time of submission. Comments are the responsibility of the poster. Disclaimer
Dave Abrahams
1
Posted 03/04/2020 at 16:59:03
I can't understand why he came here initially and was then signed for another season, when according to reports it was common knowledge he was just coming to learn at Everton with no chance of him ever signing full time for the club.
All he did was keep another young lad of getting the chance to play for Everton, why did Moyes, or whoever sanctioned this, allow this to happen?
By the way did Everton receive any payments from Sporting Lisbon for letting this lad learn his trade at Everton?
Peter Neilson
2
Posted 03/04/2020 at 17:36:48
From another interview with Dier it seems that he only ever saw this as a loan and had no intention of taking it further. Maybe that lack of intent at our club prevented him from pushing himself?
"I was at Sporting Lisbon and there were different reasons I needed to leave at that time, Everton were willing to do a loan deal because I didn't want to leave Sporting for good, they were willing to see how things went and they were really good to me," he reflected.
"I was there for half a season (2010-11) and then a full season (2011-12) and it went really well. I learned a lot there. It was quite an eye-opening experience for me, very different in many ways to Portugal and when I went back to Sporting, I was much better for it."
John Raftery
3
Posted 03/04/2020 at 17:51:55
Good questions, Dave (#1). Possibly we had a gap at centre-back in the development squad ranks but I suspect more likely is that we did not have £5m to spend on a youth centre-back in the summer of 2012. We ended up buying John Stones for £3m in January 2013. Possibly we already had our eye on him at Barnsley?
Dier was a member of the same England Under-20 squad as Stones, Lundstram, Garbutt, Barkley and Kane. At the time, I thought Kane was poor but he turned out to be the best.
I remember the tackle on Tom Cleverley. It merited a red card.
Dennis Stevens
4
Posted 03/04/2020 at 17:57:35
I only have the vaguest recollection of Dier from that match at Craven Cottage. Oddly, there seemed to be at least as many Blues there as Fulham supporters.
Tamhas Woods
5
Posted 03/04/2020 at 18:26:58
Bubble burst after the 2018 World Cup. Mustafi and Rodwell are way bigger losses in the context of our current situation.
Liam Reilly
6
Posted 03/04/2020 at 18:28:51
I don't see anything special in him as a player to be honest. A bit like when Xavier moved to Liverpool; didn't really care and still don't.
Eddie Dunn
7
Posted 03/04/2020 at 18:43:19
I think Moyes had little choice in the matter, his ownership was complicated and money was in short supply. I do wonder what Moyes would have done with a few bob at his disposal. I suspect a lot better than Martinez and Koeman.
As for Dier, considering he was schooled in the technical environment of Portuguese footy, the lad looks suspiciously like an old fashioned English yard-dog.
I have seen his famous "scissor" tackle several times, the first leg tripping the opponent and the other leg joining it in a snare. A very dangerous move, more akin to MMA than football. An above-average Premier League centre-back but nothing more.
Alderweireld and Vertonghan are superior and Eric is merely a defensive mid or a cover in case Vertonghan needs to go to left-back. He has also had his spats with his coaches (he needed a kick up the arse), perhaps suggestive that this feller was moved up the ranks due to nepotism, and was always expecting quick promotion.
Alan J Thompson
8
Posted 04/04/2020 at 05:35:32
I'm just wondering if this wouldn't have been more relevant on the Fact-Check; How old are the U-23s thread.
Wasn't it rumoured at the time that he and Mustafi thought they should have been given more opportunity and this is the first time I've heard that his loan included him not playing in the 1st XI which would have required/triggered a transfer fee.
Michael Kenrick
Editorial Team
9
Posted 04/04/2020 at 09:58:53
It's a strange one, Alan. Seems there are a number of takes on this but, since it was a while back that he played for us, I thought it might be better as a separate question.
I can recall having the impression that his loan agreement with Sporting Lisbon prevented him from playing for the first team... but that may have only applied to the first spell, when his third-party 'owners' were a factor.
The puzzle for me in the second loan spell was him being 'promoted' to train with the first team by David Moyes, but Moyes himself pretty much saying he wasn't good enough to warrant a chance of actually playing for the first team – which makes it sound like he would have been allowed to but Moyes held him back and that was what grated for Dier.
Who knows? I thought it was of passing interest yesterday... Today? Not so much!
Peter Gorman
10
Posted 04/04/2020 at 10:27:43
Moyes had Jagielka, Heitinga and Distin at centre-half, with Shane Duffy up and coming and Yobo still on the books - why would he even contemplate playing a 17-year old Dier even if he was eligible.
Paul Birmingham
11
Posted 04/04/2020 at 12:24:38
Reflecting it seems in that era our transfer and loan policy was hit and miss. Floored stratedgy and wasting time money and opportunities for other lads at the club. May be David Moyes would be able to clarify ?
As a player I don't rate him and there were better players at the club at his time at a Goodison, but it seems that he's been masked and is now an average player whom is on the wane.
Peter Gorman
12
Posted 04/04/2020 at 15:28:38
In THAT era, Paul? surely not, if there was one thing that was way more hit than miss for Moyes it was in the transfer market.
Now since then, a totally different story.
Alan J Thompson
13
Posted 04/04/2020 at 16:12:22
Michael (#9);
Not at all as my face to face conversations seem to be with a Checkout Chick every three days when the milk runs out. I've always appreciated the "Where are they now" articles and news of players out on loan and this falls under those banners.
Much appreciated.
Mark Andersson
14
Posted 04/04/2020 at 23:47:02
Great article, took days to finally load up...
I don't think Moyes would have done any better if he had more money to spend at the time. His record after leaving shows that.
Franny Porter
15
Posted 08/04/2020 at 09:17:24
Danny Williamson would be a good one.
---
Add Your Comments
In order to post a comment, you need to be logged in as a registered user of the site.
Or Sign up as a ToffeeWeb Member — it's free, takes just a few minutes and will allow you to post your comments on articles and Talking Points submissions across the site.
---
---
© ToffeeWeb