Opinion
Misfits, Mysteries and Nearly-Men – Aiden McGeady
This time, we examine the checkered Everton career of another player that Roberto Martinez brought in during that very good first season with the club. But this was one who never really came close to repaying the faith expressed in him, nor the remarkable salary Everton paid him for an astound 4½-year contract that yielded just one goal in 23 starts.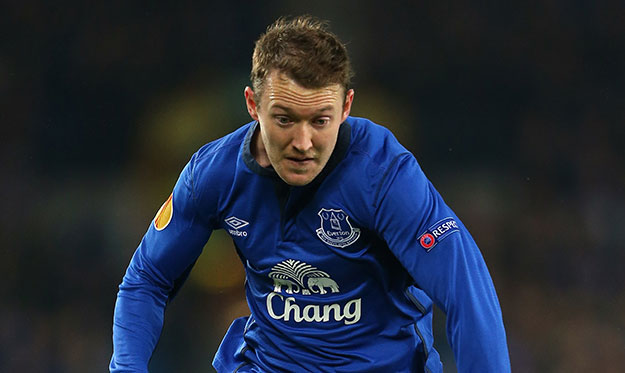 Long an admirer of the Irish international midfielder, Roberto Martinez moved to finally land winger Aiden McGeady for Everton in January 2014 after losing out to Spartak Moscow for his services during his time as Wigan manager.
An established Republic of Ireland international, McGeady had spent 4 years in Russia after his £9.5m move from Celtic in August 2010 but, after 72 appearances and 11 goals, he had fallen out of favour with Spartak's manager and become surplus to requirements.
McGeady was officially transfer-listed in December 2013 but looked destined to run his contract down to its conclusion the following June before Everton stepped in with an undisclosed bid to sign him during the January 2014 transfer window.
Born in Denny in Scotland, McGeady came from a footballing family – his father, John, was was once offered a contract by Everton. He came through the ranks at Celtic and became one of the Glasgow giants' best players. During his time at Parkhead, he won four Scottish League titles and a pair each of Scottish FA Cups and Scottish League Cups.
He became Scotland's most expensive export when he left for Moscow where he made an instant impact, being named in the Russian Football Union's best 33 players.
A tricky, old-fashioned winger, McGeady liked to take on defenders with quick feet and pace primarily down his preferred right flank. Like teammate James McCarthy, though he was born in Scotland, he opted to represent the Republic of Ireland at international level and had 63 caps by the time he signed for the Blues.
McGeady made his Everton debut as a substitute in a 1-1 draw at West Bromwich Albion in January 2014 and was handed his first start in an FA Cup Fourth Round tie at Stevenage the following week where he helped the Blues to a 4-0 win.
But he got relatively few starts in his first half-season at Everton, being called out as a sub on more occasions, but failing to really deliver the goods, with no goals and just two assists, despite plenty of earnest-looking and occasionally tricky wing play.
His first full season was similarly frustrating, with erratic form following a cracking goal at Leicester on the opening day of 2014-15 and then injury and suspension sidelining him after the New Year. 
With a demonstrated ability to affect matches, however, particularly off the bench as an "impact sub", McGeady had a place in the Blues' squad, as Martinez confirmed when dismissing rumours that the winger might be leaving Goodson in the summer of 2015.  The Liverpool Echo reported that Everton were prepared to sell the winger during the transfer window but it is believed McGeady turned down moves to Norwich City and Sunderland on transfer deadline day.
However, he would not be fit to start the new season, succumbing to a hamstring injury that would keep him out for the first few weeks of the following season.
In the interim, the form of Gerard Deulofeu, who had returned to the club on a permanent basis, and the presence of the more dependable Aaron Lennon meant that McGeady became completely frozen out of the first-team picture at Goodison Park, with the 30-year-old later admitting that Martinez had informed him he was no longer part of his plans after a poor showing in the Capital One Cup tie at Barnsley – his only senior appearance for Everton in the whole 2015-16 season. 
By the time the winter transfer window opened in January 2016, he was largely viewed as surplus to requirements and reports surfaced that he would be made available for loan for the second half of the season, his inordinate wages (rumoured to be £60k/wk) the main stumbling block to a permanent move to a more fitting environment.  After two years on the fringes of the Everton squad, he was forced to drop down a division to the Championship, accepting a loan deal with Sheffield Wednesday in search of first-team football.
Initially resistant to move down to the Championship, McGeady ultimately had no choice if he wanted to remain in the thoughts of Martin O'Neill for Euro2016. However, while it had been expected that a player with his talent and experience would be a vital part of the Owls' promotion push, he wasn't even in their squad at all for the Championship playoff final at Wembley.
That surprised his international manager who would be giving McGeady and players like his Everton club mate, Darron Gibson, extra training sessions as they prepared for a friendly against the Netherlands ahead of Euro2016:
"Yes, yes, I am [surprised]," O'Neill said in the Irish Examiner. "He made the effort to go out on loan in January and that was commendable, obviously thinking about the Euros.
"If he wasn't going to get a game at Everton, he wasn't going to sit around so Sheffield Wednesday looked ideal for him.
"I could understand the manager not starting him in some games, or playing him and taking him off, because maybe he did not think his match fitness was really there. But, for whatever reason, he wasn't involved in the second (semi-final) leg at Brighton.
"Then the manager told him he wouldn't be involved in the final."
Having fallen out of favour with Martinez, it was fully expected that McGeady would move on from Everton in the summer had the Catalan remained in charge.
That uncertainty didn't stop him going to the Euros with the Republic of Ireland, and playing in the pivotal group game against Italy, who they beat 1-0 to progress to the knock-out stage.
The Paisley-born winger was not expected to have a future at Goodison Park, despite having 2 years yet to run on his current contract; however, he was given the chance to impress new manager Ronald Koeman in a couple of pre-season games... and failed miserably.  It was no surprise then, that his shirt number had been given to Gerard Deulofeu in the new season squad list, and he would later move to Preston in a season-long loan deal for 2016-17.
McGeady did well in the Championship, scoring 8 goals, and he was ultimately voted Player of the Year for Preston, with an option for making the move permanent. McGeady would later hint that the Preston chance fell through because they could not afford him, even though Everton were asking very little by way of a fee.
He ultimately ended up following manager Simon Grayson to Sunderland, completing the move in July 2017 for an undisclosed fee thought to be between £250k and £500k.   
Reader Comments (20)
Note: the following content is not moderated or vetted by the site owners at the time of submission. Comments are the responsibility of the poster. Disclaimer
Simon Jones
1
Posted 01/06/2020 at 10:17:44
Seemed to be well thought of at Sunderland (having watched both Netflix "Sunderland 'til I Die" series) and possibly one of those players whose skill sets were not backed by any natural athleticism. I'll never forget how unlike a PL footballer he looked when he was presented to the crowd. Perhaps the slightly slower pace in the Championship & League 1 suited him, after all, he was hardly a terrible player.
Paul Richards
2
Posted 01/06/2020 at 10:27:47
It's just depressing being reminded of this. Okay so he was a cheap date but boy did he fail to deliver.
It says Martinez had always wanted him. Why? What possible qualities did he really possess? It's another saga that tells the world how useless we have been at finding real talent, when we brought in rubbish like this.
Now I just feel very depressed. When is the transfer window going to open so we can put our weight behind the next big game-changer?
Richard Duff
3
Posted 01/06/2020 at 12:12:24
Martinez was hot for him for yonks, to the point it seemed we were linked with him every window for about 3 years before he even arrived. By the time he did arrive, he was old news and on the way down.
As others have said, no athlete and best suited to football from 30 years ago (or Division 3) where a winger could neglect defending and have a rest every 5 minutes.
Some wingers would fare better with two target men to aim for in the middle, I don't think that would have made a difference for Aiden.
Tony Abrahams
4
Posted 01/06/2020 at 12:44:06
Possibly made a fortune in Russia, and it may have given him a completely different mindset and attitude, because he came to Everton unfit, and never once looked like he pushed himself to become an effective member of the team.
Peter Gorman
5
Posted 01/06/2020 at 12:58:32
McGeady could have been an excellent signing.
For Wigan.
Robert Tressell
6
Posted 01/06/2020 at 13:00:04
What we learn from this, and Niasse and Bilyaletdinov, is that the standard in Russia is not great. It's also much less physical and dynamic than the Premier League – and possibly more able to accommodate technical players who don't have much oomph.
Niasse probably did well(-ish) because his all-action, haphazard style presumably confused the hell out of defences used to coping with tidy footballers like Hleb, Zhirkov, Arshavin and Bilyaletdinov (albeit inferior versions).
It's hard to think of many Russians (as distinct from Ukranians) who have flourished in a major league. Conclusion: stop signing players from the Russian league unless (like Malcom) they've already shown they can cut it in Western Europe.
Kevin Prytherch
7
Posted 01/06/2020 at 13:08:47
Another thing to learn is to be wary of free, or cheap contract clauses, as they often come with inflated wages and long contracts.
Bernard is our top earner on around £120k per week and is a rotation player.
Sandro was a cheap clause – and we still have him.
McGeady got 4½ years on £60k. If we were actually buying him, I reckon it would have been less wages and a shorter contract.
Jermaine Beckford was a relative success for a free.
Are there any others we've been stung by?
James Flynn
8
Posted 01/06/2020 at 13:13:50
What I remember about him is when he was introduced at halftime. So out of shape, he was actually fat.
Peter Gorman
9
Posted 01/06/2020 at 13:34:45
Here is an interview with McGeady on his time at Everton and his recollection is actually pretty much the same as ours.
Aside from the comings and goings he discusses, things to note are the fact that all players in Russia smoke and that our late Roberto Martinez didn't half love to flannel his players
Robert Tressell
10
Posted 01/06/2020 at 13:48:09
Kevin - the list of recent transfers we haven't been stung by is shorter. Richarlison, Gomes and Digne have all worked out well considering outlay.
There's a few more who we probably all have mixed feelings about, eg, Sigurdsson, Mina, Pickford, Keane and Bernard. Everyone else (apart from young lads bought a while ago for peanuts) have looked like expensive (fee and / or wages) mistakes.
No-one yet knows for sure which category Kean and Iwobi fall in but I am confident that there are dozens of players around Europe who would have delivered much more for a lower fee.
John Raftery
11
Posted 01/06/2020 at 15:39:25
McGeady was a terrible player. He was first mentioned as a possible signing around 2008-09. After that, I watched him a few times playing for his country and thought he was awful. When we eventually did sign him he was even worse.
Martinez said he had 'de-trained' during the few weeks before he arrived. What that revealed for me was a poor attitude and a lack of ambition. We should have sent him packing. For me, the arrival of this joker was the beginning of Martinez's rapid decline as a respected manager.
Terry White
12
Posted 01/06/2020 at 17:06:26
I recall McGeady playing a delightful through ball for Mirallas to score at Fulham. And, of course, he recycled the ball back into the goal area for Jagielka's screamer at the Kop end.
Kevin Prytherch
13
Posted 01/06/2020 at 17:28:02
Robert, I was just looking at the so called "bargains" that we get on free transfers (or cheap in Sandro's case).
People always think it's worth a gamble, but then we're stuck with them for ages if it doesn't work out.
Robert Tressell
14
Posted 01/06/2020 at 18:23:07
Kevin - I see. Beckford was quite a fun signing. Sort of like Niasse in the sense of posing a goal threat without being much good at football. With a player like Bernard you basically pay the transfer fee to the player in instalments of huge wages, instead of to the selling club. Possibly cost effective but as you say makes the player hard to shift mid-contract.
As for others, didn't we sign Lucas Neill on a free and then sell him shortly afterwards?
Steve Carse
15
Posted 01/06/2020 at 19:00:43
Robert (14), yes we did. Sold him after half a season. He played well when here and was enjoying his time. Then an un-Everton thing happened. The opportunity to make money on a free transferee arose – and we took it.
A great piece of business thinking and a profit of around quarter of a million I think. Doubtless the Board member who engineered it was subsequently removed for being a smart arse and not thinking in the Everton way.
Jerome Shields
16
Posted 02/06/2020 at 09:11:19
I hoped McGeady would have been a success, but he wasn't up to the standard required. He did well out of the Everton transfer, he had a good agent. A lot of Everton players have good agents, though how good are Everton at negociating contracts?
Steve Hogan
17
Posted 02/06/2020 at 09:21:14
Re the Beckford signing, did he score the 'wonder' goal against Chelsea were he picked up the ball in his own half and then proceeded to run the whole length of the pitch before scoring?
Simon Jones
18
Posted 02/06/2020 at 15:11:55
Steve @17
Saw that video of Beckford's goal over on Twitter the other day, someone commented along the lines of, "Never has a player mis-controlled a ball the entire length of the pitch and still slotted it home so calmly."
Steve Hogan
19
Posted 02/06/2020 at 17:58:29
Agree, it bobbled, bounced, deflected, how on earth he managed to find the net at the end of such a passage of play is still a mystery.
At that point we should have wrapped him in cotton wool and sold him for £10M – only joking, by the way.
Kevin Latham
20
Posted 02/06/2020 at 23:22:32
I liked him at Celtic and thought he might do well for us. But when he was introduced to the crowd he looked like Joe Anderson after a night out at Maccies.
Turned out a huge disappointment (McGeady, not Joe), couldn't really cope with the Premier League and didn't look like he wanted to. I haven't heard him speak well of us since he went, even though we gave him the big stage.
Flattered to deceive, I always had the impression – I could be wrong – that he thought he was a better player than he was.
---
Add Your Comments
In order to post a comment, you need to be logged in as a registered user of the site.
Or Sign up as a ToffeeWeb Member — it's free, takes just a few minutes and will allow you to post your comments on articles and Talking Points submissions across the site.
---
---
© ToffeeWeb