Everton History
Names of the Nineties: Daniel Amokachi
Paul McParlan

10/09/2019
26

comments | Jump to last
After Everton's escape from relegation at the end of the 1993/94 season, Birkenhead-based businessman Peter Johnson, once the owner of Tranmere Rovers, was now in charge of the Blues and brought with him promises of a bright new future. Given his success at previous club, levels of optimism were understandably raised amongst Evertonians.
Johnson promised "world-class" big money signings, with the aim of returning Everton to English football's elite, and the likes of Jürgen Klinsmann and Roberto Baggio were linked with the club.
Finally, two weeks into the season, the search for a marquee signing ended when Nigerian international Daniel Amokachi, who was one of the standout performers at the 1994 World Cup, put pen to paper. Arriving for a fee of £3m, he became the club's record signing. Given that Everton were anchored to the foot of the table, his acquisition was something of a coup.
Amokachi's credentials were impressive. Still only 21, like many young African footballers of his generation, he started his professional career in Belgium, where he played for Club Brugge, scoring 35 goals in 81 appearances. He holds the record for scoring the first-ever Champions League goal, netting for Brugge against CSKA Moscow in November 1992.
Amokachi's breakthrough year came in 1994. In April, he was a member of the Nigeria team that emerged victorious at the Africa Cup of Nations. Later, in the World Cup, in scoring a stunning strike against Greece he ensured that Nigeria topped a strong group, above Argentina and Bulgaria on goal difference. A narrow defeat against Italy during the next stage halted their progress but Amokachi's performances grabbed the attention of clubs such as Juventus. His speed was a constant threat to defences and he claimed that he could run 100 metres in just 10.1 seconds.
Everton manager Mike Walker's original intention was for him to form a partnership with the Brazilian Luís Müller, who, the club announced, they were on the verge of signing. However, in a classic case of an Everton transfer farce, Müller arrived at Goodison to complete his move and quickly scarpered when he discovered the salary offered was not tax-free. One can only speculate as to how fruitful that pairing may have been.
Yet,the successful acquisition of Amokachi proved to be noteworthy for another reason. He became the first high profile black player to sign for the club, at a time when Everton had somewhat unfairly been dubbed "racist" by sections of the media, ignoring the fact that Cliff Marshall made seven appearances for the club in the mid-1970s. One football periodical, in its guide to the 1994/95 season, even preposterously produced a wallchart showing Everton with a 'no blacks allowed' badge.
The fact Everton had attracted a high-profile African striker to the club guaranteed that he became the centre of attention. The player was always engagingly diplomatic when questioned on this sensitive topic, answering every query politely and outlining his reasons for joining the club. His unwavering affability and eagerness to impress defused any potential flashpoints. Most Everton fans dreamt that he would make the same impact as John Barnes had when he arrived at Liverpool.
Amokachi was introduced to the crowd at Goodison Park before the game against Nottingham Forest. The rapturous reception he received from all sections of the arena showed that footballing ability was all that mattered to the fans. Everton then proceeded to lose the game 2-1, showing how desperately the club needed a player of his pedigree.
After some difficulty securing a work permit, he made his debut in a 3-0 defeat away at prospective champions Blackburn. On 17 September 1994, he impressed on his home debut scoring against QPR in a 1-1 draw. Despite the goal, he fluffed a handful of clear chances and his lack of heading ability was an immediate concern.
Those doubts resurfaced as he failed to find the net in his next 11 games, by which time Walker had received his P45. Despite his lack of goals, Amokachi's rampaging style and searing pace endeared him to the denizens of the Street End who in turn offered continual vocal support.
New manager Joe Royle introduced a more defensive system to stem the flow of goals conceded. He brought on Amokachi as a substitute against Liverpool and, playing in his preferred withdrawn striker role, he contributed to Everton's crucial victory. Unfortunately for him, that evening produced a new fan's favourite in Duncan Ferguson, and Royle knew who he preferred to be his main striker.
The Nigerian didn't feature in a first-team squad again until mid-March, not even making the substitutes bench. When both Paul Rideout and Ferguson were missing due to injury at QPR in March 1995, Royle recalled the inept, ineffectual, insipid and incompetent Brett Angell to lead the line, though at least Amokachi was named on the bench. Little did he realise that his fortunes were about to change, with Everton's supporters playing a role.
Angell's performance was even worse than anticipated and when he was booked after 25 minutes, some of the Everton fans could be heard shouting "Send him off! Please!" When he lost possession with his next touch, the roar from the away section grew louder and the chant "Amo! Amo!" echoed around the stadium.
QPR led 1-0 at the interval. At the start of the second period, Amokachi appeared and a new dynamism was added to the Everton attacks, which culminated in an Andy Hinchcliffe free-kick in the 90th minute sealing a 3-2 victory. Amokachi's appearance turned the game and he was now back in the manager's thoughts.
He played in the next game, a 2-1 home defeat to Blackburn, but was back on the bench for Everton's biggest game of the season, the FA Cup semi-final against Tottenham. Although Spurs were clearly favourites, Everton quietly fancied their chances. In a scintillating performance, Everton were leading 2-1 but Tottenham remained in the ascendancy. With 20 minutes remaining, Rideout picked up a knock and Royle told Amokachi to warm up.
Trainer Les Helm signalled that Rideout would be unable to continue, but Royle wanted to give him another five minutes. On the touchline, tracksuit off and ready for action, the Nigerian felt that this was his moment. He convinced another member of the coaching staff that Royle wanted to bring him on and suddenly his name was on the substitute's board. With the manager shouting frantically, Amokachi ignored him and entered the pitch. He said to himself "I hope this works", as if it didn't it could have proved to be his last game for the club. Royle watched on helplessly.
Fortunately, the self-appointed substitute made the right call. Eight minutes from the end, Anders Limpar charged forward and played a pass to Graham Stuart who crossed the ball for Amokachi to head home to make it 3-1. With a minute remaining, Gary Ablett led a counter-attack and, once again, the Nigerian smashed the ball home, sealing a memorable 4-1 victory for Everton. He milked the applause of the adoring fans as the chant of "Amo! Amo!" reverberated around Elland Road.
Afterwards, Royle ironically mused that the introduction of Amokachi was the "best substitution I never made" and took no credit for the match-winning switch. Privately, within the sanctum of the dressing room, he informed the hero that if he tried a stunt like that again, he would be out of the club.
Royle now had little option but to start Amokachi and he played in seven of Everton's last eight fixtures, scoring a further three goals. However, once again, Royle appeared not to trust him for the big occasion as he only appeared as a substitute in Everton's FA Cup final victory over Manchester United. Nevertheless, for a youngster who had grown up in Nigeria watching the finals year after year on TV, this was still a moment to remember.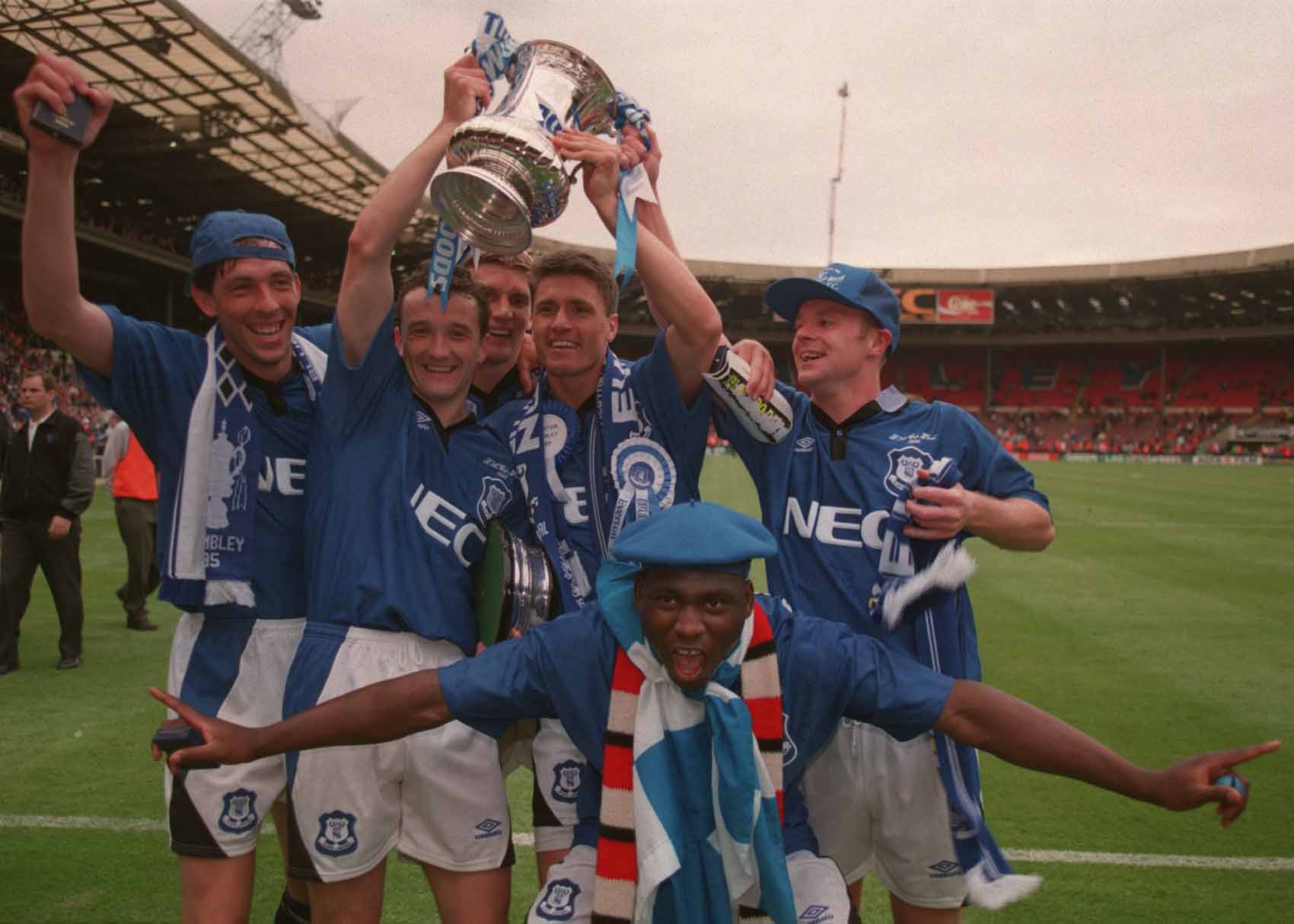 With Ferguson absent for most of the first half of the 1995/96 season, Amokachi earned himself a regular place in the starting XI, yet a return of three goals in 16 games saw him lose it not long after. After February, he made just four more starts for the side. It was obvious that his future was insecure and, as he entered the final year of his contract, Everton, realising that he could soon leave for nothing, were anxious to attract a buyer.
During the summer, Amokachi had, not for the first time, shone in a major tournament, scoring for Nigeria in their Olympic final victory over Argentina in 1996. Despite this, the club accepted an offer of just £1m from Turkish club Beşiktaş. Although the move was initially successful, a persistent knee injury meant his career was over before the end of the 90s.
Perhaps Royle was simply the wrong manager to utilise the range of unique skills that Amokachi offered to the team. The manager could be quite dogmatic and inflexible in his thinking at times and Vinny Samways was another skilful and popular player whose face simply didn't fit. Midfielder Joe Parkinson was amongst many players who felt that the decision to release Amokachi was an error.
Yet Amokachi is still revered by Everton fans of all ages, who thrilled to his rumbustious style of play and his infectious never say die attitude. Most of all, though, the Nigerian is remembered for those stunning goals at Elland Road that set Everton on their way to win their last trophy to date. Daniel Amokachi: a gamble that never quite hit the jackpot but was certainly well worth the punt.
This article was originally published on These Football Times as part of their Names of the Nineties series and is reproduced here by kind permission of the author.

Follow @paulmcparlan
Share article:
Reader Comments (26)
Note: the following content is not moderated or vetted by the site owners at the time of submission. Comments are the responsibility of the poster. Disclaimer
Phil (Kelsall) Roberts
1
Posted 10/09/2019 at 08:44:09
I was there for the first game back for Duncan after his holiday in Scotland paid by the tax payer.
We were playing WHU and Dan was one of the strikers. He was about to score when their goalie Ludo Miklosko grabbed Dan around the head. Red Card and Penalty followed as we won 3-1.
After the game the West Ham team were furious as they claimed Miklosko was grabbing at the ball to which Joe Royle dismissed the suggestion in the strongest possible terms with "I don't see how, the ball is white and Dan's head is black"
Probably now get banned from the site for Racism - and so too will Joe Royle.
Peter Mills
2
Posted 10/09/2019 at 14:04:37
Like Mike Trebilcock, an Everton legend for scoring 2 goals at a vital stage of an FA Cup victory.
As the saying goes, you have to grab the opportunity of a lifetime within the lifetime of the opportunity.
Andrew James
3
Posted 10/09/2019 at 14:17:05
Was at Loftus Road. Amo changed us. He seemed to open up space with his running and flicks.
He never seemed to work with Big Dunc, which was problematic. He had the ability to read players like Limpar and Kanchelskis and we looked like a really good footballing side but Royle couldn't reconcile that with the Dogs of War spine he'd put in with a Rideout or Ferguson up top.
I think the long injury absence for Kanchelskis probably didn't help Amo as he was one of the few who could keep up with him and break with him, like at Blackburn towards the end of 95/96.
Cracking player yet like many of that era, was unable to cement himself in a team struggling to convert from a relegation threat to FA Cup holders and challenging for UEFA cup qualifying places in only 12 months.
Anthony Flack
4
Posted 10/09/2019 at 14:36:11
I was at Leeds for the semi behind the goal he scored in
Absolutely unforgettable - !!
Peter Gorman
5
Posted 10/09/2019 at 17:23:43
About a year ago, Daniel Amokachi returned to the club for a visit and for those who didn't get a chance to see it, here is the link;
Confirms what many of us already knew; he is a top lad and now a total bluenose.
Peter Thistle
6
Posted 10/09/2019 at 20:53:22
Always liked him, his turn of pace was quality, good skills and the cheek to sub himself on. Top geezer.
Paul Birmingham
7
Posted 10/09/2019 at 22:27:57
Some great memories and it seems like yesterday. A skilful player at a time we had to play survival football.
I believe he now coaches in Finland, but is still a Bluenose, through and through.
Andy Crooks
8
Posted 10/09/2019 at 22:39:37
Did Duncan Ferguson turn up unexpectedly for Daniel's wedding in a kilt? Or did I, as happens more and more, dream that? I will never forget that Spurs game. He should have had a hat-trick.
Dave Williams
9
Posted 10/09/2019 at 23:05:11
You're right, Andy. I think it was held in Dubai. The Spurs game was the best we played in the whole decade. Joe Parkinson was magnificent and looked a future England player. Daniel stuck two goals away and I loved him to bits. Such a shame he was moved on but, as mentioned, he is a true blue.
Dennis Stevens
10
Posted 11/09/2019 at 12:35:17
I still marvel at the fact Walker remained in charge after the end of the 1993-94 season – what were they thinking?!
Stephen Brown
11
Posted 11/09/2019 at 20:05:13
I enjoyed that, Paul! Good memories despite the average team!
As a 17-year-old enjoying the cup run and win, I never thought I'd get to 41 and not see another pot lifted!
Robin Cannon
12
Posted 11/09/2019 at 22:38:32
I'd forgotten the total farce of the Muller deal. Didn't he wear a red blazer to visit Goodison?
Given all the pressures of joining a genuinely dire team, and then a new manager who played a very different style, Amo did OK. The semi-final at Elland Road is still one of my favorite experiences ever. Up to and including Big Nev grabbing a Spurs fan pitch invader by the neck and throwing him towards the touchline in no uncertain terms.
Let's not sugarcoat it. That reputation for racism wasn't massively unfair or ill-deserved. Having to go back to seven appearances from Cliff Marshall in the 70s to prove that we weren't is more damning than supportive.
Joe McMahon
13
Posted 11/09/2019 at 22:43:11
Steven@11, I'm 50 tomorrow, I know exactly how you feel, I was 25, half my life ago!
Brian Wilkinson
14
Posted 11/09/2019 at 00:04:24
Robin, what about Ravaneli when we refused to pay his utility bills in the deal and he refused to sign, or was that another player?
Don Alexander
15
Posted 12/09/2019 at 00:25:22
Daniel "I'm-a taxi"; big, black and used to carrying passengers. That was the oppo's quip at the time and it was fairly accurate. Kenwright probably used his signing to justify endless cheapo non-entities when he took over from Johnson....... for decades.
Don Alexander
16
Posted 12/09/2019 at 00:33:05
And on alleged racism, come on, our signings record from the sixties, seventies and eighties is deplorable in terms of "inclusiveness".
Just saying..
David Pearl
17
Posted 12/09/2019 at 01:46:16
Another great read. And thanks to Peter, 5 for the link.
Steve Ferns
18
Posted 12/09/2019 at 09:41:36
I don't think you can so easily dismiss the racism, especially the casual racism at the time. I remember going to the game with an aunt's father in 1994, when I was about 15. Amokachi was a big favourite of mine being this exciting exotic player I'd seen on telly scoring that goal against Greece. The old fella was and still is an absolutely lovely man, but I was amazed at his choice of words to describe Amokachi. It was only casual racism but racism nethertheless.
I think between Amokachi and Kevin Campbell, who arrived a few years after Amo left, perceptions were changed and thankfully you never hear language used like that anymore, even if it was supposedly affectionate.
As for Amokachi the player, I think he never quite delivered on the hopes I had for him. He scored just 13 goals in 48 games in his two seasons here, though he was often sub or subbed. Maybe he would have profited from the modern game or more attacking tactics from the manager.
I'll never forget the stories at the time where it was continually suggested he was much older than he said he was, ie not 21 but approaching 30. That was obviously a load of crap but another example of the attitude to African players back then.
Brian Wilkinson
19
Posted 12/09/2019 at 13:46:08
Steve, I am pretty sure Yakubu had a doctored birth certificate, there was no way he was the age he said he was, never heard the one about Amo though, must have missed that one.
Steve Ferns
20
Posted 12/09/2019 at 14:16:09
Brian, Amokachi retired at 28 due to injury and it was said he had the knees of a 40-year-old.
The thing with the pair of them is you can see them both on social media, both big Evertonians by the way as is Yobo, and they look their age. That is 36 for Yakubu and 46 for Amokachi. If they were say 10 years older, then Amokachi would not still look like he could put a pair of boots on and get out there. Yakubu still looks like he is still playing. He's in great shape.
I think the issue with Yakubu is he made his debut in Israel at 15 and then moved to Israel's biggest club (Maccabi Haifa) and scored goals in the Champions League at 16 and 17, think one was against Man Utd. This caused people to question his age when he moved to Portsmouth. If his age was forged, then he was no more than 2 years out.
Denver Daniels
21
Posted 13/09/2019 at 06:27:09
As an aside, does anyone know why Matty Jackson fell out of favour so soon after the FA Cup win? He was a big part of that team and one of my favourites at the time.
David Thomas
22
Posted 13/09/2019 at 07:15:40
Earl Barrett had been signed earlier in the season to be our first-choice right-back.
Jackson was playing in the cup games because Barrett was cup-tied.
Denver Daniels
23
Posted 13/09/2019 at 07:50:02
Cheers David. Pity we got rid of him so quickly. At least he's got a FA Cup winner's medal.
Peter Gorman
24
Posted 13/09/2019 at 13:20:08
Earl 'the pearl' Barrett, blimey - there's a blast from the past.
I think Royle only signed Barrett as he had been a regular for him at Oldham, and certainly had a better reputation that Jackson, but the sad truth is that both were very limited footballers and Royle himself seemed to concede this when he went on to sign yet another limited right-back in Marc Hottiger.
Still, whilst I can not remember a single good game that Barrett played, Jackson will always have that glorious cup run, in which he played a huge part and will be be remembered fondly as a result.
Kieran Kinsella
26
Posted 20/09/2019 at 16:52:53
I think Amokachi like Graham Stuart is one of the players from that era I tend to view through rose-tinted glasses as being better than he was. He had his moments but sometimes seemed clumsy and cumbersome around the 6-yard box. But regardless, he scored those two semi-final goals versus Spurs so in the context of the last 25 years that qualifies him as "legend".
Lee Courtliff
27
Posted 22/09/2019 at 07:44:29
I was there for his debut away at Blackburn and saw pretty much all of his appearances for us at home.
Very likeable man, legendary FA Cup semi-final but the truth is...Daniel was actually quite poor overall.
Didn't score, didn't hold it up and seemed to struggle staying onside.
My Dad met Gary Lineker around '96 and Gary thought Amo was one of the worst strikers in the League!!
But despite all that, I liked him and have very fond memories of that time period.
And when you think of the injuries we had in 96/97 season then we definitely should have kept him a while longer. For all his faults he was still useful and just so bloody likeable!
---
Add Your Comments
In order to post a comment, you need to be logged in as a registered user of the site.
Or Sign up as a ToffeeWeb Member — it's free, takes just a few minutes and will allow you to post your comments on articles and Talking Points submissions across the site.
---
© ToffeeWeb