Everton History
Eddie Thomas – An Unsung Goodison Hero
Rob Sawyer

23/10/2019
16

comments | Jump to last
Whilst researching and writing Blue Dragon, the forthcoming biography of Roy Vernon, my interest was piqued by Eddie Thomas, the makeweight in the deal that brought Vernon from Blackburn to Merseyside. The fact that Johnny Carey was prepared to sacrifice Thomas, in spite of a remarkable goal per game ratio, underlines just how highly the Everton manager coveted the Rovers man. Like Vernon, Eddie did not have the physique of a footballer. Slight – almost frail looking – he appeared ill-equipped for the hurly-burly of professional football. But appearances can so often be deceptive and the Lancastrian enjoyed a fruitful career over eleven years.
Eddie was born on 23th October 1933 - the twin brother of Claire - and was raised at 1 Park Avenue North in Newton Le Willows. Before becoming a full-time professional at Everton he trained and worked as a fitter. Having joined the Toffees on amateur forms, in November 1951 he was he was name-checked in Don Kendall's 'Pilot' column in the Liverpool Evening Express:
10th November 1951
For those who want to know something of the lads being groomed at Goodison, here are just a few who show sufficient promise to justify optimism. The young professionals are Dick Taylor, (goal) John Anderton and John Sutherland (backs), Ken Birch (half-back), Eric Rabone (outside right), who joined the R.A.F, yesterday, Jim Harris and Edward Thomas (inside rights), Colin Vizard and Gerry Tansey (inside lefts), George Darlington and Norman Kearsley (outside lefts). Make a note of these amateurs and if you follow their progress, as I have done over the years, you will get quite a lot of fun and will know more about your club and its players.
Probably hampered by Everton's huge squad size, and Cliff Britton's preference for experience - not to mention National Service - it would take Eddie a further six years to reach the first-team periphery. Everton's captain, Peter Farrell, used his Liverpool Echo column in October 1956 to tip Eddie for a bright future: 'There certainly seemed a few very promising youngsters in the reserve side and I was delighted with the form of Eddie Thomas at inside right. Eddie has come on in leaps and bounds since I last saw him, if as I am told, this a true sample of his general standard of play. If he continues in this vein young Thomas will soon be knocking at the door for a first team place.' That year same (1956) Eddie married local girl, Janet Stephens - they went on to have four daughters: Susan, Davina, Claire and Julia.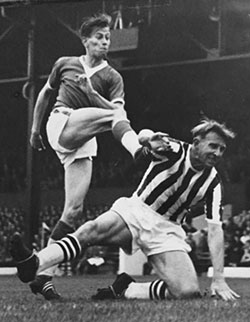 Eddie staked his claim for a starting berth in the first eleven when selected in early March 1957 for a friendly match against Banik Ostrava of what was then Czechoslovakia. Wearing an unfamiliar Everton kit featuring gold shorts and black and gold 'stockings' impressed - scoring twice in the 3-2 victory. Stork of the Liverpool Echo wrote:
'Thomas had a most impressive first outing, using the ball intelligently and scoring twice - the first with the sort of hard low shot we seldom see from an Everton forward This was my first view of Thomas and I liked what I saw. He was able to beat his man, make a pass and had a hefty shot in his boot... His goals apart, Thomas made Benedikt act smartly to check this rampageous youngster.'
The reward was a call-up for the League fixture against Manchester United at Goodison on 6th March. Everton lost 2-1 but Ranger (Liverpool Echo) singled out the debutant for praise:
'In the early stages none did better than Thomas, who showed good command of the ball and appreciation of the needs of his colleagues. (He) then suffered from the general fadeout among his colleagues. But he is worth giving a run of sufficient length to show beyond argument whether he is ripe for regular senior duty. One game is no basis for judgment.'
Ian Buchan, who had replaced Cliff Britton as the man overseeing the first team, did persevere with the debutant and was rewarded with a brace from Eddie three days later as the Toffees beat hosts, Birmingham City, 3-1. 'Thomas is Tops with Double at Birmingham' ran the Liverpool Echo headline.
Eddie was rewarded with 5 more starts in the 1956/57 season but established himself firmly in the number eight shirt mid-way through the following campaign. Playing alongside Dave Hickson he began to contribute goals - a coming highpoint in early March. On the back of a brace at Turf Moor - described by the Daily Post thus: 'Thomas' two goals in the 11th and 58th minutes, stood out from a welter of untidy football like the fitful rays of spring sunshine stabbing their way through the Turf Moor murk' - Eddie scored all four Everton goals in a 4-2 victory over Preston North End. In Baltic conditions, he single-handedly put the visitors, managed by ex-Toffees boss Cliff Britton, to the sword. He came up just short of equaling Tommy Eglington's record of 5 goals in a match. He ended his first season as a first team regular with 15 goals in 29 appearances. He also had the kudos of scoring Everton's first goals under Goodison's floodlights - notching two in a friendly against Liverpool in October 1957.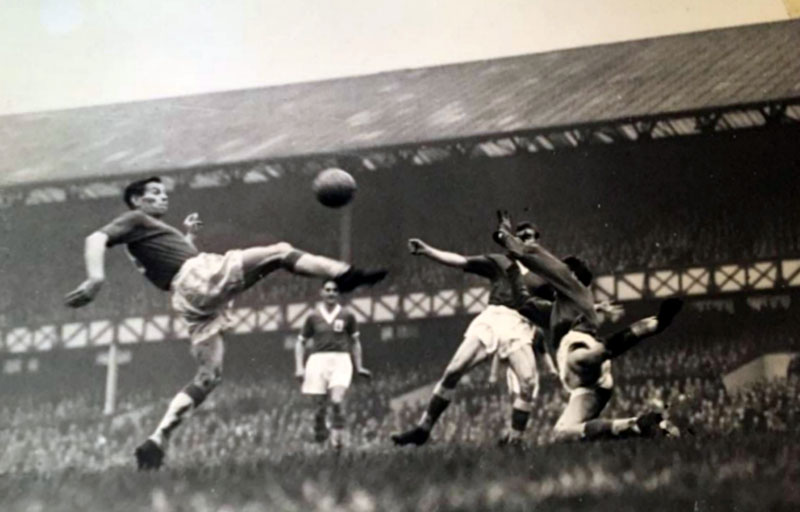 Eddie Thomas shoots against Birmingham City in 1959
A player establishing himself in the first team around the same time as Eddie was Mick Meagan. The two got on well: 'Eddie was a great friend of mine - he was one of the boys and a great character in a nice quiet way. He came into the team with Derek Temple, Brian Harris ,Eddie and myself. We had a nice little group and it was such a happy place to be at back then.'
Megan recalls an amusing episode during a club trip to Ireland:
'We had a trip to Dublin and after we'd played a match we had a few days off. Dave Hickson was mad about horses and wanted to know if I knew any stables. I did know one not far the city, in the Dublin mountains, so we rang and asked them if we could visit. We got the bus there and introduced ourselves. We were asked what riding experience we had so Hickson said we had experience and could handle them! Eddie and I were the last so they fixed us up with two old horses which they said they would suit us - and we set off up the mountain.
'Eddie and I were the last after all the kids and adults - we could hardly get them moving up the hill. Then all the other horses took off back to the stables at a pace and ours got in behind them and started galloping. I could see Eddie ahead of me slipping off his horse into the muck. So the two of us ended up running back to the stables covered in mud. We had to wait for the bus to get back to the hotel and sneak in through the foyer to our rooms. We were filthy and we had to ring room service for our suits to be collected for the cleaners. Eddie was always the fall guy for Hickson - that was typical of those days!'
Derek Temple, who progressed through the ranks with Eddie, recalls: ' He was a very good footballer. I don't know why Everton didn't persevere with him as he could score goals. There was nothing of him - bony, quite good shoulders on him but no weight. But he was a hell of a player. Jimmy Harris also thought he was a great player. He could strike a good ball and his movement was good. All the lads thought that Eddie was great, he was quite quiet but he had a good sense of humour and you could have a good craic with him. It didn't see him again after he left Goodson which was a great shame.'
With Everton struggling at the outset of the 1958/59 season, with 6 losses on the bounce, Ian Buchan was replaced with Johnny Carey. Recently-signed Bobby Collins replaced the venerable Wally Fielding to partner Eddie and Dave Hickson in the forward line. Eddie was slightly less prolific that season but scored, on average, once every three matches. A loss of form in the 1950/60 season saw Eddie usurped by Frank Wignall but he reclaimed his place eight games later and regained the form of previous seasons. Sadly, Everton, as a team was performing poorly and flirting with relegation. John Moores decided that the team needed an overhaul and new faces started to arrive in the shape of Tommy Ring, Micky Lill and Jimmy Gabriel. It was the arrival of another big-money signing that signaled the end of Eddie's time on Merseyside.
Johnny Carey was desperate to link up again with Blackburn's Roy Vernon. Rovers had, no doubt, been impressed with Edie's hat-trick in a 6-1 defeat of Nottingham Forest in January 1960 and proposed to Everton that he be part of the Vernon deal. A transaction valued at around £30,000 was sealed and Eddie found himself in East Lancashire (albeit still resident in Newton-Le-Willows).
Horace Yates, in the Liverpool Echo, gave some background to Johnny Carey's decision to dispense with his top-scoring forward: 'Mr. Carey told me, "I felt in fairness to Thomas that we should give him the opportunity of continuing to play first team football if he wishes to take it.  He has been a loyal servant and a whole-hearted player all the time he has been at Everton and obviously I had to do the right thing by him. There was a first team opportunity with Blackburn.  "I mentioned it to him yesterday so that he could talk it over with his wife and last night he rang me to say he was agreeable to the move."'
Mick Meagan was sad to see his pal depart for pastures new: 'It's always sad when one of your best friends leaves the club. Not only was Eddie a great friend, he was also a great player and was badly missed at Everton . Later, at Everton former players' functions, Eddie would be always mentioned in the chat.'
Although Rovers would suffer a downturn in League form after Eddie's arrival, they did progress to the FA Cup Final that season - meeting Wolves. Eddie was selected for the first team on just four occasions in the final two months of the season and failed to score. Although part of the 14-man squad, Eddie he not selected to play in the FA Cup final. Instead he helped hand out the cups of tea in the changing room and sat on the bench with Roy Ishwerwood as events unfolded on the pitch - as an injury-troubled Rovers fell meekly to the Midlanders.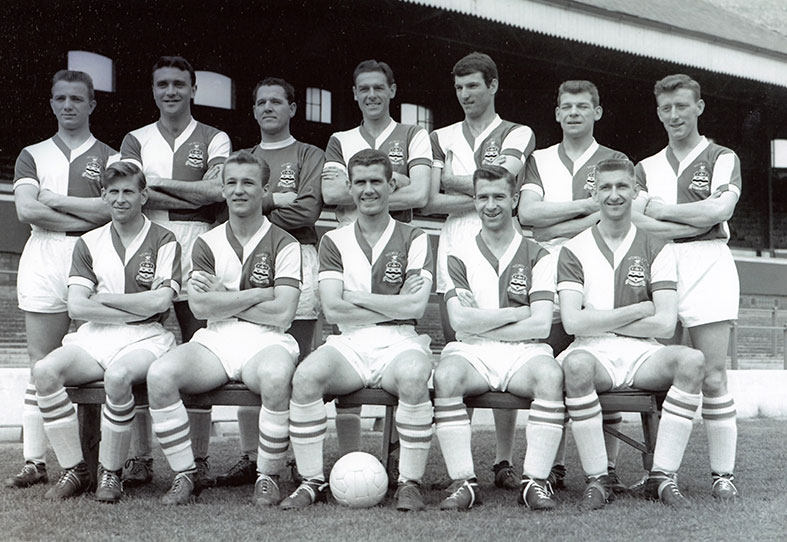 Blackburn Rovers' 1960 FA Cup Final squad; Eddie Thomas front row, far left
Eddie would struggle to establish himself with his new club. Rovers supporter, Fred Cumpstey, feels that this had a lot to do with class the act that he had to follow at inside-forward: 'My viewpoint as a youngster was that he never really looked the player who had come with a bit of a goal scoring reputation. Unfortunately for him, he had big boots to fill in the shape of Roy Vernon and, to be fair, he was never going to do that. The supporters had probably made up their minds about Eddie even before he had kicked a ball as they had idolised Roy.'
Mick McGrath, the Rovers left-half, has fond memories of his teammate: 'He was a very nice quiet land who didn't create any problems - he just got on with his training. Once or twice when we played in London I room-shared with him and enjoyed his company. He didn't get a lot of games but him and Roy were miles apart - and I don't mean that disrespectfully.' McGrath's warm sentiments are echoed by Bryan Douglas - the right-winger who switched from the wing to inside-forward when Vernon left the club: 'I liked him - Steady Eddie. He was a popular member of the team and fitted in well. He wasn't a bad player and he knew where the goals were.'
Roy's first full season at Rovers started positively with a goal in each of his first 5 appearances. Towards the end of the campaign, in which he made 23 appearances, he returned to Goodison with a point to prove. He duly scored with a tap-in from a Douglas cross in a 2-2 draw. Leslie Edwards of the Liverpool Echo singled out the former Blue for praise:
'Eddie Thomas never moved better or faster than he did yesterday. He took his goal well: got through a great amount of work in defence and looked to me like an ex-Evertonian who has made his Blackburn place secure forever. But what a shame there was no one in the centre to help him crown his good moves by goals.'
In time, Rover's manager preferred emerging youngster, John Byrom at inside-forward and Eddie found himself dropped. Fred Cumpstey still recalls an incident involving Eddie in the reserve team: 'My abiding memory of Eddie was being behind the goal at a Central League game at Ewood when Eddie had shot over the bar and one of my mates shouted: "Thomas you're a bad 'un." At which Eddie told him where to go to. Being just 14 years old, we were all a bit shocked!'

Eddie during his time with Swansea at the Vetch Field
Only 17 appearances were made in the 1961/62 season - a rare highlight being a four-goal salvo against Bristol Rovers in the League Cup 2nd round. His final outing in the blue and white-halved shirts came at home to Everton in a one-all draw. Jack Marshall agreed to the sale of his inside forward to Swansea Town in the summer of 1962. It helped revive Eddie's career as he became a near ever-present for the Jack's in his two full seasons there – a highlight being scoring at Anfield in February 1964 to help put Liverpool out of the FA Cup. Derek Draper was one of Eddie's teammates at the Vetch:
'Eddie was a lovely lad and a good player - he was like a centre-forward but was not a big or rough fella. One of his most memorable games was a FA Cup Quarter Final victory over Liverpool at Anfield - it was a marvelous day. Liverpool had a really good team then. All the teams we'd played were in red, like Stoke and Liverpool - but then we had Preston in the semi-final. We always felt that we would beat them but we lost 2-1. The game shouldn't have been played, really - it was at Aston Villa's ground and it rained and rained and rained. It should have been cancelled but they insistent that we went through with the game - the pitch was like a bog.'
Roy made 77 appearances in his two seasons in Glamorgan, scoring 26 goals, but just one game into the 1965/65 season Eddie swapped the South Wales coast for the Midlands as Ian Ward stepped in to sign the veteran for Second Division outfit Derby County for £6000. It would prove money well spent. Debuting at the Baseball Ground against Bury he went on a run of scoring in each of his first 6 consecutive games for the Rams. His tally by the end of the season was an impressive 24 goals, helped by a fine partnership with Alan Durban who reflects: 'Swansea Town was the town that I followed as a kid. They produced the Allchurch brothers, Cliff Jones and Mel Charles, so I was very fond of the club and I knew how Eddie played. At Derby he used to ghost into positions - our pitch was very heavy but he was one of those people who could go over the top of it nicely. We had a centre-forward called Ian Buxton and Eddie and I played either side of him. Ian always have his back to goal so you'd get the ball into him and the ball stuck. Eddie was a good third man runner: I'd play it into Ian (or John O'Hare, later on) and Eddie was always on the way (and vice-versa).'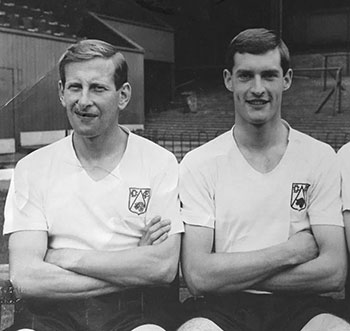 Eddie Thomas at Derby County
Durban highlights how Eddie was a scholar of the game who enjoyed an Indian Summer at the Baseball Ground: 'Having come from Everton - which had a reputation as the school of soccer with a tradition of playing properly - he was very knowledgeable about the game. He was an intelligent footballer and made the best use of the ability he had - he probably got better as he got older. He did use to speak to people about what they were doing - offering advice but not forcing it on you. Eddie was a very quiet but warm bloke who knew the game and made the most of the ability he had.'
Eddie's daughter, Davina recalls that being in the spotlight did not come easily to her father: 'Dad was a quiet person and didn't really like the limelight, I can remember the crowds waiting for him after the match at the Baseball Ground asking for his autograph; he always stopped to sign autographs but he felt uncomfortable.'
In spite of the prolific strike force, Derby's porous defence meant that the promotion places were never troubled. The arrival of Brian Clough in the summer of 1967 drew Eddie's Derby career to its end, as Alan Durban recalls: 'When Cloughie came he wanted to clear everybody out I think only three of us survived.'
Eddie's professional career was rounded off in London with Leyton Orient for the 1967/68 season. The family remained in Derby whilst Eddie took lodgings with a friendly family in East London. He ended his professional career on 113 goals in 338 appearances. Back in the Midlands Eddie turned out for Nuneaton Borough and Heanor Town. Upon hanging up his boots, he briefly managed Ilkeston Town but decided that this was not really for him. He remained in the East Midlands and worked for the Co-Operative Insurance. Derby County helped Eddie and Janet to purchase the house in where they lived until he died. In his spare time Eddie enjoyed playing tennis and bowls. He always loved football and rarely passed up an opportunity to watch Derby County play at the Baseball ground (and subsequently, Pride Park). He was also a regular attendee at Derby County Former Players' functions. On occasional visits to Merseyside he would take in a game at Goodison Park and catch up with the likes of former teammate Brian Labone who would later comment: 'It was so nice to meet up with Eddie and discuss old times - I always used to enjoy seeing him.'
Eddie had four granddaughters and seven 7 grandsons - one of whom played for Derby's academy for a short time. He passed away on 12 November 2003, age 69, a year after the diagnosis of cancer of the oesophagus. He continued to attend Derby's home games until close to his passing. His last match was the visit of Wigan Athletic - which gave him an opportunity to catch up with Dave Whelan – with whom he lift-shared to training at Blackburn in the early 1960s.
When news reached Everton of Eddie's passing, Brian Labone paid fulsome tribute in the Daily Post: 'Whenever someone dies, particularly a former team-mate, you always hear people saying, "He was a lovely fella." Perhaps it's become a bit overused, but it couldn't be more true in Eddie's case. As a player, he was unbelievable. He looked so slight but he didn't half possess a powerful shot and he was so nippy. He was a nightmare to mark! My sympathies go out to his family and all of his friends - he'll be missed.'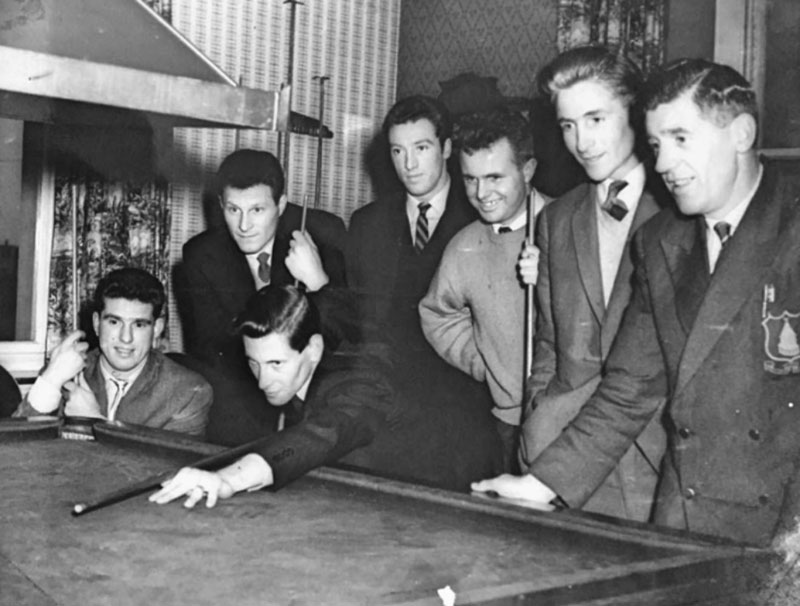 Eddie on cue, watched by Everton teammates and Gordon Watson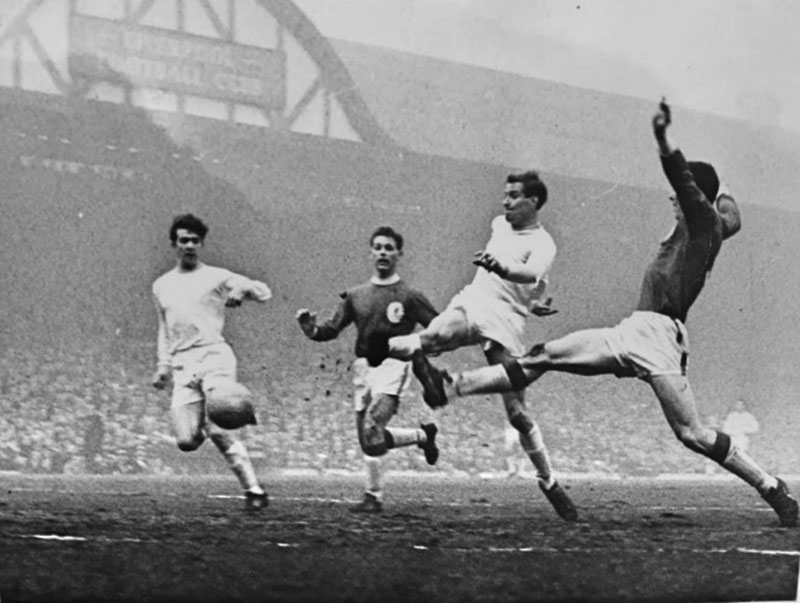 Eddie Thomas scores for Swansea at Anfield in the FA Cup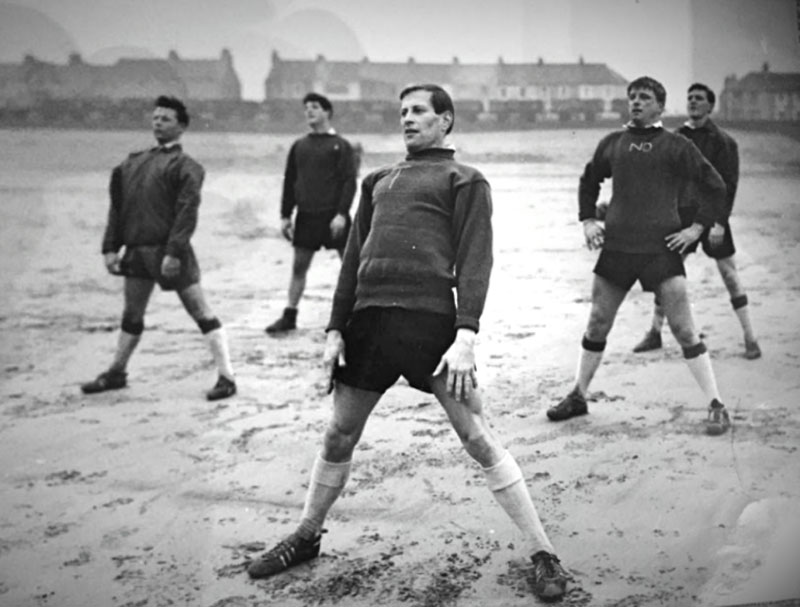 Eddie Thomas training on the beach with Swansea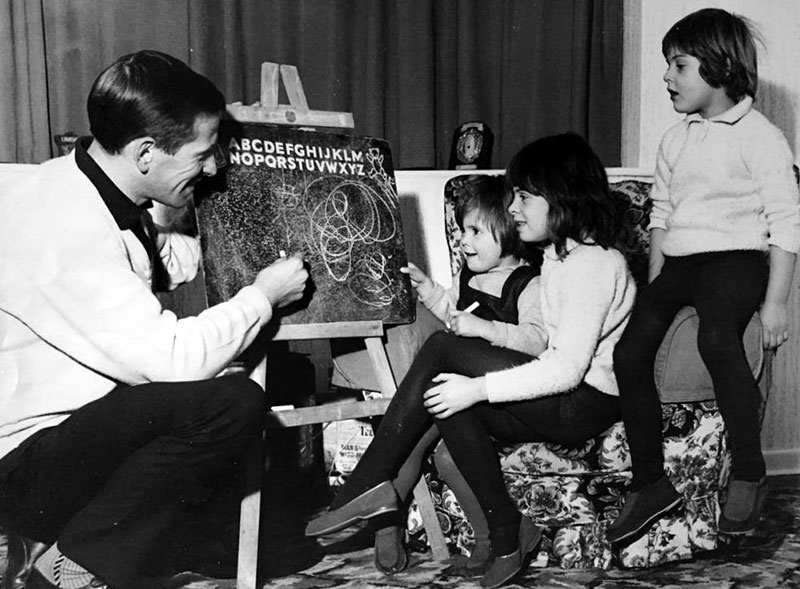 Eddie with his daughters
Career Statistics (League and Cups)
Everton: 93 appearances (41 goals)
Blackburn Rovers: 44 appearances (15 goals)
Swansea Town: 77 appearances (26 goals)
Derby County: 110 + 3 sub appearances (49 goals)
Leyton Orient: 11 appearances (2 goals)
Total: 335+3 appearances (133 goals)
Blue Dragon: The Roy Vernon Story – by Rob Sawyer and David France – will be published by deCoubertin Books this autumn
Acknowledgements:
The Thomas family
Evertonresults.com (Steve Johnson)
Bluecorrespondent.co.uk (newspaper articles transcribed by Billy Smith)
Michael McGrath, Bryan Douglas, Derek Draper, Jimmy Harris, Derek Temple and Alan Durban
Fred Cumpstey
Matthew Plunkett

Follow @robsawyer70
Share article:
Reader Comments (16)
Note: the following content is not moderated or vetted by the site owners at the time of submission. Comments are the responsibility of the poster. Disclaimer
Terry White
1
Posted 23/10/2019 at 19:34:41
Rob, what a nice tribute to a forgotten player.
Dave Abrahams
2
Posted 23/10/2019 at 19:39:04
I always liked Eddie Thomas, well under rated, a quiet player with a very good football brain, used space well, ghosting into goalscoring positions.
I remember that game when he scored four, apart from those four goals it was memorable for an Everton fan running onto the pitch and giving Joe Marston ( I think) the PNE centre half a good smack in the mouth, he had been giving Davie Hickson a rough time, the supporter was running back into the crowd when he was rugby tackled by Tommy Docherty, the Preston wing half, and handed to the nearest policeman, Docherty got loads of stick for the rest of the game,
I was also at Anfield when Eddie scored that goal for Swansea that took them through to the semi final, Ronnie Moran missed a penalty for the Reds, lovely!!
On the photo of the Blackburn Rovers team, on the back row, are two other former Everton players in Matt Woods and goalkeeper Harry Leyland, they both played in the cup final against Wolves.
Eddie Thomas, I bet he was fondly remembered by quite a few Everton fans, very unassuming never made any fuss, just got on with playing his part for the team, and he did it very well.
Dave Abrahams
3
Posted 23/10/2019 at 19:43:19
I forgot to mention, on that Blackburn photo in the back row is Louis Bimpson, a former Liverpool player who also played in the cup final at outside right.
Mike Gaynes
4
Posted 23/10/2019 at 20:12:02
Love your articles, Rob.
John McFarlane Snr
5
Posted 23/10/2019 at 23:56:26
Hi Dave [3],
Harry Leyland and Matt Woods ex Everton players, are also featured in the photo, and they too played in that final.
Paul Turner
6
Posted 24/10/2019 at 07:30:56
Great article, thank you. Life for professional players was so different then... but some things never change - as "Ranger" in the Echo put it:
'In the early stages none did better than Thomas, who showed good command of the ball and appreciation of the needs of his colleagues. (He) then suffered from the general fadeout among his colleagues. But he is worth giving a run of sufficient length to show beyond argument whether he is ripe for regular senior duty. One game is no basis for judgment.'
Sage words indeed.
Peter Mills
7
Posted 24/10/2019 at 10:09:27
Another fascinating article Rob, thank you.
Dave A, that sounds like a game to be at!
John McFarlane Snr
8
Posted 24/10/2019 at 15:12:21
Hi Dave [2] apologies, I was up long after my usual retiring time and failed to read your original post, having read it, you did say [and it's something I would have expected you to say] that Harry Leyland and Matt Woods were on the photo.
Bill Watson
9
Posted 24/10/2019 at 15:24:04
I always rated Eddie as an excellent player and, although really pleased we'd signed Vernon, was a bit disappointed he'd gone the other way.
In an era when we'd started signing class players I often wondered how Eddie would have fared playing with these better players.
Ray Atherton
10
Posted 24/10/2019 at 16:37:27
A lovely tribute to a forgotten Evertonian.
Going to the away games starting 1957 and
onward. Traveling at Lime Street station, I was
talking to a blue told me he was the father of
Eddie Thomas, just come from Newton-Le -Willows.
He was mostly at the away games, a gentleman.Also
another gent was in the station Brian Labone"s dad.
The Everton team travelled from Lime St. Station
when it was playing a Lancashire club, sometimes.

Vin McFarlane
11
Posted 24/10/2019 at 22:37:58
Another great article Rob.
Alan Holman
12
Posted 25/10/2019 at 11:50:50
My first have a game at Goodison was the game against Preston North end, in which Eddie Thomas scored all four goals, how proud I was because I also came from Newton – Le – willows.Incidentally Tom Finney missed a penalty in the game.
Mark Vizard
13
Posted 27/10/2019 at 14:56:13
Rob, very informative as usual. Thank you
The article provides special memories for me on a personal level as my late father was Colin Vizard, who you kindly mentioned at the start of the article
Eddie and my father were very good friends, both born and brought up in Newton- Le -Willows ( no more than a few hundred yards from each other ), dad was just 4 months older than Eddie.They remained in contact whilst Eddie lived in Derby
I can always remember dad saying that Eddie was so slight a strong gust of wind could blow him over, but his football intelligence, his ability to find space allied with a good eye for goal provided Eddie with a good football career
Eddie will be fondly remembered by Evertonians of a certain vintage
Many thanks
Dave Abrahams
14
Posted 28/10/2019 at 12:19:43
Mark (13). I remember your dad, not sure if I saw him, he played a lot with Everton A and scored dozens of goals for them, and Imean dozens, if he played for Everton reserves then I saw him, I have a vision of him not being all that big for a centre forward, which I think he was.
If I'm not mistaken your dad held the goalscoring record in the Old Bootle JOC with about 135 goals, yes 135 goals in one season and I'm trying to think who broke his record, but it won't come to me.
Did your dad stay in football? He seemed to be a natural goalscorer, other players mentioned with your dad playing in Everton A. Kenny Birch, played in Everton first team many times and also played for Bangor, under T G Jones in the European cup winners cup, John Sutherland a right back also played in the first team and was an Irish international playing for Eire. Gerry Tansey, brother of Everton left back Jimmy, never made it with the Blues but had a few games for Tranmere. I bet when your dad and Gerry played together they scored an awful lot of goals, Gerry was a prolific scorer for Liverpool Boys and played in the famous English Schoolboys Final versus Stockport Boys at Anfield before over 40,000 fans in a 3-3 draw.
Sorry for going on, but you took me back over a great number of years and brought back many happy memories.
Mark Vizard
15
Posted 28/10/2019 at 14:48:32
Dave (14). Your memory is a great credit to you. Yes, Dad played for both Everton A and the Reserves, but unlike Eddie didn't make it through to the first team. He was 5 feet 8 inches, and mainly played as an inside forward as they were in those days
Dad did score 125 goals in the Bootle JOC for Everton in season 1950-51, breaking the old record which had stood for over 20 years. I still wear the watch presented to him by Everton in recognition of this.
The record was broken 5 years later in 1956 by a Johnnie Roberts who scored 137 goals in a season playing for St Elizabeth's I believe, you no doubt will be more familiar with this team?
As an aside, Johnnie Roberts was the grandfather of Jonnie Peacock, who won gold at both the 2012 & 2016 summer Paralympics, and was later of Strictly Come Dancing fame.
Dave, Dad did stay in football for a short while, playing for Wigan and Rochdale, I believe; I recall Dad saying he played under Harry Catterick at Rochdale later in the '50s before the "Catt" moved on to bigger things...
Gerry Tansey is a name dad mentioned a lot too and again you are correct that I'm pretty sure they played together. I have an Everton squad photograph of season 53-54 and dad is next to Gerry on the front row, Eddie is on there too.
Oh to have Gerry and Dad banging the goals in now, eh?
Anyway, thank you, Dave, for sharing your memories of both Eddie and Dad, it is greatly appreciated.
Many thanks.

Dave Abrahams
16
Posted 28/10/2019 at 15:06:31
Mark (15), thanks to you too, your story took me back to relive a lot of good memories.
I don't know much about the Bootle JOC, to be honest, but remember your dad's name and holding the record, and now you mention Johnnie Roberts, I recall that too, don't know where I got the 135 goals from, mind you 125 is more than ample, maybe the other ten were cup goals!!
Regarding Harry Catterick at Rochdale, I think he sorted them out on the field, took a few ex-Everton players there, and also put them on a better financial footing.
Thanks for your reply and glad to know that your dad had some professional football under his belt.
Very best wishes to you Mark.
---
Add Your Comments
In order to post a comment, you need to be logged in as a registered user of the site.
Or Sign up as a ToffeeWeb Member — it's free, takes just a few minutes and will allow you to post your comments on articles and Talking Points submissions across the site.
---
© ToffeeWeb