Report
Fans inspire solid Blues defence of Sigurdsson's penalty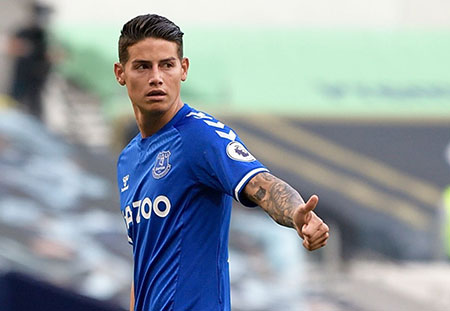 Everton are without their most talented player, James Rodriguez
Carlo Ancelotti faced his old team as manager of the Blues at Goodison Park with 2,000 fans allowed to attend for the first time to help inspire a very disciplined rearguard defence of Sigurdson's first-half penalty.
Everton were without their most talented player, James Rodriguez, the Colombian ruled out with a calf problem that prevented him from training this week. James joins Coleman, Digne and Gbamin on the injury list.
Ancelotti stuck with his conservative and decidedly unadventurous selection of the old players who have performed so poorly for him. Although Anthony Gordon and Jonjoe Kenny were named on the bench.
Things got underway with the scattered array of attendees in fine voice early on. But it was Chelsea who forced the early pace, winning a corner inside 2 minutes but they were caught offside in the second phase. Some promising movement and control from Iwobi and Godfrey gave the impression an Everton attack could develop. But it didn't.
Sigurdsson and Richarlison combined very well, the Brazilian running in with a brilliant chance to fire home but he produced the lamest shot in his arsenal that was little more than a pass-back. Iwobi won a corner that was floated in by Sigurdsson and headed over with little power by Mina.
Chelsea were showing a decent turn of pace and skill in getting forward but the Everton defence were alert in anticipating the moves and covering the key passes, Sigurdsson tussling with James to win a free-kick. Iwobi wriggled around to deliver a cross but it was easy for Zouma to clear. Iwobi then saw a great pass for Calvert-Lewin to chase but ruined it by putting too much on it.
Havertz upended Richarlison, giving Sigurdsson a chance to float the free-kick into Mendy's welcoming arms. A looping nothing ball up to Calvert-Lewin saw him nod it on and then kick it ahead only to wiped out by Mendy. Penalty, driven home by Sigurdsson after Richarlison claimed the ball but had to surrender it to the captain.
Richarlison, probably brooding, was easily dispossessed by James. Richarlisan then stupidly did his patented recovery challenge, giving away a stupid foul and earning an even more stupid yellow card. A superb strike by James forced a decent save out of Pickford, giving up a corner from which James hit the post with a tremendous drive that Pickford just got his fingers to, deflecting it brilliantly onto the post and right across the mouth of the goal. A second corner was well wasted by Chelsea.
Keane broke up a Chelsea attack but could have taken more care with his hoof upfield that should have been a gift for Calvert-Lewin but Mendy was out quickly to clear. Godfrey was getting through a lot of good work down the left but Pickford managed to overstretch clearing the ball and was wincing in pain.
Iwobi got another chance to drive in and cross low, but, as we now fully expect, it did not find a Blue shirt. Werner got a chance to score but clipped his shot wide over the angle of the goal.
Everton had done well to hold the advantage and defend their lead against Chelsea's lively attackers, while another wonderful chance for Richarlison was created by Iwobi and Sigurdsson, but his shot again was utterly hopeless, slipping poorly as he fired. Mina was pushed into Pickford in a dangerous moment but Jon Moss was quick to halt the game.
Everton were coming under increasing pressure ahead of the break but were showing good discipline and shape, preventing Chelsea from getting any real sight of goal. Kante was booked for a challenge on Allan as Everton drove into the area with Iwobi this time firing an accurate cross too hard at Sigurdsson and he could only punt it behind. Everton went in at the break with a decent lead that they had defended reasonably well.
Everton restarted the game but could not press forward. Pickford came out to punch but was stranded as Mount almost caught him out, chipping the ball back but just over the bar. At the other end, Calvert-Lewin tried to force another error from Mendy, much to the delight of the 1,500 dotted around the Gwladys Street stand.
Everton had everyone back for a corner and could not profit when Sigurdsson blindly hoofed the ball forward with no-one to receive it. A Chelsea mix-up saw Everton break, Richarlison shooting a little more strongly, forcing a corner that Sigurdssnn floated in. Mina then got in front of Calvert-Lewin to steal a clear chance he was eying up and better positioned for, the Colombian putting it behind wastefully.
A good Everton spell ended with Sigurdsson firing a free-kick over the bar with Mendy well beaten. Everton then had to defend for a spell as Chelsea again tried to figure a way through to Pickford's goal. James got a yellow card for a poor tackle on Allan.
Everton broke out from a sustained Chelsea attack, Iwobi feeding Calvert-Lewin who was then taken out by Chilwell for a second penalty but Calvert-Lewin had gotten too far ahead and was offside for Iwobi's pass. Calvert-Lewin was then fouled by Tiago for a 3rd yellow card for Chelsea.
From the free-kick, Richarlison battled well to win a corner off James but Zouma defended it away well. A flowing Everton move at pace saw Iwobi exchange passes with Holgate and get into a brilliant crossing position, only to wellie the ball madly in a new variant of his impossible-to-anticipate crossing lexicon.
Maddeningly, Calvert-Lewin had a chance to run with the ball but turned and played it back, possibly in an intentional move to avoid advance exposure. It became very scrappy for a while, with Chelsea getting a tad frustrated that they could not get past Keane especially, who was on the end of so many clearances. Richarlison this time also spurned the chance to run down the wing as Everton seemed to be under instruction to be more conservative.
The game entered a critical phase where the next goal would define the result, Everton not quite clicking with Richarlison outpaced easily by James, then Iwobi yet again beating his teammate with another potent cross. Keane again critically blocked another Chelsea attack but, from the corner, Doucouré gave away a real gift of a free-kick. From it, Mount hit the post with Pickford poorly positioned. Gomes came on for Sigurdsson.
Allan got mangled in a sandwich and Chelsea created perhaps their best chance for Giroud, who lashed it high and wide. Everton responded with a break, winning a free-kick as Davies replaced Iwobi. The free-kick eventually produced a late corner for Everton, put behind but Gilmour with Keane in attendance. Gomes's second corner was better but the ball was eventually went dead.
More stalwart defending was required as Chelsea kept pushing and probing, the minutes relentlessly ticking away. Kenny came on for Richarlison as 5 minutes of added time were signalled. Everton went upfield, Gomes winning an important late corner, but without putting anyone in the area!
Everton continued to frustrate the visitors, who had had an overwhelming share of possession in the game, but they just could not get a decent sight on goal. Holgate went on a fine distracting run to the right corner flag in the last minute, and Jon Moss, who had overseen the game well, finally blew his whistle to give Everton a very precious win with a clean sheet as well.
Everton: Pickford, Holgate, Keane, Mina, Godfrey, Allan, Doucouré, Iwobi (86' Davies), Sigurdsson (83' Gomes), Richarlison [Y] (90' Kenny), Calvert-Lewin.
Subs not Used: Olsen, Gordon, Bernard, Tosun.
Chelsea: Mendy; James [Y], Zouma, Thiago, Chilwell; Kante [Y], Kovacic (82' Gilmour); Havertz (68' Abraham), Mount, Werner; Giroud.
Subs not Used: Kepa, Rudiger, Azpilicueta, Jorginho, Anjorin.
Scorer:Sigurdsson (pen:22')
Referee: Jon Moss
VAR: Andre Marriner

---
Reader Comments (306)
Note: the following content is not moderated or vetted by the site owners at the time of submission. Comments are the responsibility of the poster. Disclaimer
Jonathan Tasker
1
Posted 12/12/2020 at 19:02:57
Pickford, Sigurdsson, Iwobi...
I think Carlo is trying to get himself fired.
As for that subs bench, for fuck's sake! At least Gordon has made the squad.
Colin Metcalfe
2
Posted 12/12/2020 at 19:07:49
Sigurdsson playing left-wingback? Lol – definitely putting a tenner on Chelsea now, has Carlo lost it?
Thomas Richards
3
Posted 12/12/2020 at 19:07:54
If that is a 4-4-2, who is playing wide left?
John Dingle
4
Posted 12/12/2020 at 19:09:02
How does Sigurdsson get into that team??

David Pearl
5
Posted 12/12/2020 at 19:09:02
Pretty much the team l expected. Holgate has played right-back before and Godfrey looked okay last week on the left. Sigurdsson pipped Gomes to final spot but still expect more of a 4-1-4-1. We need Iwobi to put some crosses in for Calvert-Lewin.
Christy Ring
6
Posted 12/12/2020 at 19:10:27
Before we even start, 10 vs 11.
What I can't understand is Gomes played well when he came on against Burnley and he picks Sigurdsson! Some inspirational captain... the invisible man.
Ciarán McGlone
7
Posted 12/12/2020 at 19:10:58
Hammered.
Thomas Richards
8
Posted 12/12/2020 at 19:12:00
What system are we playing here?
Sam Hoare
9
Posted 12/12/2020 at 19:12:50
Sigurdsson starts. Grrr. Maybe he'll score a worldy free-kick for us (yet to score a single free-kick for us) to win the match and I'll look silly but I really don't see what he brings currently.
This is a match crying out for pace, energy and dynamism to try and match Chelsea around the park.
Sigurdsson does work quite hard, to be fair, but he's one-paced and seldom shows for the ball in the way you want your playmaker to.
Stephen Brown
10
Posted 12/12/2020 at 19:14:35
Pickford
Holgate Keane Mina Godfrey
Allan Doucoure
Iwobi Siggy Richy
DCL
4231
Rob Dolby
11
Posted 12/12/2020 at 19:16:29
There has to be something wrong with Nkounkou. Bad trainer, bad attitude, maybe that why we got him for next to nothing?
Godfrey is being hung out to dry playing left-back.
I would have played Gomes instead of Sigurdsson. We would struggle with a full-strength side against these – nevermind a weakened line-up!
Stranger things have happened, coyb.
Neil Lawson
12
Posted 12/12/2020 at 19:18:46
Post 1 confirms my theory. Carlo has an offer from some fancy dan team in Europe, but doesn't want to be seen to abandon us. Hardly the act of a true gentleman. Much easier to get the sack !!
That said, at least we have in Hokgate, one player with experience as a full back. That, of course, presupposes he will play in that position. He may be left winger. Sigurdsson in the team to take the throw ins.
Strictly has started. May stick with it.
Gavin Johnson
13
Posted 12/12/2020 at 19:19:22
Sigurdsson?! WTF! It must be a 4-2-3-1. Fingers crossed it is and Carlo's not trying to play Sig on the left wing in a 4-4-2. Wish we'd have gone with a 4-4-2 but with Anthony Gordon.
Christy Ring
14
Posted 12/12/2020 at 19:21:05
Can't believe 3 at the back again and the invisible man as captain. Not looking forward to this, we only started playing against Burnley when Delph got injured and reverted to a back four. Gomes played well when he came on at Burnley, and Allan and Docoure were totally lost, and out of position until he came on, and he starts Sigurdsson, 10 v 11 before we even start
Tony Twist
15
Posted 12/12/2020 at 19:21:47
Already down to ten men with Siggy on the pitch, this manager's greatest weakness is that he sees neat and tidy on the training pitch and thinks Siggy is worthy of a place. Like all the managers before him and then is mystified when the team struggles. I don't see what extra we are getting from this £11M manager. He just doesn't learn.
Ray Roche
16
Posted 12/12/2020 at 19:22:22
Nkounkou must have been caught bollocks deep in Carlo's missus if he can't even make the squad. If I were his agent I'd get him out of Goodison ASAP to a club with ambition. You don't have ambition if you're constantly hammering square pegs into round holes ffs.
John Boswell
17
Posted 12/12/2020 at 19:22:43
Moss and Marriner? Hmmm! Football can produce some unlikely results. I hope tonight that the fates favour Everton and we get the win, COYB 💙
Kevin Molloy
18
Posted 12/12/2020 at 19:25:17
I'm old enough to remember actually recording our games so I could watch them over.
Mike Gaynes
19
Posted 12/12/2020 at 19:27:06
Christy, you've said twice now that Gomes played well coming on at Burnley.
We must have been watching a different Gomes. The one I saw was the slow one with the beard. And he didn't do diddlysquat.
John Dingle
20
Posted 12/12/2020 at 19:27:09
How does Sigi get in that team
Stephen Vincent
21
Posted 12/12/2020 at 19:30:35
Chelski's pace and wide men will rip us to shreds.
Really, no matter how hard I try, can't understand Siggy over Gomes or Bernard or Gordon or anyone frankly. Glad I didn't come out in the ballot.
Alan McGuffog
23
Posted 12/12/2020 at 19:33:49
System Thomas ? You don't want much do you how about world peace as well ?
Danny Broderick
25
Posted 12/12/2020 at 19:36:44
Siggi in. As captain. I don't believe it.
Ciarán McGlone
26
Posted 12/12/2020 at 19:36:50
Mike..
Gomes has most definitely played very well in the last two games.. that's my opinion as well.
Sigurdsson is fuckin useless. That's also my take.
However Bernard had a great cameo and got dropped.
My thoughts on Ancelotti are dropping like stone.
Dave Abrahams
27
Posted 12/12/2020 at 19:37:35
Mina and Keane, slow moving, even slower thinking, if one doesn't cock it up his mate will make up for it, well you are consistent Carlo.
Ciarán McGlone
28
Posted 12/12/2020 at 19:37:51
I'm bored of being seved up expensive shite.
Stuart Sharp
30
Posted 12/12/2020 at 19:39:29
I just knew it would be Sigs. Jesus. Looks worryingly like a 442 with Sigs wide. Hope I'm wrong.
I agree Gomes did quite well last time. His end product was dodgy as usual, but I thought our build up play (such that it was) improved when he came on.
Phil Bickerstaff
31
Posted 12/12/2020 at 19:37:28
I hope the crowd gives Sigurdsson some stick. He should not be anywhere near the team... and captain too. What a joke!
Jay Harris
32
Posted 12/12/2020 at 19:40:07
All I can say is Sigurdsson must be a good talker because his feet haven't justified a place lately and IMO Godfrey will be torn apart left out to dry on the left flank.
I just don't understand why Nkounkou can't even get into what is a second-rate squad.
Thomas Richards
33
Posted 12/12/2020 at 19:40:26
I still maintain Sigurdsson is a decent no 10.
Technically very good, a good goal return over his career although admittedly he has struggled recently.
While he is on the pitch wearing the blue shirt he has my backing.
Bobby Mallon
34
Posted 12/12/2020 at 19:41:36
I know Sigurdsson has played bad but get a grip, for fuck's sake. Let's see how it pans out before getting the hangman's noose out...
Derek Knox
35
Posted 12/12/2020 at 19:41:38
Ciaran @28, try the catfish ! :-)
Tony Everan
36
Posted 12/12/2020 at 19:42:55
I can see Allan and Doucoure being outnumbered and being overwhelmed. There isn't enough tenacity, aggression, or the rapidity of pressing to keep Chelsea's quality midfield at bay. They will have too much of the ball and will be passing it wide and creating many chances.
I am desperate to see us win, or even to perform well, but with Sigurdsson in there supplementing the midfield I cannot for the life of me see how we can compete with Chelsea. We needed a team to fight off their midfield with some real aggression to stand a chance. Then you never know we could pick them off with a goal from a set piece or one bit of great play.
Ciarán McGlone
37
Posted 12/12/2020 at 19:44:08
Derek...

The Hendrix version?
Paul Smith
38
Posted 12/12/2020 at 19:45:31
3 - 1 to Everton tonight guys. No drama we got this.
John Hammond
39
Posted 12/12/2020 at 19:45:35
Nearly lost it when I saw 3 at the back but surely gotta be 433. Keep it tight at the back with 4 CB's, sit deep and counter?
Bill Gienapp
40
Posted 12/12/2020 at 19:47:06
Oof. I don't spend a lot of time second-guessing Carlo's tactics, but why he persists with a back three, I have no idea. If we could barely handle Burnley's toothless attack, how are we going to fare against a team like Chelsea??
Joe McMahon
41
Posted 12/12/2020 at 19:49:41
What ever happens tonight, please no reference to the Chelsea game last season. It was great, yes, but it was Duncan's only victory in his short spell and, good as that match was, the Arsenal game was awful.
Kevin Molloy
42
Posted 12/12/2020 at 19:52:23
Tony,
Whilst I am inclined to agree, we're entitled to feel a little pissed off if our world class new signings are indeed overwhelmed in the way you describe. Cos, if they are, something is not right with the training. These are good players.

Rob Dolby
43
Posted 12/12/2020 at 19:55:36
In Italy, the captain's tend to be the longest-serving player in the 11. Is Sigurdsson the longest-serving player in the starting 11? That's the only explanation I can think of as he certainly wouldn't be my pick.
David Connor
45
Posted 12/12/2020 at 20:00:15
Sigurdsson Captain.... I wouldn't even have the useless bastard in the squad.
Prove us wrong, Gylf... please.
Steve Shave
46
Posted 12/12/2020 at 20:08:34
Gomes over Sigurdsson all day long for me. He should be nowhere near our first team. We know André can play, he is just lacking sharpness.
I think it's 4-2-3-1 not 5 at the back.
I've got a Zoom catchup with my pals tonight (stupidly thought that kick-off was 5.30pm!) so I will miss it. I'm actually pleased in a way; can't hack watching them at the moment and fear a pasting.
Christy Ring
47
Posted 12/12/2020 at 20:10:58
Thankfully four at the back.
Ciarán McGlone
48
Posted 12/12/2020 at 20:49:22
We are holding up well... however Chelsea appear to be very reserved tonight.
Cool penalty from Sigurdsson.
Bill Gienapp
49
Posted 12/12/2020 at 20:51:03
Solid first half. Glad to see we're actually playing a 4-3-3. I was going off the listed formation on ESPN, and I realize it was just random speculation on their part.
David Pearl
50
Posted 12/12/2020 at 20:52:47
Hilarious reading these comments.
Paul Smith
51
Posted 12/12/2020 at 20:57:42
Mass hysteria shown to be an overreaction. Worried about our midfield we're conceding possession and defending deep.
Richarlison misses the game and becomes a liability when he's throwing a fit after losing the ball or a tackle. His temperament needs working on.
Ernie Baywood
53
Posted 12/12/2020 at 21:02:16
Good half until we started sitting too deep late on. We were much better when we were giving Chelsea something to think about.
Formation looks a bit different to a 4-3-3... Iwobi and Richarlison playing much wider more like a 4-4-2 with Gylfi moving between attack and midfield. Balance looks pretty good to me. First time I've said that it in a while.
Don't know how Pickford is getting criticism on the half time show. It was a very clear foul on Mina that caused the collision.
Don't think Gylfi has put a foot wrong. Which will disappoint some.
Kevin Dyer
55
Posted 12/12/2020 at 21:55:03
Tactical masterclass. Carlo 1 Frank 0.
Christy Ring
56
Posted 12/12/2020 at 21:57:07
Massive result!
A terrific performance to a man in front of our fans, huge!!!
Steve Cotton
57
Posted 12/12/2020 at 21:57:39
Holgate was inspired in my book...
Ciarán McGlone
58
Posted 12/12/2020 at 21:59:31
Defensive masterclass.
Players I don't want in our starting line up played their hearts out.
No point analysing it anymore than that.
I'm away to eat a hat. Enjoy the weekend boys and girls.
Yeeeeeeeeeeooooow.
Tony Ball
59
Posted 12/12/2020 at 22:02:40
Sigurdsson played a blinder tonight! 👀
Jay Wood
[BRZ]
60
Posted 12/12/2020 at 22:04:19
Performances and effort like that every week will do for me.
Mike Gaynes
61
Posted 12/12/2020 at 22:04:42
I'd like to thank the authors of most of the first 45 or so posts on this thread.
Kase Chow
62
Posted 12/12/2020 at 22:05:15
Fantastic Everton!!!
Everyone played well. No weak links and we actually competed!
And the fans made a massive difference
Jon Moss still a prick but we won in spite of him
Well done the Blues!
Kevin Dyer
63
Posted 12/12/2020 at 22:05:25
Well, I was bemused by our starting line-up and especially by Sigurdsson's selection over Gomes (who actually impressed me off the bench the past 2 games, not sure what you were looking at there Mike G) but held off commenting.
And boy after reading most of the pre-kickoff old guff (or bollocks, if you like) posted on here, I'm happy I held off posting myself, because it all looks pretty clueless now!
Great performance from the whole team, a manful effort from every one of them. The crowd did great too, made a real difference at times.
The guy hoping that the crowd would boo Sigurdsson, our captain and goalscorer — hang your fucking head in shame. Sheer idiocy.
Simon Dalzell
64
Posted 12/12/2020 at 22:05:28
Superb. The much maligned Sigurdsson as good as anyone.
Kieran Kinsella
65
Posted 12/12/2020 at 22:05:40
I'll take it!
Thomas Richards
66
Posted 12/12/2020 at 22:06:33
A great 3 points.
The manager set them up to be difficult to break down and the tactics resulted in 3 points.
We rode our luck at times but overall, I consider that a fair result.

Jack Ledwidge
67
Posted 12/12/2020 at 22:06:52
Shape, discipline and spirit in that order. Masterclass tactics.
Andy Meighan
68
Posted 12/12/2020 at 22:07:09
Where's all the doom-and-gloom merchants with their 3-0 and 4-0 defeats??? Er... conspicuous by their absence, wouldn't you say!!!
So proud of my team tonight: thoroughly deserved. Brilliant boys, can't wait to get back to my seat with a full house.
Stephen Brown
69
Posted 12/12/2020 at 22:07:35
Pleasure to watch that dedication, teamwork and effort!
Well deserved win and well done to Siggy!
Tony Everan
70
Posted 12/12/2020 at 22:07:44
Didn't see that coming, great workrate and fight. Players getting stuck in without fear. Chelsea were expecting us to roll over.
A great win and well done to the lads. I hope this marks a turn of form for Sigurdsson who had his best game in a long time. He will go to bed a happy man tonight. The team put in a great a shift and I thought we deserved the win.
More of the same please.
Alex Gray
71
Posted 12/12/2020 at 22:10:38
The back 4 and Pickford were superb! Special mention to Iwobi who was superb for me tonight! Feared the worst but over the moon to win in that fashion tonight! Coyb!
Dave Lynch
72
Posted 12/12/2020 at 22:12:12
Great result.
They are far from mugs and to be fair, except for 2 shots on goal, they never got a look in.
Deffo signs Carlo is getting there with this team and will only improve it before the start of next season.
Colin Glassar
73
Posted 12/12/2020 at 22:12:42
Finally, a game to be proud of. Let's hope we can build on this!
Brian Wilkinson
74
Posted 12/12/2020 at 22:13:00
Please form a queue, I have a large piece of humble pie for the Sigurdsson slayers to hand out.
Every player stood up tonight, what an effort from the players, but a big pat on the back to the supporters in the ground tonight.
Graham Mockford
75
Posted 12/12/2020 at 22:13:00
It's all about how do we get Rodriguez into this team. He's undoubtedly our most attacking option but we were much more solid without him.
Maybe as a No 10 in a 4-4-1?
John Cook
76
Posted 12/12/2020 at 22:13:58
Not my favourite player by any stretch of the imagination but I thought Sigurdsson had a great game tonight. Best I have seen him for at least 15 months.
Well done, Everton – that effort is the least we deserve.
Kieran Kinsella
77
Posted 12/12/2020 at 22:14:05
Brian 74,
I'll have a slice!
Colin Glassar
78
Posted 12/12/2020 at 22:15:38
Tony #70, if I was married to Sigurdsson's wife, I'd go to bed a happy man as well!
Dave Abrahams
79
Posted 12/12/2020 at 22:15:52
Very happy with the result and performance, Carlo came up with a plan and a formation and the players stuck to it well.
Sigurdsson was very good, apart from the penalty, worked hard and was missed when he went off. Holgate and Godfrey were excellent, couple of good players there.
Not having a go at anyone, simply because the result was very important, and we kept at it all night, kept them out and could have had a couple more goals, but a vital 1-0 win was more than I could ask for or expect.
Rob Dolby
80
Posted 12/12/2020 at 22:16:11
An Italian defensive master class.
Everyone had a strong game including Sigurdsson. The first goal was vital as it allowed us to sit tight.
Clean sheet, fans back and a win.
Fantastico!!!

Brian Wilkinson
81
Posted 12/12/2020 at 22:16:30
Thomas @33, slip into your smoking jacket, have a sip of cognac, and nod in appreciation of your wise words.
Paul Smith
82
Posted 12/12/2020 at 22:22:14
Not one to gloat as it's unedifying and citing my own stuff it's frowned upon but @ post38 I hypothesised a 3-1 win and no drama.
Now it was the wrong score but I felt we would win tonight., Carlo is too good for the run we were on.
Well done, Carlo. I for one love having you here.
Sam Hoare
83
Posted 12/12/2020 at 22:24:52
Delighted to have tempted the fates with my comment @9.
Great result and well deserved. Godfrey the stand out for me but will give a special mention to Sigurdsson and Pickford, who I often berate, but they did well tonight.
John Keating
84
Posted 12/12/2020 at 22:25:06
A much-needed 3 points and an equally important clean sheet.
Quite rightly, Ancelotti has been slagged for some if his formations and tactics; fortunately tonight he got it spot-on.
Same same during the week...
Paul Birmingham
85
Posted 12/12/2020 at 22:27:06
Solid! You can't ask for much more, now to do the same the next game.
I hope this provides some positives to all Evertonians, tonight.
Resolve, and belief, and concentration and effort, superb, tonight.
But this is a solid start, can the squad keep the smell, and let it linger into Wednesday?
Fekkn hope so.
The Ghost of Chrimbo, past but it shows that the crowd, and belief, and determination, can beat any team.
Chelsea, really can't argue, and I've had some txts, off Chelsea fans, since the final whistle, with no complaints, with the result.
Now to build the putty, and make it strong...so no more cracks...
Christy Ring
86
Posted 12/12/2020 at 22:30:11
Humble pie. I couldn't fault Siggy, but a special mention for Holgate and Godfrey and Allan.
I enjoyed the game, can't wait to watch us on Match of the Day.
David Pearl
87
Posted 12/12/2020 at 22:31:10
Carlo got it right. Not said that in weeks. He has a Plan B. Solid.
All played well, or at least put a shift in, but both Holgate and Godfrey were great for me, playing with energy and grit.
If l slagged off the team the way that was done in those early posts, l'd not be on here again for a while. Silly people...
Paul A Smith
88
Posted 12/12/2020 at 22:33:49
Great win, much needed. Godfrey and Holgate were great and they all put a shift in.
Allan has got fantastic intelligence on the ball I thought he ran the midfield today.
Eddie Dunn
89
Posted 12/12/2020 at 22:34:06
A gritty show!
I'm made-up... for a change!
Carl Manning
91
Posted 12/12/2020 at 22:37:55
Do some if you clowns actually read what you've written before you post?
"Carlo is trying to get the sack."
"Sigurdsson must be playing left wingback"
You look like a bunch of sad sacks now. Wait for the game to be played before you go all know-it-all. Some absolutely shocking comments.
Thomas Richards
92
Posted 12/12/2020 at 22:39:03
4 points off top of the table?
Disastrous, sack the manager
Andrew Clare
93
Posted 12/12/2020 at 22:40:40
Delighted with the win and the performance. We looked organised and full of energy. I have to say everyone played well but Allan – what a player – it's great having him at Everton.
As said above, it was an Italian masterclass. Happy for Carlo. Give him time and I am sure he will build a team that we can all be proud of.
I must mention Godfrey and Iwobi, they are looking better and better every game.
Jeff Armstrong
94
Posted 12/12/2020 at 22:41:49
Sorry to anyone who doesn't rate Allan, but he's going to be a real crowd favourite.
So I suggest you back off.
He's decent.
Robert Tressell
95
Posted 12/12/2020 at 22:43:15
Delighted to see Godfrey settle in and Holgate reminding us that he's a class act. Excellent result. Nice to see Gordon make the bench too. Edging closer to the first team perhaps. More of that workrate and desire will see us picking up points.
John Raftery
96
Posted 12/12/2020 at 22:45:27
Tonight proved there is nothing wrong with the fitness of the players. What has been wrong is the shape of the team. Tonight our defensive shape was excellent from front to back. It was the sort of game ideally suited to Michael Keane's strengths. In a team replete with man of the match candidates he was outstanding with numerous penalty box interceptions and clearances.
Derek Knox
97
Posted 12/12/2020 at 22:45:28
Hate to remind all ye naysayers but I did say I had a good feeling before the start of this game. Encouraging performance based mainly on grit and determination, and the refusal to let Chelsea dominate possession.
Not a Classic by any any stretch of the imagination, but nevertheless a confidence builder which should put us in good stead on Wednesday against Leicester.
Even a point there and a win on Saturday against Arsenal, should put us in a healthy position over the Xmas period. Well played blues to a man, and as a team.
Kieran Kinsella
98
Posted 12/12/2020 at 22:46:08
Mourinho was bugging Spurs up for getting 7 points from 9 versus the big six. So have we
Paul A Smith
99
Posted 12/12/2020 at 22:49:43
Carl 91 that is something I never understand.
I never really moan about the starting line up because anyone can rise to the occassion.
We have all seen underdogs win and seen us do it plenty. Minnows riding a cup run etc.
If the managers decisions turn out to be wrong, after the final whistle is the time to discuss it.
Today he got it right thank god.
Tony Hill
100
Posted 12/12/2020 at 22:50:30
Holgate's the one for the captaincy. The way he looked directly and unflinchingly into Moss's eyes when he was being lectured. You could feel the contempt.
Godfrey is going to be a star indeed: that run in the second-half promises a lot. Iwobi excellent and deserves proper praise too.
All very pleasing. But we must do it again and again and again.
Will Mabon
102
Posted 12/12/2020 at 22:52:44
That's the missing element, Tony, as has been for years - consistency. Fix that and we have a chance of getting somewhere.
Kieran Kinsella
103
Posted 12/12/2020 at 22:53:23
Only negatives were the selection if Moyes or Dunc were in charge Nkoinkou and Benigame would have played, maybe Virginia too and we would obviously have won 20-0. But I guess the result was adequate with unfit players and a busted flush manager
Philip Bunting
104
Posted 12/12/2020 at 22:54:04
Should dedicate that to Mosh following our financial news this week. The man puts his cash on the line to do what he feels is best and I hope now the team get that much needed confidence boost from that tonight and get back to more winning ways and repay him for his support
John Pierce
105
Posted 12/12/2020 at 22:54:58
Have we beaten every London side we've played?
John Raftery
106
Posted 12/12/2020 at 22:57:04
Sometimes the hardest games are the easiest. The team had only 28% possession but were organised and industrious throughout. Chelsea had no shots on target for the last hour of the game. Our players defended stoutly with every player putting a shift in.
Well done also to the fans for making their voices heard, especially in the final minutes. I would be surprised if any left early.
Brian Wilkinson
107
Posted 12/12/2020 at 22:57:54
I think one thing we can all agree on, is all we have asked for is effort and a performance.
We have not had that from the past games and supporters have rightly had a go at the team, me included.
Tonight we put in a performance and I could not fault any single player.
More of that please Everton. Well done the supporters in the ground.
Tony Abrahams
108
Posted 12/12/2020 at 22:59:34
I think that even if this thread reaches 1000 comments, that Graham@75, has asked the biggest question, and one which Ancellotti has got to solve.
I was made up with Keane, anticipating and defending the first ball, Iwobi, for showing the type of effort and industry, that will turn him into a proper player, the defensive shape of the team out of possession, that's been missing for ages, and Ben Godfrey, who I thought was absolutely brilliant.
Made up with the effort, because you don't win nothing without it, and this victory should send a lot of confidence right throughout the squad!
Stephen Brown
109
Posted 12/12/2020 at 22:59:57
Great performance full of heart and desire!
Three huge games in next week or so that could define the season!
A solid defence can really help us kick on especially if Richy can find his goal scoring touch.
Credit to Pickford who has quietly played himself into form from a position I thought was beyond him!
Only slight frustration for me, and I'm being greedy but a point v Leeds and a win v Burnley (not unrealistic!!) has us comfortably in the top 4.
John Pierce
110
Posted 12/12/2020 at 23:01:40
Sigurdsson had a great game because it was him reprising his role at Swansea. Asked to be without the ball for large stretches of the game, run/plug holes and provide a killer moment. Fair dos he did.
Ask him to influence a game and dominate inferior opponents, he'll screw you over.
John Boswell
111
Posted 12/12/2020 at 23:10:19
Well I enjoyed that. Will go to bed with a big smile on my face. The team did us proud, as did Carlo and the crowd. Also the ofgicials did not have the negative impact that I worried about pre kick off.
On to Leicester on Wednesday and a similar performance, COYB 💙💙
Bill Gienapp
112
Posted 12/12/2020 at 23:11:11
Immense performance... and an important one, as it showed we are capable of good things, even when we have key starters out. Thought Holgate and Godfrey were excellent - they don't offer what Coleman and Digne do in attack, but you could hardly have asked more of them.
Jason Li
113
Posted 12/12/2020 at 23:14:11
Was worried if Sigurdsson had the legs, but glad he was like the season he signed for us. Proved me wrong tonight. I'm really glad he did, as really, all we want are players to give 100% every game. I've been guilty of calling time on Gilfy, just because we know he can do more but seemed dis-interested. Keep running like this and I'll be well happy, as technically he's still got it.
Chuffed Holgate is back. Digne has serious competition from Godfrey when we tactically need to play a complete defensive set up?
So glad the fans got to see a win, really made up for them missing out on seeing James in action tonight with a win over Chelski.
Paul Birmingham
114
Posted 12/12/2020 at 23:15:03
That level of focus and desire, shown tonight, by the squad, is the minimum for all Everton games.
The balance and shape was kept, with the minimum of offensive play, and if Everton, can win games with so little possession, but create several chances then, it's some thing to work on.
Hope, eternal, and genuine optimism for the next match.
Now to build and maintain this tempo for Leicester away, next Wednesday.
Fran Mitchell
115
Posted 12/12/2020 at 23:15:40
Brilliant performance against the odds.
Special word to Pickford, who after looking hapless at the start of the season has really improved since his being dropped.
Holgate looked to be returning to his best too, which could be huge for our season.
Thought Allan was great, and DCL again needs praise for once again winning us the game. His never give up attitude won that penalty.
And Iwobi, my MOTM. Thought he was excellent.
Peter Mills
116
Posted 12/12/2020 at 23:18:03
Well, the day could not have gone better. Another belting game at Marine, then on to Goodison.
Having made a flippant remark about the process of getting in to the stadium, I have to congratulate all the stewards and police who carried out their duties with good humour.
Spending an hour in a quiet ground pre-match was quite emotional, providing an opportunity to reflect upon the history of the place, and family members and friends no longer with us who loved being there. The drumroll for Z-Cars brought a tingle to the spine.
I really enjoyed the game. Chelsea were good, but not ruthless, and were unlucky not to score, but we were very tenacious. I thought we were flagging a bit on the hour, but the players dug deep. I was particularly impressed with the two full backs, who were excellent defensively and have a bit of attitude about them. Michael Keane was probably Man of the Match, Allan brought back memories of Peter Reid. The team looked comfortable within the system.
A couple of gripes. We don't need players arguing about who is going to take a penalty. It happened twice. After the non-penalty Richarlison simply stopped playing for 10 minutes, it was pathetic.
And Jon Moss is a poor referee.
All in all, a cracking day, it was great to be part of a crowd roaring home the team in the last few minutes.
Brian Murray
117
Posted 12/12/2020 at 23:19:53
Mom is Carlo. He shows that the likes of me know jack. New dawn swerve that false floozy she all talk coyb. We are back no isolated moment. Win ugly until we find a way otherwise
Tony Abrahams
118
Posted 12/12/2020 at 23:21:24
Being hard to beat, has got to be rule number one for any team with aspirations, so it's definitely something we should be working on. I'd definitely agree with you on that Paul B, mate!
Tony Abrahams
119
Posted 12/12/2020 at 23:27:59
Peter M, I knew what was coming when you said you had to spend an hour in the quiet ground before kick off mate.
I knew "emotional" was coming into your vocabulary, because Goodison Pk, does that to us, so I'm glad you've had a great day👍
David Hayes
120
Posted 12/12/2020 at 23:32:05
Great performance and a deserved win. I really did not see that coming. What a wonderful feeling to have your doubts and pessimism blown blown away. I and am sure many others who justifabley based on the 7 previous games felt the we wouldn't compete and feared the worst have had our spirits reignighted, COYB.
Phil Lewis
121
Posted 12/12/2020 at 23:32:12
Under the cosh particularly in the first half, but we weathered the storm with gusto. All round effort superb, couldn't have asked for more from any of them tonight. The back four was immense, midfield gritty and looking continually to break on the counter. DCL worked tirelessly. Difficult to single any individual above the rest, but for me Holgate was near faultless, showing his class, particularly under pressure. Thank you blues for such a gutsy 11/10 performance.
Mike Oates
122
Posted 12/12/2020 at 23:32:19
Great gritty performance, it's what we needed to break out of that slump. Well done the crowd who kept them going.
The back 4 were immense, particularly Godfrey, what a player we've got there and his 2nd half run left everyone miles behind. All he needs is a left foot.
Allan and Doucoure worked hard and Siggy kept Konte quiet, no, mean feat.
All we need is for Richarlison to come out of his slump, both physically and mentally. The lads sulking doesn't do him any favours.

Paul Birmingham
123
Posted 12/12/2020 at 23:52:56
As many have said, and believed today, true grit, composure, fight and belief, 11 v 11, and tonight Everton done it and deserved, to win, duly so.
It's been a long day, in a long month, year etc, but if consistency, shape and communication, is the measurement, then, this is the best game in my view this season, all, player and opposition, matters considered.
But this is the real start..
The momentum, and good traits must be every game, and not like the weather..
Can this be done?
Dave Abrahams
124
Posted 12/12/2020 at 23:56:00
I'm sorry I missed the noise of the crowd, I had it turned off, can't stand today's commentators, but that's my loss, well done lads it looked like you had a big hand in getting us over the line.
Jerome Shields
125
Posted 12/12/2020 at 00:00:49
Good results. Ancelotti by giving game time to players in different positions has really brought them on. Holgate back to his best and Godfrey looking like a real player. Mina, Keane, Allan all good. Ducoure and Richar!ison where mixed. Iowbi now consistent and CL confident. Soggy was transformed.
It hard though not to be of the opinion that players raise their games against Top Six sides. Hard to believe this is the team that could not have put in better performances against lower table Clubs.
Martin Berry
126
Posted 13/12/2020 at 00:03:27
433 its a simple game when players know what there doing. That was the difference and lets keep it that way.
Paul Birmingham
127
Posted 13/12/2020 at 00:09:24
Jerome, you've hit the nail, on the head, spot on.
That's the question, for football matters Everton. Last week, we should have beaten Burnley..
This season, the League is wide open, and if EFC, don't qualify for Europe by any means, then questions, will be asked.
I still believe this season, that EFC, will get into Europe.
Stan Michaels
128
Posted 13/12/2020 at 00:18:48
Surprised but made up with the result. One of them nights were the whole team put some graft in, something we have not seen in recent weeks. Back four were excellent especially Godfrey. Something about him I think is gonna be some player. Midfield was combat. Allan has the making of a fans favourite. Dom is just a different player than what he was 18 months ago. Need to be consistent now like September. Leicester will be really difficult but just keep up with the grafting and hopefully find that momentum going forward. Maybe James could return. Well done blues.
Kase Chow
129
Posted 13/12/2020 at 00:19:22
Martin #126
We played a 451 mate with Siggy off DCL. It was never a 433
Jason Wilkinson
130
Posted 12/12/2020 at 00:22:23
It wasnt pretty. We had little of the ball but Ancelotti got it spot on tonight. For the 1st time since the opening day we managed a clean sheet. When I looked at Chelsea all I could see was goals in their forward line up. Giroud has looked rejuvenated in recent games. We managed to limit opportunities and for all of Chelsea's possession they got very few sightings of Pickfords goal. Onwards to Leicester. They will be a totally different test. They are comfortable giving the opposition more of the ball. I can see Ancelotti changing the line up slightly. We must go there with the same attitude. Richy has looked toothless in front of goal all season. Could this be the game he finally gets off the mark?
Another clean sheet please.
Tony Twist
131
Posted 13/12/2020 at 00:22:59
Excellent result, well played one and all, even Siggy. Just don't think this is the norm from him, Ancelotti. I'm pleased for Siggy, a job well done.
Nicholas Howard
132
Posted 13/12/2020 at 00:33:34
Great effort and gritty performance.
Stuck in every possible challenges...
A bit anxious on Allan & Doucoure both on one match suspension alert
Richie seems lethargic last few games...hope he can regain his form soon...
COYB
Jim Harrison
133
Posted 13/12/2020 at 00:40:18
Best advice of the day, Darren Hind I believe, 7 -2 odds at the bookies was well worth the punt!
John Pierce
134
Posted 13/12/2020 at 00:44:49
A reflection that the performance and the set up today was at the limit of most of that team.
Mina & Keane looked imperious, sat on the 18yard line fighting Giroud and lumping away crosses.
Allan & Doucure looked athletic and covered ground but that was condensed into their own half, no trouble.
Sigurdsson wasn't asked to do anything other than fire in set pieces and run hard.
That plan is superb as a one off, especially as we needed to stop the rot. Ask the same players to expand in any way and you'll get Burnley away. Go a goal down and it's curtains.
Despite the limitations some players did enhance their reputations. Calvert-Lewin, and Godfrey were superb.
James Flynn
135
Posted 13/12/2020 at 00:56:58
Great result.
With Doucore, Allen, James, and Godfrey we've added real quality. Need patience for Carlo to develop them and the rest into a real unit. I believe we'll get better as the season continues.
And I think it's about time we acknowledge that in Keane we have a first-rate defender.
And, respect to the Evertonians at the game for applauding the taking of the knee by the players.
Derek Thomas
136
Posted 13/12/2020 at 01:03:56
Just as Delph's injury forced Ancelotti to change it for the better Vs Burnley, James's injury...or maybe it was a tad diplomatic for resting purposes...changed it for the better Vs Chelsea. I'll take that...Boney's 'give me lucky Generals quote.' Etc.
And Graham @ 75...'the trick is to fit Rodriguez into that 11 and level of performance' is spot on.
You can only beat what is put in front of you though and Chelsea are no mugs - not the real deal yet - but no mugs. They remind me of the 1970 Chelsea and their glory may lay in cup competitions for this season and the next until Lampard, if he can, polishes them up.
Referee Moss let them get away with murder.
Richarlson needs to stop sulking.
That's about it, bring on Leicester.
Rob Dolby
137
Posted 13/12/2020 at 01:16:08
John is your glass still half empty even after tonight?
Allen and dacoure covered the whole pitch, Sigurdsson sat on Kante.
Despite their limitations is a lazy expression Messy, Ronaldo and neymar have limitations like everyone else.
Reality is Ancelotti got one over on Lampard and his very expensive squad with our injury hit team. Give credit when it is due after sticking the knife in when things aren't going well.
Sean McCarthy
138
Posted 13/12/2020 at 02:09:13
Well I'd say the majority of the first 50 comments on this thread prove why Carlo is the manager and not any of the armchair warriors of ToffeeWeb!!
Pickford - slagged off, has a very good game
Mina/Keane - slagged off, didn't put a foot wrong
Sigurdson - slagged off, slots as cool a pen as you will ever see, has a vey sold game
I don't know but maybe this Carlo Ancelloti fella knows a bit more about (a) football and (b) his players than your average ToffeeWebber??
Mike Gaynes
139
Posted 13/12/2020 at 02:20:24
Sean #138, perfect summary, except you forgot Iwobi!
Carlo got it just right indeed.
John Pierce
140
Posted 13/12/2020 at 02:51:00
Rob, no way mate. I'm ecstatic with the result. I'm very pro-Ancelloti and he's all made mugs of us today. Optimism was in very short supply given the divergence in form of both sides. It felt like a big gulf to bridge.
In the same way the anti-Carlo nonsense of the last 4 weeks has been over board it's important, for me, to state that performance and than that side is a one off, for balance you understand. It's unsustainable to play that way, and if we go a goal behind that side cannot make the running.
We earned the win through the commitment and effort, but we were 4-5-1 or 4-4-1-1 however isolated Calvert-Lewin for long stretches. We mended and made do.
That back four was really really compact, against any side we need to make the running Mina & Keane will struggle with the quicker full backs up the pitch.
An excellent win but let's see it for what is was.
Steve Brown
141
Posted 13/12/2020 at 03:00:15
Having questioned some of Carlo's selections and tactics in the last 5 games, he got the formation and the team selection spot on today. I am a big fans of his, but was getting a bit worried. Let's see how he gets on.
Delighted also to eat humble pie and acknowledge that Sigurdsson had a good game (this formation suits him best). Pickford's save to tip to divert James's shot onto the post was superb.
Big congratulations to our Holgate and Godfrey covering the full back positions. I'd still prefer to see Nkounkou given a chance but they both did a sterling job. I reckon he will go with 4-2-3-1 against Leicester, so the magician might be on the bench.
Bob Parrington
142
Posted 13/12/2020 at 06:30:26
Whoopee! Great result. I haven't heard from my mate Zelco Popovic, whom I used to coach and is a Chelsea supporter. means he's really pissed off! Ha Ha!
Some really good performance all round today. Hard to give a low mark as it was a great team performance! High riding Chelsea! Honestly, I was expecting a 3 or 4 nil loss.
Clean sheet to boot. What a strange world we live in at present!!??
Steve Shave
143
Posted 13/12/2020 at 08:22:12
What an odd team we are! We looked fantastic early season, then we looked utterly shit and just when you think "here we go again" we turn up. I posted negatively in the pre match build up. I slagged Gylfi (have done for 2 seasons) and gave us minimal chance of success. I'm usually pretty optimistic but recent weeks have sucked it out of me. I missed the game (typical!) but delighted with three points. I'm also delighted for Godfrey and Pickford (who we must give credit to where it's due for recent performances - maybe he finally got diagnosed with ADHD and prescribed ritalin?). Leicester have shown they can be turned over this season, they are flip flopping like us, let's do them COYB!
Kunal Desai
144
Posted 13/12/2020 at 08:37:53
Dug out a result when it was least expected. Fair play to the team. They showed all the characteristics which was evidently missing over the last six weeks and presumably need to question are these players only turning up to pit their wits against better sides.
Now build on this going into Wedesdays game against Leicester and putting in a similar performance.
So pleased to see 2000 fans back in, we are most certainly the 12th man at Goodison.
Dan Nulty
145
Posted 13/12/2020 at 08:42:14
Congratulations to the couple of ToffeeWebbers who have come on to eat humble pie after their comments before the game were made to look ridiculous. The rest conspicuous by their absence. As for wanting the crowd to give one of our players stick well, the less said about that ridiculous comment the better. How is that sort of behaviour going to help get the best out of our players? Almost like you want us to lose. Crazy.
I've criticised Carlo's tactics and selections in recent weeks but remain a fan. He got it right tonight but the players deserve credit too for getting stuck in.
Richarlison bothers me hugely. Looks class until he has to shoot, sulks, he will be angling after a move in the summer but can't see anyone paying what we will want unless he starts scoring and assisting more than he is. Time he started taking out his frustration on the opposition instead of sulking.
Great performance and long may it continue.
Paul Reeves
146
Posted 13/12/2020 at 08:56:24
Everton do it the Italian way!
Carlo's Italian-style tactics pay off as confirmed in the post-match interview. Score early, defend well and stretch them with counterattacks. Possession doesn't matter.
Have you noticed you don't see many 6-0s in Serie A?
The difference vs Chelsea being a better defence.
Trevor Peers
147
Posted 13/12/2020 at 08:59:44
Hard work and determination got its rewards for the blues. Delighted with this important win. Carlo abandoned his dreadful 5 at the back tactics and we looked solid right through the team, same again at Leicester please.
Richard Nelson
148
Posted 13/12/2020 at 09:25:50
Peter Mills @ 116...enjoyed your post,
well done...!

Jeff Armstrong
149
Posted 13/12/2020 at 09:33:23
No coincidence that Holgate had his best game for ages playing on the right side of the defence, he is obviously very uncomfortable on the left side.
Len Hawkins
150
Posted 13/12/2020 at 09:49:22
Post number 1 must be feeling as sick as the sickest parrot in Sicksville,
Mike #61, Nail on head, after a defeat you can understand posts being negative but before the match even starts, "supporters"?? more or less willing the team to lose is disgraceful.
Brian Murray
151
Posted 13/12/2020 at 09:59:03
Dan post 145. Any chance the real incredible sulk will turn up today v the shiesters. I think Lookman owes us a performance. As for Richy as you say if he or his agent thinks he can do better then score a bagful. Get us to Wembley ( twice ) win us a trophy and top four and I'd drive him to the airport for pastures new myself. Oh and get a anfield hat trick. Don't rely on that idiot Koeman to bail you out he's getting sussed already. Coyb
Jerome Shields
152
Posted 13/12/2020 at 10:01:40
Steve#143
You are not the only one who has slagged Soggy. He did deserve it, but in this match he did up his game.
I agree , Everton will be in the Top six in the end of the season.
The main barrier to progress is against Teams who set up shop and flood midfield. Ancelotti really has to crack that one.
Ciarán McGlone
153
Posted 13/12/2020 at 10:20:32
Anyone gloating about the first 50 comments... should really go watch the previous few matches again..
Colin Metcalfe
154
Posted 13/12/2020 at 10:30:00
Ok I hold my hand up I was one of the many who thought we were going to get thumped, happy to proven wrong by a gritty determined performance that I did not see coming.
In my defense Chelsea have been flying of late and the blues haven't been at the races since the derby however that was a pleasing performance because the players really wanted it and you could see 100% effort all over the pitch, with only 28% possession it was by no means a classic but I will happily eat my humble pie if we continue with that sort of attitude.
Dale Rose
155
Posted 13/12/2020 at 10:35:37
I think one of the main issues with last night's game was fitness. The boys looked a different team from some of the lethargy over the last month, much fitter and up for it.
Clive Rogers
156
Posted 13/12/2020 at 10:46:00
Credit where it's due, Carlo was the master for this game.
Tony Hill
157
Posted 13/12/2020 at 10:49:37
Dale @155, I thought that they've looked unfit but I'm inclined now to agree with those who say it's about proper shape and balance. Perhaps it's also about mental attitude.
Godfrey looks like he's a serious natural athlete with a mind to match. Ditto Holgate and the other young defensive guns we've got waiting in the wings.
Always start with the defence.
Dave Abrahams
158
Posted 13/12/2020 at 10:53:35
Ciaran (#153), well said, and it needed saying. I won't be eating any humble pie.
Carlo and the team performed very well yesterday, Carlo picked a team and a formation that the players could understand and play to; they did what they should have been doing for the last month, have a go for 90 minutes and just do their honest best. They did that well and are getting plenty of praise for doing so. Let's see them keep it up on Wednesday at Leicester and carry on doing it. Win, lose or draw, there will not be many complaints.
The criticism Carlo and his squad have received before yesterday's game have mostly been deserved, calling for Carlo's head not included, and there is no need for any humble pie to be ate, in my opinion.
Do you think the players and Carlo will eat any humble pie for the last month? Sigurdsson played well yesterday, very well, do you think he will eat any for the dozens of mediocre games he has served up since he came? Mina and Keane, will they eat any? Iwobi, Pickford, will they have a go? And Richarlison, a few pints of maturity will go down well with him, 23 years of age and still acting like a 7-year-old spoiled brat, and that includes yesterday's game for him.
Humble pie? I wish I sold it. I'd make a mint selling it to the players, managers and coaches plus boardroom members for the mess I've had to watch over the last few years.
Trevor Peers
159
Posted 13/12/2020 at 10:55:01
We desperately need to sign more forwards in the next window the lack of options up-front is frightening.
Carlo is right when he says Calvert-Lewin will need a rest at some stage, as will Richarlison. Talking about finishing in the top six is possible, but only if we buy or loan more goalscorers in January.
Brian Harrison
160
Posted 13/12/2020 at 10:55:09
Yesterday was simply a tactical masterclass from Carlo. Apart from 3 dead-ball situations, Chelsea didn't create anything.
I think the stats showed Chelsea didn't have a shot on target after the 23rd minute of the game. To a man, the players carried out their instructions to the letter. For me, Allan was our MotM but there were others who also rival him for that award.
I, like many, have been critical of both Mina and Keane at times but, against Burnley, they completely nullified their aerial threat and neither could be faulted for Burnley's goal. Yesterday, both were outstanding again and I am quickly revising my opinion of Keane, who I think is becoming a central part to Carlo's plans.
I also think they have signed a little gem in Godfrey. Considering the lad has yet to play in his preferred position, he has acquitted himself really well. Also, Holgate showed what an excellent defender he is. Sigurdsson gave his best display of the season and closed down a lot from the front with both Calvert-Lewin and Richarlison doing like wise.
Richarlison not yet anywhere near his best since his suspension but the lad gives 100% both in attack and defense. Calvert-Lewin put in a sterling show yet again and was more than Chelsea could cope with and did brilliantly to win the penalty.
I am sure Carlo will, where possible, stick to 4-3-3 and, with Seamus coming back from injury, it will be interesting to see if he brings him back for the next game. Also, the same applies with James: will he bring him back for the next game if he is over his injury? I hope both are on the bench for the next game as the 11 who played yesterday deserve to start the next game.
Robert Tressell
161
Posted 13/12/2020 at 10:59:41
A few observations:
- Back 4 settled everyone down.
- Nothing wrong with a bit of long ball.
- We're never as bad (or good) as you think.
- We can only accommodate one of James, Gomes and Sigurdsson at the same time.
- Over the course of the season, we should be in touch with 6th place but there's a bit of luck needed.
Paul Reeves
162
Posted 13/12/2020 at 11:11:50
Everton do it the Italian way! Carlo's Italian style tactics pay off, as confirmed in the post-match interview.
Score early, defend well, and stretch them with counterattacks. Possession doesn't matter...
Have you noticed you don't see many 6-0s in Serie A? The difference vs Chelsea being a better defence.
George Carroll
163
Posted 13/12/2020 at 11:22:42
Wouldn't it be nice if all the moaners and groaners kept their thoughts to themselves at least till Christmas is over and that includes Michael with his constant little digs at the manager and certain players. Hope all TWs have a safe and happy Christmas COYB
Bill Watson
164
Posted 13/12/2020 at 11:32:00
That one was for Sandra, my lovely wife of over 49 years, who passed away last Saturday after a long battle with dibilitating conditions. Our first date was away to Man City on Boxing Day, 1968. It was freezing and I think we won 1-3.
It was the first game I've been able to watch, and really take in, for a while and I was impressed by the all round team discipline which has been lacking for most of the season.
Peter Dodds
165
Posted 13/12/2020 at 11:36:49
I could only listen to the radio commentary, and to be fair Radio 5 and Danny Mills gave full credit to the lads' performance, in particular Keane, Holgate, Godfrey and Allan.
Pickford too – his fingertip save onto the post from James was fantastic – that ball was in otherwise, look at how it still pinged off the inside of the post. His craziest moments are still when he comes off his line, though – if only he could stay there and just save shots.
I would like to see that formation again against Leicester, possibly with James in the Gylfi No 10 role but, if he needs more recovery time, so be it. I wonder how Carlo will manage his squad over the next three games?
I would prefer to see the same starting XI on Wednesday but then with a few rotations at home to Arsenal, who are really very poor this season and don't offer the same threats. Perhaps give Tosun a run and let Calvert-Lewin sit on the bench; Richarlison and one of Allan or Doucoure too? Then everyone back for Man Utd in the cup.
Stephen Brown
166
Posted 13/12/2020 at 11:37:04
Sorry for your loss, Bill!!
I'm glad the boys came up trumps for you yesterday!
Peter Mills
167
Posted 13/12/2020 at 11:37:27
Dave #158,
When you open your pie shop, please put me down for a couple of slices for having confidently predicted that Jack Rodwell was going to be a star. And Ademola Lookman. And I had high hopes for Joe Harper!
Alan McGuffog
168
Posted 13/12/2020 at 11:41:52
Peter... don't forget David Smallman.
I can feel a thread coming on here.
David Hayes
169
Posted 13/12/2020 at 11:45:04
Dan# 145 read Cieran #153 please. He says it better than I can.
It's not about who needs to eat "Humble Pie" and wise after the event is easy and not cleverness. The Pie needed to cater for all the Pickford, Sigurdsson, Calvert-Lewin, Keane, Mina, Davies, Iwobi and Carlo detractors of this season alone should have to be the size of Goodison Park.
It's not about "I am right and you are wrong" – especially after the event, and one game isn't definitive like several losses are not. Ups and downs all the way. That's what makes it our passion.
Andy Meighan
170
Posted 13/12/2020 at 11:45:45
Bill @164,
Deepest condolences, pal. So sorry to hear about your loss.
John Cook
171
Posted 13/12/2020 at 11:52:18
Bill, very sad to hear of the loss of your wife, Sandra. My thoughts and I am sure the thoughts of all ToffeeWebbers are with you.
I had a scare this time last year with my wife and was grateful for the support given to me on these pages.
God be with you, lad, thinking of you at this sad time.
Dave Abrahams
172
Posted 13/12/2020 at 12:01:29
Peter (#167), yes Rodwell had everything to make it to the top and stay there except maybe the will to constantly work hard at it to make it come true,
Joe Harper... I could tell you a few stories about Joe, a bit of a lad. And Lookman, well you might not be wrong about him. It seems he has the ability, plenty of it, but has to do the work that will make him more consistent. I won't charge you for the pies though!! Made up for you yesterday, you had a day to remember. I hope you get that ticket for the Spurs game.
Alan (168), David Smallman? Brilliant player for me, all he lacked was that little bit of luck that every player needs. He had terrible bad luck with injuries, that's what stopped him from being a very good player and goalscorer, in my opinion!!
Dan Nulty
173
Posted 13/12/2020 at 12:09:25
David, I criticise when they deserve criticism. I think slamming the line up, wanting the crowd to have a go at players, complaining about selection before the players are even out on the pitch is pathetic. Some were even complaining about the formation which turns out they had wrong.
I've said this before, if some of you think you know better then go get your coaching badges and do it. This guy knows his shit, whilst I have criticised recent weeks, we have to remember that he sees these guys train every day. He knows what he is asking them to do and whether he thinks they can do it or not.
I do think some people on here would find something to complain about if we were still unbeaten and top of the league. One or two would still be suggesting Moyes would be better or that wages were too high or that Allan went into the oppositions half three times and it should have only been twice.
I understand after the last few weeks there is a reason to be concerned before the game but I think the negativity was way over the top.
Read some of the comments, if there should be humble pie ever eaten, it should be now by some of them. I'm mature enough to do it when I'm proved wrong. Not sure why others are exempt.
Danny Baily
174
Posted 13/12/2020 at 12:19:13
Gylfi showing why he's the perfect understudy to James.
A more conventional line-up and a more solid-looking side is no coincidence.
I'm looking ahead to a week on Wednesday. Our biggest game in, well, a year since we were last in the quarters. I'd love it if we could win the League Cup and finally put our name on some silverware again. Results like yesterday's give me hope we can do just that.
Brian Williams
175
Posted 13/12/2020 at 12:24:35
Did somebody mention pie?
To me, it's not about eating humble pie. The issue is with those who only ever seek to criticise and seem averse to giving praise where praise is due, those who will sneer at posters today who show happiness at a very, very good result.

Andy Crooks
176
Posted 13/12/2020 at 12:28:31
I haven't read the thread. Look forward to doing so later with a cup of tea and a fig roll.
Just wanted to say thank you to Darren Hind. I never back Everton to win or lose. But, having read his rousing post yesterday, I decided to pile in. Only got 3/1 Darren, but I am feeling remarkably smug this morning. Sometimes supporting Everton is okay.
Normally me and Derek Knox have a post-match moan-in. Derek, it might be different!!
Brian Murray
177
Posted 13/12/2020 at 12:31:51
Alan. Post 168. I was at the game vs The Blades and Smallman's overhead kick, cracking goal as we where all set for the title run-in. Two goals up then we collapsed that day due to Dai the Drop (sorry for his recent illness)... 1975 I reckon.
Paul Smith
178
Posted 13/12/2020 at 12:33:21
I think the best from yesterday was "Carlo is being courted by a European giant so he is setting us up so he can be sacked". A real belter even for us cynical bastards.
Michael Kenrick
179
Posted 13/12/2020 at 12:34:03
I agree to being disgusted by some of the posts at the top of this thread – and a host of them on the pre-match thread, which seems to have become a contest amongst the self-proclaimed 'seers' as to who can predict the biggest cataclysm.
Not sure I agree with your claim, Dan @173, that because "he sees these guys train every day. He knows what he is asking them to do and whether he thinks they can do it or not." Some weeks, Yes... other weeks a resounding No. Which means it's not a particularly valid rule.
But I do like the suggestion about requiring consumption of humble pie... or at least making a public apology for those s confidently predicting defeat on here before their posting privileges are reinstated... Yes!!!
Geoff Williams
180
Posted 13/12/2020 at 12:45:59
This was a great result and a fine team performance with several individuals having outstanding games. The team was set up not to concede goals with the hope of snatching a goal. These are dangerous tactics, especially against a high flying team such as Chelsea, but, on this occasion, they worked to a tee.
Fortunately Calvert-Lewin again showed what a good player he is and it was his determination which resulted in the award of a penalty. One could say that the win could have been more convincing had Richarlison been more clinical but Chelsea did have their chances too.
It isn't often that all 11 players are on top form in the same game but this was one of those occasions. The injury to James also proved to be fortuitous. I don't see this as a tactical masterclass on the part of Ancellotti, as some do, but who cares – it was a well-earned win.
Bill Watson
181
Posted 13/12/2020 at 12:47:06
Dave; re your proposed pie shop venture.
My last job, before retirement, was in West Lancs and many of the women were Wiganers. Chatting to one, who was in her mid 30s. I asked if she had ever worked anywhere else.
"Yes," she replied, "my first job was in a pie shop in Wigan." I asked if it was a cake shop that sold pies and she said "No, it was a pie shop that just sold pies." lol.
Thus was my introduction to the unique Wigan pie shops.
Andy Walker
182
Posted 13/12/2020 at 12:51:00
I thoroughly enjoyed the match. I thought every Blue put in a huge effort and all pretty much on top form. Only Richarlison wasn't at his very best in my book, but he certainly put a shift in.
Godfrey and Holgate are excellent defensive full-backs. It was an old school formation and style of play and proved extremely effective against the form side in the league.
Bloody well done, lads!
Tom Bowers
183
Posted 13/12/2020 at 13:00:14
In a democratic environment, everyone gets an opinion and it should be respected. We all have our opinions about the players, the managers and the tactics and that is because most of us see things differently from different perspectives.
Everton, like most clubs have had many players over the years, some who had great promise early on but failed to be consistent enough to merit keeping and were sent packing only to prove that with other clubs they were just the same despite showing some skills on rare occasions.
Sometimes it's down to whoever is managing at the time and which players he likes and dislikes which can conflict with the likes of the fans.
I never was impressed with Leon Osman but many saw him differently, Moyes certainly did.
Having skill is one thing, putting it to good use is another. We have had many young forwards bursting on the scene only to disappear quickly, such as Franny Jeffers and James Vaughan.
We are not quite sure why Nkoukou hasn't been given the nod recently but Carlo must see something that isn't right yet.
Everton, despite the setbacks, are still way up there and if they can perform as a tight unit like they did yesterday for a few more games till the whole squad is available then who knows what the season may bring.
From what I have seen, none of the usual top six are anything like they were last season, although Man City can still pass the ball around better than anyone.
Jay Wood
[BRZ]
184
Posted 13/12/2020 at 13:02:47
The flurry of posts at the top of the thread after the team was announced made for eye-rolling reading and a wee chuckle as to how the game played out.
As for Ciaran's 'justification' - 'Anyone gloating about the first 50 comments should really go watch the previous few matches again.'
That could be flipped to read you really could read back all the pre-match threads not just from this season, but for many seasons, and you will invariably find the same names predicting doom and gloom before a ball has been kicked.
It's just what some folk do, and in some cases, it's ALL they do.
Peter Mills
185
Posted 13/12/2020 at 13:10:41
Michael K#179 - great last paragraph.
What do you think of Dominic Calvert-Lewin's performances this season?
Brent Stephens
186
Posted 13/12/2020 at 13:14:30
Brian #175 (and others) "To me it's not about eating humble pie. The issue is with those who only ever seek to criticise and seem averse to giving praise where praise is due, those who will sneer at posters today who show happiness at a very, very good result."
Couldn't agree more. Nothing I can add to that.
Brent Stephens
187
Posted 13/12/2020 at 13:17:33
Bill #164 that one, as you say, was for Sandra. Best wishes, mate.
Rob Halligan
188
Posted 13/12/2020 at 13:21:22
Jay, I've got a mate who does nothing but moan about anything and everything, from top to bottom, about the club. Yet amazingly prior to last season being suspended, he hadn't missed a game, home or away, in years.
He says he never looks at TW, but honestly, he wouldn't look out of place on here, and could be using a pseudonym. For fuck's sake, he even thinks the ballot for the return of fans is fixed!! I always say to him that he's such a miserable bastard that he probably hates himself.
Tony Abrahams
189
Posted 13/12/2020 at 13:23:25
Very sorry on hearing you've lost your wife, Bill, and glad Everton, hopefully gave you a little bit of cheer yesterday mate.
I've been waiting for that tactical masterclass for a while now? And when I heard the super talented Rodriguez was out, I had a feeling we might just play with a lot more shape.
We can't change this formation because it suits us and also gets the best out of a lot of the players imo, and if Rodriguez can match Sigurdsson's work rate, and Iwobi can work like this every game, it won't half get rid of a load of "ifs"!
Danny O'Neill
190
Posted 13/12/2020 at 13:24:22
Just got around to checking out the threads. Made the emotional decision of going to watch in my local London sports bar surrounded by Chelsea fans. Always uncomfortable.
The first 45 or so alarmist posts were "entertaining" I have to say, albeit bordering on hysterical. I particularly like the one calling on Evertonians to give an Everton player stick. Interesting expression of support.
Also interesting how a result changes opinion. I was a very vocal minority after last week because although the result was disappointing, I didn't think the performance was as bad as some made out. Appreciate we all see things differently and results matter but we didn't actually perform that badly against Burnley if you look through the result.
Good solid performance yesterday and the 4-2-3-1 definitely gave us better shape and balance. Once again (as last week), the defence played well; even better yesterday. We were organised and well-drilled. I also thought the midfield 2 done a great job (again), but Allan in particular was excellent. Sigurdsson's best game in a while, by a mile.
I'm not getting carried away with a good result, it's just that I didn't hit panic last week. As I said last week, beat Chelsea and we are 2 points off them. Yes, 2 points off supposed title challengers in December We are still staying in touch with our target of European football. That's all you want at this stage of the season.
Scratched record "as I said last week" repetition; I will personally judge the manager and team (within reason) towards the end of the season, not at the beginning or middle. Just like I'm judging this performance after the match, not because I disagreed with the manager's selection, and I too have been a Sigurdsson detractor this season. Having spent a lot of time previously defending his qualities, I had finally given up on him. I said last week (there I go again) that I would be glad to never see Fabian Delph wear an Everton shirt again, but if he gets picked again, I'll watch and hope he has a great game.
Brent Stephens
191
Posted 13/12/2020 at 13:29:52
Looked like Chelsea were trying to exploit an apparent weakness we have with the ball over the top of Mina and Keane, and the weakness of the ball crossed from the wing to the far post. I thought we dealt very well with all that last night.
Ciarán McGlone
192
Posted 13/12/2020 at 13:30:11
Peter Mills
193
Posted 13/12/2020 at 13:32:21
Bill #164, sincere condolences on your loss. Sitting quietly in a mostly empty stadium for an hour before kick-off gave time for reflection, and there were definitely spirits of loved ones sitting in the stands.
David Randall
194
Posted 13/12/2020 at 13:32:22
A fantastic if unexpected result yesterday. So unexpected, I'd removed Pickford from my Fantasy Football team due to the anticipated drubbing.
The key point I took from the game was the solidity that the defensive-minded full-backs offered. One of the modern fixations with football is that the value of a full-back is often related to their quality of crossing, rather than their defensive ability.
Win the ball and pass it to your midfielder/winger for them to attack. It keeps the back four in line and, on the odd occasions they overlap their midfielder or winger, that player sits in.
Our centre-halves, as limited as some fans think they are, can be left exposed. Their full-backs being so high up the pitch when the opposition counter-attack, they are dragged out of position. It gives us a great base to work from and isn't personnel dependent. If asked, I'm sure Coleman and Digne can rein in their attacking instincts for a while.
Barry Rathbone
195
Posted 13/12/2020 at 13:33:56
Reading the posts it seems, rather than scintillating football, a bit of focus and effort won the day. Can someone, therefore, enlighten me as to why this prerequisite isn't apparent at all our games under our illustrious Don?
And for those patting themselves on the back at spiking the guns of "moaners" would you say this is the end of dithering dolly daydream footy of recent times? Or is this is the usual mid-table formula of pick up a few unexpected points and lose a few expected ones ?
Danny Broderick
196
Posted 13/12/2020 at 13:34:17
The team were brilliant yesterday. The defence were solid and we retained some mobility in the full back positions with Holgate and Godfrey. Sigurdsson managed to impact the game - my biggest criticism of him.
Allan and Doucouré carried on their efficient performances in the middle. Iwobi maintained his form on the right, Richi worked hard on the left, and Calvert-Lewin gave it everything up-front on his own.
Credit to the manager. I thought his team and bench selections were rubbish in the previous 2 games. He got the team selection and game plan absolutely spot on yesterday.
Derek Thomas
197
Posted 13/12/2020 at 13:56:43
Barry @ 197; Time will tell, Wednesday probably.
Ray Roche
198
Posted 13/12/2020 at 13:59:04
Bill #164
Bill, I'm very sorry to hear about your loss. I know you've been her carer for some time and the void that is left by her passing will be impossible to fill. My sincere condolences, Bill.
John Keating
199
Posted 13/12/2020 at 14:01:52
Ancelotti and the players deserve all credit for yesterday's gritty display. No doubts. However, it also is fair to say that he and the team deserve criticism for some of the displays we have witnessed.
After losing Digne and Coleman, he tried 3 at the back and it failed. Rather than revert to what his players knew and were comfortable with, he tried it again and again it failed.
Some players who put a shift in yesterday have been posted missing in past games. Hopefully now Ancelotti will play systems to suit the opposition and the players he has not what he thinks he has.
No doubt Coleman and Digne will slot straight back in when fit but what a great problem he now has with Keane, Mina, Holgate and Godfrey available.
We need Calvert-Lewin to keep playing and we need to feed him from out wide. Making him plough a lone furrow up-front and coming deep all the time to hold the ball up will knacker him.
I'd be tempted to keep that team against Leicester City and not rush Coleman back too soon.

Jay Wood
[BRZ]
200
Posted 13/12/2020 at 14:05:42
Peter (Mills) and Brent. I know you guys were fortunate enough to attend the game.
I'm sure I'm not alone in being interested in hearing more of both your impressions of the entire match experience: ticket collection, pre-requisites to attend, processing on arrival, the stewarding, adherence to rules by fans, the vocal support, how much of the Goodison wag comments you can hear in game.
And, of course, your impressions of the new boys on show. It must have been disappointing not to see James among them.
It would offer interesting insight, if you have time to share your thoughts. Thanks.
Danny O'Neill
201
Posted 13/12/2020 at 14:06:41
And Bill, very sorry for your loss. Glad Everton put a smile on her face.
Anthony Jones
202
Posted 13/12/2020 at 14:26:41
Good result against an off-kilter Chelsea.
The idea that all the "naysayers" are wrong about everything because we scraped a 1-0 that included our posts being hit twice is just bollocks.
Ancelotti's decisions and "quiet leadership" we can do without.

Brent Stephens
203
Posted 13/12/2020 at 14:29:51
Jay, yes, as you say, Peter and I were lucky enough to get tickets for the last night's game. To answer your questions...
I expected last night to be a cold return to Goodison Park, with little to enthuse about with such a small crowd, and a win against Chelsea a big ask.
The arrangements for entry to, and movement within, the stadium were spot on. Fans well outnumbered by staff. All very smooth. I was given a check-in time of 6:15 for an 8:00 pm kick-off! Turned up at 7:00, no queuing, decided to walk around Everton 1 store, then into the game, no problem. The only downside (upside for some) was a text an hour or so before kick-off to say no catering in the ground.
As I posted last night from the game on the Live Forum, and as Peter has posted, it was emotional. Got to say, when the lads came out to start their warm-up, and with the reception they got, I can't describe that lump-in-throat feeling.
Glad to see the 100% support and applause for the taking-of-the-knee and what it represents. Not a single dissenting sound.
Only one guy I saw who had his face mask off and he was quickly told to do the right thing, which he did.
I was surprised how loud the "Carlo Fantastico" and other songs rang out. I can't wait to get back to away games as well.
As for the game itself, Chelsea might have had a lot of the ball but made little impact and few attempts on goal. Carlo had Lampard in his back pocket almost. Overall, a really good team performance. The back line excellent; how quickly Godfrey has settled in. Allan is so strong on the ball and incisive. Iwobi again surprisingly effective. The Richarlison strop was the one low-light.

Derek Knox
204
Posted 13/12/2020 at 14:39:20
Have just checked in to TW, so belatedly offer my condolences to Bill @164, on your sad loss. Having met you Bill at the TW Get Togethers, I know how you must be feeling, but sadly we all have to go sometime.
Getting back to yesterday's result, I am still elated but not exactly buzzing, I think as many have said already that the proof of any recovery will be on Wednesday. Having supported Everton for nearly 60 years, I have seen great results so often followed by poor ones.
Being a realist as well as an optimist, I think we are capable of getting something at Leicester.
Jamie Crowley
205
Posted 13/12/2020 at 14:50:11
The entire reason I started watching this sport was due to a clip I saw of the fans in England celebrating a goal when I was in my teens. The fans celebrating a goal.
I have to say thank you Brent for your description of what it was like for the fan at the game yesterday.
For me, the best part about the 3 points, the best part of the game, was the fans were back. To be able to see them, and HEAR them over the feed yesterday just warmed my heart.
I pray we're all rounding a corner where that microcosmic beauty of humanity as a whole - the wild goal celebration - returns to packed stadiums all over England and the globe.
Bill Watson -
My best to you and yours and condolences. If it means anything to you at all, they'll be a Mass said in Florida for your wife. If it doesn't mean anything to you, it can't hurt. Cheers and be well.
Dave Pritchard
206
Posted 13/12/2020 at 14:57:48
Great result and much better with far fewer gaps between defence and midfield. Only one result and some big challenges to come. Playing 4 defenders in the back 4 makes a big difference and hopefully this will continue now.
Sigurdsson getting praise for his performance and rightly so but we must remember some of his inept displays previously. He needs to play like this regularly to be worth his place.
Calvert-Lewin didn't score but got the penalty and has to be the most improved player in the Premier League. He is great to watch even when we don't play well. Just need Richarlison to get his act together and we have a great front 2.
Peter Mills
207
Posted 13/12/2020 at 14:58:10
Jay #204. My first emotions were not all positive, but they had changed for the better by the end of the evening.
The first step was to enter the ballot for a ticket, which was only open to those living within the Liverpool postcode. I did so and received an email advising me I had been successful. I applied for the ticket online, and received back a receipt. I didn't fully open the email, so missed the bit telling me I needed to log in to my EFC account to access my ticket. Brent put me right about this on TW, for which I was very grateful.
Next step was to get a COVID test. The only place I could find that would guarantee me a result within 30 hours was at the kop. I wasn't too happy about going in the there, but needs must. I've burned my shoes. Negative result came back within an hour. I had to take the negative result, plus photographic proof of ID to the match.
This process seemed a bit heavy compared to the procedure I followed to obtain a ticket for an FA Trophy match in the afternoon, but there's no point in railing against something you can't alter.
So to the match. I had to get there for 6.45pm for the 8.00pm kick off. My ticket was for the Top Balcony, the other lads were in Gwladys Street. There was temporary fencing at the entrance, a vast number of stewards, some of whom were obviously new to the task, but everything was done with good grace and humour. I had to show my COVID result, my passport, have my temperature checked, then was scanned by a steward with a hand-held metal detector, which again seemed a bit much.
Into the ground, again a very dense steward presence, but still good natured. The concourse facilities were not open, but we had received a text advising we could take our own food and drink. I didn't, but I appreciated the free bottle of water we were all given.
Into the seats, with people sitting in alternate rows and gaps of two seats between one another. Everyone had to wear a mask.
Sitting for an hour on a very cold night could have been grim but I actually enjoyed it. There was an interactive quiz on our phones which was a bit of fun, but mostly I just spent the time reminiscing about good and bad times within the stadium.
The sirens broke the spell, then Z-cars, then a 2,000 voice cheer as the teams came out. It looked like the players were genuinely pleased to have spectators present.
It was a cracking game, and there was no trouble becoming engrossed and involved with it. I thought the team started to flag a little around the hour mark, a few others did too, so the volume was cranked up a bit. For the last few minutes I think the fans carried the team home. It didn't feel like there were only 2,000 present.
I got home around 10.30, Mrs Mills had got the coal fire roaring, MOTD was starting, a glass of red wine was taken.
All in all it was excellent. Well done to the Club for managing things very well, and the team for their display. Good luck for next time for those who were not able to attend.
Darren Hind
208
Posted 13/12/2020 at 15:03:21
The Hindsight merchants would have a lot more credibility if they voiced their objection to perceived "moaning" before the game. The fact that nobody heard a peep put of them would suggest they kinda shared with some of the fears being expressed.
Carlo Ancelotti has been appalling recently and although I have never liked to hear fans giving up on games before we've even kicked off, some of the fears expressed before the kick-off were perfectly understandable.
I find some of the comments after the game even more mystifying, We needed that win yesterday, big time... but, welcome as it was, I found myself doing a double-take when I read somebody describe it as a "Tactical Masterclass".
Thankfully, after weeks of fucking about, Carlo went back to basics. The round pegs were removed from square holes and I'm happy to give him credit for motivating his players enough to win their personal duels... but "Tactical Masterclass"???
I also think the suggestion that Chelsea are title contenders is pie in the sky too. Whipped up to boost Carlo's "Fantastico"-ness. They have some very good individuals, but I'll go to the foot of our stairs if they even qualify for the Champions League.
Leicester are a better team and, if we can beat them, we really can start practicing a hearty rendition of "Tidings of comfort and joy"!
Ken Kneale
209
Posted 13/12/2020 at 15:08:22
Peter – really enjoyed that – and very glad you enjoyed your day from start to finish. Your reminiscences on Everton are always worth reading but especially so at present when most of us will have to rely on third-hand accounts.
I wish all on TW a safe and healthy Christmas.
Darren Hind
210
Posted 13/12/2020 at 15:11:02
Bill Watson
Sincere condolences.
Peter Mills
211
Posted 13/12/2020 at 15:11:49
Cheers Ken.
Peter Mills
212
Posted 13/12/2020 at 15:23:00
Jay #200,
I had been particularly looking forward to watching James, so I was disappointed when he was excluded. But maybe it helped.
I was very impressed with Ben Godfrey, who has a touch of Des Walker about him. And Allan was very combative, he could become a fan favourite.
Dave Abrahams
213
Posted 13/12/2020 at 15:28:29
Bill (181), nice story Bill, humour isn't just by Scousers it's everywhere.
So sorry to hear about your very sad loss, I hope your wife was looking down on the Blues and remembering her first date watching them. You'll always have those many happy memories you made together, and she'll know what a large family you've got on here, besides your own.
A nice touch by Jim Crowley from America as well, prayers can never do any harm and are always welcome I imagine. I hope we see you, Bill, at the next ToffeeWeb meeting, whenever that will be. Very best wishes, Bill.
Thomas Richards
214
Posted 13/12/2020 at 15:49:08
A good win yesterday, against a very good Chelsea team, was encouraging.
Astute tactics from Ancelotti saw one of the league's top scoring teams restricted in the chance creation aspect of the game.

Jay Evans
215
Posted 13/12/2020 at 16:00:40
Contrast and compare the early comments on this thread with those posted after the full-time whistle.
Seriously, if you haven't already done so go back to the start and have a read – they are genuinely funny.
As for the game itself it just shows you I suppose, do the basics right and everything else will follow. Be first to a loose ball, win your 50/50s, pass the ball forward (to a teammate), stop your opponent from crossing or shooting – and look what can happen.
Oh yes, and how quick is Ben Godfrey?
David Hallwood
216
Posted 13/12/2020 at 16:27:08
Jay (#215), it just shows the bi-polar world football supporters live in (me included). The comments before the game, you'd think we were relegation fodder, and Chelsea were world beaters, but if Sigurdsson had scored vs Burnley from James' through pass, we'd be level on points with them; if 'its' and 'ands' were 'pots' and 'pans' eh?
Chelsea have exceptional players but, then again, so have we, the problem is that we've forgotten how well we played at the start of the season. But onward and upwards, two tough games for us this week, but look at it another way, both Leicester & Arsenal have tough games this week.
Tony Abrahams
217
Posted 13/12/2020 at 16:43:06
I for one will be very surprised if Chelsea don't make the Champions League, Darren.
Danny O'Neill
218
Posted 13/12/2020 at 16:45:51
I too think Chelsea's title credentials are pie in the sky-ness Darren. But they are being touted as such.
We always need to win games. I hate the phrase "must win" in November and December personally. Those are title clinching, relegation surviving or European qualification deciding April and May games in my humble opinion. But that's me.
I think what we're all agreed on is that was a great win yesterday against a much talked about team, who – outside Liverpool and Man City – are up there.
I get what you say but, over the course of the season, we are only 2 points removed from them, with a long way to go.
No Carlo Magnifico from me. The manager and the team done well yesterday. Like you say, in previous weeks, they haven't. But the season ends in May and, as I previously stated, I didn't think last week's performance was that bad. Not to be confused with disappointing result.
David Cooper
219
Posted 13/12/2020 at 16:46:47
Just to add to Brent and Peter's posts, there is an excellent video on YouTube showing what it was like in Goodison from a spectators perspective.
Great to see the rapport between players and fans while warming up, coming out for the kick-off and at the end of the game. I must admit it gave me goosebumps,s especially since we got the right result. Interesting what both Peter and Brent said about the number of stewards. Maybe it's a way to increase the number of Evertonians present above 2000!

Paul Birmingham
220
Posted 13/12/2020 at 16:49:20
Bill @164, deepest condolences and sympathies at your terrible loss.
Hopefully that win, Is a good boost and hopefully we'll all get another Chrimbo present on Wednesday at Leicester.

Phil Smith
221
Posted 13/12/2020 at 16:55:45
David Connor (45), I think he did prove you wrong there, la. Just the kind of performance needed again a free-scoring blues side.
We got a bit lucky with the James effort but he shouldn't have been on the pitch for me. Two really late tackles by him and should have been off.
Bring on Leicester City.

Alan Johnson
222
Posted 13/12/2020 at 16:56:58
Anyone know what time the pies will arrive?
Derek Knox
223
Posted 13/12/2020 at 17:10:49
David @ 219, I have tried to get the YouTube video you mentioned but without success. Any chance of a link, mate? I'm sure our Overseas supporters would welcome it too. Thanks.

Chris James
224
Posted 13/12/2020 at 17:32:40
Random thought:
Had we played a back 4 against Leeds and Burnley, would we be sat joint top this weekend?
Hugh Jenkins
226
Posted 13/12/2020 at 17:52:19
Bill (164) My heartfelt sympathy goes out to you in your loss.
My wife and I have been married for 48 years and I would be lost without her, so I can both understand and imagine what you are feeling.
David Cooper
227
Posted 13/12/2020 at 17:54:42
Derek #225, Search YouTube using "Toffee TV Everton 1-0 Chelsea 2000 Fans Return to Goodison Park". Hope that helps!
Ajay Gopal
228
Posted 13/12/2020 at 18:02:06
Bill (164), so sorry for your loss. You were lucky to have her for 49 years and especially as a fellow Evertonian. Stay strong, you have the bigger Everton family to support you, albeit only with words of comfort.
Although Carlo may well abandon the back 3 forever and that seems to be the popular opinion here, I don't think it is a bad system per se. I think the mistake that he made was to play Holgate on the left and Godfrey on the right, which was a very odd thing to do, since every Everton supporter and his dog will tell you it should be the other way around. Someone must have told Carlo, because in their natural positions, both Holgate and Godfrey were very good. We could take Mina out of yesterday's back 4 and play Digne and Iwobi or Coleman as wingbacks (if only Iwobi could learn to cross as well as Digne and Digne works on his defensive side a bit more). But, if we play Back 4, then Keane & Godfrey or Holgate & Godfrey should be our CB partnership.
Oh, and I should mention Kurt Zouma - he has obviously improved leaps and bounds from when he played for Everton and I just wonder what might have been if Chelsea did not have those CB injuries before the beginning of last season and we had managed to buy him.
Maybe Silva would have still been in the job. Losing Zouma and Gana at the same time and then our key signing of the summer (Gbamin) not being able to make any impact sealed his fate. Ah well
Jason Wilkinson
229
Posted 13/12/2020 at 18:04:28
I'm generally a pessimist when it comes to Everton. Many years of let downs. It always seems that, when a win would send us in to a position, 4th, 6th, or even out the relegation places, we have come up short. This season has thrown in some "unexpected" results.
We have not yet lost to opponents from inside the M25! Saints have had a great start to the season but I can't see them sustaining their position if they lose one or two to injury or suspension.
Leicester next. Great one week. Very average the next. If you offered a point, I would grab it but I have a sneaky feeling we might have the beating of them.
The point at Burnley was disappointing but, in hindsight, we weren't too bad. Switch the last four points around and we would probably be happier. Not many were expecting a win vs Chelsea.
Maybe Ancelotti has got something about him after all. I was calling for a back three weeks ago. Not with Delph or Davies as wingbacks mind. I've always said a two-point average is where we should be aiming to become a threat to the Sky Six. On this season's evidence, I think we may come up a little short. However, we have the worst City side for many years coming to Goodison Park, an away trip to Sheffield Utd and Arteta's Arsenal. I'm not expecting nine points but I can see seven coming if the aptitude and graft shown against Chelsea prevails.
Before I receive the derogatory comments. I know history says we can't win without Richarlison but he hasn't played well for the last three or four games. Can we drop or rest him? Give Anthony Gordon a chance?
Will Sigurdsson put another performance in? Can we keep more clean sheets? Has Dom hit a barren spell? All questions we will find out before 2021.
Mike Gaynes
230
Posted 13/12/2020 at 18:07:10
Bill #164, deepest condolences on the passing of your life partner. Wishing you peace and solace, sir, and prayers are being offered in Sandra's name.
Derek Knox
231
Posted 13/12/2020 at 18:13:30
Thanks David @ 236, I just typed inside Goodison Park on Matchday, there were quite a few but mostly from two to five years ago. I have been to GP loads of times but just thought it would be good for our distant fans who may have only been once or twice or not at all, to get a glimpse (albeit with reduced numbers) what it's like inside the Old Lady.
Assuming of course that BMD does get under way soon!
Harry Williams
232
Posted 13/12/2020 at 18:30:11
Who's shouting for Kenny and Nkounkou now? As fans, yes, we have an opinion but we're not Carlo Ancelotti. We think we know football but we don't; Ancelotti does...
Let's get behind him and the team, let's not keep changing our opinion from week to week – in fact from half to half, we need to be loyal and support our manager and team!!! COYB
Hugh Jenkins
233
Posted 13/12/2020 at 18:34:21
So, Liverpool failed to do what we did – beat Fulham at Craven Cottage.
We are now only 5 points off top and have just been through a dreadful run of games and have suffered injuries to key players.
Hopefully, yesterday's team "clicking" will give us a good platform to build on going into the second third of the season.
David Cooper
234
Posted 13/12/2020 at 18:41:46
Derek #247 and others: Try https://www.youtube.com/watch?v=Am0rPzqQk8A
Not sure if you found it from your post? Made me think of how much EFC stuff is on YouTube if you know where to look for it. For example tomorrow Monday 2pm on the Everton YouTube channel live coverage of EFC U23s v West Ham - Free! Also there is a daily fan cast on Toffee TV from their YouTube channel.
David Cooper
235
Posted 13/12/2020 at 18:46:46
So onto Leicester on Wednesday! Break the Coaching 101 and keep the same team? Or switch Godfrey to centre-back to cover the speed of Vardy? I'm sure Carlo will get it right!
Brent Stephens
237
Posted 13/12/2020 at 18:53:25
David #254. Official website has tomorrow's game v WHU at 6.00pm.
Kim Vivian
238
Posted 13/12/2020 at 19:18:11
https://www.youtube.com/watch?v=Am0rPzqQk8A&ab_channel=ToffeeTV%3AEvertonFanChannel
Dave Williams
239
Posted 13/12/2020 at 19:35:39
Bill Watson- so sad to hear about your lady. Hopefully yesterday provided a ray of light albeit for 90 minutes.
Eddie Dunn
240
Posted 13/12/2020 at 19:39:46
Dear Bill Watson, what terrible news. Sincere condolences to you and yours.
Rob Halligan
241
Posted 13/12/2020 at 20:15:02
Hi Bill. Sad news regarding your wife. Deepest condolences. A result like yesterday will bring you a little cheer, though nothing can compensate for losing a relative.
I lost me dad the day before we played, funnily enough, Chelsea in the FA Cup replay at Stamford Bridge when won on pens.
Me dad was also an avid Blue, and was clearly looking down on us that day. It was a hard trip for me to make, but I was told it's what me dad would have wanted.
Brendan McLaughlin
242
Posted 13/12/2020 at 20:36:09
Hey Bill #164,
So so sorry... pleased that despite the sometimes acrimonious exchanges on this platform, you could share your pain.

Tony Abrahams
243
Posted 13/12/2020 at 20:39:15
I hear loads of people say Kenny, isn't good enough Harry W@251, but I was happy to see him come on yesterday, in place of Richarlison. I thought it was good management by Ancelotti to show enough trust in Kenny by putting him on as a left midfielder.
Sometimes you don't feel wanted, then your manager throws you on: "Go and do what you're good at. Work hard and get stuck in, lad, help us get over the line" will have been words I'm sure Kenny will have been told, and it might just do him the world of good, hopefully.
Matt Woods
245
Posted 13/12/2020 at 21:59:10
Last week I moaned about Ancelotti not finding a system and players to bring more energy and aggression to the team. Well he did just that on Saturday. Got it absolutely spot on tactically and provided the motivation to win three vital points.
Brilliant, Carlo, questions were starting to be asked and you found the solutions. The win breeds confidence in the players and lifts the spirits of the supporters.
First you always have to fight in football to earn the right to play. Let's build on this at Leicester.
COYB!!!!
Graeme Beresford
246
Posted 13/12/2020 at 22:02:30
Bill @164 sorry to hear of your loss. Very sad and I hope the kind comments you have received here bring you some solace at such a difficult time. My thoughts are with you.
David Hayes
247
Posted 13/12/2020 at 22:03:53
Glad to see this thread has morphed into a celebration of a well deserved and hard-fought win against a free-scoring, powerful team. It fires my soul, that Z-Cars anthem, even though I've heard it a thousand times. COYB. Everton Forever.
Peter Mills
248
Posted 13/12/2020 at 22:04:59
Tony, Danny, I'm with you, and also was happy when Kenny came on. He fitted the moment. Sandy Brown, Eamonn O'Keefe, Alan Harper, Kevin Langley and others have been very good squad members in the past. Players who can come in and perform a task. There is an important role for them.
David Pearl
249
Posted 13/12/2020 at 22:38:59
Bill 164, just to echo the love and support thrown your way from fellow blues. Take care
Derek Thomas
250
Posted 13/12/2020 at 22:49:22
Peter@ 260; The 1970 Brazil Manager called them 'Piano Pushers'..."For Maestro's to perform, somebody first has to push the piano on stage"
Danny O'Neill
251
Posted 13/12/2020 at 23:00:06
Derek @250. Are you in the future reading Peter @260's post or is my thread struggling to keep up??!!!
Danny O'Neill
252
Posted 13/12/2020 at 23:04:12
But on a serious note, I totally get your sentiment. We need those players in the squad to enable the stars to perform. Those Peter calls out are so important to the squad. I would add Kevin Richardson to that list in my time. A player who went on to be a regular in a title winning Arsenal team but could get a first team berth in Howard's Everton. But my, he was important for us.
Justin Doone
253
Posted 13/12/2020 at 23:41:23
Excellent win. A Duncan inspired game plan me thinks.
The problem is getting the balance right between a solid defence and a more possession based attacking team.
Biggest difference was not conceeding first. Hard work, closing down, working together in combinations and not messing around with the ball at the back should continue to be the basis of all our game plans.
With 2 slow centre backs we played deep and stayed compact as a team. Simple stuff really and I don't understand why we push up so high in other games.
Godfreys pace at the back makes a huge difference to stop so many crosses coming in and preventing runners playing one-two's. Holgate did well too.
The natural full backs now have a real challenge to win their places back. Do we want full backs to defend or attack, thats always a hard question but for me they're defenders. Get forward, find space but don't both over commit.
DCL motm, created and made the penalty from nothing.
Big shout out for Allan who had to tell his Brazilian teammate Ric to stop being selfish and childish, Siggy is on penalties.
However, I don't wan't to see Siggy or any Everton player take such a pathetic penalty again! 1 very lucky man.
Bill Watson
254
Posted 13/12/2020 at 23:54:28
Many thanks for your many messages of condolence and support. It's very much appreciated at the end of what has been a nightmare month exacerbated by delays in issuing her death certificate
Jamie # 205. Sandra was an RC and would have been thrilled to know a Mass was being said, for her, in Florida. Thank you.
She would also have been pleased prayers are being said for her, too.
Thanks again Toffewebbers.
Jim Harrison
255
Posted 14/12/2020 at 01:00:39
Justin 253
Any penalty that hits the back of the net counts. This one has been widely praised. He's completely done the keeper, waited for him to commit and rolled it in. Fantastic.
Siggy had a good game, and about time! Stats I believe show he created 6 chances in the Match.
Hopefully we will see more of this from him.
As for how to fit Rodriguez in again? It may be a couple of months back but I seem to remember him fitting in very well when we had our full backs playing? I also seem to remember him linking up well with Gomes before he fell away.
Simple. Get a decent right back who can be relied upon on the pitch and a third midfielder who can maintain some form! Either someone more advanced and let Allan sit, or a deep sitting defensive mid and push Allan and Dacoure up. Either way, it's not a challenge to accommodate him, it's a challenge to get players on the pitch from our squad that are of the quality needed to allow him to thrive
Frank Wolfe
256
Posted 14/12/2020 at 01:03:05
Great performance all around. The biggest difference for me was not the individuals, although I think everyone played well. It was the system (4-2-3-1). The team was much more comfortable with that formation and knew what their roles were. Sigurdsson, in particular, is much more effective in that no. 10 role. That is the position that James is best suited to as well. He should not be on the wing as a) he offers little defensive support (an area that has been exploited by other teams recently) and b) he can float around and create more opportunities.
Annika Herbert
257
Posted 14/12/2020 at 06:08:24
Due to work commitments I have only been able to see extended highlights of the game. Full credit to the team for pulling that unexpected result out of the bag!
I have been one of Sigurdsson's biggest critics but, credit where it's due, he produced a top performance when needed. If he can continue to produce at that level, I will happily eat my words of criticism of him.
Credit to Pickford too, he played well but, on what little I have seen, Holgate, Godfrey and Allen were outstanding.
I thought Iwobi put in a decent shift too
George Cumiskey
258
Posted 14/12/2020 at 09:33:54
Annika@257 don't go overboard about Siggy he put in shift that he should at least be doing every game. Let's hold judgement on him for now.
Rob Dolby
259
Posted 14/12/2020 at 10:05:47
George think holding judgement on Sigurdsson lasted about 2 months into his contract!
We won a close game of football playing catenaccio style against a team that spent over £200m in the transfer market.
We lost against Leeds and drew against Burnley playing a more open style with a different formation.
If we carry on playing catenaccio the Waldorf and stadlers of this parish would wheel out the same drivel about no plan b, square pegs, busted flush etc etc.
If we revert to the more open style of football the same people will be saying we aren't defensive enough, no plan b, busted flush, square pegs, pension time etc.
Sometimes credit should be given when it's due not begrudgingly "well let's see what happens next game" mystic meg shite.
Anyhow utft.
George Cumiskey
260
Posted 14/12/2020 at 10:15:45
Rob I might agree with you if I could understand what you said ! Lol
Lester Yip
261
Posted 14/12/2020 at 10:17:56
I think we can play well against the top 6 when the manager and players know they have to defend well first and wait for the opportunity to pounce. No trouble defending deep when Keane and Mina can deal with most headers. It shows that James is not necessary, at least from the start.
It is when we play against the weaker teams, we have to control the game more. It's when we lack off the ball movements or player too conservative not to play the forward pass. In those situation, James presence is almost a must to unlock the other team's defence.

Darren Hind
262
Posted 14/12/2020 at 10:18:30
Brian Williams
263
Posted 14/12/2020 at 11:22:06
Jesus! Darren#262 speechless?
I don't belieeeeeeeeeeeeeve it!
Rennie Smith
264
Posted 14/12/2020 at 11:40:01
I love it when people have to begrudgingly dish out praise.
We're not a great team but we're not a shit team, we're a team in transition. A great result against a seriously in-form outfit, let's keep looking up rather than down all the time.
Rob Dolby
265
Posted 14/12/2020 at 12:03:57
George Cosmic grooves man.
Brian Harrison
266
Posted 14/12/2020 at 12:05:57
I see Everton have sent condolences to family and friends of the ex Liverpool manager Gerrard Houllier who has passed away.
Tom Bowers
267
Posted 14/12/2020 at 12:20:21
Gossip mongers have us connected with a Deli Alli loan deal.
Any one fancy this move ? Out of favor at Spurs much like Walcott was at Arsenal.
Thomas Richards
268
Posted 14/12/2020 at 12:23:43
Regardless of continued negativity, along with grudging praise for the manager,does not take away the merit in beating a side who regularly qualify for Champions League and a side who will finish in the top four this season.

Annika Herbert
269
Posted 14/12/2020 at 12:32:29
George @ 257, I fully agree with those sentiments! One good game doesn't make up for all the dross we have seen from Siggi.
But I was pleasantly surprised by his performance on Saturday. Whether he can repeat that performance is another question entirely
Jay Wood
[BRZ]
270
Posted 14/12/2020 at 12:40:11
Bill Watson, may I add to the condolences you have received on the sad loss of your wife.
I recently had the 10th anniversay of the passing of my mother and as I asked the rest of the family 'where did the years go?'
As you will with your wife, there hasn't been a day pass in those 10 years when any of us have failed to think of our mother. We continue to speak with her. We still hear her voice in reply. We feel the warm glow of so many happy memories. We still laugh at some of the side-splitting, tear-inducing moments.
They may be gone in the material sense. But for sure, their spirit and memories will remain as long as there is somone to recall them.
Peace be upon you, Bill.
Jay Wood
[BRZ]
271
Posted 14/12/2020 at 13:01:10
Brent and Peter. Many thanks for your detailed replies to my curiousity about how the experience was for returning fans.
It sounds as if the organization and marshalling was very good. Thorough, but not heavy-handed with levity being the order of the day even while necessary checks were being run.
Your presence made a difference, guys. I read another post which resonated with my own tele-spectator experience. The poster wrote that they were confused as to whether the broadcaster was continuing to play recorded fan audio over the commentary, or whether it was solely the chanting of the match-attending fans, or a hybrid of both.
Eventually it became evident that it WAS you guys in the stadium we were hearing. I'm guessing with so much empty space in the stadium any chanting by the 2,000 curiously echoed and reverberated around Goodison more than could be expected. Were either of you aware of that during the game?
And for me, your presence and support did help carry the team over the line in the final 15 minutes. Well done to all.
I also saw some fan footage on YouTube and I was delighted to see and hear the applause and support at the taking of the knee, plus the delight and interaction from the players to the fans seeing you back in attendance.
We are still a long, LONG way from getting back to full capacity crowds again. But this weekend, for me, simply reinforced just how important match-attending fans are.
Again, well done to you both (and the other 1,998). (You jammy bastards!) I hope the likes of Rob Halligan get their chance to enjoy the same soon.
David Pearl
272
Posted 14/12/2020 at 13:06:34
Two things made a difference for me. Siggy had license to roam forward when he could and wasnt in our own box defending. And Holgate, Godfrey and Allan were on a mission seemed to buzz off each other. Now we have to see if we can carry that spirit on to Wednesday and Saturday. Hopefully Carlo keeps that shape and foundation so our forwards can also get forward. Leicester like to play counter so l expect a better showing against Arsenal but we shall see.
Of course when Coleman, Digne and James are fit who misses out? We also have Gomes and Bernard waiting for chances. Carlo has said he will rotate, and even mentioned Tosun will get his chance too. I can't believe after the run we've had we are still right in the mix. Coyb
Brent Stephens
273
Posted 14/12/2020 at 13:26:59
Jay #271, yes I was very aware of the noise being made at the Chelsea game. "All kopites are gobshites" was the one that sounded the loudest! I've applied for other games but really knowing that I've had my turn. Fingers crossed that Mr Halligan is a "jammy bastard" as well (he's half-way there with that description anyway!).
My suspicion is that after xmas we'll be in Tier 3 again and no fans at the game.
Derek Knox
274
Posted 14/12/2020 at 13:29:02
Yes David, the early form did carry us through points-wise, but hopefully, a word that is used so often on TW, we have got back on track. I watched Leicester last night against Brighton, and they won't be easy by any means.
While the points are always welcome by whatever means, I prefer to get them on merit and by outplaying the opposition. It will be a good test on Wednesday to gauge whether we have exorcised our demons, and dispelled suicidal (defending) tendencies.
Eddie Dunn
275
Posted 14/12/2020 at 13:33:55
Justin Doone- come on, credit where credit's due. The manager set the team up. We have hammered him for some of his previous set-ups but now at least credit him with a good system! You suggest that Duncan must have inspired it, perhaps so, but therefore, equally perhaps Duncan inspired the five at the back.
"Awright gaffer, auld Delphy ye dae ken he is a hell o' a wingback. Trust me oan this yin"
Robert Tressell
276
Posted 14/12/2020 at 13:37:23
Tom @ 267. Dele Alli is, to me, typical of many british players - looks great with clever technical players like Eriksen around. However, he's more an athlete than a footballer. So comes up short without Eriksen around. I also think he's really a striker who starts from a midfield position (if that makes sense). A bit like David Platt years ago - and maybe even Tim Cahill. So he's flawed as a top class player because a number 10 should be capable of running the show - and not just running / scoring. However, we already have Rodriguez to make the play. What we need is more legs. So Dele Alli might well work for us. He's certainly a better option than Gomes or Sigurdsson for our 3rd midfield slot (number 10-ish). A loan would be good - because it would show us how he fits in. However, if he succeeds the price could be astronomical.
Jay Wood
[BRZ]
277
Posted 14/12/2020 at 13:43:27
Justin @ 253. This.
'I don't wan't to see Siggy or any Everton player take such a pathetic penalty again! 1 very lucky man.'
It would take considerably longer to decribe everything - everything! - Siggy did right in that penalty than the actual taking of it.
It was a superb penalty.
David Pearl
278
Posted 14/12/2020 at 13:49:44
I'm still reading that we played a 4231. Just off to put my head in the oven.
Stuart Sharp
279
Posted 14/12/2020 at 13:59:38
Interesting perspectives! In the heat of the game, I thought it was a weak penalty that happened to go in. But watching the highlights and then again on MOTD, I realised I'd misjudged it. I think it was calm and clever. I was one who really didn't want him to play - I even had the temerity to express concern before kick off - but am always happy to be proven wrong. Would still like to see Nkounkou on the bench, but appreciate that Carlo is a football manager and I'm a football fan.
Bill Watson
280
Posted 14/12/2020 at 14:09:04
Thanks for those kind words, Jay.
Sandra was from a Blue family and, back in the day, went, with me, to quite a few games, home and away. In more recent years it was often just the pre season friendly. Her last major match was v Benfica, in Lisbon, (2009?) when we made a week of it.
Her diary entries usually included our result; once a Blue always a Blue!
Jamie Crowley
281
Posted 14/12/2020 at 14:24:04
I have no evidence of any of this, it's a gut feeling.
I, under no circumstances, want Deli Ali with Everton. For me, he seems a nasty fella and the type of guy to be a locker room cancer.
I just don't like the guy in the least. Chemistry is the most underrated ingredient to success in all of sport. Deli Ali is a self absorbed Jack-wagon.
A big no.
Andrew Keatley
282
Posted 14/12/2020 at 14:36:18
Robert (276) - I personally think you are way off about Dele Alli. I see him as an old-fashioned central midfielder that was pushed forward to play off Harry Kane as a time when Pochettino preferred to play with two deep-lying defensive midfielders. When he was a youngster at MKD he was an all-action, tough-tackling, box-to-box player who was mixing it with anyone and everyone, and all this as an 18-year-old. Sadly some of his early competitive spirit seems to have given way to the "look-at-me" antics of someone so heralded, as he has developed a game based more on flicks and cuteness rather than the hard and fast nature that I think he naturally has. I'd love to see him back with that early desire and energy, although very few teams cater for those old-fashioned all-action central midfielders anymore.
James Marshall
283
Posted 14/12/2020 at 14:37:43
Delli Ali comes across as a massive bellend. I've always disliked him, on & off the pitch. Also I don't rate him, and clearly neither does Maureen.
Darren Hind
284
Posted 14/12/2020 at 14:50:08
"A self absorbed Jack-wagon"
No idea what a Jack-Wagon is, but that sounds like a quality put down
Patrick McFarlane
285
Posted 14/12/2020 at 15:01:02
Here you go Darren:
The definition of jackwagon is a slang insult meaning worthless or lazy that may have originated from the nickname of 19th century chow wagons in a wagon train.

An example of a jackwagon is an insult you would call someone who you thought was a loser.
I agree with James and Jamie, Ali is not a player who I'd pay high wages too, even on loan, he comes across as a 'hey look at me type' and we've had too many of those in the last few years. No doubt he is talented, but is he the right sort to play for us at the minute?

Robert Tressell
286
Posted 14/12/2020 at 15:09:19
Fair enough Andrew @ 282. We can agree to disagree about Alli's position / role etc. However, James @ 283 has probably expressed a view we can both agree with.
John Pierce
287
Posted 14/12/2020 at 15:36:01
I'm very much conflicted about Saturday. It's was a performance that the whole club needed for so many reasons. It was as basic as you can ask a premier league side to execute. It gave me all the 'feels' of an underdog win, the grit and real aggression we as a fanbase often crave. It was a throwback.
We were compact, we nullified, we played with an edge and earned a well-deserved win. "Tonight, Mathew, I'm going to be Burnley", a carbon copy of which won 1-0 at Arsenal yesterday in almost identikit style. It was uncanny.
It was a performance that allowed some very limited players to feel the safety of a risk-free game plan under no expectation, and the inviting bosom of defending deep. Mina, Keane and Sigurdsson all excelled because they had just one job. It was actually a bit of a Pyrrhic victory; ask those three above to do anymore and you'll get exposed by even modest opponents. I hope Carlo doesn't think this win is the way forward! 😳
We expended a huge amount of energy allowing them to have the ball for the most part. We restricted ourselves to a golden moment or two, however surprisingly, there were half a dozen.
That win, or rather the way we won, simply isn't sustainable. As much as it was back to basics etc. we cannot play that way against most of our opponents. That plan has only one way of playing: if we go a goal behind that side sitting deep, isolating Calvert-Lewin, we will wither in the vine. You cannot just switch mentality to attack set up that deep and you go a goal down.
It might work Wednesday, which is what I fully expect Carlo to go with, perhaps James instead of Sigurdsson at No 10. However, Leicester are far more mobile, slippery than Chelsea were on Saturday. My greater worry is playing that way against a moribund Arsenal and a hapless Sheffield United.
I believe Carlo will find a way but Saturday really exposed, for me, how poor the squad is. Only a month ago, I thought a decent defensive midfielder might transform this side. Like I said, conflicted.
Dave Brierley
288
Posted 14/12/2020 at 15:55:33
Bill Watson. Just caught up with your sad news.
I very much echo Jay's sentiments @270. Sincere condolences
Tony Abrahams
289
Posted 14/12/2020 at 15:58:38
Funny how we see things, John P. That, for me, was the only way we were going to beat Chelsea, imo, mate!
I love to see players working hard for the team; I always think that players look like they are working harder when they're playing in a system that suits them.
I thought Iwobi had his best game in a blue shirt by far even though he was a lot more productive against Fulham the other week. He worked very hard and even began to look like he was relishing what this gave him.
I said it at the beginning of the season but, watching the other night, I think Wilfred Zaha would be perfect for Everton right now, especially if Iwobi wants to carry on working hard. If he does, I'm sure he will eventually become a very good player, playing inside.
Playing to our strengths JP, I hope we keep playing it as tight as we did the other night, because I personally think it suits us!
Patrick McFarlane
290
Posted 14/12/2020 at 16:12:21
John #287,
I find myself in the same conflicted place that you do. I watched the first-half, on my picture-in-picture telly, with the game taking precedence on the 'full' screen after half-time. I viewed it on the 'smaller' screen because I couldn't bare to watch 50 minutes of backs-to-the-wall footy at home to a very good side but not a world-beating team.
I celebrated the result as much as any other Blue but, whilst there is a need to employ these type of tactics every so often, and due to mitigating circumstances, I don't want to see Everton employ this sort of tactic whenever we face a side that we deem to be superior to us.
It wasn't exactly the tactics that a Dyche or Allardyce side may employ but it was too close to it for my taste; however, it is likely the same will happen in midweek at Leicester City, but it will take the same amount of effort and for lady luck to smile down upon us if Everton is to emerge with the three points.
Perhaps I'm in the minority, but Everton FC will not progress:
a) if they don't believe in the system they play in (save the odd backs-to-the-wall tactics)
b) if we fail to produce the tactics necessary to keep it tight at the back whilst simultaneously posing a real threat at the other end.
Maybe winning by whatever means necessary is the only objective and there is no such thing as an 'ugly' victory but I certainly wouldn't want to see that tactic employed too often, when we all return to Goodison.
Patrick McFarlane
291
Posted 14/12/2020 at 16:18:20
Bill #280,
May I also add my condolences to you and your family, for the loss of your beloved wife Sandra, may she rest in peace.

Jay Wood
[BRZ]
292
Posted 14/12/2020 at 16:26:08
Just to reinforce Brent and Peter's impressions of the fans' presence on Saturday and what the rest of us, the tele-spectators saw and heard, the following Guardian report has this passage in it:
'Fierce backing from the 2,000 Evertonians inside Goodison, who greeted the Z-Cars theme with a tumultuous roar and made a remarkable noise throughout, played its part in a home display that combined defiance with potency on the counterattack.'
Barry Rathbone
293
Posted 14/12/2020 at 16:28:57
Houlier dead.
Ian Horan
294
Posted 14/12/2020 at 16:49:05
Sad passing of Houllier, one of the few RS managers who conducted himself with dignity. RIP Gerrard Houllier
Robert Tressell
295
Posted 14/12/2020 at 16:54:12
Bill, condolences too for the loss of your wife. All the best to you and your family.
Mike Gaynes
296
Posted 14/12/2020 at 16:57:46
By all accounts Houllier was a class gentleman in addition to being an outstanding manager. Eloquent comments from some of his former players right now on Sky.
David Cooper
297
Posted 14/12/2020 at 17:21:01
Anyone know a website where I can find the distances run by players in the Premier League? I have tried Opta but no luck.
Darren Hind
298
Posted 14/12/2020 at 17:24:06
I did not see a backs-to-the-wall display here. Yeah, Chelsea hit the woodwork with a couple of decent efforts. They have good players. But I saw Richarlison squander three chances that, on another day, he would have buried. I saw him continually drive at the Chelsea defence. I saw Iwobi force the dangerous Chelsea left-back to defend his own penalty area because he would not retreat. I saw Calvert-Lewin bully their defenders to win a penalty. I saw him do it again only for it to be chalked off for marginal offside. I saw Sigurdsson hit a couple narrowly over.
This was not a smash and grab. A couple of years ago, Leicester won the league by the length of our street playing an almost identical game to the one we played on Saturday.
Chelsea had a lot of possession because we set up in front of them and invited them to break us down and, every time they failed, we looked to counter.
There is a very real difference between a backs-to-the-wall performance and what we saw on Saturday.
For once, we were smart, we were compact, we moved as a unit. Our midfield two were not asked to bridge an ocean.
Nobody could say we delivered edge-of-the-seat excitement but "backs-to-the-wall"??? If Iwobi had released Calvert-Lewin a fraction earlier, or if Richarlisn had brought his shooting boots, or indeed if Mina hadn't took one off Calvert-Lewin's head as he was about to bury it, we could have been out of sight. long before the end of this one.
Tom Bowers
299
Posted 14/12/2020 at 17:32:03
It was a solid performance based on defensive discipline for once. I was skeptical about the back line of 4 central defenders but they all played well.
Three points is three points and even better when gained against the ''better'' clubs. We are doing well against the London sides this season, now bring on the Gunners and Hammers.
Patrick McFarlane
300
Posted 14/12/2020 at 17:48:05
Everton had the ball for approximately 25 minutes of the 90 in the game on Saturday, we can argue about the term backs-to-the-wall forever and a day, but I really wouldn't enjoy watching Everton have so little of the ball in too many games.
We did create chances, Chelsea didn't create that many more, I welcomed the result, but not the method employed to achieve it. I can see the reasons that Ancelotti used that system for this particular game amid the circumstances surrounding the game, but I wouldn't welcome seeing it too often.
Danny O'Neill
301
Posted 14/12/2020 at 17:50:35
My Sister worked at Anfield when Houllier was there. Very polite and courteous gentleman indeed.
Agree Darren, I didn't see backs-to-the-wall and think I said earlier, never really felt uncomfortable throughout.
I would say a controlled performance rather than a KITANO. Very Italian, dare I say.
Thomas Richards
302
Posted 14/12/2020 at 18:30:23
Posts 289, 298 & 301 sum it up perfectly.
This was no backs-to-the-wall performance; the lads all worked hard in a cleverly set-up formation. A formation that suited our players on the day and against this particular team.
Same system won't work against teams that want to sit deep though. Variations needed for future fixtures.
Eddie Dunn
303
Posted 14/12/2020 at 18:34:48
If Leicester had done Chelsea like we did, the media would have been drooling over the clever tactics of Rodgers and the precision of the Vardy counter.
I would watch that every week if it got the same result.
Danny O'Neill
304
Posted 14/12/2020 at 18:35:49
Fair point Patrick. It worked for this game. Against Leicester I'd argue we have to be on the front foot more.
Tony Abrahams
305
Posted 14/12/2020 at 18:36:18
It's funny Patrick, because after reading your point (A) I don't believe we can move onto point (B) until we get point (A) correct, and if Saturday wasn't playing to the teams strength, I'm not sure we could have got the result, which hopefully does wonders to the players confidence.
John Keating
306
Posted 14/12/2020 at 18:46:28
Apart from possibly Man City, I can't think of any team who would not change tactics depending on who they play and in the circumstances they find themselves in.
It was imperative we got a result on Saturday regardless of the opposition after our recent poor run. The fact it was against one of the "top" sides was a bonus. The fact we kept a clean sheet was an even bigger bonus.
We all know from Martinez days, possession and number of passes mean nothing. What you do with possession and passes is everything.
So we had 20-odd percent against Chelsea so what. Would we sooner have 80 percent, most of it sideways in our own penalty area?
We had 20 percent and could have scored 3 or 4 goals. We didn't but we got the one and tactically were spot on. Every player gave 100%, a must every game regardless. Once we get our wide men back and feed Calvert-Lewin we'll get more than one.
It's great if we can play lovely flowing football having 80% possession and 400 passes but means nothing if we lose.
Possession – like stats – is in the eyes of the beholder.
Danny O'Neill
308
Posted 14/12/2020 at 19:19:58
I'd put the current Liverpool team in that category too John. They play one way regardless of the opposition.
John Pierce
309
Posted 14/12/2020 at 19:35:02
Patrick, I like the way you're thinking. For me, the answer to your point B is to stay that compact but 40 yards up the pitch. One of the reasons the midfield two looked good is the team condensed themselves to the point they had a defined area to work in.
In many games this season, without that holding player both Allan & Doucouré have to cover more than their own position. It's created huge holes for teams to play through. It's also because Mina and Keane refuse to stay high and close the space. Pickford too has to play higher and sweep more.
If the team can be that compact higher up the field, both central midfielders will be far better and, in all likelihood, we get our better players on the ball in the last third. It's at that point Sigurdsson becomes redundant and James comes into his own.
We have the pace, Holgate and Godfrey are the pair I'd go with in the long run. However, Mina and Keane need to suck it up. They had the easiest game they've had in years Saturday. They barely moved from their 18-yard line and got fed cross after cross to gobble up. Mina even had time on his hands to 'shithouse' the hapless Giroud not once but twice!
Even if it's painful in the short-term, I want this team to play as high as possible, and give the attacking talent we have a chance. They can create from their own defensive third.
Jamie Crowley
310
Posted 14/12/2020 at 20:51:01
Backs to the wall I didn't see either.
This team is by far - and I mean by far as if it's not only not in the same zip code, but like across the pond - at our best when we counter attack.
I will give that ball and possession away all damn day with this squad, if it means we can barnstorm / jailbreak when the opposition turns it over. We're like death Blitzkrieg when we are on the counter.
If that means playing deep, conceding possession, and just off to the races when we win the ball? Fine. That, in my opinion, plays to our strengths.
And that four in the back was a wall. If they gel back there and make us very, very hard to score against, all the better.
Laurie Hartley
311
Posted 14/12/2020 at 20:57:15
John Pierce #309
I am no tactical wizard but I don't think the team that beat Chelsea can play 40 yards further up the pitch.
Darren Hind #298 made the comparison with Leicester's title-winning team and I think he has it right.
Saturday's back four in particular reminded me of Ranieri's back four.
When we are on blob we are at our most dangerous when most of the opposition are in our own half.
There was one instance on Saturday when Calvert-Lewin got the ball on the half-way line and pinged it across the pitch to Richarlison. He knew were his teammate was going to be.
Fortunately for Chelsea their right-back had the pace to save the day for them.
I have to say I have been really impressed with Calvert-Lewin's close control this season – it seems to have improved dramatically. If he can improve his shooting to the same extent he is going to be world class.
Whoever has the spoon could you pass it to me please.

Tony Everan
312
Posted 14/12/2020 at 21:33:27
Jamie, Laurie, I saw it the same way, not backs to the wall but Chelsea being largely contained. I felt we were enjoying keeping them at bay and I could detect a bit of confidence in the players. Not despair, stress and panic.
For that reason, I was enjoying watching the game when we were holding on; our resilience, organisation and energy was a tonic. I have been craving to see it; now I just want it to become the norm.
Wins and a team performance like this put us back on the map. It gives us a chance to build on it. Beat Leicester and we'll start dreaming again. It's a very tough game but a similar performance will make us very competitive.
Darren Hind
313
Posted 14/12/2020 at 22:48:39
Sometimes you read a comment and you realise its time to stop reading.
Another "40 yards up the pitch"?
We were playing at Goodison – not on the landing strip at John Lennon Airport!
Justin Doone
314
Posted 14/12/2020 at 00:07:59
I thought we played a good counter-attacking game against an in-form team who have plenty of pace, goals, creativity and skill.
Playing Giroud probably helped us more than it helped Chelsea. They played to our strengths, a striker they could mark and compete in the air with.
Why should we play further forward against a similar skilful, pacey team, that sends counter-productive. We can't allow them space to play balls into behind our defence.
We created some good opportunities against Chelsea. Richarlson isn't timing his shots, snatching at rather than striking the ball, but he's getting into good positions and I'm sure goals will come for him soon.
I want us to sign a midfielder that is proven to score and assist 10 plus goals a season. Add to that pace, athleticism, hard working, and understands closing opposition players down..it's almost perfect.
Others have said we need a bit more pace, movement, creativity without James, a bit of a 'narc'. So I'm all for Dele. He's no lazy showboater or a jackwagon. The fact he appears to wind opposition fans up is a bonus.
Ian Horan
315
Posted 15/12/2020 at 01:25:57
JD @314,
It's a No for me on Dele Alli. Mourinho won't pick him as he doesn't work hard enough out of possession. Spurs on Amazon Prime is a good watch: Jose said something along the lines Dele has great ability but no work ethic and doesn't see the wider picture. It resonated with me the parallels with Barkey.
I would more fancy Almiron at the Barcodes, very industrious out of possession and great link-up play in a No 10 free roll also likes to cut in when out wide.
Ricky Oak
316
Posted 15/12/2020 at 02:53:59
Loved how we played, it reminded me why Everton chose me in the first place. It seemed like we concentrated on what we were doing, and fuck who we play against, let them worry about us for a change.
John Hall
317
Posted 15/12/2020 at 13:12:08
Hard working terrier like display. Gave them no room in midfield and blocked them off between the lines. Good tactics from Carlo. Will take 3 points against any of the Sky Darlings with the more defensive inclined set up. Was surprised to see the possession stats having stayed up all night to watch on our local time for a 4 am kick off but it was well worth it. Leicester next and hope we can serve up a similar performance.
On a separate note it was a few months ago that an Everton supporter who is a Senior Citizen and life-long Everton supporter posted on the site and whose name is Teddy Draper.
I would dearly like to have an e mail address from Teddy or from anyone who might have his details in order that I can get his private details to arrange to remit the funds for his matchday expenses. Hopefully he will get his wish to see his heroes one more time as fans are gradually being allowed back into games.
Justin Doone
318
Posted 15/12/2020 at 17:00:21
Dele isn't perfect, but Morhino moans about most players. Especially last season when they were struggling.
Under Pochotinho (?) he pressed, chased back and was always a willing runner as an outlet for long balls when under pressure.
I understand with James in the team other players have to cover for him and maybe we can't have him and Dele in the same team too often from a defensive view point.
But having a midfielder who is a genuine goal threat can't be underestimated. We have to score and create more goals whatever the formation and tactics.
I'd love a genuine top class winger, fast, skilful team player who can score goals but anyone that can bring goals and creativity is welcome.
---
Add Your Comments
In order to post a comment, you need to be logged in as a registered user of the site.
Or Sign up as a ToffeeWeb Member — it's free, takes just a few minutes and will allow you to post your comments on articles and Talking Points submissions across the site.
---
© ToffeeWeb