Report
Sloppy moments cost Everton dearly as they lose at home yet again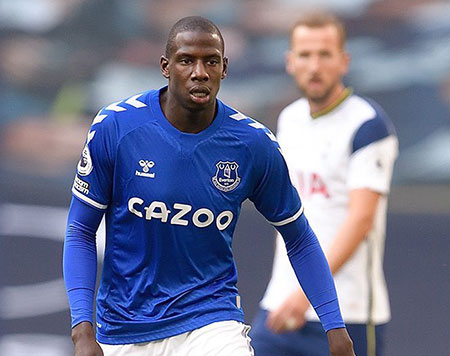 Abdoulaye Doucouré is out for the next 8 to 10 weeks with a fractured bone in his foot
Everton lost to Burnley at Goodison Park in another one of these games against lower opposition that should have been a home banker. But there are no such things in this crazy Covid season — at least not for lacklustre injury-hit Everton.
Everton faced Burnley at Goodison Park on Saturday evening with injuries continuing to reduce the squad of first-team players. With injuries to key players mounting up, Everton face a challenge to maintain their charge for a place in the top four.
Abdoulaye Doucouré will be missing for an extended period after it was finally confirmed that he suffered a stress fracture in his foot during training and is now expected to be out for 8 to 10 weeks. James Rodriguez is absent again as he continues to struggle with his troublesome calf, Carlo Ancelotti electing to protect him until he is fully fit. Bernard is not included because he is suffering from a non-Covid illness.
Gylfi Sigurdsson is only on the bench after missing training this week with an ankle problem. Also, Yerry Mina and Seamus Coleman only return to the bench, where not one but two young goalkeepers are selected by Carlo Ancelotti yet again, while Robin Olsen has not overcome the injury that has sidelined him recently.
Tom Davies regained his place alongside Allan and Lucas Digne was deployed on the left flank with Iwobi at the head of the midfield diamond.
Burnley got the game started, and Iwobi did well to feed Richarlison who tested Pope a little with a pretty good opening salvo. Not so the ensuing corner. Davies went down after feeling McNeil's hand on back, and Gomes launched in a pretty good ball that was headed behind for an early corner. Davies's drive was then blocked.
Richarlison tried to play in Calvert-Lewin ahead of him but overhit the pass. Davies was mugged for the ball by Brownhill and it came to Woods who happily lashed it past an unsighted Pickford to give Burnley a very worrying lead.
Everton looked to work their way back into the game but slow build-up play and ultimately poor crosses from Holgate and then Digne ensured there was no goal threat. Richarlison got sandwiched in the next move but advantage was played instead of Everton getting a dangerous free-kick opportunity.
At the other end, Wood was given another chance to shoot but is deflected behind off Godfrey. Holgate's arm was high as he challenged Mee, who headed the corner behind. As Burnley continued their attack, McNeil curled in an absolute screamer into the top corner after rounding Allan. Oh dear…
Allan gave away the ball (yet again!) and this time Gudmundsson could only hit the post behind a despairing Pickford, who injured himself. Burnley fired in a free-kick that Calvert-Lewin headed behind. Farting around with short back and sides passing at the back almost gifted Burnely a third.
Davies redeemed himself with a splendid cross that was at the perfect height and pace for Calvert-Lewin, who almost burst the net with a very powerful header to hopefully put Everton back in the game. Richarlison came close with a shit that was lacking power.
Iwobi was the next to be robbed of the ball and as Burnley surged forward, it took a questionable block by Godfrey that hit his had and flew over. Everton final won a dangerous free-kick when Westwood wrestled Calvert-Lewin. Gomes planted it on Calvert-Lewin's noggin but his header was high.
Godfrey had to block another goalbound Brownhill drive as Everton sought the equalizer before half-time. Breaking at pace, Allan delivered a fantastic pass for Calvert-Lewin but his first touch was not good enough. Pickford finally went off, with Virginia getting his Premier League debut. Brownhill was first to test him with another decent shot, Burnley's 10th goalscoring attempt of the first half!
Vydra almost embarassed the Blues defence with a good run. Iwobi got a decen-looking criss in o Calvert-Lewin but again his first-touch was horrible.
At the start of the second half, fist action of note sw Gomes shoot from outside the box, but it lacked power and was easily pushed behind by Pope. Digne delivered a lovely cross for Calvert-Lewin but his jump was all wrong, as it hit his shoulder and went harmlessly wide.
Iwobi delivered another nice ball in straight to Calvert-Lewin but, with his back to goal, he somehow expected the ball to do the work rather than controlling it properly and the defender stepped in behind him.
Richarlison drew a foul wide right and Keane looked to volley it but not with his knee! After a nice throw-out (!) from Virginia, straight to Digne, the ball up to Calvert-Lewin from Davies was exquisite and looked like the Everton striker had controlled it brilliantly only for his next touch to be an inadvertent one off his standing leg and the ball ran away from him.
With Everton looking increasingly impotent, Davies was replaced by Josh King, Burnley swapping Gudmundsson for Brady. Godfrey and Virginia conspired to almost let Vydra in. Godfrey did well to glance away a great cross from P. Mee then looped a header on to the bar from the corner. It was end-to-end and Vyudrqa looked set to score but Virginia saved well.
As Everton tried to build again, Iwobi putting in a great ball direct to Calvert-Lewin's feet but his control was horrible again and the supply line was spurned. Holgate came off for Coleman as the final change by Carlo Ancelotti with 20 minutes left to rescue this game.
Tarkowski blocked Richarlison on the sideline and it glanced off Keane's head, taking it away from Godfrey at the far post. Jay Rodriguez replaced Vydra and Brady fired a free-kick high over Virginia's goal.
King gave the ball away, leading directly to a Burnley attack that saw Rodriguez fire straight at Virginia, who had positioned himself well. A corner at the other end was poorly overhit by Digne and then in the follow-up by Gomes. Pope got a yellow card for time-wasting as he lingered over the goalkick.
Coleman saw a shot blocked and Digne delivered a corner straight to the welcoming arms of Pope. A late Coleman cross drew a corner that had Virginia joining the fray to no advantage as Digne's corner was very poor. And so another "must-win" home match against lowly opposition ends up a loss. This is becoming monotonous.
Scorers: Calvert-Lewin (32'); Wood (13'), McNeil (24')
Everton: Pickford (44' Virgínia), Holgate, Keane, Godfrey, Digne, Iwobi, Davies (66' King), Allan, Gomes, Richarlison, Calvert-Lewin.
Subs: Tyrer, Sigurdsson, Mina, Nkounkou, (73' Coleman) Broadhead, Onyango.
Burnley: Pope [Y:85'], Lowton [Y:45+2'], Tarkowski [Y:76'], Mee, Pieters, Gudmundsson (66' Brady), Westwood [Y:37'], Brownhill, McNeil, Vydra, Wood.
Subs: Peacock-Farrell, Stephens, (78' Rodriguez) Bardsley, Long, Nartey, Dunne, Benson.
Referee: Jon Moss
VAR: Martin Atkinson
---
Reader Comments (561)
Note: the following content is not moderated or vetted by the site owners at the time of submission. Comments are the responsibility of the poster. Disclaimer
Thomas Richards
1
Posted 13/03/2021 at 16:32:11
4-3-3?
4-2-3-1?
Chris Williams
2
Posted 13/03/2021 at 16:41:10
4-4-2? Diamond? Or 3-5-2?
Probably all of them at some stage...
Ciarán McGlone
3
Posted 13/03/2021 at 16:57:04
If that's a 451 with Gomes in front of Alan and Davies then I like it.. balance and width from Iwobi and Richarlison.
These are games we need to be comfortably winning.
Wine chilling. Let's go.
Andy Walker
4
Posted 13/03/2021 at 17:02:31
He playing feckin Iwobi again. Should have King on instead.
Tony Hill
5
Posted 13/03/2021 at 17:08:40
I think we'll win comfortably. Happy with the team.
Jay Wood
[BRZ]
6
Posted 13/03/2021 at 17:09:40
I wonder, following his comments in yesterday's presser, if Carlo had the chat with Iwobi he said he would have and - with Siggy benched - we will see Iwobi more down the middle in the number 10 position, which he says is his preferred position?
Because Everton, in the main this season, don't do 'width' unless it's provided by the overlapping full-backs.
Be nice for Dom to get back on the scoring sheet.
Christy Ring
7
Posted 13/03/2021 at 17:11:01
Happy enough with Carlo's team, no Bernard in the squad? Is he injured as well.
Derek Powell
8
Posted 13/03/2021 at 17:12:58
What is it with Carlo and three goalies???
Kevin Prytherch
9
Posted 13/03/2021 at 17:14:06
Thomas, Chris, I was just about to ask the same thing.
Opposition managers must look these days and wonder what they're going to face...
Andy Crooks
10
Posted 13/03/2021 at 17:14:48
I am always reluctant to comment on team selection because I am a jinx. However, I have collected a couple of bets on Everton and I like the look of this team.
Jay Wood
[BRZ]
11
Posted 13/03/2021 at 17:14:51
And talking of Iwobi, watching the club site's pre-match build-up, they just showed a filler on Alex naming his team mates in different categories.
Most Inspirational - Seamus Coleman
Toughest Trainer - Tom Davies
Best Teacher - Fabian Delph
Quietest - Richarlison
Funniest - Nkounkou
Natural Leader - Mason Holgate
Personally I always find these insights from inside the locker room interesting.
Will Mabon
12
Posted 13/03/2021 at 17:17:21
Hard to see how Holgate is keeping Coleman on the bench after recent form. Maybe it's a partial fitness thing.
Tom Bowers
13
Posted 13/03/2021 at 17:17:38
Another tough game. Burnley are a hard-working lot and will make it very difficult.
I hope Iwobi and Gomes are up for the fight in midfield. The creativity level was non-existent against Chelski.
Maybe it's being too optimistic to expect much else from our midfield these days.
Needless to say, an early goal will help open the game up.
Thomas Richards
14
Posted 13/03/2021 at 17:17:44
Kevin,
Brilliant, isn't it.
Keeps them guessing, our Carlo!
Richard Nelson
15
Posted 13/03/2021 at 17:20:21
Holgate & Iwobi together on the right doesn't look good... Hope I'm wrong...!
Tony Everan
16
Posted 13/03/2021 at 17:26:04
Jay 6 has it Carlo has been asking Iwobi about where he really wants to play. I think he wants the no10 position.
If he is played there it is a big opportunity for him, but the selection looks like it will be wing backs today.
Peter Fearon
17
Posted 13/03/2021 at 17:26:41
Once again, no James. I love his magical skills but it seems like the planets have to align with the stars just right and the moon has to be in the Seventh House before he takes the field. No team can afford a player who is only available occasionally.
He has been missing games over the same tight calf muscle since he arrived. He needs to decide if he wants to play in the Premier League – with the cold, the rain, the physicality and the hard pitches – or not.
Jay Harris
18
Posted 13/03/2021 at 17:28:59
Irrespective of team selection we need desire and commitment today.
Only 3 points will do.
Ernie Baywood
19
Posted 13/03/2021 at 17:47:00
Presumably VAR checked that challenge on Davies? There's plenty of contract causing him to fall. My sense is that if we kick up a stink it gets disallowed. But we didn't... why?
Thomas Richards
20
Posted 13/03/2021 at 17:57:03
Tom Davies reverting to a piece of play that saw him getting a lot of stick for the goal.
Ernie Baywood
21
Posted 13/03/2021 at 17:59:26
Can't understand why we're dropping deep against Burnley... leaving all sorts of space in front of our defence.
Presumably because we're scared that Chris Wood will keep sprinting in behind Godfrey? Makes no sense at all.
Kevin Dyer
22
Posted 13/03/2021 at 17:59:26
Beyond belief. Absolutely bossing the game then Tom gets robbed and bang it's in. Now the McNeil wonder goal. Gut-check time.
Thomas Richards
23
Posted 13/03/2021 at 18:05:11
Then had the plums to stay in the game and create a goal.
Ciarán McGlone
25
Posted 13/03/2021 at 18:19:13
Jay called it.. Iwobi at the point of a diamond behind the two forwards.
Too narrow with players on top of each other. Most of the ball but nothing really being done with it. Holgate virtually useless as a wing back.
Looked better when Iwobi moved out wide.
I think we have enough to get into this. Be an absolute travesty if we lose another home game against relegation candidates.
Thomas Richards
26
Posted 13/03/2021 at 18:20:06
Awful. A fuckin disgrace that first-half performance. Second to everything.
Ernie Baywood
27
Posted 13/03/2021 at 18:23:22
A bit of a whirlwind that half. Felt like we thought we would just have to break Burnley down. We didn't seem to realise we would have to earn the right to play.
Burnley, for their part, did earn the right to play. They've been physical, thrown challenges in and then played some great football. I reckon the first goal is a foul but the second was a career goal for McNeil.
We've shown a lot since. Tried to match them for intensity and that was a great goal to get back in the game. Say what you like about Tom but he's got character and that's what we need.
This game is wide open. Richarlison and Calvert-Lewin look dangerous and there are more goals in this game. I've been despondent at home when we've been behind, but this doesn't feel like one of those games. Time to get stuck right into these. COYB!
Brian Williams
28
Posted 13/03/2021 at 18:23:38
I thought Tom Davies got a hospital ball from Keane for the first goal and was then fouled. Keane should have looked for another outlet. He did the same to Tom later in the half as well which Tom could only hit right across our box. We got away with it that time though.
Once again though a side near the bottom are outplaying us in our defensive third with crisp interpassing and finding huge gaps.
We, meanwhile, get to the halfway line and inevitably stop, turn, and play it back.
Safety first ALL the time.
Phil Smith
29
Posted 13/03/2021 at 18:24:25
We let Burnley totally bully us there. Davies, Allan and Gomes swamped in the middle. I'd seriously bring on Onyango.
Kevin Molloy
30
Posted 13/03/2021 at 18:26:11
I just can't get a handle on this team at all. As a cockney colleague of mine said of the senior partner 'Ee don't know whether he's pissin or shittin'. He could have said the same about Everton!
Tony Abrahams
31
Posted 13/03/2021 at 18:29:14
The weaker teams love it when they don't have to face much width. Burnley are just doing what Fulham did, get it wide, get opposing midfield players, running out wide chasing the ball, and just play around them.
I think we are very lucky to still be in this game, and just hope we get to grips with the second half at a very windy Goodison.

Phil Smith
32
Posted 13/03/2021 at 18:31:13
Also, how that's not a foul on Tom for the first goal, I don't know. He uses his arm to kock him over, which is something I always do coz you get away with it, but it's a foul. Saying that, they should have had at least 1 penalty. Are they scared to use VAR now or what? We have the wind advantage this half. We better come out flying or I'll see my arse. 3-2. Come on ffs!
Jay Wood
[BRZ]
33
Posted 13/03/2021 at 18:32:15
What a weird, wonderful, entertaining half of football.
I thought we started superbly. Iwobi was excellent in the number 10 role. Richarlison getting the ball between the lines and running and shooting well. Burnley weren't in it.
Then...WHAM!
Poor turnover by Tom. Thumping finish by Wood.
Still we were playing well.
Then Allan is too easily beaten by McNeil, but the finish again...oof! A worldy and Burnley start playing well. REALLY well, as well as I've seen them play.
Carlo changes it to push Iwobi wider to make us more compact in midfield, where he and Davies combine. Great cross by Tom. Thumping header by Dom.
We continued creating chances. Missed header opportunity for Dom from Gomes' free kick. Dom again not quite getting the ball under control from Allan's superb outside of the foot past. Richy again finding space to turn, run and shoot on goal.
Worrying that Pickford had to go off. I wonder if playing with the wind in the second half will benefit us.
All 3 results possible from here.
It ain't dull!
Alan J Thompson
34
Posted 13/03/2021 at 18:33:23
I don't fully see this as Davies was mugged for their first goal – more a stupid pass from Keane. And their second, while a magnificent finish, showed our defence marking space rather than players. I was also surprised how Burnley, for all the long ball game, manage to get so many players forward.
For our, hopefully first, goal it was a great run and delivery by Davies.
As for the call for a penalty against Holgate, I rather thought that the Burnley player holding him down with an arm was what forced Holgate's arm up and he was more fouled against than handling the ball.
I was also surprised that Iwobi, looking good playing more centrally, was told by Ancelotti on the half-hour mark to go to that more touchline hugging position.
It seems like a game where there may well be as many goals in the second half as the first.
Tony Twist
35
Posted 13/03/2021 at 18:34:22
The team that scores the next goal, I suspect, wins the game. I can't see it being us to be honest. I hope I am wrong.
Phil Smith
36
Posted 13/03/2021 at 19:17:56
Calvert-Lewin should have won this for us but we're gonna lose another at home to a bottom side. Ben Mee has been a total rock for them. We had enough chances to win 2 games.
Thomas Richards
37
Posted 13/03/2021 at 19:22:12
Three players in the starting eleven definitely not good enough to play in a top 6 team.
Two more possibly not good enough to start in a top 6 team.
Fair way to go to be a side challenging for the Champions League.

Kevin Molloy
38
Posted 13/03/2021 at 19:22:29
Ah well... clarity at last. We know now our fate. Not good enough sadly. Whenever we need to get a result, we wilt. Then, when the pressure is off, we bounce back again.
Jamie Crowley
39
Posted 13/03/2021 at 19:24:22
I don't often rip the snot out of individual players but, holy shit, Iwobi was absolutely awful.
Offered nothing, and negated half the pitch from being a threat.
Horrible.
Ciarán McGlone
40
Posted 13/03/2021 at 19:24:57
Ponderous, indecisive and worryingly bereft of ideas in possession.
Terrible result against a team who are honestly bang average.
Kieran Kinsella
41
Posted 13/03/2021 at 19:24:57
Godfrey was decent; everyone else was mediocre or poor. Not good enough for top six IMHO.
Pray for a miracle next week then another naming rights cash boost to improve the squad in the summer.
Martin Berry
42
Posted 13/03/2021 at 19:25:59
Poor finishing and Digne's dead balls were poor and wasted.
Godfrey superb.
Great strikes by Burnley and deserved winners.
Tommy Coleman
43
Posted 13/03/2021 at 19:26:03
That's Champions League gone.
Why are we so afraid of going forward with a quick pass? Everything so safe and calculated.
Tim Rydings
44
Posted 13/03/2021 at 19:26:14
Absolute shocker once again, these players need to be ever grateful they're not serving up this dross in front of a crowd.
Simon Dalzell
45
Posted 13/03/2021 at 19:26:40
Calvert-Lewin. could have scored 5. Should have scored at least 3. Richarlison and Allan very poor. Iwobi is officially fucking useless. I still can't have Holgate. Keane and Godfrey very good. Digne off colour. Thought Gomes did okay.
Stephen Brown
46
Posted 13/03/2021 at 19:27:55
I knew we would lose that game from the moment I saw the players in the tunnel !! Pissing about, laughing, messing around, chewing gum, leaning on the wall, high fives – disgracefully under-prepared and lacking in focus. Result: 2-0 down in 20 minutes!
Awful attitude from the off!! No leadership and 1 or 2 of the players were completely embarrassing.
Ernie Baywood
47
Posted 13/03/2021 at 19:28:27
Lost out by not turning up in the first 30 minutes. Compared to Burnley who absolutely turned up in that time.
Second half was a bit of a wash. We get in good positions but don't have the quality to make it count.
Teams are very happy to let the ball be pushed out to Iwobi. The guy lacks a fundamental ability to strike the ball correctly, and he'll never have it. Holgate too, though he also looks like he's trying to remember how to play football rather than having any kind of footballing instinct. Neither of them could really be described as footballers. Possibly athletes, but not footballers.
We had chances but I couldn't honestly say we showed enough.
I wouldn't have taken Tom off, and I thought it changed the game. But it happens most weeks so we're used to it.
John Keating
48
Posted 13/03/2021 at 19:28:27
I'm getting totally inured to home games.
Newcastle, Fulham, Burnley, just throwing a European spot away...
Stephen Brown
49
Posted 13/03/2021 at 19:28:31
If anyone recorded the game, go back and have a look – it's astonishing.
Alex Gray
50
Posted 13/03/2021 at 19:28:31
Bottle jobs, the lot of them. Every time we get close, we revert to type.
Another few notes: Why don't we start playing players in their actual positions!! Digne is not a winger, Holgate is not a right-wingback, and why on earth do we keep playing King as a bloody winger!!
Doucouré is our linchpin in midfield and, like Chelsea, it showed again today. I'd normally try and look at the positives but the display today was amateur.
Colin Metcalfe
51
Posted 13/03/2021 at 19:29:40
Well that was embarrassing, a total shit show and Carlo has to take the blame for such a negative approach to the game.
Creativity was needed today so he leaves Sigurdsson and Bernard on the bench!
Tony Hill
52
Posted 13/03/2021 at 19:29:46
Jamie @39, I thought Iwobi was one of our better players. He put others in on quite a few occasions but they were wasteful and his passing was generally accurate. No, the problems go much deeper.
This side is a long, long way off being seriously competitive and it is not the work of a couple of transfer windows to fix it. Our lack of basic touch and technique is alarming and I'm afraid Calvert-Lewin.was one of the biggest culprits tonight.
Thoroughly demoralising because there is nothing good to take from that game.
Jim Bennings
53
Posted 13/03/2021 at 19:29:46
Utter dogshit.
Nothing in the way of creativity and this has happened too many times this season now at Goodison: Burnley added to the list of Fulham, Newcastle that have won comfortably.
Ancelotti seems so tactically naive at times, as soon as I saw that starting line-up I said "No creativity, again".
We need six new quality signings all to go straight into next season's team, no room for sentiment – and I include Calvert-Lewin. in that, been a great target man for us but not good enough to get us where we want to be, like pretty much all of them sadly.
Justin Harris
54
Posted 13/03/2021 at 19:29:49
We have to accept we are still not good enough to be challenging for Europe. I honestly believe that we are at least 4 players short of competing and that we are lucky to be as high as we are.
We desperately need a player or two who can beat a man and carry the ball forward as our play is so predictable in the sense of we rely on getting it wide and hopefully scoring from a cross.
Paul Birmingham
55
Posted 13/03/2021 at 19:29:53
Miles off the mark in concentration, focus and battle plan.
I fear this is the game that has spiked the chances of Europe I hope, I'm wrong.
I've not been so pissed with an Everton result off in a long time.
Goodison hoodoo, but Leeds done us a favour and we spew it yet again,when the stakes are high.
Too many players miles off the mark, and too much respect for Burnley. It could have been 1-4, being honest.
Sick to the back teeth.. No excuses and some of these players need to face reality tonight..
Carlos body language today in my view, suggests this is the day where he's made his mind up.
FairPlay to Burnley with two outstanding finishes, but Everton, will regret this result today.
Fekkn tales of the expected again, at Goodison Park.
All have a good weekend, the ale will go down tonight, but for the wrong reasons.
Joe McMahon
56
Posted 13/03/2021 at 19:30:47
Ignoring the limp midfield and right-back problems, we really do need a proven goalscorer up top. Calvert-Lewin has improved this season but his game still needs a lot of work. Kean won't want to come back but at least we should have some good money for him.
Sean O'Hanlon
57
Posted 13/03/2021 at 19:30:57
A very good performance by Everton against a Burnley side who are arguably one of the best in Europe. Great to keep it just to a one goal margin of defeat. I take my hat off to you.

Stephen Brown
58
Posted 13/03/2021 at 19:31:05
The arrogance coming from Holgate's body language before the game is off the scale for a player who has achieved nothing!!
Someone tell Iwobi to be a man and get his hands out of his sleeves!!
Really pissed off with that...
Jamie Crowley
59
Posted 13/03/2021 at 19:32:26
Tony Hill -
I saw him push to the middle every time, hold the ball like it was his cock, and then turn it over.
Colin Glassar
60
Posted 13/03/2021 at 19:32:30
We don't have any two-footed players, only wrong-footed ones.
Only one natural lefty, who was shite again. So everything slows down because they need to move it to their right foot.
Tony Hill
61
Posted 13/03/2021 at 19:33:09
Funny that some think Godfrey was excellent. I thought he looked troubled tonight, as he did last time out. That's natural, of course, at his stage of development. But he currently looks a better left-back than centre-half.
Neil Lawson
62
Posted 13/03/2021 at 19:34:06
I despair. Poor. So poor. But why oh why replace Davies? He was positive and forward-thinking. From the moment he departed, an indifferent display became abject and huge gaps opened, the game changed and was effectively lost. Can someone please explain?
Iwobi? Discuss... but without expletives – actually, don't bother. There aren't enough expletives.
Next Saturday could be dreadful.
Jay Wood
[BRZ]
63
Posted 13/03/2021 at 19:34:08
Yep! Blown another opportunity at home.
Other than a golden 10 minutes for Burnley when they scored their goals and played really well, I thought it was an evenly balanced game. They defended better than us in the key moments.
I thought Gomes was excellent. Richarlison disappeared 2nd half. Dom not quite on it. Dreadful corners from Digne easily negated one of our biggest threats.
Iwobi awful? Don't be silly Jamie. He looked very good in the Number 10 role. Quick. Mobile. Imaginative in his passing. That got sacrificed before half-time with a change of shape. And even in that role he was far from awful.
Awful was King. He has his supporters on here. Personally, I've yet to see anything of note from him in a Blue shirt.
Paul Birmingham
64
Posted 13/03/2021 at 19:34:22
Stephen @58, 100%, and I think Mason will be no more than a last resort squad player next season.
He stunk today and for most of this season. If he was as good as he is arrogant, then that would be something. He's playing like an extra player for the opposition.
John Charles
65
Posted 13/03/2021 at 19:34:23
Nothing out of the ordinary. Our league position is false as we are a bang-average lower mid-table team.
Godfrey is a great buy.
Alan J Thompson
66
Posted 13/03/2021 at 19:35:42
What a miss by Calvert-Lewin at the start of the second half and if he was as good as we hope would Harry Kane have missed that?
Didn't understand the substitution and thought that Allan would be the man rather than Davies. Gomes, I thought, was our best player (MotM) but it has to be said that the young keeper did well in different circumstances.
It was a more entertaining game than recent games but not the result. Top 4, Top 8? Do we still budget for an 11th place finish?
Kevin Molloy
67
Posted 13/03/2021 at 19:36:34
You know when you're watching a good side, cos they grind the other team down. At no point today did we put fucking Burnley under pressure. Ditto Newcastle, Fulham and [insert shite relegation-threatened team].
I hope Carlo is steaming after that game, cos that's his season down the pan right there.
I'm so disappointed with Allan: he runs like Peter Reid, but unlike Peter, he doesn't give a shit.
Tony Hill
68
Posted 13/03/2021 at 19:38:28
Watch again, Jamie @59. He was involved in our goal and did pretty well throughout, though he lost the ball a couple of times; but others were much looser. He gets far too much blame on here and it distracts from the real problems.
Danny Baily
69
Posted 13/03/2021 at 19:38:31
All will be forgiven if we manage to beat Man City in the cup. That one really matters.
Jim Bennings
70
Posted 13/03/2021 at 19:40:52
Danny,
We won't beat Man City mate, not pessimistic just realistic.
City won't get out of first gear, they never need to when they play us now. I can only see an easy 3-1 win for Pep's men.
Brian Wilkinson
71
Posted 13/03/2021 at 19:41:29
It never ceases to amaze me how different fans see different things, I thought Iwobi put in one of his better games today, yet some think he was shite.
Gomes was very poor first half, stepped it up the second half.
The weak link for me is Holgate.
Craig Walker
72
Posted 13/03/2021 at 19:41:54
Let's not delude ourselves, we aren't in the best 4 teams in the country. We've had some good moments this season but our performances at home have been woeful since the early months. We're pedestrian and play far too many sideways and backward passes.
There's little movement up front and nobody who can unlock a packed defence. Even when we're a goal down, we continue to play triangles in our own box. It's baffling. After 20 mins, you get the sinking feeling that it's gonna be another of those days.
I like Ancelotti but, if he can't see that Iwobi and Gomes aren't good enough, then he isn't the amazing manager the pundits wax lyrical about. How Iwobi played the whole game today is a complete mystery.
We need 5 or 6 new players and need to target players with pace.
Very disappointing considering some of our away results.
Darren Hind
73
Posted 13/03/2021 at 19:43:16
Yet another total shit show on Carlo's watch.
It's football Jim, but not as we know it, not as we know it, not as we know it...
Brian Williams
74
Posted 13/03/2021 at 19:43:26
Why oh why when we play inferior teams (and they are inferior – the league doesn't lie) do we fall short? They used to call it "a lack of moral fibre". It seems to be a lack of mental toughness and a lack of bottle.
When it comes to a scrap for the points, we fail. We don't fail now and again... we seem to fail again and again. Why? Well I'm honestly fucked if I know.
Blaming the manager, IMO, is easy and lazy. Pretty sure he doesn't instruct them to over-hit passes, lose their 50-50s, and generally fail against inferior opposition.
True, some of the substitutions are head-scratchers. Why Tom was hooked before Iwobi who, Jay I have to disagree, was poor, I'll never know.
I'll agree on another point though, Jay, King has been underwhelming though he hasn't had long on the pitch.
It just confounds me that we can't win these type of games, for fuck's sake.

John Keating
75
Posted 13/03/2021 at 19:43:26
Win, lose or draw, every week we comment on our inability to pass to each other. You don't mind an attempt of an incisive pass getting cut out by a defender but easy short passes fired in, slightly behind, too far in front, unbelievable really.
Poor poor performance all around.
Derek Knox
76
Posted 13/03/2021 at 19:44:13
Disappointed, you bet I am, and I doubt whether I am alone in that. It started with the team selection, I have a lot of respect for Carlo but why, oh why, does he keep picking Gomes? And Holgate is not far behind.
Gomes trained on Crosby Beach last week by invitation of Carlo, surely when the Iron Men ran rings around him and outsmarted him too, that should have sent a message to our beloved leader, but no, he let him continue from where he left off.
Iwobi, for all the criticism, which he has deserved, wasn't that bad today, although his final ball remains to merit the questions why, what, where and who was that to? Davies wasn't as good as he has been but at least was having a go, and there were candidates who deserved substitution way ahead of him.
Disappointed? You bet I am!
Jim Bennings
77
Posted 13/03/2021 at 19:44:54
Paul @64,
I spotted out Holgate about 3 years ago and said I was never convinced by him – even though I was shot down on here by his supporters.
I've never rated him; a Championship player – nothing more.
Rob Dolby
78
Posted 13/03/2021 at 19:45:29
Burnley deserved the win. McNeil's goal deserved to win any game.
Fed up of saying it but our midfield is like dad's army compared to nearly every other team. Burnley midfield bossed the game and enabled the win. Poorer technical players but with more desire, speed and aggression.
Holgate is well out of his depth at full-back, he offers nothing going forward and struggles passing forward.
Does anyone know Iwobi's best position yet?
Davies should have stayed on for Gomes. King has shown nothing to suggest we keep him.
Another bad day at the office. Man City next up, can't wait.
Colin Glassar
79
Posted 13/03/2021 at 19:45:36
Brian W, admittedly it wasn't Iwobi's worst game for us. He showed flashes of mediocrity, which is a vast improvement for him, but his levels of shiteness are unlimited.
Come back Nyarko, all is forgiven.
Neil Lawson
80
Posted 13/03/2021 at 19:46:07
I am fortunate to live just outside Exeter so I watched the Chiefs this lunchtime. What a team. Short of players through international call-ups and injury but they are such a brilliantly oiled unit with an outstanding coach. Players slot in and out seamlessly and they play with a confidence and self-belief that is exceptional and a system which is so effective. They are never beaten and even when down in a game you expect them to fight their way back and usually they do. No primadonnas.
So much Carlo and this woeful bunch could learn. Thank heavens that I can get some excitement watching a team I really want to see win.
Jason Li
81
Posted 13/03/2021 at 19:46:32
Disappointing, no-one can go past a man when we face a team that's well organised, and also that Calvert-Lewin had one of those games where the ball got away from him when passes slide in to him quickly when we break the back line. Once he gets this right in training, he will be a 25-goal-a-season man. Watching some Lineker and Romario videos should give him some ideas.
Someone like McNeil has to be signed, can produce a moment of magic from outside the box, hardly has to be in the box to create as well when the left...
Also, a centre-mid like Neves who can score outside the box, which also draws out centre backs to close him down and out of good defensive positions.
Of course, two right-sided players that can produce great runs and crosses from the right, possibly a right-back and a right-midfielder.
Barry Rathbone
82
Posted 13/03/2021 at 19:46:55
I thought Burnley were terrific. If they played Incognito (good South American player, better than Allan), I would have taken them to be a top 4 outfit.
It's fine lines with us; we're not great... neither are we shite; our results reflect as much.
Although I am puzzled by the hype around Allan.
Jay Wood
[BRZ]
83
Posted 13/03/2021 at 19:47:11
Brian, I'd have taken Allan off before Tom but, under Carlo, Tom is nearly always sacrificed around the 60- to 70-minute mark.
Craig Walker
84
Posted 13/03/2021 at 19:47:16
Holgate wasn't good tonight but I'm getting increasingly frustrated with Digne. His main asset is supposed to be his delivery but he often opts to do another pass or cut back instead of crossing. Calvert-Lewin only scores from 6 yards so feed him. And Digne's corners were terrible tonight.
Rob Halligan
85
Posted 13/03/2021 at 19:47:30
The injury to Pickford, whilst not totally screwing us up, certainly did not help when deciding on substitutions. Would Sigurdsson have been a better alternative to King?
By replacing Pickford, it reduced the number of outfield players we could replace, so I think, just for his dead-ball crosses alone, Sigurdsson should have come on. We had enough dead ball situations, corners of free kicks, to really put pressure on their back four.
As far as qualifying for Europe via a league placing, I think that avenue is now closed. It's the FA Cup or nothing.
Tony Hill
86
Posted 13/03/2021 at 19:49:37
Tell you what, let's all just agree it's Alex Iwobi's fault. Job done.
Jesus wept.
Colin Glassar
87
Posted 13/03/2021 at 19:49:46
Craig, Digne has been like that for a while now. Holgate is a centre-back, never a right-back.
Christy Ring
88
Posted 13/03/2021 at 19:50:10
I thought Iwobi was shocking and, unless Davies is still carrying a knock, I was baffled he was substituted. As soon as he went off, Burnley got on top again.
Brian Williams
89
Posted 13/03/2021 at 19:50:21
At least Man City are on soon so I can actually enjoy watching some very, very good football.
Tony Everan
90
Posted 13/03/2021 at 19:52:07
Groundhog Everton do it again.
Okay, Chelsea wasn't the end of the world, everyone accepted they are a cut above But did anyone see how Leeds played against them today? Leeds were a class apart from our performance and gave as good as they got. They didn't roll over like a little puppy dog wanting to get its belly tickled. Shame on Everton.
So, all is not lost, we can make it up against Burnley and get the momentum back for a top 6 finish.
Too many slow players, the slowest team in the Premier League means we always pass back, no-one's fast enough to escape their marker. Allan is rusty still, Tom a bit rusty too after their respective injuries. We missed Doucouré. It meant the midfield was way off the pace.
Iwobi for me is finished for Everton, how many chances does this player get? Too slow and lethargic, never sprints or gets close when closing down. What does he do? What does he bring to the table? How can a player get away with sauntering around week after week? If he cost us ٠M instead of 㿇m he would be nowhere near the first team. I have enough of it, yet again.
Tom Harvey
91
Posted 13/03/2021 at 19:52:25
Gomes's Barcelona aura has well and truly faded as far as I'm concerned, one excellent game in the Anfield derby and nothing since, even taking into account his injury.
He plays average or poor, we have our pick of these players, but we're paying a fortune for this, get rid!
Iwobi (see the sentence above)!
Paul Birmingham
92
Posted 13/03/2021 at 19:53:59
Genuine confidence and belief, and game management when the chips are down, but today, Everton laid the table for a very game Burnley team.
Let's hope but realistically, this is the zenith of this squad, and a slow burning rebuild, it seems from goalkeeper to forward line.
It's a nap today but the conditions and the weather are the same for both teams.
Burnley wanted it more and Everton were outplayed at home. Transition is too slow, in the team, now to clear the decks and go again.
Let's hope Arsenal and Wolves can do us a favour over the next two days.
Kevin Dyer
93
Posted 13/03/2021 at 19:54:58
I'm used to seeing weird home results this season; lack of crowds is massive. Still, another home loss to a poor team. We clearly play better on the counter, when we have the ball we struggle to break teams down, if they sit back. Rodriguez is the only truly high-level creative player we have and he's not available.
The effort and will to win was there, we just lack ideas and great movement in attacking areas.
Bizarrely, Europe is still a solid possibility, though I'd happily take Europa League, if offered it right now. If we somehow qualify for Champions League, we'd be exposed without huge recruitment. A year too early, at least. It is clear that we need about 3-4 serious additions to solidify next season and make a first of a Europa campaign. Right-back is glaringly obvious – Seamus has run his race and Holgate is inadequate. A quality creative central midfielder. A right-winger, possibly one who can play on the left if required.
Pickford beaten twice from range, it's definitely a weakness and looks like their players had been told to take shots from range if on. I was happy with Virginia, solid league debut. Borderline foul on Davies for their first goal, responded well to get us back into the game. Good ball over the top for Calvert-Lewin too, just before getting pulled, so possibly a fitness issue behind that.
Allan and Gomes controlled midfield but couldn't pick that incisive pass. Calvert-Lewin a handful but could have done better on a couple occasions. Richarlison struggled to get into dangerous areas. Defence played okay overall. Without James and Sigurdsson we struggled with attacking set-piece deliveries.
Not a fatal loss, but more momentum squandered with Chelsea being held today.
I'm not expecting anything from the Man City cup match, we're not in their class.
Colin Glassar
94
Posted 13/03/2021 at 19:56:03
I'm beginning to think we might have to sell Richarlison to buy. The lad blows hot and cold, prefers to go to ground, rarely looks for a pass, is very inconsistent, an immature sulk etc...
He's obviously a talent but we have to carry him and he's one of the first who's head goes down if we're struggling.
Paul Setter
95
Posted 13/03/2021 at 19:56:14
Neil Lawson #80, where in Exeter do you live? I'm also there near the Science Park. Good to see a fellow Toffee nearby despite the garbage usually served up.
Raymond Fox
96
Posted 13/03/2021 at 19:56:39
So predictable isn't it, we are still ordinary. We lack that bit of class that makes top sides.
Jay Wood
[BRZ]
97
Posted 13/03/2021 at 19:56:58
Rob, on bringing on Sigurdsson for those dead-ball situations alone, I thought similar to you. Digne's dead-ball delivery was awful tonight, but I have to challenge Craig about the Frenchman's 'dithering' on the ball in open play.
There were few moments of genuinely class from Everton tonight, but Digne provided one of them at the start of the 2nd half. On the right flank still having delivered a corner, with his back to goal and a high ball dropping over his shoulder, in one touch he brought the ball under control, got half a yard on the defender and with his 2nd touch contorted to put in a great cross with his right foot on to Dom's head.
2-2!!!! Noooooo!!!!
Dom got it all wrong as his clear frustration showed.
Tom Harvey
98
Posted 13/03/2021 at 19:59:10
Colin Glassar @94
I'm beginnning to worry about hanging onto Godfrey, this kid is bloody good, there has to be some money clubs looking at him?
Now is the time to poach him before his value goes up too much.

Thomas Richards
99
Posted 13/03/2021 at 19:59:11
Imagine the following players are put up for sale in summer:
Holgate
Davies
Iwobi
Gomes
Keane
Would any of the following try to sign them?
Man City
Man Utd
Chelsea
Spurs
Leicester City
Liverpool
Bill Rodgers
100
Posted 13/03/2021 at 20:00:00
Well, I am no European football genius like Carlo Ancelotti... but, when I see Everton passing the ball sideways and then backwards before giving it away, I know that I am watching the slowest, sloppiest and least committed team in the Premier League.
They may have the quality to do well in some big games – when the commitment is a given – but on a normal banker against a poor but honest side like Burnley (and half-a-dozen more) this is easily the worst team in the league.
There is no pace, no commitment and no leadership on the pitch. If anyone can tell me what to look out for so that I can see the Carlo transformation – please let me know. Cos I can't see it.
Ernie Baywood
101
Posted 13/03/2021 at 20:01:10
We're used to differing opinions on here but the Iwobi discussion has me surprised.
He seems a decent sort. Puts in a half decent shift for a winger. Gets in some good positions. And he can look reasonable on the ball. There's nothing inherently dislikeable about the guy.
But that's all preliminary stuff. When he has to actually deliver, he falls so far short. A cross, a shot, even a ball in behind. They go everywhere. Through-balls are delivered at waist height. Crosses bend the opposite way to what you would want in that position, or they barely leave the ground. Or he floats them at the corner flag. Remember, the guy is an attacking player.
He lacks the ability to strike a ball correctly. You either learn that as a junior or you don't. If you don't, then you don't play at a high level. His status in the game is a miracle.
It's like proclaiming me to be a great lover because I look decent when I undress (which isn't true). There has to be something of substance beyond appearance.
Craig Walker
102
Posted 13/03/2021 at 20:01:21
I don't judge creative players by knocking sideways passes in their own half, I judge them by what they do when they're in dangerous attacking positions.
Iwobi hits the first man or loses it 9 times out of 10. Gomes slows the play down too much for me. Neither of them can shoot. Not good enough.
In what way is Iwobi better than Lookman or Deulofeu? He doesn't even look bothered to me. I'll give Gomes a bit of slack because of the injury but you can't play both of them in the same starting XI as it's like being a man down.
Colin Glassar
103
Posted 13/03/2021 at 20:01:51
Thomas - No. None of them are top 4 players but Holgate and Keane are good players.
Tom H. I agree, Godfrey is class. MotM today with Gomes. The only two who tried.
Anthony Murphy
104
Posted 13/03/2021 at 20:04:20
Iwobi – works hard enough but no end product.
Holgate – rates himself higher than I do.
Gomes – doesn't impact the game enough but can at least pick a pass every now and then.
John Rowlands
105
Posted 13/03/2021 at 20:04:45
Very disappointing. King should play instead of Calvert-Lewin who has missed lots of good chances in the last 3 games through poor control or finishing.
Holgate is not a right-back and always looks brassed off.
Allan looks well off the pace of the game as yet. How many times is Keane going to do that short pass to a man marked by two players?
Godfrey had his usual decent game. Digne's crossing poor. Davies did okay ish. Iwobi thought was tip of the diamond but reverted back to his right-wing role with poor crosses again.
Gomes okayish. Richarlison tried hard as usual. We just don't seem capable of passing more than 10 yards accurately, unless it's backwards. We have more sicknotes than Holby Hospital.

Stephen Brown
106
Posted 13/03/2021 at 20:04:51
I'm trying my best to avoid knee-jerk reactions but a number of these players are not up to scratch if we have serious ambitions?!
That said you should really be beating Burnley at home! I go back to a point I made earlier the lack of focus from the players in the tunnel was disgraceful! They should all be lined up as a team ready to go with a steely focus (Roy Keane Esq) not pissing about and sniffing whatever Holgate was sniffing, or leaning on the wall! High fives as if we are so good we just have to turn up!
I'm not sure where to go with it really? Can we raise our game to beat Man City next week? If we don't, then the season could effectively be over!
Been here before...
Dave Abrahams
107
Posted 13/03/2021 at 20:05:03
A team that plays aggressively against Everton will always have a good chance against Everton. Not enough fighters in the team. We could have got a draw out of that with the chances created, but Burnley could have had a couple more goals as well.
I thought Iwobi had a decent game, especially in the first half. I'm a fan of Godfrey but didn't think he was his usual standard today, but still much better than Keane. Davies was a scapegoat again, but the midfield will continue to struggle, especially without Doucouré.
I don't expect we will get much better than this the rest of the season and the season could finish next Saturday when Man City come to visit in the FA Cup, although might be me believing in miracles if we are to get through.
Kevin Dyer
108
Posted 13/03/2021 at 20:05:56
Brian @74, give a competent manager a team of decent, hard-working players to mold into a defensive unit and they can be tough to unlock. It requires the ability to see opportunities and the skill and technique to make it happen.
The only player we have with those capabilities at a high level is Rodriguez. Probably next to him would be Sigurdsson, though he has limitations which impact his qualities final third.
After those two, we have players that are good on the ball and can pass, obviously but cannot be relied upon to break open a well-drilled opponent that sits deep. Gomes for example is a good technical player but his number of assists throughout his career is quite low.
So it is not lack of effort, will or anything like that. Richarlison is essentially a striker, or wide forward. He's great in space or on the counter but will struggle against a packed defence and is not creative.
Neither is Calvert-Lewin, he's a target man with pace. Digne can cross. Coleman can't. Iwobi is good travelling with the ball in terms of retaining it but rarely beats a man, can't cross the ball and is not a dangerous passer. Not seeing much from King to justify a permanent move.
Peter Dodds
109
Posted 13/03/2021 at 20:06:19
I don't understand the Iwobi pile-on. For the first 25 minutes in the No 10 role, he looked sharp, looking to play through the lines (as indeed did Gomes and others – a big improvement compared to the usual cautious passing it along the backline forever). What I can't understand is the amount of space Burnley seemed to have for their goals – which they took very well. Allan mugged for the second, Tom for the first.
Calvert-Lewin should have buried the chance just after half-time and on another day either he or Richy would have had another. A frustrating game of passes not quite going to feet or coming under control.
We should give Burnley credit for playing out of their skins and for some glorious finishing rather than finding negatives just with Everton. I thought Gomes played well, so too Iwobi. Mason needs to be replaced when possible – the way he dives in at least twice every game is a problem.
Jay Woods
110
Posted 13/03/2021 at 20:12:07
We can't play with Calvert-Lewin and Richarlison together, as the latter is not much use as a winger but effective as a central striker. It has to be one of those two players or the other.
Brian Harrison
111
Posted 13/03/2021 at 20:12:42
Yet another embarrassment against a bottom-half team at home, it has happened too often for it to be a blip.
I can't understand why Carlo persists with Holgate, he doesn't want to go forward and is always looking to pass the ball backwards.
I think that was Allan's worst game by a long way – he should never have allowed McNeil to go past him so easily.
Well, Iwobi wanted to play in his preferred position and he did and still produced absolutely nothing. Calvert-Lewin... I have seen camels with a better first touch, his chance with the second header was far easier than the one he scored.
I think that pretty much has put paid to a top 4th spot which in all honesty this team aren't good enough to play at that level. I also think it will be very difficult to qualify for a Europa League spot.
I don't think Carlo can be absolved of our recent run of home results, this team seems only happy playing the top teams with 10 men behind the ball. But, when the onus is on us to take the game to so-called lesser teams, we have been found wanting.
So Carlo you need to change the mindset and get this team playing front foot football, as after losses to West Ham, Newcastle, Fulham and now Burnley at home I think having no crowds inside Goodison, is at present a blessing for you and the players. I can only imagine what the scenes would have been at the end of today's game.
Derek Knox
112
Posted 13/03/2021 at 20:13:14
Thomas @ 99, try substituting Crapchester Rovers, Dungdee, Cowpat Athletic, Compost Town, Shitcreek City and Detritus Albion!
The answer would be maybe if they were on a free, or you pay us to take them!
Phillip Warrington
113
Posted 13/03/2021 at 20:13:30
Yep, just when we thought, after the Liverpool game... back to reality.
Kevin Dyer
114
Posted 13/03/2021 at 20:13:45
Thomas #99
You don't think Keane would be a better option than Dier or Bailly?
Davies has improved hugely this season. It was a borderline foul to dispossess him. More highly-regarded midfielders than him have similarly lost the ball in similar positions this season.
He could have dropped his head but came back, showed for the ball and got us back in the match. Could've had a second assist if Dom hadn't been unlucky with his takedown.
He is a more creative passer than Gomes, Doucouré or Allan. Personally, I rate him over Man Utd's centre mids and he would definitely be a strong addition to Spurs and Leicester.
Oliver Molloy
115
Posted 13/03/2021 at 20:14:46
Few heads on here reckon Iwobi was decent or good – get a fucking grip would you all. I just watched the first half again which confirmed just how shite he was / is; I don't need to watch the second half.
He's like a fucking headless chicken at times, couldn't cross a ball to save his life (not the only one in our team).
Holgate – sell him.
Calvert-Lewin was guilty of missing at least two great chances.
Keane guilty of clearing the ball into the middle of the penalty area. I mentioned before he got away with it against the red shite, didn't this time. I can not believe he made the same mistake again - fucking clear the ball.
Desperate display in my opinion, don't give a monkey's fuck how good, physical, organised Burnley are – they are fucking Burnley. Rant over.
Paul Birmingham
116
Posted 13/03/2021 at 20:16:20
Jim, spot on and you're proven right, and he's become a liability, and looks more like a Championship player at best.
The times today when Everton had a good position and gave away possession via unforced errors, effectively conceded this game to Burnley.
Two superb strikes by Burnley and fair play, they will be safe, I'm certain to stay up. Tom Davies, if he keeps his fitness and belief, will be first on the team sheet this summer.
New players needed and this may happening the summer, but I don't see no more than x4 players coming in, in the balancing of this Everton squad, but that's only my view.
It's a killer when Everton spew every opportunity to make ground this season when in a good position.
Denis Hignett
117
Posted 13/03/2021 at 20:17:04
Somebody tell Carlo, Holgate is not a right-back. What's wrong with playing Coleman?
I must disagree with some comments. I thought Gomes had a decent game. Two shots at goal and his passing, for the most part, was accurate.

Rob Dolby
118
Posted 13/03/2021 at 20:18:24
Peter @109.
Iwobi and Gomes may have looked good on the ball but our midfield off the ball is what made Burnley look like scoring with every attack.
I would take all of their midfielders over ours tonight.
You have to match the opposing team's effort before trying to play. We just haven't got those types of players.
Simon Evans
119
Posted 13/03/2021 at 20:20:13
So disappointing again. I don't think our excellent away form compared to our home form has been any secret. Away we can sit deep and play on the counter, at home against the Burnley, Fulham and Newcastle's of the world we are expected to play on the front foot and carve out chances.
However we don't seem capable of doing that, even when we have had Doucouré and James on the pitch we have struggled in this regard.
Love Carlo but really wish he had been a bit more positive tonight with perhaps King and Coleman starting from the off. The goal aside, we lack any kind of threat down the right.
I hear people giving Calvert-Lewin a hard time in previous games but he's a poacher, he needs balls into the 18-yard box or he's never going to score.
I still think we can achieve a decent finish this season, it's been an improvement but I think we are all so frustrated with the home/away form flipping on its head. On to the next game!

Tommy Carter
120
Posted 13/03/2021 at 20:21:05
The position Burnley are in reflects what they are. They had a 10-minute spell where they punished a mistake and then put a worldly into the top corner.
Burnley at home is a game we should not lose. But we have. The problem is our complete lack of creativity. Against a team sitting deep at Goodison, we just can't find enough opportunity to break them down. We don't have players clever enough to do this.
Carlo didn't sign most of these players.
Jerome Shields
121
Posted 13/03/2021 at 20:22:30
I thought Everton got caught on the hop early on with Davies being targeted with physical challenges he wasn't up to and Burnley using the long ball to put attackers into one-on-ones with Everton defenders. Allan was playing far too forward, instead of in front of the back four.
Everton did have play through the centre, but Calvert-Lewin was a huge let-down technically, which seems to be normal, with Richarlison tracked and crowded out.
More and more wing play and really poor crosses, too short or over hit. Holgate produced a identical overhit cross to a cross of his in the Chelsea game and Digne completely lost his crossing touch. His corners were diabolical. Digne looks like a knackered player to me and needs a break. King really didn't contribute and is light years away from a shot on target.
I thought the spirit was there throughout the game, only to be undone by the wrong tactics early on and poor technical ability in final third play.
Injuries have played their part in the team not being able to implement Ancelotti's tactics. The out-of-shape King is going to take a while to shape up, but not quick enough to get him a contract extension. Lucky he was brought in on a short contract.
John Charles
122
Posted 13/03/2021 at 20:22:54
Nice rant, Oliver – totally agree.
Mike Oates
123
Posted 13/03/2021 at 20:24:33
As Ancelloti has just said on Sky, we try to open up and control the game but we haven't got the quality to do this and our strength is to defend and rely on counter-attack or set pieces, ie, we can't move, pass, control, we haven't got the technical quality in the side to do this.
A damning statement about the quality of our midfielders, and to some extent the ability of our defence to defend with only 4 of them there. Basically open up our games and we will get destroyed by any team, from bottom 3 to top 4.
Bye-bye, Europe.
Kevin Molloy
124
Posted 13/03/2021 at 20:24:39
I thought Iwobi gave his usual performance, perhaps slightly better than usual. The key figure for me was Allan, and his lack of concentration for their crucial second goal. He just seems to be quite careless, and you can't be careless in that position. He's got all the tools, but I've got a horrble feeling his heart isn't in it.
James Head
125
Posted 13/03/2021 at 20:27:18
Jonjoe Kenny was written off at right-back by so many fans without being given a fair chance but surely he offered more than that casual non-footballer Holgate?
We also get rid of Lookman, who looks decent at Fulham, and have 㿇ucM man, Iwobi, stuttering around the pitch like he's overdosed on caffeine.
Also, can no-one cross a fucking ball or whip a corner in, for fuck's sake... it's absolute dogshit. If the crowd was in Goodison Park, these useless cunts would be getting torn to shreds! Fuming!
Tony Abrahams
126
Posted 13/03/2021 at 20:27:34
Ancellotti needs to have a look at himself imo. He keeps playing against the lower teams without width but then, when he changed it, we became much the better team, again imo.
I thought your report was good Michael, but I thought we were well on top when Davies was replaced by King, which changed our formation again, and suddenly it was Burnley who looked dangerous again.
Calvert-Lewin let us down tonight, but not as much as Richarlison, or the manager, who could have just taken our Brazilian off for King, and kept us playing the same way when we were well on top, instead of disrupting the flow of the game.
I thought Gomes was dreadful in the first half, and our best player in the second half, but Everton are crazy, pushing for a Champions League place, yet showing relegation form at home... Argh! Well, I'd sooner win next week, and at least we showed loads more energy in that second period today!
Colin Glassar
127
Posted 13/03/2021 at 20:28:17
Great post, Mike @123. Carlo knows his flock and, hopefully, he'll cull quite a few in the summer. No mercy!
Jerome Shields
129
Posted 13/03/2021 at 20:28:21
Interesting Ancelotti admitting that he got the tactics wrong for the level of technical ability in the side.
Tom Harvey
130
Posted 13/03/2021 at 20:29:15
After all the money spent and turnover of players, we'll probably end up about 7th or 8th and the (pathetic) irony for me is that's exactly where Moyes and the glass ceiling existed.
Jerome Shields
131
Posted 13/03/2021 at 20:32:37
Catenaccio to the end of the season, methinks, hearing Ancelotti's after-match analysis.
Jason Li
132
Posted 13/03/2021 at 20:34:24
Colin Glassar @ 94,
If we have a good recruitment team, then I'd be understanding at selling Richarlison, as it means we make a huge profit, and buy a new version with money left over, like Dortmund do all the time, and just get bettter.
However, that's our big if! I think we can do it as Godfrey, Branthwaite, Kean (gone up in value) and Nkounkou give me hope that our recruitment is getting the hang of the type of quality young players we need to bring in.
I've always thought if Moyes just bought and sold a bit more when some players were peaking, he would have got us into the top 4. Of course on the flip side, it's easy saying we should definitely just sign him and him and assuming it just gets done because we want it done too. And also managers can only plan 2 years ahead it seems. So, down to the recruitment team to get that list right for this big summer spend.
Dave Williams
133
Posted 13/03/2021 at 20:34:25
A poor performance and Kevin Dyer #93 sums it up pretty well for me.
I thought Iwobi did well until he was moved wide. Our right flank is poor and will not improve until we buy new players. Digne has been poor for quite a while and I would sell him to generate transfer funds as we have Nkounkou and Small waiting in the wings. They will need some patience defensively but would add a lot of pace and youthful energy which we sorely lack.
All season and last, we have been way too slow to close players down around 20-25 yards from our goal and it costs us time after time. This should be coached.
The same people who praised Holgate last season are now slagging him off. He is a centre-back, not an overlapping right-back, and it seems that looking arrogant is a crime – again, folk were saying last season and this how we lacked players with a touch of arrogance!
Our squad is not good enough to compete in the Premier League and Europe next season but hopefully this will be sorted in the transfer window. Sell Digne and Kean and we should have 㿲M in the kitty for starters and that would also boost our Financial Fair Play position.
Paul Reeves
134
Posted 13/03/2021 at 20:35:09
It was predicted on TW before the game: play Iwobi and Gomes and you start with 9 men. Presumably Carlo had other ideas, like leaving Coleman and Sigurdsson on the bench, a bad mistake.
Iwobi is totally out of his depth, looks like he's never played the game before and certainly not at this level. Others, like Digne and Gomes have struggles after injuries
We don't have the squad necessary, and so we go on dreaming in hope for the next transfer window, like we do every season.
Without the home crowd behind us, we are seriously lacking to fight for the cause. Something not quite right. Where's the team spirit that won at Anfield?
Graham Hammond
135
Posted 13/03/2021 at 20:36:40
I would totally agree with Tony Hill (#68) in saying that Iwobi was most definitely not to blame for that shit-show tonight. I would strongly disagree with Jamie Crowley and a few others on this site that have panned Alex for that showing.
Yes, he was shite against West Brom but not at all tonight. Many others performed worse out there. When Iwobi was playing centrally (more like a Number 10), I thought he was one of the very few positives in the first 35 minutes. When he was pushed out wide, he was often drawing three or four players out to him and, more often than not, running inside and switching play and thereby taking those Burnley players out of the game, albeit temporarily; that to me is intelligent play.
The movement in front of Iwobi was often shite so he chose to move cross-field, not a problem for me. Alex cannot cross a ball, I agree on that, but how many players can?
The crossing tonight of Lucas Digne was equally poor. If lumping the ball in high (to Calvert-Lewin) is the sum total of our attacking efforts, it just shows we are a one-dimensional shite team that cannot work the ball. This is very often down to a lack of work-rate and poor movement off the ball, in my opinion, which we still need to address.
Iwobi played quite a few quality balls forward tonight that were wasted by others, hardly his fault. Bombing a 24-year-old who is reasonably quick and usually stays free of injury (unlike many 28- to 31-year-olds), and who has the potential to improve further, out of the club would be stupidity in my opinion. I look forward to the day when we have a starting XI and a bench full of players who are better than Alex Iwobi; sadly it ain't gonna happen any day soon!
Tom Harvey
136
Posted 13/03/2021 at 20:39:20
Paul Reeves @134,
We're bumping into teams who are game and overflowing with team spirit and we're not matching them.
Jeff Armstrong
137
Posted 13/03/2021 at 20:40:11
Poor decisions yet again from Ancelotti tonight, he doesn't like youth so continues to pick the same players who fail, week-in & week-out. He doesn't even try to change them mid-game, for fuck's sake, just keeps on playing the same dull uninspiring rubbish throughout. We scored with an hour still to play, yet hardly tested Pope for the rest of the game.
Taking Davies off again was unbelievable: the only player trying to make something happen, the only player showing drive and passion for his team, and yet Ancelotti takes him off – cos that's what he does – takes Davies off whether he's playing well or not, cos it's 70 minutes... Tom, you're off, mate.
Trevor Peers
138
Posted 13/03/2021 at 20:40:15
Lack of organization is the real worry, there doesn't seem to be a game plan where each player knows his job and you can see a pattern of play that is understandable. It may be Carlo hasn't got the correct players yet. But that's just being kind and accepting of his past glories.
You would expect to see a much better game plan at home, from a guy of his experience. It's a total lottery regarding tactics, which is unacceptable and worrying. All now depends on his summer signings, because this season is a total write-off with home form like ours, which is a massive disappointment.
Tony Abrahams
139
Posted 13/03/2021 at 20:42:56
Have you ever played fullback with nobody in front of you, helping you out, Dave W? It's an absolute nightmare, a wingback in possession, and an exposed defender, out of possession. I thought the cross Lucas Digne put in for Calvert-Lewin was magnificent, and I also thought Digne was definitely not one of our problems tonight.
But, if you could get 㿨/70 million for those two players and go and invest another 㿊 million, it might be beneficial to us in the longer-term, I definitely wouldn't argue with that.
Rob Halligan
140
Posted 13/03/2021 at 20:44:30
Paul #134,
The answer to your question: "Where's the team spirit that won at Anfield?" can probably be found in your final paragraph. The lack of fans helped us win that game as much as anything else. Who knows how that game would have panned out if the ground was full of Liverpool fans, urging their team on?
The early goal obviously helped us, just as much as had that shot from Richarlison gone in early on in the game tonight, then I think we would have gone on to win the game.
Rob Dolby
141
Posted 13/03/2021 at 20:47:22
Rob @140. You could have the same argument about our home form.
There are lots of away wins now that there aren't any fans.
Jeff Armstrong
142
Posted 13/03/2021 at 20:47:43
Davies's cross for Calvert-Lewin was pretty good too.
Colin Glassar
143
Posted 13/03/2021 at 20:48:34
Moshiri has just sunk another £200m into the club. He must know something we don't.
Thomas Richards
144
Posted 13/03/2021 at 20:49:08
In fairness, how many of the Burnley team would be snapped up by a top 6 team?
Out-thought and out-fought tonight by a team with character.
Ron Marr
145
Posted 13/03/2021 at 20:49:17
Mike @123,
Ancelloti has just said on Sky, we try to open up and control the game but we haven't got the quality to do this and our strength is to defend and rely on counter-attack or set-pieces, ie, we can't move, pass, control, we haven't got the technical quality in the side to do this.
Totally agree with that. Where have you gone, Ball, Kendall and Harvey? Blue Nation turns its lonely eyes to you. Woo woo woo.
Paul A Smith
146
Posted 13/03/2021 at 20:49:51
The squad is suffering now and it looks obvious to me. Davies and Allan only look half-fit and we can't take too many chances with them.
Sigurdsson was on the bench but apparently carrying a knock from Chelsea. Physicalities seem at their lowest point and even the fittest of players are losing battles they wouldn't normally lose.
Same old, same old for me. Blame subs, tactics, whatever you want but, if Calvert-Lewin's touch is better, we should come away with at least a point.
Gomes stepped up to play too late, Iwobi does what war is good for, Holgate can't get us up the pitch and, when we lose the physical battle, we usually lose the game.
Craig Walker
147
Posted 13/03/2021 at 20:54:40
Jay. Yeah that was good. I thought Digne wasn't great in the second half though. To be fair, I think my expectation is higher for him because we know he can deliver. It frustrates me when Calvert-Lewin is in the box and we get to a crossing position but overwork it. The other thing that aggravates is our inability to shoot. We always seem to want to play little passes when in central positions.
I should take stock after a bad result because just about everything bugs me. I do think we're progressing but it's disappointing when you think where we could now be sitting in the table. Normally it's our away form that lets us down. We cracked that but then our home form becomes our Achilles heel.
John Raftery
148
Posted 13/03/2021 at 20:55:33
There was a reason we signed Doucouré and James last September. Without them tonight we had a 'last season' look. Michael Keane is a good penalty-box defender but he is too slow to allow us to play a high line. So we make the midfield too big, leave too many gaps, and always look uncomfortable against teams prepared to sit in and break quickly.
Thomas Richards
149
Posted 13/03/2021 at 20:57:18
Ancelotti has just said on Sky, we try to open up and control the game but we haven't got the quality to do this and our strength is to defend and rely on counter-attack or set-pieces, ie we can't move, pass, control, we haven't got the technical quality in the side to do this.
That's the current squad summed up. Cruel but true.
Jeff Armstrong
150
Posted 13/03/2021 at 20:57:23
Easy to say now but is Holgate a better right-back than Jonjoe Kenny?
But I'm not paid 㾶 million a year to spot that 4 months later, am I... someone else is.
Lee Courtliff
151
Posted 13/03/2021 at 20:57:54
Nkounkou on the left wing with Digne behind him. Solid defensively and real pace and crossing ability going forward. I know he's young and unproven but surely it's better than what we've got? Digne needs help out there.
The second half was what I expected, Burnley sat in and us being completely unable to break them down.
Rob Halligan
152
Posted 13/03/2021 at 20:58:09
Rob # 141. Totally agree.
Joking aside, and let's be honest, if fans had been allowed in the stadiums all season, would we have won nine away games (so far)? Would Liverpool have lost six games at home on the bounce? Man Utd losing at home to Crystal Palace, Sheff Utd, conceding six against Spurs... Arsenal seemed to lose fairly regularly at home early in the season.
I'm sure there are plenty more. It just seems that, once an away team takes the lead, they go and win the game, as there are no home fans forcing their team on to fight back. The only team it doesn't seem to affect is Man City.
Mike Doyle
153
Posted 13/03/2021 at 20:58:19
Not a great surprise. Allan and Davies clearly are not fully fit – neither is Coleman. We needed a bit of creativity tonight. But our likely candidates (James & Sigurdsson) aren't fit either – and our bench looked very weak (again).
I was expecting more from Josh King, who always impressed me when he was at Bournemouth. I won't write him off just yet – but, at this stage, the short-term loan looks a wise move.
Barry Rathbone
154
Posted 13/03/2021 at 20:58:52
I thought Iwobi gave the best centre-midfield performance of an Everton player this season till shipped out to the wing but, as usual, when fans mark your card, you don't get a fair crack.
I'd give him another go; he was the only one on the move for defenders to hit and, when found, the ball stuck. Moves didn't collapse around him and he was always looking to progress. The boy did okay.
Pat Kelly
155
Posted 13/03/2021 at 21:00:30
Ron #145,
"We can't move, pass, control, we haven't got the technical quality in the side to do this".
What else is there left? Ancelotti finally saying he has nothing to manage.
Mike Oates
156
Posted 13/03/2021 at 21:04:41
Ancelotti said in his autobiography, written after his successful stints at AC Milan, Chelsea, Real Madrid and PSG, that every team needs 2-3 leaders, technical/quality leaders – like Ronaldo, Ibramovich, Modric, and Pirlo – who lead by showing the rest what levels they need to attain, and highly driven leaders like Sergio Ramos, Maldini, John Terry, Frank Lampard – players who won't accept mediocrity.
He also said Ibramovich was in this category of leader. The leaders take care of the game on the pitch, the manager has done his job, good teams need leaders to implement the plan and even have the guts to change it if it isn't working. "Leaders you can trust," he calls them.
What have we got? A technical leader, Rodriquez, playing once every 4 games, and maybe Digne on song. I think he bought Allan to be our first highly driven leader, but it's not quite working out. I don't see any other leaders in our squad.
I see technically incompetent players like Davies, Doucouré, Iwobi, Holgate. Mina, whose first touch, ball control, and passing ability is poor. Admittedly Davies is improving but, like today, a poor touch and we are a goal down.
Godfrey, once he's settled, could be a Ramos in the making... who knows? But where we are today is miles away from any team Ancelotti has in his mind. I think he's also at fault trying to get more from a team he knows can't deliver, and I think today was the last time we will see him send out a team out to control the game – he knows he hasn't got quality, legs, pace and the leadership in his squad.
2-3 more players? He's being kind to his squad; he needs at least 6 good technical, driven leaders and totally adequate cover players. 2-3 transfer windows away yet, if he's given the chance.
Ron Marr
157
Posted 13/03/2021 at 21:04:49
Pat #155. He's saying that the creativity in this side is not good enough.
I was surprised at the 2-3 players comment. Thought he was blowing smoke a little on that one.
Ian Riley
158
Posted 13/03/2021 at 21:10:14
Burnley are good at what they do. Match their effort and organisation or lose. We chose neither. It's not a coincidence that the clubs we have lost to have worked harder and overrun us. Burnley, West Ham and Fulham have deserved to beat us at home. Why? Work rate! Win the battles, run and impose yourself. It's not about ability alone playing these teams but hunger to keep the ball and win it back. We give the opposition too much space to play.
Successful teams win the battles. Until our manager signs players who win battles... forget success. Today was about a positive result, not performance. Burnley don't let you play but we tried and failed. We are yet to play well this season, yes and in mid-March. We have got good results... but good performances consistently? No!
Away wins have saved our season from being a relegation battle. The management team must reflect that something is wrong either tactically or in team selection. Again, top teams work hard to be successful. It's the basics of success. Ability alone wins nothing.

Thomas Richards
159
Posted 13/03/2021 at 21:10:23
Jeff Armstrong
161
Posted 13/03/2021 at 21:12:14
At least Ancelotti is now talking honestly.
The game is up, we are short of talent, hallelujah, but we/he knew this a while ago, so let's back him for at least another season and a couple of windows, and see where he can take us.
But taking Davies off tonight?? Fuck me, ridiculous.
John Raftery
162
Posted 13/03/2021 at 21:13:28
Ancelotti has correctly identified the problem. Surely the solution for the rest of the season is to adopt an 'away' mentality at Goodison. That means sitting in, draw the opposition forward and play on the break. It is our best chance of getting a point and possibly pinching a couple of wins.
Clive Rogers
163
Posted 13/03/2021 at 21:15:14
Allan is struggling with the pace of the Premier League. At fault for the first goal. Looks past his best to me. Never seen so many poor crosses.
Calvert-Lewin should have had a hat-trick, mis-controlled twice when clean through.
Tony Abrahams
164
Posted 13/03/2021 at 21:16:40
A lot of sense spoken there, John R. We are definitely playing with a more balanced formation away from Goodison imo, mate.
Pat Kelly
165
Posted 13/03/2021 at 21:17:31
Ron, no doubting we've no creativity.
It's also technical quality to do the basics: move, pass, control – that we lack.
John Dooley
166
Posted 13/03/2021 at 21:20:40
Oh, I'm sorry... but, if you say Holgate is a good player, you can't be watching the same games as anyone else, he is horribly shocking! Like really bad, though! He never should step foot on the park again, in my opinion, far too cocky for such a shit player.
Iwobi is embarrassing, avery very poor player and I don't see why Carlo keeps playing the lad. I'd rather have Sigurdsson playing.
Arghhhh... pissed off big-time!
Mike Doyle
167
Posted 13/03/2021 at 21:27:44
Pat # 165] Agree. I know we all tend to focus on the deficiencies of the team we support- but our passing is woefull, our midfield relatively immobile/slow compared to the sides in the bottom half of the table, let alone the top teams. Also the number of times we find ourselves in a position to attack but the player on the ball decides to go backwards drives me crackers.
Thomas Richards
168
Posted 13/03/2021 at 21:28:07
A really bad trait for a defender is to be a ball watcher
Sadly Mason is one of the best at it
Brian Williams
169
Posted 13/03/2021 at 21:31:30
Didn't see Ancelotti's post match interview but if he's stated we lack quality then I have to ask how the fuck did we go on that great run at the startof the season and reach the top of the league?
And I for one certainly wouldn't advertise it to the world even if I knew it.
Justin Doone
170
Posted 13/03/2021 at 21:31:44
Disappointing against Chelsea. Absolutely disgusting to get outplayed by Burnley in the firstly half. They should have had a penalty too.
Their 1 touch quick passing was simple and so effective against our plodders. We know and Carlo knows the pre-match talk and setup was wrong. Thats when player's need to quickly adapt and fill in, mark the player's, drop back and adapt.
Don't stand in shape and let the game pass you by just because of the pre-match plan. Thats when you need leaders, to instruct and encourage the younger and inexperienced players or those who are ineffective and unsure what to do.
It's easy to say I disagree with the line-up and formation but the players didn't react quick enough to whatever was happening. To many standing off. We lost space and individual battles.
What baffles me about most managers is the subs. Why take Davies off, our most effective and creative midfielder?
Yes he was at fault but so was Keane in passing to a player being quickly closed down. It was the wrong option to pass the ball to Davies.
Gerry Morrison
171
Posted 13/03/2021 at 21:39:26
Brian. In those games we had Allan, James and Doucoure all fit and in form.
Lester Yip
172
Posted 13/03/2021 at 21:41:07
We have trouble handling a strong press. We coughed up the ball too easily or unable to find an outlet.
After watching replay, I think on another day Davies would be given a freekick for the push from behind for the 1st goal. The 2nd one is a worldy. I think the built up of our goal is pretty good.
Disappointed but not unexpected. We've been struggling to deal with teams that we think we can beat. A mentality issue?
Brian Williams
173
Posted 13/03/2021 at 21:45:02
Gerry#171.
True mate.
Stuart Sharp
174
Posted 13/03/2021 at 21:46:22
I agree Davies going off made things even harder, but I don't understand the confusion- surely it was about fitness? Holgate at RB is a disaster. I refuse to comment on Iwobi anymore. But some people, at least on the live forum, say King offers nothing. I disagree- I would start him, personally.
Jeff Armstrong
175
Posted 13/03/2021 at 21:46:47
For the last few games of the season, Carlo manages the away games and Duncan manages the home games, bit radical, but it can't be any worse than what's happening lately, ffs we've got a home record close to the RS !
Tony Hill
176
Posted 13/03/2021 at 21:47:35
Barry @154, quite right. People don't watch the game, they watch their prejudices.
We were doing well enough but we panicked when they went ahead.
We look - and have looked for years, bar the odd interlude - as though the ball is our enemy. You can feel the terror: "please don't pass to me... oh my God, he has... what do I do now?...oh fuck".
How do you cure that?
Barry Rathbone
177
Posted 13/03/2021 at 21:48:32
Has Carlo ever created a team of "fighters"?
I don't think he has his Milan side surrendered a 3 nil lead against the shite in some nob'ead game in Turkey.
Technical competence before character appears his preference and is a blind spot he needs to address because in this league kicking people in the gonads is integral to making a go of things.
Paul Hewitt
178
Posted 13/03/2021 at 21:51:58
It actually amazes me that people watch Everton and are surprised when we turn in performance's like this. We are crap. Have been for a long time.
Thomas Richards
179
Posted 13/03/2021 at 21:56:51
Barry,
Gattusso was a bit of a pussy cat
Mike Connolly
180
Posted 13/03/2021 at 21:57:05
I was talking on here after the Chelsea defeat and people said we have three winnable games coming up. But being an Evertonian for over 50 odd years I said we'll be lucky to get three points from these games. Two left of these winnable games I think well be lucky to get one point. Finishing 9th or 10th is still a good possibility for us. Its what Everton do better than anyone, let you down.
Alan McGuffog
181
Posted 13/03/2021 at 21:57:52
Thing is Barry, I see your point, but where is the " technical competence ". The only time we seem to be in control of the ball and pass to players in space, is when we have a corner and contrive to get it back to Pickford in one sweeping move.
Stuart Sharp
182
Posted 13/03/2021 at 21:59:15
I agree that Iwobi looks better centrally than out wide, not least because he cannot cross, but he would not get a CM place in any top 6 team. By Premier League standards, he's just bang average. Like most of our midfield. Only one of our three new midfielders played today. The result was, therefore, no surprise.
Paul Birmingham
183
Posted 13/03/2021 at 21:59:33
Jeff, it's 7/10 of Everton's defeats this season, so far, at Goodison.
That's the killer blow to this season, and for any team with aspirations of making a European position at the end of the season.
Goodison, was once our Bastion, but it's not been normal times as many have stated, on other threads, but getting the basics right, means that, you win or don't lose many of your home games.
But there's more twists and turns in this crazy season, and who knows, what could happen.?
But this season, there's no guide to consistency bar City, whom, in the first quarter of the season, where by their standards, bad.
Let's hope for some miracles for Everton, in the EPL and FAC.
Colin Malone
184
Posted 13/03/2021 at 21:59:45
If you're going to play a diamond formation, you need players to play it. Davies on the right, roaming around like schoolboy footballer, ok, he put the cross in for DCL goal but that was it, Allan left on his own, with Burnley having loads of space in midfield.
Carlo baffles me with his substitutions.
Rich Storey
185
Posted 13/03/2021 at 22:04:27
Why do we always look to the same scapegoats on here, week-in & week-out? The likes of Gomes and Iwobi are the latest in a long line of players to get singled out regardless of how they play.
It's a team game and whether it's down to the system, the tactics or the formation, this team just don't seem to play well together. It's not down to one or two players, it's down to a complete lack of cohesion as a team and lack of a decent gameplan, and unfortunately Carlo has to take some of the blame for that.
For the record, I thought Gomes was MotM tonight and Iwobi was not far behind, so I was obviously watching a different game to some. The one player that seems to be swerving any of any criticism at the moment is Allan, who looks a completely different player since he came back, but hey I guess it's just easier to blame Iwobi for all of our problems.
Jeff Armstrong
186
Posted 13/03/2021 at 22:11:21
Fair comment, Rich, it's the usual suspects who get the flack.
Iwobi was better than Richarlison; Allan was bang average, Gomes was better than... err Holgate ... so was Broadhead! But the best player in our team was taken off at 70 minutes, and someone said on the Live Forum, it was to save him for the City game! Joke.
Paul Birmingham
187
Posted 13/03/2021 at 22:13:02
Mike, I agree, and it's a lifetime, but it's the hope that kills you. But it makes us all keep going and longing for the time Everton are at the top of the Premier League, and consistently at the top.
But, in context, it's massively disappointing today. But overall, year on year, in my view, Everton on and off the pitch are progressing in the right direction.
But imagine if Everton won the FA Cup this season?
It's a massive long-shot in view of the next game vs Man City in the Quarterfinal, but Man City can be beaten.
Let's hope for a miracle next Saturday, and keep the embers going to the end of this season.
Bill Fairfield
188
Posted 13/03/2021 at 22:29:02
Dream on, Carlo. This squad haven't got the mental strength; maybe next season, hopefully...
Bobby Mallon
189
Posted 13/03/2021 at 22:33:53
That game there against Burnley was the one we needed to win to finish in a European place. Spurs will batter us in 2 weeks; same goes for Arsenal. I'm gutted, I am.
I understand why Carlo put King on but it should have been for Gomes or Iwobi. Gomes was the one player close enough to Wood before he scored. Watch the fucking replay, he just needs to foul the fucker but he didn't, he just trotted towards the area, not arsed, for fuck's sake.
Someone said above, they thought Iwobi was MotM... Wow! What game was he watching? He can't fucking cross himself – let alone a ball into the box!!!
Barry Rathbone
190
Posted 13/03/2021 at 22:37:05
Thomas Richards @179,
Since you mention Gattuso hope you don't mind me mentioning some of the rest for context:
Cafu, Nesta, Maldini, Pirlo. Seedorf, Kaka, Shevchenko, Crespo. Costacurta, Rui Costa.
Conclusive proof Carlo goes for technique before fighters.
Peter Dodds
191
Posted 13/03/2021 at 22:42:29
And Carlo says we only need another 2-3 players in the summer transfer window! (Oh wait - did he say 23?).
Andrew Kelly
192
Posted 13/03/2021 at 22:42:43
I read the comments on here after every game and on the whole I agree with most but tonight is my first ever post as it amazes me that some fans continue to blame our manager. He's managed us for one season! Do you honestly think he wants to pick half of that team?
He has no choice. Just look at the bench and that confirms the team pretty much picks itself. It is going to take another two seasons at least for him to have his squad.
People saying things like "Well, there's Champions League gone". Ha. As if we ever had a chance this season.
I have taught myself to not get too excited when we win and not get too down when we lose. I believe that Carlo, given the right time, will get us challenging but we have to stick with him.
Danny Broderick
193
Posted 13/03/2021 at 22:46:54
Without Rodriguez, we are not a great team. Even though we've got results without him recently, he is the player that raises our whole attacking threat. Take him and Doucouré out of our team, we end up playing some of last season's midfielders. The more of them that play, the worse we are as a team.
I'm amazed we are where we are in the Premier League. The main reason we are where we are is due to dogged defending as opposed to quality.
I should add that I thought that Richarlison and Calvert-Lewin were terrible today. Our attacking play is not great at the best of times, but those two were away with the fairies all day (Calvert-Lewin's goal apart).
Leighton Cooper
194
Posted 13/03/2021 at 22:49:31
Correct Bill #188. No wins in 49 attempts where we have been losing at half time is a savage stat.

Matt Byrne
195
Posted 13/03/2021 at 22:52:26
My 6-year-old son said at the end, "They are losers... can I have my cartoons on now, please?" Kind of sums it up.
On one hand, some progress in terms of improved signings and better away form. On the other hand, our home record is atrocious.
It is not just the results but the dull and lifeless performances. Imagine the abuse Big Sam would get if he presided over it?
I wish we could get the fitness coaches Moyes used as we always look weak, slow and tired. Sadly, the cold reality is that, apart from 18 months under Joe Royle and a few years under Moyes (around 2008) and Roberto's first season, we have been dire and just making up the numbers for 30 years.
Ian Edwards
196
Posted 13/03/2021 at 22:53:14
My views are well known but I make the following points:
1. We will never win home games with a midfield of Gomes, Allan and Davies.
2. Gomes is useless. He shouldn't be selected. Back-pass after back-pass.
3. Ancelotti has weakened the squad. Walcott is better than Iwobi. Tosun is better than King. Bolasie is better than Bernard. Someone should have put an arm around Kean. Loaning him is negligent. Whoever is at fault has badly dropped the ball. He should be recalled in the summer and tied to his contract.
4. Holgate isn't a right-back
5. The defence sits too deep.
6. We haven't scored a second-half goal at home since September. That suggests when behind we can't break teams down. When ahead, we've parked the bus to sit on the lead.
7. Ancelotti must not be given a contract extension. It's not deserved. The home form is relegation standard and the worst for decades.

Paul A Smith
197
Posted 13/03/2021 at 22:56:25
149 Thomas Richards and 156 Mike Oates great posts. The explanations are simple and, in my opinion, correct.
To the credit of this squad they have give nearly everything they can possibly give considering the lack of quality.
Calvert-Lewin has a decent goal return and his ability still has a lot to be worked on. I'd always have him around the side but we need a top striker that can score and make goals out of nothing.
I think we need a real right-back, a real left-winger, a central-midfield player, and a top forward before we can compete more consistently.
David Pearl
198
Posted 13/03/2021 at 22:56:41
I question the manager who once more played another formation and different tactics.
Actually, first off Calvert-Lewin had enough chances to win us that game.
Second. Gomes played okay. Iwobi second half played okay. Tom was taken off to change the shape... fair enough but King is not a wide player. If he comes on then, Richarlison should go left so he can go up top with Dom.
Why we lost the game? Simple. Holgate was asked to push further up... so we lose the ball and the defence is exposed. Then, every time lwobi gets the ball he comes inside, Holgate doesn't overlap and the final ball from lwobi... well we know the outcome.
Without James we are not the same team and Carlo has had enough fucking goes at finding a solution without him.
Next up. Bring back Mina, Sigurdsson and Coleman. At least they have balls. Iwobi probably can't find his, they hang to the right instead of central. If he does play central then how about playing someone that will overlap on the right? Coleman? Richarlison? Give them runners. Balance. Options.
Or is our manager going to hide behind not having the players? How many of our players would play regularly for Burnley and Newcastle? Half of them, or nearly all?
Enough is enough, Carlo. You win games with a balanced team. Find that first.
Soren Moyer
199
Posted 13/03/2021 at 22:58:28
Thomas #99. None of them tbh! Should play championship footy at best! Also Digne is very inconsistent and been dreadful this season. And why do we go after slow, ponderous players instead of fast, skillful, young and hungry ones like Godfrey!!!?
Rob Dolby
200
Posted 13/03/2021 at 23:01:10
Barry 190 I would love a team like you have mentioned above they all worked their socks off but all had top quality. What is your point?
Our quality is Digne, Rodriguez, Richarlison and Calvert-Lewin. Our fighters are the defence, Allan and Doucouré. The rest are making up the numbers.
Clive 163. How was Allan to blame for their first goal? It's obvious that you don't rate him but you can't blame him for that.
Ian Edwards
201
Posted 13/03/2021 at 23:01:56
I've just seen Carlo the Dinosaur say we can only defend and counter-attack and rely on set-pieces.
That is outrageous. Is that the best we can expect after his third transfer window? No Everton manager has ever spouted such shite.
I'm sure the Carlo fanboys will defend him with their usual disingenuous nonsense.
Jay Harris
202
Posted 13/03/2021 at 23:08:26
Ian,
You totally lost credibility with me when I got to Point 3.
I wonder why Walcott has been out of the Southampton side for over a month now? Tosun is Turkish league standard and Bolasie is finished as a Premier League player.

Jerome Shields
203
Posted 13/03/2021 at 23:10:19
Ancelotti has realised in this game that he does not have players of the technical ability to implement tactics that can open up opposition teams that set up shop when they play away from home. In his selection, he set up such a side and the result was inevitable.
In my opinion, the defence should have consisted of Holgate as right-back and Godfrey as left-back with Keane and Mina as centre-backs with Allan as cover and under orders to priortise this and move forward with caution. Mina is more suited to Burnley's in-front direct style.
In front of Holgate and Godfrey, I would have had Colman and Digne. Though Bernard as an alternative to Digne would be desirable, since I think Digne needs a break. In midfield, I would have Gomes and Iowbi, his prefered position, since Davies has not got the physicality for the role and can be targeted.
Richarlison and Calvert-Lewin up front. King I would bring is as a sub for Calvert Lewin, who needs more competition in his role, and Davies as an addition to midfield playing further forward.
This selection would have at least secured a draw and maybe even a goal from a set-piece. I expect something like this will be Ancelotti's objective till the end of the season at home. The spirit of the team was okay.
Ancelotti has tried to individually coach players to increase standards , but these players in most cases haven't sufficiently improved to take a risk till the end of the season.
John Raftery
204
Posted 13/03/2021 at 23:11:20
Ian (201) Our problems tonight were precisely because we could not defend and counter-attack and Burnley could.
Brent Stephens
205
Posted 13/03/2021 at 23:12:29
Walcott. Tosun. Bolasie.
So good that there were other Premier League clubs queuing up to bid...
Jason Wilkinson
206
Posted 13/03/2021 at 23:13:13
That was typical Everton. Just when you think we have a chance, we blow it.
Ancelotti asked the question of his squad to show they want champions league football. They have answered him emphatically: NO!
There is plenty of talent in the squad but the application and desire is not there.
Don Alexander
207
Posted 13/03/2021 at 23:13:40
That "savage stat" (#194) has summed up the mentality at FInch Farm for decades now. In the tunnel, as
Z-Cars
is belting out, we looked like a pub team in our demeanour, as Carragher said years ago comparing their steely attitude to our laughing, back-slapping fannies.
Just why we insist on Jordan Pickford passing to our defenders in or just outside our own goal area is bizarre. If they do this in comfort at Finch Farm, it's likely because we have few players able to press in the energetic way Burnley, and almost every other team, did today; our defence having to sit deep, as ever, given Keane's chronic lack of pace.
The truth is that, money aside, and I support his now 5-years-old ambition, Moshiri and whoever he's been advised by, have improved little on the pitch, where we're still slow, devoid of heart, and moderate in possession as a result, chiefly, of the 𧴜's of millions squandered on mediocre transfers.
Andy Crooks
208
Posted 13/03/2021 at 23:13:51
Have our players lost the technical ability they appeared to have early in the season? Those comments from the coach are embarrassing and defeatist. The shameful home defeats are not down to luck. There is a fundamental flaw in tactics and performance that that rests at the door of Carlo. The fact that it continues is inexcusable.

Colin Metcalfe
209
Posted 13/03/2021 at 23:15:52
I have to agree with comments regarding Holgate; he is a ball-watcher and his offensive game is non-existent.
I remember someone on here said he was better than Stones. I wish!
Michael Stancis
210
Posted 13/03/2021 at 23:15:56
And this is where we are.
Here is me thinking lessons were learnt after the Fulham defeat. We've beaten Liverpool at Anfield and won two on the bounce afterwards. Ok lost to a strong Chelsea side. But still lessons may have been learnt. Un-fucking-believable.
Cowards the fucking lot of them. This was our big game. Forget the game in hand or the Man City game next week. This was vital that we won this game. But no once again "yellow belly" Everton return like the pathetic spineless twats they are. Forget Europe now. The European dream is out the window. Not with that squad anyway. Fans saying the mentality has changed around the club. Has it Fuck!!!
Another game to put a marker on and we have blown it. Like Newcastle like Fulham and now Burnley for fuck sake. What does Carlo say to these players before these type of games? Do the players genuinely believe they are better than what they are? I'll tell you what it is. Mentality: frightened of being in control.
Andre Gomes has got to be the slowest player in the league let alone at the club. Done with him, he can fuck off.
Alex Iwobi giving it the bigging this week about playing number 10. Yet the prick has played nearly 2 seasons for us in the league and scored twice and assisted twice. Shocking buy, he can fuck off.
Mason Holgate's attitude fucking stinks. Sick off seeing the lad acting like he is Billy big bollocks with his chest out and chewing his gum like a wannabe hard man. Cannot defend, cannot cross and has the awareness of a child. He can fuck off.
Richarlison is either boiling or freezing.
Calvert-Lewin is not a top striker, I am sorry but he is not. The likes of Kane, Vardy and Aubameyang would have scored at least 3 tonight. But despite the goals he has got he couldn't control a bag of cement. Far far from a top striker.
Josh King looking more and more of a pointless signing.
As far as I'm concerned its gonna be ugly next week. We're out the cup, 26 years. Disgusting from a club with this history. City will just take the piss. Probably not even their biggest game of the week.
Ancelotti is not immune to criticism by any means. However, it amazes me how he has got the squad – this mid-table squad – in 6th right now. No wonder the media don't take us seriously when our own players can't take these type of games seriously. Laughing stock. Slow, boring and a no Plan B system.
If they had anything about them they shut up to the media this week and do all the talking with their feet rather than giving it the "We're learning everyday" or "It was a poor result but we'll be up for the next one" from the likes of Seamus and Keane. Do the talking on the fucking pitch!!!!
Ian Edwards
211
Posted 13/03/2021 at 23:17:42
Jay 202.
Tosun has a proven international scoring record. Not a brilliant player but better than King.
Bolasie can at least run at defenders and has pace. Again, not a brilliant player but Bernard offers nothing.
Walcott has been out because he is injured.
Bill Gall
212
Posted 13/03/2021 at 23:19:30
It is time to face reality: with 10 games left and losing over the last number of weeks to teams in the relegation zone, a place in the Championship Cup next season is becoming out of reach.
Even a place in the European league is starting to become difficult as we look as we will be fighting Liverpool and Aston Villa for 8th place.
As has been said, it is our home form that has let us down: out of our 14 home games we have only won 6 / 2 draws and 6 defeats.
I don't know if Ancelotti is trying to fool people, but his comments today simply told the opposition were our weakness is and how to win at Goodison, the fortress where the drawbridge has collapsed.
Every team has injuries and play through them and I believe that some of these positions should have been strengthened but that is in the past.
As has been said that if we keep up our average points we can get into the high 60s points but so can our other competitors that we have to play.
We are constantly throwing away points when the chances come to move up the league and the attitude at the moment seems because we beat Liverpool we can live with the past glories.
There are no favors in the premier you have to earn them, not expect them. other teams don't expect they earn.
As manager, don't offer excuses – do something about it, you have players who are performing badly; don't play them!
Rob Dolby
214
Posted 13/03/2021 at 23:28:24
Don - Most teams in the Premier League have squandered millions. We have probably assembled a squad that costs about 7th or 8th costliest in the Premier League.
Ian @201. How many players has Ancelotti bought over those 3 windows and how many of those buys have made us a worse team?

John Raftery
215
Posted 13/03/2021 at 23:32:58
Andy (208),
The technical ability was flattered in the early weeks of the season with those first two home results against 10-man West Brom, who will definitely be relegated, and Brighton, who may be.
We had James, Allan and Doucouré fully fit and Calvert-Lewin firing on all cylinders. Even in those two home games in which we scored 9 goals, we looked vulnerable defensively with gaps between the midfield and defence.
Mark Murphy
216
Posted 13/03/2021 at 23:33:07
Is Anyone else thinking "Fuck Off, Everton... just Fuck Off! Grrrrrrrr!!!
Another fucking weekend destroyed!
Why the fuck can't I switch this off???

Brian Wilkinson
217
Posted 13/03/2021 at 23:39:12
Does anyone know if this 𧶀 Million Moshiri has just put into the club, with buying extra shares, will be classed as additional money we can use, in regards to Financial Fair Play.
His shares now increased to over 91%, you can put your last penny on Kenwright still having his 4% shares.
John Raftery
218
Posted 13/03/2021 at 23:42:01
Our problems in home games go beyond the failings of individual players. With injuries, the squad is weaker at this moment than it was a year ago. Formation is not everything in football but it is almost everything. You simply have to organise around the players available.
Carlo tried to play an attacking formation tonight but, as he has now admitted, we didn't have the quality to do that. The problems tonight were due not to a lack of effort but to poor organisation.
In regard to Iwobi he actually did okay in the first half-hour playing centrally. He is not a right-winger obviously. Digne's crosses with his left foot were poor. His only decent one was with his right foot from which Calvert-Lewin ought to have tested the keeper.
Godfrey was our best player. Davies was caught in possession for the first goal but otherwise was solid; Allan likewise but the midfield had nobody with the power and pace of Doucouré and the guile which James offers when fit.
John Austin
219
Posted 13/03/2021 at 23:48:13
Michael @210.
Couldn't agree more about the attitude of the majority of the players. It stinks and they are stealing a living from EFC.
We've had years of their media hype followed by poor performances on the pitch. But I think the spotlight is beginning to turn on Carlo and I think rightly so.
Now I am the first to admit that he is the best manager we could have got by a mile. And I hope he is a great success and stays for many years. My concern for some time, however, has been the lack of motivation once they cross that white line. You can count on one hand the number of times we have shot out of the blocks from the first whistle. It very rarely happens.
Time and time again we are slow starters, allowing the opposition to dominate. It's so predictable.
What goes on at Finch Farm in the days before a game and in the dressing room beforehand? Why hasn't Carlo got them fired up? Why isn't Big Dunc working his magic?
In any industry, a successful manager gets the most out of the resources at their disposal. They may not be the best players and yes he needs more time to change the personnel but he should be getting more out of them and their motivation and will to fight for the shirt should be beyond question.
Criticising Carlo is frowned on by many but he has to be accountable.
Brian Wilkinson
220
Posted 13/03/2021 at 23:49:52
Managed to find this, from Paul the esk, that answers my above question, in regards to shares.
The £200 million will consist of £50 million in cash received in November 2020, £50 million of cash received this month, February 2021, and the conversion of £100 million of existing shareholder loans to equity.
The board will also authorise that the additional 33,333 shares issued but not allotted, may be allotted to Blue Heaven Holdings at some point in the future should it be required. This will allow the club either to convert more shareholder loans to equity or be in receipt of further cash injections from Blue Heaven Holdings.
The new share issue strengthens the balance sheet of the club and brings Farhad Moshiri's investment in Everton to £450 million since February 2016, 5 years ago. The balance sheet will now carry £250 million of shareholder loans.
As a result of the allotment of 66,667 shares, Blue Heaven Holdings will increase its shareholding in Everton from 27,031 shares (77.2%) to 93,698 shares (92.16%).
The club and Farhad Moshiri stress the desire to continue a "positive relationship with minority shareholders".
As an aside, Bill Kenwright's shareholding in the club drops from 5% to 1.72%
Stuart Sharp
221
Posted 13/03/2021 at 23:59:00
Ian E, I agree with quite a lot of what you say, but how can you write off King after a few short cameos at wide left? And how can you compare him with Tosun, who never played that position for us? King's Premier League scoring record is okay. No worse than Cenk's, I'd guess. He has pace and strength.
I'm one of those who has singled out Iwobi. It doesn't mean I think we lost because of him alone. I also think he did okay in the middle. I just expect more than okay. And once out wide, he's woeful.
For me, Godfrey is probably our most consistent player at the moment.
Rob Halligan
222
Posted 13/03/2021 at 00:10:09
I've said it before, and I'll say it again. If you want to see this club progress, then Ancelotti is the man to take us forward. If you are happy with mediocrity, finishing just above the relegation places and generally just surviving in the Premier League, then by all means get rid of him, and bring in some arsehole of a manager like Allardyce, Chris Wilder or someone called Steve Cooper from Swansea, managers who couldn't hold a candle to Ancelotti's achievements, but apparently are better, according to some, than him.
Ancelotti is answerable to one person, and one person only: Moshiri. Man City wasted millions before finally settling on Pep. Chelsea have wasted millions on compensation alone paying off managers. Moshiri has sacked a few and it's cost him a few quid, but it was worth it just to get rid of that dinosaur-cum-fraud, Allardyce. Anyone who thinks Moshiri will get rid of Ancelotti is in for an awful long wait. Ancelotti is here for a long time and, if you don't like it... tough fucking shit!
Ron Marr
223
Posted 14/03/2021 at 00:32:27
100% correct Rob. Except for Allardyce, who was a short-term fix, Moshiri has only fired the manager if the team is in or close to the bottom 3.
Chris Hockenhull
224
Posted 14/03/2021 at 00:32:37
Rob (222)..,Amen to that. Spot on.
Kieran Kinsella
225
Posted 14/03/2021 at 00:35:32
Rob Halligan,
Funny this is the Carlo banshers are slagging him off for subbing Davies. During the first half, on the Live Forum, the same player was "Championship at best."
Meanwhile, the players are too happy apparently which is a switch up from Richarlison and Kean being too miserable. Holgate chewing gum is seemingly an issue too!
Reality is most of the players aren't any good. As Carlo said, they can set up to stifle an opponent but lack the quality to attack unless all of our better players are playing and playing well.
Digne, Richarlison and Calvert-Lewin had an off day, James and Doucouré were injured. It just showed up the shortcomings we all know we have.
Don Alexander
226
Posted 13/03/2021 at 00:36:24
Rob (#214), Moshiri bought a club mired for decades finishing 11th'ish to 7th'ish, and in this century collapsing like a house of cards on the very few occasions we qualified for Europe.
We are a unique club despite "If, yer know, our 'istory" (which is a toe-curlingly embarrassing mantra to me in this day and age). Every agent, player and company identifies this delusion we have as an indication to rodger us blind on contracts and for the last five years Moshiri and his advisors have made their day.
Every agent and player therefore knows we pay better than the likes of West Ham, Leicester, Wolves and any other top six aspirant club (no other club outside the top six, and a few inside it, have a history even close to ours of course) for players that, basically, none of the top six are interested in.
Hence we've signed players at enormous expense to us, under Moshiri's regime, advised as he states he is by our pseudo chairman, now in his "enhanced role" (and that's a quote from Moshiri).
"Dead wood" has been a term rightly used re our squad, for years now. In truth, Moshiri created a "dead jungle" of players on mega contracts, the like of which really comfort our competitors.
Credit to Brands, he's now reduced the jungle to a large forest, but successful teams don't endure, as we have had to endure, the inept performances so regularly delivered to us, courtesy of mega contracts and players and agents identifying us, until Carlo arrived, as the softest touch in the Premier League when it comes to signing players.
Finch Farm still resembles a greenhouse to me, full of windows where we need a foundation and walls, and it'll take more than a few windows to seal it up as a viable, winning entity.
Up the fucking long-enduring Toffee supporters.
Mark Wilson
227
Posted 14/03/2021 at 00:50:59
I find it hard to believe that some defend Holgate's performances of late. He's terrible at right-back and to that he's added a serious attitude thing which, even if not the case, presents as "I couldn't give a shit".
Digne is in the very opposite of the form that persuaded us to presumably hugely increase his wedge.
Iwobi and Gomes are playing poorly at the same time. Burnley wandered through the centre-midfield line, it was a blue desert, empty of anything that might resemble a barrier. Allan was disappointing though I think most accept he needs games after a long lay-off.
We have spent an entire season from game week 5 getting and failing to take opportunities to drive forward into the top four and now we have ten games to look promisingly at 5th, then fail to take that opportunity, and 6th which quifies us for some competition that is immediately getting billed by supporters as the Consolation Cup?
5th or 6th may still be possible given our run-in but only if we collectively realise that we have to attack teams and need to go back to a defence of Coleman, Keane, Mina, Godfrey.
Perhaps the current position feels positive but, truth is, I cannot see any real progress on the pitch. Several decent players but it's same old, same old failures, it's about winning and we just don't do that when it really matters do we? Hope I'm wrong, of course, and 10 on the spin here we come. Don't hold your breath...
John Austin
228
Posted 14/03/2021 at 00:51:50
I am certainly not for sacking Carlo. That would be madness. I hope he is here for a long time. But can we honestly say that he is getting the best out of the players at his disposal, even with injuries?
Derek Knox
229
Posted 14/03/2021 at 01:04:56
Don @ 226,
Great and very candid post, that us older supporters can totally identify with. For far too long, as you say, we have had promise only to be doomed. I thought when Howard Kendall (Mk1 that is) eventually got us to the height we had always dreamed of, and it wasn't an easy journey, we had finally realised a new era.
Of course, all that was dashed, through no fault of our own, 2 Championships which should have signalled the start of a European Adventure which possibly could have been successful for years to present day, but never achieved, when everything collapsed.
Too much money and agents in the game today have seen us fortuitously have money to spend in the Transfer Market, only to make unwise acquisitions with overhyped players on lengthy contracts, who have apart from glimpses, in most cases, never consistently produced.
I can't argue for one moment that our present Manager has all the credentials and experience to possibly get us into those upper echelons again, but I sometimes scratch my head as to his team selections, which more often than not have proved to be our undoing. I am glad we have him, and I also appreciate mostly he has inherited a colostomy bag of personnel, but that is little excuse for parading the same under-achieving culprits week after week.
My weekend is now pretty much in ruins as I pinned so much hope and faith on today, as I have other weekends, when other results have done us a favour, only to see us blow it again against a decent but not unbeatable side. Games in hand are a joke if you don't make full use of that advantage, and I can't help thinking that these players, who let's face it, are all millionaires, don't take their failure as serious as we supporters do.
Rob Halligan
230
Posted 14/03/2021 at 01:12:14
Mark,
Injuries have hit us hard in the last few weeks. We seemed to have a settled back four until Seamus and Mina got injured. Forget about who plays where for now, Keane and Mina were doing ok as a central defensive partnership.
Ben Godfrey cannot be dropped, so unless he plays at right back Lucas Digne has to play in front of a left-back Godfrey. Allan was doing fine until he got injured at Leicester. James is in and out but boy is he a major player for us. Now Doucouré is probably out for the season.
Our strongest possible eleven is without doubt, a match for any team in the Premier League, but it only needs one of two cogs to go missing and we suffer, simply because the squad is not really strong enough. At the start of the season we all thought it was. Unfortunately we still had too much deadwood (hate that word) in the squad, but most should be gone by this summer.
Carlo has only had one transfer window, despite what some may think, to build his squad, but as I say, the injuries have affected us.
Holgate is not a right back, and I would look at even selling him. He seemed to have a great season on loan at West Brom a few years back but has clearly not kicked on.
I think qualifying for Europe via a Premier League placing will be extremely difficult now, so it's the FA Cup or nothing.
Derek Thomas
231
Posted 14/03/2021 at 01:15:45
Somebody recently said after a previous poor performance...'all we are at the moment is a very expensively assembled Burnley' – and we just got done over by the budget version.
But the budget version had things you can't buy... effort, fitness, motivation and a simple plan, well executed.
This season on the Live Forum, 'the cushions' get increasing mentions... and it had to be very bad back in the day to get the cushions flying – very bad.
I think I've seen more 'cushion' performances in the last 28 games, than I did in 23 years prior to them being withdrawn... due to a dislike of overt public criticism of the The Board.
Right this minute, I can't find much to fault Michael Stancis @ 213.
If we can't attack, we have to defend; against Man City it has to be back to basics,
extreme KITAP1, with the wall of 4 at the back, as many fit bodies... fit bodies, not reputations, 'famous' names, or big transfer fees, one decent game in 8... as we can manage to put out in the middle... and hope for a miracle.
Kevin Dyer
232
Posted 14/03/2021 at 01:24:17
Ian #196
1. Your opinion.
2. Gomes was okay today but his limitations are final ball creativity, pace and defensive abilities. He needs replacing as a starter.
3. Daft. His only summer transfer window has transformed the team. Rodriguez, Allan, Doucouré, Godfrey are nailed-on starters.
Walcott did little, is ageing, on huge wages and is injury-prone. An uptick in form at Southampton means nothing. He had loads of games for us. Bust.
Bolasie over Bernard? Well, Ancelotti doesn't want Bernard, never starts him, didn't sign him and tried moving him on recently. So what's your point?
Bolasie is Championship-level, hence why he's at Boro. When Bernard moves on in a few months, it'll likely be t a higher level than that. I'm surprised you haven't suggested Besic!
Kean wanted out about 4 months after arriving. He was shite for us. He scored for Juve and is scoring for PSG, the super-teams of their respective leagues. I watched both PSG games vs Leipzig and he was probably the weakest player in the PSG side. If he was scoring for Lille or someone, I'd be more impressed. We are going to sell an immature, wantaway player for a big fee (㿞M+) this summer and that is a great bit of business.
4. No kidding.
5. Kean and Mina are exposed by a high line, Carlo has stated this himself.
6. This is no mystery. We lack creativity in the squad.
7. Ridiculous. Possibly no fans is skewing home results? Should Liverpool fire Klopp for losing 6 home games on the bounce? Ancelotti has the best winning percentage since Howard Kendall Mk 1. We are lucky to have him. His presence massively boosts our status and will attract players we'd have no shot at otherwise. He's also forgotten more about winning matches than I (hell, maybe even you) will ever know.
Amazing post.
Billy Dawber
233
Posted 14/03/2021 at 01:25:37
Wow, the mighty Burnley do us at home, could'nt make it up really. We are pathetic and we are going to win nothing, it's that simple folks.
Dream all you want but until we get rid of Iwobi, Sigurdsson, Bernard, Gomes, and even Pickford we will struggle all day long.
Seen it all before with certain players not living up to expectations. Until Carlo gets a settled team it will be the same. Until the end of the season and then he can have a clearout, get rid of the dead wood, bring some reliable players in then go again next season hopefully.
The right mentality speaks volumes when you play the so-called not-so-good teams and we have no mentality whatsoever. Simple passing and moving into good positions seems to be so hard for us to do, man marking, getting to the ball first, laying it off. Fuck me, is it that hard really?
Once again, I feel gutted for the young supporters of this club having to watch the dross being served up every week by this lot. No wonder the Red Shites laugh in our faces. I hope things change before people throw the towel in.
Kevin Dyer
234
Posted 14/03/2021 at 01:33:09
Ah, I forgot Tosun, Ian! I don't rate King but he's an inexpensive option that we are unlikely to sign on a permanent.
Tosun? Panic buy of a mid-20s player with no pedigree in a major league. Even took the guy some time to get going with Besiktas.
I questioned the wisdom of signing him on here, at the time. Since then he's done almost nothing and suffered a serious knee injury. Great move offloading him.
Fat Sam spunked 㿛M on him and Walcott. Jesus wept.
Rob Halligan
235
Posted 14/03/2021 at 01:34:34
Kevin #232. Brilliant post.
Billy, seen the mighty Burnley also do Liverpool and Arsenal on their home patch as well. Funny old season, isn't it!
Jason Wilkinson
236
Posted 14/03/2021 at 01:50:34
Having had time to reflect on another shambles at home, I think Ancelotti must:
1) Have a real go at the FA Cup;
2) Introduce some youth in the remaining Premier League fixtures;
3) Abandon the fiddling around at the back. Get the ball in the opposition half as quickly as possible. Push more players forwards and try to outscore the opponent.
In his defence, he has a lot of injuries in the squad. James came on a free. I think we are seeing why now. Calvert-Lewin started the campaign on fire but, apart from a routine header, he showed that there is still a lot to be improved on within his game.
Holgate is not a right-back. He is a capable (if unspectacular) centre-half. Godfrey is better at left-back than centre-half.
A lot has been said about our 'slow midfield'. If you look at the movement for them to play quicker, it's non-existent. That's why so many passes go sideways or backwards.
Burnley got numbers going forwards. We attacked mostly by looking to get Digne in space on the left. Iwobi is no threat on the right and everyone knows it. None of our midfielders seem to want to score from the edge of the box. Apart from James's goal vs Leicester, I can't remember us having a decent effort, nevermind a goal, from range.
We seem to be marginally better than last season. Overall, the football is dire to watch. Much to do this coming summer.

Roman Sidey
238
Posted 14/03/2021 at 02:01:16
It's all been said. Ancelotti can take a bit of blame for shape, but he didn't have much choice of selection due to fitness of the squad. King was the only senior player on the bench not suffering from a knock or injury. Coleman is still not fully fit. The Coleman - Holgate conundrum is also difficult because, lately, whoever players out of the two, you want the other on the pitch.
The players selected in the starting XI had enough talent to win that match. They just decided to not play well. Davies, for all his improvement, is too easily bullied off the ball and is one-footed – centre-midfielders need both feet. Holgate is worse at crossing than a protestant at mass. Keane is a good defender but far too slow. Digne hasn't been playing well but is suffering with a lack of a left-sided partner.
As for Calvert-Lewin – how can a professional footballer be so clumsy with the ball at his feet? It's infuriating and probably the main reason we lost the match.
Mike Gaynes
239
Posted 14/03/2021 at 02:15:25
Rob #222, if there was a Post of the Month award, you'd be holding up the trophy right now.
Kevin #232, that's a beautiful vivisection of a truly bulimic post. Well done.
Derek #231, yes, there have been too many "cushions" this season -- but there have also been some truly spectacular moments against Spurs, Wolves, Leicester and Chelsea, the last-second equalizer at Old Trafford, the 5-4 over Spurs in the FA Cup, and of course that wonderful, magical derby. I'll remember those moments a hell of a lot longer than I'll remember the dross.
And having picked us for 8th, I still consider this season a success so far for those reasons.
Mike Hughes
241
Posted 14/03/2021 at 04:02:43
I agree with Rob #222 – Carlo is our best chance of success in the Premier League era. We need to build around his ideas. His CV says it all. If only we had Carlo 5 years ago with the subsequent budget wasted by his predecessors.
Keep calm and carry on.
Alan J Thompson
242
Posted 14/03/2021 at 06:06:38
A lot has been said about the poor quality of crosses into the penalty area, particularly in the last few (6?) games.
It may in part be due to Digne, like Iwobi, not being an out-and-out winger but I've noticed that before Digne used to cross the ball first time or as he hit the byline but now he and Iwobi seem about to cross the ball and look up to see who is where in the box and then pause.
Could the problem be the positioning of Richarlison and Calvert-Lewin or should they be told just to cross to the back post and let the strikers worry about it, or must we only ever find them in the 6-yard box?
It did appear that Burnley learnt (if you don't like that word, then I'm sure you know what was memed) from the Chelsea game as Tuchel said that he put his speediest players who also played quick one-two passes in midfield to counter-act anything of which our midfield was capable.
Mal van Schaick
243
Posted 14/03/2021 at 06:40:50
Dyche must have watched our game against Fulham, because it was a repeat performance of a team who hustled us high up the pitch and out-battled us for every ball.
I can't see that Ancelotti will improve some of our players in midfield. In order to make any progress next season, he will have to move some on and rebuild.
Just when we think that we have a run of easier fixtures, we put an inconsistent performance like that in and we don't know if it will get any better in the next game?
Frank Fearns
244
Posted 14/03/2021 at 06:48:04
It doesn't matter what shape you play, who plays in what position, who is substituted, who is on the bench, whether a player is not fully fit but all the time Everton play without pace, play the ball generally backwards and sideways and do not face forward then they will always struggle against a well managed and disciplined side.
The teams we have lost against and generally at home arrive with a game plan – which works. Everton appear to have the attitude that they only have to turn up do not appear to have a game plan and do not seem to target the opposition's weaker players.
Our passing is woeful; our crossing of the ball yesterday was dire (except for the goal).
Who is to blame? What do you do?
The players we have are not good enough. Yes, we have the occasional glory match but we do not possess consistency or that ability to change things if the plan (if there is one?) is going wrong.
I would like to see Carlo manage better players but know this needs time and, as has been said, are we going to attract top players when not in the Champions League.
I sit on the fence and live in hope.
Jim Bennings
245
Posted 14/03/2021 at 06:55:04
What annoys most is that the opportunity has again been there this season, the usual top sides have all been in transition.
We could have finished in that top four, we really could, regardless of whether we are ready for it or not, it was there to be taken.
But once again clubs like Leicester are probably going to seize the moment which is just so maddeningly frustrating.
We won't even finish above West Ham let's face it, they are good at what they do and they do it in most games, that's the difference between them and us.
Watching us, we only have one way of playing and I've said this all season.
It's just work it out wide then cross the ball to Calvert-Lewin's head.
Part of the problem is the lack of creativity in midfield but you also wonder if another problem is they know Calvert-Lewin is pretty poor with the ball on the deck. It's never been an area he's excelled in and despite his better scoring form he still looks a very scruffy bundling striker with ball at feet.
When all is said and done we need better players, don't we? They have done as well as they can this season but we can't sit on our hands in summer and be all sentimental dishing out contracts to players now exposed to the fabled glass ceiling.
I still think we need at least five quality players to walk straight into our starting line-up, if we really want to push that top four that is.
It depends on our levels of ambition in summer; stick with this current squad and add one or two average squad fillers, then expect more of the same again.
Danny O'Neill
247
Posted 14/03/2021 at 07:13:06
Been here, seen this, done that. Everton get into a very good position with the opportunity to push on... and choke.
I don't think the selection was too questionable given what was available. Tactics? Maybe it's just me, but please, please, please don't play the diamond. Personally, I'm not a fan as on paper it leaves a gaping hole in the middle; that was apparent yesterday. I guess it works if you use the width and play with urgency. There, above all yesterday, lieth the main problem, not necessarily individual performances.
I won't dissect every individual but it is interesting how we see things different.
I actually thought we started well and were finding a decent ball into Richarlison between their midfield and defence early on. Iwobi, I thought, done okay in that position until hooked. Davies made the mistake for the goal but then played a beauty of a pass that was crucial in the build-up to our goal that kept us in the game. I will refrain from slating Holgate as he's playing as a makeshift right-back. I have been a huge fan of Godfrey, but that was far from his best game. I'd go as far to say he seemed to be struggling at times.
Urgency, or lack of. I called at the time just before they scored the first. Forget Tom being bullied, if you watch again, look how Burnley overload us very quickly like a swarm of wasps; with urgency. As soon as they turned possession over, they were all over us rapidly as they zoomed in for the stinging punch.
For me, if I look through the result, that didn't feel quite as bad as Newcastle and nowhere near as despairing as Fulham. But frustration is still an understatement.
Frank Sheppard
248
Posted 14/03/2021 at 07:14:10
We are a slightly above-average mid-table Premier League team. So sometimes there are good results that get us all excited, and then reality comes back.
I still prefer the Moyes days when we're the same, but we often over-performed, and used to be top or second in the mid-table league.
Have we progressed since? I think not.
Kunal Desai
249
Posted 14/03/2021 at 07:17:53
7th has been the target all along lets get to 60 points and see where we are.
We need to have a good summer – and by that, I mean not leaving any position short going into next season. We need at least 4 first-teamers and possibly 2 or 3 squad players off the bench.
The recruitment needs to be there in quality and in numbers.
Dick Fearon
250
Posted 14/03/2021 at 07:42:19
My main complaint about our style is the never-ending pass-backs that seem impossible for Carlo to stop. We don't see other teams resort to it at least in the amount we do.
If a back-line player has the ball, there should be 7 or 8 spare players working their socks off to provide forward passing opportunities.

Eddie Dunn
251
Posted 14/03/2021 at 07:56:35
As others have said, the diamond requires speedy play but tempo has been lacking in our midfield for most of the season.
For me, Carlo got it wrong again, once more ruining a chance to make a top 4 berth, let alone a top 6.
He thinks he can tinker with the system and he wants players who can do more than one thing, yet he was out-thought easily by Dyche whose team did what they do every week.
Obviously we still have a big problem at right-back and, although Holgate is doing his best, we lack penetration on that wing. Mason's crossing is dreadful; when Coleman came on, the play improved considerably.
Of course we try to get crosses on to Calvert-Lewin's bonce and Burnley probably have the best aerial defenders in the Premier League. Our build-ups are slow and predictable and our inability to go through the middle has cost us.
He brought on King too late, and on performance he could have swapped him for Richarlison, who had disappeared into a sinkhole.
Then, finally removing Davies was a mistake when Iwobi was stinking the place out. The theory that he was being saved for the FA Cup game I find very doubtful. On this shit-show, Manchester City could put out their Ladies and we would lose.
Carlo has a limited squad and has successfully papered over the cracks with square pegs in round holes in many games but he has also displayed worrying tendencies in his systems and selections. I know he has few options but he has blundered like a rookie manager at times and his mistakes have cost us as many points as his cleverness has gained.
I see a man who is not feeling the pressure. If he was at the helm at Chelsea for example, I think he would be less inclined to shrug off another defeat. Just as players get into a comfort zone, I fear our manager has slipped into one himself.
He knows that top 7 will be an improvement; he knows that he won't be criticised if we lose to this season's stand-out team in the FA Cup, and he has that win at Anfield in the bank.
Time for him to step it up, take personal responsibility, and admit his mistakes.

Tony Everan
253
Posted 14/03/2021 at 08:28:29
Fortress Goodison has become a pop-up tent. A few gusts of wind and down it comes. 14 matches and only 5 wins. Near the relegated zone on home form. Away form is clear Champions League standard. No wonder Everton fans are dazed and confused.
The day after a massively disappointing defeat is probably a better time to have a balanced view. I was sick and fuming last night, yet again.
Carlo's comments to Sky after the game were accurate and damning in equal measure. We just don't have the technical ability to play it out of defence. As a team, we can only defend resolutely and then win from a counter-attack or set-piece. These tactics come almost by default in away games.
Carlos is a diplomatic manager. He knows he has expensive players who are just not good enough for his aspirations for the team. He knows that 3, 4 or more of these high-cost high-wage players need to be moved on in the summer. He can't come out and say so without destroying this season's morale and further depreciation of their value.
When Carlo talks about quality I think he needs much more than that. As well as qualified need to be faster, faster to the ball when closing down and more aggressive throughout the team, particularly in midfield.
In part mitigation of yesterday's performance, Allan and Davies are not fully up to speed yet, they're off the pace, Allan more so than Davies. To compound this, Doucouré being out was a big loss.
Scott Robinson
254
Posted 14/03/2021 at 08:32:52
The continued and predictable losses to lower league opposition is simply unacceptable given the league position and size of the wage bill outside the 'Big 6'.
Moreoever, our play is boring to watch and predictable, with only flashes of brilliance from James (if we are lucky to see him play) and Richarlison.
Our play continues to break down whenever we play it out wide to Digne, who if he is having an off-day, means we are unlikely to score (save for Tom Davies popping up out of nowhere).
Who is accountable? For starters, we need a captain on the field. If Coleman is club captain, why isn't he playing, week-in & week-out, save for injury?
Dave Abrahams
255
Posted 14/03/2021 at 08:46:25
Tony (253), good post.
I understand Carlo's predicament: he needs players with energy, movement and pace; he hasn't got them, so is forced to juggle players around. Doucouré, one player with all the above, was missed yesterday and will be for the rest of the season.
Is Nkounkou fit? Is he struggling with an injury? He is getting hardly any football at all, not playing for the U23 and only about 12½ minutes in the FA Cup. He also has pace, energy, and looked like a player with lots of ability earlier in the season.
Maybe you will surprise us against Man City, Carlo, well absolutely astonish every single one of us to be honest, and get us into the semi-final of the cup, now wouldn't that be nice.
By the way, it's Mother's Day today, anyone going to the cemetery with some flowers for "your mam", give the supermarkets and florist shops a miss with their rip-off prices and give the flower sellers outside the cemetery your money. Standing outside the cemetery gates in all the rain, wind and cold their prices are around 50% less than the shops.
Derek Knox
256
Posted 14/03/2021 at 08:49:49
Tony @ 253,
"Fortress Goodison has become a pop-up tent. A few gusts of wind and down it comes. 14 matches and only 5 wins."
Spot on there, my mate! I would go even further and add that a half-decent fart would have the same effect.
This continual back-passing, or across and back, when under no threat whatsoever, smacks of players who have no idea what they are doing and very low on confidence. The amount of times Gomes receives a pass only to give it back to its original creator when unchallenged and facing the wrong way is doing my head in.
I respect Carlo and I know he has few options at the moment due to injuries, but I think most of us could choose better options with players who would be more committed to the cause, even if it means using the U23s.
We all know who should stay and who should go ideally, but the immoral and lucrative contracts some of these are on mean it's almost an impossibility, unless incurring more heavy financial losses, and I think we have enough of those already.
You can almost guarantee this season, whether it be other results going our way, or having games in hand, we blow it good style. I have always advocated, that most of us can reluctantly shoulder a defeat, provided that every player has given his all, and we have been beaten by either a better team on the day, or by sheer bad luck. Recently, there has been no evidence of either.
Bobby Mallon
259
Posted 14/03/2021 at 08:51:58
Ian Edwards... in every post!
Once again, you start moaning and slagging Carlo off when we loose. Where were you after the Liverpool game, the Saints game? Very quiet.
We all understand we need to improve. But you keep coming out with shite statements. What the fuck had Walcott done for Saints? They haven't won in 10 games.
Bolasie is struggling for Middlesbrough, and Kean doesn't want to play for us.
Also, what are you on about 3 transfer windows?? Explain yourself. He's had one transfer window where he got 4 top quality players.
Jim Bennings
260
Posted 14/03/2021 at 08:53:03
The home form has been problematic for about 18 months.
Even the last 8 home games from last season reads as follows.
Bournemouth (L) 1-3
Aston Villa (D) 1-1
Southampton (D) 1-1
Leicester (W) 2-1
Liverpool (D) 0-0
Man United (D) 1-1
C.Palace (W) 3-1
Newcastle (D) 2-2
So, as you can see, two wins from the last eight last season, hardly any clean sheets. It's the same this season, we are just losing more instead of nicking draws.
Carlo needs to solve this conundrum of playing at Goodison and start coming out and taking the game to teams.
Robert Tressell
261
Posted 14/03/2021 at 08:56:07
I'm generally very supportive of Ancelotti. To the outside world, we have more of a big club look and feel about us, and a good platform for cups and (not this season) top 4.
One of the things that's impressed me is our ability to find a way to win against the odds (our often patched-up side).
But, we're making a really unpleasant habit now of losing at home to crap teams. And deservedly losing too (albeit Calvert-Lewin had enough chances to win us the match yesterday). Ancelotti needs to find a way to stop these appalling losses.
Obviously, without a fully fit first 11, we're really not good at taking the initiative. We are much more adept at digging in and nicking goals.
The tactics and mentality need to improve but I look at the first 11 and options on the bench – and it just keeps coming back to the fact we need better players. So next season should be better on that front.
In the meantime, we can't keep approaching home games as we are doing. Either we play it like an away game and dig in for a 0-0 or 1-0, or we get more attacking players on the pitch to peg back the opposition (eg, King, Calvert-Lewin and Richarlison together, with Digne and Iwobi on the flanks). The halfway house is not working.
Brian Murray
262
Posted 14/03/2021 at 08:57:55
Injuries or not, surely that's the last we will see of Iwobi and Gomes anywhere near the first team.
As we are still seeing with Bolasie, Besic, Tosun etc, we can't just say "Thanks for the memory" when no-one is daft enough to take over their big contracts. That's the predicament with these players... but, Nkounkou (when fit) and Onyango really need to be bedded in soon.
For one thing, it will give us a chance to see their energy and if they can step up. We can't go into the last 10 games with Carlo just shrugging his shoulders, saying "What am I to do?"
One bonus is I'm glad I'm not paying close on a 𧴜 for a ticket, bevy and scoff to watch that at the moment.
Jerome Shields
263
Posted 14/03/2021 at 09:04:31
In hindsight, Everton would have been better to set up a defensive formation at home since Xmas. At worst getting a draw, with the possibility of nicking a goal and the bonus points for a win. Even against Burnley, playing with no recognisable forwards, compacting midfield.
Burnley were set up to defend and counter, with key Everton players targeted. The latter formation would have countered these tactics.
Ancelotti has gone from targeting lack of spirit to realising that his players are technically not up to his tactics.
Everton will now be set up defensively at home, as they are away, for the remaining matches of the season. Calculations will be done and plans made to get the points required. It's a pity they weren't done earlier.
Bobby Mallon
264
Posted 14/03/2021 at 09:07:49
Ron Halligan @222, well fucking said. Ancellotti is the best thing to happen to this club for over 2 decades.
We all want our club to do better... and yes, the manager at times needs questioning for his actions... but for some to want him out, fucking stupid.
Some on here saying we should have kept Walcott, Tosun, Bolasie etc. The same people wanting them sold before Ancelotti came, better than what we have... really? Saying Carlo has had 3 transfer windows... really?
I hope Carlo takes us to the top and, when he goes, we move on to the next manager who has won loads. No more like Koeman or Silva... we want winners.
Joe McMahon
266
Posted 14/03/2021 at 09:13:07
I don't know what the answer is upfront. Calvert-Lewin is not and never will be Harry Kane, he needs assistance upfront, if chances are created and not taken. As for the limp midfield, Pep will have his team just run through it next week.
The season started with such promise; the challenge in the summer is to obtain much-needed quality additions that don't have an injury record. We don't need to worry about extra games in Europe next season, that's for sure.
Paul Birmingham
267
Posted 14/03/2021 at 09:19:10
Rob @222, agreed. There's a reality about the club and, on and off the park, the club is progressing.
There's games to play for and every game is massive and the nature of results this season means there's a long way to go.
This season is not over yet, disappointing yesterday and if Everton had scored first, I believe they'd have won.
Interesting scenario in the goalkeeper situation, Jordan Pickford looked in some pain when he came off.
But the chips are down: it's time to rally to the cause.

Rob Halligan
268
Posted 14/03/2021 at 09:23:25
Bobby # 259. Just ignore him.
Funnily enough though, you're right about him: "MIA after a win. We beat Liverpool and I think he popped up with a comment, not to criticise but commend the performance. Then nothing. We beat Southampton and West Brom, nothing. We lose to Chelsea and there he is!
There are four of us who go to all the away games together, and we have our own little WhatsApp group. One of us – jeez, he would make Victor Meldrew look like a real happy chappie – he posted after the Fulham defeat moaning. We beat Liverpool, Southampton and West Brom and guess what, nothing.
We lose to Chelsea and up he pops, just like Mr E. My mate also loved Ancelotti, just like Mr E.
Bloody hell, you've got me thinking now, is my mate using a pseudonym, is my mate really Mr E?
Mark Murphy
269
Posted 14/03/2021 at 09:25:17
What niggles me is that, as much as we point to Iwobi, Gomes and Holgate not being good enough to play in yesterday's game, I bet Sean Dyche (or insert any other lower table manager's name here) would have played them in his team if he had them.
Point is: that team on the pitch should still have enough to beat Burnley, Fulham, Newcastle etc.
I don't know the answer and I absolutely believe Carlo will deliver when he has his players in but I struggle to name more than two of Burnley's players (Nick Pope and Bertie Mee). Something is wrong in the team's mindset, manifesting in the turning back and passing backwards... Confidence? Belief?
Mike Doyle
270
Posted 14/03/2021 at 09:30:48
Rob H # 222, Spot on Rob.
Clearly Carlo's aim is for us to be a proper football team that can play out from the back – the benchmark in the Premier League being Man City. The problem, which he has effectively admitted, is that at present he doesn't have the personnel to do it.
Being realistic, this will take another 2-3 windows to achieve. Meanwhile – and like other posters – I expect to see us adopt our 'away' strategy in all remaining home games, ie, defend deeply / try to nick something on the counter-attack.
Mike Oates
271
Posted 14/03/2021 at 09:33:25
When we, as we always do now, play with the back 4 so deep as we fear teams getting behind us, then there will always be a huge gap for our 2-3 central midfielders to cover...
and they can't!
Gomes, Sigurdsson, and Davies aren't mobile enough and have no pace to cover the ground.
Sorry to say this but go to a long-ball game, play in their third of the pitch and deny space to the opponents. For us, get our slow players further up and hopefully win second balls. Rely on Godfrey to sweep up and cover Keane and Mina. Allardyce-esque... but we haven't got the quality to play football and haven't got the quality out wide to get behind.
Derek Knox
272
Posted 14/03/2021 at 09:35:19
Rob, Mr E? Not the famous Mr Ed, by any chance. 🤔😛
Mike Connolly
273
Posted 14/03/2021 at 09:44:38
Paul, maybe things have changed off the pitch. On the pitch, no.
Today's match could have been a mirror image, how we were playing 10 years, 5 years or a month ago. Slow players, no desire and in some players no ability. As for the home record less said the better.
I think back to fans on here saying "Get off the players' backs at the home games." However, these spineless players have obviously responded to the heckling from the fans in the past. Hence our home record prior to Covid-19.
Anyone thinking the FA Cup will save the day is deluded.
Phil Bickerstaff
274
Posted 14/03/2021 at 09:50:42
Shut up shop against Man City and hopefully win on penaltiess.
Typical Everton luck, get Alan fit and then Doucouré gets injured. Never mind... rugby league starts soon. A sport where every player gives 100%, not like these overpaid pricks prancing about the pitch.
Rob Halligan
275
Posted 14/03/2021 at 09:53:42
Derek, the famous talking horse, Mr Ed! I sometimes wonder if there is far too much horseplay on this forum! Okay, I'll get me coat!!
By the way, Derek, remind me again, who are Jedward? 😀😀😀
Kim Vivian
276
Posted 14/03/2021 at 09:55:59
Haven't seen him mentioned by name anywhere since that game last night but was that Richarlison's most anonymous performance to date?
Paul A Smith
277
Posted 14/03/2021 at 10:01:14
I think it's absolute insanity to expect some dazzling displays from our squad. I am starting to worry about the expectations of some fans because they seem totally blinkered.
This isn't something new. You have all watched 95% of this squad for more than 2 years and should easily know it lacks quality.
Ian Edwards, start asking yourself who would take our best players? Who would you buy from Everton for Man City?
The manager is spot on and it might hurt your blue ears but our best attributes are to fight for results. Not to walk through them.
Name a side in the top six with a forward that is a worse passer and decision maker than Richarlison? Name a midfielder that does less dictating, assisting, shooting or scoring than Gomes?
I bet there is defensive midfielders in the top 6 with better attacking stats than Gomes. McTominay would make his stats average.
Name a goalkeeper that gives 10 goals away a season guaranteed? This is what the manager has to work with; if you can't let it sink in, you are in for much more frustration.
I suggest you put your endless lack of reality into energy that makes it clear we need more quality and strive for what will make us more successful.
That is, better players.
Stephen Brown
278
Posted 14/03/2021 at 10:02:47
I would be happy with 3 more wins this season!! I just hope they are all in the FA Cup!!!
George McKane
280
Posted 14/03/2021 at 10:06:16
After watching yesterday's (erm...) 'game', I decided (metaphysically) to go for a walk. I chose to walk along Regent Road to Bramley-Moore Dock, which I can see directly across The River from my side window upstairs. Deciding to have a pint (well in the past), I went into a pub I at one time frequented on a daily basis way back in the '80s – The Bramley-Moore itself.
Sitting in the corner, I saw three old regulars I knew from "the old days" – Eugene O'Neill, Joseph Conrad and good old Herman Melville (three Great Evertonians).
[Please note, Dear Blues, these three have each written about their trips along this part of Regent Road... drinking and looking for "ladies".]
I sat with these heavy and hardened drinkers and asked them a simple question: "You three, being men of thoughts and words and travellers, what do you think is going on at Everton?"
I must have shocked them... they put down their dark rums and set their eyes heavily on me for a moment. Herman picked up his pipe, took a breath, and slowly blew out white smoke – as if in surrender – into the air. He said it was easier for Captain Ahab to find The White Whale than to answer such a direct question.
Sucking again at his pipe, "A man thinks that, by mouthing hard words, he understands hard things" he went on, "and Heaven have mercy on us all – Evertonians All – for we are all somehow dreadfully cracked about the head, and sadly need mending."
Blowing another cloud of smoke into the air... "Truth is in things, and not in words." That made me think for a moment and there was quiet around the bar table. I realised that I asked these imaginative and deep-thinking men a question that was perhaps even beyond their understanding. Silence continued for a moment while smoke swirled in the evening air...
Looking through The Bramley-Moore windows, Herman pointed with the stem of his long white pipe towards The Dock and cried "Thar She Blows!"
We all laughed. I looked to Joseph – a man I knew well enough and who had seen the world from Kiev to The South Seas, and to here on Liverpool's Regent Road: "My goodness, George, we came here for a night out before we sail, looking only for Dark Rum and hopefully some nice local ladies... Alas, only rum here... but, as always, it's good to see you and talk about Everton."
"I believe" he said, "that even finding Kurtz would be easier than deliberating truly on that question – and even Kurtz I believe said himself, when asked about some of Everton's performances this season, moved his hands across his head and cried 'The Horror, The Horror'. But let's be positive, like Lord Jim. Evertonians are inside good people of good hearts and will find redemption, peace, and a bright future..."
"Remember, George, we Evertonians can never cease to be ourselves; life is short and success is not very far off. We have a Captain – Captain Carlo – who has travelled through The Heart of Darkness, through the South Seas, and has now landed here in our Port and will bring to us here the Treasures, experiences, customs, from his great travels."
"He is for us The Lord Jim of Football. Have no fear, George, my friend – we have to go through the storms and winds to land there on the sunny and pleasant shore within the reaches of those treasures and titles we desire."
At that, we all picked up our glasses of rum and sipped at once, holding the glass to our lips for a moment and looking quietly at each other. Eugene, rather shakily – he was still recovering from his afternoon bout of drinking, his moustache slightly brown with nicotine and wet with droplets of rum, wiped his arm across his mouth and stared at us three, his eyes slightly moist...
"Well, fellow Blues, we know that our Journey is long... and, although full of past great history, is also full of pain and fallings. Indeed, A Long Day's Journey Into Night. I am so far from being a pessimist; on the contrary, in spite of my scars, I am tickled to death at life. We need above all to learn again to believe in the possibility of nobility of spirit in ourselves. Being an Evertonian – I will be an Evertonian... or nothing!"
We four sat there, looking quietly at each other. Together, we leant forward, lifted our glasses simultaneously, touched glasses, and then, lifting them in the air, together, we four said – loudly and proudly:
"To Everton – It's Great To be An Evertonian!"
We drank up and walked out of the pub, opposite the site of our future, our dreams... We turned left together and walked back towards The Lighted Royal Blue Liver Building, arm in arm, laughing and singing...
I woke this morning and immediately said, on opening my eyes: "It's Great To Be An Evertonian!" and I walked upstairs to my front top room and saw in my mind's eye a ship sailing out of The Mersey and my three friends waving with their Blue Scarves wrapped around their necks.

Colin Glassar
281
Posted 14/03/2021 at 10:09:11
As Number 1 Carlo fan, I fully endorse the above statements by Rob, Kieran, Bobby etc...
Carlo began with an albatross around his neck: a poor, patchwork of a squad and a club mentality whose only ambition for decades has been Premier League survival and a few half-arsed cup runs.
Now we have an ambitious owner, who's willing to invest, and a manager who's willing to rebuild the team. What more can you want?
I never got too excited after a few decent results as I've always said, with our midfield, we just aren't good enough. Yesterday proved my point to a tee.
A pint-sized Tom Davies who's too weak and slow. Gomes? I've seen sloths move quicker than Gomes. Iwobi? Give me a break! Then we have duds like Gbamin, Delph, Bernard, Sigurdsson etc... none of these guys would get near a top 4 side.
If Carlo can get his midfield and fails, then we can talk... but, in the meantime, we have to plod on with this bunch till the end of the season.
Gerard McKean
282
Posted 14/03/2021 at 10:16:34
George #280: outstanding!
Paul A Smith
283
Posted 14/03/2021 at 10:20:36
Colin Glassar, that post is great for me. Pure reality.
When Tom Davies is showing better form, I cringe at some of the positives thrown his way because he's finally playing better.
That is all it is for me, he's playing better, not great, not top level... just better some weeks.
Some posts come across like that's the player they want to see for 5 years in the middle for us (and still knowing it doesn't work against most sides). I just don't get it.
Can't it just be said he's playing better but we still need better to compete with the best?
This isn't just in Tom Davies's case either, and I wish he was as good as the hype he's had lately, but he's never going to be top level, sadly.
A lot of the side has stood out for the work off the ball this season and stopping the opposition from playing their normal way. On the ball, we lack so much, we have to dig out every win we get.
Danny O'Neill
284
Posted 14/03/2021 at 10:20:42
I forgot to add earlier that I actually thought Gomes done okay yesterday in the context of what constituted good in that overall performance. Again, funny how we all see it differently.
The thinness, both in terms of numbers and quality of player, has been gradually taking its toll. Doucouré was and will continue to be a big miss. The manager applied his first patch with the 4 main signings last summer. He knows probably more than us what else is needed next turn of the wheel and beyond that to turn this squad into something that can consistently perform the way he and we want them to.
Dave (@255), I stopped and bought off a road-side seller yesterday. I feel I have done my good deed for the weekend and totally agree with your call to support local merchants.
Christy Ring
285
Posted 14/03/2021 at 10:20:53
Ian Edwards,
You're like a scratched record. First of all, you say we'll never win a home game with a midfield of Allan, Davies and Gomes. With all our injury problems, tell me who else he could have played in midfield yesterday?
You say Carlo has weakened the squad? Allan, Doucouré, Rodriguez and Godfrey, the four players he has bought are definitely an upgrade on the players previously bought, especially Bolasie, Walcott and Tosun who you seem to think should still be here. The reason our squad is weakened, is the injuries we have suffered. Come the summer, Carlo will sign 2 or 3 more players who will bring us to the next level.
We know you detest Gomes, did he not have a good 2nd half? When we won the derby, did you even praise Carlo? And by the way, calling him a 'dinosaur'... childish to say the least.
Onwards and upwards with a proven winner as manager.
Paul A Smith
286
Posted 14/03/2021 at 10:26:24
Danny O'Neill, I totally agree that Gomes got better as the game went on yesterday... but he's still not good enough.
It was just the type of performance you see in vain from a midfielder that is desperate and trying to force the play because the damage was done.
He is there to be better than what Burnley throw at us and he wasn't better than any Burnley midfielder sadly.
And that goes for our other midfielders too. They lost their battles on the day.
Mike Hanlon
289
Posted 14/03/2021 at 10:41:19
George #280: Atmospheric and brilliant piece. On the Banks of the Royal Blue Mersey.
Paul Hewitt
290
Posted 14/03/2021 at 10:42:40
Phil @274. Absolutely spot on.
Ian Riley
291
Posted 14/03/2021 at 10:42:51
Interesting that nearly all our defeats at home have come against British managers. They must see we are lacking in either quality or desire to win. My belief is one goes with the other. Under David Moyes, we lacked quality to win against top four sides but, against teams like Burnley, we matched their work rate.
People talk about more quality players but without the desire to battle against lower league opposition. Then, really give me Gravesen, Parkinson or Carsley. I want my team to jump off a cliff for the shirt. We are missing the bite that put fear into teams coming to Goodison Park.
Unless we get stronger in midfield next season, then we will struggle against lower opposition. We are soft in that area. We may even be down the table, fighting relagation. Quality alone is not enough.
Danny O'Neill
292
Posted 14/03/2021 at 10:43:24
And games are won and lost in midfield, as they say, Paul. If you lose the midfield, you likely lose the game.
Kim Vivian
293
Posted 14/03/2021 at 10:48:42
And that, at 280, encapsulates why this is simply the best club fan's site on the net. Brilliant, George, and I doff my royal blue cap to you. Thanks for brightening my morning.
Bring on Man City...
Tony Abrahams
294
Posted 14/03/2021 at 10:54:09
Kieran @225, I was one who questioned why Ancellotti took off Davies mate. Nothing to do with the player, but more about another change in formation, at a time when we were playing much better, after finally getting the first useless system out of our system.
It's easy to criticise but the solid defence with five players across the midfield has made us hard to play against. But a midfield four, using players who prefer to play centrally, does the complete opposite, in my opinion. And surely a man of Carlo's experience should have cottoned on to this the first time he used this system with these players?
Si Cooper
295
Posted 14/03/2021 at 11:01:24
Tin hat on!
Gomes has been fine for the last two games. Never going to be the fastest but nowhere near as immobile as some make out. Yes, we still need more from him or he will need replacing but his attitude looked spot on yesterday and he's definitely not resorting to a purely safety-first approach. I can't remember him losing anything particularly cheaply.
Iwobi also was better than he often has been, but again needs to add 10-20% more, game after game.
Tom Davies did one thing poorly, one thing brilliantly, and everything else fairly averagely. No injustice in him being subbed.
Allan grew into game but needs more game time to get properly match fit.
We will miss Doucouré whilst he is injured. I hope his detractors note there is no other player we have to give our midfield that drive and physicality.
Mason Holgate looks less like a right-back the more he plays there, but I don't think he would pick himself for that role if he had the option.
Calvert-Lewin had a 'nearly' day. If he brings down a couple of those passes that have him racing into space behind their defence, or converts his headed opportunity from Digne's wrong foot cross, then he's the hero. He didn't... so he was inadequate overall.
The rest all okay but either very average or just not on top form.
John Moss showed zero footballing knowledge on at least two occasions. No real advantage with Richarlison on the ground and out of the game when the ball went to a poor crosser of the ball, and Digne knows he will get hit in Brownhill's follow-through so his clearance was adversely affected. He has to give the foul.
How does Ben Mee get away with (or even get praise for) using arm strength to both hold and climb on the defender? He's not up through his own spring and so he is not merely coming down on the defender, or just sustaining his jump with a bit of a free ride at the end.
MotD coverage as bizarre as ever. Shearer declares Burnley fully deserving win but Jenas and Lineker both admit it was a competitive end-to-end game. Not that you saw much of the Everton spurned opportunities. I don't think any of the Calvert-Lewin half-chances got shown despite there being plenty of time.
I have to admit Burnley defended resolutely as expected, and also showed great quality and slickness in patches when attacking, which was less expected. Still required poor Everton play and one worldly finish to secure the win.
'Expected' goals was still greatly in our favour, which isn't automatic with a two-to-one possession advantage.
Paul Birmingham
296
Posted 14/03/2021 at 11:04:59
George, that was epic.. Superb! There's hope on the horizon.
Mark Stanley
298
Posted 14/03/2021 at 11:13:51
Well, I thought I'd sleep on it before putting my thoughts down on our performance, but it hasn't improved anything. We were rubbish,  again.
We are predictable and so easy to play against, it's no wonder teams enjoy coming to Goodison Park these days. They watch the videos and see a high press always works against our back four. We like to play out from the back, but aren't very good at it.
The midfield is static so they have no-one to pass it on to, so it goes sideways and backwards which inevitably ends up being punted upfield and then it's a free-for-all. I'm no coach but, if I can see this, then Carlo can, can't he? Pass and move, for fuck's sake.
Apart from the goal, I think Calvert-Lewin had a shocker. You don't get many opportunities in the Premier League, but he failed to control any provided to him, either at feet or head. Digne, Holgate (penalty for me) and Gomes weren't much better.
As for taking Davies off and leaving Iwobi on, I'm at a loss on this one as he was the only one on the day who was creative. Iwobi should be charged with impersonating a professional footballer.
In a way, it puts paid to our Champions League ambitions as we are a million miles from being able to compete with the best in Europe. I'm not even sure we could handle the Europa League with this squad. The problem is, I reckon Richarlison will be off if we fail to get in either.

Derek Taylor
299
Posted 14/03/2021 at 11:15:15
Colin @281, you seem to imply that Carlo has had no influence over the signing of the players who represented Everton yesterday. Total nonsense if you give it some thought.
Whilst, in spite of the millions spent since the coming of Moshiri, much of his investment has been squandered on the mediocre, whatever the manager's input into signings, he has disappointed in another of the main requirements of the job – the ability to motivate and inspire the players he has to hand, on anything like a regular basis.
I suspect that too many of our 'stars' think they know better than dear old Carlo and prefer to do their own thing. Okay, they will get us 'top half' and claim 'improvement'. The truth, of course, is that, as ever, Everton is going nowhere other than to Bramley-Moore Dock.
James Head
300
Posted 14/03/2021 at 11:15:20
George #280,
Not so much Apocalypse Now but Apocalypse every other Saturday... Oh for some light in this Evertonian heart of darkness!
Anthony Hawkins
301
Posted 14/03/2021 at 11:19:32
The issue with the last couple of displays especially, is the hope and dejection.
The hope of having 2 games in hand with the possibility of going 4th (and somehow in contention for 2nd!). Having beaten some solid competition and given displays that promise so much more, only to put on displays that seem woeful and we lose to teams we should arguably beat.
We all know the squad is thin with quality. We all know the squad have played poorly under a number of managers, but we hope for European football and silverware.
We hope an elite manager in Ancelotti may be able to drag performances out of players we know haven't been the best. We hope in players like James and Allan who come in and could make a difference.
The reality is we have a generally poor squad and have done for years. We've had various managers who have got great performances on the bounce. The same players who've underperformed continue to play the same way with sparks of improvement.
Godfrey and Allan have been immense signings, as is James on a typical day. When the stars align and the players click, we can match any team. The reality is those stars don't always align.
What I don't understand is why we consistently fall at the last hurdle – the one where beating a team like Burnley means the squad have a meltdown and can't perform. It's not simply the manager, as it's been the same since I can remember.
The only manager I remember to have the balls and mentality to get us into Europe (in recent times) was Moyes. I'm no Moyes protagonist but look what he's done at West Ham. No, I don't want Moyes back at Goodison Park and I believe Ancelotti will make things right.
Until then, yesterday was an eminent disappointment and a stark reality of where we really are at as a club. The best I think we can hope for is top 8. Europe seems a stretch and, even if we did, would we do ourselves proud or get stung by it?
I hope I'm wrong. I always hope!
Len Hawkins
304
Posted 14/03/2021 at 11:21:49
I'm sorry but I've tried to convince myself that Davies is the new Messiah but I always end up shaking my head. He is the least skilful midfield "star" imaginable; he may have the energy to keep running but unfortunately running isn't the be-all and end-all of football.
I have seen brilliant midfielders who dictated the play and pinged passes all over the pitch who hardly moved from their central position. Le Tissier, Hoddle, Brooking, hardly had a run in them but they could run the midfield and score some fantastic goals.
Going forward, Davies is improving but, like other "Individuals" in Everton's midfield, can't pass to his own team-mates. When he gets the ball outside his own area, facing his own goal, he crumbles like a packet of cream crackers you just dropped on the floor.
There aren't many players that give me the heeby-jeebies when they get the ball but unfortunately they all play in midfield for Everton. It appears that, instead of progressing with experience and confidence, our midfield are like strangers who have been thrown a kit and told they are playing but they have never seen a football before and are instilled with what not to do with a football to win games, and it hasn't clicked as to what they must do to win games.
I think Sigmund Freud would be beaten by this lot... Oh, hang on, nah... surely they couldn't beat him.
Mick O'Malley
305
Posted 14/03/2021 at 11:22:23
Eddie @251,
i absolutely 100% agree with you, great post!
Brian Harrison
306
Posted 14/03/2021 at 11:24:18
I am a self-confessed Ancelotti fan; if he's given time and money, I believe he will win trophies and have us challenging for a Champions League place. We have suffered from injuries like many clubs this season, and those injuries have sadly happened to key players which make consistency very difficult.
I heard Carlo say after the Chelsea game that, just like the games against Man City and Liverpool, we don't have the quality to play an open and attacking game. But yesterday, I watched a Leeds team full of players that played last season in the Championship go toe to toe with Chelsea and were unlucky not to win. So, if Bielsa can get his Leeds side to go head to head with Chelsea, why can't we?
But let's accept Carlo's point that we don't have the quality to take on some of these sides; we also struggled to impose ourselves against West Ham, Newcastle, Fulham and Burnley. Now surely we have enough quality to play a more open attacking game against these teams?
I just think we have become so used to sitting back and hitting teams on the break, that we have lost our ability to play front-foot football. We must be one of the worst teams for putting passes together in the opponent's half: most times our attacking options break down after 2 or 3 passes in the opponent's half.
I think we could well finish lower in the Premier League than we did under Allardyce... now wouldn't that be a sad indictment on the players and the manager, should that happen?
But, as I said, I am a fan of Ancelotti and I have faith that he will turn things around. But, to do that, he has to buy players in the summer who can turn us from being a side who can't play an attacking game to one that can. As I fear that, unless we do that, then, with fans probably being allowed back inside grounds next season, they will demand a more attacking approach, than we have seen at home this season.
John Hall
307
Posted 14/03/2021 at 11:25:02
Neil (62)
I.W.O.B.I.
I Will Often Be Irrelevant
I Will Often Balloon It
I Will Often Be Incompetent
Just about sums him up and he cost us 㿊 million plus. Arsenal saw us coming on this one. I have seen some poor players in an Everton shirt over the past 60 years but he must surely be one of the worst ever. Offers absolutely nothing as he can't cross, can't tackle, can't head a ball, can't take a man on, and runs like he has two left feet.
Dyche must have been licking his lips when he saw Iwobi and Holgate paired on the same side. Both get nosebleeds when past the half-way line.
So poor yesterday... but I'm getting used to it.
Thomas Richards
308
Posted 14/03/2021 at 11:27:40
Len,
Tom has undoubtedly improved since he tweaked his game to take less touches when on the ball. Tom gives 100% every game.
But... the bottom line is he's not a good enough player if we want to progress to Champions League.
Not his fault; a player can only give you everything he's got.
Justin Doone
309
Posted 14/03/2021 at 11:28:52
I've had a moan in a previous post; time for some helpful hints.
If we lack creativity on the right, with no pace, movement or crossing ability, then play King there. He deserves a chance to start rather than coming on when behind in games.
Stop passing backwards. It may keep possession for a few more seconds but offers nothing, other than starting from the back again, putting keeper and defenders under pressure.
The ball can move quicker than any player. Take advantage of its pace and energy rather than running out of position and steam. Quick in mind, body and ball!
On Allan, I wonder if his last injury is fully healed / recovered because he has lost half-a-yard of pace. Does he realise this himself because he may benefit more than most from letting the ball do the leg work. He had a bad game but is generally a good passer.
Roll on / over City!
Ian Edwards
310
Posted 14/03/2021 at 11:31:54
Christy 285.
You have misunderstood my post. I wasn't saying Bolasie, Tosun and Walcott are better than the new signings. I was saying they are better than our squad players like Bernard and King and would have been better options on the bench.
Yes. I did congratulate and thank Ancelotti on here for the derby win.
Playing three holding midfielders at home is unacceptable. It's Stone Age football.
Ancelotti has never taken a mid-table club and improved them. He takes over Champions League clubs, wins trophies when the clubs are still riding high, then gets sacked.
As for Gomes, I don't detest him personally. I just think he is a very poor footballer.
People keep parroting "Who else could he pick?" ... Well, how about playing Richarlison in the hole with King and Calvert-Lewin up front? Before you all say "King isn't very good", ask yourself why, after three transfer windows Jurassicarlo has left us with just King as the only other forward option???
David Hallwood
311
Posted 14/03/2021 at 11:36:13
I've just watched the game again; yes I'm in to extreme masochism with no safe word; but a couple of points.
it's not an excuse but our best 11, and we can all agree/disagree on that (for the record mine is. Pickford, Coleman, Godfrey, any of the other 3 CB Digne, Davies, Doucouré, Allen, James, DCL, Richie) have never played together. The nearest to that formation was at the start of the season before the first international break substitute Gomes for Davies.
Onto the game. Agree with people who said Iwobi looked neat and tidy as a no 10, but no movement around him from the midfield.
Gomes. had a better 2nd half and looked better when Davies went off. But I can't think of a more frustrating footballer in a blue shirt. Surely the aim of playing out from the back is to give it to the midfield to, as they say these days, transition the ball up the field. I lost of the times when it was given to Gomes he give it right back or square, didn't even bother to turn to see what was on.
I think he'll never be the same player pre-injury; lots of players speak about this when they lose their powers either through injury or age, they play it ultra safe, because they go onto the field knowing they're no longer the player they were.
The Davies incident; I've run that back 10 times and can't make my mind up whether it was a)Keane's hospital pass, b)Tom not being strong enough or c) a blatant foul in front of the worse ref in the history of the game, or a combination of all 3.
What I would say to all the Davies haters out there that Burnley still had a lot to do to score, and the closing down was non-existent. In addition if we're talking about culpability, Allan was a lot more at fault for the second goal, albeit a worldie. He's a seasoned international and shouldn't get done like a Sunday park player.
Carlo's post match, was both brutal and revealing and if followed through will probably see an exodus of 5-6 players in the summer.
Thomas Richards
312
Posted 14/03/2021 at 11:46:09
"What I would say to all the Davies haters out there."
Don't think anyone "hates" him, David. Just posters expressing their rating of his ability, as far as I can see.
Richard Nelson
313
Posted 14/03/2021 at 11:46:56
Tom Davies is 22... he gives 100% every time he puts the shirt on.
He's progressive, his only fault is awareness when in possession, which will improve. He's 5 years from his peak... give the lad a break!!!
Rob Dolby
314
Posted 14/03/2021 at 11:58:15
Ian 310.
We didn't play 3 holding midfielders. It looked like a diamond to start with then went to a flatter 4 with Iwobi moving right. No matter the formation, those 4 chosen were not good enough. Burnley's midfield wanted it more.
With Doucouré injured for probably the rest of the season, we have to get some legs into that central midfield area. I would look at Onyango or even put Holdgate there.
For Man City, I would be bypassing the midfield and go early to Calvert-Lewin and Richarlison. Liverpool have had success against Man City playing like that.
Easy said with hindsight but we missed the boat in January in bringing players in.
There is a lack of fluency to our attacks. No partnerships or understanding down the flanks. Digne looks better when Richarlison or Bernard plays in front of him. Coleman is a threat going forward but doesn't have anyone to link up with. Frustrating seeing both full-backs constantly checking back. It's not easy playing full-back if your midfield isn't showing for the ball.
Dave Abrahams
315
Posted 14/03/2021 at 12:00:28
David (311),
That first goal, my take on it: Keane makes those passes repeatedly, he did it the other night vs Chelsea, again passing to Davies, when Davies was well covered. Then watch Keane, after Davies was robbed or fouled off the ball, the ball comes into the penalty area, Keane throws his foot at the ball, flicking it to the goalscorer, great pass.
I'm constantly amazed at the praise Keane gets on here. I haven't bothered to comment on it for months. He is still unaware of his position, constantly bullied by opposing strikers, as yesterday; no aggression in his tackles. Watch him at corners, defending, marking nobody, jumping from a standing start, loses a lot of his one on one heading duals, yet two fans on here have called him flawless, flawless? Not very good is closer to the truth.
Davies is the lad who gets a lot of stick: some like him, I'm one of them. He's far from perfect but never shirks and has had some very good games lately. He was doing okay yesterday until he was removed. I don't think we improved after the subs were made and his energy will be needed for the remainder of the season.
Dave Williams
316
Posted 14/03/2021 at 12:06:59
We have no balance. A centre-back playing at right-back who can't attack. Four central midfielders, so no width. This is why we pass square and backwards so much as there is no-one who has the ability to run forward on the flank and beat a man.
Our defence is open down the flanks because there are no wide midfielders to provide cover. Not Carlo's fault and hopefully he will sort these issues out in the summer.
Danny O'Neill
317
Posted 14/03/2021 at 12:12:41
Agree Thomas, I don't think the majority on here or Evertonians in general "hate" Tom. Many want (or wanted) him to develop into the player we hope(d) he can/could be.
David, that opening gambit @311 made me spit my coffee out!
I think Paul A Smith captured it best earlier after I said Gomes done "okay". The word there is "okay". Not outstanding, not brilliant, just okay.
Tom has recently received a lot of rightful praise because he has played well and has been much improved. Again, "played well". For me, I think Tom can be a very good and useful squad member.
The reality is, the manager made 4 excellent signings in the summer. But they are just 4. Beyond that, it remains the same squad that had us pulling both our hair and teeth out previously. Most of them are "good" and "okay" but not the standard we, and dare I say, Carlo, knows we need.
If he can make another 4 or 5 signings of the same calibre this summer, then we will again progress, but this time on top of more solid foundations.
Looking through the fog of frustration that is still hovering, there is still a lot to play for this season. I'm not throwing the towel in just yet, certainly not with an FA Cup quarterfinal next week and the discussions taking place that may see 20,000 fans allowed to attend the FA Cup Final at Wembley. I sincerely hope, expect even, the players to be the same.
We missed an opportunity but are still in the fight.
Scott Robinson
318
Posted 14/03/2021 at 12:23:53
There are many here that believe in Ancelotti, we will win trophies, Champions League etc... Fair enough. But, let's face it, we have been near enough, close enough with many managers and players over the years and then bottled it. Think of Moyes and "Best of the Rest".
Think of Martinez, pushing for top 4 in his first season and gets rolled by Crystal Palace at home.
Koeman had his chances, and so did Silva.
It's a mentality thing. Let's face it.
Brian Williams
319
Posted 14/03/2021 at 12:28:00
The thread shouldn't turn into a pro- or anti-Tom Davies one. There were far more telling performances all over the pitch and concentrating on Tom's "error" – which I don't personally believe was an error on his part – is letting other players off the hook.
If you want to focus on Tom, focus on that peach of a cross which, due to its pinpoint accuracy, I could have scored.
We were shite all round but, thinking back, what pisses me off as much as anything is that, all-in-all, young Virginia had very little to do once he replaced Pickford. We just didn't have the guile, desire, tenacity or aggression to make anything happen.
Still pissed-off... really pissed-off.
Jay Wood
[BRZ]
320
Posted 14/03/2021 at 12:33:40
George @ 280.
Thank you George for an uplifting tableau.
A shaft of golden light through the storm clouds.
I feel better for reading it.
Christy Ring
321
Posted 14/03/2021 at 12:37:19
Ian #310,
You still haven't answered my question about Allan, Davies and Gomes in midfield. Who would you have picked in midfield yesterday, considering Doucouré is out, Sigurdsson is carrying an injury, Gbamin still out, also the waste of space Delph???
Bolasie is in and out of the Boro' team, Tosun totally inconsistent, Kean had discipline problems, turning up late for training etc, but I do agree that Walcott was probably our best option on the right wing – a lot more effective than Iwobi in my opinion... but he's crocked now at Southampton.
Rob Halligan
322
Posted 14/03/2021 at 12:48:26
Scott # 318. The only people with "The mentality thing" is us, the fans. Ancelotti is a serial winner; do you honestly think he's come to the club thinking "Shit, there's a serious mental thing going on here, it goes back years and years, and it's going to affect all players, me included, at the club, and anyone I sign"?
There's already a few writing us off against Man City next week. Now that's a mentality thing. Before a ball is kicked, we're doomed... doomed I say, doomed!! Man City might well beat us but, for fuck's sake, let's all get behind the team in the coming week and not write us off completely before a ball has even been kicked.
George McKane
323
Posted 14/03/2021 at 12:50:01
Thank you for such heartwarming comments.
I woke this morning with Conrad and O Neill and Melville in my head – all of whom did visit pubs along The Dock Road so I decided to convert them into Blues and just allowed myself poetic license.
Cosmic Blue Waves All The Way.
Stephen Vincent
324
Posted 14/03/2021 at 12:56:41
Ancelotti was employed and earns the very big bucks because he is supposed to be a manager (one of the best). Management isn't just about spending lots of money on the assets that you want, it's about putting what you have to the best use and inspiring them to be the best they can be (ask Koeman). I would argue that this is clearly not happening either on a usage or inspirational front.
I can't believe that there is a single Everton fan who enjoys the current style of play, it is frankly dross, whether we win or lose.
More than a few of the players we have are clearly not fit for purpose, but that does not mean that they should be allowed to stroll around the park, apparently without a care in the world.
Will we qualify for Europe? No. Do I care? No. I see no progress either in terms of position or style or planning over any of the previous 4 permanent managers and have no desire to travel across the continent to watch us lose heavily to teams that would struggle to get into League One.
I would ask who will be the happier fans at the end of the season: Leeds fans whose team finishes 11th and plays free-flowing exciting football? Or us, who finish 7th and have been bored out of our trees at almost every single turn.
I feel so sorry for Moshiri who has put his money where his mouth is and has been let down time and time again by a load of over-paid prima donnas who really couldn't care less about the club – and I include the managers in that assessment.
Scott Robinson
325
Posted 14/03/2021 at 13:00:09
Rob #322.
Of course, we all want success. That is natural. But why is it that Everton consistently bottle it?!
Ancelotti came here with nothing to lose, and a club that is consistent with the grandeur and history of clubs he has managed. Would he go to Brighton or Southhampton? Probably not.
Since then, he's found out the reality of what this means. A mid-table club, living off its history.
Yes, let's get behind the team. I desperately want that. But, for the most part, the team is always sitting behind the 8 ball, too scared to have a go and actually get out there and win.
Talk is talk. Action is what we want.
Bill Gall
326
Posted 14/03/2021 at 13:12:00
There should be no blame on Davies, the blame is on this passing around at the back, allowing Burnley players to press high and give Everton players no outlet except a long ball. Davies tried to find open space but was closed down quickly when the ball was passed to him.
Was it a foul? It might have been... but it wasn't given, so play on. He wasn't at fault, the problem was the same as last season, that we thought we had cured, but due to injuries and having a weak squad, the problem in the midfield is still there.
Ancelotti knows the problem and has tried to cure it by switching formations; that has worked in some cases but never worked yesterday, mainly because he was let down by other players. After his comments after the game, there may be a few of them missing next season.
This is a team game and there were mistakes all round yesterday and no one player can be held responsible for a defeat; you win as a team and you lose as a team – and that includes the manager.
Criticism is fine and during the game, I am one of the worse but, like other supporters, I am a glutton for punishment and I watched the game again. In my opinion, we should have had a couple more goals but we didn't, and one goal – no matter how it was scored – should not have affected the result, but it did. So all the players and the manager are responsible for the loss, not just one of them.
Oliver Molloy
327
Posted 14/03/2021 at 13:13:34
Just watched the match for the third time. Honest to God, anyone who says that Iwobi played okay needs to go look again and tell me what the fuck I'm missing. Apart from the pass inside to Davies to cross for our goal, he really was terrible.
Holgate joins him as the worst Everton players on the pitch.
I do think Davies was unlucky not to have been given a foul, but he should be better than that at protecting the ball – I would say 8 out of 10 refs would have blown for a foul on him.
Other than this, Burney hit the post, should have had a penalty, while our best chances fell to Calvert-Lewin who couldn't take them.
Earlier on in the season, Calvert-Lewin said that Ancelotti had told him to focus on one-touch finishes - there's a fucking reason for that!!
Still really angry with this result.
Peter Mills
328
Posted 14/03/2021 at 13:14:44
Excellent, George @280.
As a wise monk once said to me, "We can travel far further in our minds than we can in this world".
Jerome Shields
329
Posted 14/03/2021 at 13:15:47
It really was too easy for Burnley. They were set up as all lower table Clubs are when they play against Everton. To add insult to injury, they were able to capitialise on Everton in open play.
Robert Tressell
330
Posted 14/03/2021 at 13:17:36
Scott, there is a mentality issue and tactically Ancelotti is struggling with weaker opposition more than he should. But, the big issue is really that our playing staff is mediocre (beyond a fully-fit and in-form first 11). We need much more potent attacking options than we currently have, especially down the right flank.
I know it feels like we should be able to squeeze more out of what we've got. But every club below the rich 6 (and even within it) faces the same issue. And the clubs that win things / make top 4 almost always have the stand-out best players.
Danny O'Neill
331
Posted 14/03/2021 at 13:19:28
This team Scott. This team. Not next season's team or beyond that.
I wager it is not this team that starts next season. We took action last summer and the additions of James, Allan, Doucoure and Godfrey improved the calibre of the squad. Do the same this summer and we progress again. I know a few seem to think that he should have come in, sprinkled his dust and turned a few of our okay players into Maldini and Ibrohimovic overnight, but that is like asking me to turn £10 notes into £50 ones by tomorrow.
Players are human beings. Human beings have their own individual limitations that no matter what, they will not overcome. Some can improve, but only to a certain degree. Unfortunately we need to replace more than nurture. That was never going to happen overnight.
I know it's easy to point to Ancelotti only having managed super-clubs in the modern context of European football, but that isn't strictly true. He served his coaching apprenticeship at 2 modest clubs in Reggiana & Parma, achieving relative success at both. This isn't necessarily new ground for him.
I tend to agree with Rob on the mentality thing starting with us fans. I get frustration and anger in the midst of another disappointing opportunity missed, but I will continuously repeat myself. Still a lot to play for. Dust off, move on, don't wallow in it.
Thomas Richards
332
Posted 14/03/2021 at 13:21:21
Half of the outfield starters yesterday will not start the first game of next season.
Patience is required.
Andy Walker
333
Posted 14/03/2021 at 13:27:22
We've been lucky for months. Since the first half dozen games or so we've been outplayed, football-wise, by most teams yet we've managed to win many games we were second best in. Just watching the Southampton – Brighton match now. Both teams are playing better football than we've played for months and they're both in a relegation battle.
Our fundamental problem remains: we have a bunch of shite in midfield excluding Doucouré, Allan and James. As 2 out 3 of them are often injured and as a minimum 1 out of 3 of them are nearly always injured, this leaves a huge problem every game. Add to that, no proper right back now Seamus has passed his best and is often injured, we have weakness down the right side nearly every match as well.
I'm sure Carlo knows this and this summer will hopefully see a few more decent acquisitions. But, as long as the likes of Davies, Iwobi, Bernard, Sigurdsson are able to get into the side even when we have injuries, we know we aren't good enough.
Derek Knox
334
Posted 14/03/2021 at 13:38:23
George @ 323, great piece again from you, and a good use of poetic licence applied. I always believed that Herman Melville was from Whales. 😜
Scott Robinson
335
Posted 14/03/2021 at 13:44:13
People say this team is average, it's all about the mediocre players, let's get new players in. Let's see what happens next season. That's one way to look at it. Except we say that every year with every manager that comes through the turnstile.
Players come and go. Players get injured (eg, James & Allan) and rarely play. It all starts now with the assets you've got.
How did Leicester City win the Premier League? On the back of Vardy? I think not. There was something about that team that clicked. There was spirit and desire.
Everton FC Co Ltd is a business. The manager is paid to perform. We lose to teams we should not. Okay, the odd shock loss here and there happens. But not to Leeds, West Ham, Newcastle, Fulham, and now Burnley at home. Hell, even Peterborough made us look like a Championship side. It's consistent and embarrassing.
I'm calling a spade a spade and the results aren't good enough – mediocre players or not.
George Cumiskey
338
Posted 14/03/2021 at 13:52:19
Why, oh why, do we keep trying to play the ball out from the back when it's patently obvious we haven't got the players with the ability to do it?
We put ourselves under more pressure than the opposition do.
Surely a world class manager should be able to spot that and change the style of play. At least, if the ball is in their half, they can't score.
Danny O'Neill
339
Posted 14/03/2021 at 13:53:08
Your point on spirit and desire is bang on the money, Scott. That has to be there or ability means nothing.
And I appreciate the "We've been here before" sentiment. Genuinely do (hence my original "been here, seen this" comment).
But (always a but!) this manager, I believe, can be different. The four players he brought in were improvements on the standard we had. Only two of those were on the pitch last night, so he has to resort to what he had previously. I guess that makes me an apologist (not you're words, by the way, Scott).
Next season, if he brings in four or five more of similar calibre and improvement, we cope with injuries, that inevitable part of football, much better than we can now.
"Up for the league and up for the cup. Everton on the up and up" in my view!
Geoff Williams
341
Posted 14/03/2021 at 13:54:02
I have just watched the game again, knowing the result, so void of the frustrations of being emotionally involved as the game evolves. I have come to a different conclusion to many on here about the performances of certain players:
Gomes didn't have a poor game. Allan, though not at the level we have come to expect of him, had a decent game as did Tom Davies.
The major problem was on the wings. The inability of Iwobi and Holgate to simply cross the ball was disturbing. Digne's delivery from corners was of Sunday League standard and he rarely got in a position to cross the ball from open play.
Calvert-Lewin and Richarlison don't complement one another and are rarely on the same wavelength, so playing them both centrally isn't working. We also lose the valuable defensive work Richarlison does supporting Digne.
As limited as he is, Kenny is a much better right-back than Holgate and Gordon is a better option than Iwobi out wide... but both Kenny and Gordon were loaned out.
Barry Rathbone
344
Posted 14/03/2021 at 13:57:51
Andy @333,
I agree with that, we do seem to have had a bit of luck winning and drawing games where arguably we have been second best. Lord knows where we would be otherwise because there is no fight or slickness about this squad.
My pre-season shout was 7th to 12th and, despite the early season purple patch, nothing has happened to change my mind.
Hopefully those assuming "Carlo can see this" (insert obvious issues) are right because the truth is, this season is proving to be nothing more than the usual mid-table fare.
Bogdan Kotarlic
345
Posted 14/03/2021 at 14:10:49
We didn`t play well, Burnley deservedly beat us. Our home form this season is bad and it will probably cost us dearly.

I don`t know why we play so poorly at Goodison Park but to lose seven matches so far is a really bad achievement.

We must raise our game – otherwise, we will finish in the mid-table. Also, if we don`t improve, we have no chance of beating Manchester City in the FA Cup, they play really well.

I sincerely hope that we can somehow start winning again and with a good string of performances (and results) maybe even finish in the top four.

Burnley is a tough team to play against and it proved once more. Our defence was bad, our midfield didn`t create almost anything in the attack and our strikers can`t do much harm if they don`t have support of the rest of the team.
Colin Glassar
346
Posted 14/03/2021 at 14:34:37
David 311, I don't hate Tom. On the contrary, I think he's a really nice lad who leaves everything on the pitch. I'm not doubting his effort and passion, what I'm saying is, like Ossie, he's just too small, slow and weak for this league.
Unlike an Iniesta or a David Silva, Tom doesn't possess the skills or the football mind to play himself out of trouble. Now very few players can compare to those two but, for a small midfield player, spatial awareness and bags of talent are a must.
Neal Kernohan
347
Posted 14/03/2021 at 14:36:22
Our play is far to slow and boring. We need a quality midfielder who can look forwards rather than the usual Gomes backpass which infuriates me! We give teams far too much time to get back in position and organised when we play so slow and negative!
Ian Edwards
348
Posted 14/03/2021 at 14:39:42
Stephen Vincent 324.
Spot on. The football under this Manager is absolutely woeful. Dull. Boring. Built on defend deep and try and nick one. Fans are making excuses and ignoring Ancelotti's failings that the last 4 managers were hounded out of the club for.
The style of football under Allardyce was better and anyone who says otherwise is deceiving themselves. The only plus that Ancelotti has that Allardyce didn't is a win at Anfield. But he can't dine out on that forever. The Cup defeat to Liverpool's youth team is still in the minus column.
Colin Glassar
349
Posted 14/03/2021 at 14:44:23
So Ian, for once and for all, who would you appoint as manager? This is your big chance to show your thinking.
Danny O'Neill
350
Posted 14/03/2021 at 14:45:09
We did and do pass backwards too much as many have said here and on previous post match discussions.
Just to counter that argument, it helps the midfield if, when they look up, there is actual movement and intelligent running ahead of them. Otherwise, they will check, come back inside and inevitably go backwards or sideways to keep possession rather than punt it forward for the sake of it.
We done okay in the first 10 when we kept finding Richarlison in a pocket of space.
So yes, the midfielders needed to get the ball forward more and quicker, but they also need assistance from those in front of them to do so.
Robert Tressell
351
Posted 14/03/2021 at 14:45:14
Scott at 335. As you say, we are a business. And based on our investment in the playing staff we should finish 7th. This is how our squad ranks in wages / value.
And the trouble is this has been the case for years - Moyes and Martinez both built v good first 11s but there was nothing in reserve. So we fell short.
Apart from aberrations like Leicester and the occasional cup win, the spoils always go to the teams with the best players.
So yes we should be beating teams like Burnley, but in all likelihood we won't make material strides as a club until the playing squad is much improved. That's irrespective of manager.
George McKane
352
Posted 14/03/2021 at 14:46:00
Thomas and Rob - cheers biys - tongue in cheek - only 72 but felt older after yesterday. Cosmic grooves.
Rob Halligan
354
Posted 14/03/2021 at 14:58:25
Colin # 349. What a silly question. Once that dinosaur-cum-fraudster is finished at West Brom after taking them down, Ian would like his idol back at Goodison. The man who has never won a carrot in his life, but hey, he is a far better manager than Ancelotti.
Danny O'Neill
355
Posted 14/03/2021 at 15:01:30
I don't think anyone has been dining out on the Anfield win for 3 weeks let alone ever.
Colin, I feel a Duncan Ferguson call coming on. If I recall, I think we've had it before.
John Boon
357
Posted 14/03/2021 at 15:03:26
Oliver (327). I don't know whether to praise you for being such a dedicated Evertonian by watching that game THREE times or suggest that you speak to a medical Psychologist about your masochistic tendencies.
This season, watching Everton at home is liable to lead to brain damage. In reality, it seems to have affected the players in the same way.
Mike Gaynes
359
Posted 14/03/2021 at 15:11:11
Just want to point out one thing that nobody has mentioned.
Robbie Mustoe on NBC was, as you lot would say, gobsmacked by Burnley. Said it was flat-out the best performance he had ever seen by a Burnley side in the Prem. Ever, in five years. Think about that. McNeil's goal was genius -- left a fine footballer, Allan, in the dust and cracked the best shot he will ever hit. Goal of the Year candidate. #2 on ESPN's Top 10. He's never done anything like that before. Even dazzled Alan Shearer.
Any Prem team can rise up to brilliance on a given day, and Burnley is a Prem team -- bottom half, yeah, but never relegation fodder since coming up.
Amidst all the whinging, roasting and rage here, nobody has given them proper credit. They were great, start to finish.
Danny O'Neill
362
Posted 14/03/2021 at 15:26:02
That's a fair and valid call Mike Gaynes.
Sometimes you have to give the opposition credit and Burnley deserve that for last night.
Jay Wood
[BRZ]
365
Posted 14/03/2021 at 15:32:08
I take what seems to be (judging by some posters) rather a novel approach when watching each new game by Everton.
I watch a game with a completely clean slate. I don't stick rigorously to preconceived notions about the manager, individual players, the team, or the tactics.
This is how I viewed yesterday's game.
With the players unavailable (James, Doucoure, Delph and Olsen. No point in mentioning Gbamin), together with those returning from injury (Coleman, Mina, Allan and Davies), plus being cautious with Siggy who wasn't able to fully train since the Chelsea game, the starting XI pretty much picked itself.
Yes, you could make a case for a couple of positions. Could Coleman and Mina both been recalled to go with a back 4 or 5 of Coleman-Mina-Keane-Godfrey-Digne and Holgate dropped? But then, we don't know if either Coleman or Mina are fit enough to last 90 minutes, if needed.
Simalarly with Allan and Davies. Are either both fully back up to speed to play 90 minutes? Has Josh King really shown enough to merit a start?
Given that in the last 4 games we have seen a bulk use of untried academy players on the bench - Virginia, Tyrer, Astley, Nkounkou, Kyle John, Onyango, Broadhead - serves to highlight just how deeply injuries are biting into the squad.
You NEVER hear Carlo use absentees as an excuse. On the contrary, he always states 'we can manage'.
I was initially encouraged yesterday because we actually started very well. Iwobi was excellent playing in the hole of the number 10 position. He is more mobile and busier than, for example, Siggy in that position. Contrary to what some believe about the player, he is technically gifted. He moves very well with the ball at his feet. He can beat a man. He looks to play progressive incisive passes through the middle.
He was particularly combining well with Richarlison, who was finding space between Burnley lines close to their penalty area. The Brazilian got a couple of shots off and tried to play in Dom in this spell.
Then totally against the run of play, Burnley took the lead. Small margins. Personally, I saw nothing wrong with Keane's ball into Davies. Even as a park player, I would welcome and accept such a pass.
I watched it numerous times and I cannot come down in favour of saying Tom was fouled. He lost out to the Burnley player being stronger. The problem thereafter was that Holgate was out of position, well in advance of Tom, so there was a huge gap down that flank for McNeil to exploit.
The cross came in, Keane attempted to clear, didn't get good contact and the unchallenged Wood finished with aplomb.
For the second, I originally thought Allan was too easily beaten by McNeil, but playing it back, I wonder if Tom Davies could have done more.
McNeil is very clever. Basically, he stood still holding his position with the ball being played around on their right flank. Allan is sitting deep inside our penalty area. Tom remains stagnant just outside the 'D', looking around. Not once does he make a move to get closer to McNeil, even when the ball is played to him. Who is alert and does move out of position to challenge McNeil is Allan, but McNeil is skilful enough to skin him and then hits a worldy finish.
When you see the play head on (from the Park End camera) Tom really has no one in front of him to occupy him. For me, it was Tom who should have got closer to McNeil, rather than expect Allan to step out from his deeper covering position.
2-0 down, Carlo implemented a change, pushing Iwobi out to the right from the central position he had been playing effectively, presumably to make us more compact and better match up to Burnley's 4-4-2. Alex was instrumental with Tom in setting up Dom's goal.
To the second half and again we started well. Gomes forcing Pope into a full-length save. Iwobi playing Dom through whose first touch was excellent only for the ball to fall unfortunately on his other foot to just knock the ball away from him. Gomes' excellent cross field pass to Digne from a cleared corner, which Lucas brings down beautifully and somehow dig out an excellent cross which Dom, much to his own frustration, got horribly wrong.
Burnley batted back to regain a foothold in the game. Their defending, blocking, heading, was excellent. We huffed and puffed, had some 'nearly but not quite' moments. They took the points in an evenly balanced game.
My own personal assessment is this:
This is Carlo Ancelotti's Everton. His players. His tactics. He doesn't get a pass because, as some ask, he hasn't had enough transfer windows to get in the players he wants.
He has shown he can get a tune out of this squad. He is doing very well on some metrics. Our away form and our results against 'better' teams. He is doing extremely badly on other metrics. Our home form against 'lesser' teams.
The former of those two metric groups needs to continue. The latter needs to radically improve, but it isn't. He and the players simply have to find a solution to that failing which is time and again torpedoing our chances of securing a top 4-6 place.
On the players who made the pitch yesterday:
Pickford. In this thread I read he should not be beaten twice from outside the area as he was. No keeper in the world would have stopped those. Give credit to the Burnley players for their quality finishing.
Virginia. Other than a flat-palmed flap in the coming together with Godfrey in the 2nd half, he did just fine.
Holgate. Continues to disappoint for me. He hasn't been right all season, but I'm not willing to give up with him as some in this thread. His best position is centre back, not right back. He was one of our standout players last season after Carlo arrived and promoted him to the side and made him a fixture. That player is still in there, challenging as it will be to hold down a place with the competition at centre back.
Coleman. Brought some much needed energy and more effective forward support play down our right than Holgate offered. If and when fully match fit, he has to come in for Mason.
Keane. Not a lot wrong with his play yesterday. He remains our best ball-playing centre back. In the second half he could often be found helping out midfield playing well into Burnley's half. See his excellent pass to Coleman inside the full back late in the game. Still our best centre back this season.
Godfrey. Personally, I don't think he performed to the standards we have come to expect from him yesterday, but still one of our players of the season.
Digne. Since coming back from his injury he doesn't look quite right defensively. He is getting skinned and blindsided quite a lot. Other than the cross to Dom in the second half, his delivery from open play and corners was well off. Not a great day.
Allan. Another who, for me, since his return from injury is not quite on it. He still does some good defensive work. He can do some 'wow' stuff, like the pass from deep with the outside of his boot through to Dom in the 1st half. But he was also untidy and inaccurate too often yesterday. Possibly got (a little) better as the game progressed.
Davies. Stuff like the challenge for the 1st Burnley goal happens. As already mentioned, he could have done more to close McNeil for their 2nd. Great cross for our goal. Never flagged once and was trying to get us playing forward. Unlucky to be substituted, but he always seems to be the 1st to get hooked around the 60-70 minutes mark under Carlo.
Gomes. Even before his injury, I personally have never been convinced or swooning about Andre as some are on here, but yesterday I thought he played as well as anyone in a Blue shirt. He became more influential as the game progressed.
No way, as some claim, was he abdicating responsibility and only passing backwards and sideways. He was stronger on the ball than has often been the case. He ran at the Burnley defence. He displayed a wide range of FORWARD (accurate) passing.
Iwobi. Like many, I find him an exasperating player. Unlike many, I can acknowledge when he plays well. Yesterday he played very well, especially in the number 10 role. Even when the tactical switch was made to move him wider, he continued to play well.
A regular complaint some make is that our midfield and general play is too ponderous and pedestrian. Iwobi, when on his game, is a player who can quicken our play. Can Carlo tap into that?
Richarlison. Started very well and was a threat playing between their lines. Virtually anonymous in the 2nd half when we needed him to step up. Other than his recent burst of goals, not bringing as much to the team for a good part of this season as he previously has. Needs to do better.
Dom. Nice to see him back on the scoresheet with his thumping header. Can't agree with those emboldened to claim he has a poor touch, incapable of running with the ball, and is not of the standard required.
Again, small margins. Yes, he should have done better with the header off the Digne cross. Got close and unlucky on the Allan through ball in the 1st half and Iwobi's pass in the 2nd half. Definitely one we need to build the team around going forward.
King. Sorry, but personally still waiting for him to produce...well...anything, really. Giving us no good cause to extend his contract beyond this season.
Overall, very frustrating how we continue to spurn opportunities to really cement a place not only in the top 6, but the top 4.
Dave Abrahams
366
Posted 14/03/2021 at 15:42:49
Mike (359)yes Burnley were very good in the first half, not so much the second half, I'll bet they haven't played against a team that left a massive space between defence and midfield, give Dyche credit for knowing how Everton play and exposing that gap, they could have had four goals in the first half. Everton were very poor in that first half, not for the first time, and they will be exposed further next Saturday night by Man. City. I will be supporting the Blues as usual, hoping for a shock win but expecting different, Everton are that poor now, with the injuries and half fit players really showing that the quality of the team is well below the team that started the season, for a short period.
Danny O'Neill
367
Posted 14/03/2021 at 15:43:58
That is a pretty comprehensive assessment Jay (BRZ) and ties together a lot of my thoughts. Good start early on with us finding that space between the Burnley midfield and defence that Richarlison in particular was exploiting.
I did forget to mention the young keeper who I thought done really well.
It is easy but understandable to get carried away with results both good and bad. It is more challenging to look through that at the performance. Yesterday wasn't great, but it wasn't Newcastle or Fulham as I originally said here.
League positions don't lie. We remain in a very healthy league position in comparison to 12 - 18 months ago.
David Cooper
369
Posted 14/03/2021 at 15:52:09
Thanks George for taking the dark clouds away. Please tell us more of your Everton dreams. If those three gentlemen with all their experience of navigating the choppy seas cannot answer question, what chance do we have?
Rob Halligan
370
Posted 14/03/2021 at 15:52:25
Good analysis, Jay. As I said last night, the injury to Pickford reduced the thinking of substitutions during the game, as it meant we could only bring on two outfield subs instead of three. I would have brought Sigurdsson on rather than King just for his crossing from dead ball situations. Lucas Digne's crossing from corners, free kicks and from out wide was well below par. Ok, it is a lot more difficult to put in a cross when running full pelt down the line, like he did for the second goal in the derby at Goodison, or receiving a pass and being put under pressure from an opponent before crossing, but for a corner or free kick, you are in complete control of the ball, and should be able to cross a decent ball into the penalty area. Digne seemed to suffer from these dead ball situations last night. I'm always amazed when any player, from any club, cannot beat the first defender from a corner.
Darren Hind
371
Posted 14/03/2021 at 16:01:18
Stephen Vincent.
Post of the thread lad.
This spirit crushing Zombie football is a blight on the good name of the club.
I was the most relieved man in the world when big Sam got the push...But this manager has somehow managed to make us even uglier.
Carlo's bleatings fall on deaf ears as far as I'm concerned. He chooses to play this anti football, Its not forced on him There are about 14 EPL clubs with less overall talent in their ranks. None of them are as consistantly as bad a watch as we have been these past 15 months.
I just hope with all my heart we will finish above TGT.
No thats not ambition. Its more a desperation to avoid further humiliation.

Thomas Richards
372
Posted 14/03/2021 at 16:20:48
And so the campaign continues.. . . .
If people want Moyes back as manager they should simply say so.

Joe McMahon
373
Posted 14/03/2021 at 16:23:52
Danny@ 367, the ever so popular Sam Allardyce had us finishing 8th with a much worse squad, and with the exception of James (who never plays) the football is just as bad. So much money spent with no progress.
Danny O'Neill
375
Posted 14/03/2021 at 16:29:02
I'd say we've had spirit crushing football for far longer than 15 months.
More like 30 years bar Royle's dogs of war (effort not guile), the odd Moyes year where he grew a pair and Martinez's first season.
That aside, regardless of manager, it's been pretty dire whoever the manager has been.
This squad is inherent of years of neglect. It seems some expected Ancelotti to wave a magic wand and transform many average players overnight. If he didn't those who are suspicious of him will use that against him. That's fine, we all have views and opinions.
Was never going to happen. Unfortunately replacement is the surgery needed for this squad, not fixing what we have. The sign of years of neglect that will take time to repair. I believe we have a manager capable of recognising and doing that. Not overnight but over time and I don't mean several years.
Brent Stephens
376
Posted 14/03/2021 at 16:32:10
The future's bright. The future's Walcott, Bolasie, Tosun.
What was Holgate sniffing in the tunnel before the game?
Bobby Mallon
377
Posted 14/03/2021 at 16:34:37
Ian Edwards: the gauntlet has been thrown Down, who's your manager?
Rob Halligan
378
Posted 14/03/2021 at 16:41:42
Danny, you mean some insisted on, nay demanded instant success overnight? Shame on you Carlo for not bringing instant success with the likes of Walcott, Tosun, Bolasie, Keane (doesn't want to be here but I think he's ok) and all the other deadwood people want rid of. Sack Carlo and bring back Allardyce. At least that way, our expectations of success will be zero, as we'll be guaranteed to win sweet FA, and can happily plod along in the premier league.
Brian Williams
379
Posted 14/03/2021 at 16:42:42
Brent#376.
Smelling salts mate.
Waved under the nose, the smelling salts stimulate the vagus nerve—the "motor nerve" of the heart and bronchi. The ammonia provides the punch and is essentially a gas-powered irritant that jolts the nerves—and the mind—into sharp, sudden wakefulness.
Unfortunately Holgate didn't check the use by date on his. Eithar that or he was in a hurry and picked up a sachet of fucking brown sugar by mistake.
Derek Knox
380
Posted 14/03/2021 at 16:43:08
Brent, looked like Pepsi or it's rival ! 😜
Rob Halligan
381
Posted 14/03/2021 at 16:43:10
Bobby # 377. See above.
Bobby Mallon
382
Posted 14/03/2021 at 16:45:17
Darren Hind what would you be saying about the manager if we where playing exciting football sitting 10th on 39 points or 12th on 36 or 14th on 33. All these teams play exciting football high press and all below us. Liverpool below us on 43 points play exciting attacking football. What would you say
Kieran Kinsella
384
Posted 14/03/2021 at 16:48:29
Joe 373
Allardyce had a worse squad? Not sure about that. He had Rooney, he had Sig and Walcott three years younger than they are now. He still had Baines and Jag. He had Schneiderlin —- hear me out. On paper Morgan was a Rolls Royce and hugely experienced so his lousy performance is to an extent a reason to criticize his manager. Gomez similar story but he has improved under Carlo versus Morgan under Sam. Overall I'd say the squads are fairly similar. The fact we wasted money before Carlo came is irrelevant. Sam had Klaasen, Carlo had Iwobi and Bernard, all our crap bought by their predecessors.
Jason Li
385
Posted 14/03/2021 at 16:48:54
Jay Wood... Really good analysis.
The mad thing is, who would have thought 6 months ago we need Tom, Gilfy, Keane and Pickford as some first names on the sheet to feel like we are competitive?
Obviously Carlo struggled with the players he's inherited to do more yesterday. Truth is: Doucoure injured is potentially our biggest blow as his position is the one where any replacement in the middle of the spine doesn't have all his tools. For example if Dom is out then Richie can fill in pretty well down the middle. We'll still finish much better than last season as Siggy is back soon, and then James - hopefully sooner rather than later.
Holgate is a good centre back. It's like asking an head accountant to fill in for the HR Manager while off sick, some management skills and understanding payroll overlap, but will be like a fish out of water.
In the next transfer window with a few more excellent signings we should look like a very good footballing outfit next season. On reflection, against Spurs, Liverpool, and Leicester we have shown a good clinical cutting edge when most of our best players are fully fit. We're really not that far away from being a very good team/squad. It should be easier next season to rectify losses against lower half teams with a better squad with more tools, than trying to figure out how to beat the best teams like Man City, Chelsea and Man Utd - so I'm keeping faith in Carlo.
Bobby Mallon
387
Posted 14/03/2021 at 16:51:20
There are only Man City, Leicester and Man Utd that have won more games than us we have won 14.
Kieran Kinsella
388
Posted 14/03/2021 at 16:52:40
:)
Brian Williams
389
Posted 14/03/2021 at 16:56:19
Come on Kieran don't turn it personal, you're better than that mate.
Soren Moyer
390
Posted 14/03/2021 at 16:58:41
Bobby #382. I don't mind having Everton playing a high press game like the other lot. At list it brings in EPL and CL trophies!!!!! With the proper squad that is. We are the slowest (sometimes with geriatric speed) in the league so we should go after younger, hungrier, pacier players with skill IF we're building a better team.
Kieran Kinsella
391
Posted 14/03/2021 at 17:02:42
Soren
I'm sure Bobby and the rest of us would like that but since we don't have the players we play in a way that best suits our squad. If we get young quick players who are good enough (as opposed to Leeds who aren't good enough to play that way successfully) then I imagine we will play better football but right now we have a team of snails
Jerome Shields
392
Posted 14/03/2021 at 17:14:53
Jay #365
Good analysis. I missed that early in the game Iowbi occupied the number 10 position. Disagree with you regarding Calvert Lewins touch. You are right that the fittest of Mina was a unknown. I had meant to highlight the good performance of Virginia, glad you did.
Bobby Mallon
393
Posted 14/03/2021 at 17:18:09
Soren, my question was to Darren Hind who was calling out Carlo as not a good manager because we play the football we play. I was asking him what he thinks of the 3 managers who are below us in the league whose teams play attacking flowing football.
Brian Wilkinson
395
Posted 14/03/2021 at 17:35:25
When you have the midfield we have, what do people expect Carlo to do.
You can be Lewis Hamilton and put him in a Lada in the Grand Prix, do people actually think Hamilton would be able to use all his skills and knowledge, to win a race in a Lada.
That is where the problem is, in regards to what Carlo has to hand, Allan, just back from injury, Doucoure now out injured, Gomes nowhere near the player he was before that horrific injury, James in one week, out the next 4.
There is very little option we can do in midfield, do you not think Carlo knows who we need to bring in.
For the players we have available, we have performed better than I expected, some awful losses against teams we expected to beat matched with wins against teams we thought we would struggle against.
He has brought in 4 players, everyone of those 4 players, have been upgrades on what we had.
Get a few more in next season, and hopefully the injury front is kinder to us as well.
Plenty of over reactions on here expecting a miracle.
Those first 7 games before we started getting injuries, showed when we have our strongest 11 available, we are a match for most teams.
Mike Oates
396
Posted 14/03/2021 at 17:36:07
Watched Brighton, Southampton, Leicester, Arsenal, Spurs, all are miles ahead of us in quality of passing, movement, pressing, technical quality.
Can't see us getting anything at Spurs, Arsenal and Brighton.
Even Michael Kean said in his interview that we looked a yard short in pace, never won any 2nd balls and were disappointing. Some truth coming out now after 5 months of total non football.
Can see us dropping and dropping down. As Ancelotti really knows and can't say, but we need 6 new players, not 2-3 as he's forced to quote. A statement of truth would totally turn off what meagre goods we are getting at the moment from this poor squad.
Mike Gaynes
397
Posted 14/03/2021 at 17:42:47
Brian #379, he needed the double-caffeinated version. Or some Red Bull.
David Cooper
398
Posted 14/03/2021 at 17:45:28
Jay #365 no goalkeeper in the world would have saved have to disagree! Take a look at Pope's save from Richi in the opening minutes. Richi shot around Pieters, Pope was unsighted but managed to get two hands to the shot and palm it around the post. Compare with Pickford's non effort, he did not even dive and try to stop Wood's shot around Godfrey.
Jay Wood
[BRZ]
399
Posted 14/03/2021 at 17:47:22
Mike @ 396. This:
'Brighton, Southampton, Leicester, Arsenal, Spurs, all are miles ahead of us in quality of passing, movement, pressing, technical quality.'
And yet, in our fixtures home and away against those very teams this season, including the 5-4 cup win v Spurs, reads:
P 8 W 6 D 1 L 1 F 15 A 9
Go figure.
Danny O'Neill
400
Posted 14/03/2021 at 17:52:04
Mike, please drink some of George's cosmic blue Kool juice!
We might get something from those games.
Agree with your last paragraph but we are still in the game this season despite last night's disappointment.
Soren Moyer
401
Posted 14/03/2021 at 17:52:44
Bobby. Point taken.
Kieran. Totally agree. No more slow, money grabbing aging primadonnas if the project is to build a long lasting, successful team for the years to come.
Paul Birmingham
402
Posted 14/03/2021 at 18:04:20
Danny, good summary.
Martinez had a very good first season, and faded fast, followed by The Clog, who couldn't be arsed.
Big Sam, brought in some positional stability playing the worst type of football I've seen at Everton, including Mike Walkers stint.
Marco Silva was a football tactician and theorist and never a manager, whom was out of his depth.
Now Everton is in transition with Carlo, and this will over time lead to a transformation in playing more on the front foot.
Let's see what happens these next two months, and see where Everton finish.
But strong foundations are needed at Everton after decades of mediocrity and neglect.
Danny O'Neill
403
Posted 14/03/2021 at 18:05:20
Harsh on the keeper David. That was a top drawer strike that very few keepers would get to.
I had the Pope conversation with my brother earlier. Jordan is equally a good shot-stopper. If we want to improve on the keeper (not an immediate priority in my opinion), then it has to be someone who commands the box and controls / coordinates the defence. Installs confidence in them.
Pope has had his moments this season but agreed, is a good shot-stopper.

Dave Abrahams
404
Posted 14/03/2021 at 18:09:34
Can I just say, regarding Ancelotti, and I'm not a Carlo basher, just waiting to see what he can do at Everton, what he has done in the past has no relevance to what he can do now, four players came in the summer, Godfrey knew nothing about the player, he gives credit to Brands for that signing, same with Doucoure, he had nothing to do with bringing him here.
He brought Allan and James because he had managed them before, Allan looks a very good player and organiser, when fit, and since he came back from injury he hasn't looked as good, hope it just temporary, James, I've praised him for some parts of his game, looks tremendous with his dribbling, passing and a few goals, but never over ninety minutes, goes missing for large parts of each game, seems to be out of games over little niggling injuries, up to now each of them, Allan and James haven't been value for money, that's with over two thirds of the season gone, so I hope Carlo's signings in the summer are better able to stand up to the rigours of premier league football than these two seem than these two.
All sorts of stats can be produced to prove that Everton have done this or that or haven't done this or that, whether we are good to watch is down to each fans opinion, for me we have been poor to watch many more times than the good performances, to some fans winning is all that matters never mind the performance, over a long season that could never do for me.
Bobby Mallon
406
Posted 14/03/2021 at 18:15:38
David Cooper 398. I'm not saying Pickford is great but he may not have saved that shot yesterday but against West Brom he surely saved a definite goal late on. Sometimes you save em sometimes you don't
Mike Gaynes
407
Posted 14/03/2021 at 18:16:35
Mike Oates #396, Keane is right, but it has always been the case that we are a yard short of pace. Across our roster, we have IMO been the slowest team in the Prem for several seasons, a condition only slightly mitigated now by the emergence of Calvert-Lewin and the arrival of Godfrey. I have become monotonous in my call for Carlo and Marcel to recruit speed, speed and more speed this summer.
I do not, however, recall Carlo saying publicly we only needed 2-3 players. I'm quite certain he knows better. Can you cite a source for that quote?
And I don't agree with you about the inevitably of dropping down. We may be inconsistent, but this team doesn't exactly suck.

Kev Jones
408
Posted 14/03/2021 at 18:18:33
George#280 sublime.
Brent Stephens
409
Posted 14/03/2021 at 18:18:55
Dave #404 "Allan and James haven't been value for money,"
Not sure if you mean purely because of their performances? Or because, in part, they've been injured? In any case it's relatively early days in their blue careers.
"to some fans winning is all that matters never mind the performance, over a long season that could never do for me."
Dave, I wouldn't mind winning the league like that next year and then pushing on with some more quality signings so that we can play nice football as well as winning the league the following year!
Danny O'Neill
410
Posted 14/03/2021 at 18:20:41
That's actually a really good analysis Dave Abrahams even if I don't necessarily agree with it all.
I don't think we were ever going to turn around to being easy on the eye quickly; that's the bit that takes time. But the difference is in the league position.
Season isn't over yet (as I have been scratched record on all season), but then I appreciate that works both ways. Carlo will be judged in May as to how successful this season has been.
Scott Robinson
412
Posted 14/03/2021 at 18:27:37
@Rob 335 and it's 'aberration's like Leicester that really get to me. Where did they come from? They look light years ahead of us. They are quick, penetrative with the ball and a constant threat.
What is Everton? Slow, dull and hoping to 'nick' a goal from moments of James brilliance or the head of DCL
Ron Marr
414
Posted 14/03/2021 at 18:46:06
Epic post George #280
Dave Abrahams
415
Posted 14/03/2021 at 18:48:05
Brent (409), yes Brent regarding Allan, definitely because of his injuries, he looks a good player when fit, with James it's partly his injuries also because he flits in and out of the game, and when he threw his hand in against Fulham and wanted to be subbed, that was a big mark against him. As for the way we perform each to his own, I understand that way of thinking, and after the long wait we have had for honours it maybe could be justified, not for me to be honest.
Danny (410), yes everyone has a different way of looking at things, I like the optimism in all your posts and you are, in part I think, motivated by wanting your son to see Everton win something, Inwant the same for my grandsons and great grandson so I certainly understand that, I can't see it us winning any silver in the near future to be honest, doesn't stop me wishing and hoping though.
David Cooper
416
Posted 14/03/2021 at 18:48:43
Having watched the game again, it struck me clearly (and I admit we are in the ifs, ands and buts realm) that if Rishi' s shot had not been saved and Wood's shot had been palmed away, the whole game would have gone in a different direction. Such are the small differences that change a game. Plus I agree that we had enough chances to change the result but we did not take them.
Brent Stephens
417
Posted 14/03/2021 at 18:51:35
Yes, Dave, James definitely blotted his copy book (do we have copy books today?) with that Fulham game. Just hope for a few more magic moments before the season is out.
Ron Marr
418
Posted 14/03/2021 at 18:52:12
Everton want to sign "two or three" players this summer, Carlo Ancelotti has revealed.
Not sure whether Olsen is one of the two players.
Danny O'Neill
419
Posted 14/03/2021 at 19:01:43
We're all joined up in that Dave. For me it's for my son and youngest brother. They both grew up knowing nothing other than the Moyes years and listening to me.
Rewind a generation, me in the late 70s (Gordon Lee years) and early 80s when Howard's reign mark 1 didn't get off to the best of starts. I had to listen to my father talk of Alex Young, 1966 and Kendall, Ball and Harvey to keep me going!
We all want it. I think we have a better opportunity than in recent years to do something. I have to believe that.
Ron Marr
420
Posted 14/03/2021 at 19:02:19
To paraphrase Albert E. "Everton insanity is continuing with this current midfield over and over again and expecting a different result"
Need 2-3 midfielders,
Soren Moyer
422
Posted 14/03/2021 at 19:13:02
Anyone defending Gomes and Holgate should take a look at their stats from the Burnley game. They are awful lol. How come Holgate can't pass the ball or make a successful tackle even if he is being played out of position!!!?
Gomes did not have the best of games for Carlo Ancelotti's team
losing out on 100% of his duels as well as failing to make a single successful dribble,
clearance or tackle, while losing possession of the ball no fewer than 19 times in the match,
the second-most of any player to have set foot on the pitch (Sofascore).

Holgate was one player who did not cover himself in much glory,
losing out on four of his duels and failing to record a single successful dribble,
clearance, interception or key pass from the right-back position,
as well as losing possession of the ball no fewer than 17 times,
the joint-third most out of any player to have set foot on the pitch (Sofascore).
Dave Abrahams
423
Posted 14/03/2021 at 19:17:59
Brent (417), I'm not being sarcastic Brent, genuine, but I think we will see some good games from James in April and May when there is more sunshine, think back to that sunny afternoon in August at Spurs.
Danny (419) yes Danny it is an age thing, when I first started watching Everton I went for a long period, fifteen years, before we won anything, then it didn't matter to be honest, because until John Moore's came along I don't think many fans expected us to win honours.
Strangely, just thinking about it now, my first senior game as a supporter was on March 13th 1948 versus Arsenal in a 2-0 loss, so yesterday was my 73rd. anniversary as an Everton supporter,as John Mac says " Doesn't time fly when you are having fun" Wish I was just starting to watch them now, then again!!!

Alex Gray
425
Posted 14/03/2021 at 19:23:09
After finally calming down I think the reality is we're simply not good enough. No team chasing Europe has a poorer squad than us (maybe west ham).
The only hope I have is that carlos signings this summer have all been successes.
We need another box to box midfielder, a right back, two wingers and another option up front to challenge Dcl.
If we make Europe itll be down to other teams slipping up but with our current injuries I feel like its going to be mid table again.
Darren Hind
426
Posted 14/03/2021 at 19:23:19
Dave A
Superb posts. I would only disagree with you on Allan. I think he is one of the most over rated players we have had in years.
"The Brazilian Peter Reid" ?...Hes not even the Brazilian Lee Carsley.
Time and again he gave the ball away yesterday and after his howler at Burnley I suspect Sean Dyche would be happy to play against him every week.
I know the Live forum was swooning about an outside of the foot pass..but he was appalling. Young McNeil's shimmy sent him so far down Wessie road, He could have popped in the chippy and ordered himself a fish cake.
I know he as had his fair of injuries but this guy offers next to nothing going forward. Tackling the lino doesnt win you C L football. His partner is no better. Doucoure may be an impressive Galloper...But I've seen more creativity on a Sunday morning stroll.
Both decent workers, but when Carlo blew most of the kitty on these two. He kinda forfeit the right to whine about lack of creativity.
Ross Barkley plays for an inferior side. He has struggled every bit as much as these two with injury...But I bet he ends up scoring more than the pair of them put together this season...Thats Some progress !
We must be the only team in history who have a world class manager, using his amazing puling power, to bore the arse of every neutral in the game.
You either develop creativity, or you sign it. What you don't do is moan about the lack of it when you have spent north off 100m (including wages) on players who only know how to defend.

Danny O'Neill
429
Posted 14/03/2021 at 19:32:04
Fun, pain and the full spectrum of emotion Dave.
My first was a pre-season friendly in Germany against Braunsweig (Brunswick) sometime in the mid to late 70s. I was only 5 or 6 and we lost 5 or 6 nil!
All generations of Evertonians have had their ups and downs following our birthright. I feel for the younger ones who just have to listen. But it does finally feel like something positive is happening at the club in the strategic sense.
Tony Abrahams
430
Posted 14/03/2021 at 19:40:39
Jay@365, nothing wrong with watching Everton, with no pre-conceived judgements because I think that's what all sensible judges should do.
When I was watching Burnley looking dangerous every time they attacked us during yesterday's first half, it was apparent to me that it was because of our formation. It reminded me of the Fulham game, with us having too many big gaps, which was leaving our players too far away from each other.
We have done well this season when we have been hard to play against, and we have been deservedly beaten by three of the bottom six recently, because we've been way too easy to play against, using tactics that possibly don't suit the players maybe.
Dave Abrahams
431
Posted 14/03/2021 at 19:50:08
Darren (426),
Since Allan has come back from his injury, he doesn't look 100% fit and he hasn't played as well as I thought he did earlier.
Tom Davies is another who doesn't look like he is properly fit either, although I thought he played well yesterday and didn't deserve to be subbed.
We are playing with a very poor midfield and that is the root of these poor performances. It doesn't look like we will get any better for the rest of the season, in my opinion.
Danny O'Neill
432
Posted 14/03/2021 at 19:50:14
Don't play the Diamond.
At least don't play the diamond if you don't have the players to suit the system.
I am biased; I don't like the diamond!!
Michael Lynch
433
Posted 14/03/2021 at 20:17:20
Burnley out-played us, as many teams have. For the most part we were on the back foot, and short of ideas. But that's been our season in my opinion. We've done well to get so many points but, as Carlo has hinted, top 4 would be a ridiculous over-achievement for us. I see us finishing 7th or 8th at best, which is about what we merit.

Thomas Richards
434
Posted 14/03/2021 at 20:38:12
Michael,
Burnley did out-play us. They also out-fought us. That is not acceptable.
Mike Oates
435
Posted 14/03/2021 at 20:48:16
Mike Gaynes #407,
Re Carlo and only 2-3 players, please see Post 418. Ancelotti basically quoted only last week he needs only 2-3 players.
Tony Abrahams
436
Posted 14/03/2021 at 20:50:56
I wouldn't believe anything Ancellotti says to the press though!
Ian Riley
437
Posted 14/03/2021 at 20:59:09
The reality is, after David Moyes, over 𧹈 million spent, manager after manager. Are we any better on the pitch? No! Still looking at 6th to 10th position. Hoping for a European place rather than earning it.
Still, we are in a position to get a European place. We are blaming players but the results at home against teams below us are the manager's fault. It's happening too often. Marco, David, Sam and Ronald would have got what for on here for those performances – let alone the results.
This season, we have not played well consistently but got results. That's part of getting lucky and it will go the other way. No crowds has helped us away from home and hindered us at home. Sorry, but Carlo must look at himself as those performances are down to him.
Danny O'Neill
438
Posted 14/03/2021 at 21:08:05
The difference being now Ian is where we can be in the next 2 - 3 years.
Compared to those post-Moyes years you mention, we may just now have a manager who can advise the DoF and club on how to spend that money more wisely. I think we done well with the 4 signings last summer. If we at least replicate that this time around that will go a long way to actually improving us vice the awful scattergun approach in the post-Moyes / pre-Ancelotti years.
For those who despise him, Carlo Ancelotti will not be our manager in 3 or even 4 years time. But if he can use his standing in the game to improve us and attract better players in the interim, I am comfortable with that.
He may even win a trophy on the way.
Brendan McLaughlin
439
Posted 14/03/2021 at 21:08:14
Ian #437,
Okay, the managers after Moyes have been crap but you can't lay the fact that they recruited badly at Carlo's door.
Paul A Smith
440
Posted 14/03/2021 at 21:10:43
Using newly promoted Leeds as fuel to say who's had the most exciting season is laughable.
Leeds will be happier than Man Utd, Spurs and Liverpool too come the end of their first season back in the Premier League.
I doubt free-flowing Brighton will have fans swapping positions with us having still not climbed into a safe position given all their quality play.
I think a season without fans has been an advantage for the likes of Burnley and Brighton but they still struggle.
Mike Oates 435, I saw that article from Ancelotti. I am starting to wonder if he meant in midfield alone. (Wishful thinking...)
Bobby Mallon
441
Posted 14/03/2021 at 21:17:33
Ian Riley 437.
The reality is after David Moyes. Over 𧹈 million spent, manager after manager. Are we any better on the pitch? No! Still looking at 6th to 10th position. Hoping for a European place rather than earning it.
All of that is correct, but back when Moyes was manager, there where only Man Utd, Chelsea, Arsenal and Liverpool who could go out and buy expensive players and they did, they bought the lot and Everton and the rest had not a pot to piss in and had to shop at Aldi.
Come forward to today, everyone has a billionaire as an owner and FFP has reared its head, every team can now go buy 㿔/50 million pound players and all teams have and they have got better with it. We are not the only team to have spent money, but it's been spent poorly. So we now have a top manager and a chairman who wants to back him. Have faith.
Danny O'Neill
442
Posted 14/03/2021 at 21:23:49
I would also add, Paul A Smith, let's see how Leeds go next season.
Look how lauded Sheffield United were last season and look at them now.
Paul A Smith
446
Posted 14/03/2021 at 21:32:29
I think Leeds Utd can attract better players, Danny; that'll be the difference between them and Sheffield Utd.
I can't see any point related to our dull football because it is dull most weeks. We have dull players. Apart from Doucouré who else could match Leeds's high energy?
Our football will remain dull until we get more exciting players in. We've all seen us go at teams and we just get picked off and beaten.
Since 10 games played this season, the games we have tried to go more direct or free-flowing have either lasted 20 mins and failed or been in vain after we have gone behind.
I fail to see how anyone can say any different?

Barry Rathbone
447
Posted 14/03/2021 at 21:32:58
To those trying to compare Moyes with today's standards, he would have been sacked after his second full season – 17th would not be tolerated.
Bobby Mallon
449
Posted 14/03/2021 at 21:45:29
Oliver, I know, mate. Pienaar, Cahill, Coleman, Arteta, Felliani. But those days are over now; how much would a Cahill or Arteta cost now? Ollie Watkins cost 㿈 million – would you honestly have gone out and bought him? Has he performed better than our two strikers? Teilimens cost 㿔 million; Perez 㿊 million; Brewster 㿄 million... the cost of average players like Brewster have rocketed.
Danny O'Neill
450
Posted 14/03/2021 at 21:45:38
Some of my closest friends are Leeds fans.
They love the journey they are on, but they are characteristically prone to a second-half season collapse. "Leeds are falling apart again" as the chant goes. It took them 3 shots to eventually come up, but they do entertain.
Well, after tonight we are very much still in there. A frustrating weekend but we are in a very good position in the league with a quarter-final to look forward to at the weekend.
This definitely feels better than last season.
Graeme Beresford
451
Posted 14/03/2021 at 21:59:01
Okay, we have lost at home again, against a team who on paper you would of had us down for the 3 points.
But, that's been the story of our season and most of the other teams. The home advantage doesn't exist right now and we have beaten teams who you would've thought we would of struggled against: Leicester, Liverpool, Arsenal, Chelsea, Spurs. However we seem to struggle against the teams below us such as a Newcastle, Fulham, Burnley.
However, whereas we seem to turn up against the big teams, maybe these teams turn up against us because we are bigger than them. I do agree that we seem to have an issue against these lower teams. However, we all need a little reality check. Burnley have had a jammy deflection, after a clear foul on Davies, and then scored an absolute worldie goal. We seem to have been done over in a few games this season where players score goals like Leeds at home and now Burnley.
I think our big thing is our depth. Players are injured and we don't have anyone to replace them. The midfield looks poor and we don't have anyone who can get the ball and find a killer pass, especially when James doesn't play. Gomes, who we all hoped would be that guy just doesn't seem to have it, goes sideways far too much.
Calvert-Lewin had a few chances to get the ball, control it and strike yesterday but his touch let him down. It's defo something he needs to work on. He's been great this season and he's a killer from the 6-yard box but he needed to score a second last night. It's the difference between being good and class. He will know this, he's a smart lad.
We all have to remember: Carlo has been here one year. I'm sure he will look back at the end of the season and the 5 losses at home to Leeds, West Ham, Newcastle, Burnley and Fulham will be the difference between top 4 and not. We need to learn how to draw a game or two as well. If we would of drew all of those games, we would rue the fact we never won, but another 5 points would right now have us 4th. We seem to win or lose.
However, Carlo will know this. He will know who is good enough to stay and who needs to leave in summer. Delph, Gomes, Iwobi are probably three players that we need to upgrade. But, who do we replace them with? Who is out there that will make that killer difference to us? Anyone got any good ideas?
I've still got massive faith in Carlo and his experience. Sure, we have lost games, we have also got to the quarter final of the cup, we are 6th after 28 games and we haven't really had a full-strength team for most of this season. Carlo will make some calls and I've got no doubt we will have a big summer. Oh, also, I would drop Holgate for Coleman, or have Holgate centre-back with Godfrey right-back. That's one of my only tactical criticisms over the last game or two.
Oliver Molloy
452
Posted 14/03/2021 at 22:03:41
Yes, Bobby, point taken.
Regards all these Leeds comparisons, can I throw it out there. Who would prefer Bielsa over Ancelotti?
Our current manager for me, he's only been here just over a year.
Brian Murray
453
Posted 14/03/2021 at 22:09:02
Graeme,
We can all cherry-pick who's staying or going but, as we have seen with the likes of Bolasie, Tosun, Besic, Gomes and Delph. These players will hang on for grim life to the bitter end and no-one on this planet is daft enough to take over their contracts (Walcott included). They really are holding us back from the next level until we can get rid.
I'm saying nothing original – I'm just another frustrated Blue who's seen it all before... Never-ending but at least I have seen us dominate. It's my kids I feel sorry for.
Bobby Mallon
454
Posted 14/03/2021 at 22:12:39
Ancelotti for me. Bielsa's football is not sustainable over a season.
John Raftery
455
Posted 14/03/2021 at 22:20:06
Graeme (451),
You make a valid point about the need to draw a few games. Brian Labone used to quote Harry Catterick saying "You go out there with a point. The least I expect is that you come back in with a point!"
Tom Bowers
456
Posted 14/03/2021 at 22:48:48
Many valid comments posted today but I think we have to face the fact that, although 4th place is still up for grabs, we are not ready to do justice in the Champions League with the squad we have. The weaknesses are apparent and have been all season.
Whilst our first game (a creditable win at Spurs) was followed by our biggest win against woeful 10-man Albion, we have witnessed many very poor performances against teams they should not have lost against.
For the most part, we do not have the speed to attack quickly on the counter unless Richarlison gets free. Our midfield is a tad slow in all positions and really struggles at times, attacking and defending.
Holgate is awful as a right-back and I saw that a lot of his poor play when he was on loan at Albion.
Gomes has no speed back-tracking and is nothing like the player he was before his injury.
I agree that there are a number of players not active on a regular basis who should be turfed out before next season: Bolasie, Besic, Bernard, Delph and Walcott to name a few.
If they go out of the cup next week and lose a couple more Premier League games soon after, then Carlo should look to starting some of the youngsters who have shown good promise.
Andy Walker
457
Posted 14/03/2021 at 22:59:32
Tottenham and West Ham both lose. Our luck continues, we are still in with a good shout of Europe.
John Boon
458
Posted 14/03/2021 at 23:09:25
I have spent a lot of this weekend watching football games, including the obvious Everton vs Burnley. It is my own fault that I feel I have just wasted the weekend. The reasons:
(1) Today's football has become increasingly more boring with 1-0 and 0-0 considered the norm.
(2) Most teams just try not to lose.
(3) Good hard tackles are a thing of the past.
(4) Rolling around the field when injured is acceptable.
(5) VAR has merely lengthened the boredom of dull games.
(6) Too many lousy refs.
Most Evertonians could probably think of 20 more reasons...
Colin Glassar
459
Posted 14/03/2021 at 23:16:42
So the agony continues, andy? Apart from Man City most teams have been crap this season.
Football, as we know it, is dying John.
John Boon
460
Posted 14/03/2021 at 23:25:00
Colin (459). Completely Agree. Man City are basically a shining light in the Gloom of the Premier League. It has taken a load of money and they have had many "low" times in the past. I just hope we can diminish the lights next weekend. COYB – give us just a glimmer of light!!!

Barry Williams
461
Posted 14/03/2021 at 00:11:17
John Boon – 458,
Completely agree. I have stopped watching games, except Everton cos of some misplaced weird loyalty I have dating back to my first game in 1980 and a Latchford hat-trick. I am an Evertonian and it just seems that is the way it is!
Egotism: It was always in football, but now the narcissism levels are beyond belief. Oh, look at my hair and new dance!
Cheating: Let's dive and also try and get a fellow pro – who may be an ex-teammate or international colleague – sent off!
Loyalty: Does it exist, except amongst a few?
Win at all costs: regardless of the cheating.
Bias within the media: It truly exists.
The disdain with which fans are treated in: TV times dictates the time and day, no regards to away fans, although fans have always been at the bottom of the list.
Ticket prices: Obstructed views!!!????
Agents!
Crazy wages: Don't blame the players cos most of us would want the same.
Lack of local players at the club: You can have zero English players too!!??
Pink boots and pink goalkeeper tops! Look at me – a giant Durex.
Betting adverts...
The holding fans' intelligence in low estimation with the endless crap that comes out of players' mouths after a defeat: Roll the player out who the fans like, to say "Blah, blah, blah, blah!
Mike Gaynes
462
Posted 15/03/2021 at 00:11:40
Soren #422, I am now setting a Google bookmark for Sofascore. What a resource. Cheers.
Ron #418 (and Mike O), thanks for the source of the Carlo quote.
Michael Stancis
464
Posted 15/03/2021 at 00:31:39
Hate to be that negative guy. For me personally, I can't help but feel like the season is over.
Any ounce of hope and confidence I had against Man City in the FA Cup has diminished. Put it this way: if we beat Man City next week, that will surpass the win at Anfield. But it's just gonna be men against boys.
And as for the season, our luck will run out. I've seen it all before with them. Especially with that shower of shite's luck. If we cannot be motivated at home to Burnley, Fulham and Newcastle while in a European race, then what chance do we have?? And players having the egos thinking they are better than what they actually are, showing arrogant attitudes, and having egg on their faces.
Nothing would thrill me more. But we're just a club and players frightened to be in a position of control and pressure.
Andy Walker
467
Posted 15/03/2021 at 05:56:22
Aye Colin, haha!
I just wish we could find the form from early season, but with Doucouré and James out it ain't gonna happen.
John Maxwell
468
Posted 15/03/2021 at 06:07:48
Not sure why people are saying Europe is gone? Do they mean by Champions League and Europa League...? Champions League maybe too far with Chelsea coming back into form but I can see West Ham slipping down the table and we are still in the mix.
Cheer up, it might never happen. I thought yesterday's loss was the best out of Fulham, Newcastle, Leeds etc.
Calvert-Lewin should've scored at least... If you don't think Ancelotti is the right person to take us forward, then we might as well turn Bramley-Moore Dock into a leisure centre.
We need two more transfer windows to sort out the mess from previous managers.
Paul A Smith
469
Posted 15/03/2021 at 09:59:16
John Boon I couldn't agree more. I look at the league and wonder how it is called the most exciting in the world?
I can't see Everton being near City for a long time and it would take something drastic to sustain.
I recently looked at the last 20 europa league winners and it seems absolute pointless that we could enter and win it.
Its usually a CL drop out or a side that just missed the CL places.
Barry Williams has just pointed out everything we have to digest as football fans now (especially outside the elite) and his post has really hit home with me.
When FFP was brought in, I predicted it'd be another 30 years waiting for a trophy at least and its hard to see how the odds fall in our favour?
Bobby Mallon
470
Posted 15/03/2021 at 10:01:53
Brian Murray, if it's so easy to sack managers and pay off their salaries, why don't / can't we just pay up players' contracts? Is it because there is a chance someone may buy them?
Why do we keep these players? Just pay them up or put them on gardening leave. Don't let them train; they will soon want away.
Michael Kenrick
471
Posted 15/03/2021 at 10:18:34
That's a good question, Bobby. But if it was possible, it would have happened many times with us since... well... Bosman.
And I think (without checking) that is the answer to your question.
Since Bosman, the player's contract rules. Termination (with full pay-off no doubt) can be only by mutual agreement and that has been very rare, for exceptional circumstances. At least, that's my understanding... but I could be wrong.
Colin Glassar
472
Posted 15/03/2021 at 10:23:30
I can see us getting to the FA cup final only to be beaten by Leicester or Sheffield Utd.
Michael Kenrick
473
Posted 15/03/2021 at 10:26:40
I might be wrong about Bosman – that was all about freedom of movement in the EU. But the power of footballers' contracts changed in the 1990s... around that time.
Brian Harrison
474
Posted 15/03/2021 at 10:27:41
I think an elephant in the room that everybody seems to avoid talking about is DCL. The lad has improved over the last 12 months and his goal return is very good, but I just think he is so limited as a footballer that he limits how we can play. His goals as has been well documented have all been inside 9 yards, and while it shows he is very much alive in that area of the pitch, I cant think of another Centre forward playing in the Premier league who hasnt scored from further than 9 yards.
I don't see him making clever runs that creates a chance for him or his teammates, the goal Richarlison scored against Liverpool and Southampton I couldnt ever see Dominic doing that. On Saturday he was given 4 excellent chances to score and only converted 1. But even the best miss chances but 4 gilt edged chances. I think like quite a few of our players he has a poor first touch which doesnt help, and he certainly doesnt ever go past a defender and burst into the box and shoot. I know many say he hasnt had much service in some games and that can be true, but if he wants to become a top striker sometimes he has to create chances for himself and his team mates and he doesnt.
One of the downsides of not being allowed inside the ground, means I can only see what the camera shows, so when our midfield pass square or backwards is that because there is no movement from our forwards. As I said Dominic has improved a lot but for me he has to improve an awful lot more if he is to become the all round striker we will need to help us challenge for a top spot in the league.
I am sure many posters will fervently disagree with these sentiments and thats what this forum is about. I am not trying to say that Dominic is the reason we failed to beat some teams we should have, and I am well aware without his goals we would be in a far worse position. I just hope that the manager and coaches work on his first touch that will help him and the team be more successful.
Brian Murray
475
Posted 15/03/2021 at 10:47:18
Bobby post 470. Interesting idea gardening leave. On full pay do you reckon they would care ? A girl I know has just married Garbutt and says they are made for life and he had no intention or desire to break into the first team albeit he was injured a lot, Just one example I know. Just saying.
Paul A Smith
476
Posted 15/03/2021 at 10:50:32
Brian 474 I am glad you pointed these things out and I think you are spot on.
There is plenty to like about Calvert Lewin and hes a handful as an athlete but hes not great.
As a footballer he is without doubt Manufactured and his all round game is a long work in progress.
His feet are dreadful, he can't shoot and appears to be unable to run with the ball.
He can still be useful for the team with his physical game but you are right that we do have to play a certain way for him.
Alex Gray
477
Posted 15/03/2021 at 11:06:58
Dcl has limitations but my main concern is that take him out the team and we are so so poor.
Bar last summer our recruitment has been up there with the worst in the league. All it takes is one injury to a certain player and we have nobody who can then do that job effectively. We replace james with iwobi, coleman with holgate, doucoure with davies, Richarlison with bernard/king. Our squad is an utter mess of players who can only play in one way and with our current injuries are now left with a team so utterly imbalanced and also means we don't have a style or way that we play. Look at other teams looking for europe. Utd chelsea city and leicester (bar Vardy replacement) have squads that can deal with injuries where we are severely impacted the second one player gets injured. We should never be in a position where if Doucoure gets injured our season ends up in tatters. Other teams have drop offs when they get injuries. We go into crisis.
Poor recruitment.
Thomas Richards
478
Posted 15/03/2021 at 11:25:07
DCL is the best young target man in the Prem.
His hold up play is reminiscent of a young Graeme Sharp.
We know he can score given the service.
The service has been poor recently.
Kevin Prytherch
479
Posted 15/03/2021 at 11:27:33
I'm afraid I have to disagree with DCL. He, in my opinion, is one of the most improved players in the league.
People mention chances he misses. However, out of the top 5 scorers in the league, 4 of them have also had the most shots. The exception - Calvert Lewin. Harry Kane as had about 100 shots to score 19 goals, Calvert Lewin has had about 60 to score 14.
Calvert Lewin is a handful for any centre back, he finds pockets of space between defenders which unfortunately we are not exploiting at the moment. He rarely loses the ball, he wins countless headers and also wins his own flick ons. (I've not seen many players do that). He wins countless headers in defensive situations and has a burst of pace that troubles any team (Liverpool or Utd penalties for example).
He had an unfortunate game against Burnley (bringing the ball down for it to hit his other foot for example, or jumping too early for the header he missed), but still scored.
When the lad was playing across the front, he was slated for not scoring. When he plays centrally his is limited.
Tony Abrahams
480
Posted 15/03/2021 at 12:00:54
I thought Lewin should have done better with those two headers, especially the one Luca Digne put on a plate for him, but when his touch deflected off his other leg, I'd say he was just unlucky, rather than calling it a guilt edged chance.
Agree Richarlison offers more movement, but how poor as our Brazilian been the last two games?
It's why I've wanted Josh King, to start, because although I'm not sure if he his good enough, (won't find out at this rate) but other than Dominic and Richarlison, I don't see another forward thinking player in our squad, and often think those two need a lot more help than they're getting.
Phil Smith
481
Posted 15/03/2021 at 12:12:11
Completely given up on the league now. We're just so frustrating to watch. It's all or nothing for the cup, for me. Really need to get back to how we started the season before Ancelotti jaded some of the team with his lack of faith. He has his favourites but it's a long season and he's messed things up in the second half with his selections and outgoings. Can he end on a high or is this season of promise gonna fizzle out like so many recent others?
Danny O'Neill
482
Posted 15/03/2021 at 12:27:58
I think our forwards in general have lacked movement. It's easy to criticise the midfield and defenders for sideways and backwards passing, but if they look up and see no movement or runners, that's what they'll revert to. There's obviously a balance and the answer lies somewhere in-between, but I'm always a bit hesitant to lie the blame entirely at the midfield if they are not given options in front of them.
Barry @461. Second person this past week to trigger me on grass roots!! I'll spare the now well worn and boring lecture, but like you, I'd love to see more home grown English / British players in the league and at Everton. I like to flip the argument around. Rather than impose a quota on clubs, If we can sort our grass roots out and produce players of the standard required and at scale, we won't need to go shopping abroad as much. That said, I think a blend of foreign and home-grown is healthy and to be encouraged.
Paul A Smith @469. When it was first introduced, the concept of FFP, at face value, appeared a welcome move. But the more you dig into it, the more you realise it is there to further cement the elite club of clubs. Just look how City got treated. No way would that have even been considered for Liverpool, United, Bayern or Barcelona. How dare an upstart secure investment, use that investment wisely and threaten to gatecrash said elitist establishment.
Tom Bowers
483
Posted 15/03/2021 at 12:28:36
You have to leave DCL alone. He scores goals and when he misses and Everton lose people get on is back.
Has anyone seen how many Jesus and Rashford miss lately but those teams have been winning.
Kieran Kinsella
484
Posted 15/03/2021 at 12:34:40
Kevin
I get your point but you can also argue that Kane is a threat anyway from 40 yards so he is taking shots no one else would even try. But for what it's worth DCL has certainly improved tremendously.
Phil Smith
485
Posted 15/03/2021 at 12:38:07
And John Hall, I'm with you on Iwobi but "can't take a man on"? No no no, la. This he can do and do better than most in our squad, but not down the outside. He always wants to cut in coz he knows he can't cross the ball. In the right formation he can be a really effective football player. This is not Carlo's team. I expect a lot of comings and goings this summer.
Danny O'Neill
486
Posted 15/03/2021 at 12:39:34
Interesting on Dominic. Vastly improved under Duncan and Carlo.
I'm always a bit reluctant to compare strikers as, in my opinion, it's one area of the pitch where they are all apples and oranges. Very few are alike. Comparisons with Kane are not really fair.
I haven't done my research here, so shooting from the hip slightly. I would guess Kane played in midfield before being identified as a striker whereas Dominic probably switched between centre back and forward? He is more one dimensional than Kane and that is not a criticism, just an observation on styles.
Bobby Mallon
487
Posted 15/03/2021 at 12:52:31
Danny O'Neill @ 482, we have British players in our under 21s under 23s and in the championship. But coaches managers ( some) are quite clearly scared to use these players in case it causes a slump in results and trigger their demise (sack). So they go and buy the same talented players from abroad because they have spent a couple of seasons playing in leagues nowhere near as hard as the premiership but better for the player as he's getting good weekly game time in his league and Europe. If you have a palace, Brighton, Fulham mentality just staying in the premiership is good enough then using British born academy players is ok. But for teams like us with an owner and vision of finishing in the top four then that's not an option. Well that's my theory anyway
Danny O'Neill
488
Posted 15/03/2021 at 13:02:28
It's definitely a chicken and egg debate Bobby and one I don't like to say which side of the fence is right or wrong. Both have valid claims.
Do we force clubs to use British players so that they invest or do we invest more in our broken grass roots so more better quality players come through and clubs do not need to go abroad as often?
I'm more towards the latter; if we leave it to the Premier League clubs, it becomes a closed shop for the few that make it to the academies. I'd rather see a system like they have in Holland and Germany where it is a true football pyramid built from the bottom up. We have become the house that built the roof first, with the foundations shaking underneath due to under-investment.
For me, the best gauge of our standards is international football. 1966 and "celebrating" a semi-final with comedy breasts is not on a par with Germany, Italy, Spain and France. And in context of population, throw the Netherlands into that mix too.
The counter to that obviously will be that if we don't blood our players, they won't get to the standard. I know where I stand but I accept, like I said at the start of this post, it is a chicken and egg debate.
Bobby Mallon
489
Posted 15/03/2021 at 13:12:53
A contract between a football player and a football club can only come to an end in the following situations:
a) The contract expires.
b) The contract is terminated by mutual agreement.
c) The player can terminate the contract with sporting just cause.
d) The club or the player can unilaterally terminate the contract with just cause.
Those are the reasons but when you actually read all the rules it basically states unless a player takes banned drugs or does not train for a significant time then s club can not unilaterally terminate a players contract. Also a player can really only unilaterally terminate his contract if a club fail to pay him or try to force him out.
Christopher Timmins
490
Posted 15/03/2021 at 13:14:42
I stayed away from the forum yesterday and tried to forget about the night before. If you were a neutral you probably enjoyed the game as it was a lot more open than expected.
In terms of performance levels it was not to far off the one against Southampton at home or WBA away. We just are not a very good team and with a goal difference of plus 4, mid-table rather than Champions League qualification is where we are at present.
Tom Davies was at fault for the first goal, not helped by the pass out from the back and maybe unlucky not to receive a free-kick for the challenge but he should have been stronger. He was our best midfielder and I assume that a lack of fitness was the reason for his substitution.
Iwobi was not too bad when played behind Calvert-Lewin but, once he was shifted out to the flanks, he faded. He is either a No 10 or nothing, given that we have James and Siggy, he is probably surplus to requirements.
Gomes is Gomes, nothing really to add about the guy at this stage. I don't expect to see him feature in 2021-22.
Allan was cleaned for the second goal; hopefully, with more game, time he will be sharper.
Holgate is a central defender and not a full-back. If he plays, it should be in a back 5 with Coleman in front of him as a wing-back.
I am beginning to think that Digne is also a wing-back rather than a full-back as defensively he is suspect.
I don't blame Pickford for either of the goals and he will be a loss given his current form.
If offered a 6th place finish today, I would take it at this stage.
Not easy being a blue, the performances post-Anfield have been disappointing... indeed, the performances pre Anfield have been disappointing.
Paul A Smith
491
Posted 15/03/2021 at 13:15:00
Danny, I couldn't bear the idea of FFP because of its intentions which you shed light upon.
It was never a thought until Man City done a Chelsea and PSG done a City.
Moshiri would have 5 top earners here without Brands if it wasn't for FFP.
Sadly his ambition has been stained by awful transfers from people he trusted to improve us.
Back to Calvert-Lewin. Does anyone remember Kane being talked about as most improved player? That's the title you give a novice and carries the most empty meaning possible.
Comparing his shot ratio to Kane's is a bit scary for me: I can't even see the point in that? Bamford has been involved in more goals and hardly anyone here would want us signing him.
Jay Wood
[BRZ]
492
Posted 15/03/2021 at 13:16:44
Dominic.
A 'limited, manufactured footballer?'
Who 'limits how we play?'
Who 'doesn't make clever runs?'
Who 'doesn't create chances for himself or his teammates?'
Who 'has a poor first touch?'
Whose 'feet are dreadful?'
Who 'can't shoot?'
Who is 'unable to run with the ball?'
Who 'never goes past a defender?'
Who 'can't burst into the box and shoot?'
Who is the Dominic that some of you speak of, 'cos it sure as hell isn't the Dominic Calvert-Lewin who plays for Everton.
There are scores of examples that negates all those claims.
Calvert-Lewin is an outstanding talent already, with enormous potential to grew. An extremely serious and dedicated professional.
Rest assured, if he cannot fulfil his ambition at Everton, if and when he leaves the club, we will get a lot of booty for him.
Christopher Timmins
493
Posted 15/03/2021 at 13:26:47
Calvert-Lewin has been a standout this season; if not wanted at Goodison Park, he would not lack for offers from other clubs who currently are above us at the moment.
Paul A Smith
494
Posted 15/03/2021 at 13:30:45
He's been in the side since Koeman's days and what? 2 or 3 ToffeeWebbers have him linked to sides above us?
How come no media outlet suggest the same, like every other well-known talent out there?
Go on then, what side above us takes Calvert-Lewin?
Alex Gray
495
Posted 15/03/2021 at 14:12:02
Paul,
Leicester, West Ham, Chelsea over Werner's current form – to name a few.
Peter Mills
496
Posted 15/03/2021 at 14:19:50
Every player at the club needs to improve their game, including Dominic Calvert-Lewin. Given that he has consistently done so, I see no reason why he should stall now. I'd love to see him play alongside an intelligent foil.
It's the ones who never get any better we need to worry about.
Danny O'Neill
497
Posted 15/03/2021 at 14:28:28
If and when Werner settles Alex, Chelsea have a top player there. Remains to be seen if he can settle culturally and to the style, but a very, very good forward.
Don Alexander
498
Posted 15/03/2021 at 14:32:02
The late Glen Roeder, a very good centre-back in the '80s, was asked in those times who was his most difficult opponent (at a time when Lineker, Rush, Hughes and others were prolific scorers). He said (and this is from memory) "Graeme Sharpe – he always takes the worst position for a defender to defend, he always competes right across the pitch, heading, passing, shooting and tackling, and he scores and creates goals."
Dom reminds me of Sharpe, who "only" scored one in three for us in his career, but our current midfield isn't a patch on the mid-80s team. That's the difference to me. If Dom was being fed by Steven, Reid, Bracewell and Sheedy, he'd be scoring way more than one in three IMHO.
Christopher Timmins
499
Posted 15/03/2021 at 14:33:59
Who would take Calvert-Lewin?
Leicester City and Man United would take him to name but two.
Jay Wood
[BRZ]
500
Posted 15/03/2021 at 14:34:14
'He's been in the side since Koeman's days.'
As a raw 18-year-old, getting the occassional sub appearance when we still had Lukaku.
Your point being..?
He turns 24 tomorrow and clearly (well, for some) continues to make year-on-year improvement.
'ToffeeWebbers have him linked to sides above us?'
Neither Christopher nor I said that at all. That's your invention.
'How come no media outlet suggests the same, like every other well known talent out there?'
So, what are you saying here? That a player can only be talented if their name appears in the column inches of the less than credible football gossip fillers?
Strange criterion by which to evaluate a player's skills.
But if that represents a legitimate claim in your eyes and you insist on an answer to your final question:
'Go on then, what side above us takes Calvert Lewin?', here goes.
The Manchester Evening News reported United were interested in Dominic in the last January transfer window.
United's Rumoured Interest in DCL
Just last month in February, the Daily Express had Arsenal linked to him:
Arsenal's Rumoured Interest in DCL
Back in October the Manchester Evening News quoted the Manchester City legend Shaun Goater saying his old club should go for DCL:
Now to me transfer rumour 'news' is all bollocks. But you did ask.
Paul A Smith
501
Posted 15/03/2021 at 14:44:04
Shaun Goater... wow.
Brian Williams
502
Posted 15/03/2021 at 14:50:41
Advantage, Mr Wood.
Jay Wood
[BRZ]
503
Posted 15/03/2021 at 14:53:58
'Shaun Goater wow.'
Exactly. But then, I'm not the one who asked for 'evidence' of interest in the media as proof of...what with regards to DCL's football abilities, I'm still not sure.
And the other two examples?
Mike Gaynes
504
Posted 15/03/2021 at 15:00:57
Kevin #479, spot on. To me the key number for DCL isn't 4 (the number of chances he had yesterday) or zero (the number of goals he scores from long range). Or even 19, the number of goals he has scored in 30 total appearances this season.
The first key number for Dom is 24. That's his birthday tomorrow. Happy Birthday, young man!
The second key number is 132. That's how many minutes Dom has played per goal this season. To me, the single best measure of goalscoring productivity is frequency. Harry Kane is scoring a goal every 87 minutes on the pitch this season, which is phenomenal. Dom's goal every 132 minutes may not be Kane level but is actually really good (exactly the same as Salah this season).
What's striking, however, is how much that number keeps improving. Last year, Dom scored every 202 minutes. The year before that, every 296. People here keep talking about what Dom "needs to work on"... but it's obvious he's working very, very hard and improving rapidly.
So he's 24 and already one of the most efficient scorers in the Prem on a minutes-per-goal basis, and he is improving. Fast. And some people think we can do better.
How many top teams would take him? Let's not find out. I say keep him right here and see what he turns into next year, and the year after. And to those like Paul A who disagree, I simply ask... who would you rather go out and buy this summer who will be better, and have more potential, then our birthday boy?
Jay Wood
[BRZ]
505
Posted 15/03/2021 at 15:05:53
Bill Gall
506
Posted 15/03/2021 at 15:24:29
After the smoke has cleared, and we see that, once again, Everton have dodged a bullet to remain in 6th place. We have no chance of catching either of the top 2 Manchester clubs; Chelsea have such a strong squad, they will be very difficult to catch and, unless Leicester have a meltdown, the top 4 is between these clubs.
Everton have a chance of finishing in 5th or 6th place and this is going to be a fight with West Ham, Tottenham, Liverpool and Aston Villa. We have to improve our home form to have any chance.
On Saturday, we did not play well but, on the other hand, Burnley played outstanding and 4/5 goals conceded would not have been a surprise.
I don't know what the problem is at home but it seems like the other teams believe Goodison Park without the crowd is no longer a fortress, and you just have to raise your game for a win.
Ancelotti and the players have got to realize that you can't allow other teams to get a foothold at the start of the game even if sometimes a long clearance is better than playing across the back. Burnley's first goal was all from playing around the back and passing to a player – makes no difference if he was fouled or not – who was marked.
We would like to see Everton play in Europe for the exposure if you do well, plus there is some financial gains, and better recruitment of players who want to play in Europe as well as the Premier League.
You can't continue to dodge the bullet as your expectations will fail, you have to start to fight for what you want. Mr Ancelotti believes we don't have a squad as good as other teams, but what we do have is a squad of professional footballers who, as professionals at this stage of their lives, should be able to pass a ball to a teammate more than 10 yards away.
As supporters, we would love to see Brazil-like performances but realize we don't have a Brazil-like team, but what we don't like is the continuous home performances that show lack of effort by some players and what seems to be a lack of respect for the opposition.
Paul A Smith
507
Posted 15/03/2021 at 15:27:38
I didn't ask for evidence either, Jay, you are great at this. I asked you lot to tell me what club above us he could play for?
I mentioned the media because, when we have a real talent, the media sell him for us because they know the takers are there.
I like the lad, I just won't overstate where he will be after Everton. We all knew where Lukaku was heading because it was a daily theme from basically everyone because he's an obvious talent.
Calvert-Lewin is still a work in progress at 24. He shares a birthday with me so I'll always like him... but top level? Nah. Nowhere near being a top team's forward yet.
Aguero will be finished soon, let's see who is on their list. I don't even believe Spurs would go for him to replace Kane but also your support of him is great, Jay. I wouldn't knock that and I want him to succeed greatly. I just don't believe the hype behind some theories – and 3 sporadic reports from yesteryear doesn't flatten my opinion.
Every man and his dog knows when a big team is sniffing a player out, especially one of ours.
You are a pain, Jay, but you make good debate ,I must say, and believe me, I hope you are not wrong too.
Robert Tressell
508
Posted 15/03/2021 at 15:41:10
Ron @418. My reading is that the 2 or 3 new players will be in addition to Olsen. That means we fill the 3 berths in the first team than need filling and get a good 2nd keeper.
However, it might be that Olsen heads back to Italy after the horrific robbery. But I think that just means we get AN Other in as reserve keeper, like Romero from Man Utd, as well as our 2 or 3 first-teamers.
I expect we'll also buy a couple of prospects, like we did with Nkounkou and Jagne this summer. So the actual numbers in might be more like 5 or 6.
Clive Rogers
509
Posted 15/03/2021 at 15:54:00
Our recent problem has been lack of width, especially since Richarlison has been playing further in-field in the left-centre channel. Digne has not been able to overlap as much.
On the other flank, Holgate is simply not a full-back and can't cross the ball. On Saturday, Iwobi was moved to the right flank to give width, but he can't cross either. A right-wingback is a priority in summer.
Jay Wood
[BRZ]
510
Posted 15/03/2021 at 16:09:45
Paul, you took the discussion about Calvert-Lewin's qualities into strange realms, not me. You boldly stated:
'How come no media outlet suggests [top clubs are interested in Calvert-Lewin], like every other well-known talent out there?'
You made the challenge: 'Go on then, what side above us takes Calvert-Lewin?'
I gave you hard evidence that totally negated your first claim which – based on your own criterion – demonstrated that top clubs are interested in Dominic.
Having provided you with the 'evidence' that you said didn't exist, you now say:
'I just don't believe the hype behind some theories and 3 sporadic reports from yesteryear doesn't flatten my opinion.'
Two things:
1) The reports aren't from some distant 'yesteryear'. They are contemporary. The oldest is 5 months old, the others are 1 and 2 months old.
2) If you now say you don't believe 'the hype', why make your original (incorrect) claim that an absence of rumours in the media of top clubs being interested in Calvert-Lewin was 'evidence' of an implied lack of quality in the lad?
I repeat again, I personally give no weight or credence to football rumours. You (bizarrely, to me) made it the basis of your evaluation of Dominic... until your last flip-flop post, that is.
I fervently hope that Dominic can fulfil his talent and ambitions at Everton, because that will mean the club is doing very, very well.
And should the day ever come when we do sell him, if he continues to progress year-on-year, as he has, we will get a lot of money for the lad.
Brian Williams
511
Posted 15/03/2021 at 16:09:51
His feet are dreadful, he can't shoot and appears to be unable to run with the ball.
Sheer unadulterated luck that he's the fourth-highest scorer in the Premier League.
Andrew Ellams
512
Posted 15/03/2021 at 16:27:18
Don @ 498.
Calvert-Lewin is light-years behind Graeme Sharpe who had way more to his game than Calvert-Lewin has. There is no way in a million years he's scoring that goal at Anfield, for starters.
And, as coincidences go, Sharpe was virtually the same age to the day as Calvert-Lewin is now when he did that.
Barry Rathbone
513
Posted 15/03/2021 at 16:44:34
Calvert-Lewin is in the realms of Harry Kane, lacking the skill or creativity of Aguerro, Van Persie, Bergkamp, Vardy etc but spookily high in the goalscoring tables.
He reminds me of Andy Cole who had the touch of a slaughterman but scored quite a lot and, of course, the dearth of goalscorers in general would mean he would fetch a lot if sold.
Brian Harrison
514
Posted 15/03/2021 at 16:45:12
Seeing as I instigated the Calvert-Lewin comments, just to clarify, I said in my original post, he has improved a lot in the last 12 months and his goal return is very good. I just, in my humble opinion, suggested that he needed to improve some parts of his game.
I also said he doesn't create much for himself or his teammates, and I have just checked his stats which I probably should have included in my original post. Last season, Dominic played 36 games and was credited with 1 assist, and this season so far he has played in 25 games and has no assists.
Now, however big a fan of Dominic you are, surely that's a stat that is extremely worrying... well, it is for me anyway. Yes, his primary role is to score goals, but to have only created 1 assist in nearly 2 seasons highlights for me his biggest problem.
Tom Bowers
515
Posted 15/03/2021 at 17:10:54
Cannot see why anyone would say Calvert-Lewin is a work in progress and is only 24. If any player doesn't have it at 24, he never will.
Calvert-Lewin has shown tremendous improvement and is scoring goals. That's all he is paid for. He does enough to create space for Richalison to do what he does best and that is score goals also.
The problem is that the rest of the support players are just not consistent enough to do this, week-in & week-out. James has done well but has missed a few games now.
It's not fair to compare Calvert-Lewin with Sharpe as Sharpe had a far better team behind him and of course the game has changed a lot with the ''park the bus'' attitude by every team and too often Calvert-Lewin is isolated.
Mike Gaynes
516
Posted 15/03/2021 at 17:18:39
Brian #514, perfectly valid point. Calvert-Lewin doesn't assist on goals.
To be fair, however, he has a massive responsibility that none of the other top scorers in the league has – winning the ball. Salah, Kane and Vardy don't have to jump against opposing centre-backs 8 or 10 times a game to win headers 40 yards from goal.
And also Dom spends more time alone up top than any of the other top goal-getters in the division. He doesn't have partners with him in the box, like Kane has Son and Rashford has Fernandes.
So, while Dom certainly needs to work on his creativity, Everton's system and personnel are also contributors to his dearth of assists.
Brian Wilkinson
517
Posted 15/03/2021 at 17:23:16
If one player has been consistent this season, it is Calvert-Lewin. Some games he has been fed off scraps, a hopeful punt to him, he has brought the ball down, waited for others to link up, before laying it off, the way he controls it with his chest, then lays it off, is one of the brighter sparks this season.
A couple of games he has mis-controlled or missed a decent header, that aside, he has been one of, if not our best player this season.
It is not just his goals this season, but him winning the ball as well; our link-up play is the problem.
Some players have under-performed this season, Calvert-Lewin is certainly not one of them.
Dave Abrahams
518
Posted 15/03/2021 at 17:25:11
I think Calvert-Lewin has improved every season since joining Everton's first team squad, just my opinion.
If his ability is being questioned, why isn't Richarlison's? Has the Brazilian's game improved since he joined the Blues? I for one don't think it has.
Jay Wood
[BRZ]
519
Posted 15/03/2021 at 17:25:59
'Calvert-Lewin is light years behind Graeme Sharp who had way more to his game than Calvert-Lewin has.'
Like Dominic, Graeme was an 18- or 19-year-old when he joined Everton from Dumbarton.
After his first two seasons, aged 20, Sharpy had made 3 first-team appearances and scored 0 goals. His breakout season came in 1981-82, aged 21, scoring 14 goals in 22 games in the old First Division.
Aged 22 in the 1982-83 season, he scored 13 in 32 league games, plus 2 more in 6 cup games.
Aged 23 in 1983-84, he was in and out of the side all season, although scoring in the winning FA Cup Final vs Watford. He scored 6 in 21 in the league, 3 in 8 cup games.
Aged 24 (the same age Dominic turns tomorrow) in the 1984-85 Championship winning season, Graeme's return was 18 goals in 32 league games, plus 6 in 13 cup games.
By contrast, before moving to Everton, aged 18, Dom was playing his football in League One and Two with Sheffield United and his loan club, Northampton Town. Between 2014 and 2016, in 31 lower league games, he scored 5 goals, plus 3 in 6 cup games.
In 2016-17 aged 19 (now at Everton), Dom played 11 Premier League games (mostly cameo appearances as sub) scoring 1 goal.
In 2017-18 aged 20 (the season in which we started with Koeman, had Unsworth temporarily, followed by Allardyce), he played 32 Premier League games and scored 4. In 12 cup games he scored 4.
So, by the same age (20), Graeme Sharpe had played 3 times for the first team without scoring; Dominic (at a time of great tumult at the club) had played 43 Premier League games, scoring 5 goals, plus 4 goals in 12 cup games (which included Europa League games).
In the 2018-19 season, aged 21, Dom played 35 Premier League games and scored 6, plus 2 goals in 3 cup games.
In 2019-20, aged 22, (another tumultuous season at the club in which Silva, Ferguson then Ancelotti managed us), Dom played 36 Premier League games, scoring 13, plus 2 more in 5 cup games.
This season, aged 23 (24 only tomorrow), Dom has 14 goals in 25 Premier League games, plus 5 in 5 cup games. To that we can add 2 goals for the full England national team in 5 games.
To directly compare Graeme Sharpe and Dominic Calvert-Lewin at the age of 24, the numbers read:
Sharpe in 88 First Division games: 51 goals. In 27 cup games: 11 goals. Total: 61 goals in 115 games. And this, remember, was Everton's FA Cup and League Title team.
Calvert-Lewin in 139 Premier League games: 38 goals. In 16 cup games, 12 goals. Total: 50 goals in 155 games. In two of his seasons, the club hired 3 different managers in each.
All things considered, the boy (Dominic) is matching up well to the fellah who is second only to Dixie Dean in Everton's all-time record scorers list.
Robert Tressell
520
Posted 15/03/2021 at 17:42:47
Jay, the observation that, in 2 of Calvert-Lewin's seasons, we've had 3 managers, says it all for me. He was chucked into a crap side before he was really ready and has worked tremendously hard to make the best of the opportunity. He's now an excellent player.
And more than that, against the backdrop of such turmoil, people are expecting Champions League / champagne football.
The club was a total mess.
Ancelotti is sorting it out well. Calvert-Lewin is very good.
Rob Halligan
521
Posted 15/03/2021 at 17:50:05
Brian # 514. I assume the 25 games and no assists for Calvert-Lewin are Premier League games only, because he done a lovely backheel for Richarlison to score in the FA Cup against Spurs.
Jay Wood
[BRZ]
522
Posted 15/03/2021 at 17:53:44
Indeed, Robert.
Plus the small detail that Graeme's games by the age of 24 were all under the stewardship of the club's greatest ever manager.
Thomas Richards
523
Posted 15/03/2021 at 18:05:04
I haven't got the slightest doubt Calvert-Lewin is going right to the very top of the English game. Still learning his trade but doing really well while learning.
Speed, power, bravery and a one-in-two goalscoring rate this season. Four or five years away from his prime. We will have some player if he stays. Keep the slagging up and he will be off.
Paul A Smith
524
Posted 15/03/2021 at 18:17:18
Hard evidence. This is unreal. A shout from Shaun Goater and 2 randoms, after I suggested media outlets would be writing about it if he had clubs chasing him?
I didn't think it'd be taken so literally but my fault. The media frenzy would be obvious and all you just proved is there is no frenzy. Just one or two admirers.
It's my own fault for anything that's mixed up in context because I have rushed my posts at work, sorry.
Why compare him to Graeme Sharp though? In response, I take it? Like suggested above, there's no sign whatsoever he could pull goals off like Sharp did.
Have you seen him shoot from any real distance? That's hard evidence.
Why not compare him to Aguero, Cavani, and Vardy seeing as the sides above would happily take him?
All my posts have come in response, by the way, and I gave all the reasons why I believe none of the sides above us would want him until he vastly improves.
And again, I still hope you are right and there is a media frenzy because that'll mean he's hitting new levels.
Tom Bowers nailed it.
Barry Williams
525
Posted 15/03/2021 at 18:22:52
It's very hard to compare strikers across not just eras, but systems. Without checking, how does Sharp stand up against Lukaku at similar ages, Lineker or even Dixie Dean!? I thought Sharp was fantastic, but comparing like for like stats is sometimes not helpful, in my humble opinion. With Sheedy and Steven providing the ammunition, I think it would help matters.
Strangely, our most successful season in the last few decades was with Marcus Bent up front. That season he scored 7.
Again, without trawling through facts and stats... How does Duncan Ferguson's stats stand up to Calvert-Lewin's? Does it make Ferguson any less of a player?
Tony Abrahams
526
Posted 15/03/2021 at 18:41:34
Calvert-Lewin doesn't assist because he is a target man without runners?
X wouldn't get in their team, and Y wouldn't get in their team, but how many forwards would do better in the current Everton side?
Silly question, I know, but we've got a big centre-forward being asked to lead the line with only one other genuine attack-minded player in the team every week. So, even though he's got loads to learn, I genuinely couldn't look past Calvert-Lewin as being Everton's Player of the Season up to this point.
Darren Hind
527
Posted 15/03/2021 at 18:41:43
Bobby Mallon @ 382
That's a fair enough question.
If, as I think, you are asking me: Would I trade entertainment for league positions? I would have to give that a little thought. If it meant Champions League football, I guess I could accept it... but it doesn't... and it won't.
As a kid, I -bought into the School of Science mentality – lock, stock and barrel. We were not just a football club, we were fucking peacocks. We didn't 'play'... we strutted.
The eighties team didn't possess the dazzling ability of The Catt's side... but still had enough to have you on the edge of your seat, and by fuck did they have passion!
Big Joe's team could easily have changed the club's motto... to "Come on, let's 'av it!" I loved that team. They all played like they came from Greaty or Woodstock Gardens or Stanley Road. Big Joe hated the tag "Dogs of War"; he felt it devalued the amount of talent in the team. He was spoton, of course.
I guess your past shapes your outlook on the game. If I can't see School of Science, I want to see passion; if I can't see passion, I want to see "Let's 'av it!"
It cuts deep with me to see my team playing the sort of stuff we have witnessed for so long. Would I trade 6th place, playing the way we are, for 11th place with a little razzle? Yes, I guess I would.
I know it's a personal choice, but I also believe with all my heart that it doesn't have to be one or the other... is it too much to ask to want both?
We've been garbage for so long, we have to get the VHS tapes out to remember when we were kings... If we, as a club, want to change, we have to change what we are doing. We cannot continue to preach "Jam tomorrow" while we watch our football from behind the couch and we cannot continue to make excuses for it. This way lies eternal disappointment.
Danny O'Neill
528
Posted 15/03/2021 at 18:51:12
Well, this escalated. I think someone said earlier let's not turn this into a "is Tom Davies good or bad" thread. Need not worry, it's turned into a "is Dom good or bad" one!
Barry, to my earlier point, strikers are probably the hardest to compare as they are individually the most unique. Usually; more so than on any other area of the pitch in my view. And for those of us who have played the game, aren't they the most sensitive bunch who need a hug, an arm around them and constantly telling them how great they are?!!
Sharp was a very different player to Linekar. Apples and oranges. Linekar different to Lukaku and Lukaku different to Sharp. Aguero is unique, Salah a freak convert of a winger. They are all different.
I see why some would draw comparisons with Dominic to Sharp in some aspects to his game, but then I would say (in my view), Dominic is more athletic than Sharp. But then I don't see Dominic knocking a volley off the shoulder of a Liverpool defender 25-30 yards out in front of the Anfield road. A majestic header from six yards yes and good hold up play, but that is where the similarities end.
Probably just before my time so I'd have to ask my cousins, but is Dominic more Bob Latchford? Would need the 70s gang to comment with authority.
Apples and oranges. Dominic is Dominic. Strikers are generally the most individual players in a team. It's why they are strikers. They have to be be individual and selfish more than any other position on the field of play.
Also, we didn't know how good Sharp was going to be and let's face it, in December 1983, none of would have predicted how successful he or that team were going to be. Had toffeweb existed then, it would have been in meltdown on a scale no-one here could imagine. Let's see how Dominic goes, he is developing into a fine striker. Let's hope he can become a great one.
That's my take.
Jay Wood
[BRZ]
529
Posted 15/03/2021 at 18:56:12
'Hard evidence. This is unreal. A shout from Shaun Goater and 2 randoms, after I suggested media outlet would be writing about it if he had clubs chasing him?'
Give it up, Paul. You're just chasing your own tail now.
YOU were the one saying there was nothing in the 'meedjah' that top clubs were interested in Dom.
I showed you there was.
I'M the one clearly stating...so what? Who seriously gives such gravitas to idle football gossip?
YOU are the one saying 'yeah-but, no-but, yeah-but' trying to defend your totally exposed original claim.
YOU are the one that tried to pass off the absence of transfer gossip connecting Dom to top clubs (which you were indisputably WRONG about) as proof positive that he isn't all that.
As for the comparison to Graeme Sharp, that was in answer to another poster.
I agree with Barry Williams that it is difficult to compare players across eras, but IMO you can make legitimate observations about their evolution and stats (as I do), as well as highlight the quality of the teams each played in, the managers they played under and the respective stability at the club at similar ages.
For me, saying Dom could never score a goal like Sharpie's in that Derby game is superfluous. A goal is a goal. And Dom has also scored some crackers in his time.
And if you have but noticed, not once have I bracketed Dom in the same class as Kane, Aguero, Lukaku, or whoever else you name.
Once again, that's you not properly following what has actually been posted.
Danny O'Neill
530
Posted 15/03/2021 at 18:58:11
"I know its a personal choice, but I also belief with all my heart that it doesn't have to be one or the other... is it too much to ask to want both?"
Not a personal choice and not too much to ask. Pretty much what we all want.

Thomas Richards
531
Posted 15/03/2021 at 19:12:26
Very much so, Danny.
I think we will get it next season.
It's not blind loyalty to Ancelotti. Not from me anyway. If we are not playing good, fast progressive football this time next year, the manager will deserve the stick he will get.
Darren Hind
532
Posted 15/03/2021 at 19:14:04
Read the thread... or any other, for that matter. Plenty of people will trade entertainment for a higher finishing position.
Of course, it's a personal choice.
Paul A Smith
533
Posted 15/03/2021 at 19:14:56
Once again, Jay, I never said you did. You're very good at that. Your crusades are fantastic and you type with far better composure than me and what Calvert-Lewin has with his feet.
Thomas Richards
534
Posted 15/03/2021 at 19:17:55
"Plenty of people will trade entertainment for a higher finishing position."
Not for me in the long term. I go to the game to be entertained. I can put up with it for now until better players arrive... but definitely not a long-term outlook.
Danny O'Neill
535
Posted 15/03/2021 at 19:21:07
It's not too much to ask for both.
Whether we get both is like waiting for the lottery to come in but both is what we want. Will we sacrifice having both for a favourable league position that brings European football or a trophy won not being the most entertaining? Right now I'd say yes.
But ultimately we are all bought into the school of science and want both entertainment and success.
Want. But if we can't have both, I'll take success in terms of league position that allows us to progress and build something that can be successful and entertaining. Which is what we all want.
Brian Harrison
536
Posted 15/03/2021 at 19:21:40
Rob @521, yes, it was just on league games.
Mike @516, yes, I agree he does have to do a lot more than many strikers in the Premier League.
Barry Williams
537
Posted 15/03/2021 at 20:09:01
Paul A Smith - 469
FFP is anything but fair play. If they were truly serious, there'd be a cap on the amount you could spend per season.
Danny O'Neill - 482
Yes, get players in from the local set-up, it would be cheaper and the possibility that they may be more loyal, although Jeffers and Barkley certainly weren't, despite being local lads. It's a long time since I played regularly, I was in both my school's football teams, a number of Sunday league teams, but can never remember receiving any proper coaching. Merseyside has a lot of decent young players, I have played with some who you just look at and go wow, they are so many levels ahead. Saying that, you have to be exceptional to make it in the top flight.
Danny O'Neill - 528
Yeah, I do see some traits of Sharp in Calvert-Lewin, the hold-up play for instance and I think players are definitely more athletic these days – you don't see a Billy Wright (the Everton one), Chris Waddle, Le Tissier type player today.
Jay Wood [BRZ] - 529
It is only natural that we compare, I guess; it happens in all sports, and we can come to some conclusions. As said, certain elements of Calvert-Lewin's play do remind me of Sharp, and there were times in the early days that Sharp didn't look like he would be that great. I think he credited Peter Eastoe with teaching him a lot. Or did I just imagine that? He also had a tough act to follow in Latchford.
Mike Gaynes
538
Posted 15/03/2021 at 20:17:44
Tony #526, I believe Michael Keane very much belongs in that discussion as well. He has improved as much as Dominic, and he has been every bit as important to our success.
Darren Hind
539
Posted 15/03/2021 at 20:39:05
Keane's pass to Tom Davies was as bad as a pass gets.
When you play a pass into somebody with their back to goal, you have to fizz it into their feet, it has to be accurate. Keane put nowhere near enough on it and he played it to the side of Davies... a shocker. It gave the opponent a chance to challenge. Some called foul. I called poor ball.
His attempt at clearing the resulting cross was equally poor... I blame Tom.
Jeff Armstrong
540
Posted 15/03/2021 at 20:54:25
Barry, Eastoe was a very underrated forward for us, a great technical player and great at bringing others into the game, I believe Sharpy did give him credit in nurturing his game when he first arrived.
Tony Abrahams
541
Posted 15/03/2021 at 21:29:47
Keane has improved Mike, until we stop playing with the bank of five sitting rigid in front of him, then I'm not sure he's good enough for where we want to go.
In our last four home games, we played deep against Southampton and kept a clean sheet, but the minute we try and step up, offering our defenders less protection, then three teams in the bottom six have each scored twice against us, so the jury is still very much out on Michael Keane imo.
Keane does well with protection, Lewin on the other hand is usually battling against two big centre backs gamely, and usually with very little help or support, and that's why I think he's been our most important player this season.
He gets very little rest, having to play almost every game he's fit, and it wouldn't surprise me if he puts Saturday behind him and helps us knock City out the cup, but maybe I'm dreaming, unless we can play to Dominic's strength, and John Stones biggest weakness, by putting plenty of crosses into the box🤞
Danny O'Neill
542
Posted 15/03/2021 at 21:31:47
I remember Peter Eastoe in an early 80s game when Howard Kendall was our player manager and came on as sub. I was stood in the lower Gwladys Street with my father, still recollecting over the Kendall he watched in the late 60s!! Howard may not have had the legs that night, but he still had the footballing brain. I think it was against Coventry.
Danny O'Neill
543
Posted 15/03/2021 at 21:36:46
I can see how you call that a hospital pass, but not the worst pass I've seen. As was called out, midfielders have to be able to deal with those types of balls out from the back in the modern game.
Foul? Not for me. Could have been stronger and anticipated better? Yes. Give the benefit of the doubt because maybe the communication from Keane wasn't great? Yes.
But, lost possession in a dangerous area, which led to us getting quickly overloaded and swarmed upon. Credit to Burnley for that.
So it was an error. In 90 minutes of football which player is ever error free? Davies went on to play a pivotal part in us pulling goal back with a beauty of a pass.
Liking what I'm seeing from Tom of late. Definitely a player who has a future in Carlo's squad.
Graeme Beresford
544
Posted 15/03/2021 at 21:41:41
What about Stuart Barlow though ay? Class.
Danny O'Neill
545
Posted 15/03/2021 at 21:43:58
Mike, have to agree with both you and Tony.
Keane is much improved. But because of how we have been set up. That is the manager playing to the strengths of the players we have.
We rightfully bemoan sitting deep and playing backwards / sidewards. To play more expansively and entertainingly, we need to play higher up the pitch. That is where Michael will get exposed. Ball over the top, loss of concentration, watch it drift over due to lack of reading the game and then the realisation he doesn't have the pace to recover.
He's good in a deep sitting team that stays compact. Not a criticism, he is what he is.
Kieran Kinsella
546
Posted 15/03/2021 at 21:56:39
Calvert-Lewin versus Sharpe is an awkward comparison because of our set-up. The onus is always on Calvert-Lewin to head for goal. Sharpe had a second option, he could knock down to his little sidekick, Adrian Heath. Calvert-Lewin doesn't have that option.
We use Calvert-Lewin more like the way we used Dunc and that comparison is more favorable to Calvert-Lewin
Paul Birmingham
547
Posted 15/03/2021 at 22:05:37
Good debate. For me, Calvert-Lewin, has more than enough on his plate every game and in the past he's been slated on here for playing too wide, and I include myself, a few years ago.
Until the balance of players and playing to a team tuned in on the offensive, and more offensive support, then I'll take what Calvert-Lewin is doing.
Thid00ssssssssssss season the goals wouldn't have happened.
So let's go for bust in the last 10 away games.
The points about Michael Keane's distribution are valid and the kamikaze pass in and across our own box and into no-man's land playing his teammates into the crap house, with no genuine chance of getting the ball and no call, is it the first team. But he's not the only player this season at Everton to do this.
Get the basics right and yes he's done well this season, but the fine lines between success and failure in each game and over the season, are magnified and proven by such mistakes.
Bouncebackability, is needed now at Everton and to fight our every game.
Anything can happen, as this season has proved. But, to make it happen, the squad has to want it and be up for it, for 96 minutes every match.
Brian Wilkinson
548
Posted 15/03/2021 at 22:24:58
Only for his horrible injury, Adrian Heath would have been up there for goal scorers, he did not half knock in some important goals, over the time he was with us, and one player who always seems to get over looked, when we talk about goal scorers.
Kieran Kinsella
549
Posted 15/03/2021 at 22:32:38
Brian,
I agree. But whatever us armchairs focus on or overlook, Inchy has the last laugh when he looks at his trophy cabinet.
Rob Halligan
550
Posted 15/03/2021 at 22:40:53
Graeme # 544.
Stuart Barlow smashed a hat-trick against me in a Sunday league game. Every one was a screamer from outside the box.
Bill Gall
551
Posted 15/03/2021 at 23:07:25
Rob,
Tony Kay played against us for Crawfords after he was suspended, I believe our right-winger has still got the bruises.
Stephen Williams
552
Posted 15/03/2021 at 23:16:34
Both Davies and Iwobi should have been hooked at half-time and just one sub put on. Playing with 10 men second half would still have been one more than the first half!
In fairness, half-a-dozen others weren't much better.
Bottom line is we're nowhere near as good as many of us hoped we were. And certainly nowhere near good enough for top 6, let alone top 4.
Depressing.
Barry Williams
553
Posted 15/03/2021 at 23:28:22
I believe Calvert-Lewin is the top scorer in the Premier League from open play this season. He has missed games too. That tells us something, I think!

Darren Hind
554
Posted 15/03/2021 at 23:32:20
There is not a midfield player in the country that could have dealt with Keane's pass. It was slow, inaccurate and favored the opponent facing the "right way" all day long. An awful awful pass
Funny how the blame turns to Tom Davies every time. His passing was better than that of the "Brazilian Peter Reid" all day. He created a goal and he stayed away from Wessie Road
Still his fault though.
Derek Thomas
555
Posted 16/03/2021 at 00:42:54
Darren @ 539; Those balls aren't the best to receive, the receiver can't stand still and wait for it though, he has to – at the very last second, move a yard or so towards it, thus – in theory, of course – leaving the tackler/fouler kicking empty space.
There is more chance of Davies still being here in the future than Sigurdsson, Gomes, Iwobi and Bernard.
Mike Gaynes
556
Posted 16/03/2021 at 01:31:56
Rob #550, is that what they call a "humblebrag"?
Don Alexander
557
Posted 16/03/2021 at 01:36:14
Our Dazza, as ever, will defend to the end Tom Davies, in his opinion a prodigiously gifted footballer developed by Dazza's idea of a prodigiously gifted U21 coach, "our" Unsy, so successful that no other top-notch club is known to have courted him in the past decade.
To me, Davies is having his best season so far, after way more than 100 games under various managers, which probably hampered a better development.
The fact remains, however, through no fault he can do anything about, that he is light-weight, literately. This means he, without the innate skills the truly gifted player has in terms of instant ball control, is regularly unable to take control of the ball when physically challenged. Film shows this, repeatedly.
Yes, free of pressure, he can nearly purr in midfield but that's the conundrum Ancelotti has to address. We need skilful midfielders who don't understandably inspire the opposition to consider our midfield as a fish-in-a-barrel piece of cake, exemplified up to now by the moderate Tom (and others admittedly), on a good day.
Kieran Kinsella
558
Posted 16/03/2021 at 01:53:07
Davies was to blame. I just watched it on repeat several times. The pass was a little slow but having received it Davies was caught in possession and brushed aside like a feather. Many midfielders would have received that ball and retained it.
Doesn't mean he's "Championship at best" or to blame for the loss. But, in the moment, he was at fault.
Derek Knox
559
Posted 16/03/2021 at 03:25:16
Barry @537 and Jeff @540,
Peter Eastoe, now there's a blast from the past, and as you say a very under-rated player. His ball control was superb and often overlooked, or taken for granted.
I saw him several times receive a high ball at speed and bring it out of the air and kill it in one movement, superb stuff, and how long ago? You don't see many modern footballers do that now, and the balls were not like beach balls then either.
Rob @550, how many had you had the night before?
Darren @554, that vertical trampoline's got an airing again, I see. :-)
Darren Hind
560
Posted 16/03/2021 at 05:19:28
Derek @555,
I think your theory is a tad flawed. You are assuming that the opponent would have stood still too. Doesn't hap.pen that way, as you probably know.
Those who have played the game (maybe you?) will know that the Burnley player's eyes would have lit up when he saw the inaccuracy and slowness of the pass. If I'm the Burnley player, I just know I'm winning that... against anybody. It wasn't just the awful pass which made Keane totally to blame for that goal.
Quite what he thought he was doing when he twisted to play the resulting cross right into the path of the oncoming Woods is anybody's guess. It was so much easier to just ease it over the line for a corner. He has had a good season but, right there, are two total howlers.
Godfrey stood and watched instead of charging Woods down and Gomes chases back with all the desire of a lamb. All very poor decisions.
As pointed out above, this nearly became a Tom Davies thread (again) but I defy anybody to look at that goal and not see two howling errors from Keane. Awful lack of effort from Gomes and poor judgement from Godfrey when deciding not to narrow the target by charging down Wood. The goal is still readily available for anybody to see.
I think there is a section of our fan base who are very embarrassed by the fact that they totally dismissed young Tom as a Premier League player. Six different managers and he will still be one of the youngest players to reach 200 Premier League games. They will now look to blame him for everything by virtue of the fact that he is on the pitch... Long may this embarrassment live.
I tell you what though: the dazzling Brazilian and the guy from Barcelona who played in there with Tom were a bit special, weren't they? 㿞 Million that glamorous duo cost, not far off double that if you count their wages. And the "League One" player is still out-performing them... Now that is definitely his fault!
Danny O'Neill
561
Posted 16/03/2021 at 05:29:32
Not his fault, just he made a mistake in the build up to the first goal, as did others. Burnley pressed and swarmed, overloading us quickly.
Aside from that, Tom Davies played okay and, as said above many times, played a great pass in the build-up to the goal.
Thomas Richards
562
Posted 16/03/2021 at 07:25:42
"There is not a midfield player in the country that could have dealt with Keane's pass."
You are displaying the blind loyalty you accuse the Ancelotti supporters of there. Along with Keane, Tom was at fault for the goal.
Graeme Beresford
563
Posted 16/03/2021 at 09:58:23
Clear one thing up for me, I have tried to watch it back but I never recorded the game.
Iwobi runs into their box and is clearly tripped, however he stays on his feet and we lose possession. Can someone tell me if I am clutching at straws because I am convinced that was a clear penalty.
Dave Abrahams
564
Posted 16/03/2021 at 10:28:22
Thomas (562), Keane had a chance to rectify his mistake, he didn't, aiding and abetting.
Two years for Michael, one year for Tom – suspended, because he was let down by his elder international friend!!
Jay Wood
[BRZ]
565
Posted 16/03/2021 at 10:34:34
'There is not a midfield player in the country that could have dealt with Keane's pass.'
Poppycock.
Kevin Prytherch
567
Posted 16/03/2021 at 10:43:59
Don 557 - what about Allan?
Despite having hundreds of appearances, he still has the innate tendency to rush out for challenges, exposing himself to a quick turn and then being out of position for an opposition attack. In addition, despite being that protective shield, he is often caught wandering so, if the ball is won in midfield by the opposition, they then have a clear run on goal.
Despite the tuition by a series of successful managers, he was not courted by a successful team and ended up at Everton. The fact remains, however, through no fault he can do anything about, that he is light-weight, literately.
How come reports like this don't seem to enter your responses? Or is it just because you wait for the first opportunity to slate one of our best performers simply because he is local?
Personally, I believe that, if Davies had played the Allan role instead of Allan against Burnley, we'd have stood a better chance of winning.
Thomas Richards
568
Posted 16/03/2021 at 10:47:02
Dave,
The case for the defence rests.
Graeme Beresford
569
Posted 16/03/2021 at 10:53:51
Let's be honest, there were a lot of mistakes again Burnley.
Keane's sloppy pass out.
Davies poor control, foul?!?
Keane's pass right to their man.
Allan getting skinned for the goal.
Calvert-Lewin's poor control a few times when he's away.
Calvert-Lewin's poor header from a yard out.
We can blame everyone for mistakes but it's football and these things happen.
Steve Brown
570
Posted 16/03/2021 at 11:06:05
The first goal was collectively a poor one for the team to concede, several players had a part in it and the outcome was a strike from Chris Wood that he would miss 9 times out of 10 in training.
Brent Stephens
571
Posted 16/03/2021 at 11:45:28
"There is not a midfield player in the country that could have dealt with Keans pass".
I see players receiving, and dealing with, that sort of pass, team after team, player after player, game after game, week after week.
Mark Stanley
572
Posted 16/03/2021 at 12:37:07
Is the Southampton game the only one we've won in the league since we last had supporters in the stadium? Even in that game we struggled!
Speaking of stadiums, shouldn't we be hearing from the govt about our submission any day now or does it come under the over-used Covid excuse delay?
Brian Murray
573
Posted 16/03/2021 at 12:48:19
Danny post 528. Dcl had it over latchford in the pace department. Seen at most a handful of goals from just outside the box from Bob so they are similar in that way. Bob had better wide men to help ie goodlass and Thomas. Dcl relies on a full back as the only one who knows how to cross. Both 20 goals strikers. We still don't know what level Dcl will aspire to yet.
Dave Abrahams
574
Posted 16/03/2021 at 12:49:31
Thomas (568), As Judge and jury in this case I'm glad you had the sense to sit down and rest your case, or I'd have to order you out of this court for gross impertinence, or was it sarcastic impudence !!
Brent Stephens
575
Posted 16/03/2021 at 13:00:00
Careful, Dave, you'll end up using that noose as well.
Although I guess Thomas will remember the words of Brendan Behan who once said, "I was court-martialled in my absence, and sentenced to death in my absence, so I said they could shoot me in my absence".
Jay Wood
[BRZ]
576
Posted 16/03/2021 at 13:02:53
Thomas Richards
577
Posted 16/03/2021 at 13:07:01
My apologies m'lord.
I rested the case for OUR defence
Dave Abrahams
578
Posted 16/03/2021 at 13:07:51
Brent (575), One of my favourite people Brendan Behan, so that goes in your favour, but if you come into my courtroom again, without permission, giving your opinions, I will not only order the noose but put it around your neck and bleedin' pull it. Order in the court and bring up the next guilty defendant !!
Dave Abrahams
580
Posted 16/03/2021 at 13:19:19
Thomas (577)yes, well, erm,sit down there, not you Mr. Richards, always erm erm, nice to see a friendly face, it's just I've had a lot on my plate erm lately and I've got my Rob Wilton head on today and that bleedin', excuse the French, Brent Stephens has put the lid on it, anyway your next defendant is not guilty, on the house.
Thomas Richards
581
Posted 16/03/2021 at 13:30:38
Can I take the opportunity to congratulate a fine impression of a lot of older day judges Mr Abrahams.
Away with the mixer all of them.
Wacker the worse of them all.
Brendan Behan.
A fine man
Justin Doone
582
Posted 16/03/2021 at 13:34:39
It's frustrating and I've had a moan myself b it's time to put it to one side if it's an individual error or series of player errors.
I'm more interested in how we can create and score more goals. Faster build up, faster passing, faster positive forward runs and movement.
Surely King is a better option than Iwobi, Bernard, Siggy etc.
Brent Stephens
583
Posted 16/03/2021 at 13:39:30
Dave " bring up the next guilty defendant !!"
You'd make a fine ref, Dave!
Dave Abrahams
584
Posted 16/03/2021 at 13:41:40
Thomas (581)thank you Mr. Richards, what a fine understanding person you are, your name is duly noted and will be presented to the bar, cough, cough, when the next list of judges is being considered.
Dave Abrahams
585
Posted 16/03/2021 at 13:48:34
Brent (583), Brent let's be fair to referees, they treat, Liverpool and Man. Unt, very well, very well indeed!!
Thomas Richards
586
Posted 16/03/2021 at 13:50:54
Have you had a pint in Johnny Macs in Cook St. Dave.
Frequented by the judiciary.
An eye opening experience
Dave Abrahams
587
Posted 16/03/2021 at 13:57:41
Thomas (586), not sure Thomas, I've been in the pub at the bottom of Cook Steet on the right hand side, but not frequently, but any stories of judges, barristers and solicitors, good and bad would not surprise me, quite a few are as crooked as the people they judge, defend and prosecute, money speaks volumes, starting at the top.
Thomas Richards
588
Posted 16/03/2021 at 14:02:02
At the back of the Vaults pub Dave.
Members only club.
Barry Williams
589
Posted 16/03/2021 at 14:03:59
Derek Knox- 559
I cannot remember seeing Eastoe play as a kid, but might have done. I do remember my Evertonian mates wanting to be him in our kickabouts. I think I wanted to be John Gidman - always a weird kid!

Alan J Thompson
590
Posted 16/03/2021 at 14:06:11
Ahh, Brendan Behan; my favourite quote of his was when he was asked if he was an alcoholic;
"No, but I'm saving up to be."
Peter Mills
591
Posted 16/03/2021 at 14:23:34
Dave, you seem to have a very thorough knowledge of courtroom procedure and terminology. No doubt you will try and tell us it's all from the telly.

Barry Williams
592
Posted 16/03/2021 at 14:38:09
Gentlemen - it appears you are being watched! Sharp v Calvert-Lewin link!
Just because you aren't paranoid, doesn't mean they aren't watching you!
Paul Reeves
593
Posted 16/03/2021 at 15:04:55
Just to add a new angle to the ongoing analyses
I think Godfrey played his best at left back galloping down the wing creating chances with Mina and Keane in the middle
Unfortunately for him Digne has been well below par lately after his injury in all fairness plus he doesnt gel well with Godfrey no interplay
But we must play to our strengths and for me Godfey there is currently our much better option
What does the Forum think ?
Dave Abrahams
594
Posted 16/03/2021 at 15:17:37
Peter (591), when I was in between jobs, happened a lot, some of the best days out were spent in the crown court listening to the cases, some of the performances of the defendants were brilliant, better and funnier than the telly, and even more comical and outrageous were the magistrates courts, when the drunks from the night before came up, I watched and, appeared at those about four times, some Oscar winning acting,not from me, at those, even the magistrates struggled to keep their laughter in, best of all it cost nothing to get in, as one fella said tome coming out into Dale St. cheaper than the Empire.
Peter Mills
595
Posted 16/03/2021 at 15:42:50
Dave, I knew you would have a tale to tell!
Dave Abrahams
596
Posted 16/03/2021 at 15:55:15
Peter (595), George Harrison, a reporter with the old Liverpool Express, used to write a column about the magistrates court cases every week, Ibet some writers and comics got a lot of material from that column. George used to drink in The Dive, a well known pub on the site were The Precinct is now, he could really tell a tale or two.
Danny O'Neill
597
Posted 16/03/2021 at 16:03:23
Thanks on 2 counts Barry.
I suspected that Dominic was more Latchford if we are going to make comparisons. Sharp always had the odd spectacular long range or volley in him. Not yet seeing that from Dom.
Ultimately he is Dominic really and will be - like you say, let's see where he goes but the signs are promising.
Secondly, the Echo article. Big brother is always watching! Isn't the Echo the worst website? Not just it's red swingings, but the adware and popups. Irritating.
Terry White
598
Posted 16/03/2021 at 16:26:58
Paul (#593), I might be inclined to give more support to your suggestion if you could get Godfrey to kick the ball with his left foot.
Barry Williams
599
Posted 16/03/2021 at 16:30:04
Danny O'Neill - 597
What really irks me about the Echo, besides all the ads and pop-ups, which I have mostly blocked, is seeing Klopp's face on videos plastered all over the Everton pages. You go to read about Everton, the first thing you were hit with was a big Liverpool FC article. It got ridiculous earlier this season!
Yes, Calvert-Lewin will be Calvert-Lewin. I don't think him and Richarlison make a cohesive partnership though; I could be wrong!
Thomas Richards
600
Posted 16/03/2021 at 16:32:00
Dave,
The top solcitors in town always employed a clerk who knew his way around. A legitimate link between both sides.
Do you recall George Starkey.
Worked for Silvermans.
Good north end lad.
Derek Knox
601
Posted 16/03/2021 at 16:51:46
Barry, you missed out there, or did you, you have youth (?) on your side, well it is in comparison to myself. Funny you should mention John Gidman, I met him loads of times in The Eagle in Paradise Street, opposite the old Holiday Inn, owned by another Scot (like me) Jack Ferguson.
My mate who I still see on the odd occasion, Pete Keenan was a very good friend of Brian Labone, and the Eagle was a regular spot for quite a few ex-footballers. May sound like I'm name-dropping but Ian Ure used to go there too when in Liverpool, ex Dundee, Arsenal and Man United, and I had many a good chat over a pint with him.
We didn't view it as a big thing then, because footballers were revered in most cases, because they had fulfilled most of our boyhood dreams, but having said that they weren't on the ridiculous Film Star wages of today and silly contr(ick)acts, and didn't think, or act, like they were Superstars.
Brent Stephens
602
Posted 16/03/2021 at 16:52:55
Terry #598 "Paul (#593), I might be inclined to give more support to your suggestion if you could get Godfrey to kick the ball with his left foot."
Maradona couldn't kick the skin off a rice pudding with his right foot. But he'd never have gone hungry - he could have opened a tin of beans with the left.
Derek Knox
603
Posted 16/03/2021 at 16:58:52
Brent, " he'd never have gone hungry - he could have opened a tin of beans with the left ". Yes I suppose he had about 57 ways of doing that too! :-)
Danny O'Neill
604
Posted 16/03/2021 at 17:15:24
Brent, Terry & Paul,
I often get frustrated when players at this level can't use either foot including their least natural to some level. It can make small but important differences; a full back giving a corner away instead of a throw in for example because of the angle of the challenge depending on what foot is used.
I am also a fan of using players on their natural side wherever possible.
But every now and then, you just get a player who despite being so one footed, you just accept it. For Everton in my lifetime, Kevin Sheedy and his magic wand (left foot).
Brent Stephens
605
Posted 16/03/2021 at 17:33:44
Ah Sheedy, Danny! Magic wand indeed that one foot.
Wiki says " At Everton he made 357 appearances (12 as substitute) and scored 97 goals." Not bad, eh!
My hope is we'll soon be signing a similarly-gifted creative player - don't know who but...
Dave Abrahams
606
Posted 16/03/2021 at 17:37:59
Terry (598), Terry I wouldn't mind betting that Bobby Collins was one of your favourite players, he didn't use his left foot very often, and another one of your favourites, if I'm right in saying that, Tommy Ring didn't very often use his right foot, a bit like Tommy Eglington perhaps another of your favourites, one of England's best known players, Stanley Mathews hardly ever used his left foot, not saying Ben is anywhere near as good as those mentioned but you get my drift, come on Terry admit it you can be a good player using just one foot, and yes of course they would be better if they could use both feet.
Barry Williams
607
Posted 16/03/2021 at 17:44:10
Derek Knox - 601
I am 50 Derek, so maybe I just cannot remember Eastoe live, as when you are a kid things look a bit different. Just checked my first match in 1980, and he did indeed play and scored!
I think the players had a little more interaction back then and players could actually be seen in local places.
Dave Abrahams
608
Posted 16/03/2021 at 18:12:02
Thomas (600), George Starkey, the name rings a bell, Silvermans, did they have an office in Fenwick St. and one in Breck Road? Anyway you are right most solicitors had a clerk who knew the in and outs of the way the situation was, more street wise than most young solicitors, they learned about the clients they represented, in general, the older they got. Solicitors were like tailors, the best were known by word of mouth. Did you work for solicitors yourself Thomas, what I'm asking really is, How did you get into that members only club that was frequented by the legal fraternity?
Thomas Richards
609
Posted 16/03/2021 at 18:22:12
If I recall correctly Dave they had an office in North John St.
Memory not the best mate so could be wrong.
A good man George.
His nephews are big Blues, struggling to remember who George followed.
Their was a mixed clientele in Johnny Macs.
I got in as a guest of a mate
He wasnt in the legal profession.
Don Alexander
610
Posted 16/03/2021 at 23:53:57
Kev (#567), I've applauded Tom in the past few weeks for playing well, resembling Reidy I said. However, I think he was turned over too easily for the goal. I don't blame him for decision making but the fact remains he's light-weight. He can be physically overwhelmed in the modern-day game (as would be the likes of Reidy) where pace, body mass and aggression are the ace characteristics all over the pitch, unfortunately.
Mick O'Malley
611
Posted 18/03/2021 at 11:01:52
Wow the lengths some people go to win an argument, personally I think Dom is limited but I can admit he has improved a lot this season, I've always thought he was more reminiscent of Mike Newell
---
Add Your Comments
In order to post a comment, you need to be logged in as a registered user of the site.
Or Sign up as a ToffeeWeb Member — it's free, takes just a few minutes and will allow you to post your comments on articles and Talking Points submissions across the site.
---
© ToffeeWeb