Gomes leaves Portugal camp with injury
Monday, 7 September, 2020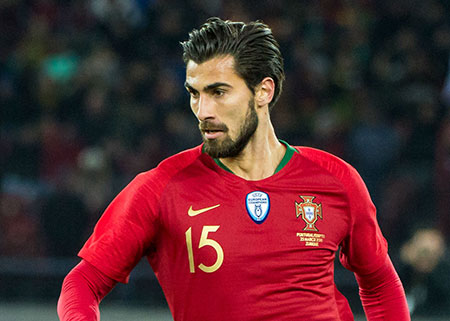 Andre Gomes has been sent back to England by Portugal after picking up an injury that rules him out of today's Nations League fixture against Sweden.
The midfielder was an unused substitute against Croatia and picked up an unspecified knock in training, casting a doubt on his availability to face Tottenham on Sunday when Everton kick off their 2020-21 Premier League campaign.
Carlo Ancelotti is already awaiting results of a scan to determine the extent of Mason Holgate's foot injury but he expects Yerry Mina to be fit and was confident that Fabian Delph's ability to rejoin the group this week after training on his own to this point.
The imminent arrivals of Abdoulaye Doucouré and James Rodriguez are expected to further bolster the manager's options for Sunday's game.
---
Reader Comments (59)
Note: the following content is not moderated or vetted by the site owners at the time of submission. Comments are the responsibility of the poster. Disclaimer
Peter Warren
1
Posted 07/09/2020 at 07:17:25
Oh dear... hope it's minor.
Steve Hopkins
2
Posted 07/09/2020 at 07:42:43
And so it begins.
Sam Hoare
3
Posted 07/09/2020 at 07:44:36
The success or failure of this season could depend a lot upon the amount of injuries we sustain.
We could potentially have a quite exciting first XI but the squad depth remains questionable. It will be interesting to see how quickly the likes of Allan and hopefully Doucouré and Rodriguez are starting matches.
Kim Vivian
4
Posted 07/09/2020 at 08:10:15
Hope it is minor and, if so, good. Get him home. I always fear the injury risk when our lads go off on international duty.
Andrew Ellams
5
Posted 07/09/2020 at 08:10:17
So Gomes and Holgate are doubts for Week 1 already.
Derek Knox
6
Posted 07/09/2020 at 08:11:10
What's up with these players these days? I could understand it better if they had played most of a match and got injured in the process.
Not sitting on a bench or getting injured in the warm-up, what are they made of? Porcelain!
James Marshall
7
Posted 07/09/2020 at 08:46:58
Derek - I'm a finely tuned athlete, and once hurt my back reaching for a Toblerone. It's easily done.
Bobby Mallon
8
Posted 07/09/2020 at 09:06:22
Why would you have a player on the bench if he was injured, ffs.
Jerome Shields
9
Posted 07/09/2020 at 09:06:38
Gomes hasn't been putting enough work into his recovery. This was obvious when he came back at the end of the season matches. He looked out of shape.
Now, after a rest which he didn't need, he has gone back again, when demand in training has been put on him. If Everton hadn't have got the new transfers in, the midfield would have not only been bad, it would have been a joke.
I was actually hoping someone would put in a offer for Gomes.
Patrick McFarlane
10
Posted 07/09/2020 at 09:14:28
Jerome #9,
You seem to have a rare insight into the players' fitness regimes and what they have and haven't done.
To suggest that Gomes has been less than careful with his recovery is one thing... to state it is categorically the case, is another.
Alex Gray
11
Posted 07/09/2020 at 09:15:22
A load of rubbish, that is, Jerome. He came back months earlier than expected after a horror injury and, whilst he was well off the pace, that has nothing to do with a lack of work or effort.
Jim Bennings
12
Posted 07/09/2020 at 09:28:13
Does any other club get the amount of pesky injuries that our players seem to fall down with?
I look at how slow we play the game and to me our players never look fit enough, most of them puffing and blowing after less than 60 minutes.
We always looked fitter at Bellefield, these days it's all too much perks and fringe benefits training at these luxury facilities like Finch Farm.
Eddie Dunn
13
Posted 07/09/2020 at 09:28:58
Jerome, you are talking utter garbage. You know nothing of his fitness programme and to say he looked out of shape is ridiculous. There can't be an ounce of fat on him.
The info says he had a knock – that is not breaking down when training demands get too hard!
Dave Abrahams
14
Posted 07/09/2020 at 10:06:23
Delph has been out for quite a while with a soft tissue injury, what is a soft tissue injury? Serious question, I haven't got a clue.
Phil Sammon
15
Posted 07/09/2020 at 10:13:48
Dave @14,
I believe in Delph's case he dropped a pocket-sized pack of Kleenex on his foot. Three-ply with Aloe, I'd say he'll be out for 6-8 weeks.
Patrick McFarlane
16
Posted 07/09/2020 at 10:14:42
Dave #14,
According to the link below:
Soft tissue injuries (STI) are when trauma or overuse occurs to muscles, tendons or ligaments. Most soft tissue injuries are the result of a sudden unexpected or uncontrolled movement like stepping awkwardly off a curb and rolling over your ankle. These are injuries our Physiotherapists see every day at our Edinburgh physiotherapy and sports injury clinics. However, soft tissue damage can also occur from excessive overuse or chronically fatigued structures, especially muscles and tendons. For example, if you were to do a long run when already fatigued (from a previous run or exercise), then it is possible to cause trauma or a strain to key running musculoskeletal structures like your calf muscles or achilles tendons, also see: "How to prevent running injuries".
What are the most common soft tissue injuries?
Ankle Sprain (see exercise routine below)
Back Strain (see article on back pain)
Calf Strain
Golfers/Tennis elbow
Hamstring strain
John Kavanagh
17
Posted 07/09/2020 at 10:17:30
Dave @14,
Answer: You are so soft that at the least touch you go down injured, get the tissues out to have a good cry, and then report to the Finch Farm hospital for months of treatment.
Tony Everan
18
Posted 07/09/2020 at 10:18:51
No need to worry on the injury front, Delph and Mina are fully fit and ready to step in.
Pat Kelly
19
Posted 07/09/2020 at 10:20:34
The latest of our injury-prone 'stars': Mina, Delph, Gbamin, Gomes. I don't expect to see much of them in the future – apart from reports of their recurring injuries. Carlo will need to plan without them.
Dave Abrahams
20
Posted 07/09/2020 at 10:36:16
Patrick (16), I read the link and took it in, nowhere does it mention, and I'm being serious here, that the injury can be in your head (mind).
The reason for this is both Saha (who played for us) and Sturridge (who played for Liverpool) were always out for long periods with similar types of injuries to Delph.
Klopp said of Sturridge's injuries "They are mostly in his head" and Alex Ferguson said of Saha "Unless he was 150% fit, he wouldn't play". If he felt the slightest twinge, that was it – he wouldn't play.
Both great players but seemed to lack something mentally, to me.P>I'm not saying Delph is a great player but is much better than average, when he is fit. I just wondering if the problem is upstairs with him, he could be a useful squad player this season, as we are not overloaded with good players even to go on the bench.
David Connor
21
Posted 07/09/2020 at 10:37:35
Gomes has been largely a disappointment for me after so much promise. Just another crock to add to our long list of crocks, unfortunately.
We need to get rid while we can still recoup what we paid for him. Based on his performances since his return from his last injury, he won't be missed. He's got to go.
Dan Nulty
22
Posted 07/09/2020 at 10:41:13
I heard the physios and medical staff at Man Utd were left bemused by Saha sometimes. There was never stuff showing on ultrasound scans but he'd be adamant he had a thigh strain or torn hammy.
I just think some players can't cope with the expectation and nerves and find any excuse not to play. Saha was absolutely class on his day. I just don't think he felt he could live up to his own expectations and sort refuge in the physio room.
I don't get that vibe from Delph, to be honest.
Colin Glassar
23
Posted 07/09/2020 at 11:17:37
Is he another James McCarthy? These guys injure themselves tying their bootlaces nowadays.
Andrew Ellams
24
Posted 07/09/2020 at 11:22:07
Dan, to be fair, the medics at Man Utd couldn't even spot a bone spur on Darron Gibson's thigh that was damaging his muscle every time he kicked a football with any sort of power.
Bill Watson
25
Posted 07/09/2020 at 11:48:49
The decision to have an International Break the week before the season starts was ludicrous and has disrupted the pre-season training of all those clubs which have had players called up.
On an entirely different note it's reported that Chelsea are open to offers for Barkley. I'm sure he'll go for more than the paltry £15M they paid us!
Simon Harrison
26
Posted 07/09/2020 at 11:54:44
Just a general question re Finch Farm and the medical team.
Does anyone know if Ancelotti or Brands has now taken control away from the medical team re control of players' return post-injury recovery?
I remember reading an article saying that a major sticking point at Finch Farm, was that the medical staff had too much power over players returning to train; and, as such, certain players would be able to cajole longer stints in rehab than others, all the while, earning a small fortune every week.
As for Gomes, it could be a knock, or something as simple as a biomechanical/myofascial imbalance by changing training methods from USMFF and then training with the Portuguese National squad..?
Hopefully, whatever it is, I hope he recovers quickly, and completely!
Bobby Mallon
27
Posted 07/09/2020 at 12:05:31
Jerome Shields.
Gomes should only have come back now, from his horror accident. He was rushed back too early. That's why he played badly; he's not a bad player and that's why he is injured now.
The only saving grace is Portugal will be picking up his wages as he did it on international duty.
Derek Knox
28
Posted 07/09/2020 at 12:05:36
James @7, Toblerones, Swiss Rolls and Curly Wurlys should be banned from any training session, or as a snack, and replaced with Go, Boost and Mars Bars! :-)
Bill Watson
29
Posted 07/09/2020 at 12:33:39
Derek #28
Back in the day we always found a couple of pints of brown mixed or pale ale was a good pick me up after a heavy training session!
Derek Knox
30
Posted 07/09/2020 at 12:44:22
Spot on Bill mate, in James's case if he was 'reaching for a Toblerone' it was obviously strategically placed so he was not meant to get access to it in the first place. Simples! :-)
Brian Williams
31
Posted 07/09/2020 at 12:44:40
"Gomes hasn't been putting enough work into his recovery."
Complete and utter bollocks!
Mike Gaynes
32
Posted 07/09/2020 at 12:49:21
James #7, cheers to your courage in admitting publicly that you have reached for a Toblerone. I hope the injurious consequences to this heinous act were sufficient to dissuade you from ever doing so again.
Jerome Shields
33
Posted 07/09/2020 at 12:49:26
Bobby #27
I except what you say, I allowed my frustration over recurring injuries get the better of me. I have little faith in Finches Farms recovery regime and do think that some players do take advantage. In Gomes case I am probably wrong. I think that Gomes is a ok player, but will always have weakness in losing possession when out under pressure, pace and mis timed tackles. He was never going to be a player to build Evertons midfield around.
Justin Doone
35
Posted 07/09/2020 at 12:54:09
An unlucky injury as most are.
I'm slightly shell shocked that both Mina and Delph are both fit, at the same time, training and are potential starters.
I cant believe they will be anywhere near match fit nor able to stay injury free for more than a couple of weeks.
I wish them both well and in Mina's case he can hold down a regular starting place.
Tom Bowers
36
Posted 07/09/2020 at 13:28:09
Another injury ???? Good start to the season that hasn't yet started.
Still time for a few more to be crocked. Could only happen to Everton.
Jim Burns
37
Posted 07/09/2020 at 13:44:26
All I would say at this point is we don't know how serious either of these 'knocks' are - let's not jump into the canal just yet.
Michael Connelly
38
Posted 07/09/2020 at 14:17:41
Won't be good enough for our starting 11, these days, in any case. Davies, Delph, Bernard, Iwobi, Walcott, Sigurdsson, or A. N. Other, 'not quite good enough for the higest level', player can take his place on the bench.
Derek Knox
39
Posted 07/09/2020 at 14:27:43
Jim@37, too late mate can you throw me a life belt if your passing, I think the one's on the bank must all be RS Supporters because they are just ignoring me! :-)
Benn Chambers
40
Posted 07/09/2020 at 15:09:51
What the fuck is going on with us and the injuries?? It can't be just bad luck or coincidence anymore. Our medical tram and training dept needs looking at! We've signed numerous players with good records before they signed here and they've gone to shit since. Ignoring Delph Who's got fucking kinder Bueno's for legs, the rest have seemed to get Injured since coming here. Gbamin, Tosun, Mina, and now Gomes. I hope the leg break hasn't turned him to a sick note because like Gbamin, with the arrival of our new midfield, he could find himself out on his arse. He may not be able to force his way back in the more time he spends out injured.
This international break is a fuckin farce as well. Corona on the rise and we send players all over the world. Piss take. City are paying the price as well speak.
Nicholas Ryan
41
Posted 07/09/2020 at 16:34:38
James [7] Didn't Liverpool have a Danish reserve goalie about 10 - 15 years ago, who got a career-threatening injury opening up his ironing board?!!
Nicholas Ryan
42
Posted 07/09/2020 at 16:38:44
... Just looked it up: Michael Stensgaard 1996!
Jack Convery
43
Posted 07/09/2020 at 16:39:50
Why am I not surprised. So Everton. Can't we get hold of some of Klopps Pills !!
UEFA are a joke. Nobody should be flying anywhere whilst the pandemic continues. Money Money money.
Lets hope it isn't too bad and Mason is up and running soon too.
I just hope we have a decent ref v Spurs or they will kick Richarlson black and blue as they did last time we played them.
Phil (Kelsall) Roberts
44
Posted 07/09/2020 at 16:40:32
Benn#40
I assume the comment about Tosun was a joke.
We sent him out on loan to Palace and he got injured while training with them. Probably one of our guys went down to Palace to help them with their training. Yes of course, that is why and we are being charged by the FA for spying on the opposition at the same time.
Phil (Kelsall) Roberts
45
Posted 07/09/2020 at 16:45:10
Bill #25
If we had any swagger we would be offerring £10m for Barkley and £20m for Ndombele.
Make a statement that we are prepared to be chancers. It would be worth it to see Levy self combust - especially as we play them this weekend. Always good to sow a little dissension in the opposition.
And the reaction to buying either of them would probably cause a meltdown in ToffeeWeb.
Richard Lyons
46
Posted 07/09/2020 at 16:57:50
Phil Sammon #15 and John Kavanagh #17 - thank you both, I had a double laugh-out-loud moment with your quips about soft tissue injuries... brilliant!
Jerome Shields
47
Posted 07/09/2020 at 17:10:26
Patrick#16
Martinez sacked our current Head of Therapy over soft tissue injuries. I take it he knew what he was doing having a Degree in Physiotherapy.
Mike Gaynes
48
Posted 07/09/2020 at 17:16:27
Nicholas, ironing can be deadly. I tried it once and barely survived.
Jerome Shields
49
Posted 07/09/2020 at 17:22:47
Dave #20
''The players often ran the place. In a lot of clubs, masseurs and physios in particular, as they spend a lot of time with players and provide them some relief, can develop really strong relationships.
"That can make it a little bit harder for people — doctors, physios and other therapists — to have the really difficult conversations.
"I think there was a reluctance of some of the people involved to use hard training as protection, and so instead they'd do more rest and recovery. Because that was the easy option. It's easier to sell to players, in particular. ''
Darren Burgess Performance Manager.
Patrick McFarlane
50
Posted 07/09/2020 at 17:27:53
Mike #
The pressing game has certainly looked difficult for our players to employ, mind you there's no use for ironing if you can't keep a clean sheet. I'll get me coat!
Christy Ring
51
Posted 07/09/2020 at 17:52:44
Justin #35 Hopefully Delph can stay fit enough to pass a medical for Burnley or Leeds.
Jerome Shields
52
Posted 07/09/2020 at 18:14:36
Simon #28,
Head of Physical Conditioning (Same level as Head of Medical Services in the structure) — Francesco Mauri
Recovery &Performance Specialist — Mini Fulco
There was a delay in Ancelotti announcing such changes
Steve Ferns
53
Posted 07/09/2020 at 18:35:09
Jerome, how on earth can you say such a thing?
Gomes produced 2 or 3 videos detailing his comeback. Everton released some as well. The medical staff went on record about the speediness of his recovery and how hard he worked.
As for the injury, it's vague information at this stage. Perhaps something might be lost in translation, but a "knock" always means a heavy challenge off an opponent (or a teammate as in Gomes's case). In other words he's been clattered and got some soreness. Usually it dissipates with rest.
If they said a "pull" or a "strain", then it'd be muscular, a soft tissue injury, and maybe you can question his readiness for the season, whether that's down to him or Everton is a different question. But with a "knock", there's no suggestion of not being fit enough, he's just been unlucky to get clattered.
Jerome Shields
54
Posted 07/09/2020 at 20:01:58
Steve #53,
Reference post #33
I have retracted my statement regarding the injury to Gomes, having let my frustrations get the better of me.
I also accept the facts you have stated and can see where you are coming from.
By the way you were right about Brands and youth development, my reference quote turned out to be two years out of date.
Paul Birmingham
55
Posted 07/09/2020 at 20:45:11
Hopefully, the rest of the squad can stay fit, and get this season off to a good start, and upsetting the odds v Spurs.
Sukhdev Sohal
56
Posted 07/09/2020 at 22:38:14
If our best midfielder from our previous season got injured we'd usually be crying about it but thanks to our masterstrokes of transfers it isn't.
Steve Ferns
57
Posted 07/09/2020 at 22:41:30
Jerome @54, good man.
Chris Davies
59
Posted 08/09/2020 at 05:16:10
Just for clarification, this thread covers:
Gomes being a sick note (the same guy that had an ain't-no-coming-back-from-that injury a little while ago) because he got kicked playing for Portugal,
Nobody else gets pesky injuries. I assume not noticing "invisible" players are expensive?
Ronaldo never gets hurt, nor Messi, Suarez, Lukaku, Sigurdsson even. They're expensive!
UEFA are silly for allowing players to fly around because of Covid-19. Anyone else overjoyed that James flew to Liverpool recently?
This site used to be full of knowledge and wit.
Be happy, Blues x

Nicholas Ryan
60
Posted 08/09/2020 at 11:25:35
Mike [48] Patrick [50] this ironing thing is serious.
Some years ago, students at De Montfort University in Leicester, got so fed up with sports being described as 'extreme this' and 'extreme that' that they decided to set up the Extreme Ironing Club, to take the Mickey!
They photographed themselves ironing halfway up Everest and under the sea!
There's now a world championship of 'extreme ironing' played for the Rowenta Cup - Rowenta being manufacturers of Irons!
There's a website dedicated to it, called 'The Cool of the Wild'.
Seems they found a 'seam' of humour er, hmm!
Karen Mason
62
Posted 09/09/2020 at 16:16:11
My most respected coach in hockey always said " Train, practice & warm up like you want to play." His advice being, if you did any of the above at anything less than maximum effort, you will play like you trained. Having watched Gomes progress from his horrific injury, back to playing, in such a short time, my money is on, that he sustained his knock, giving his best in a training/ practice session.
Delph on the other hand, is just a sicknote & for me much preferred in the left back ( in the changing room) position.
To the guys who have enlightened us all about soft tissue injuries Thanks for makin' laugh out loud ( in a public place, sitting on my own). Most embarrassing!!?
---
Add Your Comments
In order to post a comment, you need to be logged in as a registered user of the site.
Or Sign up as a ToffeeWeb Member — it's free, takes just a few minutes and will allow you to post your comments on articles and Talking Points submissions across the site.