Ancelotti hails 'brilliant' display at Spurs
Sunday, 13 September, 2020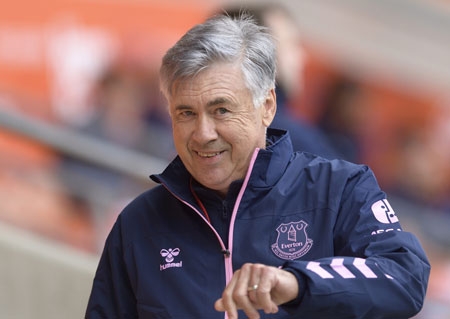 Carlo Ancelotti expressed his satisfaction with Everton's impressive win at Tottenham this afternoon, saying that the players did exactly what was expected of them.
The Italian started all three of his new signings and was rewarded with excellent debuts from James Rodriguez, Allan and Abdoulaye Doucouré but it was the combination of two established stars that yielded the game's only goal.
Lucas Digne delivered an inch-perfect free-kick that was met with an impressive leap by Dominic Calvert-Lewin who despatched a typical striker's header past Hugo Lloris 10 minutes into the second half.
Ancelotti's frustration with his team last season, especially in midfield, had been evident but the addition of his new players had the desired effect of beefing up the mid-section while James added flair and vision on the right flank.
"Unbelievable," Ancelotti said afterwards. "The game was good. The game was what I expected from the team. I know it was not easy but I thought the new [players] brought energy, brought quality and the others supported really well.
"So the performance was brilliant. We had some difficulties in the beginning but we were comfortable on the pitch."
Asked if he was surprised at how quickly his new signings had bedded in, Ancelotti smiled, "Players that are able to play football don't need a lot of time to adapt so James knows very well what he has to do and Allan and Doucouré are the same.
"I told them to show their quality and I think that they did. I think we have a good combination in midfield — we have quality in Gomes and James, we have Allan [who does really well] in possession, and we have Doucouré who can work box-to-box.
"Last season, we had a lot of players with quality on the ball but in football sometimes you have to play without the ball."
---
Reader Comments (88)
Note: the following content is not moderated or vetted by the site owners at the time of submission. Comments are the responsibility of the poster. Disclaimer
Paul Burns
1
Posted 13/09/2020 at 20:41:55
Finally a man who recognises the importance of having a strong midfield and has acted decisively.

Kev Dooley
2
Posted 13/09/2020 at 20:45:21
Absolute Legend..club;)
John Graham
3
Posted 13/09/2020 at 20:45:24
Brilliant words from a top-class manager.
Expect there will be a few ups and downs throughout the season but we have a manager with high expectations and who knows what he wants from the players.
Tony Everan
4
Posted 13/09/2020 at 20:47:44
Love the fact you can't easily say which of the new signings was best today . They were all brought in for their specific quality and they all brought it to the table.
It's only one win but to see a controlled and quality performance away against a top 6 side make this a wonderful day for Evertonians.
All the more so as this was clearly no flash in the pan. The football we played with our new midfielders looks like it will become the norm this season.
Brian Hennessy
5
Posted 13/09/2020 at 21:01:52
Carlo couldn't stop smiling in his interview with Sky.
I watched the game with a level of excitement, tension, and sheer happiness that I haven't felt in years watching an Everton game. I even forgot about the fact that there was no fans in the stadium. I was of the belief that football was dead until fans return, but today has given me a new lease of life.
Thank you Carlo, Marcel and Farhad. A new era has begun.
Alex Gray
6
Posted 13/09/2020 at 21:07:38
All starting eleven today looked class. Nearly every one of them could have been motm and it's been a long time since i've been able to say that.
Early days but if this a sign of things to come brands and Ancelloti have made some excellent business.
Martin Berry
7
Posted 13/09/2020 at 21:25:37
As I have have previously posted, no team is going to waltz through our midfield this season as ours is as good as anyones in the Prem.
Teams are going to have to battle us for 90+ minutes and as Spurs found they could not and just run out of ideas.
Brilliant football by us today with longs period of keeping possession, if Richarlison had more luck we could have won by 3 or 4.
Steve Ferns
8
Posted 13/09/2020 at 21:36:19
I always thought you need to introduce your new signings slowly. Get them into your way of thinking and up to speed, but Carlo says "Players that are able to play football don't need a lot of time to adapt so James knows very well what he has to do and Allan and Doucouré are the same."
Turns out I was brainwashed as an impressionable young man by David Moyes.
Paul Birmingham
9
Posted 13/09/2020 at 21:38:02
True grit, and genuine belief, today for the first time in donkies, it looks like this team believes in itself.
A long way to go but a fine performance.
WBA, will be tough to beat, but if.. 1984, and let's see if we can beat WBA.
Interesting to see if there's any more incomings, and if any outgoings.
But you can't ask for much better than to start the season with a fine win at one of the so called Sky Darlings, Sky Top Six.
Outstanding Everton FC today. Augers well, but very early days. Ten games in and let's see where EFC is.
Dennis Stevens
10
Posted 13/09/2020 at 21:42:15
In this case, Steve, it's probably more important to get the three new players out there straight away as it's imperative that the Everton way of thinking undergoes a dramatic shift - they'll be dragging the rest of the squad up to speed.
David Pearl
11
Posted 13/09/2020 at 21:48:00
Those 3 need to stay fit. In fact those 11. If that happens we will be flying this season. Oh and of course be a bit more ruthless in front of goal. Fantastico signings. 3 training sessions?! And as Steve said, what other manager would put them all straight in the team? He basically showed them he trusts them and gave them the confidence they needed. Pickford raising his game was also very pleasing. We can beat Salford City, l can feel it... This is our year!
Richard Duff
13
Posted 13/09/2020 at 22:08:39
"In football you have to play without the ball." Not stumble around like geriatric dressage horses on acid Gylfi my son!
Kieran Kinsella
14
Posted 13/09/2020 at 22:21:25
Can you imagine Moyes with this team? "Och, we bought in the wee cripple from Spain, couple of journeymen we got in cheap that maybe can make it, and then the wee child from France. We know we are in a relegation fight."
Rob Dolby
15
Posted 13/09/2020 at 22:22:18
Made up today with the workrate and quality on display today.
All 3 new boys had very good games.
Pickford with 2 great saves at nil nil. Coleman keeping Son quiet.
Spurs were lucky it was only 1-0 I don't think I have seen Richarleson miss so many chances. Think we dodged one in not getting Højbjerg.
A bullet header was another bit of quality.
I even thought Sigurdsson looked good and put a shift in when he came on.
Interesting formation with Gomes more advanced.
Utft.
John Mckay
16
Posted 13/09/2020 at 23:18:54
Quality game, could have been a lot more. been a long time since I seen a game dominated like this by us.
I think the easing new players in to our system is flawed in this case because our previous system was so flawed the last thing we wanted was for our new players to pick up on that haha.
Top draw, spurs where bad though very bad, lazy is an understatement they just couldn't be assed!
Loving the new signings as well excatly what we needed.
Can't wait for West brom now! COYB!
Martin Reppion
17
Posted 13/09/2020 at 23:24:34
Rob #15, you took the words out of my mouth regarding Højbjerg.
I also hope a few more performances like that from Pickford will shut up the negative rubbish he gets on this forum.
The main thing for me was the belief that the 3 new guys seemed to instil in the rest of the squad. Nobody panicked. They all raised their own games including those who came on from the bench.
We still need more attacking options and cover at the back if we are going to challenge for honours. But this win will make players take note. If we approach them they will know they have the chance of joining a team going places. That hasn't been the case for a while.

Jamie Sweet
18
Posted 13/09/2020 at 23:44:33
Just watched one of those YouTube videos showing James's debut. You know, those ones that show every touch made by the one player.
I think I might just go and watch it again.
Jerome Shields
19
Posted 13/09/2020 at 00:08:27
The new signings were outstanding, no stray passes, good keeping possession, great interlink play, great positional movement, great through balls. Final third play improved in the second half: no pass completion problems.
This has put down a marker to other p!layers. Mina, Digne and Coleman were up to it. Gomes was as well, but still recovering pace. Keane had one stray pass but pushed up competently. Richarlison was always available; him and Calvert-Lewin will improve positionally and on finishing.
Sigurdsson was shown up a bit by Davies, who really got stuck in, as did Kean. Pickford was good, but his distribution needs to be better. Giving the ball back to the opposition is not good enough.
Paul Kernot
20
Posted 14/09/2020 at 00:22:07
Hi Jamie #18.
Watch the whole thing, mate. It was class. Richarlison could have had at least one.
As one poster said, Spurs were awful but for a first game with all 3 new signings playing 90 mins, it was great to watch. The lack of pace in the back line still makes me nervous mind.
Jason Broome
21
Posted 14/09/2020 at 00:36:23
Amazing display by all today. Richarlison looks like he's becoming a world class prospect. An absolute handful for Spurs' defence. Incredible speed. I think the addition of Zaha could make us a force to be feared this term.
Chad Schofield
22
Posted 14/09/2020 at 01:09:05
Really solid performance. We made them look poor, and really should have won by a couple more. Can't wait for the team to really know each other. Fantastic debuts. The passing... actual proper purposeful possession!!!
Good Times. Bravo Carlo!

Mike Corcoran
23
Posted 14/09/2020 at 01:32:59
Kane is normally all over us, didn't have a sniff today though Son should've played him in when Alli shot.
Allan looked a little ropey for the first quarter hour but, feck me, grew into the game. Doucouré was excellent and upped the energy levels across the middle. James was sublime. Didn't, like others, think he would start but he showed that when you are that good then you don't need to be running like a maniac. We will score a lot of headers this year from his pinpoint assists. Think Richarlison was just surprised with the number of opportunities that opened up for him as result.
Great goal from Calvert-Lewin but would love to see him strike and control the ball better, it'll come. I was half expecting Mina or Gomes or James to limp off after 15 mins but I think now we won't see as many slight injuries this year as players bodies subconsciously realise that this may be their year.
Pub in New Brighton was very quiet compared to the RS game according my eldest who works there. I needed a few hours kip following the match/pints and woke up just in time for MotD which didn't make us look half as good we were. Plus ca change there...
Brian Cleveland
24
Posted 14/09/2020 at 02:25:32
Of course the Sky headline is not "Bullet header wins it for Everton", oh no, it has to be "Controversy over Everton's winning goal".
I used to think a lot on here were paranoid about a Sky agenda, I'm now asking the same question...
Bloody good performance today, I was very pleasantly surprised.
Ernie Baywood
25
Posted 14/09/2020 at 02:34:09
Brian I couldn't believe it last night. Our commentators were still taking about the position of the free kick 10 minutes later. People blame Mourinho but the media gives him exactly what he wants.
It was a beautiful goal. As they started the replay I was just hoping it wasn't off a shoulder or nose because it looked so perfect in play. And sure enough, it was perfect.
Jim Harrison
26
Posted 14/09/2020 at 02:57:24
Still talking about Moyes!!
I don't think he ever had the chance of signing a exceptional, top tier player. So Carlo is right. And so was Moyes maybe?
Great performance, especially for game one, away from home. Personally I thought James did ok, then I watched the highlight reel and realised how good he was! But for me Doucouré was just as impressive. He did a lot of work. And first half Gomes looked much more like himself.
Happy days. 3 points away from home at Spurs. They were pants on the day but still had enough quality up front to have got something out of the game
Nicolas Piñon
27
Posted 14/09/2020 at 03:13:24
Loved the team performance. Didn't like Sigurdsson performance saw him too sloppy and lost the ball 3 times of the four he touched in 25 minutes. I hope Carlo will have noticed it
Excellent and amazing result. Just wondered at times when the team looked tired why there were no subs coming in. My theory was (1) Carlo has little belief in the bench (something that can worry me in casé the subs MUST play) or (2) he was confident it was just tiredness and anything else.
It really surprised me James played the whole game, and what a game he played. As well as the whole team, of course. But those touches, with that exquisite left foot...
Wanna fly to Goodison right now! COYB!!

Karl Meighan
28
Posted 14/09/2020 at 03:35:39
A fine team performance, not many fullbacks will keep Son as quiet as Coleman did today and both Mina and Keane played their part, the clean sheet a deserved bonus. As well as the quality we showed on the ball, we also looked to have a togetherness and hunger to work for each other.
Great to hear the manager after the game talking about needing to be consistent and the confidence he has in the new players. All three were impressive and it may only be one game but it's been a long time since I looked forward to our next game as I do after today's performance.
Paul Kernot
29
Posted 14/09/2020 at 03:58:50
I posted earlier but one point I missed was the almost certain goal saving challenge Doucoure had the desire & athleticism to make. Last year I'd say that would have turned into a 1 on 1 with Pickford.
Dean Frank
31
Posted 14/09/2020 at 05:05:04
It was a great collective effort! My only "disappointment" was Richarlison was not as sharp as he needed to be.
If I had to name of MotM it would be Allan by a nose. He was really superb. Pulling Son from the outside and putting him central played right into our hands. Allan owned him all day and the entire 2nd half he was a non-threat.
But everyone contributed. I haven't been this happy in a long time!
Peter Warren
32
Posted 14/09/2020 at 07:15:02
Great team performance but no doubt Rodriguez is the star player. He doesn't just sprinkle stardust but explodes it all over – the team and our fans will adore him. What a player! I didn't realise how classy he is.
Mike Allison
33
Posted 14/09/2020 at 07:18:06
Were Everton playing in that match? Having listened to the radio and seen some newspaper headlines I thought Tottenham had lost 0-1 to an empty football pitch.
John Keating
34
Posted 14/09/2020 at 07:42:12
Great team performance and I just hope we can maintain this minimum level we have now set ourselves.
I really think we should be careful and manage our new and also our injury prone players for the league campaign unless we look at the latter stages of the cup games. Give our now fringe players, where possible, a game against Salford and same team as Spurs against West Brom:
Pickford
Kenny Gibson Keane Nkounkou
Davies Sigurdsson Bernard Gordon
Kean Walcott
Colin Glassar
35
Posted 14/09/2020 at 07:59:34
Bravo Carlo, bravo!
Kase Chow
36
Posted 14/09/2020 at 08:02:15
Brilliant, brilliant win!
Andrew Brookfield
37
Posted 14/09/2020 at 08:32:34
What a performance!
I'm intrigued as to why we swapped our CBs, with Kean on the left and Mina on the right? Maybe to deal with the pace of Son?
Kevin Prytherch
38
Posted 14/09/2020 at 08:43:10
One of the first things I noticed was the mentality of the new players and how that influenced the rest. Too often we play against the bigger teams and are reluctant to make a forward pass, we pass sideways and hoof it, we stand off. It's the mentality that pundits like Neville correctly point to.
I thought that Coleman (as much as I like him) started with this mentality, he was the main one in the first 15 minutes to pause and pass sideways or back to the keeper. He grew into the same mentality as the rest as the game wore on.
I also believe this played a large part in Richarlisons miss, we don't expect to score against these teams and panic when we get an opportunity. This is why, I believe, that all 3 started. They didn't get the chance to be drawn into the defeatist mentality that we have had for years, they went out there expecting to win and they did.
It doesn't matter who Rodríguez and Allan play, they will believe they can beat them. I hope this rubs off on the rest permanently.
Derek Knox
39
Posted 14/09/2020 at 08:56:09
Not detracting anything away from yesterday's performance, but I wish they would cut out this playing the ball back from a 'potential attacking position', to Pickford. Who still dallies dangerously before dispatching the ball upfield.
Interesting to see if there are any more outgoings or incomings in the transfer market before the deadline. Dare I say it, but a couple more in and a few out could see us being a serious unit.
Steve Ferns
40
Posted 14/09/2020 at 09:03:43
Spot on Kevin. The thing is, we've had quality players. You don't spend over £500m and end up with complete shite. The quality was there. Ancelotti and Brands now look to have assessed and addressed the issues we had. The new guys will see the quality we already have and can show them how to raise their game.
Paul Kernot
41
Posted 14/09/2020 at 09:35:11
Kevin #38. Bang on sir. The 3 new guys were there every bit as much to change the attitude as for their class & ability. And did it work or what?
Carl Manning
42
Posted 14/09/2020 at 09:36:00
Something Micah Richards noted on MotD that I didn't see during the game, was how vocal and demanding Allan was always pulling and pushing his team mates into positon, barking orders etc! What a sign that is one game in! I think he and Doucouré will form a very useful partnership.
Calvert-Lewin also put one hell of a shift in. Some of his lay offs, esp with his chest, were sublime.
Robert Tressell
43
Posted 14/09/2020 at 09:57:47
I like the way Ancelotti handles people. He knows Allan and Rodriguez are experienced intelligent footballers. He doesn't need to micro manage. He trusts them to understand their roles and use their judgement.
Antithesis of some other managers (eg Silva) where you get the impression they are making the game more complicated - and not trusting the players to take responsibility.
Very pleasing.
Also, Calvert-Lewin attacked that ball in from Digne in some style. A magnificent leap and header.
Peter Neilson
44
Posted 14/09/2020 at 10:16:51
Gary Neville got quite animated about our defending at set-pieces, saying he'd never seen the formation before and calling it bonkers. It looked like two rows of players zonal marking but with a few of them man-marking which Carlo played last season.
Any of the tactical contributors able to offer any clarity on this? Just wondering why Neville commented on it a few times.
John Hammond
45
Posted 14/09/2020 at 10:50:03
This is what you get when you bring in players who are another level up - it lifts everyone else to their level.
It's been a long time since everything has worked out for us and it's just mental how the new trio have bedded in pretty much seemlessly.
In all fairness this wasn't the greatest Spurs team and there's clearly something not right with Harry Kane. Still, they have the players who can win a game with one piece of magic.
Kevin Prytherch
46
Posted 14/09/2020 at 11:13:05
Peter 44 - I thought it was ironic listening to the commentary on this. Neville brought it up twice, questioning it. Then - when Digne was about to take our free kick that we scored from, he said Spurs are defending free kicks more traditionally.
Then we scored - and he didn't mention it again!!!
Personally I think it's good. Too often in the last few seasons all our defence have been running backwards trying to win the ball (like Spurs were for our goal), at least this way our biggest players can watch the ball come in and attack it moving forwards. They are far more likely to connect with a decent header this way.
Jonathan Tasker
47
Posted 14/09/2020 at 11:33:47
Allan and James were both so good.
Still can't believe James is playing for us.
Fair play to Pickford. He made two superb saves and for that for me he was Man of the match.
Fantastic management by Carlo to play all three new players and to integrate them all so quickly.
Tom Bowers
48
Posted 14/09/2020 at 11:48:55
It was a very satisfying performance by every player and although some of the passing was sloppy at times they outplayed Spurs.
Pickford saved the day early on although I still can't believe how Richarlison didn't put us ahead.
Richarlison was a constant thorn in the Spurs defence and kept them at full stretch.
For once, Atkinson's ineptness worked to our advantage on the free kick.
The new guys slotted in brilliantly and lifted the others.
Kudos to Ancellotti and his staff for having everyone up for it.
By the way Southgate, Dier is not England centre back material !!
Peter Neilson
49
Posted 14/09/2020 at 12:41:41
Kevin (44) good points re. his other comment and then dropping it altogether. I liked what I saw but was giving Neville the benefit of the doubt that he'd seen something terrible that was beyond my understanding!
Charles Towers
50
Posted 14/09/2020 at 15:46:07
Neville was questoning our set piece defending, and at one point said "Innovation or madness?". It was genious from Carlo really, he understood the lack of awareness of our players in set piece defending and adressed it.

One of many plus of a great manager is to identify weakness and solve them. Instead of stubborn-ness and closing the eyes to harsh reality like Koeman or Silva did.
John McFarlane Snr
51
Posted 14/09/2020 at 15:47:34
Hi all, the words of Carlo Ancelotti "Players that play football don't need a lot of time to adapt" are in my opinion, the wisest words I've read in years. No suggestion of,"They need to get used to the pace of the Premier League etc. a commonsense assessment, spoken by a man who understands the game.
Ajay Gopal
52
Posted 14/09/2020 at 16:05:31
John (34), I like your selection for Salford, but I would probably go the whole hog and change the entire XI. Virginia for Pickford and Branthwaite for Keane. And maybe Iwobi for Siggy.
Virginia
Kenny Branthwaite Gibson Nkounkou
Iwobi Davies Bernard Gordon
Kean Walcott

Rob Halligan
53
Posted 14/09/2020 at 16:17:47
Peter # 44. It did look a strange set up to defend a free kick. I thought that maybe it was a plan that the "back four" nearest the goal would all charge out prior to the free kick being taken, leaving the spurs players totally stranded in offside positions. Probably totally wrong, but can't think of anything else for that peculiar line up?
Kieran Kinsella
54
Posted 14/09/2020 at 16:29:28
John/Ajay
I wouldn't mess around too much with the team for Salford. Yes we have a hectic schedule but an embarrassing loss would sap confidence and cut off one route to Europe. I don't have any faith in a Sig Tom Iwobi Bernard line up with a kid in goal. Maybe change one or two but major changes seems like too great a risk
Kevin Prytherch
55
Posted 14/09/2020 at 17:01:45
Personally I would keep Pickford, Keane, Mina, Allan and Doucoure in for Salford and make the changes around them. We can't go back to the midfield from last season against a team who will be well up for a fight.
Pickford
Kenny, Keane, Mina, Nkounkou
Allan, Doucoure, Davies
Walcott, Kean, Bernard
Leaving Sigurdsson, Gordon and Iwobi On the bench. (Although I'd quite happily play Gordon instead of either Bernard or Walcott).
Jay Harris
56
Posted 14/09/2020 at 17:52:26
While I don't like to underestimate teams and the next round looks relatively easy too this is only Salford we are talking about and if the reserve players cant beat them they should nt be drawing their wages.
I would go for Ajay's team except for Iwobi where I would play Sigurdson alongside Davies and put Gordon on that side instead of Iwobi.
Daniel A Johnson
57
Posted 14/09/2020 at 18:13:02
We must get Kean game time.
Give him the full 90 against Salford, I'm sure there is a player there he just needs minutes.
Jamal Paktongko
58
Posted 14/09/2020 at 18:19:15
What Moyes and Ancelotti share between them is the belief in having a strong midfield.
Of course Ancelloti has the necessary funds to emboldened his midfield and Moyes had next to nothing. So what Moyes did was he made sure his midfield were fitter than their opponents.
As such, our midfield used to harass, disrupt, slow and stymy even the likes of Man Utd and Liverpool because our lads could run 90 minutes without a sign of fatigue.
Whatever we lacked in skill, we made up in brute strength and perseverance. That's why we had so many 1-0 wins.
Charles Towers
59
Posted 14/09/2020 at 19:51:56
I love how Carlo said "We haven't won here many times before" like if he was one of us all long and endures the suffering, top class!!
Barry Rathbone
60
Posted 14/09/2020 at 20:06:01
""Last season, we had a lot of players with quality on the ball but in football sometimes you have to play without the ball."
Iwobi, Walcott, Sigurdson, Davies, Delph thrown under the bus right there. Sometimes you have to be ruthless.
Peter Neilson
61
Posted 14/09/2020 at 20:54:25
Rob (53) yes let's see how it works in future. Must admit no supporters being allowed in the ground dimmed my enthusiasm for the season but yesterday has reinvigorated it.
Anthony Dove
62
Posted 14/09/2020 at 21:20:44
I lost track of the number of times Richarlison was fouled. No action from Atkinson and no comment from the commentators. That's what we are up against at the moment but if we can carry on like that it will change.
Mal van Schaick
63
Posted 14/09/2020 at 21:30:05
Looks like he knows what he is doing and where he wants the players to take us. Now let's get some continuity and a run of wins and form.
Geoff Lambert
64
Posted 14/09/2020 at 21:43:22
All rosy for now, a couple of bad results and he will be crucified on here.
Hugh Jenkins
65
Posted 14/09/2020 at 21:47:53
John (34),
On paper, that is not a bad looking side for an EFL cup game.
John Keating
66
Posted 14/09/2020 at 21:55:41
Geoff,
Unfortunately you are correct.
The haters hate, and the last week or so they have said little; however, the first bad result will see them come out of the woodwork.
We could win the league and they'd slag Ancelotti. They can't help themselves. They set their stall out before he joined and can't be seen to change.
Mike Gaynes
67
Posted 14/09/2020 at 22:26:35
Kev and Kieran, gotta disagree. Salford is a League 2 side. I think our starting midfield from two months ago should be able to handle them with no difficulty. It's not like we're bringing up U18s... Siggy, Iwobi, Davies, Gordon, Bernard, Branthwaite, Kean are more than sufficient to deal with our old friend Darron Gibson and his mates, no matter how "up for it" they are.
We finally have the luxury of squad rotation, so give the new guys the day off. They all played the full 90 (or almost) on Sunday and nobody is fully game-fit yet, so leave 'em home, keep 'em healthy and save 'em for the Baggies.
Geoff Lambert
68
Posted 14/09/2020 at 22:44:08
Mike, so how about last seasons FA cup exit?? Not even league 2.
I want to win this, maybe get 2 or 3 up and then rest the main guys.
Kieran Kinsella
69
Posted 14/09/2020 at 22:52:11
Mike
I had no idea Gibson was at Salford. That swings it. We definitely can't play the second string lamo's. Even overweight, injured and drunk, Gibson has more fight in him that Iwobi and Sigurdsson combined.
Danny O'Neill
70
Posted 14/09/2020 at 23:23:05
I apologise for everyone for skipping past, but had to comment on Steve Ferns@8.
I feel your pain for the Moyes generation, my brother and son who are part of that. You are bang on. An entire generation has grown up on played down expectation that the manager used (and continues to use) to protect himself.
Good players and good managers are self-evident.
On the Moyes thing, I seriously and genuinely hope that he finally calls it a day once this latest West Ham gig goes wrong for him. And that is for the sake of his own dignity. You were good for Everton for a period and that was your peak. You are now just setting yourself up for failure on a consistent and repeatable basis.
Alan Johnson
71
Posted 14/09/2020 at 23:32:36
Danny # 70 Spot on. You nailed it.
Phil Parker
72
Posted 15/09/2020 at 00:34:34
For once in our history, the stars have aligned and we have got one of the greatest managers ever in charge of our club, a wonderful human being and a perfect fit for us, with money to spend as well.
Our sad man at the bar merchants must be gutted. Must be sticking to haunting houses as no sign of them on here. But keep a strong side for Wednesday. Don't trust the midfield bums from last season to get us a result. Against anyone.
Jason Broome
73
Posted 15/09/2020 at 01:07:23
I wouldn't put out our strongest team against Salford. They're not even full time players. They will be throwing tackles in whilst trying to win every ball.
We need to have our key players available for the big games, avoiding pointless injuries at this stage of the season.
We have enough deadwood mouth breathers stealing a living from our club. Put the likes of Sandro, Besic, Bolasie et al out tomorrow with Iwobi and Walcott. At least by playing the deadwood it might act as a shop window.
Kieran Kinsella
74
Posted 15/09/2020 at 01:24:27
Jason
Forgive my ignorance if I'm wrong (don't much keep up with the lower leagues now) but aren't League 2 players full time? I had a PE teacher (20 years ago granted) who went full time in The Conference.
Albert Perkins
75
Posted 15/09/2020 at 01:27:32
When you acquire good quality players you buy them for their particular skills and expect them to continue expressing themselves naturally. So it's not crazy to tell them to go out and do what they do best. This was a great example. Carry on, boys.
Kieran Kinsella
76
Posted 15/09/2020 at 02:01:42
Off topic but kind of funny. On the CBS Streaming service I got a recommendation list for shows like The Twighlight Zone. Number 1, UEFA CHAMPIONS LEAGUE SOCCER. I thought Pierre Luigi Collins had retired?!
Jason Broome
77
Posted 15/09/2020 at 02:07:44
Kieran
The average wage in League 2 is around £40,000 per year. Some get more whilst others get significantly less. At first this appears to be a decent wage; however, football is a short career, especially with injuries. Further, a 15- to 20-year career in League 2 won't pay for a 25-year mortgage. You are right many are full-time but a lot of the players have other professions to fall back on.
Kieran Kinsella
78
Posted 15/09/2020 at 02:22:55
Jason,
Makes sense plus what's it 25 per cent tax? Fragile existence really. I did see Salford paying some signing from Aberdeen £4k a week but after less than a year he's at Solihull I dare say earning a whole lot less.
Nicolas Piñon
79
Posted 15/09/2020 at 03:16:49
My team for Wednesday:
Lössl; Kenny, Keane, Branthwaite, Nkounkou; Walcott, Davies, Sigurdsson and Iwobi; Bernard and Kean in a 4-4-1-1.
I think Ancelotti will have that idea of playing the fringe players in these kind of games. Bench: Bolasie, Sandro, Besic and whoever else.
Anyone knows what's the situation with the return of spectators to stadiums? Any aproxímate dates or too soon to ask yet? Heard Boris Johnson saying October as a probable time but never saw that confirmed.
I'm buzzing to seeing this new Everton live! COYB!!

Tony Everan
80
Posted 15/09/2020 at 07:11:58
I think there will be a balance struck against Salford, a solid base and spine with some more changes in the the advanced positions. Allan and Doucoure start but only play for 50-60 mins max. to make sure the game is put to bed in the first half. I think Carlo will want the momentum to be maintained and will not take the unnecessary risk of wholesale changes. We can guess at the team but there won't be many getting it right!
Pickford
Kenny Keane Mina Nkounkou
Sigurdsson Allan Doucoure
Walcott Kean Bernard
Davies, Gordon and Lewis Gibson getting on in the second half.
Dan Nulty
81
Posted 15/09/2020 at 07:37:15
I can tell my feelings have already changed towards the team because I'm now thinking of which Everton players to leave out of my fantasy team rather than is it worth putting anyone else in except Digne.
Paul Tran
82
Posted 15/09/2020 at 08:21:07
Have you noticed?
No-one's talking meaningless stats. No-one's prattling on about 'resale value'. No-one's spouting nonsense about 'age'.
Ancrlotti doesn't need to play the modern coach 'look at me, aren't I clever & innovative' game. He knows, like many of us, that football is still a very simple game. Get good players who want the ball, are comfortable with it, who take responsibility, who call others out when they don't do it. That raises performances all round.
There will be bumps in the road this season. Spurs looked like a side with lots of internal problems. Above all, I'm glad we have a manager who uses his eyes and pitch-learned nous.
Good players know how to play. Strong men know how to take and demand responsibility. It's only one thirty-eighth of a season, but it was a lovely, simple, effective start.
Christine Foster
83
Posted 15/09/2020 at 08:29:15
I was up at 3 am to watch this, I confess more in hope than expectation but, for the first time in a long while, my smile would last all day.
Going back to sleep at 5 am was out of the question as I looked for match reports online. It seems we totally took the media by surprise didn't it and that made me smile more. Bit as the day wore on, it became more of the Spurs excuse show, bad referee show, how poor Spurs were etc...
All we have to do is keep doing it and improving too.
Overall, I thought it was a dogged performance, hard work put in, result deserved. Not a fabulous football experience but that will come, more bite in this match than a great white – so long absent, it was brilliant to watch that alone.
On an aside, I think Bernard would complement the midfield as he has another Brazillian compatriot with Allan and Richarlison, and it's the understanding of how to play to the strengths that may just raise his game too. But there are various options now available and, let's face it, when you have a strong midfield, the options are made to enhance it not replace it.
Well done, Blues, and thanks for making my day!
Derek Knox
84
Posted 15/09/2020 at 09:05:43
Hi Christine, great to see you posting again with a renewed optimism which I'm sure is shared by us all. There were definite signs that we are slowly getting this right this time around, and mean business.
I have watched all the other Prem games thus far, and appreciate that Man U and City haven't played yet, but I haven't seen anything, although early doors, that we should be fearful of.
I just hope we continue tomorrow night's (also televised) game at GP against Salford City, in the Carabao Cup and take it seriously. As you will be well aware we have NEVER won that in any of it's various guises. I think it's about time we did!
Tony Everan
85
Posted 15/09/2020 at 10:09:35
Paul 82, Agree with that, also I liked the comment about he only wants players who actively want to play for him and Everton. He doesn't want selfish mercenaries who may have talent but are coming here for the contract only. He wants specific players he can trust are are committed to the team building project he has set his heart on and are prepared to fight for it.
Ancelotti will not rest until he is competing with the Sky six toe to toe, anything less he will find totally unacceptable . After half of one window he is well on the way to achieving it.
Martin Mason
86
Posted 15/09/2020 at 17:11:04
What is beyond doubt now is that we have a manager, new players and a squad that are almost beyond rational criticism at this stage. Yet there will be criticism from that vociferous but tiny minority of our fans who major in irrational destructive criticism for the sake of it. Can anybody seriously understand the criticism of the best keeper in the EPL? I mean seriously?
Frank Crewe
87
Posted 15/09/2020 at 17:42:52
After our recent additions Carlo now has at least some of the players he needs to push the club on. Players who have the skill, technique and attitude to do the things he requires. If last seasons midfield of Davies, Sigi and Gomes had played last Sunday the best we could have hoped for was a low score draw. But more likely a routine one or two nil win for Spurs. James, Doucoure and Allan have totally changed the dynamic of the side. They pass with vision, tackle and intercept and they can get around the pitch pressing the opposition. They are confident in their own ability and are not intimidated by big name opposition. As Carlo says they don't need coaching because they know what they have to do. In addition this has raised the game of the other players.
The side was balanced. The defence looked far more solid because Allan and Doucoure were screening it. The attack was stretching the Spurs defence because of Richarlison's and Calvert-Lewin's running combined with James's precise long range passing. How we kept saying Gomes hasn't been the same since we sold Gana. Well now he has two better Gana's playing alongside him and you could see the improvement in his game. If we can get some decent cover for injuries and suspensions, although we picked up zero bookings on Sunday, I think we'll be set for a good season.
I would say I don't see Zaha in this. I just don't see how he would fit in without affecting the balance of the side. I was thinking more of CB/RB cover and maybe another forward to cover Calvert-Lewin.
Tony Everan
88
Posted 15/09/2020 at 19:59:24
Three days now and the dust has settled after that super performance on Sunday. Since then I have been trying to work out who is the most important signing out of the three of them. I am still none the wiser.
That's the crux of it, you cannot separate the importance of their influence. They've been brought in to play to their specific strengths in a system that Ancelotti wants. In effect keeping it simple and getting the maximum out of his players. I think they enjoy playing for him because of it.
Roger Helm
89
Posted 15/09/2020 at 20:27:46
The interview shows us why he is one of the world's best managers. No big ego, no bullying or micromanagement, just identify your weaknesses, sign the best players you can ( who all want to play for you anyway because of who you are), a few tactical tweaks then trust them on the field.
It is a long season in England so we do need more cover for the inevitable injuries. But for once we can be optimistic! I just hope we can see them soon.
Carl Manning
90
Posted 15/09/2020 at 22:18:37
About the wages in the Football League: Adam Rooney left Aberdeen for Salford last season and is on more money. I think it's about £6k a week from what I read.
Salford pay very well. They're anything but part time.
---
Add Your Comments
In order to post a comment, you need to be logged in as a registered user of the site.
Or Sign up as a ToffeeWeb Member — it's free, takes just a few minutes and will allow you to post your comments on articles and Talking Points submissions across the site.