Everton's quality prevails against plucky Fleetwood
Wednesday, 23 September, 2020
Fleetwood 2 - 5 Everton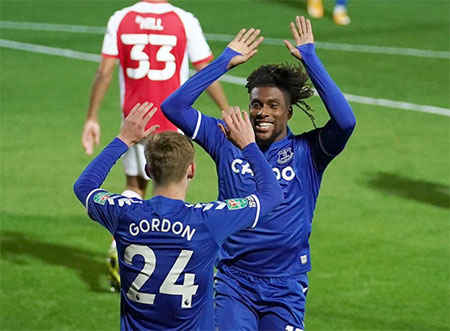 Anthony Gordon created two goals in the second half, one of which teed up Alex Iwobi for his first of the season
Richarlison scored his first goals of the season while Alex Iwobi and Bernard also got off the mark as Everton saw off the challenge of Joey Barton's Fleetwood.
Moise Kean came off the bench to round things off with a simple finish for the fifth goal thanks to brilliant work down the left by Niels Nkounkou as the Blues won 5-2 in successive matches to book a date with West Ham at Goodison Park next week.
Carlo Ancelotti named a starting XI with a healthy mix of established starters and players looking for another opportunity to impress as Dominic Calvert-Lewin and Richarlison started up front ahead of a midfield that also featured the returning Fabian Delph.
Everton dominated the first half and could have been a goal up with just six minutes on the clock but Nkounkou's dangerous ball from the left just eluded Calvert-Lewin flying in towards goal.
Nkounkou's trickery a few minutes later ended with another cross that Calvert-Lewin met but his header was blocked before Iwobi's deflected shot rattled the top of the crossbar in the 21st minute.
Everton made the breakthrough a couple of minutes later, though, thanks to a goal made in Brazil. Bernard collected the ball in space 10 yards outside the Fleetwood box and he flighted a beautiful ball into the box for Richarlison to stoop and guide past Alex Cairns.
Iwobi and Bernard curled almost identical shots inches past the post in the 30th and 32nd minutes but it was merely a delay to the inevitable which swiftly followed.
Richarlison drove into the box and laid the ball off to Iwobi who back-heeled it superbly into the Brazilian's path where a first-time prod doubled the visitors' lead.
2-0 almost became 3-0 in first-half stoppage time but when Michael Keane picked Calvert-Lewin out with a terrific forward ball, Cairns pulled off an impressive reaction save to palm his effort wide.
That would be Calvert-Lewin's last contribution as he was withdrawn at the interval in favour of Anthony Gordon whose added positivity and direct running would prove vital in the second period.
Jordan Pickford may not have touched the ball in the first period but his clownery was instrumental in giving Fleetwood the belief they needed to make a game of it in the first 15 minutes after half-time.
The England keeper tried to dribble Keane's pass to get away from two opposition players on the edge of his six-yard box and when his attempted clearance ricocheted back towards the penalty spot, Fleetwood's substitute Matt Duffy was on hand to rifle the loose ball home.
Iwobi restored Everton's two-goal cushion almost immediately when Gordon powered in from the left and cut the ball back, Richarlison air-kicked it from close range but the Nigerian was well-placed to comfortably convert behind him to make it 3-1.
The lead was halved again, however, just moments after Iwobi had swept another shot just wide. Glenn Whelan sent a deep ball to the back post that Pickford elected not to try and claim, Ched Evans headed it back across goal where Callum Camps's overhead kick was only partially blocked by the keeper. and it crept in.
Josh Morris forced Pickford to push a shot away from distance as Fleetwood threatened to complete their comeback but after Tom Davies came on for Delph and the Toffees settled themselves down again, they eventually regained control.
Bernard forced another stop from Cairns with a curling shot from the left but it was Gordon, driving down the right flank this time, who laid on the fourth goal. His centre kicked up invitingly off a defender's foot for Bernard who crashed a first-time shot down the centre of the goal from about 10 yards out to make it 4-2.
That appeared to be that even though Kean replaced Richarlison and Gordon volley narrowly wide in the closing stages but there was time for one more attack, instigated by stand-in centre-half, Lucas Digne, in the final minute of injury time.
The Frenchman sent his compatriot Nkounkou down the line with a perfectly-weighted ball over the top that the latter collected and ran with until he got into the area where he back-heeled it cheekily into the path of Kean who was arriving to side-foot home with ease.
It capped another eye-opening display by the young French fullback who was many people's man of the match last week against Salford and who likely took the accolade in this tie as well.
Richarlison may have scored twice in what was a typically energetic performance, Digne was commendable playing out of his natural position at centre-half and Gordon was laudably forward-looking when he came on at the break but it was Nkounkou, a player who never made a senior appearance for Marseille, who was the stand-out on the night.
While Ancelotti will continue to have concerns over his goalkeeper and the need for cover at centre-back remains acute, he will have been buoyed by the way Bernard and Iwobi in particular seized their chances in midfield.
Everton travel to Crystal Palace on Saturday having won their first four games in all competitions for the first time since 1978 and then welcome the Hammers to Merseyside in the Carabao Cup next Wednesday night (Kick-off 7:45) knowing that victory there would put them into the quarter-finals of a cup competition before a month of the new season will have elapsed.
---
Reader Comments (91)
Note: the following content is not moderated or vetted by the site owners at the time of submission. Comments are the responsibility of the poster. Disclaimer
Clive Rogers
1
Posted 23/09/2020 at 23:07:46
Carlo has somehow got everyone at the club playing better. Credit where it is due, Iwobi played well tonight and covered a lot of ground.
Nkounkou must be pushing for a first-team place shortly, he is outstanding and looks like he could play several positions to me, midfield and centre back as well as left-back.
Dave Bowen
2
Posted 23/09/2020 at 23:38:07
Lössl has got to play Saturday, if only to give Pickford the kick up the arse he so clearly needs.
Mike Gaynes
3
Posted 23/09/2020 at 23:56:01
Bernard, Iwobi and Sigurdsson clearly want to be a part of this club's picture. They weren't performing in the shop window, they were playing for their own place in Carlo's plans, and they all staked their claim.
And yes, it was only Fleetwood and it's only a game-and-a-half sample, but to me Digne looks perfectly comfortable at centre-back, and if either Mina or Keane goes down I'd be perfectly comfortable seeing him shift there and Nkounkou given his Premier League debut.
I say again that we do not need to spend money on a centre-back right now to bridge us until Holgate and the kid are healthy. We'll be fine.
James Kirrane
4
Posted 24/09/2020 at 00:07:41
Not sure what the issue is with Pickford, but he was at fault for both goals. Is he too confident? Arrogant? Or is it a lack of confidence?
Whatever it is, we need a commanding, assured keeper who is calm under pressure and gives the back four confidence. Pickford could cost us big style this season.
Ed Prytherch
5
Posted 24/09/2020 at 00:23:33
Pickford's problem is ADD. He needs meds.
Lester Yip
6
Posted 24/09/2020 at 00:54:42
Nkounkou, what a signing. That's exactly what we need from Brands. Kean didn't seem happy even scoring a goal. Must be upset for not getting a nod to start.
What a mistake by Pickford for the 1st goal. Overplayed.
Overall, he seems to have ironed out some of his mistakes (like rushing out when it's not necessary). Second goal, he misjudged the flight at first but made the correct decision to get back to goal, it's unlucky not to push that ball away. It's a close-range overhead kick. I won't blame him on that.
Jamal Paktongko
7
Posted 24/09/2020 at 01:48:12
Again Pickford with his old habits.

Phil Smith
8
Posted 24/09/2020 at 02:19:36
Pickford should not have played in this one. Liability...
James Flynn
9
Posted 24/09/2020 at 02:46:40
"Not sure what the issue is with Pickford, but he was at fault for both goals."
Is he:
a) Too confident?
b) Arrogant?
c) Lacking confidence?"
d) Just another poor keeper?
Mark Andersson
10
Posted 24/09/2020 at 05:02:48
Great win by the B-team.
Nicolas Piñon
11
Posted 24/09/2020 at 05:21:48
I didn't understand why Richarlison and Calvert-Lewin started the game but happy anyway. Next round will be shown live in Argentina hopefully so happy with that as well.
Expecting a lot from Saturday's game!
COYB!!
Jerome Shields
12
Posted 24/09/2020 at 05:27:29
Pickford aside, which could be a personality trait that needs attention, most players acquitted themselves well. They where well-coached and knew what they had to do tactically and technically.
Sigurdsson became anonymous again and did not appear to want to take immediate command when the ball was passed to him, preferring to pass back.
Kean is a good players but for the first time I have to agree with others – he does not appear to be happy. Some of these young superstar players have a destructive sense of entitlement; I hope he isn't one of them. Took his goal well.
Mike Gaynes
13
Posted 24/09/2020 at 05:57:22
Great win... enjoyable attacking football with flair and five goals... three wins in three in the new season.
And two-thirds of the posts here so far are about Pickford.
Geez.
Brian Murray
14
Posted 24/09/2020 at 06:08:40
Where do we draw the line with Pickford? Wait until he has cost us another derby or a cup. Let's hope Carlo is in the ball over this.
Made up Gordon taking his chance... and time for Simms to push on as well.
Martin Faulkner
15
Posted 24/09/2020 at 06:13:57
Lössl must be dire in training...
David Ellis
16
Posted 24/09/2020 at 06:18:23
Mike - Pickford almost ruined the mojo. Second goal was also a calamity because he half went for the cross and couldn't get back in position in time.
I'm proud he plays for England and I want him to do well but he doesn't seem to be maturing and these thing just happen too often. Our standards are rising and I'm beginning to think now is the time... which means a new goalie.
Fortunately the other 10 played great and banged in 5 goals (again).
Annika Herbert
17
Posted 24/09/2020 at 06:32:52
It's a rarity, I know, Mike @13, but this time I fully agree with your comment!
Ian Jones
18
Posted 24/09/2020 at 06:49:50
Okay, whilst Pickford didn't cover himself in glory with the first goal for Fleetwood, it was a poor pass to him from Keane... put him under pressure.
Good professional performance. Got the job done.
Duncan McDine
19
Posted 24/09/2020 at 07:13:42
I don't know how Carlo would be impressed with Sigurdsson, Mike. His body language and general lack of desire together with Pickford's cock up(s) were the only things to take the gloss off a fantastic team performance.
Spot on about Bernard and Iwobi though – fabulous attitude and quality from both. Digne was excellent at centre-back but we'll be a soft touch defending set-pieces if we can't secure a proper centre-back with physical presence. And of course our rising star Nkounkou will be hard to keep out of the first team... what a player!
Terry Farrell
20
Posted 24/09/2020 at 07:16:08
Great performance last night with some vibrant sparkling play and great goals. I lost count of the many times Sigurdsson knocked it straight back to the player who passed it to him!
I don't agree it was a bad pass by Keane. If Pickford had lumped it with his right foot... Once he let it run across him on his left, he was in trouble, and probably didn't realise their 2nd lad was there. I'm still behind him but he needs to work on his concentration level!
Tony Heron
21
Posted 24/09/2020 at 07:36:56
I can't believe the apologists for Pickford. The first goal "was a poor pass from Kean" !! Sorry, but the ball was rolled to him and all it needed was a first-time hoof down the pitch. But no! Show pony Pickford tried to beat the Fleetwood player. Who does he think he is, Messi?
For the second, he was right, when he realised he couldn't reach the cross, to re-adjust his position. However, his attempt to stop the overhead kick was a Sunday morning park football effort (with apologies to Sunday morning footballers).
Southall or Jennings would have stood and plucked that out of the air, it was straight at him! But, yet again, he tries to make an easy save look special with an unnecessary dive and opts to palm it away, Has he never learnt how to catch a ball? Always a punch or a slap away is his preferred option.
Needs to be dropped, even Gordon West had a lengthy spell in the reserves and was replaced by Andy Rankin, and only got back in when injury gave him an opportunity, and he never looked back.
Steve Shave
22
Posted 24/09/2020 at 07:41:45
Ed 5 I think you are right, he has ability but completely loses concentration, I seriously wonder if he does have ADHD. I have ADHD myself and, whilst I manage it well without medication, I'm not a professional sportsman.
I hope the club have looked into it, ritalin could be a game changer for our much maligned no 1. I wish him no ill will, I just want him to bloody step up as he is letting the side down.
If only someone wanted to buy him! I'm with Mike Gaynes on this, he made a comment some weeks ago that there are numerous quality goalkeepers in the Bundesliga (even at mid-level teams) who would improve us instantly. Sommer, Pavlenka and Horn to name but a few.
Andrew Ellams
23
Posted 24/09/2020 at 08:05:32
Mike Gaynes, people see that the team has made a huge leap forward in a very short period of time but if Carlo is going to persist with Pickford then that could be what prevents us from making the real big step forward.
That and the need to play a left-back at centre-half two cup games in a row due to lack of squad depth in that position. This is by no means any sort of criticism of Digne's performance there, by the way.
Carl Manning
24
Posted 24/09/2020 at 08:08:20
Lester, he could have caught the bloody ball. It was straight at him at chest height!
I can't see how anybody can defend Pickford or make excuses for him last night. He basically flapped at a chest-high ball that to be fair, wasn't exactly traveling very fast at him.
John Pickles
25
Posted 24/09/2020 at 08:08:57
ADD is more a concentration thing, Pickford's issues seem more about decision-making.
Steve Shave
26
Posted 24/09/2020 at 08:11:49
Yet, John, in the opener against Spurs, he looked like the England goalkeeper who played at the World Cup!
He is a conundrum. Let's try to get behind him though, lads – he may be a flapper but he is a Blue and needs our support.

Gareth Clark
27
Posted 24/09/2020 at 08:27:37
Nkounkou... Difficult to come up with the words to describe how good this kid is! Unreal & easily MotM.
Richarlison & Iwobi were top class! Kills me when people write off Iwobi – he's young and experienced with ability – Carlo will get him good! Just needs to be consistent. I thought his pressing & work rate was really good too!
Bernard was unplayable in the first half – went missing in the second - until his great goal!
Delph was really decent in the first half – but ran out of gas! Definitely not a bad back up option for us, with bags of experience and such good aggression, also a very decent pass on him. Just has to stay fit!
Sigurdsson worked all game long – really sad to see him out of position & not able to contribute as much creatively! But he always puts in a shift – his pressing was really good too.
Davies needs a loan – mainly to get away from our toxic fans. There's a player in there for sure. Also needs a lot of game time to get his confidence.
Kenny was good, especially defensively. For me, he needs to take the more difficult option for a forward pass sometimes. He is too safe and mainly passes backwards. But I thought he played well on the whole.
Gordon was too selfish when he came on – but credit for his assist – really good. But after that, he was only interested in scoring for himself.
Kean was decent – really disappointed we didn't start him. He needs game time & some confidence. He is definitely sulking,but it's a little understandable. Still grabs a goal. Needs to fix the attitude – still so young & has all the attributes to be a top top player.
Robert Tressell
28
Posted 24/09/2020 at 08:30:40
For the first Fleetwood goal, I think Pickford was concerned that if he belted it – it was going to ricochet into the net off an onrushing player. He moved the ball to the side but into trouble. Bad decision.
But the defence playing keep ball in the penalty box puts him under unnecessary pressure. If the answer is to play it long, then the defence could have done that without inviting a press all the way to our 6-yard box.
Kris Boner
29
Posted 24/09/2020 at 08:40:16
I'm with Robert Tressell on this one. There is a player rushing in to close down Pickford's first touch. He could easily have hit that man with a clearance with his weak foot. He opts to shift to his left without knowing there is a second man.
Keane on the other hand, with all the time in the world and the ability to use his favoured foot, decided to put the keeper under pressure without good reason. It was a crap decision from a centre-back who has started the season well.
John Kavanagh
30
Posted 24/09/2020 at 08:48:05
I cannot agree that we lack depth at centre-back. We have four as it is, it's just a case that unfortunately two of them are injured at the moment. Even the likes of Man City and the other lot have had to use other players at centre-back when two have been injured. Gibson will hopefully return a better player after his loan spell, making it five. If we sign a new centre-back, then it should only be to replace Mina, who is not consistent enough and injury-prone.
One other comment is that Davies came on and did well for us last night to shore things up after Pickford gave us the wobbles for a spell. He got stuck in and always looks to take the ball forward. Sigurdsson by comparison remains lightweight and anonymous. I know which of the two I'd prefer to have in the squad rather than on the way to Southampton.
Daniel Lim
31
Posted 24/09/2020 at 08:55:23
I thought it's the first goal Kean scored for Everton. But no mention of that in the article. So I must be wrong.
Just wonder when and against who did he open his scoring account with us?
Andrew Ellams
32
Posted 24/09/2020 at 08:59:03
Daniel, last night was Moise Kean's 4th Everton goal. His first was in the home league game vs Newcastle last season. The one when they came back from 2-0 down in stoppage time.
Neil Cremin
33
Posted 24/09/2020 at 09:31:05
Pickford! What more can I say that I have not said since the day he signed from relegated Sunderland? He is too erratic and has no footballing brain with a poor first touch.
If he was as good as some of our fans think, why haven't the likes of Chelsea come after him? They all see he is a liability, that's why Joey instructed his players to press on any backpass to him, hence two players did and got their goal.
All other Premier League managers will have observed the same weakness. I fear that, despite the huge improvement in the squad, as long a Jordan remains in goal, I will be a nervous wreck until the end of each game as there is at least one howler from him in each game.
Sorry, Mike, his mistakes need to be called out. If we are to do well this season, we need to stop leaking stupid goals. Not a problem when we score 5 against 10 men or lower league teams but, if we have ambition to challenge for Europe, we will be in much tighter games against the so-called big 6 where a 1-0 win would be crucial and the concession of these type of goals would wreck our ambitions.
Daniel Lim
34
Posted 24/09/2020 at 09:34:40
Thank you, Andrew.
Working from home is taking a toll on me, so I didn't follow the team closely. No live matches for me either.
Brian Harrison
35
Posted 24/09/2020 at 09:56:56
Well, the good start to the season continues, and there were some excellent individual performances – not least by Nkounkou. I have been critical of Brands but hats off to him – this kid looks some player, and also the purchase of Branthwaite looks a positive move. I also think Anthony Gordon looks a terrific prospect.
Apart from the result against Spurs, I think we would all have expected us to beat Salford and Fleetwood in the League Cup, and to have beaten West Brom at home in the Premier League, especially them having to play all the 2nd half with 10 men. But what may not have been expected was the new-found belief that is there for all to see, we are playing the ball quicker and look a completely different team to last season.
There is no doubt that the 3 signings have injected a lot of confidence into this squad; although none of the new signings were playing last night, that confidence that was lacking last season was still there.
I heard Carlo after the game when asked about Pickford's error; he cleverly said he was not alone responsible for the goal, even though he knew he was. He doesn't throw his players under a bus to enhance his reputation – like another high profile manager does. He probably thinks he might need to replace him but maybe he can't in this window, so needs to build his confidence rather than knock it.
Carlo went on to say how pleased he was with the contribution of all the players but significantly said a first-team squad of 31 is too big, it's unmanageable, so I presume some of the squad will be allowed to leave in this window.
Darren Hind
36
Posted 24/09/2020 at 10:19:12
People will talk about Pickford because he was involved in the game's biggest talking points. That's not just confined to ToffeeWeb... he is the talk of football this morning. Seldom do you see a top-flight goalkeeper make two such howlers in one game.
Jordan's problem is, he is doing this sort of thing with increasing regularity and the press are almost certainly going to give him the same sort of treatment other error-prone keepers have received. We`ve all see what that entails.
The boy's character is going to be put under the microscope like never before and, unless we bring somebody else in (unlikely at this stage), he is still going to be our man.
I pray he comes through this... because, if he doesn't, we are going nowhere.
Martin Reppion
37
Posted 24/09/2020 at 10:21:01
Anyone else think that the young left-back could turn out to be the best £250k we've ever spent? I know its early days but, if he stays fit, we have a superstar in the making.
His aggressive running and desire to play adventurously reminds me of a young Welshman who joined Spurs as a left-back in 2007. No idea what happened to him...
Carlo's post-match interview was revealing. He repeated his message that we have too many (31) in the first-team squad. He wants to get this down to 25.
Obviously that is dependent on other clubs wanting our spares. Walcott, Besic, Davies, Bolasie, Tosun are all probably favourites to go, at least on loan, but would raise little money. I think Iwobi and Bernard are playing for one place but either could attract a decent fee.
Whoever it is, I expect a lot of taxis at Finch Farm before the 5 October.
Paul Kennedy
38
Posted 24/09/2020 at 10:25:17
I think we would be negligent leaving Pickford as our Number 1. I was impressed with Virginia when he played, he seemed much more controlled and dominated his box, coming out to collect crosses, no dodgy moments, although it was against lower opposition.
I really feel we should try for Romero. I've never seen him play bad for Man Utd.

Iwobi is still very poor, some crap passes when not under pressure, but not to dwell on negatives – there is so much that is positive about us now.
COYB
Phil (Kelsall) Roberts
39
Posted 24/09/2020 at 10:27:05
I think Nkounkou was at fault for the 2nd as he totally lost his player.
But how about this to give us a smile.
A win at Highbury for the first time since 20 January 1996.
Just a shame the other team have moved to a new stadium since then!
Jack Plant
40
Posted 24/09/2020 at 10:37:11
I can't believe people are suggesting Digne could cover at centre-back in the Premier League.
Yes, he's done a decent job out of position; yes, it's great when he's on the ball and spraying out passes from deep, but their second goal showed perfectly what would happen if we tried this every week. He's just not good enough in the air to play him in the middle.
Barry Rathbone
41
Posted 24/09/2020 at 10:42:49
In basketball you need to be exceptionally tall and rugby forwards need immense bulk and strength to be successful at the highest levels, it's just a fact of life.
Goalies have to fill the goal and command the air from crosses and Pickford simply does not have the physical attributes. His bizarre antics trying to compensate inevitably make him look like a flapper.
Doubtless a lovely lad and irrefutably a great shot-stopper but he lacks the other fundamentals simply because of his size.
He will continue to cost us goals, I'm afraid.
Geoff Trenner
42
Posted 24/09/2020 at 11:08:04
Mark @ 37. Agreed.
Just a shame that £60k Seamus Coleman isn't 10 years younger.
Paul Tran
43
Posted 24/09/2020 at 11:17:13
Darren #36, people are talking about Pickford because he always has a mistake in him. If I was an opposition coach, I'd tell my players to hit long-range shots, chase him down, and fling in crosses. I don't see that changing. That's not being negative, as some say; it's calling out the obvious.
By the start of next season, we'll have a different 'keeper.
Martin #37, it's more about the wage bill than the fee we get. Long contracts and fee payments mean we lose proportionately less on fees; cutting the wage bill is more significant for FFP.
Martin Reppion
44
Posted 24/09/2020 at 11:19:09
Geoff, I think the difference is that if Nkounkou does train on and fulfil the potential he has, he won't be playing full back.
He seems to have the arrogance (meant as a compliment) to run at people and do the unexpected. The backheel on the run to set up Kean was not something I've seen many young players do. I think the term is 'Gallic Flair'.
True, we maybe saying "Niels Who?" in 5 years time. But he already comes up first on Google if I type just 'Nie'. Knocking a Danish Physicist into second place!
Martin Reppion
45
Posted 24/09/2020 at 11:23:23
Paul, I understand about cutting the wage bill and FFP. My point is more that, with players being on very good contracts here, we may still have to pay them or at least subsidise them to go elsewhere, even if a club is interested in having them.
I can see quite a few clubs who would benefit from having those players, but they won't see value at their current wage level.
Paul Tran
46
Posted 24/09/2020 at 11:28:16
You're right, Martin, we're going to have to be very creative to offload some of these players.
I wonder if the club are factoring in the wages of players with soon-to-expire contracts, when thinking about FFP?
Christopher Timmins
47
Posted 24/09/2020 at 11:34:17
Another impressive performance last night with increased confidence levels throughout the team. This could be a big season.
Of course there is the elephant in the room: Pickford is a problem and, given the potential to make huge progression this season, we need to be bringing in a new Number 1. Hopefully, we will end up with the guy from Man Utd who must surely be surplus to requirements at this stage.
Keith Dempsey
48
Posted 24/09/2020 at 12:04:03
I really don't get the criticism for Pickford. I think Messi would have struggled on the ball with that pass... I even see fans blaming him for the second goal against West Brom.
I can't wait to see Nkounkou up against stronger opposition to see if he is as effective; the signs are good.
Brian Harrison
49
Posted 24/09/2020 at 12:18:08
I see a lot of similarity with Pickford and Mignolet, both have (or had) errors in them and are liable to cost you more points dropped in the season. But, to be fair to Pickford, he made two very good saves at Spurs... and if he hadn't, it may have had a different outcome. Only two seasons back, the Man Utd 'keeper was being hailed as the best in the world but, during last season, he became error-strewn.
I think it's hard for a goalkeeper: if they make a mistake, it usually ends up in the net, whereas outfield players can misplace passes in key areas but maybe the attacker doesn't take advantage or the keeper makes a save.
Prior to last night's game, Pickford had looked more solid, so was last night the old Pickford making another error or was it a blip? We have either Lössl, who I don't think is the answer, or Virginia, who is still learning and still at least a year off being able to replace Pickford.
I think for now Pickford will be our 'keeper, and probably till the summer, so let's hope we see more of the Pickford that played against Spurs and less of the one who played last night.
Keith Dempsey
50
Posted 24/09/2020 at 12:30:25
Daniel, and his 2nd was in the defeat against Bournemouth... and 3rd last week at Salford.
No wonder he looks sulky – noboby even notices when he does score.
Ray Roche
51
Posted 24/09/2020 at 12:49:02
Christopher @47,
So you're advocating us taking a Man Utd cast-off, and their third-choice keeper as well? Better get yer tin hat ready!
There's a Battalion of ToffeeWebbers just waiting to point out that we should not be taking cast-offs from top-six sides if we want to become top six ourselves.

Tony Everan
52
Posted 24/09/2020 at 13:47:59
Brian 49, good comparison with Mignolet. Pickford does my nut in, he is infuriating. He often does the hard things well and the basics, too often, bad.
When it costs us points, the shit will hit the fan.
Carlo isn't going to put up with it, neither will his teammates. He has got to find some consistency somehow or his days are numbered, both for us and his other job.
Does he actually listen to any advice the goalkeeping coaches must be giving him, or is it going in one ear and out of the other? Perhaps we need a tougher goalkeeping coach armed with a cattle prod or something.
Barry Rathbone
53
Posted 24/09/2020 at 14:05:03
Problem with Pickford is these performances are not new. I don't recall him having a single positive game-changing display for us. Never heard anyone say he won us that game or earned us a point there.
When he's gone, he'll be seen as an aberration – a goalie who found a multitude of ways to let daft goals in and in brackets this description will have the words: (see Liverpool, December 2018) as his epitaph.
Eddie Dunn
54
Posted 24/09/2020 at 14:21:14
Pickford tried to pass a looping ball back to the full-back against West Brom and mishit it and they nearly scored. I presume he was trying to be cute. Perhaps he has been encouraged to play like that. The problem is that even the best, like Edison, make stupid errors when trying such things.
Pickford received the pass from Keane onto his right leg. He can kick perfectly well with that foot but opted to let it run so that he could look for the killer counter-attack on his favourite peg. Unfortunately, his peripheral vision let him down, and the strikers closed in very quickly.
I don't buy the "goalkeepers get the blame more than outfield players" defence of him. He has continuously made unforced errors. Basic mistakes. He does make great saves and at Spurs he did well but he has too many flaws which are not being ironed out.
His goal-kicks off the deck and out of hand too often go straight out, giving possession away. He still has lapses of concentration and positionally he is prone to concede from long range.
The Baggie's free-kick saw him a full yard to his right, leaving the wall to cover his left. The clever set-piece beat the (non-jumping) Mina and he was nowhere near it. The ball wasn't in the top corner and I would suggest that, if Pickford hadn't been so cocky not standing in the centre, he would have got to it.
Recently he has also opted to punch shots out when they surely could have been held. I can understand if the ball is wet but the gloves are so good that it sticks like glue these days.
Virginia looks good enough to have a go at Palace. Pickford needs a rocket and a spell on the bench will help him focus his mind (if he has one!).
Mark Taylor
55
Posted 24/09/2020 at 14:21:28
I find I'm not learning much new from this game but in some ways that is good because it provides more confirmation and certainty about the players concerned and their use as back up.
Pickford is a good shot-stopper but has brainstorm mistakes in him. I'm now not persuaded the former outweighs the latter. He needs a real challenger to him or a replacement, current options don't seem to be more than okay number 2s for emergency use only. The young left-back has real promise, let's see where that goes.
Bernard looks to be a good back-up in the Gomes role or as a number 10 if that is needed. Back up to Richie/James appears to be between Walcott and Iwobi. Neither is ideal but I'd go with the latter, offload the former. Jury still out on Kean. Kenny is okay as a back-up to Seamus. Gordon is another with raw talent, worth keeping, may end up leapfrogging Iwobi as best wide forward option because he has much more pace.
Where options are much more limited is Allan and Doucouré. Here we have Sigurdsson, Davies and Delph. Sigurdsson has always been a puzzle. It's never been clear to me how he fits in. Certainly not out wide, not as a box to box, not as a defensive midfielder and we are well covered in the Gomes / Bernard position – others can also fill that place. Square peg in a round hole, always has been. Any takers?
Between the latter two, my heart says Davies but he's been around for several years despite his tender age. To be blunt, he hasn't 'trained on' and I think this might be the best he will be. Loan if not sell.
Delph is no long-term option and is pretty average, but he might do until Gbamin gets fit and, if the latter is a write-off, collect the insurance and buy a proper back-up in this role. He can also back-up left-back, in case our new star doesn't kick on.
The likes of Besic, Tosun, Sandro, Bolasie are clearly surplus and need shifting. Easier said than done, they are not even getting shop window time and most are on silly wages. Might have to cut our losses there. Would any consider a buyout offer on their contracts?
Gerry Quinn
56
Posted 24/09/2020 at 15:08:21
Biggest failure, again: Sigurdsson, who had these crap statistics against Fleetwood:
- lost possession 18 times over the course of the game – the most of any Toffee
- won zero duels
- missed the target with every single one of his 6 attempted crosses
- provided just one key pass.
To put that last stat into context, even centre-back Michael Keane, and substitute Moise Kean delivered one key pass!
I fully sympathise with him for recent tragic family events, but this is repeating a similar nightmare as last season.
Will Mabon
57
Posted 24/09/2020 at 15:23:11
Lyndon, if you don't mind; plucky Fleetwood?
Plucky is our word, along with "Little".
Mike Gaynes
58
Posted 24/09/2020 at 16:15:47
Ray #51, you beat me to it. If we're going to replace Pickford, it should be with a young, athletic keeper (of whom there are a dozen on the Continent), not a Top 6 reject or one of the English cellphone towers like Foster, Forster or Butland.
Gareth #27, good post, but Bernard didn't "disappear" second half -- Barton changed his alignment, replacing young Stubbs with a midfielder who marked Bernard more tightly. Bernard needs open space to operate -- he is not successful in tight quarters. Also I see no "sulking" in Kean... his work rate is great, and I always distrust conclusions based on facial expressions. And since there are no fans at the games, "toxic" or otherwise, I don't see how Davies is being affected (unless he reads TW!).
Geoff #42, when Seamus was 10 years younger, he was a terrible defender. I like the older version much better.
Brian Murray
59
Posted 24/09/2020 at 16:38:36
Bit of a head-scratcher that Carlo persists with him. Maybe we have got it all wrong and he's a top-class keeper in the making. Me personally, I'll never forgive him throwing away two derbies, that's is two too many.
Virginia really needs to step up and pressure him big time. Same with Simms up front not making Calvert-Lewin comfortable in his position (or Moise Keane).
Alan Rodgers
60
Posted 24/09/2020 at 16:43:25
Gerry @ 56 I agree, Sigurdssen was again anonymous. A technically gifted player but puts no effort into his game. Lots of little passes to the side and to the back. Points quite a bit. Contributes nothing to the team even at this level.
I doubt we could give him away.
Brian Harrison
61
Posted 24/09/2020 at 16:47:13
I see that Spurs paid for all Leyton Orient staff to be tested, which resulted in the game being postponed due to a number of Leyton Orient players testing positive for Covid-19.
So I wonder did Everton pay for all Fleetwood Towns team to be tested, and if they didn't might that not increase the chances of some of our players testing positive, as all Premier League sides are tested twice a week.
The EFL teams can't afford to test their staff twice a week, and some aren't testing at all. Maybe the obscenely rich PFA could provide the money for their members to be tested twice a week.
Seeing as the government have now put back any chance of crowds being allowed into stadiums, so surely without some financial help, I can see many clubs outside the Premier League either have to shut the leagues down to avoid further costs and thus helping some to avoid dropping out of the league.
Trevor Peers
62
Posted 24/09/2020 at 16:52:23
Gerry and Alan #56.
The problem is Gomes is even more anonymous than Sigurdsson in most Premier League games.
I thought Bernard looked the business last night if only he could reproduce that form in the Premier League, he would be an automatic choice.
Derek Moore
63
Posted 24/09/2020 at 17:00:36
A lot to like really. It's against lower league opposition of course, but I really like Gordon. Great energy, application and effort and no little talent either.
Some very aesthetically pleasing goals in the game and if it wasn't for Pickford there'd be universal praise here and rightly so. It looked like Pickford's concentration – again – was at least partly to blame for the first. It looked like an eagerness to atone played a part in the second. If you're strong as your weakest link then I feel we've all found him.
It was gratifying just how we were set out to play here. This was a mix of first-teamers and the second unit yet the passing and ball movement was dynamic, quick and accurate. Fleetwood, as their lower-league level might suggest, grant more time on the ball than the players might normally see.
The result was devastating, with Bernard essentially a like for like replacement in the James role. His thumping finish was probably the goal of the game. The extra time on the ball just let us pick and measure passes and the chances came thick and fast. A great move took a truly great save to deny Dom, and I thought Richarlison would get a hat-trick of his own.
Another little marker on the road back to relevance. Long may it continue.
Mike Gaynes
64
Posted 24/09/2020 at 17:24:18
Derek and Trevor, love Bernard but playing him in the middle just isn't possible for us on a regular basis. He will be under constant pressure, and he doesn't operate well (or keep the ball very well) in heavy traffic. We saw yesterday what he can do in space, but he won't get that space in Premier League games unless he's on the wing.
BTW, did you see Ibrahimovic tested positive for Covid-19 just two days after his brace against Bologna?
Kieran Kinsella
65
Posted 24/09/2020 at 17:41:33
Brian @61,
Doesn't sound like as Barton mentioned before the game they're tested once every three weeks and they weren't going to do extras this week as it's a "waste of money".
Dave Pritchard
66
Posted 24/09/2020 at 18:08:36
Nkounkou has now had 2 great games and has looked very good. Good athlete and very powerful. Great prospect but too early to refer to him as a possible world beater. He has played against Salford and Fleetwood remember. Glad we have him especially as we have not paid much.
Martin Mason
68
Posted 24/09/2020 at 18:53:50
Palace will be a very hard game, a true test of where we are.
Mike Kennedy
69
Posted 24/09/2020 at 18:59:37
Having just watched the extended highlights on Everton TV, I was shocked by the lack of emotion by Moise Keene. By which I mean the lack of happiness of scoring and also the complete lack of joy by the other players toward him.
Is it because it was an already won game in the last minute? But at least a smile from someone surely?
Graham Mockford
70
Posted 24/09/2020 at 19:23:17
Funny how the focus is all about Pickford. Fair enough, he didn't cover himself in glory.
But, it being Fleetwood aside, that was some first-half performance. I don't think I've seen an Everton team as dominant for 30 years. I saw a stat today that said Everton have had more shots in 4 games than in Allardyce's first 27 games.
Momentum is everything in sport. Players who have struggled suddenly come into their own in a winning side. So here's hoping we take it to Palace on Saturday.
Ron Morgan
71
Posted 24/09/2020 at 19:26:47
The Palace game will definitely be a really good test and a guide at where we are at. Our weak areas – centre of defence and goalkeeper – will be seriously tested, especially if Zaha gets at us early.
Tony Everan
72
Posted 24/09/2020 at 19:36:53
One thing that cracked me up about Sigurdsson last night was that he received the ball in a defensive midfield position many times.
Nearly always he was in space with about six metres to the nearest Fleetwood player. So, instead of control and turning and looking forward, time and time again he passed it straight back to the defender who he had just received it from.
What in the name of Beelzebub is going on with him to do that? Lack of communication or just plain poor awareness of what is going on around him? He needs to get a grip, it is embarrassing.
Olalekan Taofik
73
Posted 24/09/2020 at 22:26:07
Good game it was but let all the loopholes noticed be patched up before Palace game.
Good game for Iwobi, Nkounkuo, Bernard et al.
We shall meet during & after Crystal Palace, I want an emphatic win irrespective of opposition.
Robert Tressell
74
Posted 24/09/2020 at 22:28:49
You'll have enjoyed a good Iwobi performance, Olalekan. Instrumental in 3 goals. Hopefully more to come now that the movement is better around the team.
Reuvy Havin
75
Posted 25/09/2020 at 03:49:42
Hey Tony at 72, :):
Below are some relevant things I posted on other pages here about Sigurdsson, with some slight additions. I understand people may disagree but it's just my view.
The thrust is that I believe he is being misused and confused through an appealing but mistaken notion to think of him and to ask him to be something he isn't. I can understand where the mistake is coming from, but it's a huge waste and a lose-lose.
1. After the Fleetwood game:
"I feel like he has mixed messages in his head.
Useless playing him in this game in my opinion unless he is clearly told "Gylfi, forget what happens behind you. Forget the central midfield. If the ball gets coughed up, it's the 6 and the 8's fault. You just work hard in the 10 role purely and try to create."
But the thing is, does Ancelotti want to tell him that? Or does he, knowing it's a second-string midfield, want Gylfi as a 'calm head in the middle' – which I suspect happens? Because it's superficially very easy to fall into that trap: Gylfi's experienced, he's calm, has good ball control. But if Carlo does have that in mind for him to any extent, then it's a mistake.
Gylfi cannot take 'responsibility' in the middle the way people think because he doesn't have the pace or engine to maraud. He's just a No 10 – that's it. And he should be told he needs to take responsibility for that - but that alone. Far, far less useful otherwise. If he gets the ball in the middle, all he will do is make sure he doesn't actively screw up.
2. After the Salford game:
Now that Allan and Doucouré are in the team, I think he can flourish – I would put him in the No 10. Some or most people think his time is up – I couldn't disagree more. Now that we have intelligence with James and actual proper central midfielders, I think this is precisely the time that Sigurdsson can finally use out his technical and brainy skill set.
I'd have Richarlison on the left, James on the right. Carlo has said that is James's best position. Calvert-Lewin up top.
(Both would cut in often, the full-backs would give width, Allan would cover and Doucouré could too when both the fullback and winger were forward.)
Sigurdsson is a very good player. Just needs a strong central midfield behind him so he doesn't have to worry about Everton losing the ball and getting smashed the other way – he was always worried about this to me last year.
He was played as some sort of No 6 / No 8 hybrid nonsense position – for lack of other options. Always trying to make sure we didn't give the ball away because it was obvious that, if we turned it over, there'd be no-one quick and robust enough to save things before they got close to the defence and the goal - certainly Sigurdsson himself isn't, and he knew it.
And he doesn't really have the pace to make many options for people to pass to him when they're coming out of defence – he's just way too slow to maraud around the middle of a pitch. So he was basically useless in terms of his own play.
Albert Perkins
76
Posted 25/09/2020 at 04:31:08
The papers are talking Romero to The Blues. Henderson coming back to Man Utd makes him third in line. Experienced in the Premier League, played well last season in goal in the cups, living locally, old links with Brands.
Might be a goer? Nah... Jordon is just too popular right now.
Nicolas Piñon
77
Posted 25/09/2020 at 06:38:03
Reuvy #75,
I disagree about Sigurdsson. I like him as a No 10 but this team we now have needs much more than his technique and passes. He has no power to win a challenge (and Ancelotti asks that from his midfielders) and little ability to dribble past players.
I think that he is only profitable when he has a free-kick or the ball in movement near the area with space. Like an NFL player that gets in a game to kick long-distance shots, that's how I see him.
This is a very athletic team we now have and I don't see he realizes he should be running much more than he does... or, if so, then I think he gets tired too quick. That's why, in my opinion, Carlo puts him in second half always.
Gomes, on the other hand, also lacks some commitment and can loose easily some balls but for this role in midfield, I see him much more suitable and with a much greater desire to fight and run. Sigurdsson looks he's running like my grandfather does in the park. Thankfully Carlo is making the right choices, COYB!
Nicolas Piñon
78
Posted 25/09/2020 at 06:47:14
Reuvy #75
I want to add something to my last message:
If James, who's the most gifted player in the squad, runs and gets balls back, do you believe Sigurdsson could be just left to contribute when the ball goes to him? That's hilarious!
John McFarlane Snr
79
Posted 25/09/2020 at 14:42:02
HI all, off topic I know, but the decision to award Tottenham Hotspur a bye in the Carabao Cup, because Leyton Orient couldn't fulfil the fixture, owing to a number of players failing a Covid-19 test is indefensible.
My love of football already on the wane has taken another blow, and I wonder if the circumstances had been reversed, would Leyton Orient have received a bye.
Kieran Kinsella
80
Posted 25/09/2020 at 14:58:25
John McFarlane
It's a tricky one. Technically if you can't field a team because of injuries, sickness, suspensions that's the norm. But I would hazard a guess and suggest the Orient players are asymptomatic and would have happily played blissfully unaware of their illness had Spurs not paid for their test.
It does work out nicely for Mourinho and his fixture congestion whining. But it also sets a precedent mid-pandemic. Would the powers that be do the same if a big club had the same issue for the semi or final? I suspect not.
Mike Gaynes
81
Posted 25/09/2020 at 15:00:33
John #79, I understand your point, but on the endless list of unfairnesses caused by Covid-19, this doesn't seem like a very important one, relatively speaking. When a million families are bereaved, millions of kids can't go to school and thousands of businesses are gone, I can't see getting outraged over a cancelled Cup match.
Besides, when you come right down to it, Orient is responsible, not Spurs or the football authorities. Clubs all over the world are doing what needs to be done to stay healthy. Orient failed, comprehensively (18 players, reportedly) to meet that obligation. Do they deserve special dispensation? I don't think so.
Will Mabon
82
Posted 25/09/2020 at 15:02:08
John - it seems harsh, I agree. Looking at the fixture schedule and the timing of matches in other competitions though, there is very little room to accommodate.
A rather sad irony is that Spurs apparently paid for the testing of Orient's players!
Mike Gaynes
83
Posted 25/09/2020 at 15:06:17
Yep, Will, and it turned out to be a very wise precaution that protected their own players from exposure. Whoever made that decision for Spurs deserves plaudits from the players and their families.
Tony Abrahams
84
Posted 25/09/2020 at 15:10:25
Hopefully Spurs donate their television fee for the Chelsea game straight into Leyton Orient's bank account.
Kieran Kinsella
85
Posted 25/09/2020 at 15:12:16
Playing Devil's Advocate though, I read this week that second and third-tier teams make a loss by hosting games with no fans. Ergo, if you've very little chance of winning, and only the chance to worsen your financial position, there would be a benefit to the game being cancelled.
Maybe Orient were privately quite content with the decision.
John McFarlane Snr
86
Posted 25/09/2020 at 15:33:13
Hi Mike [81],
I think 'outraged' is a bit strong, and I take your point that there are things far more important than football.
You may not be aware that I was totally against the resumption of football behind closed doors, because I considered the Premier League and it's member clubs, were placing money above human life. I felt so strongly on this issue that I took the decision to boycott the televised games staged behind closed doors, a decision that was met with scorn by at least one person on this site. It's a decision that I have maintained, and will continue to do so.
Furthermore, although I have received my season ticket, I will not enter Goodison until it's safe for everyone.
On a more pleasant note, I trust that you and your 'Young Lady' are keeping well, having endured a worrying time earlier this year.
Mike Gaynes
87
Posted 25/09/2020 at 16:21:51
Hi John... I roughly equated "indefensible" with "outraged" -- sorry if I used the wrong word.
I was certainly aware of your boycott decision and I do understand it (and I hope you can ignore that one poster's scorn). My view is that Spurs acted with wise and appropriate caution to protect the health of its people by getting Orient tested.
But I must admit your boycott saddens me on a personal level, that you will miss out on so much fun footy from our club this season when you've endured so many dismal performances in the recent past!
Thank you for your good wishes. I'm afraid our worrying time isn't quite over yet -- this month we failed again to get Mom back home. We drove 500 miles one way to meet her flight, only to learn that she had again been denied boarding in China. It was a long, sad drive home, with some tears. Now I think we won't see her until next year.
Dave Abrahams
88
Posted 25/09/2020 at 16:43:32
John (86), have you received your season ticket? The one I received, in a beautiful decorated box, was for getting stuff from Everton 1 and 2 with a discount, it stated on the ticket that it wasn't for entry into Goodison Park.
Mike (87), sorry to hear the sad news about your mom. I thought she had come home a few weeks ago, although I wondered what your sad 500 mile journey referred to in one of your posts a few days ago. It never rains but it pours, Mike.
Mike Gaynes
90
Posted 25/09/2020 at 17:28:07
It does, Dave, but at least everybody's safe. Mom's fine because China has pretty much eradicated Covid-19, and the virus hasn't touched our area of Oregon. Thanks for the thoughts and best to you and yours... stay safe.
John McFarlane Snr
91
Posted 25/09/2020 at 18:31:16
Hi Mike [87] sorry to learn of your disappointing news and I hope you and your wife will soon be reunited with her mother. Do you think that Spurs will foot the bill for every opposing team? I don't.
Don't be concerned for my missing out on the emergence of a decent team, age and finance has put a stop to my away trips, but I have attended games at the majority of the Premier League grounds, and I can visualise them and that enables me to follow proceedings via Radio Merseyside, and of course Goodison Park is imprinted in my mind.
Hi Dave [88] I hadn't opened what you describe as a 'Beautiful decorated box', it was the "2020-21 season ticket" in the bottom right corner that fooled me. I can only suspect that the intention was to use the boxes for the season tickets, and decided not to waste money and to utilise them for commercial purposes.
Christine Foster
92
Posted 25/09/2020 at 19:24:01
Hi John,
I read about the bye with some surprise but, on reflection, I doubt the organisers had little option, irrespective of the standing of any team.
Obviously the capability of a club to field a team depends mainly on the players it can call on within a given time frame. As it's a cup competition, if you can't raise a team, you forfeit a game.
It's different for a league game as the option is to postpone. I think the real problem will be as winter draws in and a second wave takes hold, teams will become vulnerable to losing players in quantity for weeks on end and the disruption could be chaotic to the point of postponement of all fixtures, leading to an extended mid-winter break.
Reuvy Havin
93
Posted 26/09/2020 at 11:12:24
Nicholas 77-78, fair enough, I understand that you think it's best to have a team of all athletic players. I personally think it's okay to have at least one of the forward players not be so athletic but it's different views.
Re: your point about James, I never meant that Sigurdsson shouldn't have to track back and run and scrap – of course he should. I just mean that he should be made aware that he isn't at all in charge of these aspects and of the middle of the park. (Although I certainly didn't make that at all clear.)
Time will tell if it can work – but I think a proper game to judge it is one where his role is clearly the 10, which is more likely to happen when he's playing in front of Allan and Doucouré. And ideally James alongside him. Rather than these Cup games where I feel he's getting mixed messages.
---
Add Your Comments
In order to post a comment, you need to be logged in as a registered user of the site.
Or Sign up as a ToffeeWeb Member — it's free, takes just a few minutes and will allow you to post your comments on articles and Talking Points submissions across the site.