Crystal Palace vs Everton
Friday, 25 September, 2020
Match Preview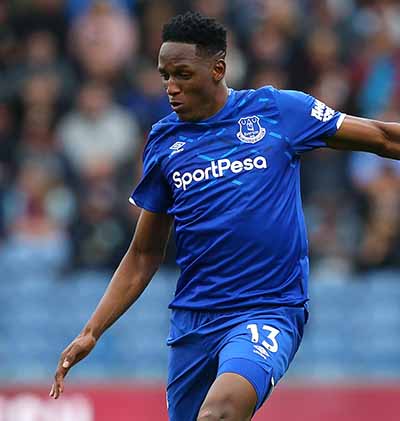 Yerry Mina will be one of six players rested in midweek who are expected to be drafted back into the side this weekend
Everton's second away fixture of the new Premier league season takes them back to the Capital to face Crystal Palace.
The Blues have had a poor record overall in London in recent years but they won on the opening day at Tottenham and their form over the first four games in all competitions will have them feeling confident that they can get another positive result, this time at Selhurst Park where they were held to a drab draw last year.
Their opponents this weekend have made a similarly impressive start to the new campaign, winning both their League fixtures and recording a stunning 3-1 victory at Old Trafford last Saturday. Roy Hodgson's men may have lost their Carabao Cup second round tie on penalties to Bournemouth but their strong start otherwise has had pundits speculating whether they can a force in the top half of the table this season.
A narrow win over Southampton on the first of the season was eclipsed by their display against Manchester United, one that put Wilfried Zaha and his future at the centre of many conversations in the aftermath. The Ivorian winger will be the chief danger man that Everton, the club with which he was heavily linked last year, will need corral if they are to come away with maximum points.
Once again, fitness permitting, Carlo Ancelotti is expected to restore the starting XI from the last two League games, which means Allan, Abdoulaye Doucouré, and James Rodriguez coming back into the side having sat out the mid week win at Fleetwood Town.
It should also see Yerry Mina partnering Michael Keane again after he, too, was rested for the Carabao Cup match, but with Lewis Gibson having secured a loan move to Reading and both Mason Holgate and Jarrad Branthwaite sidelined with injuries, they will be the only two fit centre-halves at Everton's disposal for the time being.
Speculation continues that they will move to bring in central defensive reinforcements before the transfer deadline but, as yet, there have been no concrete moves in that direction. Talk of a loan move for Fikayo Tomori has died down now that it looks as though the young defender will be staying at Chelsea while media talk of a move for Barcelona's Jean-Clair Todibo has intensified.
The performances in midweek by the likes of Bernard, Alex Iwobi, Anthony Gordon and Niels Nkounkou will have given Ancelotti food for thought, though, as he contemplates his match-day squad. The French fullback was in electric form against Fleetwood and picked up the man-of-the-match award and while he remains relatively untried defensively, he could be an option as an attacking wide player off the bench if required.
None of the others are likely to displace the established eleven that have started the last two League matches but they, too, will be itching for a chance to impress as a substitute in the second half. Fabian Delph won't travel as Ancelotti looks to give him more time at Finch Farm to build up his fitness before using him in the Premier League.
Zaha may have terrorised United but Everton have been able to him relatively quiet in recent meetings with Palace, who are a robust and uncompromising outfit but who tend to lack genuine quality elsewhere in their side. If the likes of Allan and Doucouré can be disciplined in marshalling the Eagles's star man and his accomplice, Andros Townsend, and preventing them from causing havoc on the counter-attack, they should have the platform from which to win the game.
Kick-off: 3pm, Saturday, 26 September, 2020
Referee: Kevin Friend
VAR: Anthony Taylor
Last Time: Crystal Palace 0 - 0 Everton
Predicted Line-up: Pickford, Coleman, Keane, Mina, Digne, Allan, Doucouré, Gomes, Rodriguez, Richarlison, Calvert-Lewin
---
Reader Comments (150)
Note: the following content is not moderated or vetted by the site owners at the time of submission. Comments are the responsibility of the poster. Disclaimer
Brian Furey
1
Posted 25/09/2020 at 07:14:18
Ya better fix the first line, Lyndon, ASAP.
The Blues have had a poor record overall in London.
Dan Nulty
2
Posted 25/09/2020 at 07:29:50
Mina needs to be on it Saturday otherwise Zaha is going to run riot in the gap between him and Coleman.
Hopefully we will have too much quality and score another few goals. We will concede I think getting hit on the break. With James though we have the guile to break down teams that want to sit, letting us have possession and try to counter.
Looking forward to it.
Brian Furey
3
Posted 25/09/2020 at 07:31:40
Ya better fix the first line, Lyndon, ASAP. The Blues have had a pool record overall in London.
Does Pickford need a wakeup call? If he got dropped for a few games, it might be the kick up the arse he needs to get him to rethink his mindset. His distribution and clearances used to be his strong point.
Is Virginia worth a look? Maybe that's why he played Pickford on Wednesday.
Richarlison looks like a man on a mission.
Jim Bennings
4
Posted 25/09/2020 at 07:38:24
It will be a tough game, big physical opponent with a lot of pace in the team.
I'm sure we'll see what happened to Man Utd last week and make sure we don't push too far up unnecessarily because we know Zaha will cause damage.
It's a game we can win but also it wouldn't shock if we lose either, it's that type of fixture.
We haven't lost to Palace since September 2014 so let's hope that record continues.
Martin Mason
5
Posted 25/09/2020 at 07:42:53
Wouldn't it be nice to have a thread without ridiculous criticism of Pickford. We know that he'll be criticised whatever happens.
Mike Corcoran
6
Posted 25/09/2020 at 07:53:09
Shouldn't we have had a fake bid in for Zaha all week to keep him out of the team/head cabbaged?
Derek Knox
7
Posted 25/09/2020 at 08:15:35
Who'd have thought a couple of weeks ago that this would have been a top-of-the-table clash? Yes, back in the smoke where we traditionally have not fared too well, or did our result and performance against Spurs buck that trend once and for all?
James McCarthy will be trying that bit harder, and also Wilf Zaha, who has 'allegedly' expressed his desire to join the Everton Project, both possibly trying to impress for opposite and differing reasons.
I think if we play as we have been, both in the League and the Carabao Cup, we should be okay, provided there are no more brainfarts from you know who!
Conor McCourt
8
Posted 25/09/2020 at 08:16:23
Dan, I would guess that Roy will have will something different in mind for Zaha. If he plays in his normal position, he will get no change out of Coleman.
I think he may be more likely to play up top against our paceless centre-backs or he may test Digne defensively on the other side.
Neil Cremin
9
Posted 25/09/2020 at 08:17:47
Martin, I agree so I will not contribute but alas I live in fear that he is likely to give us a cause post match.
Darren Hind
10
Posted 25/09/2020 at 09:06:37
Agreed Conor.
Opposition, hoping Seamus's locker may have been emptying out have been testing him big time lately. I think they will start to look elsewhere for chinks in our armour.
Let the magician play. Seamus will mind the shop.
Jim Harrison
11
Posted 25/09/2020 at 09:09:13
Put a bid for Zaha in today and make sure he knows about it. He either is distracted and plays poorly or has to be left out.
Withdraw offer after a comfortable win. Simples.
Clive Rogers
12
Posted 25/09/2020 at 09:09:35
Will we be leaving Davies at Palace and bringing Zaha back with us?
Derek Knox
13
Posted 25/09/2020 at 09:20:40
Jim @11, you creased me there mate, but good thinking too, which I'm sure it goes on and has probably gone on in the past with various players and Clubs alike. :-)
Bill Gienapp
14
Posted 25/09/2020 at 10:27:02
I know a lot of people want to see Pickford dropped, but I'd say be careful what you wish for.
Virginia is promising, but he completely imploded on loan at Reading just one year ago – I highly doubt he's anywhere near ready to make the jump to Premier League starter.
And Jonas Lössl is basically a waste of space at this point. If Pickford loses the shirt, it'll be because we brought in someone better before the window closes.
Bobby Mallon
15
Posted 25/09/2020 at 11:13:12
I agree – the only way Pickford will lose his place is if we get an established goalie who is better.
Olalekan Taofik
16
Posted 25/09/2020 at 11:14:12
The flood (Crystal Palace) is ready to destroy one's home (Everton), it is the house owner (Toffees) that will prevent it from happening. And I believe we are ready for it.
It is going to be a very tough game, no doubt, and I am very positive of 3 points for us.
Jim(11), I like your joker. Prof Carlo should retain his starting 11 against Spurs, but the bench should have Nkounkou, Gordon, Iwobi, Sigurdsson and Delph.
Good day @Derek (my guy) and the rest of us.
Jim Bennings
17
Posted 25/09/2020 at 11:21:00
Pickford must know by now that any mistakes he makes will be duly noted by Ancelotti.
Carlo will not destroy him in public, he will however know that his goalkeeper will need replacing if it continues.
You could see Pickford reacting angrily on the second goal Wednesday night, no laughing or gurning to cameras this time, because he knows too well that Ancelotti will crack down just as he did with last season's poorly performing midfield.
The signing of Romero or Cilleson would be another kick up the arse for Pickford; if the mistakes continued, then he wouldn't be in the team much longer.
Sam Hoare
18
Posted 25/09/2020 at 11:24:31
Pickford ain't getting dropped. Virginia is hugely inexperienced and wasn't even trusted with Carabao Cup duties. And Lössl has not played for eons.
Will be the same team as against West Brom and it should be a fascinating top of the table match up! Palace will deny us space and look to counter like West Brom did with strong effect in the first half last week. Allan will have to be at his best to help Coleman or Digne deal with Zaha, who will inevitably cause difficulties with his pace and directness.
First goal will be major as both teams would probably be happy to sit back and counter. Set pieces could well be a big factor and I hope we do not give away silly free-kicks.
Of the first XI, I would say that Gomes is perhaps the most under pressure. He's been much better this season with a good midfield around him but still needs to contribute more either offensively or (unlikely) defensively. Iwobi and Bernard both looked good against the limited Fleetwood and I think both could bring more creativity to that position as the advanced central midfielder. Though perhaps the time to try it will be at home to a more packed defense.
For now the team will stay the same and hopefully so will the results! Another three points tomorrow would really make for a superb start and excellent foundation to this season.
Derek Knox
19
Posted 25/09/2020 at 11:29:10
Sam, Lössl has played fairly recently, he went to Huddersfield (where we got him from) on loan for most of last season, and he was considered fit enough to be Denmark's No 2 on the bench behind Schmeichel in the recent Euros.
John Reynolds
20
Posted 25/09/2020 at 11:37:33
"There is a tide in the affairs of men.
Which, taken at the flood, leads on to fortune;
Omitted, all the voyage of their life
Is bound in shallows and in miseries.
On such a full sea are we now afloat,
And we must take the current when it serves,
Or lose our ventures."
A top-of-the-table trip to London, in form and with momentum. A real opportunity to put down a marker. It already seems clear that Ancelotti's acquisitions have added steel, purpose, and from James, guile. All boats are being lifted as we see players who struggled last season looking much improved. Even the second-stringers as we've seen on Wednesday.
The fear we can't shake is the possibility that it could be another false dawn, that we could do "an Everton" with the kind of flat, disappointing display we've seen so often over the years and the wind is taken out of our sails. Losing to Palace wouldn't necessarily be disastrous, but it would certainly be a hammer blow.
I dare to believe this time it's different. Team dynamics are mercurial and sometimes things just click into place. Confidence builds, and a side can quickly become unrecognisable from its former self. I suspect and hope it's happening at Everton right now. Not expecting miracles this season, but a top 4 spot is there for the taking.
In deference to Martin, I won't mention he who can't be named but if you were looking for the fly in the ointment
Wins tomorrow and Wednesday and all things are possible.
Robert Tressell
21
Posted 25/09/2020 at 11:57:34
Current form – very good.
Predicted first 11 – very good
Goalkeeping issues – let's not get too sucked in by media focus on our goalie. He's very likely to be our consistent Number 1 for the season.
Palace are obviously confident too and it will be a tough game. But nothing to fear, especially after breaking the London curse recently.
Colin Malone
22
Posted 25/09/2020 at 12:13:16
Just read that Spurs have got a bye to the next round of the Carabo Cup. A Leyton Orient player has Covid-19.
Can anyone tell me the difference between West Ham and Leyton Orient? Diop and Cullen of West Ham have tested positive for Covid-19.
Rennie Smith
23
Posted 25/09/2020 at 12:21:46
Surely it will be the same team. I'm sure every Premier League manager would love to keep the same 11 for every game.
If we're serious about finishing top 4/6 (still putting a lid on it) then Palace should be seen as 6 points to take, but their confidence will also be high so it'll be tough.
Be interesting to see how McCarthy plays, despite his limitations, and injuries, he always put a shift in for us. Expect him to be up for this one.
COYB
Charles Brewer
24
Posted 25/09/2020 at 12:48:25
This Pickford stuff is getting rather annoying.
In the light of what was a poor attack against Spurs, Pickford effectively won the game by making two remarkable saves. If anyone deserved criticism, it was Richarlison who missed a series of shots.
In the West Brom game, Mina was responsible for both goals, leaving the forward unchallenged and with the entire width of the goal to aim at, and for the second failing to jump for an eminently headable ball which Pickford reasonably expected to be defended by the wall he had marshalled there.
The Salford match had no errors.
The Fleetwood match had a couple of errors which can equally be put down to poor defence as to bad goalkeeping.
With another goalkeeper, we could easily have lost against Spurs, and without the new midfield, we might not have scored enough to beat West Brom. The problem is not Pickford; he needs to up his game - a bit – but the defenders need to be more intelligent about when they involve him.
Christy Ring
25
Posted 25/09/2020 at 13:05:40
Won't be easy in London, but Coleman should nullify Zaha, like he did in our home fixture last season.
Should be a good tussle in midfield, McCarthy was singled out for praise, for his performance against Man Utd last week, by Jenas on Match of the Day.
Hopefully we'll be too strong for them.
Paul McCoy
26
Posted 25/09/2020 at 13:14:14
McCarthy was always good for us, but he's definitely not on the same level as Allan and Doucouré.
Anything less than 3 points tomorrow is a wasted opportunity.
Martin Berry
28
Posted 25/09/2020 at 13:44:59
I think if Seamus can nullity Zaha the same as he did with Son at Spurs, then that's their many chance of a win gone.
We no longer lack the effort and energy like previously and our midfield will be far too strong for theirs and I expect a win.
Jamie Crowley
29
Posted 25/09/2020 at 13:46:33
There's a lot of talk about Zaha.
I'm more concerned about this Eze kid. When I've seen this kid play, he looks really dangerous. I think adding him into the attacking mix has made Palace a completely different side.
There's now a two-headed, very fast and talented threat to Palace. And Roy is no fool. They'll keep their shape and look for their opportunities.
This one is going to be difficult. Winnable, but difficult. We're going to see if some of our players are starting to believe in their own hype, and if they think they shit golden eggs. They'd better come focused and ready to play, knowing any team can beat another on its day.
Kieran Kinsella
30
Posted 25/09/2020 at 13:51:50
Roy is very astute tactically so I imagine they'll put immense pressure on us passing out from the back, whip in crosses hoping Pickford panics and sit back a lot hoping to catch us short on the break if Coleman and Co pile forward. Allan will be in for a busy shift.
That being said we have real quality now with James so we should be able to find openings in the defensive lines.
Interesting subplot to see Gerry Rings boy McCarthy as I'm sure he will be up for this. Likewise, Zaha may put in a "come and sign me" performance.
Jay Wood
[BRZ]
31
Posted 25/09/2020 at 13:53:58
Just the sort of game and opposition we need right now. Every game we have played this season we have passed a 'mini-test'.
Going to a top six side, in London (where we have a terrible recent record) and winning.
Avoided the banana skin of going behind to a newly promoted side in our first home game.
Two cup ties against lower league opposition, comfortably navigated.
Away to Palace presents another mini-test and one we need to win to consolidate a growing belief that we could be more than mid-table floatsam this season.
We have a good record v Palace, including at their gaff. Just one defeat in 11 visits.
In recent seasons they seem to do better on the road than at home. Roy will set them up to be difficult to score against and they have pace and guile upfront to worry us.
But I read they have a number of defensive absentees which, given the way we are playing, we could exploit. A tight disciplined performance as per v Spurs, as opposed to the more open affair v WBA, hopefully will be enough to land us all 3 points.
Like others, I imagine James McCarthy will be well up for this game. That will make for an interesting sideshow.
Joe McMahon
32
Posted 25/09/2020 at 14:00:41
I hope James McCarthy doesn't do a leg breaker on our James.
Neil Cremin
33
Posted 25/09/2020 at 14:00:54
I said I wouldn't comment on Jordan until after the game but I have to respond to Charles @24.
I'm no fan of Jordan but I would agree that he was not at fault for either goal against West Brom although I did get the sense that he thought the shot was going wide and pulled back. But to be objective he did put us under unnecessary pressure in the first minute with his attempt to play football.
I also agree that our defenders need to be more intelligent about when they involve him and in my opinion that is never pass the ball back to him. Problem is that Jordan often passes the ball to a defender in tight situations who then pass back so that he can clear the lines.
I believe it will be a long nervous season because he has at least one potential howler in every game.

Michael Barrett
34
Posted 25/09/2020 at 14:03:47
Spot on there, Jaime... I think we will come crashing back down to earth this weekend. Hope not though. coyb
Neil Cremin
35
Posted 25/09/2020 at 14:09:27
Cheap shot, Joe.
To the best of my recollection, Macca never broke anybody's leg playing football and sustained his own leg break putting his body on the line to prevent a certain goal against us.
We sadly missed that sort of aggression in midfield last season.

Brian Wilkinson
36
Posted 25/09/2020 at 14:16:00
Mike@6, I was just about to post something similar about Zaha, but you beat me to it.
I agree we should have been putting bids in to unsettle him for the game.
How many times over the past few seasons, have the press ran a story of whoever is in form for Everton, they link him to another club, a few a days before we are due to play one of the Sky Six, everytime without fail.
Brian Wilkinson
37
Posted 25/09/2020 at 14:24:48
Neil, how can you possibly not blame him for the first goal? The ball was played back where he could take a short run to kick the ball clear, instead of kicking the ball clear from a standing position, he chose to kill the ball, then take a touch to his other foot and that was the problem, trying to play football, instead of clearing his lines.
Goalkeepers are trying to be more clever, trying to dribble, sometimes it comes off, more times than often, they will get caught in possession.
I prefer the make the save or put the ball away from the danger area, whether Row Z or upfield, you do not fanny about in your own penalty area.
Max Murphy
38
Posted 25/09/2020 at 14:35:31
Carlo must see something in Virginia (a Woolf? ... sorry about that) – completing a 4-year deal. It was strange he wasn't even on the bench on Wednesday. Injured? Never heard anything. He didn't put a foot wrong against Salford.
Stranger things have happened – like Pickford doesn't make any more stupid mistakes.
Brian Wilkinson
39
Posted 25/09/2020 at 14:36:28
If Keane had played the ball any harder, he would have been in a standing position on his line and then I would say yes, he had to control the ball and put him under pressure.
But the ball Keane played was the ideal area to take a short run and put his foot through the ball to clear.
James Stewart
40
Posted 25/09/2020 at 14:38:23
Palace are a dangerous side, will be a much harder task than the games we've had so far.
Nkounkou has to at least make the bench, sends all the wrong messages if he doesn't. Give him Kenny's spot.
Neil Cremin
41
Posted 25/09/2020 at 14:39:44
Brian,
I think you misunderstood me. I was talking about the goals against West Brom where the first was definitely down to Mina not engaging and a very clever shot which I do not blame Jordan for not reaching.
The second he has some small shared culpability re position of wall but when the Defenders in the wall do not jump it leaves parts of the goal open. I do think that Jordan thought the wall had done its job and appeared to pull back his hand as if he believed the ball was going wide.
However, with the Fleetwood game, the first was typical of Jordan thinking he is a footballer with a footballing brain. He has me a nervous wreck for 90 minutes in every game because as I said many a time, he has at least one howler in every game.
And by the way this is not a recent opinion, I have questioned Jordan's ability and temperament ever since we signed him from relegated Sunderland, enduring much abuse in ToffeeWeb.

John Pierce
42
Posted 25/09/2020 at 14:56:08
Palace, back on their own patch find it much harder to replicate their set up away from home. Helped by the lack of fans urging them on, they will still see a home game one that they need to take more of the initiative.
I honestly don't see a problem for us, if we press high, we should cut the supply of for Zaha and Ayew (he shouldn't be disregarded) then we should be dandy. They are not a high scoring side, our midfield should ruin theirs and it a game we should control and win.
After the midweek cup game Gomes' place looks less assured. Both Iwobi and Bernard stand a chance of usurping André. Personally, I'd pick Iwobi, let him dribble in their half and attract players to him.
I think Richarlison will get the goals this weekend. He now more than ever seems hyper-motivated with James in the side and a growing South American contingent must help. I can see better players getting Richarlison to another level this year.
Time to be bold, gamble in a depressed market were we seem to have an owner prepared to spend against the tide. The time is now.
3-1 the tricky bloos.
Tony Shelby
43
Posted 25/09/2020 at 15:02:59
This is a key game for us.
Following the euphoria (and surprise) of beating Spurs away from home and the adrenaline of thumping WBA, beating an in-form Palace on their own turf would be a real statement.
Fingers-crossed.
Mike Gaynes
44
Posted 25/09/2020 at 15:03:52
"Abuse", Neil?
I've seen much disagreement (expressed some myself), but what abuse?
Kieran Kinsella
45
Posted 25/09/2020 at 15:09:00
I dared to dream last night thinking this, Brighton and West Ham look very winnable. Imagine going into the derby on 12 points from 12, and having reached a quarter-final?
Then the "Everton trained" part of my brain said, "On the other hand, imagine if it doesn't go to plan and we go to the derby thoroughly mid table won 2, lost 2 and already out of one cup."
Max Murphy
46
Posted 25/09/2020 at 15:09:57
Charles (@24) you state: "This Pickford stuff is getting rather annoying." – It is getting rather annoying, because Pickford is an annoyingly bad goalkeeper.
Everton fans do not criticise him for the hell of it. He makes ridiculous mistakes on a regular basis, and fans have every right to voice their concerns on this forum. Don't fall into the 'blind loyalty' trap. Pickford is an accident waiting to happen.
He's had enough years to sort himself out – but there are no signs of consistency or improvement. Anybody who has played football, or played any reasonable level of team sports, have an instinct of whether a player is bad, mediocre, are very good. Unfortunately Pickford hovers between the first and second category.
Every game he plays in, fans are filled with dread as to when he makes his first stupid mistake.
Give him 6 more Premier League games, and count his mistakes, and how many points he costs us - then tell me what your opinion is.
If we are to challenge for the top 6, or dare I say it, the top 4, we have to get rid of Pickford as soon as possible.
Tony Everan
47
Posted 25/09/2020 at 15:19:08
Another tough game but Palace haven't the quality Tottenham have and we dispatched them well enough. We should go into this game with loads of confidence.
We need to be focused from the off, and if we match them physically James Rodriguez, Richarlison and Calvert-Lewin will be just too much for their defence to handle.
Looking forward to seeing Calvert-Lewin scoring a couple more 6 yarders. (One-touch finishing, Dominic, don't forget, it's working!)
Crystal Palace 1 Everton 3
Brian Wilkinson
48
Posted 25/09/2020 at 15:23:03
That's fair enough, Neil, and apologies for me mistaking the West Brom game, with the Fleetwood game.
Paul Birmingham
49
Posted 25/09/2020 at 15:24:36
This will be a stern test but, if we can contain their fast start, we should be able to out play them, but our midfield will have a tough battle toe to toe with Palace.
Win the midfield and this game we should win as long as we don't make any daft errors and give-aways to soft goals.
If we play with the confidence of the last few weeks, I see no reason why we can't win this game.
Brian Wilkinson
50
Posted 25/09/2020 at 15:34:17
From what I have seen this season, I fancy us to pick up the points. It will not be easy but we are playing with a swagger at the moment, we will have our three midfielders back for the game.
Then you can throw in our new left-back who must surely at worst, have a seat on the bench, a decent outing by Iwobi and Bernard as a backup, along with Gordon and we are looking so much better than the tail end of last season.
Neil Cremin
51
Posted 25/09/2020 at 15:42:30
Mike maybe a bit strong but, when I first went against the tide that I didn't think Jordan was a good keeper in his first season, I had at least two or three on TW respond every time why I dared raise doubts about his ability.
In the bad old days of Koeman, most TW maintained he was our only quality player (me excepted). How things have changed.
And yes, I did get verbally abused way back on the live forum on one occasion but I have a thick skin and logged out.
Andy Crooks
52
Posted 25/09/2020 at 15:49:24
Charles @24. Yes, Pickford is indeed getting rather annoying.
Shane Corcoran
53
Posted 25/09/2020 at 15:49:32
Is this game on TV? I thought all September games were being televised but I can't see this one listed anywhere.
Matt Traynor
54
Posted 25/09/2020 at 15:52:24
Shane #53, it's on Amazon Prime Video.
Brian Hennessy
55
Posted 25/09/2020 at 15:59:30
I see Carlo in today's press conference said he expects Calvert-Lewin and Richarlison to score at least 20 goals each this season with the midfield we have.
Off you go, boys!
Jay Harris
56
Posted 25/09/2020 at 16:14:00
I don't see this game as being about midfield. I see it being about the flanks. Palace like to hit teams on the break at speed and Zaha and Townshend appear to be in top form at the moment and, for that reason, I would put Bernard in ahead of Gomes who I feel is too ponderous and gets caught in possession too much
That would leave Seamus and James on the right flank and Digne and Bernard on the other while the center looks solid with Doucouré and Allan in there.
We need to forget about Pickford for now and just concentrate on our own game and look for goals.
Man for man, we are better than these although, as stated by other posters, one or two of theirs will be up for this and they did look good against a poor Man Utd last week. We just need to put them to the sword and knock the stuffing out of them early doors.
Jack Convery
58
Posted 25/09/2020 at 16:31:57
Palace recorded a narrow home win against a struggling Southampton and caught Man Utd on the hop as it was their first game and they looked very undercooked.
We, on the other hand, are very hot and should be too much for them. Let's put another marker down and come away with 3 well earned points. COYBs.
Tony Everan
59
Posted 25/09/2020 at 16:38:44
Jay @57,
It was great to see Bernard so involved on Wednesday, looked to be enjoying it, and seems to be finding some good form. He will be biting at the bit to get a start. He could thrive in that role in front of Allan and Doucouré.
I suspect Carlo won't do it though as, at first, he will want to win/match the physical battles with Palace and Gomes is a bigger and stronger to deal with that.
Last half an hour if it's still stalemate, Bernard for Gomes could unlock it.

Bill Gall
60
Posted 25/09/2020 at 16:50:38
The difference in the teams may show if it was better to have a week off, as Palace were knocked out the cup the week before, or having some of your players increase their sharpness by playing in a competitive game.
I watched Palace against Man Utd and they seem to rely on a quick break with a ball passed behind the defense. Our midfield and attack should have the determination and skill to get us a couple of goals.
As far as Pickford goes, after all the criticism, I hope he doesn't just boot the ball down the pitch and we get cries of "Here we go again I thought we had got rid of Fat Sam's style."
The problem with a keeper is when he makes a mistake it is usually catastrophic, and that is what supporters remember about his game. Other players can make mistakes and if their teammates help them out and no goal is scored it is forgotten about.
We can all seem to remember keepers faults and I am sure Ancelotti and his staff understand keepers problem; if it can't be solved, they will do something about it.
We still need left-sided centre-back coverage and to get players who are not part of the managers plans out, before we can get another Keeper. Its no use quoting what Liverpool did as they had to pay out a world record fee for their keeper

Kieran Kinsella
61
Posted 25/09/2020 at 16:59:49
Jack Convery 58
I think you're being a little dismissive of Palace. Southampton ended the season in great form and for an hour dominated versus Palace but they just couldn't not breakdown their defensive lines. The subsequent loss to Spurs makes them appear in "poor form" but I'd argue it was the frustrating Palace loss that started their downturn.
As for "catching United on the hop in their first game." You could easily say the same about Everton versus Spurs who were embroiled in Bale transfer talks, a couple of recovering Covid-19 cases etc. Likewise, you could argue we may have had a different outcome versus West Brom if they'd still had 11 players after they equalized at the start of the second half.
I am not saying by any means Palace are great but I think their two wins were merited and Hodgson has got a mixed group of players working well collectively. I think it will be tough.
Robin Bateman
62
Posted 25/09/2020 at 17:04:07
Is it possible to have an up/down vote for comments?
Jay Harris
63
Posted 25/09/2020 at 17:17:19
I think we already have that, Robin. Its called the dogs abuse or supportive agreement.
Darren Hind
65
Posted 25/09/2020 at 17:17:34
Bookies rather surprisingly not giving much away. We're little better than evens.
I was probably being unrealistic hoping for better odds...
Mike Gaynes
66
Posted 25/09/2020 at 17:19:11
Ah, Neil, yes, the Forum does get wild and wooly. In years past it was like a pub at 9pm on a Saturday.
Robin #62, it's been suggested in the past, but it's anonymous. The general sentiment here is that if you're going to express an opinion, you have to attach your name to it.
Mike Gaynes
67
Posted 25/09/2020 at 17:22:58
Attention all US Blues: This game is on TV for us (and about effing time too!).
NBCSN at 10am ET, 7am Pacific.
Nick Page
68
Posted 25/09/2020 at 17:23:47
Old habits die hard and the eternal pessimist in me says this has banana skin written all over it, although that's probably doing a disservice to a decent Palace side with plenty of pace and aggression.
I remember the game at Goodison Park in Martinez's first season when we were going for top 4, got rolled over and never really recovered from that. I'll start to believe the hype if we win a few of these but, until then, the jury remains firmly out.
Geoff Lambert
69
Posted 25/09/2020 at 17:29:19
Great time to play Palace, They just won away at Man Utd and now a nice easy game at home against plucky little Everton. Are they in for a surprise!!! COYB...
Christy Ring
70
Posted 25/09/2020 at 17:51:21
Neil #35,
Here here, a true response to a cheap shot.
Looking at Carlo's press conference earlier, he has full confidence in Pickford, and is not bringing in a keeper. I still think an experienced keeper would put pressure on Pickford, in a good way. Spurs brought in Hart.
The problem with Virginia as back-up, he's still very raw, and a huge ask, to play Premier League football.
Martin Mason
73
Posted 25/09/2020 at 17:54:55
They will do what all plucky little sides do and defend in good lines and swarm forward when we lose the ball, as they did really well at Man Utd.
We have potential weakness at the back with Mina but midfield is where we must stop them. I believe that we have the class to do it and that we will be prepared for whatever they throw at us.
Will Mabon
74
Posted 25/09/2020 at 17:55:09
Christy, he seems to be supporting Sigurdsson too.
Brian Williams
75
Posted 25/09/2020 at 17:59:29
Don't know if it has any significance but both Besic and Sandro were training with the first team this week.
Martin Mason
76
Posted 25/09/2020 at 18:12:26
Christy @70, Carlo fully supports Pickford? Well blow me down, both he and Southgate? What do they know?
Kieran Kinsella
77
Posted 25/09/2020 at 18:12:49
Brian Williams,
Next, you'll be telling me they both have lockers...
Jamie Crowley
78
Posted 25/09/2020 at 18:15:47
Mike Gaynes - thank you! I would have streamed it for sure.
Carlo's press conference, as Brian @ 55 notes, was a real eye opener - as Christy has pointed out as well.
He said he expects at least 20 goals out of Dominic and, if he didn't hit that mark, he'd have an issue with Dom and not be happy. I believe he went on to say that he could score at least 20 goals with James feeding him. Quite funny.
Point is, Carlo is raising the bar. And it's the first time I've seen him ever tip-toe the point that there's expectations at Everton, and if you don't meet them, he'll pretty much crawl up your rear end.
The bar has been raised. Thank you, Carlo. It's about time!
Jamie Crowley
79
Posted 25/09/2020 at 18:21:06
One other thing.
When Carlo was asked about Dom's goal tally this season, he said something to the affect of [paraphrase], "he'd better hit 20." When he said this, there was the eyebrow raise and this slight hint of power and ruthlessness.
Maybe it's just me and I'm imagining things. But I thought I saw this ruthless intimation and it actually scared the bajeezuz out of me.
I have no doubt Carlo can motivate with flowers or with vinegar. I think he lets the individuals pick their poison. Dude is a masterclass in how to manage people for me.
Will Mabon
80
Posted 25/09/2020 at 18:22:02
Brian, they were short of cones.
Jay Harris
81
Posted 25/09/2020 at 18:24:23
Mike, I am so glad I'm on EST.
I'm fed up getting up early.
Brian Williams
82
Posted 25/09/2020 at 18:27:46
Could it be they'll both be in the matchday squad?
Will Mabon
83
Posted 25/09/2020 at 18:30:09
Brian, you wouldn't think so...
Christy Ring
84
Posted 25/09/2020 at 18:34:05
Martin #76,
I have no problem with Pickford; what happened against Fleetwood, will make him more focused. I was making the point because the papers were saying we're bringing in a keeper.
Try not to jump to conclusions when Pickford's name is mentioned.
Bill Gall
85
Posted 25/09/2020 at 18:38:17
Christy, the only thing wrong with your mention of Spurs bringing in Hart, is the only way Hart would be able to apply pressure to another keeper is if he sat on them.
James Head
86
Posted 25/09/2020 at 19:04:27
This is a very difficult game as Palace are no mugs, though we are stronger in midfield and look great going forward, we look vulnerable at the back with a considerable lack of pace.
So let's hope Allan and Doucouré protect our back four well, some good performances through the week particularly Bernard and Nkounkou so those two should expect a run out from the bench, injuries asside, ahead of the indifferent listless Sigurdsson.
I can only see Richarlison kicking on after scoring in the week so I can see him grabbing another brace.
Gerry Ring
87
Posted 25/09/2020 at 19:16:35
Kieran @ #30 ha ha.
I make no apologies for my defence of McCarthy. I don't believe Ancelotti would have sold him in the manner that Silva did, ie, wouldn't play him, wouldn't loan him out & then sold him for pittance. It characterised Silva's ineptitude.
Tomorrow's game will be interesting as Palace seem to be playing a lot better than last season. That said, I fully expect that we will have enough fire power to get 3 points.
Zaha is the type of player whose head drops if things aren't going well. He needs to be subdued...
Gordon White
88
Posted 25/09/2020 at 19:18:59
I agree with most of what's been said regarding Palace's tactics, including that they'll rely heavily on Zaha and Townsend to get them a result.
Roy is a great tactician. But so is Carlo. I feel positive that we'll give a good account of ourselves and will have a very good chance of taking all 3 points. Mistakes, or lack of them, will be the difference.
It's on Prime Video, BTW.
COYBs!

Tony Everan
89
Posted 25/09/2020 at 19:26:41
McCarthy has played well, looked sharp, and he will be full-on tenacious against us tomorrow. Our midfield will know they have been in been in a game.
We just have that edge of quality though and if we match them in the battle we can edge a win.
Mike Gaynes
90
Posted 25/09/2020 at 19:43:35
Jamie, I agree, although I'd have thought Carlo would be pushing Richarlison for the 20 goals even more than Dominic.
You're right, a high bar is good stuff. And I'm always glad to see our games on TV. I get to see Rebecca (and Lily's commercials of course!).
Jay, I actually like the 7 am games. Great way to start the day. It's the 4:30 am kickoffs that kill me.
Gerry, are you and Christy related? We need one more for a three-Ring circus here.
Nathan Snell
91
Posted 25/09/2020 at 20:06:43
Did anyone see Carlo's the press conference today? I think it's around 11 mins in when he describes why Dominic and Richarlison should be scoring 20 goals each. It's my favourite press conference to date. The guy is class.
Jay Harris
92
Posted 25/09/2020 at 20:31:12
Mike,
I'm not an early morning person so 10 am is good with me.
Hope you can get mom home soon and be a family again. I haven't seen mine since Xmas. They are on lockdown in the UK and I'm stuck in Florida.
At least you can Facetime them at least until your favourite President puts Facetime in with Tictok and decides to ban that too.
Nathan,
I agree, Carlo looks as if he is really enjoying himself now, saying if he was in front of our midfield he could score goals, so he expects Richarlison and Calvert to get at least 20 each or they will have him to face.
Watch it on EvertonFC.com for those who haven't seen it.
Dave Abrahams
93
Posted 25/09/2020 at 20:35:41
I'm much more confident that we can score a couple of goals, home or away, when I look at the central defenders. I also realise that we are capable of conceding two as well. Hopefully James can use his magic up front and Allan and Doucouré can plug the gaps further back.
Lewis Barclay
94
Posted 25/09/2020 at 21:00:02
I'm worried about Pickford in games like this one. Zaha won't need too many chances to test him.
Peter Warren
95
Posted 25/09/2020 at 21:02:57
Carlo a class act, great guy, knows what he's doing, everybody knows – no hiding with him and he backs his players. He just gives everybody a load of confidence because they are aware that he knows what he's doing. COYB
Allan Board
96
Posted 25/09/2020 at 21:25:50
Game is live on Amazon Prime – result! Unless Palace can muscle us out of it – we are too good for them and Richarlison will have a field day in behind their slow back 4. The difference now is Rodriguez will put it on a sixpence for our runner's. Play well, we win every time.
Relax folks!
Kieran Kinsella
97
Posted 25/09/2020 at 21:26:07
Carlo's attitude versus Mourinho is night and day. Bear in mind Jose took over a team that was in the Champions League Final months earlier and, after initially saying he was "happy" with the squad he is constantly now acting like he desperately needs reinforcements and has this mediocre rabble. Carlo, on the other hand, inherited a mediocre rabble, added some quality and now says he expects the team to be successful.
Ultimately, words are words, so what happens on the field is all that matters, but it's refreshing. Koeman, Moyes and Silva all had a level of underdog/victim mentality no matter who they signed no matter how well we were doing.
Nathan Snell
98
Posted 25/09/2020 at 21:54:53
Jay, I'm loving the ride and I don't want to get off. Early days but something feels different this year with Everton. In a world of madness and uncertainty, this is exactly what I/we need.
Paul Jones
99
Posted 25/09/2020 at 22:05:23
At the moment, the teams is playing very well, so can compensate for when the keeper makes a mistake, like Alisson at Liverpool, who the manager wants to get the ball back in play as quickly as possible in all circumstances, knowing the team will out-score the opposition.
Carlo did come across as not happy after last game; it struck me that he was not happy with the professionalism of his team not respecting the opposition and allowing them into the game. Statistics show Pickford not to be a great all-round goalkeeper that was apparent at his last club that was subsequently relegated.
Consistent good calm decision-making under pressure is the sign of a good player in any position. Overall, the organisation of the team has been improved. Pickford seems to be the remaining "loose cannon" that needs to get aboard otherwise he will find himself surplus. I have no doubt he would have been replaced already if someone rated by Ancelotti was available. In his last game may have proved a point that manager has already made to the board.
We no longer fall apart after a single set-back and teams have to play well to beat us. The level of performance of most individuals has improved and nobody can rely upon the size of their fee to play. So tomorrow, expect the improvement to continue with another win.
Trevor Peers
100
Posted 25/09/2020 at 22:36:39
It wouldn't surprise me if Carlo played Delph tomorrow in place of Gomes, he had nothing but praise for Delph in his press conference and the Echo seems to think he might get the nod against Palace.
Maybe it would be a smart move, as Gomes seems to give up possession so easily and we can't afford that against an aggressive Palace side. It also might help protect our ailing defence.
Kieran Kinsella
101
Posted 25/09/2020 at 22:37:31
Trevor,
Carlo said Delph won't be in the squad as he's still getting back to full fitness.
Derek Knox
102
Posted 25/09/2020 at 22:42:56
When I first saw this fixture on the list before a ball had been kicked, and before we had our three amigos join us, I thought maybe three points. That was based on previous encounters.
How often many things change, not only in politics, but evidently in football too, I could never have envisaged landing our long mooted connections, but also never realistically actually thinking I would see all three in a blue shirt.
We are definitely going in the right direction, under the tutelage of Don Carlo, the big question being, is that the end of the Transfer Window for us? Or are they a couple of more surprises in store?
I would hopefully think that the back of Moshiri's sofa, ably assisted by the fat hand of Alisher Usmanov, could somehow skirt the FFP Rules. Let's face it Man City's admonition has set a precedent which most solvent Clubs will have taken notice of.
I don't think that we are there yet, in terms of personnel, but not that far away either, and although dragging the water back from 'under the bridge' ruing the profligacy of those who shall not be mentioned, thinking in Bullseye terms: "Look what we could have had!"
Rolling on, sorry to all those who are still awake for my digression, but Crystal Palace have proved to be a Jekyll and Hyde side, especially at home; let's hope it's Hyde and Seek tomorrow
Gerry Ring
103
Posted 25/09/2020 at 23:17:06
Mike #90. Yes, we are brothers. Our first cousin, Tommy, played for Everton in the early 60s and, as a result, we were all indoctrinated.
Our eldest brother, Andy, was almost a permanent fixture at Goodison in the 80s and spent more time in the players' lounge than most of the players.
At this stage, Everton is in our blood like most on this page.
Trevor Peers
104
Posted 25/09/2020 at 23:17:15
Obviously got that wrong, Kieran@ 101.
Probably just wishful thinking on my part, I'm betting Gomes will be replaced at some stage tomorrow though. We have been carrying him so far this season, he's a weak link we can't afford.
Graham Mockford
106
Posted 25/09/2020 at 23:20:27
Carlo has put it to rest for now. He's not looking for another keeper. Good enough for me.
John Raftery
107
Posted 25/09/2020 at 23:27:43
This is a fixture which recently has delivered very few goals, none at all in our last two visits. That was partly because Palace hardly budged from their own half and partly because we lacked potency in the final third.
After two league wins, it is possible Roy Hodgson might allow his team to play more attacking football tomorrow which in turn might leave them more open at the back. If so, we now have an attack better equipped to take advantage.
Tony Hill
108
Posted 25/09/2020 at 23:30:17
Gerry @103, I never miss an opportunity to recall Tommy. A brief star but one of my (and many other older Blues') favourites. A wonderful player.
I think this current side has very early signs of the early 60s glory.
Colin Metcalfe
109
Posted 25/09/2020 at 23:36:56
Graham #106, read between the lines: what he is saying is that Pickford will be replaced... maybe not this window, but before the season is out, I am sure. Just look at what he did about the midfield last season.
Andrew Keatley
110
Posted 25/09/2020 at 00:03:12
Jamie Crowley (29) - Eze may well prove to be a good acquisition for Palace, but saying that "adding him into the attacking mix has made Palace a completely different side" is extremely premature.
He's played 24 minutes in the Premier League thus far (during which time, Palace have conceded once and scored once) and 90 minutes in the Carabao Cup game with Bournemouth that ended 0-0 and then went to penalties.
I doubt he will start the game tomorrow, so Zaha, Ayew, Schlupp and Townsend are probably the ones bringing the main threat.
Jason Li
111
Posted 25/09/2020 at 00:09:28
Interestingly, everyone knows James is dangerous and still world class now – he's proved it in the Premier League already, not a doubt amongst media critics anymore.
But... I don't think they can mark James out of the game. If too many players go over to James, he pings it over to Digne or Richarlison. Roy definitely won't want them exposed to the two who were our main assist and goal threat in the last two seasons by them having the ball with plenty of grass.
I think a tight Italian-style classical Serie A tactical game, won by very clinical moments by us. Lots of broken up play and the dark arts by Palace, not bad tackles but shirt pulling and "accidental" body blocks to try to stop us moving the ball with rhythm.
Jamie Crowley
112
Posted 26/09/2020 at 00:12:07
Andrew,
You're probably right. I watched the game in a pub last Saturday and had two beers. They were the first two beers I'd had since July 4th.
I was supremely impressed by the kid, and don't want to see him on the pitch. They looked dangerous AF with him on the pitch, two-beer-goggles or not!
Colin Metcalfe
113
Posted 26/09/2020 at 00:34:08
I expect the same team to play and if they play with the same intensity and swagger I think it should be enough for 3 more points, got to disagree about the team carrying Gomes, he is an integral part of that midfield and has played very well so far.
Mike Gaynes
114
Posted 26/09/2020 at 01:00:50
Wow, Gerry #103, sounds like you and your family ARE Everton's blood. What a remarkable association.
Jason #111, exactly what I expect. The more whistles we hear, the better the game will go for us.
Jay #92, our concern is WeChat. That's the platform the Chinese use to video chat with the world. It gets daily use at our house to talk to Mom and Sis in China. If Bleach Boy bans it, a million US Chinese will be cut off from contact with their families back home.
Vijay Nair
115
Posted 26/09/2020 at 01:03:45
I wouldn't be surprised if Carlo plays Bernard (instead of Gomes) behind the front three. After his performance in the Carabao Cup, I think he deserves a chance.
Otherwise, a largely unchanged lineup from the last league game, I would think.
Derek Thomas
116
Posted 26/09/2020 at 02:04:11
With Kevin 'No Friend of ours' refereeing, a small wager for Zaha to be awarded a penalty might pay off... that's if he can.t find another way to do us down.
Still, the Troups have set their own bar on performances up to now, so all things equal, we should see off Palace... but its a funny old game this footy lark.
Gerry Ring
117
Posted 25/09/2020 at 04:09:35
Tony #108 & Mike #114. That's what makes Everton the fabulous club that it is. We have tremendous regard for what went before and there is a connection amongst fans akin to following ones local town team.
Long may it continue and hopefully we can get back to meeting up around Goodison on match day, especially now when exciting things are beginning to happen on the pitch.
Graham Lloyd
118
Posted 26/09/2020 at 04:58:17
I think it speaks volumes that I fully expect us to win this game by at least two clear goals. I don't think we will keep a clean sheet but it will be fun to watch. Same line-up as West Brom and I'm going for a 4-2 victory this time with 2 from Richarlison, 1 from Dom and 1 from James.
If I'd tried to predict a score prior to the new signings, I would have been very happy with a point!
Long may it last.
Jerome Shields
119
Posted 26/09/2020 at 05:18:25
Everton have started the season well but, in this game, we need the emergence of consistency. Ancelotti's bench selection will be interesting, because he seems to have more options.
I expect tactical switches in formation during this game to be the deciding factor. This game will show how much Everton have progressed in preparation and training.
David Ellis
120
Posted 26/09/2020 at 05:39:52
I'm nervous because of the way Palace executed their counter-attack so well as against Man Utd and we are definitely susceptible to counter attacks (see West Brom game). But Man Utd were very under-cooked (they have had no pre-season to speak of and it was their first game).
Everton are a totally different proposition so I'm hoping we will set down a marker early doors just to calm me down.
3-1 to the free-scoring Blues.
Derek Knox
121
Posted 26/09/2020 at 06:36:15
Didn't think I'd be saying this, but Iwobi could well be in consideration after his display on Wednesday, isn't it great to have options once again? Like Vijay above said Bernard is another who played himself into the reckoning.
Fran Mitchell
122
Posted 26/09/2020 at 07:34:30
This is exactly the type of game we'd traditionally lose. Feel good factor, good form, at a stadium we haven't lost in 7 years or so. All to be brought to a monumental end.
Palace are not to be under-estimated. They have started the season well; in Zaha, they have a dangerous player. Townsend and Eze also need to be watched closely. Their midfield will work hard and make it difficult for ours.
I'll say 2-0 to the blues.
Geoff Lambert
123
Posted 26/09/2020 at 09:04:41
A very close game today, Could this be the first draw so far in the Premier League?
If Seamus can stop the Zaha threat, I think we can just nick it.
What will Jordan do next??? Here's hoping it's an error-free performance.
Eddie Dunn
124
Posted 26/09/2020 at 09:08:35
I fancy us to win today although I am worried about the space between Mina and Coleman. Mina gives me kittens and I suspect that Carlo is well aware that our Achilles heel is the Pickford-Mina axis... always a mistake around the corner with that comedy duo.
Hoping Richarlison has his scoring boots on as I think we'll have to hit three to win it.

Hugh Jenkins
125
Posted 26/09/2020 at 09:13:38
In signing Doucouré and James this year we have added something to our firepower that we have not had for many seasons – players capable of scoring from outside the box in open play.
That makes us infinitely more dangerous and is why I think that nowadays we are better equipped to beat teams like Crystal Palace away from home.
Geoff Lambert
126
Posted 26/09/2020 at 10:43:22
Mark Murphy
127
Posted 26/09/2020 at 11:06:16
Can I just ask please that people on the live forum don't go full paranoid android if we aren't 2-0 up after 20 minutes? It's wearing thin this "Oh here we go again" negativity.
UTFT!!!
Derek Thomas
128
Posted 26/09/2020 at 11:25:12
Mark @ 127; won't happen, no measured, duly pondered upon points and carefully researched statistics or neat bons mots... it's instant, live – clues in the name... it's The Boys Pen of forums, loud, shrill and rough as guts and if you enter, you take your life in your hands, not to mention your bus fare in somebody else's.
Derek Knox
130
Posted 26/09/2020 at 11:40:37
Mark, as DT says enter into the Gladatorial Arena, No Holds Barred and not for the squeamish Live Forum! :-)
Darren Hind
131
Posted 26/09/2020 at 12:03:29
Derek #128. Brilliant.
Unerringly accurate description of the Boy's Pen.
How good that survivors can laugh about it now
Paul Tran
132
Posted 26/09/2020 at 12:20:46
The Live Forum is as near as I can get to going to the match from up here; friendship, knee-jerk reactions, optimism swinging to pessimism and back again, wonderful nastiness, senseless arguments, with plenty of insight and laughs.
The only thing I don't like about it is that it is always a couple of minutes ahead of the stream I'm watching!
I'll really miss it today!
Paul Tran
133
Posted 26/09/2020 at 12:23:18
Does anyone else remember the fabulous high-pitched chant of the early 1970s:
'Hello, hello, Boys Pen aggro, Boys Pen aggro'?
Derek Knox
134
Posted 26/09/2020 at 12:24:42
Same here, PT, don't you just hate it when someone says "Goal!" and we haven't even kicked off on our streams? I tune in, and say hello, and then try not to look till half-time. :-)
Gary Carter
135
Posted 26/09/2020 at 12:33:15
I would play Gordon or Sigurdson in the Gomes role, quite possibly even Iwobi as at least they have forward passes in them. Bernard as well as he is far better suited to a central role...
Watching Gomes is like watching a crab wallpapering, sideways backwards sideways backwards.
And before people jump on me it not just since he came back from his injury, it's his entire career, scored 4 goals in a season once and not got near that in any other season, doesn't really get assists, can't tackle just looks tidy on the ball.
John Pierce
136
Posted 26/09/2020 at 12:56:22
Ha Derek, when I was a teenager, occasionally if it was a rough game or things could be tricky, I'd hide my bus fare behind a terrace garden wall or in the cemetery. Sounds mental but true. I even forgot the money sometimes only for it to be there two weeks later. All in the armoury of 'going the game'.
The capers of going to a match compared to today's pallid, tepid experiences, eh?
Jim Lloyd
137
Posted 26/09/2020 at 13:06:06
Well, I'm delighted with our start but I try to keep reminding myself we're not the finished article yet. What a difference so far after Carlo has had a chance to bring in some top-class players. Not only that, our team are developing a really fluid game, Richarlison going over to right and then back to the left.
The greatest artist I've ever seen play for Everton since our great Alex Young, weaving his magic and a delight to watch. Some commentators think he may be coming to the end of his career (but I don't think he is, he's superbly athletic but let's hope he has finished his bad run of injuries).
I think that Allan is going to be (well I think he is already!) the biggest influence on the pitch for us from now on and Doucouré is just a brilliant eater of the ground and clever too. What brilliant signings from the Professor!
However, we are still stuck with a lot of players we may well not be able to sell or loan them out. So, with a bit of 'make do and mend' this season, I'm just hoping we become a team that makes people take notice of us and enjoy our football... instead of laughing at us.
I think these signings will make other good players sit up and take notice of our club, and will no longer just not consider playing for us.
So, ups and downs... but boy – what a joy that Jimmy lad is!
Ron Morgan
138
Posted 26/09/2020 at 13:11:56
5-2 to the Blues is not beyond the realms of possibility is it, based on their current form. Palace beat Man Utd but you can now see why based on how they are struggling at Brighton.
Jamie Crowley
139
Posted 26/09/2020 at 13:14:21
Man Utd looking average. Spurs under Mouhrino will implode. Wolves overrated. Chelsea with a leaky keeper. Leicester is Leicester.
Why can't we break the Top 4 this year? Why not? We look fantastic and the competition looks meh.
Shouldn't McGuire be in jail, by the way?
James Head
140
Posted 26/09/2020 at 13:16:22
As a junior in the 70s, I often got into Goodison via the cheap option of the Boys Pen. Being a skinny urchin, I could scale the mesh at the front, right up into the top corner where there were gaps... If a steward wasn't looking, I would slip into the corner of the upper Gwladys Street or Bullens stands.
Going the game in those days was such a buzz, the smell of sausage rolls and ale in paper cups, it was always the highlight of my week. I'm not sure kids of that age would be allowed to go the game these days without adult supervision.
Peter Mills
141
Posted 26/09/2020 at 13:17:09
I wonder whether Nkounkou could replace Gomes?
Graeme Beresford
142
Posted 26/09/2020 at 13:23:40
COYB! I firmly believe this will be a test today but, if we put in a performance today, away from home, and come back with the 3 points, then our expectation for the season will have truly gone up a notch.
Getting ahead of myself, if we beat Palace, then beat Brighton, then it's onto the derby and who knows! However, we must be aware of Palace today. Zaha will be looking to make an impression against a team who are linked with him and Palace will no doubt fly in for some early challenges against our playmakers!
I just have such a confidence that, if we can be sure of the defence and keep Zaha at bay, then we can go out and put a few goals past these today. James, Richarlison, Calvert-Lewin, all looking sharp. However, I fancy Gomes to have a good game in the middle today and get on the scoresheet.
Up the Toffees! Come on!!!!!
Jim Lloyd
143
Posted 26/09/2020 at 13:26:34
Brings back good memories, James! I was doing that in the late '50s and early '60s and I didn't realise it but we must have sounded like a school playground when we were all shouting during the game. Brilliant times in the early '60s too.

Jim Lloyd
144
Posted 26/09/2020 at 13:44:31
PS, John Reynolds (20) Excellent post!
Robert Williams
145
Posted 26/09/2020 at 13:44:41
No Live Forum today?
Geoff Cadman
146
Posted 26/09/2020 at 13:52:40
Just heard on the Radio that the Palace Programme has an Article "Shoot from anywhere" slagging off Pickford. Let's hope he sees it and repeats his Spurs performance.
Matt Traynor
147
Posted 26/09/2020 at 13:56:28
Robert #146 - if the guys haven't woken up yet you can find the live forum on
https://www.ToffeeWeb.com/comment/live/
Derek Thomas
148
Posted 26/09/2020 at 13:59:55
John @ 136; We used to put ours in our shoe.
Robert Workman
149
Posted 26/09/2020 at 14:02:44
Unchanged team from West Brom game.
Sean Smythe
150
Posted 26/09/2020 at 14:03:14
Everton XI: Pickford – Coleman, Mina, Keane, Digne – Doucoure, Allan, Gomes – Rodriguez, Calvert-Lewin, Richarlison
Will Mabon
151
Posted 26/09/2020 at 14:04:21
Peter, for today, who knows. A measure of Nkounkou's progress that it's a possibility. Looks like he's had a season to settle in!
Will Mabon
152
Posted 26/09/2020 at 14:05:58
Okay, seems not.
Jay Evans
153
Posted 26/09/2020 at 14:08:46
Stop Zaha, stop Palace. I honestly think it's that simple.
Let's get our noses in front blues as if they score first then they can be quite dangerous on the counter, as they showed last week.
I fancy Doucouré for a goal today, not sure why.
Anyway, full support blues.
Onward Evertonians 💙
Jerome Shields
154
Posted 26/09/2020 at 14:09:03
Geoff #126
Thanks for the link. Enjoyed that.
Robert Tressell
155
Posted 26/09/2020 at 14:11:17
No Gordon on the bench. Strange. Unsurprising line up for us. Patched up defence for them along with a quick and lively, looking forward line. Presume we'll play deep and try to break.
Derek Knox
156
Posted 26/09/2020 at 14:25:02
Thanks Matt!
Nigel Gregson
157
Posted 26/09/2020 at 14:28:01
Any links?
---
Add Your Comments
In order to post a comment, you need to be logged in as a registered user of the site.
Or Sign up as a ToffeeWeb Member — it's free, takes just a few minutes and will allow you to post your comments on articles and Talking Points submissions across the site.