Match Report
"Plus ça change…", "deja vu"… pick your French cliché. Everton began a new season with yet another draw — their seventh in the last eight seasons — in a game that was eerily similar to the one between these two teams in late April. The script didn't end up being written for Wilfried Zaha (or Moise Kean for that matter) and the two sides had to be content with a point apiece, one that damages neither but arguably aggrieves the Toffees more.
After the disappointments of transfer deadline day where Everton's failure to replace one of their best performers from last season in Kurt Zouma, the optimism surrounding the build-up to this season-opener had been tempered by worries over Marco Silva's defence.
By the final whistle, with Michael Keane and Yerry Mina having done everything that was asked of them by an admittedly blunt Crystal Palace attack and Jordan Pickford coming to the rescue when the hosts did breach the back line, the anxiety had reverted back to more familiar concerns over a lack of creativity and penetration at the other end.
An injury to André Gomes, one that visibly altered the pattern of the game after half-time, combined with an upcoming suspension for Morgan Schneiderlin following his second off for two "bookable" offences merely added to the sense of frustration at what can only be regarded as two points dropped against very limited opposition.
Palace compensated for their short-comings with a physical, uncompromising approach and spoiler tactics designed to throw Everton off their rhythm and in more than just that respect, this felt like a continuation of the 0-0 draw here earlier this year. The Toffees dominated the ball, ended the game having had 65% of the possession despite playing the last quarter of an hour with 10 men, and will feel as though they should have won, particularly on the basis of the first half.
They were let down, however, by poor finishing from Gylfi Sigurdsson early on and a general and familiar lack of inspiration going forward throughout, with the Icelander and Richarlison largely below par on the day and Bernard still betraying a lack of the kind of self-confidence that would allow him to drive at goal and shoot himself once in a while rather than over-engineering situations or trying to play a team-mate in with a difficult reverse pass.
It's hard not to keep coming back to Sigurdsson, though, given his pedigree, ability to change games that he has repeatedly demonstrated in his time at Everton, and the enormous importance of the role he occupies. Put bluntly, he was anonymous for long stretches of a match he should have been bossing from start to finish and he needs to be better — much better — and produce on a weekly basis, otherwise our prospects of kicking on and improving on last season's eighth-place finish are likely to be undermined.
Of course, the moves made in the transfer market this summer may eventually result in a different system and greater fluidity in attack that will provide Sigurdsson with more space in which to work. There was a sameness to the side in the first half from last season that will slowly change once Alex Iwobi is introduced to provide more attacking options and both Jean-Pierre Gbamin and Kean get up to speed. And yet you were left with the feeling that had Gomes remained on the field and Kean not had to feed on scraps as a result of the team having to play the last quarter of an hour a man short, Everton might have sneaked the win.
Those are the margins sometimes in the Premier League, particularly at places like Selhurst Park. Everton got off to a strong start this afternoon and when Lucas Digne's cross rolled to Sigurdsson in a central position in front of goal with just two minutes gone, it looked as though Silva's men would get off to a dream start. The No.10 not only failed to hit the target but he mis-hit his effort wide.
Still, Everton remained on front foot and after a nice "training ground" corner routine saw Digne slide the ball to Richarlison, Christian Benteke did well to charge down the Brazilian's shot before it could trouble Vicente Guaita in the Palace goal.
Seamus Coleman was getting plenty of joy down the right as Patrick van Aanholt seemed content to give him yards of space in which work but Palace successfully repelled his deliveries from the flank until he almost popped up with a goal with half an hour gone. Digne's shot deflected into the Irishman's path but Guaita made an excellent, reflex save and though Bernard jinked his way into space to clip the loose ball back into the six-yard box, Dominic Calvert-Lewin could only head narrowly wide.
Palace, who, just like three months ago, were content to play like the away side and cede the possession to Everton, suddenly exhibited some attacking intent as the match moved into the last five minutes before the interval and Max Meyer almost profited. The Blues' defence went to sleep as the German was played into space on the left side of the box but Coleman's recovering block diverted his shot over the bar.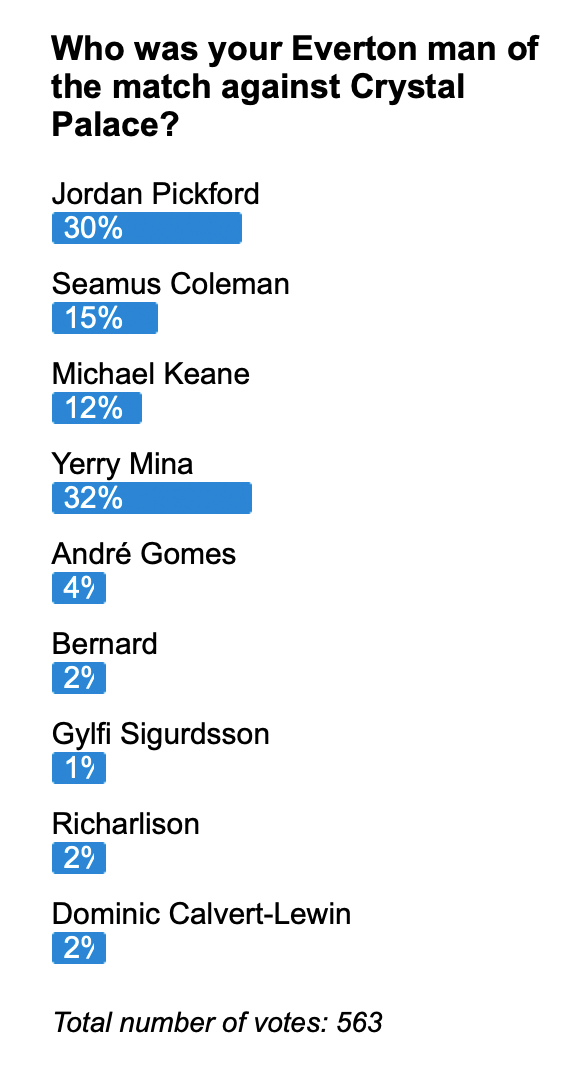 A turning point had come shortly beforehand, however, when Gomes came out limping from a heavy challenge and proved unable to carry on, eventually hobbling off on the stroke of half-time to be replaced by Gbamin.
Initially, the loss of the Portuguese didn't seem to phase the visitors and they came very close to breaking the deadlock seven minutes after the restart. Digne was again the provider with a cushioned, volleyed pass into the middle which Sigurdsson flicked goal-wards past the keeper but Van Aanholt had scrambled back and cleared it off the line.
Schneiderlin was booked by referee Jon Moss a couple of minutes later, seemingly more for his frustrated reaction to the decision than for the fairly innocuous foul on Jordan Ayew that preceded it and Everton began to unravel a bit as the hosts took control in midfield.
Gbamin was caught in possession in midfield and Benteke quickly released Ayew behind the defence where Pickford came up big to parry away the Ghanaian's shot.
A minute later, Townsend played Meyer in but Pickford was there again, standing tall and blocking the effort to keep the score at 0-0.
Back at the other end, Sigurdsson tried his luck with a low drive that Guaita got down to save before Richarlison ended a patient, probing Everton move by sweeping a shot a couple of feet the wrong side of the post from 20-yards out.
Kean's introduction for Calvert-Lewin with 20 minutes to go was the injection up front that the travelling Blues had been hoping for but the platform from which Everton were no doubt hoping to use to go on and win the game late on was altered by a second yellow for Schneiderlin just six minutes later.
The Frenchman's late challenge on Luka Milivojevic was ill-advised at best and, given that he was already on a yellow, stupid at worst and though there wasn't a bad challenge, the Palace midfielder's reaction did enough to sell Moss on handing out another booking. Silva responded by withdrawing Sigurdsson in favour of Tom Davies to shore up midfield.
Despite the introduction of Zaha, the player Silva had tried hard to sign before Thursday's transfer deadline, Everton were able to keep Palace at bay in the closing stages and, thanks to their solid back line, never really looked in danger of conceding what would have been a painful late goal. A point, while hardly ideal, was probably satisfactory all things considered.
The gnawing irritation from this game comes, however, from just how much it echoed those missed opportunities last season where Everton dropped points against the kind of opposition they really should be beating, particularly given how much they controlled the game at times.
There were, of course, mitigating circumstances — the loss of Gomes was keenly felt, there was an element of rustiness that is to be expected at the start of a new campaign and the new signings will take time to bed in. Gbamin, in particular, was given a very quick lesson in just how little time you get on the ball in the Premier League. Clearly not match fit, the Ivorian had to be thrown in before he was ready but he will be happy to have got some early minutes under his belt and to not have been punished for a couple of untidy moments where he gave the ball away in vulnerable areas.
Again, the important thing was that Everton didn't lose the game and the Keane-Mina axis showed every sign that it could be a very solid partnership this season if they can both stay fit. A home fixture against a Watford side wounded by a 3-0 defeat to Brighton this afternoon with a further week for Silva and his side to fine-tune the squad will hopefully provide a better indication of what is in store this season.
Matchday Updates
Everton's 2019-20 Premier League campaign kicks off at Selhurst Park against Crystal Palace.
Marco Silva resists the temptation to debut any of his new signings, going with Lyndon's predicted starting line-up. Gbamin and Kean are on the bench. Delph and Baines are out injured.
For the home side, Everton target Wilfred Zaha is on the bench with Benteke leading the line on a windy day at Selhurst Park.
Everton kept possession well from the kick-off and mounted the early attacks, the ball falling perfectly for Sigurdsson who failed to put his foot through it, missing a glorious chance to open the Blues account in the 2nd minute.
Everton continued to dominate the play and move the ball well until near the penalty area, Digne driving his through-ball too hard and behind for a goal-kick. Another promising move broke down again with Sigurdsson's wayward pass.
Bernard won the first corner for Everton, taken by Sigurdsson and surprisingly laid in low to Richarlison, whose smart shot blocked away by Benteke. It was all Everton, fine balls in from Coleman on the right, then Digne on the left, but in both cases, the Everton attacker was blocked by a Palace defender.
Another fine advance by Coleman, in toward Calvert-Lewin but Dann stretched to give away another Everton corner, taken a little short, Bernard almost winning it back on the far side.
Everton looked a little nervy in Palace's first real attack after 20 minutes, Schneiderlin miskicking and Digne giving away a soft free-kick that was defended away.
A Pickford loft from the back gave Calvert-Lewin an advanced challenging bouncing ball that he could not bring under control. Gomes launched a fantastic ball for Barnard deserved so much more but the blind reverse ball for Digne was simply ridiculous. At the other end, Palace forced their way into the Everton area and got close to Pickford before the loose ball went behind.
A mad scramble after a fine build-up should surely have been the opening goal but saw Coleman's goal-bound shot reaction-saved by Guaita, and batted out to Barnard on the second attempt. A good early cross from him looked perfect for Calvert-Lewin but he had to readjust position and his poor header went wide off a defender. Coleman failed to beat the defender with Everton's next attack.
Schneiderlin gave away a foul, but Everton again played it out well and moved it to the right-wing again. The first VAR intervention was for a foul and possible red card offence on Barnard, rejected.
Another attack, another ball falling for Sigurdsson but he was closed down before he could shoot. Meyer was booked for rugby-tackling Richarlison.
Some great play from Sigurdsson was rewarded with a ridiculous free-kick against him that was taken quickly. It was in this spell that Gomes was injured. The free-kick needed a vital touch from Coleman to deflect the shot over the Everton goal. The first Palace corner beat everyone, despite a challenge on Pickford. The second was close to being headed in at the far post, Pickford hesitant, as it hit Schneiderlin on the back for a third corner that finally went behind for an Everton goal kick.
Gomes worryingly went down on his ankle and needed treatment, causing Jean-Philippe Gbamin to be given his debut seconds before half-time as Gomes hobbled off.
Sloppy play from Sigurdsson gave Palace the chance to attack again but the ball went behind and a promising but ultimately very frustrating half was brought to an end by Jon Moss. It as a really good half for Silva's men in terms of defence, possession, midfield play, and attacking build-up, but a very familiar problem was painfully obvious: no goals.
Palace restarted but Everton were quickly on the attack down the right again, Coleman's cross a little wayward this time. Richarlison was getting a lot of decisions from Jon Moss as the Palace appeared to be targetting him, successfully in terms of breaking Everton momentum.
An Everton move down the left was thwarted but Palace's cross was well over-hit. Everton reverted to the right side, and a neat play came so close in the end, Sigurdsson knee flick cleared off the line by Van Aanholt, Barnard booked for a silly foul from behind.
The next attack, again down the right, saw Richarlison's opportunistic shot from distance deflected. Schneiderlin then went in the book after reacting to another foul called on him. Milivojevic was the third yellow in quick succession, him fouling Sigurdsson.
Palace got behind the Everton defence, Ayew free to clip over Pickford who was out sharply and saved very well. But Palace again got free Meyer in acres of space, Pickford saving Everton again.
Gbamin was very easily dispossessed in midfield and Palace attacked again but Pickford was there to collect the ball played in. Everton tried to settle things again but Keane's ambitious lofted ball to Digne wide left was too difficult to pull off on the wind.
Sigurdssson turned and shot a little meekly along the ground for Guaita to save easily. Another attack saw the cross drift away from Richarlison as Wilfred Zaha came on for Ayew, the impetus now firmly with Palace.
Silva made a good reactive decision, bringing on Moise Kean for his debut in place of Calvert-Lewin as Everton once again pushed and probed, Richarlison curling a beautiful shot just wide, but he should really at least have had it on target.
Gbamin did well to win the ball only to pass it seconds later direct to the feet of a Palace player. The shape had gone a little, with the new signings needing time to adjust to the cut and thrust of the Premier League, Gbamin getting fouled by Mil.
Sigurdsson lost the ball and Zaha looked to score but was blocked. But Everton were now rocking a little, unable to get forward and relive the increasing pressure, Zaha having inspired rousing support form the home faithful. A fantastic move by Palace cut through the Everton defence, beating Pickford but Dige was there at the far post to hook it behind when it could so easily have been a complete disaster,
Then a poor late clip from Scheneiderlin, a yellow card offence, his second, so red also from Jon Moss. So sloppy and poor, two utterly stupid decisions by Schneiderlin. Silva immediately brought on Davies in place of Sigurdsson who had frankly not been impressive.
A tired low cross from Coleman went straight to Guaita on a now rare Everton foray, the Everton defence on call again soon after until Davies was fouled. Richarlison's cross was a lot better and seemed destined for Kean's head but flow over him.
Palace kept pressing, winning a corner that needed some stout defensive work as the minutes ticked away. Zaha came so close to creating absolute havoc at the near post, Pickford rescued by Mina and Davies. Digne did well to play in Kean who hit it behind rather than crossing or shooting.
Four minutes of added time, and Richarlison again flopping, incredibly winning the free-kick but Everton totally uninterested in attacking the Palace goal. The attack came eventually but lacked conviction, and Mina was called for a late free-kick to Palace that was the last move of the game.
A promising performance from Silva's men in many ways but ultimately 2 vital points dropped on the opening day as Palace were there for the taking in the first half, with Sigurdsson's glorious chance going down as a very expensive miss.
Crystal Palace: Guaita, Ward, Dann, Kelly, Van Aanholt, Meyer [Y:38'], Milivojevic [Y:55'], McArthur, Ayew (65' Zaha), Townsend, Benteke (83' Wickham).
Subs not Used: Hennessey, Kouyaté, McCarthy, Camarasa, Cahill.
Everton: Pickford, Coleman, Keane, Mina, Digne, Gomes (45' Gbamin), Schneiderlin [Y:54';YR:76'], Sigurdsson (78' Davies), Bernard [Y:52'], Richarlison, Calvert-Lewin (68' Kean).
Subs not Used: Lössl, Holgate, Walcott, Tosun.
Referee: Jon Moss
Attendance: 25,151
Due to a perceived colour clash with Palace's home kit, the Premier League requested that Everton play in their white change kit from last season for this fixture. The Blues' third kit, a dark blue number, isn't released until later this month.
Match Preview
Everton's 2019-20 campaign kicks off at Selhurst Park this weekend where, had things gone a little differently in the transfer market, both Wilfried Zaha and James McCarthy might have been lining up against their former employers for new clubs.
As it is, only the deal for McCarthy was completed before yesterday's transfer deadline while Zaha was left fuming at Crystal Palace's board for blocking his move to Goodison Park. In any case, this weekend might have come too soon for the Ivorian who only returned to training last week following the Africa Cup of Nations but it's academic as far as the Blues are concerned — the move for Zaha didn't come off while Alex Iwobi became the final addition to Marco Silva's team this summer.
The Nigerian forward was secured in a deadline-beating deal from Arsenal and, while he won't have been registered in time to play for his new club tomorrow, his acquisition should provide a lift to a squad that will enter the new campaign in optimistic mood.
Alongside Marcel Brands, Silva oversaw the signing of six new players over the course of the close season in addition to the acquisition of André Gomes on a permanent contract, including cover for the vacancy left by Idrissa Gueye in the form of Jean-Philippe Gbamin and a new striking option in Moise Kean.
Despite those exciting incoming names, the Blues' line-up is likely to have a familiar look to it at kick-off against Palace. Seamus Coleman has fresh competition for his place from Djibril Sidibé but is sure to captain the side from right-back while Morgan Schneiderlin is expected to start in central midfield. He should be partnered with Gomes given the injury Fabian Delph picked up in the friendly against Werder Bremen and the fact that Gbamin might not be 100% match sharp.
By default, Yerry Mina will partner Michael Keane at centre-half in a pairing that will have to carry the Blues at least until January following the failure to replace Kurt Zouma, while the Brazilian duo of Bernard and Richarlison are the likely starters on the flanks.
That leaves the open question of whether the manager elects to throw Kean straight into the Premier League cauldron or go with Dominic Calvert-Lewin from the first whistle and unleash the 19-year-old in the second half. Either way, there will be plenty of anticipation from the travelling Blues as they hope to get their first look at the former Juventus striker.
With Zaha unlikely to play, either given his lack of readiness or simply his state of mind, Palace will be deprived of their most dangerous asset but they have welcomed Jordan Ayew back to the club after securing him on a permanent transfer from Swansea City and he will push for starting berth either against or alongside the likes of Andros Townsend and Christian Benteke.
In addition to McCarthy, they could also hand a debut to defender Gary Cahill who moved across London on a free transfer from Chelsea.
Given the lack of any significant signings by the Eagles this summer, Everton can expect a similar encounter to the one in late April, a match they dominated but ultimately failed to win, let down by a lack of quality in the final third. With Kean as a weapon and the two Brazilians hopefully raring to go to make an impression on the new campaign, that shouldn't be as big an issue this time around.
Having won their first League game just once in the last six years and not won an opening-day fixture away from home since 2001 (coincidentally it was at Palace's near neighbours Charlton Athletic), it would be a massive boost for the Blues to get the 2019-20 campaign off to a flyer with three points.
Kick-off: 3pm, 10 August 2019
Referee: Jon Moss
Last Time: Crystal Palace 0 - 0 Everton
Predicted Line-up: Pickford, Coleman, Keane, Mina, Digne, Schneiderlin, Gomes, Sigurdsson, Bernard, Richarlison, Calvert-Lewin
Due to a perceived colour clash with Palace's home kit, the Premier League have requested that Everton play in their white change kit from last season for this fixture. The Blues' third kit, a dark blue number, isn't released until later this month.
* Unfortunately, we cannot control other sites' content policies and therefore cannot guarantee that links to external reports will remain active.