Record losses underscore effect of pandemic on Everton's accounts
Friday, 11 December, 2020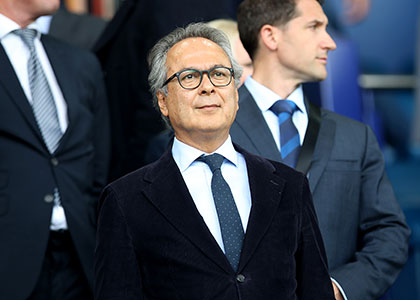 Everton have reported record losses of almost £135m but tempered the news with the revelation that Farhad Moshiri plans to plough another £50m into the club this season that will take his investment in the club to £400m.
The club's annual accounts show a pre-tax loss of £134.8m and a net loss of £107m for 2019-20, but a sizeable chunk of the shortfall, £67.3m, has been attributed to the COVID-19 pandemic that has wreaked financial havoc across the game.
The report stresses that the unrecoverable financial impact directly attributable to the pandemic is not considered part of the underlying reported loss because "it is non-recurring in nature and could not have been foreseen at the beginning of the financial year."
Other contributing factors to a £1.8m overall reduction in turnover include a lower finishing position than was forecast for last season and "the deferment of the recognition of some 2019-20 revenue until the next financial period due to the later completion of the season in July 2020."
Seeing as Everton, like the rest of the Premier League, were hit hard by a loss of revenue from TV, the club explained that it will maintain an ongoing strategy to reduce its reliance on broadcast revenue "by expanding its controllable revenue from its commercial, advertising and merchandising and other commercial activities."
Moshiri's own commitment to the club, meanwhile, was underscored by the revelation that he took his personal investment in Everton to £350m in June with a £50m cash infusion in the form of an interest-free loan and he plans to add another £50m over the next few months.
Meanwhile, the Board of Directors is proposing that the British-Iranian billionaire increase his shareholding from 77.2% to 93.3% with an investment of £250m, a proportion of which would come from the issue of new shares and some of that money would see current loans converted into capital.
---
Reader Comments (42)
Note: the following content is not moderated or vetted by the site owners at the time of submission. Comments are the responsibility of the poster. Disclaimer
Jay Wood
[BRZ]
1
Posted 11/12/2020 at 20:00:35
Ouch!
Everton Announces Record Loss of £140 Million
'As a result the club have taken steps to create and propose a new share issue to Moshiri's Blue Heaven Holdings Limited up to a value of £250m, with the conversion of previous shareholder loans into equity equating to £150m of that total. That would potentially take his share in the club from 77.2 per cent to 93.3 per cent.'
So much riding on one man's continued benevolence.
Benn Chambers
2
Posted 11/12/2020 at 20:06:37
Fucking terrifying... If it wasn't for Moshiri, we'd be the next Leeds.
Make no mistake, Richarlison and Digne will be leaving to balance the books! It's fine spending a fortune if you're winning, but we're getting worse!
I know all teams bar Liverpool will make record losses because of the pandemic and we've all spent and strengthened but these figures are just not sustainable. It's a second year running the losses have been astronomical. Thank god for Moshiri. He's a maniac but we're lucky he's here or we'd be Bury.
I think we can forget about the Bramley-Moore Dock stadium...
Patrick McFarlane
3
Posted 11/12/2020 at 20:15:20
Benn #1,
I agree with your overall sentiment; however, Bramley-Moore Dock is probably the only thing that is persuading Moshiri to keep on throwing money at the club.
If the Bramley-Moore Dock stadium wasn't in with a chance of happening, I suspect that Moshiri would have closed his wallet and he would be looking to recoup some of his losses – similar to what Randy Lerner did with Aston Villa.

Benn Chambers
4
Posted 11/12/2020 at 20:22:01
This just can't carry on. The sheer waste of money is sickening. Every player we seem to sign is pure dogshit the minute they put the blue shirt on. We need to start shopping for cheap gems to polish. This buying 'the finished article' isn't working.
I'm worried. I'm very, very worried. Richarlison and Digne will be going. I won't blame Moshiri if he decides that's what must happen. The top 4 is a closed shop unless you can spend a billion quid and not blink. Like the Sheikh.
Ron Morgan
5
Posted 11/12/2020 at 20:24:14
Not so sure about Bramley-Moore Dock stadium project – especially in light of the allegations surrounding Joe Anderson!
Fran Mitchell
6
Posted 11/12/2020 at 20:24:24
Richarlison, Calvert-Lewin, Digne — all to be sold for a total of £200 million — then we give Sigurdsson and Delph new long-term contracts to keep "experienced pros" in the dressing room.
Patrick McFarlane
7
Posted 11/12/2020 at 20:26:33
I love TW, there's no bad news that can't take on a life of its own and become even worse news! :)
Anthony Murphy
8
Posted 11/12/2020 at 20:40:03
I think Everton should give us a Bramley-Moore Dock update although I'm sure the AGM will cover it thoroughly enough in January. I've got no faith in Liverpool City Council whatsoever.
Dave Williams
9
Posted 11/12/2020 at 20:49:22
If Moshiri was planning on selling our best players, he would hardly be putting in a load more money?
Richarliosn will probably go, not because of the finances but it has been widely reported that he agreed to give Carlo this season and, as we are unlikely to make the Champions League, he will be sold and raise a large sum – £100M or more depending on whether he finds his goalscoring boots soon.
As Patrick says, Bramley-Moore Dock is vital as Moshiri is surely looking at making a big profit on his investment; the club will be so much easier to sell and so much more valuable with one of the best stadiums in the country to play in.
I do wonder if his mate is involved here. Moshiri is "only" worth £2bn which is not that much when talking in terms of an investment like this. Whether he will buy some shares from Farhad or help out in the background, who knows... but Farhad is surely not risking such a huge chunk of his personal wealth. Good business practice is to use other people's money, not your own, and Farhad is a top accountant!!
Steavey Buckley
10
Posted 11/12/2020 at 21:00:38
It does appear that, whoever became manager since Farhad Moshiri became the largest shareholder, Everton have paid over the odds in transfer fees and salaries for very average players. Managers since Koeman did not get value for money, except for the likes of Dominic Calvert-Lewin and Lucas Digne, who turned out to be outstanding players for relatively modest outlay.
The current financial situation has a lot to do with Covid-19 that is affecting any activity that needs certain amounts of people attending sporting or non-sporting events.
Gavin Johnson
11
Posted 11/12/2020 at 21:07:12
Ben, we'll get around £50m+ from PSG or Juve for Moise Kean. I really wouldn't worry about Richarlison or Digne going. That's unless one of them asks to leave. The worry is not about Moshiri wanting to get some money back, but the fear we break FFP.
Does anyone know if the new shares will offset FFP requirements?? I'm not sure because the money is coming directly from Moshiri's pocket and not outside revenue.
Paul Smith
12
Posted 11/12/2020 at 21:09:11
Not sure what the issue is.
Yes, we have made record losses, so has everyone else; it's expected during a pandemic – except we have a rich owner to ameliorate the effect.
We're actually quite fortunate and something to be celebrated, methinks – not "Woe is us, disaster looms, the end is nigh".
Quite depressing, some of the comments posted on TW at times.
Benn Chambers
13
Posted 11/12/2020 at 21:11:13
Gavin #10,
Good point about Kean. I'd totally forgot about him. We'll certainly get doubling our investment in him. He's 20 and banging them in. Good point.
Tony Abrahams
14
Posted 11/12/2020 at 21:16:15
£400 million is around what Usmanov got for his Arsenal shares, I'm sure!
Brian Wilkinson
15
Posted 11/12/2020 at 21:32:08
So they are pushing for Moshiri to increase his shareholding to 93%, we have other small shareholders who own around 18% and Bill Kenwright owning 5%.
Does anyone here believe Bill will sell his 5% shares? Me neither.
Trevor Peers
16
Posted 11/12/2020 at 21:55:11
We should've got Moyes back after Koeman to stabilise the situation. Instead, Moshiri brought in another chancer, Silva. It was his call, but just look at the massive amount of money that's been wasted, it's unforgivable.
That money was probably our last chance to get us back into the top 6 and maybe a new stadium, unless Usmanov pumps his £billions behind us.
Gavin Johnson
17
Posted 11/12/2020 at 22:07:02
David "Knives to a gunfight" Moyes?! No manager should ever go back to a former club, especially ones who always bottled it, in the games that really mattered.
I agree with slap head, Danny Murphy. Brendan Rogers would have been a better shout than Silva, albeit unpopular with some due to his Liverpool credentials.
Brendan McLaughlin
18
Posted 11/12/2020 at 22:13:09
Gavin #16,
Moyes went back to West Ham and they aren't performing too shabbily at the moment.
Paul Hewitt
19
Posted 11/12/2020 at 22:18:43
All this shows is how NOT to run a business. Total shambles.
Joe McMahon
20
Posted 11/12/2020 at 22:22:21
I would have had Rafa, Brendan Rogers or even Steven Gerrard as manager over any of the choices after Moyes.
I was happyish with Carlo but he needs to sort these awful performances out. I still maintain he's used to ready-made talented squads with big-name teams that are used to winning. Everton, unfortunately, isn't one of those teams.
Trevor Peers
21
Posted 11/12/2020 at 22:27:43
Maybe we get what we deserve, wanting ex-Liverpool people in is the ultimate betrayal, nothing surprises me on TW.
Patrick McFarlane
22
Posted 11/12/2020 at 22:28:39
I seem to remember that, when Everton knocked the Hammers out of this season's League Cup, there were quite a few posters who didn't rate the Londoners and they were a side that Everton should have disposed of more easily – or perhaps I'm imagining it.
Seeing as West Ham are in form and above Everton at the moment, I'm trying to think of the last former Everton manager to subsequently finish above Everton in the league, I'd guess it was a very long time ago – perhaps Johnny Carey with Nottingham Forest in 1967?

Tony Abrahams
23
Posted 11/12/2020 at 22:32:52
West Ham weren't that good on the night because Moysey couldn't attend, Patrick, but, since he returned after having Covid, they've gone on a great run!
West Ham were also unlucky last week against Man Utd, and to be fair Moyes has got them very fit, but in this shortened season, I wonder how many teams will blow up, before the end?
Philip Bunting
24
Posted 11/12/2020 at 22:34:27
Even during a pandemic, earlier this year the rich list reported Moshiri's wealth increasing by around £300mill. What's the big deal? He clearly won't miss a £50 million injection this year, will he?
Jason Li
25
Posted 11/12/2020 at 23:00:21
If players are "assets", then I think the losses that show in the profit and loss for player transfers bit, don't reflect future estimated valuations.
Richarlison: a loss of £35 million possibly currently, but when we sell, could be a profit of £35 million, a £70 million difference.
In 3 years, Gordon, Nkounkou, Simms, Small, Godfrey and so on will be worth at least £10 million more than today. We're doing alright financially – not that drastic as the losses say. Like buying a house on a mortgage, scary cost today but the property is worth a lot more a few years later.
If I was to completely make up a consipiracy, it might be that the accounting genius of Morshiri doesn't mind this as shareholders won't bargain much in selling shares when they see the accounts.
Gavin Johnson
26
Posted 11/12/2020 at 23:08:41
Trevor, After the last 30 years, maybe we should all be a bit bigger than just dismissing someone because they managed our rivals. I used to be like you, and always dismissed any idea of Rafa coming, but I really wouldn't have had a problem with it when Koeman left.
Rafa and Rodgers are winners. David Moyes isn't! Him coming back would have been showing as much ambition as when we had Howard Kendall back for the 3rd time. It would have been the same, old predictable Everton.
Although I'd draw the line at having a born and bred RS like Gerrard ever having any association with Everton.
Trevor Peers
27
Posted 11/12/2020 at 23:38:50
Gavin, the reality is no ex-Liverpool manager was ever approached publically because they would've joyfully laughed in our faces.
Are you seriously saying Allardyce was a better choice than Moyes after Koeman? No-one is suggesting Moyes was in the frame when Carlo was appointed – that would've been crazy, but at least we would've avoided the dreadful Maro Silva, who was worse than Koeman.
Those two Moshiri appointments may have financially wrecked our chances of having a trophy-winning team for another 30 years.

Gavin Johnson
28
Posted 11/12/2020 at 00:18:15
Trevor – it was your good self who started going back in time, suggesting what could have been if we'd have appointed David Moyes for a second time after Koeman. I never mentioned Carlo. You have!
We didn't appoint Moyes because he wanted a long-term deal and it would have been seen as a regressive appointment. Big Sam was only ever going to be an interim appointment and, despite the turgid football, he got us to 8th.
I'm not sure why you think Brendan Rodgers or Rafa would have laughed in our faces?! Rafa, by several accounts, wanted the job and Rodgers had to go to Celtic to resurrect his career and Leicester were struggling when he took the job. He's not a committed lifelong RS, IMO, he'd have taken the job in a heartbeat. If anything to prove the RS wrong for sacking him. And he'd have been a better appointment than Big Sam, Marco Silva or David Moyes.
Trevor Peers
29
Posted 12/12/2020 at 08:40:24
Gavin- our opinions count for nothing, you have yours I have mine, of what would of been a better way forward after Koeman's departure.
The fact remains the wrong manager was chosen at a crucial time and £millions were wasted by Silva, the team has suffered for it. We haven't moved forward at all.
Moshiri hasn't been a success despite spending a fortune, his intentions are good but his stewardship has been a total failure. That's my point really I don't know what yours is.
Gavin Johnson
30
Posted 12/12/2020 at 10:03:00
Trevor - I agree with everything you say about Moshiri. I just differ with you on David Moyes. My point is that Brendan Rodgers would have been a much better appointment than your choice (Moyes) after Koeman lost his job. You poured scorn on that idea, asking what TW was coming to when people want an ex-RS manager?! Well, I gave you an explanation. I'm not sure why you got lost there.
Dan Nulty
31
Posted 12/12/2020 at 10:08:52
Not sure why we are wasting time arguing about who was appointed after Koeman. Decision was made, we have moved on. Several times now.
For me, this is good news that he is putting more money in at a time when it would be very easy to walk away given it looks like another 500m will be required, at least, for the stadium as well as the team. It solidifies the thought that usmanov is also funding this project as otherwise Moshiri would have spent a quarter of his net worth on his own and failed miserably. I can't see him spending more unless there were deeper pockets in the background.
As people have said we may well have to sell a couple of players but it won't take much of a run of wins to climb back up the league. We have the capability up front to do that. It's the defence that may stop it from happening.
Going to be a long old slog to compete at the top. I'm just going to try and enjoy watching the bits of quality we see from time to time.
Brian Harrison
32
Posted 12/12/2020 at 11:19:55
I see from the latest figures our wage bill has risen from 85% to 89% this is simply not sustainable at any club. The first priority must be to reduce the wage bill and quickly, and sadly the only way to do that is sell our best players. Richarlison said at the beginning of the year he wants to play Champions league and if Barca are interested then he may have to be sold, the same with Kean, hopefully PSG will stomp up more than the 30 million we paid for him. We may also have to consider further sales to reduce the wage bill, given that Ancelotti will want more players in Jan or the summer.

Mike Keating
33
Posted 12/12/2020 at 11:54:04
According to the accounts this includes a £6.6m payout to get shut of Silva and Co. Add to that what it cost to replace Martinez with another head-hunted genius and then his stop gap replacement, Moshiri has to look no further than the mirror to see what's happened to his £400m investment.
He's now paying the price!
Patrick McFarlane
34
Posted 12/12/2020 at 12:12:28
Paul or anybody else for that matter, is this 'connected party' section in the accounts, important or otherwise? Does it mean that USM or those connected with that business, can invest money into the club, but any investment would not have to be shown in the accounts?
Those that read the detail of the accounts may notice that USM no longer appear as a connected party in the accounts (due to Moshiri's shareholdings in USM and Everton). Moshiri's shareholding in USM has changed to the extent that USM are no longer considered to be a connected party to Everton. As a result the accounts will no longer detail the degree of financial support USM provide Everton.
Paul A Smith
35
Posted 12/12/2020 at 13:16:52
As good as Moshiri has been to the club I feel he has also gone about things badly in some ways.
Recruitment has stunk the place out. How many number ten types have we signed since his tenure started?
Sigurdsson, Klassen, Rooney, James, the wonderful Sandra from Spain.
Bolasie was a dreadful idea, as was Iwobi.
We needed Tosun and Walcott to basically have a chance of staying up that year but they have bled the club too.
Who had these idea's? Surely not the managers we have handed about 50 million to in redundancies?
What a mess. We wanted Zaha so we bought Iwobi.
Thats a terrible way to do business and wreaks of desperation. Therefore, you overpay.
Managers know what the priority is to get them results and when you are having to agree targets with another man (who then leaves responsibility to the manager) how can that keep the manager confident?
Digne has been a great signing, Richarlison too and I think the latest 3 will do ok but before that its been shocking.
Pickford, what an error that has turned out to be. Total lack of homework done on him before boosting Sunderlands bank account.

Charles Barrow
36
Posted 12/12/2020 at 14:06:59
Moshiri's time at the club shows us that money on its own is not the answer. It's what you do with it. Shame that he seems not to know anything about football. Koeman in particular was a disastrous choice - he didn't want to come, so Moshiri persuaded him by 'stuffing his mouth with gold'. When he arrived Koeman couldn't be arsed and the rest is history.
Dave Brierley
37
Posted 12/12/2020 at 15:28:52
Patrick@7
I love TW, there's no bad news that can't take on a life of its own and become even worse news! :)
Nail on head.
John Pierce
38
Posted 12/12/2020 at 18:28:28
Partly Covid I guess but really what option does Moshiri have? His investment is at risk. The only way he gets at least his money back is by taking the measures above.
If he pulled out or stopped the financial injects surely he'd lose the lot?
David Israel
39
Posted 14/12/2020 at 13:38:17
Patrick #3, there a difference between Lerner and Moshiri: the former most likely did not like football.
Denis Richardson
40
Posted 15/12/2020 at 10:37:56
Jeez, people still wanting Moyes back. Beggars belief but I guess everyone's entitled to their opinion. I wouldn't want Moyes back even if he won the league and CL with West Ham!
As for the losses, without Covid we'd have made a massive loss as it is. Most clubs make a loss and everyone knows the PL is a billionaires vanity play pen. Most football clubs do not make any financial sense from an investment perspective. Billions flow in from TV and advertising and billions flow out to the players, agents and managers. Little if anything left for the owners.
In saying that, our best 5 players are probably worth north of £300m in today's ludicrous market so we have a lot of 'cash' on the pitch hence Moshiri may be putting more cash in but he can get a lot of cash out if he instructs the better players to be sold.
Would be great if we can continue to sign you g hungry players with pace to form a base for the years to come. The likes of Godfrey will prove a great signing imo. The likes of Mina will not.
Mike Oates
41
Posted 15/12/2020 at 12:41:36
If you listen to The Esk's recent podcast he explains the reasons behind the recent accounts. But basically key points
- our player wages are totally unsustainable, we need to off load a huge amount of big earners. I think we will see one from Richarlison, Digne or DCL leave
- there is no money available for this winter transfer window
- we are a poorly run company in all facets, on the pitch, and off the pitch, particularly very poor Commercial income. We need a hard hitter as Chairman or CEO, current occupiers, Kenwright and Baxendale far too Everton old school, or charity based.
- our accounts would break all FFP rules for Europe and the PL and we are extremely fortunate that Covid has meant those rules currently temporarily ? being ditched.
- Moshiri has had to lend money again to stop the rot and also to help BMD get investors to invest in the project.
All in all it is a bad set of accounts.
Robert Tressell
42
Posted 15/12/2020 at 12:49:10
It's fairly stark.
The stadium needs to ahead as that's the only thing incentivising the Moshiri gravy train
Even with that gravy train we need to reduce the wage bill and guard against accumulation of high wage deadwood.
Without these two things there is a risk we could go bust (or embark on a fairly disastrous fire sale of our best players).
---
Add Your Comments
In order to post a comment, you need to be logged in as a registered user of the site.
Or Sign up as a ToffeeWeb Member — it's free, takes just a few minutes and will allow you to post your comments on articles and Talking Points submissions across the site.