Leicester City vs Everton
Tuesday, 15 December, 2020
Match Preview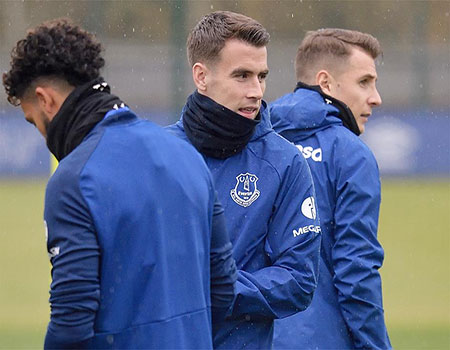 Seamus Coleman won't be risked at the King Power Stadium but Carlo Ancelotti is hopeful he will be available for the weekend's clash with Arsenal
Everton's busy December continues tomorrow evening with a trip to Leicester City as Carlo Ancelotti looks to build on Saturday's spirited win over Chelsea.
The Toffees ended a run of just one win in seven with a 1-0 triumph over Frank Lampard's title-chasing outfit thanks to Gylfi Sigurdsson's penalty and it is likely that the manager will opt for the same starting XI at the King Power Stadium.
That's because both Seamus Coleman and James Rodriguez have been ruled out again with hamstring and calf injuries respectively, although there is hope that both could be back in time for the League Cup quarter-final against Manchester United next week.
"The squad is practically the same," Ancelotti said in his pre-match press conference. "I don't want to take a risk on Seamus Coleman. At this point we prefer to leave him out of this game so he is ready for the next game on Saturday.
"We have James out who is starting his individual rehab and we will check in [with him] day by day. Also Delph is out but the others are all okay.
"I don't know [about James for the weekend]. It's an easy problem. Maybe if he is not available on Saturday, he will be available next Wednesday."
Leicester have gone through an erratic patch of their own over the past couple of months, losing back-to-back matches against West Ham and Aston Villa at home in October and then falling to Fulham at the KP at the end of last month.
However, successive wins over Sheffield United and Brighton have lifted them back into the top four, three points off the summit. With Jamie Vardy back among the goals and James Maddison fit again, Brendan Rodgers's team look a daunting prospect once more.
The Foxes will be without some key defensive figures in the form of Johnny Evans, who is suspended, and both Caglar Soyuncu and Ricardo Pereira, who are out injured. Timothy Castagne, who made a flying start to life in the Premier League before succumbing to a thigh injury, could play for the first time in two months, though.
The same line-up as Saturday, with four centre-halves across the back, two of whom have good speed, would set Everton up as well as possible to deal with Vardy's pace in attack and Leicester's propensity to play on the counter-attack.
It promises to be another difficult encounter but, with the East Midlanders having shown themselves to be fallible at home and Everton hopefully exhibiting some renewed confidence, Ancelotti will be hopeful of coming away with a good result.
Victory for the Toffees would pull them to within a point of the Foxes in the Premier League table and put them back on the heels of the leaders heading into Saturday's game against struggling Arsenal.
Kick-off: 6pm, Wednesday 16 December 2020 n Amazon Prime Video
Referee: Lee Mason
VAR: Darren England
Last Time: Leicester City 2 - 1 Everton
Predicted Line-up: Pickford, Holgate, Mina, Keane, Godfrey, Allan, Doucouré, Iwobi, Sigurdsson, Richarlison, Calvert-Lewin
---
Reader Comments (64)
Note: the following content is not moderated or vetted by the site owners at the time of submission. Comments are the responsibility of the poster. Disclaimer
Roger Helm
1
Posted 15/12/2020 at 18:12:53
Although the Foxes have been inconsistent recently, they played well at the weekend and Vardy is always dangerous. They will be looking to go top if they beat us. So I hope we play as we did against Chelsea, defend deep to deny them space and leave us space in attack for the speed of Richarlison, Calvert-Lewin and Iwobi. 1-2 to us.
Mike Gaynes
2
Posted 15/12/2020 at 18:14:05
Leicester's attack presents many of the same challenges as Chelsea's -- pace and more pace. Carlo's four-centerback alignment shut down Chelsea because Mina and Keane were flawless and Holgate and Godfrey stayed home and used their speed to prevent chances off the flanks. Neither contributed to the attack at all (until those late end-to-end dribbles), but who cares?
A repeat performance by those four, Allan and Pickford will assure another result, and I'm fine with that. Prediction: 1-1.
Fran Mitchell
3
Posted 15/12/2020 at 18:15:50
Difficult game to call, like so many this season.
Leicester have won 8 lost 4, so you never quite know what you're gonna get with them. They are still reliant on Vardy for goals, so if we do a number on him then we have done half the work. But he's in excellent form, and unbelievably seems to defy his years. Maddison is another who is getting back to fitness and showed in the last game he may be getting his mojo back.
Leicester, while good in possession, are still most dangerous when playing on the counter like when they won the league (this football most suits Vardy).
Their midfield is also excellent, Tielmans an excellent player, and Ndidi also a brilliant defensive mid. So the battle between them and Allan & Doucouré should be interesting.
A win would be a fantastic result and really catapult us upwards in the league.
We need to see Richarlison hit his best form and hopefully get a goal, and maybe is time to unleash Gordon from.the bench.
John Pierce
4
Posted 15/12/2020 at 18:37:55
Leicester have lost three at home to pretty average teams. Sitting back simply isn't good enough. Barnes, Madison and Perez all play in half spaces. Vardy is more than speed merchant.
Sadly Carlo will go the same again I'm sure. But as Vardy is far more mobile and Madison will draw the centre backs out. Mina and Keane will struggle. I'd take Mina put, play Holgate in the centre and play Kenny. That at the very least gives us some outlet at fullback, and can help nullify Madison. Sigurdsson won't play as well we're we are expected to have more of the ball than Saturday. Saturday was his nirvana. I'd pick Gomes instead, Carlo had to rotate.
Eddie Dunn
5
Posted 15/12/2020 at 18:56:59
I was one of the few who thought we might get a result against Chelsea. However, if there is one thing that our team has done to us over recent years, it is to follow a good result with a poor one.
Let's hope we can back up that twith another clean sheet. We all seem to hope that Carlo has seen the light and will keep that back four – don't bet on it!
Christy Ring
6
Posted 15/12/2020 at 19:18:44
With no changes to the squad, I'd pick the same back four. Leicester have Maddison and Ndidi back fully fit in midfield, and even though Siggy had a good game against Chelsea, Gomes might be the better option at the King Power Stadium. We need a big game from Richarlison, who hasn't played up to scratch since back from his suspension.
Martin Berry
7
Posted 15/12/2020 at 19:45:43
I believe we are better than Leicester; however, we will have to be really on our game as they seemed very good against Brighton.
I hope we are unchanged and I expect Richarlison to score and win the game.
Joe McMahon
8
Posted 15/12/2020 at 20:04:47
Martin @8 - I believe we are better than Leicester ..... Really?
Andy Meighan
9
Posted 15/12/2020 at 20:48:21
Like Fran 3 said, strange side, Leicester: you don't know what you're gonna get, ie, walloped Man City away but lost to Fulham at home.
I said we'd beat Chelsea and I feel, if he keeps the same side, defends deep, and doesn't allow any space in behind for Vardy, we could be in business.
Tough game but I fancy us for at least a draw. I'd be happy with that. Even happier with a win.
Paul Kernot
10
Posted 15/12/2020 at 20:49:28
Joe. It may sound ridiculous but its not whether we're better than them, à la Chelsea, just whether we can beat them. Same as us, they have weaknesses as,well as strengths.
Also as per Chelsea, if we can nullify or shut down their supply to Vardy, the job's half done. Yes Godfrey showed great pace on Saturday but Vardy will target Keane & Mina. Shut Maddison down with Gomes & you never know.
Are we better? No. Can we beat them? Absolutely. Same as Chelsea, 1 nil away win coming up.
Dan Murphy
11
Posted 15/12/2020 at 20:57:36
Do Leicester have a good defensive midfielder?
Yes, Ndidi.
Seriously though you have to wonder about some people, saying Sigurdsson was lucky with his pen.
Watch it again. In the run up, as well as glance to the keeper's right he waves his arm across which has this hypnotic effect, sending Mendy on a dive before Gylfi even touches the ball. It is astounding and should be given its own name - the Siggy - and become almost as famous as the Panenka.
BTW, Antonin Panenka actually came off the bench in the 85 Cup Winner's Cup final for Rapid Vienna. Penalties were probably their only hope. Played most of his career for Bohemians of Prague.
Come on Everton!
Keith Monaghan
12
Posted 15/12/2020 at 21:07:54
A difficult enough game made even worse by the ref being Lee Mason, consistently for many years the worst in the Premier League.
Mike Gaynes
13
Posted 15/12/2020 at 21:08:35
Dan #12, you've been waiting years for a chance to use that Ndidi line, haven't you?
John #7, Wolves did beat Chelsea. Gotta disagree with you, I hope Carlo uses the same strategy tomorrow that he did at the weekend.
Paul #11, "shut Maddison down with Gomes"?? That would be sorta like sending out your Pomeranian as a foxhound. Gomes won't shut anybody down -- Maddison will be the responsibility of Allan and Doucouré. But I do agree with Gomes starting in Sigurdsson's place, even though I thought Gomes was poor off the bench against Chelsea. His distribution will be of value.
Dan Murphy
14
Posted 15/12/2020 at 21:14:41
Mike #14 Yes, indeedy. I'll get my coat.
Dale Self
15
Posted 15/12/2020 at 21:18:32
I will always remember Sigurdsson for that move at Leicester backfooting the ball past a marker and stylishly placing a 25-yarder where Schmeichel could only look on.
Laurie Hartley
16
Posted 15/12/2020 at 21:23:20
I think Carlo would be mad to change the line-up unless he has to.
Sigurdsson played well on Saturday and is fighting for his place; he deserves to start. He is also more likely to score than Gomes.
I also think we might get a goal out of Richarlison in this game.
David Pearl
17
Posted 15/12/2020 at 21:26:41
The players from the weekend deserve to keep their place. Unless Carlo wants some slight rotation in midfield. Gomes could well get a start.
I think we win this game. They would have got some confidence, we can keep the shape, and if we can get some service in for Dom this time, l'm confident of 3 points (for the first time in weeks).
I'm not sure about the same players being able to play again vs Arsenal... and then again vs Man Utd. Tough ask to keep that intensity going so we will see what they have.
John Pierce
18
Posted 15/12/2020 at 21:28:53
Mike, that's a low blow! Neto beat Chelsea, Lampard beat himself, same dreadful tactics he employed against us. Despite Wolves making an absolute mug of me, I did say they may pull it back; however, they created nothing other than Neto dancing away. Two great goals actually. Look at their record when they go a goal down, it's very poor.
That's really the nub. If you go into a game with a defensive mindset and then have to chase a game, most of the players can just flip the switch and turn it on. You need the ball and possession to build up your play. When you play with 4 centre-backs and two centre-mids who aren't blessed with a superb passing range, you really are struggling.
I understand the need to go with the same again in our current circumstances but Everton have to endure the pain of playing higher up with Holgate and Godfrey. If we don't, we are just putting off the inevitable we're this system dries up and we can't score.
Tom Bowers
19
Posted 15/12/2020 at 22:01:56
I think all games are difficult in the Premier League. Just look at how City are struggling today against a team we put 5 past.
The Foxes are very dangerous especially with Vardy and Maddison but Vardy is usually a big danger on the counter-attack and if Everton's back four play conservatively as the did against Chelsea then they should be okay.
A lot of surprising results in the Premier League this season and that's why they are pretty well bunched up in the top half of the table.
Robert Tressell
20
Posted 15/12/2020 at 22:02:19
No need to disrupt a winning team that played with such spirit. Part of the problem this season is a constantly shifting first 11.
Richarlison, Iwobi and Calvert-Lewin can cause problems. Sigurdsson looked more comfortable than he has in a while.
If we concede and have to chase the game, we might need to rethink our full-backs, but we start the game at nil-nil and have every chance to score first.
Tony Everan
21
Posted 15/12/2020 at 22:05:22
Yes, John, there is a good team spirit in the Wolves side, Neto is a class act. Enjoyed watching WBA keeping Man City out too, City still missing a bit of David Silva's magic.
I like the look of the young Congo player Diangana for West Brom, only 22, a player to follow. What do you make of him, Robert?
Had a look at the table 5 points separate the top 10 teams. No team is looking perfect, they all have vulnerabilities. It's there for someone to take it by the scruff of the neck. Hopefully us!
I agree no need to change that winning side, we should stick with it and try to get some momentum going. Very difficult to leave James Rodriguez out though, if fully fit.
Brian Murray
22
Posted 15/12/2020 at 22:24:08
We, me included was quick to say the 3 games we lost after Richarlison was suspended could of been avoided with a bit of planning and bravery by Carlo. Part of me still believes that but imagine being a Man City fan right now. The marvellous Pep knew his leader and captain was about to retire. Same with David Silva. They obviously also need a pacy new dominant centre half. Plus Aguero getting older and more injury prone. These four issues they have not really addressed so maybe Carlo does have a plan and hopefully knows what we need. Point being we are all not getting any younger and want us to at least compete and believe we can take points off the top four. Is that asking too much or should we all be quiet and let the shiesters love in roll on. Never have a better chance to put a run together in my opinion. Coyb
John Keating
23
Posted 15/12/2020 at 22:26:59
The only thing I'm worried about tomorrow is that the game is covered on Sky Sports by Clinton Morrison
If it is I won't understand a thing going on
For someone born in Tooting seems he's spent all his life in some New York ghetto
How do these guys get these jobs?
Lester Yip
24
Posted 15/12/2020 at 22:33:48
I hope James can be on the bench and being called upon if needed.
Rob Halligan
25
Posted 15/12/2020 at 22:38:15
Any sort of result tomorrow will set us up nicely for the four games going into the new year. Arsenal are definitely there for the taking, Sheffield United can't buy a goal, never mind a point. Watching city tonight struggle against West Brom, albeit the West Brom keeper made three outstanding saves in the last few minutes to keep city out and earn a deserved point for his team, gives me hope we can do them at Goodison, before we welcome De Ammers on new years day. Wishful thinking perhaps, but I'm going for thirteen points from the next five games, the same number of points we got from the first five games.
Sam Hoare
26
Posted 15/12/2020 at 22:51:47
Surely we won't win tomorrow? If we did it would put us right into the contest for top 4, above City, above Chelsea and 1 point of Leicester. Any chance to make ground is inevitably not taken by Everton right?
I dunno whether we should play it quite as tight as we did against Chelsea but I do know that the best way to beat Leicester is to have more counter attacks than they do.
Pace in the back line will be needed and also someone to make sure that Maddison cannot dictate things.
Not sure I'd want Gomes in any team designed to stop counter attacking. Think I'd be more tempted to give Davies a go but I expect Carlo may well name the same XI and if they all win their duels as they did vs Chelsea we stand a good shot.
Brian Murray
27
Posted 15/12/2020 at 22:53:51
John Keating post 24. I'd rather have some incoherent neutral like Morrison than a through gritted teeth bias spit the dog fella commenting on our games. Coyb,
Derek Knox
28
Posted 15/12/2020 at 23:42:18
I think the win over Chelsea on Saturday will boost the confidence level for this one, I also hope that he sticks with the team that Lyndon has projected.
As has been mentioned in the previous posts, Leicester are decent, but unexpectedly have lost some games to what could be regarded as inferior opposition, so which version we'll meet is a another one for conjecture.
Not predicting score-lines or anything, but think a draw should be the least to expect, but if we can hold them, and also get some supply line to DCL and Richie, we could nick the three points.
Like any game though they must be treated with caution, and given the respect being at home, presumably boosted by some of their own fans in the King Power Stadium.
Like Arsenal, looking ahead to the week-end is not a foregone conclusion that we can get a result, but nevertheless there is a strong possibility if we play as we have been doing.
COYB💙
John Kavanagh
29
Posted 15/12/2020 at 00:06:11
Rob @25. Yes, the performance against Chelsea does resurrect a spark of confidence that we are capable of taking on the best teams, but extending this to chicken counting points vs. Arsenal, Sheff Utd. etc. is a triumph of optimism over experience.
This Everton we are talking of, the pray for fixture of teams that are on an awful run, can't score, keep clean sheets or have players who haven't scored in donkeys years or are making their debut.
It is our lack of consistency and gifting results to poor opposition that has always been one of our greatest weaknesses.
Still, I hope we can get a result and start with the same line-up, even including (What am I typing here?) Sigurdsson. Really. COYB.
Jay Harris
30
Posted 15/12/2020 at 00:10:12
The good news Leicester have some serious defensive injuries and have less time to recover than us.
The bad news Maddison and Vardy are very dangerous players who can score goals in the blink of an eye.
Lets hope Davide has them well prepared for that and we don't play too deep because they can hurt you when you think youre safe.
Vardy is a past master at dodging round the back and they have more strings to their bow than breakaways these days.
With their weak defence I would go for a higher line than usual and try to score more than them.
I am not expecting a clean sheet for either side so 0-0 it is then.
Mike Gaynes
31
Posted 16/12/2020 at 00:16:35
Sam #26, I speculated on Gomes based on the idea of us counterattacking, not them. The one thing he does really well is distribute the ball out of the back.
I have seen absolutely nothing this season that would tempt me to "give Davies a go", but I know you have a higher opinion of his abilities than I do. If it's not Siggy -- and at 31, with all that mileage, he may not be ready on short rest -- my choice would be Bernard for the width he gives us in attack. He makes fewer mistakes than Gomes.
Bob Parrington
32
Posted 16/12/2020 at 04:29:34
Mike G, what about giving Gordon a start ahead of Siggy or Gomes. He certainly seems to have greater acceleration and pace than either of them. Could be the kind of game to give youth a chance.
Darren Hind
33
Posted 16/12/2020 at 06:21:00
A good side Leicester.
They are still kicking themselves after blowing what seemed an unassailable CL position when we resumed after lock down.
I'm watching them closely because I've already backed them for top four this year and despite their obvious talent. Some of their younger players have struggled for consistency.
For me, our odds just about reflect our chances (5/2 is the best I can see). I'm hearing Leicester have problems too and will be sweating on a few late fitness test.
Lets hope 1-2 of them don't make it. Their first eleven are impressive, but scratch under the surface and there are very definite chinks in their armour.
I'm nervous. Despite a difficult night, I wont get much sleep today. A win here could make all the difference to the belief within our camp. It may only be one game, but I get the feeling our performance and the outcome, could go a long way to shaping the rest of our season
Come on boys. Dont let another opportunity to get yourselves into the mix go begging.
Rob 25
I wont be putting my hat into the ring until I`ve had a vaccination, but I was delighted to read you had been told you can attend the City game. I
Made up for you.You deserve that lad
Paul A Smith
34
Posted 16/12/2020 at 06:52:53
Tough game we can go and win. Fulham played well there and there is no reason we can't shut them out.
Notice The Echo couldn't wait to talk about Nkounkou missing out like the trouble causing horror reporters they are.
Godfrey steps up to play out of position for 2 games and plays really well but lets talk about Nkounkou missing out.
This is the kind of nothing story I refuse to be influenced by and hope it doesn't influence anyone elses thoughts.
James 23, Skys punditry has become a joke. Micah Richards seems a nice enough character and person but he talks utter nonsense for the sake of talking and trying to be diplomatic.
Its become as false as WWE, Roy Keane is the only genuine man on there. I love Tim Cahill but even he had to be fake a few weeks back talking "identity" philosophy garbage about Arteta and Arsenal.
He must have meant snowflake philosophy.
Steve Shave
35
Posted 16/12/2020 at 07:26:45
Really tough match, they have shown inconsistency themselves this season (who hasn't!). However, this is Everton, I try to be positive and optimistic but feeling wounded I uncharacteristically wrote off our chances pre-match against Chelsea then they actually turn up. I feel positive about tonight but you know Everton, they don't like to let you hope too much! We can win this, agree we have to stop Maddison dictating play, Vardy must be kept quiet, DCL to score the winner COYB.
David Price
36
Posted 16/12/2020 at 07:54:59
Get off Sigurdsson's back!!! He plays well scores a brilliant penalty and we still repeat the same negatives, week-in & week-out. He's clearly got the talent to play at this level... maybe he reads this and thinks, "Why bother?"!! Or do you think the players don't read these blogs?? I know I would...
We can beat Leicester and we can improve once we have a fully fit squad to challenge for Europe.
COYB
Ricky Oak
37
Posted 16/12/2020 at 08:39:43
Watch that Maddison drop and scream all over the place. Also add to the fact the officials are already against us, my glass is empty on this one.
All I hope for is the siege mentality from our squad: one for all, and all for one. Then, at least we are capable of a fighting chance... who knows, we could well battle to a 0-2 win; could be delightful!
Utft! No guts, no glory.
Mal van Schaick
38
Posted 16/12/2020 at 08:41:55
Another close game for me. Hope that we show the same spirit as the Chelsea game and get the win. Iwobi is in form.
Sam Hoare
39
Posted 16/12/2020 at 09:21:33
Mike@31,
I'm not a big fan of Davies but I'd prefer him to Gomes in matches where we expect to have less of the ball. Gomes is so easily dribbled past that it opens gaps plus he gives away dangerous set pieces constantly.
What have you seen of Davies that puts you off this season? He's hardly featured but I thought he was pretty good when he started against Brighton and fared decently at right-back against Leeds.
I guess the spot we are talking about is that that third central midfield spot. Think Sigurdsson deserves another go after Chelsea but if he needs rotation then it would surely be either Davies or Gomes. Bernard has not featured in the middle though I'd be interested to see him do so, we could really use someone who can carry the ball in there.
Christy Ring
40
Posted 16/12/2020 at 10:02:32
Leicester are a lot stronger in midfield with Ndidi and Maddison back beside Tielemans. No one is denying Sigurdsson played well against Chelsea; his penalty was superb, he wasn't even watching the ball, he was watching Mendy go the wrong way. But I believe Gomes or Davies would be a better option away from home against a more physical presence.
Jerome Shields
41
Posted 16/12/2020 at 10:10:58
Ancelotti tactically outmanoeuvred Rodgers at the last meeting in July. He learnt a lot from the previous meeting before that.
Paul A Smith
42
Posted 16/12/2020 at 10:17:17
Davies would be better against a more physical presence?
I haven't seen anything that backs this up.
Our biggest strongest side is always a best option with this squad.
The best way to get results with our lack of speed and quality is to be strong, aim for a clean sheet, frustrate sides then hit them where it hurts.
Dave Williams
43
Posted 16/12/2020 at 10:18:31
Christy,
Good shout re Tom Davies. He would be ideal in this game to shut down the space for Maddison. Allan and Doucouré can match the rest of their midfield and, whilst people are right to mention Vardy as the dangerman, I'm sure their fans will be equally concerned about Calvert-Lewin.
Richarlison is a key player tonight: we need him back to form to support Calvert-Lewin and we also need Iwobi to continue his improvement, especially if we play the same back four.
I'm another who thinks that we are at least as good as Leicester (on our day). They have been together a bit longer and so have better consistency but, if we play to our potential, we can win this. Most important of all is that we play with the same spiky attitude that we had against Chelsea and don't revert to lying down for them.
Thomas Richards
44
Posted 16/12/2020 at 10:18:42
Same eleven for me, they deserve it after the graft they put in against Chelsea.
No space behind back four for anything over the top will be the orders so we can expect a deep-lying back four. Don't mind that in games like tonight; fast forwards making good runs with clever midfielders on the ball will always cause Keane and Mina problems.
Bobby Mallon
45
Posted 16/12/2020 at 10:25:14
Same team as against Chelsea please. No matter what certain ToffeeWebber's think, Sigurdsson is better than Tom Davies when he plays like he did against Chelsea and should start tonight.
Dave Abrahams
46
Posted 16/12/2020 at 10:28:54
"Never change a winning team" is my shout for this game. When or if Sigurdsson tires, then bring on Davies to replace him. When Gomes came on vs Chelsea, he looked like he had been on all the game: he looked shattered, and he was only on for 10 minutes plus added time.
Andrew Clare
47
Posted 16/12/2020 at 12:36:13
Yes, it must be the same team and tactics as against Chelsea until we have more players fit.
The subs bench will be important for this game because if we go a goal down a change in tactics may be required.
So often when we find ourselves in this position the result goes the wrong way I just hope it doesn't tonight as a win would put us in a very good position.
Richard Lyons
48
Posted 16/12/2020 at 12:58:47
Oh dear... "struggling Arsenal"... you know what follows a remark like that...
Tony Twist
49
Posted 16/12/2020 at 13:23:11
You don't change a winning side but make sure there are options on the bench like Gordon, Simms, Gomes, Bernard, Davies and Nkounkou. Another clean sheet please.
Anthony Flack
50
Posted 16/12/2020 at 13:45:58
If spit the dog is not involved I might even turn on the volume
Clinton Morrison is an eloquent gentleman by comparison.
I know loads of Leicester fans as my employer has an office there - they are very confident !!
COYB
Sam Hoare
51
Posted 16/12/2020 at 13:47:50
It's worth saying that for the most part Brighton tried to play deep against Leicester and it did not go well for them. Leicester won by 3 but could have been far more.
They are especially dangerous down the right with excellent crossing from right back James Justin, who we should have definitely bought from Luton 18 months ago when he was going for the bargain price of £7m despite being oe of the best young full backs in the league!
They will look to get it wide and then have Justin slinging in low crosses for Vardy to nip in front of Keane and Mina to tap in.
Jay Harris
52
Posted 16/12/2020 at 14:31:15
Sam,
Hopefully Richarlison and Calvert-Lewin will keep their weakened defence fully occupied.
Anyone know why Nkounkou wasn't even in the U23 squad the other night?
John Pierce
53
Posted 16/12/2020 at 14:33:15
Sam, I agree. Vardy is just a good across 5 yards horizontally as he is over 40 yards vertically. Mina and Keane are not.
I need to see a much more attacking side to nullify Leicester at source – not allowing them to sit in our box and make us defend.

Rob Halligan
54
Posted 16/12/2020 at 14:35:24
Anthony # 54
I know loads of Leicester fans as my employer has an office there - they are very confident !!
Where they also very confident when they got turned over at home by West ham, Villa, and Fulham?
Eddie Dunn
55
Posted 16/12/2020 at 15:41:24
Maddison had a long lay-off and might just pay the price for his last outing.
He is improving but not yet as fit as he was.
In this season of surprises let's hope we can upset the odds.
Mike Gaynes
56
Posted 16/12/2020 at 15:46:16
Bob #32, I've sorta given up on seeing Gordon. There have been a half dozen occasions where I'd have loved to see him come off the bench, and Carlo clearly just isn't interested. The kid has made one sub appearance in the Prem this season, and hadn't even made the bench in more than a month before he finally got a seat for the Chelsea game.
Mike Dolan
57
Posted 16/12/2020 at 15:52:34
I must have missed something but playing a team like Leicester would be basically like playing a team like...say Chelsea. Now if you had just played and put in a very impressive performance and in the process registering a first clean sheet since opening day against Chelsea why on earth, apart from injuries or rotational issues would you EVER want to change ANYTHING.
As for giving Gordon a run out ? Surely if this game is to be won (and we are the underdogs) then it will be our defense that wins it for our one forward to steal it. Carlo is Italian he would know this.
Bernard Dooley
58
Posted 16/12/2020 at 15:52:47
Rob Halligan #25 may be on to something.
In the Times yesterday statistician Bill Edgar attempted to predict the result of every Prem game over the holiday period. The 2 most successful clubs will be Southampton and Everton with 13 points from 5 games made up of away wins at Leicester and Sheff U, home wins against Arsenal and Man City and err... a draw against West Ham.
He tipped Wolves to beat Chelsea last night but got the City result wrong, like the rest of us.
Bill Edgar is known for his quirky stats like Palace have never won a Premier League match at home played on a Friday night.
He brought that out before such a game this season when Palace were at home to Newcastle.
Palace duly lost.
Stephen Brown
59
Posted 16/12/2020 at 16:05:18
Is the game on Amazon for free ? Or do you have to have an account ?
Tony Everan
60
Posted 16/12/2020 at 16:08:48
Stephen, you can sometimes get it free for the first month for new customers, and you can cancel before you pay. Or they have promotions too for a free month.
Otherwise I think it is 8.99 a month.
Stephen Brown
61
Posted 16/12/2020 at 16:21:48
Cheers Tony !
Christopher Timmins
62
Posted 16/12/2020 at 16:32:03
Whatever issues there may be with defending deep tonight we certainly can't go with a high line at the back. Hoping for a performance like Saturday night and of course a result to match.
DCL did not score at the weekend so hopefully his famine will end tonight!
Andrew Keatley
63
Posted 16/12/2020 at 16:55:26
Sam (51) - Not sure we were on the look-out for a right-back 18 months ago, and £7 million was hardly a snip - plus I'd much rather be facing Justin than their excellent but injured first-choice right-back Ricardo Pereira. Others on here have voiced their frustration at us missing out on Tariq Lamptey at Brighton, but it's never a given who's going to develop and who isn't. I think we've done relatively well on the risks we've taken on promising young players brought into the club over the last seven or so years (including Stones, Calvert-Lewin, Holgate, Lookman, Branthwaite, Nkounkou) - the frustrating thing is the lack of real first-team talent coming through the youth set-up.
Neil Cremin
64
Posted 16/12/2020 at 16:56:26
For me tonight will be a good indicator of where we will end up at end of season.
Win and there could be no limit.
Lose and we are Mid Table probably lower half.
Game against Chelsea was only the second game this season where we kept a clean sheet. The object here should be to build on that and I don't care how boring we are. Especially No self inflicted errors.
Not conceding goals goes a very long way to winning matches, confidence and a winning mentality. Once we have that over a couple of games against the better sides we can believe in a new dawn.
NISI COYB
---
Add Your Comments
In order to post a comment, you need to be logged in as a registered user of the site.
Or Sign up as a ToffeeWeb Member — it's free, takes just a few minutes and will allow you to post your comments on articles and Talking Points submissions across the site.