Ancelotti all smiles after Everton success at Molineux
Wednesday, 13 January, 2021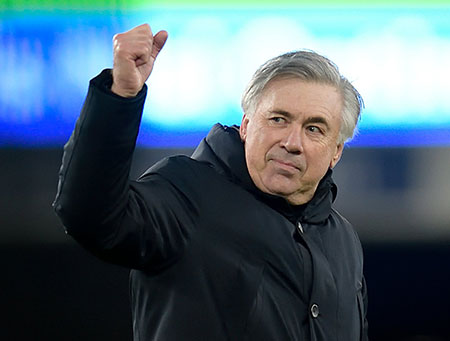 Carlo Ancelotti praised his players for carrying out a different game plan against Wolves last night, one that yielded another important win that keeps Everton among the clubs chasing European qualification this season.
The Blues atoned for what was one of their worst displays at last season, a 3-0 defeat to Nuno Espirito Santo's side, by winning 2-1 to temporarily move back into fourth place in the Premier League table.
It was a victory secured without a recognised striker in the starting XI and an improvised line-up that deployed Gylfi Sigurdsson and James Rodriguez as nominal "false nines" in the absence of Dominic Calvert-Lewin and Richarlison, with Alex Iwobi and Lucas Digne on the flanks and it paid dividends. as Iwobi and Michael grabbed the goals.
"We knew it would be a difficult game to play here," Ancelotti admitted to BBC Sport. "Last season we had a bad memory of this game. Today was totally different — different spirit, different attitude and we played the game we had planned.
"We had planned to be safe at the back, don't concede counter-attacks and to be clinical when the opportunities came.
"We had a different approach. Without Richarlison and Calvert-Lewin, we could play more on the counter-attack, we could play more crosses and [attack down] the flanks with Iwobi and Digne and it worked well because the first goal was a fantastic combination."
Ancelotti was asked about the second and winning goal from Keane and also why he felt his team has been so good on the road this season where they have now won six times.
"It was fantastic. We are strong there and Michael Keane is unbelievable with his head. It was his birthday [yesterday] and he celebrated really well helping us to stay in a good position in the table.
"A closed door. This is the key [to our away record]. I think that this is the [pattern] in the Premier League — without the crowd, of course, the away team has more advantage and we perform better away because at home we haven't had the support of our supporters which is really important.
"We played with 2,000 supporters against Chelsea and Arsenal and we won."
Ancelotti was asked specifically by Sky Sports about the performance of Digne who played 66 minutes against Rotherham last Saturday on his return from ankle surgery and then played the full 90 minutes at Molineux in the left-wing role in place of Richarlison.
"I think he did really well," the Italian said. "He is not so happy to play in that position but he did it for the team and he did really well [to set up the first goal]."
The Frenchman may have to reprieve the role on Sunday if Everton's game against Aston Villa goes ahead as Calvert-Lewin will remain an injury doubt. Additionally, Everton will be without key midfield man Abdoulaye Doucouré who misses the next match through suspension after picking up his fifth booking of the season.
"Richarlison [will be back] for sure," Ancelotti said. "Calvert-Lewin, I don't think so. Doucouré is a key player and I think [he] was a fantastic signing in the summer. He's a fantastic guy and a fantastic professional. I think he deserves to rest so it's not so bad!"
---
Reader Comments (40)
Note: the following content is not moderated or vetted by the site owners at the time of submission. Comments are the responsibility of the poster. Disclaimer
Dennis Stevens
1
Posted 13/01/2021 at 21:59:10
I do like Ancelotti's manner, "I think he deserves to rest so it's not so bad!" - making light of missing a key player, unlike some. Let's hope he has another cunning plan!
John Keating
2
Posted 13/01/2021 at 22:35:08
Ancelotti, his staff and the players are right to smile. An excellent display and result from all involved
I am sure his smile would be broader if he can adjust his tactics for home games.
I understand the away set ups but at home we have to be more open and attacking
There has to be a balance somewhere
Hugh Jenkins
3
Posted 13/01/2021 at 22:42:03
John(2) - It will come - Rome, as they say, wasn't built in a day.
Paul Birmingham
4
Posted 13/01/2021 at 22:44:06
A well earned win and now for Villa. Barring further injuries hopefully more of the same again, if the game is played.
A Good point for Fulham tonight at Spurs.
Brian Murray
5
Posted 13/01/2021 at 22:47:59
Spurs result once again emphasising this could be our time with just a little of what Brands did in Holland. C'mon, Carlo... have a word.
Danny O'Neill
6
Posted 13/01/2021 at 22:54:29
If you are sat 5th, one point off the Champions and 4 points off top at this stage of the season, as a manager, you are happy.
So far, the season has gone as well as we could have hoped for. Ahead of Tottenham on points, 6 points ahead of Chelsea and 9 points ahead of Arsenal.
Is that not a good place to be?
Mike Gaynes
7
Posted 14/01/2021 at 01:03:45
Interesting bit of news that Digne doesn't like playing on the wing. I think it was a genius move by Carlo to put the partly-fit Digne up higher with the speedy Godfrey behind him -- and damn, did it work or what? -- but I can understand Lucas wanting his regular position back.
Jamie Crowley
8
Posted 14/01/2021 at 03:28:27
I say this in what appears a terribly wicked, condescending way, but I do not mean it in that vein:
Do you people understand how good this manager, Carlo Ancelloti, is?
He is a tactician, a man-manager, and a brilliant football mind.
He cares not for "pretty football". He's not set in his ways. He doesn't have "a system".
He manages each game with what he has at his disposal, and he sets his players up to win each individual game to the best of his ability.
He doesn't get it right every time but, by fuck, he gets it right most of the time.
I absolutely adore this man. He is class, he represents Everton wonderfully on the pitch, with his demeanor, and off the pitch.
I hope he never gets sacked, and leaves on his terms.
This manager we have is gold. Enjoy his reign.
Ajay Gopal
9
Posted 14/01/2021 at 03:46:27
Agreed Jamie. It is hard to dislike this man - you could say the same of Roberto Martinez and Marco Silva, but Carlo is at a different level of tactical ability and man-management.
"I think he deserves to rest so it's not so bad!" – cheeky bastard!
Alan J Thompson
10
Posted 14/01/2021 at 03:48:03
Jamie (#8); Who do you think he has arranged to have a birthday next week?
Jay Harris
11
Posted 14/01/2021 at 04:58:09
Who among us would have said we would be 1 point behind Liverpool, 6 points ahead of Chelsea, 9 points ahead of Arsenal, 2 points ahead of Spurs, and level on points with Man City with almost half the season gone?
It is even more miraculous given the injuries we have suffered.
Carlo is indeed as Magnifico as they come.
Paul Hewitt
12
Posted 14/01/2021 at 06:24:45
Unbelievably some on here still question if he's good enough for us.
Bob Parrington
13
Posted 14/01/2021 at 06:56:12
It looks increasingly like the capture of young Godfrey was a master stroke. Every side needs to have an excellent utility player, who can play in so many positions.
Add to this the guy's character and attitude and he's a real winner!
Tony Abrahams
14
Posted 14/01/2021 at 08:05:16
Good post, Jamie, but only an Evertonian who has never seen us win anything could paraphrase it the way you have, mate!
Mal van Schaick
15
Posted 14/01/2021 at 08:11:02
Recently, I believed that Ancelotti was becoming a 'tinkerman', but his team selection and tactics brought on by injuries were spot-on in the Wolves game.
With half the season gone and being in a respectable position in the Premier League, I hope that we can remain consistent. If we can beat those around us in the top six, and the rest of the chasing pack, playing in Europe is on the cards.
Andrew Clare
16
Posted 14/01/2021 at 08:54:45
Well done, Carlo, and all at the club. Ancelotti is our manager – isn't it fantastic? One of the greatest managers of all time at our club.
With regards to the home and away form, I think it will change once Carlo has brought in 2 or 3 new players. The type of players who will allow us to control the game.
My wife is Italian so I have, along with my two sons, had a great interest in Italian football over the years, watching Napoli when he was manager and before. Both of my sons played for local teams in Italy so we are all well aware of how seriously football is taken there.
We are in good hands with a manager that is respected globally. Thank you, Mr Moshiri.
Brian Murray
17
Posted 14/01/2021 at 09:01:07
When you have seen us dominate and knock over the opposition one by one after 1969-70 then the '80s, all to have it snatched from us, you want that level back. So I suspect the real harsh ones on here are of the same age group and the likes of Moyes's "plucky Everton" means jack shit to us.
This fella, despite who he's surrounded with, has a calm but winning mentality neither we nor the board are used to. Just the final push this window could make it a glorious second half of the season, or alternatively we could be content to hover in 4th or whatever. The silence from our Dutchman is deafening.
Derek Taylor
19
Posted 14/01/2021 at 09:41:57
Seems Carlo can't go far wrong when he applies his four central defenders tactic. What he does with those in front of them seems not to matter much because we usually win.
Tony Everan
20
Posted 14/01/2021 at 09:48:42
Bob 13 , The Ben Godfrey master stroke.
After the fanfare of our three outstanding signings of Allan, Doucouré and James, Ben Godfrey sneaked in later as a sort of surprise signing.
I bet any money there isn't a club in this country that is not gutted they didn't beat us to his signature. He adds energy, pace, desire and a will to win. It's personal to him that he wins his duals and you can often see him full pelt to atone any mistake. What a great player to have in our team, he has fully played his part in our fully deserved league position.
Marcel Brands and his team who scouted and followed him deserve a lot of credit for bring him in.
Jamie Crowley
26
Posted 14/01/2021 at 14:43:06
Tony Abrahams @ 14 -
Fair point! Cheers bud.
Danny O'Neill
27
Posted 14/01/2021 at 15:29:42
Tony Everan @20, a Tottenham supporting colleague of mine told me in the summer we had bought a gem and he was gutted that they hadn't gone for Godfrey.
Brent Stephens
28
Posted 14/01/2021 at 15:33:07
Danny - FEC? Godfrey a Future Everton Captain? Probably worth a punt now - go on push the boat out!
Danny O'Neill
29
Posted 14/01/2021 at 15:35:28
Where in Italy Andrew? I lived in Latina for 2 years when I was stationed in Anzio. Watched both Rome clubs but took a leaning towards Roma. Found the Lazio fan base to be a nasty bunch but maybe that was just personal experience.
We used to have to go to HQ down in Napoli at least once a month. Chaotic place!
Alan McGuffog
30
Posted 14/01/2021 at 16:17:44
The way Godfrey is progressing, he'll soon deserve a move to a big club, no?
Danny O'Neill
31
Posted 14/01/2021 at 17:23:01
I like the way some of these new signings are actually showing leadership Brent.
Not necessarily saying make them captain, but you can already see the likes of Allan and Godfrey constantly in the ears of their fellow players.
The latter in particular bodes well for such a young player having made the step up to a big club from provincial Norwich. Shows confidence and belief.
Barry Rathbone
32
Posted 14/01/2021 at 18:21:03
A charming man who has a happy knack of getting unlikely wins whilst channelling Moyes/Allardyce et al.
What a joy if he breaks the pattern of the odd purple patch amidst no silverware seasons of years past and actually wins something.
Hope the football improves it is truly horrendous right now 5 mins is enough before I hit the off button.
Kudos to those managing to watch entire games not sure whether you deserve medals, medication or an eye test.
Pete Gunby
33
Posted 14/01/2021 at 19:55:20
Feeling A bit snarky today Barry?
Mike Gaynes
34
Posted 14/01/2021 at 20:05:46
Jamie #26, you don't go back to '95 with Everton? When did you become a Blue?
Mike Gaynes
35
Posted 14/01/2021 at 20:05:46
Jamie #26, you don't go back to '95 with Everton? When did you become a Blue?
Mike Gaynes
36
Posted 14/01/2021 at 20:05:46
Jamie #26, you don't go back to '95 with Everton? When did you become a Blue?
Mike Gaynes
37
Posted 14/01/2021 at 20:25:49
Seem to be stuttering today.
Barry Rathbone
38
Posted 14/01/2021 at 20:35:05
Pete 33
"today"?? as opposed to other days
I do like that.
Rob Dolby
39
Posted 14/01/2021 at 20:49:27
Barry, you set yourself high standards when watching the Blues. Giving it 5 mins before turning off is a fascinating concept.
Look forward to the game a couple of days before. Get the updates from the press conference.
The day of the game arrives. Numerous glances at the watch to check in on the confirmed line-ups. Discuss tactics and potential formations.
It's arrived: 3 pm, players take the knee, the game kicks off. A few early passages of play whilst the teams find their feet.
Clock ticks to 3:05 pm, Oh fuck it, can't watch anymore of this shit. I am off down the park to shout at the trees.
Oh the joys of being an Evertonian.
Roger Helm
40
Posted 14/01/2021 at 20:57:47
Love his anti-Covid half-time talk!
Dave Abrahams
41
Posted 14/01/2021 at 21:09:12
Rob (39), your line about Barry and the trees put an image of Barry singing that famous song "I talk to the trees, that's why they put me away" or something like that!! Nearly did the same for poor Prince Charles as well.
Tony Abrahams
42
Posted 14/01/2021 at 21:36:38
At least Prince Charles was positive sometimes Dave!
Barry Rathbone
43
Posted 15/01/2021 at 08:16:46
Rob 39
I admire your diligence.
Usually, my experience is "oh!! we're playing today" switch on somewhere during the game (Wolves was at 30 mins) then 5 mins later realise this is a film I've watched a thousand times and switch off.
Seems sensible to enjoy rather than tolerate the game to me.
Alan J Thompson
44
Posted 15/01/2021 at 11:31:27
The saving grace being the line; "But the trees don't talk to me""
Jamie Evans
45
Posted 16/01/2021 at 07:57:55
Derek (19),
I think you're right – I don't think we have lost with a back 4 of Godfrey, Mina, Keane and Holgate. Solid all over that is.
As for Carlo – class act, top manager.
Christine Foster
46
Posted 18/01/2021 at 20:31:41
Just read the latest tosh from the BBC Alan Shearer, saying the title race is so tight this year at the top that 4 or 5 teams could win it, dismissing Everton, not a mention, as extolling the virtues of Leicester, Spurs, the RS, Manure and Citeh. Ignoring the fact the if we had played the match at Villa and won, we would have been joint second in the table on points. Now I am not saying we are world beaters but we are as good as two or three of those teams but we don't get a mention, nor an acknowledgement. I would love to see him force fed this article,rammed down his throat to be accurate. It's a slur on the club and totally not surprising from the BBC. Again. Rant over.
---
Add Your Comments
In order to post a comment, you need to be logged in as a registered user of the site.
Or Sign up as a ToffeeWeb Member — it's free, takes just a few minutes and will allow you to post your comments on articles and Talking Points submissions across the site.