Blackpool sign Ellis Simms on loan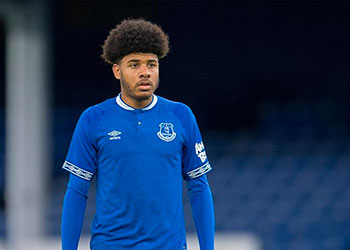 Promising Everton Under-23s striker, Ellis Simms, has joined League One Blackpool on loan for the remainder of their 2020-21 season.
On the books at Everton since the age of 16 after he had been released from Manchester City's academy, the 20-year-old is one of the leading goalscorers in Premier League 2 this season, having hit 8 goals in 12 games for the Toffees' U23s side.
That follows a pattern of impressive form in front of goal throughout his career in Everton's academy. He scored 8 goals in 15 league games in 2019-20 having racked up 32 in 21 matches for the Under-18s the previous year, taking his overall tally to 46 in all competitions during the 2018-19 season.
Former Blackpool player Keith Southern, now working at Finch Farm, said of the Oldham-born player: "I worked with Ellis alongside the other Under-18s staff around a year or so ago now ... and he's a talented boy.
"I was delighted when the news was confirmed today that he was signing for Blackpool on loan.
"I think it's a really good fit. I know Everton do their due diligence in terms of clubs available to certain players and I think there was a lot of interest in Ellis, but Everton obviously feel that the chances created and the environment that Neil Critchley has in place at the club will allow Ellis to go and excel."
Simms has been on the fringes of Everton's senior squad for the past year, making the substitutes' bench on a couple of occasions while also coming on in a pre-season friendly win over Preston last summer.
He could make his debut for the Seasiders in the FA Cup this weekend when Blackpool travel to Brighton.
---
Reader Comments (149)
Note: the following content is not moderated or vetted by the site owners at the time of submission. Comments are the responsibility of the poster. Disclaimer
John Cook
1
Posted 20/01/2021 at 11:20:53
Good move for the kid. Stiil leaves the first team short on strikers though.
GET SOMEONE IN!!
Pete Williams
2
Posted 20/01/2021 at 11:29:03
As long as they play him, I think this is a good move for him. It's now too easy for him in the U23s and he needs real-world football, but higher-level football could be too quick for him now.
Robert Tressell
3
Posted 20/01/2021 at 11:31:59
Excellent. It was the making of Seamus. Hopefully the making of Simms too.
I wonder if it also means the Zirkzee loan will now be concluded?
Tony Everan
4
Posted 20/01/2021 at 11:42:32
I hope so Robert, we need decent back up to DCL and Tosun may then move on to WBA or Palace. It will be good to have 5 months to see what Zirkzee can do.
Hugh Jenkins
5
Posted 20/01/2021 at 11:48:03
Robert (3) - Under the current management system I would expect consideration to have been given to such factors before agreeing the loan, so, unless we have someone coming in that is completely off the radar, I would expect us to borrow Zirkzee for the remainder of the season, with an option to buy.
Brent Stephens
6
Posted 20/01/2021 at 11:50:29
As Pete #2 says, as long as they play him. I've felt for Simms playing for the U23s. Unsworth has left him isolated too much in 4-5-1. I know that turns to something like a 4-3-3 when in possession, but too often the ball is lumped out from defence (often of necessity) with Simms struggling to get possession on his own.
Make it work out, lad! Come back a tower of strength. Set GP alight.
Martin Berry
7
Posted 20/01/2021 at 11:51:44
I am totally for young fringe players going out on loan, it broadens their experience toughens them up and prepares them hopefully for the step up.
I hope he gets playing time, only then will we know what type of player we may have on our hands.
Good luck to the fellow.
Michael Lynch
8
Posted 20/01/2021 at 11:54:05
Does this mean a striker is incoming then? A loan seems to be a good move for him, he's not going to get any game time here, but surely we can't operate with just Tosun on the books as a back up to DCL? Or did Carlo love the look of his strikerless team so much that he's prepared to stick with it?
Zirkzee looks like a Simms-style big unit goal scorer, but is it just like for like? I must admit I thought Zirkzee looked great on his YouTube show reel but then so did Sandro.
Derek Knox
9
Posted 20/01/2021 at 11:55:25
Wow that was quick, we were only talking about this yesterday. I hope as Robert suggested this may mean that either Zirkzee or someone will be coming in. Ellis was on the bench at least once, surely with Moise at PSG we Can't leave ourselves down to bare bones.
With Covid restrictions changing by the day, ie no flights in or out etc. The price being quoted for Josh ( we can call him that now he will soon be one of us) should be brought forward, it's not like a massive fee and Bernard type weekly wages being saved.
'He who hesitates is lost' applies here, as opposed to 'look before you leap'. Funny how most proverbs have an equal and opposite, as in Physics, related to forces!
Dave Abrahams
10
Posted 20/01/2021 at 11:59:38
Blackpool are in League one, not bad but still a rough physical test for Ellis, he is a big lad but doesn't put himself about as much as he should, he will have to learn to fend for himself here and hopefully he add this to his football skill which has improved in the last eighteen months. I think this move will take him out if his very comfort zone at Finch Farm and Everton, this could apply to a lot of young players in the premier league, show them what football is like in the lower league and help them physically and mentally. Good luck Ellis, work hard and come back a better player, places waiting for good strikers especially.
Jay Wood
[BRZ]
11
Posted 20/01/2021 at 12:02:32
Got relies in Blackpool so I'll ask them to keep tabs on him.
Could work out well for him and give us pointers whether he can step up. I have to admit, from what I've seen, yes - given the opportunity he can finish. But outside of that, he doesn't offer a lot to the team as the likes of DCL does.
Everton put up a training video in which Ellis features with 1st teamers and other academy players in a shooting exercise.
Sorry, but he was crap! Andre Gomes - unlike on the pitch for the first team - was deadly. Here's the video.
Derek Knox
12
Posted 20/01/2021 at 12:26:40
Thanks for the link Jay, why the f*** doesn't Andre Gomes do that in a game? He always appears to be scared to have a go at goal. I see Brillo had a bad hair day again, he left it inside his beanie hat. You'd think too, the money that Bernard is on, he wouldn't have resorted to his Dog Clippers for a Home DIY Haircut! :-)
Fran Mitchell
13
Posted 20/01/2021 at 12:47:00
Jay, that video is quite worrying really...cause the level of finishing looked pretty bloody poor all round. Only Richy and Gomes looked like they hit the ball better than the average bloke in the park.
As for Simms, seems a logical move. If Blackpool string a couple of wins together (winning their 2 games in hand) they will be up there challenging for play-offs, they are equally close to relegation positions, 6 points from safety but winning the games in hand should put them far out of danger. Either way, there will be pressure to perform.
I remember a young Defoe making his name at a then division 2 Bournemouth on loan, scoring 10 goals in as many games or something like it. He then stepped up at West Ham the next season. So if Simms can hit the ground running and get the taste for goals, it could well be the making of him or he might find his level and join them permanently for 200k in 3 years time.
Bobby Mallon
14
Posted 20/01/2021 at 13:19:17
Isko and a bid for Danny ings for me ( and I don't give a flying F if he played for the other lot) he scores goals, use Walcott as a make weight.
Robert Tressell
15
Posted 20/01/2021 at 13:29:54
Brent @6 Unsworth has been asked to get Simms ready for the first team. So completely logical to leave him isolated up front with poor service. A masterplan.
Thomas Richards
16
Posted 20/01/2021 at 13:35:48
I would get as many as possible out on loan.
Watching the under 23s the other night none of them are anywhere near to challenging for a first team place.
Loans may bring one or two of them on. Under 23 games wont do that in my opinion.
Danny O'Neill
17
Posted 20/01/2021 at 13:40:02
I guess this is a positive move for the kid as it tends to be the way if they are considered first team squad potential. You would be more worried as an academy player if you were left playing U23s.
I confess to not have watched much of the U23s but do follow peoples comments and a lot rate this one.
From what I have seen, Blackpool and competitive football will be good for his development.
Phill Thompson
18
Posted 20/01/2021 at 13:42:47
A good move for Simms, not ready yet for the 1st team and this is a level where he should get regular games, and goals. Neil Critchley at Blackpool will know him well as he managed the RS u18/23 teams previously.
His contract is up in June so I hope this isn't a " Right lad find yourself another club" type loan, he needs a couple of years further development and is well worth another contract. And no shouts of " another's Pennington!!" please.
Derek Knox
19
Posted 20/01/2021 at 13:51:28
Bobby @ 14, The 'Isco' link seems to have gone very quiet, which could be good or bad, but with Ings, I don't think whether he once played (very rarely) for the other crowd is the main issue. I would have no qualms about him joining us on his obvious goal-scoring ability regardless of him being once at Mordor. Although his injury record would be of concern.
In addition Southampton are probably playing better than they have done for a long time, and at this moment in time sit just 3 points below us. I doubt whether they would even consider us, as being a close rival, should we even put in a bid for him.
David Cash
20
Posted 20/01/2021 at 14:01:58
Very little to be gained from loaning out youngsters to coaches who cant improve the players they have


Keep them here to develop and grow under the watchful eye of Don Carlo
Bobby Mallon
21
Posted 20/01/2021 at 14:18:52
Derek 19, I think your right but I think we need a goal scorer, we really are at a point now where a little investment now in the first team would guarantee us Champions league football I'm convinced of that with Ancelotti in charge.
Michael Kenrick
22
Posted 20/01/2021 at 14:20:36
Nice to see someone bucking the bandwagon here, Casho.
The True Believers can be guaranteed to come out with Seamus Coleman and Lean Osman as proof positive that the lower-league loan is the perfect pathway for the up-and-coming Everton U23 player looking to advance themselves, with all the cliched benefits of professional competition, experience, etc. Yeah, just how many times have we heard that?
Well, I can give two equally contrasting examples: Rooney and Hibbert, who prove otherwise – that staying in-house, paying your dues, and working your way up into the top team, as quickly or as slowly as it takes, is the Everton Way.
The truth is, neither path carries any guarantees... in fact, based on history alone, the odds are all stacked against him because so few make it through before they are tossed aside – loan or no loan. But that means there are far far more who have gone out on loan and failed than have gone out on loan and made a name for themselves.
But I guess that's not what anyone wants to hear!
Stephen Brown
23
Posted 20/01/2021 at 14:37:03
I'm not sure the U23 league is helping produce players as it should?
Stan Collymore has been advocating going back to full-on reserve league where first-team players not playing regularly mix with younger players.
Might be worth considering?
Tony Abrahams
24
Posted 20/01/2021 at 14:52:10
Why wouldn't people want to hear something as factual as that, Michael? It's true, and that's why the club should be looking to get our decent players out a little bit earlier, because no way in the world will many 20-year-olds be just wanting to play that Under-23 football, well not the ones with ambition anyway.
Robert Tressell
25
Posted 20/01/2021 at 14:52:36
Michael, the reason success with the loan system has been limited is because those sent on loan have been limited in quality. Loans don't make a silk purse of a sows ear.
Rooney didn't need a loan because he was a very physically strong 16 year old with more talent and football nous than seasoned professionals.
Hibbert didn't need a loan because there was no-one better in the first team to block his path. Similarly Jeffers and Rodwell, both more talented than Hibbert also.
Simms, if not a success at Blackpool, is very unlikely to be a success with us. It's in the balance for him. He can do U23s football but he's not an exceptional talent (like Rooney & Jeffers, say). Proper football will be a really big test for him.
Branthwaite looks exceptional already, and needs some game time to stop stagnating. There are too many established players ahead of him in the queue. However, with a couple of successful loans he could be first choice in, say, 2 years.
It's all about finding the best route to the first team. In exceptional cases it will be direct from the academy (eg Foden, Greenwood, Rashford standard players). In other cases it will be having matured through the loan system.
Thomas Richards
26
Posted 20/01/2021 at 14:52:45
Good point Stephen.
Another point. Looking at most of the top young players in the Prem who have broken through over the last few seasons. Common denominator? They have all been out on loan.
We know it's a system that works. Important thing is game time for young players. The higher the standard, the faster they develop surely.
Brent Stephens
27
Posted 20/01/2021 at 15:10:27
Robert #15 good one!
Derek Taylor
28
Posted 20/01/2021 at 15:22:34
We've seen the last of him, I imagine. Virtually all Unsie's 'graduates fall down a black hole once they go off on loan!
Derek Wadeson
29
Posted 20/01/2021 at 15:29:23
#16 - Thomas Richards - out on loan
#22 - Michael Kenrick - stay in-house
The choice is ours to make, but having watched the Under 23's the other night, none of them were knocking on the first team door including our young Dutch left-back.
Tony Abrahams
30
Posted 20/01/2021 at 15:32:01
Agree with that Stephen@23, because looking at our french left back the other night, he just didn't appear to be motivated, and I'm sure Moise Kean, might have learned a lot more about English football by playing in a proper competitive competition against men, rather than just training and the odd cameo, which probably wasn't even enough for him to grab his second wind.
Thomas Richards
31
Posted 20/01/2021 at 15:37:48
Derek, #29
That was my take on the team performance to.
Stephen Brown
32
Posted 20/01/2021 at 15:43:42
Exactly Tony
Whatever level you played at I thin once you hit about 19 you learnt a lot more playing against grown men.
It would also be more entertaining to watch and keep the squad players match fit! I can't think of many negatives really?
With all due respect to the lads playing on Monday I can't see many knocking on the first team door but if the best 5 were to be playing regularly with first team men I'm sure they'd progress quicker!
Jay Harris
33
Posted 20/01/2021 at 16:04:03
The main problem for young players is the chasm in standards between playing in the Premier League against some of the best players in the world and playing against other kids.
The halfway house right now is the Championship and League One.
To get to the halfway house is the biggest difficulty and it does necessitate going out on loan to a lower league team IMO but that has a couple of problems. Those teams rely on quite a few old heads for survival and therefore will be reluctant to play "kids" regularly and secondly the standard of football is not that great.
There has to be a better way of developing promising talent to Premier League standard and the academies have improved exponentially since I was playing when you normally played for Liverpool boys and then Chester, Southport, Tranmere or South Liverpool in the hopes of being spotted by a scout.
Top teams didn't have the layers of U23, U18, U16 and so on then so it was easier to concentrate on a smaller pool of kids and develop them.
I don't know the answer but something has to be done to better bridge the gap between talented kids and making it in the Premier League.
Andrew Keatley
35
Posted 20/01/2021 at 16:07:03
Robert (25),
"Simms, if not a success at Blackpool, is very unlikely to be a success with us."
But what would make him a success at Blackpool? Goals? Regular starts? What is the best metric to judge his time at Blackpool, and his future prospects with Everton? Hard to know – but many players have found their first loan spell to be more difficult than they hoped, and have only really found their feet in subsequent loan moves – or when given first-team chances; Harry Kane (though admittedly very young at the time) didn't exactly prove to be a future superstar when he spent 6 months on loan at Leyton Orient, and later loan spells were also a bit hit and miss – to the point that his eventual breakthrough at Spurs was a surprise.
As far as I am concerned, if the loan spell at Blackpool provides Simms with some useful experience, and makes him more equipped to be a meaningful part of the first-team squad next season – or to take on another loan next season ideally at a higher level – then it will have been time well spent.
Phill Thompson
36
Posted 20/01/2021 at 16:17:01
Tony #24, you took the words I was going to use! Why wouldn't we want to hear that, people are realistic we know very few U23s make it to our first team, whether it's a loan or stay at Finch Farm. So % wise the odds are against young Ellis, that's realistic.
But why wouldn't we get behind a 20-year-old who came from our Academy? I'm rooting for him and, if it comes to realism defeating my optimism and he crashes, then so be it.
After watching Blackburn and Branthwaite last Saturday, I'm not sure how many Blackpool matches I can take but eh, I'll give it a try. Go Ellis!!!
Allen Rodgers
37
Posted 20/01/2021 at 16:27:45
Stephen @23,
I've been advocating a proper reserve league for years. In Moyes's time, he spoke in favour of it too. Matches to be played at the home grounds in front of a few thousand fans (in normal times). I imagine with our local support we could fill one stand easily.
The Under-23s isn't working in my opinion. Simms going out on loan is good but he's 20, not a kid anymore. He and Beni and maybe others should be in the first-team squad by now.
Peter Gorman
38
Posted 20/01/2021 at 16:29:36
Jay @11 - thanks for the link. Here is something similar from a few years ago
[SPOILER ALERT] Calvert-Lewin looks absolutely hopeless against a Dutch enigma whose name I forget, but the rest as they say, is history.
Robert Tressell
39
Posted 20/01/2021 at 16:37:36
Absolutely, Andrew. Success most obviously means the sort of impact Jermaine Defoe made all those years ago. But it could be more subtle than that. I really hope it is a success one way or the other too. One thing about Simms is that he's kicked on every time he's been presented with a new challenge.
But if he just doesn't look up to the playing standards of Third Tier football then it really is unlikely he'd make it in the upper echelons of the Premier League.
For info, Harry Kane was 18 when he went to Orient, 19 at Millwall and 20 when at Leicester and Norwich. He was patchy in terms of goals - no idea how he developed as a footballer.
Andrew Keatley
40
Posted 20/01/2021 at 17:30:19
Robert (40) - FYI I think Kane was only 17 while playing for Orient, 18 throughout his spell with Millwall, and 19 when playing for Norwich and Leicester. July birthday.
Brian Hennessy
41
Posted 20/01/2021 at 18:17:32
Have to say i'm a bit disappointed to see Simms going out on loan at this stage.
Some game time in the first team, even just off the bench, might have given us a better idea of what he is capable of.
Christy Ring
42
Posted 20/01/2021 at 18:20:25
It's a good move for Simms, as long as they play him. He definitely needs game time and the lower leagues will toughen him up and show if he's good enough.
We still need to sign a striker now, Tosun is our only other striker and he's not good enough for the Premier League, especially with Calvert-Lewin injured.
Playing two midfielders as against Wolves, even though it was a massive result, is not the answer.
Jason Wilkinson
43
Posted 20/01/2021 at 18:42:53
I would rather see our youngsters have a go in the lower leagues than waste their time in the development teams. They aren't learning game craft.
Ancelotti must have a big say when it comes to loaning players. Many screamed for Gordon to get a game. He looked unprepared when his chance came. None will come back technically better players but they will have learned a bit more about the game.
Rob Dolby
44
Posted 20/01/2021 at 18:44:36
Harry Kane went out on multiple loans, not all of them a roaring success.
Simms will get match experience in a pressured environment. It can only make him stronger, whether that's with us or another club if he does only have 6 months left on his contract.
Joe McMahon
45
Posted 20/01/2021 at 19:00:29
France, Defoe- like you say a fantastic goalscorer throughout his career. I always hoped we would have signed him through the years.
A question for someone who knows, how came Liverpool got to play Villa's U23s in the FA Cup, but the same rule didn't apply for the Everton Premier League match?
Darren Hind
46
Posted 20/01/2021 at 19:15:04
Don Carlo has made more kids disappear than the child catcher in Chitty Chitty Bang Bang.
Derek Taylor
47
Posted 20/01/2021 at 19:19:26
I ask myself whether the likes of Royle, Wright, Hurst, Husband, Whittle and Kenyon were more talented than the present regime of young players or just better trained?
Tony Everan
48
Posted 20/01/2021 at 19:26:18
It will be a good experience for 4 months or so. Sometimes, depending on the character, it's good to get out of the cosseted bubble and get out into the real world. It can make a young lad mature faster and also gain some confidence and independence. Like most of us, I will be looking out for reports of the Blackpool game with the hope he is impressing.
Danny O'Neill
49
Posted 20/01/2021 at 19:37:46
Better I would say, Derek. Not my generation and didn't watch those players but that era saw Everton in a stronger position than where they are now. Basic binary assumption and I acknowledge times are different.
It's a modern era thing. Another non-Everton example; David Beckham. That wasn't Ferguson getting rid of him, it was managing his career.
Fran Mitchell
50
Posted 20/01/2021 at 19:44:57
Joe: there is about 500 comments on this subject and it is quite simple.
Villa Vs Liverpool was in the FA Cup. So firstly, different governing body. But principally, it came down to either forfeiting the game, or playing with u23s and u18s. The FA Cup game had to be played, it couldn't be delayed and played at a later date as the 5th round is this coming weekend.
Premier League games can be more easily reorganized.
Simple really. Not A Conspiracy.
Alex Gray
51
Posted 20/01/2021 at 19:45:53
Not good enough for the first team currently. Good move getting him out on a loan. Hopefully he goes up a level playing proper football.
Echo a few other comments the young lads need to get out on loan earlier. 20 is leaving it pretty late.

Antony Kelly
52
Posted 20/01/2021 at 19:57:07
Listen everybody, if you're still in the U23s at 20, you are not good enough.
Ellis Simms is not good enough for Everton, he will be lucky to hold down a starting position in Blackpool.
Just like all the rest of the overhyped players Unsworth has touted as top top players, do I need to mention them all! Jesus, that would be a long list... but good luck to the lad, I wish him well.
Tony Abrahams
53
Posted 20/01/2021 at 19:57:38
A lot of kids going out on loan from Everton's Under-23s, will have never played competitive men's football, which is another reason why it was absolutely ridiculous getting rid of the old Central League imo.
Good luck to Simms, because he looked like he might be ready to go and do okay in League One. I hope he does well and enjoys the experience.
Mark Rankin
55
Posted 20/01/2021 at 19:59:55
When you're trying to compete at the top end of the Premier League, it doesn't matter whether you loan out or keep in-house – only a very small percentage of academy players are going to make it to be good enough to play for a top 6 team in the toughest league in the world... and an even smaller percentage will do it when they're young and not at their peak.
If the Premier League remains the global elite, and we want to compete at the tip end, we'll predominantly have to buy players and get the very occasional academy product (who will often have been bought relatively recently, like Calvert-Lewin).
It would be interesting to know whether the academy funds itself off player sales to smaller clubs – I imagine other big clubs' academies do.
Tony Abrahams
56
Posted 20/01/2021 at 20:12:03
I'd say one of the most sensible things I heard Roberto Martinez say was about these young footballers Antony@54. He said that we lose too many players between the ages of 18-21, although he never did give a solution to this obvious problem.
Maybe the academies are not competitive enough, and the kids are spoilt, and treated with kid gloves, and when they are finally sent on loan into the men's league, it is to much of a culture shock for them?
Beni Baningime looked decent when he first played in our first team, but he's had a couple of bad loan moves, and it seems to have sent him backwards, because he never played with much "desire" the other night, and this is such a key element.
Thomas Richards
57
Posted 20/01/2021 at 20:15:47
The comedian is sorted for the Excelsior night out lads and lasses.
I've been talent spotting.
Dave Abrahams
58
Posted 20/01/2021 at 20:16:32
Derek (49), both, more talented and better coached.
Fran Mitchell
59
Posted 20/01/2021 at 20:18:57
Antony: I know you think all U23 players and staff are just stealing a living. But here goes.
Simms has just turned 20.
At the same age, Ollie Watkins was at Exeter in League Two, scoring 8 goals in a season.
At the same age, Jamie Vardy was at Stocksbridge Park Steels.
At the same age, Harry Kane scored 2 goals in 13 Championship games for Leicester.
At the same age, Mohammed Salah was playing for Basel scoring just 9 goals in the Swiss League in almost 50 games.
At the same age, Aubamayang was a journeyman loanee from Milan, at Saint Etienne.
At the same age, Danny Ings was making the move from League One Bournemouth to Championship Burnley.
But yeah, if you ain't a top Premier League player by the time you're 20, may as well just hang up your boots.
Mike Gaynes
60
Posted 20/01/2021 at 20:26:40
Tony #59, the reasons young players don't make the final jump are as varied as the players themselves. Some simply aren't good enough, some have talent but lack the dedication and drive, some get injured or lose confidence, some get swayed by money and partying, and some just never get a proper chance because of who's in front of them.
Beni's a good example of the uncertainty. Was he simply not as good as he looked in those dozen first-team games three years ago? Did the ankle injury sidetrack his confidence? Did he not have the drive? Or did making a half-million pounds a year as a teenager just seem like enough?
Whatever the reason, it's clear he won't make it. And as you, Phill and Mark Rankin all said in different ways above, most promising youngsters don't. That last rung on the ladder is just too high a stretch for all but the special few.
Kevin Prytherch
61
Posted 20/01/2021 at 20:36:48
Fran - I seem to remember the same sort of stats being posted about Calvert-Lewin a couple of years ago and plenty on here ridiculing them with their "Championship at best" comments.
There's numerous players who don't start making it at the top level until well into their 20s. Look up Drogba, Gueye, Lingard (probably a bad example now), Trippier, Matic etc.
Paul Birmingham
62
Posted 20/01/2021 at 20:41:19
Good luck to Ellis.
He's got the desire and will but this and the drive to work hard and improve could be the making of him, or like any other youngster, he could regress.
As has been said on TW, the restructuring of reserve football from the Central League to tiered age groups has not brought many good players through the Everton ranks.
I reckon now that getting out on loan here in the UK or abroad can provide invaluable experience for young players.
Good luck Ellis, I hope you do very well at Blackpool.
Stephen Vincent
63
Posted 20/01/2021 at 20:49:16
Shame, I really liked the look of him. Another Everton junior consigned to the scrap heap. We send him out on loan and desperately try a Dutch 19-year-old. Like we have really had loads of success with Dutch lads.
And Tosun is so much better than Simms!!!! What a waste.
Colin Malone
64
Posted 20/01/2021 at 20:49:38
Something must be badly wrong when we cannot get any decent young players coming through the youth system. Needs to be urgently addressed.
Tony Abrahams
65
Posted 20/01/2021 at 20:50:28
Really agree with that last sentence Mike G, with the contradiction being, that there are not that many special players.
Paul Birmingham
66
Posted 20/01/2021 at 21:01:19
Kevin good point, plus in modern times Seamus Coleman, Vardy, and several players in by gone times who made it late, not via the youth system but after that level, via non league, Eamonn OKeeffe, and John Barton.
I remover Eamon's goal v Soton in an FA Cup replay at Goodison, and that was the first time I got on to the pitch at a Goodison with many others.
Forty years, scary, but good times then and since, but exceedingly frustrating but enlightening in the book of life as an Evertonian.
Antony Kelly
67
Posted 20/01/2021 at 21:05:28
Post 62 - Bizarre opening line, totally bizarre and the rest of your post is even more bizarre.
What I will say is, Simms will not play centre-forward at Everton. He may find a level but it won't be in the Premier League.
Joe McMahon
69
Posted 20/01/2021 at 21:54:38
Dion Dublin and Ian Wright were also late starters in the Premier League.
Although yes, it was a long time ago and, like Vardy, both scored a hatful, particularly Ian Wright who was one of the best.
Danny O'Neill
70
Posted 20/01/2021 at 22:04:54
Air of caution there, Antony. Many said the same about Calvert-Lewin and I will admit, I wasn't sure. Truth is you can't really tell.
Aside from the odd freak like Rooney, it is very difficult to predict if players will make it and all develop or suddenly click at different ages. Not an academy product, but Seamus Coleman is a good example.
Antony Kelly
71
Posted 20/01/2021 at 22:18:38
#74 Danny, Carlo Ancelotti does not rate Ellis Simms and Ancelotti knows more than any of us..
Fran Mitchell
73
Posted 20/01/2021 at 22:30:54
Antony, you say "if your still in the U23s at 20 you are not good enough". I provide examples of players who were either reserves, or in inferior leagues at the age of 20 who have gone on to be top top class strikers in the premier league and continue to do so.
Whether Simms will be or not I can't say, I haven't watched him play and know little about him. I was just contradicting your affirmation that 20 years of age is enough to judge whether a player will be good enough or not.
Fran Mitchell
74
Posted 20/01/2021 at 22:32:33
I missed the interview where Ancelotti affirms he doesn't rate Simms. Any links Antony?
Danny O'Neill
75
Posted 20/01/2021 at 22:40:29
Tony @59. That's a really interesting point. On one hand I do wonder if "locking" kids into these elite academies actually hinders development.
As you allude to, they grow up in a protected "bubble". They are detached from the realities of life and live with an air of entitlement so don't know how to fight for it. When it comes to the moment they have to compete to get into a first team with players from other parts of the world or from less privileged backgrounds in a footballing sense, their mentality is found wanting.
I am probably massively over stereotyping but our academy system just seems wrong. It seems wrapped up in its own cotton wool and they only play each other. I had it on good word from a coach at Watford that the general aim is to identify one player who can possibly make it. Surround them with the best players in the area who they know won't, but will support that players development. Those kids get false hope but ultimately get spat out of the system once they have served their purpose.
To the point of losing players at such a young age. Having grown up in the elite bubble, if they don't make it, many simply drop out of the game as they are disillusioned or don't have a desire to drop down to the trenches and start again in lesser surroundings.
We just seem to get it so wrong in comparison to the likes of Holland and Germany. I don't know if still the case as my years are growing, but in those countries, under the age of 14, the youth teams used to play in the local leagues, not in a closed shop elite academy bubble. So there was an element of reality to their footballing life whilst still knowing they were representing a professional club.
Apologies for the long winded response. Subject close to my heart as a player / coach of the beautiful game at my own level.
Danny O'Neill
76
Posted 20/01/2021 at 23:09:58
I go back to my earlier point Antony. In line with current perceived thinking I'd guess the fact he is going on loan suggests he is rated. Those who remain in the U23s seem to, well, remain in the U23s.
But I'm guessing. I haven't heard Carlo comment on Simms.
Stephen Vincent
77
Posted 20/01/2021 at 23:20:30
Danny, and history tells us that those who go on loan to League One — will remain in League One.
Antony Kelly
78
Posted 20/01/2021 at 23:32:16
#78 Link? Yes, here's one: Ellis Simms has just been chased to Blackpool.
Wake up, man, for some reason, people are posting of examples of players progressing up the leagues. I agree, hundreds of players do,
How many players from Everton U23s have broken through at 20?? Answers on a postcard, Fran...
Danny O'Neill
79
Posted 20/01/2021 at 23:33:20
Okay, Stephen, lets write the lad off now then.
Danny O'Neill
80
Posted 20/01/2021 at 23:37:32
I don't think it's "for some reason", Antony. I think others are providing a counter to your view. That's what debate is about.
Yours is a valid point, but so is the counter.
Chased to Blackpool or sent to gain competitive experience? Depends where you sit on the viewpoint.
Fran Mitchell
81
Posted 20/01/2021 at 23:55:14
I personally think Simms has been sent to Blackpool, both for experience and for the club to make a decision — yay or nay. I think Simms has been given a challenge to prove himself. Hopefully he does, but only the future knows.
I disagree that 20 is some sort of benchmark age to determine if a player is good enough or not, usually players only really break through at 22+ unless they are special talents.
Not many have done at Everton, mainly because not many have been good enough. That's an issue with our recruitment and development, and probably because the best young local players are attracted to the dark side before us. But each player is different. So I'll make judgements based on their performances rather than their birth certificates.
Ian Pilkington
82
Posted 20/01/2021 at 00:25:40
In the FA Cup 3rd Round, Chorley (National League North) comfortably beat a Derby County team that was largely made up of U23 players with (I believe) a couple of U18s.
Derby U23 are currently 6th in the PL2 table, one place above us.
I think this proves beyond doubt that the PL2 is well below the standard of the old Central League.

Justin Doone
83
Posted 20/01/2021 at 00:32:10
I haven't seen enough of Simms to rate him but I hope he enjoys the loan, stays injury free and gets plenty of game time. The ages of 18 to 21 are crucial development years.
Bodies and minds mature. It may be the last few years of genuine development, progress, the real understanding of what it takes both mentally and physically just to compete to be a professional.
Many turn to other distractions, many think they have already made it whilst others doubt their own abilities to makes it.
Then there's long term injuries or reoccurring injuries and the time and development missed is a struggle to catch up on, especially compared to their piers.
Barkley, Rodwell, Stones, Holgate, Dowell, Rooney and many more all repeatedly missed several months due to injury in their late teens and early twenties. I do wonder what impact that played in slowing or stopping them fulfilling their potential.
As for Beni, I didn't see much in his game time to think he was Premier League standard.
Bill Gall
84
Posted 21/01/2021 at 01:02:21
This is a good move for a young player. Quite a number of the lower league teams have experienced players who have played in the higher divisions, and what they lack in speed they make it up with their experience learned against players in the higher divisions.
Simms has played most of his time against players in his age group and has moved up against players in the leagues against players his age and a couple of years older and been successful.
Going to Blackpool he will be playing against young players trying to make the grade but also against more experienced players. Lots of young players are sent to lower league clubs so they get more playing time, and see if they continue to improve away from their normal routines.
Adam Scott
85
Posted 21/01/2021 at 07:31:33
I agree with Anthony, here. Some good people on Twitter who I trust and who watch the U23s say his all round game is poor. He scores the same goal; put the ball over the top and he uses his physique at that level to beat the young defender. Heading and link up play are non existent apparently?
I very much doubt he'll make it at Everton. Hope I'm wrong, but I think his loan is about putting in a shop window. Blackpool probably the level.
At 20 years old, Moise Kean had been to Verona on loan, played for Juve and Italy, and secured a move to Everton. He has been maligned by many. If you haven't made a first team breakthrough somewhere in your teen years, I take it to mean really your future isn't going to be at the top level.
Adam Scott
86
Posted 21/01/2021 at 07:44:44
Fran #59 we all accept that Vardy is an anomaly. The other players you mentioned though were playing first team football at 20! Simms has been nowhere near, or a candidate to leave on loan, what hints to me something.
Auybameyang was at Legue 1 at St Etienne having done the first season at Monaco;
Watkins had made his first team debut at 18 etc;
Danny Ings had played 40 first team games by 20;
Kane over 40 games, including Championship level.
Tony Abrahams
87
Posted 21/01/2021 at 08:09:17
That's one of my biggest arguments Danny@75, because football dramatically changes around the age of 14 or 15, and then it changes again around 17 or 18, and I'm sure anyone connected to football, especially in a serious way, already know this.
They get the kids in very young because, if they don't, somebody else will, and I'd also say that this system is also doing more harm than good.
Imagine having great ideas and trying to revamp everything? I'd say such a move would have to come from the very top, and even then you'd need a very strong stab-proof vest, for every time your back is turned!! That's my view anyway.
Robert Tressell
88
Posted 21/01/2021 at 08:47:21
My view is that the club does rate Simms. They know they have a big physical specimen, with pace and strength who finishes very well. He trains with the first team and has made the bench.
The club has also put a huge effort into turning him into a better footballer and he's responded. U23s was a challenge at first because his physique was no longer a huge advantage. Having met that challenge, he takes it up a step. This is all part of the clubs development. It's no indictment of him that Tosun, experienced international + Champions League striker, is ahead of him.
That said, he does need to show he can meet this challenge. Whatever posters say, 20 is quite late to make your debut in league football.
Thomas Richards
89
Posted 21/01/2021 at 09:20:07
Tony,
In my opinion academy football is ruining a lot of kids' upbringing.
Take a kid of four years of age (Yes, 4!), train him three nights a week, then spew him out a few years later.
And they are the lucky ones, plenty of time to build thier lives.
The really unlucky ones are the kids who have been at acadamies for many years, stopped from playing football for thier schools and playing football with thier mates, only to be chased when deemed not good enough at 15 or 16.
Naturally, most kids in the above category have convinced themselves they will make a living from football, thereby forgoing their education. Kids of 11 and 12 getting many hundreds of pounds a week sees thier parents convinced their child will be the next… [insert name].
They pay the kids through food, travel, clothing, grants to parents, an easy way around rules.
The academies are here to stay… Unfortunately.
Ray Roche
90
Posted 21/01/2021 at 09:36:32
Barkley, Osman and Coleman all benefitted from loans and have/are enjoying Premier League careers. Unfortunately many don't. I think loans like this are an opportunity for the parent club to see if they can make the grade, nothing more.
It was better with the old Central League but, with a coach load of substitutes allowed on the bench now, those days have gone.
Dave Abrahams
91
Posted 21/01/2021 at 11:56:10
Thomas (89)loads of good points and common sense in that post, especially the part that kids are prevented from playing for their schools, by the clubs who sign them at a very early age, and miss the completion of their age groups growing up.
Your last point about the parents getting some form of benefit from those clubs didn't apply to me, maybe I was naive but I never asked for anything and only once was I asked if I needed anything, I said no I was okay thanks.
Tony himself was well looked after by Notts Forest and Man Utd, while he was at school, spending time with them at Christmas and Easter, Liverpool and Everton invited him down to Wembley for cup finals while I went to the Watford final with the job of bunking my young nephew in, while Tony sat in comfort on an Everton FC coach. I got my nephew in no bother, along with a couple of thousand of other Bluenoses I think.
Phil Smith
92
Posted 21/01/2021 at 12:55:17
I disagree that we haven't had enough Premier League quality players coming through. We have had, but they just don't get game time for us. Lundstram wasn't good enough, Lookman, Robinson... Kenny isn't. Gordon? I could keep going.
These players are all good enough to get game time in a Premier League side, but they're not getting it for us, which is sad. I think we'd have a lot more coming through if they were only given time to develop. How much time has Tom had? Only recently has he started to look like he's shaping into some kind of player.
I think the Premier League should introduce a law where all teams must start with 2 or 3 academy players in their side to aid this. Might see teams like Southampton and Leicester do even better.
Thomas Richards
93
Posted 21/01/2021 at 13:10:40
Best bunkers in the world Evertonians Dave.
The money side of acadamy football mate. I was talking to a girl whose son was at the acadamy of one of the biggest clubs in England when one of my grandsons was there. The kid was 12 years of age and they were getting £800 a week. An exceptional footballer, outstanding for his age, but that was an eye opener for me.
Pete Gunby
94
Posted 21/01/2021 at 17:35:03
The gap between promising academy player and Premier League player is immense. If it were a simple formula, it would have been sorted by now. Some keep progressing, others hit a wall.
I had a team play West Ham's U20 team in the '90s. Their head coach told me if 2 out of 30 made it to the first team, it would be a roaring success. They would be happy with just 1 and that maybe 4 would make a living in lower leagues.
You need to have talent, drive, determination, athleticism, endurance, belief, fitness, and luck.
Thomas Richards
95
Posted 21/01/2021 at 17:57:05
The ratios of players who make it out of academies to the players who go to academies is tiny, Pete. I would not let kids start at academies until they were teenagers if I had the choice.
Play with your mates and play for the school team. Then, and only then, join up if you are good enough.
Too many kids losing thier best days on a pitch due to them taking the slimmest of chances to progress to first teams.

Sean O'Hanlon
96
Posted 21/01/2021 at 18:48:51
Thanks for the link Jay (#11).
I see Tosun needs his head re-spraying! (Sorry, Cenk!)
Danny O'Neill
97
Posted 21/01/2021 at 19:26:23
To my earlier post, Thomas. I don't know if they still do it, but in Germany, the youth teams up until about 14 used to play "normal" local teams. I played for a local village team and we used to play Bayer Uerdingen (now Krefeld FC Uerdingen 05), who then were playing Bundesliga / Bundesliga 2 (Nord as 2nd tier in Germany was regional back then).
Maybe that is a model to add more normality to those formative years. Only to adopt something like that, we would need to seriously overhaul and streamline our grass roots football as I believe it to be a total shambles personally.
Tony Abrahams
98
Posted 21/01/2021 at 19:34:12
I'd go along with that last sentence more than anything, Thomas, because football should always be about enjoyment, unless you're Mo Besic!
Pete @94, I'm aware that not everyone can make the grade, but Martinez was right imo, and for whatever reason too many good players fall by the wayside in England.
I've spoken before about how when England won the under 20 World Cup, with a few Everton players in their squad, but 2 years later, it was the German under 21 squad, (same squads) that had a load more experience of playing first team football, and this must be down to them using a different system, I'm sure
Thomas Richards
99
Posted 21/01/2021 at 19:34:19
Me too, Danny. I agree, a shambles.
I posted a while back, the Dutch used to not let kids play on full size pitches until they were teenagers (think it was 14 years old).
That can only enhance first touch, awareness of space and awareness of players available for a pass.
In my opinion, the major EU countries are miles ahead in youth development.
Tony Abrahams
100
Posted 21/01/2021 at 19:48:35
My mate was telling me about a tournament that he went to somewhere in Europe, to watch his son who was playing for Liverpool schoolboys, Thomas.
Before one game, a coach from Barcelona was walking past their pitch, smiled and said to the parents, are you English? Yes they said, how did you know? Because only the English kids warm up in the goal, he replied.
The English kids will probably beat the best teams from all the EU countries, up until around the age of 14, but whilst we are usually all about winning, they are more interested in working on technique, and that's why they always look more comfortable on the ball when they get older imo.
Tony Everan
101
Posted 21/01/2021 at 19:54:32
Shame they couldnt have found a photo of Ellis banging in a goal, instead of one where he looks like he has missed the team bus home due to having a lengthy after-match shite.
Thomas Richards
102
Posted 21/01/2021 at 19:54:58
Great post, Tony. I agree with all that.
England had a clown in charge of youth development years ago, I can't remember his name. Charles something.
Long ball merchant. I read a report of his one time and cringed. It's historic, mate, and will take years to get rid of.
Brian Murray
104
Posted 21/01/2021 at 21:11:40
Well good old Eddie cavanagh done it twice in 66 after getting threw out after his pitch antics. Plus my arl fella said he shared all his crate of brown on train on way back with him. A proper hat trick that !
Thomas Richards
105
Posted 21/01/2021 at 21:27:03
Peter 103,
The priest was on the double click in the next turnstile to Dave
Roger Helm
107
Posted 21/01/2021 at 22:12:08
Thomas #102 it was Charles Hughes, author of Match Analysis, chief of coaching at the FA for a very long time, who argued that most goals are scored after five or fewer passes so the ball should be passed forward as soon as possible. Graham Taylor at Watford had great success with this long ball approach.
Danny O'Neill
108
Posted 21/01/2021 at 22:13:38
Very true Tony.
We are so focussed on winning. I saw it first hand. The important thing for the "coach" was to win the Harrow District U-12s league. So, they pick the biggest, fastest and most powerful players who can simply outrun and bully the other players. Meanwhile (and tongue in cheek), young Messi who is a great footballer, doesn't play as he is "too small" and would risk losing.
Young Messi get's disillusioned and gives up football to focus on something else. Meanwhile, by the time those players who where bigger, quicker and more powerful aged 12 get to adult level, it becomes apparent they aren't actually that good a football player and now they aren't necessarily as big and powerful as everyone else so that doesn't work any more either.
Thomas, much to learn from the Germans and Dutch on grass roots. Firstly, the focus is on development, not necessarily winning. I believe we have now adopted the mid-size pitch thing, which they have had for years. And the facilities. They train and play on gravel pitches up to a certain age. That makes you stay on your feet and pass the ball. When they do go to grass, it is on very high standard pitches that promote good football. Also, they rotate players around the pitch to give them a feel for different positions as you never know how someone will develop physically or technically. No point teaching an old dog new tricks as they say. Also, it is streamlined. Right down to village level, they play for well organised clubs.
Our kids play on mud saturated pitches in over-subscribed leagues because Johnny's dad has started up yet another team so Johnny can play centre forward (as he is only a centre forward and his last "coach" was playing him centre back, which is ridiculous as he is clearly the next Duncan Ferguson; dad knows best). You can't play football on those pitches, so they are reduced to "getting rid" and lumping it down the park bayed on by the screaming mob of aggressive parents on the sidelines encroaching on the field of play and threatening to assault the voluntary official.
As Tony mentioned above, dare to have ideas and a revamp. It is needed.
Apologies. As you can probably tell, I get quite vocal and emotive about this subject!
Thomas Richards
109
Posted 21/01/2021 at 22:43:21
Danny, no need for apologies mate, I fully understand how you feel.
The best people in youth football now are the ones who set teams up just so the kids can have a game, no illusions of grandeur from these lads. No cherry-picking the best kids so they win the lot.
I watched a fair bit of youth football as my son and then grandsons played. My kids are fortunate enough to be blessed with decent ability so play to good standards.
I got more enjoyment out of watching the year below one of my grandsons while waiting for his game to kick off. A group of kids who got twatted each and every week by big scores.
Regardless of that, the enthusiasm shown by the kids, coaches and parents was a joy to see. To see the gradual improvement until they achieved thier first win was fantastic.
They all deserve better off the powers that be.
Brian Murray
111
Posted 21/01/2021 at 22:54:18
Thomas post 106. My arl fella god rest him. Jim Murray known as the major. One of his sins ( my older brother John Everton's mascot In title year and beyond ( 63 ) Vernon adored him and had him in shoulders last game v Fulham and on lap of honour. Got great pics of it. Also mascot v inter Milan game European cup.
Thomas Richards
112
Posted 21/01/2021 at 23:02:22
God rest him indeed Brian.
They made us what we are.
UTFT
Phil Smith
113
Posted 22/01/2021 at 02:33:35
Tony (101), I just died reading that! Hahaha
Tony Abrahams
114
Posted 22/01/2021 at 09:31:33
Roger@107, sometimes when I watch Liverpool, I get the feeling that Klopp, has read the Charles Hughes book, but that is not to criticise because his team can also pass the ball.
I'd say there is no right way or wrong way to play football, mixing it up is fine, although another contradiction, because I also agree with Danny@108, and feel that kids football at grassroots level, is really mixed-up!
Dave Abrahams
115
Posted 22/01/2021 at 09:53:12
Peter (103) usually, but my nephew is Church of England so I classed it as his sin.
Thomas (109), yes those fellas who run kids' football teams are usually the salt of the earth, going to great lengths at their own expense to provide enjoyment to young lads growing up and also character building, applies to amateur boxing clubs as well, maybe more so in boxing.
There was a team from Kirkby ran by two fellas who played in the Walton and Kirkdale league and they came week after week, got battered by huge scores, never gave up and provided those watching with comical moments off the field as well as encouraging their young players throughout the game. I think of them now and again and I always have a smile when I do, great days. Winning is lovely but it's not everything, playing trying to win is.
Brian Harrison
116
Posted 22/01/2021 at 10:53:17
Dave 115,
Kids' football is great and all the people who give up so much time to run these teams deserve all our credit. The only downside to kids' football is the small minority of parents watching on the touchline who hurl abuse not only at their own kids if they aren't playing to the standard the parent thinks they should be, but also kids in opposing teams.
I used to know Mick Lyons and he ran a team in West Derby, off course all the kids wanted to play for Mick's team, and his team attracted most of the better kids. But Mick encouraged the kids in the opposing side as much as he did his own players. And most of the time just encouraged his team to keep their shape, not trying to over complicate it for the kids.
Derek Taylor
118
Posted 22/01/2021 at 12:11:10
Has anyone done a recent 'audit' of Everton Academy graduates who are playing with any regularity for a League club anywhere in this country or abroad?
I suspect it's no more than a dozen at the most!
Kevin Prytherch
120
Posted 22/01/2021 at 12:38:02
Derek 118 (any time at the academy, and possibly not all regular starters)
Barkley
Mustafi
Dier
Rodwell
Vaughan
Lundstrum
Duffy
Forshaw
Robinson
Clarke (recently made his 800th career app)
Baxter
Browning
Garbutt
Dowell
McAleny
Williams
Ledson
Then there's
Davies
Pennington
Connolly
Gordon
Kenny
Gibson
Branthwaite
Also, Lookman, Calvert-Lewin and Holgate all spent some time with the academy.
Robert Tressell
122
Posted 22/01/2021 at 13:05:53
Blackpool have Brighton away in the Cup tomorrow and then an away game at Wigan on Tuesday. Hopefully see Simms involved in these games.
Bobby Mallon
123
Posted 22/01/2021 at 13:10:50
Kevin Prytherch 120 who is Clark who has played so many games. That's some game time for any level and well done
John Raftery
125
Posted 22/01/2021 at 13:23:23
Bobby (123) Peter Clarke, now with Tranmere.
Jay Wood
[BRZ]
127
Posted 22/01/2021 at 14:02:15
Derek @ 118 and Kevin @ 120.
Here is a comprehensive list of Everton academy players who had some sort of professional career, dating way back to the 1958 age group:
Former Everton Academy Players
The first name on the list if you order by age group, a lad from Bootle who I only remember as a WHU player, Alvin Martin. Capped by England, wasn't he? Anyone have any recall of him on Everton's books? 'cos I most certainly don't. Also surprised he hails from Bootle.
It's an incomplete list because I don't see the likes of Brian Labone, Tommy Wright, John Hurst, Jimmy Husband, Joe Royle, Alan Whittle from the 1970s championship side listed.
Three pages of names. If you look by the decade (given the caveat of the previous paragraph) we are actually churning out more professional footballers that make the grade somewhere than ever before.
Kevin Prytherch
128
Posted 22/01/2021 at 15:35:58
Jay 127 - that's exactly where I went to find out!!!!
Derek Taylor
129
Posted 22/01/2021 at 15:45:06
A rich harvest, indeed. But most of them second-raters, I fear!
Stu Gore
130
Posted 22/01/2021 at 16:01:13
Derek @ 118 and Kevin @ 120.
Not on that list:
Jake Bidwell
Vic Anichebe
John Stones (arguably)
Robert Tressell
131
Posted 22/01/2021 at 18:24:47
For balance, Liverpool graduates since Steven G are:
- TAA
- Guthrie
- Nugent
- Coady
- Wisdom
- Ince
- Flanagan
- Wilson
- Woodburn
- Mellor
- Robinson
- Whitbread
- Spearing
- Rossiter
Which means one star in TAA then two decent players in Coady and Wilson. The rest are Championship players.
I've ignored their present crop like Curtis Jones – and players they pinched from other academies like Sterling, Brewster, Ibe etc.
It's a shit return in 20 years.
UK academies have been truly appalling – and really poor at giving opportunities to the communities they represent.
We should aim really high with ours, for the community, the sustainability of our club and because it's great to see young, local talent make it.
Adam Scott
132
Posted 22/01/2021 at 20:40:11
Robert. Another point of the academy is as an income stream, and you can't doubt that Liverpool have been excellent at that.
Also, look at us with Adeniran and Josh Bowler. Those lads cost serious money. Where are they now? What improvement have they had?
For years post Gerrard, Liverpool's academy was a joke. No longer.
Robert Tressell
133
Posted 22/01/2021 at 21:04:47
Adam, I know what you mean Ibe and Brewster were sold way above their value. But you're being a bit selective: Bowler and Adeniran cost very little. The higher fees were all add-ons that will never materialise. Liverpool have bought lots like this too that come to nothing. Stones alone made us a fortune.
Danny O'Neill
134
Posted 22/01/2021 at 22:48:36
Robert, that is my point. Our (English) academy system is flawed. It is flawed partly because of the self licking bubble it lives in but also because of the appalling grass roots system that feeds it.
We can argue all we want about not giving local or English / British players the opportunity, but if the grass roots system was feeding it with players that were good enough, our clubs wouldn't need to look elsewhere and abroad. They have to because the system isn't good enough.
Sorry to bore everyone with my Schalke thing, but do a quick search on what their academy has produced in the last 10 to 20 years. A team that is currently in dire straights, had some recent highlights but in general has been average. But look at the standard of player their system has provided the game. It is more than impressive. Bayern Munich's number one, his likely successor and now backup keeper (probably Germany's 1 and 2) both products for starters.
Unfortunately they have treated the academy as a revenue stream rather than something to build a successful team on.
Final point. My dismay at the state of our grass roots should not be taken as disrespect to those of us who stand there in the rain on the side of the muddy quagmires we ask our kids to attempt to play football on; I won't call them pitches. Total respect fo those of us who take the time, effort and, yes pay from our own pocket, to encourage young players to play and enjoy the beautiful game. I just want better standards.
Don Alexander
135
Posted 23/01/2021 at 00:50:41
On the quality of the current junior squad players at Finch Farm, I just wonder (because in the late '60s I was a nowt but a lad) whether anyone can remember what happened to others in our youth teams at that time, given the Everton success of alumni like Tommy Wright, John Hurst, Joe Royle, John Hurst and Alan Whittle?
Was Tommy Jackson the best of the rest, or did anyone go on to achieve something notable?
Robert Tressell
136
Posted 23/01/2021 at 01:24:56
Danny,
Your Schalke thing is really interesting. Lyon is another example. They players they produce are outstanding. I hadn't really thought about this in the context of grass roots but I expect it's right.
I do also think that we still prioritise physical attributes ahead of technique here (big goals and pitches for kids makes no sense to me). And there's always the easy temptation for a cheap quick fix from, say, France instead of nurturing an academy player.
The Premier League generally has a dreadful track record in this respect. I would love us to be a shining light. I'm convinced the raw talent is there.
Peter Mills
137
Posted 23/01/2021 at 09:48:54
Don#135, Tommy Jackson was signed from Glentoran so he can't be included, but players like Roger Kenyon, Mick Lyons, Mick Buckley, Gary Jones had decent careers.
The most successful, unfortunately, was David Johnson.
Danny O'Neill
138
Posted 23/01/2021 at 11:33:55
I totally agree Robert. I too have no doubts that the talent is out there. It is just the environment and conditions they play in that are in need of an overhaul to allow more to fulfil potential and come through at a better standard than what is mostly being produced now.
Thomas Richards
139
Posted 23/01/2021 at 11:49:34
Danny, Robert,
The talent is definitely out there.
Needs a lot more investment in grass roots football.
The prem clubs should be contributing a lot more than they curently do.
If we could get the government to invest, proportionately, the same amount they invest in rugger we would be in business.
Thomas Richards
140
Posted 23/01/2021 at 12:10:45
https://www.mirror.co.uk/sport/football/news/jurgen-klopp-liverpool-defender-transfer-23370437
Totally expected.
Mark Murphy
141
Posted 23/01/2021 at 12:33:48
Also, totally expected...
https://twitter.com/search?q=%23FSGOUT
Loons
Phill Thompson
142
Posted 23/01/2021 at 14:17:21
On the bench for Blackpool today, saves me watching the whole match, will record it and watch when he comes on. ( BT Sport 3 pm)
I see Luke Garbutt and ex academy players Jordan Thorniley start for Blackpool.
Robert Tressell
143
Posted 23/01/2021 at 14:43:58
Saw that too, Phill. Looks like Blackpool have Madine (an experienced pro) and Yates (who I'd never heard of) as a strike force. Neither especially prolific but I guess Simms is going to have to force his way into the reckoning and take his chances. It'd be brilliant if he got some minutes in a cup tie.
Brent Stephens
144
Posted 23/01/2021 at 15:48:01
Well, Garbutt assist for an equaliser.
Phil Smith
145
Posted 23/01/2021 at 16:28:04
65 minutes and Simms is on for his debut.
Phil Smith
146
Posted 23/01/2021 at 16:54:28
Hasn't had a look in here. Both teams looked poor.
Robert Tressell
147
Posted 23/01/2021 at 18:29:07
No goals to celebrate but still a big moment for Simms, making his debut in the FA cup against Prem opposition. Just the sort of experience he needs
Phil Smith
148
Posted 23/01/2021 at 18:37:27
He maybe touched the ball 5 times. Not sure if he learned much except that he was strong enough to not be out muscled by big Prem defenders. Hopefully he'll get more time on his league debut.
Phill Thompson
149
Posted 23/01/2021 at 20:07:03
Didn't really do anything today in the short time he was on. No real passes went through to him though, that's when he's at his best, running onto a ball in the box. He is though going to have to work a lot harder chasing balls that come out from the back, he never looked like he would get on any of them. Something he's always been weak on but that can be improved.
Derek Cowell
150
Posted 24/01/2021 at 01:12:35
Regarding ex Everton youngsters who did well. I remember going home from a match and telling my dad (a big red) that we had a great new young player called Steve McMahon! Whatever happened to him?!
Carl Manning
151
Posted 24/01/2021 at 22:32:21
Andrew #35,
I agree with your sentiment that a bad loan doesn't mean it wouldn't work out for Simms at Everton when he came back. Harry Kane had 5 loans and hardly set the world alight on any of them. Some players are late bloomers.
Geoff Williams
152
Posted 26/01/2021 at 21:17:52
. and tonight he's scored 2 goals against Wigan
Phill Thompson
153
Posted 26/01/2021 at 21:48:27
Two headed goals too Geoff, not usually his strong point. Not bad, played about 30 mins over two games and two goals.
Tony Everan
154
Posted 26/01/2021 at 21:57:28
Very pleased for him, he will be getting much more game time.
Fran Mitchell
155
Posted 26/01/2021 at 22:01:49
Good on the lad. A flurry of goals and propelling Blackpool to the playoffs wouldn't be a bad start to First team football.
Thomas Richards
156
Posted 26/01/2021 at 22:03:23
Brilliant for the kid.
Made up for him
Steuart Hayes
157
Posted 26/01/2021 at 22:21:00
From the Blackpool forum

Difficult to rate the subs, but I will say that Simms looked very good. Finally we have someone that made some great runs - we've really missed that because Madine and Yates often play with their back to goal. Could be a KDH quality signing. or I might be getting carried away bit.
And others saying he looked great as well

Phill Thompson
158
Posted 26/01/2021 at 22:28:19
From the highlights he had a good run on goal, shot saved by the GK, so could have had a hat trick, maybe should have scored. His headed goals were fairly easy for him, poor defending, but heh he scored them so well done to the lad.
Roger Balshaw
159
Posted 26/01/2021 at 22:33:52
https://www.blackpoolgazette.co.uk/sport/football/blackpool-fc/wigan-athletic-0-5-blackpool-perfect-night-depleted-seasiders-they-record-first-win-2021-emphatic-style-3113899
Robert Tressell
160
Posted 26/01/2021 at 22:48:29
Brilliant news. First of many hopefully. Debut in the cup and now some league goals. He will be buzzing
Mick Davies
161
Posted 27/01/2021 at 16:39:27
Adam Scott @85
"I agree with Anthony, here. Some good people on Twitter who I trust and who watch the U23s say his all round game is poor. He scores the same goal; put the ball over the top and he uses his physique at that level to beat the young defender. Heading and link up play are non existent apparently?"
2 headed goals on his league debut - it's a funny old game
---
Add Your Comments
In order to post a comment, you need to be logged in as a registered user of the site.
Or Sign up as a ToffeeWeb Member — it's free, takes just a few minutes and will allow you to post your comments on articles and Talking Points submissions across the site.