Frustrated Ancelotti criticises Everton's lack of spirit
Saturday, 30 January, 2021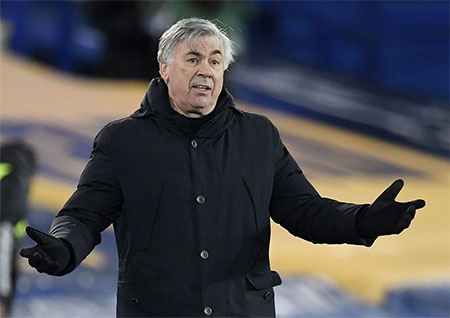 Carlo Ancelotti was as frustrated as Evertonians have seen him since he took over as manager following today's dismal 2-0 defeat to struggling Newcastle at Goodison Park.
The Toffees looked flat, uninspired and demotivated and were soundly beaten by a Magpies side who could have won by more goals had Callum Wilson not wasted two gilt-edged chances and Ancelotti was critical of his players' attitude.
As it was, the former Bournemouth striker grabbed a brace as Newcastle ended a run of six straight defeats and 11 games without a win by putting Everton to the sword.
"We are not happy," Ancelotti told BBC Sport. "The key point was that we didn't have the same spirit that Newcastle showed in the game.
"I know we have quality. The good run in the past was because we showed fantastic spirit on the pitch. Today, we forgot the spirit at home.
"We tried to play with quality today, but in this game and all the games, quality [on it's own] is not enough. You have to sacrifice, play with motivation and ambition — I think all these kinds of things we forgot at home today and I hope that we are able to [get that back].
"It's true that we played on Wednesday night and didn't have a lot of time to recover but I put four of five players in fresh. [The reason why we lost] was not tactical or physical — it was only mental.
"[The next games are] a good opportunity for us to get back our usual attitude because I am so disappointed today but I cant forget that this team has done well using the kind of quality that we did not have today."
Ancelotti went further in his post-match press conference, telling the media:
"Without spirit, there is no quality. Today we were lazy, we were slow. We were not focused. We didn't win duels and second balls.
"We didn't avoid corners or throw-ins. I said exactly that to players in the dressing-room, no secrets.
"I am disappointed. I hope it is only one game. I want to show our spirit in our next game on Wednesday. We are still in a good position in the table."
---
Reader Comments (137)
Note: the following content is not moderated or vetted by the site owners at the time of submission. Comments are the responsibility of the poster. Disclaimer
Jay Harris
1
Posted 30/01/2021 at 17:23:23
Appropriate analysis and response from Carlo.
He is now finding out why most of these players have failed to win things in the past.
Mick Roberts
2
Posted 30/01/2021 at 17:28:18
Er... is it not the manager's job to motivate and inspire the team?
Neil Lawson
3
Posted 30/01/2021 at 17:30:18
He chose them. He prepared them. He determined the tactics. Is it all the fault of the players ?
Shared responsibility ? Discuss.
Jerome Shields
4
Posted 30/01/2021 at 17:31:52
They thought they only had to turn up to beat the barcodes. It not only Pickford that has to prove that he is a top four player. It is most of the squad. Only James and Mina played reasonablely today. Richarlison and a big money move, don't make me laugh and Calvert Lewin should watch a Wilson video regarding positioning. Digne pin point crosses evaporated and Colman' s disappeared off the face of the earth. Iowbi's rest, does not mean he does nothing. He did not look fit, and Sigurdsson started well tracking back, but gave up as usual. Midfield was poor, and the Newcastle midfield trio dominated.
How many times did the next match mean that Everton would advance up the table, only to find that most of the players couldn't be bothered. Ancelotti was put on the back foot by Bruces midfield tactics , though. Not enough competition for places , players thinking they will get playing in rotation is another problem.
Dave Williams
5
Posted 30/01/2021 at 17:32:39
A big mistake benching our two players who show determination and desire to win- Godfrey and Holgate. Awful performance- only James looked bothered.
Tony Everan
6
Posted 30/01/2021 at 17:43:57
Not enough aggression or drive in the team, we were pushovers. To many powder puffs starting and not enough energy and toughness to combat Newcastle.
The only way Newcastle were going to get a result gains us todwas to out battle us and fight for everything. Our set up allowed them to do that with ease.
We are not Man City, we have to battle for the right to win. Only winning the battles will allow the likes of James to shine. Playing too many lightweights in midfield killed us.
As Dave above says, get the hard bastards Godfrey and Holgate. Get some energy back into the side.
Brian Ronson
7
Posted 30/01/2021 at 17:46:15
Sigurdsson should play no 10 or not all. He isn't a midfield player. Need a true playermaker in the Ali/ Maddison/ Grealish mode. Without that quality we will continue to be pedestrian.
Jim Bennings
8
Posted 30/01/2021 at 17:51:21
How can a team that includes so many international footballers though look completely alien to a football pitch?
Why do I sit and watch teams like Fulham that are in the bottom three play football fast, and commit men trying to score goals despite being a clearly limited side?
Is it all just about the players or is it also down to how the manager sets them up?
Can we not commit five of six men at home to Newcastle and try and score?
Why bring Gomes on for Iwobi instead of pushing Richarlison next to DCL going two up top and take Sigurdsson off and replace him with Gordon on the left?
I'm not gonna sit here and start criticism of a manager that in the past has won endless silverware, but there are times when I wonder if his tactics and setup is just too old school now for the way the British game is played.
The Premier League now, it's fast and it's furious yet we still play the games in slow motion, when do we ever look fit and ramped up?
We keep saying that we need better players well we signed James last summer, we bought Doucoure who is supposed to offer us a box to box energy, Allan is a good player but his injury record now is morphing in that of Fabian Delph, also Allan isn't going to offer any attacking threat is he?
Our academy must be god awful if we can't bring any lad through to challenge players bang out of form like Richarlison, the fact we have two goalkeepers on the bench as well, what's that all about?
So basically we are where we are, again a team struggling to create chances, a team (or manager) not flexible to in-game changes of formation/style, a team that has no other way of playing but just lob the ball to DCL's head.
Kieran Kinsella
9
Posted 30/01/2021 at 17:53:18
Dave Williams
The loss of Holgate and Godfrey hurt us defensively no doubt. But as many pointed out on Wed, without Coleman and Digne we lack creativity as James apart we have no creative midfielders. If Carlo kept the same team today maybe it would have been 0-0 but I don't see how we would have won. That said Mina was marking Wilson so that goal still would've occurred. Ideally we need Gomez Iwobi Sig and Davies to become good players. Unlikely to happen. Alternatively Godfrey and Holgate improve going forward, or both Digne and Coleman both regain their long lost form
Jay Harris
10
Posted 30/01/2021 at 17:56:50
Neil
Ancelloti wasn't wearing their boots or even on the pitch.
This game was not about tactics or setup it was about desire and unlike the Leicester game where their players were superior could you honestly say any of the Newcastle players would get into an Everton team.
Before the game we were all lauding the attacking selection as we expected to tear Newcastle apart but they were there one that showed energy and motivation.
We have seen this under previous managers. The players cannot maintain a positive attitude and approach.
"Lazy " is too kind a description for them.
Pat Kelly
11
Posted 30/01/2021 at 18:07:25
I doubt the team got a bollicking at halftime. Ancelotti doesn't seem the type. They lacked motivation he said. They certainly aren't getting it from him. Totally lacking any animation on the sideline as he looked on. I don't think his eyebrow even got a runout today. Maybe he waved his CV at them at halftime ?
Dave Abrahams
12
Posted 30/01/2021 at 18:12:37
Maybe the players thought they were playing okay as the manager only took one of them off. The manager is more culpable than the players for this performance, it's his well paid job to motivate them, change the tactics, we've heard he has different plans for different teams in different games and he can alter them to suit the circumstances, he looked slower than Sigurdsson and Gomes to make any alterations today. He'll have to get his brilliant thinking cap on for the Leeds game on Wednesday or get some new plans from his coaches.
Brent Stephens
13
Posted 30/01/2021 at 18:33:13
Seamus himself confirmed Carlo's assessment that there's a problem with application. That is not to say the manager never gets it wrong - which manager always gets it right but...
Despite some good wins and very decent performances (team and individual) this season, we have few players who we can expect to put in a very good performance on MOST occasions. Iwobi, for example, had some very good games recently but is there anybody who thinks he has in him that level of ability on a more consistent basis? He's not shown it before, so why now?
As another example, Carlo also squeezed something out of Siggy for some games this season but is there anybody here who has held a candle for him over the last few seasons?
We are more in need of a bonfire of the vanities with so many present-day disgracefully highly-paid self-regarding players... Richarlison (who I actually respect for his defensive duties - and as an aside, did you notice even James covering at RB at one point!) - Richarlison too often has his head where an enema should be. Another who provides magic one moment and Tommy Cooper the next. He looks as if he might have been sawn in half after some tackles - he was only half good today.

We're marking time until the summer transfer window - it's nailed on that Carlo doesn't see this squad as having sufficient strength in depth in terms of CONSISTENT performance AND application as Seamus alludes to. As the next transfer window will surely confirm - and the one after that.
Phil Smith
14
Posted 30/01/2021 at 19:28:08
Choose some players who have some then! Got it horribly wrong again.
Thomas Richards
15
Posted 30/01/2021 at 19:33:47
Phil,
Which of Ancelottis signings do you consider lack spirit?
Henrik Thomsen
16
Posted 30/01/2021 at 19:46:36
We are still a long term project if we are going to ever make it to the Champions League ( I doubt we will).
Our current squad still has too many passengers especially going forward playing with speed and accuracy.
Too many times our midfield players take all tempo out of the game and go for the safe, sideways pass instead of the more direct attacking option which James seems to be the only one doing (and capable of doing).
Many of our players seem like they do not even want the ball and when they pass it they do not go in position to get it back. They just stop and expect somebody to do domething on their own.
We do not have enough technically gifted players who can play a pass first time with accuracy, and we lack leaders.
Is Ancelotti mistake free? No. But we can not keep changing managers and I think he will slowly make us better given time. Our current squad is a result of the total mess left behind from changing managers so often recently (Even if I agree with those changes).
That is one of the reasons why we are spending the January transfer window getting rid of overpaid deadwood rather than getting much needed new faces in.
I hope we can add attacking quality in the summer (Our defence is fine), thereby improving both our starting 11 and our squad depth.
This season is over as far as Champions League goes.
Jim Bennings
17
Posted 30/01/2021 at 19:47:11
If we are talking about laziness at Everton, it's been a problem for years and years, I think it goes back the the leaving of Bellefield for Finch Farm.
Remember Leighton Baines comments when we signed Aaron Lennon halfway through the 2014/15 season?
"He's shamed us into hard work"
That suggests we have been a club that's been on easy street for too long now, players too comfortable in their positions, no pressure or expectations.

As for Carlo Ancelotti's comments tonight, well my question would be..
Are we going to see a reaction on Wednesday night at Elland Road?

Phil Smith
18
Posted 30/01/2021 at 19:47:20
On current form, Digne (lets people just fly past him, hands in the air), Richy (just falls over, looks like he's lost a yard and is permanently sulking), Siggy (huffs and puffs but can't pass, can't run and can no longer deliver from set-pieces) and even DCL (should stop hiffing and puffing as well and start moving up top as he's either not fully fit or his work rate has severely dropped off - either way he cuts a despondent figure of late).
When I look at this group recently I'm not seeing any belief or spirit in the side. It needs freshing up. We're the only side in the league (other than perhaps Burnley) who haven't mixed things up over the difficult festival period and it's showing badly.
Mike Connolly
19
Posted 30/01/2021 at 20:03:01
Lets be honest, at best we are a mid table team. If we were any better Carlo would not be here in the first place. The team is unfit and no pace whatsoever. However, we have been saying the same since the Moyes era. We are playing exactly the same as we were years ago. Who ever manages us the team just mirror image the previous manager. I don't now what the answer is and I guess the manager is the same. just a few points for safety. Same old Everton, always prepared to let you down
Mike Connolly
20
Posted 30/01/2021 at 20:03:01
Lets be honest, at best we are a mid table team. If we were any better Carlo would not be here in the first place. The team is unfit and no pace whatsoever. However, we have been saying the same since the Moyes era. We are playing exactly the same as we were years ago. Who ever manages us the team just mirror image the previous manager. I don't now what the answer is and I guess the manager is the same. just a few points for safety. Same old Everton, always prepared to let you down
Martin Berry
21
Posted 30/01/2021 at 20:08:40
Well the Manager has identified mainly what we have been seeing, its now his job to sort it out.
He didnt against West Ham, Leicester or today
The Wednesday night game against Leeds should be interesting.
Rob Dolby
22
Posted 30/01/2021 at 21:48:33
Ancelotti is stating the obvious. Besides Allan, that is our most technical and arguably our best team.
On paper, our 11 is much stronger than theirs but the reputations mean nothing once the game kicks off.
A real lack of heart from the usual suspects put us up against it. Dropping lads that aren't as technical but want to win games cost us. Holgate, Godfrey and Davies should be in the 11 against Leeds.
I thought the ref was poor today. No way would he let some of those fouls go unpunished if they were against one of the Sky darlings.
Andrew McLawrence
23
Posted 30/01/2021 at 22:02:33
Beginning to think the modern game depends more on pace, mobility and desire rather than technical ability.
Kase Chow
24
Posted 30/01/2021 at 22:24:49
We are the same as Coventry City in the 1980s
Si Cooper
25
Posted 30/01/2021 at 22:36:26
Andrew, how do you judge technical ability? Are you assuming that there is a great difference between the technical ability in the Toon squad and ours?
Unfortunately desire and physical prowess have always been significant factors. Without desire you can have all the pace, mobility and technical ability you want but you won't necessarily win.
Motivation can only work if there is something to appeal to. To say it's the managers job is trite if he gets no response from a reasonable expectation.
I didn't see the game. Had to rely on Talkshite commentary. What a waste of time. Two guys who obviously thought it was telly commentary. Occasionally identifying the player in possession in between loads of pointless chitchat doesn't amount to describing the action on the pitch. Can't believe people get paid for it, and some people find it better than any of the televised stuff whilst there is no matchday attendance.
Barry Rathbone
26
Posted 30/01/2021 at 22:59:39
Interesting.
Carlo taking the first step to shit street by publicly calling out players.
You would think a man of his experience would realise managers never win this battle, but no, it must be the realisation his complacency in the summer has began to bite him on the arse - as predicted.
I, among many, said he had a single window to create a revolution because of the harsh reality of modern day footy but events proved he and his compadres were of the it will be "alright on the night" mindset and barely scratched the surface.
Looking grim if things don't improve pronto
Brian Murray
27
Posted 30/01/2021 at 23:11:51
I think Carlo is now getting the ethos of the club and he's not used to it like us. Not helping himself by not finding alternatives to gobshites like Gomes siggy and the 3 years past it Coleman. Runs a lot deeper than his team selection and judgment as he will find out.
Jerome Shields
28
Posted 30/01/2021 at 23:16:52
Had a look at motd. Wilson really was gifted his rwo goal and more against poor defending and players who could nor be bothered.
1st goal free header surrounded by three Everton players
2nd goal surrounded by no Everton pkayers and poor technique by Pickford.
Quality my ass, most not bothered. Same old Everton attitude. Never a Top Foyr attitude.
Gary Carter
29
Posted 30/01/2021 at 23:25:48
Simple fact is, Iwobi, Gomes and Sigurdsson aren't up to it and haven't been for quite some time. Coleman was worth playing when he could maraud forward; injuries and age have taken that away from him and so Holgate or Godfrey should always be picked ahead of him.
Allan is our holding midfielder; Doucouré is our box to box so we lose drive and impetus if he sits, Davies should have started with Doucouré playing ahead of him.
Gomes should never pull on our shirt again. Richarlison is having a dog of a season and Calvert-Lewin has no competition but we loaned out Kean and Walcott and have quite literally nothing to replace them.
It's a fucking shambles from Moshiri, we should be looking at a striker, winger and central midfield signing big. Instead, we have got rid of Tosun, Simms, Bolasie etc.
Very very poor and Ancelotti must be questioning his decision to join us.
Gary Carter
30
Posted 30/01/2021 at 23:30:57
Our starting XI today and moving forward this season should always be:
Pickford
Holgate Mina Keane Digne or Godfrey
Allan or Davies
Doucouré Sigurdsson
James Calvert-Lewin Richarlison
Nicolas Piñon
31
Posted 31/01/2021 at 01:48:19
Kieran,
We could have won playing Holgate and Godfrey the way we won our last couple of games: by headers, corners, or free-kick headers. As I understand football, presence and confidence in the players is what makes a good team; Holgate and Godfrey were playing really well out of position. So Digne and Coleman, although great players, should've waited.
Again: why change the ONE clear thing that made us win so many games lately?
Ancelotti talking about lack of spirit, and what about that question? What about it?
Nicolas Piñon
32
Posted 31/01/2021 at 02:02:05
My hope for the season depends on the miracle Gbamin will make the team/bench in a couple of weeks and maybe that will help a bit to preserve Allan sometimes, something Il Magnifico can't see apparently.
Kieran Kinsella
33
Posted 31/01/2021 at 02:31:52
Nicolas,
My point is that Holgate and Godfrey weren't scoring those goals or taking those set pieces. It was James, Mina etc. Those guys didn't get it done today so I don't see how Holgate or Godfrey would have helped us get an actual goal.
Derek Thomas
34
Posted 31/01/2021 at 04:31:52
Mick @ 2; you can't polish a turd, aka, Iwobi, Gomes, Sigurdsson, Davies and, to be fair, others... Richarlison, yes, you!!
You can only sprinkle a bit of glitter on it, which doesn't last long; they have a couple of decent games, it soon rubs off and you're left with what you started with.
Nicolas @ 31; I used to think that but I'm not too sure. This 4 of a kind at the back / aka, 'The Wall', was stumbled upon by Ancelotti when Delph got Injured breaking into a trot vs Burnley, but I'm not sure if he has properly worked out when and when not to use it or, for that matter, how to feed in the odd change to it...and when to do that either.
I think he likes it, and it may appeal to his Italian defensive nature but, as we've seen, no two teams are alike and one size doesn't fit all, every game.
He picked the 'right' team 'in theory' for Newcastle on 10 games without a win... but they for some reason, more than likely this new coach Clark, who should know how to get the best out of Wilson and Fraser, didn't turn up, didn't stick to the script.
All aided and abetted by the, as seems usual for Everton, insipidly charitable performance for the benefit of those in need of a win or a goal.
Short version: We 'Evertoned it' good style.
Cushions would fill the sky for less back in the day, which, I suspect, is why they got rid of them. Nothing said 'Booooo' to The Board more eloquently than massed squadrons of cushions.
With no spectators, we can't even vote with our feet.
Ajay Gopal
35
Posted 31/01/2021 at 04:35:01
I agree with most of the comments. In hindsight, even I would have played Holgate and Godfrey at right-back and central midfield respectively. Also, Davies for Sigurdsson and Gordon at some point in the 2nd half when the score was still 0-0. My team would have been:
Pickford
Holgate Mina Keane Digne
Davies Godfrey Doucouré
James
Calvert-Lewin Richarlison
I would drop Richarlison for the next game – that would send out a clear signal that no-one is irreplaceable.
Steve Brown
36
Posted 31/01/2021 at 07:11:28
Playing 4-2-3-1 at home to Leicester was too negative, repeating it against Newcastles was worse. That's on Ancelotti and shows he has a fundamental lack of confidence in a large proportion of his squad.
He tried to introduce more attacking intent with the inclusion of Coleman and Digne at fullback, but that simply resulted in the team becoming weaker to set-pieces without improving our work down the flanks. Play a back four of Holgate, Mina, Keane and Godfrey for the remainder of the reason, select Davies every game to cover until the injured Allan returns and build out from that.
Regardless of the formation, these are a squad largely of internationals. Their attitude and application in this performance stunk. Complacent and lazy through the entire team.
Every time this club has the opportunity to make a big step up, it bottles it. Been the story for almost 30 years.
Peter Warren
37
Posted 31/01/2021 at 08:22:10
Steve #36 nails it.
Steve Shave
38
Posted 31/01/2021 at 08:35:27
Good post, Steve 36 – my view is, one of the many things Allan brings to our team is fight and spirit, with him returning my hope is it lights a fire up the arses of some of these players.
Technically, we are much better than Newcastle... we just didn't want it enough. That, for me (and most Evertonians), is unforgivable.
Gomes didn't have the impact I'd hoped for when he came on. I thought he might bring more balance to the midfield pairing; clearly Sigurdsson is ill-equipped for that role so, when I saw the line-up, I had some reservations about yesterday.
Kevin Prytherch
39
Posted 31/01/2021 at 08:45:05
There's an article on David Moyes yesterday where he talks about signing players who are hungry to succeed and aren't there for the money. How many of our players have that hunger? How many of our players are simply here for the money?
I would say the likes of Holgate, Godfrey and Davies have that hunger whilst the likes of Mina, Iwobi, Gomes, Sigurdsson etc came for the money.
Also, how fired up do you think Wilson was when he saw he could tickle Mina and he would fall to the ground like a baby? He must be the least intimidating centre-back ever.
Dave Abrahams
40
Posted 31/01/2021 at 08:50:47
I think Richarlison should have been dropped weeks ago because he hasn't been playing very well, to put it mildly. The main reason he has been picked is because there isn't anyone else to pick. But he's a very overrated player, the Brazilian, IMO.
Carlo got it wrong, fair enough; let down by his players, quite a lot of them, but what does he say to them at half-time, because they got worse – not better. Then he brings on Gomes not to replace Sigurdsson but to line up with him like a pair of sideboard ornaments – the only substitute he made! Start earning your money, Carlo, you're being paid plenty of it.
Off to church now, can't even light a candle, they've been banned because of the virus. Wish I could ban one or two useless ba... stop, Dave you're going to church!
Well, you get the drift, I'll say some silent prayers instead.
Frank Sheppard
41
Posted 31/01/2021 at 08:51:12
The thing is, we are still just an unpredictable mid-table team but, every now and then, we get our hopes up, and come crashing down. We should be used to it by now, but it still really hurts.
Eddie Dunn
42
Posted 31/01/2021 at 09:25:37
As the dust settles on another dismal showing, we all seem to see things with a bit more clarity.
We have obvious shortcomings and some new faces, bedded-in with a proper pre-season will no doubt help (that is if we can fit a pre-season in). In the meantime, our squad looks short on cover up top and, although we have a plethora of midfield players, each one (Allan excepted) with flaws. Defensively we look sound although the goalkeeper flatters to deceive.
It's the halfway point in the season and to get top six (I will forget top 4 ) we need to replicate our form from the first half. This included a couple of good winning runs. As others have said, Richarlison hasn't warranted a starting berth for some time... in fact, since the derby.
Yesterday Shelvey looked streets ahead of any of our midfield. I have seen him in previous games this season where he has been ineffective. As for Mina and his pathetic attempts to get Wilson sent off – it was embarrassing.
Although James looked to be our only player who wanted to get on the ball and make things happen – did anyone else think he was stifling Digne and Coleman, as he got in their way? I thought he slowed our play and his lack of pace made him easy to mark.
It seemed that our players had been told to give it to him whenever they could. Stop James and you stop Everton. As he got more frustrated, his passing got worse, he came deeper looking for the ball, and he eventually got booked.
We have scored most of our goals from either crosses or long punts from the back. James looks good on the eye but he holds it too long, plays too deep, and is a ball-hogger. If he had been pushed up alongside Calvert-Lewin, it might have got interesting but Ancelotti only made one sub. The game had been drifting away from us for half-an-hour and he patiently stood and watched.
Next game, I would bench James, put Iwobi on the right, and Digne on the left. Bring an extra body (Davies) into midfield and go back to the four centre-backs.
Oh, and if we don't get another forward in on loan, then we are doomed.
Ken Kneale
43
Posted 31/01/2021 at 09:31:05
Barry @26,
I think it certainly is the case that he overestimated what he had at the club but what has really disappointed me is the seeming inability to change the mindset of the players.
What really does go on in Finch Farm, in pre-match talks, half-time and full-time de-brief when we see the kind of flaccid display of yesterday — which is a repeat of a now significant number of games in the manager's tenure???
Either he or the coaches are failing and it is clear and obvious we are a soft-bellied squad, so why is that?
Joe McMahon
44
Posted 31/01/2021 at 09:35:56
Looks like I'll be waiting longer to see Everton compete in a Champions League match. It would be nice to see Everton play Real Madrid while I'm still young enough to enjoy it.
Everton unfortunately are still nothing but a mid-table team. I look at the team directly below us, they have Barkley (should still be an Everton player) and they score goals (we don't).
As stated above, even without Kane, we won't beat Spurs. Season over again. At least we can look forward to another Bramley-Moore Dock update soon, Unsworth's tales of the next big thing from the Academy, and EitC receiving another award.
Kevin Molloy
45
Posted 31/01/2021 at 09:47:47
I thought we looked light yesterday when I saw the teamsheet, but I can see why Carlo did that with the attacking fullbacks and both James and Siggi in the three. We have a problem,. We are not good when the expectation is on us to take the game to the opposition. This can be seen with our results over the last few months. Newcastle West Ham even Sheff United we struggled. Give us a good side who need to break us down, and we are fine. We desperately need a Neves typle player for these games. James doesn't have the legs, but somebody who will ask for the ball and pop it around. I think we thought Gomes would be that chap, but he doesn't have the confidence sadly
One other issue which was worrying, was the performance of our centre backs. They both particularly Mina seemed to be intimidated by Wilson. They need to be stronger than that. I hope word isn't getting around that if you're nasty to Yerry he doesn't like it. But I''ve seen Cavani and Wilson both front him up to our disadvantage in recent weeks. He needs to start kicking some of these characters into row z for a few weeks.
Mal van Schaick
46
Posted 31/01/2021 at 10:03:48
Lack of spirit. Lack of tactical team selection. Top four clubs very rarely rest players unless they have European games on their fixture list. Godfrey should started the game, but we have very little in reserve to bring on players to change a game. Spirit is one thing, quality is another, and that's what we lack.
Robert Tressell
47
Posted 31/01/2021 at 10:24:58
Kevin @ 36. Exactly right, we should be bringing players in of a certain profile. By way of example, Leipzig buy almost no players over age 21. They are all, hungry, dynamic and talented.
We don't need to be so strict, but the profiling and general ethos makes sense.
Otherwise we just go from season to season trying to break the big 6 through buying expensive players (fee or wages) who aren't good enough for a big 6 side.
Clive Rogers
48
Posted 31/01/2021 at 10:36:33
Robert, I agree we should stay away from players near the end of their careers. We caught a cold with Siggy. I had that concern with Allan and his signing is beginning to look dodgy. He has been out for a while and it has gone quiet about him coming back. He had a couple of poor games before his injury.
Rob Dolby
49
Posted 31/01/2021 at 11:27:56
Eddie 42.
You lost me when you said you would drop James for Iwobi.
James is by far our best player. He is on a different level from the rest of the team. His magic is in the final third. Newcastle were happy to see him pick the ball up deeper as he would generally keep possession but not be able to provide the killer pass.
Digne did get forward a lot yesterday but his delivery just wasn't there. Coleman couldn't get forward too much as generally Iwobi either fired the ball back to him or lost possession.
Yesterday I saw a collective lack of will to win a game of football. Watching your best players continually getting hacked down and nobody getting within 2 yards of the opposition to even put a challenge in is unforgivable.
I would play Holdgate holding centre mid for the rest of the season. The lad is quick, aggressive and can pass. You never know it could save us £50m on buying another centre mid.
The Leeds game will be interesting, their movement will no doubt cause us problems.
Eddie Dunn
50
Posted 31/01/2021 at 11:39:47
Rob, I know he was our best player but we didn't perform as a team. I've seen this many times at a lower level...Billy Big Bollocks, the best player but wants the ball all the time. The coach lets him do what he wants and he gets in the way of everyone else.
Amazingly we have actually won games without him.
He should have been pushed into their box so that the mutants wouldn't dare stamp on his tootsies.
I know he was our best player but Coleman tried to go down the line a couple of times only for James to block his route or fail to give him the pass. He appeared on the other wing and got in Digne's way..Digne got the hump and stopped trying to get down the line.
Something is going on at the club. Some of these guys are pissed-off. Probably with Richie getting a start each week and James getting carte blanche to do whatever, while Tom Davies and Gomes get treated like a couple of spare pricks.
For Leeds, get Holgate and Godfrey back on board..get Davies back in the middle..we need fighters not dancers.
Rob Dolby
51
Posted 31/01/2021 at 11:50:29
Eddie I know where your coming from but it looked to me like James was trying to take responsibility and make stuff happen. I didn't see too many others stepping up to win a game.
I totally agree, we need more aggression in the team. We are far too easy to play against. I wouldn't lose any sleep if I didn't see Iwobi, Sigurdsson or Gomes in a blue shirt again.

Steavey Buckley
52
Posted 31/01/2021 at 11:52:50
The defence yesterday was just not good enough. Every team can have an off day, but dismantling the defence in favor of Coleman and Digne who are not as good as Holgate and Godfrey, who not only provide extra height and strength in the defence, but provide extra height upfront, which allows Keane, Mina and Calvert -Lewin more room to score. But Ancelotti has a track record of meddling when the team is doing well. Winning is everything and when teams are winning they perform better.

Robert Tressell
53
Posted 31/01/2021 at 12:09:10
For balance, I do think there would have been a lot of grumbles if we went with our 4 CB defence yesterday and Gomes and Davies with Doucoure in midfield. It would have looked incredibly negative at home against a struggling NCL side.
Probably would have ended up 0-0 though, so better at least, but I'm not sure how we get the win.
Ancelloti chose Digne, Coleman, Sigurdsson, Iwobi and James to open up a crap side. They failed.
Also, the fact is that Richarlison needs a rest / some competition and shouldn't currently be starting. DCL is not yet 100% and can't do it on his own.
Ancelotti will not be blind to any of this. Expect we will set up much more solid against Leeds.
Jason Wilkinson
54
Posted 31/01/2021 at 12:19:02
Ancelotti made an interesting comment a few weeks ago. He said he sets his team up with 5 players whose priority is to defend and 5 to attack. A goalie obviously makes the 11. So...the 5 at the back would be Keane, Mina, Godfrey, Holgate & Allen/Davies/Clutching at straws. The 5 going forward DCL, Richie, Rodriguez, Digne & Gomes/Iwobi/Sigurdsson??/Doucouré. The defensive bunch (yesterdays shit show aside) have looked pretty solid. The 5 going forward don't seem to have a clue. The movement is poor. The desire to run at the opposition, bust a gut to get into goalscoring positions is just not there. DCL does his bit. He makes the runs. Rodriguez tries to find the passes. The other chosen 3 amble forwards with no purpose. Richie should have 10 league goals by this stage of the season. I would expect at least another 15-18 from the other 3. How many do Iwobi, Gomes, Doucouré, Rodriguez, Sigurdsson & Davies have? 8??? and Rodriguez has scored half of them. They have a long way to go to get to the days of Arteta, Cahill & Osman. Never mind emulating Steven, Sheedy, Bracewell & Reid. I know the latter two didnt score many but they enabled virtually everyone on the team to get at least 5 goals each. Strikers scoring in the high 20's. DCL is the only player in our squad in double figures. I don't do expected goals. That's for the anoraks. It isn't rocket science. The more times you shoot. The more goals you score.
City, United, RS & Leicester can score goals. Why? Because their players bust a gut to get close enough to shoot. I watched a vid of us training on YouTube. The drill was a one-two from 25yds out and Gomes was the best goalscorer!!!! How many shots has he had all season? I would rather see 10-12 skied efforts. Even shots heading for the corner flag than the total lack of desire to get on the scoresheet. Surely the coaching staff train the players to try to score.
Stephen Brown
55
Posted 31/01/2021 at 12:25:15
A lack of spirit was no more evident than the team basically allowing the treatment of James yesterday.
I know the game has totally changed but I find myself going back to Peter Reid talking about Marwood's challenge on Heath during Howard's Way! Looking out for each other.
We need a more nasty horrible edge to the team. Godfrey and Holgate seem to have it so we missed them, Allan also has it ! Yesterday we simply didn't have that edge hence the treatment of James continued!
I'm still so disappointed about yesterday. We just seem to choke everytime we close to something! Trying to keep some perspective but it really does pay to be a pessimist when supporting Everton !
Tony Everan
56
Posted 31/01/2021 at 12:27:35
Eddie 50, I agree with you , more fighters please !
If a team like Newcastle is coming to disrupt and fight like dirty bastards to get a result we have got to expect it. It is naive in the extreme if we parade an array of ballet dancers across our midfield and then expect to win the battles that are inevitable.
I think where we differ is that I would want James Rodriguez in the team as our creative genius. All the other players are there to battle for every inch of turf and battle to win the ball and for a yard of space.
Play Godfrey, Holgate and Davies yesterday for Sigurdsson, Iwobi and Coleman and there is a different level of toughness, energy and resilience running through the team. It annoys me greatly that Newcastle were not worn down at all, they were still firing on all cylinders in the last quarter of the match. We didn't stress test them in any way.
After Leicester Ancelotti said that the point was a good point, only in the context of getting 3 against Newcastle.
He will be furious with that performance and I hope he has learned a lot from it.
Eddie Dunn
57
Posted 31/01/2021 at 13:12:43
Tony- the problem is that we all talk as if Carlo is realising a problem and will sort it out but he is actually allowing complacency, allowing some to keep their places despite poor showing.
If Gordon gets hooked for a poor half then Richie should have been treated similarly a few weeks ago.
As for Domenic, I imagine he is still not quite right and has to play within himself. Whether he is fully fit or not, it emphasises just how reliant we are on him.
Tony Abrahams
58
Posted 31/01/2021 at 13:13:56
I read somethings that make me think wow, but why did Ancellotti, only have a single window to change things. Is this because of FFP?
Brendan McLaughlin
59
Posted 31/01/2021 at 13:44:37
Tony #58
Certainly a big "wow" if true where did you read that?
Thomas Richards
60
Posted 31/01/2021 at 13:47:00
"They showed more spirit, more fighting spirit, they showed more concentration and more motivation," he said. "They were the weapons we had when we won games."
A damning statement.
Gauntlet firmly threw down.
Fran Mitchell
61
Posted 31/01/2021 at 14:01:19
Richarlison's form has dropped miserably, and this is key I think.
Much of our attacking play had been based on the combinations between James and Digne with Richarlison down the left, opening up space for DCL in the box.
But yesterday, and against Leicester, Richarlison was woeful. So Digne was reduced to hopeful crosses into a crowded box. Dignes most dangerous moves this season had been low crosses to the near post. But that option was gone as Richarlison was neither there, nor pulling defenders out of position.
Same with James, he would look up hoping to see Richarlison making a run in behind the defenders, but nothing coming, so he'd take another touch, turn, beat a player before eventually spreading it wide.
There is something clearly up with his mentality. He looks like he isn't enjoying his football. And everytime he has a chance, and misses, rather than looking like he is determined to score the next one, he looks frustrated and annoyed.
DCL still held the ball up well, and had good touches, but his threat is in the box and we simply didn't get near it.
Coleman also offers nothing down the right. He's neither an attacking threat nor defensively stable.
Dave Abrahams
62
Posted 31/01/2021 at 14:37:28
Fran (61), since Richarlison came to England don't think he's ever been consistent, one season with Watford he scored five goals early in the season than dried up, with Everton he's had poor spells amid good spells and his goal scoring has been decent but not outstanding, admittedly in a very mediocre team, this season, half way through, we are still waiting for his good spell. I find his football ability nothing out of the ordinary, so personally I never expect a great deal from him, when he's good he is a bit better than average, when he's poor he's very poor. I've said continually if we get a good price offered for him, grab it, £50M or more? Lock the door and don't let him out until he signs the contract.
Jim Bennings
63
Posted 31/01/2021 at 15:08:23
Watching Leeds at Leicester today and that's at least a side with a clear identity, plays attractive football and wants to try to win even if they don't.
Most sides in the modern era quickly adopt a clear established way of playing so you can at least see what they are trying to do.
With us we have one way of playing, that's get it wide and cross it.
Have Leeds got better individual players than us?
No I don't think they have.
So why can we never evolve the way we play, why do we sign international footballers, seasoned Premier League players but produce no different any year?
Bobby Mallon
64
Posted 31/01/2021 at 15:36:04
Dave Abrahams I agree completely
Tony Hill
65
Posted 31/01/2021 at 15:38:30
I agree, Jim @64, but they're below us. We need to look at the table and take heart from it. So do the players.
Rob Halligan
66
Posted 31/01/2021 at 15:42:45
Leeds currently 2-1 ahead at Leicester, with about six minutes to go.
Rob Halligan
67
Posted 31/01/2021 at 15:43:06
Make that 3-1.
Thomas Richards
68
Posted 31/01/2021 at 15:43:12
Dave A
A petulant, spoilt footballer for me.
A big girl
Not a knee jerk reaction either.
I posted similar to you a while ago.
Jamie Crowley
69
Posted 31/01/2021 at 15:47:09
The Manager is in charge of motivating his players, to a degree.
The Manager can't help it when his players don't show up. It happens in every single sport, it happens in life, etc. People put in a position to complete a task with passion aren't up for it.
The difference between a good manager and a bad manager is the ability to immediately reverse that phenomenom and right the ship.
I fully expect a different Everton side against Leeds. They're going to come out flying.
They may not "dominate" because Leeds is a fantastically coached team as well - they will play the "prettier" stuff.
But our effort will be like night and day from New Castle to the Leeds game. I'd bet the house, wife, and kids on that.
Bobby Mallon
70
Posted 31/01/2021 at 15:51:08
Jim Bennings I agree it would be nice to have an identity, with young players playing like Leeds but I know now fans like Ian Edwards and his like would be slaughtering bielsa saying we can't defend and are to open when we loose. Also we are above them in the league playing shite.
Annika Herbert
71
Posted 31/01/2021 at 15:57:13
Gary @ 30, Sigurdsson, really!!!?
Brian Murray
72
Posted 31/01/2021 at 16:10:17
Annika. Pickford Siggy Davies. Well these tired old names are at least three of the reasons we never progress to the next level. Throw the other snowflake in Gomes and it's the perfect Everton storm plus half the boardroom and that's us. Never changes.
Bobby Mallon
73
Posted 31/01/2021 at 16:14:58
I would also like a felaine type midfielder I must admit he was colossal and the best hold up player I've seen
Len Hawkins
74
Posted 31/01/2021 at 16:17:14
Someone asked for the definition of Technical ability as far as Everton are concerned it is easy "the ability to pass to one of your own team mates".
Pickford should be fined a weeks wages every time he passes it to a defender in or just outside the 6 yard box it is regular the opposition run into the area and the defenders are faffing about with a hot spud, criminal.
Eddie Dunn
75
Posted 31/01/2021 at 16:23:36
Bamford of Leeds "We're a strong group and we've added the lads in the summer. Everyone's got their feet on the ground, [there are] no superstars."
It was great to watch them overcome a good technical side like Leicester. They proved that Leicester were beatable, if you have a real go.
Bobby Mallon
76
Posted 31/01/2021 at 16:36:10
Eddie Dunn, but didn't we beat lester at their place 2.0 clean sheet and all that
Brent Stephens
77
Posted 31/01/2021 at 16:37:49
Dave #62 just read your hatchet job on Richarlison. If I'd known you were going to post that, I would have sharpened the hatchet for you. He frustrates me no end (despite my admiration for much of his defensive work, and despite the fact that he does take a lot of physical punishment). We can't afford to have players who are so inconsistent, within and between games. Gomes, Iwobi are in the same category. 2 or 3 like that in any one game seriously diminish our chances of winning a game.
Dave Abrahams
78
Posted 31/01/2021 at 16:46:39
Brent (78), I honestly don't think it is a hatchet job, just the way I see him and I've said the same thing constantly for quite a while on here, if any top team was interested in him in the past they've had plenty of time to have a good look at him and weigh him up, if they are still interested he's a very lucky boy and so will we be if they take him.
Brent Stephens
79
Posted 31/01/2021 at 16:53:04
Dave A, I wasn't having a pop at you. I was actually agreeing with you. Unfortunate choice of words by me, maybe.
Jamie Crowley
80
Posted 31/01/2021 at 16:55:02
Dave, Brent, Thomas, et al regarding Richarlison.
This is madness. Rich is a ridiculously talented footballer. He was our only real quality prior to the Doucoure-James-Allan window, and just about the only thing we had to look forward to when it came to going forward.
He was the shining light in the Silva ball of shite.
He was our only player prior to said window who would have commanded 50 million plus.
We are, unquestionably, a better team with Richarlison in the squad.
He's simply going through the proverbial purple patch thingy.
Three men who may be the most intelligent and level headed on TW, and I can't agree at all with the calls to cash in on Rich. We'd be so, so worse off without him.
But I will grant you this - if Rich doesn't stop rolling around on the deck after every tackle moaning like a gigantic pooss-whah, I might just break his leg myself.
Jim Bennings
81
Posted 31/01/2021 at 17:04:16
I think the problem with Richarlison is he's not really any kind of set player.
By that I mean he's not really an out and out wide player, he hasn't really got that searing pace to be a dazzling winger and he's not what you'd call a true centre forward.
We play him on the left because prior to this season that's where he's flourished mostly.
I look at him and I feel though at times stuck out on that wide area that he's just anonymous now, he's wasted, he's not particularly super skilful.
He's a pretty competent finisher (not a great one I will add).
I still think he's a slightly more composed footballer in front of goal than Dom who in fairness is a good six yard box player but he's not exactly a dynamic Lukaku type striker.
That's not me advocating swapping Richarlison for DCL but I'm just thinking at certain moments in certain games could Ancelotti look at mixing things up?
Surely in training we try different things?
Whatever, the only thing that's obvious is that Richarlison has had a really poor season by his own recent standards (two 14 goal campaigns) I did think he'd push on again and get 15-18 goals this season and take his game up a level but it's not happening.
It's a conundrum and we really need to find out how to get him something like he was this time last year.
Brent Stephens
82
Posted 31/01/2021 at 17:05:27
Jamie, there have been games when I've drooled over Richarlison; as I've said, I also think he does such a great defensive job, and does get targeted by the opposition. But this season, we seem to have been carrying him in too many games and it only takes one or two players off their game to sabotage the plans of the manager (who can't do anything during the game to get a player to make the right decision, or to beat an opponent).
And how dare you call me level-headed! I can be as ridiculous as the next guy!
Darren Hind
83
Posted 31/01/2021 at 17:11:11
It's funny how Tom Davies takes stick even when he doesnt play.
It's worth pointing out to those footballing Einsteins who dismiss him as "championship at best", Just what happens when they get their way and he doesnt play
He didn't play at Southampton - We lost
He didnt play against Newcastle - we lost
He didnt play against Man U - We lost
He didnt play against Leeds - We lost
He didnt play against Man U again - We lost
He didnt play yesterday - Guess what
Nobody needs to be told Tom is NOT the scouse Perlo...but the evidence would suggest he is a proper proper team player.
Maybe he just does what he is told. Maybe he just carries out Carlos instructions to the letter... Maybe he is the archetypal foot soldier, but he has got a far better win rate then the much missed tackling machine from Brazil- He played in most of our loses and gave the goal away which cost us two points at Burnley.
One of the stattos may well prove me wrong, but my gut instinct tells me that OUR boy has the best points-per-starts record at the club this season.
Just saying
Jamie Crowley
84
Posted 31/01/2021 at 17:15:58
Darren -
Great post IMO.
Brent -
Have it your way, you're as ridiculous as the horde. 😂
Thomas Richards
85
Posted 31/01/2021 at 17:20:29
Darren,
Are you saying Tom is a better player than Allan?
If you are, you best get that Bushmills back out
Mike Gaynes
86
Posted 31/01/2021 at 17:22:36
Jamie... you need to work on your British English just a bit.
A "purple patch" is what we over here call a hot streak.
The British word for slump is... um... uh... never mind. Forget I brought it up.
Ian Riley
87
Posted 31/01/2021 at 17:24:27
I watched Aston villa v Southampton last evening and both teams showed energy to win every ball. On the their toes ready for the ball. We don't! We look like we've done a12 hour shift at the local garage!!
Our players need to work harder. Carlo couldn't defend that performance. Remember it's not evertons reputation on the line but his.
Just put a shift in lads!!!
Eddie Dunn
88
Posted 31/01/2021 at 17:31:07
Bobby- I was waiting for someone to point to that result. The team we had out had Olsen in goal and Holgate and Godfrey and we had Allan and not James. After the game the boss said the goal by Richie would do him good as Carlo had been worried about his performances.
Bobby Mallon
89
Posted 31/01/2021 at 17:32:59
Are we going to get a live feed for the last couple of transfer hrs
Dave Abrahams
90
Posted 31/01/2021 at 17:38:08
Brent (80), No Brent I knew you were agreeing with me, I was just explaining why I made that post.
Jamie (61) I've never honestly seen Richarlison in the same light as yourself, I think if you gave marks out of ten for every game he has played for Everton he would finish up with an average of six, and that's being generous but I stress that's just my opinion, we all differ in our assessments of players.
Andrew McLawrence
91
Posted 31/01/2021 at 18:26:33
After watching West Ham against the shite, you would think we were still managed by Moyes. Set the team up defensively, forget about playing quick football, try and nick one.
Mike Doyle
92
Posted 31/01/2021 at 18:32:01
Andrew #92] Didn't watch the game. Was it a case of Moysie taking a knife to a gunfight (again)?
Andrew McLawrence
93
Posted 31/01/2021 at 18:36:39
Mike #93 very much so. West Ham have been good of late but today they sat back, showed no desire to be positive, looked devoid of any confidence that they could actually defeat a depleted Liverpool team. Some teams/managers just never seem to be able to trust their ability and have a go.
Trevor Peers
94
Posted 31/01/2021 at 18:38:53
Dread to say it, but I think the tide is turning against Carlo Ancellotti. We all know he's going nowhere this season, with the long lucrative contract he has. But because of his reluctance or impotence in the transfer market in this window it is causing grave misgivings about his competence to guide us through to where we need to be. That is, watching at the very least attacking entertaining football, especially at home.
By not bringing in a competent goalscorer or two, he's condemning the club to another season of tepid, awful mediocrity, with only the FA cup to go for, a really difficult tie against Spurs at home where we seem to be most vulnerable.
I've been a big fan of Carlo but he seems to have lost the plot by selling or loaning out 5 forwards and bringing zero in. That can't be the way forward, he may get away with it this season, but next season he has to sign the forwards we need or the pressure will begin for real to remove him.
Tony Marsh
95
Posted 31/01/2021 at 18:39:32
Don't be critical of the team's performance When you drop your best players and keep using the same old lame excuse for footballers. Our best player this season has been Ben Godfrey so make sure he plays. Worst player this season has been either Pickford, or Sigurdsson make sure you don't play them ever again. Coleman can also fall in to this catagory.
It appears that who ever the manager may be at the club Koeman, Allardyce, Silva or Ancelloti they all have this crazy insane notion that Pickford, Coleman and Sigurdsson must all be shoe-horned in to the side at the expense of anyone else. Each time the managers are sacked the next fool picks up the baton and carries on with the madness. WHY is it written in the managers contracts they must play these players??
The mini winning streak we went on just before Xmas starting at Leicester came about by accident not by design. Due to injuries Carlo had to play 4 center halves at the back. Godfrey, Holgate, Keane and Mina. We never have looked so solid at the back which allowed the rest to go and play up the pitch. Soon as the two lightweights Coleman and Digne are fit the gameplan goes out the window they come back in we stop winning. Dropping Godfrey for Coleman is a fucking disgrace.
Like I have said previously this rebuilding job at Everton is far to big for Carlo Ancelloti. Carlo is used to his teams being ready made full of world class players all he had to do is a tweek here and there and buy the odd player. You are guaranteed to win trophies at PSG, Bayern, Madrid, Milan and Chelsea. This is a whole new ball game. Rebuilding a club from top to bottom is not like sending PSG out on a Sunday afternoon to beat a team of grape farmers 7-0 is it??.
I would get shut of Ancelloti now. Carlo has no passion no energy no desire and no fucking clue whats needed here. Give Duncan a crack or do what the likes of Southampton, Wolves and Villa have done. Find a manager with some ability to manage in the modern game. Winning trophies at elite clubs 10 years ago means nothing today.

We have blown the best chance we will ever get of a top 4 finish. If the fans had been in the stadiums we wouldn't be putting up with this Shite would we? Maybe we would plenty of our lot use Carlos CV as a guage of how lucky we are to have him. I would sack him today.
Considering Ancelloti is such a genius he has left us in the same situation as the previous load of wasters who had the job before him.

One striker at the club and little to no pace in the squad. Yes sure looks like Carlo is the best manager in the world like a lot of our fans keep telling me. I just cringe when I hear this said.
Thomas Richards
96
Posted 31/01/2021 at 18:44:38
Who are you speaking on behalf of there Trevor?
Certainly not me.
Which of the 5 forwards you mention would you like to see staying?
Chris Leyland
97
Posted 31/01/2021 at 18:47:22
Trevor - yes, I'm sure the lack of signings and out goings is all down to Carlo. Not the board, not the fact that there is a global pandemic and club revenue is down with the club needing to reduce the wage bill. It's all Ancelloti purposely wanting to leave himself with one striker.
Kevin Murray
98
Posted 31/01/2021 at 18:52:38
Yesterday proved again that we are very short on quality past our best 11.
Some things I really believe could make a big difference are,
1, Pickford dropped and replaced by Olsen. He is too erratic and does not give the defence confidence. Olsen appears much more steady and calm.
2, Coleman has to be a bench player from now on. He has lost it.
3, Michael Keane and Mason Holgate appear to be the organisers of that defence and keane is the best centre back we have but he is slow. Therefore Mina cant play along side Keane. I would think Godfrey alongside him with Holgate at RB and Digne at LB would be our best back 4.
4, Allan is a massive miss and we need to play the next best player we have who plays the same way. I believe that is Tom Davies. Clearly not as good as Allan but can cover for him. Gomes nor Sigurdsson can!
5, Sigurdsson can only play in the number 10 position. Nowhere else. James should play there so Sigurdsson is a bench player.
6, Richarlison needs to be dropped. Something is going on and he needs to be rested or shown he's not too big to be dropped.
7, Iwobi is a confidence player. If he plays well leave him on the team. Dont swap him or play him left back etc!
8, we really need another forward player. Especially a centre forward who replace Calvert Lewin or play alongside him.
Do the above and we'll get top 6. Easy at that!
COYB!!
Thomas Richards
99
Posted 31/01/2021 at 18:54:45
https://news.sky.com/story/walking-with-dinosaurs-girl-4-finds-prehistoric-footprint-on-beach-stroll-12203282.
Crosby?
Chris Leyland
100
Posted 31/01/2021 at 18:55:06
Darren have you been spending too much time on "fanboy websites" with those stats?
One thing I do agree is that Tom is nowhere near as bad as some people make out and he was right pick for yesterday's game. At least he tries to go forwards sometimes - unlike Sigurdsson.
Brian Murray
101
Posted 31/01/2021 at 19:03:56
I find myself having the same mindset every year. Praying Man City do enough to win the league ( including beating us ). Carlo questions the bottle or desire of the team so why carry on picking the nice boy Icelandic skipper and his sidekicks. I honestly believe the club are not ress as many interested in achieving anything but stability even Carlos quote. We are where we expected to be sums up the club and most of the boardroom embrace that mentality.
Graham Hammond
102
Posted 31/01/2021 at 19:07:01
Trevor #95, Sadly, I do also believe that the tide may be turning against Carlo, that last 'performance' and (team selection) was unacceptable in my view. Davies performed relatively well (in my opinion) against Leicester under very difficult circumstances (having Gomes and James with him down the spine of the team) and yet was dropped, Holgate has also done well too, we have conceded relatively few with him in the eleven, he too was dropped, Godfrey has been a breath of fresh air and a revelation, yet dropped also. What kind of signals does this send out to these players and the squad. You work your nuts off and play well but I will drop you and bring in the old guys regardless, Coleman and Sigurdsson time and time again despite their declining contributions. Utter bullshit. The players know what is what, they know that after that Newcastle 'performance' top four and Champions League football has gone so there is little to play for now (in their minds at least). Has he motivated Davies, Holgate and Godfrey by dropping them? I doubt it. Has he motivated the others by publicly calling them 'lazy' and so on (true though it is), I doubt that also. I believe the wheels may well be coming off although obviously, I hope I am wrong. The reaction and the performance at Leeds will tell us a hell of a lot about this group of players and tell us if there is anything whatsoever for the fans to continue to be hopeful about.
Thomas Richards
103
Posted 31/01/2021 at 19:09:09
Graham.
A small ripple at most.
The vast majority are still behind him.
Opinion on TW tells you that
Darren Hind
104
Posted 31/01/2021 at 19:14:48
Chris Leyland
Fan Boy websites ? Do one. I'l leave them to those who prematurely ejaculate because we have signed a Brazilian who makes Tommy Graversson look composed...
YeahbutnobutYeah...Have you seen his tackiing stats"
Must be acutely embarrassing for you excuse makers to see The championship player pissing all over the Brazilian superstar. Especially after Carlo used all his "pulling powers" to get him here.
"Wait till he`s back. then we`ll be more solid"....Yeah of course we will
Thomas Richards
105
Posted 31/01/2021 at 19:18:04
As opposed to those who need the old niagra to raise a gallop?
Get paid 😁😁
Darren Hind
106
Posted 31/01/2021 at 19:20:32
Total Kelly.
Thomas Richards
107
Posted 31/01/2021 at 19:22:48
Errrr you havent got any hurdy gurdys have you.
There for me mate. 😁😁
Mike Doyle
108
Posted 31/01/2021 at 19:24:35
One player seemingly not lacking in spirit Jarrad Branthwaite! The Rovers fans seem very impressed by him.
Rob Halligan
109
Posted 31/01/2021 at 19:26:42
So two posters "think" the tide is turning against Carlo. And when exactly did they become spokesman for everyone, apart from the three obvious ones? Ah well Carlo, looks like your time is up!!
Jason Wilkinson
110
Posted 31/01/2021 at 19:33:41
The old blue pills wouldn't work on our players. Most of them have no balls as witnessed yesterday.
Mark Murphy
111
Posted 31/01/2021 at 19:33:47
Carlo knows we're not going to win the league and top four would be amazing but unlikely. He's still shuffling the pack to see what his best combination is with what we've got. I also think he's not going to rush into signing players for the sake of signing them. His 3 signings do far ( I don't count Doucoure as I think we were in for him anyway) are positive additions. Why would he sign the equivalent of Theo or Cenk and repeat the mistakes of past failures?
Forget this season and enjoy whatever it may bring - Carlo will steadily improve us - not bring over night success.
Ray Robinson
112
Posted 31/01/2021 at 19:34:24
Whatever you think about Ancelotti's team selections and tactics (both highly dubious at times), no matter what combination he plays, he cannot inject pace into Davies, Sigurddson, Gomes, he cannot make Bernard into anything other than a good futsal player, he cannot make on-field decisions and final passes for Iwobi. He's already bought James, Allan and Doucoure who are major upgrades on what we already had but it was asking far too much to replace 6 or 7 midfielders all in one go in a single summer transfer window. But that is effectively what he had / still has to do, if we are to become speedier and more dynamic in midfield. We are the slowest midfield in the Premier League. He needs more time - as would any other incoming manager if he were to be sacked. A new man could not inject pace into Sigurdsson's game, cause Bernard to grow bigger and beefier, re-program Iwobi's brain.
Thomas Richards
113
Posted 31/01/2021 at 19:35:12
"Must be acutely embarrassing for you excuse makers to see the Championship player pissing all over the Brazilian superstar"
Go on. I will indulge you. Explain how you arrived at that conclusion, please.
Brent Stephens
114
Posted 31/01/2021 at 19:39:46
Davies has been doing well in midfield but he hasn't displaced Allan in any game yet - and when will he?
Kieran Kinsella
115
Posted 31/01/2021 at 19:43:18
I think Darren actually dislikes Tom. Constantly bringing him up just draws attention to him and compels critics to retaliate. It's like some standing up to a bully saying "don't pick on my friend. just cause he's a fat smelly four eyes Billy no Mates."
Tony Abrahams
116
Posted 31/01/2021 at 19:46:02
Brendan @59, that's how I read Barry's post@26 on this thread mate.
Thomas Richards
117
Posted 31/01/2021 at 19:48:53
All part of his charm Kieran.
I enjoy reading his wind ups.
One of my favourite posters on TW just for the responses his posts bring.
A good Blue though. Undoubtedly.
Hes harmless.
Few more Bushmills he will be on singing Chumba Wumba songs
Rob Halligan
118
Posted 31/01/2021 at 20:02:03
Darren is harmless, and if you ever want to meet up with him before a home match, then he always drinks in the.................................!!!
Anthony A Hughes
119
Posted 31/01/2021 at 20:10:36
On the subject of Mina, 6ft fucking 5 centre half that goes down like a bag of shite if a centre forward looks at him the wrong way... what the fuck?
He should be dominating and leading and should have looked after his mate James yesterday... complete pussy.
Brendan McLaughlin
120
Posted 31/01/2021 at 20:15:01
Tony #117
Believe you're taking Post 26 too literally. I think Barry's arguement is that Carlo's failure to totally overhaul the squad in the summer will prove to be his undoing. Contradicts Carlo's own view that his role here is one of evolution rather than revolution but the bottom line is that we'll be participating in future windows FFP rules permitting.
Brendan McLaughlin
121
Posted 31/01/2021 at 20:39:16
Thomas #100,
What makes you think the dinosaur was called Crosby? Anyhoo, you're incorrect... I have it on good authority from Ian Edwards that the footprint belonged to Carlo Ancelotti.
Thomas Richards
122
Posted 31/01/2021 at 21:14:56
Rob,
Go on, mate.
I would enjoy a pint with Darren. I would have a decent bet he would be exactly the same as he is on here.
Maybe at the TW do...
Tony Abrahams
123
Posted 31/01/2021 at 21:41:18
Three more out on loan, to shift some wages because we can't get the money we want for them, and yet Ancelloti missed his one opportunity to really overhaul his squad, is taking things literally, Brendan?
It was more to do with me feeling it was impossible, because to much money had already been squandered before he got here, and it looks like it's time to finally start balancing the books.
Rob Halligan
124
Posted 31/01/2021 at 21:55:48
Thomas 123. I've been a few times to the pub Darren goes too, but could never find him. I assume he still goes there!
Thomas Richards
125
Posted 31/01/2021 at 22:18:30
👍Thanks Rob.
Hopefully one day we can all meet up for a pint.
After we got the "your a c**t"
"no its you yer fuckin divvy" out of the way we would have a riot
Jerome Shields
126
Posted 31/01/2021 at 22:39:22
Graham#103
Unfotunately you are right. I do think. there was a collective attitude, Manager and Squad thought that Newcastle was going to be a easy win. How they exspected to get into the top four with that attitude was never going to happen. Now Ancelotti finds what ever his plans where he has to gwt a side that will beat Leeds. I doubt he is fully confident in these players he has or a mudfield that was torally outplayed by Leeds the last time and both Leicester and Newcastle where able to. pass through. like a sieve.
But wbat really bothers me is the latter of awareness and implementation of basic coaching by quite a few pkayers in. their role. In otherwards no continued improvement in their roles. This tells me that Everton largely have a squad who are not bothered wheather they progress or not. Wilson last goal accompanied by three other Newcastle players and most of the Everton team watching from the opposition area not bothering to get back in pisition says alot regarding attitude.
Rob Halligan
127
Posted 31/01/2021 at 22:50:56
Thomas, I think it was like that at the TW get together I went too. The language out of John McFarlane snr was choice, to say the least!!
Ashley Roberts
128
Posted 31/01/2021 at 22:55:43
A big opportunity lost yesterday as Spurs Leicester, and West Ham lost and UTD only managed a draw. We would have been riding high if we had beaten the barcodes. I am not fully convinced it is a false dawn but I do believe we thought Newcastle were just going to role over. In reality there are no easy games in the prem as UTD found out with the Blades last week. Without seeing the game it would seem as though we lost it in midfield. Pairing Sigurdson and James together will never work as neither have any pace and Iwobi is a luxury type of player who is never going to battle in midfield and so it was all left to Doucoure and as good as he is he could not take on the midfield single handedly. I would not have changed the team from that against Leicester apart from changing Doucoure for Gomes and introduced Coleman, Iwobi and Sigurdson once we figured out how they had set up. While James may not be the most athletic he makes up for it in terms of speed of thought and his passing ability (a modern day Pirlo). He drops a ball on a sixpence and can open up defences. So we need him to roam free and have our midfielders feed him the ball to then set up DCLand Richi. I think we still have an opportunity vs Leeds and the manure but we need to make sure they find it tough to score and then we do have the ability to Nick a goal. COYB's
Brendan McLaughlin
129
Posted 31/01/2021 at 23:06:30
Ashley
KIT&NAG...reminds me of something?

Jamie Crowley
130
Posted 01/02/2021 at 01:31:20
Mike @ 87 -
Jeez. Off the mark. This is where I normally cue the movie Airplane and the line, "Excuse me stewardess, I think I can help. I speak Jive."
Derek Thomas
131
Posted 01/02/2021 at 01:42:31
Ancelotti puts out an 11 and it performs...ABCDEF&G.
Ancelotti puts out a different but similar squad, due to injuries suspensions whatever and it performs...TUVWXY&Z.
All ok so far.
Squad 1 and 2 are mixed again, due to whatever and instead of ABCDs or VWXYZs we get !%#&@WTFs??
If a player can't repeat the basic things he did from Wednesday to Sunday how can the manager plan for anything.
If it wasn't before and Ancelotti and Brands didn't know it before...which they did, because they're not total dummies.
This season always was a...
'Potential write it off, get rid of deadwood and anything we acheive is a bonus season.'*
* but this - "Time to do stuff 'goodwill' thing won't last forever, both in the Board room or on here."
Our GD, tells the true tale, we were/are in a false position...*looks over at Moyes and W Ham...and you are too matey.
We're currently dead half way in the season; P 19, 33pts.
Come the end of the season we won't be on; P38, 66pts
The top 7 teams will be, in some permutation or other...the old top 6 + Leicester...(with Arsenal as the only big worry in this accumulator)
We could at best be 8th or 11th due to GD.
Covers arse...or there could be a decent signing(s) at the 11th hour to pep our season up.
But I don't hold out much hope with these inconsistent bottlers.
Darryl Ritchie
132
Posted 01/02/2021 at 03:50:42
We still seem to be suffering from our perennial disease. It doesn't matter who the manager is, we become complacent, and lose games we probably should win. We get outplayed, we get out desired, we lose the fine edge that separates a good result from a disappointment.
I realize that this phenomenon happens to every club, but that knowledge doesn't make it any more palatable when it happens to Everton.
The question is whether Ancelotti has any answers. I think, with his experience, he will.
Brian Murray
133
Posted 01/02/2021 at 04:40:08
I don't study or care about other teams' strength in depth so I have a genuine question with no digs intended: Do any other teams in the top flight struggle to have a genuine option on the bench. I'm just curious because I'm sure it keeps our Director of Football up at night.
Roger Helm
134
Posted 01/02/2021 at 12:30:21
Kevin 98 agree totally in the short term. In the longer term have faith in Carlo, who has done well in his one effective window. If he can't turn us round, with his experience of the game at the top level, I honestly believe no-one can.
Phil Smith
135
Posted 01/02/2021 at 13:45:06
Until Allen is back and fully fit, Tom should be starting every game in that role, end of. Need players who give a shit but they're all being shipped out because these are the players of "lesser ability".
Part of me wishes we could have 2 mangers, with Carlo drilling the players and planning tactics will big Dunc actually managing the players and choosing the teams. He'd have them fighting at least, which is surely our identity (certainly over the last 20 years). Did anyone notice Fergusson pleading with Carlo to bring someone on during the last game and the boss keep shaking his head saying no? Big Dunc not afraid to sub a sub if he's not giving 100%. Carlo has his faves fo' sure, no matter how shite they're playing.
Jim Wilson
136
Posted 01/02/2021 at 20:11:26
Keeping a settled team, when possible, is a must.
Constantly changing the back 4 constantly is a recipe for leaking goals.
I don't understand why Carlo with all his experience doesn't seem to know the importance of this.
Phil Smith
137
Posted 02/02/2021 at 00:06:05
Hopefully King freshens the front up. Drop Richy boy asap!
---
Add Your Comments
In order to post a comment, you need to be logged in as a registered user of the site.
Or Sign up as a ToffeeWeb Member — it's free, takes just a few minutes and will allow you to post your comments on articles and Talking Points submissions across the site.