Everton vs Manchester City
Tuesday, 16 February, 2021
Match Preview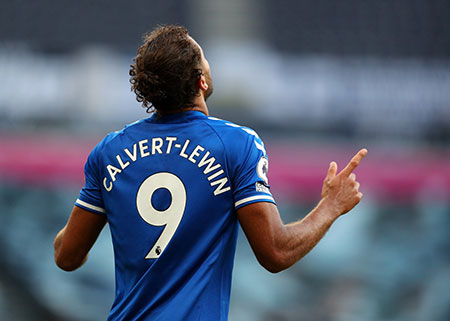 Everton will be without Dominic Calvert-Lewin again as the striker recovers from a hamstring strain
Everton's need to put Sunday's horrible performance against Fulham behind them, get back to winning ways, and revive their flagging hopes of sneaking into the top four comes up against the juggernaut that is Manchester City on Wednesday evening.
Carlo Ancelotti is preparing for this game, rescheduled following its controversial postponement last month, without Dominic Calvert-Lewin who will miss a second successive game with a hamstring problem which the manager confirmed during his pre-match press conference.
The striker injured his hamstring again during last week's FA Cup tie with Tottenham and is now hoping to recover in time for the Merseyside derby this coming weekend.
"Not available for sure [are] Dominic Calvert-Lewin and [Jean-Philippe] Gbamin," Ancelotti said. "I think it's a matter of days [for Calvert-Lewin]. We hope that he will be available on Saturday.
"[Jordan] Pickford yesterday trained and it was okay. We will check again today and if he's available he is going to play.
"Allan is in contention. He's fit, he's good. Had had the control on Monday and the control was okay so he's available to play. The others are all okay. They are going to train today."
That means that despite hobbling out of the defeat to Fulham having taken another knock, James Rodriguez will be available, though it remains to be seen where he will be deployed and whether, as expected Ancelotti reverts back to his favoured defensive quartet of Mason Holgate, Yerry Mina, Michael Keane and Ben Godfrey with Lucas Digne pushed further forward in order to keep things tight.
It's the return of Allan, however, that is, perhaps, the biggest fillip for Ancelotti and a midfield that has lacked intensity and grit at times in recent weeks and which was badly overrun by the lowly Cottagers. The manager hasn't been able to name the Brazilian on his team sheet since early December but now that he has recovered from a torn hamstring, he can hopefully add his tenacity and grit in what will be a daunting fixture for the Toffees.
After making an indifferent start to the season, City have built up an ominous and impressive head of steam over the past few weeks and come to Goodison Park having set a new English top-flight record for successive victories with 16.
With last season's champions, Liverpool, falling away, it looks as though Pep Guardiola's side are on course to comfortably reclaim their crown and, even if Everton were fully fit and on their best form, getting three points from this game would represent a Herculean task.
As it is, Everton come into the game having failed to win a League game at Goodison Park since mid-December and it's four years since a Toffees side beat the Citizens in that famous 4-0 triumph under Ronald Koeman.
Given the sheer depth in quality at his disposal, it hardly feels like it matters but Guardiola will be without one of his stand-out performers in İlkay Gündoğan who picked up an injury at the weekend as City brushed Tottenham aside at the Etihad Stadium.
Sergio Agüero, who has missed a sizeable chunk of the campaign, will be in the squad but is unlikely to be risked and Kevin de Bruyne, who has been sidelined for the past few weeks, will travel to Merseyside having participated in full training but it's unclear if he will be in the starting XI.
With the likes of Raheem Sterling, Gabriel Jesus, Riyad Mahrez, Bernardo Silva and the in-form Phil Foden, City have plenty of other players at their disposal capable of beating anyone and Everton will have to be at their best to contain them.
Ancelotti told the media that he is confident his side will do well in this match and in the upcoming derby based on the fact that his team's last home wins came against Chelsea and Arsenal. While both of those games were played with the support of 2,000 home fans, it is true that the Blues have usually been able to raise their game against fancied opponents this season.
It's going to take something truly impressive to end City's phenomenal winning run but stranger things have happened…
Kick-off: 8:15pm, Wednesday 17 February 2021 on Amazon Prime
Referee: Andre Marriner
VAR: Simon Hooper
Last Time: Everton 1 - 3 Manchester City
Predicted Line-up Pickford, Godfrey, Mina, Keane, Digne, Allan, Doucouré, Sigurdsson, Rodriguez, Iwobi, Richarlison
---
Reader Comments (215)
Note: the following content is not moderated or vetted by the site owners at the time of submission. Comments are the responsibility of the poster. Disclaimer
Michael Barrett
1
Posted 16/02/2021 at 21:14:57
God help us...
Peter Mills
2
Posted 16/02/2021 at 21:18:27
One would assume Josh King might start.
Oliver Molloy
3
Posted 16/02/2021 at 21:23:35
Would we all be surprised if we won!

Phil Bickerstaff
4
Posted 16/02/2021 at 21:24:47
It will End up like 2018-19 season at Goodison: Blues 0 - City 2.
We played really well and competed but... ???

Danny O'Neill
5
Posted 16/02/2021 at 21:25:31
The on form Gundogan out for City on top of De Brunye?
Anyone got anymore straws for me to clutch at?
Kieran Kinsella
6
Posted 16/02/2021 at 21:28:35
We will win 2-0.
Oliver Molloy
7
Posted 16/02/2021 at 21:30:15
Watching Mosie Kean just score against Barcelona. He looks fitter and very happy!
Brian Wilkinson
8
Posted 16/02/2021 at 21:30:24
Makes sense, keep his powder keg dry for the derby match.
Phil Bickerstaff
9
Posted 16/02/2021 at 21:30:55
We will defend, defend, defend, especially with Allan back.
Not really confident about King. Wish Moise Kean was playing...
Thomas Richards
10
Posted 16/02/2021 at 21:31:02
Relax, Danny.
They have only got carthorses to replace them.
Brian Wilkinson
11
Posted 16/02/2021 at 21:31:56
Gbamin injured, when did that happen. :-)
Ian Horan
12
Posted 16/02/2021 at 21:32:02
Kean's goals will pay for one of the BMD Stands. He also actually works off the ball too.
David Pearl
13
Posted 16/02/2021 at 21:34:57
Calvert-Lewin wouldn't get any service anyway if we play the same midfield 3. Too many tweaking formations. I'd go back to the 4-1-4-1 type. As much as l like Richarlison through the middle, he works hard for the team out wide.
You might think Carlo could pick the same formation for a couple of games in a row. Back to basics. Just lost trust in him.
I see Kean scored again vs Barca tonight. How much would he hate having to return here after the season he's experiencing?
Phil Bickerstaff
14
Posted 16/02/2021 at 21:35:28
Who is Gbamin, Brian?
Christy Ring
15
Posted 16/02/2021 at 21:36:01
Hope he starts King instead of the false No 9, with Allan, Doucouré and Davies in midfield.
Mark Burton
17
Posted 16/02/2021 at 21:39:19
You stole my comment, Oliver Malloy. Moise Kean looks a completely different player. All he needed was match time.
Bobby Mallon
18
Posted 16/02/2021 at 21:40:09
Look guys, Kean did not want to be here. He was an amazingly young striker that Brands knew was a great buy. He's on loan getting the best exposure. He does not want to play for Everton. So selling him next season for a big profit will be just fine.
Neil Copeland
19
Posted 16/02/2021 at 21:42:30
Christy #15, agreed. Would also play Godfrey right back and Digne on the left with Keane and Mina in the middle.
Oliver Molloy
20
Posted 16/02/2021 at 21:45:30
Yes Ian, I don't think there is any way Kean would want to return to Everton if PSG want to make his move permanent.
But you know I don't think they would pay more than £35 - 40 million for him, what do you reckon?
Trevor Powell
21
Posted 16/02/2021 at 21:48:19
Oh my, Moise has scored against Barcelona for PSG in the knockout stage! Does that mean that the price on his services are on the way up? He must be worth £60 million at least now especially with the years left on his contract. Definitely, a SELLER'S market!!!
Phil Flannery
22
Posted 16/02/2021 at 21:49:18
Good shout Bobby, he'll never play for us again; the more he scores, the more we gain! Move on, I'm afraid.
Ian Horan
23
Posted 16/02/2021 at 21:50:13
The more Kean scores the more clubs will want him. 14 goals in 21 games. Keep that up and we should be starting at 50 mill. Napli payed 79 mill for Osimen from Lyon? After a one season wonder of 19 goals...
Thomas Richards
24
Posted 16/02/2021 at 21:50:22
Made up for mallet ed here
Bobby Mallon
25
Posted 16/02/2021 at 21:51:04
Trevor 21 my thoughts exactly.
Oliver Molloy
26
Posted 16/02/2021 at 21:54:25
I don't think he would have scored 14 for us had he stayed this season, even starting every game.
Yes, I know he has scored against Barca tonight and he looks a lot fitter than he was with us, however, the French league is nowhere as tough as the Premier League.
Tony Abrahams
27
Posted 16/02/2021 at 21:59:02
What was strange though Oliver, is how little football he played once he'd had his best game and broke his duck against Newcastle.
Same with Bernard this season. He was probably our best player for an hour when scoring against United at Goodison, but I'm not sure he's started another game since then?
Rob Halligan
28
Posted 16/02/2021 at 22:00:39
Oliver, it's not just the fact it's the French league, but the team he is playing for. Anyone playing for PSG will find goals easy to come across. Don't get me wrong, I'm not knocking him, and wish he had stayed with us, but as I say, playing for a top quality PSG team in a piss poor French league, FFS I bet even Brett Angell would score goals in that PSG team!
Rob Halligan
29
Posted 16/02/2021 at 22:01:56
Ok, maybe not Brett Angell!!
Oliver Molloy
30
Posted 16/02/2021 at 22:05:10
Brett Angell. lol.
Kean always looked "leggy" when he was with us if you know what I mean.
There is no way he will come back to Everton, but will PSG want to buy him for anything over 35 - 40 million - I really don't think so.
Phil Smith
31
Posted 16/02/2021 at 22:06:07
If Josh King doesn't start I'll do me nut!!!
Mike Doyle
32
Posted 16/02/2021 at 22:07:55
I wonder how Bernie Wright would have fitted in at PSG had we loaned him out?
Brian Murray
33
Posted 16/02/2021 at 22:08:24
The supply line and movement a different world at PSG from siggy and Gomes. Siggy has done his bit this month in the cup game and will dine out on that for another month at least. The sooner the likes of him are gone we can move on.
Paul Birmingham
34
Posted 16/02/2021 at 22:12:10
Rob, Barndoor, would have! Lol.
Massive month, of fixtures, time to see the character and belief of this squad as Sunday was rank poor, unacceptable and tomorrow Everton, need to turn up.
The next game is what counts, tomorrow night, let's focus on us, and let Mr Ed and co, spout off all they like to deflect attention.
Jason Wilkinson
35
Posted 16/02/2021 at 22:15:15
It's all well and good lamenting what could have been with Moise Kean. The facts at the time of his loan were he wasnt up to the task. He obviously wasnt prepared to fight for his place. I can understand. He probably looked at some of our squad and thought "European football? Not a chance"
Best we can do is squeeze every last euro out of PSG or whoever else throws their cheque book at us.
Winston Williamson
36
Posted 16/02/2021 at 22:22:14
Great. Another shite, lethargic display coming up then. DCL is the only forward with the energy to cause trouble for the opposition!
Now we'll have moody-arse, slow-arse and can't-be-arsed as our forwards = fuck all goals and a defeat. Brilliant
Robert Williams
37
Posted 16/02/2021 at 22:25:40
Never mind about Moise Kean, just keep Holgate off the pitch tomorrow.
Dale Self
38
Posted 16/02/2021 at 22:30:18
That's how to fight that loser mentality Jason.
Christy Ring
39
Posted 16/02/2021 at 22:31:32
Rob#29 I think I read it in big Nev's book, where he said Brett Angell's 2nd touch was a tackle! Classic
Bobby Mallon
40
Posted 16/02/2021 at 22:41:26
Winston 36 that's the funniest post I've read in a while
Brian Murray
41
Posted 16/02/2021 at 22:55:22
Winston post 36. And no doubt Carlo can't wait to get twitchy arse back in goal.
Andrew McLawrence
42
Posted 16/02/2021 at 22:58:05
#36 Winston Williamson, I challenge you to name our whole arse themed starting 11 lol
Rob Halligan
43
Posted 16/02/2021 at 23:00:52
Paul # 34. Barn door once scored a hat trick against me in a Sunday league game. Every one was a cracker from at least 25 yards out, put right into the top corners, giving me absolutely no chance. Don't knock him, great player was jigsaw, NOT!!
Si Cooper
44
Posted 16/02/2021 at 23:04:54
Does anyone have any concrete information on how Gbamin is / is not progressing?
It just seems weird to namecheck a playerover and over again if we can't give a realistic time point for his return to active duty.
Did we forget to pay our insurance premium that month and are trying to kid everyone that he isn't a write-off until his contract runs out and he can very, very, quietly 'move on'?
Rob Halligan
45
Posted 16/02/2021 at 23:05:48
Mike # 32, Bernie Wright, jeez sends cold shivers down the spine just at the mere mention of the name. Signed because he scored a last minute goal for Walsall in an FA cup game at Goodison, which we won 2-1.
Not the greatest scouting mission carried out, was it!
Brian Wilkinson
46
Posted 16/02/2021 at 23:05:50
Billy Wright, Jordon Pickford for starters Andrew, they had arses bigger than the backend of a Mersey tugboat.
Brian Wilkinson
47
Posted 16/02/2021 at 23:07:52
Latest update Sil he should be back in training in March, never stated a year though.
Tom Bowers
48
Posted 16/02/2021 at 23:14:25
Even with DCL we probably wouldn't get the result tomorrow but at least they would have something more to think about instead of just insipid Richarlison and James.
What gets my goat is that knowing the lack of good back-up for Richarlison and DCL who have missed a few games between them Ancellotti didn't have designs on getting someone in before the deadline.
Richarlison and James just don't show enough bottle often enough plus Bernard want's out and Kean showing what he can do elsewhere leaving us in a poor situation for the rest of the season.
Fulham showed what Everton's main weakness is and that is having no idea how to get out of their own half when the high press is on which is what Fulham used from the start.
Other teams have used the same ploy to confuse Everton and take points from us.
I believe we have been in a false position most of the season and Ancellotti seems unfazed by it.
Th last minute signing of King doesn't make sense now that he's shown he didn't trust him as a starter against lowly Fulham.
To say we need some points from these next two games is an understatement.
Phil (Kelsall) Roberts
49
Posted 16/02/2021 at 23:21:03
11th March 1972 - City at home. They were top of the table.
We had probably the best strikeforce ever seen in a European Side.
Bernie Wright and Mick Lyons.
They certainly struck with some force.
No matter what, it wont be as bad tomorrow. We only lost 2-1

Mike Doyle
50
Posted 16/02/2021 at 23:36:13
Reflecting on weak strike forces. What about Bernie Wright & Rod Belfitt at the head of a 4-4-2 formation - with Joe Harper on the bench. I don't think those 3 ever played together. I hope not - they were shocking. Jim Pearson wasn't much better.
I rely on Rob Halligan to correct me if I'm wrong.
Winston Williamson
51
Posted 16/02/2021 at 23:39:43
Andrew (42) challenge accept
1. Short-arse
2. Arrogant-arse
3. Slinky-arse
4. Lanky-arse
5. Lightening-arse
6. Hairy-arse
7. Moody-arse
8. Smooth-arse
9. Chasing-arse
10. Slow-arse
11. Can't-be-arsed
Subs
12. Narky-arse
13. Slippy-arse
14. Not-as-good-as-Gana's-arse
15. Former-arsenal-arse
16. Royal-arse
Management Team
Confused-arse
Angry-arse

John Boon
52
Posted 16/02/2021 at 23:44:53
Michael Barrett (1) How do you manage to ever get through life with your "TOTAL NEGATIVITY".. You said "God help us" Sorry but all I can say is "God Help You". You should start supporting almost any other team but Everton. I agree you do have to be strong to support our perplexing team. You must lead such a dull life to be "Pissed Off" all the time. If you do decide to respond please say something worth reading or is your brain always in idle. There is more to life than Everton so get a hobby. You need it.
Steavey Buckley
53
Posted 17/02/2021 at 00:25:17
According to Ancelotti, Everton were well beaten by Fulham who had no won in 12 games prior to defeating Everton. So tomorrow, it must be certain Everton will be well beaten by Man City who are on a 'winning run' of winning in the previous 12 games. It should be easy for Man City because Everton are conceding at least 2 goals a game as Ancelotti works out what a defense is really for, for the Everton attack having to score 3 or more goals to win a game against a 'City' defence who just don't concede goals. So it appears, Everton will lose to morrow by at least 2:0 that's if the Man City attack does not 'show up' otherwise they will score more.
Nick Bower
54
Posted 17/02/2021 at 00:30:01
Michael #1 - My thought entirely
Dale Self
55
Posted 17/02/2021 at 00:32:00
deep thinking there Nick
Jamie Crowley
56
Posted 17/02/2021 at 01:37:25
I expect nothing from this game. Any points will be a plus.
This game isn't key. There's two key games for me:
The Villa in-hand game we must win, and,
The derby.
If we win those two, it's totally game on. Lose either, and the folks who say 6th at best were right.
Tomorrow is a "free shot" in my book.
Of course, no one is reading my book, but that's beside the point.
Kieran Kinsella
57
Posted 17/02/2021 at 02:00:35
Jamie
Why so melancholy Crowley? 2-0 if not 3-0 to Everton followed by 2-2 at the RS.
Jamie Crowley
58
Posted 17/02/2021 at 05:26:02
Haha! Ok Kieran - you win! 3-0 against City and a draw against them.
Works for me. 😜
But quite seriously as I look at the drive towards 4th and a CL spot, I see gaining points on Liverpool and taking full points with the game we have in hand against Villa puts us in the top 4 and then it's game on.
We're not catching City. We're not that good. But whether we're good enough to finish in the holy grail of top 4 spots is simply down to those two games, and then how we fare in the remaining fixtures.
Evidence from Sunday says we're not good enough.
Evidence from the Spurs FA tilt and the never say die Man U game and the points total from all the other games argues otherwise.
Jury's out. Let's see what happens after this weekend. We'll know a lot, lot more come Saturday evening / afternoon here in the states.
I'd argue, without looking past City, this weekend's derby is the biggest one in the last 15 years. It will be telling. Do we take it to them and claim a spot amongst "the elite"? Or do we capitulate and settle into our deigned and rightful place in 6th-7th? Time will tell.
And, by the way, we can do it. We're not a perfect team. But neither are our opponents. We could very well go Top 4 realizing we aren't the finished article and look to improve while competing on Europe's highest stage.
Or we can lay a fart and be the cute team trying to gate-crash the invite-only party.
We'll know a lot after this weekend in my opinion. And I won't give up hope until then. I'll cling to the Spurs game and the Man U game as evidence that we do have a team with aspiration.
And if it all goes south, anyone can say, "I told ya so." I'm just not prepared to give up quite yet.
Brian Murray
59
Posted 17/02/2021 at 06:35:40
Jamie. As a blue over five decades il take no pleasure in saying I told you so if we flop again. In fact il be fckin choca especially if the derby goes true to form. We don't need the next run of results good or bad to know this set of players have not the ability or mentality to take us to the next level. It probably dovetails well with the club ethos ( big nelly still in the room ) but not me and I won't give up as long as I have a pulse with this club I hate more than I love most of the time.
Andrew McLawrence
61
Posted 17/02/2021 at 07:21:25
#51 Winston, brilliant. I only got as far as Sideways Backwards Arse.
Kunal Desai
62
Posted 17/02/2021 at 08:06:47
Be typical of these players to put in a performance here and get something tonight.
Ernie Baywood
63
Posted 17/02/2021 at 08:08:48
Looking forward to the game. We like a team that comes at us... so why not?
I think it's time to start bedding in a Keane/Godfrey partnership. It's a pretty clear winner for me. If we change from that it should only be because we want Godfrey's pace at RB. Personally, I'd back our captain at RB.
I don't think we can play Allan, Doucoure and Davies. It's just a bit too industrial. At the same time I don't think we can afford James in the 3. Gylfi or Gomes is a nice balance.
Up top I'd play King with Rich and James off him. That's got a decent balance of aggression, pace and quality with a good midfield base behind it.
Plenty of alternatives. Iwobi gives us a hard working winger. Gylfi a harder working attacking midfielder. It's all about getting the balance right.
I've always rated John Stones. But I'd still press him every chance we get.
Andy Crooks
64
Posted 17/02/2021 at 08:13:44
Unfortunately, Ernie, Fulham came at us and we didn't like it one bit.
Martin Berry
65
Posted 17/02/2021 at 08:32:47
Pressure off as no one is expecting us to win ?
I just hope we are set up to counter attack and also have some aerial power from set pieces.
Any replicated formation from Sunday and we will get murdered, we need Richarlison and Iwobi on the flanks and King upfront with pace for an outlet.
City are so good because they work harder than any other team, on the rare occasions they lose the ball three players hunt for it back, they also have similar wanting the ball when they have it, pass and move. We will somehow have to match that, interesting to see how we fare.
Christopher Timmins
66
Posted 17/02/2021 at 08:48:37
A case of sitting in, being compact and hit them on the break.
Expecting a much improved performance from the flat one on Sunday and hopefully we can take something from the game.
Derek Thomas
67
Posted 17/02/2021 at 08:54:12
Olsen; Holgate, Keane, Mona, Godfrey; Doucoure, Allan, Digne; Rodriguez; King, Richarlson...and pray that the real slim shadies actually Do stand up.
Tony Abrahams
68
Posted 17/02/2021 at 08:58:41
Being industrial Ernie, is what I enjoyed the most against Spurs, mate. They were easier on the eye, a bit more silky, but the longer the game went, our industry and clever little methodical angles, got us a real foothold in the game, so I'm hoping those three play together tonight?
That same back four that was grinding out great results seems the logical choice tonight Lyndon, but Digne looked shattered the other night so I'm not sure how he will manage, having to play in such an industrious position?
We will miss Lewin, but I'm certain we've got the players to go and have a real good go at City tonight. We are going to need the rub of the green, and we are also going to need Ancelotti to pick our "most competitive" players to have a chance, whilst adding you get nowhere without belief, and shouldn't even turn up, if you don't feel the team can compete!
Bobby Mallon
69
Posted 17/02/2021 at 09:09:56
The live forum is going to be a hot bed tonight. Who will be the first person to write a complete damning negative post
Tony Everan
70
Posted 17/02/2021 at 09:22:36
We need to be resilient tough and combative. Controlled aggression through this game. I too would go with our meanest back 4.
Olsen
Holgate Keane Mina Godfrey
Davies Allan Doucoure Digne
James
Richarlison
All fighters in the team tonight, no powder puffs please, apart from James Rodriguez in his no10 position if Carlo can fully fire him up.


Jim Bennings
71
Posted 17/02/2021 at 09:30:45
All Ancelotti needs to tell the players today is
"Play like we did on Sunday and City will feckin bounce us"
Seriously the way City are playing this could actually get really ugly, especially the way we seem that keep gift wrapping goals to teams, think we've kept one clean sheet at home all season.
What I don't want however is a better performance, 2-0 defeat tonight then at the cesspit on Saturday teatime another shitbag no-show to go with the many others at Anfield over the last 20 years.
Frank Sheppard
72
Posted 17/02/2021 at 09:37:06
After appalling home performances against Leeds, AND Newcastle AND Fulham, it would be very like us to get a result tonight. Here's hoping.
Pickford and King to start imo tonight.
Thomas Richards
73
Posted 17/02/2021 at 09:40:03
I think we will get something out of tonights game.
Terry McLavey
74
Posted 17/02/2021 at 09:43:26
I do think we do better against the better teams, but I'm not holding my breath.
It's about time this lot stepped up and earned their obscene wages.
Also seeing the name Mariner in the refs slot doesn't fill me with joy, but to be honest what name would ?
Martin Mason
75
Posted 17/02/2021 at 09:47:02
I'm predicting a good performance tonight with the possibility of a win.
Christopher Timmins
76
Posted 17/02/2021 at 09:48:23
Tony#70
Your 11 reminds me of the "dogs of war team" that won the Cup in the 90's. Let's hope they show the same spirit tonight as that team showed back in the day or indeed the same spirit shown 7 days ago in the Cup tie.
Ernie Baywood
77
Posted 17/02/2021 at 09:57:15
Tony 68 no problem with 'industrial' here. I'll take it compared to a midfield containing two of Gomes, James and Sigi.
I reckon Allan, Doucoure and Davies gives you plenty of effort and would give City's midfield a challenge. But that's all in our own half.
Mal van Schaick
78
Posted 17/02/2021 at 10:17:24
Damned if we do, damned if we don't tonight. Two choices, play an open game end to end or defend and counter attack.
It would great if we win, but city are in good form.
Dave Williams
79
Posted 17/02/2021 at 10:19:12
I think we all know we will be starved of the ball tonight- I d guess 30% possession- so we need to be tight defensively but field a team to hit on the break.
It sounds like Pickford is fit and in a game like this where high balls are unlikely I'd prefer him to Olsen who, to be honest doesn't look any better than Jordan.
Tom must play lying deep and we should only select one ( at the most) of Siggy,Gomes and James.
I'd go:
Pickford
Godfrey
Keane
Mina
Digne
Doucoure
Allan
Davies
James
Richi
King
Ancelotti has a real job to do tonight- send them out motivated and determined with none of the "I feel tired" nonsense from Sunday. City are easily the best team in the league and I don't expect to get anything but we must perform and be ready for them on Saturday.

Peter Mills
80
Posted 17/02/2021 at 10:19:30
I've never understood the "It's the hope that kills you" line. As far as I'm concerned it's hope that keeps me going.
Carlo cannot work miracles. He's done some good things, some of his decisions have puzzled me, but I believe we have made progress over the past 14 months. There are many changes in playing personnel still to be made, that process needs stability, I reckon we've got the right guy in charge. And I'm quite prepared to say that after a poor defeat and before two very tough games, it doesn't make me a happy clapper or an apologist, it's just how I see it.
Brian Harrison
81
Posted 17/02/2021 at 10:26:39
Well whatever team is selected I hope they can carry out the plan better than they did against Fulham. I think if we sit as deep as we did in that game then there will be only one result City have put teams to the sword who sit back and try and frustrate them, they are very patient in probing defences and making space. We know exactly how they will play, their wingers will hug the touchline and stretch the back line, they pass and move something all good sides have always done. We also know that they wont play many high balls into the box as they just don't have the height to compete.
With no DCL then I think King has to play up top with possibly Iwobi on the right and Richarlison on the left and James playing in the number 10 role. Because we have to give our fullbacks cover, to play James wide right would just see our fullback over run time after time whoever plays there.
That would mean only 2 central midfield players from Allan, Doucoure or Davies. He could maybe start James on the bench and include all 3 midfielders to start and see how the game progresses.
I just hope it doesn't become a game with us sitting with 9 men camped on our 18 yard box. When we have possession its important we don't give the ball away as easily as we did against Fulham.
I would love a dogs of war approach but I don't think Carlo will do that, but we have to find a way of putting their back 4 under pressure, something that very few teams seem able to do that. I think thats the only way we can get something from the game, put pressure on their defenders as its something that they are not used too and I still think although he has improved a lot this season there is still a mistake in Stones and Walker and if he plays Shivchenco at full back he is also liable to make a mistake.
Look everybody knows its going to be hard tonight, but unless we compete for everything from the first whistle it could be a very long night. I see Aguerro and De Bruyne are in the squad tonight, hopefully neither will start and again wishful thinking lets hope Pep has to bring them on late in the game to try and get a result.
Chris Williams
82
Posted 17/02/2021 at 10:34:09
Peter,
I think it might be a line uttered by Basil Fawlty, or similar, in a moment of existential angst!
Possibly post ironic currently
Rennie Smith
83
Posted 17/02/2021 at 10:36:48
In the strangest season who would bet against us actually beating them tonight? Ok not many of us, I admit. Let's hope they've got their Z team out but I think our defence is good enough to repel City. So a 0-0 or a sneaked 1-0 will do the job.
Let's hope Allan isn't rushed back too soon and crock himself again, I can't see how he would be able to play 90 minutes tonight and Saturday after being out for so long.
Tony Abrahams
84
Posted 17/02/2021 at 10:43:35
Agree Ernie, especially tonight because it will be a backs to the wall job, but Davies and Doucouré's hard graft complimented each other in that Spurs game, and I think Allen coming in to play with them, might just compliment us a bit more?
Tom Davies, has been playing with maturity lately, so I'd play him deep, and then let Allen and Doucouré, run, fight and snap, but it's the flanks that worry me, probably Iwobi, and Richalison/King, with the other up front, or those three midfielders and a five man defence, to free James up, but I'm not sure about this because Rodriguez needs runners, so fight, and keep it tight, makes the most sense imo tonight.
David Hayes
85
Posted 17/02/2021 at 10:48:44
This season has been as Carlo said, totally unpredictable. Many results involving the dominant teams against the strugglers have been unpressidented. This season and the games without fans are in my view, more like full scale training exercises. So to base and apply expectation as if this current situation was a normal season and all the usual precepts apply is flawed. Some fantastic entertainment along the way, unpredictable. and unexpected results for us good and bad, but not the same as crowd the fuelled, emotional cauldron that is the real game. Unpredictable, so take the highs and don't dwell on the lows too much. Must win games, can't be taken for granted by any team, easy games and should wins, and will loose don't apply this season. COYB
Bob Skelton
86
Posted 17/02/2021 at 10:50:38
Can't see us getting much out of City and the RS. We couldn't cope with Fulhams pressing and passing. The only hope we have is to play all of our centre halves at the back, pick players who can run about in midfield, not Sigurdsson or Gomez!, and hope to catch them on the break.
Can't believe the support for our number 10, slow, poor passer, rarely plays on the turn and who's first instinct is to point and pass backwards. I thought he'd liven up seeing his contract is up for renewal but hope can get you depressed as an Evertonian.
Still hoping...but fading a bit, still I've been vaccinated so maybe I'll be able to support/moan from Glwadys Street soon
COYB
John Kavanagh
87
Posted 17/02/2021 at 10:56:05
Finally recovered my composure after Sunday's 'performance'. My last post prior to Live Forum freezing was expect to go 2-0 down - which we did within two minutes. Absolutely fooking furious. We went into this week, which will define our PL season, with the easiest of the three fixtures and totally and absolutely blew it. It left Pep looking forward to boosting City's goal difference tonight and Herr Klopp having his first decent night's sleep in weeks. Only Everton eh.
I will be happy now if we can finish the week by keeping City down to two goals and stealing a point against that lot.
It makes little difference whether DCL is playing unless Carlo sorts out his midfield. He can only play one of Gomes, Sigurdsson and James in any starting eleven.
I'm just hoping that our serial failures can at least summon up some backbone and commitment and abandon the metronomic passing back and forth along the back line. I almost cannot bear to watch tonight, but like people who slow down to see the carnage in the opposite lane after a bad accident my base instincts will no doubt get the better of me.
Wakey Wakey Everton - you've a game on tonight. Start earning your wages.
Dale Rose
88
Posted 17/02/2021 at 11:21:31
Dave Williams #79. Good selection mate. Might give us a fighting chance.
John Hammond
89
Posted 17/02/2021 at 11:26:43
We've been here before. Dire performance(s) followed by some tough fixtures but we've come back and earned points when no one thought we would. I'm predicting a draw against City. This is going to be a back to walls job just how we like it and City can't keep winning forever. Gundogan looks like he's out so that's a bonus.
Dick Fearon
90
Posted 17/02/2021 at 11:34:04
Having lulled City and the RS into overconfidence Maestro Carlo and his team will spring the second part of his cunning plan onto the poor unsuspecting blighters.
I trust our live forum denizens will maintain a stiff upper lip at the ensuing carnage that takes place.
Dave Abrahams
91
Posted 17/02/2021 at 11:39:07
With apologies to those who have picked their best selections, I hope we get something from this game but to be honest I've given up on this game and would save my strongest team, those with heart, for Saturday were we could possibly get something, the way Liverpool are playing.
For those saying this is a defeatist attitude I entirely agree, but if Carlo can mess around, selecting weak teams for the easier games, then I think it you can also do it for the big games, less be honest Carlo threw away a very good chance of winning three points versus Fulham, ridiculous in my opinion.
We would struggle against City with our strongest eleven, let's save it for Saturday.
Dave Williams
92
Posted 17/02/2021 at 11:53:39
Dave #91 I know what you mean! To be honest I have stopped expecting a certain team to be fielded because Carlo does tend to go for some strange selections and formations, some work but most of the strange ones don't.
I'd like to think that James would be really up for these next two games and show us what he can do, because I am becoming a bit disillusioned with him and if he carries on like he is recently then I'd be happy to send him back to Spain and bring in a younger, more energetic model because we are not good enough to carry a passenger( or three if we play Gomes and Siggy with him).
Richard Mason
93
Posted 17/02/2021 at 12:12:33
Dave, I have to agree. And to be honest same should have been said for the Fulham game. Play the strongest team and best formation against Fulham and write off the city game.
It's in the past now and fact of the matter, alot of top teams are not winning their winnable games like Everton.
I said I wouldn't watch tonight, but I can't help myself.
Anthony Dove
94
Posted 17/02/2021 at 12:19:34
If Allan is back I would try Tom Davies further
forward. No Holgate please. Seamus, even if past
his very best, is way superior.
Tom Bowers
95
Posted 17/02/2021 at 12:20:19
Have to agree about James. Is he a liability selection.
Yes he has undoubted talent and an eye for a goal but he does tend to drift in and out of a game.
Okay, last Sunday apart when everyone was asleep he has shone at times but as a midfielder he doesn't get involved enough for my liking.
It's hard to see us getting any points against the RS or City especially when we have conceded 9 goals in three games and we are now facing potent attacking players in both camps.
We want to win all games especially the Derby match and the upcoming cup match against City but before that it is important they play a lot better today to show that the Fulham game was a one-off.
It will take a lot of stirling (excuse the pun) defensive work to keep City at bay.
Ernie Baywood
96
Posted 17/02/2021 at 12:34:47
Or we could just score 3 like we did against their neighbours. Or 5 like we did against that defensive mastermind. I think we can win this game.
I might sound like some young optimist but sadly I'm neither. I don't think we're good enough for top 4... I just want to see us have a go at the Champions in waiting.
Could be one of those performances that we talk about for years. Sobering, but that's where we're at. I wouldn't go out to keep it tight. Have a (balanced) crack at them. If you don't throw a punch you're just waiting to get beaten.
Jonathan Tasker
97
Posted 17/02/2021 at 12:36:24
Does anyone seriously give us a chance of top four ?
Everton are 17/2 to win tonight. Not sure I have ever seen such long odds for us at home in the league.
This will be painful.
Still, we might learn something useful for the FA Cup game
Duncan McDine
98
Posted 17/02/2021 at 12:42:05
If that's the players available then I'd go for Lyndon's predicted line up, but replace either Siggy or James for King and possibly even drop Richy (who's been awful) for Davies (who's been very good lately) if we're going to start the game a little more defence minded.
Jack Ledwidge
99
Posted 17/02/2021 at 12:43:54
I agree with Anthony (94) about Holgate. We need to be fully switched on tonight and to me he lacks concentration. It will be a tight tactical affair with City dominating possession and seeking an opening. City will, unlike Fulham, be patient and it won't be 100 miles an hour stuff. I think hopefully this could suit us. I'd go with Pickford, Coleman, Keane, Godfrey, Digne,
Allan Davies, Doucoure Siggy King and Ricky
Richard Mason
100
Posted 17/02/2021 at 13:51:58
I think I'd play a 4 3 1 2
Olsen
Godfrey Mina Keane Digne
Davies Allan dacoure
Sig
King Richie
Alan J Thompson
101
Posted 17/02/2021 at 13:52:07
Moise Kean, but would he get into a "Top 4" side?
Never mind, it's rhetorical.
Can we call this game off because of injured or tired players or are we not allowed that luxury?
Nick Page
102
Posted 17/02/2021 at 13:59:31
I reckon we'll play 8-0-0 as Davies and Sigurdsson don't actually count as players and we'll get webbed everywhere 0-5. Throw Gomes in and we're down to 7. I won't be watching.
Alan J Thompson
103
Posted 17/02/2021 at 14:02:40
The team hasn't even been named and somebody finds reason to criticize Tom Davies. Would it matter if you did watch?
Jay Wood
[BRZ]
104
Posted 17/02/2021 at 14:03:04
Be prepared for Everton playing defensively because Carlo said that is how we will have to play tonight in yesterday's presser.
He also said it is time for City to lose.
And in this crazy season of predicting which Everton will turn up, who is to say it won't be tonight?
Will Mabon
105
Posted 17/02/2021 at 14:08:13
Live Forum's gonna be like a bucking bronco tonight, could be a right wild ride...
Mike Corcoran
106
Posted 17/02/2021 at 14:10:28
Pickford
Holgate
Keane
Mina
Godfrey
Allan
Davies
Doucoure
Coleman
Digne
Richarlison (if he can perform) or King (if he isn't actually ropey as feck)
Coleman and Digne are the only players we have who can get any proper width in the team
Thomas Richards
107
Posted 17/02/2021 at 15:36:57
Hearing Doucoure will be rested tonight.
Saved for Saturday?

Brent Stephens
108
Posted 17/02/2021 at 15:39:19
Nick #102 "I won't be watching."
Nick, I take it you won't be posting comments after the game then?!
Go on, Nick, watch. How would you feel if we got a point or three? Or even if it was a loss but a v good performance?
Try watching wearing sunglasses so nobody sees you; or with just one eye (most of us are one-eyed fans!).
Shane Corcoran
109
Posted 17/02/2021 at 15:40:22
Ah Nick's just having a laugh lads.
Of all that's happened in the last few weeks nobody serious could add Davies' form to that list.
If DCL was playing I'd have given us more of a chance. Hard to see it now.
I think despite his flaws, Iwobi needs to start. Carlo seems to have a strange relationship when it comes to picking him. He's direct and has pace which is sorely lacking, especially when the great pouter has an actual reason to pout.
No place for James tonight even if he's recovered from that awful injury he picked up at Fulham.
Rob Halligan
110
Posted 17/02/2021 at 15:54:18
I love it when people feel the need to say "I won't be watching" or " I'm done with Everton". I mean, why do they need to tell us, do they want others to go grovelling to them and beg them to watch or not to discontinue supporting the club? Come on Nick # 102, please please pretty please watch the match, I won't be able to settle knowing you won't be watching. No, oh all right then!! Like anyone gives a toss!
Raymond Fox
111
Posted 17/02/2021 at 16:14:21
We will probably put up a good perfomance tonight as we usually do against the better teams, whether we will get any points out of it remains to be seen.
We are 17/2 to win tonight and strangely only 11/2 to win on their midden!
You can bet your house, that Burnley will beat Fulham tonight.
David Hayes
112
Posted 17/02/2021 at 16:16:32
Well, he certainly got you to bite Rob. And a few others, I think will watch with one eye as suggested, from behind the sofa, ready to leap like toad with raljex on its naddgers when we win, COYB.
Dave Lynch
113
Posted 17/02/2021 at 16:16:50
I'll be watching.
I predict a mauling by the way, not particularly proud to think that way but can't see anything else happening.
They are far superior in every department and are bang on form.
Bobby Mallon
114
Posted 17/02/2021 at 16:23:31
Rob 110 I agree. Who gives a rats bottom if nick ( who we don't know.) doesn't watch I know I am, with my new retro NEC shirt. I can't wait to see how we fare against city. I would just go man for man marking in this one. Don't let them have players hugging the touch lines without someone marking them and fucking don't give them any bloody respect, just fuck their game up by being nasty, and kill their game.
James Head
115
Posted 17/02/2021 at 16:27:13
Please no Holgate tonight he's been shocking and either James or Sigurdsson at 10 can't have both on the same pitch.
PS-
Tonight on radio Merseyside 6-7pm Mike Hughes talks to Bob Latchford about his time at Goodison, should be good if Mike Hughes doesn't keep interupting him!
Brian Murray
116
Posted 17/02/2021 at 16:27:16
Tonight is a bad barometer to our progress. I reckon we are about Leicesters level and they like the shite only have one way of playing. Over the top that's why they get sussed and we took four points off them. Regarding the 12 points we have threw away mainly because of attitude I'm sure Leicester fans will have a tale to tell on the same lines. That doesn't excuse Carlo one iota it just helps my continued therapy when I think we have turned a corner. He should be screaming to anyone who will listen that them performances will not repeat not happen again on my watch. Not a shrug of the shoulders and some vague comment about pressing. Having said all that he's a step up from Moyes etc by far.
Pete Gunby
117
Posted 17/02/2021 at 16:42:55
winning streak starts tonight- I'll be watching from my padded cell.
Nick Page
118
Posted 17/02/2021 at 16:45:50
Brent @108 - haha good idea. I might hide in the kitchen cupboard and watch through the crack in the door. And when my wife asks me what I'm doing, I'll just say I'm playing hide and seek with the kids. Or just do something more productive for a change.
Peter McEvoy
119
Posted 17/02/2021 at 16:56:26
Let's just forget about Moise Kean wouldn't want him about the club he is a party boy remember his antics during the first lockdown Just take as much money as we can get for him and move on. I hope whatever team Carlo picks tonight shows a bit of pride and spirit which was sadly lacking against Fulham no fatigue excuses up and at them dogs of war approach and then double that on Saturday v the red shite
Just back from a wee walk seen a kid of no more than 6 or 7 with Everton coat,hat and scarf does your heart good and a pleasant change fro all the red shite over here Peter Belfast
Jonathan Tasker
120
Posted 17/02/2021 at 16:58:38
Brian 116
How are we Leicester's level ? They have an outstanding chance of getting into the top four. They have a relatively new ground and a brand new training facility.
As for your comments about David Moyes, you do know he manages West Ham ? He's taken a massively underperforming team to fifth.
Minik Hansen
121
Posted 17/02/2021 at 16:59:27
Pickford
Coleman Keane Mina Godfrey
Davies Allan Doucoure
Iwobi James Richarlison
King
Siggy on for James, Bernard on for Richarlison, Digne on for either Doucoure or Iwobi and switch around a bit.
From the minute of kick-off, I know I'll believe in our team, to do their best and get more than something from the match.
I suspect Carlo will play with back 5, I hope not. But if it finally works, happy days. COYB.
Luke Welch
122
Posted 17/02/2021 at 17:00:45
You think there is any truth in James wanting away in the summer?

Robert Williams
123
Posted 17/02/2021 at 17:03:45
Did somebody forget Arse-Ol', son?
Brian Murray
124
Posted 17/02/2021 at 17:07:10
Jonathan post 120 ok maybe a bit fanciful comparing us to Leicester ( never thought I'd say that in my lifetime) I take your point over they are ahead off the pitch because of new ground but their fan base doesn't even come close. We have took four pints off them. A smart summer will have us at least neck and neck with them plus their big ( main ) weapon up front is getting na bit
Dale Self
125
Posted 17/02/2021 at 17:10:52
You first Luke, put your name on that rumor and then we see how it plays out. That's how it works.
David Greenwood
126
Posted 17/02/2021 at 17:17:19
I wonder where West Ham would be if they had a decent manager like oh, Chris Wilder eh Jonathan?
Bill Gall
127
Posted 17/02/2021 at 17:17:40
Today's game will be a game of patience, as City will hold and pass the ball waiting for a defender to come out of position.
They defend well and when you get the ball you have to be sure you can pass the ball to one of your own players and not one marked by a couple of City players.
This will be another game that will be won or lost in the midfield, and if and when we win the ball back, the forwards have to find the spaces. and move the ball quickly. They rely on speed in their defense to get back as they like to push up and keep you in you in your own half.
There are supposed to be no easy games in the premier league, and Everton have to prove that is right, instead of giving our opponents an easy game at home.
Luke Welch
128
Posted 17/02/2021 at 17:22:12
Read that rumour in the echo
Soren Moyer
129
Posted 17/02/2021 at 17:25:10
I've noticed all our games are being streamed live on twitter by someone. Just try #eveman or something like that after the kick off.
Jon Harding
130
Posted 17/02/2021 at 17:39:35
Minik 121
Reckon we'll need at least 12 to get a result here!
Mike Doyle
131
Posted 17/02/2021 at 17:44:53
Bill 127] Your comment reminds me of a comment from former Arsenal and England coach Don Howe. that at the top level, the majority of games are won/lost in midfield.
Dick Fearon
132
Posted 17/02/2021 at 17:50:10
I was wrong In my earlier comment @90, where I joked about lulling City and the RS into overconfidence. It was unbefitting for me to use this site in such a idiotic manner.
Like all other TWebbers I am clutching at straws, hoping beyond hope that our lads at the very least put up a decent show.
Darren Hind
133
Posted 17/02/2021 at 17:54:31
City have some really top class players in their ranks and although the best of them will not be playing tonight his stand in will not be a poor player...But lets not portray this as some sort of David V Goliath.
Carlo Ancelotti has hundreds of millions of pounds worth of talent at his disposal. We are entitled to expect our team to go into this match with the sole intention of winning it.
I just don't want to see anybody waving the white flag, or getting their excuses in before a ball is even kicked.
If we give our best and we are beaten by a better side tonight. We none of us can complain.
Carlo will try to spoil the game tonight. You don't need a Crystal ball to know that. Nor can we influence it.. but if we can pick our moments to strike. I belief this game is winnable.
17/2 is a decent price for a win when there is only two other possible outcomes. I'm hoping the shame heaped on the manager and some of the players after Sunday's debacle will drive them to an effort which will make a little punt worthwhile.
Pride, passion and an overwhelming desire to make up for the Fulham shit show will do me. A win would be an added bonus..
COYB
Jonathan Tasker
134
Posted 17/02/2021 at 17:57:54
David 126
Chris Wilder has had a shocker this season. Largely on the back of his awful goalkeeper. But he's still a brilliant manager
Thomas Richards
135
Posted 17/02/2021 at 17:58:17
https://youtu.be/olQrCfkvbGw
There you go Rob.
Im in the back row
Thomas Richards
136
Posted 17/02/2021 at 17:59:05
Stephen Brown
137
Posted 17/02/2021 at 18:03:35
Totally agree Darren!
Whilst they are a very good side you'd swear we are taking on 1970 Brazil or 2009 Barcelona!!
Get the basics right, take our changes, play with energy, get in their face and we have a great chance!
We have French, Brazilian, Colombian, England, Portuguese internationals strewn throughout our squad with a internationally recognised manager in the dug out!!
This is not some minnow club as Pep said himself Everton are one of the great English football clubs. We have to believe these can be beaten despite them being in great form and despite the scandalous showing v Fulham.
Come on boys!!!
Rob Halligan
138
Posted 17/02/2021 at 18:04:25
Jonathan, you say Chris Wilder has had a shocker of a season, largely down to his awful goalkeeper. Nothing to do then with the fact that Sheffield United have only scored fifteen goals in 24 games?
Jonathan Tasker
139
Posted 17/02/2021 at 18:06:18
Rob 138
Lack of goals clearly doesn't help !
Phil Bickerstaff
140
Posted 17/02/2021 at 18:14:25
Are we playing tonight?
Just looked at the Daily Mail sport section and not one mention of the game
Christine Foster
141
Posted 17/02/2021 at 18:16:13
Jesus Christ, who ran the white flag up the pole? Just woke up to read the comments and I think I shall go and slit my wrists! What is the matter with you guys? Given up before a ball is kicked! This has been a fruit cake of a season, results are all over the place, City are playing well but we can get a result if the team turns up, which against the good sides is not an impossibility. Way too much respect and far too little expectation. We can do this.
Rob Halligan
142
Posted 17/02/2021 at 18:17:35
Be careful Christine, apparently you'll be called a happy clapper!
Thomas Richards
143
Posted 17/02/2021 at 18:17:54
👍
That will do me for a battle cry Christine
Stan Schofield
144
Posted 17/02/2021 at 18:18:54
Christine@141: Good post.
This season has been a saga of us cocking up completely against mediocre sides, whilst getting decent results from the better sides. Quite frankly, I'm more confident of a win against Man City than I would be if we were playing Burnley.
Rob Halligan
145
Posted 17/02/2021 at 18:19:10
Thomas, you seem to know, is Christine a happy clapper?
Thomas Richards
146
Posted 17/02/2021 at 18:20:36
Rob,
She is one of the happiest clappers on here.
I'm a close second
Christine Foster
147
Posted 17/02/2021 at 18:21:39
Before I went to bed I watched Rocky iv and I thought it was like watching Everton, yep they may beat the crap out of us but we may yet win, thanks Rocky, just what I needed...
Henrik Lyngsie
148
Posted 17/02/2021 at 18:22:29
I told my son we are winning 2-0 tonight. And I have Richarlison as captain in my Fantasy Premier League.
Rob Halligan
149
Posted 17/02/2021 at 18:22:59
Cheers mate. I think Stan # 144 must also be a happy clapper, as he seems quite confident we can beat man city tonight.
Brendan McLaughlin
150
Posted 17/02/2021 at 18:23:26
Sorry folks but when it comes to tonights game I'm much more of a "nappy crapper".
Martin Mason
151
Posted 17/02/2021 at 18:23:59
If we lose tonight it is irrelevant. Tonight is only a step on the way not the end result.
Jay Harris
152
Posted 17/02/2021 at 18:24:35
Darren and Christine,
I wish I could share your enthusiasm but the mighty Fulham have dented my faith in the squad at the moment. I just don't see how they can recover enough energy and desire to compete with City or even the RS on Saturday.
My only hope is that all logic goes out of the window and lady luck shines on us.

Christine Foster
153
Posted 17/02/2021 at 18:25:46
I would rather be a happy clapper than a walking misery. I just wanna believe every week.
Robert Tressell
154
Posted 17/02/2021 at 18:26:00
You never know what you're going to get with Everton, do you?
Without DeBruyne, Aguero and Gundogan they should be weakened - but their £1bn(+) squad means the reinforcements are all Champions League quality. So I guess we do at least know what we'll get from City.
It'll be very tough but we could still do well.
Rob Halligan
155
Posted 17/02/2021 at 18:26:08
Ah, Brendan, so you're not very confident about tonight then? I think I'm beginning to understand this happy clapper business!
Mark Murphy
156
Posted 17/02/2021 at 18:28:29
Thomas I dispute your claim! I can clap at 50 claps per second and I'm honestly looking forward to watching the game. We may not win but I'll be hoping with fingers crossed.
UTFT!
Thomas Richards
157
Posted 17/02/2021 at 18:29:34
"I would rather be a happy clapper than a walking misery. I just wanna believe every week"
Me too.
Mark Murphy
158
Posted 17/02/2021 at 18:29:38
Except Christine, isn't that big Russian fella an Evertonian as well??
Tony Everan
159
Posted 17/02/2021 at 18:30:17
We will have to be focused from the off. Pep will know our confidence has taken a knock after Fulham, he will want to start this match at 100 mph blazing speed so we cannot regroup and regain any composure.
It's up to us to be switched on ready for those inevitable tactics and fight fire with fire. Defend like lions for 20 minutes then build on it.
Keith Meakin
160
Posted 17/02/2021 at 18:34:45
Why doesn't Carlo manage the big games and then let big Dunc take charge against the so called lesser teams. Problem solved, no way this team would fail to turn up against teams like Newcastle with big Dunc kicking arse.

Christine Foster
161
Posted 17/02/2021 at 18:35:40
We did it against man u, we did it against Spurs and we sure as hell will do it against the RS, so we will know which Everton turn up after 15 mins. It could be a nail biter.
Bobby Mallon
162
Posted 17/02/2021 at 18:37:40
We I have just put a sneaky £5 @ 22/1 for us to win 1.0 with Bet 365 COYB
Christine Foster
163
Posted 17/02/2021 at 18:41:55
Duncan last words before sending them out, " Any one of ya who rolls over, will wake up in hospital with a P 45 on yer cast in the morning! Do ya ken?"
Darren Hind
164
Posted 17/02/2021 at 18:42:22
Christine, as most of us know, has been contributing on this site for years.
In that time I have never seen her apologize, applaud, or excuse dross.
Those worried she may be labeled a happy clapper. neednt be concerned.
No chance of it happening. She knows the difference between supporting her team and supporting dross
Eddie Dunn
165
Posted 17/02/2021 at 18:44:37
Some worthy comments above and yesterday I was fearing a hammering but today I am with Stan (above) and I am glad we are not playing Burnley. At least City will try to outplay us which should suit Siggy, James and Gomes.
Pep won't have missed the fact that we can't handle the high press, so expect Foden and whoever to make it hard for our deep-lying midfielders to get it out.
Like Darren, I presume we will be set-up to frustrate and hope we nick one through Richie or King(if he gets a start!).

Rob Birks
166
Posted 17/02/2021 at 18:44:48
I see half time at Burnley and Fulham not winning. How come they beat us?
Charles Brewer
167
Posted 17/02/2021 at 18:45:49
What is so annoying from a season point of view is that a win against Fulham is exactly as rewarding as a win against City. To have thrown everything at Fulham and parked the bus with a load of 18 year olds against City would have exactly the same result as a shitty capitulation against Fulham and a knackering, energy destroying full on effort against City (which is what it will take, even to get a draw).
It would also mean the players were less exhausted against the RS on Saturday.
Kieran Kinsella
168
Posted 17/02/2021 at 18:46:12
No reason why we can't win. We are better defensively than offensively so this type of fixture suits us. Some of their better players are injured or just back so not 100%.
Thomas Richards
169
Posted 17/02/2021 at 18:50:46
Would have to be a strange fan who would applaud dross to be fair.
Christine is very obviously her own woman.
A lady of substance.
I
Love her positivity, whilst not being adverse to wielding the stick when required.
It was required after the Fulham game, and it was most certainly wielded.
Michael Barrett
170
Posted 17/02/2021 at 18:51:57
Christine...duncan must have been sitting on the bog with a loo roll in his hand when they run out against Fulham me thinks
Len Hawkins
171
Posted 17/02/2021 at 18:52:54
If the groundsman has any nous he will have put KEEP OFF THE PITCH signs all round Goodison.
Brent Stephens
172
Posted 17/02/2021 at 18:54:05
Christine - get in there!
Christine Foster
173
Posted 17/02/2021 at 18:54:21
That's it, shower time! Good luck everyone, see you after the game! Now where did I put my rosary beads?
Jamie Crowley
174
Posted 17/02/2021 at 18:56:16
Christine -
It's Ash Wednesday. Check your pockets. 😉
Jason Wilkinson
175
Posted 17/02/2021 at 18:56:34
I'm hoping we can stop the winning run City are on. If we play like we did v Chelsea & Leicester (away) we have a chance. City will have far superior possession stats come full time. They had 70+ % when they lost 4-0 to us. 🤞
Mike Dolan
176
Posted 17/02/2021 at 18:56:52
I always think we are going to win but admit that being an Evertonian is a form of madness. There's were very good excuses for our poor performance against Fulham so I'm hoping for a massive comeback. We win this by 2. We all go to bed happy but being Evertonians totally fretful about the game with that lot on Sunday.
Christine Foster
177
Posted 17/02/2021 at 18:58:36
Jamie, that was yesterday here its Thursday morning ! No pockets in nightie.. ahh under the pillow!
John Nugent
178
Posted 17/02/2021 at 18:59:16
Mike, what were the very good excuses for the Fulham
capitulation?
John McFarlane Snr
179
Posted 17/02/2021 at 19:00:29
Hi all, apologies for stating once again, that anything can happen in a game of football, each game is unique it's never been played before and will never be played again. I have learned over the years to approach games with an open mind, and to accept anything that fate can deal me. I'm not quite sure what determines a 'Happy Clapper' but having been called a 'Snowflake' I guess it's not complimentary, like Christine I would prefer to be known as a 'Happy Clapper' it sounds nicer than a 'Walking Misery'. I must confess that I don't make pre-match forecasts nor do I slag players before, [or after] games, I keep my thoughts to myself.
Len Hawkins
180
Posted 17/02/2021 at 19:00:36
Is it dog end Thursday tomorrow.
Roger Helm
181
Posted 17/02/2021 at 19:01:59
The battle is not always to the strong nor the race to the quick - but that's the way to bet (Damon Runyon, I think).
Everyone has a chance against anyone else in this league so here's hoping. We are not going to end the season in the top four anyway. For that you need consistency and regularly beating the lower teams, which for psychological reasons seems beyond us, at present anyway. It is in our DNA- as soon as we look like achieving something, we get altitude sickness.
Joe McMahon
182
Posted 17/02/2021 at 19:02:33
Jason @175 the 4 nil win also had Lukaku with I think 2 goals, Gareth Barry and a better goalkeeper. What we would do for them now.
Brent Stephens
183
Posted 17/02/2021 at 19:02:54
Sir John #179 - like your style!
Jamie Crowley
184
Posted 17/02/2021 at 19:03:21
Christine -
I often forget there's many people already into tomorrow on TW! Self-absorbed American, I assume everyone is on my time!
Alas, I live in no-meat fasting world for another 10 hours or so.
Under the pillow - a fine place to keep until the following morning. Well played.
Nicolas Piñon
185
Posted 17/02/2021 at 19:03:41
No Godfrey allan nor James from start

Rob Hooton
186
Posted 17/02/2021 at 19:03:46
City are playing great stuff and are obviously odds on to beat us, but I'll still watch believing we can win this one.
Please turn up lads and put in a display worthy of the jersey
Jamie Crowley
187
Posted 17/02/2021 at 19:07:07
No Godfrey, Allan, DCL, or James.
I don't question Carlo's lineups. I trust him.
For the boys playing, show us what ya got. Get at it.
Graham Mockford
188
Posted 17/02/2021 at 19:10:14
I did say before the Fulham game I thought we'd probably get beat based on our inability to beat poor sides at home.
On the same basis giving my recent Nostradamus predictions I'm going for a 2-1 victory.
In fact in a strange way going into a game with low expectations is an easier night
John Nugent
189
Posted 17/02/2021 at 19:10:20
How come you guys know the line up when it hasn't been announced yet??

Brendan McLaughlin
190
Posted 17/02/2021 at 19:10:58
Christ I logged onto ToffeeWeb and ended up on some dodgy adult site #169:
"Christine...a lady of substance...not being adverse to weilding the stick when required"
Graham Mockford
191
Posted 17/02/2021 at 19:11:45
And I wish I'd posted earlier but absolutely not surprised James is not playing.
Nigel Munford
192
Posted 17/02/2021 at 19:17:36
Good evening all, it will be a surprise if we win but hey, a pleasant one.
Chris Bond
193
Posted 17/02/2021 at 19:17:51
Team to play Man City: Pickford, Godfrey, Holgate, Mina, Keane, Digne, Davies, Doucoure, Sigurdsson, Iwobi, Richarlison.
Subs: Olsen, Delph, King, Nkounkou, Rodriguez, Bernard, Gomes, Coleman, Onyango.
David Pearl
194
Posted 17/02/2021 at 19:18:10
Well at least its 4411 again and the shape will be better. Digne as a left mid and hopefully Richy can get some service
Stephen Brown
195
Posted 17/02/2021 at 19:18:25
No Allan ??
Please Digne left midfield and not a back 5
Ian Jones
196
Posted 17/02/2021 at 19:18:45
Just read on the BBC site that
'51 days after a late, Covid enforced postponement City v Everton at Goodison. Would've been 2,000 here in December with the teams level on points in the top 4. Tonight City can go 10pts clear and 1 win in 5 means Everton are 7th'
Such a shame we couldn't have beaten them in December. Suppose we better beat them tonight. Seen the teams selected. We can do it
Brent Stephens
197
Posted 17/02/2021 at 19:19:03
bbc showing this as a 3-5-2

Kunal Desai
198
Posted 17/02/2021 at 19:19:05
What? No Allan even on the bench. Sigurdsson ughhh.
Neal Kernohan
199
Posted 17/02/2021 at 19:19:09
King sub again
Thomas Richards
200
Posted 17/02/2021 at 19:19:24
Thats an active imagination there Brendan. 😁
Neal Kernohan
201
Posted 17/02/2021 at 19:20:32
PRICKford starts
Terry Farrell
202
Posted 17/02/2021 at 19:21:18
Much more legs and bite in that side. We will need to get behind them somehow and by-pass the press, ie, few long balls and pick up the bits in their half, not get caught on the edge of our own box!
Mal van Schaick
203
Posted 17/02/2021 at 19:21:25
Hope this formation and team selection work and we get a result. Straight out of the blocks and competitive the whole game might get us a result.
Jim Bennings
204
Posted 17/02/2021 at 19:21:34
Awaiting asshole resizing yay big
John Skelly
205
Posted 17/02/2021 at 19:22:28
I will give it 30 mins or so of watching before I stop but anything can happen here's wishing hope to last the whole 90.
Kevin Molloy
206
Posted 17/02/2021 at 19:22:48
that's a very hard working team. no goals like, but then, we won't be needing goals tonight. just oxygen as that horrible team slowly strangle us.
Brent Stephens
207
Posted 17/02/2021 at 19:23:14
Correction, bbc has it as 3-4-2-1
Bill Gall
208
Posted 17/02/2021 at 19:23:39
Well I guess that no one got that line up right,
Ian Edwards
209
Posted 17/02/2021 at 19:23:42
Five defenders. Two holding mids. Sigurdsson up front. King on the bench.It will be 90 mins penned in our defensive third.
Wake me up when he's wheeled out at the end and says as he usually does that we played with good spirit as he's counting his wedge and sipping his Coffee.
Nicolas Piñon
210
Posted 17/02/2021 at 19:23:54
I like the team
But not Allan's abacence
A surprise as usual
Paul Birmingham
211
Posted 17/02/2021 at 19:24:06
Well time for this Everton team, to stand up and be counted.
Gonna be a tough night but I hope Everton get right into City's faces, stop their rhythm not, force them on to their individual bad sides, and don't stand off and show them too much respect.
Here's for a massive improvement in tempo and performance and a victory, it would help take the smirks of a few people in the press and some RS supporters.
2-1, to Everton.
Bill Gienapp
212
Posted 17/02/2021 at 19:24:07
Oof - no Allan, not even on the bench. Was looking forward to having him back. Did he have some sort of setback?
Stephen Brown
213
Posted 17/02/2021 at 19:25:55
Have any Everton team in history played well with a back 5 ?? I cannot remember an occasion
Bill Rodgers
214
Posted 17/02/2021 at 19:26:05
If Davies and Holgate can keep their places after theri disgraceful performances at the weekend then there is no hope left. We would be better playing 9 - at least it would cut out passes to City.
Graham Mockford
215
Posted 17/02/2021 at 19:28:27
Dave Williams
216
Posted 17/02/2021 at 19:28:46
Davies was better than most of the others Bill.
Are we saving Allan for Saturday or is he not fit?
This will be a real backs to the wall job- which Everton will turn up I wonder?
Bill Gienapp
217
Posted 17/02/2021 at 19:28:54
Ian (209) - so we're back to saying Carlo is lazy, clueless and just here for the money? It literally changes every week.
---
Add Your Comments
In order to post a comment, you need to be logged in as a registered user of the site.
Or Sign up as a ToffeeWeb Member — it's free, takes just a few minutes and will allow you to post your comments on articles and Talking Points submissions across the site.