Ancelotti envisions managing Everton at Bramley-Moore Dock
Thursday, 25 February, 2021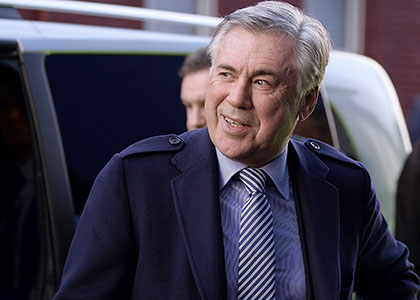 Carlo Ancelotti hopes he will be able to extend his time at Everton beyond the terms of his existing contract, saying he would like to still be there when the club moves into its new stadium in the autumn of 2024.
The Italian signed a 4½-year contract when he became Everton manager in December 2019, which means his existing deal would expire at the end of what currently looks like it will be the Toffees' last season at Goodison Park.
Everton's proposed new ground on the banks of Mersey is currently being reviewed by the Secretary of State following a unanimous vote by Liverpool City Council this week to approve the extensive planning application for the project. If all goes well, they hope to kick off the 2024-25 season in their new home.
Ancelotti has spoken before of his desire to stay longer than his original contract and he reiterated that today, saying: "I would like to stay as long as possible.
"I would like to be there when the new stadium will be opened. It will be a good achievement for me, of course.
"I think to finish the contract in 2024 you did a good job and when you did a good job the contract will not be stopped in 2024, it will continue."
Meanwhile, speaking of more immediate concerns at his press conference in regard to Everton's ambitions this season, Ancelotti said:
"For us it will be really important to play in Europe next season and it means a step forward for the players, a step forward for the club.
"In my opinion we don't have to look at the table, we have to play game by game and see where we are at the end of the season. We have to work hard, because it will not be easy, because a lot of teams are involved there, but I think we can compete until the end.
"The result [against Liverpool] was really good and the performance was also. We [have] showed we can compete in some games and now I think we have to look forward because we have a home game and our run in the last period was not good. If we want to fight for European positions, we have to improve our form at Goodison."
Ancelotti explained that Allan and Dominic Calvert-Lewin have trained as normal and will be available for Monday's home game against Southampton. Jean-Philippe Gbamin remains in an individualised programme as he continues his patient recovery from a ruptured Achilles and Yerry Mina will be sidelined for another couple of weeks with a calf strain.
Quotes sourced from BBC Sport
---
Reader Comments (120)
Note: the following content is not moderated or vetted by the site owners at the time of submission. Comments are the responsibility of the poster. Disclaimer
James Welford
1
Posted 25/02/2021 at 17:46:01
What a great week to be a blue.
I really hope that Carlo becomes our Sir Alex. Bramley-Moore Dock, here we come... let's give the Grand Old Lady a trophy or two before we get there.
UTFT!
Joe McMahon
3
Posted 25/02/2021 at 17:46:58
The good news keeps on coming! All of a sudden, this seems like a different Everton we have known in the Premier League era.
Brian Murray
4
Posted 25/02/2021 at 17:50:48
The blue tide is rising fast. Not just on the banks of the Royal Blue Mersey.
Mike Gaynes
5
Posted 25/02/2021 at 17:54:54
Lyndon spotted the quote even before I did. Of course it deserves a thread of its own.
On Sky Sports just now, Carlo also said this about us qualifying for Europe:
"For us it will be really important to play in Europe next season, and it means a step forward for the players, a step forward for the club. We have to work hard, because it will not be easy, because a lot of teams are involved there, but I think we can compete until the end."
Steve Ferns
6
Posted 25/02/2021 at 18:05:58
Understand what you mean James, but if Carlo really becomes our Sir Alex, he'd be managing us in his 80s!
It's great to see the unfortunate incident he had at home has not diminished his love for the Blues.
Rob Halligan
7
Posted 25/02/2021 at 18:08:01
Well, I have been saying that he would like to stay with us for the next 10 years. That all depends of course, as Carlo says, on us winning things and qualifying regularly for Europe. Bring it on!!
Darren Hind
8
Posted 25/02/2021 at 18:10:58
You make a good point there, Steve.
Like so many others, I was so angry when I read about his house being broken into. I think we would all understand if he moved out of there, but you get the feeling nobody is pushing him and his family out of their home.
Even if you don't like his footy, you have to doff your cap to the way he conducts himself. Always with dignity.
Thomas Richards
9
Posted 25/02/2021 at 18:16:48
What?
The dinosaur is staying?
Yeeeeeeeehah.
Get in!
Mark Daley
10
Posted 25/02/2021 at 18:34:32
And after Carlo, is there any doubt who it should be? (He will have served his apprenticeship in full by then...)
Kevin Molloy
11
Posted 25/02/2021 at 18:35:37
The value he has added to the club since he came is remarkable. From busted flush, to downing the other lot on their own patch, in 12 months.
Darren Hind
12
Posted 25/02/2021 at 18:42:03
Fantastic news, Kevin.
How much were we worth when he came and how much are we worth now?
Jamie Crowley
13
Posted 25/02/2021 at 18:49:01
Steve Ferns @ 6 -
Firstly, HELLO!
Secondly, if Carlo is here into his 80s, and is like Sir Alex? Fine. I'll take half of those titles and that stability, thank you very much!
This is outstanding news. Carlo is, despite some TW naysayers (not a negative word, 'naysayer', in my opinion) absolute class. He manages around the players, he's a great man-manager, he knows how to extract the most from his team as possible.
I love the guy. This is simply outstanding news.
I'd not fire him if he finishes mid-table, for fuck's sake... Name me one other manager who could do better.
Once Everton has touched you.
Thomas Richards
14
Posted 25/02/2021 at 18:51:10
Agree 100% Kevin.
Untold wealth now. Hard to put a figure on the way he has transformed a football club in just over a year. He has put smiles on every fan's face (well... not every fan).
Players would run through a brick wall for him. Mr Usmanov has bought into the vision. Ancelotti, Moshiri and Co will go down in Everton history as the people who took a club without a trophy for 26 years and transformed them, restored the club to former glory.
Thomas Richards
16
Posted 25/02/2021 at 18:56:46
Hands down, the best manager since Kendall Mk 1.
Graham Mockford
17
Posted 25/02/2021 at 19:04:29
Thomas...
Can we wait until he's won something?
Peter Mills
18
Posted 25/02/2021 at 19:07:07
I dearly hope that the derby victory will buy Carlo a huge wedge of goodwill and time. We need stability.
He knows quite a bit about football, he's seen one or two things, played with and managed some pretty good footballers, wasn't bad himself. And he's a nice guy, he represents our club well. He has taken us forwards, but progress is not an ever-rising line, there are peaks and troughs.
So when things go awry, we play poorly, or he makes what we think are mistakes, let's pause a while before being negative. I'm all for freedom of expression, but it's time we changed the mindset, stop going for the easy, critical opinion and look for the positive.
He knows more than us.
Kevin Molloy
19
Posted 25/02/2021 at 19:09:04
Darren,
It does sound crass to break things down to a monetary level, but we were in such a pickle when he got here, spending vast amounts on teams of players.
If you had looked at our books when he took over, hovering over relegation, with Keane, Mina, Pickford, Iwobi, all big buys who looked a total waste of money. He's rescued the value on all of them, and the three kids you like to mention. At a conservative estimate, I'd say he's added about £100M to their transfer value.
This is important cos we were teetering on the brink. He's then brought in Allan, Godfrey, James, Doucouré et al for about £65M, again remarkable business. He's rescued the finances of the club. The extra £5M he gets a year was the best investment Moshiri has ever made.
Derek Knox
20
Posted 25/02/2021 at 19:14:17
Good news just keep getting better, long may it continue. If we have serious ambitions for Europe, I sincerely hope that the results against Fulham, Newcastle and similar doesn't come back to haunt us.
Darren @ 8, did they ever catch the suspected RS gobshites who broke into Carlo's home? I'm being serious for once. Like all news stories, once they have made a massive impact, there is rarely a follow-up.
Thomas Richards
21
Posted 25/02/2021 at 19:14:44
Graham,
Feel free... Knock yourself out.
Kevin Molloy
22
Posted 25/02/2021 at 19:18:21
Thomas,
We are at a high point but, yes, the style and personnel with which we took Castle Greyskull at the weekend was unimaginable a year ago.
Thomas Richards
23
Posted 25/02/2021 at 19:20:28
Agree Kevin.
He is instilling a winning mentality into the squad, slowly but surely. The ones that don't buy in will be moved on.
Best thing to happen to this club for a long time.
Brian Williams
24
Posted 25/02/2021 at 19:20:42
I hope he is here for the long run because, if he is, that'll mean he, and hence the club, has been successful.
He needs to have us in the top six, minimum, every season – and hopefully top four.
Danny O'Neill
25
Posted 25/02/2021 at 19:21:47
Darren (8); great post. Genuinely.
Brian Harrison
26
Posted 25/02/2021 at 19:24:21
What a difference between Carlo and Koeman, Carlo loves it here and won't let a couple of burglars persuade him otherwise, whereas Koeman told all and sundry he saw this as a stepping stone to managing Barcelona. (Mind, one manager has won everything you can win in this game... and the other has won nothing.)
I will be delighted if Carlo is here for a long time, as that will mean we have started to win trophies. I have more faith in him winning trophies than I have had in any manager since Howard Kendall Mk 1.
Hugh Jenkins
27
Posted 25/02/2021 at 19:25:12
Graham (17) - won something?
He's won loads. (Just not with Everton... Yet!)
Neil Copeland
28
Posted 25/02/2021 at 19:28:26
What a great week for our great club.
For me, the biggest positive relating to Carlo feeling settled is the stability it brings. We haven't had that for some time which, I know, is largely due to each of the last 3 managers not being suitable. I think it is also due to the club lacking direction and identity. However, the direction appears to be finally there now and we are rediscovering our identify. That is not solely down to Carlo of course although he is a major factor.
Carlo seems so level headed and assured that it must be a pleasure working with and learning from him. He isn't afraid to stick his head above the pulpit and say what he wants and expects. Comes across as an exceptional leader to me.
Of course, a win at Mordor is only a start and needs to become the norm. Until we actually win something we need to stay grounded but that doesn't mean to say that we shouldn't have belief. Consistency is the key, that is the next challenge for Carlo. Conquer that one and the hopes and dreams will move a step closet to reality.
Colin Glassar
29
Posted 25/02/2021 at 19:29:01
This is all great news, but personally I've been kicked in the goolies far too often by our beloved EFC to get overexcited just yet.
I've said for a while now, if Carlo can't get us to paradise then no-one can. I'm taking the rest of the season one game at a time.
Tony Abrahams
30
Posted 25/02/2021 at 19:30:36
That's a very sensible post, imo, Peter, because if Everton can find stability, and Evertonians can unite, anything could happen, because I honestly believe anything could be possible if this was to ever happen, mate!
Graham Mockford
31
Posted 25/02/2021 at 19:33:22
Hugh,
Didn't really celebrate any of those other wins other than the 2007 Champions League, obviously...
Tony Everan
32
Posted 25/02/2021 at 19:34:20
Colin, I was about to post the same sentiment, my balls are black, blue & dented too.
Danny O'Neill
33
Posted 25/02/2021 at 19:36:02
My own view. Positive language from someone I'm delighted to have as our manager.
I personally didn't think or still don't that we will see him here in 3 years time. By then I believe he will have done his job and established us for both him and us to move on.
But to hear him speak in this way shows his commitment and respect for the club.
He was a classy player. He is a class act as a manager, but more importantly as an individual. As Darren says, he always conducts himself with dignity.
Dale Self
34
Posted 25/02/2021 at 19:40:11
Alright then, we've got someone who knows how to keep it going. This one knows how to work the press without compromising his gentlemanly image. Something tells me we chose well in bringing Carlo in at this particular time in Everton's history. And a wetness swells at Stanley Park and its surroundings.
Darren Hind
35
Posted 25/02/2021 at 19:54:34
I don't know, Derek.
My views on Ancelotti and his style of football are no secret around this parish. But a few weeks ago, I felt compelled to come on here and retract one of the claims I had repeatedly made against him – that he was here for one last payday.
I was bowled over by the way he spoke about his love for this place. He spoke with a sincerity I don't believe you can fake. He spoke about Crosby and the people as if he had been beamed up into paradise.
When I heard about the break-in, I felt sick to my stomach. Here was a guy embracing and reaching out to the people of this City and some cunts kicked him in the bollocks.
I read somewhere that you have more chance of being struck by lightning than the twat who has burgled your house being caught once he's scarpered. We are all hypocrites in one form or another but, for me, breaking into someone's home is a complete No-No.
I just hope somewhere down the line these home destroyers get what's coming to them.
Michael Kenrick
36
Posted 25/02/2021 at 19:54:43
Tony @30,
You keep coming up with this stuff about Evertonians needing to 'unite' – and somehow that is going to change everything??? I've read it once too often now and sorry but I'm going to call it out...
First off, we are united – in our undying love and support of Everton FC and all that sail in her. That's just a given. That's what brings us here every day.
But we don't all think the same... and perhaps that's what you are thinking about when you're spouting this 'unite' thing? Well, sorry to disappoint (as is my lot in life) but it ain't neva gonna happen.
We will always be a diverse spectrum of views and opinions, and long may it be so. As them Frogs would say, Vive la difference!
Mal van Schaick
37
Posted 25/02/2021 at 19:56:40
Backed by the owner and the board, we appear to be on the right track for success. Hope he stays and is supported in the transfer market.
Thomas Richards
38
Posted 25/02/2021 at 19:57:09
Darren 35.
Very good post.
Fran Mitchell
39
Posted 25/02/2021 at 19:57:53
When he arrived, he was seen by some as an aged manager, past his sell-by date, looking for one last score.
The media scoffed – "How the heck is the manager of Raul, Kaka, Pirlo and Co going to manage a club like Everton? It will never work" they scowled. "He's a manager of world class players and his methods won't work."
Everton need a Sean Dyche, or an Eddie Howe. They should know their place. Ancelotti. Never gonna work.
To the great surprise of the media and others, to be a manager of world class players, you need to be a world class manager with players of all levels.
He's managing what he's got, and I think brilliantly. The goals we score, in the vast majority of cases, are quality. They are a result of excellent work on the training pitch. We are not doing what some claim: Keep it tight and knick one. If we were, we'd be scoring mainly scrappy goals, deflections from corners, penalties etc. But most of our goals are a result of beautiful interplay.
But we don't have the ability yet to control games. So yes, play it tight. Nothing too expansive.
But look back to his time at Chelsea, broke records for goals scored when he won the title. And players like Kaka and Shevchenko were never the same without him managing them.
So yes, I'm a big fan of what he's doing here. It would be a wonderful end to his career. After managing the best clubs in Europe, to come a rebuild a sleeping giant into a new era.
John McFarlane Snr
40
Posted 25/02/2021 at 20:01:18
Hi Peter [18] you and I are in complete agreement, but I think it's highly likely that some won't be as patient, and a couple of poor results or performances will be seized on. The future is a promising one, but it's a case of one step at a time, but let's all enjoy the moment.
Jamie Crowley
41
Posted 25/02/2021 at 20:17:22
Peter Mills says it all for me.
Stability. Possibly the most underrated, albeit nebulous, factor in sports.
We need it. We've not had it. Hell, under Moyes we were finishing higher up the table. Consistency of ownership and management for any sports organization is massively underrated.
I hope Carlo is here for another 5-6 years minimum.
Pete says:
He knows more than us.
Couldn't agree more. Won't stop me from spouting shite on TW, but it's still spot on.
John Keating
42
Posted 25/02/2021 at 20:31:34
Since the derby, there has been harmony, agreement and bonhomie from all on the various threads.
This one, however, will return us to "situation normal". It was good while it lasted...
Allen Rodgers
43
Posted 25/02/2021 at 20:39:23
Carlo wanting to stay is one in the eye for that gobshite Merson and others who said he was only here for the money. I think he really gets us.
Possibly he's been a bit too open about where he lives and now he'll ramp up his security. So pleased it hasn't put him off but, to be fair, it's safer in Crosby than Napoli!
Stephen Brown
44
Posted 25/02/2021 at 20:47:01
I'm scared of getting to excited !!!
Carlo Ancellotti is our manager and he gets it!!
James Rodríguez plays for us!!
We just convincingly won at Anfield!
Planning permission granted on a state-of-the-art dockside stadium!
Players who get and you can really get behind!
In contention for Champions League places! In the Quarterfinals of the FA Cup!
I'm loving this but I'm so nervous it'll go wrong!! Surely we deserve this??!!
Duncan McDine
45
Posted 25/02/2021 at 20:48:26
I'd be happy to see him cut the blue ribbon (Autumn 2024 is possibly a tad optimistic), but I may just change my mind if he plays James, Sigurdsson and Gomes in the same team again.
Graham Mockford
47
Posted 25/02/2021 at 20:54:07
Neil Copeland
48
Posted 25/02/2021 at 20:59:54
Graham, that's the one - cheers!
Jay Wood
[BRZ]
49
Posted 25/02/2021 at 21:07:27
Neil, I'm guessing you mean this?
All in Spanish for their Colombian audience, but with English sub-titles. Very joyous.
Also worth reading this news item on the club site, too. Given the criticism of Everton's poor efforts to promote and commercialise the club, look what they did at the weekend:
Another First & World Record For Everton
The club presented a FOUR-HOUR live watch-along in Spanish for Saturday's Derby, becoming the first football club in the world to use TikTok's live geo-stream focused on one territory. Latin America.
Everton's Colombian followers on TikTok increased by 9% as a result, generating 7.3 million video views.
When James signed for us, traffic to the club site increased by a whopping 433%.
Further evidence that the club is coming together on many different fronts, IMO.
Graham Mockford
50
Posted 25/02/2021 at 21:10:39
Jay
As they say around your parts
Deus ajuda quem cedo madruga 😂
Neil Copeland
51
Posted 25/02/2021 at 21:11:22
Jay, that's it, thanks.
Wow! Is this really little Everton we are seeing coming of age? Great information that Jay and as you say, looks like we are finally acting like a big club again.
Colin Glassar
52
Posted 25/02/2021 at 21:12:10
Ditto, Stephen 44.
Thomas Richards
53
Posted 25/02/2021 at 21:14:26
You didnt learn that in the betting shop Graham
Paul Birmingham
54
Posted 25/02/2021 at 21:15:14
Good news and a foundation to build on. But the next game is massive, and prove at GP, Everton can back to winning and stick one up Hassentutel.
He's another sauerkraut, yep I know he's Austrian, ( not all krauts are saucer), I've a few good German mates, but not these two who manage the RS and Soton.
Neil Copeland
55
Posted 25/02/2021 at 21:17:49
Thomas, not at the bingo either
Thomas Richards
56
Posted 25/02/2021 at 21:20:24
😁😁
Derek Knox
57
Posted 25/02/2021 at 21:20:26
Jay @49, slightly off topic here but our mate Cebolinha came on as sub for Benfica, in the UEFA game against Arsenal. To be honest I was very disappointed in the little fellow, who usually gets me on the edge of my seat. He made virtually zero impact on the game and to his team either.
Graham Mockford
58
Posted 25/02/2021 at 21:22:01
Very true Thomas
Although tbf Google translate hadn't been invented 😉
Neil Copeland
59
Posted 25/02/2021 at 21:22:52
Thomas, mind you it may depend upon the meaning of worm with so many females at the bingo
Seb Niemand
60
Posted 25/02/2021 at 21:27:04
Wonderful news. Wonderful manager. Wonderful man.
Mike Gaynes
61
Posted 25/02/2021 at 21:37:02
Wow, Leicester out to Slavia Prague. Didn't see that one coming.
And congrats to our old friends Klaassen and Stekelenburg for leading Ajax through.
Thomas Richards
62
Posted 25/02/2021 at 21:38:50
Mores the pity Graham.😁

Jay Wood
[BRZ]
63
Posted 25/02/2021 at 21:39:02
Yo Derek.
I didn't watch tonight's game, but have been keeping tabs on Cebolinha. I'm afraid his season is mirroring that of Benfica's manager, Jorge Jesus, who of course the club took back from Flamengo following his all-conquering year in Brazil.
Benfica and Cebolinha started the Portuguese season on fire. He got 3 goals and 4 assists in his first 10 games in Europe and Benfica were winning games with plenty to spare, as defending champions.
The poor lad was also laid up with CV-19 in January.
But the wheels have come off and Jesus is now under severe pressure. They are FOURTH in what is usually a 3-horse race in the Portuguese league with city rivals Sporting and Porto.
Sporting are unbeaten after 20 games on an impressive 54 points. Porto 2nd ten points behind, Braga 3rd another point behind and Benfica a very sorry 15 points adrift of Sporting on 39 points.
I'm a Sporting fan so me and my fellow green and white Tuga mates are loving Jorge Jesus' fall from grace. Lots of funny memes and GIFs doing the rounds.
He was not a popular choice when he jumped ships from Benfica to Sporting for a couple of miserable seasons before arriving in Brazil, so to see his return to Benfica turn so sour brings great mirth!
Not an easy year for Cebolinha to move to and play his first club football outside of Brazil.
Tony Abrahams
64
Posted 25/02/2021 at 21:50:24
Michael K, tell me something I don't know mate!
Mike Hughes
65
Posted 25/02/2021 at 21:53:29
Perhaps Carlo is simply a man driven by achievement and ambition rather than just the money. Arnold Schwarzenegger once said that money had honestly not changed him - he felt no different earning $100m than when he earned only $50m a year! It must be the same for CA.
So, perhaps the ambition to turn EFC into winners rather than perennial under-achievers is what is driving the man.
Let's be honest - winning silverware with EFC after our barren 25 years (the worst period in our entire history) would be right up there with his achievements elsewhere.
He appears to have a realistic initial goal (Europe) as a stepping stone.
I'm sure he has an eye on the FA Cup as well.
After this week's series of nice surprises (I'm containing myself as I may have upset the neighbours with last Saturday's shouting and cheering) let's give the man our full support. To me, this feels like the 83-84 season when we showed clear signs of the waking giant.
(That said, anything less than a win against Southampton would be very Everton and feel like a pin inserted into our blue ballon. We need to move on from whatever contributed to defeats against Newcastle, West Ham, Fulham et al.)
Good luck Carlo.

Jay Wood
[BRZ]
66
Posted 25/02/2021 at 21:58:01
And talking of things such as memes and GIFs, I can't get enough of the Derby-related ones following Saturday's win.
Here's a great response on Richy's Twitter account in reply to some RS-baiting. Just scroll down the page a tad to see it.
Either Richy's English is much better than believed, or someone is managing his social media accounts!
Unrelated, but talking about a young gun out on loan, read this glowing report about Anthony Gordon's MoTM performance for Preston in their 0-0 draw with QPR last night.
Anthony Gordon's 'Star Display'
Good for him. Good for us.
Danny O'Neill
67
Posted 25/02/2021 at 22:24:49
Fran (39), for years that's the narrative the media want to peddle with Everton. Of course we need either the next British flavour of the month (Dyche, Howe, Wilder) or take the latest available, but already failed several times friend of the Sky Sports cronies. We're little old Everton so shouldn't get above ourselves but are still a big enough gig to put one of their mates back on the map despite serial failures beforehand. Sadly, many of us have bought into that in the past and believed the brain washing.
Jay (BRZ); thanks for that. Really enjoyed watching the James & Yerry show. I love how the South American boys genuinely seem to buy into the club. Mentioned this before, but there's a great YouTube post of Mina and Richarlison at a Liverpool school doing a dance routine with the kids. They get very competitive with each other and the kids buy in!! Backing music is Spirit of the Blues, just search that with their names.
Panita - without looking up, Spanish or South American Spanish for "mate"??
Jay Wood
[BRZ]
68
Posted 25/02/2021 at 22:30:23
Danny, saw the
when it was released at the time. Again, so much joy.
And yes, 'panita' is broadly used in Spanish-speaking Latin America as 'little friend' - or 'mate'!
Brian Wilkinson
69
Posted 25/02/2021 at 23:16:49
Mike k you are spot on, we have had the Derby win, thumbs up for the ground, Digne signing new contract and now Carlo wanting to stay past our new ground date, all good news.
I wonder how many would have said had we lost the Derby, here we go, ground news after a defeat.
It has been an unbelievable week for Evertonians, let us enjoy it while we can.
Jerome Shields
70
Posted 25/02/2021 at 23:33:03
I remember two week ago a poster walking his dog in a Liverpool park came across Davide Ancelotti. He asked him about a Calvert Lewins injury and how his father found the Club.
Davide said that Carlo, like himself, found coming to Merseyside beyond his expectations , not knowing what to expect and said that he wanted to stay and built the Club to be one of the Top Clubs in Premiership or words to that effect. Carlo wants to a achieve a lot with Everton, so he needs to be here for a while, beyond the building of the new stadium.
He reminds me of Brian Clough who took over at Nottingham Forest. They where a good footballing side and he was able to build. I think that Ancelotti has had his eyes on Everton for a while and seen that the fundamentals where coming together and with his expertise and skill he could build.
If he is able to build Everton to the real potential of the Club, with a traditional, not poser , fan base, it will be his biggest and very rewarding achievement. Even achieving legendary status. I also thought he was here for the money, but I have realised that achievement in Football means more to him.
Ancelotti may be adept in dealing with the media, trying to boost players, but basically he tells the truth. He has never tried to bullshit the fans.
Danny O'Neill
71
Posted 25/02/2021 at 23:43:09
Ancelotti commands a high salary because of his CV. That happens in most professions.
But he has earned that CV because of his desire and passion as a gifted player. Because of his work ethic as a coach and manager. Because he is a winner. He may not be a race up and down the touchline Klopp like character. He may not be as egotistic as Mourinho. But he is a calm and calculated winner; both as player and manager.
Like anyone who has worked their way up through the ranks to reach the top, he gets the just rewards. But that is not his driving factor and it never replaces the desire to win a football match.
You get what you pay for. For too long Everton were paying way too much for imposters; mongrels with no pedigree.
Steve Brown
72
Posted 26/02/2021 at 00:18:04
A great week for blues everywhere to be optimistic and a bit smug. We all deserve it and the shite make being smug a full-time occupation.
Let's now see how the games goes against Southampton. At home after a big win has not been a great combination for us this season!
Mike Gaynes
73
Posted 26/02/2021 at 01:04:35
Mike #65,
Arnold Schwarzenegger self-financed his election as Governor of California, owns this estate:
Arnold Schwarzenegger's House
Los Angeles, California (CA), US
...and lost his wife. a Kennedy, and about $200 million because he had a son with the maid. So take his comments with a BIG grain of salt. ;-)
Tim Gerrard
74
Posted 26/02/2021 at 01:48:50
I feared that the recent break-in at his house would have soured his stay on Merseyside and, come the summer, he may have decided to move on. Looks like that isn't the case.
Hope the 'family' atmosphere that so many people involved in the club talk about has surrounded him and he envisages a long-term stay at the club, like many people before him and hopefully those who are yet to come. Provided, that is, they can score goals at will, tackle anything that moves in an opposition shirt, pass a ball to someone in a blue shirt over any distance, and also ensure a trophy-filled future. Not much to ask...
David Cooper
75
Posted 26/02/2021 at 02:58:39
Off topic - anyone know when Villa v EFC has been arranged for? I have looked at quite a few fixture lists and can't find any mention.
Ian Jones
76
Posted 26/02/2021 at 04:14:46
I watched the Mina and James video and one of the questions referred to the dressing room and unless I misunderstood, James indicated there were only 6 players allowed in each dressing room. Assume this is when the players are at Finch Farm. If this is true, just adds another layer of complexity caused by Covid protocols, certainly would make it harder for some players to gel with others. I googled this and first article I read was to do with Motherwell. See excerpt below.
"I don't want to sound like I'm making excuses, but there's also the point that – and this is for any club – the restrictions because of Covid protocols, a lot of the boys are split between changing rooms on a daily basis. It means that, for a team like Motherwell, who have got a lot of new signings coming in, they're not mixing with each other, not getting to know each other as quickly. They didn't have a pre-season trip away this year, where you'd usually have a week in a hotel together.
"Say, for example, Tony Watt is in one dressing room and Nathan McGinn is in another, they might not speak to each other. On a friendship level, just getting to know each other level, they only know each other on the training pitch."
Derek Knox
77
Posted 26/02/2021 at 07:10:51
Jay @ 63, thanks for the information on Cebolinha. Of course, I was hoping 'Everton' would have been an Everton player by now, as we were allegedly linked to him at the time.
Didn't realise either that was Jorge Jesus's second spell with Benfica, as you know I have advocated on here many times that I believe, whether it be a player or manager, it never works out going back to an old stomping ground.
How many times we have seen that happen? Yet it still goes on, and I suspect will continue to do so. When it all goes pear-shaped at Benfica and there is unrest, we could still offer Cebolinha a 'Get Out of Jail Free' card because I still believe with his undoubted talent, he could be a 'Jewel in Our Crown' with better players around him, and a happy camp!
Rob Halligan
78
Posted 26/02/2021 at 09:08:12
Jerome # 70. I don't recall anyone saying they had met Carlo's son, but I was speaking to his son in law the day after the cup win over Spurs. His S.I.L did say to me that Carlo would like to stay at Everton for the next ten years, get the club back to the top of the premier league and emulate what Man City have done over the last few years, although as he rightly said, you never can tell in football.
His S.I.L told me they did not know what to expect when they first moved to the club, but were blown away by the size and the history of the club. It really was massive compared to what they expected.
The whole Ancelotti family love living in Liverpool, but in totally different parts it seems. Carlo is in Crosby while his daughter and S.I.L live in Gateacre. Not sure where his son Davide lives? As many have said, the break in to Carlo's house seems to have not deterred them in anyway whatsoever.
Roger Helm
79
Posted 26/02/2021 at 11:01:30
Yerry and James look very happy in their interview! Panita (little bread?) is James's nickname?
Daniel A Johnson
80
Posted 26/02/2021 at 11:15:53
As much as I have my reservations about Don Carlo.
You can't deny he is a class act, a decent man and honourable.
So long as we can keep improving were lucky to have him and his calming presence over us.
Derek Knox
81
Posted 26/02/2021 at 11:45:55
Roger, 'well done' thanks for that crumb of comfort and the info, with the dough that he is on, I'm sure James is on a roll with that! :-)
Christopher Timmins
82
Posted 26/02/2021 at 13:02:27
All things going to plan, we should be in the new stadium playing Champions League football with Carlo at the helm by October 2024.
Sit back and enjoy the journey over the next 3 years!
Martin Berry
83
Posted 26/02/2021 at 15:43:08
And just when I thought it was safe to put a clean pair of undies on, I have to change them a again.
What a week its been at the laundry !
Thomas Richards
85
Posted 26/02/2021 at 16:29:10
Great news this.
Still the odd doubter but Carlo is changing minds rapidly.
John Boon
86
Posted 26/02/2021 at 17:54:27
There have been so many mistakes made by Everton in picking managers over the last six years. For this reason it is understandable why there are going to be "doubters" about any choices. Every new manager has been given time to prove their worth. In all cases, they have failed.
I think Ancelotti has already proved himself by the supreme litmus test of beating "Them". Made even better by the fact that it was on their own ground. I think given the right resources, along with patience from the fans, he could take Everton back to glory days. Consistency is needed if we are to make it up a few levels and we can not afford to have many days like Fulham and Newcastle. The fact that he seems to be content to be living in the Liverpool Area is a factor that should not be overlooked.
Having said all the above, the Southampton game is another opportunity to show that we can still beat teams who are not doing well. COYB.
Rob Halligan
87
Posted 26/02/2021 at 18:19:37
Speaking to a neighbour earlier on, another blue, and amongst other things, we talked about Ancelotti becoming Everton manager, and we both agreed that we never thought in a million years that he would come to us!
A thought has just struck me though, Marco Silva was sacked after the 5-2 mauling at Mordor. Now just imagine for a moment, had we got any kind of result in that match, would Silva still have been sacked? Would the board have persevered with Silva for a few more weeks or so, or would he have been sacked even with a very narrow defeat at Mordor?
We will never know, but was that 5-2 derby mauling the best result we didn't want? Ancelotti had just been sacked by Napoli and was free, and maybe Arsenal would have stepped in and got him instead of Arteta.
Bobby Mallon
88
Posted 26/02/2021 at 19:01:57
Rob 87, I believe we are so lucky to have him
Brent Stephens
89
Posted 26/02/2021 at 19:04:50
Rob #87 - interesting thought. Maybe we dodged a bullet and got a tremendous new coach,
Pat Kelly
90
Posted 26/02/2021 at 19:43:11
Jus imagine, Gbamin could be back before they move into BMD.
Jerome Shields
91
Posted 26/02/2021 at 19:53:17
Rob#78
Was relying on memory. Yes it was your post. Glad you are able correct my post and to give the exact details. Thank you for sharing the original post. It gives a valuable incite of the authentic facts behind the headlines. Thank you again.
Danny O'Neill
93
Posted 26/02/2021 at 22:16:19
"They" Pat Kelly? Freudian slip? Surely you mean "we"?
Mike Gaynes
94
Posted 26/02/2021 at 22:24:53
Rob #87, as my in-house Buddhist yogi says so often, "Everything happens for a reason." She would have no doubt that you're correct.
Rob Halligan
95
Posted 26/02/2021 at 22:34:24
Mike, next time you're over, I'll try and get you to meet Carlos S.I.L. Was a really nice fella. That's assuming of course, that the family are still here next time you get over!!
Mark Andersson
96
Posted 26/02/2021 at 23:56:25
Best thread in a long while.. those you tube links are brilliant...
Brian Wilkinson
97
Posted 26/02/2021 at 23:59:41
I think what will good with the new ground, with it being closer to the City, quite a few more regulars, will get a chance to have a meet up pre match, or even after the match with other posters.
All being well with Carlo still in charge of the team.

Pat Kelly
98
Posted 27/02/2021 at 14:43:35
Danny#93, I don't expect to be playing there 🙂
Michael Coffey
99
Posted 27/02/2021 at 14:54:52
Looks like it's not just Ancelotti who's raising our profile in Italy...
https://video.gazzetta.it/video-incredibili-prete-celebra-vittoria-everton-inno-sciarpa/32be2e72-753e-11eb-a357-b1221e680749

Thomas Richards
100
Posted 27/02/2021 at 14:59:04
The Italians will love that, Michael.
Dont be surprised if they put a bid in for the priest
Danny O'Neill
101
Posted 27/02/2021 at 15:35:22
I still dream Pat. Even at 49, I'm still waiting for the call!
Tony Abrahams
102
Posted 27/02/2021 at 15:41:49
Pat is like today's weather Danny, but without the blue skies!
Christy Ring
103
Posted 27/02/2021 at 16:37:53
It would be great if Carlo was our manager when we move into our new stadium, it would mean he must have been successful up until then!
Watched a preview of the game on Soccer Saturday earlier, Johnson and Merson said it was no penalty, total gobshites.

Alan J Thompson
104
Posted 27/02/2021 at 16:46:00
An intelligent man who says the right things at the right time. If the team maintains this level of improvement then only he has the right on when he will call time, and possibly on his successor.
Derek Knox
105
Posted 27/02/2021 at 17:37:26
Thomas @ 100,, Why? Is he a wizard on crosses? :-)
Thomas Richards
106
Posted 27/02/2021 at 17:38:39
😁😁
Thomas Richards
108
Posted 27/02/2021 at 17:44:01
Pop!!

Thomas Richards
109
Posted 27/02/2021 at 17:50:16
More ice?
Brian Wilkinson
110
Posted 27/02/2021 at 22:19:42
Christy @103, I am not sure who has upset Merson at Everton in the past, but it is clear our club nark him.
Had a pop at Everton when we bought Richarlison, saying we ruined the transfer market, even though other players went for more money in that window, before we even signed him.
Now saying absolutely no chance will Everton finish in the top 4 this season, but then backs an out of form Red shite team, saying they will finish in the top 4 for sure.
I would take it with a pinch of salt, Andy Townsend and Alan Smith are another two who seem to have a grudge with us.
Thank god we have at least Ian Wright, who seems to have a little soft spot for us.
Danny O'Neill
111
Posted 27/02/2021 at 22:28:29
Brian, because of my tone, I do, on occasion get accused of being condescending. I never mean to be, and I never consider myself to be better or more intelligent than anyone else I engage with. I come from too humble a background to do so.
But, that background also makes me a good judge of character.
So in my opinion, Merson is just mince. He is a classic example of open mouth and spout shit before thinking about what you are actually saying.
I get he has his demons, and I sympathise with that. The guy was a very gifted footballer. But my word he talks shite most of the time.
A good example of why I long for actual sports journalists giving balanced views on football versus ex-footballes-cum-fans imparting their "wisdom" of the game upon us.
Thomas Richards
112
Posted 27/02/2021 at 22:33:01
Danny,
Never seen that trait in any of your posts to be honest.
Merson? The intentionally unintentional name mistakes are the worse for me. See-through is Mr Merson.
Brian Wilkinson
113
Posted 28/02/2021 at 00:38:33
I second that, Thomas, whatever grievance Danny May have had, I can honestly say I have not seen it, certainly not in response to any of my posts.
Danny O'Neill
114
Posted 28/02/2021 at 09:16:25
Nothing specific to hear, Brian, Thomas. As I was about to go into a mini tirade about Merson (thanks for triggering me!), I thought I'd get a caveat in.
Like most, I've had my moments on here, so I guess I was just airing a bit of paranoia!
Hugh Jenkins
115
Posted 28/02/2021 at 09:38:47
Regarding Merson – I don't understand why they kept him on when they had a clear-out earlier this season. He should have gone at the same time as Thompson et al. Hopefully he won't be there next season. He can then have another chance to show his football expertise by managing Walsall.
Alan Maher
116
Posted 28/02/2021 at 10:41:04
The most important thing Carlo has done, is sell his vision to the players and how he'll get us there. He has erased any doubt that they may have had and has earned their respect. It's no coincidence that Everton are one of a very few teams that have not had a covid outbreak. Everyone is eager to play and are doing everything not to jeopardise there place in the team. The foundation of any successful team.
Thomas Richards
117
Posted 28/02/2021 at 11:04:43
https://www.liverpoolecho.co.uk/sport/football/football-news/everton-financial-deal-major-opportunity-19929122
Very interesting.
Len Hawkins
118
Posted 28/02/2021 at 11:42:18
Whether Merson or anyone else think the penalty was wrong should read Clattenbergs explanation of the new rule "if a player obstructs a player in the act of scoring whether intentional or accidentally it is a penalty" their player was on the ground DCL pushed the ball past him and the GK as he was hurdling the floored player he sat up bringing down DCL in a scoring position. He added that he should have been sent off if it was deliberate but as he had his back to DCL when he sat up it was accidental. Now obviously absorbing information when your brain is addled through narcotics and alcohol and is educationally substandard it must be hard so how does he qualify to pontificate on anything other than hangovers and headaches.

John Boon
119
Posted 28/02/2021 at 14:56:14
Don't usually go off topic but at quiet times anything "Everton", past or present is worth reading. I, along with most others, am pleased to have Ancelotti as manager. I still think he needs time to establish himself as one of the best.
However there is one player, not manager,who to me was the BEST Everton player I have ever seen. I just read an article on Saturday by a fellow Evertonian who obviously shares the same feelings by describing ALEX YOUNG, the "Golden Vision" as the best ever. It was the fourth anniversary of his death.
I don't know if I can be as eloquent as the writer but his description of YOUNG's abilities was superb, as was Young himself. He seemed to float around the field with ease and grace. He had superb ball skills and, despite his small stature, he was a great header of the ball.I don't think he got the true credit he deserved because he was injured too often. This was mainly due to foot problems from the awful football boots we all wore in those days. Sorry if this is a little off topic but he will always deserve mention as an Everton player who gave something to the game of football that very few can do.
One of my Football highlights was when my team won the CYMS league in 1961. As a very average defender I was astonished and delighted when Alex Young and Jimmy Gabriel came to the Hall to present the medals However he did not need to do that to impress me. He impressed me every time he stepped on the field at Goodison Park
Brian Murray
120
Posted 28/02/2021 at 15:30:34
John. I was a match goer through family but can't really remember him or appreciate what he was all about. Maybe a Bergkamp type of player with great balance. Never made his mark in the derbies probably why Bally ahead in popularity stakes.
Roger Helm
121
Posted 28/02/2021 at 18:25:26
It goes to show how tough the EPL is - only rarely does a Rooney type appear and be a success from the off. I wasn't sure about Tom initially but it has been great to see him flower recently.
Some is down to his physical and mental maturing, and a lot also down to a top manager getting the best out of him. Just like DCL who many here rubbished when he was being played out of position but now is turning into one of the best centre forwards in the country, if not the best.
Mike Gaynes
122
Posted 01/03/2021 at 02:50:05
Carlo salutes Doucouré -- while admitting he was Brands' choice, not his own:
Ancelotti's Doucoure comment highlights relationship with Brands
"When we started to talk about the transfer window, Doucoure was on the list of the club. He was not on my list, but we talked together and we both agreed to sign him. I think it was, after 6 months, a really fantastic signing because Doucouré is playing really well."

Dick Fearon
123
Posted 01/03/2021 at 05:33:44
I am 81 and live in Australia and my chance of a seat in our wonderful new stadium diminishes with every passing year. Nonetheless, I can visualise the excitement of those denizens of ToffeeWeb who, over many barren years, have supported this old club through thick and thin.
I will be there at least in spirit and hope, when that great opening day arrives, some thought is given to those battlers of days past.
Bill Gienapp
124
Posted 01/03/2021 at 06:22:15
That's interesting, Mike. I was generally in favor of the signing, but it did feel a little lazy - like a leftover target from the Silva era. Obviously it's worked out nicely.
Colin Glassar
125
Posted 16/03/2021 at 10:37:04
Looks like Jenrick is asking for more time to review BMD. Typical, nothing is straightforward with Everton.
Brian Murray
126
Posted 16/03/2021 at 10:52:36
Colin 125. The other week that Kraut basically said something is very wrong with football that Everton where on or near the same points as Liverpool so no doubt a game changer like bmd will be fought and criticised for as long as possible by the powers that be because let's face it with them have less than six thousand season ticket holders from this area this whole project and area would of been brilliant for souvenir carrier bag carrying best fans in the world.
---
Add Your Comments
In order to post a comment, you need to be logged in as a registered user of the site.
Or Sign up as a ToffeeWeb Member — it's free, takes just a few minutes and will allow you to post your comments on articles and Talking Points submissions across the site.