Martinez: Everton are getting close to achieving success
Sunday, 7 March, 2021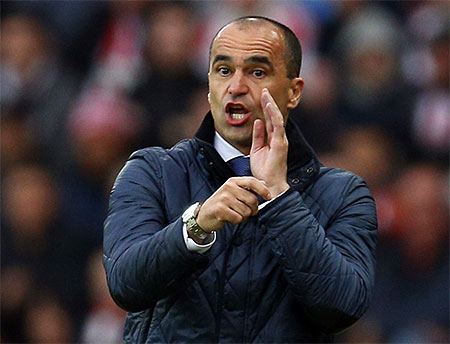 Former Everton manager, Roberto Martinez, has been impressed with the work done by Carlo Ancelotti at Everton and he says that, in his view, the club are getting close to achieving trophy success.
Martinez succeeded David Moyes as the Toffees' boss in 2013 and appeared to have the club on track to finally rejoin the elite with a stellar first season in which he steered the club to its highest points total of the Premier League era and narrowly missed out on a place in the Champions League.
However, after two disappointing campaigns in 2014-15 and 2015-16, he was sacked and Everton embarked on three more years of instability under Ronald Koeman, Sam Allardyce's interim spell and the failed Marco Silva experiment before Ancelotti came on board in December 2019.
The Italian has targeted eventually steering Everton to silverware and the top four but in his first full season his side sits just outside the top four with 12 games to go and in the quarter-finals of the FA Cup.
Martinez says that is evidence that Farhad Moshiri has made the right appointment and that the Blues are on course to leave decades of under-achievement behind.
"Everton is a very, very special club," the current Belgium manager said in an extensive interview with BBC 5 Live Sport yesterday. "Once you get touched by Everton, that always stays with you and you follow the club.
"I think what Carlo Ancelotti has brought is a real common sense — that emotional feel after a win or a defeat, he's always calm and he's always improving the squad.
"I think the recruitment this season was very, very clever…specific players coming in to make the others stronger. It's been really good to see how this team has showed an incredible mentality and I think it's showed in going to Anfield and managing to win after the amount of years it wasn't possible.
"It's the influence that he's given to [ensuring] the players enjoy playing for Everton, to embrace the demands or the expectations. The fans deserve to see silverware, they deserve to see Everton competing for the Champions League and I do feel that this team has grown immensely [from] what they were last season.
"You're looking that they've got a great game against Chelsea on Monday. Probably you can say that they are fighting to get into that top four and that's going into the final third [of the season]. That's where the players enjoy being.
"At a club like Everton, you need to make sure the team develops and it gets better, because it's the only way that they can achieve something.
"I think now Everton, under Carlo Ancelotti… having the stability, they are just one step away from winning silverware or getting into the top four to make that jump as a club and going into being a team that can compete season after season for those top-four positions.
"I do think that … with the news of the new stadium, they are very close to starting to fulfil the big successes they had in the 80s."
---
Reader Comments (95)
Note: the following content is not moderated or vetted by the site owners at the time of submission. Comments are the responsibility of the poster. Disclaimer
Alex Gray
1
Posted 07/03/2021 at 17:53:42
As much as he gets criticism on here he's never said a bad word about the club since leaving. Compare his comments about us to Fat Sam!
Didn't work out for Martinez here but always liked him as a person!
Hugh Jenkins
3
Posted 07/03/2021 at 18:20:04
Alex (1) - Seconded.
Barry Rathbone
5
Posted 07/03/2021 at 18:26:23
He was the right man at the wrong time he got the club understood Moyes template was a safety and mediocrity plan only and had the courage to try another way. Paid off in a first season that still hasn't been matched hundreds of millions of pounds later.
Shame Moshiri arrived too late to save the subsequent bottom of the barrel scraping with the McCreadys of this world. Presumably like bone headed fans he couldn't see loanees like Lukaku were the exception rather than the rule.
On a level playing field he is as good as any as proven at Swansea and now Belgium he even managed to win the FA cup at Wigan as chairman Phelan was organising a controlled descent out of the Prem.
Top man, top manager
Paul Hewitt
6
Posted 07/03/2021 at 18:28:38
Victor@4. I'm definitely not bitter. How he ever got to manage this club will always be a mystery to me.
David Pearl
7
Posted 07/03/2021 at 18:28:41
I agree with No 1, Alex. Can you imagine Koeman ever saying anything like that? Silva is still in hiding.
Pity he didn't have more time for me but had to go as the fanbase turned on him. I enjoyed us having a passing style of play but he didn't have the players.
And of course we went from one style to whatever the fuck Koeman tried.
Anthony Jones
8
Posted 07/03/2021 at 18:33:14
What a load of gobbledegook.
The master of spin.
Victor Johnson
9
Posted 07/03/2021 at 18:35:35
Paul, the fact that he didn't succeed doesn't make him a bad person.
Anyhow, I guess this thread should be more about what he says being valid. Are we ready? Are we on the cusp of either qualifying for the Champions League or winning something? Personally, I think he may be on to something. I've not felt, at least in the last 30 years, as excited as I do now. COYB
Brian Wilkinson
10
Posted 07/03/2021 at 18:41:45
Have to agree with most on here, I have never heard him say a bad word about Everton.
Although not up to the job, he was the only one in his first season to dare to go to Man Utd and Arsenal without fear, played some good football that first season, which is more than can be said about Allardyce, Koeman and Silva, who feel we owe them something.
Thomas Richards
11
Posted 07/03/2021 at 18:45:31
Anthony,
"What a load of gobbledegook.
The master of spin"
I agreed with every word quoted in the article.
What did you consider gobbledegook mate?
Brendan McLaughlin
12
Posted 07/03/2021 at 19:18:50
Never cut out to be a successful Premier League manager but, at least now that he's gone, a not unlikeable guy. To his credit, I think he recognised his own limitations and went for the partial retirement option that is international football management at a relatively young age. Doubt he will ever manage a top league team again.
Kunal Desai
13
Posted 07/03/2021 at 19:22:54
Kind words, Bobby.
Less said the better about Sam and Koeman.
Anthony Jones
14
Posted 07/03/2021 at 19:34:28
Thomas. Where to begin? It is absolute drivel. Like most of his pre- and post-match waffle. He conflates common sense with the emotional detachment. He conflates players enjoying their football to dealing with expectation. Classic Bullshit Bobby.
Danny O'Neill
15
Posted 07/03/2021 at 19:38:38
I was very, very nervous when we appointed Martinez. Okay, he'd won silverware, something Moyes had failed and still has failed to do. But he got a team relegated. Okay, it was Wigan, but he got relegated.
He proved me wrong for one in the first season but unfortunately went on to live up to my suspicions. But never once did I dislike the man for his efforts and the way in which he embraced the club. It didn't work out for him or us, but credit to him for being a genuinely decent person.
When I think about it, I view him as a very good coach. I can see why he is probably doing okay with a national team, where the emphasis is on coaching, not day-to-day management. I often thought he'd have been a really good U-23 manager / coach in the current set up that exists in the Premier League. Not the main man but someone who could provide a better bridge between first team and the developmental squad.
On the others, I've said much before, so here's a recap.
Koeman; I got excited and blinkered by my memories of Koeman the player. I still maintain had he stayed, he'd have finished the same place as Allardyce. We were 12th when Allardyce took over and that squad would have finished 8th with Koeman, but I was glad Koeman went as it never really felt his heart was in it.
Allardyce; shudder. Enough said on that.
Sliva; why? Didn't want it. Didn't like it. Glad when it was over.
Ian Linn
16
Posted 07/03/2021 at 19:44:57
I was also disappointed when we hired Martinez.
His post-match comments were utter shite, as were some other gems such as "Arouna Kone is just a phenomenal story". Hmm.....
Si Cooper
17
Posted 07/03/2021 at 21:15:34
Anthony, I have to admit I can follow the Martinez quotes a lot easier than whatever you are trying to say in your follow-up post.
I always thought too many people had a strange 'phobia' of how Martinez (a non-native English speaker) relied on particular words when trying to convey his thoughts. Seemed like a petty attack on a person's vocabulary more than anything else, and still does.
Never had a problem with his positivity either and think it is an injustice to characterise it as spin.
Danny O'Neill
18
Posted 07/03/2021 at 21:22:45
Good point, Si.
Always been sympathetic about non-native speakers trying to express themselves in a foreign language, so never been overly critical.
As you say, trying to find the correct or exact word is easier said than done. Both in terms of your own grasp of the secondary tongue and also how it translates in your own mind. No matter how long you have lived in a country or mastered a language, most of us still think in our native tongue before translating.
I speak German reasonably well. Not as well as I used to, but even then, my grammar, word order and selection of words would often sound odd to a native German as I was thinking English before translating and speaking. But then understood what I was trying to say and were sympathetic rather than critical of my delivery.
Barry Williams
19
Posted 07/03/2021 at 21:28:42
Si Cooper - 17
After being a language teacher for many many years and living in many different countries I can only agree with you. His English was excellent, but when you are a non-native speaker, no matter how good your language skills, then you definitely miss the nuances. Hence, we had the overuse of 'phenomenal' and the like, and sometimes what sounded to us like a lot of contrived excuses, when a lot of it could have been down to language difficulties and direct, but inappropriate, translations.
Brendan McLaughlin
20
Posted 07/03/2021 at 21:36:09
So we're agreed good English speaker... shite manager!
Danny O'Neill
21
Posted 07/03/2021 at 21:39:10
Decent coach though Brendan I think. But yes, not a great manager in the context of the expectations of the English game.
Brendan McLaughlin
22
Posted 07/03/2021 at 21:49:23
Danny O' #21,
Not Martinez's fault but Everton deserved better at the time... although I couldn't see a standout alternative at the time.
Danny O'Neill
23
Posted 07/03/2021 at 22:00:42
Totally agree, Brendan. To my first line, very very nervous when we appointed him. I say nervous, I was actually vocal and critical.
Like you say, at the time realistically, we were shopping at Asda in finding a replacement for Moyes.
We have arsed about with managerial appointments since Moyes left. Moshiri has been too nice in listening to the incumbent although I felt Sliva was his thing. Glad he broke away and went with someone of Ancelotti's standing in the game.
Ernie Baywood
24
Posted 07/03/2021 at 22:03:23
One of the few managers we've had who thought Everton could be more than we had recently been. I'll always appreciate that, even if he came across as more of a leadership consultant than a football manager.
Geoff Lambert
25
Posted 07/03/2021 at 22:08:32
Still think it will take a while to beat his first season points total, and quality of attacking football.
Eddie Dunn
26
Posted 07/03/2021 at 22:31:13
A charlatan who was nice to his players and got lucky inheriting a bunch of lads who knew how to defend... He landed the Belgium job and has underachieved with them.
The man is a snake-oil salesman and, if gets back into club football, he will fall flat on his face. He just didn't make sense.
Brendan McLaughlin
27
Posted 07/03/2021 at 22:35:14
Sorry Ernie #24,
But hopefully we've had a few managers who thought we could be more than we had recently been... otherwise what's the point? Unfortunately, like Roberto, they took us on a downward spiral fortunately with Carlo we're looking upwards.
Geoff Lambert
28
Posted 07/03/2021 at 22:38:01
Eddie. he also inherited a bunch of lads in midfield and up front that couldn't string two passes together or show up for any game against the top six.

Peter Gorman
29
Posted 07/03/2021 at 22:45:37
Martinez was totally out of his depth here and naive to the point of farce, but I can't fault what he has said about the club above – it actually speaks to his class.
If you want an example of lack of class then look no further on these pages than the Koeman interview not so long ago. It told a very different story but one that will have come as no surprise to anybody who witnessed his mismanagement of our club.
Brendan McLaughlin
30
Posted 07/03/2021 at 22:46:52
Seriously, Geoff #28,
That sounds like relegation material. Did we not finish 6th in the previous season?
Justin Doone
31
Posted 07/03/2021 at 22:52:35
I've no problem with Martinez and I would have given him longer. By far we played our best attacking football in recent memory and certainly entertaining, to a point.
He also talks of mentality which is somethings Everton have (as far as I know) a crucial area we fail to recognise for elite people, but seems common practice in most elite level sports these days.
But... I disliked his treatment of Distin who for me was our best centre back whilst giving Stones to much praise for his sloppy play.
It may not have been all his doing but too many poor signings including a few ex-Wigan injury and error prone players he formally managed..why oh why?
If he had money to spend who knows, but in Carlo we have a manager more interested in winnings things than talking about things.
Martinez came across nice and media friendly but he talked nonsense about possession and perfection but failed to cut out the crap in his speeches just like he failed to stop the crap in his teams defensive displays.
He'll be back managing a club team soon, I have a feeling this could be his make or break tournament with Belgium. Luck runs out for everyone.
Tom Bowers
32
Posted 07/03/2021 at 23:07:16
Having money to spend helps but only if the manager has the right experience to get the best out of the squad he has.
Sometimes it doesn't happen overnight and may take two or three seasons if it is going to happen.
Carlo has made some astute signings without doubt but he is still trying to get the right blend particularly in midfield.
He has had to cope with sick-notes Delph and Gbamin so has to persevere with the likes of Bernard and Iwobi who just don't do the job when it matters.
Everton still concede too much of the midfield area and the back four have to perform miracles at times as well as Pickford.
In the last three games they have kept clean sheets but have been dodging bullets at times and West Brom could have stolen a draw in injury time.
Hopefully they pick up the gauntlet at the Bridge tomorrow and match Chelsea's midfield.
Mike Gaynes
33
Posted 07/03/2021 at 23:23:54
Eddie #26, you absolutely cracked me up with that one, mate.
A "charlatan" who "landed the Belgium job and has underachieved with them"???
Dude, they're the number one team in the world! Have been for three years, uninterrupted. They're 39-7-4 in 50 games under Roberto. Third at the World Cup -- lost 1-0 to the champions in the semis after dominating most of the game. Tromped England for 3rd. +10 goal differential, best in the tournament. 16 goals, best in the tournament.
Underachieved? Really? How exactly?
In my opinion, Roberto is a class human being whose positive words about us should be taken at face value. He's also a pretty good coach but an absolutely crap manager who should never return to club football because he has no idea how to run a club -- a national team is the ideal venue for him. Decent TV analyst too.
Danny O'Neill
34
Posted 07/03/2021 at 23:33:25
Mike Gaynes @3, I shall retire to bed on that last one as, on topic to previous discussion, we are speaking the same language!
Danny O'Neill
35
Posted 07/03/2021 at 23:48:53
**@33. Now I am off to bed!

Martin Berry
36
Posted 08/03/2021 at 00:25:51
A decent bloke but had no idea and how to organize a defensive unit. Additionally we had physios who left who did not agree with his methods, hence the number of players who suffered from hamstrings.
He has been doing well for the Belgium national team but there again who wouldn't with the players at his disposal. He inherited a fit well-drilled outfit from David Moyes, added flair but lost the benefits he had been given after his first season when it started to unravel. We ended with some terrible performances and he had to go.
However, thanks Roberto for your kinds word for the club and I wish him well.
Don Alexander
37
Posted 08/03/2021 at 00:42:15
Muppet Martinez runs close to BoJo in terms of credibility to me. A bullshitting buffoon, totally out of his depth in the real world of Premier League success/politics, but Martinez, unlike BoJo, now has talented players in abundance at his disposal to preserve his non-existent worth.
I wonder whether anyone in Belgium will ever wake up to the realisation that, since he ever got their top job, the country has failed to win anything at all despite having a squad that's miles ahead of any other country, year after year.
Don Alexander
41
Posted 08/03/2021 at 00:59:03
No idea why I "posted" three times folks. I suspect dark forces, probably devised by Kenwright to discredit me!
Nicholas Ryan
42
Posted 08/03/2021 at 01:26:12
I think Martinez is the very definition of the difference between a Coach and a Manager. I think the players thought he was a good coach, but the fans thought he was a terrible manager.
The criticism of Martinez in international football puzzles me; Belgium are the most talented national team in the world and wouldn't have any trouble attracting a top-class manager. They chose him; he wasn't inflicted upon them!
What he said about us seems fair, balanced and probably correct.
Don Alexander
43
Posted 08/03/2021 at 01:56:46
Nicholas, a manager in our league has to manage coaching too. It's the most fundamental requirement. Martinez via top knob Kenwright and a few others signed on by our "saviour" Moshiri, have been notably lacking in these fundamentals. For once in decades it now seems we have a manager with an appreciation of reality as a winner, above self-preservation.
Michael Williams
45
Posted 08/03/2021 at 02:38:16
I can understand people disagreeing about the ability of a player or coach. What I do not understand is the vitriol and personal attacks posters here feel they have to level at other human beings: "Muppet," "non-existent worth," "Bullshit Bobby."
Also, I believe that most people who write posts like this fail in their own lives to live up to to the standards they set for others.
Ajay Gopal
46
Posted 08/03/2021 at 03:27:41
By far, Roberto is my favourite ex-manager. In spite of his 'failures', let us look at what he achieved in his 3 seasons with us:
1st Season: 5th with record points tally (never been bettered since);
2nd Season: 11th in League, topped Europa League qualifying group with a match to spare, reached the last 16, but lost to eventual finalists;
3rd Season: 11th in League, Semi-finals of both the League Cup and FA Cup, losing both to the eventual champions.
That 1st season under Martinez was the most exciting for me as an Everton supporter. Sure, he had his limitations, but I wonder what he might have achieved had he had Moshiri's millions that Koeman so carelessly squandered. Plus, I like that he respects our club and the fans. I wish him well.
Terence Leong
47
Posted 08/03/2021 at 04:05:57
The fact is, considering all Martinez's limitations, we had brilliant football played during his first season. It was exciting and yet effective, even though we fell short at the final hurdle.
The fact is that we have not replicated that kind of free-flowing football (with end results) over a sustained period since then.
We probably had the odd game, or moments within games (such as this season), but never quite over the season.
It was the 2nd and 3rd season when it became 'tippy-tappy' without being the final product.
Ultimately, I reckon Martinez would still be limited, even if he was given the opportunity to tap into the full resources that his successors did.
I guess we are all hopeful under Ancelotti about what he can do for the team. Even though much of the games have been really tight and scrappy, there are two things which I think Carlo has made important progress in:
>> A team that can accommodate different game plans (his rotation and formation changes), and still carve out a result
>> A sense of belief within the team they can go on and build on things
These two ingredients would be valuable for us in the coming seasons, and push us before the countless false dawns that we had been experiencing.
Mark Andersson
48
Posted 08/03/2021 at 05:36:12
Felt he was going to be successful when he first arrvied... he seemed to get the club but became embarssing as he tried to cope with the demands of Everton fans expectations..
Mike Gaynes
49
Posted 08/03/2021 at 06:56:19
Don #37-39,
"has failed to win anything at all".
.. that was another classic.
What exactly could he have won and failed?
One World Cup (at which Belgium barely missed winning it all) and no Euros.
I assume everyone in Belgium is wide awake to the fact that since Roberto took over their team has the best record in the world. By far.
Andrew Ellams
50
Posted 08/03/2021 at 07:41:59
He changed the way McCarthy and Barry played in his second season and the team lost a lot of it's forward drive from that.
The team seemed to be less physically fit in his second and third seasons too.
Eddie Dunn
51
Posted 08/03/2021 at 08:01:18
Mike,
I'll tell you how they underachieved... they should have won the thing. A better squad than anyone else, my nan could have led them to glory! (And she's long dead.)
Duncan McDine
53
Posted 08/03/2021 at 08:26:38
Roberto's first season was the best thing I've seen since we won the FA Cup all those years ago. It was more entertaining than the season we finished 4th with Moyes. And while we've seen the odd big win here or there, it is depressing to think that watching an attacking team finish 5th is one of the big highlights of my Everton supporting life at the age of 41. Hopefully Carlo can raise the bar!
Peter Gorman
54
Posted 08/03/2021 at 09:17:13
People who wax lyrical about the 'beautiful' and 'entertaining' football under Martinez tend to forget the drubbings it frequently led to, such as 0-4 losses at Mordor (twice).
He was no villain, probably a top man, but he did bullshit a lot and by the end of the 2nd season had evidently squandered whatver platform Moyes had left him. We were all expecting the club to move forward but it dropped back, and I think that, more than the erratic football, is why some fans were left with a sour taste when it comes to our Bobby.
Paul Swan
55
Posted 08/03/2021 at 09:17:13
I think Martinez arrived and there was a great spirit of optimism on the field and, I thought, off it, where Everton seemed to wake up to the realisation they were in the entertainment business. Themed events on match days and there always seemed to be something going on.
However, for all of his likeable qualities, where Martinez lost me was in his constant positivity and bigging up abject mediocrity. It's an old cliche but Everton supporters are knowledgeable and, yes, opinionated. Witness the hundreds of football managers on any match thread. But they know when they are having smoke blown up their arses and the last months of this guy were terrible.
His match interviews were just a string of incoherent buzz-words and the failure to address piss-poor performances on the field were was put paid to him. The club's attempts to drown out – literally – the voices of disillusioned supporters with music at the end of one particular game were testament as to how far down his rabbit hole he had dragged the club.
I wish him no I'll feeling, and yes, I agree he never bad mouthed the club unlike the tossers who followed but we were doomed if he stayed. Remember his bollocks about neither defending or attacking corners as they had no real influence on the game? Let's not let rose-tinted nostalgia get in the way of things here.
Mark Dunford
56
Posted 08/03/2021 at 09:19:36
He was right person to succeed Moyes; had overachieved massively with Wigan despite the relegation. He worked really hard to understand Everton and clearly still has affection for the club, and as others have pointed out, far more than any of his immediate successors till Ancelotti who seems to be growing into it after a series of short-term appointments.
We were great in Roberto's first season yet – for whatever reasons (there were many) – he failed to build on the promise and gradually the distance between his ambition and the team's performances corroded his position and he left sadly but with some dignity – unlike the three stooges who followed him.
I suspect he is a better manager of a team in cup competitions so international football is ideal.
Stephen Brown
57
Posted 08/03/2021 at 09:22:11
Martinez should also be credited with changing Swansea's fortunes from 3rd Division also-rans to established Premier League team. He developed the style of play which was continued by Rogers, Laudrup etc.
It's a shame his stay here didn't work out in the end but I for one have respect for him and I'm pleased Everton has touched him too despite the relative failure in the end!
Barry Rathbone
58
Posted 08/03/2021 at 09:52:43
Gratifying to see support for Martinez here; it is truly ridiculous how the mention of his name invokes spitting fury from people purporting to support the club.
He gave us the best football and highest points total in our Premier League history went toe to toe with Liverpool at Goodison Park in the 3-3 game, provided decent cup runs, and brought through Stones and Barkley. The loan and eventual signing of Romelu Lukaku and the acquisition of Barry were inspired – even McCarthy pre-injury was a good signing.
He didn't get it all right, who does? But the vitriol towards a fella who provided so much and clearly still loves the club is shocking.
Not quite as shocking as the myth he inherited a great defence from Moyes. This was the defence who would guarantee any striker with power and pace an easy game – see Kone and the 3-0 debacle at Goodison Park for starters.
Alun Jones
59
Posted 08/03/2021 at 10:19:40
Yes, he does get a lot of stick; however, I can understand some of the criticism over his media comments and interviews. He used to talk a lot of nonsense and I don't buy that had anything to do with him not being British.
I heard him on a podcast recently and I listened in and it was still the same, he talked a lot but I couldn't help feeling he was saying what he felt people wanted to hear. I don't think he deserves some of the vitriol for sure but he was really really irritating!!!
Joe McMahon
60
Posted 08/03/2021 at 10:22:45
Barry @ 58, I fully agree. For much of that first season we were brilliant, and it was Roberto who personally called Romelu Lukaku to come and join Everton.
Yes, in the end, it didn't work out, but he gave us some great memories. Rom's goal v Arsenal, the Grim Reaper behind Moyes, and two Cup semi finals.
Clive Rogers
61
Posted 08/03/2021 at 10:23:01
He seemed to be a nice guy, but the longer he stayed the more the doubts came in about his all round ability as a manager. We were on a downward spiral at the end and I think another season would have ended in relegation. He made some awful signings, the worst of which was undoubtably Besic.
Colin Glassar
62
Posted 08/03/2021 at 10:31:24
I always liked Roberto and was desperate for him to succeed but he was his own worse enemy.
After his first, quasi successful, season he buggered off to Rio to enjoy the World Cup and took his eye off the ball. We became a 60-minute team. We were on our last legs after an hour and he completely ignored our defensive flaws.
If only West End Bill would've been more demanding, and ambitious, Roberto might have been forced to change his ways and become a success.
Barry Rathbone
63
Posted 08/03/2021 at 10:59:39
Given our financial constraints compared to those he was trying to emulate his fall was inevitable with the magnitude of his descent spectacular because he aimed so high.
As Wigan chairman Phelan said he will eventually manage one of the Spanish giants and when he cleans up I wonder what excuses his haters will use then.
Colin Glassar
64
Posted 08/03/2021 at 11:03:26
Sad to see after so many years since Martinez left he's still hated by a section of Everton fans.
I defended him for the first two seasons but even I gave up on him in season 3. His inability to sort out the defence, his unfounded optimism to face reality, his refusal to learn from mistakes etc his language skills were the least of his problems.
Fortunately, I never got into the personal attacks which were horrific in some cases. Looks like some people continue in this vein.
Kevin Prytherch
65
Posted 08/03/2021 at 11:12:52
Martinez, in his first season, was ahead of his time. Whilst the 4-2-3-1 formation was already commonly in use, very few teams used it the way Martinez did, with the central midfielders dropping and covering for the full-backs. At the time, Ashley Cole was considered to be the best attacking full-back, and he was predominantly a defender. Martinez's full-backs and covering midfielders were more akin to today's game than that of 8 years ago.
Unfortunately, unlike Ancelotti and much like Silva, Martinez often had no Plan B and his subs were often baffling. He also had no idea how to close a game out.
Even though he gets stuck for the second and third season, by November in the third season we were top scorers in the league with Deulofeu and Lukaku having an almost telepathic connection. Unfortunately we conceded too much and Martinez tried to be more defensive. This ultimately cost him as we no longer played to his strengths and ended up toothless in attack and shoddy defensively.
All-in-all, a good guy who did his best by the club and just needed a decent defensive coach alongside him.
Duncan McDine
66
Posted 08/03/2021 at 11:25:57
I'm on the same page as you Colin (64).
I'm happy to look back on that first season and a half (give or take) with pleasure, but my God we were awful when we got into the second half of his Everton management. If my memory serves, I remember quite a big turn for the worse when Mirallas nicked the ball of Baines and missed a penalty.
The team spirit that was there since the Moyes era emptied out of our club during that second season of Roberto's. It has taken several years and managers in between, but we're seeing that spirit return.
Steve Brown
67
Posted 08/03/2021 at 11:30:38
Nice bloke but should never have been appointed to the Everton job. He had just got his previous club relegated. He had a very pronounced footballing philosophy that he was unwilling to compromise, despite not having the playing squad to deliver it. He simply refused to believe that defensive and offensive set-pieces were instrumental to winning games. Contrast that with Ancelotti.
His decline began when he changed the defensive set up after his first season and neglected the conditioning needed in the premier league. That allied with poor purchases from his second season onwards contributed to his downfall. His teams were sometimes fun to watch, provided you didn't mind watching Alcaraz in defence!
Andrew Ellams
68
Posted 08/03/2021 at 11:35:53
Kevin @ 65. He seemed to drop the tactic of Barry and McCarthy dropping in behind the full backs after the first season and that played a big part in us turning into some sort of Barcelona in horrible slow motion after that.
Somebody mentioned Besic being his worst signing (this was definitely Alcaraz by the way) but he would have suited the first season tactic perfectly.
Mark Frere
69
Posted 08/03/2021 at 12:16:57
Nice words from Bobby. But he is the worst manager we've ever had and he got a huge severance package.
Alan McGuffog
70
Posted 08/03/2021 at 12:24:17
Two words for you to consider, Mark:
Walker, Mike.
Tony Everan
71
Posted 08/03/2021 at 12:58:42
Bob seems a good man and he seems to have genuine affection for the club, he tried his best to make it work here. Contrast that to the mercenary Koeman who never wanted to be here and was largely disinterested. It was Koeman's attitude that set the club back years.
When Martinez signed many were saying he couldn't organise Wigan's defence, they shipped goals and got relegated. Ultimately the same happened with Everton bar the relegation. If he took another PL club like Southampton or Palace, the same would happen again.
Mark Frere
72
Posted 08/03/2021 at 13:08:49
Alan,
Mike Walker inherited a struggling squad and made them even worse... nearly ending in relegation. He was atrocious and second to only Martinez in the all time worse. He did come with good credentials though, after a highly successful spell with Norwich.
Martinez, on the other hand, took over a team that was regularly competing for a top six spot for many seasons. Once Martinez's fucked up philosophy of possession football without any purpose and his dismantling of a once rock solid defence had set in, we were the worst Everton team I've ever watched. All this with a decent group of players. It was horrific to watch the constant passing around between the back four, then back to the keeper. And no pressing of the opposition off the ball. We looked the least fit team in the Premier League.
How he ever become our manager is beyond me. He failed to even do what Steve Bruce and Paul Jewell had done before him: keep Wigan in the Premier League. He gets away with it with a golden generation of Belgian players. International football is very different. Would many PL clubs want Gareth Southgate as their manager? I think not.
Robert Tressell
73
Posted 08/03/2021 at 13:24:14
It's a curious phenomenon that each of Ancelotti, Silva, Allardyce, Koeman and Martinez have managed to preside over the worst ever performing Everton side. Surely only one of them can have that honour?
And it's probably none of them in reality, given how shockingly shit we often were in the circa 10 years before Moyes.
As for Martinez, he dared to take Everton to new heights, threatened to do so with record points tallies and cup runs (he was aiming to sneak into the Champs League via a Europa League win) as well as some superb football with a cleverly assembled squad.
However, he didn't quite have the nous or money to deliver on his ambition. He lost his nerve, got found out and had to be replaced. But his worst was certainly no worse than the end of the Koeman and Silva reigns, and they managed nothing like his high points.
Jay Wood
[BRZ]
74
Posted 08/03/2021 at 13:32:09
Anyone claiming Martinez is the worst manager we've ever had should start with Mike Walker and work backwards from there.
I get the different claims being offered in this thread. There is legitimacy in both the seemingly polar opposite views posted.
I don't get the subjective gratuitous personal abuse towards the man, least of all for his generous words towards Everton reported here.
Initially on his appointment I was not enamoured of the idea. I remember emailing friends with the subject line 'Fucking Martinez????!!!!'
Any Blue not impressed with his first season was never going to accept the man.
The football was scintalating. We registered some memorable victories against top opponents. We ended the season on 72 points - still our highest ever points return in the PL era. Goodison became a fortress again - 13 wins, again an Everton record in the PL era (equalled by Koeman in his only full season). We won 8 times on the road.
He brought in Barry, McCarthy, Lukaku and Deulofeu who were pivotal in our success, got the best out of Barkley and promoted the teenage John Stones to the first team.
He attempted to change the mindset at the club, decorating the walls with images of the club's historical successes, alongside leaving a couple of panels blank 'for the current team to make their own history'. Inspirational.
After a couple of months in the job, he talked about how long it took him to transform the players at Swansea and Wigan to adapt to his way of playing, but that the smarter players at Everton had grasped it within 6 games.
He spoke about his pre-season training methods at which senior pros expressed concern with as they weren't doing the heavy physical stuff they were used to under Moyes, but almost exclusively working with the ball. The players were then pleasantly surprised how the metrics by which physical conditioning is measured showed their levels to be at least equal to or higher than those against Moyes' methods.
Yes, he gushed lyrical about the team and the players. And yes, certainly towards the end, it was divorced from the reality of what we were seeing on the pitch. Such is his positive nature.
His most outlandish claim IMO was when he described the still young Ross Barkley in the present tense as the best England player EVER. Not that he had the potential to be so, but that he already IS 'the best England player ever.'
But then, it all stalled.
The swagger, fluency, speed and panache of the first season evaporated, replaced by ponderous possession football that barely encroached the opposition's half. From winning 13 games at Goodison, in season's 2 and 3 we won just 7 and 5 respectively. From winning 8 on the road, we won just 5 times away in both subsequent seasons, losing 10 then 5.
From scoring 61 in his first season, that dropped to 48 in his 2nd season, a better 57 in his 3rd when of course we also reached the semi-finals of both domestic cups. More concerning was our defensive frailty. Just 39 conceded in his first season, followed by 50 then 55 in the next seasons.
It was Martinez's negligence, disdain even, towards the defensive side of the game that ultimately did for him. To publicly express that there was no need to work on set pieces or defensive routines as he did rightly raised eyebrows. When Leon Osman later revealed that the heaviest of Martinez's training days was comparable to the lightest of Moyes' training sessions the day before a game, it confirmed what many saw. That physically, Everton was not well-prepared for those demands.
For those advocating he could have done better with Moshiri's money than Koeman-Walsh, Allardyce or Silva-Brands, let's not overlook his signings of Niasse, McGeady, Kone, Besic and Alcaraz.
Finally, for those claiming 'he's never won anything at Belgium' totally ignore, as Mike Gaynes rightfully points out, how long they have sat at the top of FIFA's world rankings for national teams. He has had one shot at a trophy tournament and finished 3rd, narrowly beaten by the eventual world champions France in the semi-final.
Maybe a case can be made that he is better suited to be a national manager/coach than a day in-day out club manager. I can understand the disdain some hold for the words he uttered at times during his Everton pressers.
But equally, a case can be made that he is indeed a capable coach, a keen student of the game with an unwavering positivity and enthusiasm for his teams and his players.
The gratuitous personal subjective abuse towards the man expressed by some in this thread is just white noise to me.
Andrew Ellams
75
Posted 08/03/2021 at 13:33:35
Mark, if you read any book written by a player who was at Everton during the Walker fiasco you'll get a measure of how good a manager or coach he was.
Neville Southall particularly disliked him.
Barry McNally
76
Posted 08/03/2021 at 13:37:18
The start of the end for Martinez was the ice-bucket challenge:
Link
Trevor Powell
77
Posted 08/03/2021 at 13:49:50
At a book event for Neville Southall's "Binman Chronicles", the Great Goalie was asked who was the worst manager he had ever played under. The immediate response was "Mike Walker". Further enquiries about coaching led to Big Nev said that Mike Walker's only motivation was topping up his tan!!!
True Story, I was there in Chepstow!
Craig Walker
78
Posted 08/03/2021 at 13:50:15
As others have said, that first season was some of the best football we've witnessed during these trophy-barren years. Beating Man United home and away. We were minutes away from beating the RS in the Goodison derby. The performance against Arsenal at home was memorable and we took the game to them at the Emirates. Barry, Lukaku, McCarthy and Deulofeu were inspired signings and he gave Barkley and Stones playing roles. It felt like a breath of fresh air compared to some of the dour football we had been playing. Where the wheels came off was when he chased McGeady and brought in Traore on loan. The signings got worse (Cleverley, for example) and he became more stubborn in refusing to organise the defence. If he'd have brought in a defensive coach, I think he could have done something. He had to go after the debacle at Anfield and Leicester thumping us when they got the trophy. He'd run out of ideas by then. At least he understood Everton though. Didn't he give Howard Kendall a tour of Finch Farm etc. when he'd been frozen out under Moyes? It was sad how it ended given the first season. I've no hard feelings towards him though. Having said that, if I'd got the pay-off that he got, I wouldn't be bad-mouthing Everton either.
Barry Rathbone
79
Posted 08/03/2021 at 14:02:18
Mark Frere, 72
"his dismantling of a once rock solid defence"
You are either joking or having a stroke.
The most common descriptor of the Moyes era was "hard to beat" not because of the defence but the favored ploy of everyone behind the ball. Martinez abandoned the surrender tactic in the hope of better things unfortunately in doing so he exposed the fragility of Moyes back 4 and goalie. As a result we always seemed to need 2 or 3 to compensate for their ineptness.
The alleged bulwark of the Moyes defence is the biggest rewrite of actuality since Comical Ali claimed Americans weren't in Baghdad as tanks rumbled in the street.
Utter bollocks
Andrew Ellams
80
Posted 08/03/2021 at 14:08:08
Trevor, he also holds Walker up as an example of poor man management and general people skills in his latest book 'Mind Games'.
A top read by the way, even for non Evertonians or even non football fans.
Fran Mitchell
81
Posted 08/03/2021 at 14:11:18
Martinez, unfortunately, was just not tactically good enough.
The first season promised so much. There were times we were sensational. Mirallas, Deulofeu and Lukaku was joyous. Barry and McCarthy just sensational. But when we needed a change, there was no response. So the first season's vibrant attacking play, suddently became boring and ineffective possession play. We'd pass sideways, sideways, backwards. Then the organisation inherited from Moyes faded, Distin and Barry aged quickly, and there was no return.
We stopped scoring. No Deulofeu, Mirallas faded and we became wholly dependant on Lukaku.
Maybe if we had money, we could have addressed this. But the money came too late.
What we did have was poorly spent:
Mori arrived for 9.5 million when the same money would have got a certain centre back currently on a certain teams treatment table. Lennon was a hard worker but never a scorer of goals. Besic, Cleverley, Kone, Alcaraz, McGeady, Niasse.
Too many mid table or lower players. That was the ultimate downfall.
I hold no ill towards the man. He's a likeable man, and he wants football to be played the way all us fans want it too be played. But to play football like that, you have to be brilliant (otherwise everyone would do it, right), and he isn't.
We just needed someone slightly more pragmatic
Michael Lynch
82
Posted 08/03/2021 at 14:32:13
I thought he was phenomenal.
Well, for half a season anyway. In my view, he inherited a fit and strong, well organised team from Moyes, added some flair and we looked really good. But we soon lost the benefit of the fitness and organisation, and we became a very hard team to support. God it was dull and shite at times. Having said that, it's been dull and shite most of the time this season, but we've beaten the RS and found ourselves on the cusp of the top 4, so big up Carlo! History is written by the winners.
Whatever, I look back on Bobby Brownshoes with some warmth. He was a very nice man. But fuck me I was relieved when he got the heave ho.
Fran Mitchell
83
Posted 08/03/2021 at 14:46:28
Despite what many say, in the final season, we won 8 of the final 11 games. So it wasn't just the first half that was memorable.
However there was a period in February when we were losing too many games, and this was in the lead up to the qaurter final of the FA Cup. Which we got mauled in.
It was probably our best chance to win somwthing.
Brian Wilkinson
84
Posted 08/03/2021 at 14:57:27
One point I did not mention in my previous post, so will now is, never once did he blame any player, or the club, or single anyone out.
A couple after him going would take all the glory when we won, and put the blame, elsewhere if we lost, never once was it their fault for getting it wrong.
So yes, for all of Martinez's faults and out of his depth, that first season, he got us playing some decent football.
Ok he got found out in the end, but he has never dragged the Everton name through the mud, and as I have said previously, has nothing but good to say about Everton.
Rewind back 2 weeks and Koeman comments of Everton fans, and the disgraceful segregation of our under 23 team, and the locker gate scandal.
Mark Frere
85
Posted 08/03/2021 at 15:07:04
Barry@79
Are you forgetting all our 1-0 wins on the way to our highest ever finish of fourth under Moyes? What about the partnerships of Jags & Lesscott and Jags and Distin that kept plenty of clean sheets? It was certainly unrecognisable to the Defensive displays from the second and third season of Martinez. I'm not suggesting that the Moyes football and era was all rosy and I don't think he was the right manager to take us forward. But, in the end, Martinez dismantled the only good things that Moyes built.
Barry, I've been on this website for many years and I always remember your extreme dislike for Moyes (never capable of a balanced view).
I also remember you shouting from the rooftops (to anyone who would listen) how great Bobby brown shoes was before he was manager and during his first season here. Unfortunately (for you) the rapid decline of his second season here coincided with your self imposed exile from this site for many years.
Dan Nulty
86
Posted 08/03/2021 at 15:23:46
I have zero interest in what this man has to say. He got incredibly lucky with his cup run. The only Premier league side they faced before the final was us and we were a shambles. I think any other day Wigan would have been battered by City, the stars were aligned, I don't think that had anything to do with Martinez.
He was incredibly lucky that first season, our defence was organised because that was what was drummed into us and the loan signings of deolofeu and Lukaku were a master stroke by somebody.
You only have to listen to baines and osman who said not once in 2 seasons did they practice any defending, positioning, how to defend corners. It was all about keeping possession. You only have to see Lukaku and jagielka laughing when we lost because they knew he was finally getting the sack, or Lukaku's reaction when finding out he was the new Belgium manager.
The bloke is a joker in my view. He might get lucky again but he will never have long term success. People will listen for so long and play well when you tell them how phenomenal they are but when things start getting tough and they look to you for guidance, you need to have something to say of substance. I think he is full of it. Despite that first season being unbelievably good, I loved it, but on reflection I think luck rather than judgement, clearly.
Brian Wilkinson
87
Posted 08/03/2021 at 16:10:06
Mark, you make a very good point about Moyes and no doubting the fitness levels were right up there with any other team, he brought in some shrewd signings, along with some duffs, where I draw the line with Moyes is, he had the attitude of as long as we get results against the mid to bottom teams then that is good enough.
He never thought we could go to the big teams and get a result, his record away to those top teams needs no reminding of his mind set, none more so than his penknife comment.
He stood by and let players be sold on the cheap, now for all Martinez's flaws, he stuck by not allowing top players to leave on the cheap, he stuck two fingers up to Moyes measly bid for Baines and Fellaini, he also ensured Lukaku did not go the same way.
So yes the defending and set pieces were a big flaw and yes he was not right for the Everton job, but he always believed that Everton had a right to go toe to toe against the big teams, to put it mildly, he never shit himself going to the likes of Old Trafford.
Anyway enough about our former Managers, what we have now is a top class Manager who is slowly turning this club into a force, will take a few windows and a bit of patience, but we are heading in the right direction.
In regards to Martinez, wrong guy for the job, but have no ill feeling towards the guy.
Jay Wood
[BRZ]
88
Posted 08/03/2021 at 16:30:04
Wot Fran says @ 83.
It has become something of an urban myth that Everton's form collapsed in the second half of Roberto's first 'phenomenal' season.
It didn't. It was even better than Fran's 8 wins in 11. It was 9 wins in the final 12 games, including 7 straight wins on the bounce within that timeframe.
We won 37 points after 19 games. 35 points in the remaining 19 games at the half-way stage.
To put that in perspective, right now, this season, we have exactly 12 games to go. If we replicate Everton's form of the final 12 games in Roberto's first season, that would give us 73 points, bettering Everton's best-ever PL points return under Bobby that season of 72.
On the 3 games we lost in that 12-game run in I only blame him for the 3-2 loss at home to Palace as he tried to get unnecessarily funky in his team selection which effectively handed Palace the game. We lost away to Southampton to two own goals, then 3-2 at home to champions-elect Man City which was WELCOMED and REJOICED IN by many Blues, before during and after the game, as it helped deny Liverpool the title.
Not by me it wasn't. I want Everton to win first, foremost and always whoever the opposition, whatever the consequences for others.
The problems started in Roberto's 2nd season. NOT in his 1st.
Barry Rathbone
89
Posted 08/03/2021 at 16:38:55
Mark Frere
My "self imposed exile" came at the peak of Martinez first season around about the utd game disgusted at Moyes vultures damning challenging football with faint praise. They weren't supporting Everton they were supporting Moyes this hardly tallying with your errant little inference
It was evident (to me anyway) that such progress could not be sustained without real money. The squad needed disinfecting of the mental and technical mediocrity responsible for the trophyless decade under Moyes.
Ask yourself these simple questions.
If the Moyes defence was as good as you allege why should it collapse under Martinez?
Do you think defenders forget how to defend under different managers?
Why should an attacking team suddenly turn a "rock solid defence" to mush?
The answer is self evident - they never were rock solid. It is a myth derived from the entire Moyes unit being set out to defend and a simplistic idiocy to attack the Martinez success with.
Your claim does not stand the simplest scrutiny hence you are talking well, you know
Jerome Shields
90
Posted 08/03/2021 at 16:39:41
Martinez did show what could be achieved in that first season and recruited in some good players. His difficulty was that he was naive in dealing with the off field operations and wasn't strong enough to take them on.
He was one dimensional in his football philosophy and teams gradually copped on to this and how to play against Everton and who to give special attention to.
I think in genuine in his interest and observations.
Eddie Dunn
91
Posted 08/03/2021 at 17:48:51
Jay, a comprehensive appraisal. On Belgium, yourself and Mike G argue that he has done okay. You mention world rankings...they reflect games against all kinds of opponents and some teams play lots of inferior sides and climb high in those things. For me he failed to win the world Cup with the best team.
He seems a nice guy but so what? He talked so much shite in his last year or so, that I was sick of the sound of his voice. As Colin says, the bugger started doing loadfs of media and took his eye off his job.
I don't dislike him but I don't think he is anything special either.
Anthony Jones
92
Posted 08/03/2021 at 18:26:55
At the risk of sounding like I have been triggered:
English may be his second language but Roberto Martinez is a classic bullshitter.
He drones on and on, like some of the posts above.
Being Spanish doesn't exempt someone from criticism.
Your medals for wokeness are in the post, you clowns.
James Newcombe
93
Posted 08/03/2021 at 19:41:58
I liked Roberto, but at the same time was pleased to see the back of him. If only he could set up a defence.
Peter Gorman
94
Posted 08/03/2021 at 21:03:40
I had to check but it was in that "magical" first season that we got dicked 4-0 af Anfield. Also knocked out the cup 4-1 by Arsenal. Though we did the double over Moyes's Man Utd, the whole 'going eye to eye' with the big boys is somewhat overplayed.
Then of course he went on his summer jollies and used the opportunity to scoop the top talent at the World Cup – one Mo Besic. No other signings to improve the squad that summer.
I enjoyed his first season for sure but never got the whole, "best footbol eva" tripe. Bilyaletdinov alone was more entertaining and he wasn't even all that.

Danny O'Neill
95
Posted 08/03/2021 at 22:43:08
Who are the clowns with medals inbound Anthony Jones?
Who said best football ever (sorry eva) Peter Gorman? I would say the best football we have seen in a long time at Goodsion Park was served up by Martinez. Not the best ever and not the best I've seen in my lifetime but better than a lot of the tripe I've seen served up in same said lifetime.
Jay (BRZ) @74, love that post.
Jay Evans
96
Posted 09/03/2021 at 16:20:36
An absolute blert.
Rob Baker
97
Posted 10/03/2021 at 20:39:28
I for one, have not forgotten his hyperbolic nonsense, so Bobby Brown Shoes can just stay quiet on Everton matters and leave it to the Don.
Bjorn-Ivar Pedersen
98
Posted 12/03/2021 at 01:34:35
Maybe he should take notes, could come handy so he avoid trying to relegate next club.
Robert Williams
99
Posted 12/03/2021 at 12:18:57
Danny 95 - Yes I agree I quite liked Martinez, but he did spout a lot of rubbish!.
Didn't mind the shoes either - basically a nice chap.

Lee Courtliff
100
Posted 13/03/2021 at 13:26:29
I'll always like Bobby. That first season was a joy to watch.
Yeah, it was time for him to go and he did waffle but after years of our own manager downplaying us, it made a nice change.
And he does always come across as a very nice bloke.
Ray Morgan
101
Posted 22/03/2021 at 19:17:06
I am 67 years old, I will not live long enough to see Everton win another trophy.
Colin Glassar
102
Posted 22/03/2021 at 19:18:40
And on that happy note...

---
Add Your Comments
In order to post a comment, you need to be logged in as a registered user of the site.
Or Sign up as a ToffeeWeb Member — it's free, takes just a few minutes and will allow you to post your comments on articles and Talking Points submissions across the site.