Everton seek Council approval for hydraulic tower plans
Thursday, 22 April, 2021
Everton have outlined its plans to breathe new life into the derelict hydraulic tower on the site of its proposed new stadium at Bramley-Moore Dock in an application for Listed Building Consent submitted to Liverpool City Council.
The plans would see the 138-year-old Grade II listed tower become part of the stadium's Fan Plaza and house an exhibition or cultural centre celebrating Everton's rich heritage, as well as that of the city's docklands.
A café area is also proposed as part of the renovation.
The Listed Building Consent application seeks permission for works to make the building weather-tight and structurally sound, including proposed new openings to allow for a functional layout for the intended use of the building.
Everton's application, which proposes extensive repairs to this long-standing vacant building to prevent further degradation, states the restoration of the tower would be "both sympathetic to its past, but sustainable for its future," and adhere to the heritage principles governing development of the docklands area.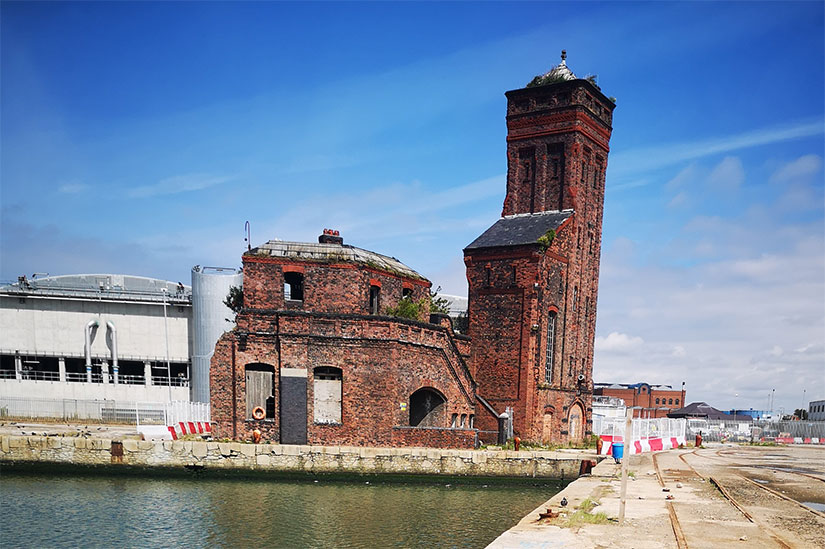 Potentially working in collaboration with fans, partners and key stakeholders, the Club would lead the project to deliver an attraction that will allow the story of Everton's illustrious history and that of the docklands to be told on the site of the Club's new 52,888-capacity home.
The Council's planning committee voted to approve the application for a new stadium on the site and to change the use of the Hydraulic Tower but Listed Building Consent is required for all works of alteration to a building of special architectural or historic interest.
The hydraulic tower, built in 1883, was originally used to power dock infrastructure, and was part of a high-level railway system which connected to and served the docks, but has long since fallen into disrepair.
The tower's engine house has previously been demolished and the chimney reduced in height, with all the original equipment having also been removed from the building.
The Club expects a decision from Liverpool City Council on its Listed Building Consent application in the coming months and it is separate to any enabling works activity that may take place on-site in relation to the stadium.
---
Reader Comments (26)
Note: the following content is not moderated or vetted by the site owners at the time of submission. Comments are the responsibility of the poster. Disclaimer
Dave Roberts
1
Posted 23/04/2021 at 07:26:53
This is a brilliant example of how a football club can reinforce its roots and integration within the community of its birth.
Compare that to the recent behaviour of certain other clubs. Proud to be a Blue.
Tony Everan
2
Posted 23/04/2021 at 07:57:27
Our club is a force for good in this city. I am proud to be an Evertonian, a club with a social conscience. Protecting the tower is a great move, it will be expensive, but money very well spent. Knitting together history and the future is thinking long term and enriches ourselves and our environment. Well done Everton.
Hugh Jenkins
3
Posted 23/04/2021 at 08:30:11
A fantastic solution for a building that whilst listed, is presently nothing more than a derelict eyesore.
Everton are clearly intent on breathing new life into a decaying part of the city.
Chris Williams
4
Posted 23/04/2021 at 08:32:26
Great initiative.
Expect complaints from English Heritage and UNESCO fairly swiftly
Tony Shelby
5
Posted 23/04/2021 at 09:06:21

I just wish we were as good on the pitch as we are off it because we're peerless when it comes to this stuff.
Ian Burns
6
Posted 23/04/2021 at 09:18:48
Tony - all good things come to those who wait - and I already know your answer to this one.
Proud to be a blue and can't wait for the day when I can fly back into the city to see all of this in its glory. I hope I last that long!
Martin Nicholls
7
Posted 23/04/2021 at 09:24:19
"To prevent further degradation" - important words and words that one would have expected each of English Heritage, Historic England, UNESCO etc to have as a major aspect of their respective roles. A great shame that their behaviour throughout this saga has shown their priority to be far removed from preventing such degradation.
Paul Turner
8
Posted 23/04/2021 at 09:42:44
Perhaps it's the camera lens - but I think we have the Leaning Tower of Vauxhall there...
John Raftery
9
Posted 23/04/2021 at 10:03:04
Paul (8) A marketing ploy! They'll be flying in from around the globe to see this!
Barry Rathbone
10
Posted 23/04/2021 at 10:06:07
Classy and well thought out approach from the club echoing the development of the Pier Head area which I found absolutely stunning upon visiting after a 20 yr absence.
The blend of contemporary and historic makes the waterfront a truly fabulous area. Well done the blues
David McMullen
11
Posted 23/04/2021 at 10:36:24
It's another step to progressing BMD I would have preferred it to be a pub though (like the Pumphouse) "The Engine Room". Shame, opportunity lost. As it's to be a museum/cafe St Lukes type.
Neil Lawson
12
Posted 23/04/2021 at 11:27:37
Apparently it will be known as the ESL.
Everton's Superb Landmark.
Colin Glassar
13
Posted 23/04/2021 at 12:48:28
I was thinking the same David. It would be a great place for a pint on match days.
As that won't happen, I'd like it to be a museum dedicated in part to the maritime history of the Mersey and, if there's room, an Everton Hall of Fame (like Cooperstown) full of memorabilia. I'm sure the Doc could lend us some of his magnificent collection.
It also has to have a souvenir and coffee shop. All the arl biddies like a cuppa and a bun before a game
Dave Roberts
14
Posted 23/04/2021 at 13:26:18
It would have been nice as a pub. It would need copious competition though, otherwise the back of the queue for the bar would be outside the Winslow.
Dermot O'Brien
15
Posted 23/04/2021 at 18:27:13
Why can't it be a pub and museum?
A musopub or pubseum? We have them all over the place in Ireland.
Tony Everan
16
Posted 23/04/2021 at 19:22:50
It would be perfect for a restaurant, The Leaning Tower of Pizza.
Paul Smith
17
Posted 23/04/2021 at 23:31:25
Only on TW could we turn a cultural & historical landmark into an ale house. There's enough of them everywhere you look. Yes I don't drink, it's vile stuff.
Well done Everton for this class proposal, fit for the rest of the site.
Ian Pilkington
18
Posted 23/04/2021 at 00:01:07
A combined museum and café sounds like a great idea for a listed building.
Good news on an excellent St George's Day after beating Arsenal away at last.
Brian Wilkinson
19
Posted 23/04/2021 at 00:04:33
We managed to blend St Luke's Church into the Goodison surrounding, so this should be a piece of cake.
Will stand out from other grounds, especially if we make it into a type of museum, to show off our history.
If only we could find a way to have permission to take Rupert's Tower down, brick by brick, and rebuild it at Bramley-Moore Dock, next to our new stadium, that would be a showstopper, and blend in well, around the dock.
Andrew Haizelden
20
Posted 24/04/2021 at 09:55:36
Brian, has anyone applied to do this? If you don't ask :-)

Don Harris
21
Posted 24/04/2021 at 19:03:03
Does anyone know what is happening to the old dock walls, the gates, and Nelson and Trafalgar plaques, please?
'Through these gates passed most of the 1,300,000 who fled the Great Famine, and 'took the ship' to Liverpool in the years 1845-52.'
'Remember the Great Famine'
Thanks
Paul Birmingham
22
Posted 24/04/2021 at 20:56:23
This shows the class of Everton, and they are doing their very best to harness the history and blend this into BMD.
A very good weekend for Evertonians, all in all.
"What's Our Name?"
Paul Hughes
23
Posted 26/04/2021 at 12:28:14
If anyone wants to have a look, the design documents are on the Liverpool City Council Planning site - Application Number 21L/1120
Bill Watson
24
Posted 26/04/2021 at 14:32:45
Thanks for that, Paul.

Charles Brewer
25
Posted 28/04/2021 at 16:37:47
This could be the basis for a truly revolutionary incorporation of Liverpool and global history into the new ground.
If the club can come up with a suitable method of associating itself with the huge global trade which centred on Liverpool, and establish links to the world's great ports, it could expand its base in a real and relevant manner (ie unlike Chelsea or ManU).
This could involve New York, Cape Town, Hong Kong, Muscat, West Africa, historical Calcutta and Bombay, Shanghai, Rio, Cairo/Suez, Sydney and the rest in some football / shared history manner - maybe through the nationality of the sailors, the cargoes traded or even cultural links (China town, the Somali connection, even the first mosque in Britain). There's even a Persian connection for Moshiri from when the Cayzer Clan line acquired the Persian Gulf steamship company.
Paul Appleyard
26
Posted 29/04/2021 at 11:43:32
I vote for a Museum/Cafe. It would be nice to have a pleasant family friendly environment to chat and get tea and scones. There are at least half a dozen pubs no more than a 10 min walk away (including the Pump House and others in town) for p*ssheads to get their beer. I'll enjoy a pint in the stadium.. hopefully the concourses will be well designed with lots of amenities. Also, I agree with others here. English Heritage would rather see a building become derelict and fall down than be restored in a pragmatic way. Local Conservation Officers are much the same I have personal experience!
---
Add Your Comments
In order to post a comment, you need to be logged in as a registered user of the site.
Or Sign up as a ToffeeWeb Member — it's free, takes just a few minutes and will allow you to post your comments on articles and Talking Points submissions across the site.