Everton History
'The Pioneers of Football in Foreign Lands!'
That was how Everton director E A Bainbridge colourfully described the club with reference to their tour of 1909. Everton and Tottenham Hotspur had visited Austria-Hungary together in 1905 with the Blues dominating all the play before them; and in 1909, Sir Frederick Wall, Chairman of the Football Association, invited the same two clubs to undertake a tour of South America. In the summer months of 1909, a 13-strong Everton FC playing staff led by two directors and a trainer, together with their travelling companions from London, Tottenham Hotspur, sailed 14,000 miles and spent more than 6 weeks at sea, visiting Brazil, Uruguay, and Argentina – "to introduce and develop first class football."
Everton boarded a steam train for London Euston on Thursday 13 May 1909. From there, they travelled to Southampton and set sail on a 23-day voyage of footballing discovery. However, they were only joined by Spurs at the last minute!
The Tottenham party, who had been delayed by an accident, caught a later train from Waterloo, but by the time they got to Southampton, the Royal Mail steamer Uraguaya had started its voyage. A tug was commandeered and, with its cargo of footballers, raced after the liner which slowed to allow the Spurs players to board.
On Tuesday, 25 May 1909, a grand fancy dress carnival was staged on board to commemorate the anniversary of the independence of the Argentine Republic. Everton's defender, Bob Balmer, starred as Bo Peep and the Tottenham pair of Fredrick Wilkes and Walter Tull also starred with their depiction of Robinson Crusoe and Man Friday.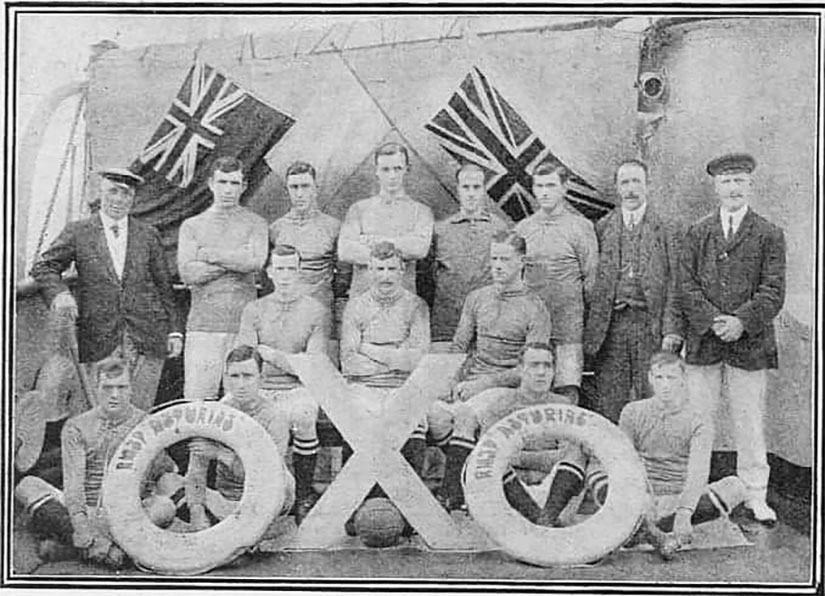 When the players arrived in Brazil, they went shark fishing in Pernambuco, where the method of landing passengers was "a novel one", reported director Mr Bainbridge, and from Pernambuco the boat then docked in Bahia, but the players were advised not to land because of typhoid in the city. They then travelled on to Santos, later to be made famous by football's global megastar Pele.
On 6 June, the tour itself started. On the same day the ship docked in Buenos Aires, Everton played Tottenham Hotspur at Palermo Park, the ground of the Sociedad Sportiva Argentina; the match ended in a draw of 2-2 with Walter Balmer and England's centre-forward, Bert Freeman, scoring for the Blues.
Not only were there 8,000 local fans but the match was graced by the presence of the President of the Argentine Republic and his family, plus various members of the Government, including the Ministers of War and Agriculture, and their families, who took in the contest with interest and enthusiasm. 
The day would also hold significance as it would be the first time that two professional football teams would play a match in South America, and Tottenham had used the tour to give a trial to 21-year-old Walter Tull, who would make history as England's first black professional outfield player. Tragically he died 9 years later, on the fields of The Somme, fighting for King and Country.
The next tour fixture for the Blues would be Alumni Athletic Club on 10 June. Since the first game played in South America in 1867, the sport had been dominated by migrant workers from Britain. The local working classes had set up their own clubs – Boca Juniors, Racing & River Plate – in the immediate years before the tour, but power had still not shifted from the elite Britis- based sides to the creole sides.
Alumni, although officially founded in 1898, had been formed in 1893 when a group of students from the Buenos Aires English High School joined Alexander Watson Hutton (considered the "father" of Argentine football) to form a team in order to participate in the championship organized by the Argentine Association Football League.  The team would be disbanded in 1913 due to internal and financial problems.
During the years Alumni were active, the team won a total of 22 titles, including 15 domestic titles (10 Primera División Championships and 5 national cups).  At the time of the match, Alumni were Champions of Argentina in 8 out of the previous 10 seasons, and they lined up with a team that contained J G Brown, J D Brown, E A Brown, P B Browne, A C Brown and E Brown!
Despite the hype surrounding the local side, Everton ran rampant, and the star player was the centre-forward, Bert Freeman, who terrorised and amazed the opposition with his skills as he claimed a hat-trick and the tourists ran out 4-0 winners. In 1986, a direct descendant of the Brown family, Jose Luis Brown headed the opening goal against West Germany in the biggest game of all, the World Cup Final, in front of 114,000 people at the Azteca in Mexico City, as Argentina claimed their second world title.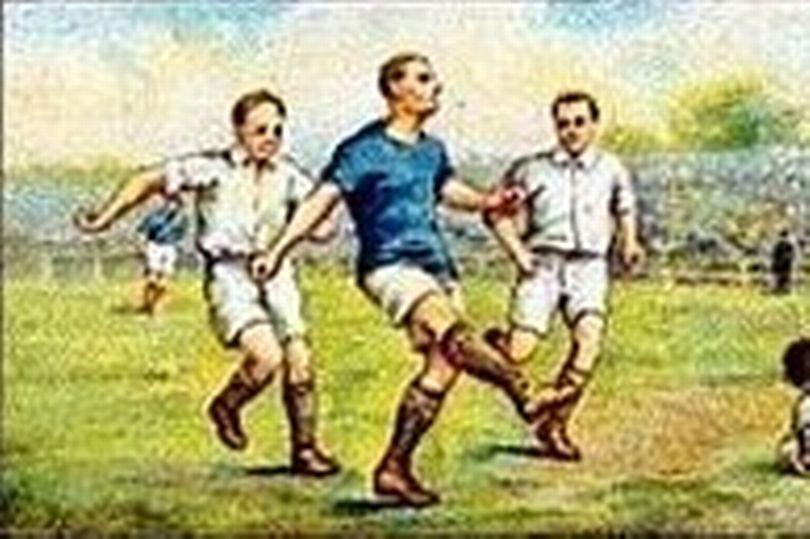 Next, Everton would cross the Rio de la Plata from Argentina to Uruguay, to face the Uruguayan League XI in Montevideo on 13 June. The build-up in the Uruguayan press was seen as a repeat of the last match, as tour companions Tottenham destroyed them 8-0. The Uruguayan football opinion was that "the game was to be enjoyed by Uruguayans, to learn from the masters and appreciate the art of good football". Hopefully the locals could put up a decent fight, and boy did they!
The game ended 2-1 to Everton with Bert Freeman scoring again, the Uruguayans describing the loss as a win. The crowd, delirious for what previously seemed an impossible result and performance, invaded the pitch, hugging the players. A match report described the game as "an epic moment, a brilliant materialization of the hopes of an anxious public".
Despite the clear superiority of the professionals, the local press were satisfied with the Uruguayan effort and it would echo through the generations of excellent results of the great Uruguayan teams. Despite later claims from an Everton official attributing the lacklustre English performance to an enormous pre-match banquet or, as stated at the time, "a big feed", nothing could deny the joy felt by the Uruguayans, but Everton had prevailed and won.
The next match on 15 June would be a re-match with Tottenham. The Blues would dominate the London side for the full 90 minutes, and Bert Freeman would show his class once again as he got all the goals in a 4-0 victory.
The final match, on 20 June, was now a routine victory for the Blues as they crushed an Argentinian League XI 4-1 with Val Harris and Walter White scoring for the visitors.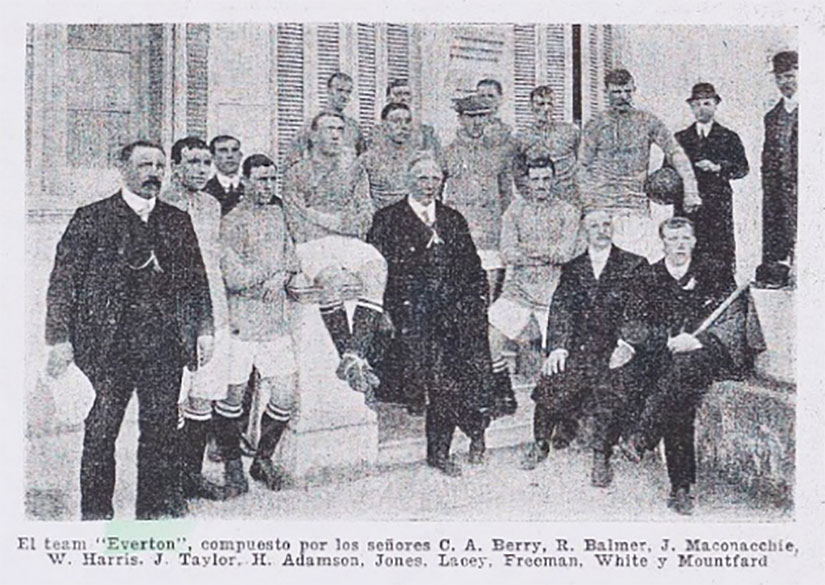 On the return journey, the Blues stopped again in Brazil to "take on splendid samples of Brazilian fruit, some passengers and Val Harris took possession of a parrot!"
Charles Roberts, the Tottenham chairman wrote "On our way home we were anxious that the boys should see Brazil, a chance that they may never again have" and his account stated that, despite no game being scheduled, during the stop at Rio the players of both clubs found time for a 'kick-about' which is said to have drawn a large crowd. So, this very well could be the first game of football in Brazil by two British sides before the later tours of amateur side Corinthians and Exeter City. Could this be the reason there are so many players named Everton in Brazil?
The most telling legacy of the arrival of the teams in Argentina would be from Chile. As the news echoed across the Andes and into the Chilean port of Valparaíso, where in 1895 the Football Association of Chile would be established, and fascinated by the events coming from Argentina, the Chilean FA sent a telegram to Buenos Aires with the purpose of inviting both clubs to visit Chile for a series of matches.
As rumour spread through the port, the news reached the ears of a group of teenagers who were planning at that time, the foundation of their own football club. On 24 June, the news had become public knowledge, and efforts were made among the wealthiest men in the city to get the necessary resources to bring the English clubs to Chile.
That same afternoon, in one of the houses of Cerro Alegre, that same group of boys led by David Foxley would found their club, giving it the name Everton, to honour the possible visit of the English Everton to the city. Foxley would be doubly excited for the Everton of England to come over, as his grandparents had emigrated from Liverpool to set up a flour mill in the 1850s.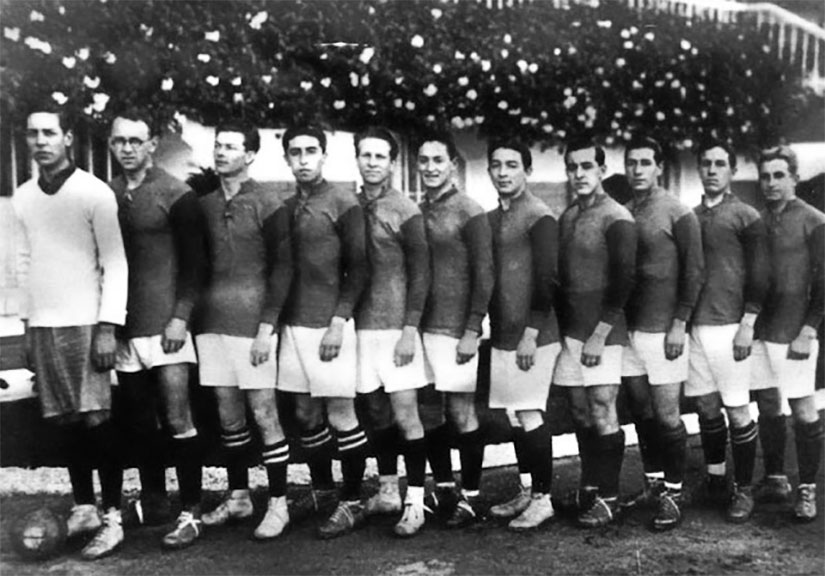 Two days later, bad news arrived at the port, the English sides would not be coming to Chile. With their return tickets dated for 25 June, the clubs were already on their way to their home when they finally received the invitation telegram. However, unknowingly, Everton had left a seed not just in Chile but Argentina, Uruguay and maybe Brazil too!
Founded in 1906, Club 25 de Mayo in La Plata, just outside Buenos Aires, changed its name to Club Everton La Plata in 1909, despite the protests of some older members who objected to the adoption of an English name for their club. 1910 saw the town of Alberdi start its own Club Everton.
In the province of Santa Fé in 1914, in Cañada de Gómez, yet another Everton would be founded, which today plays under the name of Asociación Deportiva Everton Olimpia.
In 1922 in the province of Córdoba, in Coronel Moldes, Club Everton Moldes was founded, who today have their own cinema, golf course and are very much a focal point of the local community.
In the same province in Cruz Alta, Club Everton was founded in 1914. However, in 1946 they merged with local rivals Club Jorge Newbery to form CA Jorge Newberry & Everton known today as Newberton by the locals.
Not to be left out in Uruguay, in the town of Rosario, Club Atlético Everton was set up in 1920 and are still very much flourishing today, having just won their regional championship.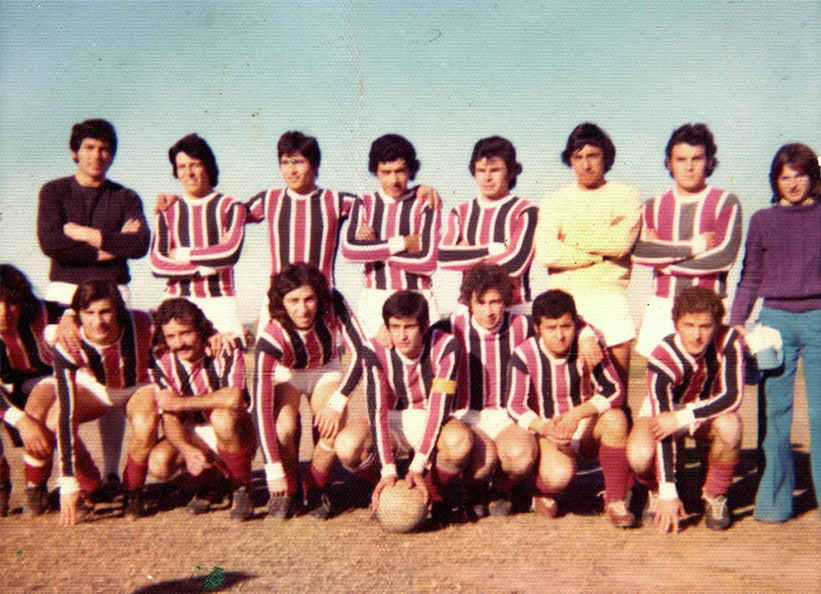 As for the original Everton, they would continue to tour Europe between the World Wars. They would take in the countries of Denmark, Spain, Switzerland, Germany, and the Netherlands, but it wouldn't be until the 1950s that Everton would return to the Americas. However, this time it would be the North, not the South, where the Blues would show their football pioneering spirit.
In a complete role reversal, it would be the Chilean club, Everton de Viña del Mar becoming football travelling pioneers themselves, as they became the first Chilean club to play a match in England – they also took in a game in Spain. In the summer of 2010, Everton Viña del Mar arrived at Heathrow Airport with around 80 supporters to lay witness to their own historic tour with more fans following in the coming days. The Chilean team's domestic games were postponed by a far-sighted league official who saw it as an opportunity to raise the profile of the domestic game in Chile abroad.
On 4 August 2010, after many years of planning and hoping, Everton FC of England played hosts to Everton de Viña del Mar for a match 100 years in the making. Rarely, if ever, has Goodison Park applauded every opposition shot, save and substitution. A crowd of 25,934, which could have been a lot more if all the stands had been opened, witnessed the historic game, with 171 fans making the trek from South America for the Copa Hermandad (The Brotherhood Cup). To add some context, Fulham only managed to bring 162 fans to Goodison for a Premier League game just 2 seasons earlier.
In the match itself, striker Jermaine Beckford produced a promising home debut, linking well with his team-mates and opening the scoring early in the second half with a finely taking header. Diniyar Bilyaletdinov ensured Everton wrapped up the win for the home side with a left-footed hammer drive just inside the 18-yard area. However, in truth, football and friendship was the real winners on the night as so many saw the two historic clubs finally meet.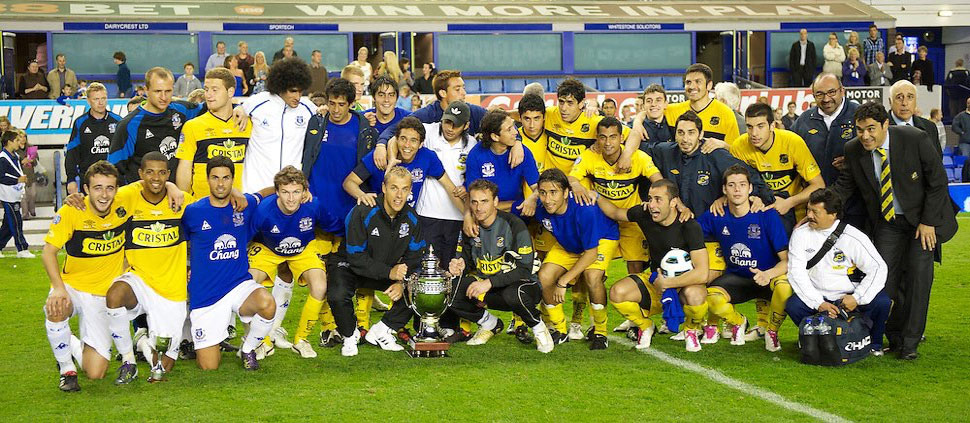 A few days later on 7 August, Everton de Viña del Mar would play Castilla, Real Madrid's second team, in Madrid's Estadio Alfredo Di Stefano. Castilla's claim to fame had been their participation in the 1980 European Cup Winner's Cup campaign, having qualified as losing finalists of that year's edition of the Copa del Rey, where they lost 6-1 to their parent club. To their credit they did beat West Ham in the first leg of the first round 3-1 but were ultimately eliminated 6-4 on aggregate.
Back in 2010, the Chilean Everton drew 2-2 with their Spanish hosts with goals from César Cortés and Mauro Guevgeozián for the visitors in regulation time.  As there was a Cup at stake, the game moved on to penalties and Everton de Viña del Mar won 5-4 to take home the Copa Bicentenario de Chile and complete their own historic tour.
With Everton of England and Everton of Chile sharing such a unique bond and a pioneering spirit, it's only a matter of time before they will meet again for the rematch of the Copa Hermandad – perhaps for the inaugural match in the new stadium at Bramley-Moore Dock.
Reader Comments (25)
Note: the following content is not moderated or vetted by the site owners at the time of submission. Comments are the responsibility of the poster. Disclaimer
Gerry Quinn
2
Posted 21/06/2022 at 18:08:51
Excellent story, James, well written – and, yes, wouldn't it be special to have them in the new stadium.
Tony Abrahams
3
Posted 21/06/2022 at 18:33:46
That was a really brilliant story that James, mate.
I agree, I think it would be fantastic if the two Everton teams were to open our new stadium on Bramley-Moore Dock.
Danny O'Neill
4
Posted 21/06/2022 at 18:53:34
Fascinating story and great research, James.
Pioneering has always been the Everton way.
Great to understand those links. And I agree with Gerry, we should get our South American cousins over to Bramley-Moore Dock.
Thank you for that article. Brilliant.


John Burns
5
Posted 21/06/2022 at 19:18:48
What a story James. Everton are intrinsic to the game's history. Now for the future!
John McFarlane Snr
6
Posted 21/06/2022 at 21:46:28
Hi James, thanks for a superb article.
Like one or two others, I too would be in favour of there being an Everton vs Everton game in the new stadium at Bramley-Moore Dock, a fixture in which Everton can't lose.
I would like the stadium to be called "Trinity Park" for obvious reasons, but potential naming rights would put the block on that.
Christine Foster
7
Posted 21/06/2022 at 23:13:51
Fabulous article James! "
And if you know your history.."
I honestly think that the club should contact every club called Everton and bring the players and families to the new stadium at Bramley-Moore Dock as a tribute to those pioneers and just think of the seeds we would sow around the world for our club. Every player who comes would be the best ambassador the club could have. Every budding player would look to our club as theirs, not only as a supporter but a desire to fulfill a dream and play for us.

What history, what opportunity, from little acorns...
John Shearon
8
Posted 21/06/2022 at 23:15:11
Excellent summary, Jim. Wouldn't it be great to see Everton v Everton opening the BMD with representatives from the other 5 clubs in attendance?
A truly unique occasion.
Christine Foster
10
Posted 22/06/2022 at 01:08:18
John,
I like the thought of Trinity Park, but I think I would prefer something more adversarial like the "Colossuem" a place where you have to fight to survive! American owners would probably love that idea...

Locally, it will probably be shortened to "The Dock"
John McFarlane Snr
11
Posted 22/06/2022 at 04:46:16
Hi Christine [10]
God wiling, I intend to reply when asked, who are Everton playing today? "We're home to Manchester United at Trinity Park''. I will always refer to that name no matter what name is chosen to satisfy naming rights.
I think that there will be a ToffeeWeb get-together in the near future and I intend to pay tribute to your 'Uncle Tommy', when we're asked to toast absent friends, Best Wishes John.
Danny O'Neill
12
Posted 22/06/2022 at 05:15:30
Now you open an interesting debate John Senior. The name of the stadium.
I personally like Bramley-Moore Dock as a name itself. It's unique and reflects the heritage of the site on which we will proudly face the Mersey and the world. I think it's a deliberate architect design that the stadium looks out to sea and the world. Outward looking just as our city was to become the 2nd city of the Empire.
But now you've planted the seed, I also like the thought of Trinity Park. Minor point, but that would also be able to fit easily into they lyrics of Spirit of the Blues! It would be transferable with Goodison Park. We could flick between the two!!
I agree though, sponsorship and naming rights will dictate, but we supporters can name it as we see fit, even if unofficially.
Here's a moral dilemma that I don't know where I sit. The Holy Trinity and Dixie Dean statues. Do we relocate or leave them in their current home? As it stands I'm leaning towards leaving them where they are. It's where they graced and where they belong. But then I want them with us too.
Trevor Powell
13
Posted 22/06/2022 at 09:23:42
Why is James Milner writing about EFC? Surely, he would be researching the early history of LFC with a name like that. Oh, I forgot, they have no early football history of great note!
Brian Williams
14
Posted 22/06/2022 at 09:31:30
Danny #12.
If the plans are adhered to, there's no place for the statues, unfortunately.
John McFarlane Snr
19
Posted 22/06/2022 at 13:59:52
Hi Brian [14] I would hazard a guess that the statues and memorial plaques will be retained if Everton plan on developing the Goodison site. If there are plans to do so, I think it's fitting that the statues, memorials, and other tributes should remain at Goodison, because there's no one who was around in 1892, and for an awful lot of fans Goodison is where their memories lie.
Christine Foster
20
Posted 22/06/2022 at 14:27:57
Hi John, for remembering my uncle Tommy, I think he just moved to the top balcony of the main stand.. at least, that's were we all go isn't it?
With respect to the memorials, I guess it depends on what happens to the ground, I confess leaving it to the mercy of the rebrobates from across the park would be an attack on human decency, but of course, they don't have any to begin with. Trinity Walk as you go into the dock gates with statues in the shadow of our new home on the banks of the royal blue mersey..that would do me..
Brian Murray
21
Posted 22/06/2022 at 15:02:54
I thought the Goodison area was going to be left for the community who maybe have problems. Especially accommodation support etc. I know just the two who excel in that field and are emotionally as one. Problem solved.
John McFarlane Snr
22
Posted 22/06/2022 at 16:00:42
Hi Christine [20],
I try to fulfil my promises, it's something that I feel committed to do. In the event of naming rights, I think that your suggestion of "Trinity Walk" would be a superb solution.
I am trying my hardest to be present at the inaugural game, but I fear that in the twilight of my years I may not have the pleasure. I have been rebuked a number of times for divulging my age, but I can give you a little clue, I was born on 15 July 1938. I trust that your maths will reveal my longevity, and justify my feeling of being 'so close and yet so far', and if I am present at the next ToffeeWeb get-together, I will make sure that your 'Uncle Tommy' gets a mention.
Dave Abrahams
23
Posted 22/06/2022 at 16:25:05
Brian (21),
I think the plans were revealed at an Everton AGM by Mrs. Barrett-Baxendale. There were three blocks of flats amid a garden centre with benches and other things, the plans were all drawn up and shown on a screen, maybe other people who were there that night can recall all the details.
Brian Murray
24
Posted 22/06/2022 at 16:52:53
John mc snr. Hope you make the next ToffeeWeb occasion as I will share the memories of that 1963 fulham game as my older bro was the mascot for over a year. I have great pics of vernon lifting my bro over his head on the pitch etc. Failing that google everton's first mascot ( ToffeeWeb. My big regret I missed out on seeing the golden vision in the flesh by two years.
Danny O'Neill
25
Posted 22/06/2022 at 17:35:30
I remember something along those lines Dave. A community project. There is housing involved but it wasn't by any stretch a Roker Park thing. That is now just a soulless housing estate by all accounts.

I know it's about economics and probably too much of an ask, but I wouldn't have minded seeing a down scaled stadium on the site for the Academy teams and U23s to play matches on. I appreciate that's not realistic, as it would have involved demolishing Goodison (which will happen anyway) and then building a small and simple 5,000 seater (for example) on the site. But I'd have liked that as part of the entire stadium project. Just a thought I've always had.

Catch you at the next gathering John. And don't you being going anywhere until that trophy gets paraded on the BMD / Trinity Park pitch at the first game.
Christine Foster
26
Posted 22/06/2022 at 18:24:50
It's 5am, freezing bloody cold and I can't sleep. For some reason, forgotten why, I chanced upon a blog that warmed my heart and my feet! It's from a blog The Square Ball, an overview of The Golden Vision...
For all of you, wherever you are, it's a great read, more so as the insights into players lives. It's football Jim, but not as we know it.. https://www.thesquareball.net/blog/the-golden-vision-alex-young-everton/
Danny O'Neill
27
Posted 22/06/2022 at 21:38:29
I would by no means compare, Christine, but that iconic scene of Alex Young's daughter. The tunnel scene with Seamus and his two daughters after the Palace match reminded me of that a bit.
Dave Cashen
30
Posted 24/06/2022 at 13:18:53
Thank you, James.
I was aware that we had toured South America with Spurs, but this is the most detailed account I have come across.
Pete Clarke
31
Posted 24/06/2022 at 15:49:47
Great Thread James and reminds me of some stories I was told by Brazilian lads when I worked in São Paulo about their clubs historic links to The British game and Corinthians was one club who had particular strong links.
Southampton were the first club to play in South America and it's said that the reason their name did not catch on as Everton did was because it was in fact too difficult for the locals to say.
The actual Christian name ' Everton' has become popular in Brazil and I actually worked with a guy called Emerson who also had a brother called Everton. Apparently his late father followed our great club from afar.
I don't think us supporters will have any say in the name of the stadium unfortunately as money usually trumps in these situations.
I would love it to be called 'The Dock Road ' or ' The Mersey View '.
I know it's not everybody's cup of tea but having spent alot of my childhood playing around that area and my dad having worked on the docks I would love to see a Liver bird atop the Stadium looking in towards the ground and show the world that this club of ours is from Liverpool. Maybe have one on all four sides.
We don't have the cities name but we should reclaim its greatest symbol. I would be interested to hear other people's views on this as it may just be me being pissed off that they have claimed what has been part of my history and also part of our clubs history too.
John Shearon
32
Posted 24/06/2022 at 16:38:52
Peter (31) love all of your suggestions - especially the "Dock Road" stadium - we know it's not going to happen - especially the way the club's ownership seems to be heading - but we can dream.
Peter Carpenter
33
Posted 29/06/2022 at 10:00:05
Fascinating article. I have a mental picture of Kane, Son and the rest on a tug chasing the ship and climbing up a rope ladder to get on. Good to hear that somewhere, there is at least one Everton winning things. How about an away trip to all the surviving Evertons?
---
Add Your Comments
In order to post a comment, you need to be logged in as a registered user of the site.
Or Sign up as a ToffeeWeb Member — it's free, takes just a few minutes and will allow you to post your comments on articles and Talking Points submissions across the site.
---
© ToffeeWeb