Report
Benitez masterminds another stunning come-back win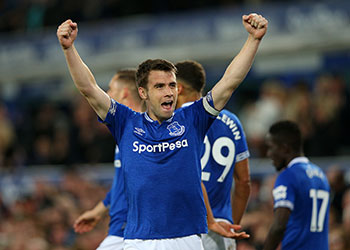 Seamus Coleman leads the team to a fine win after shaking off a hamstring complaint
Everton's 2021-22 season resumed under the lights at Goodison Park tonight with Rafael Benitez engineering a wonderful win after going behind to a difficult and belligerent Burnley side.
No Calvert-Lewin tonight. And all the talk of James Rodriguez not being fit enough for Rafa Benitez to include him proved to be correct: no Colombian maestro tonight.
Recovering from the hamstring problem gained on International duty with Ireland, Seamus Coleman is declared fit to face the Clarets with no need for a stand-in; Jonjoe Kenny once again on the bench.
Ben Godfrey is back after recovering from a suspected Covid-19 infection and Yerry Mina is also fit, these two joining Keane in a back five while Holgate drops to the bench.
In midfield, Andros Townsend and Demarai Gray should be the primary supply lines for Richarlison who ploughs a lone furrow upfront. Salomon Rondon must wait to make his bow from the bench following his move back to England from China.
Everton got the game got underway in front of a packed crowd under the Goodison lights for the first time in many many months, but they soon gave possession to the visitors and it got very scrappy. A nasty foul from behind by Brownhill on Richarlison inside the first minute was not penalized with the required yellow card... why not?
Everton finally got their foot on the ball and tried to build in the Burnley half but Doucouré's ball forward was overhit for a goal-kick. Then a brilliant ball in from McNeill deserved an easy finish from Wood that he could not pull off, but what a chance. At the other end, Gray fired one at goal but from far too far out, well wide.
Gray picked off a poor headed clearance from Mee and Richarlison spun forward to receive it but too quickly and was offside. Burnley won a couple of corners that did not threaten. Both teams had been thwarted trying to play out from the back and were resorting to long balls forward, but Richarlison was finding it difficult to do much with them.
Some of the play was incredibly scrappy, not one for the purists, while Burnley again showed greater incisiveness, Wood earning a corner that Mee came very close to converting, powering into a group at the far post. Again, Everton tried and failed miserably to play out from the back, with the crowd unimpressed and the game getting played mostly in Everton's half.
Article continues below video content
25 minutes gone and still nothing to write home about in terms of Everton attacking the Burnley goal... whereas the opposite was almost painfully frequent, Brownhill drilling a low shot at Pickford. Finally, Townsend jinked his way in and Doucouré produced a very difficult strike that Pope saved instinctively. That enlivened the Goodison faithful somewhat: Everton's first meaningful strike, just before the half-hour.
The next Everton attack won their first corner, played short and it never really worked. Mee went down, holding his head, and the Burnley players turned on Richarlison over something. Richarlison was clearly dragged down but Coleman had possession and Atkinson played advantage. Burnley were starting to get rough and physical again, but a fabulous piece of footwork by Richarlison played in Coleman. Doucouré's shot on the cutback was inches wide, and probably would have been ruled out as Coleman had strayed offside.
Burnley had effectively stifled most of Everton's play down the wings, the Burnley players swarming all over them. Even when Everton got freedom and space, Digne fired his cross at the only Burnley man in his field of vision. Benitez was getting quite vocal and animated. Perhaps he would make some key changes at half-time?
No. Burnley were also staying in the same belligerent mindset, Brownhill getting a yellow card for his rugby tackle on Townsend, and a nice free-kick opportunity that Digne disappointingly fired into the wall. Tarkowski went in very strongly on Rcharlison, clearing out ball and man, with no punishment from Atkinson. Digne's free-kick was too easily cleared.
Another awful tackle from behind by Burnley went unpunished but, when Townsend was the culprit, he got the yellow card. Burnley worked it from the free-kick, and Mee met Gudmundsson's quality ball. The goal Burnley had threatened from the start had finally come. Now, surely, Benitez would change something?
No, the horrible pattern of the game simply carried on regardless for nearly 10 minutes before he finally decided on Gomes(!) to be the game-changer. An Everton short corner and Gray's shot was good but blocked away. However, a decent cross from Townsend saw Michael Keane rise to execute an excellent header inside Pope's near post, with Gomes then replacing Godfrey.
The game looked to be stalemated but out of nothing, Andros Townsend produced a fantastic strike from almost 30 yards out, an absolutely wonderful goal.
Momments later (27 seconds!), a brilliant visionary pass from Doucoure to Demarai Gray running through and an accomplished finish for him, giving Pope no chance.
Next up was Doucoure who finished in fine style but he was 3 inches offside! The sea change was put down to Rafa switching from 3 centre-backs to the extra man in midfield, allowing Doucoure, who had set up both go-ahead goals, to get further forward.
Townsend worked space and fired in a massive shot but this time Pope was well up for stopping it with a tremendous save. The ball was worked around Doucoure set up Gomes but he somehow fired wide from a central position in front of Pope.
Burnley did score again but they too had strayed offside. Gomes was then encouraged to shoot from distance but made a horrible mess of it. Gray then got selfish too and had his shot blocked instead of playing in Richarlison. Rondon finally got his debut, coming on in place of Richarlison for the last 10 minutes.
Everton were firmly in control at this point, with Iwobi coming on in place of Demarai Gray, to a fine ovation from the now well satisfied Goodison crowd. It was into added time when Everton played perhaps their best passing move and it deserved a goal that just would not come. At the other end, McNeill warmed Pickford's gloves with a firm strike.
Scorers: Keane (60'), Townsend (65'), Gray (66'); Mee (53')
Everton: Pickford; Coleman, Mina, Keane, Godfrey (61' Gomes), Digne; Allan, Doucouré; Townsend [Y:53'], Gray (88' Iwobi); Richarlison (81' Rondón).
Subs not Used: Begovic, Kenny, Holgate, Gordon, Gbamin, Davies.
Burnley: Pope, Lowton, Taylor, Tarkowski, Mee, Gudmundsson (76' Lennon), Brownhill [Y:47'], Wood (86' Rodriguez), Barnes (76' Vydra), McNeil, Westwood.
Subs not Used: Hennessey, Cork, Cornet, Pieters, Bardsley, Thomas.
Referee: Martin Atkinson
VAR: Kevin Friend
Share article:
---
Reader Comments (254)
Note: the following content is not moderated or vetted by the site owners at the time of submission. Comments are the responsibility of the poster. Disclaimer
Ben King
1
Posted 13/09/2021 at 19:08:08
What's up with James now?
Kinda makes the debate on the other thread redundant.
Or starts to prove the point…
Tom Bowers
2
Posted 13/09/2021 at 19:13:06
No Calvert-Lewin is a blow. They may miss his height back and front against a team who are good in the air.
With four defenders and Seamus as the wing-back who is he (or Digne) going to cross to??
Could he not have started Rondon as we now look pretty lightweight attacking wise and I can't help thinking this may be a very hard game.
Brian Wilkinson
3
Posted 13/09/2021 at 19:13:46
Good, let's hear talk about Everton getting a win tonight and put to bed about a certain Manchester band name, who had a hit with sit down.
I am going for 3-1, only because Wood always seems to find a way through us.
Bill Gienapp
4
Posted 13/09/2021 at 19:14:24
If James is back in training, IMO it's silly not to have him on the bench. I don't buy that he's not fit enough to play 15-20 minutes, and guess what – six of the subs aren't getting into the game regardless, so you're not committing to anything by having him there.
Anyway, Calvert-Lewin is obviously a big miss. Hopefully Rondon can provide something off the bench if we need it.
Jay Wood
[BRZ]
5
Posted 13/09/2021 at 19:15:02
Well that's definitely a back three with two wing backs, warping into a back five as needs must. Godfrey's first run out this season.
Dom's toe injury evidently taking time to clear up, given the international break. All the more credit to the lad for playing as well – and scoring three – as he has to date.
Richarlison playing down the centre, flanked by Gray and Townsend.
Interesting bench, too. James not included, but Rondon is. Hope to see the lad get some minutes.
Funny how there is just one single player that Rafa has selected for every minute of every game since he arrived.
Jim Lloyd
6
Posted 13/09/2021 at 19:18:41
He's got him to come on, Tom but Richarlison, Gray and Townsend are all very fast so it might be "play it on the deck".
I agree with you saying it could be a very hard game, but all Premier League games should be treated that way by us. There are no easy games, until we've won.
Michael Kenrick
7
Posted 13/09/2021 at 19:21:19
Massively disappointed...
I was so hoping he was gonna ram a lot of those nasty comments back down people's throats, but their abject cynicism is vindicated by his failure to meet the virtually impossible (for him) "fully fit for 90 minutes" standard of our wonderfully pragmatic manager. And so we don't get to see any of his magic.
That's put me in a really bad mood... I've a feeling this is going to be one hard slog tonight.

Kieran Kinsella
8
Posted 13/09/2021 at 19:22:28
Brian 3
Referencing the same band's other hit, sounds like your comment was "Born of Frustration."
Christy Ring
9
Posted 13/09/2021 at 19:23:18
Disappointed Calvert-Lewin is out, especially when we have wingers now, but we have Rondon on the bench.
I thought James would make the bench, definitely fit enough, paying him massive wages and not utilising his skill.
Kieran Kinsella
10
Posted 13/09/2021 at 19:25:49
Michael Kenrick,
Looking at the dearth of attacking quality on our bench, I'd have had James in the squad. If we can't break them down what are we going to do? Bring on Jonjoe Kenny and hope he scores his annual daisy cutter?
And talking of not being "able to play 90 minutes", surely that precludes Gbamin from selection?
Justin Doone
11
Posted 13/09/2021 at 19:27:13
Burnley is always a tough game and often so much harder to watch.
A win is a win for tonight. I'm not bothered about the performance to be honest but looking forward to seeing how we cope without Dom.

Darren Hind
12
Posted 13/09/2021 at 19:29:34
Dont worry, Guys. The chap we didn't want has got this.
Robert Tressell
13
Posted 13/09/2021 at 19:30:48
Gray and Richarlison in particular should cause problems but I'm not thrilled about 3 centre halves against a poor team at home where we should be dominating possession higher up the pitch and asking them questions.
Nice to Godfrey back, though.
Jerome Shields
14
Posted 13/09/2021 at 19:42:36
Standard backline for an aerial threat. Seems to be a formation to contain and control the game, moving forward when appropriate. James is not fit enough for selection consideration.
Looking forward to seeing Rondon introduced, hopefully he will be a big step up from Kean, King and Tosun. Townsend will probably man-mark McNeil, who gave us bother the last time.
Ernie Baywood
15
Posted 13/09/2021 at 19:44:52
Relieved to see Godfrey. I was starting to wonder if there was more to his absence.
James not on the bench makes it clear where Benitez stands. If he wasn't fit enough he wouldn't have spent the break in Ibiza if he was ever going to play.
I just have a feeling we'll dispose of the weaker teams this year. Win the games we should win. Mr Benitez is the ultimate pragmatist. We'll play a percentage game where the percentages are in our favour due to having the better quality.
I'll say 2-0.
Ciarán McGlone
16
Posted 13/09/2021 at 19:46:10
5 at the back never inspires confidence but Benitez hasn't put a foot wrong yet, so let's see what he serves up...
Rob Hooton
17
Posted 13/09/2021 at 19:46:48
Kieran, that's not mentioning previously having Delph in the squad when he can barely play 19 minutes!
Kevin Molloy
18
Posted 13/09/2021 at 19:54:52
We need our centre-mids to continue their good form, in which case there's only one winner (hopefully).
Kieran Kinsella
19
Posted 13/09/2021 at 20:03:32
Rob Hooton
Good point. I wonder how stubborn Rafa will be? Koeman eventually played locker boy Niasse, Moyes played Van der Meyde, even Nyarko got a second chance.
Philip Bunting
20
Posted 13/09/2021 at 20:35:41
We are shocking so far.
Ciarán McGlone
21
Posted 13/09/2021 at 20:48:41
Centre halves getting in each others way and a midfield that's struggling to do anything... all very predictable. One shot on target says it all.
It's not working. Gomes on for Keane.
Peter Warren
22
Posted 13/09/2021 at 20:50:07
I don't think I've ever seen us play well with 5 at the back. Either that changes second half or the formation does otherwise we're going to lose
Jay Wood
[BRZ]
23
Posted 13/09/2021 at 20:51:28
Not a lot of football on show from the team in Blue.
Marginally better in the final 10-15 minutes.
Bit of a borefest.
Kevin Prytherch
24
Posted 13/09/2021 at 20:52:03
There's a lot wrong with this side today…
We constantly seem to have a spare centre back not doing much.
Our wing backs often seem lost somewhere between defending and attacking. Digne especially is a passenger as a result.
Our wingers are often playing as midfielders, when they do press high we look more dangerous.
Richarlison is isolated.
We are defending too deep and therefore inviting crosses from deep.
On the positive side though…..
This is the most committed I've seen an Everton team for a long time.
When our wingbacks look to overlap with our wingers we look dangerous.
I don't think this formation is working. We need someone up top, either alongside or just behind Richarlison. We also need our overlapping full backs, Digne especially, to play as overlapping fullbacks and not isolated wide defensive midfielders. We also need to stop worrying about defending on the edge of our own area and close the space down in midfield to prevent their deep crosses.
Also, Pope is diabolical on the ball. His first touch seems to bounce 5 yards away from him. Surely this is an opportunity to close him down every time.
Jerome Shields
25
Posted 13/09/2021 at 20:53:46
McNeil unmarked and dangerous. Does no-one watch videos at Everton?
Andrew Keatley
26
Posted 13/09/2021 at 20:53:58
Three centre-halves against a team that play 4-4-2 can be a good idea, especially when two of the centre-halves essentially man-mark the strikers and the third sweeps – and ideally all three need to be comfortable on the ball, mobile and happy to step up into midfield when in possession. Keane, Mina and Godfrey all have their qualities but they do not suit playing three at the back.
Because of this, Coleman and Digne are essentially playing as conventional full-backs, and Gray and Townsend like conventional wide midfielders. The system is not really working and I'd like to see one of the centre-halves subbed off for Rondon.
Alex Gray
27
Posted 13/09/2021 at 20:54:14
Positive so far is Gray is at the centre of everything we do well.
Negatives are Allan and Digne have been utter dross and we are awful when we play with a back five. I get its meant to be three but our wingbacks get pushed back every time and we have no outlet.
Get keane off and bring on Iwobi or Rondon.
Christy Ring
28
Posted 13/09/2021 at 20:56:08
I thought before the game three at the back against two strikers doesn't work, especially when we have Richarlison upfront on his own against two centre-backs. He has to sacrifice a defender for the 2nd half, to give us a more attacking force and better shape.
Listening to his comments about Calvert-Lewin, he could be out for a while.
Simon Dalzell
29
Posted 13/09/2021 at 20:57:42
Very poor. 5 at the back – very negative. Digne seems lazy these days, doesn't put the effort in to get forward.
Change of formation, personnel needed. Keystone defending early on again. The bottom line is we have a lot of moderate players still.
Neil Lawson
30
Posted 13/09/2021 at 20:57:50
This is dross. Must take off a centre-back and put an extra man in midfield.
Tommy Leigh
32
Posted 13/09/2021 at 21:02:51
Bring Salomon on. With this bunch of rugby players, we need to start fighting fire with fire!
Anthony Jones
33
Posted 13/09/2021 at 21:10:43
3 centre-backs against this shower. Ancelotti returns.
Ciarán McGlone
34
Posted 13/09/2021 at 21:11:53
Now that we are a goal down, surely he has to admit defeat on this formation... he can't be that bloody stubborn... can he?
Andy Crooks
35
Posted 13/09/2021 at 21:17:36
We will soon find out what Rafa is made of. Shit set-up that only the coach believed would work. Time to change it and win the game. Ancelotti got away with this ineptitude, Benitez won't.
Andrew Keatley
36
Posted 13/09/2021 at 21:25:47
Three goals in 6 minutes. Exceptional. The pass from Doucoré for the Gray goal was a thing of beauty.
Alex Gray
37
Posted 13/09/2021 at 21:27:22
The second we go four at the back, we look ten times the team!
Philip Bunting
38
Posted 13/09/2021 at 21:37:47
The second I left the pub, we scored 3. What do I know?
Ciarán McGlone
39
Posted 13/09/2021 at 21:49:20
10 minutes of beauty. Goodison like a coral reef of emotion. Outstanding.
Peter Warren
40
Posted 13/09/2021 at 21:53:26
Outstanding 15 mins!!!
Ernie Baywood
41
Posted 13/09/2021 at 21:56:19
One of those times when you think "I'd give anything to be at Goodison right now".
For an hour we played the wrong game. Slow with the ball and then play long towards a winger playing on his own up front. Burnley couldn't have wished for a better style of play for them to match up against.
Then we changed back to 4-4-2, opened up the game and made it end to end, played at pace and our better players showed why they are better players.
Could have scored as many as we wanted at that point.
Fran Mitchell
43
Posted 13/09/2021 at 21:58:55
Those comments on the Townsend & Gray transfer threads all look a bit silly just now, don't they.
Excellent response to going down. There is room for improvement, and the set-up was poor, as was the first half. But as soon as we equalised, then changed the shape, we showed our superiority. If Gomes can play like that, he's a real asset.
Great Stuff and we're joint top.
Rafa is looking like an astute choice.
Jerome Shields
44
Posted 13/09/2021 at 21:59:19
Really great performance. Pattern finally broken. This game tells a lot about Everton under Benitez. More effort, pace, competitiveness and organisation.
Pat Kelly
45
Posted 13/09/2021 at 22:00:10
We've turned a corner – and it's down to Rafa!
Craig Walker
46
Posted 13/09/2021 at 22:00:12
Wingers who shoot and attack with pace. A player that can finish a 1 v 1. A manager that makes changes. A team that responds to going a goal down at home. Some decent game management.
Very encouraging.
Well done Benitez!
Tony Everan
47
Posted 13/09/2021 at 22:00:34
A game of two halves.
The first half wasn't good, the second half wasn't half good.
Tommy Leigh
48
Posted 13/09/2021 at 22:00:37
James Rodriguez. Did you witness that second half? Probably not. Get on your private jet and do one. We don't need you. We are the school of science and we are a team. Yeah, a TEAM. Something you will never get. What a 2nd half performance that was. Proud to be a blue. Carlo Who?
Bill Gienapp
49
Posted 13/09/2021 at 22:00:55
LOL. Well, I had my "I hope this performance serves as a wakeup call and we can dispense with this fantasy that we don't actually need James" post all queued up and ready to go just shy of the hour mark, then, well...
I still think we'll undoubtedly need James at some point this season, but I'll just go ahead and file that away for now.
Kevin Prytherch
50
Posted 13/09/2021 at 22:01:19
Well, I think Rafa was about 40 minutes late changing the formation, but credit to him for changing it, especially immediately after scoring.
Townsend and Gray have already contributed more than Iwobi and Kean ever have done, and for around £60m less!!!
Finally, even when we weren't winning, what a change to see an Everton team with passion and fighting for balls. We've been abject and laid back for too long. I thought it was all words when Rafa was saying "I know what Everton fans want to see from their team", but I think he actually knows…
Andy Crooks
51
Posted 13/09/2021 at 22:03:27
Everton minus one. This time next year we'll all be millionaires. Well done players and coach.
Ken Kneale
52
Posted 13/09/2021 at 22:05:34
Jerome,
I hope this answers our joint musings on the other thread. This indeed did feel like it has told us a lot, as you outline. Great showing and credit to those concerned.
Jay Wood
[BRZ]
53
Posted 13/09/2021 at 22:09:19
A lot of joy and positives to be taken from the 2nd half.
A bread 'n butty goal for Burnley when we still hadn't woken up. Rafa was already preparing Gomes for Godfrey to re-jig and go four at the back when Townsend and Keane combined a treat for the first of our three wonderful goals on the night.
Townsend repeated his trick of cutting inside from the right flank to get the ball on his left foot for an absolute peach of a second. That was no hit 'n hope. That was placed and beautifully executed, the way he got the elevation of the ball exactly right to get it up and over Pope.
Then another beaut with a superb pass from Doucoure, lovely first touch with the outside of his boot from Gray to keep the ball moving forward and allowing time to steady himself for a clinical finish.
The disallowed Doucoure goal was another exquisitely worked goal. Three goals in 6 minutes, our control thereafter was total.
After tonight I'm sure Townsend and Gray have cemented themselves in the affections of the Goodison faithful.
Another 3-1 home win after coughing up the first goal.
Resilience and doggedness, harnessed to some very good football once we got up and running.
Our summer signings might not be the sexiest headline grabbers we might have hoped for, but increasingly they are looking like they were exactly what we needed.
Overall, impressed. Again.
Chris Williams
54
Posted 13/09/2021 at 22:09:58
It's nice they've started to win games after going behind too.
Impressive performance second half. Wonderful sights and sounds under lights.
Mike Gaynes
55
Posted 13/09/2021 at 22:10:07
What's really amazing is we did it without Iwobi at right back.
Alex Gray
56
Posted 13/09/2021 at 22:11:38
That brief 10 minutes were absolutely outstanding. Glad Rafa knew the three at the back wasn't working. Gray is looking like a steal and Townsend was superb second half. Allowing Doucouré to push on makes him so much more effective.
Got to he honest though, I still think Digne and Allan stunk the place out tonight.
Neil Tyrrell
57
Posted 13/09/2021 at 22:14:05
Second time already this season we've come from behind to win, no more heads dropped accepting defeat. So important too to get 3 points when you're not at your best, that's what good teams do.
Is that Townsend goal our best since a certain Jagielka screamer? What an absolute beauty. Guess it's too late for Andros to make the PL team of the week that someone mentioned, oh well, we know.
Dale Self
58
Posted 13/09/2021 at 22:14:24
Townsend calming things down around the penalty brouhaha and now stating in a statesmanlike manner "it was that we showed character" more than the victory itself or something to that effect.
This is the leadership that was lacking on the pitch last year.
Ed Prytherch
59
Posted 13/09/2021 at 22:21:35
It is a while since I last saw such a tails-up 10 minutes from Everton. Truly exciting and surprising that we did not score another. The extra man in midfield sure made a difference.
The scene on the pitch after the final whistle shows that Rafa is developing great relationships with his players.
Bring on the Villains.
Darren Hind
60
Posted 13/09/2021 at 22:21:57
Digne was poor by his standards, but Allan "stink the place out" ? Na... He did what he was supposed to do and we may not have turned it around if he didnt. A good solid 7/10. Same for is partner Doucoure. Great strike from Townsend and once again electric pace from Gray.
Is the fella we none of us wanted going to turn out to be the fella we needed all along ?..Funny old game
Dan Johnson
61
Posted 13/09/2021 at 22:24:28
I hope all the Rafa doubters can now rethink. A great substitution changed the game, all the players put in 100%, well done, Blues.
Jeff Armstrong
62
Posted 13/09/2021 at 22:25:54
Shout out for Coleman, captain's performance tonight.
Allan did okay for me, he and Doucouré where too exposed at times until the change of formation. We were crying out for an extra man in midfield; as soon as we got Gomes on, we ripped them apart. Good attacking football with numbers to spare, and actual shots at goal from distance.
Great second half – especially as that twat Atkinson was giving us nothing.
Danny O'Neill
63
Posted 13/09/2021 at 22:28:15
The emotion is still running high and the heart pumping so I'll wait and comment on the football when I calm a bit. Said it before Michael, I don't know how you do it.
Took a nostalgic walk across Stanley Park to the Arkles and having a celebratory one before heading to town before going back to London tomorrow.
I know its a Red pub, but in his later life, my Grandad lived at 14 Arkles Lane with his second wife and it was his his local. She was a massive Liverpool fan. But she always fed me and my 2 mates after we'd been to Goodison.
I said I'd comment on the football when I give myself time. But that referee?
Ben Howard
64
Posted 13/09/2021 at 22:30:46
Apparently that was the first time in 14 years three Englishmen have notched in one game for the Toffees.
Rob Hooton
65
Posted 13/09/2021 at 22:31:31
We had a 10-minute spell when it looked like we were going to score 10 goals in the second half and it was great!
Comments on Benitez from Townsend and Carragher are interesting; I like the fact that he is a bit of a taskmaster and always looking to improve by the sounds of things. I've really warmed to him this far.
Great to see some cracking goals, Doucouré was immense again and unlucky not to be on the scoresheet too.
First half was forgettable and is long forgotten and forgiven!
Robert Tressell
66
Posted 13/09/2021 at 22:31:56
Brilliant to see dynamic wingers making all the difference. Why have we had to wait so long to get some bloody pace and width!
Three in midfield to dominate the game next time. Not three at the back to concede the initiative.
Justin Doone
67
Posted 13/09/2021 at 22:33:53
Good win – especially coming from behind.
The first-half tactics are meant to smother their attacks but we stood off them too much.
An extra midfielder caused them problem's simply because we had someone to pass forward to as they continued to press us high up the pitch.
Doucouré's pass was outstanding, but his passing in the first half was awful.
Townsend's strike, wow. It may only come off now and again but it's absolutely beautiful when it does.
Amazing what a bit of pace and energy can bring to a team. Gray had another good game.
Richarlison continues to work hard but his lack of creativity, poor passing and ability to make the right decisions at key times has meant his importance to us has diminished.
As for James, I believe he'll soon be back in the matchday squad. No point in risking him against those thugs.
Jerome Shields
68
Posted 13/09/2021 at 22:35:47
Ken #52,
That was the big take from this game. Everton able to up a gear in the second half and having the underlying effort and work necessary. I do admit in the first half I began to wonder. . . but, as you say, the big question was answered. I was even thinking in terms of your recovery theory in the next game, as a second chance after the Burnley goal.
Digne fortunately was the only one below par.
Dave Abrahams
69
Posted 13/09/2021 at 22:38:15
Bullied, battered but not beaten. My heart sank, along with every Evertonian's when Burnley scored the goal we all knew was coming, but what a comeback! Three great goals and we could have another two or three.
Atkinson had a another poor night refereeing another Everton game... Why didn't he use VAR after that vicious tackle on Richarlison early in the second half? One of many that went unpunished.
Richarlison had a good game for me tonight, on his own up front against a bruising Burnley defence, he never gave up and could be proud of his performance. He deserved his 10 minutes rest and a good ovation from the crowd when he came off, although he didn't seem to know how well the crowd had thought he played.
Mick Roberts
70
Posted 13/09/2021 at 22:42:32
Atkinson needs to be reported by Benitez. No yellow for going through on Richarlison, yet a yellow for Townsend for a coming together trip. Blatantly biased – he should have worn his Red Shite shirt instead of black, the total tossa.
Terry Farrell
71
Posted 13/09/2021 at 22:43:39
Rob,
Me too – his subs have purpose, not just like for like. Once we went 4-4-2, we took the game to them but were being picked off with 5 at the back.
I love Townsend and Gray, both decent players and also decent human beings having had to get there the hard way. Listen to what they say... humble stuff! Andros's goal was an absolute beauty. He has a shot on him but he put a bit of tussy on that to loop over the keeper. 10 out of 10.
And then to see Demarai run through and slot like it was a training session was great. Keane and Mina also did well.
Rob Hooton
72
Posted 13/09/2021 at 22:44:49
Well said, Dave A,
Richarlison worked his socks off and likely made space for all of the goals. I was hoping he'd get a goal but he didn't get a decent chance unfortunately.
Christy Ring
73
Posted 13/09/2021 at 22:48:22
Three at the back didn't work; thankfully after Keane scored, Rafa changed it, and credit where it's due, Gomes with Doucouré and Allan was immense.
Just watched Carragher and Neville discussing Tarkowski's challenge on Richarlison, and they said it was a red all day long, a shocking tackle. Atkinson definetly hates us the twat.
Ernie Baywood
74
Posted 13/09/2021 at 22:49:03
The criticism (constructive or otherwise) I still think misses the point. If you're not going to play to strengths then you're not going to see their best.
Doucouré and Allan were both poor for an hour. Well it shouldn't be a shock. We were pushing it around the back, asking them to play little passes in their own half and then bypassing them with a long ball to Burnley's defence.
For the last 30 minutes, we opened up the game. When it goes end to end, I'm not sure there are many midfielders in the league that I'd prefer to those two. They're made for it. Doucouré winning every loose ball that comes out and Allan chasing down their breaks.
Same goes for most. Including Townsend and Gray.
Si Cooper
75
Posted 13/09/2021 at 22:50:15
I think the manager explained his initial set up very well after the game. Without the extra man in defence, they would have played down the channels and potentially would have getting crosses in from nearer the byeline. Burnley play to their strengths well and you simply have to be able to suppress their attack somehow.
Okay, it didn't work brilliantly but I thought by the second half we were getting on top and their goal actually came against the run of play. The dreadful Atkinson didn't help, letting them get away with some out-and-out thuggery right from the off.
Too much moaning and negativity before kick-off and for the first-half performance. Burnley are better than their current points total suggests and I reckon they will be safe again this season and get a few decent results.
Long way to go but the team are playing like one, and a pretty decent performance overall from everyone tonight (I'm surprised at some of the comments about Digne; Demarai Gray is a very different winger to what he is used to so attacking wise he's not getting the sheer number of crosses in but I thought he worked his socks off and most of their threat came down the opposite flank).
Oh, and it's great to have a goal of the month contender again!
Roger Helm
76
Posted 13/09/2021 at 22:50:56
I was very concerned when Burnley scored, I couldn't see how we could dent their defence, as Richarlison, whatever his qualities, isn't a centre-forward.
My plan was to play Rondon to give more physicality up front, but fortunately Rafa knows more about football than me.
Again we come from behind to win, something that wasn't a feature before, so it looks like the squad has a bit more steel about them this season.
Brian Wilkinson
77
Posted 13/09/2021 at 22:53:35
Having a nice Jack Daniels and Coke and a big smug smile on my face, for my post@3. Okay, it was not Chris Wood, but same outcome.
These guys were great tonight. Can we now talk about the team, instead of turning everything into a James debate?
Fantastic second half by Everton. Rafa has turned us around this season, no longer heads dropping, or shutting shop with a slender lead.
Carlo jumping ship and FFP constraints might just be the turning point of Everton Football Club.
Early Days, but loving how, even after that performance, Rafa is wanting more.
Tony Cawson
78
Posted 13/09/2021 at 22:56:15
Andros,
What can we say? What a gentleman. Epitomises what it means to represent this club.
I thought highly of him as a player in the past, then listened with interest on the radio stint not long ago. This guy gets us already, I've watched his interview tonight more than his goal; lovely stuff,
Excellent, dare we say from our manager, absolutely superb, clever, astute business.
I adored Mr Ancelotti, and always will have time for him, but hats off to all involved, and again, the manager, and should be captain.
'Feet on the ground, head in the sky' tonight... Onwards.

David Pearl
79
Posted 13/09/2021 at 22:56:23
Alex Gray,
Are you having a laugh? Allan had a good game for 90 mins, not just bits. It was our shape that made him look bad but he was the one that kept it together.
Shame Gomes didn't score. We had more control when he came on and l'm expecting a big season for him if he stays fit.
That was the Everton l love... eventually. It was worth the wait. And we went 4-3-3, as in 3 central mids.
Eric Myles
80
Posted 13/09/2021 at 22:56:28
Andy #35 and Andrew #36, I seem to remember another game when Rafa did the same thing, started off with the completely wrong formation, and then in the second half changed it and scored 3 in 6 minutes.
Seems miracles happen more than once for this guy.
Ernie Baywood
81
Posted 13/09/2021 at 23:03:02
David #79 I think it's fair to say that goals will never be a big part of Gomes's game.
That was a terrible miss. Then he stood back when he should have got onto a ball into the box. Then he threatened the corner flag!
Stick to passing, André.
Jamie Sweet
82
Posted 13/09/2021 at 23:06:07
What an absolute joy it was to see the Old Lady bounce and the faithful roar, under the lights once again. Isn't this what it's all about? Nothing quite like it.
Dale Self
83
Posted 13/09/2021 at 23:07:48
Class Tony 78. Townsend and Gray complement each other and definitely compliment us as a club. With all the trying times of late it is once again feeling very good to be an Evertonian.
UTFT!!!!! You're next Villains!
Soren Moyer
84
Posted 13/09/2021 at 23:09:00
I must admit, I'm beginning to warm up to the Spanish Waiter lol. Long gone the days of zombie football under the Italian caterer. 😀
More of the same from the 2nd half please.
Paul Birmingham
85
Posted 13/09/2021 at 23:11:07
Great belief, character and resilience shown by Everton this bruising night. Burnley didn't get under the Everton players' skins, and in adversity were galvanised.
Great fight and more guts and belief shown in this game than in the last manager's 18 months. It's a tight squad but playing for each other like this is a joy to watch.
Now Everton let's do a good job and beat Villa, always a tough fixture, but it can be done.
Doucouré goal was offside, as was the first RS goal at Leeds.
But well done, Rafa and Everton, for playing the game and managing the game out this night.
Peter Mills
86
Posted 13/09/2021 at 23:11:14
It was a very poor first half from us, with a total lack of creativity. The two -an midfield just could not cope, I was surprised we played in the same manner at the start of the second half.
Credit to the manager for eventually changing things, and we did then play some flowing football, and Goodison became a good place to be.
We can't complain at 10 points out of 12. Villa, who looked good against Chelsea, will be a real test.
Mike Hughes
87
Posted 13/09/2021 at 23:12:47
I've always liked Rafa Benitez.
He cut his teeth with a couple of small clubs before taking a step forward at Newcastle.
Now he's hit the big time at Everton and looks like he means business.
Steve Shave
88
Posted 13/09/2021 at 23:14:41
I work late on Mondays and couldn't get away so missed the first 20 mins (doesn't sound like I missed much). Delighted with three points but even more with that explosive 10 minutes where I thought Doucouré was immense, popping up everywhere in pockets of space, looking to play forward with intent constantly, tracking back, getting the crowd going.
Pleased for Andros and Demarai again, both excellent. Doucouré deserved a goal and what a goal it would have been with a tremendous passage of play in the build up. By that point, I was losing it, so exciting and I have felt really proud to be a blue this season so far.
Annoyed with some criticisms above regarding Gomes and Allan. The later was solid throughout and had a really good game, it's only those with Nil Satis Nisi Optimum specs who expect every player to be perfect, consistently throughout. Those who understand football will have seen other aspects of his game and his other contributions, such as his continued ability to break up play at the back and help out defence.
Gomes clearly can't score in a brothel but he played well, he offers other qualities such a ball rentention and a calmness, his sprayed pass to the right wing (I think to Townsend) after our third had gone in, was excellent.
Richarlison is a miserable git but he is ours and he is like a street kid, he just wants to play every minute of every game he can. James could learn a lot from these boys.
3 points under the lights; 4th and joint top, COYB.
Kevin Molloy
89
Posted 13/09/2021 at 23:23:42
Mike,
Exactly. I think he's still pinching himself.
One thing I've noticed this season with Richarlison. He's getting on the other side's nerves. A lot.
I don't think it's a coincidence. Benitez is getting in his ear, getting him to wind up the other side's key men. It was the midfielder for Brighton last week, the centre-backs for Burnley this.
Tony Abrahams
90
Posted 13/09/2021 at 23:29:27
I thought Townsend was having a poor game and was hoping he would be replaced so it shows you what I know, but I still definitely reckon a few funny Evertonians, have bumped into Martin Atkinson, and absolutely terrorised him, some time in the past, and he's been getting us back for it ever since. What an antagonising bastard that man really is.
Lovely to look around the famous old stadium when the third goal went in, and see the whole ground bouncing, because it was a really beautiful sight!
Bill Gall
91
Posted 13/09/2021 at 23:31:43
Well, definitely a game of two halves.
First half: no cohesion, lack of effort from some players, and simply playing after most probably training at Finch Farm, how to contain Burnley, to allow Burnley to play to their type of game.
The second half changed with what I thought was the start of the comeback, and that was the tackle by Tarkowski on Richarlisun that wasn't punished. after that Everton players started to get back into the game and that got Townsend booked for something that Burnley players had been doing from the start and they scored shortly after that.
The next game-changer was the substitution Rafa made and the tactical switch that brought a goal of the season from Townsend after providing a cross for the equalizer.
Even though it was a poor first half, it was refreshing to see that we have a manager who is willing to admit his tactics were not correct and changed them.
3 points were deserved with the second half display but we can't afford to play good for just one half against other teams. Who thought that Doucouré's pass to Gray was practically the same as Allan to Gray in the last game?
Rob Halligan
92
Posted 13/09/2021 at 23:39:47
Well that wasn't bad! 🤙🤙🤙
Barry Hesketh
93
Posted 13/09/2021 at 23:53:57
Every team that contends for trophies has to take advantage when they hit a purple patch in any game. A Elland Road, Everton failed to capitalise on their superiority during the match with Leeds and subsequently dropped 2 points.
Tonight's game was a poor performance taken in the round but Everton emerged with all the points because they finished Burnley off in that 10- to 15-minute period of pressure.
It's early days and the team is far from the finished article but results like tonight help to build confidence and can only help the club move forwards. Richarlison shouldn't play as a centre-forward for Everton because he's far more effective coming in from the the wings.
Benitez paid far too much attention to Burnley's threat with his starting line-up and it could have proved costly but, when he made the changes, the Everton side looked dangerous and made a very hard-working Burnley side look what they were very ordinary. Villa will be a very stern test on Saturday, but I hope we can see an Everton side on the front foot, rather than attempting to merely nullify the opposition's threats.
10 points on the board from four games is better than most of us expected, but I'll take any win from any game, in whatever manner it's achieved, because that's what's required if we want to see Everton threaten at the right end ot the table on a regular basis.
John Keating
94
Posted 13/09/2021 at 00:10:10
Positive for me was the manager seeing the formation problem and rectifying it. Brilliant pass from Doucouré, fabulous.
One thing I was disappointed with was Pickford's return to being brain-dead. I had hoped he'd cured his craziness but it appears not permanently
Gaute Lie
95
Posted 14/09/2021 at 00:15:36
All credit to Benitez!!!!!
The magician!
Jay Wood
[BRZ]
96
Posted 14/09/2021 at 00:17:18
'One thing I was disappointed with was Pickford's return to being brain dead. I had hoped he'd cured his craziness but it appears not permanently!'
Care to explain that one, John?
Barry Hesketh
97
Posted 14/09/2021 at 00:26:01
Jay @96.
I too would be glad to hear John's explanation of his comment relating to Pickford. I don't remember anything of note during the game which would result in the keeper being labelled as "brain-dead".

David Pearl
98
Posted 14/09/2021 at 00:28:02
Ernie @81,
Gomes won some finishing competition in training last season. He can finish. Maybe he needs one to get him started. He seems a bit slimmer and hopefully fitter.
Perhaps we might reap some rewards for the £500 mil we've spent over the last few years. After all, it's been a while since we sold one of our top players... they are all still here. Great to see that turnaround tonight. The Everton that l love!
Dale Self
99
Posted 14/09/2021 at 00:34:05
Pickford got caught in no-man's land one time. The trauma of past mistakes probably caused an overreaction... but hey, that's Pickford, love him or leave him.
Love him! UTFT!!!!!!
John Keating
100
Posted 14/09/2021 at 00:38:40
Jay @96,
I haven't seen it on the telly yet but in the Park End, first half, he had another brainstorm where, I think Wood should have scored. He didn't know whether to come or go and did neither.
For the remainder of the half, when we had the few attacks we had, he was stomping around the area talking to God knows who?
My cousin who was in the Lower Gwladys told me after the game he'd had a few moments second half too. During the Southampton game, he was really calm and focused and seemed like later half of last season, to get more composed. Sadly, it didn't look like that to me... certainly when he was in the Park End goal.
Colin Malone
101
Posted 14/09/2021 at 00:40:19
Burnley must've thought Christmas had come early, with our starting line-up. We were terrible. Hitting long balls, which was food and drink to Burnley. No guile in midfield, a blind man could see it.
Benitez tried to fight fire with fire and in my opinion should have changed it a lot sooner. Gomes made a big difference. I also thought Allan did well, besides the football, his constantly organising players around him.
Well done, Blue Boys.
Phil Gardner
102
Posted 14/09/2021 at 00:40:30
This lad Townsend speaks well. He seems to get the club. His post-match interview was very impressive and not the usual dross. He mentioned 'this historic, big club' several times and how impressed he was with the support.
For now, an astute – no, staggering piece of business.
Mike Gaynes
103
Posted 14/09/2021 at 00:46:44
David #98,
"He can finish"
?? Maybe in practice. Not in games.
You got me curious, so I looked it up. On 26 April 2017, Gomes scored a brace in Barca's 7-1 home win over little Osasuna.
Since then, he has appeared in 121 games. He has scored once. This was it:
https://www.youtube.com/watch?v=i2Ej4wT47d4
A beauty. No question. A roofie from 16 yards. But the only one.
We should not have been astonished that he missed that sitter today.
Jay Wood
[BRZ]
104
Posted 14/09/2021 at 00:49:10
So John, when you do get to watch it on telly, you might appreciate the high quality of McNeil's delivery into Wood and also consider it was Jordan more than any other Everton defender who took action in attacking the ball.
To my eye, and that of the match commentators, Wood should have scored but seemed to flinch out of it and produced an extremely poor header due to... seeing Jordan coming for the ball, not 'neither' as you claimed.
Nothing brain-dead on that play at all, nor in anything else Pickford did all match.
Derek Thomas
105
Posted 14/09/2021 at 01:10:51
Nearly 400 years ago, an early opponent of this whole 'one man up-front' thing, John Donne, wrote: "No man is an island, entire of itself".
Nothing much has changed since then to make me disagree with him.
Benitez – very, very, slowly, winning over hearts and minds, One Game At A Time??
James Flynn
106
Posted 14/09/2021 at 01:58:12
Hope Allan stays healthy. He's terrific.
Man-marking in our box, neat piece of Brazilian football touching off the attack leading to Gray's goal.
Don Alexander
107
Posted 14/09/2021 at 02:08:48
An unprofessional, disjointed first half of yesteryear for sure but then a second half where, after a slightly overdue changing of the team shape, we looked eminently professional, co-ordinated and lethal (and I can't remember us ever looking lethal in the past 30 years – for instance, can anyone recall a single game where we scored 3 after after going one behind?)
Credit to Benitez for eventually getting it right, but tonight's performance to me again emphasised the massively unprofessional, slacker attitude that until this season, so far, has pervaded Finch Farm. Benitez has seemingly introduced a whole new level of fitness, attitude and pace. He's yet to win me over because the improved qualities I identify should be bog-standard to any pro footballer, manager, coach, owner or boardroom.
It once again causes me to reflect, after the high of a welcome professional win, just who in our boardroom has been responsible for the dross served up to us for the past 30 years, and just why anyone would continue to employ him?
There is no coconut for anyone posting the right answer.
Nicholas Ryan
108
Posted 14/09/2021 at 02:11:57
Am I imagining things, or was Gomes creating space, constantly passing forward and oozing class... in other words, starting to look like the player we always hoped he was???
Bill Gienapp
109
Posted 14/09/2021 at 02:19:18
Don (107) - "for instance, can anyone recall a single game where we scored 3 after going one behind?"
Yes, against Southampton in our previous home match, LOL.
David Pearl
110
Posted 14/09/2021 at 02:24:29
Mike, l do agree but ya know he has been low in confidence for too long. He's that kind of man. Although he lashed at the ball, trying to atone for the miss, l enjoyed his effort.
All-in-all, we have a better squad than 10th, as we did under Carlo. I'm looking forward to the season with confidence. If we lose a game, l don't expect it to take 4 more losses for this manager to find a solution.
Or, if we do go on a losing run, we could all just blame Kenwright.
Don Alexander
111
Posted 14/09/2021 at 02:38:55
Bill, I was talking about the past 30 years, not this season. Do try to keep up, old bean!
Don Alexander
112
Posted 14/09/2021 at 02:44:02
And David (#110), given your tacit support of Kenwright, I assume you're the kind of voter who gives credit to the likes of BoJo for any day he doesn't fuck-up, lie, orscrounge personal money from grabbing bastards.
Bill Gienapp
113
Posted 14/09/2021 at 02:58:45
Don (111) - well, since you *asked* here are a couple recent examples off the top of my head...
Under Allardyce (believe it or not), we went one down to Swansea and won 3-1.
Under Koeman, we went one down to Middlesborough and won 3-1.
Last year we went one down to West Brom, then proceeded to drop five on them, though the match was also tied 2-2 at one point.
And I think can think of three instances we came back from 2-0 down to win 3-2.
Against West Brom under Martinez.
The Unsworth match against Watford.
Watford again under Ancelotti, when Mina scored twice in first-half extra time, then Walcott went on to score the last-minute winner.
The Silva years are easy, because we never came from behind to win once!
Andrew Keatley
114
Posted 14/09/2021 at 03:04:42
And the Crowbar Award, for managing to force their own personal bugbear into a thread in which everyone else was generally being upbeat and enjoying a win… goes to… Don Alexander for post 107! Congratulations Don.
Yes, the first hour was pretty turgid, but Rafa shuffled his cards and we came roaring back into the game with three well-worked goals. Lots to be pleased with, including a very tidy 30 minutes from Andre Gomes. Lovely.
Michael Williams
115
Posted 14/09/2021 at 03:21:59
Form the Guardian: "Prior to Benítez's arrival, Everton had won only two of 59 Premier League matches when conceding first." Can this be true?
Derek Knox
116
Posted 14/09/2021 at 03:37:16
Talk about 'Chalk and Cheese' – such was the contrast between our first- and second-half performances, I couldn't believe what I was seeing first half, they gave Burnley far too much room and time on the ball in almost every area. In fact,Burnley looked like the home side, they enjoyed so much possession and had us for the most part defending too deep and in our own half for too long.
I was even beginning to think that all the previous performances under Rafa had been some sort of fluke, and we were reverting back to how we were last season behind closed doors, weak and lacking passion and drive. Burnley getting the almost inevitable goal, based on our own ineptitude to that point, seemed to spur us on and we were transformed, galvanised in to an efficient unit.
Mind you, the change of shape, and that is no reflection on Ben Godfrey who became make-weight to allow another midfielder on and scrap that 'three at the back malarkey', which has never boded well for us. I had predicted 4-1 to us and at one point thought that may have been achieved or bettered when Doucouré's goal, which was clearly offside, hit the back of the net.
Still pinching myself when I look at the Table and see that no team has done better than us apart from goal difference, although it is early days, and we haven't played any of the 'big guns' yet. Without getting too carried away, we look to have a decent foundation, and confidence to try and build up a decent run.
I know this is not the right platform, so prior apologies Editors, but several people have indicated that The Cancer Research UK Appeal has been difficult to spot, and therefore is not getting the hoped for response. It is under Site/General Forum, so please just take a minute or two and do what you can. Thanks!
Onwards and Upwards Blues!
Barry Jones
117
Posted 14/09/2021 at 03:40:24
Gomes was absolute class when he came on. He has strength on the ball and great vision. I have never really understood the negative crap posted on here about him.
Digne though, was dreadful. I used to rate his distribution highly but today he couldn't hit a cow's arse with a banjo. Every cross hit the first man.
I also don't understand why he kept taking short corners which were totally ineffective. Let's hope he reverts to normal service asap.
George Stuart
118
Posted 14/09/2021 at 05:23:30
The first half was unspeakable.
I can always admire a manager willing to mix things up when things are going wrong. (Remember Moyes, who I did admire, always left it to the last ten minutes.)
Last season's malaise in the whole, was losing to bottom third teams. Especially at home? What the fluff?
Was this to happen again? Apparently not. Bodes well. Especially after going behind.
We won't beat every Sky Big 3 team but we should beat many of the rest. Bodes well, again.

George Stuart
119
Posted 14/09/2021 at 05:37:30
Sorry. Sky Big 3. Sky, whilst showing Man City due reverence, doesn't seem to salivate and slobber all over them like they do the other three.
Danny O'Neill
120
Posted 14/09/2021 at 05:48:34
Sat on the 0526 Euston train from Liverpool Lime Street having walked across town from the Atlantic Tower. Some interesting sights. Many loud young people still in their last-night's clothes. Some trying to be aggressive but, to honest, I thought the seagulls were more intimidating. I'd forgotten how big they were close up!
Anyway, I digress. Most has been said. A pretty uninspiring first half and what felt like an inevitable Burnley goal. Personally, I didn't panic as, despite them going probably deservedly ahead, they hadn't threatened us and we had better quality on the pitch. We just needed to flick the switch. And we did.
I'm not going to analyse the game too much as I got carried away in the atmosphere of an eventually rocking Goodison under the lights. But some observations that I can remember.
Allan. I know I go on about him, but he really did marshal the team. Constantly talking and instructing and, once again, in the very poor official's ear, making the case for the team. Interesting to see him and Coleman getting together for a captain's chat occasionally.
I thought both centre-backs were very good in dealing with the only threat Burnley posed. Not sure a lot could have been done about the goal other than stopping the cross, but easier said than done and I haven't seen it on the tele yet.
On the short corners and Digne, I suspect it was a tactic. "What's the point of lumping balls into the box against Burnley?" I said to the guy next to me – literally minutes prior to that peach-iest of peach crosses from Townsend that Keane guided into the net. Talk about a classic only having to change the direction of the ball because of the quality and pace of the cross.
Nothing more needs saying about the Townsend goal and as for Demarai Gray, he is rapidly in danger of becoming a fans' favourite and an absolute steal of a signing.
I must mention Gomes. Much criticised, but he really added guile and composure when he came on.
Richarlison worked his socks off in what is not his best position and he wasn't protected by the referee, who simply must have a grudge against us. I don't want to dwell on Atkinson. Poor.
So, I head back to London. Thankfully Costa was open. I'm several hundred pounds lighter again, but still buzzing, so money well invested. Maybe Moshiri could do with a chat with me!! That's 9 points from 9 for me this season.
Darren Hind
121
Posted 14/09/2021 at 06:39:05
Don Alexander - "for instance, can anyone recall a single game we have scored 3 after going one behind ?"
Bill - "Yes, our last home game."
Don - "I didnt mean this season. Keep up, old bean."
Bill - "You ask, what have the Romans ever done for us?"
TW's should Cherish Don, because his village will surely want him back one day.
Interesting points made about Allan. One guy thinks he stunk the place out and another thinks he really did marshal the team.
Me? I think he did okay after recovering from a first half where he barely found a blue shirt.
I noticed it was Doucouré's turn to hit a worldy pass... Somewhere down the line, we have to recognise that Gray's movement into space is so good. He is making these passes so much easier for the player in possession.
Danny O'Neill
122
Posted 14/09/2021 at 06:59:22
Just mentioned that on Lyndon's report, Darren. Fantastic through ball, but made easy by the run of Gray. Similar to Allan's pass for his goal against Brighton, albeit from a wider position than last night.
Repeating myself from there, football at it's simplest best.
Peter Rietdyk
123
Posted 14/09/2021 at 08:17:10
I am a newcomer to the web but have been watching the Blues since Peter Farrell's days. I would like to say I enjoy the reads, even those I don't agree with.
Enjoy the rest of the week.
Ray Smith
124
Posted 14/09/2021 at 08:37:22
I am going to watch the football show, Sky Sports News at 10:00 to see what Dermot Gallagher thinks of Martin Atkinson's performance last night!
Sue Smith & Stephen Warnock work well as a pair, and I can see some heated exchanges from them if Dermot tries too defend Atkinson!!!

Peter McEvoy
125
Posted 14/09/2021 at 08:38:25
Our first half performance was very poor but fair play to Rafa who changed things and we were much better. I thought Doucouré was excellent when he played further forward. What a strike from Townsend... brilliant!
Demarai Gray is a breath of fresh air – energetic, keen, and very pacey – could be a real bargain... his confidence will be up and can only get better.
Burnley were disgraceful, a few of those tackles were shocking with Atkinson no more than 5 yards away; he is an awful referee.
The fans were brilliant. I don't think we would have won that game last season... it would have just petered out.
Seamus Coleman gives us 100% every game, maybe coming to the end of his career but what a leader! He loves our club. Top man... we must keep him involved with club – he epitomizes all the qualities our great club stands for.
Onwards and upwards. Bring on the Villa.
Peter Warren
126
Posted 14/09/2021 at 08:54:21
The tackle from behind on Richarlison was bad but only merited a yellow. The tackle second half was horrific and should have been a red. Also, Burnley slowing the game down all time on throw-ins, goal-kicks etc – officiating very poor.
As it happens I thought Burnley's second "goal" should have stood. I thought Pickford was poor but to be fair to him, not because of his personality traits, he just very poor at crosses and it's a big flaw in his game.
Mike Price
127
Posted 14/09/2021 at 08:57:59
I was pleased with the Townsend signing and thrilled with the Gray one. Proper players with skill and pace but it really highlights our shocking recruitment over the last few years. Looking forward to the crowd accepting Rafa, he's exactly what we've needed for years.
It would have been nice to see someone take retribution on Tarkowski and let people see that, if you mess with any one of us, there'll be consequences. The great Everton team always did that, think Reid, Gray and Ratcliffe.
Very promising but let's see what Rafa can do against the so-called big teams.
Kim Vivian
128
Posted 14/09/2021 at 09:05:37
No-one seems to have mentioned it, and to be honest, I may have misheard or misconstrued, but I seem to recall Dyche in his interview after the game saying words to the effect that "the game is much better - it's nice to see some physicality back".
Now that, to some extent, many would agree with but it does send a message to other teams as to what to expect, as we found out last night, when they play this lot of troglodytes – and indeed it is what one might expect from Dyche – he is a bit of a warrior himself.
Atkinson was disgraceful yesterday, offering no protection to our players. Lee Evans was clearly briefed to hit Richarlison as hard as possible and from as early as possible from the start. Perhaps the referees could be given a heads-up about what to expect when they officiate Burnley from now on.
I think at the end of the day, we did a pretty good job protecting ouselves, however, as the scoreline shows!
Andrew Ellams
129
Posted 14/09/2021 at 09:09:05
Gary Neville's assessment of Burnley's tactics last night was pretty fair. He agreed (as do I) that it's good to see some of the more physical aspects of the game coming back but at the same time said he wouldn't have had any issue if Tarkowski had seen red.
Carragher on the other hand managed to get a Van Dijk reference in.
Danny O'Neill
130
Posted 14/09/2021 at 09:20:46
Always a balance, Kim and Andrew. It's a contact sport but you need to protect against thuggery. Getting "stuck in" gets you so far. But quality underpinned by hard work and effort wins you things.
Kim Vivian
131
Posted 14/09/2021 at 09:41:41
Yes indeed, Danny, and I for one am all for the physical contact side of the game (having played football and rugby most extensively in the '70s and '80s).
This season, there seems to be more tolerance by referees of this as long as it is fair, as it was in my eyes becoming more akin to synchronised swimming than football as I remember it. We don't of course need the thuggery of past times creeping back in, as you say.
The physical "highly tuned" fitness levels probably contribute towards the injuries we see in the modern game and it's right that players should be protected from these, but, at the end of the day, it is, and should be, a physical as well as tactical contest.
Allan Board
132
Posted 14/09/2021 at 10:01:59
A good start, pace gives you so much as a counter-attack side. Good to see a coach who changes personnel and tactics to try and win a game. They look much fitter too. We will miss Calvert-Lewin, but injuries happen.
Early days, but promising so far.
Two tough away games next.
Graham Mockford
133
Posted 14/09/2021 at 10:37:33
Interesting stat. Gray and Townsend have had more sprints in their first four games than our world class superstar managed in 24.
The appearance by J Rodriguez last night might be the last for a J Rodriguez for a while
Daniel A Johnson
134
Posted 14/09/2021 at 10:47:17
Funny how when you have a manager who gives a shit it also rubs off onto the players. Don Carlos indifference rubbed off on the whole squad eventually.
Benitez is supposedly a cold fish and is probably just what this squad needed some tough love.
Only 4 matches in but looking very very positive so far. The upcoming fixtures look favourable so let's gets some serious points on the board and see where it takes us.
Brent Stephens
135
Posted 14/09/2021 at 10:54:44
Have to agree with all those noting Allan's contribution. His work rate can be quietly effective and go largely unnoticed. Main role to break up play or at least slow down the opposition's progress, and he excelled at that again last night.
And again the additions to the side in Gray and Townsend are noteworthy. Cheap as chips but added squad quality. Nailed-on starters.
Andrew Keatley
136
Posted 14/09/2021 at 11:12:43
Darren (121) - Gray deserves huge credit for his goal - the ambition he shows in making that sort of purposeful off-the-ball run is what we have been crying out for. Similarly Richarlison makes a great run that opens up the space for Gray by forcing Tarkovski to track him wide and Doucouré's inch perfect pass exploits that space and puts Gray clean through. Great football all-round.
I think Rafa also deserves recognition for this. Townsend - who has also re-energised this team - spoke about Rafa's continued insistence on making runs in behind, and supposedly berated Gray and himself at half-time for not doing enough of that in the first half. The way the team and the management staff responded to the disappointing first hour of the game gives me great satisfaction. We have had a succession of managers who have struggled to turn tides, shift formations, and inspire our players to dig in and find an answer. The early signs are very promising.
Chris Locke
137
Posted 14/09/2021 at 11:26:58
Peter 125
I totally agree with your opinion on JP and crosses.
Last night however I think it was Pickfords late run towards Wood that caused the goal to be offside. Had he remained on his line and the watched the header fly past him there is a good chance that Wood would not have deemed to be interfering.
Its extremely unlikely that JP considered that when he dashed off his line with zero chance of winning the ball…..but you never know.
Like others have mentioned it's refreshing to finally have a proactive manager at the helm. Much of last night's performance was standard Everton. Bullied at home by an inferior team and end up going one down.
The response from the manager and the team was impressive and it made for fun watching in the end. In fact our the response was the complete opposite to what we have seen from this bunch for the majority of the last 4-5 seasons.
If the Everton we saw in the last 20 minutes can turn up regularly for the full 90 then I can see us giving any team a game.
COYB
Lester Yip
138
Posted 14/09/2021 at 11:50:45
SImple direct football is the best. I really love it. I don't care about possession % to be honest. Both teams today just clear the ball out from the back when there's pressure. I think over-playing from the back and over-worked the ball was a mistake previously. Townsend's strike is just unbelievable! We need more of these shots from midfielders!
Lester Yip
140
Posted 14/09/2021 at 11:55:04
Also, I paid more attention to McNeil. I reckon he would be an excellent buy. Good age, good work-rate, skill and pace. And excellent delivery.
Simon Dalzell
141
Posted 14/09/2021 at 11:55:09
Fantastic turn around. Especially pleasing against such a grim,cynical thuggish team. Atkinson having another nightmare. How he let go the assault on Richy go beggars belief. Good to have a manager who has some idea.
James Fletcher
142
Posted 14/09/2021 at 12:02:32
Brilliant win and a great strike from Townsend - really liking the more direct running both him and Gray bring to the team as well as shooting from distance - in the recent past both of these things have been lacking.
Andrew Bradshaw
143
Posted 14/09/2021 at 12:19:09
Apologies if mentioned before, but what a cracking header by the often maligned Keane, and also the 'on the money' cross from Townsend. The best was the celebration, none of this bollocks about not celebrating against former club. He has his faults, but has never put the club down in interviews and always gives 100%. Mistakes - yes, upgrade needed- probably. Professional - definitely.
Iain Latchford
144
Posted 14/09/2021 at 12:48:17
I think this could well be Richarlison's last season with us. Good chance he will move, with PSG looking for someone when Mbappe leaves on a free.
If we sold him for around £80-90M and, and bought McNeil for say £30M, I think that would be decent business. I do like Richarlison, but it does seem inevitable he's going to move sooner rather than later.
Andrew Keatley
145
Posted 14/09/2021 at 12:53:07
Lester (142) - Yes. What I really like about McNeil is how well he is able to manoeuvre the ball in tight areas and under pressure, as he uses his body very well to keep opponents away from the ball. Ball on a piece of string too, with a very cultured left foot. He will no doubt leave Burnley in the next 18 months, and whoever he moves to will have a great player on their hands - and one who can play wide or centrally.
Ernie Baywood
146
Posted 14/09/2021 at 13:01:10
For those who were in the stadium, how is Mr Benitez's reception coming along?
Personally it still feels odd. I've progressed from calling him 'Benitez' to 'Mr Benitez' (more respectful) but still can't call him 'Rafa'. That's like using the pet name that your girlfriend's ex (who you loathe) used to use.
Petty I know. Guessing I'm not the only one!
Kevin Molloy
147
Posted 14/09/2021 at 13:02:19
Andrew,
I think if we were going to get him it should have been just now. I reckon by next year, he will have too many admirers.
Colin Malone
148
Posted 14/09/2021 at 13:06:37
The next big decision for Rafa, who plays in the centre of a back four? Mina and Keane cannot go too far forward and need to do a three point turn to get back but defensively do a great job. Whereas with Ben Godfrey, the fastest footballer at the club, we could push up that couple of yards, as we did with Ratters and Yobo.
Jim Potter
149
Posted 14/09/2021 at 13:06:59
The atmosphere and sheer adrenaline in the stadium during that ten minute spell was electric. Great to see Goodison bouncing again after a turgid first half.
Credit to Rafa for still changing the formation after the equaliser, as many managers would have then sat Gomes back down, thinking their original tactics were now working out. They patently were not.
I think Rafa is our most asute boss for some time in his assessment of when personnel and formations have to change. Early days for sure, but the signs are promising.
Bigger tests are obviously on the horizon and I just hope that this fighting mentality is continued against the title contending teams. So many of their opposition think it's a damage limitation exercise and go out not really believing they can win. If Rafa can embody the mental strength with the defensive solidity and fast counter attacking then we could be in for a good season.
Some cracking goals and a memorable atmosphere.
Early days, but hopeful ones for sure.

Brent Stephens
150
Posted 14/09/2021 at 13:07:11
Robert #153, that could be the case.
Brian Murray
151
Posted 14/09/2021 at 13:13:13
Ernie post 154. il stick to catering kopite until he wins a derby or a cup. Great to see a manager who changes things instead of just staring blankly like the last one.
Phil Smith
152
Posted 14/09/2021 at 14:03:14
Ernie (154), I don't think we can ever call him Raffa for just that reason. We need our own "pet name" for him and I'd call him Beni la or Tezza. Still Benitez for me.
Don Alexander
153
Posted 14/09/2021 at 14:30:51
Well done (genuinely) Bill Gienapp, I didn't trawl through the archives as you've done, but the games you cite have a danger that we might not see the wood for the trees.
My point was to register the pleasure I took from seeing long overdue dynamism in a game. Long may it continue.
Danny O'Neill
154
Posted 14/09/2021 at 15:10:08
Ernie, 154.
I would say mutual respect but a bit of a Mexican stand off and dance off and who blinks first type scenario?
I said it against Brighton, he toyed with the idea, but stalled at the half way line and just welcomed the players back.
I think he likes us. I think we like him. We just both won't admit it yet.
Dan Nulty
155
Posted 14/09/2021 at 15:41:07
Have to say Benitez is winning me over. So glad not to see centre-halves stood next to the goalie for goal kicks when they aren't good enough to keep the ball.
I was more than prepared to give Carlo time but I think Rafa is exposing his limitations, along with Koeman's and Silva's. Work with what you have and find tactics to get the best out of them instead of shoehorning players into systems and tactics that they aren't technically or physically able to play.
Early days yet but if he can also find a way to get the best out of James (who needs to play well for us to get in the Colombia team for the World Cup potentially), I'll be a very happy man. Still haven't played anyone of any real note but we look far more dangerous than last season. Very pleased so far.
Brian Williams
156
Posted 14/09/2021 at 16:10:28
Have a close look at Townsend's goal and see if you can spot what I noticed which makes his goal that little bit more special.
First to spot it wins a night with Derek Knox, second place is two nights!
Jay Wood
[BRZ]
157
Posted 14/09/2021 at 16:25:54
His 'giving the eyes' as if he was going to pass left when all the time he had it in his mind to shoot with the superb technique that he did, Brian..?
If I'm right, I'll happily donate the prize to some little ole dear in care somewhere. Win-win for all.
Kim Vivian
158
Posted 14/09/2021 at 16:26:59
His celebration, Brian - he was clearly pointing at you! :-)
Tony Abrahams
159
Posted 14/09/2021 at 16:34:38
Sell him to Newcastle, Brent? Who were then going to sell him on to Man Utd, for the same price! He had to be sold; otherwise, Kenwright would have probably had to sell our/his club, which explains why the smile our chairman gave Wayne Rooney, whilst standing on the edge of the pitch before Duncan Ferguson's testimonial, was one of the most genuinely affectionate smiles I've honestly ever seen!!
It all comes out in the wash, they say.
Brian Williams
160
Posted 14/09/2021 at 16:48:06
Jay. I fuckin' knew it'd be you. Lol. Yeh I have to say that he misled the keeper all the way and only glanced at the goal at the last minute having set himself and looked at the very start of the run.
Took some doing to hit it like he did while basically looking out to the wing.
Oh and prizes are not transferrable so pucker up big boy!!
Brian Williams
161
Posted 14/09/2021 at 16:50:38
Kim. I wish. It was his family in the box at the Park End!
Danny O'Neill
162
Posted 14/09/2021 at 17:00:15
Called the eyes thing way earlier on in the discussions when I was on the train at 6am this morning watching the highlights. Do I get the prize?
Winston Williamson
163
Posted 14/09/2021 at 17:01:09
Dan 172: as much as I hate to admit Jamie Carragher is right, he hit the nail last night when discussing Rafa and our recent former managers.
Rafa seems to understand what Evertonians want. High tempo, high commitment, quick attacks, no fannying.
Our recent former managers just didn't understand. The closest was Roberto, until he decided to bore and torture us to death with his tippy-tappy nonsense and inane press conference drivel
Townsend – what a fucking cracker!
Brian Williams
164
Posted 14/09/2021 at 17:04:57
Danny, you and Jay can make a Knox sandwich!
Oh and not that it's of any interest to anyone but I called 3-1 before the game and actually went and put a coupon on as I got upstairs early.
Never been quite so slightly made up that fourth was disallowed as I went home £50 better off.
Jay Wood
[BRZ]
165
Posted 14/09/2021 at 17:13:30
Brian @ 184.
It's a cool 34 C, 70% suffocating humidity and not a breath of wind in Balmy Brazil where I'm sat.
So why I have just felt a cold shiver ripple through my entire body at the image you just conjured up?
Brrrrrrr...
Dale Self
166
Posted 14/09/2021 at 17:16:23
Not touching the sandwich but that is rather miserly of you, Brian. Doucouré deserved a goal. 3-1 was a good call though.
Joe McMahon
167
Posted 14/09/2021 at 17:24:38
Still on a high after last night. Wasn't it great to see a screamer and a one-on-one taken. It's been a long time since we have had a manager that changes tactics to take points. Not holding on to one-nils. The players look happy and the fans are happy.
I've always rated Rafa, I wanted him instead of Koeman (just imagine if he had the £100M to spend). I just hope the many who stated never to an ex-Liverpool manager can now accept that (so far) this is looking like the best appointment we have had in a long-long time.
An Everton team with goals — Love It!
Tony Everan
168
Posted 14/09/2021 at 17:35:59
Joe, most of the focus is justifiably on Townsend's wonderful goal but you are right to mention the one on one as just as enjoyable. The pass was sublime from Doucouré and Demarai Gray was composed, controlled and produced a confident finish. There's loads more to Gray's game than just pace, he's an intelligent footballer. Him and Doucouré were class last night.
Danny O'Neill
169
Posted 14/09/2021 at 18:01:40
Jay (BRZ), you are reminding me why I try to only go to my house in Florida in February or November!
Is that the prize, Brian? Did we nearly meet last night? Your name was mentioned in the Saddle and you may have been pointed out to me.
Unless the last emotion of the last 24 hours are fatigue is now affecting the brain!
Martin Mason
170
Posted 14/09/2021 at 18:13:11
Been such a pleasure to watch us play so far and what an achievement it would be if we can keep it up. Rafa would go down in Everton Folklore if he can keep up the momentum. £500M to flop and then along comes Rafa and, all of a sudden, no cost to look good.
I know we'll come up short against the top 4 but, if we could just give them a great game and win a couple, perhaps?
Darren Hind
171
Posted 14/09/2021 at 18:29:32
I never wanted Rafa. He's not half twisting me arm though...
Graham Mockford
172
Posted 14/09/2021 at 18:44:43
Probably best not to get ahead of ourselves, we are after all 2 points behind the same stage last season.
But I suspect the reason there is a feeling of optimism is that we are playing with more spirit, more pace and more adventure. And I think most supporters will be happy with that.
The difference has been in midfield with obviously Gray and Townsend looking shrewd acquisitions, Allan has been solid but the player who seems to be enjoying it most is Doucouré who has been given license to play to his strengths which is his tremendous athleticism rather than sitting around the halfway line protecting the centre-halves.
Brian Williams
173
Posted 14/09/2021 at 18:44:51
Danny #189,
Danny you weren't with Martin and his gang in the corner were you?
Ajay Gopal
174
Posted 14/09/2021 at 19:01:16
I had predicted a 1-0 loss yesterday, so I will continue to make predictions all through the season!
From the highlights, all 3 were sensational goals. Townsend - what a player, what a guy! I think the formation that we ended with 4-3-3 with Gomes on instead of Godfrey looks to be our ideal formation. I am genuinely not worried about Calvert-Lewin's absence for a few weeks, although obviously I want him to recover fully and be back ASAP. If he were to be available tomorrow, Rafa would have a genuine selection worry.
I think Rafa is happy with the set of players he has now, but obviously backups for Coleman and Digne are the glaring weaknesses in the squad right now.
Aston Villa will be another tough test, but it feels reassuring to have a manager who knows how to win. Can't wait to watch that game.
Peter Rietdyk
175
Posted 14/09/2021 at 19:01:47
Who was the person who wrote a long article that Mr Benitez would be gone by November and the Blues bottom? Any quotes?
Ian Bennett
176
Posted 14/09/2021 at 19:24:20
I re-watched the game and thought Martin Atkinson should be nowhere near a football game.
Scissor tackle on Richarlison 2nd minute - clear yellow, nothing given. Brownhill
Reckless tackle on Richarlison, straight red. No card.
Tackle straight through on Townsend, no card.
I hope Burnley get relegated. Their thug pub style of football, launching it and clattering through players isn't something I want to see.
Jay Wood
[BRZ]
177
Posted 14/09/2021 at 19:25:37
Actually Graham @ 195,
If you compare the results by the same fixtures from last season (I presume you have gone with the first four results to state we are 2 points worse off by comparison), we are 3points to the good.
Beat Southampton at home both seasons, equality.
Drew with Leeds, beat them at their gaff last season, –2 points.
Won at Brighton, drew there last season, +2 points – overall equality.
Beat Burnley last night, last season lost at home to them: +3 points making us 3 points to the good on the like-for-like fixtures from last season.
Always a silver-lining if you look.
Danny O'Neill
178
Posted 14/09/2021 at 19:28:07
Turned left as I came in, Brian, and yes stood towards the left corner. In my Schalke top.
I've worn Schalke tops to all matches so far this season.
And Schalke won this weekend too, so a great weekend for me. I'll be out to see the Koningsblauen (Royal Blues) as soon as I can.
Brian Williams
179
Posted 14/09/2021 at 19:35:41
Danny, Martin Nicholls and his mates all sit in that corner. Maybe you heard my name when I came in and waved to him. Was it something like "There's that cunt Brian Williams" you heard?
Errr second thoughts, don't answer that. 🤣
Barry Rathbone
180
Posted 14/09/2021 at 19:42:49
Didn't want him but very pleased with what Mr Benitez is doing even allowing for us being here many times before. All things considered (and the list is endless) his efforts have been fantastic.
Many thanks, Mr Benitez.
Rob Halligan
181
Posted 14/09/2021 at 19:43:46
Talking of stunning comebacks, Young Boys Berne overturn a 1-0 deficit to beat Man Utd 2-1 in the Champions League, scoring the winner in the last minute of added time after a dreadful backpass by Lingard gifted them the winner, which was in fact, the last kick of the match.
Mike Doyle
182
Posted 14/09/2021 at 19:48:43
Listening to Townsend and Gray (and Begovic) talk, it's clear they are all delighted to have been given the chance to be at Everton and intend to give it their best shot. Cannot fault them for endeavour so far. Long may it continue.
Dale Self
183
Posted 14/09/2021 at 19:48:55
Mike G will be proud of the gringo Siebatcheu.
Danny O'Neill
184
Posted 14/09/2021 at 20:18:09
They just said that's Brian Williams! Honestly!
See you on the 25th.
Undeclared at present.
Graham Mockford
185
Posted 14/09/2021 at 20:33:06
Jay,
No, I said same stage as last season but of course I was being tongue-in-cheek, I just couldn't find the emoji for it... 😉
Bill Gienapp
186
Posted 14/09/2021 at 20:52:36
Don (166) - to be fair, I do agree with your main point... we've had other comebacks, but rarely have we stormed back and put a team to the sword that viciously. Burnley were lucky Doucoure was offside, because they looked absolutely shell-shocked when that fourth goal went in.
Joe (187) - obviously it's still early days, but it does feel as if Benitez is the manager we thought we were getting with Koeman... a no-nonsense pragmatist, but now with the work ethic and tactical nous to back it up.
Martin Nicholls
187
Posted 14/09/2021 at 21:22:45
Danny, Brian - good to see you both last night! Danny came in shortlisted your left Brian. Hope to make it to Bramley Moore after Norwich game but depends on Teddy - obviously I'll be in Saddle pre-match anyway.
Stan Schofield
188
Posted 14/09/2021 at 21:58:25
Barry@203: This time last year I was getting excited about the way we were playing and our results, including some high-quality goals. You were more cautious, quite sensibly I thought eventually, given Everton's record of raising us up then letting us down.
I'm not trying to be negative or awkward, but I'm intrigued as to why you seem so positive about Benitez at this time, so early in the season, given what happened last season.
We are definitely playing refreshingly well, but haven't we done this before, only to be let down? Wasn't that the reason for your caution last year? What do you see as so different this time?
If our form continues long-term, THAT would be a new thing!
Keith Dempsey
189
Posted 14/09/2021 at 22:27:29
Not got a bad word to say about Rafa, but when he was asked afterwards to comment on that tackle he was reluctant to critisise ref or player, can't decide which I prefer the ra ntings of wolfie across the park or rafa. and I think the co commentator on sky Marwood I think I counted 6 tim es he said Richarleson would do bettef if he calme d down a bit, even though he never made 1fo ul and when Hawthorn mention that Grays stats were impressive for tne start of season he replied "can't see that lasting too long" biassed or what
Justin Doone
190
Posted 14/09/2021 at 22:39:21
I've already congraluted us in a good win with some outstanding goals.
From the oppositions perspective they dominated and outplayed us for the majority of the game.
Their mistake, which was our fortune, when they took the lead they kept pushing high up the pitch. That's not what Burnley of old would have done.
We took advantage of that by bringing on an extra midfielder and then had runners and the wingers played deeper leaving space ahead of themselves.
I'll give Benitez credit for that. Gomes didn't do much and his woeful shot sums his match up. But he did OK.
If Burnleys second goal would have been given, (I can't believe it wasn't) it may have been a different outcome.
But as I said before the game, a win is a win. Forget performance, we had a good 30 minute spell, took our chances and the 3 points.
Happy days.
Brian Williams
191
Posted 14/09/2021 at 23:00:18
Can everyone please look for the cancer research thread and read it.
Steve Cleary
192
Posted 14/09/2021 at 23:14:23
Darren, thought we should have gone for him before Martinez.
I wasn't sure about him this time but, as you say, he's twisting my arm.
Paul Birmingham
193
Posted 14/09/2021 at 23:26:07
For any doubters, we have a proper manager whose committed and focused to get every last drop of effort from his squad.
It's very early days but Rafa, has got the best team spirit and focus and tune out of an Everton squad since the first season for Bobby Brown Shoes.
Early days this season and the Wilton Arms and The Holt End have mixed memories, mainly good, but a tough challenge. I believe sincerely Everton can take Villa apart on Saturday if they play and focus like they did last night in the second half.
A good start but let's see Everton keep this zip and belief. Inspiring 8 minutes, last night – the best home goals scored at Goodison Park for some time.
Jamie Crowley
194
Posted 15/09/2021 at 01:45:48
Watched delayed on replay late last night due to a (thankfully) heavy workload presently, with the 12 year old son / boyking / soccer junkie.
When Townsend hit that ball for the goal, we went ballistic. We watched outside on the back patio and were chastised by the Mrs.: "We have neighbors!" We absolutely lost our shit.
For me, what was even better, was Doucoure's ball. My God what a pass! Jeez man - like what? Thirty yards on a DIME? That was absolutely beautiful.
Also loved a former Burnley player got it all started in Michael Keane - rubbed that shit in the Mrs.' nose! 😂
Six minutes of utter bliss!
Great, great game.
Now, for the drop.
We've not played anyone. Don't get all excited and dream of glory. I'll believe it when we finally play one of the "big boys" and beat them. When October comes, and when October leaves us, we'll know a hell of a lot more about this team.
But for the time being, great stuff.
Jamie Crowley
195
Posted 15/09/2021 at 02:03:24
Wintson @ 163 -
That's a great post.
I've been contemplating Rafa a lot lately. I didn't want him, and was toxic about his appointment. Here's the thing.
Maybe (maybe??) his time in the City of Liverpool while coaching "the others" provided a Blue education for him? He seems to be setting up a team that, from what I can garner as a red-headed adopted bastard, Evertonians will love.
Is it possible he actually understands how to set up a "Blue side"?
I think yes.
And the funny thing is, if he just basically doesn't make waves, stays professional, and keeps the FSW gob shut, we'll all be ok with it.
He's playing the landscape well. Props to him.
Now let's see, when we take a loss or two against Man Utd or Chelsea, whether or not Blues are singing the praises still?
But so far I'd give him a 10 out of 10 rating. He's done damn well, and is playing this whole thing like a chiseled pro.
Mike Gaynes
196
Posted 15/09/2021 at 03:20:31
Stan #188, the caution is justified.
Southampton, Leeds, Brighton and Burnley. And Villa and Norwich next. All but Brighton are stuck in the mud already.
Sure, Benitez and the newcomers have been great. But there's nothing wrong with wondering if our league position is due more to our pillow-soft schedule than our dazzling quality.
The October and November fixture list has a whole different look to it. That's when we find out if Pinocchio is a real boy.
Darren Hind
197
Posted 15/09/2021 at 04:56:35
Just watched the highlights again. wonderful stuff, but what the utter fuck was Mina doing for their goal? 6ft 13 and 14 stone and he goes flying (proper flying) through the air, presumably looking for a foul because he got the faintest of touches... On the edge of his own 6-yard box ?.
Comedy gold... but only because we won anyway
Christine Foster
198
Posted 15/09/2021 at 06:39:02
Jamie, I sort of get what you mean; still early days and we haven't played anyone of note as yet, but the energy is good and I am pleased Benitez has got them going and here is the drop as you say...
Against Burnley, for the first half, we were dreadful; no creativity at all, we gave them possession and couldn't get out of bed let alone get out of our own half. Because of this, I am not getting carried away. We have no one with the capability of James if the supply of Doucouré or Townsend is stifiled and I am sure teams will be looking to do exactly that.
Richarlison looked a lonely man chasing shadows for most of the game. No early balls into the box... so I am not sure we got the gameplan right.
In the second half, ball watching and free header gave a goal away, but a great 10-minute spell that showed great quality of Gray and Townsend (what a strike) but for me, there is still a need for a No 10...
Gather the points now before winter sets in!!
Ian Jones
199
Posted 15/09/2021 at 06:55:04
It was a decent performance and perhaps shows that having a manager wirh greater experience of the premier league will help us.
One thing that seems to have been forgotten is Doucouré manhandling one of the Burnley players at their corner and bringing him down in the penalty box. Clear penalty as far as I can see. VAR apparently looked at it and dismissed it. Perhaps they thought there was some manhandling of Doucouré as well but if you are looking at the player and not the direction from where the ball is coming, you are asking for trouble...

Danny O'Neill
200
Posted 15/09/2021 at 07:25:14
Martin, likewise. Are you at QPR? I'm meeting up with Mike.
Interesting point on Mina. I thought he was pushed in the back (in hindsight, didn't see it from where I was at the time). At the pace players move, the slightest of touches will cause you to fall. Did he make the most of it? Possibly. But if that's a forward, you're looking at a penalty. Because it was a foul in the box, regardless of reaction.
Anyway, take nothing away from the cross and the movement from the Burnley goalscorer and all ended well.
Also interesting how we all see it different Justin. I thought when Gomes came on he gave us a bit of composure in midfield. The shot? Well, as soon as I saw him teeing it up, I didn't get excited. Not his thing. He played really well in my opinion.
Alan McGuffog
201
Posted 15/09/2021 at 08:12:15
Okay, we have only played the "lesser" sides. No disrespect meant. But these have been the sides that we have been woeful against in the last few seasons.
We will, in all likelihood, get beaten by the Sky clubs when we meet. Why? Because they are better than us, that's why.
In the meantime, if Rafa can get us improving, getting the achievable points and playing towards the Street and Park Ends rather than the Bullens and Goodison Road, I shall be rather pleased.
It may be my imagination working overtime but I wonder if one or two can't wait for us to tail off, in order to get the bed sheets out? Surely not... 🤔
.
Lester Yip
202
Posted 15/09/2021 at 08:15:37
#196 Mike, you're correct. But think back last season, all these "easier" games are lost. We lost to Southampton, Newcastle twice, Leeds, Fulham, Villa, Sheffield Utd. But we did beat the "better" teams. And it left us moaning on what ifs we beat Newcastle and the like...
One game at a time. Beat the weaker ones, let the form and morale runs hot and the harder games will be dealt with.
Robert Tressell
203
Posted 15/09/2021 at 08:30:59
Christine,
I agree it's easy to get carried away after a win. When the dust settles we're usually neither as good nor as bad as we think.
It's a good point about Richarlison. He's been asked to do the job of Calvert-Lewin in a side which organises its attack around Calvert-Lewin's strengths. However, Richarlison is not good at that role (few are) and needs the team to adjust if he's to be effective.
As a centre forward he seems most effective as the hard working foil for the likes of Neymar, playing for Brazil.
Maybe this means getting Gray much closer to him in a more advanced role, posing the problem of quick feet, pace and movement instead of just hard work and muscle.
A fully fit and motivated Colombian No 10 may also help but I'm not holding my breath on that. Maybe Gomes or Iwobi instead.
Stan Schofield
204
Posted 15/09/2021 at 08:45:36
Alan @201:
Regarding your last point, any Evertonian would be a very sad case if they looked forward to any tailing off just to be 'proved right'.
The issue at the moment is more to do with a lot of 'isn't Rafa brilliant' posts. He may indeed turn out to be brilliant, but only time will tell, and it would require a very sustained run of good form to justify calling him that.
It's just a tad premature at this early stage. We've been there before, and then been bitten on the arse!
Alan McGuffog
205
Posted 15/09/2021 at 09:08:11
Stan, I agree with you... he isn't the Second Coming by a long chalk. But in May or June of this year, I had real concerns for this season.
He will offer stability and hopefully, build the foundations for genuine improvement. We will fall off and the euphoria will vanish in the months to come. As you, say we've been bitten in the nether regions before and we have a squad that is painfully slim.
I do feel there are one or two sad cases who can't wait to say "I told you so", however.
Ed Fitzgerald
206
Posted 15/09/2021 at 09:18:02
I'm pleased we have made decent start but I think it's wise to reserve judgment for a while yet.
Thus far, we have recovered from two very poor first-half performances at home against Southampton and Burnley but then produced excellent second-half recoveries. "Mastermind" wasn't the word I was thinking when I saw the the team and formation on Monday evening… and for an hour we were clueless and negative.
If memory serves me correctly, we won seven on the trot at the beginning of last season. The key to our good starts in consecutive seasons is that our best central midfielders have been fit and in good form. It amuses me that some posters are fawning over Benitez and dismissing everything Ancelotti did.
Bobby Mallon
207
Posted 15/09/2021 at 09:35:07
Ed Fitzgerald that's a good point.
Also, our season went to shit last season soon after Carlo's daughter was held at knife point. That is a fact. Before that sad moment, Carlo was fully committed to us.
We don't know this but I think his daughter was in her dad's ear saying she wants out of here and he said okay. Very strange how no-one has been done over it yet. Surely there were cameras in such a household?
Brian Harrison
208
Posted 15/09/2021 at 09:37:36
Ed 206,
I agree with every word of your post, the headline of this post shouldn't be "Benitez masterminds another comeback" – it should ask why did he change to a 3 at the back.
Just look at the sides that are successful – Man City, Liverpool, Chelsea – their managers don't try to be smart arses, they play the same system every week. In Man City's and Liverpool's case, it's 4-3-3 and, under Conte, Chelsea played 3-5-2 but they didn't change formation – they played the same way every week. Players usually aren't comfortable with change, and only the very best players can change from one system to another, and we don't have that quality of player.
I would also say against good sides if you fall behind we probably wont come back, and to change a system just 4 games into your tenure doesn't make any sense. I think if Burnley had taken their chances in the first 60 minutes we may well have been 2 or 3 goals down.
Now I have said I am not a fan of Benitez but he has certainly galvanised this side to play more on the front foot that we have for quite a while; Gray and Townsend have been good buys I suspect Brands may have suggested we buy Gray and Townsend is obviously a Benitez purchase.
Like Ed says, many now want to trash what Ancelotti did, but he did win his first 7 games and he was responsible for the purchase of Allan, Godfrey, Doucoure and James. And you have to say that probably all bar James will be central figures going forward in the team. My only criticism of Ancelotti was he tended to be more defensive than he needed to be in a lot of games.
Tony Everan
209
Posted 15/09/2021 at 09:45:08
Ed, It is fair to say that it is early days and I agree: judgement has to be reserved. The depth of the squad will present big challenges as the season progresses. Right-back, left-back, centre-midfield, Gray's pace and guile. All will be difficult to replace through injuries. Ancelotti indeed did well too in our opening spell that gave us opportunities to push on throughout the season.
I think some of the negativity comes from the dramatic way we faded away in the last 10 games and the style of non-football we were playing in that period. The good times are easily forgotten, as will this current spell if the form dips below the standards set.
Optimism comes from the team now looking more pacey and tenacious. Harder working as a unit. There seems to be more of a team spirit that wasn't fully formed last time round. I was impressed we still found a way to win in the second half against Burnley without our main goalscorer. Also impressed that Iwobi and Gomes are playing better so far when called upon and Holgate and Godfrey will be fighting to start. A lot will depend on how Gbamin, Davies and these other squad players step up to the plate when they are inevitably needed. Not signing Diaz gives a great opportunity to Gordon to make the next step and stake his claim. Should be interesting to watch some of these players against QPR.
I would have liked to have seen Dumfries and Diaz brought in to give us more strength in depth and more of a guarantee of Top 6 consistency. Top 6 now will likely depend on the injury gods smiling upon us. At least until January, when I think we will make a signing or two.
Barry Hesketh
210
Posted 15/09/2021 at 10:02:46
I'm just enjoying the victories as they come along. There will be dips in form, it's inevitable for all the usual reasons: injuries, suspensions, etc. Three of the next four matches are testing ones away from Goodison with only Norwich to visit the Old Lady before the next international break.
We'll miss Dominic's presence away from home more than for the home matches, because of the work rate he usually puts in and due to his being a focal point of a lot of our attacks.
Whilst I don't think that too many are fawning over the manager, I do hope that those who opposed his appointment don't vent all of their anger at him if or when it goes slightly awry in terms of results. In general, if the team continues to play with the same commitment that it's shown in the first few matches and also shows its intent to score goals then that will be far better than we saw in the last dozen or so games of last season.
The current manager has one major advantage over the previous incumbents, he should, after living in the area for so many years, fully understand what is and isn't acceptable to Evertonians and I fully believe that he does.
However, I noticed that he was having a brief chat on the bench with Duncan during the game on Monday, where it seemed to me that Duncan was telling him that Everton prefers to attack the Gwladys Street in the second half, from that perspective we have to give him a bit of time to fully understand the different aspects of the club as he's only been here a very short while.

Robert Tressell
211
Posted 15/09/2021 at 10:15:07
Totally right Barry. Benitez has inherited a side that finished 12th and 10th respectively then spent £1.5M to improve it.
I was very anti-Benitez at the time of his appointment but have changed my tune since learning of our financial predicament. I am now relieved to have him.
It's a good start but there will be set-backs because the First XI is patchy and the squad is really weak in some areas.
Benitez will also make mistakes – like starting with a back 5 at home to Burnley (which was always going to play to their strengths rather than ours). However, managers seem to make fewer mistakes when they have two or more excellent players in each position at their disposal. We don't.

Kim Vivian
212
Posted 15/09/2021 at 10:34:24
It's true our first half was abject compared to the second, but to those saying that if Burnley had taken their chances (I remember just one) we would have been trailing, I would remind them that we could easily have been 2 goals to the good – Doucouré shot well saved, Gray effort skimmed the right-hand post. Both those were very good chances.
It's not a game of "ifs" and "might have beens" – it's about actually sticking the ball between the posts.
Aside from that, no-one seems to be mentioning Townsend's second long-range effort which nearly took Pope's arms out of their sockets. That would have been a dream double.
Kim Vivian
213
Posted 15/09/2021 at 11:04:22
Barry - I'm sure Benitez knows we prefer to attack the Gwladys Street end in the second half, and I assumed as soon as we kicked off that Burnley had won the toss and elected to defend the Street end first half, presumably to gain a modicum of psychological advantage. The Park end, of course, is a bear pit on its own merit, so not much to gain for Burnley with that ploy!
Dave Abrahams
214
Posted 15/09/2021 at 11:22:16
I think Benitez has done well up to now, with his hands tied by FFP. He's got a few players in for next to nothing, two have started very well, and a striker who knows the Premier League ready to come in now that he is needed, with Calvert-Lewin injured for a few weeks.
We all know that the squad is still weak, especially over a full season. Benitez is just starting, still feeling his way, getting used to the squad and staff.
I have no great expectations for this season with the club in the position it is in. I expect we will be boosted by a couple of January signings to strengthen the squad and keep us in the top half of the Premier League.
Fans keep mentioning the first seven games of last season, they included Salford and Fleetwood in the League Cup. Ancelotti has been and gone and none of us know the real reason why he left; I personally will not miss him. Benitez is in charge now and I keep repeating myself: The longer he is here, the better I believe we will become.
Barry Hesketh
215
Posted 15/09/2021 at 11:22:55
Kim @213,
If you are able to access the OS 90 minutes footage of the game, prior to the game starting about 3 minutes into the stream you can clearly see Benitez asking Duncan about which end Everton prefers to attack in the second half. Benitez may have been aware of the name of the end but he perhaps wasn't aware which end it actually was.
Michael Lynch
216
Posted 15/09/2021 at 11:34:03
I couldn't care less about who we've played so far, early days and all that, this squad under Rafa has performed way above anything I've seen from us in a long while. It's a team transformed, and the style we're playing is exactly as Rafa says - what the fans want.
And on top of that, much as I love DCL, if that would have been him rather than Gray in the one-on-one, it's highly likely we wouldn't have scored. Same with the Townsend goal - who in our team would have scored that last season? Possibly James when he could be arsed?
Talking of Gray's goal - I loved that one. Memories of Trevor Steven on that great night - all the arl arses like me were saying it as we came out of the ground!
What a night to be at Goodison. Happy days. Personally, I'm leaving the future til the future, that was fucking great.
Kim Vivian
217
Posted 15/09/2021 at 11:38:05
Barry - Fair do's. Seems I don't have the credentials to watch that so will take your word for it. Surprised though!
Danny O'Neill
218
Posted 15/09/2021 at 12:00:57
Dave & Barry, wise comments.
Different managers, different approaches, but largely the same thin squad and team as last season.
Michael Lynch @216. Your last paragraph describes Monday succinctly!
No expectations, lets enjoy the ride and see where it goes!
Wembley in May and Europe next season.
Dave Abrahams
219
Posted 15/09/2021 at 12:23:42
Kim (213), I think you assumed right regarding which team won the toss, surely if Seamus had won the toss we would have been kicking into the Stanley Park End first half!! As it turned out it worked to our benefit.
Minik Hansen
220
Posted 15/09/2021 at 12:30:18
It won't be a real test against Villa, it will be a real game. Looking forward to it, let's continue where we left off. COYB.
Barry Hesketh
221
Posted 15/09/2021 at 12:31:50
Nice to see ToffeeWeb get some recognition and Michael in particular, mind you, I'm not sure whether it is a compliment or not.
...but after three wins from four league games, there appears to be no hangover from the Italian leaving Goodison Park, with even Michael Kenrick from Toffee Web [My Emphasis added]claiming Benitez had 'engineered a wonderful win' against Burnley.
Brian Williams
222
Posted 15/09/2021 at 12:36:29
Please look for and find, and read Derek Knox's cancer appeal thread.
Jamie Crowley
223
Posted 15/09/2021 at 15:25:40
Christine back at 198 -
but for me, there is still a need for a No 10...
Remember when we had like fifteen No. 10's on the roster? 😂
A point on Rafa, and I'll make the whole of TW a deal!
I will get behind Rafa when I finally hear Goodison sing his name.
Leave it to the experts, says I.
Alan McGuffog
224
Posted 15/09/2021 at 15:32:10
Fair enough, Jamie, but why wouldn't you get behind him now?
In the past, I've been behind Bingham, Walker, Smith... never rated them particularly but they were our managers at the time.
Barry Hesketh
225
Posted 15/09/2021 at 15:33:18
Jamie @223
I think you might have a long wait for that moment to arrive, a trophy on the sideboard or a humiliating defeat for our neighbour's against Everton may swing it, but I wouldn't hold my breath.
I think that toleration is there and goodwill towards the manager for the good of the club is also present, but the chances of the Street End bursting into song with the manager being the subject matter might prove elusive.

Don Alexander
226
Posted 15/09/2021 at 16:43:07
Barry (#221), that's a very interesting snippet re, once again, the pitifully inadequate fitness "enterprise" within Finch Farm ever since Moyes left.
You might have thought an owner and/or chairman might have noticed this consistent feature as the manager roundabout was spun and spun by them, to the cost of Lord knows how many £millions in unearned compo. Hell, you'd like to think a Director of Football might have alerted the two dopes at the top, but no, it takes a bloke like Benitez to come in and educate the club at every level as to the necessity of full basic fitness. Jeez!
But let's not ALL hold anyone to accountant at the top eh, and especially anyone who goes on ad nauseam that they "truly get" Everton.
Derek Knox
227
Posted 15/09/2021 at 18:12:19
Darren and Don, hope you can both make it to Bramley Moore on 25th, even if only for an hour or so, look forward to meeting you both!
Mike Gaynes
228
Posted 15/09/2021 at 18:26:19
DK #227, if you're planning to have those two in the same room, you're going to have to spend extra money on a boxing event license from the city... as well as a ringside security team.
Don Alexander
229
Posted 15/09/2021 at 20:22:13
Mike, meeting Dazza would be as welcome as finding out the missus is a Red transvestite, but leaving aside the way he disparages fellow fans by way of personal attack, the truth is that Darren and I share very similar views on who the cause of our decades-long trophy drought is, sadly still our chairman.
Bizarrely to me though, Darren then bestows huge admiration on all of the USMFF ex-players who Kenwright employed as coaches, regardless of the fact that since Tom Davies USMFF has produced no regular player for the first team (and Davies is barely regular) and hardly anyone who attracts a transfer fee or a notable career when they leave us.
In the meantime way too many of us choose to keep on whistling Dixie, hoping/praying for a manager with the skill-set to match JHC to finally descend upon us. Weird!
Dale Self
230
Posted 15/09/2021 at 20:40:55
If Rafa is the manager and he's doing the job with honor why would the fans not sing a song for him? He's our manager now he deserves full support not some rear view mirror sentiments. Again, he's doing that most difficult job of making Everton functional, cmon already.
Derek Knox
231
Posted 15/09/2021 at 21:33:00
Mike G, and Don and Dazza, life's too short for falling out over differences in opinion even if we all do support the same team/cause etc. I have always maintained that to have different views is healthy and reinforces the belief were are all individuals and not Robots, even if they conflict with my own.
Mike G, the other sub-plot was in case the strippers/burlesque and coquettish dancers don't turn up, was to have a Don/Darren verbal sparring match (Marquis of Queensbury Rules of course) no biting, gouging, hair pulling etc, as a back up. Don't tell them though ! 😜😂💙
Derek Knox
232
Posted 15/09/2021 at 21:40:11
Oh, forgot to mention that teary Bill has passed with flying colours, the auditions for Pinnochio, saving them a fortune on make up, but they do have a slight problem about his nose NOT growing when he tells lies with consummate ease, but they are working on it.
Bill also said that he may put in an appearance at Bramley Moore, as he believes is so popular with the hardcore fans of Everton. Although he didn't say which night it would be on. :-)
Brian Wilkinson
233
Posted 15/09/2021 at 23:08:05
As long as it is not the 25th Derek, do not him gatecrashing our meet-up.
Matthew Williams
234
Posted 16/09/2021 at 11:25:02
The title sums up the game!.
There was a 15 minute period in the 2nd half where we were simply unplayable...real quality,I just hope we can keep this unbeaten run going.
Onwards Blues to Villa Park...still can't stop smiling!.
COYB
Dave Lynch
235
Posted 16/09/2021 at 11:47:55
I'll go as far as to say the Raffa Benitez is the best thing that's happened to this club since Kendal.
No knives to gunfights, no heads down when we go a goal down and has turned a very average squad into a "team".
I cant wait for him to have a couple of transfer windows, I can only see us improving when he gets some of his own players in.
He gets the club because he gets the city, we need to "get" him, he's a football manager not a tory politician.
Tom Bowers
236
Posted 16/09/2021 at 12:16:28
We have to proceed with cautious optimism as usual.
Some intriguing improvements have manifested themselves under Rafa although his appointment ruffled a lot of feathers.
His amazing signings of Townsend and Gray for ''nothing'' is the highlight of the season so far for Everton if not in the whole Premiership.
He seemingly has also changed the mindset of the squad and when you have top players starting on the bench things can only be good.
The injury to DCL could be a setback but with the experienced Rondon to call on it may not be as bad as it seems in the short term.
Hopefully the trend will continue at Villa.
Brian Williams
237
Posted 16/09/2021 at 12:54:58
Please visit, and pledge, Derek Knox's cancer research thread. Give him yer fuckin' money. (Bob Geldof taught me that).
Alan McGuffog
238
Posted 16/09/2021 at 12:55:29
Villa away. Very winnable and likewise very loveable. We will get beaten soon.
The two telling things will be, how we actually go about the ninety minutes and then how we react in the following fixtures should things go badly
Me...I'm quietly confident although after sixty years disappointment is an old chum. COYB.
Andrew Keatley
239
Posted 16/09/2021 at 12:58:22
Jamie (223) - "A point on Rafa, and I'll make the whole of TW a deal! I will get behind Rafa when I finally hear Goodison sing his name. Leave it to the experts, says I."
What a lily-livered statement to make. And deferring to the match-day crowd as somehow being more worthy of making a decision on what you think about the manager - sorry but that sort of low status crawling is not particularly Evertonian in my book. If you want to back Rafa then back him, if you don't then don't. Don't look to take your cue from other people as some sort of default position.
For the record, I am backing him. In a few short months, on no budget, he's got rid of the problem/underperforming players he was able to, and brought in players that we need - pace, width, running in behind, the ability to beat a man and get crosses into the box. We are fitter, better organised, and have managed to win games after conceding the first goal - as well as winning a game with 10 men. Early days, but at this point I can't see much that he has done wrong. We were on the verge of being a crisis club on and off the pitch - but I don't see the crisis on the pitch anymore.
Barry Hesketh
240
Posted 16/09/2021 at 12:59:33
Dave @235
He can't be a Tory MP as so many of them appear to support the other side, including the newly appointed Culture, Media and Sports Secretary, Nadine Dorries. Her great-grandfather George Bargery was a founding member of Everton Football Club, he also kept goal for the Blues. According to the Echo
He was between the sticks when Everton played their first ever competitive game – a Lancashire Senior Cup tie against Great Lever in 1880 and in the 1881/82 season he kept six clean sheets in nine games.
Jamie Crowley
241
Posted 16/09/2021 at 14:28:19
Andrew -
You're a sensitive man.
It was a joke. I don't see the crowd ever singing Rafa's name, and no matter how hard I try, I still see the red FSW. Ergo, when the crowd sings, I'll fully convert - never gonna happen. As I say, he's done well, I give hime a 10 out of 10 up and to this point.
Don't look to take your cue from other people as some sort of default position.
Serious question - do you really believe that's me Andrew? If so, you're a loon.
Cheers.
Eric Myles
242
Posted 16/09/2021 at 16:05:37
Surely it begs the question
"why did the manager get it so wrong in the first place?"
Brian Wilkinson
243
Posted 16/09/2021 at 16:09:49
Bolasie has a song vacant now, so who is with me with Rafa Benitez to the heartbeat song, for the Norwich game, are you with me Andrew.
No? oh well let's see if you change your tune, when he rolls the Red shite over at Goodison.
Phil Wood
244
Posted 16/09/2021 at 16:36:33
Brian 243 at least 2 of us will sing it.
Brian Williams
245
Posted 16/09/2021 at 16:51:56
Brian#243
"Rafa Benitez run down the wing for me?"
Mike Gaynes
246
Posted 16/09/2021 at 17:44:31
Great read on Gray in the Guardian. Karen Carney writes really well for a footballer!
https://www.theguardian.com/football/2021/sep/16/demarai-gray-well-on-his-way-to-proving-himself-the-steal-of-the-season?utm_term=ae29609542bc8f8e3fc325b7c796f7f5&utm_campaign=TheFiver&utm_source=esp&utm_medium=Email&CMP=fiver_email
Brian Wilkinson
247
Posted 16/09/2021 at 17:46:45
Brian, Rafa Benitez, run out a win for me 😀
Or you could have Rafa the gaffer, to heartbeat.
Dale Self
248
Posted 16/09/2021 at 17:51:18
How about some refashioning of Mott the Hoople's "One of the boys"?
And yeah Mike, that Gray article was nice. Played the boy from Birmingham card nicely there, I think he may be good for another goal vs. Villa.
Tony Everan
249
Posted 16/09/2021 at 18:17:00
Mike thanks for the link, a good read. A sentence that resonates that we have ' signed a player with a profile hat fits our team perfectly'. It hits home hard that we haven't been always able to do that over the last five years. I'm really enjoying Gray's wing play (it was always my position). Not only has he been exceptional offensively he has been doing a bit of a 'Richarlison' tracking back too. Very impressed and buzzing with the player. A class act, just coming into his prime years, for 1.7m. Sometimes the stars align , for both a player and a club .
Mike Gaynes
250
Posted 16/09/2021 at 18:17:42
Brian W #245, you mean like Mou's sprint down the Roma touchline the other day? Could be ugly with Rafa.
Brian Williams
251
Posted 16/09/2021 at 18:23:59
Mike, nah just the borrowing of Bolasie's song, but Brian's come up with alternative lyrics now. 🤣
Tony Everan
252
Posted 16/09/2021 at 18:32:33
Tim Cahill's son Shae 16, was an academy player, confirmed today signed on a full time agreement to join the u18s. Anyone seen him play?
Barry Hesketh
253
Posted 16/09/2021 at 19:25:37
Tony @252
I haven't seen him yet, but honestly what's going on at Finch Farm, not enough to have former players, stinking out the gaff, but now it's former players, family members getting a gig! Sorry, Don for stealing your line :)
Seriously, if he turns out half as good and as fully committed as his dad, he'll earn a decent living out of the game. See that Phil Jevons has left Everton to join Sunderland too.

Tony Everan
254
Posted 16/09/2021 at 19:48:03
You would hope he has some talent and potential to have made the cut and that he is not just been kept on because of his arl feller. But, I can imagine what some of the other young academy lads on the wrong side of the cut will be saying.
For all we know he may be a cracker of a player, I'll reserve judgement until I've seen him play a few times. I'm sure we will get some candid reports on here too of his ability.
Darren Hind
255
Posted 17/09/2021 at 12:30:17
Derek
For over five years Don Alexander has come on he aiming his abuse at me. He has posted numerous times without even talking about the game in an attempt to get my attention. I blanked him for five years. It did not deter him. He didnt seem to understand how he looked.
Trust me, there is nobody and I do mean nobody Dull Don would rather meet than me. He has been obsessed for years...But heres the rub... He would only want to meet me if I didnt know who he was.
I'm not a big man. I'm not a violent man. I'm not even an angry man. So there will be no issue (as you seem to be indicating) with me meeting anybody, but I'm not a coward either. I have never said a word on here that I would not say to somebodys face. That makes me different from Don Alexander.
Recently I have started responding to Don and to my great amusement he acted in exactly the way I expected him to. He screams the house down. Now I'll just go back to blanking him
His constant claim the we share the same views on things relating to Everton is simply wishful thinking on his part.
Peter Thistle
256
Posted 18/09/2021 at 19:11:23
what a fuckin shit side we've put out today

Peter Thistle
257
Posted 18/09/2021 at 19:16:11
These are our bogey team, hate them
---
Add Your Comments
In order to post a comment, you need to be logged in as a registered user of the site.
Or Sign up as a ToffeeWeb Member — it's free, takes just a few minutes and will allow you to post your comments on articles and Talking Points submissions across the site.
---
© ToffeeWeb