Report
Handicapped by Iwobi and Rondon, Everton surrender their home record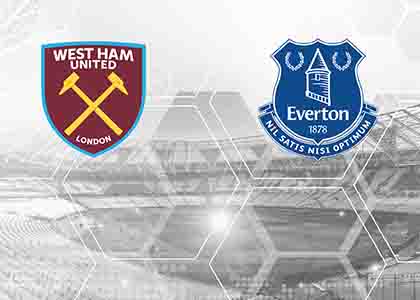 Everton 0 - 1 West Ham Utd
Everton welcome back David Moyes and his well-performing West Ham United team to Goodison Park for this afternoon's televised Premier League clash. Everton are still without some key players as their Premier League campaign resumes after the latest international break.
Richarlison and Dominic Calvert-Lewin remain sidelined for the time being. Calvert-Lewin is recovering from a broken toe and a thigh problem while Richarlison was injured by a needlessly forceful tackle by James Tarkowski in the win over Burnley last month.
Andre Gomes and Fabian Delph are still undergoing treatment for their respective injuries and won't be available this weekend but Seamus Coleman returns and Lucas Digne's hamstring issue don't keep him out even though he was forced to leave the France camp prematurely.
Coleman has been bothered by a hamstring problem this season but he has been declared fit, as has Alex Iwobi who missed the draw at Old Trafford against Manchester United last time out with a minor complaint and comes in in place of Antony Gordon.
And Yerry Mina is self-isolating on the bench after returning from international duty with Colombia later than his team-mates due to the scheduling of the CONMEBOL World Cup qualifiers.
For West Ham, former Everton player Nikola Vlasic returns to Goodison Park on the bench, while Kurt Zouma is in the starting line-up.
The first 10 minutes were horribly one-sided, all West Ham. with the incompetence of Iwobi and Rondon demonstrated by unforced erroneous passes straight to a West Ham player or straight out of play, respectively. Kurt Zouma all over Rondon. But patience is required when watching Benitez's Everton and the discomforting philosophy of conceding possession, defending solidly, and looking for that elusive breakaway counter-attack.
It was 16 minutes before Everton advanced into the West Ham penalty area and Townsend crossed but Iwobi at the back post had no chance of controlling the ball. A Digne cross came back out to Doucouré who tried a little range-finding with an effort from distance that curled away from goal.
West Ham advanced at will again, Fornals shooting but a fortuitous block prevented the ball going too far toward the unguarded far corner of Pickford's goal. Everton mounted their second attack, which featured Iwobi firing directly at close range on any claret & blue defender within his field of vision.
Article continues below video content
For all their effort and industry, West Ham had so far been restricted to long-range shots and crosses, none of them troubling Pickford in the Everton goal. At the other end, superb work by Damari Gray say him set up Iwobi whose atrocious airshot at the perfect cross will go down in the annals of all-time footballing incompetence. What a glorious chance, totally squandered. Okay, maybe Rondon should not have waved his boot at it, putting the African genius off momentarily.
Fornals was booked for bringing down Townsend. Iwobi put in a teasing cross that Fabianski pushed into the crowd but no-one could profit from it. At least Everton were now carrying the ball with meaning into the West Ham area, Doucouré heading wide after he failed to get a clean contact on Townsend's excellent cross.
Everton's defense were finally penetrated but Bowen had very fortunately strayed a few inches offside. Surely a warning, if one were needed...
West Ham almost scored from a corner, two tremendous blocks keeping the ball away from the goal, followed by Fornals with all the time allowed curling his shot well wide of Pickford's goal.
A corner from Gray was curled straight to Fabianski and West Ham broke at pace but Antonio launched his own Jupiter probe high over Pickford's goal. Townsend as fouled, winning a nice set-piece for Towe]nsed to curl in brilliantly but Rondon hadn't got the memo and was in another parish.
But Everton were getting closer, a chance going begging in exchange for another corner, this was set for Zouma to clear unchallenged. And that was it for the first half.
Everton had barely begun the second half when Gray played in another brilliant cross, with Rondon lurking 10 feet from where he should have been, and thus criminally unable to take advantage.
Good build-up play again set up Iwobi but he drove his shot at Ogbonna. A better Everton move saw Townsend play in the perfect angled cross and Rondon managed to glance it wide when it seemed easier to score!
A West Ham corner, and Pickford did well to tip it on and out. From the next, Benrama's shot was easy meat for Pickford. At the other end, Coleman did well to cut in but then got reedy a wellied it toward the loft of St Luke's.
West Ham were quickly back on corner duty, but Everton cleared and broke through Dpoucouré. But Townsend's cross maddeningly did not find Gray who was perfectly positioned.
Rondon did well to win a corner that came out invitingly and three Everton players converged on it in comical fashion. Finally Iwobi drove his cross-shot to nowhere through no-man's land.
Benrahma crossed well and Soucek was intent but Godfrey was in his way. At the other end, Townsend tried to be too clever with a lofted chip that would have been brilliant if there had been an Everton player on the receiving end.
Benrahma powered through and fed Antonio for a shot that Keane did brilliantly to deflect behind. Everton were getting more and more ragged but Benitez resisted the need for change as the game entered a critical stage with 20 minutes remaining.
A cross fired in by West Ham was blocked up in the air by Godfrey and Antonio forced a corner with Pickford screaming that it was a goal-kick. (It wasn't.) From the corner, a classic delivery, glanced home by Ogbonna jumping in front of Godfrey. It had been coming, sure as eggs is eggs, and Benitez had done nothing to prevent it.
Soucek's face got clipped by Rondon's boot as they touselled for the ball. Finally, Benetiz decided something should change (a bit late, surely) Antony Gordon taking an age to come on, thankfully replacing the useless Iwobi.
Gray tried to bulldoze his way through. Then Rondon won a corner, Gay's delivery met with conviction buy Godfrey but powered over the West Ham goal. Everton looked stretched as Digne conceded another corner for West Ham, another superb delivery that Keane cleared. Then a pinball lottery in the Everton area ensued that finally went behind for another West Ham corner that was cleared out to Rice who volleyed high and wide.
Pickford had to pull off a fantastic save from Bowen as West Ham continued to dictate the play with Everton now unable to counter to any effect. But Gray did get in a great shot for an equalizer that Zouma blocked.
Rondon won a late corner that Pickford came up for, Godfrey piling in unsuccessfully, and Moyes's Hammers walked away with all 3 points.
Everton: Pickford, Coleman, Keane, Godfrey, Digne, Allan, Doucouré, Iwobi (79' Gordon), Townsend, Gray, Rondon.
Subs not Used: Begovic, Tyrer, Kenny, Mina, Holgate, Davies, Gbamin, Dobbin.
West Ham United: Fabianski, Johnson, Zouma, Ogbonna, Cresswell, Soucek (79' Dawson), Rice, Bowen (90+3' Yarmolenko), Benrahma (87' Lanzini), Fornals [Y:31'], Antonio [Y:10'].
Subs not Used: Vlasic, Areola, Diop, Masuaku, Ashby, Baptiste.
Referee: Stuart Attwell
Share article:
---
Reader Comments (466)
Note: the following content is not moderated or vetted by the site owners at the time of submission. Comments are the responsibility of the poster. Disclaimer
Fran Mitchell
1
Posted 17/10/2021 at 13:13:56
Disappointing that Iwobi walks straight into the team. Gordon showed enough to deserve to keep his place.
Is high time Iwobi pays off the consistent loyalty shown to him by his previous 2 managers despite delivering very little.
Gbamin on the bench... wonder if he'll get any minutes?
I wonder about Simms. Dobbin appears to have moved ahead of him in the pecking order. I was hoping he'd have a future with us.
Ajay Gopal
2
Posted 17/10/2021 at 13:15:11
Looking at our starting XI and the bench, I have developed cold feet. Sorry, I don't see anything but a 2-1 loss.
(PS: I hope to come back later on this thread and eat humble pie.)
Ciarán McGlone
3
Posted 17/10/2021 at 13:23:20
Gordon deserved to keep his spot.
Rondon fills me with dread but he's all we've got.
This will be tough.
Michael Kenrick
4
Posted 17/10/2021 at 13:29:32
It is just amazing, Fran, what successive managers see in Iwobi and why he keeps getting played. Perhaps they really believe in the totally random element that seems to comprise his play.
One thing managers don't seem to share with some fans is abject frustration at the sheer incompetence and lack of guts that Iwobi tends to demonstrate on the field.
And Rondon. It's now more than six weeks that he has been with the club, this will be his sixth appearance for us... How long does it take to get match fit?
Simon Evans
5
Posted 17/10/2021 at 13:30:50
Agree with you there, Fran. Gordon showed what an effective winger should be doing in that 70 minutes or so at Old Trafford. Much more direct and a willingness to take a man and get crosses into the box.
So frustrating to see him dropped here. But here's hoping Alex and the boys can do the business today. COYB!

Graham Mockford
6
Posted 17/10/2021 at 13:32:08
Hope I haven't jinxed it by pointing out we get better results with Mina playing than when he doesn't.
I guess the travel back from international duty was in Rafa's thinking…
Alan J Thompson
8
Posted 17/10/2021 at 13:33:15
Lonergan(?) not recovered from his international duties or is the third keeper for show only?
Mike Dolan
9
Posted 17/10/2021 at 13:43:45
No surprises here. Iwobi was playing great before his injury and this season has been consistently good. He is not a like-for-like player with Gordon who is himself developing into a serious Premier League forward.
Gbamin on the bench (finally) is interesting – the lad probably has till January to really impress; otherwise, he is out the door.
Win today because we just have to – it's a 6-pointer. I'd take 3-1 but expect a hard game. COYB
Jerome Shields
10
Posted 17/10/2021 at 14:03:14
Hopefully Godfrey will play on the right.
Alex Gray
11
Posted 17/10/2021 at 14:26:16
Watching West Ham is like a carbon copy of us under Moyes. Physical with the odd player who are really technical.
We need a better option than Rondon up top. He can't play counter attack or hold the ball up and doesn't look any fitter than a few weeks ago.
Ciarán McGlone
12
Posted 17/10/2021 at 14:47:57
Send Iwobi and Rondon home at half time... and the rest of them have little to be proud of either.
Pathetic.
John Dingle
13
Posted 17/10/2021 at 14:54:34
Please get Iwobi off.
Alan J Thompson
14
Posted 17/10/2021 at 14:54:36
It seems like the usual slow 10-minute start was 20 minutes today and again there seemed to be little productive from midfield and nothing up front for that 20 minutes.
That being said, we should have taken the wind out of their sails and been at least two up and the only thing stopping Iwobi being the worst player on the field is Rondon.
The standard of refereeing in England isn't up to much and this bloke isn't trying to raise it.
Thank heavens for Pickford with a very good save before the offside decision, even though he still looks as though that shoulder is worrying him.
We really need someone to come on at half-time to at least make West Ham worry about him. Hopefully, we continue in the second half as we finished the first which could see us home.
Ernie Baywood
15
Posted 17/10/2021 at 14:55:04
West Ham the better team by far, but we look like we can create chances of we can just get to the ball in the attacking third and open the game up.
Change should be Iwobi. I've said it before on here that he's not anywhere near Premier League standard. Maybe not even Championship. He lacks some really basic technical ability. I can see why someone might have thought he had potential but he's a footballer who doesn't know how to strike a ball.
Give Gordon a go. He's actually a footballer.
Kevin Dyer
16
Posted 17/10/2021 at 15:01:43
Usual awful first 15 minutes. Not threatened really but couldn't get on the ball or get any counters going.
Foul on Doucouré to set up their offside goal.
We've improved a lot after that start. They are out of ideas.
Poor miss by Iwobi, the lad cannot finish. Give him another 10-15 minutes playing central then take him off for Gordon, switch Gray back inside. Rondon cannot jump.
Still feel we'll win this, nothing to fear from them. Keane has had Antonio in his back pocket all afternoon. Expecting us to counter-press them with intensity second half.
Kieran Kinsella
17
Posted 17/10/2021 at 15:02:19
Look at our bench… then consider over the season we will pay £12 million in wages to Sigurdsson, Delph, Gbamin and Tosun. Waste.
Iwobi is like Jones from Dad's Army – constantly panicking.
Simon Dalzell
18
Posted 17/10/2021 at 15:38:00
Gordon was very good against Man Utd. I don't understand how it's taken this long to put him on, especially with the likes of Iwobi still on.
Nicolas Piñon
19
Posted 17/10/2021 at 15:45:21
Can we ask for more given our current injury list? No injured players on, this one might be our best expected result.
I would like seeing Gbamin at least.
COYB!
Joe McMahon
20
Posted 17/10/2021 at 15:49:22
We have to accept, we won't be able to really go for it until more proper quality, like Townsend and Gray, can be added. Rondon was a last-minute panic buy as goalscorers are expensive.
We haven't had Richarlison and Calvert-Lewin for weeks, thanks to Sean Dyche's tactics of kick 'em off the field. The current squad is lacking all over with confidence or ability, as can been seen today and when Davies didn't try a shot at Old Trafford.
The era of Koeman, Walsh and Brands cost us today (looking at the bigger picture).
Simon Dalzell
21
Posted 17/10/2021 at 15:52:22
Boring, depressing, not surprising.,
Ciarán McGlone
22
Posted 17/10/2021 at 15:53:38
That's squarely on the manager. Keeping Rondon and Iwobi on for so long was criminal.
Kieran Kinsella
23
Posted 17/10/2021 at 15:53:49
Tim Howard didn't hesitate before the game when asked who had the better team: WHU. Says a lot about our crap recruitment.
Brent Stephens
24
Posted 17/10/2021 at 15:54:19
Again, the limitations of the squad quality and depth continue into this season from last season. Benitez might be a decent manager but there's only so much he can squeeze out of this squad.
Bob Parrington
25
Posted 17/10/2021 at 15:55:32
Couldn't agree more. Sorry, Rafa, but absolutely shit management to play your pal Rondon (not ready) and to not substitute Iwobi early on.
Crap – absolutely crap in a winnable game!!!!! Your fault entirely!
Simon Dalzell
26
Posted 17/10/2021 at 15:55:53
Headline spot on. 9 man team. We really have reached rock bottom with these two.
Ernie Baywood
27
Posted 17/10/2021 at 15:57:45
Obviously the goal against was a calamity.
More unforgiveable was that we carried no threat throughout the game. It's like we forgot the identity that's served us well so far this season.
Get it forward early. Compete for the second ball. Get crosses in. That's what we are... and for some reason we were back to trying to play through midfield as though we have that kind of quality in defence and midfield.
I don't like the whipping boy mentality but how the hell did we have Rondon and Iwobi up top for so long? It's the exact opposite of 'up and at 'em'.
Kieran Kinsella
28
Posted 17/10/2021 at 15:59:57
Bob/Ernie
Who would you have instead? Gordon with no goals or assists career to date? Dobbin a young kid? No doubt Iwobi was poor, Rondon had his moments but the squad is crap.
Steve Brown
29
Posted 17/10/2021 at 16:01:51
We had 11 men back for a corner in the 88th minute when 1-0 down, that can't be right.
Jerome Shields
30
Posted 17/10/2021 at 16:03:09
Below-par performance all round after the International break. Even Benitez was sitting down more, instead of being at the edge of his technical area.
Rondon's positioning was disappointing. Iowbi was hopeless. Pickford slack at a routine clearance and in organising his area for the corner.
Next week's recovery will tell us a lot.
Bill Rodgers
31
Posted 17/10/2021 at 16:04:56
Why single out two players? The entire team lacked motivation, intensity and commitment. West Ham Utd played us off the park. This problem is bigger than the manager and the players and it starts and ends at Finch Farm.
Tony Twist
32
Posted 17/10/2021 at 16:06:47
History seems to repeat itself with this club. Same old story really, not enough depth in the squad even after an on-going project of almost half a billion spent.
Disappointed with today, I expected more from the team and Rafa.
Jay Hughes
35
Posted 17/10/2021 at 16:07:29
Everyone needs to get used to that cos that performance was a proper Rafa show. Outplayed by a better team with a better manager.
The honeymoon is over.
Alan J Thompson
36
Posted 17/10/2021 at 16:07:48
I thought that Gordon should have started but gave Benitez the benefit of the doubt that he was starting his senior, more experienced players but he should have changed at least one if not both Iwobi and Rondon at half-time. I'd sooner have seen Mina up front than Rondon and his attempt at the near post for the corner from which they scored was appalling.
I definitely put this one down to the manager.
Ernie Baywood
37
Posted 17/10/2021 at 16:07:49
Kieran, instead of Iwobi, I'd have literally anyone. He's not a footballer.
Stick Dobbin up top with Rondon. Or Gordon straight swap instead of Iwobi.
Yes, the squad is crap, but if we're playing to our strengths, you can't have Iwobi and Rondon up top together. No movement, no threat, no point.
Simon Dalzell
38
Posted 17/10/2021 at 16:08:03
To be fair, Bill, those two were outstanding. Very outstanding.
Tom Harvey
39
Posted 17/10/2021 at 16:08:42
The title of this article is correct, we were handicapped by Rondon and Iwobi, but Rondon is playing himself back from no fitness and no recent match experience; however, he is trying his best.
Arsenal and their fans must be looking at Iwobi in that game and can't believe what we actually them paid for him. He wasn't good enough for Arsenal and he isn't good enough for us. No other club anywhere came in for him other than us, they all seen how much of a crock he is! Why couldn't we?

Gavin Johnson
40
Posted 17/10/2021 at 16:10:28
I think the headline summarises my feelings. Having Rondon and Iwobi as our primary attackers is like having a one legged man in an ass-kicking competition. With the players on the bench, I don't blame Benitez for the result, only that I'd have brought Gordon on for Iwobi earlier in the 2nd half.
Let's all hope Calvert-Lewin and Richarlison are back for the next fixture!
Andy Crooks
41
Posted 17/10/2021 at 16:11:43
I was wrong earlier. Rondon's problem is not lack of fitness. He is finished, nomatter how many games he plays he is done, past it, shot, a million miles short of being a premier league player; he is embarassing himself.
Iwobi? Wrong about him too. There is no point looking for excuses for him, and I have looked. He is not suited to the premier league. Rafa was poor today. We would have been better with ten men than playing Rondon. There are better strikers in the. Irish League.
!

Matt Butlin
42
Posted 17/10/2021 at 16:12:59
That game was well and truly lost in the transfer market.
Steve Brown
43
Posted 17/10/2021 at 16:14:06
Rondon has played six games for us now, so no more of this "playing himself back to fitness". He is never anywhere near the 6-yard box when crosses come in, his touch is poor, and he rarely competes in the air.
If he is the answer in attack, I have no idea what the question is.
Craig Walker
44
Posted 17/10/2021 at 16:14:27
Pickford takes some blame for giving the corner. Southall would have come for that ball, punched it to the half way line and the West Ham player would have bounced off him.
We looked okay when we got it wide but had nothing through the middle. We need Calvert-Lewin and Richarlison back.
Iwobi wouldn't get a game in our Tuesday night 5-a-side team, even when we're short of players.
Not a great day but totally predictable.
Gavin Johnson
45
Posted 17/10/2021 at 16:15:26
Andy, I think you're probably right about Rondon. I'm beginning to think the sluggishness is more than lack of fitness and his legs have just gone! Rondon is definitely not the kind of striker you need for counter attacking football — but you'd have thought Rafa would know that?!
Denis Stracqualursi would probably give a better account of himself right now.
Matthew Williams
46
Posted 17/10/2021 at 16:18:56
I've just seen the final score… to say I'm gutted would be an understatement. I just hope this isn't the point where the wheels come off.
A great chance to get up amongst the big boys fucking wasted... again. Our next can't come round quick enough for me now!
Bob Parrington
47
Posted 17/10/2021 at 16:20:26
Kieran, yes I would have played Dobbin or Simms –anybody with energy, vitality in place of Rondon. I wouldn't play him in our Sunday League over 40's team. He's clearly not ready and so is an absolute waste of time at the moment. Bad for him and bad for the team.
Iwobi was having a crap game, sometimes made worse by the presence of Rondon but crap anyhow. IMO should have been replace before half-time.
Defensively we were okay, if not 100% at our best, but up front we were absolutely fucking crap. Gave no chance for Gray and Townsend to have much effect. I've been a supporter of Rafa but this was shite team management for this game IMO.
Neil Thomas
48
Posted 17/10/2021 at 16:21:30
It's okay saying that we shouldn't have put in two young lads today, but surely after seeing Rondon and Iwobi in the first half, could they have done any worse than doing nothing at all? Even if they put in some work, it would have been an improvement. Iwobi should never be given a chance again, how many does he need?
And Rondon done nothing, at least Dobbin would have made some effort to at least close players down.
Denis Richardson
49
Posted 17/10/2021 at 16:22:38
We can't get Richarlison and Calvert-Lewin back quick enough. Laughable that we only have two recognised strikers in the whole club really.
Forget this result and hope at least Richarlison is back for the next game.
Pete Clarke
50
Posted 17/10/2021 at 16:23:25
After watching us play against the Mancs, I quietly thought I was wrong about Benitez because he got it spot on in that game – albeit with a striker that does little else but amble around. However, he has probably cost us points by not taking off Iwobi and Rondon at half time today. Both of them are useless and should not play for us again.
We were poor today but, with Richarlison playing, we may have won that game with the few chances we had. Also, we're 1-nil down and we have every single player back for a West Ham corner! Where's the outlet?

Graham Mockford
51
Posted 17/10/2021 at 16:26:18
I don't think we know anymore than we did before the game, it was just crystallised in front of our eyes.
Without our two best attacking options, we will always struggle.
Rondon is not mobile enough for either our style of play or the Premier League in general.
Iwobi is shite.
Mina and Keane are our best defensive pairing against physical teams.
Neil Thomas
52
Posted 17/10/2021 at 16:27:02
It's embarrassing that Rafa could see the same as the rest of us, but still kept on those two for so long. It would have even been better bringing on Davies and sticking Doucouré up front.
Kevin Dyer
53
Posted 17/10/2021 at 16:27:35
A game that looked like 0-0 all the way. Stupid to concede that corner, think Digne loses the ball initially, I could be wrong, but Godfrey and then Pickford don't deal well and then Ben is well beaten on the corner.
Godfrey struggled 2nd half. I don't think they score if Mina is playing. Keane controlled Antonio, thought he was probably our best player, along with maybe Townsend who looked most likely to create something.
The general weakness of our squad shown up.
Rondon, he stayed on because at least he was showing the ability to get on the end of things and there was no viable option on the bench.
Iwobi just continues to be an enigma. He does some things well, but continues to have no end product and there's just something lacking – confidence or aggression, I don't know. He isn't a terrible player, but he is never the man who will stand up and decide a game – as Doucouré, Gray and Townsend have already done a couple times each this season.
Alex: 2+ seasons and not once. A player in an attacking position has to be a difference-maker, at least occasionally. In the absence of Richarlison, I would start Gordon ahead of him. The lad is physically much improved and will take his man on; he deserves a chance.
Seamus provided an overlap and some decent close support but that wild left-foot shot when Gray is standing on the penalty spot, unmarked is one reason why we need to get in a quality option at right-back.
Allan didn't play well today, not awful but not one of his better efforts. Gray struggled a bit to impose himself, unlucky not to score at the end though, great block by Zouma.
Oddly I fancy Newcastle to get a result against Spurs here, so should be no worse than 7th; not great... but not a disaster. Only 2 losses in 8 matches is not a bad return considering our injury problems, which are dragging on a bit.
Dan Johnson
54
Posted 17/10/2021 at 16:28:13
Agree with the headline, 9 against 11, Rondon tries but isn't either good enough or fit enough, Iwobi is just awful.
I didn't expect much from today's squad, we are always outnumbered in midfield. Rice strolled around all day, with yards of space to dictate the game. We need players back soon.
Ralph Basnett
55
Posted 17/10/2021 at 16:29:36
Rondon a waste of space, Iwobi just as bad.
What does it say to our young players – even if they are poo – that they still can't get near this team.
Liverpool get 5 against Watford; it will be interesting to see how we do.
John Boon
56
Posted 17/10/2021 at 16:29:49
The first half hour was a clear indication that we were going to see a totally negative game. It is so easy to blame individual players so I will instead suggest that only five or six players played even close to their potential.
Realisticall,y with as much possession as West Ham had, Pickford had only one save to make. We always seem to be able to give away "soft" goals on a regular basis.
Just a lousy game!!!
David Pearl
57
Posted 17/10/2021 at 16:30:24
Headline sums it up. Other lackluster displays of course and though Gray struggled to get involved, when he did, he created chances that a lot of players would have taken. Rondon can't stetch the opposition's back line. Though lwobi improved being in the middle, he just isn't good enough.
We trimmed the squad of millions of pounds in wages over the last summer. Hopefully that means we can spend again soon. Rondon is looking like a poor signing. I think this is as fit as he gets.
We need Dom and Richarlison back. Hope to see them training tomorrow. We can't afford to carry two players. This is the Premier League.
Kieran Kinsella
58
Posted 17/10/2021 at 16:30:29
Not defending Rafa, I just don't think we would have got a better result with Dobbin and Gordon. West Ham had better players, not to mention their bench.
Thus far, we've got by on a few freebies, exceeding expectations. But the bloated overpaid bulk we've had for years is still here minus last season's two most creative players. Frustrating as it is, a lot of teams simply have better balanced squads than us.
Is Rafa the man? Don't know. Will Brands suddenly figure out how to sign good players? Probably not. For the time being, we are the plucky side with, as someone once said, a "small club" mentality.
Pat Kelly
59
Posted 17/10/2021 at 16:30:50
We are a laughing stock with the likes of Rondon and Iwobi. This is the Premier League! Not a Sunday league. Dobbin and Gordon should have played ahead of those two charlatans. They couldn't have been any worse.
Rafa's limitations are starting to show. Picks proven dross and slow to change. Admit it, Rafa, Rondon was a big mistake. And Iwobi is beyond a joke.
Alan McGuffog
60
Posted 17/10/2021 at 16:34:16
No criticism of Benitez from me. You can only work with what you've got. No criticism of the likes of Rondon, likewise. He is what he is.
The buck stops at whoever (whoever!) runs this outfit. How can we go into a season with no cover for our forwards? Okay, we can't afford Ronaldo or Aguerro… but surely to God there should be players coming through the lower ranks.
As far as I'm concerned, we may as well cut our losses and get shut of Finch Farm and our so-called coaches and scouts and start again.
Frank Wignall, come home – all is forgiven!

Neil Thomas
61
Posted 17/10/2021 at 16:34:20
Kieran,
I'm not saying they would have changed the result but, if a player is not on form, or have a lack of confidence, then the least you expect is effort, and I didn't see either of those two giving us that today.
Mike Gwyer
62
Posted 17/10/2021 at 16:35:33
How Rafa stuck with Rondon for so long is seriously baffling, he has no pace whatsoever and offers the wide boys very few options. I'd go as far as saying that Rondon, with a lot help from Iwobi, brought the team down to their level... fucking shite.
We have had 2 years of Iwobi; in my 45 years of watching Everton, he's the worst professional player I've ever seen play football, either for Everton or the opposition. If I could, I'd sack Brands just for purchasing Iwobi.
David Pearl
63
Posted 17/10/2021 at 16:38:22
What is it with lwobi? He coasts through games. Does he think he's better than he is? Where is the hunger, aggression, confidence?
The whole team were poor but has he ever, and will he ever grab a game by the balls? I don't think he has it in him.
If it wasn't for the wages, l'd have kept Bernard.
Pat Kelly
64
Posted 17/10/2021 at 16:38:42
Alan,
When you say no criticism of Benitez, wasn't it he who signed Rondon who is what he is?
And he keeps picking Iwobi.
Henrik Lyngsie
65
Posted 17/10/2021 at 16:39:07
I think that Iwobi was marginally more anonymous in the last 20 minutes.
Neil Thomas
66
Posted 17/10/2021 at 16:42:54
Henrik,
I think that's the best 20 minutes he's ever had!

Bobby Mallon
67
Posted 17/10/2021 at 16:47:13
Ralph @55,
We do not have anywhere near the squad of Liverpool which equals us getting a draw or being beaten by Watford.
Pickford is to blame for their goal – all he had to do was catch or punch the ball away and no goal.
If Rafa persists in playing Rondon and Iwobi, then relegation fight looms. To be honest, I think we will be fighting relegation this season and only because we have a worse second string from last season.
Sam Fitzsimmons
68
Posted 17/10/2021 at 16:47:31
With Mina, Calvert-Lewin and Richarlison in the starting eleven, then we would probably have won the game. As others have said, we have a paper-thin squad and Rafa didn't have a lot of choice; he went for the experience of Iwobi and Rondon over the rookies on the bench.
It would be interesting to hear the views of those that were at the game but watching it on Sky our midfield seemed to be overrun in the middle of the park.
Anthony Jones
69
Posted 17/10/2021 at 16:47:41
Trying to be philosophical in defeat: well done to David Moyes.
I thought he was finished after Sociedad but he is still able to compete in the Premier League.
Bill Gall
70
Posted 17/10/2021 at 16:49:19
Isn't it funny the 2 players who receive the most criticism are the 2 who replaced the injured Calvert-Lewin and Richarlison. This demonstrates the poor squad we have and something that is not going to improve until we can overcome the FFP rules.
Yes, it was a poor display but we were not actually thrashed by a team who finished in the Top 6 and playing in Europe.
Jim Bennings
71
Posted 17/10/2021 at 16:49:35
You can choose to take today in isolation if you wish but the mess started back in 2016 and it's never been cleared up properly.
The fact that we are now hindered by FFP and can't buy any players until we sell tells you just how bad our spending has been for 6 years.
The fact that we sold Lukaku 4 years ago and the only strikers we have brought in since are Moise Kean, Cenk Tosun and Solomon Rondon tells its own story of boardroom and managerial negligence.
The fact that we have still not found an adequate right back to replace a 33-year-old that's still first choice tells its own story.
Kevin Dyer
72
Posted 17/10/2021 at 16:52:54
People criticising Benitez are just emotionally venting or have no idea what they are talking about.
Yes, West Ham had all of the ball but what did they do with it? They had only 2 really dangerous chances in the whole game, the Antonio challenge vs Pickford and the resulting corner which resulted in the header for the goal. Everything else was harmless stuff. To watch that and imagine we were outplayed is fantasy.
Take away those two opportunities and we had the better chances, such as they were. Unfortunately almost all fell to Rondon, Godfrey or Iwobi, none of whom I fancy to score, ever.
I figured Iwobi would get subbed for Gordon much earlier, but he was getting involved in the build-up play so I could see why he was left on. Ultimately though he flattered to deceive, which is his Everton career in a nutshell. He should be sold as soon as we can realistically find a buyer, take a hit on what we paid. There are teams in the league that would offer £15m, possibly a bit more.
Rondon - he had 3 shots in the 2nd half, all half-chances but he was getting in the 18-yard box and showing the instincts of a reliable striker, even if he is looking short of the required attributes to adequately replace a starter such as Calvert-Lewin or Richarlison. I have no idea if he'll ever get there, but I'm guessing not. Still, this is why he stayed on and I can't fault Benitez.
Dobbin is a raw kid with no record in senior football. It's the easiest thing in the world, watching Rondon underperform, to say "get the kid on" – it is about 95% probable that he wouldn't have done a thing, not even get into a dangerous position.
Chris Leyland
73
Posted 17/10/2021 at 16:53:55
All this talk of Rondon and Iwobi, but for me the whole team were woeful from start to finish. Slow, plodding and constantly and needlessly giving the ball back to West Ham and inviting pressure. When we did have the chance to break, we passed up on it most of the time and went backwards.
It's criminal the amount of money we've spent to end up with a squad like this.
Kevin Dyer
74
Posted 17/10/2021 at 16:56:08
Bobby #67 – "a relegation fight beckons"?
Give your head a wobble, man. I can understand disappointment but seriously, take 10 minutes and re-read what you've written before submitting it. It is beyond daft.
Sean O'Hanlon
75
Posted 17/10/2021 at 16:57:58
Dreadful.
Yes, Iwobi, Rondon and others very poor, but the man who lost us the game was Jordan Pickford.
His huge weakness is he does not dominate his box, and is useless claiming the high ball – not winning that challenge and allowing the corner was unforgivable. Then he claims he's hard-done-by.
He is always bossed by centre-forwards, which is why he punches so often. We can now start adding up the points he'll lose for us this season.
Peter Dodds
76
Posted 17/10/2021 at 16:58:12
Enough of the idea that Rondon is working his way back to match fitness – his legs have gone, he offers too little threat or indeed hold-up play to start a match. Antonio showed him how to hold the ball up all game. We'd be better off with Gray as a false 9 with Gordon on the left.
But the problem was bigger than just one or two players. A very sluggish first 20 minutes, a complete inability to pass to a fellow Everton player, little flicks or long hopeful balls that West Ham recycled easily for another 5 minutes of possession. Allan and Doucouré were unable to break up any of these stretches of play, we just looked overrun and incapable of winning the ball back or stopping them playing through-balls. Hard to believe this was the same team that competed so well at Man Utd. It didn't get much better.
It was obvious at half-time that it wasn't Iwobi's day but it took 78 minutes for him to be replaced by Gordon, that after the young lad had had a good game at Man Utd. Far too late. And as for not taking off Rondon, don't tell me Dobbin wouldn't have given them more to think about with his pace and mobility.
An abject performance all round, including the manager.
Bobby Mallon
77
Posted 17/10/2021 at 16:59:57
Paul Jones
78
Posted 17/10/2021 at 17:00:51
I can understand the criticism of Iwobi and Rondon – one a dreadful expensive squad player from Arsenal, the other a "journeyman" forward who has no outstanding attributes. In a game lacking quality on both sides, it was always going to be decided by a mistake – duly supplied by Pickford and Godfrey between them. Should have been a regulation catch or clearance from an ordinary corner.
A basic mistake decided a game between two ordinary teams with the same predictable battle plans. It concerns me that we do not seem to have one dependable centre-half who can organise the defence and communicate with the goalkeeper.
The lack of concentration and organisation that cost a goal in a match that we had no attacking options needs to be addressed. Winning ugly is reasonable given the Financial Fair Play restrictions caused by the waste of money previously.
Losing ugly at home when a contingent of fans still remain unhappy with the managerial appointment does not bode well for the future.

Rick Tarleton
79
Posted 17/10/2021 at 17:01:15
You can play a counter-attacking style against a top six team, but to surrender possession at home against Norwich and West Ham is criminal.
Iwobi and Rondon are not up to the responsibility Benitez gives them. Iwobi could do something useful in a leper colony and Rondon could help Venezuelan logistics, but footballers they are not.
Kevin Dyer
80
Posted 17/10/2021 at 17:03:18
Peter #76,
I'm telling you that, if Benitez thought Dobbin would offer more than Rondon, he would have come on. Unfamiliarity breeds misplaced confidence, we see this all the time with our untested youngsters.
I guarantee if he'd been played instead of Rondon, the same fans would be writing off his career after a couple of games.
David Connor
81
Posted 17/10/2021 at 17:03:45
It's about time we forgot about Rondon and dogshit Iwobi. They are holding our threadbare squad back. They are truly awful footballers. I'd rather we played a couple of youngsters in the side than them. Surely they can't be any worse?
I would've taken a draw today but the better team won. And they weren't that good.
Nick Page
82
Posted 17/10/2021 at 17:04:35
I doubt we could give Iwobi away. How long will this parasite be on our books for? Must be the biggest training ground fraud in football. Possibly – although there is a long list – the worst buy we've ever made, given the hindsight of signing a load of supposed No 10s previously but where is the accountability?
However, we are still missing a few key players and don't have a fit striker, so the return is still pretty decent. As ever, expectations at this football club need to be reset.
Kevin Dyer
83
Posted 17/10/2021 at 17:09:00
Paul #78,
Bang on. Iwobi and Rondon are not good enough, the one because he never decides a game and the other because he is a big drop-off from our starting forwards and may be finished as a Premier League player.
Neither player was responsible for us losing that game though. We made an absolute arse of a routine punt into the box – which is all West Ham offered all match – and then Godfrey got bullied by Ogbonna on the resulting corner.
As I've already said, if Mina is playing, that corner is cleared, no problem. Ben has a lot of attributes but he is not a physically dominant centre-half.
Danny O'Neill
84
Posted 17/10/2021 at 17:15:52
Strange match. I couldn't have picked a winner and thought it had a draw all over it. But it did have a feeling of inevitably about it.
I'll gather my thoughts in the Crown as I prepare to head back to London with the gloating Eastenders. Not looking forward to that journey.
Massive thanks to Martin Nicholls & John Hoggarth for sorting me out with a ticket. It will be 1am by the time I get home having left at 6 this morning. Still worth it. Always is.
And thanks to the gang in the Saddle Inn who showed great Scouse & Evertonian hospitality to the West Ham crew I sort of adopted on the train this morning and who jumped in a taxi from Lime Street with me! Great stuff gents!
George Cumiskey
85
Posted 17/10/2021 at 17:15:54
Peter Dodds – spot on, mate, hit the nail on the head.
Alan Moss
86
Posted 17/10/2021 at 17:17:04
Kevin,
To say that people criticising Benitez for that performance don't know what they're talking about is a ridiculous statement; we all saw the same game. Rondon and Iwobi were useless and had to be carried by the rest of the team, yet both remained on the pitch far too long.
We'll never know if Dobbin would have had an impact on the game because it wasn't even tried. What has been seen is the lack of impact that Rondon has. Benitez did nothing to change the game and for that he definitely can be criticised.
Mike Gwyer
87
Posted 17/10/2021 at 17:21:19
Kevin #80.
Can't agree at all. If I was Dobbin, I would want to know how Rondon was keeping me out of the team. He has pace and guile, something that left Rondon many years ago.
What is really worrying is that Rafa stuck with it – fucking why?? Everyone could see what was happening on the pitch, it was as clear as day, yet no changes up top. You could see Gray was getting pig sick of creating chances only to see them totally wasted.
If Dobbin is not good enough, but we all know he is, then why have him on the bench? Why bother?
Barry Hesketh
88
Posted 17/10/2021 at 17:21:41
How has it come to this? Relying on a journeyman forward and a less than impressive Iwobi, to try and lead the Everton attack? Add into that the unhealthy respect paid to a very workmanlike West Ham and it wasn't at any point in the afternoon that I thought that Everton might sneak a point or three.
A lacklustre performance in a tepid game showing how far ahead of the pack the usual suspects are. Of course, major absentees explain some of the day's events, but the attitude from the team wasn't right from minute one and never really looked right for the whole match.
Thankfully the team already has 14 points in the bag but any illusion some may have of a Top 6 or better league placing for this team is the same as previous seasons: pie-in-the-sky.

Ciarán McGlone
89
Posted 17/10/2021 at 17:22:06
Having two terrible players as your attacking outlet certainly does influence the game... to suggest any else is just daft.
Rondon missed the target from 6 yards, for Christ's sake. Stop making stupid excuses for inadequate players.
Benitez chose to pursue Rondon and get rid of Rodriguez and Kean. This one is clearly on him.
Henrik Lyngsie
90
Posted 17/10/2021 at 17:22:29
I get so irrational and frustrated when watching Iwobi in the Everton shirt. I just wonder what kind of preparation the opposition manager does against the threat of Iwobi? It is really hard to see they need any defensive preparation to play against Iwobi.
Clive Rogers
91
Posted 17/10/2021 at 17:24:00
The bubble has burst – as was bound to happen with patched-up teams with no proper strikers. We can't expect Townsend and Gray to keep carrying us week after week. There's no creativity in midfield and reinforcements are desperately needed in the January window.
Kevin Prytherch
92
Posted 17/10/2021 at 17:28:02
I'm not having it that Rondon isn't fit anymore. He's a professional footballer and has been with us for over 6 weeks, if he's not fit yet, then he shouldn't be a professional.
I was starting to have hope for Benitez, but he's back to the previous 5 managers and picking people based on their price tag.
Michael Lynch
93
Posted 17/10/2021 at 17:30:29
That was a game we should have won easily with the chances we created. With Calvert-Lewin and Richarlison in the team, I'd like to think that would have finished 3-1. But it shouldn't have come to this – having no back-up for our strikers.
Brent Stephens
94
Posted 17/10/2021 at 17:31:48
Dobbin had a great pre-season this year, full of goals, only for the goals to dry up in the U23s league this season.
However, and maybe against what I've suggested to date, given our injuries, then perhaps starting Dobbin would be not a bad thing, for the following reason. Rondon adds next to nothing in terms of ball control, passing, pressing, shooting. Dobbin I suspect might just, just, add something in terms of pressing, given the guy's pace (and his ball control is really good as well).
So possibly a better contribution in terms of creativity but more so in terms of a pressing game – creating chances for other players from opposition defensive mistakes.
Andy Crooks
95
Posted 17/10/2021 at 17:32:39
Good point, Alan.
Yes, Benitez knows more than us, of course he does. Sometimes he gets it wrong and, in my view, he was wrong today.
I would suggest that there was not one Blue in the ground who thought that Rondon was anything other than utterly lamentable. Rafa thought different.
Rondon still looks like one of the over-the-hill boxers who came out of retirement after James Douglas flattened Tyson. Right down to the big elasticated shorts and puffing on the ropes, knowing that it's money in the bank. If he's an athlete, so am I.
Alex Gray
96
Posted 17/10/2021 at 17:32:41
No Calvert-Lewin or Richarliosn is a huge loss for us and West Ham have a better squad still. Let's just give Rafa a few years as sacking managers just means stage one all over again.
I actually thought Iwobi was in good form before his injury but him and Rondon were dire today. Rondon is Calvert-Lewin without pace, power, fitness and worse technical ability. A few years ago, he was a handful… but I genuinely believe he'll be the worst striker to play for us in our history. I can forgive a player being poor but I can't forgive his lack of effort.
Richard Nelson
97
Posted 17/10/2021 at 17:36:54
I have to give credit to the Moyesiah. West Ham look strong and well balanced, and conditioned...!
Iain Latchford
98
Posted 17/10/2021 at 17:37:00
Do we know when Richarlison and Calvert-Lewin will be back?
Martin Mason
99
Posted 17/10/2021 at 17:42:55
The bubble hasn't burst as there never was a bubble. Today was very simple: we were beaten by a better team on the day. West Ham were well organised and were in total control for most of the game. The important thing is that we learn.
Bill Gall
100
Posted 17/10/2021 at 17:47:40
Let's get it into perspective – not like Sky Sports, "West Ham leap over Everton in the Premer League..." – it's on goal difference...
Supporters as well as the manager are fully aware of the poor squad we have, but can do nothing about it until if we are within the FFP rules in the next transfer window. We have gone a number of games without 2/3 of our better players missing and have done better than first thought.
We are starting this season with another new manager who has a really difficult job; he has not shirked his responsibilities and is doing okay with the hand he has been dealt. Other matches, his choices have worked out; today, they didn't.
We are only at the beginning of the season so people talking about fighting relegation are off the mark. Every team has bad games and this will not be the last that Everton will have, but I believe we will have more better than poorer games.
Today, we lost 0-1 to a team who are tipped again to be challenging for the Top 6, yet we are looking for 8th to 10th but, with any January signings, maybe higher. They may have had more of the ball but Everton had the better chances; they just went to players who were on for our injured strikers.
Just watching the Newcastle game, where it has been stopped and the players taken off the pitch for someone who needed urgent medical attention in the stands. And that makes you think, after all, it's only a game,
Robert Tressell
101
Posted 17/10/2021 at 17:47:48
Disappointing. We'd have won that game with Calvert-Lewin and Richarlison. With a bit of luck, we might have anyway. Now beaten by both Aston Villa and West Ham in what are effectively 6-pointers against our rivals in the 10th to 5th zone.
The issue is basically the shortcomings of the squad.
You can understand Benitez persisting with Iwobi, because we do need a player of that type. But I suspect the patience will now be wearing very thin indeed. Hopefully Gordon emerges.
With Rondon, maybe this is all about getting him fit. And he gives us height at defensive set pieces too.
Maybe Dobbin or Simms might benefit from some or more loan football?
Bobby Mallon
102
Posted 17/10/2021 at 17:53:37
I also don't think we where outplayed or beaten by the better team. We where just as good as them, but our squad is not good enough once we have to use more than one reserve.
What do we do is always on everyone's tongue after losses like that. One thing I know is we must not change the manager. What we need is a massive injection of cash in the guise of sponsorship or another buyout.
Paul Hewitt
103
Posted 17/10/2021 at 17:54:26
Martin @99.
You're right, it really is that simple. We just lost to the better team on the day. Making excuses is just petty.
Duncan McDine
104
Posted 17/10/2021 at 17:55:53
MK, you've summed it up in the headline. Iwobi and Rondon were several levels below anyone else on the field today. Dreadful.
Coleman did really well with a couple of moments in the first half which got us on the ball and resulted in chances. Other than those and a couple of other moments, West Ham were the more likely to win the game and it leaves me wondering if the usual depressing Everton story will play out for the rest of the season.
Pessimistic, yes… but today gave little reason to be optimistic. The return of Calvert-Lewin and Richarlison may well provide some hope.
Peter Neilson
105
Posted 17/10/2021 at 17:55:56
A lacklustre game that maybe we would have won with Calvert-Lewin. As it was, we played with 9 men.
The head scratcher is how Iwobi is anywhere near the first team and Rondon offers very little. I understood lack of match fitness but the guy doesn't even jump.
Realistically this reflects more on the shocking way we've recruited over the past 5 years or so, a threadbare squad and no game changers on the bench.
Great start to the season but there'll be other days like today ahead of us.
Mark Taylor
106
Posted 17/10/2021 at 17:58:19
It's all very well saying we had no replacement for Rondon, but that presumes he was offering anything at all. He wasn't. He now owns perhaps the most dire performance I've ever seen from an Everton Number 9, absolutely zero impact on the game. Just another body with a pulse on the pitch would have been an improvement.
He was mediocre at Newcastle and it looks like his time in China has dropped him to Division 1 level, if that. It was cruel to play him, embarrassing for him as well as us. If an academy player could not do better than zero, then the academy is a waste of time.
Iwobi might be rubbish but at least he was having an impact on the game of sorts, certainly in the second half. Yes, he's not good enough, but Rondon's contribution made Iwobi look good in comparison.
Even so, they both should have been hooked after an hour. Gordon is not proven to be entirely useless so he was worth trying, probably from the start, and any player on the bench would have been preferable to our Number 33. And if we were after height and presence, someone on the Live Forum suggested Dixie's statue...
Eddie Dunn
107
Posted 17/10/2021 at 17:59:42
Not a drama that we lost a close game against a good side.
Rondon worked his socks off. Iwobi was... well, Iwobi. The kids could be really good, he got himself into match-winning positions. Rondon put him off one and Ogbona blocked his turn.
I thought our whole team were off colour apart from Keane. We are, after all, similar to last season... good away, on the break, lacking craft at home.
Danny, good for you looking after the West Ham buddies. I lived in the East End in the mid 80s and me and my Everton mates drank with Hammers in Stratford regularly. Proper fans, unlike many of those London posers.
Tony Everan
108
Posted 17/10/2021 at 18:01:33
You could have wrote the script before the game, Moyes keeps it very tight and wins it towards the end from a set piece.
We sorely missed Richarlison and even more so Calvert-Lewin today. Against the better teams in the division, with our squad, you need your best players or you'll get exposed.
Today, with Iwobi and Rondon filling in offensively, they just don't have the class to hurt the likes of West Ham, a tough physical unit that is well organised. Calvert-Lewin and Richarlison can't come back soon enough or we'll have more days like today.
Very disappointed to see Iwobi start ahead of Anthony Gordon. The way he played against Man Utd, it was a tough call to leave him out.
Graham Mockford
109
Posted 17/10/2021 at 18:01:37
Let's not berate the manager for letting Kean and Rodriguez leave. It was undoubtedly the right decision.
He literally had one decision to make today. Iwobi or Gordon, I think he probably made the wrong one.
Shows the lack of depth we have. Calvert-Lewin and Richarlison start, we win that game.
Kevin Dyer
110
Posted 17/10/2021 at 18:11:30
Mike #87,
How do we all know that Dobbin is good enough? Based on what, exactly? Benitez watches these players in training every day. He's never shied away from giving youngsters a go. if Dobbin isn't getting on the pitch, then he's not seeing it from him on the training field.
I can understand the argument for starting Gordon, as he impressed against Man Utd. But just because Rondon stunk doesn't automatically mean that Dobbin would have played well. One doesn't lead to the other.
Kim Vivian
111
Posted 17/10/2021 at 18:11:45
Joking aside, can anyone actally please explain how we came to be trousered for £30M in exchange for Iwobi? Had he shown promise at Arsenal, or what? Because if he had, I can't remember it.
Phil Bickerstaff
112
Posted 17/10/2021 at 18:12:14
I don't care what anyone says, if one of the Top 6 clubs' keeper had been challenged like Pickford was, which led to the goal, it would've been a foul. The ref didn't have a good game in my opinion.
Randon is probably the worst centre-forward ever to put on an Everton shirt... and Iwobi is absolutely shite.
Jay Hughes
113
Posted 17/10/2021 at 18:12:49
There's only one way to find out if Dobbin and Simms are good enough. Nobody would drop Calvert-Lewin or Richarlison for them but, given our current predicament they should be given a go.
If we remember a couple of years ago, many an Evertonian thought Calvert-Lewin wasn't good enough and now we wouldn't accept £70M for him.
The problem is Rafa never has, and never will, trust youth.
Eddie Dunn
114
Posted 17/10/2021 at 18:15:56
Kim, watch Newcastle blow their new-found wealth on a sack of shit as everyone they are interested in suddenly becomes very pricey. We got stitched up everwhere. Moshiri was a total mug.
Iwobi is being indulged in the hope that he can come good. He will also command a higher fee in January if he plays regularly.
Colin Glassar
115
Posted 17/10/2021 at 18:17:30
I didn't watch the game but tried to keep up with the TW live forum. As soon as I saw Iwobi was starting I knew we were doomed.
Iwobi is not only a shite player – I also think he's a jinx. Can any stattos out there tell us what our win rate is with Iwobi in and out of the team? I bet we're better when he's not even on the team bus.
You can't make a silk purse out of a sow's ear, according to the old saying, and we have too many garbage players – starting with Iwobi and ending with Iwobi. He's the alpha and omega of shit footballers – while Everton managers persist in playing him, we deserve everything coming our way.
If we had a chamber of horrors, Iwobi would be the star attraction... alongside McCloughlin, Angell, Nyarko, Lawson, Krøldrup etc… Pay him his contract and get rid!
Dave Abrahams
116
Posted 17/10/2021 at 18:24:54
It was a poor game to watch, on TV, maybe worse at the actual game. Neither side impressed although West Ham were slightly better so deserved the 3 points.
No point criticising Iwobi for me, I just never expect anything good from him so I'm rarely disappointed. The corner from which West Ham scored their winner should have been prevented. Again, I'm never surprised by a Pickford cock-up, no matter how well he plays.
I didn't think any Everton player stood out but thought Keane was the best of the bunch. He made the least mistakes, had a couple of good blocks so to me it showed how poor we were if Michael was the pick of them.
There will be a few poor results like this one as the season progresses. I think we will just have to grin and bear it, until January at least when we should make a couple of telling signings to strengthen the squad and cheer us up. I shudder to think what will happen if we don't make those signings.
Robert Tressell
117
Posted 17/10/2021 at 18:27:01
Colin, there is a player in Iwobi but it seems like his nerve has gone and he hates playing for Everton. Hopefully Gordon will take over his place from now on. Going to be hard to offload Iwobi. Maybe a loan somewhere like Fulham.
Roger Helm
118
Posted 17/10/2021 at 18:34:00
Just back from a 240-mile round-trip. Not the best day. West Ham were worth the win, they were fit, fast, well motivated and well organised – everything we were when Moyes was here, and haven't been since.
And it was like eleven v nine in that most of Iwobi and Rondon's touches went to the opposition. How did Iwobi miss that sitter? Anthony Gordon would have scored that, as would Anthony's mum.
I don't think Arsenal have stopped laughing yet. They probably have parties where they laugh at the dopey scousers that bought him. And how long will Rondon take to get fit? Or is this it?
I didn't understand the set-up today. If Iwobi was left wing and Townsend right wing, what was Gray supposed to be doing? Whatever it was, it didn't happen.
Coleman, Keane and Doucouré played well today but the others need to have a word with themselves. I would have them back at Finch Farm tomorrow at 8 to watch the match over again. Rafa needs to think again as well.
There must be players in the squad who could have done better. And why wait 77 minutes to bring Gordon on when it was obvious at 20 minutes that Iwobi was worse than crap?
Martin Mason
119
Posted 17/10/2021 at 18:36:06
I read that, in training, Iwobi is absolutely devastatingly good. A tragedy really.
Pat Kelly
120
Posted 17/10/2021 at 18:38:15
Newcastle will be desperate for players in January. Maybe we could interest them in a job lot. Tosun, Iwobi, Rondon, Davies, Gbamin, Delph. All free to a good home.
Kieran Kinsella
121
Posted 17/10/2021 at 18:41:04
Brent,
Talking of Dobbin and pre-season, the thing that puzzled me was that we gave Broadhead a new contract in June (age 23) then immediately sent him out on loan to a third-tier side (albeit a big team).
By the time he's done there, he will be 24 going on 25. So it seems unlikely he will become Everton first-team material at that point. I assumed we gave him the new deal to keep him in and around the first-team squad as someone who at least can dribble, run and has a few goals in him.
Essentially, he could be the kind of thing we are hoping the much younger Dobbin can do. I don't think he would displace Richarlison or Calvert-Lewin but I think he would have been a handier and cheaper option to have in the squad than Rondon, and based on experience, if not raw talent, at this point, he's more effective at this level than Dobbin.
Brent Stephens
122
Posted 17/10/2021 at 18:47:15
Kieran #121,
I think that's a very good point about Broadhead. Him on loan to Sunderland does deprive us of options given our injuries.
Kieran Kinsella
123
Posted 17/10/2021 at 18:47:18
Crikey, the lesser seen James has been spotted on a football pitch in Qatar today. What do reckon, sore calf after 60 mins?
Tony Smith
124
Posted 17/10/2021 at 18:47:42
I won't repeat what's already been said about the performance of the players today but, after going to my first game in a couple of seasons, I was gobsmacked and a little upset at the total apathy of the crowd.
Never mind no singing or getting behind the team but no getting angry with the usual things fans get angry or excited about. It was like a zombie crowd, really weird and as someone who's been going to Goodison since the '70s, it was like the crowd has finally been beaten to submission by years of dross.
Dave Abrahams
125
Posted 17/10/2021 at 18:48:30
Martin (119), no team have ever won points on performances on the training ground.
Ajay Gopal
126
Posted 17/10/2021 at 18:50:15
I don't know why this has turned into a Rondon versus Dobbin debate? In hindsight, probably Gordon and Davies instead of Iwobi and Rondon would have given more problems to West Ham. But, I had Iwobi over Gordon in my pre-match starting XI prediction, probably because Rafa feels that Iwobi can use the ball better.
Unfortunately, even Iwobi probably knows it that ain't happening for him at Everton. He has just had too many chances, and I don't think there is another team in the Premier League that has such an ineffective player in their front 3/4. He may do well for a team like West Brom or Norwich. Thank god we got Gray and Townsend. Imagine where we would be without those two?
I really don't know why Tom Davies is not tried out more? He would definitely do better defensively and he does tend to get into good goal scoring positions. Until Calvert-Lewin and Richarlison return, I would like to see Rafa play a front 3 of Gordon, Gray and Iwobi and a midfield 3 of Allan, Davies and Doucouré.
I thought Rafa's demeanour in the press conference was wrong – you don't let your opposition know in advance that Calvert-Lewin and Richarlison are definitely not playing. He could have kept Moyes guessing.
Des Farren
127
Posted 17/10/2021 at 18:52:04
Martin @.99 "the important thing is we learn".
Tell that to Pickford who has been here many times before, including earlier in this very game!
Hugh Jenkins
128
Posted 17/10/2021 at 18:57:20
Given our (as ever) extensive injury list and the paucity of reasonable quality backups, we are not doing too badly, at all.
After today, Spurs are sitting in 5th – one point ahead of us – with a -3 goal difference, compared to our +4.
They only managed to beat Newcastle by the odd goal today and, as far as I am aware, are not suffering any substantial absenteeism due to injuries.
I think things will improve dramatically, once Calvert-Lewin and Richarlison are back.
Barry Hesketh
129
Posted 17/10/2021 at 18:58:40
Tony @124,
I agree that the crowd was mostly quiet and unmoved today, but there are a lot of factors for that, matches on a Sunday, unless, we're hosting a team like Man Utd or Chelsea et al usually lead to a quieter atmosphere than a Saturday game or a game under the lights.
Regardless of the day or the opponents, the Everton team on the pitch has to set the tempo for the fans to become animated. Today they failed to set the pulses racing, and given the absentees in our team and the slow start to the match, I wasn't too surprised with the low-key atmosphere.
It was a bad day all around; we can only hope that next Saturday sees an improvement from all parties involved.
Danny O'Neill
130
Posted 17/10/2021 at 19:00:13
On my way home. Well to my house. Home will always be home.
Disappointed with the result. I'll reflect on the performance tomorrow when I give it more thought. I'm just pleased I got the blessing to be at Goodison.
Saturday. Watford home. We regroup. We win. I'll be there again.
Great to catch up with some of the gang in The Crown near Lime Street. I took my 2nd adopted group of Irons fans back to Platform 9 with me. Excuse the pun but they are hammered, happy and fascinated by my Schalke top!! Hopefully they'll go to sleep soon.
Good night, Blues.
David Pearl
131
Posted 17/10/2021 at 19:03:34
Tony @124,
Sadly been like that for a few years now, since Martinez's second season... give or take a few games. Hardly the 12th man.
I expected this performance. Doesn't make it any less disappointing. I thought our back 4 did okay, we kept them quiet. Our front 4 were uninspired. Of our starting 11, only Pickford played this last week. No excuses.
Much more of the same, entering a tricky spell, and Rafa's gonna need a hard hat.
Mike Keating
132
Posted 17/10/2021 at 19:03:35
Headline says it all – Iwobi is a carthorse in carpet slippers and Rondon is just a carthorse.
Dobbin and Gordon should have come on after the West Ham goal.
Jay Harris
133
Posted 17/10/2021 at 19:08:13
I thought Pickford cost us 2 points and Iwobi and Rondon cost us the other point. I think I read Iwobi has scored twice in 80 games and it looks like Rondon will take about the same to start scoring for us although he did improve as West Ham tired towards the end.
Very concerned about Ben Godfrey too who has gone from our best player last season to distinctly average this season.
Doucouré and Allan continue to impress and Seamus is putting in a Herculean effort. Watford and Wolves next – both showing an improvement after a poor start. Let's hope the bubble hasn't burst again.
Darren Hind
134
Posted 17/10/2021 at 19:19:44
Breeze blows leaves of a musty coloured yellow
Sooo... I sweep them in my sack.
It's all part of my autumn almanac.
Lalalalalalalalala ohhh
Tony Abrahams
135
Posted 17/10/2021 at 19:22:10
I'm not numb, but when I think about the wages that some of these players are on, it makes me start to think that I'm not sure I should be bothered watching some of them, when they display such a complete lack of belief, desire and enthusiasm.
I thought Keane was our best player, and Godfrey was being bullied by the end of the 90 minutes, in a game that was mostly controlled by West Ham, who I thought found it easy, playing against a team that find it hard to be compact.
Steavey Buckley
136
Posted 17/10/2021 at 19:30:50
Without Calvert-Lewin and Richarlison upfront Everton are easy to defend against.

John Raftery
137
Posted 17/10/2021 at 19:37:01
We were well beaten by a better team. The crowd were subdued because West Ham had the vast majority of possession and territory. It is hard to get excited when watching the opposition dominate for long periods of the game. I thought our team did well to stay in the game as long as they did. But that was all they could do.
Gray and Townsend were well marshalled, forced to operate in areas where they could do only limited damage. Allan and Doucouré, as in many games last season, were reduced to operating as auxiliary defenders. We made the game as difficult for West Ham as we could but tight games are often decided by a set-piece.
So it was that we conceded from a corner. That was no surprise because we always look likely to concede from corners, especially those swung in towards the far post. That we conceded from one directed to the near post was disappointing to say the least. On the other hand, when we win corners, we rarely look anywhere near capable of converting one into a goal. More work is required on the training ground to improve the way we deal with corners at both ends of the pitch.
I agree with Dave Abrahams that Keane was our best player this afternoon.
Danny O'Neill
138
Posted 17/10/2021 at 19:41:49
I'll have to look at the football tomorrow, Tony.
Right now, I'm surrounded by singing West Ham fans but equally moved having been to my spiritual home and place of birth. I'll be home in a few hours time and sit up to analyse with the dogs. They'll have me out early and we can talk things through. I love them; I love Everton more. And that's saying something.
And I'll be there next week too. Watford. One love. No other love!! Well, a different kind of love!
I'm going to be in so much trouble. My Everton. One Everton. Come on, Blue Boys.
Kevin Murray
139
Posted 17/10/2021 at 19:44:30
Had the misfortune of travelling from the Isle of Man for the game today, at great cost, I might add. Absolutely dreadful performance from almost all of them (and I include the coaching staff in that also).
Yes, Iwobi and Rondon are quite clearly the worst of the lot and Iwobi possibly being one of the worst players to turn out for us in many a decade, but there were poor performances from Pickford, Digne, Godfrey (second half), Townsend, Allan and Doucouré.
There appeared to be a real lack of energy, fight, aggression and most alarmingly, a plan! I find it hard to believe that there was no plan so I can only assume they were not capable of carrying it out. Some of the football, with and without the ball, was appalling.
Why the manager persisted with the team until almost the 80th minute before making a change was quite staggering. If you couldn't see how badly Iwobi was struggling and probably Rondon also, I really don't know what game you were watching.
We may as well get rid of all of the fringe players immediately. If they couldn't get on today then they will never be good enough in the eyes of the current manager.
A complete shambles all round today. We can only hope they recover next week and that Calvert-Lewin and Richarlison are back very soon. UTFT
Mike Keating
140
Posted 17/10/2021 at 19:47:35
Just listening to Smashy and Nicey on Radio 5 – what a couple of bollocks. Re the Newcastle takeover, a Southend fan came on and raised the issue of dirty money taking over the game.
"Football is no longer a sport," he said, "it's political money laundering."
Sutton & Savage just corpsed and moved on to some Man Utd fan who wanted to have the usual moan.
Pathetic.
Sam Hoare
141
Posted 17/10/2021 at 19:47:46
There's probably about 6-8 teams (us, Arsenal, Spurs, Villa, West Ham, Leicester etc) who could really contest for that 5th, 6th or 7th European spot.
There's not a huge amount to choose between these teams and will depend on injuries, manager efficacy and momentum.
It's been a decent start to the season. I just hope the rumours of Calvert-Lewin being out till Xmas are not true.
Kunal Desai
142
Posted 17/10/2021 at 19:49:57
Aside from the Top 4 and perhaps three or four sides nearer the bottom, we're in amongst a dozen odd teams on a level playing field. The quality is I'd say evenly matched, results are like to go just in favour or just against you.
I don't think the squad depth is anything new, we are a club that operates a supposedly tight-knit ship and that has been the case for over 20-odd years since Moyes was in charge.
There is no real ambition at the club to build out a squad with 17 or 18 players of quality that replace like for like in the first 11. I don't see this trend changing, we get by with the bare minimum and expect to gets results.
Best we can hope for is an 8th spot finish.
Raymond Fox
143
Posted 17/10/2021 at 19:55:54
All together now, we don't rate Rondon and Iwobi... give it a rest, for fuck's sake,
We have our two best attackers injured, the result was hardly a suprise – it was always going to be a close game.
Our squad's only mid-table quality, we have been punching above our weight recently. When we have an injury or two to our better players, we are up the creek.
Mike Keating
144
Posted 17/10/2021 at 20:00:05
Raymond – did you go to the game?
Those two stunk the place out.
Danny O'Neill
145
Posted 17/10/2021 at 20:03:19
Kunai
We're finishing between 4th an 6th.
I'm not sitting on trains back to London with gloating fans, risking my marriage and upsetting the dogs for anything less than European qualification.
And Wembley in in May.
But right now I'm focusing on Goodison next Saturday.
Stephen Vincent
146
Posted 17/10/2021 at 20:05:24
So much wrong with that post, Kunal, I don't know where to start. Unless of course you were being sarcastic.
Paul Tran
147
Posted 17/10/2021 at 20:07:05
Two workmanlike, half-decent teams out there today. Their centre mids were far better than ours, we were sloppy with poor passing.
It's not going to happen for Iwobi, is it? He's clearly like one of those horses that's brilliant on the gallops and freezes on the track.
No focal point or awareness up front. We need Richarlison and Calvert-Lewin back asap.
Paul Hewitt
148
Posted 17/10/2021 at 20:09:50
Kunai @142. 8th. I wouldn't say that high.
Christy Ring
149
Posted 17/10/2021 at 20:10:00
Disappointed, to say the least, but Iwobi – who may be so skilful in training – is just a passenger and Rondon in his prime played for mediocre teams. We're totally lost without Calvert-Lewin and Richarlison. I thought Tosun was back in training weeks ago??

Stephen Vincent
150
Posted 17/10/2021 at 20:10:26
Hope the natives aren't too restless, Danny.
John McFarlane Snr
151
Posted 17/10/2021 at 20:20:40
Hi John [137],
I agree with your assessment of the game, the better team won and deserved the points. I find it difficult to accept the heaping of blame onto two players when, with the exception of Michael Keane and Seamus Coleman, no-one came out with flying colours.
The way I saw it from the Park End was that West Ham had the bulk of possession in the first half, but Everton had the better goal-scoring chances. Of course it was a disappointing result and performance, but Everton don't hold the copyright to such games.
Playing poorly and losing is little different from playing well and losing, and for every winner there's a loser. Because I have no control over such things and lose no sleep, I imagine that I would be in the 'accepting mediocrity' category, but I can live with that.
Brian Murray
152
Posted 17/10/2021 at 20:24:04
It's probably already been said on here but the manager's professional pride cost us big time today. He has signed this striker 3 times and I know it's hard to admit a big mistake or at least drag him off at half-time.
I hate us making that ginger idiot look like Pep.
Peter Mills
153
Posted 17/10/2021 at 20:32:02
I thought it was a very interesting game. We hardly had a touch for the first 20 minutes, then we came into things. Despite having been second best, we could have scored twice by the half-hour mark, Iwobi's miss was awful, but he could also have been more committed to a cross at the far post before that - it looked to me that he chickened out.
We played excellent crosses into the box throughout the match, Calvert-Lewin or Richarlison would surely have feasted on them. Rondon didn't. Lack of match fitness is one thing, but lack of technique is another.
I thought the corner from which West Ham scored should have been a goal-kick, I had a good view of it, but I haven't seen it again and it seems I was wrong, from the comments above.
Coupled with a 95th-minute equaliser from a dubious free-kick by Wrexham at Marine in the FA Cup, it's been a frustrating footballing weekend.
David Pearl
154
Posted 17/10/2021 at 20:32:46
Andy Crooks
155
Posted 17/10/2021 at 20:36:09
I agree, Brian. Third time unlucky. Just compare Rondon with Calvert-Lewin. Calvert-Lewin provides outlets, energy and a buzz. Rondon provides... another player in a blue shirt. It would take a big man to admit that he signed an over-the-hill journeyman whose journey is over. Rafa hasn't it in him to do that.
Sometimes stubbornness and grit are admirable; not always, though.
Stephen Vincent
156
Posted 17/10/2021 at 20:36:22
Who on here wouldn't kill for the work rate of Antonio or the determination and ability of Rice? They killed us today.
Andy Crooks
157
Posted 17/10/2021 at 20:38:13
Pete, Iwobi chickened out? No!
Michael Lynch
158
Posted 17/10/2021 at 20:38:19
There seems to be a rumour brewing that Calvert-Lewin has torn his quad and is out for a while. Anyone know if there's any truth in it?
Andy Crooks
159
Posted 17/10/2021 at 20:41:47
Michael, at least it will give Rondon a chance to get match fit. What did he do in China? Was there any football involved or was it just what he does here?
Kenny Smith
160
Posted 17/10/2021 at 20:42:30
West Ham deserved the points today, as much as I hate to admit it.
I'm sure it's been mentioned but Iwobi was an embarrassment and Rondon looked like a washed up Sunday league player at best. With absolutely no focal point, then you ain't gonna score at this level unless the opposition gift you a goal.
Today was my little lad's first game at Goodison. I told him the tales of my heroes: Ferguson, Lukaku, Lineker, Latchford, Gray and Sharp… but the poor lad had to witness a motionless Rondon. You should've seen his face. This is it, son; you're in it for the long haul now…
Barry Hesketh
161
Posted 17/10/2021 at 20:43:00
Michael @158,
I haven't heard that rumour but quite a few people sat around me in the ground believe that there has been a setback in Dominic's recovery and that he might be out for far longer than first expected.

Colin Glassar
162
Posted 17/10/2021 at 20:46:00
Pat Kelly 120, best post today by a mile.
Kunal Desai
163
Posted 17/10/2021 at 20:46:53
Stephen @146,
Please explain what's wrong then with what I've said? Have I been missing us build out a squad over the last 20 years then?
Neil Copeland
164
Posted 17/10/2021 at 20:48:36
Calvert-Lewin being out for longer than anticipated would be a big blow. Looks like we will see Richarlison replacing long gone – sorry, I meant Rondon – as centre-forward, if true.
Don Alexander
165
Posted 17/10/2021 at 20:49:14
Amused to see me arl mate Dazza limit himself to a part verse from a Kinks song for some reason (#134) so I though I'd quote a verse from their "Where Have All The Good Times Gone" because it seems more relevant to me, regardless of the players we're now having to again rely on, and have had to rely on for the past 30 years.
"Well, lived my life and never stopped to worry 'bout a thing,
But opened up and shouted out as Kenwright won "K'ching"!
Wondering if we've done wrong,
Will this depression last for long?"
All together now with the chorus:-
"Won't yer tell me, where have all the good times gone?
Where have all the good times gone?"
Dave Williams
166
Posted 17/10/2021 at 20:51:08
Rondon was signed to give us physical presence up front in the absence of Calvert-Lewin, but why do we need that? Liverpool and Man City play with smallish strikers whose mobility causes problems for defences; I would give Dobbin or Simms a start to see what they can do.
Pickford produced a couple of good saves but his distribution was dreadful all game. The back four were all decent but we were crying out for a third man in centre midfield as Rice was in total control.
Disappointing but, without our two best players against a decent team, a defeat is understandable. I hate to pick on a player but Rondon has had enough time to be fit now but is sluggish, has no spring, no pace and lacks sharpness. He really should not be starting games.
As for Iwobi, he can't strike the ball either to shoot or to play a critical pass. He could have been subbed after 10 minutes without complaint.
Not Rafa's fault… but next week will be if he doesn't learn from this.
Kunal Desai
167
Posted 17/10/2021 at 20:51:46
Danny @146,
I admire your optimism and really hope you're right. I still think we're short and it might not be until next or season after that we can start really pushing for Top 6, providing we start getting the recruitment right and start putting a squad together with more strength in depth. I think we'll need to see a bench which gives us some real options and right now we are far off that.
Safe journey home. I've done that Euston to Lime Street journey a number of times.
Kieran Kinsella
168
Posted 17/10/2021 at 20:52:51
Hugh
Sadly our "extensive injury list" isn't the problem – it's specifically two players we miss. The rest of the injured offer little or nothing.
Brian Wilkinson
169
Posted 17/10/2021 at 20:56:08
Some player that Declan Rice. As for Rondon, would have been better off keeping Josh King for free. There is only so many games you can say the guy is not match fit; he is shite, surely either Simms or Dobbin should be getting a bit longer game time than Rondon.
Anyway, nice to meet up with a few after the game, everyone of you cracking guys. I do not envy Danny sat on that train home. It was bad enough in The Crown, their singing. However, I spoke to a few of them and they were proper decent fans, West Ham.
Brian Murray
170
Posted 17/10/2021 at 21:00:06
Danny.
You're probably home and hosed by now and hope to catch up with you and the gang Saturday. Do you agree Digne needs serious competition as well as obviously the right side. Total lack of vision today by the manager not making the changes at half time. Will we get also a striker in January. See you in the San Siro soon as we secure Top 4... ha ha.
Sorry, long day drowning usual sorrows mate.
Stephen Vincent
171
Posted 17/10/2021 at 21:12:16
Kuala #163, 'a club that runs a tight knit ship'.
We have pissed almost half a billion £ up the wall in the last 8 years. That's why we are in the financial do-do that we are in now.
Christy Ring
172
Posted 17/10/2021 at 21:13:56
If Calvert-Lewin had a setback with his recovery, and I hope it's not true, would Rafa not have told the press on Friday if it was true?
Brian Murray
173
Posted 17/10/2021 at 21:39:54
Stephen @171. I thought we was led to believe that the Everton Way is the one they all follow 😂. Sums it all up for me but il say no more.
Stephen Vincent
174
Posted 17/10/2021 at 21:47:40
Ah! Do I detect a dig at our illustrious leader!!!
Jim Bennings
175
Posted 17/10/2021 at 21:51:50
Iwobi must be the most ineffectual player that I have ever seen in a blue shirt.
Forget the fact that we squandered nearly £30 million on him in what was a panic buy after the failed Zaha pursuit.
Even if we had paid £2 million on the lad, it still wouldn't make my opinion any different.
He offers absolutely zero input, can't run with the ball, can't shoot, doesn't score any kind of goal, his passing is horrible and his reading of the general play shocking.
How he keeps getting picked to start is beyond me.

Bill Watson
176
Posted 17/10/2021 at 21:58:49
I was mystified to find Iwobi starting over Gordon. He must be one of our most ineffective midfield players of recent times – and that's saying something.
When he moves across to try and close a player down, he doesn't actually do anything other than run alongside the player. When he receives the ball, he either loses it, runs it out of play, or passes straight to the opposition. As a goal threat, he's non-existent.
Just what is the point in selecting him? I don't care if he's amazing on the training pitch; games are played in the real football world. The fact he stayed on for 79 minutes is just rank bad management.
I appreciate Rondon is playing as a lone striker and wasn't fit when we signed him but, so far, he's the worst Everton centre-forward I've seen and that list includes Rod Belfitt and Brett Angell. He wins little in the air, can't hold the ball up, and misses comparitvely easy chances. If he's the best back-up we have, then it's a serious indicement of our Academy recruitment.
Very poor team selection today meant we were effectively playing with the equivalent of 10 men, compounded with appalling game management to only change things with 10 minutes to go.

Danny O'Neill
177
Posted 17/10/2021 at 21:59:20
In the Sports Bar at Marylebone waiting for a late train home, Brian.
I agree, we need competition on the flanks. Both flanks.
It's late so allow me to be sentimental. I f@*cling love Everton. Despite what they do to me and put me through.
Jerome Shields
178
Posted 17/10/2021 at 21:59:41
I thought Rondon had his best game for Everton so far. Getting two shots on target, attacking the near post. He lead the line well, creating space, and Everton had more shots on target than West Ham as a result.
His big disappointment for me was getting into position for crosses. In the first half, he was 5 yards out of position, with other Everton attackers in position at the near and far post. The latter, Iowbi, getting his head to the ball.
In the second half, again he was out of position for a perfect Gray cross. He checks his run and seemed to be heading nowhere, only to be 3 yards off where he should have been. Gray's face said it all. He is now match-fit, but this was a big failing today.
Iowbi's only good play on the right was passing to Digne who has a left foot to cross. Iowbi does not have a left foot.
Iowbi when moved inside to get more on to his right foot, made a complete Horlicks of kicking the ball with his right, missing it completely with a open goal waiting. I just think that Iowbi is not wired correctly and never will be.
Bill Watson
179
Posted 17/10/2021 at 22:05:48
Jim #175
I saw your post after I posted mine. I forgot to say he fails to read the game so thanks for that.
When we signed him for £30m I thought he may be half decent as he'd played well over 100 games for them but an Arsenal friend said he was shite. I'm afraid he was correct. £30m? Good grief!
Dave Abrahams
180
Posted 17/10/2021 at 22:24:55
Bill (175), Iwobi's biggest and unforgivable failure is that he is chicken-hearted.
Stephen Vincent
181
Posted 17/10/2021 at 22:24:56
Jerome, don't know where your stats came from but, according to the Premier League website, we had 2 as opposed to WHU 4. Which was my assessment from the Park End.
Paul Birmingham
182
Posted 17/10/2021 at 22:28:26
I'm as pissed off and disappointed, as is every Evertonian.
The scourge of the international break, the "it's too good to be true" after a better than expected start to the season, and after playing so well, versus Man Utd 2 weeks ago. Seemingly as feared, Moyes got a reaction today from his squad.
No complaints as the team that really wanted it, and won.
Another great chance to make a point and get some air space blown in classic style at Goodison.
If, and if, how many times, in a lifetime, with matters EFC. But if we'd had Calvert-Lewin and Richarlison on today, it would have been a win, that I'm convinced.
But at the moment we need them back and fully fit and to beat Watford well and to get the Wolves beaten..
A good start to the season, old record, it's to be broken, and made today, it took me back to a game v West Ham about 40 years ago, and Jim Arnold was in goal. I think it was Geoff Pike who done an up-and-under cross-shot from out on the Bullens Road and Jim Arnold, done the equivalent of a Stewart Kennedy attempt to parry the shot.
But at the end of this game, Everton didn't do enough and were too timid... and arguably alehouse in front of goal today and in the main in the midfield.
Let's get our squad back to fitness as it's clear that like today missing a few key players like Calvert-Lewin, Richarlison, means that without strength in depth, you'll lose more games than with a full fit squad.
Tough lesson, today; let's hope Everton can learn.
The chances missed today, if taken, could have changed the game.
Enough has been said on this thread about the chances spurned and lack of attacking threat.
Let's read The Runes, and in time for Watford.
Bogdan Kotarlic
183
Posted 17/10/2021 at 22:28:21
A well deserved win for West Ham, they were a better team.

We played without our two strikers and it showed, we were toothless in front of West Ham goal. Gray and Townsend couldn`t deliver this time so we lost.

Our next game is against Watford, who knows how will they play at Goodison? They lost 5-0 versus Liverpool and I wonder how Ranieri will prepare his team. They will certainly be very motivated but also they don`t play well this season.

Our season so far is okay for me, we could be higher in the table but, for various reasons, we are not. I hope our strikers (Richarlison and Calvert-Lewin) begin to play regularly; in that case, we would be a much better team.
Micheal Lynch
184
Posted 17/10/2021 at 22:30:20
Was Gray better than Iwobi today? Has Lucas Digne not been poor for nearly a year? Must have watched a different game but the best 3 chances we had, Iwobi had two and made the other.
Soren Moyer
185
Posted 17/10/2021 at 22:37:33
Pathetic! Back to last season's "at least we have game in hand" – lol.
Oh and Rondon finds his form and legs when hell is well and truly frozen over!
And Iwobi, who the hell thought he was a footballer!? Maybe our scouts are double agents!!
Sukhdev Sohal
186
Posted 17/10/2021 at 22:51:17
I don't think Rondon was as bad as people are saying. He got into the game in the 2nd half. However, Iwobi bottled our best chance and should've passed to Doucouré for another good chance he messed up. West Ham were better than us. Injuries took their toll. Seamus was great though.
Kevin Prytherch
187
Posted 17/10/2021 at 22:58:35
It speaks volumes of our Director of Football that, after so much time in the role, we are barely able to fill the bench, have no real reserve striker or left-back, and our 4th most expensive player of all time is Iwobi. And yet he escapes a lot of criticism with the blinkered belief that Kenwright still runs the show.
David Pearl
188
Posted 17/10/2021 at 23:24:46
Kevin, l'm not Brands's biggest fan but clearing up the Koeman and Walsh mess was always going to take the 4 or 5 years or whatever the length of the players' contracts. We have seen a lot of players leave this summer, and last year too actually, and we've not been able to replace them. Then again, when they leave for nothing, how do we replace them?
Where we would be without Gray and Townsend is bottom half for sure. Tactics may have worked so far but this way of playing with 30% possession each week is soul-destroying. We limited West Ham to a few clear-cut chances but the ones we had were more clear cut.
All is not lost on one result but our manager has to find another way to play. I'd like us to put our foot on the ball for a change. It might also help if we put lwobi on the wrong bus home. Yet another player to add to the long list of signings that will leave us for free. Soon to be Sigurdsson, Delph, Tosun.
Only another 2½ years to go before we see the back of Iwobi. Perhaps ToffeeWeb Editors can put up a countdown clock!?
Lester Yip
189
Posted 17/10/2021 at 23:26:05
As predicted, a very close game that got settled with set-pieces. A lot of pressure in the 1st half and I almost got the feeling they'll score first. But we also had a few really close chances.
I think Rondon did alright. He's close to scoring a header and also held up the ball reasonably well. We just can't compare him with Calvert-Lewin. He's a back-up.
Also, I do feel Gordon should have a chance next game.
Paul Birmingham
190
Posted 17/10/2021 at 23:32:18
Well in, Danny, and I hope you've had a safe journey home.
Schalke provided some solace, this weekend, but hope eternal in all matters EFC.
Watford is a must-win game, and no doubt they will learn to press rather than stand and watch, like yesterday vs the RS.
A tough game but Everton must win this game.
Mike Price
191
Posted 17/10/2021 at 23:38:28
Recruitment has been a disaster. Gbamin, Tosun, Delph and Iwobi for circa £75 million, Liverpool buy Mane and Salah for less.
Those sort of mistakes take years to recover from and we've still got another couple to suffer. I'm glad we've got a proper manager to navigate us through some very difficult times ahead.
Jerome Shields
192
Posted 17/10/2021 at 23:40:08
Stephen #181
On hesgoal, they compared the shots on target to percentage possession in the first half and stated Everton had 4 shots on target to West Hams 2. In the second half, Everton had 2 shots on target from Rondon that I saw.
But since you paid to go, I will go with what you saw. It makes Everton's performance worse though and the report on this thread regarding the stadium atmosphere more explainable.
Hesgoal's stats could be a bit off, like their coverage, which was intermittent as usual. .
Pete Clarke
193
Posted 17/10/2021 at 23:42:21
I still don't get why Benitez would not give Dobbin a run even for the last 10 minutes.
If you look at the West Ham corner late in the game, where we have no players at all as an outlet, then it shows the mindset of the manager to defend at all costs. Just one player upfield gives them something to think about.
Maybe Rafa needed somebody to talk Spanish to because I can't see any single reason why Rondon should be near our club, especially as we are already trying to shift a load of shit out from previous mistakes. Disgraceful signing.
Brian Wilkinson
194
Posted 17/10/2021 at 00:07:25
The late corner we had when Pickford went up, did anyone else picture Pele's escape to victory overhead kick being re-enacted by Pickford, just for that brief moment? Then thought – nah.
While we are on the subject of Pickford, what is all that about, pulling both his shorts legs up? Anyone else notice it, normally when facing a free kick??
Mark Wilson
195
Posted 17/10/2021 at 00:12:14
The really shocking thing about that defeat was how dire a performance Rondon put in, closely followed by Iwobi. Rondon's showing was so bad, you could see it impact the whole team. I think Calvert-Lewin and Richarlison start and we win the game… it's honestly as simple as that.
What a mess we are in for the comment above to be true…
John Kavanagh
196
Posted 17/10/2021 at 00:31:26
Thanks for the article and, above all, the headline that says it all. I was gobsmacked when I saw that Iwobi was selected over Gordon.
I note that one poster above criticises Gordon for not having scored any goals or created any assists. That is difficult to achieve if you aren't being given much game time. Gordon is a far better footballer now than Iwobi will ever be.
Iwobi's very first act in possession to put in a pinpoint pass straight to the feet of – Pat Rice! Iwobi can't pass, shoot, cross or tackle and has only got a couple of goals in over 80 appearances. How can any manager persist in giving him more chances??? And I don't give a damn how good he looks in training at Finch Farm.
Plaudits to the players and fans for how they dealt with the medical emergency at St James Park and saved someone's life. By contrast, in the earlier match, a lifeless corpse was thrown onto the pitch at Goodison Park and no-one did fuck-all about the situation for over 90 minutes. Rondon should now be declared DoA as six attempts to revive him have all failed.
As to not risking the youngsters, Gray created chances that Steven Hawking would have got to and put away. Dobbin or Simms would have gleefully taken one of them. You could see Gray's frustration at his efforts being wasted.
The only thing that will live in my memory from this match is Iwobi's two-footed air shot from 4 yards out. A truly exceptional skill. If Charlie Chaplin had made a football movie, then it would have been based on Iwobi – the complete clown.
Ranieri will be praying that Iwobi and Rondon get yet another chance to prove themselves next week.
Christine Foster
197
Posted 18/10/2021 at 00:35:35
Disgusted. Frankly, that was an appalling team performance. We weren't even second to every ball, we sauntered through the game, no-one tracked anyone. Let them have space, time and the ball.
It's all very well to hang it on Iwobi and Rondon, and God knows they were dreadful, but there was no desire to get forward and I doubt West Ham will get an easier 3 points all season.
It wasn't as if they were any good, we just didn't turn up. Not sure just what the game plan was but how Benitez didn't see what was going on and remove Iwobi for Davies, or get some urgency by pressing higher up the field?
I don't know... 4 am to bed again... woke up fed up...

David Pearl
198
Posted 18/10/2021 at 00:46:54
I actually feel for Rondon. Once a powerful forward, but now... l can't believe he can't jump high enough for his feet to leave the ground. Can't trap a ball, can't hold it up, can't carry it.
The other players must realise it too by now. The look on Gray's face during the second half. He put at least 2 chances on a plate. I really want him to score, even as much as l wanted Li Tie to.
Iwobi l have no sympathy for. People on here moaned about Sigurdsson or Walcott, before then Osman and Hibbert. This guy needs to find his balls. Take responsibility, find his mojo, take charge of his career. He's wasting his time and ours. What does he want to be?
Having your head in your hands doesn't mean you care or are just unlucky, it means you've fluffed your lines again. (I'm trying not to swear to keep my blood pressure down.)
He's been given a fresh opportunity by our manager. He needs to take it, or else what? We are stuck with him because – even if we can loan him out, paying half his wages – it gives very few options for us to re-invest.
Remember one of Moyes's old lines: "You need to be a good player to get into this Everton team." Well, not any more.
John Boon
199
Posted 18/10/2021 at 01:12:11
Rumour often rules the world and football and Everton are never exempt from rumours. If Calvert-Lewin is expected to be out for a while, then Benitez will need to be creative as to who can play up front.
From what we have seen, he does not seem to have much faith in our younger players. In that case, he may have to be creative in choosing a leader. In the past, Steve Watson was able to cover as a centre-forward. In fact, he scored a hat-trick!
I just think that we do have defenders who could possibly play up front. How about Godfrey, Holgate, Keane or Mina? They would surely do better than what we have now. I am not being facetious but, in times of desperation, what else can we do? Preferably we get Richarlison and Calvert-Lewin back.
Derek Thomas
200
Posted 18/10/2021 at 01:37:32
Rondon: he has improved a bit, but only a bit. But even a fully fit Calvert-Lewin struggles when left 1 on 3.
Iwobi: somebody said he was good prior... maybe so, but only compared to the utter gashness – similar to today – that he usually puts out. It's a low bar, no way should he have started.
Gordon: must be severely pissed off. He did enough to keep his place. It's impossible to say if he would have played better than Iwobi – though it's hard to imagine he'd play worse – or that the result would've been any different.
If Gordon had replaced say, Salah vs United... and had a decent game, then you could see the case for bringing Salah back in. But Iwobi??
When you have a weak squad and play with 9½ men, who then proceed to have a collective off-day – what can you do?
Ranieri will have watched and inwardly digested West Ham's Plan A; get it in the air under Pickford's crossbar, will do for a Plan B.
Let's hope Benitez did the same – and doesn't try the same – and that he doesn't rush Richarlison back too soon either. Or, if he is fit, leave him 1 on 3.
Si Cooper
201
Posted 18/10/2021 at 02:13:14
Looked like some complacency set in today, as though some players were convinced it would all just gel at some stage during the match without them all collectively stepping it up a notch or two.
However, West Ham appeared to have another couple of gears if necessary as well. A gentle reminder that we will need to fight for every point this season as we are fairly ordinary if it isn't 11 men pulling in the same direction.
George Stuart
202
Posted 18/10/2021 at 02:14:36
Hmm. Anguished rant.
I thought Gray did his job today. At least four winger shimmies and killer crosses. What more can you expect from a winger?
The pisser is, about 10 minutes before the goal, I thought shot-stopper extraordinaire Pickford is improving his goalkeeping craft. For fuck's sake...
Also, it's not Rondon's fault. We had this gun striker at our local club. He should not be anywhere near the Premier League without buying a ticket. Neither should Rondon. Not his fault.
Another thing, Gray and Townsend? Who brought them in? Brands or Benitez?
What does Brands do for his £1 Million a year? He looks cool, in a mid-1960s sort of way, though.
Phil Lewis
203
Posted 18/10/2021 at 02:17:48
I am not making a case for Rondon's ineptitude. Admittedly he has looked very poor so far and is still way off the pace.
I recall that it's not so long ago I was fighting a certain Calvert-Lewin's corner, both on here and in the Gwladys Street, when many were screaming for his 'useless' blood. I was one of the few who saw his potential, applauded his work rate, made allowances for his youth, and criticised the players who failed to supply him with enough chances to improve his game. When, all around me, Evertonians were calling him a Championship player at best.
Rondon, regardless of his age and experience, has been thrown in at the deep end. Yes, his first touch certainly needs to improve, as does his workrate and overall sharpness. But I honestly feel that a couple of goals could make all the difference and give him the confidence he needs. I don't know what his strengths are, as he's failed to show any yet! Hopefully, Benitez knows something about him that we don't.
Godfrey was poor today, but he wasn't alone. Iwobi was dreadful. I've tried for so long now to give the lad the benefit of the doubt, but I'm finding it increasingly difficult to do so, if not impossible.
However, the villain of the piece for me was undoubtedly Rafa. Not just for his naive team selection and tactics, but for his stubbornness in not making half-time changes when clearly the plan wasn't working. Without Iwobi, he could have picked either Davies, Gbamin or even Holgate to partner Allan in a defensive midfield partnership, allowing Doucouré to push further forward.
Not only would the wingers and Rondon have benefitted, it would have stifled the freedom that Rice was allowed. He ran the show and was the main reason, particularly in the first half, that West Ham overran us.
True, Rafa's choices are critically low with injuries stretching the squad to its limits, but nonetheless, I believe he got formation and selection badly wrong today in crucial areas of the team.

David Currie
204
Posted 18/10/2021 at 02:46:34
I said at the time that Rondon was a bad signing, he is the worst striker in the Premier League. The manager should have gone for someone with mobility – why sign a slow big lump who is not good enough for this League? He is getting far too many minutes and should have been taken off today.
The best team won today.
Darryl Ritchie
205
Posted 18/10/2021 at 02:59:46
No Richarlison. No Calvert-Lewin. We were dead in the water before we even left the dock.
We don't have the bench to cover those two not playing. We need 2, maybe 3, good windows to compete top for top 4. Until then… mid-table.
Marc Hints
206
Posted 18/10/2021 at 03:56:58
There are a few rumours floating around that Calvert-Lewin is out until Xmas.
Alan J Thompson
207
Posted 18/10/2021 at 05:48:12
There's a lot of criticism of Pickford regarding the corner that led to their goal. I thought that, quite some years ago, it was decided that touching the goalkeeper while in the air was a foul... but then that referee, like a lot of others, seems to see rules his way rather than in any consistent manner.
As for the goal, just what was going through Rondon's and Godfrey's minds. I noticed a couple of times Pickford having a word with Rondon about standing so close in front of him at corners. If one thing did come out of this game, it is that Keane and Mina are our best central defenders.
Injured players recovering, dropping out-of-form players, and occasionally taking a chance on youngsters should see an improvement. Can it get any worse or just the opposition better?
Ralph Basnett
208
Posted 18/10/2021 at 07:25:27
Iwobi was signed on a 5-year contract – only 3 years left!!!!!
Paul Swan
209
Posted 18/10/2021 at 07:29:24
I watched Iwobi closely for the first 15-20 minutes of yesterday's game and what was blindingly obvious was that he did not have a clue about where he was supposed to be playing or the job he should have been doing. He was so immobile and poorly positioned that other players were getting pulled all over the park to cover the ground he was leaving.
Danny O'Neill
210
Posted 18/10/2021 at 07:41:47
Late home. Up early with the dogs. An attempt at analysing that one, but I'm not best at reviewing Everton at the best of times.
I was discussing with my brother on the way home last night. We saw different games. As I said to a few of the gang when we met after the match, I saw a nothing match. I didn't feel threatened and was waiting out for the 0-0. We didn't do enough to win and wouldn't have deserved it. I haven't looked it up and won't, but although it seemed West Ham had more of the possession, I thought we had the better chances. As Paul Birmingham & Mark Wilson have said, I think had Calvert-Lewin or Richarlison been on the pitch, we'd have got something out of those chances.
My brother, however, saw it different. He said it was a very controlled performance by West Ham, which some agree with reading above. I'll caveat: he's a Moyes-era fan and still holds a place for our second cousin (I think he's that)!!
But I see his point. On reflection, they had the midfield. Doucouré was subdued. Was this because they pressed us? It didn't feel like it but maybe those who watched on the screen may have had a better view than me? Or was it the problem we have with the defence sitting deep, which has a knock-on effect in holding the midfield back?
I'd said before the match, and said it during the match, we don't want to be trying to beat this lot in the air with crosses. Keep it on the deck and use the width and pace. We kept lumping crosses into the box, especially towards the end, which was easy meat for the West Ham defence and goalkeeper. I'm not going to have a go at Rondon. I just wouldn't have started him for that reason.
Positives? Gordon looked neat when he came on. And the fans. Although not Goodison at its best, and yes, a few grumbles at the end, a lot were still there and gave the players a clap off the pitch. Particularly Gray and Godfrey, who came over towards the Gwladys Street & Bullens Road.
Apologies if I'm as scattergun as our transfer strategy, but a couple of other points.
Kevin & others. I'd recommend reading the recent article in The Athletic to get context on the job Brands has had to do and continues to have to do. It is really well balanced. And whilst not a complete case for the defence, it adds a lot of context and talks about laying foundations at academy level, as well as interference at board level in transfers. And the obvious job of clearing out the deadwood we've assembled and an U23 squad on Championship wages.
Last one (I promise). John Boon. Now if you're going to push me on that centre-back as a centre-forward one, if needs dictate, I'd opt for Mina. Let's hope we don't have to go there!!!
Jerome Shields
211
Posted 18/10/2021 at 08:50:43
Danny,
It was just an archetypal after-the-International-break performance by Everton. The work was not put in at Finch Farm. They were a yard short.
I thought Rondon was better, but was woefully inadequate getting into position for crosses. It wasn't his fitness. On the Gray cross he attempted a detour, rather than attacking the cross. Iowbi was as described. But the team was not up to it. As I said earlier, even Benitez was sitting down more.
Next outing will tell us a lot about Benitez's progress in turning Finch Farm around. The problem I see is that the poor work of previous regimes, with the perpetrators largely intact, could be a "Get out of jail free" card to Newcastle, that Benitez may think it is best to play.
Who would blame him on that effort? West Ham will finish mid-table. A near-post unchallenged header from a corner said it all.
Brian Williams
212
Posted 18/10/2021 at 09:03:21
Marc #206.
I think you'll find there's just the one, being perpetuated by repetition on various sites.
That, unfortunately, is how rumours – many totally unfounded – spread.
Michael Lynch
213
Posted 18/10/2021 at 09:13:40
I thought we were well set up by Rafa with a fairly deep defensive line against a quick and well drilled Moyes team. It allowed us to soak up the pressure for the first 20 minutes without too much in the way of goalmouth incident.
After that, I thought we were the more dangerous team and should have scored two or three before they nicked one and managed the game out comfortably. As others have said, with either Calvert-Lewin or Richarlison in the team, we would probably have won.
Which brings us to the miserable subject of Rondon and Iwobi. The former must now be considered fit and wouldn't be a starter at any Premier League team. It's bad luck that both our strikers are out but getting Rondon as back-up was clearly an error.
Iwobi is a mystery. His teammates talk about how good he is in training but, on the pitch, he was dreadful in the first half, though marginally better as the game went on. His confidence must be completely shot. Gordon surely must start next time if it's a choice between him and Iwobi.
Ian Hollingworth
214
Posted 18/10/2021 at 09:17:31
We didn't do that badly considering we only had 9 men.
Can you tell me that a half-arsed, not-fit James would not offer more than Iwobi?

Gerry Quinn
215
Posted 18/10/2021 at 09:49:54
I presume that every other team will be looking for Pickford's water bottle before each game kicks off from now on then:
Brian Harrison
216
Posted 18/10/2021 at 09:52:13
Hard to know where to start after that performance yesterday.
While driving to the game, I was amazed that Benitez had selected Iwobi over Gordon. Surely if the kid was good enough to start at Old Trafford and putting on a decent show, he should have been allowed to start yesterday?
The game started the same way most of our home games have started with the away team having most of the possession; why do we always start so sluggishly at home? Took a good 25 minutes before we started to put anything together and Gray laid on a gold-plated chance but somehow Iwobi managed to miss the ball altogether.
Iwobi is a coward of a player whenever the ball was played out to the fullback, which he should have been closing down, he keeps looking behind just to make sure he doesn't get close enough to put in a tackle. Even when we are going forward and he gets the ball, his first thought isn't to run at the opposition, it's to pass it sideways or backwards rather than taking any responsibility.
I thought yet again Michael Keane was our best defender, just a pity that Mina couldn't partner him due to travel and international games.
I have said on here before I have reservations about Ben Godfrey playing at centre-back, and again yesterday a poor attempted clearance led to the corner which led to the goal. Again he failed to beat Ogbonna to the ball; this can happen but why have teams stopped putting a man on the far post from corners? The amount of goals scored directly from near-post flick-ons from corners, or the chances it creates for a far-post tap-in is happening a lot.
The one bright spark is Demarai Gray, he is a very talented footballer and, when we get Richarlison and Calvert-Lewin back, he will have players he can play with up front.
I think everybody has commented on Rondon's lack of mobility. I think by now that's as fit as he is going to be. It's like watching Stracqualursi without the running.
Benitez said that Richarlison was closer than Calvert-Lewin to making a return; let's hope it's next week he returns as we desperately need him.
Finally, I saw the possession stats for the game yesterday and West Ham had 62% possession, and if memory serves me correctly I think apart from the Norwich game we have been 2nd in possession stats in most games and that's a worry. Yes, sometimes you can have less of the ball and win, as we already have this season, but by and large over a season, less possession usually results in more defeats.
Michael Lynch
217
Posted 18/10/2021 at 09:58:29
Brian, Leicester won the title with an average of around 40% possession. I agree, that was unusual, but soaking up pressure and hitting a team on the break can be incredibly effective.
Mark Ryan
218
Posted 18/10/2021 at 10:13:17
Cannot fathom how Iwobi gets picked. Surely anyone can see he's garbage. It doesn't mean anything if he can dribble for a mile in training with his eyes shut and beat everyone. His team mates say he's amazing doing keepie-uppies. So fecking what!!
When that ball was crossed yesterday and he swung at it and missed, he should have put his own hand up and said "Take me off."
He will not start the next game after that, I'll put my house on it. Pitiful display from a nervous wreck of a footballer. Please give him away so we are not forced to have to play him. Gordon every time please. Give him a run and build his confidence.
Ernie Baywood
219
Posted 18/10/2021 at 10:20:06
It feels to me that we've done a Deontay Wilder. We've fallen in love with the one thing we were any good at and forgotten to do anything else.
I'm fine with having less possession than the opposition. But to play counter attack, at home, with the immobile Rondon and ponderous Iwobi up front, was dumb.
We didn't need to have more possession but we did need to put West Ham under some pressure. There's a way to play Rondon and it's not by isolating him. What happened to going direct, getting players up in support, swinging crosses into the box?
Yesterday was back to the first half against Southampton. Trying to do too much in defence and midfield. Not one of our centre-backs or centre-mids is equipped for that. It's no coincidence that Doucouré and Allan had their worst games in a while when were asking them to do the opposite of what they're good at.
Brent Stephens
220
Posted 18/10/2021 at 10:27:34
Gerry #215
"I presume that every other team will be looking for Pickford's water bottle before each game kicks off from now on then:
Pickford's cheat sheet exposed"
Well spotted by a certain Mr Whetstone at West Ham – very sharp.
I guess Iwobi has something similar on his wrist telling him which is his left foot and which his right.
Denis Hignett
221
Posted 18/10/2021 at 10:35:43
Juventus beat Roma last night 1-0. Guess who scored the winner?

Jay Wood
[BRZ]
222
Posted 18/10/2021 at 10:41:57
And guess who knew Porthcrawl about the goal Denis?
Total fluke.
Rennie Smith
223
Posted 18/10/2021 at 10:44:53
Benitez should be praised for bringing Gray and Townsend in for peanuts but should also be embarrassed to bring a player like Rondon to our club. And please don't give me the "he's not fit yet" line, how long do we need to watch him lumbering around adding not just nothing, but actually a negative impact on the team?
As for Iwobi, I don't need to pile into him anymore than people have already done, we all know how frustratingly poor he can be. I'll never get over him bottling the penalty shootout against QPR.
I think Benitez picking him over Gordon was pure and simple him being pig-headed and saying "I'm the boss," because he was asked some questions about Gordon following a good display against the Mancs. It was his way of putting him back in his box. Don't tell me Iwobi offered more defensive cover than Gordon would.
Stephen Vincent
224
Posted 18/10/2021 at 10:55:07
This is the second time that Benitez has been out thought by the opposing manager, QPR being the other. When things do not go according to plan, there is just no reaction.
It was clear from the outset that, with the excellent Declan Rice running the show, that Duke was dropping deeper and deeper and our mid field creativity was virtually non existent. When we did get the ball there was no out and with Iwobi consistently failing to find a blue shirt and Rondon constantly out of position (the lad next to me in the Park End commented that if Rondon stood still in the centre circle then at least West Ham would have to go round him). Allan was anonymous and chasing shadows for much of the first half.
The major surprise as the players came out for the second half was that Iwobi was among them. It was obvious that he was contributing nothing and indeed his inability to pass the ball accurately was one of the reasons we were under so much pressure. The introduction of Tom Davies would of enabled Allan to sit more effectively in front of a back 4 that was being run ragged by Bowen and the excellent Antonio. It would also have enabled Duke to push higher up the pitch and given us an out ball.
Benitez' obsession with Rondon is plain baffling. Rondon has no anticipation, he waits for the cross to come in before he moves, meaning that he is always a foot short of the ball. If we had one benefit from Ancelotti it was DCL's increased awareness and it is fair to say the excellent service from the wings this season would have seen him close to double figures already. The non introduction of Dobbin or Simms was just plain ridiculous. Rondon was offering nothing in terms of goal threat, Zouma and Ogbonna can rarely have had an easier afternoon, so test them with something different - a bit of mobility and pace. If it doesn't work you have lost nothing because it wasn't working in the first place.
Finally, Jordan Pickford. When things go wrong his mentality just changes completely, his antics after the goal and through to the end were quite ridiculous and did absolutely nothing to help the team. His distribution yesterday was shocking. To be fair the ball did come off Antonio for the 'corner' that led to the goal.
Think it is coming to something that playing West Ham at home and we have 2 shots on target, 38% possession and our MOTM is Michael Keane. As the West Ham fans in the Crown loudly reminded us, they are going on a European tour, something we won't be doing for quite some time.
Danny O'Neill
225
Posted 18/10/2021 at 11:00:49
And he still seems to mix those boots up occasionally Brent! On the Iwobi subject, some of the comments relating to training made me think. I'm not as harsh on Iwobi as some, but Is he one of those players, like mates I used to know? Great in our kick abouts on the park or pub car park, but just doesn't step up and performs on the 11-a-side pitch. A bit like some of the kids you see at Goals nowadays.
Ernie, now you frame it like that, yesterday is making a bit more sense to me. Rondon was isolated from our deeper sitting midfield and back line and he's just not that type of player. Even Calvert-Lewin struggles when isolated, but yes, better suited to being used in the counter due to his mobility and work rate.
Denis, I for one never doubted Kean's ability or potential. And at 21 he's only going to get better. Shame he just doesn't seem to want to be at Everton.
But he's still our player right? So either a charm offensive to coax him into giving it another go. Or just keep banging them in for Champions League clubs to increase the price tag. Win-win!!
Tony Abrahams
226
Posted 18/10/2021 at 11:03:51
I thought Michael Keane was Everton's best player yesterday, but also think he's a dream opponent if you are playing midfield against his team.
Godfrey reminded me of Holgate, who also has potential, but is another who I've seen getting bullied by big centre forwards in the past.
My own opinion is that Godfrey should have been the player sweeping up, because whilst we continue to defend to Michael Keane's strength, we will continue to give to much space to the opposition in the midfield, who were already a man down yesterday because of a £30 million, Marcel Brands signing.
Danny O'Neill
227
Posted 18/10/2021 at 11:08:22
My brother called out Keane as well Tony (he's a fan of defending deep). And fair one, he had a decent game. But I also told him that's the problem. When Michael Keane is your best player, it means you're likely spending too much time on the edge of your own box and your midfield is conscious of not straying too far. If they do, we end up with that pocket of space between them. If they don't, the forward is isolated.
Rob Halligan
228
Posted 18/10/2021 at 11:10:24
Jay, probably the flukiest goal anyone will ever score. Kean totally missed the first cross, which was easier to connect with, but fortunately his team mate, standing about six inches behind him, heads the ball onto kean's head and deflects the ball into the net. Kean knew sweet FA about it.
Geoff Williams
229
Posted 18/10/2021 at 11:10:41
This is probably the first time on TW that there has been universal agreement on the ability, or lack of it, of two players. Iwobi and Rondon are very poor footballers and their inclusion in the team puts too much pressure on other players. Rondon is such a poor addition to the club. He lacks pace, energy and aggression. For a big man he is so poor in the air. His first touch is poor and his ability to hold the ball is nonexistence. Fitness is not the issue, he is simply an over the hill player. Iwobi simply doesn't have a football brain. He may be good at keepyupees and in mini-sided games in training but his circus tricks do not transfer to real football matches. The manager needs to see what everyone else can see . Rondon and Iwobi are not worthy of selection.
Derek Knox
230
Posted 18/10/2021 at 11:20:33
Having let the dust settle, what little dust there may have been, and certainly not from the Match itself, by our players at any rate. I still feel that any momentum we had, after previous results and the performance at Man U, was well and truly extinguished by yet another unwelcomed International Break. Not all guilty of a lacklustre performance but it only takes one or two weak links in any chain, for it to become susceptible to failure at any time.
Such was the case yesterday, I, like almost everyone else couldn't believe that Anthony Gordon after his second half showing against Man U, was overlooked in favour of the usually hapless Iwobi. After a short period where we were pinned in our own half by the Hammers, and we did eventually get over the halfway line, it was obvious that Rondon's barren spell was about to be extended, and assisted by Iwobi, who was displaying the Cow's Arse and Banjo syndrome to a tee.
Alas, there was a glimmer of hope early on, where we could see Gordon, Dobbin, Davies and Mina all warming up, Rafa has spotted what we were all seeing I thought, and was surely going to make a change to rectify the Ham Act (ironic pun given the opposition) and get us all cheering our boys on. Unbelievably they all sat down again, presumably under instruction.
So we get to half time, miraculously still on level terms with the Bubble Blowers, and most are thinking (Rafa) he'll make the desperately necessary changes second half, but No again. I often wonder if Managers are told, we have paid an arm and a leg for such and such a player, and we are paying him a Lottery Win Wage every week, so if he is breathing and has a pulse you must play him !
I was almost reluctantly settling for a lucky 0-0 draw, when again the Ref and Linesman awarded a W Ham corner when it clearly came off one of their players. I was sitting in the Main Stand and fairly close the corner flag by the Park End where the alleged corner was given. Of course the inevitable was to happen, and it did.
I said to Peter Moore who was sitting next to me, this will force substitution(s) and hopefully galvanise them into attack mode, again, it didn't happen, and there was seemingly little or no urgency or desire to go for at least a draw, as there was still enough time technically to get two goals and win. My optimism sometimes does encroach on Fairy Tale proportions.
We were certainly not 'Happy Ever After' that dungfest, but after being on the Walk from Bramley Moore to Goodison pre-match in aid or support of Mental Awareness. Bill Griffiths, Jim Lloyd, Neil Copeland, Stephen Vincent, Brian Wilkinson all met up by the Holy Trinity after the Match and got the soccer bus to town where we eventually got to the Crown to team up with Danny O'Neill.
That was the highlight of the day, but it was difficult to talk as the cacophony of euphoric West Ham fans singing constantly, drowned us out for the most part. It was all good spirited though, but there was a certain degree of envy there too, as the Home side it should have been us celebrating, possibly less vociferously but they certainly burst our bubble yesterday.
Rob Halligan
231
Posted 18/10/2021 at 11:21:37
Gerry # 215, and Brent. Great idea by Pickford. Don't know why it's called a "cheat sheet", as there is nothing illegal about it at all. That's assuming, of course, that the water bottle actually belongs to Pickford.
Brent Stephens
232
Posted 18/10/2021 at 11:29:55
Rob "That's assuming, of course, that the water bottle actually belongs to Pickford."
It is - I saw him spill it!
Danny O'Neill
233
Posted 18/10/2021 at 11:33:50
I took a look at that link but then followed the Soucek story. Nasty gash to the face. I didn't realise he'd been injured to that extent. I haven't watched it back and can't recall it at the time but Irons fans calling for a retrospective ban for Rondon (for what that's worth).
Rennie Smith
234
Posted 18/10/2021 at 11:56:09
We can only hope so, Danny.
By the way, can someone please explain to me why, when 1-0 down, we have two corners and put everyone back in the box?
The second of which Gray hacks it clear to the half-way line, where two West Ham players happily control the ball and maintain the pressure?
Martin Nicholls
235
Posted 18/10/2021 at 11:59:51
Darren #134 – supremely ironic! I too remember belting out that song when we did have an "Everton attack"!
Nothing much I can add to what's already been said about the match and woeful performances of two particular individuals. Anyone else think that, had we not shipped out two others (James and Kean) and played them in place of the two stiffs (one retained and one recruited) yesterday, the result could and probably would have been very different?
Good to see you yesterday, Danny and the West Ham boys (all good lads) you brought with you to the Saddle. We've got a contact number for them and are hoping to meet up with them (and you) when we play them away.
Christy Ring
236
Posted 18/10/2021 at 12:00:09
Fed up listening to comments about how skilful Iwobi is in training, there's no pressure, no one putting in 100% tackles, match day is when you give it all, and sadly he doesn't have it. I've never seen him put his foot in or win a 50/50 ball. The worst £30 million ever spent.
Colin Malone
237
Posted 18/10/2021 at 12:00:18
Big Dunc, Get fit for Saturday. You have got to be better than that: I was going to say that Sunday league player, but he wouldn't get his game for any decent Sunday league team. Rondon has got to be up there with Brett Angell, Mick Ferguson etc.
Wonder what Andy Carroll is doing for the next month or so.

Michael Kenrick
238
Posted 18/10/2021 at 12:04:50
Danny @ 223,
They showed it again on Sky. It was a complete accident. Soucek had gone down and Rondon had turned away to follow the ball, barely caught him with his back foot. Could not have known his face was there.
Retrospective ban is complete nonsense... mind you, I could be persuaded – it's the only thing that will stop mad Rafa from selecting him again!
Danny O'Neill
239
Posted 18/10/2021 at 12:16:44
Likewise Martin. Yes, they were a good group. West Ham away would be great. I can host for a change!
Michael - I was thinking it but refrained!!
Kim Vivian
240
Posted 18/10/2021 at 12:24:39
There's no way that Kean was actually going to get to that cross - unless he'd been standing where the guy that actually did connect with it was. It was way over his head and he probably did enough to put that guy off who headed it onto Kean and into goal. He'll never get a jammier goal than that.
Brian Harrison
241
Posted 18/10/2021 at 12:26:34
I think this thread is almost unique on ToffeeWeb – practically everybody agreeing as to where the main problems were yesterday. I also thought the crowd were very quiet yesterday. I don't know if that was because we started poorly or the early kick-off.
I think most fans are thinking "Will we ever have a team that can challenge for trophies again?" We have had so many false dawns that I think most are very wary of thinking things are changing because quite rapidly we find out that they're not.
Whatever possessed Benitez to sign Rondon is slightly puzzling as he was never the most energetic in his prime, and if as seems is Benitez's plan to play fast counter-attacking football, it's hard to see what Rondon brings to the party. Now I know he was only bought as someone who could come on for cameo displays, but shouldn't we be buying players who, when needed, will be able to play in the style the manager wants?
The next couple of games are very important because, after that, we have a run of playing the better teams in the league.
Denis Hignett
242
Posted 18/10/2021 at 12:41:01
Kean's goal for Juventus - being honest, I did not see it. But I hope he keeps scoring jammy goals. We might get out money back!
Danny O'Neill
243
Posted 18/10/2021 at 12:43:14
We often bemoan strikers for not being in the right position. Jammy or not, he was in the right position.
Remember Richarlison's that came off the post and hit him on the thigh last season? He was in the right position and records will show he scored a goal.
Ajay Gopal
244
Posted 18/10/2021 at 12:47:54
Stepping back from the disappointment of the loss and taking in the big picture, what else did we expect, when we have had so many players from the squad last year sold/loaned/injured/not available:
Bernard - sold
James - sold
Kean - loaned (with an agreement for sale)
Sigurdsson - not available
Delph - permanently injured
Tosun - permanently injured
Gbamin - bad luck, never available, may never reach the required level
Gomes - mostly injured this season
Pickford - was injured and unavailable for a couple of games that we lost
Coleman - was injured and unavailable for a few games, and should have had a worthy competitor 3 years ago
Calvert-Lewin - our most consistent goal scorer, out injured for the last 6 games (out of 10 competitive games that Everton have played so far)
Richarlison - our most hard working forward, out injured for the last 5 games
And we have replaced them with Gray, Townsend, Rondon. (I don't count Begovic and the other back GK.)
If it had not been for Townsend and Gray, we would have been in the bottom 5, of that I have no doubt. But here is the thing, WHEN Dominic and Richarlison come back, and IF Brands and Benitez can reinforce the squad in January and IF we don't have any other major injuries, we might still end up fighting for the higher end of 5th -10th places.
Sam Hoare
245
Posted 18/10/2021 at 13:02:48
Watched the game back now and feel we were a touch unlucky. 1-1 or another score draw would probably have been fair as although they dominated the ball we created just as many chances as them if not more.
Obviously missing your best two strikers/players makes a big difference take Kane/Son away from Spurs, Antonio/Rice away from West Ham, Salah/Mane away from Liverpool etc and the teams results will surely suffer at some point.
We are creating chances and not looking too horribly pourous so I sustain a portion of cautious optimism. What we really need to sort out is set pieces which has gone hugely downhill at both ends of the pitch since Davide Ancelotti left; I would suggest that Rafa bring in a set piece specialist which many of the top teams employ. Such small margins can be crucial and perhaps if we already had one we would still be above West Ham.
Martin Nicholls
246
Posted 18/10/2021 at 13:05:54
Ajay #244 - a timely and stark reminder of the position we're in, and why we're in in it!
On the subject of Sigurdsson, whatever he may or may not have done, just how long do the police or DPP want to decide whether or not there is any case to answer?
Bill Watson
247
Posted 18/10/2021 at 13:07:41
Following all the pre game warnings about increased Covid checks I was surprised (maybe not) at the complete lack of any checks at the Gwladys Street end. If there were any, then I certainly didn't see them.
Was anyone on here actually asked to produce any Covid evidence or was it just a case of the club going through the motions to make it appear they were actually doing something?
Tony Abrahams
248
Posted 18/10/2021 at 13:07:57
Nothing wrong with defending deep imo Danny, but it's got to be a collective decision, which means you keep a decent shape, and the only real space you are offering your opponent, is far away from your goal.
West Ham, got one off their keeper yesterday, moved forward, it broke down, they ended up with a throw-in near the halfway line, and Michael Keane was standing on the line of our 18 yard box.
I said before the game yesterday that I thought Peter Reid would have struggled to become the player he was, playing in front of Michael Keane, and Des Walker, would have never become the defender he became, if he had to pick up big bustling centre forwards, whilst Michael Keane stayed deep, meaning Walker, wouldn't have been allowed to play his natural game.
My scratched record is wearing thin now though Danny, and it wasn't helped yesterday, having to watch a football team that have wasted millions, to end up with such a threadbare squad, and still allegedly struggling with FFP.
Barry Hesketh
249
Posted 18/10/2021 at 13:39:18
Sam @245
It's probably true that reflecting on the game, it was a very narrow victory for the Hammers and on another day, the half-chances we created may have found the back of the net and we may have drawn or won the game, but sitting in the stadium, I was never convinced that we could or would score, partly due to Random being so immobile and partly due to having so little grip in midfield for large periods of the game.
There are many teams in the Premier League who are as capable as West Ham and it is a worry that at Goodison we surrendered so much territory so early in the game and only partly addressed it in the second half. If Everton had been playing one of the really top teams yesterday, we would have been out of the contest before it had properly begun.
I think many of us realised that the opportunity that was spurned at Old Trafford would come back to bite us, as we did what we so often do, failed to turn up after a battling performance in the previous game. If Everton fails to come out of the traps, firing on all cylinders on Saturday, it might prove to be another frustrating day at Goodison.

Danny O'Neill
250
Posted 18/10/2021 at 13:45:31
I think what you say Tony, whatever you do, do it as a unit. Attacking or defensively, as a unit.
Don Alexander
251
Posted 18/10/2021 at 14:13:16
Just after the start of Kenwright's hopeless ownership, he signed Mark Hughes, right at the end of his illustrious playing career. By then, he was shite at scoring but he at least had the ability to control and hold the ball up until our pedestrian midfield were able to get near him. He only lasted about 20 games but I just wish Rondon had half the ability he had.
To me, Iwobi is the original enigma without variation. He is always silent and passive in games. He seems weak and, to me, and I regret having to say it, chicken. He reminds me of a poor-quality, non-achieving Barkley (who I see Burnley are now allegedly interested in).
I just wonder whether any of us can make an informed guess as to how much longer the disastrous spending under Moshiri is going to take until we can spend a bog-standard fee (these stupid days) of even £30M again?
Bobby Mallon
252
Posted 18/10/2021 at 14:19:21
Brian @241,
"The next couple of games are very important because, after that, we have a run of playing the better teams in the league."
I think our problem will be against the lower teams, especially at home, because they won't give us space to play the counter-attacking football we want to play. We don't have the players to break down other teams around the 18-yard box. The better teams will give us that chance, like Man Utd did.
Rennie Smith
253
Posted 18/10/2021 at 14:26:06
Surely the sign of a good manager/team is the ability to have a gameplan per team or situation? Unless you're blessed with quality players that can play teams off the park regardless of the opposition, you need to have at least one alternative plan. To sit back at home against the likes of West Ham is maybe fair enough (but remember they had lost 2 of their last 3, so not exactly brimming with confidence), but to do this against the likes of Burnley is a crime.
Sam Hoare
254
Posted 18/10/2021 at 15:06:14
Barry@249, no doubt you will have seen things in person that I missed but I think lack of grip in midfield may be something we have to get used to, or at least lack of posession.
The plan seems to be that we are happy to conceded possesion/control of the ball in the knowledge that we can create chances on the counter attack. And to be fair it has worked pretty well. I read this morning that we are among the top 10 teams in Europe currently for creating chances. And we're not doing too badly in terms of chances leaked.
So even though it may look like we are being outplayed by teams who hog the ball and possession so long as we are creating better or more chances than them then I will be happy enough; especially when our strikers come back. I'm sure there will be ocassion when we get punished by one of the top teams but then that is true of most mid table teams. Leicester won the league by ceding posession and then counter attacking though the biggest fly in the ointment at the moment is the set pieces; we need to tighten up on that front pronto if we want any chance of top 6/7.
John Kavanagh
255
Posted 18/10/2021 at 15:10:07
Danny@233. If West Ham fans are calling for a retrospective ban on Rondon I'm all for that, even though he's innocent in this particular case. A 9 month ban would suit us just fine - oh and can they also ban Iwobi as an accomplice?
Robert Tressell
256
Posted 18/10/2021 at 15:19:23
Sam that's an incredible statistic - top 10 in Europe for chances created. Especially for a side playing without Sigurdsson, Rodriguez and now DCL and Richarlison - basically the only 4 players who scored goals last season.
When the latter two come back I expect we'll win games like yesterday because (a) we'll finish our good chances and (b) WHU would have felt less confident about comitting men forward with those two on the pitch.
We just need better players, hopefully a couple will turn up in Jan - and maybe one or more of Gordon, Dobbin, Simms and Branthwaite can force their way into the reckoning.
James Newcombe
257
Posted 18/10/2021 at 15:54:30
#221 I'd be embarrassed to claim that one, watch the slow motion replay, ha ha! I sincerely doubt he'd be doing much better than Rondon, anyway.
Bill Gall
258
Posted 18/10/2021 at 16:26:54
We definitely miss the goal threats from DCL and Richarlison, but it is inexcusable for professional football players like Rondon and Iwobi to put in such poor displays as they are both experienced international footballers.
My worry now is Richarlison is often mentioned as a target for a transfer and more often DCL is starting to get mentioned for a move. I cant see Everton letting them go and a lot of it is pundit gossip, but some times there is no smoke without a fire.
Yesterday was just another display showing what a really poor squad we have, that you cant afford any player starting to have a bad game, as we don't have anyone to replace them, except someone who will get a comment of, he has to be better than the player he is replacing, and to me if he is better he should have started.
Its easy being an armchair manager as you are never wrong, but I am sure Benitez never expected a certain player to be that poor when he was picked to play and stepped over that white line onto the pitch.
Yesterdays game even as poor as we played we still had the chances for a result, but at home where we failed last season we have to bring the crowd into the game and that was something that never happened.
We have to get our injured players back but at the same time we have to improve the Squad to compensate for injuries or suspensions. All teams have injuries but unfortunately ours occurred in critical positions where no matter who's fault it was , we didn't have adequate replacements.
Ian Horan
259
Posted 18/10/2021 at 16:29:53
I have noticed comments of we shouldn't have signed Rondon blah blah!!! Lets get real we had no options, no money, we only shifted Kean last minute and James after the window closed. All in all we are in the eye of a FFP storm. We have no alternatives at the minute. Rondon is merely a focal point to occupy defenders, Dobbin will get schooled by a streetwise CB. Dobbins game is not hold up play it is quiet the opposite, Simms is still getting over a serious injury
Jerome Shields
260
Posted 18/10/2021 at 16:36:54
I am not convinced that Calvert Lewin and Richarlison would have made any difference. Posters on this thread are putting them on the end of balls, that in reality they only occasionally get.
Bill Hawker
261
Posted 18/10/2021 at 16:37:37
Tosun, Niasse, Kone, Jo, Straqularsi, Kean, now, Rondon.
Everton have done very poorly in the back up striker department for as long as I can remember.
Who was the last back up striker who was worth having in the squad? I want to say Naismith but was he a back up? I don't recall.
Either way, the amount of money and transfer fees wasted on the players who aren't able to contribute is quite astounding.
Mike Gaynes
262
Posted 18/10/2021 at 16:45:59
Ajay #244, good post.
Sam #254, great stat. We certainly created chances yesterday. Nobody on the end of them to convert.
Bobby and others, the criticism of Pickford is ridiculous IMO. I've played a lot of games as an undersized keeper. Trust me, going into the air from a standing start against a physically larger player who's had a running start is dicey at best. JP could have punched? In which direction, assuming he could even choose a direction? He should have blindly kept the ball in play rather than surrender a corner? He's not 6'6" with long arms, so he's not gonna catch that ball, and the best he could do was tip it to safety. And he did, kept the ball out of his net, and that's his job. I was at Anfield when he should have tipped the ball out for a corner and didn't. He handled this play much better.
Brian H and others, I actually thought Godfrey had one of his best games as a CB yesterday. Positionally perfect most of the time, aggressive to the ball, some good header wins and a couple of blocked shots. Yes, he was Ogbonna's marker, but when a guy that much bigger than you has a free running start and jump to the ball, it's pretty tough to beat him in the air.
Tony Abrahams
263
Posted 18/10/2021 at 16:48:16
Agree with Robert, and say that is a very interesting stat, Sam, and when I think about how much better, Everton looked breaking forward at pace, with Gray, Richarlison and DCL, all in the team, then its a shame we haven't got these key players fit right now.
I thought Gray, just played in little snatches yesterday, but we still could have scored at least a couple, just from his direct approach play alone, if only we had players who had the pace or the desire to attack the ball, and maybe make some headlines for the right reasons.
Dale Self
264
Posted 18/10/2021 at 17:04:33
Not much to add so sorry if I repeat others' lines. Iwobi, as Don says, is looking Barkleyish. The premiership is just too fast for him to process though he has the speed and moves. Several times he ran into space without need rather than reverting to his position and this threw off the overall shape. Additional runs that created confusion kept us from ever getting a path out of our third. Whereas Gordon will run predictably and perhaps lack end product Iwobi's runs create space unpredictably and throws off expected run channels and defensive assignments in the middle. He does not have the football IQ to operate in a less than well specified system and Rafa has not had the time to install anything like that.
That's about it. Yeah, Rondon is still lacking but could be functional if he knew what the wingers were going to do and Iwobi disturbs that. Perhaps with Gordon I'm willing to think he could get some plays right and that's all we need from him really.
We were playing for the late show is what the set up looked like to me. Decent enough keeping Benrahma off the ball and Antonio did not run riot so we were on plan. Not sure we would have stayed on top if we took one of our first half chances but I don't feel like we tried to set up in a certain way and failed. And the way they scored was not a clownshow, could've maybe avoided the corner but it happens.
Danny O'Neill
265
Posted 18/10/2021 at 17:05:56
Straight from the heart Derek Knox @230 and respect for the Bramley Moore to Goodison walk for Mental Health.
Great to meet up with you, talk with Steve about our south Liverpool connections and meet Brian, who I think I've only had pointed out to me previously.
Apologies for drawing attention from the boisterous (but well behaved) West Ham fans, who zoomed in on me!! My 2nd set of new friends of the day. Man hugs and all at Lime Street!!
Brian Wilkinson
266
Posted 18/10/2021 at 17:06:10
Danny@233, I second the West Ham fans plea for a ban on Rondon, accidental or not, a 3 match ban for Rondon seems fair in my eyes :-)
Also an earlier post, I agree with your brother about a well organised West Ham team, they found their players and very rarely played a stray pass, with Rice the centre of everything, we were certainly not at our best,so all in all I would put it down to Everton not their usual selves, obviously missing two players, with the two replacing them, being the weak links.
Hopefully we will rectify this against Watford, but will say again, Benitez has been left with his hands tied with past dealings, so needs to be given some wriggle room, until he can strengthen, and at the same time, try to weed out some of the weak links, he is pissing in the wind at the moment, Gordon starting against Watford is a must.
If need be, I will bring my boots and fill Rondons spot.
Have to say the meet up in the Crown was great, nice to put a face to everyone, great blokes the lot of you and really enjoyed the meet up.
Looking forward to meeting other posters on the next toffeeweb meet up.
P.s good friendly banter with the West Ham fans, proper fans who we all said were one of those teams you have a soft spot for.
Ajay Gopal
267
Posted 18/10/2021 at 17:06:52
I was listening to the The Guardian Football Weekly podcast, and they asked if there was anybody in world football better than Salah? One of the panelists sarcastically said 'Rondon' and everyone had a laugh. Another said Rondon looks like he is playing wearing jeans. Now, some of those comments were nasty and Rondon seems like a lovely fellow, as does Iwobi, but both of those are nowhere near the standards of a club like Everton. When you think that the RS have Salah and Mane as their forwards and we have Rondon and Iwobi, it just shows how far we have fallen as a football club.
David Pearl
268
Posted 18/10/2021 at 17:09:18
Tony, l agree with Robert and your assessment also. Gray did play in snatches and did struggle to get into the game at times, l was pleased when he finally switched positions with lwobi. When he does though he makes things happen. The look on his face though said "what more have l got to do" as we squanderred the chances he created. We really do need one of the two back asap.
On another note l thought Keane and Godfrey (esp 1st half) did very well against Antonio. Everything has been said about Rondon and Iwobi... surely its all about confidence? We really need the win now against Watford. If Richy isn't fit then Gordon has to start.
Danny O'Neill
269
Posted 18/10/2021 at 17:11:20
Brian @266, as long as they are traditional Beckenbauers, Copa Mondial or Puma Kings, black and white, polished and with a total clean underside, you're starting!
Brian Murray
270
Posted 18/10/2021 at 17:20:36
This as good a thread as any albeit different subject. England have been given a stadium ban because of fans bunking in etc. Imagine if the fans had attacked the Italian team bus with incessant bricks and missiles potentially blinding or killing someone. Oh wait there's no ban for that. !
Brian Wilkinson
271
Posted 18/10/2021 at 17:20:56
I could wear a size 24 pair of clown shoes, and still be more mobile than Rondon, failing that might have to dig out my old Dave Thomas moulded boots, studs a bit worn but will be good to go.
Frank Thomas
272
Posted 18/10/2021 at 17:21:24
Three things came to my mind yesterday during that game.
First was Moyes in his last season with us. We were playing well climbing up the table then suddenly we started playing badly. Lack of preparation etc was banded about then suddenly his move to Man Utd his the press and he left.
I hope that type of thought has not crossed Rafas mind because he should remember we also had the second longest manager until he went for so called greener pastures.
The 2nd thought was about Iwobi after he gave the ball away with his first 3 touches resulting in 3 attacks. Why have all the managers picked him. Then I realised Iwobi is playing to impress and not playing to win.
There is a massive difference playing to win like Allan, means staying with the opposition player until they are forced to quickly pass it or be tackled by Allan. You do not think you are being made to look slightly foolish or untalented by staying very close to a player when you are playing to win but you do if you feel that if you are playing to impress.
Iwobi never closes tightly on a player giving them a chance for a thoughtful pass into our half.
I bet you in every training game he passes creatively and shields the ball well knowing the defending EFC squad will not tackle him roughly.
Iwobi missed several shots. The first was a dreadful miss.Then later he hit a player and then skied it with his 2nd attempt.
3rd point Rondon was spent, was playing badly then when Gordon came on he suddenly came to life I think Rondon realised Rafa was thinking of bringing Dobbin on and that might be the end of Rondons season if Dobbin performed well just weeks before one of the main strikers was fit to resume play.
If Dobbins does not get a 10 minute chance when Rondon has had weeks to score and DCL etc are out then when will he get a chance?
Rob Halligan
273
Posted 18/10/2021 at 17:44:00
Brian # 270............meanwhile the BBC football website have now got an article going about St. Virgin Van Shites knee injury, with the St himself saying how much scrutiny he will come under as he fights his way back to match fitness following a serious career threatening injury!!
Makes you want to puke!!
Brian Wilkinson
274
Posted 18/10/2021 at 17:55:04
Think you have summed that up pretty well Frank, Iwobi does stand off, then makes an attempt to get to and stand in front of a player, no attempt to tackle does his blocking but does not stop the player laying the ball off to a colleague, when he gets the ball,you can see him looking straight away where he can get rid of the ball to someone else, but it looks like he is doing his job, stopping a player going past him.
I think with Iwobi it is lack of confidence and belief in himself, he will never make an Allan tackle, but he certainly has something going forward that he could utilise, if he only had that bit more confidence of doing like a Gray and Townsend do, taking players on and getting the ball to one of our players, instead of being scared of having the ball at his feet.
Brian Wilkinson
275
Posted 18/10/2021 at 18:13:35
Bill@247, no checks when I went in Upper Bullens either, the only checks I did see was the odd one between the church and the main stand, saw a few checked there, while I was buisy destroying my pie and chips :-)
Brian Wilkinson
276
Posted 18/10/2021 at 18:21:21
If any of the guys fancy a drink after the Watford game, can either head for the Crown again or Weatherspoons as suggested by John, best heading straight for the soccer buses this time and meeting up in which ever pub, if anyone fancies it.
Before the game you will easily locate me in the Chinese chippy queue side of the Trinity statue around 2pm then by the side of the church wall near the where the disabled supporters enter, wolfing my chips and pie down :-).
Anyway early Days, can arrange something when the Watford preview goes up, later in the week.
Bill Gienapp
277
Posted 18/10/2021 at 18:23:16
Chiming in late because I don't really have much to say about this one. It was basically a better version of last season's fixture at Goodison - a mostly evenly matched affair (for all their possession and nice football in midfield, the Hammers didn't carve out many chances), in which West Ham was the side that produced the one moment of quality that made the difference.
Hanging tough without Richarlison and DCL has been cute and all, but it's clear that we actually need our best players.
Darren Hind
278
Posted 18/10/2021 at 19:00:24
I thought I would give it a day or so to see if anybody called out Allan. I knew it wouldnt happen, but ONCE AGAIN he had his limitations exposed.
With Keane back to his old tricks of playing on Pickfords toes, Allan was back to his old tricks of falling between two stools. He simply cannot cover the ground keane presence demands of a mifiled player.
Moyes must have thought he was being transformed back in time watching Everton yesterday. Our performance was very Gingerish the only thing missing was a Marcus Bent or an Andy Johnson to chase get-after-that balls into the corner flag.
Yeah Iwobi and Rondon were passengers yesterday, but we were carrying more than two
Colin Glassar
279
Posted 18/10/2021 at 19:08:22
Tbh Darren, Allan has been a bit hit-and-miss. He often looks confused, slow and easily knocked off the ball (like your mate Tom). He's a shadow of the player he was at Napoli but like so many players before him, the Goodison malaise spares very few.
Danny O'Neill
280
Posted 18/10/2021 at 19:18:04
Allan didn't play well at all Darren. Doucoure was off sorts too in comparison to how he's been this season so far. The team was in general, but the midfield just didn't click, which is always going to be a problem. As has been said, if you're West Ham's midfield, you don't really get much of an easier game, although they still didn't threaten us too much in my view.
Keane our best players says a lot. And as you say, he spent a lot of the match on our own penalty spot.
I thought Gray done well at times and offered the closest thing we had to a spark. In the second half, there were occasions I wish Townsend would have unleashed one of the those Burnley bullets as he cut inside. But he tended to opt for trying to find Rondon's head. Which was static due his level of mobility as well as his studs seemingly getting stuck in the Goodison turf that prevented him from jumping.
John Boon
281
Posted 18/10/2021 at 20:01:53
I have posted twice since the non Everton appearance against West Ham BUT my wife gave me the ammunition to post one more. All is not sad and this helped me realise that at times even a loss like we saw on Saturday can have an amusing slant.
Last night late inthe evening I was sitting outside in my backyard with my long suffering wife who literally knows NOTHING about football. I was watching a squirrel running around in circles, completely confused and not knowing what to do next. I said "He reminds me of Iwobi ?"
She turned to me seriously and said "WHAT ON EARTH IS A "WOBI" ? She had no idea who Everton's very own Iwobi was.I find it hard to laugh when Everton lose, but what else could I do after that ? Unfortunately we had quite a few "WOBIS" on saturday
Danny O'Neill
282
Posted 18/10/2021 at 20:08:14
John. From now on my dogs won't be chasing squirrels in the mornings. They'll be chasing Wobis.
Roger Helm
283
Posted 18/10/2021 at 20:10:35
Very good John, you invented a new noun. Can anyone think of other or past players who were a bit of a Wobi?
Dave Abrahams
284
Posted 18/10/2021 at 20:42:51
Roger (83), Alexanderson, the Swedish winger,Billyletdown, scored two or three great goals but did his best not to break sweat, Hughes from Arsenal, Walsh from Blackpool nearly as bad as his brother the scout from Leicester who became a DOF at Everton, Kavanagh from Romford who had one leg shorter than the other, going back a bit with that one, don't know about the players but some of the bleedin' scouts could do with a good coat of looking over.
John McFarlane Snr
285
Posted 18/10/2021 at 20:43:14
Hi Danny [280],
I share the disappointment and frustration of every Evertonian, but what I can't share is the verbal and written abuse that some players receive. There are only a couple who have escaped the wrath of some posters on this thread, from goalkeeper to what I still call outside left.
Alex Iwobi for example is crucified for his fresh air attempt, but I don't think there has been a player in the history of the game who hasn't made the same misjudgement. I have heard and read, fans relating to the transfer fees of players or their weekly rewards; I measure by skill and commitment – money doesn't feature in my appreciation or disappointment.
I'm addressing this post to you because you and Tony Abrahams appear to have played at a decent level, and if anyone can see my point, I trust that yourself and Tony can. If I'm wrong, I will be disappointed but unmoved in my views which I have expressed for many years.
Colin Glassar
286
Posted 18/10/2021 at 21:00:51
Next time I see a clueless player trip over himself I'll say he "Iwobied". Thanks, John.
John McFarlane Snr
287
Posted 18/10/2021 at 21:06:24
Hi Dave [284],
I hope that you're on the mend. I think that some will have to ask their granddads who Peter Kavanagh was, because he made only six appearances for Everton.
I was on my way home from work by bus, when I spotted an Echo placard which read "Everton sign a winger". I jumped off the bus expecting to learn of an international signing... nothing could be further from the truth, but I know that I don't have to tell you that.
Danny O'Neill
288
Posted 18/10/2021 at 21:35:23
You're right John Senior. Football is a game of mistakes, decisions and judgement. Most of us mortals, even at the highest level will make mistakes, make good and poor decisions and make good or poor judgement. Those who have taken to the field of play know and understand that once the frustration dies down.
Although we pride ourselves on the School of Science logo, football really isn't as scientific as many "experts" these days make it out to be. There is and always has been a natural element to it, which keeps us coming back for more. Deny it or not, its the unpredictability that we love on matchday.
I agree about the abuse. I'm guilty of a few comments on Iwobi on here but hopefully I haven't come over too sinister and it's been meant light hearted. I might get ridiculed, but I'm probably one of the few who can see a player in him if he can stop confusing himself as much as he does us. Confidence & belief.
All the very best John. Next match?
You flatter me by the way. I won't compare myself to Tony, but I was fortunate enough to grace the pitches of Bellefield as a youngster only to have my dreams shattered.
I've said before, but my lasting memory was my Dad being mesmerised by the blue clothed pool table in the canteen upstairs. That's all he talked about!!! I don't even think he watched me.
Paul Hewitt
289
Posted 18/10/2021 at 22:07:03
Apparently Everton are losing £2.5 million every week. What a joke we are.
I thought Moshiri was an accountant? I wouldn't let him look after my piggy bank.
Colin Glassar
291
Posted 18/10/2021 at 22:52:41
He's Usmanov's accountant and frontman, Paul. He's also, slowly but surely, driving us into the ground with his mindless spending spree and ridiculous wage bill.
Mike Doyle
292
Posted 18/10/2021 at 23:07:18
Colin # 291,
Perhaps, as a club, we might consider the "Moneyball" approach to player recruitment adopted by (my nearest Premier League club) Brentford. They currently sit 2 points behind us, having spent close to nothing to assemble their squad, while making a few quid from player sales. Safe to say the Brentford approach would not have considered paying fees for the likes of Bolasie, Tosun, Iwobi, Delph etc.
The nearest we have come to this approach is when Moyes was in charge – Lukaku aside – the last time we had a decent team.
Colin Glassar
293
Posted 18/10/2021 at 23:18:25
Agreed Mike. I feel like we've gone backwards under Moshiri. Trust us to finally get a billionaire owner who's clueless when it comes to running a football club.
Steavey Buckley
294
Posted 19/10/2021 at 00:48:53
Rondon was given a 2-year contract for more of the same. Beggars belief. I would have preferred to play Simms. At least he can run around a lot faster to go with his added strength and height.
Bill Watson
295
Posted 19/10/2021 at 00:56:02
John #285
I rarely criticise individual players on an ongoing basis but I have criticised Iwobi for his repeated poor play, lack of awareness, and general ineptitude after being given chance after chance. Enough is enough.
He does not, of course, pick himself so the manager who preferred him and then refused to remedy his mistake for 79 minutes deserves, and has received, equal criticism.
Stephen Vincent
296
Posted 19/10/2021 at 01:26:10
Bill #261,
You omitted the magnificent Sandro, King and Tarashaj – all players who cost us a small fortune in wages and barely played 20 games between them.
Stephen Vincent
297
Posted 19/10/2021 at 01:55:56
Colin # 293, most billionaires have neither the time nor the desire to have the day-to-day running of the club that they own in their own hands. They appoint a competent and experienced board to do that for them. Regrettably, the board of Everton have neither the talent nor the experience to run an organisation that has the turnover and complexity of a Premier League club.
The two most recent additions once again have little practical expertise apart from being finance director of an Australian A League club and Usmanov's nephew. Ismailov is 26 for God's sake.
So once again Everton miss the chance to appoint some real financial acumen to a board that must be the weakest in the Premier League. Our struggles will continue until Moshiri wakes up smells the coffee and appoints some straight-talking hard-nosed bastards who understand the increasingly complex world of Premier League finances.
Derek Knox
298
Posted 19/10/2021 at 02:54:16
Stephen, great and presumably very accurate post, like many have said before, it almost beggars belief the wanton profligacy that has, and furthermore, seemingly been allowed to go on. Don't worry though, if we really hit the skids, we have always got Paul Hewitt's Secret Piggy Bank to raid, the one he has been 'Hogging' all along. :-)
Derek Knox
299
Posted 19/10/2021 at 03:04:18
Brian W @ 276, and Jim Lloyd, enjoyed both your company after the match and with the other top guys at the Crown, I know you gave me your number in the pub, but a mixture of Beer and my Bohemian Mobile Phone Skillset, it seems to have disappeared. Would appreciate another link or reminder (07565140075). Thanks for your company and anticipated numbers.
Bob Parrington
300
Posted 19/10/2021 at 03:19:01
Dave Williams @ 166
EXACTLY!
John Boon
301
Posted 19/10/2021 at 03:48:04
John, (285)
Just read your email and, as per usual, we agree on the game against West Ham in regards to general aspects of who won, could have won but didn't. We neglected to take some relatively easy opportunities and those misses alone probably affected the general tone of the game. I think we really missed our injured players but we have such a limited squad that their influence and absence is magnified.
I tend to have a different perspective than yourself on player criticism. While I do not think it is ever acceptable to use over-the-top personal criticism, I also think that if you are able to make it as a professional footballer you have to be prepared to accept whatever comes along. Once inside a football ground fans become different people. Tensions are high and emotions take over.
I have even surprised myself by my own comments due to frustration at what seems an idiotic pass or a really bad miss. As another 82-year-old fan I may have mellowed to some degree but in most ways I am still the same 14-year-old who in 1953 echoed vocal disdain when it was announced that Tony MacNamara was taking the place of Eddie Wainwright on the wing. Tony Mac was a fine young man who I used to see at St Mathews on a Sunday. He was unfairly barracked so often by huge crowds who were just as cruel as today's yahoos. Poor old Alex Iwobi and Random are today's goats.
I try to be objective, subjective or what people might consider as sane. BUT Things just come out, I still get annoyed and I still sulk for at least a few days when we lose. That can also end when I find something to laugh about, such as my "NON" football wife asking me what "A Wobi" is. she had heard me mentioning his name at least 93 times since the game ended.
I think you are a fine upstanding Evertonian, and more importantly a very fine person. You are undoubtedly correct in your approach. I am wrong. In fact I have used you as a role model when discussing Everton with my wife. She wonders why I cannot be like that. I envy you having a season ticket while I can only scream at the television along with my equally insane sons. After the West Ham game, I stormed into the kitchen to announce loudly "WE LOST". Do you know what my wife said, "I can't find the cat"!! .After losing to West Ham, she wanted me to look for the 'fucking' cat. Sorry that I had to use that word but no other word could adequately express my emotions.
Being an Evertonian means so much to me. I know that there are far more important things, although they do not include A Wobi or our cat. Wow!! That was a true confession and there is no better people to say it to than you yourself and a bunch of loonie Toffee Webbers. I really might try to change but not until after the Watford game.
Please God make Richarlison and Calvert Lewin better for the next game and I promise not to say mean things about Alex, Rondon and even a few others. And John, I still respect you as my elder. After all, I find it difficult to find elders as there just aren't many still around.
PS God, do you know where our cat is?
Derek Knox
302
Posted 19/10/2021 at 04:10:20
John, good post there, regarding the cat, is his name McCavity by any chance?
Macavity's a Mystery Cat: he's called the Hidden Paw—
For he's the master criminal who can defy the Law.
He's the bafflement of Scotland Yard, the Flying Squad's despair:
For when they reach the scene of crime—Macavity's not there!
Macavity, Macavity, there's no one like Macavity,
He's broken every human law, he breaks the law of gravity.
His powers of levitation would make a fakir stare,
And when you reach the scene of crime—Macavity's not there!
You may seek him in the basement, you may look up in the air—
But I tell you once and once again, Macavity's not there!
Macavity's a ginger cat, he's very tall and thin;
You would know him if you saw him, for his eyes are sunken in.
His brow is deeply lined with thought, his head is highly domed;
His coat is dusty from neglect, his whiskers are uncombed.
He sways his head from side to side, with movements like a snake;
And when you think he's half asleep, he's always wide awake.
Macavity, Macavity, there's no one like Macavity,
For he's a fiend in feline shape, a monster of depravity.
You may meet him in a by-street, you may see him in the square—
But when a crime's discovered, then Macavity's not there!
He's outwardly respectable. (They say he cheats at cards.)
And his footprints are not found in any file of Scotland Yard's.
And when the larder's looted, or the jewel-case is rifled,
Or when the milk is missing, or another Peke's been stifled,
Or the greenhouse glass is broken, and the trellis past repair—
Ay, there's the wonder of the thing! Macavity's not there!
And when the Foreign Office find a Treaty's gone astray,
Or the Admiralty lose some plans and drawings by the way,
There may be a scrap of paper in the hall or on the stair—
But it's useless to investigate—Macavity's not there!
And when the loss has been disclosed, the Secret Service say:
'It must have been Macavity!'—but he's a mile away.
You'll be sure to find him resting, or a-licking of his thumbs;
Or engaged in doing complicated long division sums.
Macavity, Macavity, there's no one like Macavity,
There never was a Cat of such deceitfulness and suavity.
He always has an alibi, and one or two to spare:
At whatever time the deed took place—MACAVITY WASN'T THERE!
And they say that all the Cats whose wicked deeds are widely known
(I might mention Mungojerrie, I might mention Griddlebone)
Are nothing more than agents for the Cat who all the time
Just controls their operations: the Napoleon of Crime!
T S Eliot.
John, there's probably more excitement to be found looking for the Cat than was served up on Sunday against West Ham ! :-)
Alan J Thompson
303
Posted 19/10/2021 at 05:00:15
John (#281); If you had several of them in the garden, wouldn't that be a "Wobitide"?
Danny O'Neill
304
Posted 19/10/2021 at 06:13:38
John Boon, you too are a true blue. We all react and respond differently. That is shown on this fine website that brings us all together.
Have you found the cat? Maybe he / she also went off to console and will be back when we beat Watford.
Lynn Maher
305
Posted 19/10/2021 at 07:21:07
Bill @247. My husband and grandson where both checked before the match on Sunday. We sit in the main stand.
Fortunately I couldn't go, as I am holidaying in sunny Portugal! 😎
Jerome Shields
306
Posted 19/10/2021 at 08:01:45
Interesting Tony picked up on Keane being too deep. Godfrey I thought played well, covering Seamus and snuffing out any probing on the right by West Ham. This they did often, having had success there on previous outings. This was Godfrey's priority, but he was unable to push the defensive line up as Keane stayed put. This had him defending just outside the 6-yard box. Keane looked okay, but at the expense of the team.
Playing deep had the effect of also forcing Doucouré and Allan to defend on the edge of the area. Surrendering the midfield to West Ham for long periods in the first half, Everton were threatening on most occasions when they did push forward.
Another area which has been pointed out is Everton's poor set-pieces, both defending and attacking. Simply the coaching is not at the level it should be. The flick on headed goal from a corner, and the aimless crosses, with no-one available at the end of them, are non-events in most matches now.
Danny O'Neill
307
Posted 19/10/2021 at 08:23:01
I think it was mentioned after one of our recent fixtures that you could see Mina calling Keane to get higher Jerome. We didn't have that on Saturday, so Michael reverted to his instinctive type. He is what he is. He isn't a bad defender, in fact, he's a good one, and I'm certainly not going to put the blame on him for Saturday.
As called out by a few, myself included, he was probably our best player on the day. But with him in the team, it can have an impact on how we play unless he's marshalled. Worrying that of the 4 centre-backs, he is the oldest and therefore theoretically the most experienced, who should be leading the line.
I won't repeat myself as I've done it to death since last season, but what you say about the impact it has on the midfield, whoever plays there. It's why for me, with what we have now, Mina and Godfrey when all fit. It's why I wanted a new centre-back.
Brian Harrison
308
Posted 19/10/2021 at 09:47:20
Michael Keane was our best defender on Sunday, and was for most of last season and most of this season. No, he isn't the quickest but I also think he plays better alongside Mina than he does alongside Godfrey or Holgate. I think the reason for that is he trusts Mina and I don't think he trusts Godfrey or Holgate in the same way.
I hear many on here suggesting Godfrey should partner Mina but for me he hasn't had a good game all season and it was his poor attempted clearance that conceded the corner, and he was marking Ogbonna who scored the goal, yet on T/W its all Michael Keane's fault.
For me, Mina and Keane is our best centre-back pairing until or unless we sign a top centre-back, I know Danny and one or two others have said that Mina pushes Keane further up the pitch. But surely the manager who is on the training ground everyday should be making sure we play a higher line if that's what he wants... but I am not sure that is what he wants.I would remind everyone that Leicester won the league with two very slow centre-backs.
The fact that West Ham had so much room for most of the first half is because our manager has his team sitting deep for the first 20 minutes; maybe he wants to drag teams onto us so we can hit them on the break. But so far at home this season Southampton, Burnley and West Ham have had more possession and territory in the first half than we have so go and question the manager as to why that is.
Philip Yensen
309
Posted 19/10/2021 at 10:01:43
The manager is to blame fully. To put Iwobi in before Gordon... god knows what he's thinking. Iwobi is and was a liability to the flow of our football.
Rondon... why has this man got a blue shirt? Another Bernie Wright.
Our back four is still open to debate, especially the centre-back positions. Pickford is not the answer to our goalkeeping problem. Makes great saves but doesn't infuse confidence in the back four. Give our youngsters a chance.
As for the Goodison crowd and lack of voice and backing, give them something to cheer and get excited about. It's not the fans' job to raise the team's performance. It's up to the team to raise the fans' performance. Believe me, as an Evertonian for 64 years, there is no place better or thunderous than Goodison Park, given something to shout about.
Tony Abrahams
310
Posted 19/10/2021 at 10:12:44
When you say that you think that Keane trusts Mina more than Holgate or Godfrey, you might be correct, Brian. It's also interesting because Keane is the one who keeps getting selected by Benitez.
I'd hate to play midfield with my central defender playing so deep; it would be very interesting to hear the thoughts of the other players on this, and who these central defenders like playing with the most. I actually feel sorry for Holgate; I thought our best defensive display this season was at Brighton, but he hasn't been seen since, except for that game at Loftus Road.
If Benitez is sending us out to start the game defending deep, I'd be very surprised, because of the space we are leaving between the lines, which is something that I don't think is acceptable at any level. A team with more attacking options than West Ham would have systematically torn us apart during that first 25 minutes on Sunday, because of that space in between our midfield and defenders.
I'm hearing very bad news about another one of our very key players being injured now, and if this is true, I think we might be in a bit of trouble. So maybe Benitez is jinxed, because it's not Alex Iwobi, who's probably going past four men in training right now. I've heard he feels right at home when the pressure is off, although the pressure sounds like it's going to be on right now.
Brian Harrison
311
Posted 19/10/2021 at 10:24:08
Tony
I always read your posts as they are written by someone who has an insight into playing professionally is all about. Would you like to elaborate on which key player has picked up an injury, I suspect that with you saying it's a key player will probably mean either Gray, Doucouré, Allan or Townsend?
Benitez gave an update on injuries and said Richarlison is closer to playing than Calvert-Lewin, I read a post the other day where someone suggested it may be December before Calvert-Lewin is back – I hope that's not true.
Danny O'Neill
312
Posted 19/10/2021 at 10:34:45
Please don't say Doucouré, Tony. I'll have to take the dogs out again, stand in the middle of the park, and look to the sky and they'll just get concerned.
Brian, I caveated myself above with the "with what we've got now" comment. I agree with you to a degree, but some players don't follow instruction – no matter what level or unless they're being told on the pitch. They often follow instinct.
We have 4 good central defenders. Godfrey (23) is still learning his trade, Mina is still relatively young, having just turned 27, so in a year or two should be hitting his peak. And Holgate at 24, still has some development to do, which he can do. Is it me or are we not yet convinced of his best position? Sweeper maybe?
Despite being sometimes harsh on Keane, I don't dislike him. He's a good defender. But as he turns 29 in January, I don't see him improving the flaws in his game. You can compensate for lack of pace with anticipation and reading the game. That seems to be something he is prone to lapses in, which makes him instinctively sit deeper. There is a good example not too far from home, but I won't mention the name of a certain Sky TV pundit. Although I do enjoy that clip of Thierry Henry making him look like he was jogging backwards as he rinsed him!!
Like I said, it's why I've been pushing against the general tide of opinion on wanting a new centre-back for some time now.
Brian, my son and his mate are at the Watford match Saturday. They're staying over so I'll point them to The Crown if you and the crew are going to be there after the match?
Clive Rogers
313
Posted 19/10/2021 at 10:37:18
We have definitely gone backwards under Moshiri, the club is a shambles. They can't even sort out the automatic entry system. People were still coming in to the top balcony 8 minutes after kick off due to queuing outside. It was the fourth home game for God's sake.
Jay Wood
[BRZ]
314
Posted 19/10/2021 at 11:10:41
That Michael Keane, eh?
In this thread alone his default position v WHU according to some was on our penalty spot, the 6 yard box or standing on Pickford's toes.
Surprised that some didn't claim he was so deep he was sat in the Gwladys or Park End.
He would even have made players who last kicked a ball 30-40 years like Peter Reid and Des Walker poorer players apparently.
Some influence the lad has.
Commentary on the game is all about opinions. But at least try to make it real and not revert to hyperbolics.
Or should that read 'hyperbollocks'?
Barry Hesketh
315
Posted 19/10/2021 at 11:14:33
As a reaction to the Saudi takeover of Newcastle United, the majority of Premier League clubs decided to vote for a temporary blocking of sponsorship deals, which many of the clubs want to become a permanent block.
Man City abstained because its legal advisors believe it to be unlawful, and for obvious reasons, Newcastle voted against the plan, also believing that the proposed action was unlawful.
Given Paul's earlier post claiming that Everton FC is losing £2.5m per week, isn't Everton FC guilty of acting like a turkey voting for Christmas?
Dave Abrahams
316
Posted 19/10/2021 at 11:16:25
Jay (314) you also forgot to mention he was picked out as Everton best player on Sunday by quite a few posters on this thread.
What's your take on Keane as a centre back Jay?
Chris Williams
317
Posted 19/10/2021 at 11:23:36
Re the £2.5M weekly loss. According to the report I read, and maybe a touch dubious, it was referring to 2020, so maybe up to last season. Have last season's accounts been published yet?
Given an improved turnover and the clearing out that's been done, maybe it isn't the case now?
Tony Abrahams
318
Posted 19/10/2021 at 11:44:27
I think Keane's positional sense makes the pitch to big for Allen, at times Jay W, but I don't think Peter Reid, would have stood for it.
I think with Keane being both the bigger, stronger but slower player, that he should have been the one picking up Antonio, but Michael won't move from the middle of that defence, because he knows once he does he exposes himself, so Godfrey was the one getting bullied and exposed by the end of Sunday's game.
Hyperbollocks, Why Jay? I tend to agree with Jerome, when he said that Michael Keane looked okay, but sometimes this can be at the expense of the team, and also think Godfrey will never make a good centre-half, whilst he's being asked to play with someone who refuses to play a higher line, and used Des Walker as an example.
Gutted about Doucouré, who said he's enjoying playing for Benitez, because after we lost him last season, I think the team really suffered.
Tony Abrahams
319
Posted 19/10/2021 at 12:03:54
I think we've just got to get behind the whole team Tony, but also feel this will only happen if Benitez picks eleven players who are just prepared to roll up their sleeves and give everything now.
I am only speaking for myself Andrew, but the uppermost thought in my mind watching on Sunday, was how could a club spend so much money, and go through so many managers, to end up with such a threadbare squad of players in key positions.
No use moaning though, because this usually only makes things ten times worse.
Len Hawkins
320
Posted 19/10/2021 at 12:06:06
In my mid teens I used to dream of running out at Goodison and scoring the winning goal, now 71 with both knees replaced and overweight and the balance of a drunk on a tightrope, Rondon has given me hope that I can still do it because if I couldn't play with more determination than him I'd be off to Dignitas.
Iwobi is Iwobi I think his brain can't work out that the sometime good bits beating a man or two are far better than the norm of a touch like a baby elephant the inability to pass to one of his own team mates and generally looking lost.
But until we find a physio that can heal minor injuries immediately and major injuries quickly we are goosed.
The one bright thing to come out of this weekend is that our former world class player James or hamez as he likes to be known was dire in his first outing for his new team who lost 3-0 his helping out in defence hasn't been unlocked yet.
John McFarlane Snr
321
Posted 19/10/2021 at 12:58:24
Hi all, and John [301] in particular, I believe that the point I made was missed, criticising players is perfectly acceptable and I'm mindful of the fact that there are comments made in the heat of the moment. What I wrote about in my post [287] was the abusive criticism that was written some time after the events of Sundays game, there is a big difference between the 'heat of the moment' and the written words typed after careful deliberation. I also know that there are some who regard me as being a 'Snow Flake', if the definition means what I think it does, then I'm quite happy to be one. I'm certainly not a prude, I know most of the swear words and I even know what some of them mean, it's just that I don't use them in the company of females or children.
John Boon
322
Posted 19/10/2021 at 15:06:24
Hi John (321)
My Toffee Web post(301) was never meant to be anything but complimentary to yourself. I consider you to be an Everton supporter through and through. You have far more History Knowledge of Everton than any other poster on here.
Despite my emotional responses to Everton wins or losses I do like to look on the "ridiculous " side of my own reactions and to those of other Evertonians who tend to get a little more emotional than you do when Everton play badly. Basically it is so insane to allow football to become so important. I was really just pointing out that my responses have not changed much since I ventured inside Goodison those eons ago.
I also never considered you as prudish as I completely agree with you regarding the over-use of foul language. It is just that at certain times the odd expletive may be the best way to express one's ire.
In some ways, you are probably more serious about Everton than I am. I admire your ability to stay more rational than I do. I tend to exaggerate my own reactions because in some perverse way I actually enjoy my own responses to a loss that could have been a win.
It really is idiotic for football supporters to go blue in the face and rant and rave and make threats to never watch a game again. BUT.. that is who I am for a relatively short time after 90+ minutes of frustration. Then I can look back and smile at my own weakness of being a football supporter. Let's face it you have to be at least slightly daft to be an Everton supporter.
Still agree with you on at least 90% of your responses to football and Everton. I am not being the least bit facetious when I say that your road is far more sensible than mine. Perhaps it is just the 5% that sometimes makes me react as though I was back in the Boys Pen in the early '50s.
Danny O'Neill
323
Posted 19/10/2021 at 15:18:44
I disagree with you quite strongly John Boon.
We are all serious about Everton. Every one of us.
How we express that may differ but none of us are more or less of an Evertonian than the other.
Different reactions and different views are just that. Keep posting and keep reacting in your own Everton way just as we all do.
You out o Sarurday John Senior?
Brian Wilkinson
324
Posted 19/10/2021 at 16:43:20
Sorry I missed you at the Bramley Moore John Snr, was looking forward to seeing you.
I met a few after the game Sunday,Danny, Steve, Jim, Bill and Derek, top blokes and a good night in the Crown and now have knowledge of how to get to the Bramley pub, from Sandhills to boot.
Be nice to see some more faces so looking forward to the next ToffeeWeb meet up.
Hopefully will see some of you at the Watford game on Saturday,just do us a favour Danny, do,not be bringing Elton John,Michael Barrymore or half the Watford fan base on the train with you this time :-)
Jay Wood
[BRZ]
325
Posted 19/10/2021 at 17:08:34
Tony @ 318. I'll happily tell you why IMO the comments on Keane's default position v WHU was 'hyperbollocks.'
That he was variously positioned on the penalty spot-the 6-yard box-standing on Pickford's toes. Because...
IT. DIDN'T. HAPPEN.
It's a falsehood.
But for some, EVERYTHING awry with an Everton performance seemingly always defaults to Michael Keane's own (alleged) default position.
The problem on Sunday IMO was that we were lightweight in midfield. WHU was consistently stronger on the ball than us, winning 1st and 2nd balls time and again, breaking through that first critical line of defence.
Iwobi offered no protection. Andros Townsend also had a quiet game. Neither Coleman nor Digne ventured forward much as a result to occupy Der 'Ammers further upfield. This only improved after the interval, switching Iwobi's position with Gray.
Neither Keane nor the defence retreated into our own penalty as some claim to defend WHU attacks. They held a solid line across the edge of our penalty area which WHU failed to seriously penetrate. Only once off the top of my head did Bowen get in behind the Everton defence.
Our overall performance was poor, but even so we created far better opportunities inside their penalty - not taken - whilst they created virtually zero.
I also think your extreme hypotheticals on Peter Reid and Des Walker in reference to Michael Keane are an irrelevance. WTF has that got to do with the price of rice?
Keane was born in 1993, long after both Reid and Walker had hung up their boots. I could pluck an equally absurd hypothetical out of the air and say if Michael Keane had been born in Sweden 60 years earlier and played in the 1958 World Cup final in which the 17-year-old Pele scored two goals, Keane would have snuffed him out and Pele as a result disappeared into obscurity.
And if you don't think Allan has it in him to 'have a word' with ANY player as Reid would have done, you haven't been watching him very closely in a Blue shirt. He gets annoyed with himself if he does something wrong and he clearly bearates - but also encourages - those around him all the time.
Michael Keane, the defence, the midfield plays as it does without retribution from the touchline because that's what successive managers want him and the team to do.
Tony Abrahams
326
Posted 19/10/2021 at 17:20:46
Imagine Michael Keane snuffing out Pele, Jay, that's some imagination you've got!
Jay Wood
[BRZ]
327
Posted 19/10/2021 at 17:29:16
The difference is, Tony, I know it's absurd, as is your double totally unprovable hypothetical about Reid and Walker that you offer as 'legitimate'.
It isn't. That's why I call it hyperbollocks.
Dale Self
328
Posted 19/10/2021 at 17:47:03
There are two types of Evertonians, those who divide Evertonians into two groups and those who don't. I don't, so there.
Tony Abrahams
329
Posted 19/10/2021 at 17:47:42
I totally disagree with that, Jay. I think if you asked Evertonians, most would say pace is Godfrey's best asset, but he's not really being allowed to use this because we are defending our 18-yard box, and we are not getting the best out of him because of this.
Allan might be a little nark, but the pitch is too big for him, as I think it would have also been for Peter Reid, who was lucky because Kendall had his teams playing a much higher line, which enabled Ratcliffe to utilize his main asset, and enabled our midfield players to go and squeeze the opposition.

Jay Wood
[BRZ]
330
Posted 19/10/2021 at 18:11:21
You should listen more to what Benitez himself said about playing Godfrey at centre back Tony. He was very explicit in his post-match comments after, I think, the Burnley game.
It ran along the lines of 'There are games when it suits us to play Ben at centre back, but there are games when we want a more physical presence there.'
As under Ancelotti Benitez's preferred centre back pairing has been Keane and Mina who do a job for him, keeping the defence secure which in turn enables the swift counter-attacking game we have seen more of this season.
Didn't Sam Hoare share the stat on TW just yesterday that Everton is in the Top Ten across all the major European Leagues this season for the number of attacking plays?
It's working. And that's best for the team, IMO.
I agree, Ben Godfrey cannot use his pace effectively from centre back as well as he can when playing at full-back.
This season we haven't seen evidence of his explosive pace for reasons he himself spoke of in his post WHU match interview: Covid.
But nor did we see evidence of that last season when he played centre back. He only utlised his pace from full-back. And when he did play centre back last season, his performance levels dropped. His positioning and strength against opposing forwards left a bit to be desired. Even this season he and Holgate were totally bossed at QPR by the Championship journeyman Charlie Austin.
But - hey! Let's put another player's shortcomings all on Michael Keane, eh?
Danny O'Neill
331
Posted 19/10/2021 at 18:16:18
Jay (BRZ),
Depends how you look at it. I always respect your views, so I don't know why you've come out swinging. But we're all here to debate. On the Keane / defensive line point, mine is if you sit deep for too long, you will inevitably tempt fate and invite trouble.
I'll agree with you that West Ham had more control, but you said it yourself that our defence held a solid line along the edge of our own penalty box. That will cause the midfeild to sit deeper and in turn give the middle of the park to the opposition midfield. The most important part of the pitch, where games are won and lost. And then isolate our striker, however immobile he is (different discussion). We conceded space in the most crucial area of the pitch by sitting deep and holding a thin blue line on the edge of our own box as you rightfully say.
The penalty spot & Pickford's toes references are just colourful language to stress this, not meant literally over 90 minutes by me or Darren, who I believe coined the other one.
As a unit (key point - as a unit), get higher up the pitch. To use a cliched phrase, attack is the best form of defence. To do that, you need to be further away from your own penalty box and closer to the opposition's. Not science I know, just my humble opinion.
It's no personal dig at Keane, it's just opinion. I'll be honest, I have never really rated him too much. He's a good honest player and decent defender. But that's about it. I think Burnley saw us off for £30M to be honest, but they're not the only ones who've done that to us over the past few years. Had he not played well for Sean Dyche for a few seasons and we'd signed him direct from United, many would be pointing at another United reject / cast off as many have regarding other players over the years.
And in Maguire, I'd say United bought an even more expensive version for a lot more money. Which is ironic.
Danny O'Neill
332
Posted 19/10/2021 at 18:26:14
Brian @324. It would be a good sing along if we could get Elton there, but I'll try and refrain! It was my own fault. As a singleton blue in a carriage of about 100 West Ham fans, I responded to a "we pay your benefits" chant, which initially had me in a tight spot. But it all turned out friendly!!
I don't anticipate the same turnout or liveliness from Watford, so we should be good.
Darren Hind
333
Posted 19/10/2021 at 18:35:26
You have to laugh.
"Standing on the goalie's toes" does not actually mean he had his back studs embeded into the front of Pickford's boot. It means he was defending too deep... and for removal of any doubt, when you hear people say the pitch was too big, it doesn't mean somebody broke in the night before and stretched it... it's footyspeak.
If you hear somebody call a player a goal-hanger, they are not accusing him of swinging from the crossbar... and trust me, when somebody shouts "Get right up his arse" they don't actually mean... You shouldn't really have to explain these things on a footy website.
Keane was defending too deep; that's just the way it was. He did not have somebody easing him 3-4 yards up like he did at OT so he played where he is most comfortable. Did he have a bad game? No, he didn't... but, as is often the case, his positioning made life an awful lot harder for the players in front of him.
Just about everyone who has watched Everton "live" with the full panoramic view during the past 3-4 years will have no doubt whatsoever that Keane is very wary of being exposed to pace. It could be argued that he is simply being sensible due to the fact that, even at full tilt, he looks like he is pulling caravans (another football metaphor).
He even looks good at times, but he makes the job so much harder than it needs to be for those in front of him. Allan often struggles badly with a deep-lying back four.
As for Keane not trusting Godfrey or Holgate, I am pretty sure it's the other way around. These two have enough confidence in their pace to recover and the last thing any centre-half needs is a reluctant partner when he wants to push the team up the pitch.
Tony Abrahams
334
Posted 19/10/2021 at 18:51:24
I personally don't think we have seen the best of Godfrey at centre-half because Ancelotti also had Everton defending deep, a tactic I think started after the Chelsea away game, just before the lockdown, when Everton's midfield got the runaround, whilst our defence was deeper than the ocean that day.
I remember Silva wanting to play a higher line, but this became impossible once he lost Zouma, and then it wasn't long before he'd had lost his job.
I actually said that I thought Keane was our best player on Sunday, but I don't think the same player is good enough to play in a really good side, which is what I'm desperate for Everton to become.
It comes down to personal opinions, obviously; with my own being that Michael Keane hasn't got enough ability to play for a top team. But Godfrey has got the scope to possibly play at the highest level – but only if he is allowed to develop in a team playing to his obvious strengths, which is definitely not happening right now. (It's why I used Des Walker as an example because Ben Godfrey reminds me of him.)
I don't listen to Benitez much, Jay, because I think most managers just use a lot of lip-service, an example being pairing Holgate and Godfrey, against the physical Charlie Austin, when it was obvious Ben was still struggling with his recovery from Covid, although it was probably a competition he is glad we are out of right now.
Danny O'Neill
335
Posted 19/10/2021 at 18:57:18
I think that sums it up, Tony. He's not a bad player and he's a good defender. He was our best performer Sunday, although I thought Gray gave us the brightest moments.
It's not about bashing the player, it's what you say. It's whether he's good enough for where we want us to be. He isn't. He's not alone in that sense.
Godfrey is incredibly young for a centre-back and will develop. A very different style to Stones, but I hope we firstly show him the patience we didn't with Stones when he has a young player off period, and secondly, we keep hold of him.
Tony Abrahams
336
Posted 19/10/2021 at 19:08:34
I think Darren summed it up better, Danny, but the reason I go on is because I think Ben Godfrey has great potential... but, if he has to carry on playing whilst defending so deep, then I'm not convinced he will really make the grade.
Rob Dolby
337
Posted 19/10/2021 at 19:09:41
If the manager wants to play a higher line he will have to replace Keane, Mina, Digne and Coleman. Keane isn't the only slow defender that we have.
We sat deep on Sunday as we had to. It's tactical. We played 2 up top which meant that we surrendered the midfield to West Ham before a ball was kicked.
It won't be the last time we sit deep and break quickly this season. People have commented on how quiet the crowd was. Being penned into your own half for the first 20 mins doesn't get fans on the edge of their seats.
Ancelotti would have been slaughtered for playing like that. Instead, Iwobi and Rondon have shouldered the blame. I haven't seen a critical comment about our manager's selection or tactics. After conceding did anything change to try and turn the game? Young striker left on the bench!
Graham Mockford
338
Posted 19/10/2021 at 19:09:48
The article title nails the argument in my opinion.
Sure you can have an opinion on Pickford's role in the goal but the bottom line he still produced two great saves, has been excellent for 12 months and is a top keeper.
Keane lacks pace on the turn, we all know it. Doesn't stop him being a reguarly dependable player for us. As usual we missed Mina and the stats don't lie. When he plays – and this is over 100+ games – we perform significantly better.
The first problem was Iwobi, who quite clearly is not up to it. We were shafted by Arsenal clear and simple.
Secondly, and I have a little but not a lot more sympathy, is Rondon. We can't play the fitness card any longer – it's quite clear he's slow and cumbersome. His total contribution was desperately trying to flick long balls on and he didn't even make a great job of that.
He can't make runs behind, he can't make runs down the channel, and he can't hold the ball up and bring others into play. The comparison with Antonio playing the same role was so stark it was embarrassing.
I've never been one to rush young players in just because they are untested and therefore present the easy answer but surely Gordon and Dobbin couldn't do any worse?
Phil Wood
339
Posted 19/10/2021 at 19:15:57
Hilarious that so many now claim the honeymoon is over.
Wow, a 1-0 defeat to a squad with a lot more depth than ours. Not exactly a thrashing, is it? West Ham are a very good side and have strength in depth. They will beat better teams than us this season.
Thought our defence was pretty solid and some of the attacking balls into the box were excellent. Yes, changes should have been made earlier in the game but poor finishing by experienced players can only be blamed on those players.
I have seen a lot worse displays over the last few seasons. It was not a bad performance from our small group of players.
With Calvert-Lewin and Richarlison, we would have stuffed West Ham. Or if players had tucked away the easy pickings.
Kieran Kinsella
340
Posted 19/10/2021 at 19:32:29
Tony Abrahams,
Slightly off topic, but in your younger days at Forest, was that the era when Des Walker was still there? I remember you saying you played with Crosby. I guess Walker was a few years older?
Jay Wood
[BRZ]
341
Posted 19/10/2021 at 19:39:20
Thank you, Danny, for confirming my original point
'Commentary on the game is all about opinions. But at least try to make it real and not revert to hyperbolics.'
By acknowledging your (and others') use of 'colourful language' to describe Michael Keane, you admit you (and others) resorted to hyperbolics.
The lad was called as MotM by some (including yourself, Danny) but in doing so is damned with faint praise along the lines of 'it's pretty damning if Michael Keane is the MotM'. (Personally, I thought Seamus was our standout performer against West Ham.)
The discussion on playing a higher defensive line is also a hypothetical one as – again – successive managers have chosen to set up with a deeper-sitting defence, best utilising the current playing resources we have instead of employing a system ill-suited to the squad, with players we don't have as you propose, again. And again. And again. Ad nauseum.
As I already pointed out, even with the injuries, Benitez has made us a much more potent counter-attacking team as a result of this.
What are the alternatives? In his first season, Holgate and Mina was Carlo's preferred centre-back pairing, until injuries ruled them out. Holgate looked to be blossoming, won Player of the Year awards, and some called for him to be made captain.
However, even though Carlo tried to get Holgate back into the team as early as possible in his 2nd season, Mason by his own recent admission, recognized he got nowhere near the standards he sets for himself last season.
Godfrey has yet to prove himself and cement a position at centre-back, IMO, either last season or this.
Since Holgate and Mina got injured towards the end of Ancelotti's first season, Michael Keane has been an ever-present, been given an extended contract and Benitez recently described him as a 'key player' for the team.
For me, he is our best out-and-out defender at centre-back, as well as being the best ball-playing centre-back at the club, capable of stepping out from the back and playing very astute and well-executed short and long passes.
The notion you and others attempt to propagate, Danny, that playing Michael Keane (and only Michael Keane, no other player) impacts totally and negatively on every aspect of our play is – I repeat – hyperbolic nonsense, IMO.
Brian Wilkinson
342
Posted 19/10/2021 at 19:41:21
Tony,
Godfrey has the makings of becoming one of the best centre-halves of the modern game, but we cannot keep playing him at right-back a couple of games, then at left-back, then at centre-half with different centre-backs each game.
We destroyed Colin Todd by playing him at right-back instead of centre-half; we have to learn from that and play Godfrey in the centre of defence. Fair enough, Alan Harper was a different breed and could play anywhere; however, if we can keep Godfrey as a centre-half, he will make it big time and be one hell of a player.
Speaking of Forest, I had a mate who was a Forest fan. Everton I think we're away to Southampton so we decided to go a Forest game. As fans were leaving, I got my mate to stay, so I could get the Everton score from the scoreboard.
You guessed it: Des Walker scored and my mate got to see it, unlike others who had left the ground.
Brian Harrison
343
Posted 19/10/2021 at 19:41:29
Well, it seems that Michael Keane certainly splits opinions on ToffeeWeb but, whether you like him or you don't, I think there are other pressing problems that Benitez needs to deal with.
I think the lack of mobility of Rondon is a major problem. As Paisley always said, good teams defend from the front and neither Rondon nor Iwobi offer anything in that area.
I also think asking Allan and Doucouré to play against a 3-man midfield asks far too much when two forwards are offering no cover whatsoever. We look a far better side when Doucouré picks the ball up and runs at defenders, but too often in this system, he is defending deep in his own half.
Maybe Benitez doesn't rate our other midfield players so doesn't play with 3 in midfield; he certainly hasn't given Davies much game time which is a concern as Tom is the only fit midfield player to replace Doucouré on Saturday.
I just hope that Richarlison is fit for Saturday. I think he and Gray and (when fit) Calvert-Lewin will make a very good front 3. Also, Richarlison we know will track back and deny the space that West Ham found in midfield.
Tony Abrahams
344
Posted 19/10/2021 at 19:47:12
I played fullback in the same team as Des Walker a few times, Kieran, and being slow, I was always wary of getting done for pace.
I couldn't defend deep though because you had to hold the line, and sweep your centre-half, in case they missed anything that might come in from the opposite side, and also because he was always pushing us out, knowing he had the pace to deal with most situations.
Tony Abrahams
345
Posted 19/10/2021 at 19:57:14
I personally think an out-and-out defender isn't usually prone to giving the opposition forwards so much space, and I also see this type of defender as someone who is usually knocking players out the way whilst he's constantly attacking the ball. Someone who relishes the fight and makes everyone else around him aware of their job. Hyperbole hey.
Kieran Kinsella
346
Posted 19/10/2021 at 20:00:56
Tony
You had some great experiences by the sound of it. Des Walker had a funny sort of up-and-down career but earlier on, he was tremendous. It seemed as if he just lost his confidence a bit after that Holland game. Although he had a renaissance as part of the really good Sheffield Wed team with the other England veterans, Woods and Waddle.
Brian Wilkinson
347
Posted 19/10/2021 at 20:01:27
Did you play in the Lincoln City game, Tony, when Forest turned them over 9-1 around '89, maybe '90?
Tony Abrahams
348
Posted 19/10/2021 at 20:12:24
No, Brian, I never played for the first team although, funnily enough, I was in the squad that played against Lincoln when Nottm Forest played a game to celebrate the opening of a new stand around this time though, and we got a cracking little gold souvenir, which was like a big key-ring, which I might have got melted down when I was skint!
Great memories, Kieran, but most of them are buried very deep, although ToffeeWeb does tend to bring a few to the fore sometimes. 👍
Jay Wood
[BRZ]
349
Posted 19/10/2021 at 20:21:48
Tony, Michael Keane does not give opponents 'so much space.' He does knock players out of the way in challenging for the ball in the air (statistically, one of the best in the league) or on the ground. When was he last bullied or ran ragged by any type of forward?
A long-standing weakness was being squared up and being zipped by on either side. Do you see much of that these days? Both Ancelotti and Benitez are on record as saying they worked on the player's 'starting position' in different game situations. Is it beyond the realms of possibility that, contrary to some people's belief, Keane has not plateaued and is still improving his skill set?
Another is that he is slow paced. Sure about that? I recall the home game vs Wolves last season. The Speed Train that is Adama Traore had a 4-5 yard start on Michael Keane in one situation, and Michael gobbled him up, knocked him off the ball and started an Everton counter-attack.
Implying he doesn't 'relish the fight' Tony? Cheap shot. The extremely serious foot injury he suffered in his first season and hid from everyone, choosing to play through the pain.
Recovering from a fractured skull – and immediately on his return, no hesitation in getting his head on every ball. Courage and bravery in adversity is not something you can ever accuse Keane of not having.
And I repeat, name me a better ball-playing centre back on our books right now than Michael Keane.
He is an asset, not a liability, as too many IMO wish to paint him.
Don Alexander
350
Posted 19/10/2021 at 20:34:43
For Keane to be defended on the basis that successive (inadequate) managers have selected him seems bizarre to me. The fact is he's slow, and markedly so. In this day and age this is meat and drink to opposing teams where pace predominates in midfield and attack, regardless of any skill which might also be there.
He's also a fully committed player, willing to give his all within the serious constraints of his lack of pace. This means he MUST defend deep, and this means that he gets more opportunities than most defenders to spray long passes around the pitch. He's good at this but then he bloody well should be given how deep he has to play.
And then there's the problem his lack of pace presents to a midfield and fellow defenders who might otherwise line up ten metres higher up the pitch to the benefit of our attacking prowess.
That said, I admire his whole-heartedness and skill. His lack of pace is insuperable.
Talking about pace I'd like to remind folks of what DCL said earlier in the year when the media asked him who in the squad was quickest. He said Godfrey and Branthwaite always left him, DCL - and no slouch, behind in a sprint. If the latter soon fills out like Godfrey's still doing we might just see a pairing where opponents have to rely on more than pace to unnerve us, unlike now.
Rob Dolby
351
Posted 19/10/2021 at 20:49:49
Think our motm on Sunday is taking a bit too much flak.
Godfrey also played in the defeat and shits gold bricks! Despite being out muscled and being unable to pass water.
Our alleged 2nd fastest player struggled playing in a mid table championship team last year.
Meanwhile the ageing slow defensive pairing of Bonucci and Chielini hobble off with yet another trophy. Imagine what they could have won if they where quick!
Tony Abrahams
352
Posted 19/10/2021 at 21:11:01
Fine Jay, but how you can come up with words like cheap shot, for the words I've chosen to describe how I see an "out and out defender", is why I sometimes hate debating in print, and not with the spoken word.
I think Mina, is better with the ball than Keane, but Michael plays the longer pass much better, but that's not even the point, my point is that Everton are easy to play against when the big strong centre back, sits very deep.
I think we can all acknowledge that we carried two passengers on Sunday, and Michael Keane had a decent game, but I can't acknowledge that Keane is an asset, because I've never looked at the team-sheet when he's missing, and thought we are going to miss Michael Keane today.
John McFarlane Snr
353
Posted 19/10/2021 at 21:12:31
HI John [301] it seems to me that you may have taken the view that my remarks were directed at you, I can assure you that the thought never crossed my mind. I was attempting to show that criticism in itself is acceptable, but there is no place for abuse in either verbal or written form. Maybe I wasn't as clear as I might have been, if that's the case please accept my apologies.
Tony Abrahams
354
Posted 19/10/2021 at 21:18:52
Griezeman sent off, eye on the ball, although his foot was a little bit to high, although there was definitely no malice whatsoever.
It's at times like this that I wonder if introducing a sin-bin might be something that football might benefit from?
Jay Wood
[BRZ]
356
Posted 19/10/2021 at 21:28:45
The cheap shot, Tony, was clearly explained, in reference to your implication that Keane 'doesn't relish the fight'. Lack of courage or bottle is not something you can accuse Michael of, IMO.
Tony Abrahams
357
Posted 19/10/2021 at 21:30:49
But only if you read half a sentence Jay.
Jay Wood
[BRZ]
358
Posted 19/10/2021 at 21:41:30
I did read the whole sentence Tony, which was:
'Someone who relishes the fight and makes everyone else around him aware of their job.'
It has two different clauses which are not dependent on each other. I clearly addressed the first clause and made no observation on the second.
Your point being..?
Tony Abrahams
359
Posted 19/10/2021 at 22:06:53
That's how I would describe an out-an-out defender; it is not how I see Michael Keane.
John Boon
360
Posted 19/10/2021 at 22:45:35
No offence taken in any way.Sometimes I tend to rattle on. That is just me. I enjoy all aspects of Toffee Web, other than personal caustic comments meant seriously demeen what may be an honest point of view,
It is amusing to read ALL posts and realise that everybody has there own perspective on a game. In that poor West Ham game nobody really deserved to be "Man of the Match".But NOBODY is "stupid" for picking any Everton player... other than those who may have decided to choose one of those highlighted in the headline for this article.
It is amazing to realise that up to now 400 Toffee Webbers,including me, actually think that they have something sensible to offer in regards to sensible advice.
Just to finish on a non Everton ridiculous FACT, Do you know that you can't breathe through your nose if you stick your tongue out.
Bet you have just tried to do it !!!
Barry Hesketh
361
Posted 19/10/2021 at 22:54:01
Tony @354
A sin-bin could be a solution to needlessly sending players off for relatively minor offences or accidental clashes which cause injury.
Personally, I'd prefer to see a third card introduced.
A yellow card for non-violent infractions
An orange card for serious foul play but undeserving of a red
A red card for serious foul play or for collecting three yellows or for getting a yellow and an orange in the same game.

Darren Hind
362
Posted 20/10/2021 at 01:31:08
I don't think this is a case of "liking Keane or not" Its a case of wanting to discuss the merits and shortcomings of a player and how he and his style can effect the way the team plays. Its what real footy fans have done since the game was invented.
many accept and actually state that Kean played well, but they also understand the game enough to know that sometimes an individual performance can be to the detriment of the team.
If a full back catches the eye by imposing his will on his opposite number and forcing him back all game going past him repeatedly, it would be very easy to say he has played well. especially if he is putting balls in for strikers to attack But if the opposition deal with his crosses and exploit the space he has left behind him a couple of times and score two for a 2-0 victory. Then he should be criticised. The criticism is every bit as valid as the praise. He may have carried his teams biggest threat but his marauding style of play has ultimately cost his team the game.
Very few players bring only qualities to the team. Most have weaknesses that can be exposed too. The problem with Keane is every man and his dog knows his weakness and if I'm a coach playing against him I know that by outnumbering Evertons midfiled I can expose the space between their lines. we have all seen it happen time and time again.
Calling out and recognising Keane's shortcomings as Tony A has, may seem "Hyperbolics" to those who only want to hear praise for him, or who don't quite understand the point he is making, but for me, Tony is simply demonstrating an ability to see the bigger picture. An understanding of the effect Keanes presence has on our formation...Even when he plays well as an individual
Danny O'Neill
363
Posted 20/10/2021 at 06:55:52
What Darren says.
We've mainly been discussing the merits and shortcomings of a player like we do on most players.
We have our favourites of course, and can all be guilty of being blinkered and defending them to the hilt. Then sometimes we can be harsh on others. I tend to look closely at centre backs as that is where I eventually settled and played.
Also, just as we do with the team in general, we can judge a player on the basis of each match. Then we can have an opinion on the bigger picture and the basis of an entire season or what we've seen over a number of seasons.
Ultimately, it's opinion though.
Sam Hoare
364
Posted 20/10/2021 at 07:38:06
I'm more worried about Godfrey than Keane at the moment and it is the older Englishman I'd expect to accompany Mina, our best central defender, against Watford this week. I'd hoped that Godfrey and Mina would prove our ideal centre back pairing this year but the young speedster is not back to his previous levels yet.
Tony Abrahams
365
Posted 20/10/2021 at 08:10:48
Can't disagree with that Sam, although how you describe Godfrey, is the point I've been making. Pace isn't really a necessity when a team defends so deep, and with pace being the young speedsters best asset, then he's not really needed if we are going to continue to defend so deep.
My biggest worry after our injuries, is the gap between the defence and the midfield, because being compact, is crucial, and even average players can exploit you if they are given to much space.
Dave Abrahams
366
Posted 20/10/2021 at 09:36:49
Regarding Michael Keane, if he played for another club at the moment how many Everton fans would want us to sign him?
Brian Harrison
367
Posted 20/10/2021 at 09:56:21
Rob Dolby 351
Absolutely spot on if pace was the main requirement for being a CB as you say how come the slowest pair of CBs in Bonucci and Chielini win the European Nations cup playing in a very attack minded Italian side. Listening to so called experts if they were in charge against a slow CB that team would be easily exposed and not only did Italy have 1 slow CB they had 2.
How come Mancini had Italy playing high line attacking football with these 2 at the back. Maybe our managers tactics need exposing rather than the perceived lack of pace by one of our CBs. I would also add the Leicester pairing of Huth and Morgan won the Premier league with 2 slow CBs.
Danny O'Neill
368
Posted 20/10/2021 at 09:56:39
I wasn't keen (excuse the unintended misspelt pun) at the time Dave. I wouldn't be now.
Sam, the big difference (in my opinion as always), is that Godfrey is a young centre back. He will develop and get better. Keane, approaching 29 is what he is. I am obviously no predictive prophet or expert, but at that age, if he hasn't ironed out the basic flaws in his game (coping with lack of pace through reading the game and concentration), I don't think he will now. Again, this is not talking about Sunday, any one game or a phase of play scenario in a single game. This is an assessment and opinion over time.
Look, to reiterate what I and those questioning him have said on this very thread, he is a good defender and was probably our best player on Sunday. But he has his faults like any player. That doesn't mean we can't call them out as we see it, just as we do with others.
Very few players are totally perfect. Johann Cruyff, Maradona and maybe Beckenbauer in my life.
And Kevin Sheedy obviously.
Danny O'Neill
369
Posted 20/10/2021 at 09:59:14
Exactly Brian & Rob earlier.
It isn't always about raw pace. Read the game, anticipate and be there if you don't have the pace to recover in a Kevin Ratcliffe chasing Ian Rush kind of way.
Rob Dolby
370
Posted 20/10/2021 at 10:01:01
I take the point on board about compressing play, playing a higher line etc etc. Why single out Keane when generally 3 of our 4 defenders are slow.
Darren make a great point above. Most of our 1st choice 11 have great attributes but also glaring deficiencies.
A manager has to play a system that suits the players available. Ancelotti and Benitez are playing a deep counter attacking game as we don't have the players to play any other way. He won't be changing the system to develop Godfrey.
Tony Abrahams
371
Posted 20/10/2021 at 10:12:12
I single out Keane, because I think he his the one player who is always shuffling backwards imo Rob.
Good point about the tactics Brian, and those two slow Italian defenders playing a higher line. I'd say it's because they are both, what I'd call, proper out and out defenders, meaning their natural aggression makes it much easier for them to play on the front foot?
Dave Abrahams
372
Posted 20/10/2021 at 10:20:40
Danny (369), too true Danny it's not always about pace if you can read the game anticipate the next moves and organise your defenders around you, play with aggression and not be bullied by any forwards, no matter how awkward they are. Alan Stubbs was smaller, maybe slower than Keane but he made sure those around him were aware and up for the fight, he led those around him and never had to be led himself.
Rob Halligan
373
Posted 20/10/2021 at 10:53:42
All this talk about the back four playing a high line, reminds me of when I was playing in goal. I always hung around the edge of my penalty area, maybe a couple of yards outside, so, in effect, acting as a sweeper. Any balls over the top of the defence meant I could act as the sweeper (if necessary). You very rarely see a goalkeeper acting like this nowadays, but the one or two I have seen recently seem to be very adequate at dealing with such a situation.
Danny O'Neill
374
Posted 20/10/2021 at 11:01:47
I don't want to hit my 40, but this is good conversation. Exactly that Rob. If the defence has confidence in the keeper to do that role, they will push higher. By doing so, they push the midfield higher and get them closer to the attacking players.
Again, that word; anticipation. If the keeper can anticipate and read the game, he effectively becomes a sweeper.
Tony Abrahams
375
Posted 20/10/2021 at 11:41:41
I saw the Liverpool keeper get very lucky with one last night Rob, but playing sweeper is something he has to do on a regular basis though, because his team tend to press from the front.
I would love to see Everton play like this, but I'm equally happy watching us defend deep, and hit teams with a fast counter-attack.
Either tactic will do for me, because it's only when we don't defend as a collective unit, that we become very easy to play against imo, especially in the biggest area of the pitch, which looked like it was the case to me against West Ham the other day.

Rob Halligan
376
Posted 20/10/2021 at 13:05:42
Never watched them, Tony. I give them a miss if there is an alternative game to watch. As the champions league is turning into a bore fest every season, I watched Stoke v Bournemouth last night. What a bore that was!!
Dave Abrahams
377
Posted 20/10/2021 at 13:24:58
When Liverpool started their run of success in the early sixties, Tommy Lawrence was invaluable to them acting as their sweeper, wasn't a bad goalkeeper either, ' the flying pig ' as he was known as.
Jay Wood
[BRZ]
378
Posted 20/10/2021 at 15:43:06
Deary me. Sigh and an eye roll
Group hug everybody?
The comic positioning of some (well...one) as being a superior, better informed fan with a greater understanding of the game than those who offer an alternative view to their own. That 'their view' is the only legitimate view.
It isn't.
The hyperbole about Michael Keane in this thread was pointed out and admitted to by the perpetrators. An exchange on a football issue resulted.
It is MONTHS - maybe a full year - since I last debated Michael Keane on TW. A fun to and fro with Dave Abrahams in which we concluded we should watch a game at Goodison together with particular attention on Keane. I likened it to being akin to the Muppet hecklers Statler and Waldorf, with Tony Abrahams playing the referee as Fozzy the Bear.
Too many IMO have a predisposed opinion about Michael Keane that he, and he alone, dictates every aspect of our set-up and game play. He doesn't.
We do NOT defend the entire game on the edge of our own penalty area as some wish to claim. Depending on the game situation and where the ball and play is, we also defend on the half way line or an imaginary line the width of the park from the edge of the centre circle.
Guess what? When the opposition is in possession, they attack the Everton goal. Whilst you want to defend as high up the pitch as possible, it is still a natural movement to retreat to and defend your penalty area at its perimetre at such moments.
Everton does this very well.
Some wish to pass off that a high defensive line with speedy centre backs is a superior and preferred way to play, rather than a deeper defensive live with (alleged) static defenders.
It isn't. It is A way to play. It is not the ONLY way to play.
The system is largely determined by the players available. And right now Rafa Benitez considers the most effective centre back partnership for Everton are the 'two static lighthouses with the turning circle of an oil tanker'. (Yes, that's more hyperbole attributed to Michael Keane and Yerry Mina by the self-anointed superior, more knowledgeable fan).
They are part of a deliberate system now employed which frequently sees Everton with around only 30-40% possession, but with a rapier-like thrust on the counter attack which has delivered memorable goals and results this season, even in adversity, hampered as we are by injuries.
The notion put forward by some that on the one hand Michael Keane is not a leader, an organizer, whilst simultaneously claiming that his selection dictates how the entire back four plays - indeed, the whole team - to the detriment of our play is a contradictory one, IMO.
If his negative impact on every apsect of Everton's play is truly the case, then how come the much wiser and more seasoned professionals than anyone on TW that train and prepare the squad haven't noted this, dropped him from the team and eradicated such bad practice in the remaining players to the betterment of our performances?
Could it rather be the case Michael Keane and the team are playing exactly as required by the management?
There is a reason that Rafa Benitez has given Michael Keane more game time than any other player.
He's good.
Darren Hind
379
Posted 20/10/2021 at 18:53:58
This thread gets funnier.
I'm sure those who have criticised certain aspect of Keane's play will have had their opinion turned on its head after reading such a powerful compilation of strawman arguments
It s like witnessing a kid trying to convince his chuckling mates that he REALLY does understand the argument whilst all the time making it abundantly clear that he doesn't.
Jay Wood
[BRZ]
380
Posted 20/10/2021 at 19:45:51
Says the man whose posting history has offered so many straw man arguments he could construct an entire rural village of thatched cottages.
If you going to employ philosophical debating terminology, do try and use them correctly.
No need to bone up on ad hominem. You've got that one down pat.
Graham Mockford
381
Posted 20/10/2021 at 19:57:29
Jay 380
If we take moral superiority, straw man and ad hominem out of the Dazzler playbook we ain't got a lot.
Although for entertainments sake I don't think we should.
Mike Gaynes
382
Posted 20/10/2021 at 20:33:15
Dave #366, I don't recall many of us wanting us to sign Keane when we did. Certainly not me, after watching Rom destroy him at Goodison. We knew his limitations then, we know them now.
But I think he's been the best we could have hoped for him to be -- an honest, courageous, capable servant of the club who has never given one ounce less than his best and has always been a credit to the badge.
If memory serves, Keane has played for seven managers at Everton -- five permanent, two interim -- and they have all picked him to start in almost every game he was available. (I believe Fat Sam benched him for his first few games on the job, but he never did it thereafter.)
Either all our managers are idiots, or Keane's a better player than some of you make out.
Kieran Kinsella
383
Posted 20/10/2021 at 20:38:45
Mike Gaynes,
"Either all our managers are idiots," that's a case that also has certain merits. lol
Dale Self
384
Posted 20/10/2021 at 20:45:25
I was getting worried but this thread definitely turned around. TW is okay sometimes.
Tony Abrahams
385
Posted 20/10/2021 at 21:21:43
Only Ancelotti never got the sack though Mike, and what an enigma he turned out to be. I'm sure his team claimed more points on the road, than at anytime since we were last champions, playing a very deep defensive system, that definitely helped protect the back four, especially during the period when he played four central defenders.
But when he asked his team to open up, we got footballed to death by some very average teams, who all took advantage of our very narrow midfield, and a hole that rarely got plugged, and which was often caused, by our retreating back four imo.
This is the reason why I think playing compact is the most important thing, especially now we have lost the energy of Doucouré.
Robert Tressell
386
Posted 20/10/2021 at 21:48:33
The problem is that we have a poor blend of players, not necessarily that all the players are individually poor.
Keane is a good example of that. I've seen Gomes and Sigurdsson in that light too in the past.
I agree with those who say we could do with a more mobile, agile player at centre-back. But we've certainly seen some very good performances from him and he's won a few England caps off the back of it.
If we had a better midfield and attack, it would gloss over his shortcomings, too.
Plenty of big clubs go through spells with centre-backs as 'bad' as Keane (eg, Lovren, Smalling etc) – it's just that opposition teams don't dare attack them like they do us, for fear of getting punished.
So we either need better chemistry in defence and midfield, or a superior attack.
Dale Self
387
Posted 20/10/2021 at 22:01:01
As usual, a good and clear point, Robert. Thanks for that, I had to stay out of it because I couldn't get the words right but the lack of chemistry and complementary skills is the proper view.
Dave Abrahams
388
Posted 20/10/2021 at 22:29:03
Mike (382),
You like Keane and think he has done his best for the club. I don't doubt that for a minute; I just don't think his best is good enough.
Bill Gall
389
Posted 20/10/2021 at 22:48:22
It is easy to blame individuals but, unless you have better players, it doesn't prove anything. Football is a team game with each individual playing his part, and as Robert #386 says, you have to have every player on a better standard.
It is also up to the manager to pick the players based on the opposition's style and tactics. There is no – and I repeat – no player that does not make a mistake but most times nothing happens when they do; players are often criticized when their mistakes lead to a disaster, but I believe a manager is capable of knowing any player's weakness and helping him to overcome them.
We are not in a position to buy top-class individuals, so we have to rely on who we have.
Robert Tressell
390
Posted 20/10/2021 at 23:24:43
To emphasise (or labour) my point, I'm confident we'd be talking about another good win if Calvert-Lewin and Richarlison had played.
Although we don't have good chemistry in defence, we take the pressure off that by improving the attack.
Unfortunately without Doucouré, Richarlison and Calvert-Lewin, we're going to really struggle and Keane will be exposed (and I expect Allan and the midfield will be in for some stick too).
My hope is that Benitez is able to get performances out of Gomes, Davies, Gordon and even cameos from Dobbin, Simms and Onyango which stand us in good stead longer term.
We're not going to win anything this season so we might as well build for next.
Kieran Kinsella
391
Posted 21/10/2021 at 01:24:36
Dave Abrahams,
I just can't get over the fact your lad played alongside Des Walker. He's always modest about his playing days but, if he was good enough to be picked alongside Des Walker at any level, he must have been bloody good. It's just a tough, tough career to get the breaks.
Kieran Kinsella
392
Posted 21/10/2021 at 01:33:19
Robert Tressell,
To your point: Demarai Gray had a couple of wicked balls across the box and yet he got below-average reviews. If Calvert-Lewin or anyone bar Iwobi and Rondon had been in the box, we'd be talking about two more assists and of the Match.
As Tony Cottee would say after scoring two consolation goals in a 6-2 loss: "He did his job."
Darren Hind
393
Posted 21/10/2021 at 04:17:56
The thread has gone from Rondon and Iwobi being total passengers to daft claims about Keane being "blamed".
Quite what Keane is being blamed for escapes me. Match goers who regularly get a panoramic view of the effect Keane's presence has on the team in general and our midfield in particular were making observations… commenting on what they have seen with their own eyes. I saw no blame.
If a certain poster who clearly, clearly didn't understand their point hadn't charged in "swinging " (as somebody accurately described it), screaming "hyperbollocks", the performances of others would eventually have been discussed. Not now. The whole thread has been turned and Keane is now the one under scrutiny. Yet I still see only observations. No blame.
Nobody says Keane's presence "alone" dictates our set-up or game-play. That's just a foolish attempt by one poster to create an argument he thinks he can win.
What I'm still scratching my head about is how or why the names of Cheilini and Bonoucci were brought into the debate as some sort of defence of Keane?
These two are serial winners. They can both organise the defence. They would both eat nice guy Keane for breakfast. They both retain a lateral movement Keane didn't possess in the first place. They have both long since recognised that you can venture as far forward as you want once you have got your full-backs acting as insurance policies. They are natural-born defenders who smell danger before Keane even sees it... Oh and one more thing. They may be pushing a combined age of 80, but both would still comfortably burn Keane over 25 yards.
Let's not bring world class defenders into a debate about a semi-decent centre-back who can be good when the game is played to suit, or poor when it isn't
Kieran Kinsella
394
Posted 21/10/2021 at 04:27:36
Darren
Have you thought about moving on from infants two and sending people "to Coventry" and instead of referring to "a poster", just saying his name: Jay? It's called 'maturity', old timer.
Mike Gaynes
395
Posted 21/10/2021 at 04:43:37
Dave #388,
His best is certainly not good enough for a club with genuine ambitions of Top 4 and silverware. But for this club, as we are now, it's plenty good enough, and he's consistent in bringing it to every game. That said, I fully expect that Mina and Godfrey will be the starters at the position next season.
Tony #344, I want your autograph the next time I see you!
Jim Jennings
396
Posted 21/10/2021 at 06:06:09
Kieran 394
To be fair, there's two of them at it when it comes to referring to "a poster" without actually mentioning their name.
Tony Abrahams
397
Posted 21/10/2021 at 08:55:48
When you stick to writing just purely about the football, I think you can talk as much sense as anyone on these pages, Darren, paragraph two of your last post, being the perfect description, imo mate.
Kieran, I set out to become a professional footballer, did okay, but never pushed on enough; if I was looking at things honestly, I don't think I failed because of a lack of talent or natural ability, so in this sense, I failed miserably mate.
Making the grade would have been brilliant, but if life is for living and enjoying yourself, then I genuinely don't think I've missed anything, except scoring the winner in the FA Cup Final for Everton, obviously. Although, if Michael Keane, was to do that for Everton, I'd definitely celebrate his goal a lot more than my imaginary one!🙏
Danny O'Neill
398
Posted 21/10/2021 at 09:15:30
I like that post ,Darren.
I know you didn't like the comparisons, but your "smell danger" did resonate. It goes back to anticipation and reading the game.
Can we get decent odds on the Michael Keane FA Cup Final winning goal in May, Tony?
Conor McCourt
400
Posted 21/10/2021 at 09:42:33
Mike @382,
I don't get the chance to read posts or contribute much anymore but I had time this morning and think your argument on managers preferring Keane is a bit of a fallacy. Many of them have tried to replace and been unhappy with Keane at times however the issue is that others have failed to cement their place. Keane was also suited to the tactics employed under Koeman, Allardyce, Ancelotti and Benitez – most of whom have played with a deep defensive line.
Last season, Mina was actually our most important defender in terms of the goals conceded despite the generous praise Michael received.
The problem we have, IMO, is that Mina is best on the right side, is injury prone and seems always late back from international duty so hasn't really ever been an ever-present. I also don't feel he is a perfect fit for Holgate or Godfrey because he can get rattled and doesn't have Keane's composure. Michael also can play on the left which suits Mina and makes him a better fit with Holgate than the Colombian.
Personally, I haven't given up hope on Mason and feel his form under first Silva and then pre-lockdown Ancelotti (when we still played like a Silva team with Carlo's greater tactical nous) was the best I've seen from any of our centre backs. It was no surprise to me that Holgate has struggled under Ancelotti given his stature and how the team was set up. However, Benitez is taking a similar approach which may not see Mason to his best.
Godfrey is still learning his trade and needs an experienced head beside him and Keane again is the best natural fit. Personally, I feel it is no surprise that Keane is the natural go-to man more by default than design as we have a lot of uncomplimentary yet decent centre-halves who all have greater attributes than Michael but possibly more questions. Individuals rather than any partnership.
England only have one out-and-out defender in Maguire in their squad yet Southgate has no faith in Keane to fulfill that void such are his limitations.
During the summer, I controversially suggested that we should have cashed in on Dominic in a Coutinho-esque approach to squad transformation. Umtiti was the defender I really wanted because he would be a perfect foil for any of the other four centre-halves and has leadership, power, pace, aggression and experience and looks ideal for the Premier League. He would also have given Godfrey the chance to develop as a full back for the next season or two and would have also allowed us the flexibility to play with a three had we had a Doucouré type injury. This signing would, IMO, arguably have seen Keane move from being arguably our most to least important defender but Michael would still have had a role when we needed to defend a lead.
Umtiti-Keane (Distin/Jagielka)
Umtiti-Holgate (Vidic/Ferdinand)
Umtiti-Godfrey (Adams/Keown)
Umtiti-Mina (Keane-Mina)
Tony Abrahams
401
Posted 21/10/2021 at 09:43:49
Danny, the chances of anything coming from Mars... are "a million to one", they say! That's not a criticism of Michael, by the way, it's more about our chances, as those despicable kopite bastards put another year on their mocking flag.
Hopefully I'm gonna cry it in, but for us to win the cup, then now has got to be the time - that all our injuries have come at once.🤞
Brian Harrison
402
Posted 21/10/2021 at 10:10:20
Conor @400,
I think you sum up the Michael Keane issue very well. He no doubt has his limitations but, unless we can buy better, him and Mina are our best pairing.
I think with football fans we all have players who we praise and defend more than others and there are some, no matter what, we just can't take to them. It's why football is so interesting, so many varying opinions.
I go back to when we sold Bobby Collins to Leeds and replaced him with Dennis Stevens from Bolton. For me, Bobby was a class act: he could pass and dribble and, despite only being 5ft 4ins, was a tough-tackling midfielder (or wing-half as they were called then). But, despite being a solid workhorse, for me, Stevens wasn't in the same class as Bobby, although many of my mates liked him and he did a job for the team.
Dave Abrahams
403
Posted 21/10/2021 at 10:12:35
Mike (395),
You think Keane brings consistent good displays in his performances?
I'm not having that. His mistakes are often only highlighted when they are the cause of a goal against us, but the mistakes are there in every game he plays – whether they cause a goal against us or not. But he is here for the foreseeable future and I hope he helps us to provide enough wins to keep us happy until better players arrive.
Dave Abrahams
404
Posted 21/10/2021 at 10:20:10
Kieran (391),
Yes, Tony wasn't a bad player... in fact, I'd go as far as to say he was nearly as good as me. Unfortunately for me, like Yossar Hughes, my paper round kept me back!!
Brent Stephens
405
Posted 21/10/2021 at 10:29:13
Darren #393,
"Match goers who regularly get a panoramic view of the effect Keane's presence has on the team in general and our midfield in particular were making observations… commenting on what they have seen with their own eyes."
That seems to suggest (maybe I misread your intention?) that regular match-goers' views are more reliable than those who don't attend regularly ("panoramic view", "seen with their own eyes"). Is that what you're saying?
If so, does that mean that Blues who regularly attend our away games have more reliable views on those games than those who don't attend away games ("panoramic view", "seen with their own eyes")?
I'm not clear on what you're saying or implying.
Tony Abrahams
406
Posted 21/10/2021 at 10:33:39
And it kept me fit, Dave, having to run to Broadway shops and back again every night to get you the Echo. The kids of today don't even know they're born, unfortunately!
Danny O'Neill
407
Posted 21/10/2021 at 11:00:41
From a personal perspective Brent, I see both sides of what you & Darren say. I've been a season ticket holder in the past, as has my son. I've also spent years watching Everton from afar at ridiculous times of the day (kudos to the international blues). I've sat waiting for news of results in some backwater shitholes of the world. Now I able to attend more regularly again, which I am grateful for.
I suppose you get a better birds eye view when watching on the screen, but I see the movement and the shapes better when I'm at the match. But in my opinion, neither view is more authoritative. Darren is just pointing out that just about all those who have commented on the subject of Keane were actually calling him out for having a decent game but then discussing the limitations of the player in general - and certainly no blame for Sunday.
Caveat. I wouldn't call myself the best at analysing Everton either way in the way I can when I watch other football matches between other teams.
Christine Foster
408
Posted 21/10/2021 at 11:06:23
Tony, you triggered a few memories there, Clubmoor pictures on a Saturday morning, until I was about 5.
I was brought up at No 32 Beversbrook Road in Norris Green, in the days it was trees, garden fences and a swing on the lamposts... used to be lovely. Mum and dad married in St Teresa's and little me got doused in the holy water there as well.
It was quite a hike for me little legs to Clubmoor... wasn't there a big library there?
Then we got shifted around by the Corpy...
Brent Stephens
409
Posted 21/10/2021 at 11:15:54
Danny #407,
"But in my opinion, neither view is more authoritative."
My "view" exactly!
Christine Foster
410
Posted 21/10/2021 at 11:19:35
I think the bottom line is, when Keane is on his game and his self-confidence is good, he is a very good defender. And there is the rub: Everton have a panache for buying players who don't have the required consistency to hang your hat on. Keane, when on top of his game, is an England centre-half, but he and others suffer when others have off-days too.
There was a moment against West Ham when Godfrey hammered a ball out of the park with a look that said everything, eyes and head turned away in mortification. Rafa has the job of building not just a team but players' own self-belief. Too many hopeful punts with the cheque book, methinks... but if he can make them perform...?
Just realized it was No 20... senile dementia setting in... or the drink.
Tony Abrahams
411
Posted 21/10/2021 at 11:40:56
I went to St Teresa's Junior School, Christine, loved it, especially when playing football for the school team on the pitches of Scargreen Park.
Coming from Greaty, I think I was always more of a townie by nature, and always used to jump on the 14 bus, going right through Clubmoor, to take me to the Albion House, which might trigger a few more trips down memory lane, now that you're so far away from home.🙏
Broadway still has a great library, Christine, but it's a long time since I took any books back for my father, on the way to picking up his Echo, or putting his bet on! And I didn't know that Clubmoor used to have a picture house but, as for the lampposts, they were my first ever introduction to a game of floodlight football, and it wasn't easy trying to hit the target with a flyaway!
Those kids definitely don't know they're born nowadays, unfortunately, because I couldn't imagine my childhood without the streets.
Dave Abrahams
412
Posted 21/10/2021 at 11:58:48
Tony (411),
As you've got older, your imagination as grown and grown, in fact you could be compared with Walter bleedin' Mitty!
You went for my Echo every night? – the paper lad delivered it!!! In fact, the paper lad was your brother Michael.
I took my own books back to the library. And you were such a little jinx, I wouldn't let you put my worst enemies' bets on!!
Christine Foster
413
Posted 21/10/2021 at 12:17:55
Small world, Tony, Nan missed Wilbraham house and got a move back to Virgil Street. At about 5, we got shipped off to Netherton, but I spent all of my days with the family off Mile End, Portland Gardens and around Greaty and Scotty, in the days when Paddy's Market still had bullet holes in the walls of the fruit market in Cazenau Street... and Clark's was where I got my sandals.
Christine Foster
414
Posted 21/10/2021 at 12:20:57
Oh and by the way, when I was home last, some 20 months ago, I went to Broadway and found the shop that I think sells every known bit of hardware, glue or tool ever invented.
What a hardware shop! I came out with things I never knew I wanted...
Brian Harrison
415
Posted 21/10/2021 at 12:43:30
Tony 411
You have just brought back loads of memories with your mentioning of the pitches at Scargreen Avenue, and playing for St Teresa's. I used to play there for my junior school which was Wellesbourne, then moved on to Stonebridge Lane when I got older.
We had some really competitive house matches at Stonebridge as Ken Mulhearn who played in goal for Man City and Tommy Wright who played for Everton were involved in those games.
I used to knock around with a lad who lived about 10 doors away from St Teresa's school. His name was Lenny Durr, he was the brother of Frankie Durr, the jockey. Oh happy times.
Danny O'Neill
416
Posted 21/10/2021 at 13:06:32
Well, Dave, I'm afraid Tony sparked my interest and influenced me.
I couldn't find Michael Keane to score in the FA Cup Final in May, but got Everton to win it at 25/1. Got to be worth a punt? As well as the blind hope.
Talk of bus routes made me nostalgic too. Forgive the memory, but the No 14 is the one I think I used to get to Croxteth when I lived with my mum's Aunty on Middle Way for a while.
Then the 17(?) to my Grandad's on Arkles Lane.
It often was connecting with the 81D on Queens Drive, unless I took the train from Hunts Cross to Kirkdale or town.
Right, through fear of being called a bus spotter. These days, I'm a pampered resident of the capital who gets frustrated, tuts and shakes head if the next tube is more than 2 minutes!!
Dave Abrahams
417
Posted 21/10/2021 at 13:11:37
Brian (11),
Frankie Durr one time lived in Everton Brow, further up the street from me. I never knew him or met him but a big house he reputedly lived in was always referred to as "the house that Frankie Durr lived in" – maybe when he was growing up?
Brian Harrison
418
Posted 21/10/2021 at 14:08:43
Dave,
I was about 11 or 12 when I used to knock about with Lenny Durr (and I am 73 now) at the time his brother Frankie (who I never met) lived in Newmarket.
Dave Abrahams
419
Posted 21/10/2021 at 14:29:54
Brian (418),
Yes, Frankie Durr would have been close to 20 years older than you. He died in 2000 aged 74, so would have been serving his apprenticeship in Newmarket when you became mates with his brother. I presume Frankie would have lived in Everton Brow before I was born.
Jay Wood
[BRZ]
420
Posted 21/10/2021 at 14:30:03
Classic Hind. A litter of posts full of 'Darrenisms'.
To reply.
First, the notion that this thread has somehow been 'hijacked' (by me) and turned solely to a debate about Michael Keane. It's a common feature of TW threads, that multiple subjects get discussed. Long may it continue.
You yourself Darren attempted what you falsely accuse me of @ 278 when you went fishing for reaction, calling out Allan. Only you didn't get any bites, did you?
It was others, not me – including yourself in that same post about Allan – that introduced the subject of Michael Keane into the thread, stating he was 'back to his old tricks of playing on Pickford's toes.'
It was that and other comments I called out @ 312 with the observation that 'Commentary on the game is all about opinions. But at least try to make it real and not revert to hyperbolics. Or should that read 'hyperbollocks'?'
Now that got a few humphing in indignation, which conveniently ignores the fact that the likes of you and Danny O'Neil fessed up that you HAD been hyperbolic in your comments.
At 333 you admitted 'it's footyspeak', not to be taken literally. Danny acknowledged he used 'colourful language' to describe Michael Keane.
Ergo, my observation was a legitimate one, admitted to by the perpetuators themselves.
Then there is the 'positioning' you attempt, promoting yourself and those that share your views as being superior, more discerning and knowledgeable fans than those who simply offer a legitimate alternate view.
Well, at least they are considered 'knowledgeable' whilst they agree with you as Danny does here. It certainly wasn't the case when Danny casually labelled Allan the 'Brazilian Peter Reid' last season which you are still inclined to beat him with months later.
To that you can add you promoting the view that match-goers by default are better judges of a football match, players and tactics than those who view the game remotely.
That they have different perspective views of a game is undeniable. But you just have to read the comments by match-goers and remote viewers to negate the absurdity of such a claim. There are knowledgeable and insightful posters from both camps. Equally. there are absurd and ill-informed observations from both camps. Neither can be classified as 'superior' or 'preferred' over the other. There is no homogeneity in either group.
You also claim that 'nobody says Keane's presence "alone" dictates our set-up or game-play.' Then clearly you have not read this thread or others over many months attentively. Because that IS a claim constantly being made by some.
For Danny O'Neil in particular for reasons best known to himself Michael Keane is a real trigger. Sorry Danny, but I wonder if you are aware of just how frequently you reference Michael Keane on all manner of unrelated threads. I personally find it tedious – tedious to the extreme – and just flip past them.
Yet I make a single brief legitimate observation on Michael Keane – the first in more than a year, as I said – and I'm the agitator. Convenient.
Next we have the typical projection that you indulge in Darren. Presuming other posters comment with the same intentions that motivate YOU. Namely, that I have 'created an argument' seeking to achieve 'a win'.
I don't claim, never have claimed and never will claim that my view is the only legitimate and definitive one. The clue is in the phraseology I use. My posts make it very clear I'm offering my personal opinion, sprinkled as they are with such phrases as 'Personally', 'I think', 'I believe', 'IMO'.
Clearly, I am someone who enjoys genuine debate. But unlike you Darren, I'm not concerned with 'winning' a debate or having the final word. Unlike you, my ego is neither so inflated yet simultaneously so fragile that I lack the emotional maturity to engage in genuine debate, rather than the juvenile gainsay you frequently indulge in.
If it floats yer boat Darren, you keep deflecting, misrepresenting and fabricating what posters that agitate you actually say. I'll leave you to scavenge through the bins at the end of that particular cul de sac.
Tony Abrahams
421
Posted 21/10/2021 at 15:10:20
You're right on those bus routes, Danny, but there's a reason Dave said, that he wouldn't let me put a bet on for his worst enemy, and it's got nothing to do with me being a jinx.
The reason he never won is because I thought that I should have got 10% for getting the bet on, but I can read now though mate, so I hope you've had a right few quid on Everton for the cup!!
I scored my first goal on the pitches of Scargreen, Brian, aged 8, playing in an Under-12s game, and although I genuinely think I'm in the early stages of dementia, I can still remember toe-poking it in the corner!
Bill Gall
422
Posted 21/10/2021 at 15:43:28
Christine,
I was born in Scarisbrick Road, Broadway a short walk. Wife was born in the 4 squares, Queen Anne Place, moved to Croxteth where I met her.
Remember shops, swimming baths and the Regal on Broadway and the Cinema in Clubmoor. Mid 60s after football on a Sunday, I used to go to the Dockers Club.
Shame I never kept it but I had a membership Card for the Cavern from the first month it opened – it was a Jazz Club then. Used to walk to Goodison Park from Scarisbrick Road.
Memories are great, at least I can remember Everton actually winning something.
Darren Hind
423
Posted 21/10/2021 at 20:32:09
"Unlike you, Darren, I am not concerned with winning debate."
Of course not. The long, incredibly wordy, ridiculously self-contradicting posts telling people they are spouting hyperbollocks or that they are taking cheap shots. Making up false statements are simply the actions of a guy who isn't interested in winning a debate... No sir!
To answer the question as to whether one person speaks with greater authority than another depending on whether he attended the match or not? Of course it bleeding does. It makes all the difference in the world.
I spent decades attending every match, home and away, and I have lost count of the number of times I have phoned somebody on the way home and asked something like "Was he really offside?" You see, the person I would be ringing would have seen it on TV and while I had only seen the incident once in real speed, they would have had seen it 4-5 times, from every angle. I knew they would be speaking with authority on the matter more than me.
Conversely, I would be able to see things the guy who was watching on the box couldn't. I could see how far a team was being stretched, or if someone was not doing enough off the ball.
I view the question suspiciously, but if Brent Stephens was asking if I thought those Jay Wood was accusing of having "preconceived" idea's or talking "hyperbollocks" or taking "cheap shots" or any of the other things he was accusing them of, were speaking with more authority on the effect Keane's presence has on our shape, simply because they get to see the whole panoramic picture. Then the answer, IMO, is a categorical Yes. Every single one of them are better qualified than he is. Will that stop him trying to discredit their views? It's all up there.
John Boon
424
Posted 21/10/2021 at 22:50:19
Compare and Contrast
Two Evertonians who are both avid supporters as recognized by their comments.
Jay (##420): Logical. Well researched. Aware and accepting of others' opinions. At times willing to accept he could be wrong. Well aware of the English Language with an ability to be assertive without being insulting, except when faced with idiotic rantings.
Darren (#423): Bombastic rantings of an egotistical, deluded Evertonian. His way is the "only" way. His self-proclaimed "Decades of Following Everton" has enabled him to recognize the naive wrongs of his fellow ordinary Blues.
Your final paragraph (#423) could have been written in Egyptian Hieroglyphs or Chinese Hanzi. I sincerely apologise if you had an ice cream brain freeze when writing that paragraph. OrIs it a secret code for your fans only?
Brent Stephens
425
Posted 21/10/2021 at 23:00:24
John #424.
So I wasn't the only one to make neither head nor tail of that last paragraph.

Jay Wood
[BRZ]
426
Posted 21/10/2021 at 23:28:08
What a garbled incoherent Gordian Knot of an invective. Were your thumbs able to keep up with your rage, Darren?
You're right about one thing: "It's all up there" for anyone with the mind to read the chronology and full context of who said what, how, when, and to whom, rather than your selective isolating of phrases taken out of context and given the Rocky Horror Show 'Hind Warp' treatment.
You know how Alexander solved the problem of the original Gordian Knot? He sliced through it with his sword.
A butter knife will suffice for your latest post.
Keep scavenging in them bins at the end of the cul-de-sac you keep placing yourself in, Darren.
Kieran Kinsella
427
Posted 21/10/2021 at 23:38:47
John Boon/Brent Stephens
You missed the hidden Hindinian code? It relies on only reading certain letters. I'll highlight them for you so you can see his admission.
"I view the question suspiciously, but if Brent Stephens wAs asking if I thought those Jay Wood was accusing of having "preconceived" idea's or talking "hyperbollocks" or taking "cheap shots" or any of the other things he was accusing theM of, WeRe speaking with mOre authority oN the effect Keane's presence has on our shape, simply because they Get to see the whole panoramic picture. Then the answer, IMO, is a categorical Yes. Every single one of them are better qualified than he is. Will that stop him trying to discredit their views? It's all up there."
Darren Hind
428
Posted 22/10/2021 at 05:33:27
Let me clarify the sentence for you, BS, seeing as you asked the question in the first place;
Jay Wood, who only gets near a football pitch when he takes the dogs for a walk, is tellinga group of Evertonians who actually see the panoramic picture, that they are spouting "hyperbollocks" when they make their blindingly obvious observations about Keane. He then rather laughingly tries to prove he is right, by repeatedly claiming they have "admitted" guilt to his accusations.
He tells them they have a predisposed notion regarding Keane. He accuses them of saying taking "cheap shots" when they disagree… of claiming Keane is the only one who shapes the formation of the team.
Now if he was telling them a ball was out of play, or that a guy definitely touched the ball with his hands, I could understand it. But he is not. He is, as is his wont, preaching to the better informed.
I see the let's-score-a-point-without-mentioning-the-game gang are lining up. Same old faces. They are of very little interest to me. I did enough arguing with them when they spent 18 months getting it so fantastically wrong about the last manager.
If anyone wants to talk about the game or try to take on my points, knock yourself out. They are there to be shot at... you only need the wherewithal to do it.
Tony Abrahams
429
Posted 22/10/2021 at 08:25:21
Maybe I'm in Darren's secret fan club because I also think you see a bigger picture whilst watching from the stands. It's probably the main reason why games are regularly sold out right across the country, although it's not the only reason I'm sure.
I remember looking at some kid who was possibly a better footballer than me when I was about thirteen like he had two heads because whilst we were inside Wembley, he said he thought the pitch was to far away inside the stadium, and that he thought watching on the telly was better.
"You're mad, you," I said (maybe it was me who was mad?) "how can you see those little blindside runs, how can you see if the 60-yard pass is on, and how can you see the whole picture?"
Television is fine, anyone with a bit of knowledge can pick most things up, but as the jam sang, "When I'm in the crowd" is a unique experience. Although I'm not sure about those away games, Brent, because when you're surrounded by loads of drunks who won't sit down, then you probably see more whilst "Watching TV". It's Roger Waters who I've got to thank for giving us that classic! (This post is probably another candidate for "it might as well have been written in Latin"!)
Brent Stephens
430
Posted 22/10/2021 at 08:32:00
I notice, Darren, that you deflected as usual, by addressing what Jay posted without addressing my question to you.
Eddie Dunn
431
Posted 22/10/2021 at 09:04:07
I watch almost all my footy on TV these days but I get so frustrated with the editors, giving close-ups too often. The "big picture" is the best way to see the team move as a whole and runs off the ball, in particular.
I went to Wembley for the League Cup final v Liverpool in '84. A mate's dad knew the Liverpool Chairman, and got me and another Evertonian tickets right on the halfway line, halfway up the stand. The stadium looked pretty compact from there and it was a perfect viewing spot.
Of course back at Goodison you could be in the Lower Bullens near the back and never see the ball once it goes over 3 metres.
Being at the game you can edit your own footage and watch a player(Keane) and see what he's up to throughout. From my telly, I really only get half the story, so I am in the Hind camp.
Brent Stephens
432
Posted 22/10/2021 at 09:21:30
Eddie,
"Being at the game, you can edit your own footage and watch a player (Keane) and see what he's up to throughout. From my telly, I really only get half the story".
Including for away games, I assume?
Jay Wood
[BRZ]
433
Posted 22/10/2021 at 12:49:28
'Let's do the Hind Warp again.'
And again. And again. Distorting what a poster has actually said and attributing to them claims they haven't made.
At 420 I made it explicitly clear that the match-attending fan and the remote viewer undeniably have different perspective views of a game.
I'm not the one planting my flag in one camp, insisting one view is superior whilst dissing the other perspective.
Again, I noted there is no monopoly in one camp or the other on the quality of post-match comments. That there are knowledgeable and insightful posters in both camps. Equally. there are absurd and ill-informed observations in both camps. Ergo, neither can be classified as 'superior' or 'preferred' over the other. There is no homogeneity in either group.
I can offer a real life example of just that. Two match-going fans attended the same match and couldn't even agree on the playing position of one single player.
The two fans? Myself and...Darren Hind.
Let me explain.
Back in September 2017 during the dying embers of Koeman's reign, I was back in Liverpool for the first time in 20 years.
I took my Brazilian wife on a pilgrimage to Goodison to the Everton-Sunderland League Cup tie which we won 3-0.
This was the line up:
There were a number of interesting talking points. On the Sunderland side there were no fewer than 3 ex-Blues in their starting XI - James Vaughan, Jack Rodwell and Darron Gibson.
The Everton side - remember to take four years off their ages - was a largely youthful one. Holgate and Kenny played full-backs. Williams and new-boy Keane the centre backs. Besic, Klaassen and Davies made up the midfield. Sandro and Vlasic flanked DCL who played the #9 central striker role. More of the latter in a mo. Oh! And Koeman finally relented and had Niasse on the bench.
My perspective of the live game recalls the following. James Vaughan in particular was well up for it, the most warmly received of our ex-players by the Goodison crowd on the night. He and Keane had a battle royal with neither backing down. This was the night that Michael Keane picked up his long-festering foot injury in a clash with Vaughan that we only learnt about a full year later.
The best player on the night by a country mile was Dominic Calvert Lewin. He was imperious. Scored two goals and almost completed a hat trick when a header hit the post before being subbed out on 66 minutes for Niasse.
The best midfielder, again by some distance, was Tom Davies. It was his pass that set up the third goal for Niasse which had Goodison roaring in delight. Klaassen was anonymous. Besic as poor a player as I've ever seen in a Blue shirt. Hapless and hopeless in everything. Positioning, technique, passing, tackling. A complete liability.
To demonstrate how attending a match offers you a perspective the remote viewer cannot see (contrary to the false claims Darren lays against me that I don't acknowledge that) I remember one particularly delicious move between two much maligned played - Williams and Kenny. You could see what was unfolding before it was completed.
Williams picked up the ball and started moving forward with it. Kenny, in a starting position behind him, set off at pace to attack the flank of Sunderland's penalty area. Williams saw Kenny's move and delivered a crossfield pass perfectly into Kenny's path which he took with aplomb, sped past the opposing full back and delivered a peach of a cross. Warmly applauded by all.
So what has this game got to do with match-attending Darren and me? The following...
MONTHS after this game Darren was going off on one about DCL not being played as a central striker, even though he was being picked regularly by Allardyce at that time.
For some reason the Everton-Sunderland game came up and Darren steadfastly refused to admit that Dom played central striker that night.
Look at the line-ups. Look at the substiutions.
What would be the obvious playing position for Dominic? What would be the natural playing position for Niasse who came on for him on 66 minutes? What would be the natural playing positions for Lookman who came on for Sandra on 73 minutes, and Lennon who replaced Vlasic on 82 minutes?
And yet Darren refused to concede that Dominic Calvert Lewin most certainly did play central striker that night. And this with his decades of watching Everton live.
Now for me its neither here nor there. If you believe MY view of DCL's starting position that night, or if you believe Darren's.
The point is, as I've stated a couple of times in this thread, there was no agreement, no homogeneity between just two match attending fans that night on something as simple as where exactly one single player was positioned.
Times that by 40,000 every home game, and by hundreds of thousands in the remote viewing audience and the obvious conclusion is that there is never any single view that can be categorically described as the definitive and 'superior' view, no matter how and where you view the game.
It's just Darren being Darren. Picking at a loose thread and running with it until he stands there bollock naked, only then realsing that he has defrocked himself.
Jim Jennings
434
Posted 22/10/2021 at 13:11:18
" To answer the question as to whether one person speaks with greater authority than another depending on whether he attended the match or not? Of course it bleeding does. It makes all the difference in the world.
I spent decades attending every match, home and away, and I have lost count of the number of times I have phoned somebody on the way home and asked something like "Was he really offside?" You see, the person I would be ringing would have seen it on TV and while I had only seen the incident once in real speed, they would have had seen it 4-5 times, from every angle. I knew they would be speaking with authority on the matter more than me.
Conversely, I would be able to see things the guy who was watching on the box couldn't. I could see how far a team was being stretched, or if someone was not doing enough off the ball."
Nail on the head.
I used to laugh when Darren said that some people are obsessed with him. I'm starting to think he's right. The fact that a couple of them weighed in on his post to poke fun at a couple of typos in the final paragraph, rather than the part above, says it all.
Quite what the fuck a debate over a striker's position in a league cup game four years ago has to do with a couple of match goers correctly noting that the default, deeper position taken week in week out by a centre half - who turns slower than butter - can have on the shape of the whole team, is beyond me.
Jay Wood
[BRZ]
435
Posted 22/10/2021 at 13:30:27
That whooshing sound in your ears, Jim?
That's the sound of something going way over your head and missing a relevant point in response to something that Darren - nobody else - introduced to the thread which is another debate altogether from the discussion on Michael Keane.
You get it, or you don't. You evidently don't.
Jim Jennings
436
Posted 22/10/2021 at 13:40:40
Riiiight.
It's me who can't see the Wood for the trees…
Barry Rathbone
437
Posted 22/10/2021 at 13:40:55
Sorry I'm a bit late to this one but had to hook the laptop to a 55inch tv to fit in the "war and peace" response to Darren.
As ever "less is more" springs to mind even allowing for the deranged penchant of airing grudges from years ago.
Hard to imagine how one gets that pained on the internet
John Boon
438
Posted 22/10/2021 at 14:31:24
Jim (434),
What you write is relevant, logical and your points are valid. BUT, just to explain myself about what I wrote in (424). I was not knit picking about any typos. Actually I don't think he made any typos.I agree if I did complain about typos that I could be cosidered arrogant, which is never my intention.
I was merely suggesting that his last paragraph was convoluted garbage. Complete "Hindism"at its best. "Obsession" with Darren is perhaps a bit heavy. However if it means responding to his typical insults then I plead guilty.
This whole topic has become somewhat tedious and over responded to. It is just that I feel that Jay makes more sense in one sentence that Darren does in many boring and annoying paragraphs. He is ALWAYS right and never leaves any room for logical debate. He just has to have the "last word" But, probably that is the same for most Toffee Webbers. It is great because it draws out the best and the worst in all posters. Let's face it BAD news is often the most interesting.
Eddie Dunn
439
Posted 22/10/2021 at 15:28:46
Brent, yes away games too.

Brent Stephens
440
Posted 22/10/2021 at 15:46:47
Eddie # 431 and #439 " From my telly, I really only get half the story" "away games too".
Thanks, Eddie. I think we agree on the general point about needing consistency in the argument.
Darren Hind
441
Posted 22/10/2021 at 16:27:24
BS
Dont talk in Riddles You got a question ask it. Ask it directly.
I'm all ears
Brent Stephens
442
Posted 22/10/2021 at 16:36:03
DH #441
I've already asked the question. See #405 - again. Eyes not ears.
Danny O'Neill
443
Posted 22/10/2021 at 16:36:54
Jay, was that when Moyes was Sunderland manager or around that period? I seem to remember thinking at the time he was buying his old Everton team. Didn't Oviedo go up there as well?
I too was at that Milk Cup Final Eddie. Up in the gods at the very back in a corner section. So much so, I was actually sat on the concourse wall right under the roof. Talking of being at the match to appreciate the football better. I recall very little of that match. I may have only been 12, but I was just mesmerised at being at Wembley for the first time to see Everton that day.
Darren Hind
444
Posted 22/10/2021 at 16:58:46
Is that even a question ?????
Of course its the same. Being at the match is being at the match...Watching on the box is watching on the box....Unless you are suggesting the camera team follow us around and changes tactics when we are away from Goodison
Sigh
Eddie Dunn
445
Posted 22/10/2021 at 17:04:26
Danny- it was my first trip to Wembley and quite an occasion it being against them. I found my seat and was sat with a guy called Pete, who also got his ticket from our mutual friend. The tickets around us were all from LFC, so it was funny having them wonder how we got our hands on them.
Ironically me and Pete had both travelled down from Nottingham. We could have gone together if we had known.
Everton really should have won the game and we know what happened in the replay but you could see that the team were developing and sure enough, we got our trophy later in the year.
I was 23 and then it seemed an age since we had won the League back in 1970. That was just 13 years, it is incredible that we are still waiting since '95 for silverware.
Dale Self
446
Posted 22/10/2021 at 17:08:51
Not really my cup of tea anymore, one year was enough on the front lines, but it seems that right when the discussion could have evolved toward the lack of chemistry or players mismatched with system, we then went off on this other thing which did focus on the writings of one man. How that happens I think amazes us all, it's quite a skill actually (English "quite" on that).
Brent Stephens
447
Posted 22/10/2021 at 17:09:15
DH - there, that wasn't difficult was it. I just wanted to confirm your view.
So, good to have confirmation of the weight you place on the views of those who attend away matches.
Kieran Kinsella
448
Posted 22/10/2021 at 17:09:45
Darren 444
I think the question -- in question is
"does that mean that Blues who regularly attend our away games have more reliable views on those games than those who don't attend away games ("panoramic view", "seen with their own eyes")?
i.e. in the chain of knowledge, he would not be "the same" as you, he would have a better viewpoint as he sees home and away games in person with panoramic views. So he has more eyeball data to analyze and draw from.
Darren Hind
449
Posted 22/10/2021 at 17:45:45
"So good to hear confirmation of the weight you place on those who attend away games" What ???? hahahaha
I have always loved the away fans. I was one of them for over 40 years...but that does not mean I put any more weight on their views than anybody else..
Like home match-goers, occasional match-goers and armchair fans who can't get to the game, some of them are very knowledgeable and some of them are bleedin' idiots.
The point was about people who are at the games seeing a different game than those who are watching on the box. (It's one that several people have already agreed with.) If you disagree, that's your prerogative, but, by trying to separate the away fans and the home fans, you merely prove you don't understand it.
Mike Gaynes
450
Posted 22/10/2021 at 17:54:29
Tony #421, be confident in your memories. There are two "firsts" that no young lad ever forgets, can recall in every detail.
One is his first goal.
Brian Williams
451
Posted 22/10/2021 at 18:08:12
Ohhhhh I really really wanna say it but daren't. 😷
Dave Abrahams
452
Posted 22/10/2021 at 18:14:41
Brian ( 451), yes it's best kept to yourself!!
Brian Williams
453
Posted 22/10/2021 at 18:21:21
Just wish it'd been said when we were all in the pub Dave. Couldn't have resisted then. 😄
Brent Stephens
454
Posted 22/10/2021 at 18:23:43
DH #449 "The point was about people who are at the games seeing a different game than those who watching on the box. (its one that several people have already agreed with) If you disagree thats your prerogative, but by trying to separate the away fans and the home fans you merely prove you don't understand it."
On the contrary - I was just asking you in #405 to confirm (which you now have) that that principle applies at all games, home and away - i.e. those "who are at the games see a different game than those who watch on the box". Home and away.
As you say, those attending a game have a "panoramic view" (your words), and have "seen [the game] with their own eyes" (your words). I haven't disagreed with anything at all that you've said. Just asked you to confirm, as you have, that that applies to home games and away games.
Jay Wood
[BRZ]
455
Posted 22/10/2021 at 22:12:54
Jim Jennings @ 434 and 436, happy to clarify things further for you.
Like many threads, particularly match day threads, this one contains many diverse sub-themes. A thread is seldom static keeping to one single theme. It continual evolves.
I wasn't the one who introduced the subject of Michael Keane to this thread. Others did. I first made comment @ 314 at the hyperbole by 4 unnamed posters about the player.
Subsequently 2 posters - one of them being Darren - admitted their words should not be taken literally. Ergo, they embellished their description of Keane which was not a true reflection of his play. Reasonable to say then that they did indeed indulge in hyperbole.
That should be the end of it. But not for Darren. He constructs a complete lie that I have dissed and dismissed the legitimate views of match going Blues, promoting my own remote views as being more valid.
Two things here:
1) it didn't happen
2) whether the four posters whose hyperbole I called out were match-goers or not didn't even enter my thinking. As it was, of the four I was only aware of Danny O'Neill attending the game
And this is were we get the Hind Warp where Darren moves the discussion away from Michael Keane, to another topic altogether.
Namely, insisting that the view of the match-going fan takes precedence and is superior to that of the remote fan.
At 420 I offered a very explicit summation that takes a more balanced view. That there is no homogeneous, universal view in either camp and that neither camp is exclusively made up of fans with greater knowledge or out-and-out imbecility.
So given the above, in answer to your question 'what the fuck a debate over a striker's position in a league cup game four years ago has to do with [the themes in this thread] I thought it should be obvious.
It's this.
Darren has made great play on his belief that match attendees 'see' more and so are better placed to comment on events such as a player's positioning on the pitch.
At no time have I argued that a match goer doesn't have a fuller perspective of proceedings than the remote viewer. I called it undeniable.
My example of the Sunderland game from four years ago that exercises you so much Jim is completely relevant to the claims Darren makes, as well as highlighting the lack of universal agreement on proceedings by two fans attending the same game.
How anyone who attended that game and insist as Darren did that DCL did NOT play central striker that night should bewilder me. All the more so with his 'decades" of going the game.
But it doesn't. Because it's Darren. Having claimed at the time Dom was not getting games as central striker, it was beyond him to acknowledge in that game DCL most certainly did.
As I said previously, multiply that divergence of opinion between just 2 fans by 40,000 and you have an obvious example from the man himself on how there is never, ever universal consensus on a game or a player that Darren is attempting to claim, be they match-attendees or not.
We do not see things through one set of eyes for all.
Finally, on your observation that some TWers are obsessed with Darren.
I rather think the person most obsessed with Darren is Darren himself. Such is his vanity he cannot be seen to lose an argument or face.
Thus the frequency of the abrasive, cantankerous and rancourous posts which define him.
Kevin Prytherch
456
Posted 22/10/2021 at 22:29:41
Jim 434,
I also picked up on the fact that Darren didn't place the views of match-goers or people watching on TV above one another, but simply pointed out that they both have the benefits of different views.
It's blatantly obvious that you can see more of the build-up, positioning etc at the match as much as it is blatantly obvious that, with the advantage of replays, multiple camera angles and no obstructed views that you get a better view of goals and tight calls than the average match-goer.
Dale Self
457
Posted 22/10/2021 at 22:51:04
Hindism, heh.
Don Alexander
458
Posted 22/10/2021 at 23:08:07
Mike Gaynes at #450 makes mention of two things that a young lad never forgets, scoring his first goal being the first.
Lord knows why others are so coy about citing the other thing but am I the only one who vividly remembers being "auditioned" for the church choir?
"Oh, for the wings of a dove!" is one song I'll never forget.
Jim Jennings
459
Posted 22/10/2021 at 00:09:33
Jay 455
I'm loathe to extend this discussion but the only thing that monologue clarifies is that you are focused on settling old scores to understand the point the man made. Simply read post 456 which explains it quite succinctly.
Btw the irony in you writing the following will not be lost on anyone who reads these pages regularly.
"Such is his (Darren's) vanity he cannot be seen to lose an argument or face."
Dale Self
460
Posted 23/10/2021 at 00:51:36
Hindism, heh.
Kieran Kinsella
461
Posted 23/10/2021 at 00:57:33
Don
Haha best post in the thread
Jay Wood
[BRZ]
462
Posted 23/10/2021 at 01:39:35
Nothing to do with settling old scores Jim.
It is a clear and relevant example and a very simple point I've made in response to Darren's claims in this thread.
How can two different match attendees 'see' something as obvious as who played centre forward and call it so differently?
As I said, no matter whether you are a match goer or a remote viewer, there is never universal consensus on the match or individual players.
Yet Darren states '[match attendees] speak with more authority...simply because they get to see the whole panoramic picture.'
Enlighten me Jim. Who determines who is the greater authority among match goers 'who get to see the whole panoramic picture' when their opinions on what they saw 'with their own eyes' are diametrically opposed as clearly is the case every single game?
Oh! And if it's alright with you, I will exercise my right to defend myself against distortions and correct out-and-out lies others post about me. Nowt to do with needing to always 'win' a debate.
Steve Brown
463
Posted 23/10/2021 at 01:52:20
"I watched our centre-backs with great interest yesterday and, for me, Mina had his best game in a blue shirt. He spent nearly the entire match trying to usher a reluctant Keane to shuffle up 4-5 yards and barely put a foot wrong all game. He was the main reason we restricted the Mancs to a few half chances."
Posted by Darren on the match day thread for the 1-1 away draw at Man Utd. Did he attend that game or watch on the TV? If the latter then his TV set has a lot more functionality than mine and I'd like to know where I can buy one.
Kieran Kinsella
464
Posted 23/10/2021 at 02:12:35
Slightly off topic but I'm watching Hi De Hi and the vicar in it is the same vicar from Dad's Army.
Darren Hind
465
Posted 23/10/2021 at 04:05:09
Look I was more than happy to let Jay continue to make a complete Cheshire cat out of himself - lets face it. He needs nine lives just to type his denials out. But there are no lies from me here. I quote him directly from statements he made. Could I prove Jay wrong again ? I don't have to. Talk about protest too much.
Steve Brown
I watched the game at Manchester on TV. I commented on seeing Mina sweep his hands past his hips trying to push the rest of the defence forward. Did it give me a panoramic view ? did it fuck. Thats why I only commented on Mina...The rest of the team could have been strung out like awashing line for all I know. If I think on, I will ask my lad, He'd be better informed than me on the particular point.
That telly of yours ? It missed all that anti football Carlo played for eighteen months too didnt it ?...It may not be the telly you know. Have you tried switching it on ?

Kieran Kinsella
466
Posted 23/10/2021 at 04:43:16
465
Hate to say it. HATE TO SAY IT. … but in this instance I think you're in the right
Kieran Kinsella
467
Posted 23/10/2021 at 05:29:32
Seriously though, I get what Tony Abrahams was talking about with regard to being at the game. You see Keane sitting deep, which is something TV cameras wouldn't pick up on. But I also get Jay's point about people seeing the same thing but interpreting it differently.
I'll admit I only piled in to wind Darren up as he's irascible but I think this debate is a bit silly as, in truth, no-one is wrong and I think both sides are in agreement. But, being an internet conversation, it comes across as hostile so people double down and miss the big picture.
Steve Brown
468
Posted 23/10/2021 at 05:43:34
Haha, good dig back, Darren!
All joking aside, I also think you are right. You do see more of the team shape when you are at the game.
Conor McCourt
469
Posted 23/10/2021 at 07:25:22
Could I inform the moderators that there has clearly been an identity or a security breach at posts 426, 433, 435, 455 and 462. There is absolutely no way these posts belong to the name attributed as we were categorically told that the poster at 420 is not interested in winning a debate or having the final word.
Perhaps the moderators have mistaken his identity with a Latvian counterpart? This type of data protection breach is completely unacceptable due to the serious detrimental effects on the victim and how these posts are viewed by his contemporaries.
Tony Abrahams
470
Posted 23/10/2021 at 07:57:42
I watched the Villa game on the telly, and it was obvious that at times we defended at least 15 yards to deep imo personal opinion. This is something that can't be ignored, when you see the space this leaves for the opposition in the middle of the park.
If the same thing happens today, then just listen to the dog's abuse that Tom Davies will receive from the stands. I hope I'm wrong again.
Danny O'Neill
471
Posted 23/10/2021 at 08:36:48
There's always that bloke Tony.
Posting this around as I unfortunately can't travel today through illness. I left it late, but my ticket is going if anyone wants to attend. Upper Bullens and I don't want anything for it.
dannyefc26@gmail.com
Jay Wood
[BRZ]
472
Posted 23/10/2021 at 12:56:49
Darren, as you yourself said 'It's all up there.'
My original 'hyperbolics' post that causes you so much angst is still up there @ 314 to view in its full context.
As are Danny's posts @ 331 and your own @ 333 acknowledging that you both 'embellished' your comments to exaggerate Michael Keane's default position.
Case closed then. But no. You keep picking at the scab and pervert my words into the false claim that I am dissing and dismissing the views of match-going fans.
Show me any post at all where I - not YOU, but me - have stated as much.
Similar with the 'cheap shot' comment you misportray as me deriding all and any dissenting views to my own opinions. It was addressed to one poster and one poster only - Tony Abrahams - about one clause he used and fully explained to him @ 325.
At 393 you accuse me of 'coming in swinging and screaming' with my comment @ 314 that so triggered you. I did no such thing. Didn't even step out of my bathrobe or flip-flops. I'll happily leave the hysterics and drama queen act to you.
Further, that I was singularly responsible for shifting the focus of the thread on to Michael Keane. Again, it's all up there. I wasn't the one who brought Keane into the discussion.
It was you, no one else, that took the discussion off in another direction about the different perspectives of match goers v remote viewers.
My post @ 420 clearly lays out my balanced view on that, pointing out that such is the diverse range of opinion in both camps that neither can be classified as 'superior' or 'preferred' over the other. That there is no homogeneity in either group.
Even now, of the four people whose comments my original post @ 314 noted, I am only aware of one - Danny - who attended last week's match. I have no idea if the other three people - you, Tony Abrahams and Jerome Shields - attended or not. It is also a total irrelevance as it didn't influence the comments I made. That's another contrivance by you.
Finally, like Steve Brown I also wondered at the time about the comment he quoted of your observations about Mina v United if the following came with the benefit of live match attendance, or through the images all remote viewers share:
'I watched our centre-backs with great interest yesterday...Mina spent nearly the entire match trying to usher a reluctant Keane to shuffle up 4-5 yards.'
Given all you've posted on different match viewing perspectives, I'm intrigued to know how you contrived to 'see' Mina spending nearly the entire match doing what you claim.
Hands up any other remote reviewers who feel confident enough to make such a sweeping statement based on what they saw.
Dare I say it, more hyperbolics from you Darren based more on confirmation bias on what you saw rather than hard evidence. All the more so that you now add 'The rest of the team could have been strung out like awashing line for all I know.'
A final comment on me choosing to post that some question.
Several different posters have addressed me directly. Some I answer, others I ignore. My choice. My right.
TW doesn't have a private messaging facility that allows two posters to have an exchange unseen by others. Therefore, a reply addressed to an individual is seen by all.
Each of us then have a choice. Read it, or ignore it. There is plenty on TW I happily scroll past daily.
Time to focus on a new day, a new game.
---
Add Your Comments
In order to post a comment, you need to be logged in as a registered user of the site.
Or Sign up as a ToffeeWeb Member — it's free, takes just a few minutes and will allow you to post your comments on articles and Talking Points submissions across the site.
---
© ToffeeWeb