Report
A sea of change follows an extra week from Lampard's team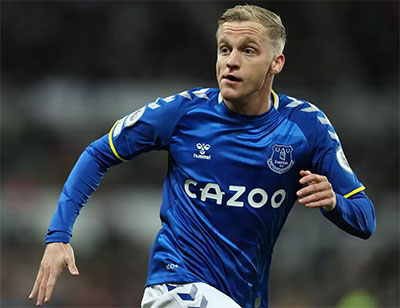 Donny van de Beek starts in midfield following his impressive display off the bench against Newcastle on Tuesday
Everton 3 - 0 Leeds Utd
Everton returned to Goodison Park to secure an excellent win over Leeds United demonstrating the effect of Frank Lampard's strong management to quickly atone for Tuesday's disappointing performance against Newcastle.
Dominic Calvert-Lewin and Donny van de Beek started along with Kenny and Iwobi, with Gomes and Dele Alli on the bench. Yerry Mina and Demarai Gray had been added to the injury list while Vitaliy Mykolenko was not available. (Covid?)
Mason Holgate and Michael Keane are the centre-back pairing, with two right-backs in Kenny and Coleman, form the back line, Kenny on the left. None of the promising youngsters Dobbin or Onyango involved.
Everton kicked off, the hoof forward headed out by Calvert-Lewin. A glorious chance developed for Anthony Gordon and he totally messes up. Richarlison had a good run but Iwobi's cross was to the defender. It was all Everton playing the ball forward in the early minutes but Iwobui's next attempt was blocked to the keeper.
Third tine for Iwobi coming down the right channel and a defender was across to limit the danger of his pass to Calvert-Lewin. Iwobi did well to stop a Leeds break but then gave the ball up very easily. The early pace of the game was 100 mph and at least Everton were finding the space to make passes and play football.
Dallas's collision with Iwobi caused some damage and he went off on 8 minutes. Kenny beat his man and crossed well, inches above Calvert-Lewin. The next move saw half-the team combine in a brilliant piece of power play, after Iwobi won the ball back and fed it to Coleman, then Gordon with a fantastic ball in to Van de Beek who crossed to Calvert-Lewin and his bunded attempt was finished off with Coleman of all people running in and scoring on the line with a diving header! Great stuff.
Everton kept up the forward play, much to the delight of the Goodison crowd. Somehow, from somewhere, they had learned how to press and win the ball back from the opposition. The hard work had created three chances on target for the Blues in the first hectic 15 minutes.
Leeds came into the game more then, and Holgate needed to execute a clinical touch to deny James. Rodrigo then fired a brilliant volley that smacked off the top of Pickford's bar. A warning that a lot more than one goal would be needed to win this one.
The first corner, taken by Gordon was a superb delivery that invited a powerful header by Keane as he was fully marked by the Leeds defence but it wasn't enough to prevent the Park End net from bulging delightfully. Ayling caught Holgate with a high boot... interesting, if it had been the other way, that would have been a penalty these days.
Article continues below video content
Some more great play from Kenny, beating Raphinia to fee Gordon but his shot was not clever enough to beat Meslier. Leeds won a corner when a shot was deflected wide by Richarlison who was there to head it clear and then follow up with a breaking run that James ended somewhat cynically, James getting a yellow card.
Everton tried to play out the back and messed it up, Pickford's clearance too strong for Coleman. After some messing around with the balls, Pickford resorted to a proper clearance upfield. Richarlison, playing deep right now, was accused of fouling and it stopped an Everton break.
Gordon swung in another ball but just a little too far ahead of the Everton strikers. After good build-up play, Iwobi was set up centrally for a shot that he drove wide. More good build-up play was spoilt by a poor turn from Calvert-Lewin, with Iwobi free to his right.
Gordon inspired another great attack, set up for Richarlison who seemed to take a fraction too long to shoot and Hjelde was across to block what seemed to be a clear shot on goal. More forward play saw Allan make a weak shot that may have strained his groin.
Another exceptional build-up saw Calvert-Lewin in space and needing one of those clever shots over the keeper but instead he shot well within saving range of Meslier. the corner this time was overhit and led to a Leeds corner that needed some defending.
Another very promising move saw Kenny trying to cross, perhaps with his wrong foot, and over-hitting it. At the other end, Rodrigo again rattled the Everton woodwork with a fantastic curling shot, Pickford beaten all hands down. That was a fitting end to a pulsating first half with some fabulous football (at least by recent Everton standards) bearing the clear imprint of Frank Lampard.
Two changes by Bielsa for the second half, one Adam Forshaw, formerly of the Everton Academy. Gordon got things going with another attempt on goal, this one forcing a save. Leeds came out to play, James firing over.
But Everton were still keen to play the ball forward and looked to work it around the Leeds area, this time with less penetration. That was somewhat spoilt by some horrible passes from Keane. Holgate forced to give up a corner that led to more sustained pressure. Van de Beek got a smack on the nose that needed treatment.
But the ball was not sticking as long with Everton's forward moves, the changes for Leeds adding to their bite. Pickford had to leap to clear the ball away from James. But the hour-mark passed with Everton still in front. Keane wasted a free-kick that Calvert-Lewin could not reach.
Leeds were much more effectively stifling Everton's play and preventing any chances but Lampard seemed reluctant to make a change of personnel. Iwobi again did well to win the ball in a challenge but Gordon's shot-cum-cross seemed a tired one. And Calvert-Lewin again missed an aerial ball fired in his direction.
Brilliant defending by Coleman allowed him to feed Iwobi for a break but he played it to Calvert-Lewin whose attempt to do anything with the ball was nothing short of pathetic. He had no strength or ability left. Finally, Frank brought Dele Alli off the bench and replaced Calvert-Lewin, to partner Richarlison.
Iwobi kept trying to shoot through the defender every time. Iwobi was late with a challenge that saw him get booked. But Everton were relentlessly pushing forward into the final third, determined to deny Leeds the space they wanted.
And Allan advancing forward through the middle, played in Richarlison who had a lot of work to do to make space for a shot that screwed off the heel of Gordon's boot and bobbled into the corner of the Leeds goal for a wildly celebrated third Everton goal.
Into the last 10 minutes and time for Anwar El Ghazi to make his Everton debut, Anthony Gordon going off to a fine ovation. Dele Alli tried a shot off the outside of his foot that didn't quite come off for him.
Richarlison suffered his last challenge before Rondon came on in his place. Iwobi was still working hard and trying to make things happen for the attacking subs Lampard had brought on. Leeds shaped a rare attack near the end but could not fashion a shot on goal.
Perhaps the best play of the game saw Dele Alli take the ball down the right channel and launch a brilliant cross into the path of Rondon who leapt (like a salmon) to get over the ball and volley a tremendous first-time strike that would have been the goal of the month but Meslier somehow got a hand to it and deflected it wide.
Everton kept attacking well into added time, which an injury to Hjelde extended from 2 to 5 minutes before the Goodison Park crowd could celebrate an excellent win in fine style
Scorers: Coleman (10'), Keane (23'), Gordon (78')
Everton: Pickford, Kenny, Holgate, Keane, Coleman, Allan, Van de Beek, Iwobi [Y:75'], Gordon (82' El Ghazi), Richarlison (86' Rondon), Calvert-Lewin (72' Alli).
Subs not Used: Begovic, Patterson, Townsend, Tosun, Gomes, Branthwaite.
Leeds United: Meslier; Ayling, Llorente, Struijk, Dallas (8' Hjelde); Koch, Klich (46' Forshaw) ; Raphinha (46' Roberts), Rodrigo, Harrison; James [Y:30'].
Subs not Used: Bate, Klaesson, Bate, Shackleton, Kenneh, Gelhardt, Summerville.
Referee: Graham Scott
VAR: Andy Madley
Attendance: 39,150
Share article:
---
Reader Comments (436)
Note: the following content is not moderated or vetted by the site owners at the time of submission. Comments are the responsibility of the poster. Disclaimer
Ian Edwards
1
Posted 12/02/2022 at 13:49:57
Iwobi playing. 🤔😏
Jay Wood
[BRZ]
2
Posted 12/02/2022 at 14:07:57
That looks like a flat back four, doesn't it?
A very 'interchangeable' midfield and forward line, I would suggest.
Donny had to come in for Gomes. Iwobi evidently impressing on the training ground again. Be nice to see that transferred to match day. Strong bench again, given all the injuries.
Time to start getting points on the board, Blues.
Dennis Stevens
3
Posted 12/02/2022 at 14:10:32
4-5-1 / 4-1-4-1 type of thing?

Jim Hillier
4
Posted 12/02/2022 at 14:11:52
Watching from afar. The Old Lady has a big part to play today
Christy Ring
5
Posted 12/02/2022 at 14:17:20
Kenny will have his hands full with Raphinha, Iwobi a surprise. I don't care how well he does in training, he has never transferred it to match day, and he's no help for Kenny on the left. I reckon it's his last chance saloon today.
Chris Cook
6
Posted 12/02/2022 at 14:19:13
How Kenny, who is leaving the club in 4 months, is getting in the squad so often over Patterson, is beyond me.
Iain Johnston
7
Posted 12/02/2022 at 14:20:15
Think he's going 4-2-3-1 myself, 4-5-1 when defending.
Andy Walker
8
Posted 12/02/2022 at 14:32:30
Coleman LB?!
Iwobi!!!!!
Alan J Thompson
9
Posted 12/02/2022 at 14:38:48
Another right left-back, didn't work last time. Gomes is gone and four strikers on the bench. Obviously giving Bielsa something to think about, I think.
Ciarán McGlone
10
Posted 12/02/2022 at 14:41:02
Tuesday's team deserved to start on merit. None of Tuesday's team deserve to start today and those that do are there by default.
Gomes rightly given the trap door and Allan is lucky there's no-one else.
Good to see the extra man in midfield. Not so good to see it's Iwobi – but everyone gets a fresh slate under Lampard, so let's see how he does.
I expect us to win this despite all the huff and puff Leeds will throw our way.
Let's go!
Andy Finigan
11
Posted 12/02/2022 at 14:45:07
If we are 4-4-2, I would ask Richarlison to stay near Calvert-Lewin and pick up the loose balls. If they work as a partnership, ie, know when to shoot and when to pass, we have a chance.
Iain Johnston
12
Posted 12/02/2022 at 14:47:01
I wonder if he's thinking that a right-back might be better suited to cover Raphinha's left peg... Jonjoe Kenny is a less attack-minded fullback and could stay behind the ball?
Alan J Thompson
13
Posted 12/02/2022 at 14:48:42
Andy(#10); Not a reference to DC-L's injury is it?
Danny O'Neill
14
Posted 12/02/2022 at 14:52:55
Win Everton. Just win.
I don't care who is playing or what formation, just win.
Come on blue boys.
Mark Ryan
15
Posted 12/02/2022 at 14:54:42
Kris Boyd on Soccer Saturday. "If you are looking to a player to turn around your fortunes and it's Iwobi, you have problems". That sums up our situation. The team needs to give blood today and I'm unsure whether these players want to roll up their sleeves. I hope I'm wrong.
Justin Doone
16
Posted 12/02/2022 at 14:55:49
I've got the relegation collywobbles... this could be a very bad day.
Good luck, may we find some from anywhere.
Tom Bowers
17
Posted 12/02/2022 at 14:55:55
Doesn't seem to matter how many men we have in midfield they still seem to be wide open.
Maybe Frank can get VDBeek and co. tackling and covering better than what has gone on before. Without a change in that department they will continue to struggle.
The 'D' department, Doucoure, Davies,Delph and Dele are all non-starters and Gbamin is just not fancied anymore.
Leeds have a few playmakers and we need to snuff them out to have any chance.
Kieran Kinsella
18
Posted 12/02/2022 at 15:00:29
Little harsh on Townsend but in theory Iwobi offers more balance.
Fran Mitchell
19
Posted 12/02/2022 at 15:01:31
3 at the back with Iwobi Being a full back? 442? 4-3-3 and Iwobi in the middle?
Not inspiring but this is what it is I guess

The continued absence of Myko and Patterson, some £30 investment, is worrying.
They've both been here more than a month, and for Patterson to still be waiting his debut, is not exactly what we hoped.
Keane and Holgate is not the defensive partnership to bing confidence either.
Hopefully we can score more than them I expect many goals in this game. I hope 3-2, I worryingly expect 3-1 to Leeds.
Andy Walker
20
Posted 12/02/2022 at 15:01:41
3 at the back…
Simon Harrison
21
Posted 12/02/2022 at 15:05:35
The Beeb are saying it's a 4-4-2, which without the ball it probably will be.
With the ball, I'd imagine a 4-3-3 with Iwobi tucking in with DvdB, Allan playing the pivot, and Gordon pushing up.
Personally, I'd put Gordon where Iwobi is, and replace Iwobi for Townsend...
No Gbamin, so no 4th CB option, no true CDM, how bad is he? Couldn't he have dropped one of Tosun or Rondon?
Why Branthwaite and Patterson aren't starting is beyond me.!?
Seamus IS the worst performing defender in the EPL for goal opportunities conceded/scored; and Holgate, well... despite scoring two goals, he is not as good as Branthwaite.
Both Patterson and Branthwaite have loads of energy, are fresh, and are rapid!
As I said two weeks ago, I was a positive sceptic of Lampard, now I'm a positive Blue, but a Lampard sceptic.
No tin hat necessary, 'tis my opinion and I'm sticking with it.
Lampard's backroom staff have obviously not done any tape work on Iwobi; he always flatters to deceive, allegedly, in training, only to deliver nothing on match day.
Goodison needs to be at its raucous and rocking best today methinks...
Good luck to the Blues UTFT and damn the torpedoes !
I hope I have a double helping of crow to eat after the game.
Mark Ryan
22
Posted 12/02/2022 at 15:05:58
Good start, c'mon boys !!
Mark Ryan
23
Posted 12/02/2022 at 15:11:55
Change nothing, keep at em !!
Mark Ryan
24
Posted 12/02/2022 at 15:14:55
Keep the foot on the gas !!!
Jerome Shields
25
Posted 12/02/2022 at 15:50:53
Van de Beek making a great difference in midfield. We got a decent player from Man Utd, miracles do happen.
Jay Wood
[BRZ]
26
Posted 12/02/2022 at 15:54:32
Anyone still advocating KITAP1 as the way to play ourselves out of trouble?
THAT was the most exhilarating 45 minutes of football Everton has played all season.
Leeds couldn't live with our high energy and press.
EVERYONE is contributing. Including very much the fans in the stadium. Racous.
What a difference a player like Donny van de Beek makes to the team.
A couple of long range shots off the bar is all Leeds have to show. We, by contrast, could have had another 2-3. No exaggeration.
Keep to your principles, Frank.
Trust the process, Everton.
Michael Kenrick
27
Posted 12/02/2022 at 15:55:52
I love this line:
"Seamus IS the worst performing defender in the EPL for goal opportunities conceded/scored;"
Yea, sure, Simon, but he was rather crucially involved in BOTH Everton goals. Does that swing the balance the other way just a smidge???
Alan J Thompson
28
Posted 12/02/2022 at 15:59:36
That was a great opening 16 minutes and then some of the support from midfield stopped. Gordon should of course have put us in front but it was good to see so many getting forward, Iwobi having a very good half, while Calvert-Lewin doesn't look fit – never mind match-fit. But it must be noted that Leeds were unlucky to hit the bar twice in the half.
Can we keep this pace up for another 45 minutes?
Ciarán McGlone
29
Posted 12/02/2022 at 16:53:59
The Yellow Spot will be out tonight.
Enjoyed that. No point in analysis, just enjoy.
Ernie Baywood
30
Posted 12/02/2022 at 16:55:34
How good does Goodison sound?
Lots to like about that performance.
Where did this Alex Iwobi come from? I'll continue to maintain that he's got some pretty fundamental failings as a footballer... but today he was big, strong and aggressive. That'll do for me.
You get the feeling Leeds just want out of this horrible place. That's what we need to be creating at home.
Bill Gienapp
31
Posted 12/02/2022 at 16:57:54
Fuck Yeah!!!! There's my analysis.
Jay Wood
[BRZ]
32
Posted 12/02/2022 at 16:58:00
Big result. Big performance. Richarlison, a MONSTER of a game. Glad he got on the score sheet.
This eases the pressure for all. The manager. Players. Team. Fans.
EVERYBODY stood up today.
Tommy Coleman
33
Posted 12/02/2022 at 16:58:39
Brilliant performance, really enjoyed that.
Derek Moore
34
Posted 12/02/2022 at 16:59:10
What a difference a day makes.
Told many of you not all that long ago we were never getting relegated. And thankfully I'll win a nice chunk now that appears to be a cast iron certainty.
Turns out Benitez out dated methods and perhaps the Liverpool connections were the issue after all. That was a night and day difference in effort, intensity and overall performance for just about everyone on the pitch. Even down to a certain Venezuelan and a spectacular volleyed effort near the end.
Many many heroes today, but VDB, Gordon, Seamus, Richi and - yes! - Iwobi were absolutely brilliant.
I think Danny O Neill was right. We're winning the cup this year. Glad I've got a small lump on that at some nice odds to boot as well.
Enjoy your Valentines day blue noses, and treat your other halves to something nice. Like paying it forward after watching that really isn't it? More of the same please, for the rest of the season and beyond.
Mark Ryan
35
Posted 12/02/2022 at 16:59:55
Alex Iwobi, an enigma? Just baffles me...
He seemed to really try today??
Kieran Kinsella
36
Posted 12/02/2022 at 17:00:37
Positive attitude, positive football. Frank versus Rafa is night and day. Players happy, fans happy. Kenny, Coleman and Iwobi – brilliant response to critics. Gordon a real star. Holgate and Keane sensible and solid.
Tremendous day!
Steve Brown
37
Posted 12/02/2022 at 17:01:58
Where do you start with MotM? Kenny, Holgate, Gordon, Van de Beek, Richarlison, Iwobi – all excellent.
Enjoyed Dele Alli when he came on as well. Donny really knows how to look after the football, so him by a small margin. Chuffed to bits.
Christopher Nicholls
38
Posted 12/02/2022 at 17:02:37
Faultless today. Well played everybody. Great atmosphere and great tempo from the off.
Steve Brown
39
Posted 12/02/2022 at 17:03:46
Ten shots on target today!
Michael Kenrick
40
Posted 12/02/2022 at 17:05:24
One thing that I do find tough running this website is having to wade through so much utter shite posted by divvies before the game who think they know how it's going to pan out.
To me, football is a game of the moment. I hate predicting anything about it, from the result to the line-up to how the side will play. Good job I don't have to do the match previews!
And I guess that's why I don't gamble either. Just so glad to see so many proved so wrong by today's excellent performance and result.
Christopher Nicholls
41
Posted 12/02/2022 at 17:08:19
Still getting up to speed, but diff side with DCL. His hold up play was excellent today. Makes it easier for the others around him to shine.
Pat Kelly
42
Posted 12/02/2022 at 17:10:09
Getting my Alex shirt tomorrow
Jerome Shields
43
Posted 12/02/2022 at 17:10:25
Frank is a quick learner.Really took in alit from the Newcastle game.Iowbi and Kenny really good.Van de Beek class.All the players made a contribution.Defence told to clear their lines, with no mucking about.The midfield had runners and was tracking back.Lampard seems to be able to marry in Wing play with the midfield, giving Everton more options in the final third.This seems to suit alot of Everton players.Iowbi seems to have a free role,Frank decided there is no such thing as a Iowbi best position.Iowbi was very effective of recovering the ball and launching attacks. Gordon excellent can see that Delle Ali will improve.A bit more coaching and Calvert Lewin decision making will.improve. Ricky very effective.Al Gazi looks promising.
Barry Rathbone
44
Posted 12/02/2022 at 17:10:51
Didn't believe it possible with this group against a hard running side like Leeds. Well done blue boys a truly monumental result and congrats to Coleman and Keane it's been difficult for the pair to say the least.
In the same vein props to Iwobi who had another productive game in fact it sounds like they all turned up so as they say in my old parish "I'm dead chuffed". Lovely stuff
Jimmy Salt
45
Posted 12/02/2022 at 17:14:22
Love reading the pre match :D
Alan J Thompson
46
Posted 12/02/2022 at 17:14:24
While the pace of the first half was not continued in the second half and which may have been expected, we did to Leeds what Newcastle did to us.
Leeds seemed to be targeting Kenny's side at the start of the half but Jon Jo did not look out of place and had a very good game but it would be hard to say that anyone didn't albeit one or two had less chance to shine.
It was right to sub Calvert-Lewin but I'm not sure I would have sent Alli on and I thought that after the amount of work Richarlison got through that he might have been subbed at 3-0.
Van de Beek certainly brought the midfield together and while reminiscent of Gomes at his best he seems to handle the pace better than Andre. The hard part might be when Gray is fit and Calvert-Lewin is at full fitness but on the strength of what Frank is getting out of them the "deadwood" pile seems to have shrunken considerably.
Finally, a lot better refereeing performance with the possible exception of Iwobi's booking as there was no malice at all and there must be a time when the free kick is sufficient penalty.
Jamie Crowley
47
Posted 12/02/2022 at 17:15:34
That. Was. Beautiful.
Fucking fans at Goodison - take a bow! 39,100 glowing, shinning, beautiful lights and souls in unison protecting that which they love.
That was an Everton team that I've been crying out for, for years.
Frank is our man, and we're in good hands. Brilliant brand of football thus far, even at Newcastle you could see what they were trying to do.
Onwards. So fucking happy right now.
Derek Moore
48
Posted 12/02/2022 at 17:16:53
It's not gambling if you know what's going to happen though MK (#40)
You must be the only fella in the world who doesn't have an opinion on the match before it happens mind. In a minority of one can everyone else really be a "divvy" then?
At least we're all happy we're trending the right way now, with confidence and some momentum. Or is that too much positivity looking into the future? And I'm not really bothered what you call me or anybody else when we play that way.
Hope you treat your other half to a great Valentines Day though MK. It really sounds as if they deserve one more than most. Take care!
Darren Hind
49
Posted 12/02/2022 at 17:16:56
Fucken made up.
That's all
Christy Ring
50
Posted 12/02/2022 at 17:17:08
A massive 3pts, and a brilliant performance. I love the pressing game under Lampard. Delighted and surprised by Iwobi today, maybe the sending off in Africa has transformed him. VDB made a huge difference in midfield, delighted for Seamus, maybe the critics will layoff him now, Simon Harrison eat your words.
Michael Lynch
51
Posted 12/02/2022 at 17:22:06
I can't remember the last time there was an atmosphere like that at goodison. First half was incredible - the noise! Took me back to the 1980s to be honest.
No MOTM for me today, cos every player did their bit.
Just fucking brilliant.
Stefan Busby
52
Posted 12/02/2022 at 17:24:48
#21 Simon Harrison
Utterly clueless,
Have a week off flower as that is really embarrassing.
Andrew Cunningham
53
Posted 12/02/2022 at 17:28:23
Well done boy's, A great effort and much appreciated.
Dennis Stevens
54
Posted 12/02/2022 at 17:28:31
Bill #31 - I concur!
Pete Clarke
55
Posted 12/02/2022 at 17:29:17
Danny.
Greatest post ever. ' Just Fuckin Win '
Well we did win and easily too.
I did not see the Iwobi part in my mind but it reversed the Leeds energy.
We have now removed that one foot out of the championship.

Up and onwards Frankie Lampard. 🍻
Kieran Byrne
56
Posted 12/02/2022 at 17:29:49
& exhale, massive result & what a total team performance! Clean sheet & the way we moved the ball was fantastic.
First half was one of the best of the season so far & everything seemed to " click " . DCL hold up play and our passing was great, we were a good watch today, the movement of all in attack was great to see.
Special kudos to JJK & Gordon thought they set the pace & attitude in the first 10 minutes, I was worried about Leeds pace but as it turned out Leeds were a step behind us all day.
It's nice to have a good 2 in the mid that were real good with the ball today & Iowbi had probably his best game in a Everton shirt. Is it coaching ? I see a lot of goals coming for us as we have quality in attacking positions, hoping for more of these results!
Have a great weekend blues!!!

Simon Dalzell
57
Posted 12/02/2022 at 17:33:03
Just about perfect. DCL gives us a much better shape, and looked much stronger today. I don't really want to pick anyone out as all were terrific, though Donny VDB and Iwobi were outstanding. Iwobi put in a lot of effort ( which he should have been doing previously ) as well as skill. So uplifting. Obviously a standard to maintain. I'm especially pleased for Seamus getting his goal, and having a fine game when written off by many.
Jeff Armstrong
58
Posted 12/02/2022 at 17:36:34
Enjoyed that, nobody had a bad game, special mentions to VDB,JJK, AFI.
Ian Riley
59
Posted 12/02/2022 at 17:36:53
Well done Frank and all your coaching team! From Newcastle to that performance today! Just feel so emotional! Yes we are not safe and one great performance does not make a season but it's a start!
It's about man management and every man has earned their lye in tomorrow! We must go again but first lets enjoy tonight!!
Stan Schofield
60
Posted 12/02/2022 at 17:37:03
Brilliant, just brilliant!
Andy Crooks
61
Posted 12/02/2022 at 17:38:17
Just, great, wonderful. well done the optimists and believers. I never doubted us( fucking lies).
Pleased for every player and every supporter. MOTD ? Might have some of that tonight.
Work to be done,but doable work to be done. This is why we do it.
Jay Wood
[BRZ]
62
Posted 12/02/2022 at 17:38:56
I know Richy's shot took a feather touch off Anthony Gordon before nestling in the net for the third, but I don't think it merits being awarded to Anthony rather than Richarlison as officially confirmed.
Some goals that take heavier deflections off a defender often get credited to the attacker that shoots, rather than given as an own goal.
If confirmed, I reckon Richarlison has been robbed of a goal there.
Kieran Kinsella
63
Posted 12/02/2022 at 17:45:24
Simon
I don't think it's fair to say Iwobi hasn't previously put in an effort. I think he always does just the problem is he's typically careless and error prone. Today his effort was matched with quality
Simon Harrison
64
Posted 12/02/2022 at 17:45:37
Well, well, well; what a great win! An absolutely fabulous effort and engagement by the fans, excellent gutsy, balls out performance by the players, and Lampard seemed to get everything right today.
Richie MotM today for me, but closely followed by DvdB, Gordon, JJK, Allan, SC and with only a tiny croak, Iwobi.
I'm currently enjoying eating a triple portion of crow.
Simon Harrison
65
Posted 12/02/2022 at 17:46:34
Jay Wood [BRZ] #32, well said compadre.
Ian Edwards
66
Posted 12/02/2022 at 17:47:20
What a great result. Absolutely beaming with that. Everyone put a shift in. Fans were superb. We have a Manager that has given us our pride back.
Will Mabon
67
Posted 12/02/2022 at 17:49:53
"Like a Salmon"!
Mike Gaynes
68
Posted 12/02/2022 at 17:52:29
I'd like to offer some credit to a guy who hasn't done much right since he joined the club.
No, not Alex Iwobi.
Farhad Moshiri.
Looks like our owner's long string of bad decisions has finally been broken with the hiring of Frank Lampard. Well in, sir.
Simon #64, full credit for holding your hand up on your pre-game post (which didn't age well, did it??). Well in, sir.
Danny O'Neill
69
Posted 12/02/2022 at 17:52:58
Too raw too judge but what a result and performance against a team and manager many praise and wish for.
I'll analyse in the the morning but right now I just love you Everton.
Jim Hillier
70
Posted 12/02/2022 at 17:54:00
Made up by that performance. Not convinced Iwobi is the same player I have seen over recent months. Maybe a twin brother who has been swapped.
Enjoyed the aggression, the passion, and the technique from the team today
If Nil Satis Nisi Optimum means anything on a game by game basis, it means a performance like this

Simon Harrison
71
Posted 12/02/2022 at 17:56:26
Michael #27 Today was an outlier for Seamus, and as much as it pleased me (Yes, it really did) that he turned in a good performance, it doesn't detract from his other performances that make him a liability usually. I know, statistics, damned statistics, and lies!
At least I have the courage of my convictions to post my opinions, no matter how unfounded on this occasion.
Michael #40 If you "find it tough running this website and have to wade through so much utter shite posted by divvies before the game who think they know how it's going to pan out." Then why do you do it; it is after all a fan forum, and not an echo chamber, or is it meant to be? I'm confused now..?
Shouldn't fans be able to post their opinions, and the odd statistical fact on ToffeeWeb, or is that just for the administrators?
If it gets to you so much, then just jack it in.
Just my opinion of course.
Jim Hillier
72
Posted 12/02/2022 at 17:57:47
Feels great to be a Blue right now

Will Mabon
73
Posted 12/02/2022 at 17:59:03
Kieran, I've said since day one that Iwobi has a problem with nerves and self belief, he's a naturally uneasy player. If that can be sorted he'll have so much more to give.
What often goes unnoticed is his ability to find space, which is so natural I don't think even he knows how he's doing it. Defenders constantly lose track of him. Look how often he was available for the ball today, and is in most games. That's what he offers.
Add more of what we saw today when he has the ball and he'll be a worthwhile player.
Simon Harrison
74
Posted 12/02/2022 at 17:59:49
Derek Moore #48, I'm with you on that.
Dazza #49, when you're sober, I'm sure we'll more from you ;) hehe
Simon Harrison
75
Posted 12/02/2022 at 17:59:51
Derek Moore #48, I'm with you on that.
Dazza #49, when you're sober, I'm sure we'll more from you ;) hehe
Simon Dalzell
76
Posted 12/02/2022 at 18:00:28
I agree Simon (71 ).A little disappointing from a man who has a lot of respect generally. I was quite shocked at the "divvy " comment.
Julian Exshaw
77
Posted 12/02/2022 at 18:00:50
'Rome wasn't built in a day' is such a boring old cliché but true enough. So let's say we got the coliseum done today. A glorious afternoon.
Martin Mason
78
Posted 12/02/2022 at 18:06:50
Christy@5 Any thoughts on Iwobi's performance today? I thought that he had a very good game.
Paul Tran
79
Posted 12/02/2022 at 18:08:08
That was a proper Everton team out there today. Energy, intensity, purpose and plenty of skill. When we press like that it gives everyone a bit of space. Excellent debut from Van der Beek. The much-maligned central defence played well too. And good to see Iwobi look at home in a Blue shirt.
Bringing in a proven coaching team of winners is paying dividends already.
It's a top ten squad, so there will be blips, but that was the standard set today.
Dennis Stevens
80
Posted 12/02/2022 at 18:08:34
Odd to think that Coleman was in the team when the Leeds sub Forshaw made his debut for Everton against BATE Borisov back in 2009. Unfortunately for him, Moyes only ever gave him one more run out, as a late sub versus Wolves in 2011. A rather short Everton career, although 1 & a bit matches is better than many achieve.
Tony Hill
81
Posted 12/02/2022 at 18:10:37
Will@73, that's right. I'd defended him then gave up on him but I have never seen him so physically assertive.
A wonderful day. A word too for Kenny who also looks like a player reborn. They were all great.
And that pass from Alli for Rondon bodes very well.
Jerome Shields
82
Posted 12/02/2022 at 18:13:15
It was Richarlison's goal. With his left foot too. First time I have seen him shot effectively with his left foot.
Everton alot better coached.
Martin Mason
83
Posted 12/02/2022 at 18:13:34
Michael@40 That was a really disappointing comment. Correct but not as an admin of the site?
Kieran Kinsella
84
Posted 12/02/2022 at 18:13:47
Will Mabon
That's a fair summary I think part of his issue is that he's panicky and sometimes makes a move before thinking
Simon Harrison
85
Posted 12/02/2022 at 18:15:05
Christy Ring #50, see my post @71.
Other than that, one portion of crow eaten, two more to go. :D
Simon Dalzell #76, thank you, and me too. I feel, that I should feel castigated, but in truth, as you do, I think Michael has made a faux pas.
Kieran Kinsella
86
Posted 12/02/2022 at 18:17:06
Paul
I think the coaching team is crucial. For whatever reason previous coaches seemed to have slimmed down crews of family members plus whoever they inherited at Goodison. Frank has brought in a good mix of people he trusts with capabilities to supplement his skill set
Nick Page
87
Posted 12/02/2022 at 18:20:44
Been out all afternoon - what a result. Is that light I can see in the tunnel?
Mike Gaynes
88
Posted 12/02/2022 at 18:21:21
Speaking of passionate displays, check out Norwich right now against City. Playing their hearts out.
Dennis #80, he was never quite good enough, but he built a fine career and came back from an absolutely horrifying injury. Full respects to him.
Christy Ring
89
Posted 12/02/2022 at 18:21:39
Simon Harrison #71 You made a ridiculous comment earlier and now to say Coleman is usually a liability, total nonsense
Ernie Baywood
90
Posted 12/02/2022 at 18:22:23
Will and Tony, you're being sucked in again.
I mean, let's acclaim the effort and aggression that Iwobi put in today... but claiming there's a worthwhile player in there? Nah, we've been here before.
The odds are overwhelmingly in favour of him reverting to type. Because that's what he's always done.
Personally I think he lacks some pretty basic ability. Things like the ability to strike a ball correctly - the stuff you learn by 12 or you never really learn.
Today, he gave Leeds a horrible time with his strength and aggression. I'm happy to celebrate that.
Mark Ryan
91
Posted 12/02/2022 at 18:25:05
Game of the Day Sky Sports at 8.30 Everton v Leeds 💙
Jack Convery
92
Posted 12/02/2022 at 18:25:32
Well done the management, the players and the fans. All for one and one for all. Lets enjoy it.
Danny O'Neill
93
Posted 12/02/2022 at 18:32:43
I love them more than life itself.
I some times wish I didnt but I do. Unconditionally. And I can never help or stop that!! My blue boys forever. I fucking love you and always will no matter what you put me trough.
I will comment more rationally tomorrow but right now I just love you Everton even hough you get me into trouble with the wife and put the poor dogs through torture.
Everton. One word. One life
Paul Birmingham
94
Posted 12/02/2022 at 18:33:16
Great result, spirit, heart, skill, desire, care and the Goodison Park crowd were inspiring.
Great day, enjoy the weekend and celebrate a well earned win, and a clean sheet.
Hopefully the start of some stability and run of form. Well don't to the whole squad today, all played their part.
UTFT!
Will Mabon
95
Posted 12/02/2022 at 18:33:33
Ernie, I've been sucked in enough times to ensure that it usually happens less nowadays. That's why I covered my ass with
if
and
he'll
in the post.
The guy has shortcomings and I've complained of them in the past. He also has the potential to be much better if they can sort out his swede.
What we saw of him today if available consistently has a place in the team/squad I think. Including that aggression.
Martin Mason
96
Posted 12/02/2022 at 18:36:19
I believe that Iwobi was really highly rated by the Arsenal coaches?
Robert Tressell
97
Posted 12/02/2022 at 18:37:04
I love Anthony Gordon. Also, so pleased for JJK who I feel has been treated really badly by the club but has a first class attitude to his football.
We'll pick up plenty of points at home so no need to shit our pants. Especially now with a league win under our belts.
Brian Hennessy
98
Posted 12/02/2022 at 18:38:22
A superb performance from start to finish from all of our players. Special mention to Iwobi who covered every blade of the pitch - he was terrific.
Lampard got his selection correct but more importantly he got the players up for it. But the biggest contribution made today was from each and every one of the Everton fans who went to Goodison today - you were fantastic.
I honestly believe that we have now turned a corner.
Will Mabon
99
Posted 12/02/2022 at 18:40:05
Martin, he was certainly earmarked for the future back then but obviously went off track. It's the mentality that's the problem it seems. Maybe there'll be a relatively late development that finally sticks. A long shot but you never know.
Dave Abrahams
100
Posted 12/02/2022 at 18:44:58
So pleasing to come away from the game with a well deserved win which put the crowd in a very good mood similar to the Arsenal game coming out of the ground with a little boy about six years of age on his dads should pumping his two fists like crazy while singing " Everton, Everton Everton" as they walked towards his dads mates and getting a standing ovation off them and everyone else who had stopped to watch his performance, I loved it, nearly went over and give him ten pence!!
As for the game itself no one could be unhappy with that performance, a very good TEAM effort appreciated by every fan there today and the thousands who watched it on TV.
I wouldn't argue over who gets TMOTM award giving it to Jonjoe Kenny myself because I'm biased and the lad continues to get stick by many fans on here but he had a tremendous game today in a position he's not used to, but enough of that every player deserves a pat on the back for the effort, determination and work they put in today and ease the pressure on us, keep it up lads.

Niall McIlhone
101
Posted 12/02/2022 at 18:48:39
Well said Mike Gaynes(#68,) as we should not overlook that the owner
( seemingly?) stood aside his preference for Pereira and - responding to fan pressure- did another interview with Lampard, only then to decide he was the man for the job. Frank has also brought in top class people to work with him.
Having been at St James's Park on Tuesday, and having witnessed a mixed bag of nervousness, hurried play, and rotten luck with two key injuries, today appears to be the day that the players finally energised themselves and both the management team and the fans must take credit for playing their part in what could be something of a turning point. We also knocked three" minus" goals off our goal difference. All good.
Now, prove you can do it away from home. Go at Southampton from the first whistle and attack, only then willwe will we'll and truly see what you are made of. If DCL is not match fit, then let's see what Rondon can offer.
Joe Corgan
102
Posted 12/02/2022 at 18:49:37
It was an almost complete performance today. Nobody played badly at all. And I do agree that we did to Leeds what Newcastle did to us on Tuesday.
Our press was excellent today. Rarely did we win the ball at the first press, but at the second and third which is exactly the right way to do it.
Holgate kept it simple, which is the right thing for him to be doing. When confidence is low, and you have the opportunity, launch it. Don't play your way into trouble.
Allan and VdB were everywhere in the first half. They both dropped off a bit in the second as the pace of the game slowed but they always looked in control, ready to step it up when needed.
Coleman was solid as a rock today. Still half a yard short on pace at times but his experience, positioning and sheer willpower made up for it.
Kenny is a player that seems to refuse to believe he's not good enough, despite the assertions of successive managers. Not great with his left foot but didn't look out of place at left back today. And he got up and down the wing really well. A job made easier when a player like Anthony Gordon has a stormer in front.
Iwobi was decent. Perhaps not quite as good as some have suggested today. He put in plenty of effort and made a few crunching tackles. Good enough was good enough.
I certainly think it's still too early to believe we've turned a corner. Leeds, like us, have a few injuries at the moment and had a very high-tempo, very tiring match the other night. Most other teams will present a bigger challenge. It's madness to suggest we're too good to go down or safe from relegation. Our next match could easily go the same way as the Newcastle match. These players can blow hot and cold and, this season, it's been mostly cold.
That said, there were positive signs today. Now we need to get at least a point and a decent performance away at Southampton. Getting some some of consistency is going to be key. After that, we've got City at home, Wolves at home and Watford away. From those four games we have to target six points, minimum. Get those and we'll be on our way.
Brian Williams
103
Posted 12/02/2022 at 18:50:32
Dave. JJK actually did two little Cruyff like turns, one after another in one move. The lad had a blinder.
Shows what confidence can do!
Mike Price
104
Posted 12/02/2022 at 18:52:08
Thank you to everyone that was there today and played a part!
Absolutely critical result and performance today.
Christy Ring
105
Posted 12/02/2022 at 18:57:25
Martin#78 I did say in my post @50 delighted and surprised, but I also said @5 today was his last chance saloon, I hope it's a turning point, he got booked today and sent off at the African Nations, he's putting his foot in which is great to see, he never did previous.
Lee Courtliff
106
Posted 12/02/2022 at 18:58:05
Fantastic stuff. Even we'd lost 2 nil to those superb efforts from Rodrigo, the fans would have still clapped them off. Commitment and Passion!!
Special mentions to Iwobi and JJK. Both were excellent today and I think Kenny should be given a new contract. We'll need the depth after we win the Cup and are playing in Europe next season.
Let Kenny and Patterson battle it out for the RB spot.
Neil Copeland
107
Posted 12/02/2022 at 18:58:29
Dave #100, ten pence!!! Are you mad?
Mike Doyle
108
Posted 12/02/2022 at 18:59:43
Has Ashley Cole turned JJK into a top class left back? …. In less than 2 weeks?
Mick O'Malley
109
Posted 12/02/2022 at 19:03:19
Dave@100 agreed I thought JJzk was magnificent today, DVB looked classy and calm and it was a great team performance, Bravo to Frank and the lads on the clean sheet, excellent team performance and the fans were brilliant today
Christy Ring
110
Posted 12/02/2022 at 19:04:39
Outstanding praise for Seamus from Lampard, have a listen to it Simon Harrison.
Derek Taylor
111
Posted 12/02/2022 at 19:07:54
How many false dawns have we had over the years ? At least six since the Russians came to town. Knowing BoJo, he'll confiscate their dough or ban them for spending it here.
Just as we get a good manager !
Sean Roe
112
Posted 12/02/2022 at 19:09:18
Put the effort in and have a bit of self belief and you stand a very good chance of winning football matches.
Congratulations to whoever has been working on the psychological side with the players given that that has been the main obstacle. Now drill into them that if they revert back to what has been the norm , they can expect the type of results that have become all to familiar.
Well done, more of the same for the rest of the season and see you all in the Premier league next season.
Soren Moyer
113
Posted 12/02/2022 at 19:15:33
Just imagine what we can do when Duke and Gray are both fit. We'll be the only team with a Duke and a Don in our midfield lol.
Well done Everton.
Simon Harrison
114
Posted 12/02/2022 at 19:15:40
Christy #110, as previously posted at #71
"Today was an outlier for Seamus, and as much as it pleased me (Yes, it really did) that he turned in a good performance, it doesn't detract from his other performances that make him a liability usually. I know, statistics, damned statistics, and lies!"
We agree to disagree, so shall we leave it there?
I'm also guessing, that you're Irish so slightly biased? I apologise if you're not, it is dangerous to assume after all.
I have been a great admirer of Seamus over the years, however, I feel that despite this latest performance, he is becoming a liability on the pitch.
I will always think of him as a great servant, especially coming back from that horrendous injury.
Joe McMahon
115
Posted 12/02/2022 at 19:19:20
I had to keep checking my phone today as family stuff took the main of the day. But this is more like, a performance that we needed. Iwobi and JJK starting and not dissapointing. DVB seems to make a difference (why Man U didn't give him a chance I don't know).
Big performance by all the team, and credit to our manager and the coaching team, they instilled the confidence! First clean sheet in how long?
Stephen Williams
116
Posted 12/02/2022 at 19:20:40
My earlier positivity in the 'preview' thread caused some real consternation.
To the naysayers, doom-merchants and yes, downright miserable bastards - I rest my case.
Jay Wood
[BRZ]
117
Posted 12/02/2022 at 19:20:49
Good to see some praise coming Jonjo Kenny's way.
Before KO plenty were predicting Raphinha was going to tear us a new one.
Up against JJK, he spent more time in his own half as JJK went a-raiding. Result? Substituted at half-time and post-match Bielsa said it was tactical, that Raphinha wasn't injured.
I think we can call that a clear win for JJK.
Robert Tressell
118
Posted 12/02/2022 at 19:25:06
Joe Corgan # 102. Kenny is a player who refuses to believe he's not good enough. I love that.
Tremendous performance. Effort pays off.
Derek Taylor
119
Posted 12/02/2022 at 19:25:14
Simon @114; I bet you were pissed off that the skipper had such a good game today. It sort of spoils your script doesn't it !
Dom Kearney
120
Posted 12/02/2022 at 19:26:14
Was so nervous beforehand. What a performance and result!! Fans were brilliant! Much hope moving forwards but baby steps…
Roger Helm
121
Posted 12/02/2022 at 19:26:51
Just back from the match, I can't remember an atmosphere like the first half at GP. Frank has got the team fired up and playing on the front foot, Leeds blown away by our energy and pressing.
All the players were fantastic but special mentions for Anthony Gordon, who gets better every time he plays, JJK who was very solid, Keane who was a giant in defence (as well as scoring) and Iwobi, who somehow has become a midfield enforcer. I don't know what Frank is doing, but it seems to be working.
Soren Moyer
122
Posted 12/02/2022 at 19:29:15
Stephen #116, You can't be optimist with 2 wins in 15 games! Can you?
Michael McFarlane
123
Posted 12/02/2022 at 19:33:14
This morning I watched my lad's Under 11s get beaten 5-3. The game was 1.5 hours away. It was freezing cold, blowing a gale. Their usual manager was back after a spell off - a dour, uninspiring, boring coach with all the badges but no idea how to motivate and organise the lads to create a team greater than the sum of its parts. The drive home was pretty miserable.
In contrast, in his absence, they had been brilliant. The temporary manager backed them, praised them, worked on them individually, redirected them and inspired the best in them. Totally different team.
I'm massively impressed with how Lampard is handling our players. Today's was a team performance greater than the sum of its parts.
Frank was spot in post match interviews - yes to his views on Seamus, yes to his backing of Iwobhi, yes to giving credit to his backroom team, yes to getting Evertonians, in fact yes, yes, yes Frank lad!
So what was the Under 11s story all about?
Same players. Different coaches. Very different results.
I know, I know there's lots more to a great team than that. BUT right now this shit matters!! And it works!!
Even big, rich lads need some love now and again.
Being an ever-optimistic blue sniffing the first glimmers of hope, I'm daring to stick my neck out...
We will avoid relegation (it won't be easy) and
We will win the FA Cup!!
COYB!!!
Mike Keating
124
Posted 12/02/2022 at 19:35:09
I don't know what's going on but the players who usually get slagged off on here (Iwobi, Kenny, Holgate, Seamus and Allan) were great - a team performance to be proud of.
Oh how you wish Rondon had sealed it at the end with a thunderous shot.
He'll do a Paul Ridout at Wembley to lift the cup.
UTFT
Michael McFarlane
125
Posted 12/02/2022 at 19:37:46
Mike #124 - see my point of view just above
Neil Copeland
126
Posted 12/02/2022 at 19:40:33
I don't do stats normally but Leeds had no shots on target and were limited to two speculative efforts (good attempt mind) that hit the bar. That stat is almost as telling as the 3-0 score line to me.
Tony Everan
127
Posted 12/02/2022 at 19:42:01
Great team performance, gave us a lot of pride back, well done every player today.
Jonjoe Kenny !, can Mykolenko win his place back?
Iwobi, best game for us. Frank and the coaching staff have worked some magic. Well done to Alex for today, more please.
Richarlison, Fantastic today. Just love him, coming back to his best. DCL considering still on his way back to full fitness , did well.
Anthony Gordon, becoming consistently good, amazing for a young player to have that. Keep it up lad.
All the defence, pretty solid throughout and a clean sheet! Seamus - A captains performance .
Van De Beek adds some quality and forward thinking, did very well starting his first match in blue shirt.
Dele, what a cross. Rondon what great technique to fire in that volley, super save denied them two an assist and a goal.
Allan, industrious and best game for a good while.
Goodison crowd, magnificent.
Manager and coaching staff …the work on the training ground is improving us.
Now onwards and upwards, it's become the norm one step forward two steps back, time to change that next week against the Saints. COY BLUEBOYS!
Andrew Keatley
128
Posted 12/02/2022 at 19:44:05
It seems like our fanbase fluctuates in attitude as much as the players do in terms of performance.
I've read with consternation as numerous fans of this club have called on Seamus Coleman to retire. He is only 33 years old, comfortably our longest-serving player, is our club captain, and while he has never been blessed with exceptional technical ability he has the sort of physical and practical application that has enabled him to have a terrific career. He needs to be used intelligently, and he will continue to have disappointing games from time to time, but the energy and ambition that saw him be involved three times in quick succession for his goal - including following the ball in and bravely heading home on the goal-line - tells me that he's still got a lot to offer this football club.
As for the overall team performance, it's just proof positive that when everyone applies themselves, works hard and shows belief then results are possible. The problem for us for many years has been consistency; we've bounced from energetic stomping win to abject clueless surrender all too regularly. I expect us to continue that cycle for a while, but if Lampard can make this sort of performance a consistent feature of his tenure then that will be one hell of a result.
I am really liking the look of Donny Van De Beek. He moves around the pitch very intelligently, always wants the ball, uses it quickly, and without possessing any of the explosive attributes that might catch the eye, he is a lovely footballer whose very presence enables the other players to come to life. I watched Romeu and Ward-Prowse do a similar job for Southampton against Man Utd this afternoon - no frills, no outlandish skills, just a very solid framework that frees up their attacking team-mates. Next week will be a fascinating game.
Tony Hill
129
Posted 12/02/2022 at 19:44:44
Michael @123, quite right. Lampard's post-match interview shows why players respond to him. If we stick with this man and his team we will do very well over time.
Gary Jones
130
Posted 12/02/2022 at 19:45:17
In the post match interview, Lampard won man-of-the-match for me. Words to the effect of…….
- I've been amazed by Alex Iwobi in training, pulled him aside and told him so.
- Set pieces were pointed out as a problem, and we knew it wasn't just at one end. We've been focused on them.
- Seamus Coleman is a wonderful player, captain and "FELLA". I'd heard about him, but didn't realise what a man.
- I knew about the fans here, but maybe didn't realise how big they can be. It's really special club.
Might be hearing what I want with the verbatim rehash….but omg I'm absolutely buzzing with what I just experienced. My lad didn't want to go before. Now he KNOWS what we are. Crowd were outstanding; songs for Donny, Seamus, Richie, Gordon….and even an "oh Alex Iwobi" and "keano, keano". Booing Leeds possession and celebrating every tackle. Sucked the fucking goals in we did.
Long way to go, but we have by hope. We're an irresistible force if we want to be. Maybe we finally have a manager who the players want too. Coyb.
Simon Harrison
131
Posted 12/02/2022 at 19:49:05
Derek Taylor #118, you've failed your comprehension here.
Read this from #114, my post;
"Today was an outlier for Seamus, and as much as it pleased me (Yes, it really did) that he turned in a good performance, it doesn't detract from his other performances that make him a liability usually. I know, statistics, damned statistics, and lies!"
I'm just going to ask you if this result has changed your opinion of Lampard, after you posted this;
Everton cannot cope with aggressive Newcastle pressing game
Derek Taylor 277
Posted 09/02/2022 at 14:29:47
Flag this comment
"Rather like Martinez, Lampard looks like being an accomplished talker/bullshitter !
Again like the Catalan, he seems obsessed with short passing and not so obsessed with defensive tactics at set pieces. As a consequence, I can see him going down as only the second manager in history to dump Everton into the second tier.

I'd forego all the Russian millions to have Moyes in the managerial chair at this time even if BB was ic transfers !"
I take it you still stand by this? Or have you reconsidered?
Terry Farrell
132
Posted 12/02/2022 at 19:50:35
Jonjoe Kenny had the poisoned chalice to mark Raphina and did a very good job and even got forward himself.
Richie is one of my favourite players of all time he's got guile guts and rock hard and never stops showing for the ball. Calvert-Lewin –great performance. Donny van de Beek is a clever player. Knows where it's going before he receives it, à la Gareth Barry with pace.
Goodison Paek was a bear pit today. Frank is God.
Tony Hill
133
Posted 12/02/2022 at 19:51:31
Yeah, Van de Beek is great to watch. One for the connoisseurs; I don't think what he does is simple, he makes it look like that.
Andrew Brookfield
134
Posted 12/02/2022 at 19:56:33
I've posted a lot of excited comments on the Live Forum, this is the way I've been desperate for us to play, high line high press.
That said, Leeds were very poor, and we shouldn't get carried away.
Equally though, our squad is nowhere near as bad as people make out on here. I was so pleased for Iwobi today, it's clear he's low on confidence and every time he contributes, his teammates try and highlight it, today he was immense.
Add a couple of players to our team, start the season well and with confidence, and we have a squad to step in and continue momentum.
Don't get me wrong, I'm not hiding from our players' failings, but those failings are only highlighted by defeat. When you score two and a defender makes an error to make it 2-1, no-one cares. When the strikers don't score and a defender makes a mistake – everyone should be sold.
Let's just get behind the team, believe, and support. Today, it was a joy to be an Everton fan
Robert Tressell
135
Posted 12/02/2022 at 19:57:15
I am getting carried away off the back of a great result. But we all want to believe, right.
So here's a thought: I wasn't taken with Lampard at Derby and Chelsea. But there's a good chance he's matured and found a club that's a good fit for him. There's also a good chance that he's addressed his own weaknesses by bringing in Clement who is a first class coach.
Iwobi, Keane, Kenny and Holgate are not being called out for being crap. Quite the opposite, in fact.
We need a few wins still but we'll get them. Not plain sailing away, but Goodison is going to be a hard place to play.
John Keating
136
Posted 12/02/2022 at 19:58:21
Great day and feeling the effects now! Mind you, I'm going to watch it on the telly tonight just to confirm a couple of things during the match.
First half, we were excellent all over the pitch. Second half we just saw it out. Great.
Difficult to pick a MotM but like Dave I am a bit biased to Jonjoe Kenny and all our local and young lads.
I thought Kenny was outstanding today and when I see him put in a performance like that it just makes me wonder have we always had a successor to Coleman but just didn't give him a real chance?
A great win but we really need to repeat it against Southampton. Get something down there and it will be a real positive.
Where has that performance been all season?
Raymond Fox
137
Posted 12/02/2022 at 20:00:05
Great result and performance, what we needed badly. There's no way we go down after that result, we have games in hand and points more than teams below us.
Stephen above calling everyone miserable bastards who had doubts about today's game, I think anyone who has more than 2 brain cells would have doubts before this game. There's faith and blind faith, Stephen.
Also, can we leave off calling out Iwobi after every game? It gets boring because one or two think it's de rigueur to climb on the bandwagon. All recent managers keep picking him – they must see qualities that some on here can't see. Fair play, he has some well-earned praise today.
Still a pity about our injury list but we coped great today, long may that quality of performance continue.
Justin Doone
138
Posted 12/02/2022 at 20:00:18
It turned into a very good day!
We have a lot to do before we are safe and the obvious inconsistent performances is baffling from an effort, fight and spirit point of view.
Players have to take more responsibility on the pitch but tactics, set-up, set-pieces and motivation were on show in bucket-loads today.
A far simpler and more direct approach was needed and that was delivered.
I was surprised by Leeds in not showing the spirit and passion from last season but small margins. Those two crossbar rattlers could have... let's not go there.
The result is the most important stat, followed by effort and shots on target. All very impressive from the team. It is a team game after all.
Bloody enjoyed that very much.
Neil Copeland
139
Posted 12/02/2022 at 20:05:42
Gary #130, I read the post about your lad before the game. Strangely enough I remembered it as I was leaving the ground and thought to myself, "Wwell Goodison Park, Everton, and dad delivered today". Pleased for you and your son – a great day well overdue.
Colin Glassar
140
Posted 12/02/2022 at 20:08:01
Just got home after a long day. When I saw the team sheet at 2:15 pm and saw Iwobi on it, I thought we were doomed. Then I checked back in at 4:55 pm and saw we had won. To say I was pleasantly surprised is an understatement.
Consistency is the key now. Get 3-4 wins on the trot and we can start looking upwards. Btw, how did Iwobi play? Was he utter shite or did he perform moderately well?
Anyway, a win is a win and I can look forward to watching MotD tonight before I make any judgement.
Colin Malone
141
Posted 12/02/2022 at 20:09:23
Bally, Riedy. Who is on par with them two?
Richarlison. He's Brazilian, he only cost £50 million, and we all think he's brilliant.
Richarlison!!!
Derek Knox
142
Posted 12/02/2022 at 20:09:30
Arise, Sir Francis of Lampard, yourself and the Knights of The Round Table did us proud today. I didn't give us a lot of hope after seeing Leeds V Villa midweek, but felt a point was indeed possible.
From the off, our boys (now knights, till the next conflict at least) took the game to Leeds, who, were somewhat shell-shocked, and I thought seemed to be just a patch on their midweek alter ego. In all fairnes,s they did have some passages of decent play and were unlucky hitting post and bar on a couple of occasions.
I feel, although hypothetical, that under our previous manager, today we would have wilted, and certainly wouldn't have played with a bit of flair and speed. Not one player shrank from duty, and what about Iwobi? (Colin Glassar's favourite player) who, I thought "he must be on something here" unless like the old Drug's Awareness Advert (Warning) he "Talked To Frank".
What was it King Arthur once said? "Funny old game, Saint!" :-)
Jamie Crowley
143
Posted 12/02/2022 at 20:12:21
Colin @140,
You were sorely missed on the live forum. The one game Iwobi looks like a footballing god, more than one person was crying out for your reaction.
He really was very, very good today.
Jay Wood
[BRZ]
144
Posted 12/02/2022 at 20:19:37
Curious. Plenty of people talking Leeds up before the game, going as far as predicting a comfortable win for them.
Now we have posters telling us not to get carried away because Leeds were so poor.
Those stating that, you do understand why Leeds were so poor, don't you?
How often since their return to the Premier League have we seen Leeds so harrassed, out-pressed and lose so many 50-50 battles by a team more energetic and determined as Everton were today?
Leeds were so poor because Everton were so good.
Neil Copeland
145
Posted 12/02/2022 at 20:21:13
Jay #144, spot on and was thinking exactly the same, we made Leeds look poor.
Colin Glassar
146
Posted 12/02/2022 at 20:25:40
Jamie & Derek,
I'll believe it when I see it. If there is a footballer hiding somewhere in Iwobi, then I'll doff my hat to the two members (his mum and sister) of the Iwobi fan club and apologise profusely and eat my straw boater.
Jeff Armstrong
147
Posted 12/02/2022 at 20:26:27
Jay 144, spot on.
We didn't give them a second, right in their faces from the first whistle. I've got to give Lampard full credit today for his tactics, he got the players playing 20 yards further forward and passing quickly and accurately.
Got to say I find it strange some of the more regular posters on here come on and say they haven't even watched the game... quite regularly.
Sam Hoare
148
Posted 12/02/2022 at 20:26:28
Colin, Iwobi was better than moderately good. In his post-match, Lampard said he was probably his MotM, which is high praise as there were many excellent performances.
A much-needed tonic this afternoon. A vastly improved performance with exceptional work rate across the team.
The issue moving forwards may be how this team copes with adversity, playing away from a rampant home crowd or when they go one down early on. It will take a long while before their confidence is fully restored and the trauma of the last 5 years eradicated. But today was a good start!
Gary Jones
149
Posted 12/02/2022 at 20:27:12
Neil@139 - bless ye buddy. Nice to know the personal stuff means something to others. It's hard passing on this passion with all the pain, but today it really did resonate to never give up. Coyb.
Ian Bennett
150
Posted 12/02/2022 at 20:27:44
Fair play to the back 4 and Iwobi – they proved my comments wrong pre-match, and I don't mind saying it.
I sat in the car pre-game, like a couple of others, not wanting to get out. But the boys played well, and were roared on by a great crowd.
Van der Beek played well, but surprisingly I am going for Kenny for MotM. He played very well at fill-in left-back and killed off Leeds's dangerous right side.
Dave Abrahams
151
Posted 12/02/2022 at 20:31:10
Neil (107), Yes I know, I'm stupid with money, it burns a hole in my pocket!!!
Brian Williams
152
Posted 12/02/2022 at 20:31:17
Thoroughly enjoyed today. Atmosphere was great. Team played really well and we kept a clean sheet with the help of the woodwork.
The first half in particular, we were aggressive, on the front foot, and pressed as a unit, not just the odd player doing it now and again.
Calvert-Lewin's hold up play was a perfect example of what your main striker has to do if he isn't scoring goals. Van de Beek showed that he is most definitely not a newer version of Klaassen, despite the fact that he was caught out a couple of times in midfield.
I can understand, and welcome, the positivity all round but I have to say that watching Iwobi, which I do more closely than I probably watch other players, shows me that he still lacks what I have said he lacks, for ages, and that's courage.
I think sometimes people are that surprised that he does some good things that they get carried away and today he did do a couple of good things but he also failed to do basic things a lot more often.
He threw one tackle in, which people notice, but failed to challenge on numerous occasions.
When he gets on the ball, to me, it's blatantly obvious that the lad is shitting himself. Numerous times in the first half he got the ball near the corner of the 18-yard box and couldn't bring himself to drive into that box and "go for it", something Anthony Gordon does without thinking. In fact, I think Anthony Gordon is the player that Iwobi could be if he had the heart.
He may have been an improvement on previous showings but I still see a player who "generally" backs out of 50/50s and stops short of physically challenging opposing players, even though he did it a couple of times today... but he should be doing it every time. He just doesn't seem confident or relaxed enough when he receives the ball in positions where he could have a huge effect on the game and invariably fails to do so.
I still think he's a Monday to Friday player.

Benn Chambers
153
Posted 12/02/2022 at 20:32:29
They got slaughtered after the Newcastle game, and rightly so, but today, due to the ferocious crowd and hostile atmosphere, every single player to a man, was fuckin immense. Absolutely immense.
I'd love to see the running stats. I'd be amazed if they weren't as high as they've been since Moyes. I was tired just watching them. Every blade of grass was covered with speed and aggression. Just superb. Every single one of them. Not one player had a bad game.
Special mentions to Kenny and Iwobi who had their best games in a blue shirt.
Also, a special mention to Donny van de Beek. Complete Rolls-Royce of a centre-midfielder, 2 steps ahead in his passing and it's all one touch. Whatever Man Utd want, pay them. The kid is superb. Let's hope we can keep him.
Lastly, the crowd. That's as good an atmosphere as I can remember since we needed 2 goals v Fiorentina and Goodison was a bear pit... a horrible hissing bear pit.
It was raucous today. The crowd contributed to that victory as much as the players. That has to be the standard now. Nothing less is acceptable. We need them and they need us and if they do their bit, we'll do ours.
Frank, keep it going, mate. You'll be worshipped here if you can get us a trophy and our identity back.
Brilliant afternoon.
COYB
Eoin Cullen
154
Posted 12/02/2022 at 20:32:56
I posted on here last week that I thought Frankie would prove to be a great manager for our club but that there are bound to be ups and downs. The poor showing at Newcastle didn't change my opinion and I guess that, after today's great performance, a lot more will agree.
Jamie Crowley
155
Posted 12/02/2022 at 20:34:09
Colin,
It goes past Iwobi.
Holgate was solid as fuck. Just played the ball into Row Z, kept it simple, was never out of position.
Kenny was fantastic. Lockdown at left-back, and actually bombed forward often to good effect.
Iwobi, Holgate, and Kenny absolutely killed it today.
My theory on how 3 maligned players could magically pull it all together in an hour of need and play out of their skins?
Go back and read Michael McFarlane's post @123. Spot fucking on.
Jay Evans
156
Posted 12/02/2022 at 20:34:10
Not much to say that hasn't already been said on this thread so far so just a couple of quick points ;
Leeds were not poor. We just made them look that way.
It's no coincidence that the teams that work the hardest usually come out on top. We were first to everything today. EVERYTHING.
There was an incident of dangerous play in the first half when a high boot caught Mason Holgate. For the first time in a long time our players surrounded the ref and fronted up the Leeds players. Backing each other up and taking no crap. This is going to be important throughout the rest of the season so long may it continue.
One love. One team. One Everton.
Tell your children. 💙

Zac Stephenson
157
Posted 12/02/2022 at 20:37:11
Two moments really stood out for me (quite apart from the passion, energy and guts we've been looking for) – one rational, and one emotional – that give me great encouragement we will be okay. Not sure if anyone else noticed these, but I thought they were big moments.
The rational – after Keane's goal, the cameras showed Lampard and his coaching staff celebrating, laughing and nodding at each other. Suggested to me the play for the corner was concocted on the training pitch, and shows the new backroom staff are bringing fresh ideas that the players are responding to, and executing. Very encouraging.
The emotional – after the game, the cameras showed Coleman and Iwobi celebrating and hugging. It looked to me like Coleman was congratulating Iwobi on an immense performance, and when Iwobi tried to shrug it off, Coleman made a really big point of bigging him up, talking right into his face, and tapping him on the chest. It must have gone on for almost a full minute.
That says two things to me: One, there's been a lack of confidence amongst the team (hopefully starting to come back); and Two, Seamus is a true leader of men. That kind of togetherness, support and encouragement is going to be essential for us in the run-in.
Anyway, two small things by contrast to the performances maybe, but I thought they were both very interesting.

Tony Hill
158
Posted 12/02/2022 at 20:38:08
A word too for the Leeds fans. Comfortably the scummiest crew I can remember at Goodison for a long while. A horde of obnoxious simpletons. An embarrassing display. I hope they get relegated.
Rob Dolby
159
Posted 12/02/2022 at 20:38:24
What a performance, grafting for the new gaffer. All put a shift in and so hard to pick a MotM but my vote goes to Jonjoe Kenny. Out of position against a top player but never give him an inch. Made up for him.
Coleman and Keane take some unfair criticism on here; great to see both get on the scoresheet today. We would be a far worse team without both of them.
Barry Rathbone
160
Posted 12/02/2022 at 20:39:48
Hope this puts to bed the mad idea that Everton fans don't want to participate with singing, chanting etc.
As said in another thread, we just need a good Everton anthem to rally around when the blood is up.
Colin Glassar
161
Posted 12/02/2022 at 20:40:50
I'll take your word for it, Jamie. Good to see so much positivity on here. How was Alli's cameo performance today? I heard he made a killer pass.
Kieran Kinsella
162
Posted 12/02/2022 at 20:41:27
Always weird on ToffeeWeb how after a bad run or loss 90% say the same thing about "he should never wear the shirt again" etc but if someone says similar in trepidation of the very next game and we go on to win, then everyone attacks that poster.
Obviously no one posts on here unless they support Everton so 99.9% will be happy even if the win defies their prediction. Simon isn't the 0.1% by the way. That's Carlo's nemesis on here.
Andy Crooks
163
Posted 12/02/2022 at 20:42:22
Some cracking posts and a thread that is a pleasure to read. Stand out is Dave Abrahams, a man who I am privileged to call a friend.
Dave, Jonjoe Kenny did you proud today and I know you have championed him.
No, "I told you so" from Dave, though – just the usual thoughtful analysis.
The James Stewart of ToffeeWeb (hope that doesn't embarrass you too much, Dave!!)
Peter Mills
164
Posted 12/02/2022 at 20:42:32
My brother, a great Evertonian, is seriously ill in hospital, heavily morphined.
The score was told to him this evening. He smiled.
Jay Wood
[BRZ]
165
Posted 12/02/2022 at 20:43:07
My own personal favourite soundbite from Frank's post-match comments?
'We can do a lot here.'
Not I - We. I believe him.
In all 3 games under Lampard - even the Newcastle game - I have seen much to be encouraged by in the football he wants the team to play.
Seven goals in two home games under Frank. As many as we scored in our previous six home games before that.
Any advocates still calling for KITAP1 as a way out of our lowly league position as flooded the forum after Tuesday's loss?
Terry Farrell
166
Posted 12/02/2022 at 20:47:32
Peter god bless you and your brother x
Andy Crooks
167
Posted 12/02/2022 at 20:49:20
So, Jay, you have finally give up your calls for the return of big Sam.?!!
Good post, we might be on to something here.
Rob Dolby
168
Posted 12/02/2022 at 20:52:30
Jay
I wanted a back 4 and midfield 5 today. Sit deep and counter quickly.
I honestly didn't think our team had the legs to compete in an open game. I was wrong but who cares, that's what makes footy the game it is. We are all experts aren't we.
Today we all witnessed a high energy game, one of the best at Goodison this year.
Let's all hope we can keep it going. You can't beat an end to end open game.
Dave Abrahams
169
Posted 12/02/2022 at 20:54:10
Peter (164),
I bet that smile from your brother meant as much to you and the rest of the family as Everton's win did, best wishes for your brother's health.
Tony Hill
170
Posted 12/02/2022 at 20:54:14
"[Iwobi] just needs to believe in himself. I certainly believe in him." So said Frank Lampard. Whether Iwobi comes good or not, those are the words of a fine manager.
Jamie Crowley
171
Posted 12/02/2022 at 20:56:16
Colin,
He came on for Calvert-Lewin which was a great substitution from Frank. Calvert-Lewin played very well in my opinion. He had some jibes on the Live Forum, but I saw him position himself perfectly to hold the ball up marvelously, multiple, multiple times, and then move play on. But he's back from injury, was starting to lag, and was pulled for Alli.
Dele was average in my opinion, but you saw the immense talent just under the surface. That pass you speak of was just gorgeous. He was like mid-right and curled a ball, on a dime, around the back line to Rondon. It was incredible. And Rondon actually volleyed the thing and really should have scored.
Ali had some good touches and it looked like he was told to drift around the pitch in a 10-ish role.
He hasn't played in a while and, from what I saw today, I'd expect consistent improvement. The kid is class, you can see it. I think he just needs to bed in a bit.
Today I'd say a 5 or 6 – average or just above average, but signs of 8s and 9s on the horizon – he's very, very talented. You can see it.
Steve Hogan
172
Posted 12/02/2022 at 20:58:35
Our 33 year old club captain rolled back the years today with an amazing performance and the crucial opening goal. Three days ago in these columns, many were calling him and others 'shithouses' etc.
He deserves better than that.
Tony Hill
173
Posted 12/02/2022 at 20:59:13
Hey, Peter @164, we'll all be thinking of you and your brother. This is why Everton matters in people's lives, with proper perspective, obviously.
I hope things will be okay.
Frank Kearns
174
Posted 12/02/2022 at 21:00:09
Where did this performance come from?
Who knew what was lurking inside Iwobi? Seamus getting Killybegs rocking again, me getting pissed again, roll on Everton, you beauties!
i
Andy Crooks
175
Posted 12/02/2022 at 21:00:16
Meant to add, that over the last few days I was, seriously, a bit put out that we missed out on Roy Hodgson!!

Peter Neilson
176
Posted 12/02/2022 at 21:00:59
Brilliant team performance. I can look forward to MotD. Best game Iwobi has had for us, Jonjoe Kenny was excellent. Presumably both picked for their pace and didn't let Lampard down.
Gordon now first name on the team sheet, what a player we have there. Van de Beek looks like an intelligent classy player. Richarlison worked his socks off as usual.
Great to see an Everton team playing like that again.
Colin Glassar
177
Posted 12/02/2022 at 21:01:15
Cheers Jamie.
Dale Self
178
Posted 12/02/2022 at 21:01:18
Made my weekend, Peter, keep on keeping on
And yes, I was a keep it tight advocate but I did condition that on Van de Beek of Alli kicking in and Donny of the River seems to have got the flow goin'.
A kind word to all Blues that hang out here. That was hellish and may get hellish again but it was so much better being miserable fuckers with you. Keep that in mind the next time we disagree please, thank you.
Neil Copeland
179
Posted 12/02/2022 at 21:03:40
Jamie #171, I think you sum it up nicely.
A word about the Leeds supporters. Throwing stuff at the home players is never a good idea, fighting amongst yourselves is not particularly wise either.
Walking down Walton Lane after the game chanting "We are Leeds" at the top of your voice is just lunacy as I am sure, the biggest policeman I have seen, reminded the individual responsible. Grow up lads.
Jay Wood
[BRZ]
180
Posted 12/02/2022 at 21:06:39
That single cross into Rondon by Dele at the death was a glimpse into what he still has and can still offer. That was exquisite. He is ours to keep, so we want to see him come good.
Donny, unfortunately, we will have to hand back to United. But keep up those levels of performances and Frank will want to make his move permanent.
At the end of Dele's cross, Rondon's shape and strike was excellent. Meslier pulled off one of the saves – if not THE save – of the season to prevent George cashing in on his perennial 4-0 match bet.
And all the best to Peter Mills and his brother. An Everton win – especially one as good as today's – is a great elixir.
Bill Fairfield
181
Posted 12/02/2022 at 21:07:37
Great performances today by the whole team. Seamus, Jonjoe, Anthony, Donny, Richy, brilliant lads.
I have been very critical of recent performances, but today, that's what it's all about. Backed by an absolutely fantastic support.
Tony Hill
182
Posted 12/02/2022 at 21:08:32
Jay @165, we may yet have to; we are still in trouble. We really have to do it again and again like today, but I agree with you that it is wonderful to watch the team playing properly as an Everton side.
The problem is that we did it 7 days ago and then 4 days ago produced an utterly wretched performance.
Southampton away, now there's a test. No doubt, though, I think this fella has what we need over the coming years.
Derek Knox
183
Posted 12/02/2022 at 21:08:32
One point I forgot to mention previously was the performance of Donny van de Beek. Although it's early days, I hope we go all out to make him a permanent when his loan expires. I believe he will only get better and was the 'intelligent glue' in midfield we have lacked for so long.
Peter Mills, sorry to hear of your brother's illness, mate!
Dave Abrahams
184
Posted 12/02/2022 at 21:09:01
Andy (163), Gerra out of it Andy!!
Great story about James Stewart, one of America's great parks was full of tourists when an announcement came over the tannoys:
"We are very sorry to tell you that we've heard that James Stewart had died and we are closing the park as a mark of respect, please make your way to the exit gates."
Then a few minutes later over the tannoys:
"We have just heard that it wasn't James Stewart who has died but Fred MacMurray, so we will not be closing the park. You can carry on as usual."
I bet Fred MacMurray's family were bleedin' chuffed to bits when they read about that.
Alan McGuffog
185
Posted 12/02/2022 at 21:10:20
Peter... shocked to hear that Charles is not in the best of health. He was a great friend and support to me when I was working in St Helens.
Do please pass on my very best wishes to him and my hopes for his full recovery. Cheers
Jay Wood
[BRZ]
186
Posted 12/02/2022 at 21:10:43
Donny van de Beek.
More Colin Harvey, or Howard Kendall?
Discuss.
I lean towards Colin Harvey.
Mark Ryan
187
Posted 12/02/2022 at 21:11:38
Peter @ 164, best wishes to you and for your brother, God bless him
Kieran Kinsella
188
Posted 12/02/2022 at 21:12:11
Derek Knox
The thing that surprised me about Van de Beek was his work rate and energy. Critics had said he's another Klaasen and not physically up to the Premier League. It's obvious he has more skill than Klaasen but, based on today, he also has more grit and endurance.
Neil Copeland
189
Posted 12/02/2022 at 21:13:45
Peter #164, hoping for a lot more smiles to come from your brother.
Dave #184, so classy our cousins at times (sorry all you blues across the pond - just a bit of banter)
Neil Copeland
190
Posted 12/02/2022 at 21:15:41
Kieran # 188,
Me too, mate, he looks much stronger and better suited to the Premier League than Davy Klaassen.
Jamie Crowley
191
Posted 12/02/2022 at 21:23:01
Jay Wood -
I had this conversation with Julian Exshaw on the live forum.
I don't think Donny is going back to Man U. I really don't.
This is all conjecture, take it for what it's worth, it's a hunch I have bordering on being convinced of its truth.
DVB would have been bought outright had we not been up against FFP. He was not happy at Man U. He couldn't get a game as they have this Bruno fella who last I looked is a snarky c**t, but one hell of a footballer. DVB wanted out. I think when Frank came to Everton, DVB saw his opportunity to move just down the road, not have to uproot, and play for a manager that would play more akin to the Dutch way he is familiar with, and most importantly he'd actually play and probably move right into the team.
I smell one of those hush-hush gentleman's agreements - he's ours for a "fair" price at season's end. He wanted out, he found a fit he wanted, Everton couldn't outright buy due to financial constraints and FFP and agreed to buy at the end of the loan.
And then there's the introduction.
DVB was brought on the pitch at halftime, with Dele Ali, to be introduced to the fans. When has a club gone through such an introduction for a loaned player?? I've never seen it. Why fanfare his loaned ass, if we're not intent on keeping him? Is this something the American misses that usually isn't on TV? Do clubs trot out loan signings to introduce to the supporters normally?
I found that odd. Why do it?
Probably because they know he's here for the long haul is my guess.
I just don't see him leaving Everton.
Jay Wood
[BRZ]
192
Posted 12/02/2022 at 21:24:43
Tony @ 182.
When you say 'we may yet have to', I presume you mean resort to KITAP1.
No we won't. Not while Frank Lampard is manager.
Thank the heavens. We can play ourselves out of the hole that Benitez dug us in.
Neil Copeland
193
Posted 12/02/2022 at 21:26:41
Jamie #191, spot on, he's a blue and gets us - to me it was quite obvious today. He is home.
John McFarlane Snr
194
Posted 12/02/2022 at 21:28:46
Hi all, I don't want to be involved in a war of words, but although I'm not enamoured by some of Michael Kenrick's posts, I agree with his sentiment, although his wording in post [40] leaves a bit to be desired.
I don't know when I came to the realisation that anything can happen in a football match, and I find it difficult to understand how [or why] some fans predict results/formations/ tactics etc.
Regarding today's game, from my seat in the Park End, I saw a performance the like of which has been absent for quite a while, and I believe that a less high tempo approach may well have led to a different result. To those who suggest that Leeds were a poor team, I would counter that by saying that, if given the opportunity, they could have caused some damage.
I have long been of the opinion that we win as a team and lose as a team; obviously some players play better than others, but I see nothing to be gained by making some players 'scapegoats'. I've also learned down the years, to approach every game with an open mind, and to "enjoy the minute".
Jamie Crowley
195
Posted 12/02/2022 at 21:31:30
Neil -
I obviously agree!
Another thing I just thought of - watch his "welcome" interview on the OS.
It's not a bunch of, "I hope to impress in the time I'm here" type of malarky.
It's more of, "We need to climb the table." Or, "I'm thrilled to be here and help us improve."
I'm paraphrasing obviously, but I remember a lot of "we's" and "us's" and verbiage and vernacular that made me literally think, "Hang on a second, you're a Man U player. Maybe you don't intend on going back?"
I'm just convinced he's staying, and I've been wrong thousands of times Lord knows, but I'd be stunned if he didn't sign a permanent deal with Everton in June.
Colin Malone
196
Posted 12/02/2022 at 21:32:23
OK. Iwobi did well. BUT, instead of following his man, he followed the ball. Many times in the game he ball watched instead of following his man.
Well done the 12th man.
Jay Wood
[BRZ]
197
Posted 12/02/2022 at 21:34:00
Love your speculation, Jamie.
I for one will be delighted if that is the case.
Personally, I'm not surprised Donny has performed as well as he has. Even in his debut at Newcastle. Bracketing Klaassen and vd Beek together was always wide of the mark. Donny was always far superior to Davy.
Nor am I surprised that Donny looked so comfortable today in the shared #6 and #8 role with Allan. He's played a LOT of football there with Ajax. He can tackle! He is resilient and clever with ball retention under pressure.
Looking at YouTube showreels of both Donny and Dele, I was also surprised just how good they are heading the ball in the opposition penalty area. Both have a good number of headed goals between them.
Together with Dom and Richy, that is a very potent weapon we now possess.
Neil Copeland
198
Posted 12/02/2022 at 21:38:31
Jamie, I have a couple of mates who are Man U season ticket holders. They can't believe how VDB doesn't get into their team ahead of Fred, they both reckon a deal has been done too. Fingers crossed.
Jeff Armstrong
199
Posted 12/02/2022 at 21:40:44
You know what, as good as he was, I would drop Iwobi for the next game, just like Gomes should have been left out at Newcastle, because these players NEVER have 2 good games consecutively, never ever, they are 1 in 6 games players, I hope Gray is fit for Southampton as the Saints are playing well recently, as proved today at Man U.
Tony Hill
200
Posted 12/02/2022 at 21:42:06
Jay @192, I truly hope you're right. We didn't on Tuesday. I simply say that we may need different approaches for different games and different circumstances.
One Premier League win does not a summer make.
Jamie Crowley
201
Posted 12/02/2022 at 21:43:55
Jeff,
Your gut reaction ain't wrong, but at this point?
Just trust Frank. If he trots Iwobi out against Southampton, I'm sure he has damn good reason to do it.
IFWT
Jay Wood
[BRZ]
202
Posted 12/02/2022 at 21:47:39
Tony @ 200.
And one PL defeat when you lose two key players to injury in the first 30 minutes of the game, thus severely sabotaging the game plan and potential to make tactical substiutions, does not a winter make.
Phil Smith
203
Posted 12/02/2022 at 21:49:33
Zac (157), I noticed that. I said the other day that I'd rather have Coleman next to me in the trenches as he's all heart. Today the lad showed us he could still play, too. Kenny, Holgate, Iwobi and Allan were all top drawer as well. Happy days.
Neil Copeland
204
Posted 12/02/2022 at 21:50:59
I've come to the conclusion that we were fucking ace today
Mike Gaynes
205
Posted 12/02/2022 at 21:53:11
Jay #202, good point.
Dennis Stevens
206
Posted 12/02/2022 at 21:53:16
Tbh, I don't see Lampard setting the team up to play KITAP1, it just doesn't seem like it would be his style of football. I also don't think we've really got the right players to do it effectively. We're probably better off taking the game to the opposition as a lot of our better players tend to be at that end of the pitch.
Colin Glassar
207
Posted 12/02/2022 at 21:53:37
Neil 198, the mancs can keep McFred and we'll keep Beeky!
Jeff Armstrong
208
Posted 12/02/2022 at 21:56:04
Jamie 201, Iwobi was decent today but he has set a low bar, as Brian #152 says he was still jockeying instead of tackling, he has the heart of a kitten, Gordon goes flying in with proper tackles, Iwobi prefers to jockey and feigns to tackle, but your right too, I shouldn't be too hard on him after a good performance.

Tony Hill
209
Posted 12/02/2022 at 21:57:59
Jay @202, I agree. But let's be careful and let's not imagine that we are yet equipped to freestyle our way out of trouble.
We did restrict Leeds today through our fine play, but my goodness they were poor, Rodrigo's shots aside.
Neil Copeland
210
Posted 12/02/2022 at 21:58:23
Colin # 207 🤞
Paul Burns
211
Posted 12/02/2022 at 21:59:44
Great performance from first to last.
There's Everton, where've they been?
Brian Murray
212
Posted 12/02/2022 at 22:00:25
Jeff post 208. Iwobi s jockeying instead of proper tackles seem to suit him and he was quite effective and strong at it so maybe if he can that going it's a start.
Derek Knox
213
Posted 12/02/2022 at 22:00:28
Colin, come the end of the season it will be the Northern Finals of The Great British Van de Beek off !
Only one winner in my most humblest of opinions kind Sir ! :-)
Bill Gienapp
214
Posted 12/02/2022 at 22:00:48
One gets the sense that Lampard is fully engaged with each and every member of the squad. Now, that may not be the case in a month or two, once the pecking order is more firmly established, but I suspect that's why players like Iwobi and JJK seem to have responded to him.
Too often, a new manager comes in with preconceived notions and immediately starts freezing players out. It's clear there were guys Carlo had zero relationship with. The less said about Benitez's man management the better. Koeman turned the Niasse situation into a complete sideshow. Even Silva - the first thing he did upon arrival was tell the likes of Bolasie and Vlasic they were surplus to requirements. Bolasie was coming back from a major injury and Vlasic was a young player with potential. I don't think we ultimately lost much sleep over either, but why cut bait on certain players on the first day?
Just one of many reasons to like the culture Lampard seems to be establishing.
Mike Gaynes
215
Posted 12/02/2022 at 22:02:10
Jamie, Jay, Neil and others...
Better rein in the Donny excitement a bit. It's not just up to him, or us, whether he stays at Everton. It's up to United and our microscopic budget.
Man Utd paid $43 million for him and he's contracted there through June 2025. And the better he plays over the next few months, the more his price tag will go up. Especially because their restive fans REALLY want him back:
'Surprise surprise' – Manchester United fans react as Donny van de Beek makes instant impact at Everton
I love the speculation too, and the idea that he could run our midfield for years to come. But the cold hard financial facts say that, under our current circumstances, we probably cannot afford to buy this player.
Enjoy him while you can.
Kieran Kinsella
216
Posted 12/02/2022 at 22:03:51
John McFarlane
I think predictions on line ups tactics etc is just the boyish dream in many of us that if we were the coach we could outwit the opponent.
On your point on Leeds I agree. They looked shell shocked after five minutes as our approach seemed to surprise them. It's funny because last year at Goodison we played similarly style wise but executed poorly and that played to their advantage. Carlo then set up a very defensive action at Elland road and we won. I wonder if Bielsa was expecting similar and they were shocked not only by our game plan but the execution of it.
On another point, I said in the forum that Luke Ayling somehow irritates me. But in fairness he showed good sportsmanship today. He was quick to apologize and admit fault when kicking Holgate and this avoided what could have been a sour turn in the game. He was also quick to stop play a few times when Richie hit the deck. Not that any of this helped his team but I just thought maybe despite his goofy manner he's a decent sort of bloke
Jeff Armstrong
217
Posted 12/02/2022 at 22:07:07
Fair point Brian#212, If Iwobi continues like he did today then he'll do as a decent squad player.
Tony Abrahams
218
Posted 12/02/2022 at 22:07:12
One of the nicest threads I've ever read on ToffeeWeb, some really funny comments, and although I actually agree with literal Mike, I'm also convinced he just doesn't like to see real unity!
Peter M, I sincerely hope your brother pulls through mate🙏
Kieran Kinsella
219
Posted 12/02/2022 at 22:08:44
Mike Gaynes/Jamie/Neil etc
The Donny effect reminds me of Dunc in 1994. Smith adamant it was only a loan, we had no money, couldn't afford him, somehow it happened. On the flip side, there was a clamor to keep Landon Donovan when we knew it was only ever going to be a loan, we had no money, but that time it didn't happen.
All I will say is that if he does well for us that's good news. I'd rather have him playing well for three months then returning to Utd or some big spenders than have him non descript for three months and quietly packed off from whence he came.
Colin Glassar
220
Posted 12/02/2022 at 22:12:00
Mike G, unless LAMF are serious about buying a premier league club. As you are on the other side of the pond can you tell us a bit more about them?
I presume LA is for Los Angeles but I dread to think what MF stands for. They have a lot more dosh, apparently, than even Moshiri and his obese poodle.
Kunal Desai
221
Posted 12/02/2022 at 22:13:14
Top performance all round, players, manager and fans.
It's not hard or difficult to ask for, start on the front foot, get the crowd behind you and your half way there.
Warming to Frank very much, haven't seen a manager this animated for a while, got a hint of the fella across the park in him.
Neil Copeland
222
Posted 12/02/2022 at 22:13:59
All I can say is that today we were very good and miles better than we have been for months. If DVB helps us survive and improve our football that will do for me.
David Bromwell
223
Posted 12/02/2022 at 22:18:25
Just a word on Rondom. At the end of the match he quietly left the pitch and choose not to join the other players in their after match celebrations. I believe he can still do a job for us, he was clearly selected by the previous manager when he wasn't fit and as a consequence was rightly criticised. But he is resilient and will take some of the pressure off our other forward players, and he almost scored a very good goal today.
In my view he is an important squad player and we should show him a little love.
Andy Crooks
224
Posted 12/02/2022 at 22:19:16
Mike, Mike, Mike, @215. There is always a demon in the pantomime. Not you,my friend. We need a link that tells us that there is an obscure local bye-law that means if Donny has a drink in the Midland with a Yank, he becomes a Blue.
Bill Gienapp
225
Posted 12/02/2022 at 22:20:30
Re: Van de Beek, I think back to Lingard's triumphant loan stint with West Ham last season. You wouldn't have expected him to still be rotting on United's bench, but that's exactly where he is.
United might be willing to sell Donny, but I doubt we'd be getting any friendly discount.
Jerome Shields
226
Posted 12/02/2022 at 22:22:50
Lampard is a game by game manager. There will be no important or must win games at Press conferences. If the performance is not so good it will be addressed in the following week. Individal players will be coached on improvements.
Lampard is clear on the best way for Everton to play and is able to gel the players to buy into it. Adjustments will be made where it falls short.
I expect Myko, Ghagi, Delle Ali and Van de Beek to really make a contribution and other players to improve.
lt is pretty unbelievable this January Transfer Window, since I don't think Benitez had a input and Lampard had minimal input Lampard has turned Myko and Coleman into effective wingers, both backs. Van De Beek did not perform like that at Man U, often subbed before half time. Both Keane and Holgate look no nonsense defender. Iowbi has just played the best game of his Everton Career. Richarlison scored with his left foot.
Against Newcastle Everton had useless players, in this game they where all contending for motm.
Maybe Lampard is a Magician.
Kieran Kinsella
227
Posted 12/02/2022 at 22:22:56
Terry Farrell
228
Posted 12/02/2022 at 22:23:22
Neil spot on mate. We were superb and Frank has got star quality friends in high places and likeability. All these things will benefit the blues and he has started galvanising us team and crowd
Kieran Kinsella
229
Posted 12/02/2022 at 22:26:04
Jeff Armstrong
You're being too critical of Iwobi as he was immense today. But like you I wonder if this was his Gomes game eg the once in a blue moon star performance? Hopefully not but at least with VDB and potentially Alli we won't be reliant on Iwobi or Gomes being an every weeker
Derek Knox
230
Posted 12/02/2022 at 22:26:25
Mike G, Just when we are all salivating like Pavlov's Dogs, or Danny O'Neills, pre-match, you would have to rain on our parade, or urinate on our French Fries, over Saint (temporary beatification) DVDB.
While you are possibly right in what you say, a lot hinges on who is the Manure Manager (not Farmer Joskins btw) as Ralph is only a caretaker, as I understand it. I do hope he continues to enjoy being part of the New Revolution, and wants to make his home here (football wise).
Dennis Stevens
231
Posted 12/02/2022 at 22:27:03
Colin #220 I thought LAMF stood for Like A M----r F----r, as per the album by Johnny Thunders & The Heartbreakers, inspired by graffiti common at the time, I gather.
Colin Glassar
232
Posted 12/02/2022 at 22:27:09
I just hope Lampard has a long list of Chelsea youngsters he wants to recruit in the summer. He needs to start making contact now while Roman is still in a good mood.
Could be, Dennis. I doubt Kenwright will be happy about being unemployed.
Tony Abrahams
233
Posted 12/02/2022 at 22:27:41
Good point about Rondon, David, although it was great to see DCL, leading the line and occupying Leeds defenders all afternoon. Same with DVDB, who occupied the ball all afternoon, and even more pleasing, was how much everyone played on the front foot, especially our two central defenders. It was a great day to be inside Goodison Pk!
Ed Prytherch
234
Posted 12/02/2022 at 22:29:24
Jamie #191 I hope that you are right about Donnie. If he continues like this he will not want to leave and go back to ManUre and that should make it easier to work out a deal.
Roger Helm
235
Posted 12/02/2022 at 22:30:01
My STH neighbour told me he is in the same golf club as Graeme Sharp and he says, according to Sharpie, that Lampard was the first manager not appointed by Moshiri. He says Moshiri wanted Pereira but the board stood up to him and insisted on Lampard.
Can't vouch for this at all but I thought it was interesting.
Andy Crooks
236
Posted 12/02/2022 at 22:30:12
David,@ 223,_I read your post with growing trepidation. I thought we were going to hear, please God, no, that a shot rang out from the dressing room. Rondon is one of us tonight.
Derek Thomas
237
Posted 12/02/2022 at 22:31:49

Well done to all concerned, about time, same again next game please.
Bill Fairfield
238
Posted 12/02/2022 at 22:39:20
When Evertonians are as united as we were today, there's nothing better.
Jeff Armstrong
239
Posted 12/02/2022 at 22:39:52
Roger 235, The board currently consists of Moshiri,Kenwright, DBB and Sharp as far as I can gather, if he was rolled over by these three then he is a bigger melt than I thought, but the main thing is they got the right appointment,
Kai Joonakarbichia or whatever his name is, should be nowhere near our club.
Bill Gienapp
240
Posted 12/02/2022 at 22:48:33
Roger (235) - I shudder to think where we'd be if we appointed Pereira. No offense to the guy, but we desperately needed someone who'd connect with the fans and the players. That wasn't him.
Mark Ryan
241
Posted 12/02/2022 at 22:51:35
Same effort next time out and we'll all be happy. What effort shown today by Iwobi, VDB, JJK, Coleman, Keane. The team as a whole, 100% effort, I'm made up and proud of the team and the supporters 👏
Mike Gaynes
242
Posted 12/02/2022 at 22:52:08
DK, sorry about that, mate!
I just gotta figure that whoever replaces Ralf as the United manager would face a fan rebellion if he let Donny go cheap to us. And cheap is all we can afford.
Oliver Molloy
243
Posted 12/02/2022 at 22:54:13
Didn't expect us to win today, never mind 3 nil !
The whole team played well and as others have pointed out I was particularly impressed with Iwobi's contribution.
I hope Gordon can keep at it, for it looks like we have some player there if he really wants it.
Lampard speaks really well and I pray to my God that given the time we may be on to something with this management and coaching set up.
I don't think DVB will be end up at Everton after his loan has finished, just like I don't think the current back line will be first choices if Lampard has his way over a few windows - that will be just the start of it.
Anyway over the moon, and hope to fuck that the barcodes get beat tomorrow.
COYB.
PS,
What a goal that would have been from Rondon if it had gone in !

Gary Jones
244
Posted 12/02/2022 at 23:02:45
Michael Keane: he's given us intensity, and freedom to pass the Ball.
This day doesn't deserve a negative, but FSW you are it…..thank fook you're gone.
Steve Barr
245
Posted 12/02/2022 at 23:05:53
Hopefully Donny will consistently deliver that type of performance for the rest of the season. If he does we should buy him.
If Man U won't deal then on today's performance he is the level we should be looking at.
First game I've enjoyed for quite some time. Keep it up!
Mike Gaynes
246
Posted 12/02/2022 at 23:09:34
Colin 220, I have no freaking idea what LAMF stands for. Sorry.
Jerome Shields
247
Posted 12/02/2022 at 23:18:48
Jeff#239
Moshiri is not on the Board.
David Currie
248
Posted 12/02/2022 at 23:19:20
Gary 244, Lampard is a breath of fresh air for us fans and more important for all the players. After the last 2 managers who played negative football because that was their style with the players that they had. Frank will try and stamp a more positive style with higher energy levels and more attacking football, I think he already has a better understanding of what is needed at this club than the previous 2 managers. Add the fact that he has already got a good rap going with the fans. There is no doubt that the players are enjoying the training sessions and games more with our new manager.

Jeff Armstrong
249
Posted 12/02/2022 at 23:23:28
Jerome# 247...oh, err I think he has a bit of a say though.
Simon Harrison
250
Posted 12/02/2022 at 23:25:20
LAMF is Los Angeles Media Fund; go look them up.
Spurs turned down a £3Bn offer apparently.
Simon Harrison
251
Posted 12/02/2022 at 23:26:57
Here's the LAMF Spurs link
Derek Knox
252
Posted 12/02/2022 at 23:28:14
Mike G, being kinda curious myself, I resorted to Google and the first thing that came up was Like A Mother F***er ! So I discounted that, should I have ?
The next thing that came up was " "This comes from a Los Angeles based NASDAQ listed Special Purpose Acquisition Company, a SPAC, called LAMF Global Ventures. They were floated on the NASDAQ stock market in November, raised over $250m in their initial public offering".
Any further info, or is this all a wind-up ?
Mike Gaynes
253
Posted 12/02/2022 at 23:31:27
DK, everything I know I just learned from the link that Simon posted!
Simon Harrison
254
Posted 12/02/2022 at 23:32:53
Roger #235, I was told the same;
Kenwright wanted Duncan,
Moshiri (and Joorbachian and Usmanov) wanted Pereira,
whilst DBB, Ingles and Sharpe all said Frank.
The board frightened the life out of the Moshiri group, by embroidering what would happen if they went against the fans again. Remember the graffiti "Pereira out, Frank in" before an announcement.
Mike Gaynes
255
Posted 12/02/2022 at 23:35:26
Simon, I still think that if the guy with the spray can ever comes forward, he'll be a claimed as a Merseyside hero.
And I'd like to start a rumor that a receipt for a can of spray paint was found in sharpie's car!!
Ian Riley
256
Posted 12/02/2022 at 23:37:00
After today's match the factors were evident:
The strikers defended from the front. Running/chasing down the Leeds defenders into mistakes.
Less individual errors in passing to a team member.
The pace and energy was high from the first minute.
These three factors are why we won. Not since many moons ago have we shown such desire to boss a game. The players gave the crowd the momentum to spur the team on! No matter how much ability any player has or team, work ethic must be 100% straight off!
Sadly we are in this position because the work ethic and individual mistakes has been seriously present. Yes tactics, coaching, psychology and fitness all matter but putting in a shift as a team your 75% there to a positive result. Yes fans are critical of certain players but it's a team effort. Today not one player was man of the match. You could have picked them all. I don't like losing through lack of effort.
Yes we have ability and it's on to the next match but we must match the desire and hard work of today. Today brought confidence to move on and show the level we can achieve. Over to you lads!!!
Jeff Armstrong
257
Posted 12/02/2022 at 23:37:38
It was Banksy
Simon Harrison
258
Posted 12/02/2022 at 23:40:37
Hahaha, agreed Mike. It'll be like the ending of Spartacus, where one Evertonian stands up, and says "I am spray can man!", then another, and another etc etc etc :D
I couldn't have stomached Pereira being appointed.
BTW, the triple helping of crow has been consumed. Thank you for your acknowledgement at #68.
Cheers Mike
John Reynolds
259
Posted 12/02/2022 at 23:47:45
On behalf of me, Christy and the rest of the believers. STOP BLAMING SEAMIE! If half the squad had a tenth of his character, we'd be challenging for Europe. I'll die on this hill.
Kieran Kinsella
260
Posted 12/02/2022 at 23:58:32
Mike Gaynes
I like to think the graffiti can man was Tony Marsh formerly of this parish still succinctly getting his message across
Roger Helm
261
Posted 12/02/2022 at 23:59:29
It's not good that Moshiri knows nothing about football, but worse that he doesn't know he knows nothing.
Anyway, it seems that all's well that ends well and hopefully Frank and his new approach will get us up the table.
John Raftery
262
Posted 12/02/2022 at 00:00:37
That was a tremendous team performance today. They all played on the front foot; the messing about at the back has stopped along with the pedestrianism through midfield. Van de Beek made a huge difference with his ability on and off the ball. Critically the passing was one and two touch with the forwards receiving possession in positions where they could run straight at opponents.
I suggested yesterday Jonjoe might start at left back to nullify Raphinha's ability to cut in on his left peg. That worked quite well but I did not expect to see JJk giving opponents twisted blood with his trickery in attacking areas. That was a bonus. I have always thought Iwobi had the capability to be an effective player for us. The quick tempo suited him, as it did the other attackers.
Leeds left everything on the pitch on Wednesday night. I hoped today might be a good time to catch them. Pleasingly that turned out to be the case but we have bigger tests to come before we can start breathing more easily. Today was a decent start, but only a start.
Kieran Kinsella
263
Posted 12/02/2022 at 00:03:55
John Reynolds/Christy
Aside from one plonker bizarrely calling Seamus a "shithouse" I think the majority respect him. The criticism isn't about his character. He's like Obi Wan Kenobi and old warrior and we know he will bravely go into battle against Darth Vader. But as age has caught up with him, we know we will need Luke Skywalker, Leia, Hun and Chewie as our new back line in front of Pickford to ultimately defeat the empire. Over the last few years it's seemed like we have Obi Wan Kenobi, the blue elephant from Jabba's palace, C3PO and an Ewok. Obi Wan does his best and his character is not in question.
Jeff Armstrong
264
Posted 13/02/2022 at 00:14:18
Seamus's diving header against Leeds today reminded me of Mick Lyons diving header v Leeds 1974,75 ish , glad to say I was at both and I'm pretty sure both into the Park End.
Steve Sergeant got the winner
Terry Downes
265
Posted 13/02/2022 at 00:15:25
Kieran 260
talking of Tony Marsh anyone know where he's gone not seen him in here for ages ?
Kieran Kinsella
266
Posted 13/02/2022 at 00:21:53
Terry
I know at one point Lyndon said he mistakenly thought he was banned but I don't it's been a while
Derek Knox
267
Posted 13/02/2022 at 00:24:04
Kieran, not in to Doctor Who ? (only joking)
John R @ 259, I don't for one, think Seamus, deserves some of the stick he gets, but having said that, I used to be able to run 100 yards in about 12 seconds, but since it has gone metric, it takes me about 12 minutes now ! I can do it quicker in the Car however. :-)
Jeff Armstrong
268
Posted 13/02/2022 at 00:28:57
Some people should just remember how Seamus Coleman has served this club for years before commenting, similar things happened to Peter Reid and Derek Mountfield back in the day, shameful remarks and booing of fantastic players who gave their all to the club.
Julian Exshaw
269
Posted 13/02/2022 at 00:47:52
Peter Mills@164. Nothing like an Everton win to lighten even the heaviest load. I wish you and your brother all the best. God bless.
Christine Foster
270
Posted 13/02/2022 at 00:49:23
Getting up to watch the game at 4am, I had a few misgivings, didn't we all after Newcastle? But today against a well organized team, they were exceptional and every bit as they can be and all hoped they would be. But a special mention for the two most maligned players who today showed what they are capable of under a manager who obviously knows how to both motivate and tactically get the best from them. Iwobi and Rondon. I like every man and his dog on here, have castgated both this season, rightly so too, but today Iwobi was excellent, power, passion, effort. Rondon in his one opportunity, blew away the condemnation under Benitez. Much sharper, he looked and played like a striker, sharp and first to the ball.
There are seeds of transformation being planted at Goodison, let's hope they flourish! Well done everyone of you, hope springs eternal!
Chris James
271
Posted 13/02/2022 at 00:51:32
That's two great home performances (with 6 goals!) and one pretty abject away day.
Hopefully the latter was either an off-day and/or down to unfortunate injuries derailing the plan (Gray and Mina are two important parts of the puzzle for us, the fact that we won so comfortably without either is hugely gratifying). Next week will be another big test - if we can get 2 in a row that'll give us some confidence into City and Spurs.
Bill Gienapp
272
Posted 13/02/2022 at 01:05:09
Kieran (263) - for the record, the "blue elephant" from Jabba's Palace is named Max Rebo, LOL.
Kieran Kinsella
273
Posted 13/02/2022 at 01:15:30
Bill
Sounds like an old school Argentinian hatchet man
Kieran Kinsella
274
Posted 13/02/2022 at 01:20:20
Gordon has to be the most improved player this season. Not just at Everton but the EPL. In August you could see he had talent but seemed a bit lightweight, tired easily, flattered to deceive a bit. But aside from obviously being our best young player of the year so far at this point I'd say he's also our best player of the year. If he continues on this trajectory, with Mount having an indifferent season with injuries, likewise Grealish, Smith Rowe having slipped back to the bench, Greenwood in the Nick, Gordon must have an outside chance for the World Cup squad.
Jamie Crowley
275
Posted 13/02/2022 at 01:54:38
After a few drinks with family members, just cracked back on TW and saw all the chat about Seamus.
The following will be disgustingly American.
Over here, we have Halls of Fame. Leagues have them, as do individual teams. I keep thinking, as I try to comprehend the history of Everton and put into perspective players I've seen and haven't seen, if Everton had an Everton Hall of Fame, who would be in it?
Ball, Southall, Young, Dean, and God knows you all could fill in those others that this adoptee can't name or think of presently on the spot.
But, would Seamus make the Everton Hall of Fame?
I say yes.
Great right back, loyal with one Premier League club in Everton, Blue through and through, team captain, £60,000 purchase price makes him by far the best deal probably in the history of the club, etc.
The guy is just the poster boy for what you want as a "servant of the Cclub" as well. He's a gem of a person, and could you ask for anyone better to represent the club?
If you had such American conventions as Halls of Fames Seamus would, in my book, be an Everton Hall of Fame player.
Based upon that, I don't understand the criticism of the man at all. Yes, he's older now. Yes, he may not cover as much ground as he used to. But for the love of all that is holy, can you not appreciate he's in the September of his career, and was an absolute staple in the lineup out of his career and a joy to watch? He's a talented, talented player who's career has been dedicated to Everton and Everton alone.
Let the guy age. Appreciate how he still, to this day, can bring an "A" game and also never, ever gives anything but 100%. And don't be so "in the now" and forget about many, many years of glorious Seamus rumbling up the right side, doing his level best for the club.
I fucking love the man. He's a Hall of Fame Everton player in my book, as I "Americanize" my thought process and analyze his career to ponder just how great it's been.
Kieran Kinsella
276
Posted 13/02/2022 at 02:20:03
Jamie,
I like the sentiment but I guess it depends how many people you have in your Hall of Fame. You'd need hundreds just to cover all of those who've won trophies.
Mike Gaynes
278
Posted 13/02/2022 at 02:31:19
Kieran #274, amen.
Jamie #275, I'd reluctantly vote No on Coleman's Hall of Fame ballot. He's always been a very good player, but never a great one, never among the best in the league, and he's not even in the top 30 in club appearances.
I wouldn't say he measures up to Baines, for example, who was clearly one of the best at his position almost to the very end of his career.
Kieran Kinsella
279
Posted 13/02/2022 at 02:38:49
Mike
Agreed. If you had Coleman it opens the door to Baines, Jagielka, Howard, Cahill etc. you've got Tony Cottee whose not seen as a legend and never won anything but scored a lot goals. Rideout, Unsie, Stuart and Co from 95 and that's before you even get back to the era when Everton were great
Jamie Crowley
280
Posted 13/02/2022 at 02:41:45
Mike -
Baines is a slam dunk in my book.
Seamus is admittedly more "emotional" with the one club, cheap buying price, and overall demeanor. He's in no way one of the Club greats with stats or numbers, but he's more of a longevity, loyal, good character type inclusion for me.
And here's where I'd lean on Blues who actually know their history - and I'm asking this off the top of my head! Please bear in mind, I have a meager 15 years in this!
Name a better right-back for Everton?
The above question also illustrates my longevity (or lack thereof) and naivety. I've personally seen two mainstays at the position – Tony Hibbert and Seamus Coleman.
What right-back, in Everton's illustrious history, would make the Hall of Fame?
Jamie Crowley
281
Posted 13/02/2022 at 02:42:53
Kieran:
Baines - yes
Jagielka - No
Howard - No
Cahill - Yes (barely)
Kieran Kinsella
282
Posted 13/02/2022 at 02:43:17
Gary Stevens
Jamie Crowley
283
Posted 13/02/2022 at 02:44:30
Actually, I'm second-guessing Cahill. Need to ponder that one, and take my personal bias out of it because I loved him.
Baines all day long, easy inclusion in my opinion.
Jamie Crowley
284
Posted 13/02/2022 at 02:46:37
Kieran -
Yup. From all I've read, yes. He'd beat Seamus due to the trophies for sure. Style of play and talent I can't speak to, but based upon what I've read - especially on TW - he'd be the RB in the HOF.
Ian Davis
285
Posted 13/02/2022 at 02:56:24
Better right-back than Seamus?
Gary Stevens... Tommy Wright?
Kieran Kinsella
286
Posted 13/02/2022 at 03:04:38
Jamie,
He was a homegrown athletic blonde fellow decent going forward more so than many of the era. Should've played more than 46 times for England but Bobby Robson had an affinity for Man Utd players so every tournament started with Robson, Wilkins etc got off to a bad start, they got injured or suspended; then he'd bring in the Everton players and turn things around.
Stevens left during the Euro ban when, if you can believe it, Rangers were bigger spenders than English clubs. He won the league there every year then, as an old man, joined Tranmere who were one of the best teams outside the top flight at the time.
Laurie Hartley
287
Posted 13/02/2022 at 03:16:38
Jay #165
- "Any advocates still calling for KITAP1 as a way out of our lowly league position as flooded the forum after Tuesday's loss?"
– I've changed my mind – and while I am doing back flips:-
Frank Lampard – I apologise – those other clubs who didn't appoint you missed a trick.
Donny van de Beek – I apologise – you are "what we need"
Seamus Coleman – I apologise – I saw the look on your face after you scored that goal, you still have the heart and you are not past-it.
Jonjoe Kenny – I apologise – for not even considering you for a start, well played, son.
Mason Holgate – I apologise – you were rock solid today.
And furthermore:-
Well played, Alex Iwobi.
Well played, Michael Keane.
Well played, Dominic Calvert-Lewin
Well played, Allan – you are a warrior
Richarlison – you are a great player, please never leave us.
Anthony Gordon – potential scourge of full-backs, you can go all the way
And last but not least:-
Dele Alli – see what you have got yourself into... great pass to ——
Salomon Rondon – I really wish your volley had gone in, it would have capped off a great few days for you.
Jack Convery
288
Posted 13/02/2022 at 03:46:54
Bielsa - "I took Raphina off for tactical reasons."
The tactical reason being Jonjoe Kenny was bossing him and setting up Everton attacks. Well done, JJK and all the others who wore the Royle Blue today. 3 points well deserved.
Jay Harris
289
Posted 13/02/2022 at 04:08:16
Jamie,
I agree with you about Seamus and I've seen some great right-backs:
Alex Parker, one of the greatest sliding tacklers around at the time
Gary Stevens
Keith Newton
John Gidman
John McLaughlin
Tommy Wright
And our very own Tony Hibbert.
Kieran Byrne
290
Posted 13/02/2022 at 04:41:15
Jaimie, Gary (Shaggy) Stevens was / is a legend. He was one of the most progressive full-backs in the era (the '80s). He could handle himself and also was real good on the ball and could run all day.
The Everton right side with him and Trevor Steven was magic – imagine Baines and Pienaar but 5 times better! And oo the right. Both England players and both moved to Rangers after that other lot fucked things up for civilized teams in Europe.
"And we love our Shaggy Stevens, Shaggy Stevens, Neville Southall, Ahhhhh, Everton, oh we love Everton" Da Crown Royals are kicking in... lol !!
Mike Gaynes
291
Posted 13/02/2022 at 04:46:27
Simon, I still think that if the guy with the spray can ever comes forward, he'll be a claimed as a Merseyside hero.
And I'd like to start a rumor that a receipt for a can of spray paint was found in Sharpie's car!!
Ron Marr
292
Posted 13/02/2022 at 04:47:52
Loved the way Seamus put his arm around Iwobi at the end of the game and patted him on the chest. Maybe telling him it was his best game for Everton and to keep it up!
Also, loved to see Anthony Gordon on the field singing along to "Grand Old Team" at the end of the game.
Really hard to pick a MotM today but I'd probably go with Gordon.
Joe Francis
293
Posted 13/02/2022 at 04:58:29
Can the spray-can guy do one demanding a new contract for Kenny?
Bob Parrington
294
Posted 13/02/2022 at 06:01:06
Best performance I can remember for some time. Looked the real deal from the get-go.
Not getting too far ahead of ourselves, if Rodrigo's 2 shots had been a tad lower, it might have ended up a different story. Lesson to be taken on as he shouldn't have been left to take the shots in the first place.
Some excellent performances that include Iwobi and Kenny. Looked totally different to previous.
Exciting game for us to watch, for a change eh?
Bob Parrington
295
Posted 13/02/2022 at 06:07:53
Of course, Van de Beek's home debut was pretty awesome, too!
Great team effort!
Alan J Thompson
296
Posted 13/02/2022 at 06:36:55
Be careful, lads, as I can see Blue Bill leaving Goodison with a rag in his hand trying to get something off his fingers. And for those wondering, it may be how he got the name, nothing more, and I can still see that self-righteous look he had when we went 3 up.
Danny O'Neill
297
Posted 13/02/2022 at 07:17:49
Higher, faster, intensity, pack hunting. Players and a midfielder wanting to have and actually being comfortable on the ball.
Gordon gets better and better. What I really like about him is not that he has blistering pace, but a fantastic change of pace. It takes players out of the game.
Seamus showing desire and determination to get his goal. As well as nearly having his head taken off, I think he hit the back of the net before the ball!!
Michael Keane's desire to get through at least 2 Leeds defenders to get his goal.
Desire.
A 3rd goal once again made in Brazil, although I now understand it got chalked of and given to Gordon. Made in Brazil, finished in Liverpool I suppose!
Enjoy - let's get ready for the next one.
John Boon
298
Posted 13/02/2022 at 07:57:35
As an ex-scouser, long long time Evertonian, and Canadian Resident, and, as my long-suffering wife says an "Everton Headcase" ... Wow! Wow!! Wow!!!
I know we are outnumbered by the large USA contingent but we must also have our say. Every poster on ToffeeWeb has very adequately covered every aspect of the Leeds game. We now seem to have a manager who now knows what Evertonians really want. Attractive, attacking football.
It is still too early to let expectations put the "cart before the horse", but today did give us promise. This season, there is only one goal, well two: by the time we avoid relegation, we go on to win the FA Cup. We just have to be optimistic and deserve to be able to be optimistic.
Lately I have been having great difficult getting to sleep because I have been worrying so much about how badly we have been playing. Tonight is the same, but so different. I lay in bed and rewatched all three goals about ten times each.
Eventually I gave up and got up to once more watch the highlights. No complaints and a far better cure for sleeplessness. COYB – keep it up.
Paul Birmingham
300
Posted 13/02/2022 at 08:25:31
Peter@164, our thoughts and prayers are with your brother, and your family, and I hope your brother gets better and on the mend soon.
Roman Sidey
301
Posted 13/02/2022 at 08:35:10
I'll preface this by saying I'm stoked with the win and the overall nature of it. Haven't seen Everton play like that in years.
But, that last bit is what gives me the shits. These players have stunk the place out for too long. Some for 5+ years, others for their entire Everton career. They showed today that they're capable of playing football very well and putting in enough effort to outrun one of the more mobile sides in the league. So what on earth have they been doing up until now?
Rob Halligan
302
Posted 13/02/2022 at 09:03:16
Danny #297.
Seamus nearly getting his head kicked off when scoring. Remind you of anything? About 5 minutes 30 seconds in.
https://www.youtube.com/watch?v=mwUl7a7AsQA
Richard Nelson
303
Posted 13/02/2022 at 09:23:05
I didn't see that coming, was anticipating a "backs to the wall" performance. We took the game to Leeds, first 20 mins were top notch. Can Kenny, Holgate and Iwobi keep up that level of performance?
Best moment of the match: Dele Alli's cross and the much-abused Rondon's volley on the run – deserved to burst the net!!!
Tony Hill
304
Posted 13/02/2022 at 09:34:35
Roman @301, a very important point.
Jeff Armstrong
305
Posted 13/02/2022 at 09:43:26
Rob 302, just shows how the years play tricks (post 264); I was convinced Seargeant got the winner.
Neil Copeland
306
Posted 13/02/2022 at 09:49:25
John #298, I don't think anyone is ever an "ex-scouser". I live near Nantwich now and still think of myself as a scouser albeit a Crosville Scouser these days. Probably makes you a Maple Leaf Scouser ~ but a scouser all the same.
Rob Halligan
307
Posted 13/02/2022 at 09:53:51
Jeff, at least you remember Steve Sergeant scoring. I only remember that Mick Lyons goal.
Mark Ryan
308
Posted 13/02/2022 at 09:57:41
After Sniffer Clarke scores, you can hear chants of "You're gonna get yer fucking heads kicked in!" Happier, simpler times. 😆
Peter Mills
309
Posted 13/02/2022 at 09:57:53
Thank you so much for the prayers, good wishes and positive waves for my brother, Charlie, who remains very ill.
He has spent his life helping others in so many ways, I have no doubt about the power of receiving so much goodwill back from the Everton family.

Joe McMahon
310
Posted 13/02/2022 at 09:58:44
Roman, I know exactly what you mean. But what we do have now (it seems to me) is a very good coaching team with new/fresh ideas. Frank himself was very much a driving forward positive midfielder, and a different mindset from maybe previous managers.
From what I have read, he seems to try and get positivity installed on players.
Michael Kenrick
311
Posted 13/02/2022 at 10:18:08
Danny @297,
"Michael Keane's desire to get through at least 2 Leeds defenders to get his goal."
I'm glad you described it like that, Danny, but I couldn't help comparing it with the many goals scored against us from corners that would be put down, not to the prowess, skill, timing, desire and courage of the scorer (yes, a much-maligned Michael Keane in this instance) – but to a defensive failing – either poor organization or poor marking.
To my eye, those 2 Leeds defenders surely did everything they could and should have done (legally) to prevent the goal?
But give me your perspective, please, as spokesperson for the centre-backs trade union, on how you would be feeling if your defenders had failed to prevent it from going in? What (if anything) did they do wrong?
Danny O'Neill
312
Posted 13/02/2022 at 10:20:15
Brilliant Rob. Mick Lyons and Seamus at the same end too!
I don't have anything additional to add on the game, we all know it was much better than Tuesday, so I'll go to Jamie's question on Right Backs.
It will always be a generational opinion, but for me absolutely Gary Stevens. At the time, he was a different kind of full back. He attacked as well as defended. I always liked Denis Irwin at Manchester United for that. And Stevens weighed in on the goals with that rocket of a shot he had.
Mention to Hibbert; great defender. Should have been a centre back but for a few inches.
I love the call outs for Kenny. He played well again; he hasn't let us down this season. I've doubted him based on where I want us to be, but he is showing determination and commitment. I think under Lampard, he can come good.
The manager wants to win. It's in his DNA. It's what he knows. With this current squad, he's obviously go his work cut out. But he will install enough mentality for the rest of the season to go and try to win games, not set up not to lose them. It will be a bumpy ride, but we will get there.
And to Wembley.
Watching the highlights for the umpteenth time, how instantly has Donny settle in both ability wise and attitude?
We need to follow up the "2 Frank Lampards" chant on the back of the Super Frank. That would mean a lot to him.
Stan Schofield
313
Posted 13/02/2022 at 10:27:38
Neil@306: Agreed.
I live in Scotland, and a while ago had a heated argument with a Scotsman on how to make porridge. He disagreed vehemently with my way of doing it, but I insisted it was the way I liked it.
He wouldn't give in, and said "You're a typical Englishman!", to which I replied "I'm not an Englishman, I'm a Scouser!!".
At that point, he stopped disagreeing, and said, nodding, "Aye". So no argument there!
Alan McGuffog
314
Posted 13/02/2022 at 10:28:00
Neil 306. get yourself into Black Lion in Nantwich. Fantastic boozer and a fair few blue noses in there. We've kept a bit quiet over the years but hopefully will be a bit more vocal from now on.

Derek Knox
315
Posted 13/02/2022 at 10:29:18
Danny @ 297, Personally I thought the award of the Goal to Antony Gordon, was a bit harsh on Richie really. Although technically it did marginally come off his boot, I am not sure whether Antony knew too much about it, or deliberately tried to deflect it. I am fairly sure it would have gone in anyway !
Hope Richie doesn't sulk over it ! :-)
Brian Harrison
316
Posted 13/02/2022 at 10:30:03
I think what we have witnessed against Brentford and again yesterday against Leeds was a commitment and a desire that hasnt always been on display. No I am not talking about the players I am talking about us match going fans. Maybe the threat of relegation has finally woken the slumbers of our fanbase to actively participate, something we seem to do more readily in adversity.
I include myself in this criticism although I am 74 why havent I been on my feet in the usual sedate Upper Bullens stand singing and clapping more than I have in a decade. I hope this becomes the norm for fans to realize just how important their support is to players as well as having a detremental effect on the opposing players. I read a comment from James the Leeds winger who said when their crowd got behind them it was like we were playing the best team in the world.
I know Danny O"Neill had a discussion on a thread and he said he was sitting on the fence over the appointment of Lampard, which is very understandable. But for me he is the most charasmatic exciting manager that we have ever appointed, and I go back to when Ian Buchan was the manager. Not only does he remind me a lot of Brian Clough but he has put together the best complete backroom staff we have ever had. I know some will say how can you say this after 3 games, because you can see the style of football he wants to play, and the improvement in every player in such a short period is amazing. Yes I know some will say its just a new manager bounce, and they may be right, but I genuinely believe there is something much more than a new manager bounce. I believe at long last we again have a manger who can win us trophies.
Danny O'Neill
317
Posted 13/02/2022 at 10:31:23
Okay, just watched it back a few times Michael so I can respond.
Personally, I always preferred defending open play. Set pieces are always difficult.
Looking at that one, the Leeds defenders are firstly caught watching the ball. Not necessarily a bad thing because that's what you want to win, but they aren't watching Keane. Then, their body shape is facing the wrong way. They are looking the wrong way and positioned the wrong way. They are looking at the corner taker over by the Enclosure. If even one of them opens his body and has vision and awareness of Keane as well as the incoming ball, they have a better chance of stopping that goal.
That's my take in hindsight.
Danny O'Neill
318
Posted 13/02/2022 at 10:36:43
That should be Richarlison's goal all day. I'm sure they're still debating it amongst themselves Derek!!!
Brian, I'm climbing off the fence. On the right side too. Two Frank Lampards!!
Alan McGuffog
319
Posted 13/02/2022 at 10:39:12
Roman...excellent !
Neil Copeland
320
Posted 13/02/2022 at 10:47:06
Stan #313, so true
Andrew Clare
321
Posted 13/02/2022 at 10:49:59
Was there an option to buy in the loan deal for Donny van de Beek?
Brian Harrison
322
Posted 13/02/2022 at 10:56:51
Looks like Man Utd have landed us with another player who wont make it in the Premier league, thanks Ralf wise decision but stupid Everton will probably offer you £25 million just snap their hands off Ralf.
I know many posters have been saying for weeks and weeks that no manager could get this team to play, not even Pep Guardiola. Maybe it just might have had something to do with appointing a negative dour manager whose horizon was hoping to avoid defeat.
I know many have made DVdB as MOTM and he was excellent but I think probably Keane, Kenny and Gordon were also candidates. I think the one player who I havent heard mention much is Allan who marshalled everybody on the pitch encouraging and also making sure they were all in the right positions. I think he should be our next captain. I think Holgate also deserves a mention as does Seamus, considering it was probably not a back 4 most would pick when everyone is fit they all played really well and constrained Leeds to shots from outside the box and not many sides do that.
Danny O'Neill
323
Posted 13/02/2022 at 11:03:19
The one thing about Allan Brian (and everyone knows I'm a fan), is that he is very good at the early pass. Even the same ones.
And he's a leader
Tony Abrahams
324
Posted 13/02/2022 at 11:04:22
A lot of good points Brian H, and although I'm not going to start going overboard over Frank Lampard, I have been absolutely 100% impressed with the back room staff, he has brought with him to Everton FC.
Brian Murray has pointed out that he's also constantly engaging with his back room staff, and someone told me last night, that every time there is a corner at either end, that Paul Clement is right out on the touch line, overseeing everything?
Lampard looked shell-shocked after Tuesday night's game, but he's kept quiet, has obviously been working with his staff on pulling everyone together at finch-farm, and if this type of professionalism, hopefully now starts to become instilled into our club, then us supporters will do the rest, I'm sure!
Everyone played well yesterday, but football isn't always about talent, it's all about heart sometimes, and not letting people breathe, and nobody typified this more than Jonjoe Kenny yesterday.
This definitely helped us defend on the front foot, kept the crowd really engaged, and helped make Goodison a beautiful place to be once again, because our support was just fantastic!
Brian Murray
325
Posted 13/02/2022 at 11:19:38
Tim Cahill easily the best in the sky era for us. A warrior in the Alan ball mould who didn't care who the opposition was and never had an inferiority complex unlike the manager who bought him.
Danny O'Neill
326
Posted 13/02/2022 at 11:23:13
That should have read simple ones. I need to admit defeat and get to the opticians.
I think the manager knows what he needs to do. In the short term there will be Newcastles as much as there will be yesterday's.
Get us over the line and then back him in the summer. And beyond. But let him do his job.
Michael Kenrick
327
Posted 13/02/2022 at 11:27:42
Jamie, Kieran and Mike,
I'm sure you must know this already but there is an Everton Hall of Fame – more accurately "Gwladys Street's Hall of Fame" conceived and advanced by Dr David France – no doubt influenced by his extended time in North America.
There have been no more inductees since 2017, perhaps unsurprising given the malaise of the last 5 years that has gripped the club. But I'm looking to Frankie to turn that around and give us a reason to reopen the ballot very soon!
Jeff Armstrong
328
Posted 13/02/2022 at 11:30:53
Brian 316, you are quite correct about the Goodison crowd, and I am quietly confident that it will be the home games that keep us in this league, I am really impressed with Lampard so far and what his team has done with this squad, onwards and upwards,. we're on the march.
Btw, Aberdeen just sacked their manager, big Dunc maybe?
Ian Edwards
329
Posted 13/02/2022 at 11:36:25
It's being suggested that Van de Beek was the best ever Everton home debut. I would go for Cottee v Newcastle in 2nd place. In 1st place for me without doubt was Terry Curran v Luton. Anyone else remember that game?
Julian Exshaw
330
Posted 13/02/2022 at 11:38:03
Our Frank was certainly singing the praises of Iwobi, wasn't he? So many times we have commented that players must be great in training to be picked week in and week out. It seems in Iwobi's case, he is. Good for him and he deserved all the plaudits yesterday.
It really is a clean slate for all of them now and I like this. Surely even Gbamin and Tosun will get a chance before long. I think I commented in the deepest darkest Rafa days that we badly needed a reset as per a computer. Someone has pressed that button.
Danny O'Neill
331
Posted 13/02/2022 at 11:45:51
I was at the Everton v Newcastle Cottee debut Ian. Hat trick and 4-0 win. That takes some beating.
Van De Beek looks like he can be a midfield orchestrator. The type of player we've needed who is happy on the ball.
Stephen Brown
332
Posted 13/02/2022 at 11:54:32
My first ever Everton game at Goodison was Cottee debut. Fantastic memory although missed first goal after 32 seconds queuing outside!
I'm sure he scored the winner the week after away at Coventry too and I thought we'd signed a superstar.
Dave Williams
333
Posted 13/02/2022 at 11:58:56
I have never understood the negativity about Kenny. He's been unfortunate in that when he plays it is generally as part of a patched up defence that hasn't worked. Yesterday he showed fight, desire, commitment and love of the club allied to a display of skill and the arts of a full back and I hope this acts as a springboard for him in what is a crucial stage in his career.
They have all now shown what they can do- now lets see if they can repeat it without that fantastic crowd roaring them on.
Dave Abrahams
334
Posted 13/02/2022 at 12:05:17
Michael (327),
I had a little bit of friendly correspondence with Dr David France over the Hall of Fame and how the players are chosen and who by. I was asking why Duncan McKenzie was in that Hall of Fame and Tommy Ring wasn't. David replied basically that you can't please everyone and there would always be arguments among fans of who should be or shouldn't be chosen.
I think David was wrong in that case: Duncan was an entertainer who played to the crowd, Tommy was an entertainer and footballer who played for the team.
Brian Harrison
335
Posted 13/02/2022 at 12:10:26
I was pleased with DCLs contribution yesterday, he gave us a focal point to work around. As much as Richarlison stood in manfully in DCLs absence he is far more effective either out wide or working off DCL.
I think what I am really interested in is seeing what Frank and his coaches do with DCL. He is a fine finisher in and around the 6 yard box, but I think Frank and his coaches will try and make him a more all round player, a bit like Kane.
He laid on a golden opportunity for Anthony Gordon and won most of his aerial battles.
I also think Ashley Cole will and has had an effect on our defensive shape, and I would love to know how much work he has done with JJ as he looked very comfortable in an unaccustomed role. Same goes for Paul Clement who has seemingly along with other things is responsible for both offensive and defensive corners. I think our backroom staff has got me just as excited as having Frank as manager. They just seem to tick all the boxes, experience in Paul Clement and in Ashley Cole listening to people who know him well is an excellent coach. I hope Moshiri now lets this manager and coaches get on with their job with absolutely no interference from him.
I am sure this season Lampard and his coaches will predominantly be concentrating on first team affairs but I am sure in time he will look at the overall set up of the whole coaching structure and style of play. We will need all our teams to mirror they way Frank and his coaches want the first team to play, that way young players can progress through the ranks knowing what is expected of someone playing in the role when you are called into the first team.
I listened to Michael Keene's interview after the game and when asked what has Lampard and his coaches changed and he said intensity and having more options on the ball. I have said for many a year all the top teams train with the same intensity that they intend to play. You cant ask a group who don't train with that intensity to be able to do it on match day.
Michael Connelly
336
Posted 13/02/2022 at 12:17:47
Have read through each and every one of the 332 comments so far. My thoughts having read through them are:
1) There was a good player in Alex Iwobi before we signed him. He had 15 goals and 27 assists in 149 games for Arsenal when we signed him, which is twice as good as he's done for us. He has proven that he can do it. Hopefully he can reach that level with us.
2) The blue tinted glasses are being applied to Baines career. Attacking wise, the man is a legend, but when it came to defending, my abiding memory is of crosses not being blocked. He was nowhere near the same class defensively, as his now coaching colleague, AC.
3) Having watched that Leeds game from 1974, and having been born 3 years later, what was the reason for the curved front of the stands behind the goals?!
Pete Clarke
337
Posted 13/02/2022 at 12:20:37
Stephen.
Cottee did score the winner at Coventry but the highlight of the match was when big Nev clawed out a top corner rocket shot from Greg Downs ( I think it was him ). He was actually celebrating the goal before our very own bin man somehow kept it out.
Cottee's start with Everton was brilliant and it's a pity it fell away a bit in the end but I always liked him.
I met him in Perth a few years ago and he's a nice guy who still loves Everton.

Brian Murray
338
Posted 13/02/2022 at 12:22:47
Stephen post 332. Cottee came with a lot of hype at the time and by means the worst I've seen for us. What really disappointed me as he said after the 89 cup final v them shower that after 30 minutes he had nothing and was drained. The game went into extra time and their strikers won them it. Anyway coyb we are back 💙👀
Ray Roche
339
Posted 13/02/2022 at 12:24:46
Michael, basically, some bell end apparently threw a dart at the Spurs keeper, Brown. As a result, the club were obliged, I believe, to place more distance between the fans and the goal.
Notice the lack of news coverage after a couple of Leeds fans threw bottles at Seamus yesterday?
Dave Abrahams
340
Posted 13/02/2022 at 12:26:21
Pete (337),
I was talking to a mate of mine at half-time in the match yesterday, he came from Gerard Crescent, Tony Allen, he knew you and said you were mates with John and Paul Tootle whose dad is a good friend of mine. Tony knew you had moved to Australia. I'll mention you to John and Paul next time I see them.
Brian Murray
341
Posted 13/02/2022 at 12:26:52
Ian Edwards. Yes Curran scored and played like a man possessed that day. Five nil As did McFadden and to an extent yobo all on loan at different times but on loan. Give the a contract like a lot of players and we see the real them.,
Ray Roche
342
Posted 13/02/2022 at 12:43:42
Debut's? Fred Pickering's hat trick when we demolished Forest wasn't too shabby.6-1!
And er…..Glen Kelley's was unforgettable.
Michael Kenrick
343
Posted 13/02/2022 at 12:46:55
Thanks for your perspective, Danny. So it sounds like you think they could have done better defending that goal? Seems ball-watching, facing the wrong way, and not being more aware of Keane are your key points?
But on a corner, surely everyone has to watch the ball, don't they? If you don't watch the ball, how can anticipate its trajectory and predict the potential point of contact? Whether you can get your head there into that very small space is another matter, though.
So they are surely all facing the right way, in order to see the ball coming over, as well as being fully aware of the attackers right alongside them.
The defenders and attackers are pretty much together, they know exactly where their opponents are. They are each jostling to be at that crucial point of contact with the trajectory of the ball.
But only one can be at that point of contact. It was Keane. Perhaps his run prevented the defender in front of him from jumping as high as he should have for him to become the point of contact instead of Keane?
To my mind, the trajectory of the ball determines everything. It was a brilliant ball in from young Anthony, met perfectly by Michael Keane. I'm just not at all convinced the Leeds defenders could have done anything differently to change the outcome.
Fran Mitchell
344
Posted 13/02/2022 at 13:05:37
If anything, yesterday was a demonstration on what is possible, maybe a flicker into the future. This season will still be a long slog, but there is something we can get behind.
A few things. Kenny, imo, will never be a first-choice, top-class full-back. But if he can be a solid, dependable back-up, that would be a great achievement. Not every academy graduate has to be top class to be valuable. Solid and reliable squad players who will give their all are important. And having these local lads, Everton supporters, in the squad is very valuable.
Interesting also to see the social media of many of the players and how they are all praising, with quite some affection, Iwobi. So he is clearly a well liked lad in the dressing room.
No point getting ahead of ourselves, how many false dawns have we suffered?
I think Van de Beek could be a stellar signing, and we will be desperate to make his a permanent move on the summer... whether that will be possible is another thing.
Eddie Dunn
345
Posted 13/02/2022 at 13:12:15
Danny,
On Gordon's goal, I think if he doesn't flick it, the keeper saves it. The deflection certainly took it away from the goalie.
Tony Abrahams
346
Posted 13/02/2022 at 13:21:38
Good point about Gordon's corner, Michael, because it was perfect. Getting the ball to gain height and then come down quickly is not an easy thing to master, and Anthony has hit a few great dead balls recently, which have led to Everton scoring.
I think the initial runs off the Everton players take everyone towards the goal, and when you're running forwards, it's hard to suddenly change direction and get a little bit of spring in to your legs to jump higher, and it does look as though the Leeds defenders hardly got off the floor.
Our next corner on the other side was so different because instead of everyone starting their runs from the edge of the box, it looked like we had about six players inside the Leeds 6-yard box, but Gordon's delivery was poor (cleared low at the near post), so we never got to witness what was intended with this set-piece, and don't say trying to score a goal!
Derek Knox
347
Posted 13/02/2022 at 13:32:28
Ray @ 39, Unfortunately wasn't at the match yesterday, and didn't know about the Leeds fans (?) launching missiles at Seamus. Like you say, kept quiet by the media.
Wouldn't mind wagering that they weren't Jars of Coleman's Mustard! 🤦‍♂️😜
Don't worry I'll get my coat by the exit, but like Arnie, "I will be back".
Tony Hill
348
Posted 13/02/2022 at 13:33:09
Nev saved a Kilkline penalty in that game, Pete @337. I was there that day.
Jay Evans
349
Posted 13/02/2022 at 13:34:14
Sometimes before a home game I go upstairs in St Luke's Church and have a wander around. Amongst the many treasures in there is the Toffee Art stall which sells some quality merchandise, particularly the tee-shirts.
If Mr or Mrs Toffee Art is reading this can I make a suggestion for a future tee-shirt design, please?
I think the 'Pereira out - Lampard in' graffiti image would be top seller. Look great them on us blues walking down Wembley Way in May.
Neil Copeland
350
Posted 13/02/2022 at 13:36:09
Alan #314, cheers, I know the Black Lion and will give it a go.
John Keating
351
Posted 13/02/2022 at 13:37:01
Agree Michael
The flight of the ball for Keane's goal was bang on the money and bang on the right spot.
A bit later we had another corner out there but was a lot higher and deeper coming to nothing.
Pete Clarke
352
Posted 13/02/2022 at 14:01:34
Tony. I was at that Coventry game myself heavily hungover from the night before. I forgot about the penalty save but the save from Downs was incredible.
I only started sobering up when we got back to Liverpool on the coach and headed straight to the American bar to start all over again.
Dave. Small world mate. I got to know John and Paul many years ago as they were pipefitters on some of the jobs I was on. My best mate Billy sees them all the time. Two good characters they are. Say hello from me.
John would have known Owen Moran (Cook da Books) who has just sadly passed away. He always mixed in the music scene.
Wish I could have been there yesterday to share the happiness at Goodison and a few pints afterwards. 🍻
Christy Ring
353
Posted 13/02/2022 at 14:02:14
Watched the game again today, and looking at Seamus putting his head in where it hurts, show's his courage and passion. What struck me more after he scored, you could see the emotion on his face, and the tears in his eyes, what it meant to him, a true captain.
When he had his arm around Iwobi praising him at the end, if only Iwobi had half the passion and courage of our Captain.
Ray Roche
354
Posted 13/02/2022 at 14:08:20
Derek Knox@347
A pity you missed the game Del, excellent performance and great atmosphere!
There were only two bottles, hurled from the Upper Bullens, both of which missed their intended target. It was enough to get half of the Paddock up on their hind legs though. Still, we can't tar all Leeds fans with the same brush can we?
Jamie Crowley
355
Posted 13/02/2022 at 14:26:32
Michael -
Thank you for @327!
I have a few of Dr. France's books (given to me by the man himself, I say with humility and thankfulness) and I had the distinct pleasure of meeting him and his lovely wife, Elizabeth, in Orlando this summer.
That link I will check out for sure. Something like that will be of great interest and benefit to this Yank!
Jamie
Stephen Vincent
356
Posted 13/02/2022 at 14:36:39
Michael #327,
By coincidence, I was going through old stuff this morning and came across a collection of old Higsons Brewery beer mats which were called 'famous old Higsonians'. Gwladys Street was one of them and I believe it was this that was the inspiration for The Gwladys Street Hall of Fame.
Dave Abrahams
357
Posted 13/02/2022 at 14:43:08
Eddie (345). Definitely Anthony's goal, best little back heel flick I've seen for a long time, and he deserved it for all the work he did on that left hand side attacking and defending all afternoon.
What a player he has become this season adding work rate to his undoubted skill, Anthony has a lot to thank Mr.Benitez for.
Robert Tressell
358
Posted 13/02/2022 at 14:43:08
At the start of last season, I felt like JJK had done enough at Schalke to suggest he was worthy of our RB slot - at least for a season, while we strengthened other areas.
As it happens, he's been frozen out completely by Ancelotti and Benitez, with Holgate, Iwobi and Davies being used as RB / RWB ahead of Kenny.
Now I don't see JJK as a top class full back, but he's not terrible. Why has he been so overlooked?
He showed yesterday that he's a Premier League player.
What the future holds I've no idea - but I just can't fathom why he's been treated so shabbily.
Jay Wood
[BRZ]
359
Posted 13/02/2022 at 15:13:14
Just watched a clip that largely follows Frank Lampard at the final whistle.
What seems evident is that very few people stampeded for the exits as is normally the case at Goodison. Win or lose, the stands can empty very quickly at the old lady.
The support, which was racous and superb all game, on all four sides, lower and upper stands, remained well beyond the final whistle. There were very few empty seats to be seen.
Can any match-goers confirm this impression?
On the 3rd goal, I'm in the camp that believes Richy was robbed on that one. As I wrote last night, you often see shots with a bigger deflection off a defender NOT given as an own goal, but awarded to the shooter.
Anthony's feather touch was neither deliberate nor critical, IMO. Having worked the position so well, Richy placed his shot rather than powered it. It was going in for me without Anthony's help.
And if it IS Anthony's goal, then Allan loses the assist, which goes to Richy instead. A bit nonsensical, to me.
Jamie Crowley
360
Posted 13/02/2022 at 15:18:39
Michael K -
Like the 80th post on this thread directed towards you!
That Gwlady's Street HOF link and set up by Dr. France is just fantastic. I had a cursory look and will go back, cross-referencing inductees with wiki pages to read and educate.
It's so cool to see the names of players and management I've read about on these pages. I was very happy to see Adrian Heath in this unofficial HOF. I like the guy a lot, as he coached at Orlando for a time and I thought he was a good manager, and have read about him on TW but never really knew if he was "one of the greats" or just a few of the poster's favorite.
So many names: Reid, Ratcliffe, Lawton, Latchford, Horne, Harvey, Bracewell, Lyons, Stevens, Watson, etc. for me to go back and use as a reference to read and learn about. Just brilliant!
I noticed some that are not honored to be included, chief amongst them your man (pretty sure you love this fella) Kanchelskis, as well as names like Speed, Weir, Cahill, etc. (there's a ton). But I'm half glad as the HOF Dr. France has put together hasn't "opened the barn doors" and inclusion seems to be something that requires longevity and real talent. Kanchelskis, as example, looks to have only played three years for Everton? Had he stayed longer maybe he'd be in? Just not enough time at the club to warrant inclusion.
At any rate, that link is brilliant and I appreciate it greatly. Absolutely Americanizes this player history in a way I can grasp and digest.
Brian Williams
361
Posted 13/02/2022 at 15:21:20
Jay, you're right. Lots more stayed to cheer the team and manager off the pitch than would normally do. In addition to that there was singing leaving, and outside, the ground following yesterday's game and the Brentford game. Something I can't remember happening for many, many years.
Jay Wood
[BRZ]
362
Posted 13/02/2022 at 15:42:35
Thanks for confirming that, Brian. I thought it was a solid show of support. Nice to hear it spilled into the streets post-match as well.
Uplifting.
Jamie Crowley
363
Posted 13/02/2022 at 15:46:10
Jay -
Those few seconds looking at Van de Beek's reactions and applauding the crowd tell me, again, he ain't going anywhere!
Brian Williams
364
Posted 13/02/2022 at 15:49:00
Jay.
What the crowd, and Evertonians in general, have been praying and hoping for is a manager that everyone can get behind. One who says all the right things (easy I know) but also shows right from the off that he can motivate the players and engage with the support.
I have a feeling Mr Moshiri has, more by luck maybe than judgement, stumbled upon a formula that may finally work for us.
Early days I know, and I'm not going to get too carried away, but the signs are more positive than they've been in years. And for Evertonians to sing a manager's name hasn't been heard since Noah was a lad.
Brian Wilkinson
365
Posted 13/02/2022 at 16:24:20
I agree with Ray in regards to the isolated incident of the two bottles thrown; there was no aftermath of an angry Leeds crowd, or further items thrown. On the whole, the Leeds fans were spot on in the ground, and after the game.
Like everything, it only takes a couple of idiots throwing something to give the club and fan base a bad image. We had it the other week. In a way, I am glad the media did not pick up the incident yesterday; we had the shame of those mindless idiots who hit Digne with them.
On the whole, most of our fans were excellent and credit to the club. I have to say, all the times I've witnessed Leeds, and I can assure you, I've seen some nasty stuff in the past, these supporters were a credit on the day and did not deserve to be tarnished by a couple of idiots among them.
Anyway, back to the game: yesterday was one of those games where every single player on the pitch and subs, contributed and stood up. Hard to think back where we have played a complete team game like that before. Normally, one or two have an average game, but I cannot think of any single player out there who had only an average game.
I said it when we finally got him that Van de Beek will be the player I expected: tough at winning the ball, great at laying the ball off, and gets in good positions in the danger area. He has one hell of a football brain on him: when 9 out of 10 players would have shot towards goal in the second half, he killed the ball and played a sublime pass out to his right. Just a shame we could not get an option to buy, he is going to be a huge success.
Special mention to Iwobi, what a game he had. Seems he is a confidence player; we saw what he can do when he had a go. The crowd got behind him; the more we cheered, the more pumped up he got. He needs to believe in himself and carry on from yesterday's performance.
Jpnjoe Kenny, having to play out of position, had a stormer, like so many yesterday, The whole team were outstanding, and we did our part as the fans in the stadium, getting right behind them – best atmosphere for a long time.
If we look back to where we the fans have built up an electric atmosphere and stayed right behind the team, an interesting pattern emerges: Arsenal at home, won; Brentford in the cup, won; Leeds yesterday, won. That's three games Goodison has not resembled a library, and three times the team with the fans right behind them have pulled out three decent performances.
Alan Johnson
366
Posted 13/02/2022 at 16:30:52
Jay #349... 👍👍👍
Mark Taylor
367
Posted 13/02/2022 at 16:35:41
Seamus fully merits a place in the Hall of Fame. Longevity and passion for the club, not just team success, count as big factors (it's why Mick Lyons is in there, for example) but one can say that, whilst also knowing his best days are behind him and we need to sort the full-back positions urgently, unless the two new signings are good enough to play very soon. I think flogging Seamus as we are currently forced to do is basically counter-productive.
Pretty much everyone played well yesterday but I think the guy who made the difference to the team dynamic was Van der Beek; he's exactly the player we have been missing and is key in oiling the wheels.
Maybe if magician Frank can get Rondon to almost score a worldie and Iwobi to finally look like a real footballer, he could re-purpose Gbamin into the player we thought we had signed. We could do with a decent back-up to Allan before we also flog him into the ground.
Mike Price
368
Posted 13/02/2022 at 17:16:18
Jonjoe Kenny had a decent game but he's nowhere near good enough.
One half-decent performance has people asking for him to get a new contract! That's one of the things wrong with the way Everton are run.
I'm praying for survival this season and then for the manager to cull this squad without emotion.
Ray Smith
369
Posted 13/02/2022 at 17:38:27
Mike @368,
Although I see where you are coming from! Your heart is ruling your head.
Kenny and Iwobi have been written off by previous managers who are no longer with us.
Give Frank the time to assess what he's got! FFP currently has us over a barrel.
With a young manager with current up-to-date philosophy, we will come through with what we have currently got.
Survival is a priority. Stability is what we need with a forward-thinking young manager.
Get behind the team, and dismiss the consistent negative comments regularly posted on TW.
We are in a relegation battle, but IMO we will survive, to resurrect ourselves next season.
Survival and the FA Cup, a dream, but possible.
Danny O'Neill
370
Posted 13/02/2022 at 17:41:24
Sort of Michael.
Yes, they need an eye on the ball, but also on the runners.
If you look at the Leeds defenders, they are literally pointing and transfixed on the corner flag. If they open their bodies out at more of an angle, they can do both.
As I was coached and used to coach, in those scenarios, it's not necessarily about winning the ball, it's about doing enough to prevent the runner getting a clean run.
Hyper critical and over analysing. Let's take nothing away from Michael Keane and Gordon's delivery. That and his free kick at Chelsea that invited Branthwaite to score; we could have something here.
On Kenny, made up for the lad. They loved him at Schalke. His attitude is second to none.
Top drawer? No. Good enough for us now? Yes. And I think we have the best manager to get the best out of him. He gives us options too; right back but will do a job on the left. And at wing back too, which I'm sure the manager will have noted.
Graham Mockford
371
Posted 13/02/2022 at 17:43:24
The abuse by some of Coleman on here is quite frankly despicable.
He may not be the player he was but he has never given an inch on the pitch, he's a Evertonian through and through and quite evidently a leader.
Keyboard warriors showing their true colours.
Simon Harrison
372
Posted 13/02/2022 at 18:00:31
Graham, #371. Please could you point out on this thread, just whom has 'abused' Seamus?
I think most on here have said he had an inspired game yesterday; but that, as you state, he is not the player he was. Though, at the tender age of 33 years old, that is to be expected, I would have thought.
Michael Connelly
373
Posted 13/02/2022 at 18:05:35
Cheers Ray (339) Makes sense now! Had wondered without ever having enquired about it. Made the ground look daft.
Brian Wilkinson
374
Posted 13/02/2022 at 18:07:41
That is the problem we have with only a few "glass halff-empty" views.
We played well against Brentford in, let's be honest, just a week for the new manager and coaching staff to work with the players; then we had the "It's only one game" comments, instead of enjoying the moment. We had to pick faults in the match. Fast-forward to Newcastle and we were playing well until we had two unforced subs in the first half. Granted the wheels fell off after that. Did we get "It's only one game"? No, we got "We're going down, we're doomed, we are shite."
Fast forward to yesterday's game and all the players put in a great performance. As of yet, I have not seen any negative comments, apart from the pre-match, when some were questioning the starting line-up, Iwobi the whipping boy, Coleman past it, Kenny left-back etc – that was before a ball had even been kicked.
Lampard has only been here a few weeks, and already we have put in two very good performances. What he is doing is putting his arm around every single player, he is giving them the freedom to take players on, he is giving them confidence and belief. When you lose players like Gray, Doucouré, Godfrey and Mina, that is a huge loss.
Frank has found a way of getting the best out of the players that are available. It will take time, but I think he is doing a great job getting a tune out of the squad.
I have no doubts people will still be questioning the line-up, before a ball is kicked against Southampton. If we are not playing like the old Brazil within 8 mins after kick-off, some will be pilling straight in.
We will have good times, some might be bad. It is still a learning curve for Frank; he will make the odd mistake but, the following game, he will tweak the problem, and not keep going with the same old "keep doing the same thing and hoping for a different outcome" – like our previous managers.
We need to keep behind the team. We did our part in the ground on Saturday. If we can keep Goodison like that for the remaining home games, it will lift the players. So, for any with half-empty glasses, top your glass up and start believing.
Tom Bowers
375
Posted 13/02/2022 at 18:17:50
Let's face it, guys, over the last few disappointing seasons, and this one especially, everyone at the club has come in for harsh criticism – even the mascot. Certainly we all have our favorite players that we like to praise while those we don't like, we malign.
Some players who get past 30 and/or have never really played well since returning from injury are particularly targeted and Seamus is one of them.
He was one of our heroes not too long back when Bainsey was the other raiding full-back but things change and sometimes not always for the better.
A slump like we have been through – and especially when Rafa was in charge – brought out the worst in some of us and perhaps understandably so.
I have questioned Everton's captaincy this season and never been convinced Seamus was playing well enough to be captain whilst not having any doubts about his commitment,
However nobody else has shown much form to be a worthy successor.
Frank seems to have gotten some response from the squad despite the reverse at Newcastle, who themselves have responded to new personnel.
We can only hope that this continues at Southampton who are also playing well.
Martin Mason
376
Posted 13/02/2022 at 18:24:32
Mike,
He's as good as his last game and quite frankly he was exceptional. Giving a dog a bad name can be just wrong.
Graham Mockford
377
Posted 13/02/2022 at 18:33:53
Simon
Chill your beans fella, I wasn't necessarily talking about this thread but of course given your comments I can understand your sensitivity.
I'm actually talking about a whole load of comments over a whole load of threads. I've no problem with players being criticised, I just think some players have earned enough respect through years of service to be given a little more leeway.
Dave Abrahams
378
Posted 13/02/2022 at 18:38:34
Michael (343),
"But on a corner, surely everyone has to watch the ball don't they?"
Very good question, Michael. I think we could have asked that of some of our defenders this season, particularly one of them, after Brighton had scored two badly defended goals a few weeks ago.
One of them was trying to mark an opponent looking at him facing the Bullens Road stand while the corner was coming in from The Main Stand side. Unbelievable... as are many of the things this defender does.
Julian Wait
379
Posted 13/02/2022 at 18:46:13
On the Jonjoe Kenny debate, I thought he should have played Tuesday. I didn't think that 3 days rest would be enough for Coleman (after Brentford). Not saying that we would have won against Newcastle if Kenny had played, but it can't have been worse than what actually happened.
I've heard it said that Patterson is not ready for the Premier League and the situation we're in. It may be true given his experience, and it may take even until the end of next season for Patterson to actually be a reliable first-choice option.
The fact that Kenny has shown himself to be a useful and reliable utility player is important. It may be too late now, we may lose him, but we need a couple of defensive players like him who can be relied on when coming off the bench or in an injury crisis (like now) or if, hallelujah, we ever get to having multiple cup runs and European football.
If Kenny leaves, I don't think anyone can accuse him of being unprofessional or not trying his absolute hardest when he plays. I'd go as far as to say he seems like an intelligent and skilled player, who may just not be quite fast and/or good enough for where we want to be competing in the future, but deserves ample credit for the here and now.
Well played, son.
Martin Mason
380
Posted 13/02/2022 at 19:01:43
Jamie @280,
Tommy Wright was in a different league to Seamus talent wise. What a player. Best left back? The wonderful Ray Wilson.
Tony Hill
381
Posted 13/02/2022 at 19:03:01
Brian @365, they were fighting among themselves or with the stewards so the police had to go in and then afterwards going towards Priory Road we had an altercation with a little party of dickheads mouthing off and threatening violence, again the police were involved. It was the least pleasant experience of away fans I have had for a very long time.
I'm sure they have fine fans, but I didn't see any yesterday.
Simon Harrison
382
Posted 13/02/2022 at 19:04:04
Thanks for the advice Graham, and consider the beans well and truly chilled. :D Sage advice, mon ami! I just got sick of all the negative comments directed at me after posting an opinion backed up by fact
I get Seamus has been, and is a great servant; I have never doubted his commitment, effort or desire, yet to my mind, his performances this season, until yesterday, were very patchy.
The man deserves all the accolades he got for his performance yesterday, and for an enduring Everton career, which should be indisputable.
Why people have rained down so much dog's (and cat's) abuse on him is beyond me? That is something I have never posted, or will ever condone or agree with.
I couldn't believe it when someone referred to him as a 'shithead' after the Barcodes game!? That was, and still is unbelievable; a genuine key-board warrior moment.
In truth, I have a lot of sympathy for Seamus, as the club should have found a replacement about three years ago, and then used him more sparingly, and to his strengths.
However, that just demonstrates the clubs 'tail wagging the dog' recruitment policy.
Lastly, I still maintain that Patterson needs to be played at some point, maybe against Boreham Wood, either on the right or left.
Oh, and Jonjoe Kenny was an absolute revelation yesterday, and I am absolutely delighted he turned in such a performance; just as so many other Bluenoses were.
Thanks again for the advice, Graham, peace and out :D
Will Mabon
383
Posted 13/02/2022 at 19:13:39
Tony, anyone who went to Elland Road between the '70s and '90s will know exactly how it rolls.
Of course as Brian says, it's not all of them - just nearly all of them :)
I went in the stands there once with my dad and sister back in the '70s at his insistence, after getting "Involved" the year before. It was pretty bad even in the seats with the older crowd. "Committed" lot, they are...
Graham Mockford
384
Posted 13/02/2022 at 19:15:50
Simon
Perfectly fair. No player is above criticism, some players have done enough not to have their attitude or commitment questioned.
Tony Hill
385
Posted 13/02/2022 at 19:17:53
Yes, a strange people, Will @383. It was indeed like 1975.
Martin Mason
386
Posted 13/02/2022 at 19:22:16
Tony @381,
Unfortunately the thicker end of the Leeds fan base are absolute wankers. Overall they are not bad fans and they have stuck by their team through difficult times. Maybe 10% should be enlisted in the Ukraine Army and used as tank barriers. We also have to make allowances for them, they're from Yorkshire.
Michael Lynch
387
Posted 13/02/2022 at 20:16:19
There were some horrible dickhead Leeds fans before the game, trying to start fights and shouting about our fans being soft and "Come and have a go" and all that 1970s bollocks. Haven't seen shite like that outside Goodison for a long time. I'm sure it was a minority, but it was surprising and a bit sad.
If they go down, I'll miss the entertainment their football has brought, but I won't miss their Neanderthal fans.
Danny O'Neill
388
Posted 13/02/2022 at 20:23:41
I think all fan bases have their collective stereotype perception but individually we are all good supporters.
Leeds are a naturally aggressive bunch.
Newcastle are the self-proclaimed biggest club and for whatever reason think they are bigger than Manchester United.
Everton are mad followers but knowledgeable.
Chelsea have changed. More Kings Road than the Battersea boys I knew.
Let's not talk about them. They are just them.
Brian Wilkinson
389
Posted 13/02/2022 at 23:05:56
Well from where I was sat in upper Bullens I was not aware of the skirmishes, came out of Bullens and walked past their end and toward the buses to town, had some banter with some heading that way, looks like the loonies headed down priory Road, just shows how different from a vantage view point, and walking one direction rather than the other how you get two different scenarios.
Headed into town and again although only a few at the station, never seen any trouble, was not always like that, especially at Elland road in the seventies and eighties, where I witnessed a fan getting off the train with the old wooden seventies crutch, made no difference his foot in plaster cast, had his crutch taken off him, and whacked over the head with it, before the police intervened.
Was a nasty bunch back then, still are but nothing like they used to be.
Neil Copeland
390
Posted 13/02/2022 at 23:15:01
Leeds fans always seemed to have a chip on their shoulder, probably because no one liked them I suppose.
I normally have a chat with away supporters on the way back to my car. On Saturday I decided not to because I didn't trust the response I may get. Probably just me I know but a bit sad too.
However, as Danny highlights we are all different.
Derek Thomas
391
Posted 13/02/2022 at 23:24:41
Re Leeds fans; a guy on another site noticed skirmishes outside after the game, where Leeds supporters came on a bit heavy had to be shall we say 'guided' back on to the path of righteousness as it were.
But "By their friends Ye shall know them." often tells the tale.
In the early 70s some rs and leeds pubs and social clubs had reciprocal visits to each others establishments, It was like old home week. The rs half of St Ambrose in Speke for one.
A Strange bunch...both of them really.
Guy Rogers
392
Posted 14/02/2022 at 00:55:33
Rewatched the 90 minutes twice. For me iwobi MOTM just from Gordon and Richie. He did about 13 or 14 effective dribbles, stepovers, tackles that improved our position on the pitch each time he was our most productive player. I see why they say he is best on the training ground, his ability to drop his shoulder or step over and buy himself time on the ball, strong and good acceleration. Of course alot of criticism about end product and heart but hopefully and it's a big hope frank can unlock something and we can see his undoubted ability more often.
Kieran Kinsella
393
Posted 14/02/2022 at 02:40:18
Guy
Me too. Can't remember the last time I watched an Everton game twice. I think the last time I watched any game twice was Slovakia beating Italy at WC 2010 as ai have connections in both countries and loved the upset even though I have great respect for Italy. Prior to that I'm thinking the Gosling derby was the last one I watched twice?
David Ellis
394
Posted 14/02/2022 at 04:57:04
On the right back debate - I notice that we have had a lot more top class left backs than right backs over the last 50 years
Right backs - clearly Gary Stevens and perhaps Keith Newton (before my time). Gidman (70s)was good at Villa but past his best by the time he joined us. Jones (70s) was decent. Sergeant, Darracott & McLaughlin (70s) all pretty gash. Jackson (90s), Hibbert also not that great.
However left backs we have Pejic (70s), Bailey, Pat Van Den Hauwe, (80s) Hinchcliffe (90s) and Baines, - all above average with Psycho Pat the best of the bunch. And from earlier we also had Ramon Wilson world cup winner.
Martin Mason
395
Posted 14/02/2022 at 08:22:03
David@394 You missed the RB who I considered the best of the lot, Tommy Wright
Stan Schofield
396
Posted 14/02/2022 at 09:10:20
In my experience (from 1962 onwards), our best ever full backs were Tommy Wright and Ray Wilson.
Danny O'Neill
397
Posted 14/02/2022 at 09:21:01
Interesting David @394. I loved Van den Hauwe but I look back at him as more of icon rather that a good footballer. A good defender, yes, and as I said on elsewhere, I actually think he would have made a better centre-back than a left-back. But we had Ratcliffe and Mountfield followed by Dave Watson at the time.
Roman Sidey
398
Posted 14/02/2022 at 09:30:53
Graham, I'd say the Coleman abuse was a gradual thing. At first, when his game went south, people were very apprehensive to criticise but after a while enough was enough. He's been a weak link in a bad team for a couple of years now and, until Saturday, had produced zero of what made him successful in nearly three years.
Danny and Michael, I think the aspect of Keane's goal you're both missing is that if it had been against one of the Sky 6, it would have been disallowed due to Keane having his hands on the defender's shoulders.
Guy Rogers
399
Posted 14/02/2022 at 09:33:13
Kieran,
Another game I must have watched 3 or 4 times I think might have been against Liverpool in the '90s, Hinchcliffe suddenly became an amazing dead-ball taker and his corner kicks were creating absolute pandemonium in the opposition defense. Definitely Ferguson scored from a corner and maybe Rideout.
My mate had Sky at that time and for some reason I recorded the game on VHS, took it into school the next day and treated my whole class to Goodison Park absolutely rocking. I went to school in Ipswich, by the way!
Danny O'Neill
400
Posted 14/02/2022 at 09:35:46
Saw that Roman, but didn't want to shout too loud about it!!
Definitely a push there.
Dave Williams
401
Posted 14/02/2022 at 10:07:25
Danny- Pat was a very fine player and at his peak was in the class of Hansen and Lawrenson when he was filing in at centre back. A great player which tends to be overlooked because of his notoriety.

Brian Harrison
402
Posted 14/02/2022 at 10:31:21
I think if I had said to most Evertonians that within 2 weeks of being at the club, Lampard would have the crowd singing the praises of Alex Iwobi most would have suggested I was mad.
Then add to that he played Jonkoe Kenny at left-back and he had a stormer, again 2 weeks ago many posters wouldn't have batted an eyelid if Kenny had moved on.
What Frank and his coaches have done is to press the reset button for every player at the club, as he said he came in and everybody would be judged on what they do under him, regardless of how they performed for previous managers. Now I personally don't think that Iwobi will be part of the team going forward, but to get the level of commitment that no previous manager had got from him is quite telling.
I think when Gray got injured early against Newcastle we feared not just for that game, but how we would fayre if he was out for a few weeks, but while he will be a major part of Franks side, not having him against Leeds didn't lesson our attacking threat as most feared.
Again with Mina breaking down again many worried about a partnership of Holgate and Keane but on Saturday they restricted Leeds to having shots from outside the box as they dominated the Leeds forwards.
We have scored 7 goals and conceded 1 in our 2 home games against Premier League opposition, there is absolutely no way that Benitez would have got that performance or result. Likewise, had Pereira been chosen he would never have attracted Donny or Dele to the club.
But the main message has to be to Moshiri: Had you stuck with your original choice we would have been in big trouble, had your preferred choice to replace Benitez which was Pereira been appointed we would have I think been in big trouble.
Now I don't know who or what changed your mind, whether it was the protests or someone persuading you not to go ahead with Pereira but thank your lucky stars whatever changed your mind, it's clear you should never again be anywhere near any transfers or selecting who managers the team.
Do what all good owners do back the managers with money which to be fair you have done, then let them get on with it. But remind them of where you expect this club to be which has to be competing for trophies, and if it looks like they won't attain that, tell them they will be sacked.
Craig Walker
403
Posted 14/02/2022 at 10:33:49
I'm still buzzing about Saturday. Being honest, I feared the worst before the game but it was one of those rare games, in recent times, where things clicked. The atmosphere was like a bear pit and the players, to a man, responded.
What will be interesting is how we perform away at Southampton. We've seen it this season against Brentford in the cup, Arsenal at home and Chelsea away where we have followed up a good performance with a disappointing, lackadaisical effort and a bad result. If we play like we did on Saturday, we can give any team a game. We need to start showing that effort, pride and football ability more consistently and away from home.
At least we know that these players are capable of producing it though.
Dave Abrahams
404
Posted 14/02/2022 at 10:34:23
Dave (401) I go along with that view Dave, he was playing very well at centre back then he got that illness which kept him out for quite awhile and they bought Dave Watson, Dave had a bit of a struggle in his first few months settling in before he became an excellent centre half and captain for many years.
Dave, Pat was very good as a centre back but in a different way to Hanson and Lawrenson, but just as effective and he could intimidate his opponents while motivating his own players at the same time.
Danny O'Neill
405
Posted 14/02/2022 at 10:40:27
Wise words Brian. A reset from all and maybe finally, Moshiri is listening to football people. Maye Lampard? He's been allowed to bring in his own team so that must have been part of the discussion.
I don't want to distract from the deserved praise for the defenders as they deserve the praise. But it was the way we played higher as a team and hunted in packs that took the pressure off them.
Something many of us have been shouting for a long time.
Attack is the best form of defence.
Danny O'Neill
406
Posted 14/02/2022 at 10:48:53
Pat was awesome and I maintain he would have been better as a centre back even though he was a great left back.
But. And I will go and wash my mouth after this. You can't compare him to Hansen. Possibly the best footballing centre back I've seen. John Stones reminded me of him in style and I don't say that lightly.
It's why I got frustrated with a lot of Evertonians during his development. We get players who are comfortable on the ball but we have fans who are fearful of players being comfortable on the ball. We should be wanting that, not shouting the opposite.
The good players look after the football. Defenders included.
Geoff Trenner
407
Posted 14/02/2022 at 10:56:48
Stan @ 396. Spot on. Ray Wilson was imperious, probably the best left back I have ever seen.
Dave Abrahams
408
Posted 14/02/2022 at 11:12:32
Danny (406), re Stones, I never worried about Stones being a footballing centre back, my favourite centre half of all time TG Jones was the greatest I ever saw anywhere for any team, great that it was Everton.
My complaint against Stones was in one game versus Stoke City when he was dribbling inside the six yard area, twice in a couple of minutes and not very successfully, I think he gave away a corner from one of the dribbles but Everton went from 3-2 up to losing 4-3. He was very young at the time but I'd never seen anything so stupid from a defender and he never learned in that particular game how foolish it was to play that way, remonstrating with the crowd when they had a go at him for playing the way he did.
I knew he was a very good player and he has proved it since with his time at City and the many caps he has won for England, mind you Keane has won a few of those!!
Bob Parrington
409
Posted 14/02/2022 at 11:41:18
Brian Williams @ 364. Thanks for what you've posted. I've been stating for years on here that the most important thing in any team sport is the "CLICK" between the players and the coach. Whether pro or amateur. If you don't have that click you're goin' nowhere. Not many listen, unfortunately!
Looks like we might have that click with Frank L. and the players! Here's hoping!!!
Danny O'Neill
410
Posted 14/02/2022 at 11:42:48
That's why I'm very mindful of us being patient with Branthwaite Dave. He's still only 19.
More of a traditional centre back from what I've seen so far, but potentially a very good one in the making.
I know what you're saying about Stones. He frustrated and panicked the masses, but I could always see the footballer in him.
Watching him press almost as high as a midfielder for City makes me jealous and reflect on what we could have had. Sadly, given where we were, he was always going to go on to better things.
Paul Cherrington
411
Posted 14/02/2022 at 11:54:35
Great performance and win from the lads on Saturday. They all played very well and with real unity, skill, heart and passion.

Amazing what having a decent central midfield does for you and how it takes the pressure off the back line! If we cannot get Van De Beek in the summer, we now know the calibre of player we should be chasing
Michael Kenrick
412
Posted 14/02/2022 at 11:54:59
Yea, Roman #398,
I was momentarily concerned that the ref or VAR would call it back for that but there didn't seem to be any protests from the Leeds players and maybe it's the onfield decision of the ref again dissuading VAR from having him look at the pitch-side monitor.
But there was no hesitation at the ground or in the commentary that it was a goal... or have people re-learnt how to celebrate the goals in real time, oblivious to the risk that they might be rolled back?
Brian Harrison
413
Posted 14/02/2022 at 12:13:01
Danny 410
I think Frank has said that he will always encourage and help young players to get in the side but they have to earn it and not just be handed a start. So I think Branthwaite will be given all the help and the encouragement he will need to be successful. Many were calling for Patterson to play against Leeds instead of Coleman, so often supporters call for the youngsters to be played irrespective of whether they are ready or not. Despite all the hype around Patterson seems strange even the man who bought him didnt play him, now he might turn out to be a real find but I think fans should ask if he is that good how come he had only played 6 club games.
What I have found under Lampard is the many posters on T/W were saying that we cant play a high line because Michael Keane is to slow and he always wants to drop back, which stops us playing a high line. Well I think Frank has destroyed that myth as I think Keane has spent more time in and around the half way line under Lampard than under any previous manager. So maybe it was the previous managers who wanted him to play deeper and not necessary the players choice. I think Keane lacks a bit of self belief which is a bit surprising seeing he has won countless caps for England. But under Ancelotti he thrived albeit playing in a deeper set up and under Frank he seems to be thriving.
Know I am not saying he will be our mainstay in defence going forward, but I don't think he is as bad as many on T/W do. But football is all about opinions and I personally see more pluses than negatives with Michael Keane.
Danny Baily
414
Posted 14/02/2022 at 12:27:43
I notice Trippier is likely to miss the rest of the season. A massive blow for our relegation rivals.
Danny O'Neill
415
Posted 14/02/2022 at 12:37:11
Brian,
Despite my on the fence response to Lampard's appointment, I did call out that a positive will be his tendency to bring young players through. As well as knowing what it takes to win at the highest level. He and his staff seem to be changing the mentality.
Lampard and Gerrard. Let's see how those two go. Maybe English football is bringing through coaches that understand how to win rather than set up to not lose and finish 7th at best and consider it success? A lot of them consider 12th and survival success.
We'll see with Michael Keane. Only 3 matches in, one in which we capitulated defensively. He still makes me nervous every time I watch him. But then do most of our centre backs. He's a good honest defender but in his prime now. He's not getting any better, but he's going to be an important part of our team for the foreseeable. Can I please finally have that new centre back in the summer?
Jay Wood
[BRZ]
416
Posted 14/02/2022 at 12:54:15
Brian @ 413.
You are not alone in your evaluation of Michael Keane. Every single player at Everton gets criticised. None, IMO, attracts so much unfair criticism as Michael.
In all three games under Frank Lampard - even at Newcastle - Michael has been our most composed defender, playing exactly the way the manager wants to play.
I am sure Frank has noted how accurate Michael has been with both his short and long passing, ground or aerial, through the lines.
It may take others longer to note and appreciate.
Tom Bowers
417
Posted 14/02/2022 at 13:04:00
Trippier was a good capture for the Barcodes but injuries are part of the game and very few clubs can carry many as they just don't have the class replacements like City and RS.
Everton have had more than their fair share and it has impacted the season greatly. Newcastle are still likely to survive the drop.
Dave Abrahams
418
Posted 14/02/2022 at 13:12:07
Jay (416), it will take me forever and a day to appreciate Michael's game, I note his passing, short, plenty of them in every game, to players under pressure, and long ones many as poor as good including Saturday's game, great goal though, now I really and truly appreciated that.
Tony Abrahams
419
Posted 14/02/2022 at 13:15:40
I hope I can appreciate Michael Keane one day Jay, with Saturday being the first time this season at Goodison, that our defence didn't exasperate me, if I'm being honest mate. (Maybe also Brentford)
I've said it before, but if Michael concentrated on his strengths, instead of being overly concerned about his one glaring obvious (to me) weakness, then he's got enough attributes to become a very good player, and if this happens, I'd be absolutely delighted for him.
Funny really, I'm talking about a man who has got England caps, but I'm only interested in Everton, and if Lampard, and his back room staff, can get Keane defending on the front foot, then it's Everton who will get the most benefit from this, hopefully.
Kevin Prytherch
420
Posted 14/02/2022 at 13:31:01
Unless you are an all round quality defender, then you will naturally play better against different opposition. If we play against a fast attack who look to run into space behind the defence, then Keane will always struggle. However, if we are under the cosh, or if we come up against slower but more powerful attacks then Keane is our best defender.
I've said it plenty of times on here, but when we have all defenders fit we should pick the players who best nullify the oppositions strengths. That might mean that Keane starts 50% of the games, but plays consistently well in all of them.
Kim Vivian
421
Posted 14/02/2022 at 13:32:50
I was definitely uncertain about Lampard when he was first being mooted and at the time, I sadly have to confess, quite liked the noises being made about Pereira. However I was mindful that every player in the squad would know and will have witnessed Frank as a player even if they have never shared the pitch with him, and that was a real plus in my assessment.
I have made the point on here that he has achieved as a player, and in recent years, so will command a different level of respect from the old guard – Ancelotti, Benitez, Koeman etc even though they were successful in their own respects. Martinez was young enough to be known as a player but achieved nothing. Silva, frankly, I know little about. Allardyce I thank for what he did in his brief stint but is, well, Allardyce.
Lampard, and I guess his team, has connected with our squad in a way that these last managers could not. Allied to his intelligence, likely coaching skills and ambition I really do believe we have landed the cream of the available crop.
We are all fawning still over Saturday's performance and for sure we will have ups and downs, but the picture coming into focus around the squad management is looking really optimistic to me.
Just need something similar to happen at board level now - but we may be witnessing that as well.
I'm actually looking forward (with some trepidation I admit) to Southampton. I am away this weekend so this will be the first match I will be unable to watch since the start of last season but will be following on the Live Forum – for better or worse.
Colin Malone
422
Posted 14/02/2022 at 13:41:41
Michael Keane will strive in a pressing type team, a team that keeps possession. Not a Big Sam or Rafa team, who nullified the midfield for hoof ball tactics.
I digress. I would love Everton to move heaven and earth to get Bissouma from Brighton. This lad the future.

Bill Gall
423
Posted 14/02/2022 at 16:01:23
The difference in the change of manager, really stood out on Saturday, with the amount of intensity from the players, that has been missing from the previous manager.
The major change to this team to me, was in a position that you read about every week from supporters that we needed, and that was a quality midfielder, and Donny van de Beek in midfield done his job calmly and professionally that showed what we had been missing. Man Utd depending on who their next manager will be, may not sell him, but this is a definite position we need.
When talking about intensity in a team the name of Leeds always comes up, yet there has to be more, as they are only 1 point ahead of us and we all know how poor we have been.
The commentators on Saturday made me mad in saying that Leeds are struggling because of their injuries in the spine of the team, never mentioned that Everton had the same problem with injuries. The difference, and I expect Lampard and his staff will have noted it, was Everton had control in midfield.
The signs are there that Lampard and his staff are working to improve the squad; let's get the same next week and show we are not just a home team.

Brian Wilkinson
424
Posted 14/02/2022 at 16:08:55
I am pretty sure long before we were linked with various Managers, Christy Ring gave a shout for Lampard. A lot dismissed Lampard, but credit if it was Christy who kept beating the drum for Lampard.
Whoever it was, Is proving to be a very good shout.
I have heard all the previous rumours that Moshiri wanted Piera whatever his name was, Kenwright jumped on the Duncan idea, after not getting Roberto, the remaining ones Barrett-Baxendale, Sharp and Cahill insisted on Lampard.
If that is the case, it looks like the latter listened to the fans and got the vote on Lampard.
Going forward we need Moshiri kept well away from transfers, leave it to the manager and the board. By all accounts, Bill negotiated the deal for Alli, have to say did well on the structure, if correct.
The only regret for me is Man Utd not accepting a right to buy deal for Van de Beek, although I smell a reason why: I fully expect Man Utd to try and land Calvert-Lewin in the summer, and Van de Beek will be their buttering Everton up.
I personally hope we keep hold of Calvert-Lewin, but fully expect the vultures to be hovering in the summer.
Dave Abrahams
425
Posted 14/02/2022 at 16:43:04
Brian (424),
I think if we are interested in signing Van de Beek on a permanent basis, then we have the rest of the season to have a good look at him and make our minds up. One game is not enough to decide if he is good enough, especially if we are paying upwards of £25M for him. He looked alright on Saturday but there is no rush unless of course he is wanted by a few clubs.
Brian Wilkinson
426
Posted 14/02/2022 at 17:19:39
If we get Van de Beek for £25 Million, I will personally do a cartwheel on our next ToffeeWeb meet-up, Dave :-)
No mugs, Man Utd, they will see how he does and if, as expected, he performs well, they will rip our kecks off, or keep him, or use him as a bargaining tool.
Either way, I fully expect Man Utd to mug us off yet again.
Dave Abrahams
427
Posted 14/02/2022 at 17:24:54
Brian (426), well we've got four months to see what he produces, I'll buy you a pint Brian just to see you do a cartwheel!!
Brent Stephens
428
Posted 14/02/2022 at 17:25:04
Brian #426,
"If we get Van de Beek for £25 Million, I will personally do a cartwheel on our next ToffeeWeb meet-up, Dave"
Brian, how about a sponsored cartwheel session from you? All the way round Goodison. I'm sure Dave will throw in a couple of groat that he stashed away when they were newly-minted. They were the days, eh, Dave!
Dave Abrahams
429
Posted 14/02/2022 at 17:33:21
Brian (428), No Brent I've got no groats, they were just before my time!! I have got quite a few silver threepenny bits salted away for a rainy day, a very rainy day though.
Brian Murray
430
Posted 14/02/2022 at 17:52:33
This is the first manager we have had who fans and especially players can relate to as being a big name in theSky era.
Let's face it we messed up with bad call after bad call in its inception in 92 choosing managers and merchandise deals and anything else lucrative. (We all know why.)
With the help of his top coaches, we may be onto something. All we want is to get us relevant again and let the Top 6 know they have been in a game. The summer will take care of itself.
Mark Ryan
431
Posted 14/02/2022 at 19:30:13
If they get Ten Hag, then we've no chance but, if they get Pochettino, then maybe we have a chance imo.
Christy Ring
432
Posted 14/02/2022 at 20:58:22
Brian #424,
Appreciate your comments. I wanted Frank from day one, I thought he was a bit like Duncan, but in my opinion he did a great job at Derby and Chelsea, knows his football, a player's man.
But I credit the person who put the graffiti up at Goodison: "Lampard in, Pereira out". For once, Moshiri listened to the fans.

Brian Wilkinson
433
Posted 14/02/2022 at 21:41:41
£25 Million or less for Van de Beek and I will dig my fiery Jack out out ready to lumber the old back out.
Brian Wilkinson
434
Posted 14/02/2022 at 21:43:31
I thought it was you, Christy, even before we were linked to anyone.
Derek Knox
435
Posted 15/02/2022 at 00:42:39
Christy ' @ 432, "Lampard in, Pereira out" Pereira must be one of the unique few who has been sacked before getting the job ! :-)
Well in, Graffiti Man ! I wonder if you will ever be revealed ? There could be a ' Hero to Zero ' in the offing for you if you do. A bit like the Old Robin Hood Song. Loved by the Good (fans) feared by the Bad (Authorities and Police) and then there's the cost of removal (of the aforementioned graffiti) and wilful damage to Everton football Club's property.
Evening ' All ! 👮‍♂️
Mike Gaynes
436
Posted 15/02/2022 at 00:47:25
Christy and Derek, I still say they should have checked Sharp's car. I think there would have been a half-empty can of spray paint in the "boot".
But whoever it was, Derek, he can't be charged with damaging Everton. We are indisputably a more valuable club as a result of the graffiti.
Alan J Thompson
437
Posted 15/02/2022 at 04:36:50
Mike (436);
It seems the likely suspects can be reduced to those who can spell Pereira.
Darren Hind
438
Posted 15/02/2022 at 05:04:33
There's a touch of Andy Hinchliffe about young Gordon's corners.
I noticed a few of his were flagged for drifting out of play before coming back early in the season, but he has certainly got his eye in now. Wonderful trajectory. Best corner taker we've have since Baines decided to go all floaty.
Finch Farm product.
---
Add Your Comments
In order to post a comment, you need to be logged in as a registered user of the site.
Or Sign up as a ToffeeWeb Member — it's free, takes just a few minutes and will allow you to post your comments on articles and Talking Points submissions across the site.
---
© ToffeeWeb