Richarlison gets his Olympics wish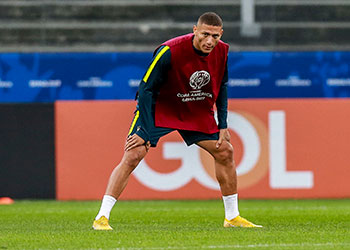 Richarlison appears to have convinced Everton to grant him leave to represent his country at the Olympic Games in Japan next month even though it means he could miss the start of the Premier League season.
The Brazilian's extensive international involvement had threatened to become a sticking point with the club this summer but it appears as though he has got his wish to play for Brazil in a second competition.
Everton had been hoping that his request would not materialise, given the impact it would have on his player's availability for crucial games at the start of the 2021-22 Premier League season which kicks off on 14 August.
However, when the Brazilian Olympic team coach called Richarlison up for the summer games to replace Pedro, who was not released by Flamengo, he campaigned heavily to be granted leave on top of the Copa America, where Brazil could still go all the way to the final on 11 July.
In that event, Richarlison would be excused from returning to pre-season training at Everton for up to 2 more weeks after that but now it seems unlikely that he will be returning to Finch Farm until after his participation at the Olympics is over.
"I fought there, right?" Richarlison reportedly told EPSN via UOL. "I was arguing all day with Everton, with the manager. I also called the new coach.
"It's very important for me to get this experience, to get more maturity because it will be important for me.
"When I heard the news that Everton released me, I came to the game even more happy to wear this shirt," he explained after Brazil's win over Chile in the Copa America quarter-finals last night.
"Now, it's about getting to the dressing room, celebrating with my teammates, because the game was very difficult too."
Quotes sourced from ESPN/UOL via Sport Witness
---
Reader Comments (62)
Note: the following content is not moderated or vetted by the site owners at the time of submission. Comments are the responsibility of the poster. Disclaimer
Jay Wood
[BRZ]
1
Posted 02/07/2021 at 20:12:13
Yes, I heard this at the start of the Brazilian commentary for the Belgium-Italy game.
Not good news; the club absolutely should not release him, unless he is being sold.
Tom Harvey
2
Posted 02/07/2021 at 22:04:44
He's no longer a teenager or a young player, at 24 he's now a full Prem/Copa player and shouldn't be going the Olympics.
Brazil are taking the piss, the club should not let him go.
The club should not worry about upsetting his feelings, just tell him he's a big boy now and big boys don't play with the kiddies in the Olympics.
Olalekan Taofik
3
Posted 02/07/2021 at 23:31:43
Richarlison going has been on the table since early this year...
Probably he has been promised the captain of the team or possibly he thought, since we are not going to be in Europe next season, he can insist on going to Tokyo.
Let's look at the pros and cons of the situation and insist on a better decision.
Wishing Pickford another clean sheet and progression against Ukraine on Saturday.
Jay Wood
[BRZ]
4
Posted 03/07/2021 at 00:54:52
Just reported on the evening news here in Brazil that Richarlison's club Everton has refused the request to allow him to play in the Olympics.
Sensible decision for all.
Derek Thomas
5
Posted 03/07/2021 at 01:07:17
We let him go to The Copa America in a Covid hotspot, he has to remember we pay his not-insubstantial wages and trying to stretch it out to The Olympics... where most of the host Country's residents are worried about Covid and the repercussions etc is just taking the piss.
His agent will be crying 'burn out' next and 'he needs to move for his own well being'... or some such shite. Enough is enough.
Tom Harvey
6
Posted 03/07/2021 at 03:11:32
Derek,
Yes, there's the Covid issue, but the underlying truth is that he's no longer a teenager or junior footballer and he shouldn't be going to the Olympics.
The answer should be No – even if Covid wasn't with us.
Brian Murray
7
Posted 03/07/2021 at 04:04:38
Jay @4.
Glad we at last are putting us first and showing some teeth. We really need to know if him and or Calvert-Lewin are staying at least a year.
The catering kopite (sorry, still can't say his name… bear with me) I hear is ruthless and a proper pro. We'll have a Plan B and a Plan C, like other clubs, and no more Lukaku type scenarios.
Justin Doone
8
Posted 03/07/2021 at 08:46:22
I'm not a professional athlete but, in my opinion, his Everton commitments come first.
But I love the Olympics and would always want to represent my team, my country when called upon.
It's a massive global event although I get in footballing terms it's not as prestigious as a World Cup or the Continental tournaments.
I think the club simply blames Covid and tried not to upset the lad.
Jay Wood
[BRZ]
9
Posted 03/07/2021 at 13:30:55
Hmmm... some disconnect here somewhere along the line.
I first reported this as a breaking news story in yesterday's Euro 2020 matchday thread when, at kick-off in the Belgium - Italy game, the Brazilian match commentator said Richarlison had been invited to join the Olympic squad.
At the end of Brazil's 1-0 quarter-final win over Chile in the Copa America last night, Richarlison said he had badgered Everton, both Brands and Ancelotti, every day about representing Brazil in the Olympics.
Then, in the late night news here in Brazil last night, it was reported Everton had refused the request to let him play at the Olympics, but I see more of the story of Richarlison's post-match comments this morning suggesting that the club has consented.
The only reference to Richarlison on the club site at the moment is that he played for Brazil last night. No mention of the Olympics.
Now Richarlison's comments about badgering the club every day would be for his domestic audience. Personally, having played in the Copa America, I think it would be detrimental to both the player and the club for him to spend a further month playing football at the Olympics.
He would be the only player from Brazil's Copa America squad that goes on to play at the Olympics. He needs a break and Everton needs him fresh from the start of the new season.
He shouldn't be allowed to go.
Paul Smith
10
Posted 03/07/2021 at 13:59:56
Totally agree, Jay. His importance to Everton can't be overstated and the club should be boundaried and refuse anymore time away and prioritise the Premier League. I think when TWebbers talk about dysfunction at Finch Farm and throughout or lacking a ruthless streak, maybe they're alluding to the potential of him being allowed to go. It's a good barometer, I think.
Gary Smith
11
Posted 03/07/2021 at 14:06:53
As long as there's appropriate insurance in place to cover injuries, not sure why we shouldn't let him if that's what he's insisting on.
My only caveat would be that he sits out first month to recover, and IF whoever takes his place does well, then they keep the place until they stop doing well.
If we're going to compete where we want to, then we need proper competition in every area of the pitch. We've got to stop picking players on name, and pick only on form and desire. If Richie feared 6 months on the bench on return (putting future Brazil appearances, such as World Cup, in doubt) then we wouldn't have this problem.
Until we are a position were all players have to fight for their place in our team, we will never get to where we need to be.
If we're not there yet it's our problem not his.
Fran Mitchell
12
Posted 03/07/2021 at 14:09:32
The Olympics shouldnt even be a football competition. It's pointless. Olympics should be for non-professional sportspeople. Olympics should be the peak of a sportsperson's career. Something they work and prepare towards for 4-8 years.
It shouldn't be seen as just another chance for millionaire footballers to get sponsorship deals and a gold medal.
Dave Abrahams
13
Posted 03/07/2021 at 14:29:38
Fran (12), they've got skateboarding in the Olympics this year, I don't know how they score it!!
Jay Wood
[BRZ]
14
Posted 03/07/2021 at 14:33:02
You're going to tell me next that Tom Davies has made the British Olympics skateboarding team, aren't you fellah?
Barry Rathbone
15
Posted 03/07/2021 at 14:40:50
Never understood the adoration of him here. I know Brazilian footballers have gone downhill since Ronaldo (the proper one) got fat but he's always falling over and his technique is distinctly average.
Another moderate player elevated to superstar status imo because we're still searching desperately for a real hero.
Mike Gaynes
16
Posted 03/07/2021 at 14:43:50
Dave #13, not sure how the ancient Greeks or Baron de Coubertin would have understood BMX bicycling either. Or break dancing, which will be an Olympic sport in 2024. Somehow those gold medals won't have the same prestige for me.
Not that the 21st century has a monopoly on this weird stuff. I read somewhere that shooting live pigeons was once an Olympic sport. So was town planning.
Andrew Ellams
17
Posted 03/07/2021 at 15:35:54
It's tough for us to get our heads around this because we have never taken football seriously as an Olympic event but that's not the case in Brazil.
Tony Abrahams
18
Posted 03/07/2021 at 15:55:02
I thought Richarlison started last season well, then went to Brazil whilst still injured, played and never properly recovered, having the worst season in his Everton career, up to date?
They've been playing constantly for 12 months, except for that very short rest period, that would usually come under pre-season, and although he must love playing for his country, he's definitely not interested in Everton, as much as he should be, if he's not aware he also needs to rest, before he starts another, at times grueling, ten month season again.
Fran Mitchell
19
Posted 03/07/2021 at 15:55:31
Andrew: not sure I agree.
Brazilians are mad for anything its 'seleção' do. But The Olympics comes way behind both the 'Copa' and 'Copa America' and is only slightly more considered than international friendlies. I've never seen huge parties over the Brazilian olympics football team matches, and the Gold medal for Rafaela Silva in Judo was as celebrated, if not more, as that of the football team.
Jay Wood
[BRZ]
20
Posted 03/07/2021 at 16:14:24
Personally Andrew, I get what you are saying about how passionate Brazilians are in playing for the national team, but I don't think this has anything to do with Brazil's 'tradition' of fielding a strong team at the Olympics. They have largely always gone with their up and coming players rather than their first team stars.
Five years ago Neymar was placed in a similar situation, wanting to play in both the Copa America and his home Olympics in Rio. Barcelona - his club at the time - simply said 'either/or, but not both.'
He opted for the once-in-a-lifetime experience and played in the Rio Olympics, leading his team to the gold medal.
The scenario today is very different for Richy on a number of counts:
1) like most footballers that regularly play for their national teams, due to the disruption of the global pandemic, they have been 'on' playing pretty much non-stop for two years now. Each and everyone of them needs SOME R&R.
2) if Richy does go to the Olympics immediately on completing the Copa America that already eats into the above-mentioned R&R he would get if he didn't go to Japan.
3) this further delays his return to Everton (the players start pre-season training on Monday), further delays his R&R, further delays his own pre-season at Everton, further delays his integration with Everton for next season, and most definitely will mean he will miss some early matches of next season. Is that what we want? Is that in the best interests of either the player or the club?
4) More than a month ago Brazil named two distinct squads, one for the Copa America, one for the Olympics. Not ONE player was duplicated across the two squads.
The player who Richy is replacing in the Olympics squad is Pedro of Flamengo. The Brazil Olympics team had a couple of warm up games recently. Pedro didn't play in those preparation games because he was CV-19 positive. He is now back in training, so fit and available. The irony here is that Pedro's club Flamengo has refused their player permission to play for Brazil at the Olympics, as is their right. How so? Because unlike their world and continental competitions FIFA do not mandate that clubs HAVE to release players if called up to play in the Olympics.
Richy is handsomely rewarded by Everton. If fit he typically plays 40-50 games a season for Everton, but only 6-10 times for Brazil, if selected.
No. For all of the above, I remain totally opposed in allowing Richy to play at the Olympics.
IMO, the club needs to protect their own interests first here and protect the player from himself.
Jay Wood
[BRZ]
21
Posted 03/07/2021 at 16:27:33
Fran @ 19 is right.
In fact, even though the Copa America is currently being played in Brazil, albeit behind closed doors (unlike the Euros), I have never ever seen such a total lack of interest or enthusiasm by Brazilians for this Copa America or any World Cup. It's as if the tournament isn't even being played.
That has as much to do with the appalling CV-19 situation here and the associated politics as anything else.
Fran, am I right in saying you would have been in Brazil still at the time of the Rio Olympics? If so, you might remember that the Brazilian women's team led by Marta got off to a flyer whereas the men's team led by Neymar stuttered.
The Brazilian nation got right behind the women's team and were jeering the men. Many crossed out the name of Neymar on their footy jerseys and penned in Marta's name instead.
By the end of Olympics the fickle Brazilians did a complete turnabout when the women fell in the semi-finals whilst Brazil gained a measure of revenge for 'that' 7-1 defeat by beating Germany on pens in the final. The enthusiasm for the Olympic footy teams was only there because it was a home Olympics.
A measure of how 'serious' the upcoming Olympics are being taken by Brazil is the 38-year-old Daniel Alves has been selected as an over-age player for his first Olympic appearance, whereas for the women the 43-year-old Formiga (literally 'ant') will be appearing at her (astonishingly!) SEVENTH Olympics. And yes, she is good enough to be there even at 43.
Danny O'Neill
22
Posted 03/07/2021 at 16:28:49
I haven't really read the detail on this so I'm really just going off Jay (BRZ) last comment and in particular closing sentiment.
The club does have to make a stance here. I don't think for one minute Richarlison's intent is wrong. He represents Everton consistently even if his form and attitude has been called into question. But he wants to represent his country. Is it a case of trying to do too much and please everyone?
Like Jay's closing statement says, protect our interests, but in a tough love kind of way, protect the player here.
Well, I was that late to this one, the headline changed as I typed!!
Minik Hansen
23
Posted 03/07/2021 at 16:45:31
If Richy wants it so much, make him happy. I agree with #11 Gary Smith, though this now will depend on the incomings (and outgoing players) this summer.
Christy Ring
24
Posted 03/07/2021 at 16:48:34
What I find hard to understand, Flamengo refused to let Pedro go, and they bring in Richarlison, the only player in the Copa squad called up and the club allow him go. Playing in the Copa and the Olympics means he's had no break since the season ended, and coming back with no rest, no pre season training, and missing the start of the season, is totally unacceptable, especially as he's one of our best players.
Simon Dalzell
25
Posted 03/07/2021 at 16:48:48
No way should we let him go to this sub Mickey Mouse farce.
Jay Wood
[BRZ]
26
Posted 03/07/2021 at 16:55:18
Make one player 'happy' to the detriment of the collective Minik? Why?
Like raising kids sometimes a parent has to be the protector stopping them from doing something stupid.
Richy needs protecting by the club from his own potentially damaging boyish enthusiasm.
Then again, if he or the club are looking to move on, then all bets are off.
Bill Rodgers
27
Posted 03/07/2021 at 17:03:57
It sounds like he will take every opportunity to get away. We should have a clear policy - we do not want players who do not want to be here. Maximise his price and sell.
Tony Abrahams
28
Posted 03/07/2021 at 17:08:09
Just read that his wishes have been granted. Maybe Benitez, has thought that this might be important with regards his long term relationship with Richarlison, and has decided to give him a lasting first impression!
Dave McDowell
29
Posted 03/07/2021 at 17:14:12
20# Jay, thanks for the inside info.
If as you say Richarlison is the only player invited to play from the Copa team I can only imagine it's because Richie has told the selectors he can sort it to play and they think we are a soft touch.
It's taking the piss, football shouldn't even be a Olympic event, the WC is the pinnacle for professionals and no one remembers which country has won any previous gold medals.
It's time to stop all this "nice club" crap and put our own interests first.
Benitez has to be given every opportunity to deliver success, to get to know his senior players and have enough time with them to develop the style of play he wants. A fit and fresh Richie is integral.
Richarlison, as a professional, should realise his first responsibility is to his employer and in our current situation with a new manager and as a senior player he should be back from Copa commitments as agreed.
If I was Rafa I'd see this as laying down my first marker to signify a change in attitude, it sounds like Ancelotti just let the players do what they wanted, it's time to remind the squad who's in charge.
Alan J Thompson
30
Posted 03/07/2021 at 17:29:05
U-23 synchronized break dancing on BMX tandems (nose pegs optional) and Everton will still provide a few of them, I can't wait. Do they consult the fans?
Fran Mitchell
31
Posted 03/07/2021 at 17:33:35
I was indeed Jay, and yes, there was huge interest in the Brazil team and pressure for Neymar because it was being held in Rio. They needed their poster boy for the sponsorship revenue.
But this Olympics, really, who gives a hoot?
Awful decision by the club to let him play, and Richy, after what was a very below par season for his club, should be more focussed on getting back into shape for the club that pays his hefty wages than playing in this B-level competition.

Fran Mitchell
32
Posted 03/07/2021 at 17:38:42
Although Jay, you could be on to something.
Richy wsa often valued at 80+ million, but after a very poor season last year, and the whole Covid economy, I couldnt see us getting anyway near that. We'd probably be looking to getting what we paid for him + some extras dependant on performance.
But a good Copa, and a gold medal and such in Tokyo just might persuade some big club to splash the cash and give us much needed funds to reinvest,
I like Richy, would love him to play to his best for Everton, but last season wsa very poor and i'd rather focus our squad/attacking development around DCL than him.
Roger Helm
33
Posted 03/07/2021 at 17:41:15
Football shouldn't be at the Olympics anyway. They should be for athletics and the minor sports. Massively paid sportspeople like footballer, golfers and tennis players get enough glory as it is.
Stop him going, he is a club employee and can do what he's told, like the rest of us. We pay him enough to expect him to do his best to avoid injury and keep in perfect condition.
Brian Williams
34
Posted 03/07/2021 at 17:59:52
I was listening to Stuart Pearce on Talksport earlier in the week talking about premier league players playing footy in the Olympics. He said, having played in World Cups and managed the UK Olympic footy team, that his Olympic experience was by far the greater.
Went on about until you're involved in it you just don't realize the enormity of it. He also went on to say he would never forbid a club player from representing his country in the Olympics because of the worldwide importance of it.
Jerome Shields
35
Posted 03/07/2021 at 18:17:09
Jay, Thank you for the information. I agree, he should not be allowed to go to the Olympics for the reasons you have given.
Kieran Kinsella
36
Posted 03/07/2021 at 18:20:49
Sack him for breach of contract, sue him for damages like Mata and put an embargo on him for the remainder of his contract. He has no respect for the club and needs to be made an example of.
Tony Shelby
37
Posted 03/07/2021 at 18:27:57
Let him go, just don't pay him until he gets back.
Andrew Brookfield
38
Posted 03/07/2021 at 18:29:31
If Benitez is going to play 4-2-3-1, then there at some massive gaps in our squad and some players that fit perfectly.
Richarlison is at his best in this formation so, as we look to rebuild the squad, ensuring one of our best players is happy makes sense to me. He had a gentleman's agreement to leave this summer; if he exchanges that to play in the Olympics, I'm fine with that.
Sign a right-winger (Hudson-Odoi), replace our Number 10 (Rodriguez for Coutinho) and we'll be pretty tasty.
Andrew Brookfield
39
Posted 03/07/2021 at 18:31:38
Richarlison is a Brazil regular, young, and plays for a team that finished tenth. I agree he was poor last season, but if a big club came in for him I've no doubt he'd succeed there.
Jay Wood
[BRZ]
40
Posted 03/07/2021 at 18:33:45
Knowing the Brazilian psyche and the strong desire and motivation of pulling on the emblematic yellow shirt of 'a seleção', I understand Richarlison's insistence in wanting to maximize the number of times he wears the national jersey.
However, that doesn't equate to him being correct in always doing so.
At the turn of the year he deliberately deceived Carlo Ancelotti about a serious injury he was carrying to ensure he could go away on international duty for Brazil.
He was injured so badly in a league game he was subbed out before half-time. Read here what he did in the following days to ensure he travelled to Brazil for international games.
How Richarlison Fooled Ancelotti
I reported on TW at the time that he was training and getting treated alone away from the rest of the national squad and he duly didn't play the first of 2 games, trained gingerly for the second game in which he only featured for a half.
Some might consider his commitment as admirable. Others might regard it as irresponsible, potentially jeopardizing his availability for Everton for an extended period.
To me this historic example and the current situation is why the decision by the club needs to be firmer rather than always appease the personal desire of the player.
Colin Glassar
41
Posted 03/07/2021 at 19:03:59
I've never been a (big) fan of his as he's no Zico or fat Ronaldo ie he's not very skilful for a Brazilian. He's also a sulky bugger who's more interested in theatrics over staying on his feet.
He is a hard worker but that doesn't, IMO, make up for his attitude. So, if he's sold I wouldn't give a toss tbh.
Matthew Williams
42
Posted 03/07/2021 at 19:05:18
Why am I not surprised...we really are a soft touch,more time for our Golden Boy to dive and play act like fuck for his country.
Another on my list of fourteen to sell.
Tony Twist
43
Posted 03/07/2021 at 19:13:21
It was the sensible thing to do in this lose lose situation. I hope Richarlison has grown up and appreciates this gesture from the club. It hurts the club a great deal and he owes us now. He needs to commit to Everton or leave on our terms.
Clive Rogers
44
Posted 03/07/2021 at 19:18:28
He has hardly had a break in the last three years. He is in danger of burn out and fatigue in the second half of the season.
Paul Smith
45
Posted 03/07/2021 at 19:57:36
Soft as fuck letting him go. We, Everton need him. This is what pisses me off about us too fuckin accommodating at times and not ruthless enough. It's a real problem.
Joe McMahon
46
Posted 03/07/2021 at 20:00:26
Paul agreed. We need every goal threat we have for beginning of season. Everton have he backbone of a jellyfish. The People's Club.
Mike Jones
47
Posted 03/07/2021 at 20:38:43
Just sell him and bring Aqualani in
Andy Crooks
48
Posted 03/07/2021 at 22:11:58
Mike, from 1912 to 1948 poetry was a summer Olympics event. I suspect it was quite competitive. I was at a poetry event in the nineties when the police had to be called. One of the poets had written reams of stuff about his German girlfriend who had broken his heart.
"Ode to Tina" was the final straw for one of the weary fellow poets and fisticuffs ensued. Bring it back, I say.
Brent Stephens
49
Posted 03/07/2021 at 22:13:31
Andy "from 1912 to 1948 poetry was a summer Olympics event."
How many metres?
Andy Crooks
50
Posted 03/07/2021 at 22:19:04
Love it, Brent.
Britain did take gold in the iambic pentameter.
Brent Stephens
51
Posted 03/07/2021 at 22:20:07
Love it even more, Andy!
Jay Wood
[BRZ]
52
Posted 03/07/2021 at 23:34:18
Arrrggghhh! What a pair of groaners, Andy and Brent.
I should mete(r) out punishment by forcing you to listen to a recitation of
Phillip Warrington
53
Posted 04/07/2021 at 00:14:49
It just shows how Everton have become a low-tier club to our so-called international players. Flamengo, a top club in Brazil, decided they were not going to release the player he is replacing.
Also, another example how our South American players would rather play for their country and not show the same commitment to Everton, and why we will never be a Top 4 team when we allow this to happen. This guy is a regular in the Brazilian team so it's not like he's a young player who has to prove himself at the Olympics.
It's about time Everton put their foot down and say to these fucking players, "You either want to play for Everton or you don't; if you don't, then let's stop you dishonouring the club by giving your all for the country shirt, coming back to Everton conserving your energy and preserving your body by not giving everything for your club and building your international reputation so you can be picked up by a bigger club."
Everton management need to grow some balls and say No!
Justin Doone
56
Posted 04/07/2021 at 00:54:30
Can we not send Bernard instead?
I had already said Everton should come first but I get the pull of the Olympics.
Keeping him happy may be the best preseason for him.
It also highlights how poor and thin our squad is especially lacking in the wide and attacking areas.
As for the Olympics, they can't even ban consistent drug cheats which is the biggest farce.
I'm not in agreement of allowing professional boxers to compete against novice amateurs. That's baffling.
But I am looking forward to the BMX, climbing and skateboarding events. I think chess and boomerang-throwing are in line for an Olympic call-up too.
John Gorham
57
Posted 04/07/2021 at 02:38:14
I hope we let him go and Brazil win the gold. If we are going to be a global team in years to come, we all need to look at the big picture.
The reaction to Rafa shows how small-minded we have all got after 25 years of no trophies.
Dave McDowell
58
Posted 04/07/2021 at 09:02:45
John #57
Sorry I don't see the connection in Richarlison missing pre-season, with a new manager, to play a worthless event (football specifically, not the Olympics overall) and how this would enhance our global image.
I cannot name you one player from Europe's current top 10 most successful teams who won a gold medal in the Olympics, it has no impact whatsoever on a team's profile.
We have a promising opening fixture list with a new manager who should be given every opportunity to succeed.
Depriving Rafa of one of our senior players for a 2nd rate beano, having already allowed him to play in the Copa America, would be a decision of cowardly management.
For all those saying "but Richarlison might sulk & want to leave", okay let him go (at the right price).
We've already shown our willingness to drop our pants by letting James leave before season end (how'd that work out?) and letting Ancelotti take the piss with some of the worst mismanagement in the final run-in (how'd that work out?).
If Rafa comes in and shows these overpaid divas who's in charge, I'll back him over all the usual suspects who play 1 good game in 5.
Olympics, for fuck's sake… a professional footballers pinnacle is the World Cup.
Dennis Stevens
59
Posted 04/07/2021 at 16:07:36
I wonder whether the Club have agreed to release Richarlison for the Olympics as they don't anticipate he'll be an Everton player next season anyway?
Justin Doone
60
Posted 04/07/2021 at 16:49:52
Some players, despite the millions they may earn, are more interested in competing to win everything they can.
An athlete's career is short at the best of times and, despite the British not generally competing in football at the Olympics, for most athletes, it is the pinnacle.
I would guess most Everton fans' main concern is not wanting him to get injured. Again, I totally understand but that's like saying he will not get injured training or playing for Everton. There is just no way of knowing.
It's easier to get the most from a happy player. An unhappy player is like Covid, spreading unhappiness throughout the squad. The clubs then have to redirect time and resources to stamp it out before it spreads.
David Baxter
61
Posted 05/07/2021 at 13:22:17
I thought the Olympics was all about Strongest-Highest-Fastest. Football has enough competitions. They will be playing snooker and snakes and ladders at the Olympics next.
Michael Lynch
62
Posted 05/07/2021 at 14:50:41
Hardly any break between the end of 19/20 season and the beginning of 20/21 season, followed by the Copa America, and straight onto the Olympics, which finish seven days before the start of the PL season. An intense schedule, to put it mildly. You would have thought that any player doing that will be absolutely knackered mentally and physically and would struggle to compete at the top level throughout the 21/22 season
But we let Richarlison go, and the RS tell Salah no.
Mugs.
Dale Self
63
Posted 09/07/2021 at 20:48:12
Been thinking about this, which doesn't increase the likelihood of being useful but heh it's TW. This may be a tell that we're interested in offers not that he's on his way out but that we would entertain the option. In this way an Olympics outing will hopefully not be the full draining experience of a major and it would possibly increase his value. Plus, he's suffering for some opportunities to express himself, it's a risk worth taking maybe.
James Flynn
64
Posted 09/07/2021 at 23:16:25
Here's the source of this Richarlison to Real Madrid "rumour" attributed to "Sources" and nothing more, on June 1:
Link
Every other place you read it originated from the link.
As a special bonus, this being the silly season, the "Everton source" spoke in the clickiest clickbaitish language "the club will listen to offers for Richarlison if he pushes for an exit."
Which quote can be attributed to every single player, male or female, in any professional sport, anywhere in the world.
And just to shift from rumour to fact. Richarlison is our player. He busts his ass out there, is young still, and has some fine attacking skills.
He goes nowhere. We add to our roster, not subtract.
---
Add Your Comments
In order to post a comment, you need to be logged in as a registered user of the site.
Or Sign up as a ToffeeWeb Member — it's free, takes just a few minutes and will allow you to post your comments on articles and Talking Points submissions across the site.