Gray arrives as third Everton signing of the week
Thursday, 22 July, 2021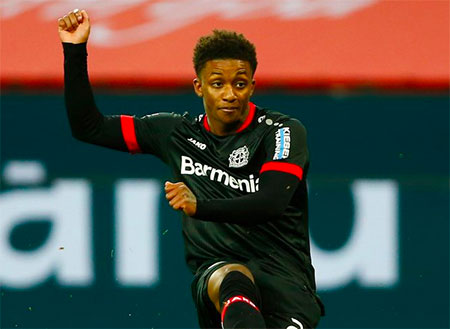 Everton have completed another signing with the confirmation of the capture of winger Demarai Gray from Bayer Leverkusen.
The Blues activated a clause in the former Leicester City player's contract and have landed him in a deal with around £1.7m.
Gray has signed a three-year contract that would keep him at Everton until 2024 but there is an option for the club to extend it by a further year.
The 25-year-old, who willl wear the No. 11 jersey, underwent a medical abroad, most likely due to COVID-19 restrictions, and has flown to Orlando to join his new team-mates.
"I'm delighted to be back in the Premier League at such a big club and I'm excited to play with the team and get to work," Gray told evertontv. "Speaking to the manager and Marcel Brands, I had a really good feel for the Club and I feel this is a place where I can continue to develop.
"The manager, with his ambition and what he has won in the past, is important and we'll look to push forward and compete with the top clubs. I think a club of this magnitude has all the potential to be right up there.
"I want to push on, be a pivotal player in the squad, and help the team score goals and assist goals," Gray continued.
"I'm a speedy, tricky winger. I enjoy running with the ball.
"I like to play anywhere along the front three and I feel like I can be dangerous in all areas."
---
Reader Comments (71)
Note: the following content is not moderated or vetted by the site owners at the time of submission. Comments are the responsibility of the poster. Disclaimer
Minik Hansen
1
Posted 22/07/2021 at 15:35:39
Gray, welcome to Everton! He is 25, there are many players that top late in their 20's, so for me this is promising, given how much we paid for him. He just came back from Bundesliga, a different kind of experience (though only for 12 games and 1 goal) that most likely have an impact on him becoming a better player - and coming back to the Premier League which is well known and comfortable to him, he will adapt his experience from Germany. With a new manager and different players around him, I'm excited to see what he's giving to us. In other news, Richarlison a record hattrick inside 23 mins, the first hattrick for a PL player.
Michael Burke
2
Posted 22/07/2021 at 15:46:31
I am going to be minority that see these 3 signings as good business sense amd I'm quite pleased with them. They are positions we need with attributes that compliment our strikers. Looking back over the last 5 years or so, like many, I was drawn in with the £20m+ fees and the lure of champions league football. How many of of the 15 or more expensive signings have worked out. We can probably count those on 1 hand! We are not the only club in this situation. How many games has the £60m keita played for the RS or Pepe for Arsenal! Our approach seems to be more directed at the moment. Rather that the scattergun approach of previous years. Brands influence or Rafa's?
Mike Doyle
3
Posted 22/07/2021 at 15:46:55
Off topic. Do any of the ITK posters believe their is anything in the Ross Barkley links?
Barry Hesketh
4
Posted 22/07/2021 at 15:53:09
Mike @3
I'd be very surprised to see Ross return to Everton, even if it was only on loan from Chelsea. What would he offer the team? He lacks pace, he often dribbles down blind alleys, he can't tackle, OMG he ticks every box :)

Pat Kelly
5
Posted 22/07/2021 at 15:56:02
We should pursue Barkley until the last minute of the window. And then leave him where he is.
Gray is a good signing and I look forward to see him playing in a rejuvenated Everton side.
Christy Ring
6
Posted 22/07/2021 at 15:57:55
An out and out winger is a top priority, hope Gray can deliver. I'd take Barkley ahead of Iwobi any day.
Eddie Dunn
7
Posted 22/07/2021 at 15:59:43
I have hopes for this lad. Not so long ago he was much sought after and he has much to prove. Very tidy business for a change.
Phil Smith
8
Posted 22/07/2021 at 16:03:15
Ross only if James leaves. Only have room for one maverick type in this team. He's way faster then Gomes or James though.
Don Alexander
9
Posted 22/07/2021 at 16:07:31
Barkley was either on the bench or in the reserves for Villa whilst Grealish was injured in the last two months of the season. Says it all really.
Mike Gaynes
10
Posted 22/07/2021 at 16:28:06
Gray is an excellent gamble at the price. Once considered a teenage phenom, still only 25, great pace and skill, yet totally unproductive -- averages less than one goal and one assist for every ten career games, mostly as a sub.
Why hasn't he succeeded? Here's a hint from Brendan Rodgers last summer, shortly before Leicester shipped him off to Bayer:
"He's obviously a player we want to keep. When he's focused and concentrated, and then plays to that level (of his substitute performance against Watford), you see the impact he has... He's got wonderful talent. He can dribble, he can do everything. With Demarai, it's always been about that end product, creating goals and assisting goals on a regular basis, and then working with an intensity to fit in with the structure of the team."
Note the words... focused, concentrated, intensity. In other words, the young man needs to get his head out of his ass and into the game.
If Rafa can make that happen, this could be a helluva deal. If not, well, it's only £1.7 million.
Andrew Ellams
11
Posted 22/07/2021 at 16:31:30
Just had a chat with a Palace supporting colleague who thinks Townsend is probably not our man if we want crosses for DCL.
Apparently his accuracy rate for hitting Benteke last season was poor.
Steve Shave
12
Posted 22/07/2021 at 16:34:25
Not unhappy about this. Let's see if Rafa can get the best out of him. Whilst underwhelming I agree with other posters that there is merit to these 3 signings as squad fillers at the very least. Begovic is an experienced deputy to our STAR England GK Jordan and maybe one of Townsend or Gray can stake a claim for a starting berth. I still hold hope we will see a couple of players signed such as Dumfries/Arrons and a Bailey or another top winger, this of course now seems dependant on a couple of outgoings, I suspect Bernard and James, I hope not Richy.
Phil (Kelsall) Roberts
13
Posted 22/07/2021 at 16:36:47
But Benteke accuracy for hitting the back of the net with the ball was also pretty poor so I wonder.. . . .
Craig Harrison
14
Posted 22/07/2021 at 16:46:27
Andrew #11 the lack of accuracy may have something to do with Benteke woefull movement. Hes very slow to break into the penalty area and as such is often 4-5 yars away/behind from where you would expect a more mobile striker to be
Brian Murray
15
Posted 22/07/2021 at 16:47:56
Surely with Bernard off the wage and unfortunately James at least. Means we can move for a Bailey level player. As for Richarlison we need no last minute turmoil with no chance of using the £80 plus million. One more season and he will see how close we are to Top 4. If still miles away, then sell early in the next window. Coyb
Charles Brewer
16
Posted 22/07/2021 at 16:53:05
It's all very odd. In the past couple of years we were spending upwards of £25 million for bang average layers, and now we're paying £1.75m for what looks like the same quality or perhaps better - certainly no more risky.
The good thing about this strategy is that you don't need every purchase to fit properly, one in three is still going to give you an excellent return, and if we can unearth a new Coleman, or a Vardy (who cost around £1million from Fleetwood), but have. afew duffers, it will be far better business than buying a few Gueye (£7million) and DCL (£1.62) types rather than a Sigurdsson (£45m), Iwobi, Klassen, Walcott, Bolasie, Schniederlin or Tosun (all the wrong side of £20 million)
Dale Self
17
Posted 22/07/2021 at 16:58:33
This is a good thing and the overall sequence looks to be done with some thought. Getting a feeling of some momentum building and possibly some optimism for a number 10.
And good stuff Charles, it does look like the market for players has changed drastically and Brands may be good in this phase. I was jealous of Leicester having Gray when we had an outside chance for him so this could be really well timed for him as well as us.
Steve Brown
18
Posted 22/07/2021 at 17:04:29
Not a lot of risk in this signing as he's young and inexpensive, but he won't improve the side.
Tom Harvey
19
Posted 22/07/2021 at 17:19:35
Barkley? No!
He pissed all over us when he left, zero respect or gratitude for the club.
At what point do we dig in and show some pride?
Tom Harvey
20
Posted 22/07/2021 at 17:26:33
Gray and Townsend could become very smart buys if they find themselves at our club, if not we haven't payed anything for them and the losses will not be that bad.
I'm hoping the wages paid aren't silly, we've been far too generous lately.
I can't complain about Senor Benitez's performance so far, even though I didn't want him.
Soren Moyer
21
Posted 22/07/2021 at 17:27:07
According to echo, Benfica wants Gomes (sh). Happy days.
Pat Kelly
22
Posted 22/07/2021 at 17:40:24
Bernard likely next one out, if not already gone. Gomes possibly, if we pay what Benfica are asking. Sigurdsson may not play for us again. James almost certainly won't stay. Richarlison keen to go? What a busy window this is turning out to be already.
Robert Tressell
23
Posted 22/07/2021 at 17:54:34
Certainly it looks like the next step is to trim the wage bill. I can't imagine we'll generate much in the way of fees for the players now touted to leave.
In some respects it turns us into a plainer side - but the two wide players do at least add some pace and the promise of delivery into the box.
Disappointing that we're not getting excited about the likes of Bailey but maybe it's a necessary step for the club to reset.
The fact that we're so constrained now by FFP means:
- we really need to do what Leicester, the RS and others do and focus on resale value of new recruits; and
- really the way we've been going about business is not sustainable and if we don't treat this as a wake up call it could bite us on the arse.
As much as FFP is a about creating a cartel at the top - it does also help to stop clubs (or at least clubs like us) from going bust.
Jeff Armstrong
24
Posted 22/07/2021 at 17:56:34
Pat #32, "Gomes possibly, if we pay what Benfica are asking". Brilliant!
Dale Self
25
Posted 22/07/2021 at 18:21:50
I was going to lay out on that but if some are determined to stick it in Gomes as he is making what I assume will be a graceful exit I may as well have a go. He's shown character by trying to come back early and you decide to have a bit of fun with it because the whole team is struggling and he wasn't fit enough to have a chance at spearheading any kind of attack that couldn't be snuffed out by a faster opposing midfield.
Gomes was the only one who could find that forward pass and too much of our playbook of getting out of the defensive third depended on him. Others tightened up on the ball and he at least would come deep to try and get something going and was lambasted for it. Have that laugh, he's likely going to take the gentleman's route and resist returning the favor.
We are in a bit of a mess and kicking some of these on their way out the door is not a good look. Just sayin'.
Tom Bowers
26
Posted 22/07/2021 at 18:23:05
Lot's of speculation as expected but certain players will be going over the next few weeks or so. The squad is too big and quite a few are not good enough.
Ross Barkley has lots of skill but really lacks in other areas so forget about him. We have similar underachievers already here.
I like the fact we have signed two wide players who have bags of Premier League experience and have cost little or nothing.
Ian Burns
27
Posted 22/07/2021 at 18:29:56
Daniel @40,
I don't think Richarlison is Madrid-bound simply because they can't afford him.
I also don't believe the Barkley rumour has any legs.
Gomes, James, Bernard will be gone but unfortunately I also believe Iwobi will be staying and be given an opportunity in the new set-up.
As to who comes in – Bailey is on Aston Villa's radar so, if that ever had legs, it is running out of steam.
Kieran Kinsella
28
Posted 22/07/2021 at 18:39:56
I didn't see Gomes in the Florida pics. Or Kean.
Clive Rogers
29
Posted 22/07/2021 at 18:45:19
Ian, Real Madrid have massive debts, they have had for years, but that doesn't seem to stop them splashing out if they really want someone. Debts are not the same as having no money.
Sam Hoare
30
Posted 22/07/2021 at 18:49:29
Gray is getting too old to trade on 'potential' he's got some of the raw materials but his end product and decision making can be lacking, a bit like a certain Ross Barkley.
It will be interesting to see who gets more game time out of Gray and Townsend but I suspect the latter will show the sort of consistency and work ethic that Benitez will prioritise.
Ian Burns
31
Posted 22/07/2021 at 18:58:09
Clive @43,
Times are different: there would be uproar if Real Madrid went out and spent £80 to 100M on any player. In Barcelona, there are massive strides being taken to cut the wage bill.
Player exchange maybe but a straight purchase won't happen.
Paul Jones
32
Posted 22/07/2021 at 18:59:07
Gray reminds me of when we bought James McFadden when it was obvious he was the cheap replacement for Rooney. So anticipate that Richarlison will be on to pastures new rather than returning to Everton, given that we now have two potential low-cost replacements.
Anthony Dove
33
Posted 22/07/2021 at 19:01:44
It must be the heat as I am finding it difficult to understand the almost universal support for the acquisition of more deadwood in the shape of Townsend and Gray.
As for the rumours of Ross Barkley coming back, let's hope they have some substance. I would welcome him back with open arms.
Mike Kehoe
34
Posted 22/07/2021 at 19:16:22
Struggling to link Benteke's poor return to Townsend's delivery. If he dropped the ball to the floor he would miss.
A rare bullet we dodged.
Jerome Shields
35
Posted 22/07/2021 at 19:16:50
This looks a good signing. Townsend as well. More like them would not be bad at all. Benitez is bringing players on the cheap, maybe building a squad loyal to him.
Mike Kehoe
36
Posted 22/07/2021 at 19:19:44
Paul Jones @48,
If we looking for low-cost replacements, we could offer Christopher Biggins the role of chairman.
Derek Knox
37
Posted 22/07/2021 at 19:28:59
Mike @ 50, Christopher Biggins in place of William Bigchins? Hmm! :-)
He's behind you! Oh No he isn't!
Doesn't time fly?
Howard Don
38
Posted 22/07/2021 at 20:26:44
Dale @38, spot-on.
We all loved Gomes during his loan period, a class act who never lost the ball. Similarly delighted when we signed him. That horrendous injury did for him, amazing comeback but he's rarely looked the player he was.
Two Portuguese guys sat next to us one week, mates of Marco Silva, they couldn't say enough about what a top bloke Gomes is. We can do better now, but he was a player I really liked when on top of his game, I'll wish him well.
Terry White
39
Posted 22/07/2021 at 20:35:11
Howard (#52), GomeS plays for us. GomeZ plays for the RS. Can we please try to spell the names of our players correctly.
Jim Lloyd
40
Posted 22/07/2021 at 20:42:29
Well, I'm one of the ignorant football followers who's quite pleased to see these lads come into the club. Both of them, especially Townsend in his interview, seem to be champing at the bit to get into the first team.
Having seen at the match, watched on the telly and mainly this last season, listened to Everton radio at the match, I despaired at the pathetic performances put on in the name of Everton Football Club.
Right now, I'd take a chance on these two lads rather than Iwobi, Bernard, Sigurdsson or Gomes with one of them on a wing and the other as sub.
I think it's a great bit of transfer business for two squad players, as that's what we've signed them as. If we get rid of any or all of the above and sign better wingers and midfielders to replace those going, then even better. We will still have these two energetic, fast and keen players to come in.
None of us knows (I assume) how bad our financial state is with regard to that bloody FFP and, even if it's better than we think, I'd have both of these lads in the team before any of those just mentioned.
I'll say good luck to them; they show willing, so let's see what they can do before condemning them.
Jim Lloyd
41
Posted 22/07/2021 at 20:50:31
Dale Self (38) good post
Darren Hind
42
Posted 22/07/2021 at 20:51:36
"I'm a speedy tricky winger, I enjoy running with the ball"
Dont tell us son. Show us
Do that and the Evertoninans will love you.
Terry White
43
Posted 22/07/2021 at 20:59:59
Jim (#54) see post #53.
Andy Crooks
44
Posted 22/07/2021 at 21:01:04
Darren, I too am a tricky winger and love having a ball. Will do it at a fraction of the cost.
Derek Knox
45
Posted 22/07/2021 at 21:13:31
Very happy with this signing, for those that remember, we were interested in him at Birmingham City, I think it was £7M, if memory serves, but he chose Leicester instead, where it obviously didn't go to the Blueprint.
Probably never know the full in's and out's, but be interesting to know, if we were at the back of his mind, and what influence that may have had on him choosing to 'make good' his hitherto wrong decision.
Can see this guy being (if fit) an integral part of our left attack, with the odd goal and assist, and crosses to Calvert-Lewin and Richarlison if they are both still with us at the start of the new season.
Andy, are you sure you spelt 'winger' correctly? :-)
Ben King
46
Posted 22/07/2021 at 21:14:18
Gray's decision-making is severely lacking…
He'll fit right in.
Brendan McLaughlin
47
Posted 22/07/2021 at 21:24:41
Andy #58
You can't just blatantly advertise your services on ToffeeWeb like that...
Jay Evans
48
Posted 22/07/2021 at 21:51:10
He's shite.
So is Townsend.
And Barkley.
And Paco and his firm 🇪🇸
Oh well, perhaps the 3rd kit will be nice.
Jim Lloyd
49
Posted 22/07/2021 at 22:22:27
Darren, that's what it's all about. The interview was excellent. Now lets see what he can do; well, both of them have got it all to prove. This summer looks to be extremely interesting. If Richarlison goes, I would have thought he'd fetch a 100 million or so, but how can Real afford it?
Anyway, If he stays, great stuff but if he goes, will we be able to afford a replacement?
Si Cooper
50
Posted 22/07/2021 at 22:35:24
At the price seems like a relatively harmless gamble, but it is a gamble nevertheless. If RB can really get Townsend and Gray (and the rest of the squad) to deliver the goods then I will bend the knee ('Game of Thrones' style).
If our new manager is that good then I admit I thought he might be the manager for Gomes who I believe has more to offer.
On the subject of the player in hot water, I think people should probably wait until they know ALL the details. His missus would leave him if he admitted texting other 'women', which there could be proof of, but if he wasn't aware how young they were then he ends up as a knobhead and a love-rat rather than a pond-scum criminal. That is what the police investigation is for and they might need to go through an arrest procedure to ensure they could get all his electronic devices. It wouldn't make sense to me that you'd just rely on him voluntarily turning everything over to them.
Andy Crooks
51
Posted 22/07/2021 at 22:45:08
Derek, honest to God, I didn't. Also, I like a player who fires his CV right out there. We will get what it says on the tin.I hope he does it on the pitch. Never heard a player say that before. Actually I have.
Does anyone remember"On the Ball", does anyone the penalty competition? Does anyone remember a big lummox of a lad knocking in ten out of ten against division one goalies? The fucker never missed, and that WAS penalty pressure. He said missing from that distance (12 yards) never entered his mind.
Anyway, on the back of this, he was offered a contract with Sunderland. I guess he was on about a tenner a week, which probably made him a big earner in the days of Bobby Kerr. So, turns out he never missed a chance. Couldn't run, couldn't tackle, called for his mummy when he saw a picture of chopper Harris but, he was BRILLIANT at what he said he was. Oh, should add, he never missed a chance because he err... never got one.
Jim Lloyd
52
Posted 22/07/2021 at 22:50:31
Hahaha, Andy, excellent!
Bobby Thomas
53
Posted 22/07/2021 at 23:06:15
Pacey and can play off either side. Something we've needed. Its a start anyway.
We'll get more out of Townsend and Gray than the £50mil plus (and that's just transfer fees) we blew on Walcott and Bolasie.
Roger Helm
54
Posted 22/07/2021 at 23:13:07
A speedy winger who likes to run with the ball but can't cross and doesn't score - reminds me of someone, who was it now?
Dale Self
55
Posted 22/07/2021 at 23:14:46
Andy Crooks?
John Raftery
56
Posted 22/07/2021 at 23:20:26
Good age, good price. If the penny drops that he now needs to focus on delivering a tangible return in the final third, he may prove to be the bargain of the summer.
Jim Johnson
57
Posted 23/07/2021 at 00:57:45
Dale self @ 25, well said cobber, agree completely, also I believe most of the positive comments made are spot on, possibly following the interview for Rafa; I believe he would have convinced the 'firing squad' with this type of argument to improve the squad (especially attitude) by drafting players who will most likely have no ego to 'play' with. Hopefully just good grafters who will give their all to prove their worth. No point in having players valued at 40 mill big ones if they only give 10% most games. Question:-- Will Richie score a hatrick for us on opening day. Send your answers and cash bets in an envelope marked 'private' to me pronto; I'll await with bated breath.
Kenn Crawford
58
Posted 23/07/2021 at 01:37:31
At £1.7 million it's a risk worth taking, you never know what you are going to get with this type of player. I don't know much about him but the end product is about the same as Bernard
So let's just wait and see.
Terry White
60
Posted 23/07/2021 at 03:27:43
Jim (#57), I will take you up on your question as I think Rich will most definitely not score a hat trick on opening day. Of course I do not think he will be playing that day, what with the games in Brazil plus now the Olympics, the chances of him being ready to play for us in mid-August are slim to none.
Darren Hind
63
Posted 23/07/2021 at 09:23:03
Andy
If you love having a ball. You don't need to do it on the pitch for the fans to love you. There will be legions of County road regulars who will do that.
Something just occurred to me; I have not missed the game anywhere near as much as I have in previous summers, perhaps the Euro's filled the hole... but it's a long time since match-goers spilled onto the pavement from all County Road alehouses.
The craic is always fierce. The jokes. The piss taking. The wind ups. The tactical bollocks spouted by half-cut people who would normally know better. Half-witted bets that will never come up. The irrepressible hope ... The few hours where people leave their shit jobs and other worries behind and just enjoy the company of Evertonian mates, without a Kopite in sight
I'm not missing the football we have had to endure in recent seasons... but I'm not half missing going the match.
Drew O'Neall
64
Posted 23/07/2021 at 15:33:55
For anyone who's played Football Manager (Championship Manager as it was): we seem to be shifting from recruiting players with the odd 17 and 18 to players with four or five 14 or 15's in the right categories for their position.
Hopefully that's the Benitez strategy. There's sense in these signings. They are on short contracts with options to extend. That means they will be hungry and we won't get stuck with deadwood.
As a master tactician, I believe Benitez is backing himself to beat more able teams tactically if he has the right pieces to move around the board. More power to him, I look forward to watching it unfold.
Trevor Cotterell
65
Posted 23/07/2021 at 21:04:53
Hello everyone! I've been a supporter since 1964 but rarely comment on these forums – but finally I've found people talking sense, and sensibly. It's great to join you here. Anyway...
Gray looks like a shrewd signing to me. He may not set the world alight (but he might set a few fires going given the chance) and indeed all three so far make perfect sense.
The way I see it, we've splashed the cash far too quickly recently. Perhaps it's the right time to learn some lessons and my guess is we have a manager who's a careful tactician. In reality, we've had far too many underperformers sat on the books and at last their numbers are dwindling.
We have a new manager who hasn't seen our players play for him in earnest yet. We have a few key players whose future, and commitment, is questionable at present (Richarlison, James, Kean) and one "unnamed" player whose future is also questionable.
So just where should we spend big with these unknowns? Of course I want us to win everything next season. It's probably not gonna happen! So (unfortunately) we may have to accept the next few months is going to have to be a settling phase while we see who stays, what we really need, and go hell for leather in the next window.
And, dare I say it, actually give some of our home-grown talent a bit of a chance too? Personally I'm a fan of Tom Davies – perhaps he's not always the most exciting player but he's becoming a reliable grafter who is improving all the time.
That's my starter for ten!
Justin Doone
66
Posted 23/07/2021 at 00:36:42
I think its been obvious for 3 or 4 seasons what recruitment Everton needed.
We sensibly started by addressing our leaky defence. A few better, solid, central defenders and a central ball winning midfielder.
But to win game's we need to improve our creativity and goalscoring.
Major weakness is a lack of pace, movement and creativity.
Bringing in a few wingers is long overdue. Also bringing in two adds to the competition for places.
Another good, sensible signing.
Karl Meighan
67
Posted 24/07/2021 at 08:24:31
The statistics and he crosses well one in four mean nothing to me, ĺets see what Gray and Townsend can produce. Cannot see them being any worse than £100m plus of players we either still have or have recently been offloaded costing the Club a fortune and us fans nothing but misery.
Anyway don't reckon Graeme Sharp had great statistics or was top of opta but one of the great strikers up there with the greats are Club has ever had.
Laurie Hartley
68
Posted 24/07/2021 at 09:39:47
Trevor # 65 - I'll see your ten and raise you 5/- because I reckon Townsend will have Colin Glassar's favourite player (who cost us £30million quid more) watching from the bench for most of next season.
Colin Metcalfe
69
Posted 24/07/2021 at 09:46:13
First Townsend now Gray what have have we become ? The new Newcastle?
I really do fear the worse this season.
Raymond Fox
70
Posted 24/07/2021 at 10:19:55
With our signings so far which are decent middle of the table players, that is where I expect us to finish, middle of the table as usual, we have never had a realistic top four squad.
Why, because it would cost an absolute mountain of money and then there is the question of would they sign for us in the position we are in the league.
I think we will have our ups and downs as usual, but it could be worse, lets enjoy what we have, we are a lot better off than the majority of supporters in the Prem.
Tony Everan
71
Posted 24/07/2021 at 10:49:25
Raymond, I have been thinking about that too and come up with some logic. Why spend 27m on mid table players when you can get them for nothing? Gray and Townsend, Rondon as a reserve striker, like for like will perform better than Iwobi 27mBolaise27m, Tosun27m etc. It's only worth spending big if the player has sell on value Bailey,Doku,Diaby maybe McNeill due to age and talent. Young quality hungry players on the up. It is far from a black and white situation and scouting and recruitment appraisals have to be far better, but I think we are seeing a shift in approach.
Simon Dalzell
72
Posted 24/07/2021 at 11:47:43
Steve (18). I think he may improve the side. Let's face it, he doesn't have to be brilliant to do this. Crunch time for him, and hopefully we could be the team that brings out that potential.
Justin Doone
73
Posted 25/07/2021 at 01:44:04
Sadly the wages are a massive hindrance but I reckons we could get, or someone else will, a good loan to buy deal for Arsenal for Lacazette or Aubemeyang.
Key bit, on loan!
In terms of natural goalscoring ability they are far above what we have.
Paul Hughes
74
Posted 25/07/2021 at 17:39:55
Darren (63) - You've captured the County Road pub vibe perfectly. A fundamental part of the match day experience which I've missed over the last 18 months. I'm looking forward to the return with a degree of trepidation, though - anything approaching 1 metre separation is an impossibly.
---
Add Your Comments
In order to post a comment, you need to be logged in as a registered user of the site.
Or Sign up as a ToffeeWeb Member — it's free, takes just a few minutes and will allow you to post your comments on articles and Talking Points submissions across the site.