Everton launch new third kit
Wednesday, 28 July, 2021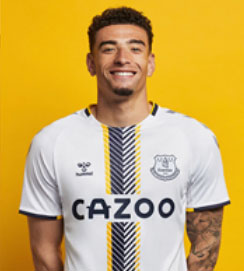 Everton's array of kits for the 2021-22 season was completed today with the release of a second change strip, a white number that harks back to one from the 1950s.
Predominantly white with a navy and yellow chevron design down the centre, the strip is a recreation of the away kit from the time of Dave Hickson and earlier in the careers of Bobby Collins and Brian Labone.
The team will wear the new kit for the first time tonight in Orlando when they take on Pumas of Mexico in the second exhibition game of their trip to the United States.
It can be purchased from the Everton One and Everton Two stores or via evertondirect.com.
---
Reader Comments (37)
Note: the following content is not moderated or vetted by the site owners at the time of submission. Comments are the responsibility of the poster. Disclaimer
Phil Smith
1
Posted 28/07/2021 at 15:58:13
Makes me think of something Leeds might have worn. Or a zip...
Don't hate it though.
Iakovos Iasonidis
2
Posted 28/07/2021 at 16:08:51
I like that all 3 kits have different pattern and not just different color, that is the main positive for me and I have to say I love the way Everton is treated by hummel, way better than the likes of umbro etc...The design of the 3rd kit is mediocre but overall I like the approach.
Danny O'Neill
3
Posted 28/07/2021 at 16:12:24
I don't think I'm offended but it's not growing on me.
I think without the Hummel tire mark down the middle, I'd have actually preferred a plainer white version.
Derek Knox
4
Posted 28/07/2021 at 16:17:27
Phil @ 1, nails it with a giant zip! Won't be rushing to buy that!
Mike Gaynes
5
Posted 28/07/2021 at 16:19:05
Whew. Thank goodness. Another one that I won't feel an urge to spend money on.
Dave Abrahams
6
Posted 28/07/2021 at 16:41:24
I think the jersey from the 1950's had three single hoops going round the chest, two blue ones with a yellow one in between the blue ones, doubt it was used a lot,rather different to this new kit, if indeed they are referring to the one I described, never been really concerned with the colour of the kits, just how they perform.
Martin Reppion
7
Posted 28/07/2021 at 16:45:03
As I've said before. DONT BUY IT. That only encourages them.
I can show my support for the team without spending a fortune on replica kits every year.
I want to see Everton play in Blue unless there is a genuine clash with the opposition. There is no need for a third kit unless the 2nd choice has been badly designed,
Lyndon Lloyd
8
Posted 28/07/2021 at 16:47:40
Here's an image from the Getty Images/PA Images archive of the kit which we wore between 1958 and 1961 (and also in Europe in the 1961-62 season) with the yellow/blue/yellow bands.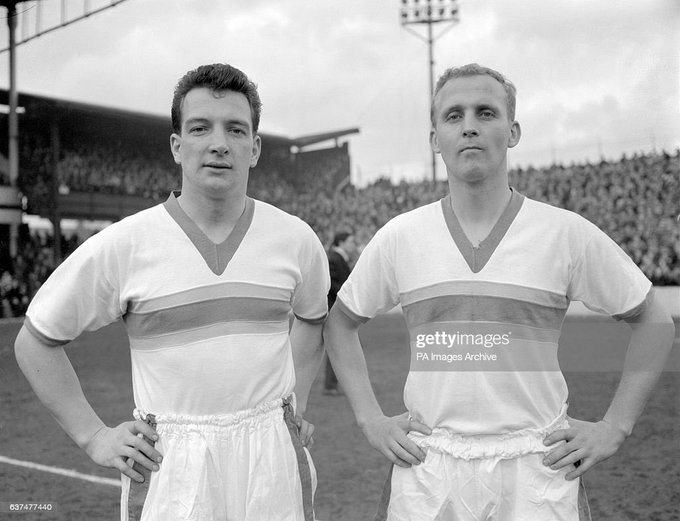 As I quipped to someone on Twitter, given that the new one looks like it's been run over, we probably should have worn that one at City at the end of last season rather than the Black Watch one!
Andrew Grey
9
Posted 28/07/2021 at 16:53:40
Looks like the kit's been run over. Not terrible though.
Edit: Just saw your comment Lyndon. :)
Dave Abrahams
10
Posted 28/07/2021 at 16:54:23
Lyndon (8), looks like it was two yellow hoops and a blue one in the middle, although Alex Young's shirt looks different to Alan Parker's, maybe the forwards got an extra hoop!!
Paul Swan
11
Posted 28/07/2021 at 16:55:35
Looks like Wile E Coyote after a run in with the Roadrunner's moped
Brian Harrison
12
Posted 28/07/2021 at 16:55:47
I suppose there must be a market for 3rd kits and training tops, I guess amongst the younger element. Someone asked a question as to why when we are currently playing in Florida with a growing fan base out there, how come the club haven't made a penny in selling any merchandise at these games.
Andrew Grey
13
Posted 28/07/2021 at 16:55:52
I'll just add any shirt costing £60 should be gold plated.
Barry Rathbone
14
Posted 28/07/2021 at 17:09:57
Very nice
Derek Knox
15
Posted 28/07/2021 at 17:14:14
I like the coat hanger, are they for sale? 😜😂
How much? Stick 'em!
Joe McMahon
16
Posted 28/07/2021 at 17:42:01
I actually prefer it to the awful new home shirt. But I never by them, I just don't think adults carrying a few extra pounds do them justice.
Mike Gaynes
17
Posted 28/07/2021 at 17:52:34
Brian #12, because the club is adhering to a century-old policy of never selling merchandise in the United States. Or anywhere in the Americas, for that matter.
ManU, the RS, Chelsea, Spurs, Arsenal, Barca, RM, Bayern, PSG and even Leicester among others dangle from the display racks in US sporting goods stores, but never has an Everton shirt been seen there. I've become convinced that none ever will.
Dale Self
18
Posted 28/07/2021 at 18:05:13
As an atheist I must say it looks a bit crossy from afar. I guess it's alright as far as 3rd kits go. Save the good designs until we know what Rafa brings to us.
Tony Everan
19
Posted 28/07/2021 at 18:13:32
It looks bloody ridiculous, but it may well impair the concentration of our opponents. If it achieves that and we win in this tyre track monstrosity, then I'm all for it.
Justin Doone
20
Posted 28/07/2021 at 18:23:54
Tyre track aside I think its our best kit this season. I like the 3rd kit experiments, some of our best kits over the last 10 years.
More for the kids, nice and summery.
Love the 3rd goalkeeper strip. Best kit of the lot?
The away kit is awful. Not a fan of sashes. Home is to busy, but nice.
Minik Hansen
21
Posted 28/07/2021 at 18:52:28
Cazoo and the run over shirt is just top dollar hehe. I won't buy it, but I like it.
Derek Knox
22
Posted 28/07/2021 at 19:10:37
Slightly off topic, can anyone in the US give me an idea of which TV Channel is covering our game tonight, ESPN or Fox Sports ? Can't endure another torrid OS TV cock up in the making!
Philip Bunting
23
Posted 28/07/2021 at 19:11:10
Cracking shirt and combination with shorts and socks. My 11year old says best in years...get it get it please...lol
Jay Evans
24
Posted 28/07/2021 at 19:57:53
It's shit.
Just like the home, just like the away.
Oh for an Adidas kit like those massive clubs Wolves and Leicester and Sheffield United.
Massive.
Tony Shelby
25
Posted 28/07/2021 at 20:21:25
I presume that's a zip down the front and when you undo it the Arteta money falls out?
Brian Wilkinson
26
Posted 28/07/2021 at 20:37:26
Dave@10, it's the same shirt, it's just that Alex Young, has a Getty image banner that makes it look like three stripes.
Brian Wilkinson
27
Posted 28/07/2021 at 20:42:47
Cracking shirt, spoiled by the tyre mark going down the middle.
At least when Richarlison goes down for the 5th time in a game, clutching his forehead, he can at least have a half claim of being hit by a bus.
Dave Abrahams
28
Posted 28/07/2021 at 20:43:39
Brian (26), yes thanks I realised that after I looked at it three or four times, I remember the original shirt as well, but got the hoops colour the wrong way round, but it was a good 60 years ago!!
Gerry Ring
29
Posted 28/07/2021 at 21:38:28
Very similar to the '60/'61 kit. Bitter sweet, as this was the jersey Tommy Ring was wearing against Chelsea when he broke his leg. Last Everton shirt he wore!😞
Soren Moyer
30
Posted 28/07/2021 at 21:41:27
Lol. That kit looks like Uniroyal tyres logo!
Derek, 22, Can't find any US broadcasters on the list!
ESPN Caribbean
Fox Sports 1 Brazil HD
MAX Sport 3 HD Bulgaria
Okko Sport Russia [$] (geo/R)
Premier Player [$/geo/R]
Premier Sports 1 HD
Sport 4 Israel HD
Sport TV1 Portugal HD
SportKlub 1 (croatia) HD
SportKlub 1 (serbia) HD
SportKlub 1 (slovenia)
SuperSport Action
TRT Spor Turkey HD
Nicholas Randall
31
Posted 28/07/2021 at 00:06:43
It looks like a Port Vale home kit.
Si Cooper
32
Posted 29/07/2021 at 01:09:22
Looked okay actually in use for tonight's game. Doesn't really scream Everton though.
Fine for a third kit and those who want to buy it.
Phil (Kelsall) Roberts
33
Posted 29/07/2021 at 07:22:16
If it is a kit from the days of Dave Hickson then it should have a few splashes of red on it to resemble the blood The Cannonball Kid spilt for this club. Now that would be legend.
I would run through a brick wall for any club I played for but I would die for Everton.
Michael Connelly
34
Posted 30/07/2021 at 08:27:33
Should be a rule that says you can only change kits every 3 seasons, or change only one each season. 3 new kits every fickin' year is a joke.
Terence Leong
35
Posted 01/08/2021 at 09:41:58
I agree with Iakovos at #2, that the approach of having 3 different kit designs, rather than one design with three different colours, shows promise.
I thought that the comment about being run over by a tire is really funny.
Derek Moore
36
Posted 03/08/2021 at 17:16:10
The confused trim on the sleeve edges reminds me of the lollipop lady, and the pattern is truly hideous.
Hummel have done well. I didn't think I could dislike a shirt more than the Jordan Pickford confused pyjamas, but this shirt really gives it a run for it's money. It's epically close, but I now think I'd rather be seen in the asylum patients getup than this effort. With the Cazoo branding my first impression was that of a car wash attendants uniform. You'd have to pay me sixty quid a throw to be seen in this thing - and they're trying to sell them?
Matthew Williams
37
Posted 05/08/2021 at 01:03:49
Toffs used to sell the original a couple of years back... and it was made from cotton too!.
---
Add Your Comments
In order to post a comment, you need to be logged in as a registered user of the site.
Or Sign up as a ToffeeWeb Member — it's free, takes just a few minutes and will allow you to post your comments on articles and Talking Points submissions across the site.