Reports: Everton 'in talks' with Porto's Diaz
Friday, 27 August, 2021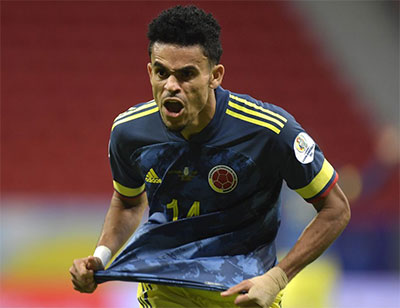 Everton are reportedly trying to sign Luis Diaz from Porto, with James Rodriguez potentially going the other way on loan.
A number of media outlets, including Sky Sports, Fabrizio Romano of The Guardian, Paul Joyce of The Times, Dominic King of the Daily Mail and TalkSport claim that the Blues are in talks with the Portuguese club regarding James's international team-mate Diaz.
The 24-year-old lit up the Copa America this summer as Colombia made it as far as the semi-finals, finishing as joint-top scorer in the tournament with Lionel Messi with four goals that included a spectacular over-head kick against Brazil.
According to TalkSport, the deal for Diaz would be worth around €25m but it is contingent on Rodriguez re-joining the club he signed for over a decade ago.
Quotes sourced from Sky Sports News
---
Reader Comments (128)
Note: the following content is not moderated or vetted by the site owners at the time of submission. Comments are the responsibility of the poster. Disclaimer
Alex Gray
1
Posted 27/08/2021 at 14:15:58
Looks like this one could be true. Anyone know much about him?
Clive Rogers
2
Posted 27/08/2021 at 14:20:44
He's 24 and his record looks good, a goal every five games. Getting James off the payroll would be good too. With him on one wing and Gray on the other, should be chances for whoever is left in the middle.
Soren Moyer
3
Posted 27/08/2021 at 14:20:57
He was excellent during the Copa America tournament.
Andrew Ellams
4
Posted 27/08/2021 at 14:32:08
If we could get this guy and keep Richarlison, the idea of the two of them and Gray playing behind Calvert-Lewin has the potential to be pretty exciting.
Ajay Gopal
5
Posted 27/08/2021 at 14:41:17
Hope we are also able to get Tosun off our books. And Gordon can go to a good Championship club on loan, where he can prove his worth.
The right-back situation is worrying – we need someone very fast and powerful on that side to eliminate an obvious weakness. If we can do that and get this Diaz guy in, I would be comfortable about being competitive in the Premier League.
Carl Rutherford
6
Posted 27/08/2021 at 14:46:04
The part of this report that doesn't seem likely is Porto being able to afford James' wages.
Robert Tressell
7
Posted 27/08/2021 at 15:01:19
He's 24 and in 99 games for Porto scored 26 and assisted 13, primarily from the left wing. He got 6 goals in 30 league appearances last season.
That's a reasonable record but the Portuguese league is much weaker than the Premier League – and he's playing for a side which is streets ahead of all opposition bar two other teams.
So you would expect inferior goal contributions from him for us – which means maybe not really of materially superior quality to the likes of Gray and Townsend.
So really not a Richarlison replacement by any stretch – but a decent option at left wing (if indeed we need such an option).
Jimmy Hogg
8
Posted 27/08/2021 at 15:29:05
Believe it when it happens. There's so much nonsense being written at the moment.
If it is true, he's likely to be a replacement for Richarlison.
Paul Hewitt
9
Posted 27/08/2021 at 15:45:05
Why would Diaz leave Champions League side Porto, for Everton?
Ian Bennett
10
Posted 27/08/2021 at 15:46:09
Doubling or trebling his wages usually, Paul...
Pat Kelly
11
Posted 27/08/2021 at 16:09:52
No mention of how much he would cost. And, if they only take James on loan, how can we afford to buy him.
Benn Chambers
12
Posted 27/08/2021 at 16:21:17
If we can pull this off, it'll be a very very good piece of business. He's a star this lad. Shades of Raphinha (Leeds) about him. Maybe not quite as elegant but scores more. I've got all my fingers and toes crossed for this one. These are the types of players we should be investing in.
Robert Tressell
13
Posted 27/08/2021 at 16:27:13
Diaz does not score more than Raphinha. Raphinha got 22 in 86 for Guimaraes, a relatively weak side and at a much younger age than Diaz. He then got 9 in 41 for Porto and 8 in 36 for Rennes.
Raphinha is a better player.
Mike Gaynes
14
Posted 27/08/2021 at 16:27:24
Diaz would be the most fun Goodison has seen in a long time. He was the most exciting player at the Copa America and scored one of the best goals in the history of the tournament with a flying side volley against Brazil. He's faster than hell and absolutely loves to attack defenders off the dribble.
I haven't seen him for Porto and don't know how good he is on a week-to-week basis, but he sure is fun for Colombia.
Steve Brown
15
Posted 27/08/2021 at 16:33:05
Robert, have you actually seen Diaz play?
James Flynn
16
Posted 27/08/2021 at 16:36:59
Might be more than the usual Window-talk.
Usually, when someone talks of rumors, it isn't rumors. It's a single rumor from somewhere and all other mentions of it are copy and paste from the original one.
With that, the "copy and pasters" include attribution directly to or leading to that original, single rumor.
The two oldest references to the Club and Diaz are from the Echo and BBC. The other references are from one of those two. Yet, neither the Echo or BBC attribute the talk to some other source. They just report it.
And the two reporters are Kirkbride and McNulty, who as far as I can tell are considered reputable.
All considered, and having never heard of Diaz, I'm guessing this one has legs.
Andrew Ellams
17
Posted 27/08/2021 at 16:39:27
With Utd seemingly about to sign Ronaldo does this mean Martial might be on the move?
Shane Corcoran
19
Posted 27/08/2021 at 16:45:17
ToffeeWeb getting excited/impatient as deadline approaches and moving rumours to a main headline.
Sky Sports is really a parody at such times as this. Classic stuff.
Andrew Brookfield
20
Posted 27/08/2021 at 16:53:25
Sounds like an exciting signing, but what I really like is we are going after players with a profile which fit our style. Fast, counterattack. Much more sensible than the previous scatter gun approach.
Robert Tressell
21
Posted 27/08/2021 at 16:54:05
Steve 15 - fair point - I have seen him plsy but I should have saud "based on the stats" which is what I was referring to.
Dale Self
22
Posted 27/08/2021 at 16:56:08
Raphinha is a better player but with playing for country considerations he put on a show in the Copa. Scored a beautiful scissor kick and was generally a difficulty on the wing for all defenses he faced.
Solving the James dilemna, getting Porto better placed for UCL group play vs the Red Shite and bringing in a player yet to establish himself (read:upside in transfer value) all seems like a deal worth considering.
Ahh, just repeated Mike there for the most part. Sorry Mike, got excited.
Mike Gaynes
23
Posted 27/08/2021 at 16:57:24
You guys want to see what Diaz is for Colombia? Check him out winning the Copa third-place game for them against Peru. He's #14.
https://www.youtube.com/watch?v=aTdLQ5iN4uw
1:25 - A flying side volley similar to the one he scored on against Brazil, but the Peru keeper saves it.
1:55 - A great speed goal off his keeper's long pass.
2:35 - A gamewinner from heaven.
I've seen him five or six times this year for Colombia, and he's been this much fun every time. But again, I have no idea what he's like with Porto.
Dale #22, no worries, picturing this guy in blue can definitely raise your excitement level.
Brendan McLaughlin
24
Posted 27/08/2021 at 17:02:40
This rumour is receiving a lot of coverage in the UK but apparently not being taken too seriously in Portugal.
Ian Bennett
25
Posted 27/08/2021 at 17:16:52
Would be interested in someone who seen him regularly.
Old YouTube shows a left winger that likes to score with his right. Doesn't look like having express pace like a Maxim or Traore (Everton wingers never do - sigh Andre Kanchelskis...).
Has a trick, but uses his body a bit too.
Doesn't look massively different to a Richarlison in likeness - but I doubt the aerial ability or workrate (when not stropping).
Without the obvious pace, he will need to be massively up for the physical challenge of the English league. Playing Lisbon and Benfica, and then nothing much else ain't going to go too far.
I'd like to say impressed, but not so much.
Benn Chambers
26
Posted 27/08/2021 at 17:28:08
Robert 13.
Diaz will score more in the Prem for us, that Rahinha will form Leeds. There's not a shred of doubt.
And France is a pub league. It has 1 team. Then a couple of Ok ones then the drop of is stark. The vast majority of the french league would struggle in the championship.
Taking nothing away from Raphinha, a fantastic players, easy on the eye. Diaz is suited to the English game and in my opinion, he'll be an excellent signing. I used Raphinha because they remind me of each other but I have no doubts about who I prefer. Diaz does it for his country as well. He's a gem.
Andy Crooks
27
Posted 27/08/2021 at 17:30:26
There are lots of well informed posters on here who know their stuff. I usually rely on them but thought I wouldn't be lazy for once. Maybe it's the endeavour of looking stuff up, but this has me more enthused than any rumour in many years. This could be a changer.
Iakovos Iasonidis
28
Posted 27/08/2021 at 17:32:14
Diaz is exactly the kind of player Everton needs, player with pace. barkley also linked?
Robert Tressell
29
Posted 27/08/2021 at 17:40:37
You might be right Benn, but he's not scored lots of goals so far and the Portuguese league is worse than the French.
He certainly turns up for Colombia but then so too does Shaqiri for Switzerland. International football can be misleading.
If we get him for circa £20m in addition to Richarlison then looks decent business - although I'd be wondering why not a right back.
Lyndon Lloyd
30
Posted 27/08/2021 at 17:50:45
Shane (19), you should know the drill by now – as soon as enough sources with a decent track record weigh in, I move the stories to the front page as it's no longer a mere rumour. This one has a lot of heft behind it with Romano, Joyce and King all saying the same thing.
For what it's worth, I watched quite a bit of Diaz over the summer playing for Colombia and remember thinking how wasteful he was with the ball in one of the early games but by the end he had emerged as one of the tournament's stand-out players.
If we do lose Richarlison this week, Diaz would at least provide that dribbling talent and ability to beat a man that we thought Richarlison would bring to the team but actually doesn't. Wouldn't replace his instincts and aerial presence in the box though – those will be sorely missed.
Bill Gall
31
Posted 27/08/2021 at 17:53:29
It still does not solve the problem at right back or a more quality midfielder.where we need strengthening.
David Currie
32
Posted 27/08/2021 at 17:53:34
Diaz in and James out would be good business by the club.
Soren Moyer
33
Posted 27/08/2021 at 17:55:21
Raphina is almost 30. Diaz is better option. On another note, where is the ffp ffs? How come manure can afford to sign so many players on ridiculous wages!!!?
Shane Corcoran
34
Posted 27/08/2021 at 17:55:36
Fair enough Lyndon. The comment was in jest of course.
Dale Self
35
Posted 27/08/2021 at 17:55:58
24
Matt Stapleton
36
Posted 27/08/2021 at 17:58:46
Definitely a little excited about this one... the guy is tearing it up for Colombia, and the Colombians I know here in Mexico are talking about him being the real deal.

He seems to have come on leaps and bounds in the last year or two and we might be grabbing a bargain here... many a good player has come out of Portugal, inferior league or not.

I've seen him a couple of times and he's lively to say the least... bringing direct attacking football to Goodison.

Hmmmm has a ring to it
David Ellis
37
Posted 27/08/2021 at 18:03:16
Soren @ 33 - because Man U have not racked up massive losses over the last few seasons. Their revenue is at least double ours.
Mick Appleyard
38
Posted 27/08/2021 at 18:09:41

James 18 (Now removed) and Toffeweb editorial ……did/do you 'mean' to write: Type or paste your comments here. Please use grammatical terms properly, including capitalization. Posts solely in lower case or text speak are likely to be deleted……….so now our 'world' is delivering fake admonishments? C'mon ToffeeWeb

Alex Gray
39
Posted 27/08/2021 at 18:09:59
Financial fair play is based around how much money your club makes Soren. United are a global brand, we are not. FFP cripples competition And means the teams that benefited from rich owners prior to it can thrive whilst any team trying to break the "top 6" literally can't do it unless run to perfection like Leicester have been and the new implementation of it is going to be even worse sadly.
It's why we've focused on the new stadium and different sponsorships etc.
Benn Chambers
40
Posted 27/08/2021 at 18:13:40
Robert 29.
I'd imagine a RB will deffo be one of the signings Rafa hinted at in his press conference. He confirmed we're actively looking and anything can happen. Richarlison going no where according to the gaffa. A right back is an absolute must, you're spot on. Coleman is the cover. We need a first choice RB.
Soren,
Wrong Raphinha, the Leeds on is same age as Diaz. Might you he thinking of Rafinha alacantara? Thiago's brother? He's getting in for 29.
Andrew Ellams
41
Posted 27/08/2021 at 18:19:57
If we could offload Kean and James and bring in Diaz and a quality RB as well as keeping Richarlison we can be very happy with this window.
If we could sneak in some decent competition for DCL too I'd be over the moon.
Brian Williams
42
Posted 27/08/2021 at 18:22:24
Mick#38.
The message you refer to is one that appears if you "submit your comment" without actually typing anything.
Not an admonishment as such, more advice to post in an adult way, an adult with a decent grasp of English. 😉
James Flynn
43
Posted 27/08/2021 at 18:32:15
Mick (38) - "delivering fake admonishments? C'mon ToffeeWeb"
Haha. Take your own advice.
By accident, I hit "Submit Your Comment" instead of "Top of the Page" at the bottom.
Unless you're brand new to the site, this, "Type or paste your comments here. Please use grammatical terms properly, including capitalization. Posts solely in lower case or text speak are likely to be deleted" used to be right at the comment box.
Been there for years. Hadn't notice Lyndon removed it. Apparently, it still appears when you hit "Submit Your Comment" with the comment box empty.
Ajay Gopal
44
Posted 27/08/2021 at 18:37:49
Robert (7), Raphinha has scored 7 goals in 32 PL appearances for Leeds, out of which he has 3 in 3 against 'you know who'! So, not exactly a prolific go scorer, but still a fantastic player, no doubt. Hopefully we get Diaz and he can hit the ground running. Fingers crossed.
Alan McGuffog
45
Posted 27/08/2021 at 18:40:01
I'll only believe that we're really interested in this guy when Spurs throw their hat in the ring
Mike Gaynes
46
Posted 27/08/2021 at 18:40:31
Brian and James, I refer to it as the "ToffeeWeb prayer" -- I consider it deeply spiritual.
Mick Appleyard
47
Posted 27/08/2021 at 18:43:58
I'm sorry Brian and to all who feel we should be focusing on other matters. The default message on 'Add your comment' is exactly the same inaccurate message posted by James. There are powerful arguments to suggest unless we push back against everything, including fake lessons then, big or small, we risk drowning in a sea of falsehoods
Brian Williams
48
Posted 27/08/2021 at 18:44:58
Mike#46.
I consider it essential too mate.
Mick#47. Not sure you're understanding fully, just as I don't understand a word of your post.
Maybe going a tad deep for a fansite mate.
Soren Moyer
49
Posted 27/08/2021 at 18:46:39
Alex (39), thanks for clearing that up although it sounds outrageous! They should call it FUP then! Financial Unfair Play.
Benn (40), You're right mate. He is 24. Mixed him up with of another Brazilian lol.
Colin Glassar
50
Posted 27/08/2021 at 18:51:44
Kean, James, Richarlison out. Diaz, st.maxima and a RB in? I'd accept that but would be sad to see James go
Steve Shave
51
Posted 27/08/2021 at 18:54:11
Colin 50 we would need another striker as well if that were the case
Steve Shave
52
Posted 27/08/2021 at 18:58:35
What concerns me if we are really in for this guy is he is Richy's replacement, not Keans.
David Cooper
53
Posted 27/08/2021 at 19:07:02
How can anyone suggest that they would be happy if we let Richi go?
Sam Hoare
54
Posted 27/08/2021 at 19:09:56
Benn, think I'm with Robert on this one. I'd prefer Raphinha, mainly because he has proven he can do it in this league. There is always that fear over how well and how quickly a player will adapt. Though that is reflected in the price and Raphinha would probably cost £40 m+.
Diaz would be an exciting signing and is the perfect age and level I'd say. Hopefully he's not Richarlisons replacement bad they can play together.
Mick Appleyard
55
Posted 27/08/2021 at 19:10:30
Ok Brian, in clearer terms: when ToffeeWeb editorial post take it upon themselves to send posts telling us how to write accurately it would be great if it comes from people who can do that. Hopefully now you can see/ start to understand how sick some of us are at being surrounded by, exemplified here in the way a polite request has been dealt with, arrogant mediocrity. Thank you.
Brian Murray
56
Posted 27/08/2021 at 19:17:44
Said before and il say again. This managers coat is already on a shaky nail so I doubt he wants him to be the boss when Ricky goes with no notice given. Ww need the d levy stance. Be firm and by all means promise him what he wants in the summer. We have already indulged him all summer swanning off where he wants a lot more than let's say a pep would put up with.
Mike Gaynes
57
Posted 27/08/2021 at 19:22:39
Wow, some new signings
really
don't settle in too well on TW.
Can we loan out Mick to another fansite?
Lyndon Lloyd
Editorial Team
58
Posted 27/08/2021 at 19:24:12
Not sure where all the indignation has come from, Mick, but, as explained above, that message appears if a user hits the "Submit" button or presses the "Return" key on their keyboard without entering anything in the Comment box. No one is telling you anything different than we always do with that little message in the box – we try and make things as legible and intelligible around here as possible (it's always kind of been our thing) so the more work you, dear user, put in when you post, the less work we have to do to clean things up.
The script is supposed to prevent that from happening but it's never worked and I've not tried to address it until today. I think it now works, though.
We now return you to your regularly-scheduled programming.
Jay Hughes
59
Posted 27/08/2021 at 19:26:44
With Ronaldo leaving Juventus, there must be a good chance they'll move for Kean (hopefully). Unfortunately he's just not suited to English football.
Ian Horan
60
Posted 27/08/2021 at 19:27:20
This manager is here for 3 years minimum. Even if we lose James, Kean and Richi we aint finishing in the bottom 3. To go down.. Norwich. Southampton and Palace. Then will be Newcastle, Wolves before we get into the bottom 6.
Stephen Waller
61
Posted 27/08/2021 at 19:28:31
Colin @ 50. Agree with you except I wont be sorry to see James go. He is a Delph with talent. Sure on the rare occasions hes on the pitch he can do marvellous things but he is a luxury we can ill afford. We need to move on from James and Ancelotti.
Brian Williams
62
Posted 27/08/2021 at 19:29:59
Mick#55.
But they don't send posts telling us how to write at all.
As explained, the message, if you will, appears in each and every post area and disappears as soon as the poster starts to type.
It only appears on a thread if someone presses "submit comment" without typing anything.
If I came across as arrogant, even if only in a mediocre way, that wasn't the intention. I was merely trying to explain to someone who I felt had misunderstood.
Tom Bowers
63
Posted 27/08/2021 at 19:30:03
Portuguese league a bit like Scottish Premier with only a couple of clubs really worth mentioning.
However the point about this guy leaving a Champions league team at this time is valid and seems remote.
Colin Glassar
65
Posted 27/08/2021 at 19:38:47
Steve Shave, we have Iwobi who, apparently, walks on water these days.
Stale Haverstadlokken
66
Posted 27/08/2021 at 19:42:41
If Diaz play on the left, will Gray be swapped to right? Seems like Gray has his best moments on the left.
Graham Mockford
67
Posted 27/08/2021 at 19:47:49
Looks like a player.
Outstanding at Copa, goals against Brazil and Argentina and not too many tap ins
Dale Self
69
Posted 27/08/2021 at 19:56:50
And not a replacement for Richy it seems. Kean going to Juve for a one year loan according to Tuttosport.
Mike Gaynes
70
Posted 27/08/2021 at 20:07:36
Tom #63, ambition and money would be two reasons for Diaz to move. Porto barely makes the quarterfinals in the Champions League, and Diaz might want more attention in a higher-profile league. Plus he's only on £18,000 a week, near the bottom of Porto's wage scale, and his contract runs three more years for a club that isn't going to give him a raise -- they're skint, as you Brits would put it.
So, at age 24, it might make sense for him after all.
Paul Dewhurst
71
Posted 27/08/2021 at 20:16:43
People claiming Portugal is a poor league, it has just overtaken the French league in the European coefficients, now ranked 5th best league in Europe.
John Pickles
72
Posted 27/08/2021 at 20:21:50
If we suddenly have a plan to spend £20M+ it means we are selling someone and my guess is it's Richarlison. He's off to PSG to replace Mbappé and this guy is his replacement. Why else would we spend that sort of money in a position where our best player plays?
David Israel
73
Posted 27/08/2021 at 20:30:42
Paul #71 that's mainly on the back of Porto's consistently good showings in the Champions League. Last season, they were the only team from outside the top five leagues in Europe to reach the last eight.
Mike Gaynes
74
Posted 27/08/2021 at 20:30:44
Diaz would certainly not be a like-for-like replacement for Richarlison. Not a striker. Almost never scores with his head.
Mike Gaynes
75
Posted 27/08/2021 at 20:43:11
Paul and David, also Portugal isn't even on the radar as far as ticket revenues, TV viewership and worldwide awareness. It's dwarfed by even lesser-quality leagues like the US MLS and Chinese Super League.
Tony Everan
76
Posted 27/08/2021 at 20:48:30
It's not black and white is it, Bruno Fernandes did very well for Sporting in Portugal and his form has translated well to the Premier League. Others not so good; depends on the player how he settles, adapts and how the manager manages him.
Diaz will find it tougher so it will depend if the player has the mental strength and can raise his game. Having Yerry here will be a massive help. It is one of the more exciting rumours of late.
Fran Mitchell
77
Posted 27/08/2021 at 20:57:05
I don't know anything about the guy...
But the profile is exactly what we should be targeting. And if it does mean Richarlison is leaving, it's exactly the way I'd hope we'd work: sell high, sign replacement for ¼ of the fee.
Drew O'Neall
78
Posted 27/08/2021 at 21:30:48
Plays the same position as Richarlison..
James Flynn
82
Posted 27/08/2021 at 21:52:57
Mike (23) - Thanks.
All 3 nice. That 3rd one, though? More please.
Hope we sign him.
Dale Self
85
Posted 27/08/2021 at 22:09:41
Not to get deep into this as it seems to be a nothing but I believe I was on 64 and it could have been interpreted as provocative or piling on. I do that sometimes in a fun and loving way of course. No offence taken, I was on the line and actually am okay with getting edited if someone with a veteran's perspective thinks what I've written is over the line.
And don't get me started on pressing buttons!
See you both at the Live Forum for three points and some banter tomorrow.
Billy Roberts
86
Posted 27/08/2021 at 22:30:00
Mick Appleyard
Maybe I've been drinking too much scrumpy in your back- yard but I haven't a clue what you're talking about?
No offence, I think you are a proper Evertonian all the same.
Drew O'Neall
87
Posted 27/08/2021 at 22:45:44
I think the outgoing player is Kean to Juventus and this involves a swap out of James (do these ever happen?).
Even if it was just James out maybe the books would balance given his mega wages and our ability to amortise the Ruiz fee over his contract term.
Brian Wilkinson
88
Posted 27/08/2021 at 22:54:50
Ajay, in regards to the right back situation, if the players mentioned move on from Everton, then either this window, or the January window, I think Everton will make their move for Max Aaron's.
I still think he is one of our top targets, possibly why we did not push harder for Dumfries.
With Ronaldo moving on, chances are Mpappe May do as well, causing a domino effect for the likes of James and Kean, even dare I say it Richarlison.
Mick Appleyard
89
Posted 27/08/2021 at 23:06:03
None taken Billy and thank you
Brent Stephens
90
Posted 27/08/2021 at 23:12:38
Feeney to Villa, I see?
Jerome Shields
91
Posted 27/08/2021 at 23:16:34
What about swapping Moise Kean for Diaz? Can't see Porto taking on Rodriguez and his wages.
See Juventus are interested in Kean. Rodriguez looks a possibility on loan.
David Cooper
92
Posted 27/08/2021 at 00:00:52
Colin #50 Hope you are not suggesting St. Maximum would be a good replacement for Richi!
Colin Glassar
93
Posted 28/08/2021 at 00:04:10
I am, David. St maxima can dribble, cross, create, score etc… Richarlison falls over and cries quite a lot.
Rob Young
94
Posted 28/08/2021 at 00:26:41
Colin, are we talking about the St. Maximin that scored 7 for Newcastle United in the last 2 seasons, when Richarlison scored 28 for us?
Dale Self
95
Posted 28/08/2021 at 00:34:16
I did not see the performance against Villa but St. Maximin looked like a force at 10 vs West Ham. He came deep and drove the ball upfield, committed no dead end moves into traffic and was entirely convincing as a ball carrier. I had Pereira as a more capable 10 and after seeing that I'm not so sure now. He doesn't quite have the complete vision at present but completely looks like that skill will not evade his effort for long.
Simon Dalzell
96
Posted 28/08/2021 at 00:47:17
All Diaz long. Sounds good, this one excites.
Colin Glassar
97
Posted 28/08/2021 at 00:52:42
He's injured quite a lot, Rob.
David Cooper
98
Posted 28/08/2021 at 01:08:13
Colin - I think your dislike of Richi is clouding your judgement. I don't think any EFC supporter apart from you would propose that!
Alan J Thompson
99
Posted 28/08/2021 at 02:11:37
Have we found a financial loophole?
Derek Knox
100
Posted 28/08/2021 at 03:43:40
Alan J, "Have we found a financial loophole?"
Either that, or a Flux Capacitor and a bargain De Lorean, where we can set the time to go back to Moshiri's arrival and spend more wisely. Who knows... we may even sign Biff and that McFly guy! :-)
Kieran Kinsella
101
Posted 28/08/2021 at 04:10:35
Derek 100,
Why do you have to involve the Yanks? A perfectly good British Tardis could do the job.
Terence Leong
102
Posted 28/08/2021 at 04:32:50
I find it odd that fans would automatically assume that players coming from weaker leagues will therefore have a poorer output...
Isn't it the case that many brilliant players currently playing in the Premier League were from "weaker" leagues? Or the incredible players from seasons past...
Bruno Fernandes wasn't exactly tearing up trees when he was with Sporting Lisbon? (If I remember my facts correctly...) Yet, he has come up a few notches since joining Man Utd.
Kieran Kinsella
103
Posted 28/08/2021 at 04:39:37
Terence
It's the legacy of people like Gary Hooper with an average of 2 goals in every 3 games at Celtic. Millions wasted later he's playing in a reserve team in New Zealand by 30. Or indeed "player of the year" Niasse in Russia. You might expect someone to be a standout in a weak league if they're good enough for the Premier League. That being said… Seamus Coleman.
Jay Wood
[BRZ]
104
Posted 28/08/2021 at 04:58:50
Confirmation here in Brazil that the Premier League has ignored Fifa's appeal to release players for the upcoming international break to red-listed Covid-19 countries.
The Brazilian coach Tite has called up nine replacements – nearly half a squad.
Interestingly, one of those is an alleged target of ours, the still uncapped Mateus Nunes of Sporting.
A good block of fixtures for Richarlison to miss following his non-stop summer. Brazil are due to play three, not two, World Cup qualifiers.
Sam Hoare
105
Posted 28/08/2021 at 07:27:28
Apparently this Diaz deal is very close to happening now, with Rodriguez going in the other direction on loan (no doubt we'll still be paying a large chunk of his wage).
Shame to lose Rodriguez though it didn't look like Benitez was going to play him much. And Diaz could be a very exciting player, certainly has a spectacular goal in him.
Steve Shave
106
Posted 28/08/2021 at 07:36:37
Terrence 102,
"Bruno Fernandez wasn't exactly tearing up trees when he was with Sporting Lisbon?"
Err... yes, he was, bud, he most definitely was.
Steve Shave
107
Posted 28/08/2021 at 07:44:43
Terrence, just looked it up. 2018-19 he scored 20 and assisted 13 from midfield.
Jerome Shields
108
Posted 28/08/2021 at 08:04:23
Rodriguez doesn't look as if he is concerned about leaving Everton. Porto are a big enough name to attract him and the style of football suits him. Diaz sounds good, though it will take him time to adjust.
If big money comes in for Richarlison, he will be gone. The movement of big names may put him into play, as Brian (#88) says. He would probably do well on the continent.
I would like to see an out-and-out striker signed, maybe Kean may go to accommodate him. A right-back on loan looks a possibility.
Robert Tressell
109
Posted 28/08/2021 at 08:26:12
If we get this guy in, lose Rodriguez and keep Richarlison – then it looks decent business. Helps us to maintain our new relentless and awkward style. The stats suggest he won't score loads of goals but, if Richarlison stays, then he doesn't need to.
Sam Hoare
110
Posted 28/08/2021 at 08:37:39
I like the look of Diaz but I do find it strange that we are signing another right-footed player, another left-winger.
I know they are capable of switching but Richarlison, Gray, Iwobi and even Gordon prefer to play off the left. I would have thought if we were bidding bigger that it would be for a player known for playing off the right.
On the subject of goals, it looks historically that Diaz scores somewhere around 1 in 4, which is okay but not stellar for a winger. However, this season (including the Copa America) he has 6 in 10, so perhaps his finishing is improving and we might be the beneficiary!
David Pearl
111
Posted 28/08/2021 at 10:25:31
Oh goody we will be able to keep open our Columbian Fan Club. Good thinking Brands you genius you.
Alan J Thompson
112
Posted 28/08/2021 at 11:14:40
Derek(#100); Do de Lorean or Flux play box to box and we could do with somebody with a bit of biff but only if the price is right given our previous problems with Italians and South Americans possibly because they speak the same language as the manager. How do their mothers feel about it all?
Gary Carter
113
Posted 28/08/2021 at 11:36:29
Maybe we are about to sell Richarlison releasing funds for Diaz, Edouard, Aaron's and others ?
Robert Tressell
114
Posted 28/08/2021 at 12:24:17
I agree Sam - I wonder if it's just a case that we have a chance to offload Rodriguez to Porto and Diaz becomes available as part of the deal (which might be a way to offset Rodriguez's future wages). Diaz looks a decent and versatile (ish) option so it works even if it's not the left footer we probably need.
Marc Hints
115
Posted 28/08/2021 at 12:26:14
Moise Kean gone then, only loan with option to buy for 17m. Blimey we do waste/lose money at this club
Jimmy Hogan
116
Posted 28/08/2021 at 12:27:40
I only know what I have seen on YouTube. I was a bit alarmed to read that one of his weaknesses was crossing! That's not much good in a winger. Stats back that up. He has a low assist level, so don't accept DCL to be getting great service. Btw, I haven't read all the other comment, so apologies if this has already been flagged.
Robert Tressell
117
Posted 28/08/2021 at 12:37:46
Is there a decent loan fee? Maybe that will make the £17m look healthier?
Tony Abrahams
118
Posted 28/08/2021 at 12:45:53
I was thinking the same thing Robert, but either way the kid just doesn't want to be here, so hopefully Eduardo can be brought in with the money!
Jerome Shields
119
Posted 28/08/2021 at 14:50:10
Robert #117
I had not thought of the possibility of a loan fee.
Jay Harris
120
Posted 28/08/2021 at 14:53:55
Now being reported as a done deal subject to a medical tomorrow.
This guy will contribute more than Kean and as much as Rodriguez, maybe more seeing as he should be available for more games than his fellow countryman.
Brian Wilkinson
121
Posted 28/08/2021 at 18:13:35
A few have mentioned Man Utd have double revenue than Everton, that is a fair point, but does not hide the fact Man Utd are £443 Million in debt.
It's the wages that are screwing Everton in FFP, but just shows you have only £109 million to play with, over three years for losses, but debt elsewhere like £443 Million does not matter.
Fair play my arse.
John Pickles
122
Posted 28/08/2021 at 18:18:45
I was in Oporto today and I asked a Portuguese friend of a colleague about Diaz. He said he was a very good player. I was a bit surprised when he said though, that he would be glad to see the back of him.
When he explained he was a Sporting fan it all made sense. There aren't many good teams in that league but Sporting are one of them, if he gives them problems it bodes well for us.
Marc Hints
123
Posted 28/08/2021 at 19:48:22
He is playing for Porto tonight so any deal cannot be that close.
Sam Hoare
124
Posted 29/08/2021 at 08:45:48
Got an assist last night. Apparently Rodriguez is less likely to be included now due to wage demands and so this whole deal is looking a bit less sure.
He's a really interesting player but I wouldn't mind a left-footed winger to add some balance.
Richard Mason
125
Posted 29/08/2021 at 14:15:35
Vlasic to West ham. We will be due a couple million from that deal due to sell on clause.
I don't know if it's 10 or 20%.
Ray Smith
126
Posted 29/08/2021 at 16:53:05
It looks like we are stuck with James.
Even if we gave him away, who would take him? Unless he takes a 50% wage cut, he's going nowhere. I hope I'm wrong, but if Porto don't want him. Having been there for 3 years, I can see the Diaz transfer collapsing.
Why hasn't Carlo come calling! I can't see Rafa making a compromise, unless James knuckles down, there's more chance of snow in hell. A very talented mercenary methinks. Tell me I'm wrong.
Tony Abrahams
127
Posted 29/08/2021 at 17:05:48
He can't be a mercenary, Ray, he just wants to perform where he his loved.
Robert Tressell
128
Posted 29/08/2021 at 18:15:35
Sam #124. Totally agree.
It's seemed pretty clear for a few seasons we need a (ideally) left footed right winger. In terms of what's left and might be available for the same or less than Diaz, it looks like maybe Brooks, McNeill, Neres or Malcom - but I bet you can come up with a few others.
Maybe even Faivre even though, like Brooks, he's not really a winger but a classy player cutting in from the right flank nonetheless.
Nice if Juve could give us the loan of Kulusevski for a season as a sweetener to the Kean deal but seems too much to hope for.
As it happens, Townsend seems a breath of fresh air generally even if not very glamorous!
Jay Harris
129
Posted 29/08/2021 at 18:29:16
Given Wolves' start to the season, it may be worth a cheeky bid for Neto or Traore.
Gary Smith
130
Posted 29/08/2021 at 18:33:45
Sounds like it's breaking down with Porto upping the price and wanting €40M + James on a loan (no doubt with us picking up part of those wages too).
Walk away... and if James is still here in 2 days, then bring him back into the fold to compete with Andros for that place on the right.
I'm 99% sure that, when he hears the Old Lady roar, we'll get a full and good season from him, and we can all part as friends next summer.
If we have dough to spend in the meantime, get the right-back position sorted, and a couple of loans to pad out the team.
James Flynn
131
Posted 29/08/2021 at 20:08:04
I'd guess that, if it's true James is part of the equation, the financials become more complicated and take time.
Diaz to Everton, financially, would just be another routine player deal.
James's salary, image rights, commercial opportunities, the sheer volume of his world-wide popularity are all waaaaay beyond "Everton sign Diaz".
Ian Nulty
132
Posted 30/08/2021 at 14:20:01
Maybe not..I have read that JR has agreed to sign a loan deal at Inter Milan (to be announced late tomorrow) which scuppers the Diaz thing. Porto looking to up the fee now, particularly as he is considered important in their Champs. League campaign, so let's see. Might be journalist putting a spanner in works!!
David Pearl
133
Posted 30/08/2021 at 14:28:42
Ian, l read AC Milan and that they want him for free and plan to announce it late tomorrow. They say its agreed with his agent... so lets see if Everton cave in.
Ray Smith
134
Posted 30/08/2021 at 20:27:05
Tony @127,
What does he bring to the table?
Rafa doesn't want him. What effort has he made to ingratiate himself into the fold? Get rid ASAP, unless he buckles down, which isn't going to happen.
Not a Rolls-Royce, but a quality player that keeps breaking down. Get rid ASAP.
Tony Abrahams
135
Posted 30/08/2021 at 20:43:46
If he's still here after the window closes tomorrow Ray, then my post at 127, wasn't meant to be sarcastic!
Pat Kelly
136
Posted 30/08/2021 at 20:46:22
How can we afford him if no money is coming in for Kean for at least two years and James may be going on a free? Our targets have been dropping like ninepins.
---
Add Your Comments
In order to post a comment, you need to be logged in as a registered user of the site.
Or Sign up as a ToffeeWeb Member — it's free, takes just a few minutes and will allow you to post your comments on articles and Talking Points submissions across the site.