Everton not willing to sell Richarlison
Friday, 27 August, 2021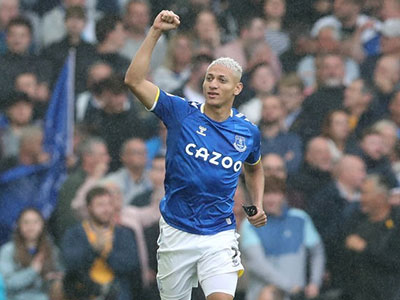 According to manager Rafael Benitez, Everton have no intention of letting Richarlison go before the transfer deadline.
Speculation from Brazil erupted last night that Richarlison's agent was in France to negotiate potential terms with Paris Saint-Germain following reports that the Ligue 1 giants had made the forward their top target to replace Kylian Mbappé.
Mbappé is the subject of a massive bid from Real Madrid to take the French international star to La Liga and Richarlison is reportedly being lined up to take his place.
However, if what Benitez said at his pre-match press conference ahead of the trip to Brighton holds any water, Everton have no plans to sell him this week:
Article continues below video content
"We are not considering selling him," Benitez said. "He is our player, we are really pleased with him and we are happy. Hopefully he can score a lot of goals for us this year."
According to UOL Esporte, the Blues would demand €120m for Richarlison.
The Spaniard also refused to be drawn on speculation around other players involved in the media transfer speculation, saying:
"We have some players that people know are good players and they are players people could be talking about.
"There are rumours but as coaches we have to concentrate on what we have.
"We have our players here, we have an important game against Brighton and we will try to do our best to be sure we are ready."
James Rodriguez has been the subject of endless talk about his future, with the latest reports suggesting he could be loaned out to FC Porto for the season.
---
Reader Comments (31)
Note: the following content is not moderated or vetted by the site owners at the time of submission. Comments are the responsibility of the poster. Disclaimer
Brian Williams
1
Posted 27/08/2021 at 14:38:59
Good! Madness if we did sell at this stage of the game!
Nick White
2
Posted 27/08/2021 at 14:50:19
How can Real Madrid, who are supposed to be skint, afford to pay nearly £150M for that Mbappé? I really don't get the FFP rules at all.
James Gardner
3
Posted 27/08/2021 at 15:18:28
Nick @ 2 I have no idea how clubs can spend so freely!
If I remember correctly, Tottenham received a loan from the government for £175 million due to the pandemic. If you can't afford to pay your staff, but they have already spent around £60 million on Romero and Gil.
I don't see how that falls in line with FFP... or the Premier League's version!
Dave Williams
4
Posted 27/08/2021 at 15:44:26
If the offer is big enough, he will go. We must make sure we can spend it quickly to replace him. Should be interesting – £85M plus Gueye?
Nicolas Piñon
5
Posted 27/08/2021 at 15:53:39
Dave #4,
That sounds good deal but, at this stage of the window, I believe we would be loosing if we sell Richarlison and have not gotten any apropiate replacement.
Although the Gueye move sounds interesting if in some case it should happen. But Richarlison is quite irreplaceable for me. We should go for a Zaha kind of player if he does leave, so as not to lose on the footy side of things. Quite difficult really.
There's a player here in Boca Juniors, a Colombian forward who is lightening quick but has some trouble off the pitch: Sebastian Villa. 25 years old. I'd love us to go for him.
Jay Harris
6
Posted 27/08/2021 at 16:06:47
Richarlison's work rate and goals should not be undervalued and IMO it would be like losing 2 key players and too late in the window to find adequate replacements.
Richarlison is the sort of player we should be building the squad around and not selling at any price.
Bill Gall
7
Posted 27/08/2021 at 16:08:17
Lets sell him.
Ronaldo is in the market for sale or will we get the comments of, typical Everton signing of, old past his prime, not fit, just another Kenwright fault, why are we always buying other clubs castoffs?
Let's see if Benitez is as good as his word and he stays, as there is no way we are going to replace him with the transfer figures that are quoted.
Colin Glassar
8
Posted 27/08/2021 at 16:10:53
Bill has put in a cheeky £25 bid for Ronaldo.
Mike Gaynes
9
Posted 27/08/2021 at 16:14:49
Good. End of. Moving on.
Bill Gall
10
Posted 27/08/2021 at 16:23:39
Plus add-ons of free taxi service to the ground, Colin.
Matt Byrne
11
Posted 27/08/2021 at 16:46:17
Absolutely right to insist on keeping him at this late stage. Benitez must have sought reassurances above him for him to say we are not selling Richy. We do have form for selling late with the likes of Arteta and Rooney. Richarlison definitely needs to stay but if he does sadly it will probably be just a stay of execution for a year the way Lukaku gave us one more year under RK.
Dale Self
12
Posted 27/08/2021 at 17:20:47
Rafa is saying 'no plans'. He is clever like that. It is PSG's plan.
Ian Burns
13
Posted 27/08/2021 at 19:44:21
I see it didn't take long to bring Bill Kenwright into the equation! It's boring, chaps!
Jay 6 – every player has his price and we are not yet back to the situation where we can build a team around a player like Richarlison, as he will be on many top teams' list of players to purchase.
I do however share your wishes but we are not in a position – just yet... maybe in a year or two.
Howard Sykes
14
Posted 27/08/2021 at 20:54:03
Well Ronaldo's gone to Man Utd. So that's that one.
Danny O'Neill
15
Posted 27/08/2021 at 22:39:50
Apparently the manager has just spoken again. He's 99.9% sure Richarlison will be staying. And he expects a couple of signings in.
Second hand unconfirmed conversational information, so be interested if anyone has insight.
Brendan McLaughlin
16
Posted 27/08/2021 at 22:52:40
Danny O #15
So one of your dogs is called "The Manager"...😊
Danny O'Neill
17
Posted 27/08/2021 at 23:01:18
Rumbled Brendan! They'll have me out at 6am tomorrow before the trip to the south coast. I'll ask them what they think. Cheese cubes ready to assist the decision making. Let's see which way they nod.
Kevin Dyer
18
Posted 27/08/2021 at 00:09:25
Rafa is saying that we have no intent of selling Richarlison but of course if a mammoth bid comes in from PSG how could the club say "no"? I do believe we would reject the kind of bid that would seem reasonable, say £60-70m, but the figures being quoted is crazy money and realistically it would be foolish to turn that down.
Dale Self
19
Posted 28/08/2021 at 00:12:13
The list at PSG is short; Jesus and Richy. If Pep holds firm which is to be expected Richy's price could become a difficult amount to decline. 85-90 seems to be the floor if so.
Terry Farrell
20
Posted 28/08/2021 at 10:28:43
I maybe in the minority but love his work rate and desire and don't care about the sulky face and think his skill levels and strength are under rated. He is already up there with some of my fav players from the past and wouldn't sell. He is easily a Top 6 player and we need to add to this calibre not lose it!
Derek Thomas
21
Posted 28/08/2021 at 10:45:03
Yeah, and Rooney is not for sale even for £50M.
Collins Is Mr Everton...and Ball and...and...and...
If the correct dominoes fall and the money is right Everybody is for sale
Laurie Hartley
22
Posted 28/08/2021 at 13:06:41
Danny # 17 - let's hope they get cows ears after the game.
Raymond Fox
23
Posted 28/08/2021 at 14:06:27
Same old story, if we ever want to be a top team, we should keep Richarlison but, if the player gets their head turned by a glamour team, they tend to start to sulk.
I'm very surprised that Digne's name doesn't pop up when the money teams start sniffing around.
Ian Riley
24
Posted 28/08/2021 at 21:40:23
If an offer comes in of £100 million plus then what? This is the reality. Play with Messi? Treble your salary? Anything is possible?
How has Bill Kenwright come into this? Leave the poor bloke alone. I still believe he is deserving of that statue outside the new stadium. Anyone in agreement with me?
Timothy Sebastian
25
Posted 29/08/2021 at 09:30:52
I agree with you, Ian. Bill deserves our best wishes and a statue of him somewhere in our new stadium would be fitting.
Tony Abrahams
26
Posted 30/08/2021 at 11:15:45
If Kenwright is getting a statue, it's got to be on the Mersey with him walking on the water.
Martin Nicholls
27
Posted 30/08/2021 at 11:44:56
On Crosby beach more like, Tony - with the water washing over him twice a day!
Ken Kneale
28
Posted 30/08/2021 at 12:29:19
I thought monuments were tributes to persons who have contributed to the success of an organisation?
Tony Abrahams
29
Posted 30/08/2021 at 12:45:11
But in the words of the great man himself, Everton could never have had a better owner, Ken.
Ken Kneale
30
Posted 30/08/2021 at 14:13:53
Tony - I suppose plenty of tin pot dictators over the years have ensured they have their own monument - maybe it fits in that category.
The club could save some money as the plinth required will not need to be over large to list accomplishments and achievements during tenure
Danny O'Neill
31
Posted 30/08/2021 at 14:26:59
Or name a stand. The wife keeps winding me up as I used to joke about Doug Ellis naming a stand after himself at Villa Park.
---
Add Your Comments
In order to post a comment, you need to be logged in as a registered user of the site.
Or Sign up as a ToffeeWeb Member — it's free, takes just a few minutes and will allow you to post your comments on articles and Talking Points submissions across the site.