Nkounkou will spend 2021-22 in Belgium
Tuesday, 31 August, 2021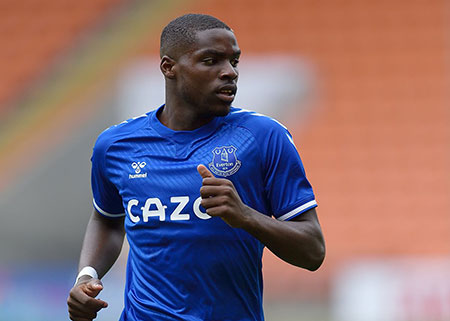 Standard Liege have concluded talks with Everton over an agreement that sees Niels Nkounkou join them on loan for the season.
The young French full-back had signalled to the Blues his desire to play regular first-team football and will now hope to get that chance in Belgium.
The 20-year-old had some exciting outings in the Carabao Cup last season and also featured in this season's EFL Cup second round win at Huddersfield but has found Premier League appearances hard to come by with Lucas Digne entrenched as the first-choice left-back.
Combined with that of Thierry Small, however, Nkounkou's departure leaves Everton short-handed in that position, although Ben Godfrey can deputise if needed.
---
Reader Comments (60)
Note: the following content is not moderated or vetted by the site owners at the time of submission. Comments are the responsibility of the poster. Disclaimer
Dennis Stevens
1
Posted 30/08/2021 at 15:54:20
Any promising young left backs in the U23s?
Matt Byrne
2
Posted 30/08/2021 at 16:05:17
So what happens if Digne is injured? Presumably Godfrey would have to go there when his best position is in the centre, albeit Godfrey did well there when required last season. Small has gone and the mythical idea of Delph playing there is a no go as he is never fit. This deal would be good if we had experienced cover for Digne, such as when Baines was still there, but an injury to Digne would leave us short.
David Pearl
3
Posted 30/08/2021 at 16:16:47
Kid needs to play, he won't get better sitting on a bench. Maybe Paul Power is still available
Alan J Thompson
4
Posted 30/08/2021 at 16:42:04
This is becoming infectious! Perhaps it should be explained that if they want to leave then the transfer fee has to be a minimum of that we payed plus wages and 10%, or if on loan they accept whatever wage the club they are going to is willing to pay over the loan period. I hope when we sign them that it is explained that it will be unlikely that they will be first choice while the incumbent is fit.
If it does go ahead then perhaps it should be until January when he can be recalled if necessary or the loan renegotiated.
Mike Allison
5
Posted 30/08/2021 at 17:11:27
This is what happens when you fail to qualify for Europe - not enough competitive games to keep a big squad happy.
James Stewart
6
Posted 30/08/2021 at 17:16:52
I hope this doesn't mean Delph is being kept on.
Robert Tressell
7
Posted 30/08/2021 at 17:23:24
He needs to play. Godfrey will have to step in if we're without Digne. Or even Townsend or our new RB whoever that is
John Pickles
8
Posted 30/08/2021 at 17:39:33
As this is Everton, this would make a long-term injury to Digne a near certainty.
Let's face it, we've started really well. Soon the worst thing that can befall an Evertonian, 'Hope' will appear, then, the inevitable is only around the corner.
Peter Gorman
9
Posted 30/08/2021 at 17:55:58
I like the kid and think he has something to offer, especially going forward. Somebody else noted he could play left-mid if necessary. Don't particularly want him to go on loan.
Duncan McDine
10
Posted 30/08/2021 at 18:30:42
In the good old days you could send someone out on loan and then call them back if you're suddenly in the shit (injuries etc). That would be the only situation where I'd be happy to see him leave.
Richard Lyons
11
Posted 30/08/2021 at 18:31:45
Really hope this won't be the prelude to him leaving altogether, as I think he shows real promise.
Bill Gienapp
12
Posted 30/08/2021 at 18:39:47
Nkounkou's in a tough spot. He's too good for the U23 side, but he's just rotting on the bench. Digne didn't miss an insignificant amount of time last season, but he still barely played. Don't know if Benitez fancies him more than Ancelotti did.
The cup match was a reminder that, while he's quite thrilling in attack, his defensive game remains a work-in-progress. Maybe a loan would be the best move here.
Tommy Carter
13
Posted 30/08/2021 at 19:28:32
If Godfrey makes the centre-back position his own. Townsend would be first reserve. Godfrey would be the other option. And he was out sanding at left-back last season.
And all this is only if Digne misses games. He doesn't miss many.
Nkounkou made a grand total of 6 appearances last season. And we didn't have Townsend then.
Will not serve us in any way to bench the guy weekly in the event that a player may get injured. I'm excited to see what he can do and therefore he needs to be playing games.
Great move for the player and us.
Tommy Carter
14
Posted 30/08/2021 at 19:53:13
In fact. I've had a bit more time to reflect on this rumour. And I have to say that I'm absolutely flabbergasted beyond belief that there are supporters who would prefer Nkounkou to stay with us this season where is almost certainly guaranteed no playing time.
A lot of supporters seem to have no clue whatsoever about the development of a player, nor the economy of their contracts and value to the club.
A lot of football clubs, many much more successful than ours will simply not entertain the prospect of signing or introducing a player over the age of 21 with less than 100 first team appearances under their belt.
Why? In simple terms, there may be outliers here and there. But predominantly, you start picking out World Cup winners and Champions League winners who fail to fall within this demographic. I'll wait.
That's the level of player we should be aspiring to. In terms of economy, these are your options. You think this guy is going to sit around on his current contract for another 12 months and play just an handful of games. No way.
And his agent won't be allowing much of this either.
So what happens. Come January, the agent is arranging a deal with X, Y and Z club for the player. And quoting a much improved weekly wage as part of the package.
Which leaves EFC with a decision to make. Is he good enough now for the first team?
Answer is quite clear: No. Otherwise he'd have supplanted Digne and made the position his own. Or at the very least have been fighting it out for the left-back spot with a fair run of games.
So then what? Risk losing the player in a couple of years in the absolute fear he may end up being a world beater. So give him £25k a week for 5 years just in case. Like Pennington. Like Garbutt. Like Kenny.
Amateur hour for any football club doing that and a symptom of absolute failure. Put them on loan on their current deal. Or sell them. Or play them. They are the only options that can end in any kind of success.
We must choose the loan on current deal now for Nkounkou on the proviso that 12 months of first team football brings him closer to the point where he absolutely cannot be ignored for selection. If that's not the case, he'll be 21. Move him on.
Geoff Cadman
15
Posted 30/08/2021 at 20:01:28
Last season, we left ourselves desperately short of cover by sending promising back-up players out on loan to give them game-time experience.
We have just lost a promising left-back because he thought Nkounkou was restricting his progress. Now we want to send him out on loan.
If this had been mooted at the start of the window, would Small have signed his professional contract?
Dale Self
16
Posted 30/08/2021 at 20:04:33
He needs to be patient. Digne isn't going to be able to play full seasons beyond this one if even that. As long as we stay in contention for Europe I could see Rafa not giving him the time and this may be an important time for growth. A loan makes sense here.
John McFarlane Snr
17
Posted 30/08/2021 at 20:10:53
Hi Tommy [13],
I don't understand your reasoning regarding Godfrey, you state that "If Godfrey makes the centre-back position his own, Townsend would be first reserve. Godfrey would be the other option, and he was outstanding at left-back last season."
I can't see how Townsend, a right winger, would be displaced by a centre-half, and I don't understand how Godfrey could be the other option, presumably he would be replacing himself. I'm not attempting to belittle you, I just find it difficult to come to terms with your post.
Tommy Carter
18
Posted 30/08/2021 at 20:32:26
@ 17 John
You have misunderstood.
Digne is first choice left back.
My post is about who replaces Digne should Digne be unavailable.
If Godfrey is first choice CB which I expect he will be
Then I do not expect Rafa to take him out of CB to cover for Digne.
In that instance, cover will be Townsend. Who has played a lot of football at left back. In the premier league.
If Digne and Townsend (plan b) are unavailable.
Then we the move to plan c. Which is playing Godfrey at LB. where he played several times last season and was outstanding. And Keane, Holgate or Mina cover for Godfrey.
I cannot see that this is not absolutely crystal clear.
Brian Williams
19
Posted 30/08/2021 at 20:39:23
Tommy. It wasn't. 😉
Terry White
20
Posted 30/08/2021 at 20:44:58
Can someone please tell me how many games Townsend has played at left back in the Premier League that will qualify for Tommy's statement (#18) as "a lot"?
Peter Gorman
21
Posted 30/08/2021 at 20:49:55
Tommy, I can't believe that you have been flabberghasted beyond belief (sounds nasty).
I think people like me who are advocating that he doesn't go on loan are also wanting him to be played.
Is that crystal clear?
Tommy Carter
22
Posted 30/08/2021 at 21:03:48
@ Terry. Thanks. Hopefully someone can give us the statistic.
However. I am almost certain that he has played more Premier League games at left back than Niels Nkounkou.
@ Peter. So you want him starting ahead of a France international, former Barcelona and PSG player and Everton player of the season in his first season?
Why Peter?
Lee Courtliff
23
Posted 30/08/2021 at 21:08:41
I think Townsend would do a decent job at left-back. He got the pace, the work rate and the crossing ability, although he would obviously struggle with certain defensive responsibilities as its not his natural position.
This is obviously in an emergency situation only.
Ben King
24
Posted 30/08/2021 at 21:22:04
We need to have 2 specialist players (in their position) for every position
We all bemoan square pegs for round holes and then suddenly advocate it! No - that's mad!
We have Digne as first choice and Niels as back-up. That's how it works<./p>
At Chelsea, they have a lad called Ben Chilwell as back-up left-back.
At Man City, they have Mendy as back-up left-back (let's avoid the obvious issues here please).
Even Southampton took our very own Thierry Small as back-up left-back.
Why wouldn't we want specialist cover in case of injury? Or are we really wanting the equivalent of Cuco Martina deputising at left-back again??
Please get the thinking caps back on.
Tommy Carter
25
Posted 30/08/2021 at 21:47:40
Ben.
I disagree. For clubs playing a European campaign maybe.
For us playing.domestic competitions only. Then no.
Andy Robertson prior to the signing of Tzimakas was replaced by James Milner. And this is for a team that has won a league and champions league within the last couple of years.
The same team. When Trent is out who's covering for him? The other specialist right back they have in the wings on a 5 year £50k a week contract? No. They make do.
So why do you think that a club like EFC who are regularly challenging for no competitions at all, should have a more comprehensive contingency plan than a club that has obliterated us in terms of achievements and games played within the last 3/4 years.
Geoff Cadman
26
Posted 30/08/2021 at 21:50:29
The only time Nkounkou was given a start under Ancelotti in the Premier League was Newcastle away; likewise Kenny... how many games did Godfrey play at left-back or right-back, there where opportunities.
Gordon went to Preston NE last season and had rave reviews until they changed managers, after that he didn't get a a chance. Branthwaite injured at Blackburn sent back for Everton to pick up the salary. This has happened to Tosun twice and made him unavailable to be sold in the following window.
In spite of Kean's season at PSG they still didn't want to pay a fee for him. He is back on loan again at Juventus with an obligation to buy, at a loss to what we paid. I fail to see how loans work; time to increase Subs to 5 in the Premier League and all these players could get game time with Everton.
Robert Tressell
27
Posted 30/08/2021 at 22:03:51
So far, no manager has treated Nkounkou as our back-up left-back. So we don't really have 2 specialists in the left-back position. We have Digne plus a bit of a livewire who plays League Cup games but no-one trusts to play in the Premier League.
If he gets a season in Belgium under his belt he could come back a more rounded player.
If he stays, he remains untested and untrusted.
Tommy Carter
28
Posted 30/08/2021 at 22:06:46
Robert @ 27,
Yes. Finally. Someone with some sense.
@ Lee. It doesn't need to be seen whether Townsend could do a job at left back. He's done it before. And for teams in the bottom half of the table.
David Pearl
29
Posted 30/08/2021 at 22:20:03
Tommy, well he does have a left foot. So does Delph. Godfrey proved he can fill in but hardly crossed the half way line... although that was under Ancelloti (Merlin's apprentice).
With no Europe but with hopefully 2 cup runs Digne will play a lot. Then again, so will Richarlison and Calvert-Lewin.
A loan is probably the best option. We need him to play games. Then when we are in Europe next season he will be ready to take some of the weight off Digne.
Tommy Carter
30
Posted 30/08/2021 at 22:31:16
@29
David. So how many games are you saying Digne will play this season? If fit, how many would he be required to play. Give me a number please.
My guess is 45 maximum.
He's managed a return of 87% availability in and Everton shirt since he joined in 2018. On that basis of the 45 he'll play 39 of those. And I'll be happy that Nkounkou plays 40 games for Standard Liege than a maximum of 6 for Everton.
Sam Hoare
31
Posted 30/08/2021 at 22:39:53
I'm with Tommy and Robert, Niels has not played much first team footy. Needs some more game time to progress.
If Rafa is sending him out it's because he trusts Delph, Godfrey, Townsend etc to fill in when Digne is out.
John Raftery
32
Posted 30/08/2021 at 22:42:01
It is obvious Nkounkou needs to be playing games. He has had hardly any since last September. Little wonder he looked rusty last week at Huddersfield. Defensively he looks nowhere near ready for the Premier League. A couple of Carabao Cup games against Championship clubs are not going to help him develop.
I agree with those who say that European football would have given him and others an opportunity to progress within the squad. In the circumstances sending him out on loan is the only sensible option.
Ben King
33
Posted 30/08/2021 at 23:30:16
So let's just remember when Digne gets injured/loses form etc and we don't have Delph available (because he's a permanent sick note) and Godfrey available (because he hasn't played at all this season and he may well be preferred at Centre back) than lots of you WANTED Townsend, a right winger, to play left back
And if he's injured then what next? Gomes at LB? Maybe DCL could do a job there
Brilliant
Terry White
34
Posted 30/08/2021 at 23:54:02
Thank you, Tommy (322. I'm still waiting for the answer from "anybody" to tell us how many "lots" of games Townsend has played in the PL at left back.
Si Cooper
35
Posted 30/08/2021 at 00:05:12
I'm surprised some appear mightily vexed by this.
I think all would agree that the match day squad should be purely meritocratic; i.e. the players the manager thinks are best able to get the best result start, and the bench is made up of able deputies.
I don't think that necessarily means the starting eleven is fixed if the manager believes in 'horses for courses' or squad rotation.
Some of the subs are more likely to get game time if the manager has a general liking for utilising subs to routinely mix things up a bit in most / all games.
Keeping those who are mainly cover for injuries happy is a difficult problem and we just have to trust the club gets that delicate balance right on the majority of occasions. The younger players are often going to be in this group because the U23s competition just doesn't seem to be of any real use as a genuine proving ground.
Alan J Thompson
36
Posted 31/08/2021 at 05:09:57
A lot of these arguments rely on him playing regularly at Standard Liege, does anyone know what their situation is for left backs or do they see him as a wide midfielder?
Hasn't Mina played full back other than when injured at the World Cup Finals?
Karl Meighan
37
Posted 31/08/2021 at 07:03:15
In todays football defending doesn't have to be great for a wingback/fullback, this lad has alot going for him and if he can remain patient may get game time in are first team. He isn't going to start before Digne but its a long season and he maybe needed to cover and I wouldn't mind having a look at him more central as well.
Andrew Brookfield
38
Posted 31/08/2021 at 07:06:59
All in favour of the kid getting some game time, but talks of an option to buy are seriously worrying me. Can you imagine if we sold Niles and Small had just left because he was blocking his path to the first team.
Danny O'Neill
39
Posted 31/08/2021 at 11:37:06
I think this lad has potential and I hope he realises it with Everton eventually.
This would be a good move for him to play competitive football regularly in a league that is a good standard for someone at his stage of career.
And Standard Liege are a fairly big club. He'll learn a lot if this happens and come back to Everton a better player.
We tried similar with Jonjoe Kenny. You can never tell, but I think Nkounkou has more potential.
Jay Wood
[BRZ]
40
Posted 31/08/2021 at 12:38:58
In answer to these claims as to who would be first cover for Digne at left back:
'Andros Townsend has played a lot of football at left back. In the premier league'
and
'I am almost certain that he has played more premier league games at left back than Niels Nkounkou'
This link shows
Andros' Career by Position Played
Just scroll down the page a little to view on the right the Positions Played graphic and an accompanying table.
To date, Andres has played 417 club games across 13 seasons. 430 if you add his 13 England international appearances.
He has played left back TWICE in those 430 games. When he was 20-years-old, back in 2011, playing a couple of Europa League games under Harry Redknapp. He made ZERO PL appearances for Spurs that season. Indeed, it would be another couple of seasons before he did play PL football for them. This implies he was selected for the EL thanks to squad rotation.
Andros' Total Career Stats Playing Left Back
He has played ZERO games in the PL at left back.
Andros' Total PL Stats by Position Played
The quoted claims about Andros playing left back are patently untrue.
Brian Murray
41
Posted 31/08/2021 at 12:41:22
Digne has been very ordinary so far this season. We need to keep Nkounkou even if he's not like for like he has quality.
Kevin Prytherch
42
Posted 31/08/2021 at 12:48:25
Strange one this, evidently the lad needs some games at a decent level to develop defensively. I wonder what Small makes of this now, he would have probably ended up being back up to Digne but moved because his path was blocked.
If Nkounkou goes out on loan, I feel we need loan cover coming in and don't rely on a centre back playing there again. Unless Baines comes out of retirement for emergencies!!!!
Mike Allison
43
Posted 31/08/2021 at 18:27:24
It seems Fabian Delph is now our back-up left back?
Andrew Ellams
44
Posted 31/08/2021 at 18:36:43
Based on last season surely Godfrey would now fill in at left back if needed.
Lee Courtliff
45
Posted 31/08/2021 at 18:52:56
Disappointed to see him go, he obviously has potential. Like an earlier poster said, this is the price we pay for no European football.
Hopefully Andros will do well in his first ever Premier League appearance at LB.
Ben King
46
Posted 31/08/2021 at 19:13:27
Absolutely stupid and short sighted decision
I love fellow Blues. Indeed I have a predisposition to love you all fellow toffee fans.
But to think so many are advocating this move and thus having no specialist cover in our defensive ranks….honestly I question your judgment and recent memory
Fuming. I just hope I'm wrong and you're right
Joe McMahon
47
Posted 31/08/2021 at 19:13:41
Brian I agree, from what I've seen of Nkounkou, I like him. But as others have said no European football this and unless Rafa is a miracle worker not next season either.
Maybe big Dave Unsworth is gonna be unleashed at LB cover. No one would be able to run round him.
Tom Bowers
48
Posted 31/08/2021 at 19:21:23
At this precise moment I think any thoughts of success this season should be shelved. Nkounkou is a decent attacking full back and Digne is the only other one we have.
I don't like the idea of makeshift defenders and certainly am not enamored by Jonjo Kenny.
It reduces the attacking options if Digne gets injured and think that Godfrey is more comfortable in the centre.
With the club still having to pay wages to Delph, Rodrigues and Siggy it would appear to leave little room for bringing in a quality player particularly on offence.
Ben King
49
Posted 31/08/2021 at 19:31:01
Tom #48
Do we still have to pay Siggy's wages if he's unavailable/suspended?
Surely not??
Brian Wilkinson
50
Posted 31/08/2021 at 00:04:09
Ben King, and Tom, you have another poster fuming as much as you in allowing Nkounkou to go out on loan, he has showed plenty promise, not just as left back but also left midfield as well.
With Small moving on, it now comes to playing someone else as a left back, should Digne picks up an injury, a suspension, or even a rest in some of the cup games.
I really hope this does not come back, to bite us on the backside,but like you, I would have preferred to have strong back up for this season for left back.
Now two promising left backs have left within a week, one may possibly return next Summer, but have left ourselves short on the left.
So if it goes tits up Ben, just remember if we have Delph playing as left back, or Tom Davies or whoever else, yourself and I were the ones who wanted Nkounkou to stay as cover.
Really really hope I am wrong and Digne gets through all season, but have a bad feeling about letting both left backs leave.
Nicholas Howard
51
Posted 01/09/2021 at 08:47:41
Relax our almighty management has it all sorted out handsomely LOL
RB. any 'right footed' defenders will do.
Holgate, Godfrey, JJK (still around) plenty of
choices. What? attacking attribute of RB?
no worries...Townsend and any wingers
will do it.
LB we have 'reliable' Delph waiting at the
sideline. If Delph out, refer to rule no 1...
Any Left footed defenders will do
See, no worries...we shall be 'FINE'
Gary Edwards
52
Posted 01/09/2021 at 09:11:46
Si: the U23's / youth system can work if your recruitment is effective and managed properly, Chelsea being a glowing example where several 'academy' players have progressed to their 1st team squad or they have been able to sell the surplus for good money.
Man City, Man Utd, Liverpool, Leicester and Southampton also have successful youth systems.
Circa early Martinez, we were one of the top teams in Premier League 2, played nice footie, had a fluid midfield which included Walsh, Davies, Ledson, Charsley etc and attracted supposedly top young talent (eg, Bowler, Adeniran, Gibson etc.).
The strange co-incidence is, from the time Brands came onboard, our youth system has been in gradual decline to the extent that we cannot rely on it; our one shining light (Thierry Small) couldn't get away quick enough.
Phill Thompson
53
Posted 01/09/2021 at 09:39:32
Dennis #1,
Nope, nobody is currently able to step up from the U23s at left-back. Roughly, these are the people who've played left-back last season and this:
Joe Anderson has played the most, a converted centre-back, decent left foot, will likely leave next June.
In the last game, it was Eli Campbell, 17, another whose best position is left centre-back. Both of these are nowhere near being Premier League ready.
The other two who featured last season as U23s left-back were Niels Nkounkou and Thierry Small. Say no more.
Behind them as U18s, we've played one centre-back at left-back who was hopeless, one guy who I haven't seen yet, and a 15-year-old Ishe Samuels-Smith who's promising but obviously very young.
So, as far as I can tell, the only natural left-backs we have at the club are Digne, maybe a 16-year-old scholar I haven't seen, and a 15-year-old promising Schoolboy. Crazy.
Gary Edwards
54
Posted 01/09/2021 at 10:02:37
Phil #53 – great update (at least for me). I used to watch the U23s a lot but, for reasons I've never cared to analyse, lost my enthusiasm 4 to 5 years ago.
Phill Thompson
55
Posted 01/09/2021 at 11:35:00
Gary, thanks. You should try to watch any U23s streams if you can, things have changed. 5 years ago we had the likes of Callum Dyson, Courtney Duffus, Conor McAleny etc playing who were experienced, decent at that level but never remotely close to the first team. Now it's mainly 17-year-olds, inexperienced, less physically mature but 4 or 5 often train with the first team.
Re your #52, I see Brands differently. For me ,he's been a disappointment this window with his deals, not least his failure to bring in Patterson, the young Rangers right-back, and Jebbison the Sheffield Utd youngster. If we wanted them, then it's his job to get them over the line.
Brands's one area of success that I see he is transforming our youth set-up over the past 2 years such that our U18s and U23s are now the youngest average age they've ever been. It doesn't yet guarantee these youngsters will make the first team but there is a clearer route now.
Simon Dalzell
56
Posted 01/09/2021 at 20:38:43
I've only just found this out. This beggers belief.
We have a threadbare squad and he is the only obvious back up for Digne, looked good in the cup match and on relatively low wages. Diabolical.
I think the assessment earlier (32) is unfair.
Mike Gaynes
57
Posted 01/09/2021 at 21:14:06
Simon, I gotta agree with John #32. Nkounkou looked fantastic going forward against Huddersfiel. He often looked utterly lost defending. Caught out, badly positioned, obviously confused a few times.
His pace and a couple of sharp tackles saved him from giving up goals, but he looked far short of Premier League standard defensively. Some folks on the Live Forum speculated that he might become a midfielder.
Being loaned out helped another totally clueless young defender, Seamus Coleman, start to get his head around the concept of defensive positioning. Hopefully this one will do the same for Nkounkou. We may very well miss him, but it's the best thing for the player.
Terry White
58
Posted 01/09/2021 at 21:19:01
Tommy (#22) and Jay (#40).
Thanks, Jay, for that information regarding Townsend. I don't think 2 games qualifies for "a lot", especially since neither of those would appear to be in the Premier League, does it, Tommy?
From where did you get that stupid idea? Like many "rumours", it has got TW contributors agog with the thought, thinking it was gospel.
Terry White
59
Posted 01/09/2021 at 21:20:15
Simon (#56),
If you are only finding this out now, you need to spend more time looking at ToffeeWeb.
Jeff Armstrong
60
Posted 04/09/2021 at 20:12:36
The thing that winds me up the most is we never have a recall option on these loanees should we have a real injury crisis. These are our players, we should have the option to bring them back anytime it suits us!
---
Add Your Comments
In order to post a comment, you need to be logged in as a registered user of the site.
Or Sign up as a ToffeeWeb Member — it's free, takes just a few minutes and will allow you to post your comments on articles and Talking Points submissions across the site.