Two out, one in as James remains an Everton player
Tueaday, 31 August, 2021
Transfer Deadline Day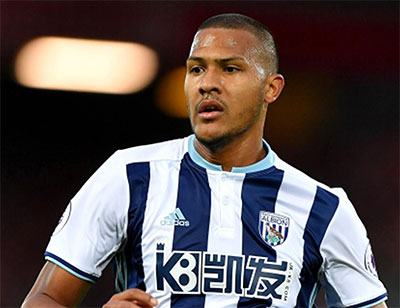 Everton are hopeful of signing Salomon Rondon on a two-year deal before the 11pm deadline
Transfer deadline day arrived with Everton having a summer net spend of around £1m as they wrestle with Profit and Sustainability restrictions and the club ended the window with just one more free transfer in the form of Salomon Rondon.
Despite Marcel Brands's desire to avoid last-minute scrambles, a couple of positions at least remained in urgent need of reinforcements to bolster the strong start to the season made under new manager Rafael Benitez, with a right-back and centre-forward among the most pressing but only one was secured.
Meanwhile, perhaps the one player most likely to leave the club in the wake of Carlo Ancelotti's sudden departure in May, James Rodriguez, remains an Everton player.
Although there was a handful of candidates to be on the move in or out in the final 24 hours of the window, as the deadline loomed there was just one incoming signing while two more departed on loan:
Salomon Rondon ✅
Heading into the final day, Rondon appeared to be the most likely player to sign for Everton before the deadline and with 90 minutes of the window to go, Sky Sports reported that his arrival was "effecitvely" a done deal.
The striker was keen to end his spell in China and Rafael Benitez was said to want to renew his association with the 31-year-old Venezuelan who can provide back-up to Dominic Calvert-Lewin up front.
Moise Kean ✅
Juventus have confirmed the Italian's loan move back to the club. Kean will return to Turin on a two-year loan deal with an obligation on Juve's part to purchase him at the end of it.
Article continues below video content
Ainsley Maitland-Niles 🚫
Speculation from last week that Everton had targeted the versatile player solidified into well-founded reports yesterday that talks between the Blues and Arsenal were underway but it soon emerged that Mikel Arteta had moved to block any move away for Maitland-Niles.
The 24-year-old took to Instagram to express his frustration and his desire to go where he is "wanted" and would be able to play but as of late on Monday night, the chances of any deal — season-long loan or otherwise — being done had receded.
However, Everton's need for reinforcements at right-back means that they are likely to pursue the transfer right up to the deadline, with the latest twist being that Maitland-Niles has been forced to train on his own at Arsenal today.
In the meantime, despite signing Takehiro Tomiyasu from Bologna thereby opening up the path for Maitland-Niles to leave, Arsenal have regarded Everton's loan bid for him is "not acceptable" and, according to reports, as they only want a permanent arrangement.
Maitland-Niles has apparently had "clear the air" talks with Mikel Arteta and will be staying put unless a more suitable offer comes in from Merseyside.
Luis Diaz 🚫
An exciting Colombia international winger, Diaz emerged as a viable target for Everton late last week and the Blues sought a deal that would see James Rodriguez go the other way back to his former club, Porto.
Those talks collapsed over the weekend once it became clear that the Portuguese club didn't want to take on board the 30-year-old's wages, even with Everton offering to subsidise them for a season.
Reports late last night suggested that Diaz wanted to make the move to Goodison Park but that Porto are holding out for around €40m, a fee that, as things stand, would be beyond Everton's budget.
A tweet by a journalist going by the name Kery would appear to indicate the door is now closed to the transfer and that Diaz will stay with Porto, particularly after Colombian reporter Pipe Sierra reported that Porto have rejected a third offer from Everton of €30m plus Rodriguez.
The death knell for any hopes of a deal being done came from Fabrizio Romano three hours before the deadline when he declared that talks had irretrievably collapsed.
James Rodriguez 🚫
The Colombian star has been in limbo for weeks but with no obvious suitors, he remains an Everton player heading into the final 24 hours of the window and there are reports in Spain that he could remain one past the deadline.
FC Porto rejected the chance to sign him in part-exchange for Luis Diaz and reports that AC Milan had resurrected their interest in James and were confident of agreeing a deal before the deadline were swiftly quashed in Italy.
According to Paul Joyce the Blues remain hopeful that the Serie A club can put together a deal before the deadline but journalist Edu Aguirre tweeted late last night that James will be staying at Goodison Park.
Niels Nkounkou ✅
The young Frenchman has been a candidate to go out on loan this summer and has secured a transfer to a club where first-team football is more guaranteed with a season-long switch to Standard Liege.
There have been suggestions in the media that Everton would consider a permanent option at the end of the loan arrangement but the latest reporting is that the Blues refused to include that option in the deal.
He is now undergoing a medical according to the Echo.
Jarrad Branthwaite and Anthony Gordon were at one point also thought to be heading out on loan again but the most recent reporting from the Liverpool Echo suggests that both will remain at Everton, at least until January.
Jérémie Boga 🚫
Speculation that Everton were one of the clubs after the Sassuolo winger cropped up a few days ago and then went quiet but that talk has revived today as the chances of the Blues signing Luis Diaz have receded.
Nothing came of the talk linking Boga to Everton, however, and his name was not mentioned.
Daniel Jebbison 🚫
Everton were reported to have made two bids to sign the 18-year-old striker this month, both of which were rejected by Sheffield United who want to keep him and would prefer to loan him out to a League One club for the season to gain more experience.
Jebbison ultimately joined Burton Albion on loan.
Donny van de Beek 🚫
According to a report from the Netherlands, Everton had a loan agreement in place with Manchester United for Donny van de Beek but Ole Gunnar Solskjaer blocked the move at the last minute.
This story was denied by Laurie Whitwell of The Athletic, though, who said that United didn't receive any offers for the Dutch international.
---
Reader Comments (374)
Note: the following content is not moderated or vetted by the site owners at the time of submission. Comments are the responsibility of the poster. Disclaimer
Joe Digney
1
Posted 30/08/2021 at 23:13:22
Looks like James is staying.
That basically cancels out any big incoming signings due to his huge wages I'm guessing.
Not sure where he's going to fit in Benitez system. Hopefully Benitez doesn't change everything just to suit James and not the squad like Carlo did.
Colin Glassar
2
Posted 30/08/2021 at 23:25:38
No news on Delph leaving then?😟
Jerome Shields
3
Posted 30/08/2021 at 23:28:22
A lot depending on last minute deals. Trying to move on James seems to have been a bug bearer in the process.
Everton are now a yard beyond how he likes to play. . His role now seemed to be as a forward if he stands any chance of fitting in at Everton.
Kunal Desai
4
Posted 30/08/2021 at 23:33:55
My guess would be Kean out Rondon in. That'll be it.
Kevin Molloy
5
Posted 30/08/2021 at 23:34:47
I can think of worse subs to bring on than James rodriguez. the key thing for us tomorrow is not to lose Richarlison.
Jerome Shields
6
Posted 30/08/2021 at 23:34:59
Kumai, Unfortunately I agree.
David Pearl
7
Posted 30/08/2021 at 23:37:12
Joe, can you not remember who James is and how he played when on the pitch for us? It wasn't so long ago. I can see perfectly where he would fit if given the opportunity. If he goes he goes but if he stays then he must play. A right sided midfielder with a left foot should be familiar. He is too good to waste away if he is fit. We have spent a lot over the last few years and we will see the best of them under this manager. So who needs big money signings when we have them already. Cover up front and at right back albeit on loan is fine with me. Otherwise we have a squad good enough to challenge towards the top end of the league under the right system. Its time to get behind our manager and the players. This is our year. Ftrs Utft
Mike Allison
8
Posted 30/08/2021 at 23:50:37
This deadline day feels like the old days of Moyes. 'Trying to get one or two in'. Loan deals, cast-offs, veterans. Every fan knowing what we need but nothing seeming to happen. Fears over losing one of our best. 'Losing out' on a player to a mid-table team who finish below us every year.
It's all so comfortably familiar.
Here's to coming 7th.
Joe Digney
9
Posted 30/08/2021 at 23:53:48
David, I agree with what you say but I don't think Benitez will quite see it the same, I can't imagine James busting a gut to work back to help cover Coleman week in week out similar to what andros has done, but like you say the correct system may just work to fit them all in which I'm sure Benitez has the nous to do.
Another pacey winger on loan as well would be nice though.
Gavin Johnson
10
Posted 30/08/2021 at 23:55:16
It's unfortunate about James. Seems strange there were wide spread reports stating that Porto wanted James and it was just a case of sorting out subsidised wages and we would get Diaz for £21m. If that deals off the table I'd hope we would turn to Jeremie Boga, who as a right winger would be more preferable to Diaz anyway. With Moise Kean gone I would hope we could bring in one exciting signing, but as it stands I just see us bringing in Solomon Rondon, which would be quite an anti-climax when we were heavily linked with Edouard on Friday night.
God knows what we're going to do about a right back?! Maitland Niles looked a good fit but Arsenal don't want to strengthen a club who they see as rivals by the looks of things
Kevin Molloy
11
Posted 30/08/2021 at 23:56:15
worth just stating though, what about that Marcel Brands fellow. He'll have overseen a net spend of nought point cock all tomorrow, owing to his earlier profligacy. I wonder how much we've paid him to drive the bus into the river, it's probably millions isn't it.
And now after tomorrow he puts his feet up til January, when he lets everyone know he doesn't believe in signing players in January. So we'll see him next Summer. Nice.
Anthony Jones
12
Posted 31/08/2021 at 00:15:05
Is it maybe time to admit that Brands has been a failure?
All the signings of Benitez were of his own choosing.
Brands hasn't brought in a single high quality player that I can think of that he identified and pushed through, who hasn't cost a small fortune.
He hasn't managed to clear the deadwood very effectively either.
Don Alexander
13
Posted 31/08/2021 at 00:19:47
Kevin (#11), I cannot believe that Brands has had much say in who our signings have been since he got here. The fact that he can't get rid of so much hugely overpaid deadwood that he inherited ain't his fault either.
We have an owner and boardroom making incoming manager and transfer decisions which render his role superfluous as far as I'm concerned. I point the finger of blame on them, and not Brands.
That said, he's probably taking comfort, as plenty of others do at the Liver building and USMFF, for being royally paid for doing the square sum of diddly-squat as we now look forward to another mid-table finish.
The Everton "project" eh?
I had more success at school when I tried to turn an actual frog into a cyclist (I'd heard that frogs were good at cycling in those distant days).
Bill Gienapp
14
Posted 31/08/2021 at 00:21:35
I think we'll get the Rondon deal done, and that may be it for our summer business.
I'm happy to see James stay, but I'm worried it may turn into a similar situation as Ozil at Arsenal, in which he basically ends up in high-priced exile. I could see James reluctant to come back and commit himself because he doesn't feel wanted, and Benitez having no interest in giving him any reassurances and not really wanting him around anyway, and they just end up in a stalemate. I really hope that's not the case.
Lester Yip
15
Posted 31/08/2021 at 00:44:52
Rafa: James, you know my standard. You hit at least 14 in Beep test before being considered to play.
James: If you guarantee that I will play if I hit 14, then I'll get to that.
Ed Prytherch
16
Posted 31/08/2021 at 00:48:42
We should be able to agree that Mina, Digne, Godfrey, Doucoure, and Branthwaite were all decent signings by Brands and he probably had to sign off on Richarlison, and Allan.
Opinions differ on Gomes, Gbamin and Iwobi but they all three look to have a future under Rafa.
Derek Thomas
17
Posted 31/08/2021 at 01:03:31
I've never been a fan of the whole DoF thing...
Boss; You're supposed to be a top mechanic, why is my Roller running as rough as guts?
Mechanic; I ask the hand rag, nods at DoF, to get me a fine tune adjuster and he fetches me a hammer...and its not even a decent hammer.
Not helped at all by Moshiri...allegedly...buying a DoF dog and barking himself.
Bosses have an office for one reason and one reason only - its for them to sit in and keep out of the fuckin way while the people who actually (supposedly) know what they're doing get on with doing it.
Si Cooper
18
Posted 31/08/2021 at 02:33:04
I'd imagine that Brands' job is to work on the deals that require persuading players who have a number of options that their best one is to join us.
The various managers may have their own contacts where a previous period of working together puts them at something of an advantage.
Then there are the players for whom EFC at this particular moment is clearly their best option and there is little to stop them signing on.
I know which group I'd expect to be the most problematic, especially for a club as hindered by FFP as we apparently are. Do people really think great attempts haven't been made to sort out the long term future for positions like rightback?
Mike Dolan
19
Posted 31/08/2021 at 02:54:31
It's weird how perceptions change. As much as I love Rodriguez when I heard that he might be staying my first thought was, shit he's going to get The New Iwobi's minutes.
Kieran Kinsella
20
Posted 31/08/2021 at 02:58:15
Mike Allison
Agreed this window has the feel of dour Davey.
On Maitland Niles — I just don't see the point. Is he better than Coleman? No. In which case we already have JJK. They say he's versatile and can play midfield. Well we already have Davies. He seems like a poor man's Neville. 24 y/o unconvincing in any particular role for Ars or WBA. Are we signing just to sign? I just don't see the merit in him TBH.
Jay Harris
21
Posted 31/08/2021 at 04:33:25
I'll be very disappointed if the net effect at the end of the window is we swapped Moise Kean out brought Rondon in
Mike Gaynes
22
Posted 31/08/2021 at 04:43:24
Bill #14, I'm a little more optimistic. James is too much of a competitor to do an Ozil routine -- especially with his cherished national team place now endangered -- and Benitez is too much the pragmatist to leave such a talented player in the freezer simply out of bias. Be it injuries, circumstance or just being a goal down in a big game, I'm convinced there will come a day when Rafa will call Rodriguez' number.
As for Rondon, I join in the general groan -- he's 32, unwanted in China, lost his starting job in Moscow, and hasn't kicked a ball since May -- but Benitez knows and trusts him, and the price is right. Zero.
Alan J Thompson
23
Posted 31/08/2021 at 04:50:10
Arsenal see us as rivals?!? I thought we might finish in the bottom half of the table but after the first few games I didn't think things were that bad.
Derek Knox
24
Posted 31/08/2021 at 05:30:27
Colin G @ 2, at least we have Iwobi Wan Kenobi ! :-)
A pretty underwhelming window then, but again suffering the idiocy of Koeman/Walsh, Allardyce and Silva to some extent. Though with Townsend and Gray, plus the GK cover I think we have stabilised with minimal outlay, and Rafa has certainly transformed our misfiring engine, to ticking over nicely.
Bill Gienapp
25
Posted 31/08/2021 at 05:38:21
I hope you're right, Mike. I have no doubt we'll need Rodriguez's creativity to unlock a few defenses this season. And I'd still love to see him play in front of a packed house at Goodison.
Danny O'Neill
26
Posted 31/08/2021 at 06:10:50
Well, let's all sit down and strap in the for the Sky Sports circus!
Priority for me is to keep Richarlison. And I hope we keep James. As part of a Benitez squad, he might get rotated more appropriately. We don't need him to play every minute of every game but rather than being out through injury it will just be more efficient and effective use of the talent.
I can't see a lot happening but let's see.
Delph unfortunately going anywhere.
Enjoy the show!!
Mike Gaynes
27
Posted 31/08/2021 at 06:11:14
Off to bed here on the West Coast. I leave it to you gents in England to handle things and make sure I wake up to some good transfer news.
Mark Andersson
28
Posted 31/08/2021 at 06:47:59
Hope Rafa and the team carry on the good form regardless of wether any other players come in or out...
Colin Glassar
29
Posted 31/08/2021 at 06:58:00
I don't think much will happen today (prove me wrong, Marcel). Rondon might come in and a rejuvenated Cuco Martinez will sign a three year deal to cover Coleman at right back. James will stay and prove his doubters wrong.
Duncan McDine
30
Posted 31/08/2021 at 07:15:46
SSN: Iwobi has committed to a new and improved contract that will keep him at the club until 2034. It now seems that Mbappe will not be required. The French striker is said to be 'gutted'.
Eddie Dunn
31
Posted 31/08/2021 at 07:27:32
So what if Arteta has put a stop to the deal, he most likely will be gone himself in a week or two.
I can still see this happening.
Jonathan Tasker
32
Posted 31/08/2021 at 07:27:55
We have been the fifth highest net spenders in the last five years.
Last Saturday we were back to the old two goalkeepers on the bench and we still only had 8 on the bench in total.
We are working under the severe constraints of financial fair play.
Brands has been in charge for much of that time. He's a disaster zone.
Why is he still there ?
Colin Glassar
33
Posted 31/08/2021 at 07:38:08
Duncan, my head almost exploded when I read that. Good one mate.
Jonathan, I've been saying the same for a while, Brands is a huge disappointment. We should offer Edwards (from RS) the gig.
Phillip Warrington
34
Posted 31/08/2021 at 07:47:28
Is Rondon any better than Broadhead? I doubt it... and would he score more goals than Broadhead? I doubt it. Rondon never had a great scoring record in England; a hard worker, yes, but not a great goal-scorer.
Steve Shave
35
Posted 31/08/2021 at 07:50:11
I think Marcel has been given a poisoned chalice. He has been employed to do what he does best, be "the architect", he has not really been allowed to do that. Each manager has come in and wanted his own players, fair enough but how many managers have we had whilst Marcel has been here? If you say each one had two signings of their own and there have been plenty of rumours about Moshiri demanding players too (Iwobi being one) of course we will never know the ins and outs of it all. He was probably given his place on the board to compensate for not being allowed to do his job properly. I would have loved to have seen what happened if he had been given full control of all transfers. Instead we have frittered £300M on what? It's deeply embarrassing.
Steve Shave
36
Posted 31/08/2021 at 07:53:04
Still a chance someone can come in for James, even on a free transfer we can get shot of the wages which will help enormously. I don't want us loaning him to someone where we pay half his wages, that would not be worth it and instead we should play him. There must be a champions league team interested in him on a free? I wonder what freedom it would give us with FFP if they did (with us not getting a fee I mean).
Steve Shave
37
Posted 31/08/2021 at 07:57:00
Sorry for the flurry of posts – one of the club's biggest failures of late has been our inability to sell in the best interests of the club, absolute pushovers we are!
With this in mind, I see in other news Chelsea are getting £18M for an academy graduate called Tino Anjorin - how the fuck do Chelsea and Liverpool do it? We can't even give away the finest footballer to pull on an Everton shirt in my lifetime.
Peter Warren
38
Posted 31/08/2021 at 07:57:26
Brands has been here a while now. The familiar lines of inheriting deadwood need to stop, he needs to be accountable no more excuses.
Andrew Clare
39
Posted 31/08/2021 at 08:05:17
I can't see much happening today it's too late in the window and we are hampered by FFP regulations. If only we had signed the Dutch guy who went to Inter.
We are in good hands so I am still hopeful for a much better season.
Robert Tressell
40
Posted 31/08/2021 at 08:15:13
Good news on the
Kean deal
. Hopefully that means we now have the financial wriggle room to tie up loose ends on the Rondon and Maitland-Niles deals (or other right-back).
Can't see us pulling off the Diaz deal – but I could see James seeing out his final season with us on loan.
Mal van Schaick
41
Posted 31/08/2021 at 08:29:17
Bellerin is available rather than Niles, he is more creative and a better option depends if he will come to Everton and we can afford him. If we offload a few maybe.
Andrew Ellams
42
Posted 31/08/2021 at 08:34:22
Mal, I think Bellerin will be on big money and way beyond our FFP struggles.
Brian Murray
43
Posted 31/08/2021 at 08:42:35
Thank god Dan James is going to Man Utd. Had enough of helping out other clubs' nearly men. Same with Bellerin at Arsenal.
Brands is on the Everton Board so can we sack him as a Director of Football because, if this is his sum total of vision or gems, he's a waste of time. Plus can't get rid of Delph? Someone he has also failed on. Despite that fraud's big wage, he's always injured.
As I say, with Brands on the Board, someone has to take that title away from him. We already know how hard internally it is to get rid of a buffoon... we don't need two!
Steve Shave
44
Posted 31/08/2021 at 08:46:13
Anyone else get itchy trigger finger on Deadline Day? It gets obsessive for me, I can't wait till the window closes!
I am hoping for some sort of deal with Burnley for McNeil which see's players going the other way, I see they are in for a right-back, they were reportedly interested in Kenny last season. I suspect Rondon will be the only in-coming.
Tony Abrahams
45
Posted 31/08/2021 at 08:47:48
My son has just phoned me to say that his mates, who are massive Toffees, were talking to Brands this morning, which makes sense because they are working in this area. He said the only business will be Rondon, and that James Rodriguez will be staying because no club have been prepared to pay what he's asking for.
One of them said "Don't you think this leaves us a bit short?" He said Brands just shrugged his shoulders and carried on walking his dog.
The only saving grace is that this came from my son who never gets nothing right (sorry, lad!) but honestly, my next thoughts became "Thank fuck this has happened!" We seem to have a very belligerent, professional in charge of us now.
It's easy to blame Brands but, if Rondon does come in, how many players will he have been responsible for signing this summer? How many was he really responsible for last summer?
Hopefully, Benitez does well and stays, because Everton really need stability, and this will only come when everyone pulls in the same direction, which hasn't looked to be the case for years.
Mike Allison
46
Posted 31/08/2021 at 09:03:48
I don't blame Brands for anything. Someone above referred to the phrase "buying a dog and barking yourself" - I think this is exactly what's happened at Everton since Moshiri arrived, starting under Koeman and Walsh and carrying on ever since.
Brands' MO is to buy 19-24 year-olds who will develop and be worth more. There's no way he signed Delph, Allan or James. Brands was hired to oversee player development (the academy) and acquisition. The acquisition part of this has been hijacked so that sometimes the manager gets who he wants, especially if it's a big name, and sometimes Brands gets to do his thing. It's not a coherent strategy and is therefore doomed to create problems, even if there are also successes. I believe that if the hierarchy get out of the way and let Brands do his job then we will see big improvements.
The situation we're in also shows that fans are justified in criticising a transfer as too expensive, or wages as too high. Sometimes someone will make the point that "it's not your money, why do you care?" - well this is why. The £100k a week someone like Delph is getting could be two or three promising young players with pace, energy and enthusiasm. Instead it is going down the drain.
Steve Shave
47
Posted 31/08/2021 at 09:06:11
Classic just announced by West Ham - anyone know if we will definitely get a sell on fee? If so what percent? Might help today. Definitely feels like a Moyes penny pinching window! I wish Vlasic well, treated badly by us IMO.
Mark Rankin
48
Posted 31/08/2021 at 09:09:58
I don't know about slagging Brands off, if you look at the squad size now compared to a couple of years ago plus in terms of the Everton 'project' look to next summer no more Tosun, Sigurdson, Delph, Rodriguez. Our best players still contracted us.
Danny O'Neill
49
Posted 31/08/2021 at 09:12:00
I don't hold Brands to account as much as others. Aside from not ever truly knowing if a signing will be a success, I personally don't believe he's been afforded the freedom to be a Director of Football in the purist sense. Especially with the last manager and now Benitez.
They are "alpha" managers and despite the kind words, are never going to fully let someone else dictate the players they want or get. Last summer was probably a good balance. Without any true knowledge or understanding, it seemed a combination of Ancelotti and Brands.
I'm personally of the opinion, that if you have a DoF, he decides on strategy and goes and gets the players to implement it. The manager is really then a head coach, focussed on the first team with the players provided. This, in my opinion, provides consistency regardless of who is head coach.
Others would argue the manager dictates the players he wants and the DoF is then responsible for going and getting them. I see that, but then you're changing every time you change manager.
Perhaps the Ancellotti - Brands example above is a good half-way-house?
Anyway, what do I really know? Nothing!! It's all about opinions.
If you're lad is right Tony, I wonder how long Brands will stick with being DoF in name only as he doesn't seem empowered in the sense I understand the DoF function.
Chris Williams
50
Posted 31/08/2021 at 09:12:06
Yes, we get a sell on fee for Vlasic apparently. No idea what percentage
Michael Kenrick
51
Posted 31/08/2021 at 09:12:07
West Ham confirm signing of a certain Nikola Vlasic, who will be 24 in October. The fee is €30M (£25.75M), plus €9M (£7.7M) in add-ons; contract runs for 5 years. We sold him in 2019 for £14.2M.
Guess he musta been one of those players on Moyes's blackboard on the wall back in his ante-room. None of yer fancy computer databases for our wee Presbyterian wizard!
Gary Smith
52
Posted 31/08/2021 at 09:12:31
With respect, Tony, I'd be very surprised if Brands stated anything about a player still registered to another club (Rondon) or indeed outright dismissed James leaving. I certainly doubt he'd have talked about James's wage demands. Perhaps smiles and smirks to the hypotheses made at most.
I do believe today will be a damp squib though, as always. We'll end up paying the next 2 years of Moise Kean's loan fee out (now that they've published the details) to secure a 32-year-old journeyman striker. I think the best we can hope for is a surprise loan somewhere (perhaps a Hudson-Odoi type), but suspect our insistence on buy-back clause (after Zouma hands burnt) will make that unlikely too.
Personally, I'm not too fussed. Richarlison can cover for Dom if needed, and Gray can cover Richarlison. Hard-working Townsend in front of Seamus buys us another year there maybe. Certainly no reason to panic. Also convinced Janes will come good again now he knows he's not getting spoon-fed. Maybe a chance for Simms, Onyango, Gordon to step in towards Xmas too.
Tony Abrahams
53
Posted 31/08/2021 at 09:16:23
It's not a coherent strategy, is exactly what I was trying to say Mike A. wise words!
Chris W, I read that it was between 10/15% on a blue kipper Twitter post last night, but this went on to say that Everton could receive around £4.5 million, which made it feel that it was tweeted by a child.
You might be right Gary, these are just young lads in there twenties, and are probably gonna put a drink on their alleged conversation, but when I spoke to Brands myself the other week, something didn't seem right, but you are correct he said very little, except when I praised him for the new policy of fast-tracking the younger players, and then he gave a little smile, that might have meant, well at least I've done something right!!!
Joe McMahon
54
Posted 31/08/2021 at 09:19:56
I agree, as others have already said, I'd like Kenny out and McNeil in. Looks like we are stuck with Delph and Rodriguez as no-one else is mug enough to pay huge crazy salaries for players that are always injured.
The positive so far: since he arrived, Rafa has brought confidence to the team and the few arrivals have genuinely improved us.
Michael Kenrick
55
Posted 31/08/2021 at 09:21:28
Ademola Lookman heading to Leicester on loan with a view to buy! Didn't see that one coming...
Brian Williams
56
Posted 31/08/2021 at 09:22:31
Tony #46,
Where did this chance meeting happen, mate?
Sam Hoare
57
Posted 31/08/2021 at 09:23:13
I'd be pretty happy today if we ended up with Rondon and Maitland-Niles. Two players other may not fancy but who I reckon would be very effective as a backup striker and right-back.
I read something yesterday saying Maitland-Niles is now happy to play right-back and I actually reckon he could be really very good there over the next few years. I hope Arteta lets him go... but sounds unlikely, sadly.
Tommy Carter
58
Posted 31/08/2021 at 09:23:38
Steve @35,
They do it because they are more astute. They cash in on prospects who are not going to be getting any football. Whereas at Everton we dish out 5-year contracts to 18- & 19-year-olds. All because the club are petrified of missing out on a potential star.
The more astute clubs have more confidence in their convictions. If the opportunity to sell at profit is available and makes sense, then they will do it.
LFC shipped Solanke out for huge money. They'd given him opportunities. Not many but he had them. He didn't take them. They did the deal.
If that were Everton, he'd have seen out his deal with the club amongst a number of underwhelming loan stints.
I was astounded to learn that Pennington was on around £16,000. Garbutt something similar.
The fans project a lot of this onto the club as well, I feel. Fans on here were up in arms in recent seasons when we moved on Dowell and Robinson for good money.
Jonjoe Kenny should've been moved on 3 years ago. He'll be on a silly wage too, I imagine.
The next one is Gordon. If he has not established himself as a first-team player by next summer, he should absolutely be sold at whatever money we can get for him.
Tony Abrahams
59
Posted 31/08/2021 at 09:31:40
Wherever Brands lives Brian. They said he was walking his dog, he might not even have a dog, but these lads are working by Benitez's place, and I'm sure I've heard Marcel Brands lives in the same street?
Tommy @58, your opinions are way too ruthless for the cut-throat world of professional football!!
Robert Tressell
60
Posted 31/08/2021 at 09:42:07
Tommy @ 55, they also do it because their prospects are often quite a lot better - or at least appear to be having performed well on loan(s), league cup appearances and youth international duty. There is also a bit of a premium to be paid for a Rich 4 (or 6?) Academy player.
Solanke for example had played a season in Holland as a teenager and scored goals, looked a bigger talent than Calvert-Lewin for England, and had already commanded a big fee when Liverpool got him from Chelsea. After a year or two finding his feet, he's now looking like a decent striker again.
If Simms scores 15 goals on loan in the Championship this season, he'll be worth about £15M or so despite no (I think) England recognition at any age group.
The RS have been very good at this as a strategy, bringing in, developing and flogging teenagers in order to raise money (rather than in any attempt to get them into the first team).
Pat Kelly
61
Posted 31/08/2021 at 09:48:53
Was Brands trying to sell the dog?
Brian Williams
62
Posted 31/08/2021 at 09:49:57
Pat #61.
He was but could only loan it out.
Ajay Gopal
63
Posted 31/08/2021 at 09:55:44
Any chance that Delph and Tosun would be 'inspired' by Willian's contract cancellation with Arsenal and save us their wages for a year? Nah, I didn't think so.
Actually, I am stunned that Everton have been hampered so much by FFP? We (with the exception of possibly Burnley) seem to be the lowest spenders this transfer window? We have let go of quite a few players, and 'he who shall remain unnamed' - surely his contract would be cancelled and we would be saving about £6-7 million on that alone?
Either Moshiri has closed his purse strings to be able to fund the stadium build, or he has lost interest in the 'Everton project'. Either way, it is very worrying that EFC would essentially be treading water this season. In spite of Rafa's best efforts, I would be surprised if we achieve Top 10, looking at our summer business.
Simon Jones
64
Posted 31/08/2021 at 09:56:35
James to Newcastle at 10.57pm. Howay the ladz.
Chris Williams
65
Posted 31/08/2021 at 09:59:19
Tony,
Maybe we get a sell on fee for Lookman too!
Tommy Carter
66
Posted 31/08/2021 at 10:01:00
@60 Robert.
With some of our prospects we may never know how good they were or could've been because they were rotting in our reserves or joining teams on loan with little motivation to perform well when sat on a fat long term contract rather than playing on loan to earn one.
I don't believe LFC only sign prospects to develop them for sales. Solanke when he first joined played over 20 games for them. He was given a massive chance and obviously came in to play in their first team.
Harvey Elliott is another that they signed and are trying to develop for their first team. However, if he's not where they want him to be in 12 months after giving him opportunities this year. They'll move him on, you can be sure about that.
It's ruthless but it needs to be that way.
Curtis Jones is currently in a vulnerable position for them because of this reason. He had plenty of opportunity last year but hasn't quite been able to make a spot in the midfield his own. They'll move him on if they think they have to. Again. Ruthless.
Chris Williams
67
Posted 31/08/2021 at 10:01:13
The level of so-called debate on Sky Sports News is fucking infantile.
Simon Jones
68
Posted 31/08/2021 at 10:01:57
Ajay, we've still got the vast majority of the squad we were so excited about last year and of the so-called "deadwood," only two players remain on our books. The new stadium has now reached the "spades in the ground" stage too.
Last season we dreamt of a Top 6 finish and finished 10th. Are we now being realistic and stopping dreaming?
Danny O'Neill
69
Posted 31/08/2021 at 10:05:35
We'll still be paying the dog's over-inflated wages though, Brian.
That's a good point, Robert. Players have to establish themselves somewhere before they command a decent fee.
I read the Lookman link yesterday, Michael. Interesting move but, like you, I didn't see it coming.
Brian Williams
70
Posted 31/08/2021 at 10:06:01
Tommy, you don't by any chance work for the rs pr department do you?
Tony Abrahams
71
Posted 31/08/2021 at 10:06:50
He said if they buy it off him now for a pony, it'll be worth a monkey next year, Pat!
Brian Harrison
72
Posted 31/08/2021 at 10:12:32
I wonder how could a Director of Football role possibly work, unless it's defined as to what he is actually there to do?
I can't see any manager having players bought by the DOF and then just to coach; that goes against what being a manager is all about. Every manager has his own style of play and wants to buy players he feels best to suit that system, so no manager will work under a system where he doesn't have the final word on transfers.
Maybe a system were a DOF could operate is if he brings in young players who, in 12 to 18 months, are competing for a first-team place, but to expect any manager worth his salt to allow a DOF to buy the players for the first team will never work in this country.
Why would you allow someone who – by and large, has never managed a side in his life – determine what players to buy? And seeing as the buck stops with the manager, who would come and work under those constraints? After all, it's the manager who gets sacked if the team fail but, if a DOF is buying all the player,s how can that be right that the manager has to carry the can?
Tony Abrahams
73
Posted 31/08/2021 at 10:14:07
Seriously though that's my argument about having stability rather than constantly changing our managers, because a few young players have really suffered because of this.
What Tommy correctly said about moving players on earlier, or them now being in the team, would have also happened at Everton if we'd had stability.
Danny O'Neill
74
Posted 31/08/2021 at 10:25:34
I think that's part of the problem, Brian. Defining the model. I've got mine, but it's not based on English football. And I do think English football has struggled with it because of our traditional manager approach. So we have kind of half-baked it and gone in half-hearted.
The only club I can think of that done it with some success was Chelsea? They went through a phase of changing managers that has made Everton look stable in recent years. Between 2004 and 2013, they had something like 10 or 11 managers, but won trophies consistently throughout that period because transfer policy was not impacted.
Different ball game, I appreciate, but can't really think of an English club that's done it.
Anyway, back to the circus!!
Tommy Carter
75
Posted 31/08/2021 at 10:27:23
@70 Brian.
No I don't. I'm just a football fan and an Evertonian who can see that their policy around developing players and culling their squad has served them well in the last few years. In a period where they have become champions of England and won the Champions League.
We finished above them in the league less than 10 years ago.
Paul Niklas
76
Posted 31/08/2021 at 10:28:34
Deadline day and all I see is Vlasic and Lookman and Kean going somewhere else for big money, all three – even Kean with some attention – would fit into our current team...
Who is accountable for these failures? Certainly managers of the past but the old school coaching team need a kicking also.
Kevin Molloy
77
Posted 31/08/2021 at 10:30:46
I'll be very surprised if James Rodriguez is still with us by the end of the day. I reckon he's got some sort of deal with AC Milan, but now it's just a case of brinkmanship as to who picks up that part of his wages that AC don't want to pay for: us or him?
I reckon Rodriguez knows we won't be paying him to leave, but he also knows we want to get some business done, so he will leave it late to see if he can tempt us to pay him to get him out. My prediction is he'll then jump ship about 10 pm when it's too late for us to get anyone in.
Mike Allison
78
Posted 31/08/2021 at 10:32:57
Last season we were 3 results off 4th place and the Champions League. We lost at home to 3 of the bottom 4. We're in much better shape than some seem to realise. Last season was really weird, especially with the home and away records. We actually have quite a well balanced squad. What we need is more effort and intensity, something Ancelotti never seemed interested in.
A quiet summer with a couple of clever additions and a more committed manager might be just what the doctor ordered. I believe we'll be around 5-8 points better this year and that would have us around 5th-7th.
Next summer Sigurdsson, James, Delph and Tosun are all out of contract and we won't have a new set of overpaid or uninterested players to offload. We're still in the tunnel for sure, but I think I can see something up ahead. Qualifying for Europe is huge though as it helps recruitment and means that players can actually get game time rather than stagnate.
Len Hawkins
79
Posted 31/08/2021 at 10:41:25
An offer for Delph has been received from St Johns Ambulance – they are looking for casualties for the training nights.
Their offer of a box of tea bags and a packet of custard creams fell short of our valuation, perhaps it could be raised to two packets of Bouquets?
Duncan McDine
80
Posted 31/08/2021 at 10:47:04
The last time a ToffeeWebber spoke to someone ITK walking their dog, they said that Don Carlo would be our manager for the next 10 years (soz Rob)!
As if the cloggead would tell some random blokes his transfer strategy on what should be the busiest day of his working year. Hilarious!
Tommy Carter
81
Posted 31/08/2021 at 10:51:37
@76.
I believe we made a small profit on Vlasic didn't we? And we got good money for Lookman.
Neither for whatever reason we're going to be getting any first team football.
I wouldn't have Lookman back now. As for Vlasic, I don't think I'd have him back either.
So in fairness I think this was actually good business by Everton. Albeit the Lookman move was perpetuated by his desire to leave rather than us wanting to sell.
Chris James
82
Posted 31/08/2021 at 10:59:43
Paul, there's not a chance I'd want Lookman or Vlasic in the Everton first team. They both had their chances and neither really took them or notably improved the squad.
The fact we've made some cash back on both is great business.
Sam Hoare
83
Posted 31/08/2021 at 11:03:17
Both Lookman and Vlasic have changed and improved since they were at Everton. Vlasic especially was brilliant in Russia last season, able to score and create; I think he could well do good things at West Ham and would be happy to have him in our squad (especially if Rodriguez leaves).
But it's history now. West Ham have a good squad with Zouma and Vlasic added to a team that did well last year. Don't be surprised to see them finish above us. It should be an interesting battle for 5th-8th.
Paul Dewhurst
84
Posted 31/08/2021 at 11:03:19
Mike Allison - 78 - How dare you come on here with logic and positive outlook! Having a manager who is a passionate as the fans about the effort performance and the result is a step on the right direction.
Rob Halligan
85
Posted 31/08/2021 at 11:10:25
Glad you apologised, Duncan. 😀😀😀👍👍👍
Anyway, I'll miss all the palaver today, as leaving for Manchester airport shortly as off to Tenerife. Not due to land until around 9:45 pm so will miss all the fun!!
Andrew Ellams
86
Posted 31/08/2021 at 11:14:07
Looks like Bellerin is leaving Arsenal for Real Betis so will this put a spanner in our chance of signing Maitland-Niles?
Danny O'Neill
87
Posted 31/08/2021 at 11:20:39
I'll agree on Lookman, but I'll watch Vlasic with interest. Still only 23. Many judged Calvert-Lewin at 19.
I'm with Mike. We missed out on Europe only on the final day of the season. And I'm going for R.
Nearly broke. I'm going for Benitez's tactical astuteness and hands-on coaching to keep us in the mix regardless as to what happens today.
Enjoy, Rob. Off to Berlin in 2 weeks as an early Birthday present. Back the day before Burnley at home, which I still haven't declared to my suspicious other half. It's all about timing.
Tony Abrahams
88
Posted 31/08/2021 at 11:22:47
He can't be that busy if he's walking the dog, Duncan, but hang on – Maitland-Niles is getting talked about again on Twitter, although I wouldn't be surprised if Brands was sitting in front of Rob on that flight!
Pekka Harvilahti
89
Posted 31/08/2021 at 11:45:05
It does not look like we are getting any significant reinforcements in this window so it probably be like last when there were no senior players on the bench.
We have only Allan, Doucouré, and Gomes (maybe, if he can get fit) in the midfield. (Delph is never fit, Sigurdsson might never play for us again, Gordon's not ready, Gbamin is always injured, Davies is not really good enough).
In the attack, only Calvert-Lewin can lead the line. Richarlison and Gray can play as strikers, but not as lone strikers. Townsend is okay as a winger and Iwobi as an attacking midfielder. (Tosun will be gone and he was never good enough anyway; James does not want to play for us.)
So we have only 7-8 who can be played in the midfield and attack. As you need 6 just to have a full squad (with 4 in the defense), it's going to be a long and hard season with injuries, suspensions and international breaks. It means we will see lot of youngsters around but, as they are not ready, the core team will have to play more which leads to injuries.
Of course you can play full-backs as wing-backs and use defenders as defensive midfielders but it does not solve the problem. We have a good core but no width at all; it would take five or six new senior players and that's not going to happen. We might get one or two on the cheap, no more.

Andrew Ellams
90
Posted 31/08/2021 at 11:45:07
Seems like we have offered Arsenal a 2-year loan deal for Maitland-Niles with an option to buy but his contract ends in 2 years so they're not too happy with those terms. I can't imagine why.
Dale Rose
91
Posted 31/08/2021 at 11:48:25
They should rename transfer deadline day as international greed day. It just shows the mettle of some of these over-priced primadonnas. The truth of the matter is that football is slowly eating itself.
Rant over.
Steve Brown
92
Posted 31/08/2021 at 11:49:01
I hope Brands is walking his dog!
Apart from a loan signing at right back to cover Seamus, I would prefer us not to spend a penny today unless it brings in a player who will significantly improve the quality of the first team.
If there was value out there besides our current signings, they would be in by now. The last thing we should do is sign squad rotation players on a permanent transfer who come with high wages. They will only be added to the list we are trying to shift at the end of next season.
With Delph, the Nameless one and Tosun gone by the end of the season, we will have gone a long way to sorting out our hugely inflated wage bill. So let's not mess it up now.
Joe McMahon
93
Posted 31/08/2021 at 11:55:03
Pekka, I was hoping Burnley may trade Davies plus cash for McNeil. But not gonna happen.
Derek Knox
94
Posted 31/08/2021 at 11:59:58
Brian W @ 56, " Where did this chance meeting happen, mate? "
At Brands' front door ! They hounded him all night :-)
Pat K @ 61, The dog would have been for sale at the right price, we may Winalot with it's Terrier like displays, not sure if it was a Bristol or Blackburn Rover though !
Brian Murray
95
Posted 31/08/2021 at 12:01:27
Derek. It's not canine day it's deadline day !
Derek Knox
96
Posted 31/08/2021 at 12:03:46
Brian M, Well I'll be Dog Gone ! :-)
Steve Brown
97
Posted 31/08/2021 at 12:05:52
Derek, we just have to take the woof with the smooth.
Michael Kenrick
98
Posted 31/08/2021 at 12:08:31
Dale @91, just so as you know...
"The truth of the matter is that football is slowly eating itself."
We've been running this website for many a long year, and hardly a month goes by without some sage popping up to dazzle us with their perceptive knowledge about the current state of the game and exactly where it is headed.
Meanwhile, huge offers for Mbappe, while Ronaldo and Kean 'return home'... The players continue to get paid more and more, the clubs pay more and more for them, and the amount of money swirling around the business continues to grow (notwithstanding the effects of Covid-19).
Please let us know when see some real evidence of said self-consumption.
Dennis Stevens
99
Posted 31/08/2021 at 12:08:36
Can we cut it out, all these dog puns? Next time you're tempted to post such inane crap, just paws for a moment!
Brent Stephens
100
Posted 31/08/2021 at 12:10:12
I'm now worried about really signing the dog's bollocks.
Brian Murray
101
Posted 31/08/2021 at 12:13:38
Derek. We have to take the lead and get this right back at least. It's a real pointer to how the season will go.
Steve Brown
102
Posted 31/08/2021 at 12:13:52
Dennis, you're barking up the wrong tree with that one.
Tony Abrahams
103
Posted 31/08/2021 at 12:14:01
Make a change from having to clear up the dog-shite Brent!
James Marshall
104
Posted 31/08/2021 at 12:16:56
We need to sign a striker/forward player to cover DCL & Richarlison. Other areas of the team have some paper to cover the cracks already, but DCL and Rich can't play all games, all season so we need cover.
The Turkish Tornado can't cut the mustard, even as backup so we really do need a forward. Rondon isn't exactly spectacular, but he's a decent fit. Rafa knows him, he'll sit on the bench, and he's a decent centre forward who fits our system. Yes he's underwhelming but he can be a right handful at times as well so he's decent cover.
Des Farren
105
Posted 31/08/2021 at 12:16:56
This thread is a howl.
Brian Murray
106
Posted 31/08/2021 at 12:18:42
As brands might say. Who let the clogs out. Cmon marcel let's see your psv form for finding gems. We can all quote usual suspects Rondon and the arsenal lad. Apparently there's a big world out there. Be creative kidda.
Tony Abrahams
107
Posted 31/08/2021 at 12:18:53
Barcelona not being able to afford to keep Messi, maybe Michael K?
Kim Vivian
108
Posted 31/08/2021 at 12:26:34
Be nice if Michael could Springer live forum for us with all these dog puns.
Derek Knox
109
Posted 31/08/2021 at 12:27:35
I think you are all barking up the wrong tree, or you having joined me in being barking mad ! :-)
Dennis Stevens
110
Posted 31/08/2021 at 12:31:31
I give up - this threads just littered with puns now!
Tom Bowers
111
Posted 31/08/2021 at 12:31:31
Okay so Kean has gone, as expected. DCL has a broken toe and Tosun is out for who knows how long.
Who is the target man now ???
They had better get someone in now otherwise the season will wane yet again.
Brent Stephens
112
Posted 31/08/2021 at 12:35:56
I'm still hopeful of a few quality signings - would be good to see us winalot.
Mike Corcoran
113
Posted 31/08/2021 at 12:36:09
Hopefully the Fit Spaniel Walker pulls of a few leads.
Brian Murray
114
Posted 31/08/2021 at 12:37:15
We really need a real scoop not just a poop.
Jamal Paktongko
115
Posted 31/08/2021 at 12:39:09
Word on the street says that James might go to the Barcodes
Brian Murray
116
Posted 31/08/2021 at 12:39:20
No right back will just compound the problems
Ian Bennett
117
Posted 31/08/2021 at 12:39:39
We had a sell on clause on Vlasic. So that could be a couple of million.
Gavin Johnson
118
Posted 31/08/2021 at 12:42:26
Wonder how much our sell-on is from Vlasic? West Ham have paid a lot when you include the add-ons. Personally, I don't think he'll do too much in the Prem. He's been doing the business in Russia, but he's rarely a standout player for Croatia and he still has no pace.
Jamal Paktongko
119
Posted 31/08/2021 at 12:44:49
Hows about getting Lookman back. The dude works hard and very fast and skillful
Andrew Ellams
120
Posted 31/08/2021 at 12:46:05
Daniel Jebbison has just gone from Sheff Utd to Burton on loan so that one's definitely not happening.
Ant Sorvoja
121
Posted 31/08/2021 at 12:48:44
Did anyone bark Dogs of War yet?
Alan Corken
122
Posted 31/08/2021 at 12:49:38
Just saw James McFadden getting off at Lime St and getting taxi to Finch Farm
Mike Allison
123
Posted 31/08/2021 at 12:50:46
Pekka, the one bit of imbalance in our squad is an
excess
of central midfielders. Some may lack fitness or the highest quality but we can win Premier League matches with two from: Allan, Gbamin, Doucoure, Andre Gomes, Davies and Delph, as well as having Onyango as a promising youngster and Holgate who has done a job there before.
That's six players for two positions with further options beyond and only one game a week most weeks.
We also have lots of width having signed two new wingers on top of Richarlison, Iwobi, Gordon and James. We've got loads of players, albeit many of them have issues. This is true of every club bar the very top (probably Man City and Chelsea this season).
We need a striker to lighten DCL's load and hopefully a younger, energetic, high quality right back. Anything after that has to be a really high quality upgrade on what we have or it isn't worth the money or squad space.
Edit: I meant to include that new signings need to be on a one-in-one-out basis. Eg. Kean out, Rondon in; James out, Diaz in, rather than increasing the size of an already large squad.
Dale Rose
124
Posted 31/08/2021 at 12:55:16
Michael 91. Get back to you on that one.
Pat Kelly
125
Posted 31/08/2021 at 12:55:50
Brands has just tweeted that's the last time he's walking Iwobi's guide dog.
Alan Corken
126
Posted 31/08/2021 at 12:57:09
Actually McFadden was in a big hurry he was Daschund for that taxi. Corgi he shouted at me...cant stop I need a good Shih Tzu
Martin Mason
127
Posted 31/08/2021 at 12:59:42
Just read that James could be off to AC Milan
Ian Bennett
128
Posted 31/08/2021 at 13:00:51
They reckon €4.5m sell on fee for Vlasic - not to be sniffed at. They've money coming on the Small compensation fee which will be around £2-5m.
Tony Abrahams
129
Posted 31/08/2021 at 13:05:33
I think the Russians have made around £11 million profit on Vlassic, which would mean Everton are probably in line to make between one to £1.5 million Ian?
Tommy Carter
130
Posted 31/08/2021 at 13:05:41
I have to admit that I wasn't really keen on the link with Odsonne Edouard from Celtic as I believed the fee would be around £30-£40m. Upon seeing that Palace are doing the deal for around £15m, this is really good business.
Clive Rogers
131
Posted 31/08/2021 at 13:09:35
Jamal, #119, there's zero chance of that. He left on bad terms.
Laurie Hartley
132
Posted 31/08/2021 at 13:09:50
Mike # 8 -" Here's to coming 7th." That is blatant plagiarism. Phil Walling if you are still out there if that doesn't bring you back nothing will. Come on Phil - see his (your) seventh and raise it to sixth.
Brendan McLaughlin
133
Posted 31/08/2021 at 13:13:20
More's the pity Clive #131
Lookman was pedigree, chum
Danny O'Neill
134
Posted 31/08/2021 at 13:13:59
Michael, Dale,
Some may despair at football eating itself, but another way of looking at it is that things have improved. When I go to a match now, the facilities are far superior than what I experienced as a kid. Most of the time, I struggled to actually see the football and was treated like a hooligan or caged animal.
But progress comes at a premium. If you want higher wages in any walk of life, someone has to pay for them. That is inevitably the consumer. The alternative is to not get a pay rise or to maintain things how they are. Just a thought.
Anyway, back to the dogs. I looked my Ridgebacks in the eye this morning and asked them what our transfer deadline day prospects were.
They looked back at me sympathetically and ran off to chase squirrels. Not a cat in hell's chance is what I think they were telling me.
Tony Abrahams
135
Posted 31/08/2021 at 13:18:19
That looks very good value Tommy, as does Bayern Munich, signing that right back for €18 million, with the Sod's law being that the first time it's a buyers market, Everton are being badly hampered, for all the times they've operated badly when it was a sellers market?
He's got some nerve tweeting that Pat, after signing him for £30 Million, and then sanctioned giving him over £100.000 per week!
Remembering how he signing Iwobi on deadline day, he's probably being made to walk the dog for a reason, although to be fair he has just made us a tidy profit on Vlassic!
Clive Rogers
136
Posted 31/08/2021 at 13:20:27
Brendan, #133, no, he was a cheap chappie and wasn't wellbeloved.
Jason Barker
137
Posted 31/08/2021 at 13:21:15
Lookman heading to Leicester's training ground. I'll always think we've missed a trick with this lad.
Clive Rogers
138
Posted 31/08/2021 at 13:25:43
Ajay, #63, with regard to FFP, a mate rang me yesterday and he said EFC's problem is that the new stadium has now kicked in. The £500M is just spend to FFP and is the same as if you buy 5 players for £100M each. Don't know if this is completely true but sounds logical.
Brian Williams
139
Posted 31/08/2021 at 13:29:56
The building of the stadium has no bearing whatsoever on FFP. Stadiums, infrastructure, training facilities etc are all exempt from FFP. So your mate's barking up the wrong tree Clive.
Ant Sorvoja
140
Posted 31/08/2021 at 13:33:09
Danny, my schnauzer agrees with your ridgebacks. Much more fun chasing birds outside than scrolling through page updates.
It is tough transfer window as FFP is biting us really bad. Otherwise Marcel could try to earn a pawformace bonus and buy a real top dog prospect like Camavinga hound from Stade Rennes Kennel Club.
Steve Brown
141
Posted 31/08/2021 at 13:35:46
Kean deal nets us 38 million pounds in loans feed, transfer fee and performance bonuses, in addition to the 4 million we received from PSG for his loan to them. Not to be sniffed at.
Clive Rogers
142
Posted 31/08/2021 at 13:36:49
Brian, thanks for that, but why has it suddenly become such an issue?
Andrew Ellams
143
Posted 31/08/2021 at 13:39:59
Clive, we've been crossing the line dangerously for some time now and it seems we've had our wrists slapped and told to get back in line.
Michael Burke
144
Posted 31/08/2021 at 13:41:03
Jason, it was Ademola who wanted to go. No sense in keeping a player who doesn't want to be here.
Dale Rose
145
Posted 31/08/2021 at 13:45:40
Michael Kenrick. The subject of the rant was really the fact that there is so much money involved now, that you have to look at how sustainable things will be in the future. As came out with the so called super league, many of those clubs were in financial difficulty. Which was why they wanted the league.
Our own club has spent millions, and it begs the question on what. Most of it on payments to managers who failed to make the grade.
I'm glad Rafa is here, I do see a lot of hope for the future, pity we didn't get him 5 years ago.
Regards the vast amount of money in the game, I worked in homelessness and welfare rights. I have spent many years in tribunals, trying to get some fair play for people, to whom 10 quid is a lot of money. So to hear we are stuck with some of these bench warmers grates a bit.
Bob Parrington
146
Posted 31/08/2021 at 13:45:46
Mike Gaynes @22. Couldn't have put this better myself. Good posting.
Dennis Stevens
147
Posted 31/08/2021 at 13:52:39
Dale, I remember people saying much the same 40-odd years ago. Especially, when we had the sensation of the first £1 million footballer – sheer unsustainable madness!
Yet, look where we are all these decades later.
Alex Gray
148
Posted 31/08/2021 at 13:53:53
Anything concrete yet, lads? Had a browse over NewsNow and there seems to be very little activity so far. With the €7M loan fee for Kean and the Vlasic sell-on, we should have enough for at least a right-back now surely?
I've got this horrible feeling we've not prepared for business this late and there will be panic buys again.
Rob Hooton
149
Posted 31/08/2021 at 13:53:59
Danny, the dogs have spoken! Love Ridgebacks, beautiful dogs.
I asked my cockerpoo this morning for his opinion on our transfer prospects – he spent all morning being sick so I also think nothing good will happen today!
Dale Rose
150
Posted 31/08/2021 at 13:54:16
Danny 134. Fair point mate.
Brian Williams
151
Posted 31/08/2021 at 14:00:34
Clive.
I think, if it has become an issue, it's down to the fact that £500M being spent will always require the tightening of belts, but it's certainly not down to the stadium having any bearing on FFP mate.
Dale Rose
152
Posted 31/08/2021 at 14:04:10
Dennis.
Yes I remember. Trevor Francis I think.
Pat Kelly
153
Posted 31/08/2021 at 14:05:53
Apparently Everton have made a late bid for Ivan Pavlov.
Dale Rose
154
Posted 31/08/2021 at 14:10:30
Tommy Carter
155
Posted 31/08/2021 at 14:10:36
@135 Tony. Agreed. Sabitzer is an excellent player.
Another midfielder at Bayern will make one of the existing ones there unhappy. There'll be a good value signing from someone who can't make their first XI. Same with PSG
Ed Prytherch
156
Posted 31/08/2021 at 14:11:33
Of all the rumours I thought that Mattie Longstaff was the most likely with Tom Davies possibly going the other way.
He had a great couple of years, first on loan at Blackpool and then his first season back at the skunks, but first an injury and then Rafa left and it appears that Jay Leno does not fancy him.
Rafa may think that he can still get a tune out of him.
Si Cooper
157
Posted 31/08/2021 at 14:17:42
Dale, two big relatively new changes in football financing to be considered.
TV rights have grown and grown fuelled by global subscribers in burgeoning markets.
Citeh and PSG are effectively vanity projects funded by states (include Real Madrid in that?). Looks like PSG are comfortable simply writing off 180 million for Mbappé.
Even so, most of us would agree that there has to be some upper limit and Barca seem to have imposed a salary cap to save themselves, but as MK has implied not many of us would wager the house on when that will be.
Never underestimate the human addiction to status spending; just look at how much you have to pay for a mongrel dog these days if it's deemed to be a designer breed!
Danny O'Neill
158
Posted 31/08/2021 at 14:18:04
The dogs are calling it well so far this season Rob. They gave me the nod for a score draw against Leeds and a 2 - 1 win against Brighton!!
Don't tease me with Sabitzer. Been calling that one since I watched him live at Schalke last February when he was still relatively under the radar.
Likewise Koulibaly. Benitez has worked with him before right?

Adam McCulloch
159
Posted 31/08/2021 at 14:19:13
In an ideal world, we'll sign a young, hungry full-back, get some more disgruntled deadwood off the wage-bill (Kean is a start) and provide some competition in the forward positions. But I don't really see it happening.
Rondon and done looks the best bet and unless James goes I think that will be that. Although I've seen Rondon is linked with West Ham now (bargaining tactic?) so even that's not a gimme.
Adam McCulloch
160
Posted 31/08/2021 at 14:20:34
Also seen Connor Roberts has gone to Burnley, so I assume that means Jonjoe Kenny is staying.
Robert Tressell
161
Posted 31/08/2021 at 14:22:23
I still think we'll get one or two in but could go to the wire.
Brent Stephens
162
Posted 31/08/2021 at 14:25:38
#153 licking my lips over that prospect.
Sorry, couldn't help it!!
Justin Doone
163
Posted 31/08/2021 at 14:33:25
As annoyed as I am with most of our transfer dealings over the last 6 years we need some better attacking options.
Wingers, strikers and attacking midfielders.
Brands, you need to show us why your employed.
Derek Knox
164
Posted 31/08/2021 at 14:34:35
Robert, to the wire ? Or a wire-haired ? Sorry couldn't resist !
Duncan McDine
165
Posted 31/08/2021 at 14:44:26
Snoop Doggy Knox is pounding those puns again… doing it doggystyle! Keep em coming Derek - it's more fun than Everton's underwhelming transfer talk.
Derek Knox
166
Posted 31/08/2021 at 14:44:46
Pat K @ 153, so we really have gone to the dogs ! :-)
Robert Tressell
167
Posted 31/08/2021 at 14:45:00
By all means Derek! I've lost track of where the dog puns started.
Duncan McDine
168
Posted 31/08/2021 at 14:45:43
Rob, when you said you were going to the Canaries on holiday, I thought you meant Norwich!
Derek Knox
169
Posted 31/08/2021 at 14:50:43
Duncan, Rob chose the Canaries because they were going Cheep, Cheep !
Danny O'Neill
170
Posted 31/08/2021 at 14:53:54
Did you get that off their tweets Derek?
I'll get my coat and order my taxi.
Brian Murray
171
Posted 31/08/2021 at 14:55:27
Maybe we should go in again for Leroy fur.
Brian Murray
172
Posted 31/08/2021 at 14:57:41
Danny. Is it a yellow taxi
Robin Gomme
173
Posted 31/08/2021 at 15:14:12
Its a shame St Bernard has already gone or that would have been another joke...and Theo Wool Coat.
I guess there's still time to sign Ross Bark-lay
Alan J Thompson
174
Posted 31/08/2021 at 15:22:50
I suppose that if we sign Rondon then after the reserve left backs (No, that was their position) then it will be the young strikers who'll want out.
Mike Gaynes
175
Posted 31/08/2021 at 15:26:33
So up out of bed, right to the computer to read about our new signings... and what do I find? Dog puns.
Seems like our transfer team is rolling over and playing dead.
Paul Tran
176
Posted 31/08/2021 at 15:27:16
I'm amazed at the angst on here and elsewhere.
Who'd have thought a mid-table club with five managers in five years and severe financial constraints would be doing most of their deals on deadline day? We won't be at the top of most players' wish lists and other clubs will sense our relative weakness and bargain hard. That means we wait till deadline day and start the poker game.
Koeman and Walsh 'got their business done early' that summer, didn't they? Paying over the odds for players hardly anyone else wanted. That turned out well, didn't it?
Like I say every summer, you can judge a window based on speculative articles by journalists/experts through the summer, or wait till the end of the window and judge it then.
As for dogs, no puns, but spare a thought for our little 10 year old whippet, who had four teeth out yesterday
Barry Robson
177
Posted 31/08/2021 at 15:27:38
Gomes to Benfica on loan is the latest rumour.
Tony McNulty
178
Posted 31/08/2021 at 15:28:55
If we do sign Rondon at least we are bringing in a striker of whom our manager seems to approve.
The treatment by Carlo of our last minute Norwegian acquisition in January was peculiar, weird and unnecessary.
Robert Tressell
179
Posted 31/08/2021 at 15:30:30
Interesting comments from Carragher about the RS transfer strategy under FSG. They acknowledge they don't have the financial muscle of City, Chelsea or Man Utd so they would not buy a Kane or Lukaku given the price / age. And they don't spend unless they have to - meaning they didn't spend (big) on an inferior CB despite needing someone in Jan, because they knew the one they wanted, Konate, would not be available till summer. This contrasts less strategic, more short termist spending pre-FSG.
I've referred to the RS's strategy a few times as being a good one but it's a touchy subject, I know.
The reason I raise it now is that we're in need of a long term heir to Coleman but running out of options.
If Patterson is the one they really want (or maybe Aarons) then maybe it's better not to buy even if it means we'll have to make do again this season.
There are still quite a few RB candidates out there (Sam mentioned Celik yesterday who is a good player) but I hope we're not saddled with someone we don't really believe in and / or who doesn't want to be here. It ends up being counterproductive.

Michael Kenrick
180
Posted 31/08/2021 at 15:30:57
Dale,
As I was saying, it's a familiar lament. To me, it has the same pious import as fundamental god-bothers fretting over the Second Coming or going apoplectic over signs they claim to see everywhere of the "End Times" a-coming.
And yes, that bloke with his chalkboard in Goodison Road: "The End is Nigh!". He has probably met with an untimely end of his own by now, I expect.
Income disparities abound. Football fans are apt to moan about them and try to make painful comparisons about the so-called "working class" footballers and the working-class fans to whom the game rightfully belongs, but who are now being "priced out" of the game they love.
If that bothers you in any way at all, then watching them play, and especially if that involves contributing in any way toward their accumulating wealth... well, I can see how the resulting cognitive dissonance will induce unrelenting stress and strain.
Someone somewhere must be able to help?
Mike Gaynes
181
Posted 31/08/2021 at 15:32:18
We've signed Russian midfielder Mikhail "Sharik" Bulgakov on loan.
Bobby Mallon
182
Posted 31/08/2021 at 15:34:11
Live forum ?
Peter Neilson
183
Posted 31/08/2021 at 15:39:20
Mike (181) have you started on the margarita?
Bobby Mallon
184
Posted 31/08/2021 at 15:41:22
What about a bid for Serge Aurier he only has a yr left on his contract, and Keane gone to juventus
Mike Gaynes
185
Posted 31/08/2021 at 15:42:53
No, Peter, but there may be a splash of rum in my morning mocha.
Ian Bennett
186
Posted 31/08/2021 at 15:45:23
Gomes to Benfica on loan, with option for £12m? A big financial loss, but after Son he's finished in a top league.
Hope we can move him on.
Danny O'Neill
187
Posted 31/08/2021 at 15:48:49
I'd say since the days of the Premier league big spending days Robert, that it's not the transfer fee that kills the club (sorry for the dramatic term), it's the wages. We're seeing that now. I recall the first example with Everton being Slaven Bilic.
To use your example, our cousins have had mixed experiences, but when they've got it right, they've executed to almost perfection. They got it wrong under Dalglish when they spanked a lot of money on average Southampton managers.
But more recently, their model has been pretty impressive. Sustainable in terms of enabling them to compete with City and Chelsea or even United? Who knows? But then there is no dynasty like Liverpool of the 70s/80s or United of the 90s/2000s.
There is no working class anymore Michael. Not in the traditional sense. And football belongs to everyone regardless of background. Or should do. Different debate!!
Jack Convery
188
Posted 31/08/2021 at 15:51:06
It should be called AGENTS DAY !
The day that proves you can LEAD a dog called efc to water and make it drink or is that eat sh*t as is usually the case.
Jack Convery
189
Posted 31/08/2021 at 15:54:47
Lets hope we do manage to sign someone who is the dogs b*llocks. COYBs get it done.
Tony Abrahams
190
Posted 31/08/2021 at 15:56:08
Funny, I texted my lad before saying Brands hasn't even got a dog, and he's texted me back a picture of this big black thing, which honestly looks more like a Sheep.
So we've got a director of football, who is walking a dog that looks like it's a black sheep. This day just keeps getting worse, although it's all beginning to make sense now!
Rob Hooton
191
Posted 31/08/2021 at 16:01:47
Tony, perhaps it's a sheepdog and you got the ruff end of the stick!
Pat Kelly
192
Posted 31/08/2021 at 16:03:04
Gomes. Hair today gone tomorrow.
Mike Doyle
193
Posted 31/08/2021 at 16:18:17
Out-of-contract Mo Besic's still available. Injury-prone (but probably still more reliable than Delph). Could he provide cover for Seamus?
Jamal Paktongko
194
Posted 31/08/2021 at 16:19:46
I wuz thinkin Lookman would've been cheaper than Anthony Martial.
But the dude is heading to Filbert Street.
There's nothing we can do about it
Dale Rose
195
Posted 31/08/2021 at 16:25:13
Michael. 180.
We will have to agree to disagree. Let's hope the day benefits the club.
Robert Tressell
196
Posted 31/08/2021 at 16:31:13
Exciting news about Bulgakov, Mike. A real talent and gives left and right wingers a lot to think about.
John Skelly
197
Posted 31/08/2021 at 16:42:07
Sorry I meant James
Brian Harrison
198
Posted 31/08/2021 at 16:43:20
Well only a few hours more before the window closes, looks like we wont be bringing in a new right back, and they are still trying to sort out the Rondon deal. I think Gray and Townsend have been decent buys and have certainly added energy to the side, and if we do get Rondon at least we have someone to challenge DCL for the main striker role. Seeing as its only a few months till the window opens again in Jan, I think we have enough cover to get bye till then, if Seamus were to get injured he could play Holgate or Godfrey for a short while at full back.
Andrew Keatley
199
Posted 31/08/2021 at 16:43:44
Peter (183) - Masterful.
Pat Kelly
200
Posted 31/08/2021 at 16:55:52
Bulgakov deal off. His heart wasn't in it.
Jack Convery
201
Posted 31/08/2021 at 16:57:46
With Nkounkou going to Belgium, who covers for Digne ?
Bill Watson
202
Posted 31/08/2021 at 16:58:15
The new stadium does have an impact on FFP. Now work has started the accrued costs, so far around £50m, can be transfered to the FFP account and will have the effect of reducing debt by that amount.
Likewise, the spending on the Women's team is offset in the same way.
Over the summer we've off loaded 20 odd players including high earners like Bolasie, Walcott, Besic and Kean so going forward the wages to income % should be a lot lower even if Rodriguez stays.
Mike Gaynes
203
Posted 31/08/2021 at 16:58:28
Robert #196, he'll certainly irritate the hell out of the Red supporters.
Pat #192, it wasn't his fault, with the virus around his coiff made everybody nervous.
Andrew McLawrence
204
Posted 31/08/2021 at 17:01:20
Good call by Brands on the black and white dog, the licence is cheaper
Joe McMahon
205
Posted 31/08/2021 at 17:14:16
Wolves have just had a bid for AMD accepted. Looks like we will be short at left and right back cover, Kenny was never good enough, but as usual we have kept him too long. The alwys injured on high wages has hit us bad, and paying off endless ex managers.
Paul Jones
206
Posted 31/08/2021 at 17:15:13
I wonder if pictures of the "new" ground or deadline day signings will get top billing tomorrow ?
Pat Kelly
207
Posted 31/08/2021 at 17:17:25
Mike #203 he was always only going to be a fringe player.
Steve Brown
208
Posted 31/08/2021 at 17:19:48
Pivoting away from dogs now Tony's son established Brands was walking a black sheep.
What do Mexican sheep say during the Xmas holidays? Fleece Navidad
Jack Convery
209
Posted 31/08/2021 at 17:21:27
I just wish it was tomorrow, then I wouldn't be sitting in front of this lap top, hoping beyond hope, that EFC buy some one decent
Looking at the free transfer market the only half decent players and I mean that kindly, would appear to be a a Brazilian right back (31), called Rafael who once played for Manu, a guy called Fernando, also Brazilian - Defensive midfielder (29), who once played for Shaktar and CSK Moscow before taking the Chinese money and would you believe Hal Robson Kanu of Wales fame (32) centre forward.
There needs to be an investigation as to why EFC are now forced to look through the Pound Shop rejects shelf, hoping they can spot a diamond or two. Millions upon millions wasted.
Christy Ring
210
Posted 31/08/2021 at 17:22:44
I see Burnley have been offered Weston Mckennie on loan from Juventus, was he not the up and coming rising star last season?

Brent Stephens
211
Posted 31/08/2021 at 17:23:50
Andrew #199 - and that post takes the title!
Bill Watson
212
Posted 31/08/2021 at 17:24:55
Mike; #181
You'll go to hell on a hand cart!
Joe McMahon
213
Posted 31/08/2021 at 17:25:09
Tell us something we don't know (fro the Echo):
Despite James being offered, AC have no intention of taking a gamble on the Colombian. The report goes on to claim that the main reasons are his poor physical condition having been battling injury problems for several seasons now and the salary requests that do not fall in line with Elliott Management's policy.
Duncan McDine
214
Posted 31/08/2021 at 17:28:26
Paul Tran - re your pup's tooth extraction… did the vet use general anaesthetic, or just whippet out?
Christy Ring
215
Posted 31/08/2021 at 17:39:53
Sadly can't offload players on big money like James and Delph, who have no intention of moving anywhere for less money, nothing to do with football. You have to admire Willian, few and far between.
Steve Shave
216
Posted 31/08/2021 at 17:48:57
FFS Sima just signed for Brighton, great talent and promise that lad. I vote for a clear out of the board and for Sam and Robert to take over our transfer strategy as of immediate effect.
Derek Knox
217
Posted 31/08/2021 at 17:51:16
Mike G, not sure about the dog puns, but there are no tails from Finch Farm as of yet ! :-)
Michael Lynch
218
Posted 31/08/2021 at 17:52:38
Matiland-Niles staying at Arsenal, so that's another one to cross off the list

Mark Taylor
219
Posted 31/08/2021 at 17:53:18
Must admit that it hurts that a recent reject of ours, Vlasic, can fetch £35m even in the current market whereas we have kept players like Delph, the unmentionable one, James and Tosun who could not be shifted even for free and instead consume, what, £25m a year in wages?
And I don't suppose we'd get much for Gomes, Keane or Gbamin. Even Kean, we lost money on. No wonder we have none left and a free is about as good as we can do. Still, if Rondon turns out to be as good as Gray or even Townsend, mustn't grumble.
Robert Leigh
220
Posted 31/08/2021 at 18:00:42
Would take Rafael on a one year deal, always thought he looked decent.
Mike Gaynes
221
Posted 31/08/2021 at 18:00:56
After this thread, I could use a tummy rub.
Dennis Stevens
223
Posted 31/08/2021 at 18:06:24
I think I'd rather have a tub of rum, Mike
Chris Williams
224
Posted 31/08/2021 at 18:13:30
Rondon deal almost done per Alan Myers
Jack Convery
225
Posted 31/08/2021 at 18:18:17
We'll all need a tub of rum after today. I just hope Benitez doesn't throw a strop if nothing happens.
Tommy Carter
226
Posted 31/08/2021 at 18:23:42
Best deadline day signing for us?
I remember waking up to the news that we'd signed Fellaini in 2008. A big signing it seemed and he had been impressive against Liverpool.
After an initial struggle to settle he became a really important player for us. Was brilliant. Brought in a hefty fee when we sold him at the time too.
One thing to say about Moyesie is that despite all the awesome signings he made, a lot of them he didn't get performing straight away. Often playing them out of position.
Baines just didn't play in his first season.
Lescott came in and was playing left back.
Fellaini - he couldn't decide on the best position for Fellaini for some time.
Jags. Played much of his first campaign at right back or defensive midfield.
Arteta. He started his career with us at right wing. We almost passed up the opportunity to make his deal permanent in the pursuit of Scott Parker in 2005.
Beattie. Just never got going.
Cahill came in and hit the ground running. As did Yak and AJ. With the latter fading Badly and Yak suffering an horrendous injury.
Chris Williams
227
Posted 31/08/2021 at 18:26:03
Nkounkou to Standard Liege done too, seemingly
Lookman to Leicester too
Phil (Kelsall) Roberts
228
Posted 31/08/2021 at 18:27:00
The one common thread with 90% of Moyes' signings - character, will to win, determination.
Probably added 50% to the quality of each player. Same goes for Phil Neville (see Timmy C's article). We seem to have lost that - at least until now and hopefully we are getting it back.
Terry White
229
Posted 31/08/2021 at 18:28:47
Robert (#220), what is it about our fans wanting us to sign extremely small right backs? Lamptey, Aarons and now Rafael? And none of them much good defensively.
Alex Gray
230
Posted 31/08/2021 at 18:34:29
A lot of the Moyes championship signings were amazing. There's still some real bargains there today too.
Instead we're going for Rondon who was slow years ago and hasn't kicked a ball since May.
Marc Hints
231
Posted 31/08/2021 at 18:36:21
Can we get Thierry Small on loan from Southampton
Brent Stephens
232
Posted 31/08/2021 at 18:38:01
Marc that's a beaut.
Marc Hints
233
Posted 31/08/2021 at 18:43:31
Thanks Brent
Jack Convery
234
Posted 31/08/2021 at 18:43:33
Spurs now have 4 right backs !!!!!! Talk about stock piling.
Michael Lynch
235
Posted 31/08/2021 at 18:43:47
Don't know what the panic is about. Back when we last won the league, there was none of this "two players for every position" nonsense. If you could walk (or hop in some cases), you were named in the team. Didn't we only use about 14 players?
If we had any balls, we'd sell the bulk of the squad and just keep 11 players and a couple of spares.
Kieran Kinsella
236
Posted 31/08/2021 at 18:48:22
Michael,
In 1987 we did have two players, for every position. Their names were Alan Harper and Paul Power.
Alex Gray
237
Posted 31/08/2021 at 18:48:28
Michael the issue is it's not the 80's anymore and the intensity is far greater. Relying on a mid thirties Coleman has backfired on us for years now and three years on and we still haven't signed a right back. We've sold a young striker that we don't get paid for until two years time and buy a 30 year old has been.
We've started well but like last year, the second we get injuries we'll be pub standard again.
Andrew Ellams
238
Posted 31/08/2021 at 18:48:49
Why do I see so many people commenting that Rondon hasn't kicked a ball since May? We're 3 weeks into the season, he's not on his own.
Gary Smith
239
Posted 31/08/2021 at 18:51:41
Walcott + Delph + Tosun + Bernard + "31 year old Everton player" + James = roughly 700k a week (plus tax and ni?) = roughly a brand new £36m player EVERY YEAR.
We've gone wrong in plenty of places, but right there is the single biggest balls-up of them all….
Consequently we are seen as absolute mugs by absolutely EVERYONE. Buying clubs, selling clubs, agents and players. If Everton want someone or something, just add 50% on and see how it goes.
Whilst this window may be the start of moving us back to the "plucky, tough bargaining Everton" tag (or maybe just a lull in spending due to rules), it's desperately needed. What we have done is simply not sustainable.
I've been surprised by Townsend and Gray tbh, albeit early doors still. However, we've got to ask if moving back to "misfits and those in their sunset years" is a sustainable alternative model too?
Personally, I'd rather roll the dice on youth. Become known for a team where they'll get their chance. I thought this is what Brands was brought in to do, and it's why I was against Rafa*). It's a risky model too, but it's the ONLY one that's got any chance of us getting lucky and finding something to get us back to the top.
*ps if Rafa took this job knowing the constraints he was going to have, the man deserves big respect. Double hiding to nothing.
Brent Stephens
240
Posted 31/08/2021 at 18:52:03
Kieran, back in the 60s we had one player for every position - Sandy Brown.
Robert Tressell
241
Posted 31/08/2021 at 18:52:20
Alex # 230. Brighton have just signed a very bright young striker prospect from Slavia Prague for £10m but loaned him to Stoke.
I guess it highlights just how hard it is to bring a player in who is (a) ready now (b) good at football and (c) within budget.
Rondon is a bit of a compromise, but I think like Townsend might be a cheap way to keep us competitive for a season or two while we build something better.
Interesting to see how Sima fares for Stoke though.
Robert Tressell
242
Posted 31/08/2021 at 18:55:36
Gary # 239. I agree. Everton probably have been the biggest mugs in world football in the past 5 years. I'm hopeful that this summer is about learning lessons and setting us up for a better future.
Brendan O'Neill
243
Posted 31/08/2021 at 19:05:11
Brent, back in the 70s we had one player for every position and his name was Mick Lyons
Alex Gray
244
Posted 31/08/2021 at 19:05:31
Robert my fear is that we haven't changed our model but been forced into it due to lack of funds.
Got to disagree about Rondon sadly. Rafa could prove me wrong no doubt but we have started to finally build a team with pace and Rondon apart from being decent in the air has none of the traits which makes Calvert Lewin effective. I'd rather we get nobody than waste wages on another Tosun.
I find it unacceptable that we've loaned out our back up left back leaving us with one full back each side whilst leaving it until the last day of the window to make a move.
Kevin Molloy
245
Posted 31/08/2021 at 19:10:23
sky is all 'Mbappe this Mbappe that' failed deal and not a sausage about our pending SUCCESSFUL deal for Rondon.
Loathsome bias.
Tony Abrahams
246
Posted 31/08/2021 at 19:12:22
Incredible that Madrid, were prepared to pay so much money for Mbappe, but PSG, have refused, even though he's only got 12 months left on his contract, before he becomes a free agent, and can leave for nothing.
Incredible because I'm sure it wasn't long ago that PSG, were having a similar problem that Everton are now having, with regards to FFP, and yet they are now prepared to lose so much money, which could have really helped balance their books?
Maybe they are not that worried since Man City's lawyers, have seemed to put UEFA in there place, but still a staggering amount of money to turn down, nonetheless.
Phil (Kelsall) Roberts
247
Posted 31/08/2021 at 19:15:47
The model in Netherlands is a strong youth policy. Bring them in young, develop them and in most cases because of finances sell them for huge money - but only after they have played in the Champions League.
Is that the Brands model? Is that what he is trying to do? Is his role is to bring through players in their teens to either make it or sell? I don't know, I just throw it out there. Add into that his job is to conduct the negotiations. Remember, he was the one who found Kean from Juve which we all thought was brilliant this time in 2019.
Andrew Ellams
248
Posted 31/08/2021 at 19:20:12
I've seen Gomes to Benfica as a done deal in a couple of places. Anybody seen it confirmed?
Drew O'Neall
249
Posted 31/08/2021 at 19:21:06
I do hope that 'no entry' symbol is on Maitland-Niles tomorrow morning.
Gavin Johnson
250
Posted 31/08/2021 at 19:22:08
Absolute incompetence if the window ends with no RB coming in. The position has needed addressing for 3 seasons now. I've been on the fence where Brands is concerned but to leave it so late and put all your eggs in one basket for Maitland Niles is a disgrace.
Mike Doyle
251
Posted 31/08/2021 at 19:26:35
Tony #246] Agree ref Mbappe. Cannot understand PSG's thinking given the size of the offer.
Ray Robinson
252
Posted 31/08/2021 at 19:30:09
Just have a look at this list of departures and explain to me how Chelsea have previously complied with FFP?! And they've got Loftus cheek and Barkley who they are still looking to move on! Their Marcel Brands equivalent has certainly been busy!
Ethan Ampadu - Venezia, loan
Fikayo Tomori - AC Milan, £25m
Tammy Abraham - Roma, £34m
Michy Batshuayi - Besiktas, loan
Armando Broja - Southampton, loan
Willy Caballero - contract expired
Izzy Brown - contract expired
Jamal Blackman - contract expired
Pierre Ekwah Elimby - West Ham, undisclosed
Danilo Pantic - Partizan Belgrade, undisclosed
Nathan Baxter - Hull, loan
Billy Gilmour - Norwich City, loan
Victor Moses - Spartak Moscow, undisclosed
Juan Castillo - Birmingham, loan
Olivier Giroud - AC Milan, undisclosed
Marc Guehi - Crystal Palace, undisclosed
Lewis Bate - Leeds, undisclosed
Henry Lawrence - AFC Wimbledon, loan
Tino Livramento - Southampton, undisclosed
Jamie Cumming - Gillingham, loan
Jack Wakely - Wycombe, free
Ian Maatsen - Coventry, loan
Jake Clarke-Salter - Coventry, loan
Emerson - Lyon, loan
Matt Miazga - Alaves, loan
Ike Ugbo - Genk, undisclosed
Kurt Zouma - West Ham, £29.8m
Tiemoue Bakayoko - AC Milan, loan
Danny Drinkwater - Reading, loan
Dujon Sterling - Blackpool, loan
And how can PSG have Mbappe, Messi and Neymar simultaneously on their books?
FFP is a farce.
Kieran Kinsella
253
Posted 31/08/2021 at 19:32:34
Brent 240,
That was the "black and white" era, before my time. lol
Marc Hints
254
Posted 31/08/2021 at 19:33:57
Andrew #248
It was on twitter but good sources like Alan Myers said he had heard nothing
Kieran Kinsella
255
Posted 31/08/2021 at 19:34:22
Tony 246/Mike 251
I think PSG have no interest in fiscal responsibility and they'd probably risk that 140 million on the basis that Mbappe could help them win the CL this year. I assume that's their Holy Grail as they continue to spend wildly despite having long since conquered the domestic scene.
Benn Chambers
256
Posted 31/08/2021 at 19:34:23
What does Brands do?????!!! Fuckin sack him.
He has to be the worst director of football ever! He's a blagger!!!!! Coleman is 33 and we've needed a right back for 2 seasons and still don't have one.
This window is shambolic. I feel sorry for Rafa. From one Newcastle to another. If we wasn't on his doorstep, He'd walk.
Our rivals have all strengthened and now teams who weren't really rivals are now much stronger. West Ham, villa etc etc.
Don't let the decent start fool you. The squad depth is pathetic and over 38 games, you will get found out. Letting Nkounkou go as well, that leaves us in the same position we're in with rightback. We're an injury away from disaster.
Disgusting window this. Top 10 if we're lucky and that'll be down to Rafa's tactics more than anything. We're lucky we've got a competent manager.
£1.7m and 3 bosmans. Haha big club my arse.
Sam Hoare
257
Posted 31/08/2021 at 19:36:38
Seems cruel that we desperately need a RB and Spurs sign Emerson (despite having Tangana, Doherty and Aurier) while Arsenal sign Tomayasi (despite having Cedric, AMN and Chambers).
Brent Stephens
258
Posted 31/08/2021 at 19:43:10
Kieran #253, you're not far wrong!
Julian Exshaw
259
Posted 31/08/2021 at 19:44:21
What!! Nothing yet!! Not even Rondon or an 18 year old on loan 4th choice goalie from Azerbaijan?? 3 hours to go...
Jack Convery
260
Posted 31/08/2021 at 19:44:47
Thames police tweeted : Please don't check your phone on transfer day whilst driving. You'll end up with more point than Arsenal.
Who said Plod didn't have a sense of humour.
Kieran Kinsella
261
Posted 31/08/2021 at 19:47:39
Benn
I do wonder about Brands. The few times I've hard much about him were an article about him frequently having coffee with Dennis Adeniran. Or him taking care of Moise Kean. That and him looking at a RB for three years. None of those actions seemed to lead to anything.
Si Cooper
262
Posted 31/08/2021 at 19:48:23
Odsonne Edouard appears to be having the longest ever medical at Crystal Palace. Perhaps he's holed-up in some broom cupboard desperately waiting for his agent's call telling him someone is prepared to hijack the deal.
Smarmy ITK on Sky dodged straight question on how Real can afford the money they are prepared to shell-out, and also wants people to be be super impressed by the team of agents who are apparently getting all the big deals done (and keeping him informed). It isn't amazing, it's just what can be achieved when you are making so much money for so little work that you can afford to employ an army of 'middle-men' for a week or so every year.
Jack Convery
263
Posted 31/08/2021 at 19:51:55
Agents Day as I called it. Parasites the lot of them.
Jonathan Tasker
264
Posted 31/08/2021 at 19:52:39
I'm starting to think Marcel Brands is a double agent brought in to destroy us from within.
Mike Allison
265
Posted 31/08/2021 at 19:56:22
Ray I don't understand your point. Your list is a load of money coming IN to Chelsea and so is precisely how they DO comply with FFP.
Derek Knox
266
Posted 31/08/2021 at 19:59:57
Marc @ 254, Maybe Alan Myers bumped into Marcel Brands with his Sheep (?) Dog and he's gone Mutton Jeff ! :-)
Phil (Kelsall) Roberts
267
Posted 31/08/2021 at 20:05:55
I think the money coming into Chelsea is a result of their transfer policy. Buy a lot, some are good and play, others are not and sold on for a decent fee. That way they do not fall foul of FFP.
Andrew Keatley
268
Posted 31/08/2021 at 20:10:15
Transfer deadline day is a wonderful thing. It gives all the budding directors of football on here the opportunity to cast aspersions at the current DOF, manager, club, owners, previous managers, chairman, playing staff, whoever really, while issuing beautifully simplistic solutions that essentially equate to "why can't we just buy who the other clubs are buying"!
There are forces at play that are limiting us hugely. The fact we've got Townsend, Gray, and Begovic through the doors, the underwhelming malcontent Kean away from the club for the next 2 years and (hopefully forever), other expensive deadwood like Bernard and Walcott also gone, Rondon ready to sign - and maybe even another player to join the club - all of that is, under the circumstances, potentially a very good window. Yes, we'd all like shiny new exciting highly-sought-after players, but sometimes a quiet and frugal window is what is required.
Benn Chambers
269
Posted 31/08/2021 at 20:12:51
Kieran.
I know. I don't know what he does? Isn't his role meant to be to identify talent and sign them and then sell at a profit?
He has literally signed the players the managers have wanted. He's a spare part and he seems shit at his job.
Another cling on.
Tony Abrahams
270
Posted 31/08/2021 at 20:13:05
I think the writing was on the wall when our director of football turned up in America with the first team, although with Ferguson banned from getting into America, then I'm sure one of the old guard had to be there, just to keep an eye on things for all the old boys brigade, back at finch farm?
I wish I wasn't so paranoid about all these Evertonians, but once Unsworth called Marcel Brands one this summer, it made my mind right up, unfortunately.

Gary Smith
271
Posted 31/08/2021 at 20:17:32
My mood is darkening as the hours pass today. From Joy at finally seeing pace and power on Saturday, to today's realisation that a threadbare squad is getting more threadbare and not less threadbare!
We fielded only 8 subs at the weekend, and that included TWO retirement ready keepers. Since then our ONLY out and out striker has reported a new injury, and our only backup left back has been loaned out. There is talk of Gomes going on loan too.
The clubs burnt our bridges with such an aggressive push out of James Rodriguez, and our under 23 team is now half full of 17 year old kids who'll be losing confidence very quickly if results keep going like they have.
Glass half full = the first 11 is decent, and with this manager 40 points should be doable before they all go on summer hols in March (whilst rest play till May).
Glass half empty = any long term injuries to any 2/3 of Gray, DCL and Richie and we'll have no goals, and no hope.
We are building on a house of sand and any thoughts that the "stadium will save us" or "Rafa will keep us up" are misplaced at best. This ISN'T just a blip in spending, this is 5 years if total mismanagement. We need to wake up soon.
Marc Hints
272
Posted 31/08/2021 at 20:18:07
Luis Diaz deal is off
Joe McMahon
273
Posted 31/08/2021 at 20:21:03
Confirmed that any deal for Luis Díaz is not going to happen.
Ray Robinson
274
Posted 31/08/2021 at 20:26:17
Mike #265, I take your point but a) Chelsea will have had to buy some of these players in the first instance b} pay their wages when they are not out on loan (e.g. Abraham last season, Barkley this) c) sustain the depreciation in their accounts (if not through the youth system).
Of course, you're right that loan deals can be cost neutral for the loaning club, sometimes even net a profit but I haven't mentioned the 25 - 30 odd other players that form part of their squad, none of whom will be on low salaries. How can they ever sustain a squad THAT big without falling foul of FFP? Not to mention the stockpiling aspect which is another issue. I read somewhere that one of their third / fouth string goalies was out on loan for the tenth consecutive season!
On the subject of PSG, despite their much larger income than Everton's, how can they comply with UEFA fair play rules while simultaneously employing Mbappe, Neymar and Messi on astronomical; wages?
Grant Rorrison
275
Posted 31/08/2021 at 20:26:30
Joe 273. That was confirmed when they wanted a fee.
Robert Tressell
276
Posted 31/08/2021 at 20:26:33
Not a surprise about Diaz. He was sort of a fun exotic name but no urgent need.
We really could do with that RB but maybe they think Patterson is the man, plain and simple. In which case maybe we'll get him in Jan or Summer 2022.
Is Rondon done yet?
Ian Riley
277
Posted 31/08/2021 at 20:26:47
All overwhelming really!
One positive is we have Rafa! Top 7 will come in may!!
Look, we have spent big on transfer deadline day years gone by and bought very average! Usually no expectations can bring surprises!
Rather have a clear out and build in the summer! A season to take stock might be what we need!
Keep the faith!!
Lev Vellene
278
Posted 31/08/2021 at 20:31:09
I'm more depressed at seeing our youngsters going out on loan, I'm sorry to say.
But if we end up with a slim squad, I'm at least hoping we can then get the rest of our youngsters training with our first 11 on a regular basis, and maybe some of their cameos will inspire them to greater heights/understanding of the top-level game!
Silver linings etc.! Fingers crossed! :)
Neil Copeland
279
Posted 31/08/2021 at 20:52:11
Am I right in assuming that James is with us until at least Jan?
Si Cooper
280
Posted 31/08/2021 at 21:02:38
Seems to be Neil. I just hope he can frequently contribute.
Jason Li
281
Posted 31/08/2021 at 21:04:23
Still no right back?
Please sign a a top 18 year old right back if we can't get the Rangers lad. Someone who is ready by next summer Brands.
Phil (Kelsall) Roberts
282
Posted 31/08/2021 at 21:05:01
We are a strange bunch.
For the last 4 years we have been saying that we need to play JJK and now we have decided that he is only championship standard and need to get rid.
For years we have been complaining that we only play old has beens and never give the kids a chance. And now we are moaning that we are not bringing in more players.
Can we make up our minds - and if the kids are not good enough, can we start asking for them all to be shipped out.
Brian Murray
283
Posted 31/08/2021 at 21:06:01
Arsenal about to get some Japanese right back so why can't we get n niles from them ?
Kieran Kinsella
284
Posted 31/08/2021 at 21:09:04
The Vlasic sell-on fee will cover James' wages for about 3 months. So I guess we will try and offload him in January?
Barry Robson
285
Posted 31/08/2021 at 21:14:20
I'm clinging to the hope that we bring in a player who can play in 2 or 3 positions. Across defence and midfield just to increase cover in the squad.
Dennis Stevens
286
Posted 31/08/2021 at 21:16:50
I'd be happy with a fullback who can cover either flank, Barry
Christy Ring
287
Posted 31/08/2021 at 21:16:59
We're linked to Doherty now, and as for left back Small wouldn't stay because he was too far down the pecking order? Now Nkounkou is gone, so we have no reserve left back, and no one mention Delph as cover, we've more of a chance of Baines been fit, and still no sign of Rondon deal done? Van de beek not allowed to come either, what about Ross? A total shambles is Brands off playing golf like Koeman?
Barry Robson
288
Posted 31/08/2021 at 21:23:42
Arguably our 3 best defenders Seamus, Digne and Mina are all susceptible to injury. Very worrying if more cover is not brought in.
Don Alexander
289
Posted 31/08/2021 at 21:24:52
As others have alluded, the obscene size of Chelsea's squad and their outgoings this summer (and thanks Rob @ 252) typifies the corrupt nature of modern-day football as far as I'm concerned.
Contrast their list of departures/loans-out with ours;
Outs: Theo Walcott (Southampton), Matthew Pennington (Shrewsbury, free), Joshua King (Watford), Yannick Bolasie (released), Muhamed Besic (released), Josh Bowler (released), Dennis Adeniran (released), Con Ouzounidis (released), Callum Connolly (released), Bobby Carroll (released), Daniel Lowey (released), Jack McIntyre (released), Dylan Thompson (released), Bernard (Sharjah), Beni Baningime (Hearts), Nathan Broadhead (Sunderland, loan), Thierry Small (Southampton), Joao Virginia (Sporting Lisbon, loan), Nathangelo Markelo (PSV Eindhoven).
I can't be bothered working out if we got ANY money at all for any of our ex's above but the gap between us and the rich/unaccountable clubs seems like a canyon, not a crevasse, and it's getting wider with our owner/boardroom of blunderers.
Jonathan Tasker
290
Posted 31/08/2021 at 21:29:47
Everyone knows when the transfer window shuts.
So why are we still farting around now? What a way to run a business.
Alex Gray
291
Posted 31/08/2021 at 21:31:09
As I stated earlier today I had a horrible feeling we had no plan and we've resorted to haphazard scrambling again. No lessons learnt, no plan, no clue. Brands out.
Joe McMahon
292
Posted 31/08/2021 at 21:32:47
Phil @ 282, JJK wasn't the quality we needed 4 years ago (and never will be), and like Tom Davies not the qualilty we need either. However too many have a blind spot for the "one of us culture" which seems to be an obsession at Everton (possibly because of Bill and The Peoples Club crap) just because they are Liverpool lads.
I'm sure you agree it's not the 60's anymore with misty eyed tales of Z Cars and Howard, Ball etc. Winners in the 21st Century (60 years later) have a different mindset. Aguero, Salah, Drogba, Mane, Henry, Vardy, Firmino, Kompany, Silva et al were not locals and their clubs fans couldn't care less.
From Phil Mcnulty:
Barring some late & unexpected drama it looks like Everton manager Rafael Benitez will end up spending a grand total of £1.7m in transfer fees this summer. Any judgement or criticism of what he does should be placed in that context.
Stephen Brown
293
Posted 31/08/2021 at 21:43:56
All pretty embarrassing stuff really!
Not that you'd want to waste another wad of cash but this is the budget of a league 2 club!
No cover at full back ?!
Barry Robson
294
Posted 31/08/2021 at 21:46:33
Rondon about to be confirmed. Decent cover up front but completely underwhelming otherwise.
Andy Crooks
295
Posted 31/08/2021 at 21:48:49
I don't know enough about Brands and his role to criticise him. I would really love, however, to see an accurate diary of how he has spent the last week, and particularly today.
I suspect it may be less fraught and frantic than ours.
Andrew Ellams
296
Posted 31/08/2021 at 21:57:31
The quality of defenders and the depth we now have in this squad is beyond embarrassing. The number of players that have been moved off the books since May and we are this short is disgraceful.
Ken Kneale
297
Posted 31/08/2021 at 22:00:37
Andy - that is very charitable. If his job title and the ensuing publicity about his role since appointment is accurate, not only has his day been less fraught and frantic than most of us but by any margin, remuneration earnt over such period is money for old rope.
Steve Shave
298
Posted 31/08/2021 at 22:04:47
Chelsea get Saul from Athletico Madrid on loan (4M€ fee) with option to buy for £30M, incredible deal.
John Raftery
299
Posted 31/08/2021 at 22:08:42
Up to now this has been a better window than many in recent years. Everybody knew we had no money left and that any purchases could only be funded by sales/releases. There have been no huge gambles yet we have recruited players to add pace and a few more goals.
So the first choice team is stronger than it was twelve months ago, stronger than it was two years ago. Yes, we still have problems in terms of the lack of quality and depth in the squad which means Benitez will encounter similar problems as those of his recent predecessors when suspensions and injuries strike. There are no quick, easy solutions. There is nothing to be gained in the long run by overpaying for players who are not of the required calibre.
John Boon
300
Posted 31/08/2021 at 22:09:43
Everton fans have been misled with so many supposed super signings since the last window. We were to expect at least a new right back and a dominating centre back. With an hour to go before the window closes neither has any chance of happening. So we start all over again until January. The three signings we did make all seem to have got off to a good start but will that be enough to make a consistent impact ?
What now happens to the likes of James, Delph, Tosun and even Davies. Does Benitez just exclude them from the team sheet as they remain in no mans land or try to get the best out of them. I am just one very confused Evertonian. I will no longer believe anything about who is coming to Goodison.

Jack Convery
301
Posted 31/08/2021 at 22:10:22
According to Talk Sh*te Chelski have actually made a £27m profit this transfer window !!!!!!!!!!!!
Stephen Brown
302
Posted 31/08/2021 at 22:12:40
Has Gomes gone too ?
A few on Twitter say he's gone to Benfica but can't see anything official.
Struggling to see our short term vision ?
Barry Robson
303
Posted 31/08/2021 at 22:13:43
For me a domineering centre half is our greatest priority. Every top team has a world class CH.
Also James must be brought back into the squad initially on the bench while he improves his fitness and take it from there.
We cannot have a talent like his and not utilise it.
Anthony Jones
304
Posted 31/08/2021 at 22:14:34
Marcel's diary 31st August:
Today I went to buy a new car. I couldn't choose between the Bentley and the Porsche, so I called Rafael, who recommended a second hand Transit.
Then I had a piece of toast and took the dog for a walk.
Tom Bowers
305
Posted 31/08/2021 at 22:15:14
If the Rondon deal is for sure then for sure we need him as back-up. He was no World beater but I hope he works out better than Josh King.
Barry Robson
306
Posted 31/08/2021 at 22:16:27
Gomes hasn't gone Stephen.
John Raftery
307
Posted 31/08/2021 at 22:16:30
Our short term vision is to make the best of what we have. Benitez is the ideal man for that.
Mark Ryan
308
Posted 31/08/2021 at 22:18:39
If we had drawn or lost are opening games and were currently sat were Arsenal are sat I would currently be bricking it for the season ahead given what little business we have been able to do over this summer.
Our situation of having players like Delph, Iwobi, Keane and Holgate to rely on worries me to death.
Glad to see the back of Moise Kean but how bad have we been at picking out players. So glad to see Richarlison not sold. Very relieved indeed

Ken Kneale
309
Posted 31/08/2021 at 22:20:59
John @307,
True enough but a terrible indictment after 5 years of Moshiri rule of our inept boardroom, coaches, managers and recruitment men – what a pity we could not transfer some of the boardroom.
The only thing that can be said of the last 5 years is that they truly have built on the foundation of incompetence, misrule and underachievement of the previous 25 years...
Alex Gray
310
Posted 31/08/2021 at 22:24:05
Aurier at spurs about to terminate his contract.
John Kavanagh
311
Posted 31/08/2021 at 22:33:37
Rondon = One for the future. We are now outperforming our useless government in the art of creating shortages.
Neil Copeland
312
Posted 31/08/2021 at 22:35:57
Alex, yes I saw that one also, worth a 2 year deal as cover for Seamus until we get a decent younger replacement in?
Terry White
313
Posted 31/08/2021 at 22:37:17
Alex (#310), Spurs fans will be delighted to see the back of him so, hopefully, we are not opening the door to a sub-par full-back.
Mark Dunford
314
Posted 31/08/2021 at 22:37:40
Gray is a considerable upgrade on Bernard and Townsend is more use than Walcott. Rondon replaces King and a decent reserve keeper arrived to replace a decent reserve loaner. Squad remains too small with inadequate, possibly less, cover across a number of positions and too many overpaid underachievers - Delphers. We're in more or less same situation as last season. Still, we held on to big names.
Mark Dunford
315
Posted 31/08/2021 at 22:37:40
Gray is a considerable upgrade on Bernard and Townsend is more use than Walcott. Rondon replaces King and a decent reserve keeper arrived to replace a decent reserve loaner. Squad remains too small with inadequate, possibly less, cover across a number of positions and too many overpaid underachievers - Delphers. We're in more or less same situation as last season. Still, we held on to big names.
Neil Copeland
316
Posted 31/08/2021 at 22:38:33
Terry, guess that's a no then!
Bill Gienapp
317
Posted 31/08/2021 at 22:39:02
I think the fact Nkounkou has gone on loan shows that he *isn't* actually considered the reserve left back - Godfrey is.
Mark Dunford
318
Posted 31/08/2021 at 22:39:04
iPad playing up - posted twice, sorry.
John Kavanagh
319
Posted 31/08/2021 at 22:42:01
Neil @312 - If Levy is letting Aurier go for nothing under a 'mutual termination of contract', it tells you everything you need to know about whether we should risk signing him or not. Avoid.
Terry White
320
Posted 31/08/2021 at 22:42:44
You have been reading too much social media, John (#300). And actually relying on it?
Ant Sorvoja
321
Posted 31/08/2021 at 22:44:39
Transfer window is closing to shut and it has been absolute dog's breakfast for us as we have only been fed by other people's leftovers. I'm afraid it is looking like another forgettable season for us playing the middle of the pack in PL ruckus.
David Pearl
322
Posted 31/08/2021 at 22:46:39
We have 4 centre backs. 2 of whom can cover full back positions. We have 6 central mids. We have 4 spots up top occupied by any of Richy, DCL, Gray, Townsend, Iwobi, and mofo James Rodrigues. Oh... and probably Rondon too. Strong, great in the air and will love the service, and the club. I watched him stay behind to take pictures and give his jersey away to some kids at Goodison not so long ago.
We have a manager who will play to our strengths and a team playing and building in confidence. We also have players approaching their prime.
Stop moaning. We did our buying over the last 4/5 years. Now we may need a bif of tinkering in January but l am confident. We have a good squad. We will have a better season than last.
Christy Ring
323
Posted 31/08/2021 at 22:49:15
We can't really complain, we spent a whopping €1.7m in the transfer window, plus the money we got for outgoings. Unreal.
Tony Abrahams
324
Posted 31/08/2021 at 22:50:05
Probably going to sign four players this window, and pay a little bit more than £1million a month, on their combined wages.
Brands was telling the truth, but I didn't expect anything else when I heard he had time to walk his dog today, so hopefully James, was also telling the truth, when he said he just wanted to play where he feels wanted, because if he gets fit he'll love playing for Evertonians. I think it's always better to finish the night being positive!!
Stephen Brown
325
Posted 31/08/2021 at 22:51:36
The sad thing is if we spent £150m we would still only be playing for places 6-10 in the league!
Need a longer term strategy! Probably best to save the cash !
John Raftery
326
Posted 31/08/2021 at 22:55:29
Ken (309) I agree the last five years have been shambolic. Before then we were comparatively well run, making the best of the resources available. Many of our current problems stem from the summer of 2017 when we recruited at great cost fifteen players for the first team and under 23 squads. Only two of those players started on Saturday, Keane and Pickford.
We have a squad cobbled together under half a dozen managers, an under 23 coach and two directors of football. We have managed to embed instability into everything we do on the playing front with the outcome evident not only in the league placing but also in the dire financial position.
It was high time Moshiri pressed the pause button on spending. Steady incremental improvement must now be the way forward under a manager accustomed to managing with finite resources.
Ben King
327
Posted 31/08/2021 at 22:55:31
If I was DCL or Ritchie this would be my last season here. No point wasting their careers to play mid table when they could compete for honours
If Kane moves next summer to City then I'd expect Spurs to take DCL (we'll cite FFP as reason to sell) and Ritchie will want to go to PSG
Frustrating because what's the carrot we're dangling? No player on the up wants to play for a club without ambition
Gutted
Ernie Baywood
328
Posted 31/08/2021 at 23:04:40
Rondon confirmed.
Is James like a new signing?
Anthony Jones
329
Posted 31/08/2021 at 23:18:46
The real test of Benitez is whether he can utilise James.
Drew O'Neall
330
Posted 31/08/2021 at 23:21:30
Ben, that's crap.
There are spending restrictions in place this year based on our spend per revenue over the last three.
The lack of spending has nothing to do with ambition.
Building a new stadium and backing all our managers since Moshiri arrived shows ambition.. Leaving to join Spurs does not.
Mike Corcoran
331
Posted 31/08/2021 at 23:22:28
Rondon may surprise. Understandable signing in that the vast majority of his goals are poached between the sticks. Can leather the ball with both feet and his nut. May well be a suitable back up for DCL. Time to get behind Benny's Bargain Blues?
Jerome Shields
332
Posted 31/08/2021 at 23:22:36
James may be used more in a forward role. He would not fit into the current midfield.
Happy enough with Rondom as back up, he is better than King , Tosun and Kean. Obviously the right back position is not thought a problem at Everton, unlike most of us.
Michael Lynch
333
Posted 31/08/2021 at 23:26:08
No problem, Godfrey can play right back, left back, centre half. Only thing is, he'll probably have to play all three positions at once.

Drew O'Neall
334
Posted 31/08/2021 at 23:27:43
Serge Aurier a free agent after terminating his Spurs contract.
Would solve the problem at right back for apparently no transfer fee and available after the deadline.
Don Alexander
335
Posted 31/08/2021 at 23:27:48
I just hope our manager of the moment turns out to be at least as talented as that other magical dwarf, Paul Daniels, because by Christ he's gonna need to be if we're to win anything at all with this squad.
I just wonder what the agents of Pickford, Godfrey, Digne, Richarlison and DCL are going to be hearing from their esteemed clients, not to mention other clubs, in the months to January?
Never mind though eh?
At least we can be confident that our "fabulous" owner/boardroom have "a cunning plan" to deal with whatever emergency transpires, as they've just shown, again, and again........ and again.
Ben King
336
Posted 31/08/2021 at 23:28:40
Drew #330
A players career is short. And their star is only on the rise for so long
Okay perhaps Spurs was a poor example. But after DCL's breakout season, if he scores 15-20 league goals again then I ask you this:
Will he want to stay ANOTHER year at a club aiming for top 4 at best or would he rather play for a top 4 club (or try a move abroad…..Carlo seemed to fancy him as an example)?
How many years do you expect him to give us?
Same Q re Ritchie?
Our FFP issues are our own. As is the stadium build. Professional footballers don't care about the reasons why: they want success
You can believe it's crap all you want. And I hope I'm wrong but really, is it that unforeseeable?
Minik Hansen
337
Posted 31/08/2021 at 23:34:14
James Rodriguez staying, happy days. Here's hope for better days. COYB.
Drew O'Neall
338
Posted 31/08/2021 at 23:36:03
Ben
We're not 'a club without ambition', you've simply had an emotional reaction to not getting what you wanted for Transfer Deadline Day and spoken some crap. Easily done. Move on.
Mike Corcoran
339
Posted 31/08/2021 at 23:36:57
DCL is good enough for us, still can't see one of the Sky darlings here or abroad coming in for him until he adds a lot more to his game, he just doesn't have enough all round game yet.
Unlike Moise Kean hahahahaha
Jack Convery
340
Posted 31/08/2021 at 23:38:31
Begovic, Townsend and Rondon - The 3 Busketeers with Grey as D'artagnan. If Benitez gets a top 6 tune from them he will do very well.
We cannot rely on Richy to play a full season without a break - he must be knackered.
You never know we can still bring in a released player. We can expect Bill to suggest Rodwell !!!!!!!
Sam Hoare
341
Posted 31/08/2021 at 23:40:01
Disappointing and potentially damaging to not get a RB. That's another blot on Brands copybook as I see it, leaving it too late.
But for such a minimal outlay we've done ok. To get Begovic, Gray, Townsend and Rondon for £1.7m is good value and the latter 3 especially are very decent players who will add something.
The chickens have come home to roost and years of poor spending has had its inevitable consequence. To all this who ever said "it's not your money, what are you worried about?!" You now have your answer. That said I reckon we'll do ok and I rather finish 10th-ish having spent £1.7m than in the same position having spent £100m.
Andrew Keatley
342
Posted 31/08/2021 at 23:40:14
Ben King (327) - What shows ambition? A new stadium shows ambition, doesn't it? What about the financial difficulties we are experiencing right now - aren't they the result of overspending on transfer targets that then flattered to deceive and lumbered us with assets that were heavily decreasing in value and couldn't be offloaded?
Ambition works both ways - it can pull you into exciting new territory or it can backfire. Hopefully players like DCL and Richarlison might appreciate that even if you have overlooked it. This club has ambition. I am getting so fed up of coming on here and reading comments that trash the club. Change comes slowly, and getting our house in order will take time. I think Rafa et al have done well to shuffle the deck and leave us more competitive than we were, and all for almost no outlay at all. These are steps in the right direction.
Ben King
343
Posted 31/08/2021 at 23:41:44
Drew #338
You're right: I'm disappointed. For sure. So emotional? Perhaps yes
But even in the cold light of day, whilst you and I know we're ambitious - it's in the mid/long term. That doesn't help our stars of today
Seems we're not going to agree on this one. But players like Lukaku, Lescott, Fellaini & Stones all went when bigger clubs came in. Only our true blue Baines didn't
Like I said, I hope you're right but I did ask you: would you be surprised if Ritchie and/or DCL left next summer?
Ciarán McGlone
344
Posted 31/08/2021 at 23:43:31
Glad our most talented player stayed.. Benitez has a reputation of coaching... so do it.
Replacing a talented Italian youngster with Rondon is a head scratcher.
Jack Convery
345
Posted 31/08/2021 at 23:44:38
Brands failed to get a Centre Back for Silva - Moshiri's man. He's now failed to get a Right Back for Benitez - Moshiri's man. On both occasions BK wanted Moyes as manager. I feel a conspiracy theory coming on .
Andrew Keatley
346
Posted 31/08/2021 at 23:47:32
Ciarán (344) - Keep scratching your head if you want to, but I've already worked out that Rondon can play in the system that Rafa wants us to play, and that Kean cannot be relied upon to do that - or lacks the ability to do it.
Also the financial situation contributed.
Ben King
347
Posted 31/08/2021 at 23:53:03
Andrew #342
Granted - this transfer window is the result of years and years of financial mismanagement.
But facts are:
We have 1 senior right back
We have 1 senior left back
(Yes Godfrey/Delph) can play there but they won't/don't overlap. The modern game is partly about getting your full backs into crossing positions to provide effective attacks
No genuine replacements for Doucoure or Allan (Gomes isn't, Gbanmin unproven, Delph doesn't have the legs, Davies blows hot and cold
I just feel that our first XI is good but we'll have the same squad issues as last season
Perhaps Drew is right - I'm more frustrated by the issues that have led us to where we are now. BUT we are here now and thus it's another season of plodding along between 8th and 12th (maybe 6th if Rafa can really work his magic)
If people are 'trashing the club' well isn't it somewhat justified?
An effective DoF buys players that any effective head coach can use. But we have a model where we have a DoF but let all the managers who come in choose their own players. Well if that's the case then sack off the DoF
You can't have it both ways. And that's what we're frustrated at and why we're 'trashing the club'…..because there's a lack of logic, a lack of plan and it's led to the above - a squad unable to properly compete across the season
So once again our first XI is decent but the squad isn't equipped properly to compete across the season
Ernie Baywood
348
Posted 31/08/2021 at 23:58:14
To be honest I think Rondon still has more potential than Kean.
Not a glamorous signing but a backup striker typically isn't. They're either up and coming, or past their best. If it's the Rondon I've seen previously then I'd be happier seeing him get a run than the emergency, out of position, striker options we have.
Yes, a bit of a deflating window. 1.7m spent doesn't smack of a team trying to make a short term impact. But if it's the window we had to have then so be it.
Laurie Hartley
349
Posted 31/08/2021 at 23:58:45
Ben # 327 - don't write us off just yet - I think we are going to do quite well going by what I have seen so far.
I was raving on about getting Adam's Traore in a few weeks ago but I think Gray is going to be a better signing.
Whoever was responsible for bringing that lad in deserves praise
Don # 335 - the answer to that will depend on how the said players perform between now and then. I think they will do alright. - fifthish;)
Andrew Keatley
350
Posted 31/08/2021 at 00:01:33
Ben (347) - I think it is a question of expectations. What did you expect from this window?
I understand your frustration at the state we currently find ourselves in. The mess created by the last five years of mis-steps by various managers and an owner who wanted to chase success quickly is hard to fathom, but I honestly believe that under Rafa we might just be starting to turn a corner in terms of cleaning up that mess and finding a useful reset. It may not allow us to compete for the Top Four this season but I reckon it means that we have a much better chance of doing so by the time we get into the new stadium.
Bill Gienapp
351
Posted 31/08/2021 at 00:05:36
I expect there'll be a lot of venting on this thread, as well as in the coming days... and that's fair. But I think we all have to accept that this is a transitional season in which we clear the decks and balance the books. Next summer will be better. Delph will be gone. Tosun will be gone. Sigurdsson will almost certainly be gone. James will be off the payroll one way or another. We also may be looking at a sizable Richarlison windfall, if it comes to that.
As things stand, I think our current squad is perfectly solid - especially if Benitez finds a way to utilize James. The issue, as it was last year, is that we have precious little depth - a few key injuries could derail things fast. But I think Benitez is well-suited to making the best of these kind of situations.
I'm a little less freaked out about the RB situation than others. I don't particularly rate Kenny, or think he has a long-term future with the club, but the dude's not completely hopeless - he can step into the breach if called upon. Holgate too, who doesn't offer anything in attack, but can hold his own defensively. I'd rather just keep the powder dry and go after a proper target next summer, as opposed to bringing in someone we're lukewarm on at the last second, just for the sake of it.
Jack Convery
352
Posted 01/09/2021 at 00:28:58
When are we able to start splashing the cash - January 2022 or the summer of 2022 ?
Ben King
353
Posted 01/09/2021 at 00:40:04
Andrew #350. Fair points.
Bill #351. Also fair
It's possible I'm overreacting but I don't want DCL to leave (I know I seem stuck on this)
When Rom left it took us ages to replace. Good and reliable EPL goal-scorers are hard to come by and cost a lot.
I have it in my head Ritchie will leave next summer and if DCL does too then that's a massive hole to patch up
Anyway. Let's worry about the future when it comes. We've made a decent start
Let the Rafaloution begin!!!!!
Don Alexander
354
Posted 01/09/2021 at 00:48:57
TW threads must be music to the ears of our owner/board.
We forever berate managers, the DoF, players and coaches (as I have done, admittedly) without ever communally and forcibly pointing a very angry finger at Moshiri and his flaccid boardroom.
Just how on God's Green Earth do Demarai Gray, Townsend, Lonergan, Begovic, and Rondon measure up to the club motto, two years after the massive demise of Baldrick Moshiri's cunning three-year "project" to propel us into regular European football?
And at best, allegedly according to some of us, Baldrick is actually being played by Blackadder Usmanov for Gawd only knows what end.
Jesus wept!
Jack Convery
355
Posted 01/09/2021 at 00:54:44
Come January 2022 I want Brands in Rome sorting out a deal with Lorenzo Pelligrini. he's 25, Romas' Captain, plays for Italy and is a CM./ DM / AM. This is the sort of deal Brands was brought in for. He's also in the last year of his contract. A free signing of real quality and will only cost his wages. Signing him would show real ambition. So come on EFC !!! PLEASE !!!!!!
Kieran Kinsella
356
Posted 01/09/2021 at 01:07:41
Don
I would say we've had a good window. Nil Satis Nisi Optimum? No but I'd rather bring in solid Pros like Townsend and Rondan then sink 50 million on Klaasen and Gomes. Rafa finds himself in the Moyes predicament when we brought in the likes of Kilbane and Bent. Decent enough essentially. We can't undo the insane spending on muppets we've seen over the last five years. Neither would I want us to do a Sheff Wed and risk the future of the club by continuing to do so. The new guys I welcome. I think they're solid. The over paid prima donnas on the books? We are stuck with until their contracts expire. So Rafa did well all things considered this window despite everyone above him and the five men before him
Dave Abrahams
357
Posted 01/09/2021 at 01:14:02
Andrew Keatley ( various) all good sensible and honest points, the window has been sabotaged to a great extent by FFP and hopefully can start to repaired, starting in January, yes more waiting but the squad will be strengthened.
I understand the anguish of some fans but would rather listen to posters like Andrew who paints the picture like it is. For some reason Harold Mathews is coming into my head, Harold was sensible and pragmatic.
Bill Watson
358
Posted 01/09/2021 at 01:14:53
Bill Watson
359
Posted 01/09/2021 at 01:14:53
Bill # 351
Kieran # 356
Totally agree. 20 odd out and 5 in, 4 on a free, helps get the wage to income % down, even with James still on the books.
I think the squad is stronger than at the end of last season and with a decent rub of the green, should well be capable of top 6, or thereabouts.
Derek Thomas
360
Posted 01/09/2021 at 01:24:59
Rodriguez is still here, we're still paying him megabucks.
If he can put in even half a shift...or even half an hour, I don't want to see 2 goalies on the bench - or a vacant seat.
Jay Hughes
361
Posted 01/09/2021 at 01:48:58
Everything has become a lot clearer now. Rafa was the only manager candidate who would accept we would not make any major signings and that's why he got the job. But why wouldn't he accept that? he's making a fortune and got a job round the corner from his gaff. Happy days Rafa.
Although to be fair he has started well.
Frank Wolfe
362
Posted 01/09/2021 at 02:16:20
Personally I was hoping James would go. Although he is a quality player, I don't think he is best suited to EPL and the way we play under Rafa (a lot of hard work off the ball and quick counters when we have it). One good thing in our favour is that the WC is next year and I'm sure JR will want to be in that squad. In which case, he will need to impress on the park this season. Hopefully Rafa can make best use of him.
Don Alexander
363
Posted 01/09/2021 at 02:27:41
Jay Hughes, bob-on.
Kenwright searched the Earth for a goodish manager to relieve Walter "disappointing" Smith before alighting on Moyes, twenty miles away at Preston.
Next he limited his search to ten miles away before appointing the dud Martinez.
Now we have an ever so grateful Benitez, whose house is a huge eight miles from USMFF.
Cue the world-wide agents' list of top-paying dick-head clubs for fuck-all in this day and age.
We're the equivalent of the late 50's Real Madrid in that league, perennial and easy winners, courtesy of our owner/boardroom.
Don Alexander
364
Posted 01/09/2021 at 02:27:41
Jay Hughes, bob-on.
Kenwright searched the Earth for a goodish manager to relieve Walter "disappointing" Smith before alighting on Moyes, twenty miles away at Preston.
Next he limited his search to ten miles away before appointing the dud Martinez.
Now we have an ever so grateful Benitez, whose house is a huge eight miles from USMFF.
Cue the world-wide agents' list of top-paying dick-head clubs for fuck-all in this day and age.
We're the equivalent of the late 50's Real Madrid in that league, perennial and easy winners, courtesy of our owner/boardroom.
Don Alexander
365
Posted 01/09/2021 at 02:29:26
Jay Hughes, bob-on.
Kenwright searched the Earth for a goodish manager to relieve Walter "disappointing" Smith before alighting on Moyes, twenty miles away at Preston.
Next he limited his search to ten miles away before appointing the dud Martinez.
Now we have an ever so grateful Benitez, whose house is a huge eight miles from USMFF.
Cue the world-wide agents' list of top-paying dick-head clubs for fuck-all in this day and age.
We're the equivalent of the late 50's Real Madrid in that league, perennial and easy winners, courtesy of our owner/boardroom.
Terry White
366
Posted 01/09/2021 at 03:07:52
Mt. Alexander (#363-365), what you had to say in your relentless style was not worth reading once, never mind three times.
Neil Cremin
367
Posted 01/09/2021 at 07:36:01
Ciarán
Why? You are replacing someone who does not want to play for the club or in the PL, has a bad attitude and suspect temperament..
For me moving Kean out was a no brainer, added nothing, and probably disruptive in dressing room. Ferguson recognised that way back when he pulled him off soon after using him as
Anyone with experience in PL who hopefully will commit to club, work hard and give their best will be an improvement. Rondon, with what was available under our constraints could well be the answer.
Hope this explanation satisfies the itch😀
Nicholas Ryan
368
Posted 01/09/2021 at 08:12:55
ARTETA: 'Don't worry Ainsley, I have total faith in you and you'll play for me every week...'
MAITLAND-NILES: 'Yes Boss.... but you'll be managing Doncaster Rovers'!!
Tommy Carter
369
Posted 01/09/2021 at 09:00:38
I'd like to see Benitez produce a team that could accommodate James Rodriguez.
I'd like to see Rodriguez deliver what Benitez requires from him. I certainly think there is a place in any team for a player with his ability. But there is no doubt we'd need more from him.
I don't know how Benitez could make this work. But that's not my job and I'm not the expert.
What I do know is that he's capable of producing moments of quality that very few if any other players in the league can produce.
Whilst he is still an Everton player, then it makes sense to try and include him.
Tommy Carter
370
Posted 01/09/2021 at 09:04:11
I think Holgate can do a job at right-back if required. It's not ideal, but he's not been a disaster there either in previous seasons.
This is preferable for me than a panic signing. Maitland-Niles is not the answer neither short term or long term.
I'd rather the people at the top put the work in and identify the correct player for the long term.
As Liverpool manager, Benitez favoured a more defensive and traditional right-back in Finnan and Arbeloa. This is exactly the type of player I think we should try and identify.
Ray Smith
371
Posted 01/09/2021 at 09:49:43
Accountability vs Responsibility
The Board are accountable for all aspects of the business.
The manager and his/her team are responsible for the results.
The Board will always be accountable for the actions of the manager, who they appointed to manage the team.
Responsibility takes many forms, and the incumbent will sink or swim, and pay the price one way or another. The Board rarely changes, and rarely if ever hold their hands up for their misgivings or cockups! The silence from the Board is deafening.
Apparently our bid for Maitland-Niles was considered too low; did we go back? Doesn't sound like it. What part did Marcel play in the negotiations? Has all the hallmarks of Bill Kenwright poking his nose in.
I don't feel sorry for Marcel but, during his tenure, managers have come and gone like No 9 buses, each wanting their own players. I'm sure he is well intentioned and works hard, but comes across as weak IMO.
I'm not a great lover of Paul Merson, but yesterday evening he took a big swipe at the Arsenal DoF, and said he could do a far better job, and do it for nothing, providing he could have Tony Adams with him. Never going to happen, but his passion was and still is there for all too see, but his heart rules his head.
Could that be a role for Big Dunc? Not sure the Board could cope with him, says it how it is, and doesn't suffer fools easily.
Stephen Brown
372
Posted 01/09/2021 at 11:27:09
Avoid injuries and we might just surprise a few people! Wouldn't that be nice to achieve something without throwing stupid money at it!
Next couple of league games are huge! Win those 2 and confidence could soar; lose them and the transfer window suddenly looks a disaster!
John Cook
373
Posted 01/09/2021 at 16:16:40
According to the gossip on BBC,we were lining up Van Der Beak on loan but Ole put a stop on it.Nice one Ole we dodged a bullet there.

Gary Hughes
374
Posted 03/09/2021 at 00:32:25
I know James doesn't exactly come across as entirely committed to the cause. But as the only internationally acknowledged "superstar" we have, I would like to see him given a chance.
He is without doubt an exceptionally talented footballer so surely "Rafa the fucking genius" could find a way to utilize James's undoubted quality. Unfortunately I suspect "Rafa" (as so many of our kopite-esque fans call him) will be his usual belligerent self & freeze out the only real talent we have at our disposal.
If we're still paying his exorbitant wages, then we should at least try to get something back in return instead of leaving him out in the wilderness.
Hugh Jenkins
375
Posted 04/09/2021 at 15:42:57
Gary (374).
We haven't played a game since the transfer window closed, so it is a bit premature of you to assume that Rafa is not going to use James in some capacity in the next 4 months. Unless, that is, Rafa updates you personally, on a daily basis, as to what his plans and intentions are?
---
Add Your Comments
In order to post a comment, you need to be logged in as a registered user of the site.
Or Sign up as a ToffeeWeb Member — it's free, takes just a few minutes and will allow you to post your comments on articles and Talking Points submissions across the site.