Moise Kean completes loan move back to Juventus
Tuesday, 31 August, 2021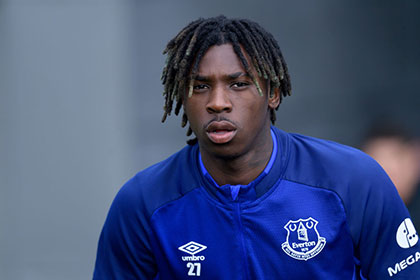 Confirmation that Everton have concluded a deal with Juventus in which Moise Kean returns to the Serie A club on a two-year loan with an obligation to buy.
The young striker still has 3 years left on his original 5-year deal with Everton but will spend the 2021-22 and 2022-23 seasons back at Juventus before the arrangement becomes permanent. Juventus will pay a loan fee of €7m (£6m) and have an obligation to buy the 21-year-old for €28m (£24m) in the summer of 2023, in a deal that includes bonuses of up to €3m (£2.5m) if certain targets are met.
"He is back home, and we are ready to welcome him back with great pleasure," Juventus said.
Kean was signed by Everton to much fanfare in the summer of 2019 for £25m but he endured a difficult start to life in the Premier League as Everton themselves struggled under then-manager, Marco Silva.
He wouldn't score his first goal for the club until February 2019 under Silva's successor, Carlo Ancelotti, but even under his compatriot, Kean wasn't able to make sufficient inroads into the first team and he was eventually loaned out to Paris Saint-Germain last season.
A successful campaign that yielded a healthy goals return and plenty of Champions League experience looked to have earned the Italian international a permanent move to Paris but PSG refused to make Everton a cash offer, preferring instead to take him on loan again.
The Blues rejected that proposal but, with Kean seemingly unhappy in England and Everton in need of funds for transfers, the decision was taken to allow the player to return to Juventus on loan after all as long as there was a purchase obligation at the end.
---
Reader Comments (38)
Note: the following content is not moderated or vetted by the site owners at the time of submission. Comments are the responsibility of the poster. Disclaimer
Ant Sorvoja
1
Posted 31/08/2021 at 08:09:35
Done deal. Moise Kean signs for Juventus.
Steve Shave
2
Posted 31/08/2021 at 08:17:55
Any details Ant? Or is it what has been widely reported already?
Paul Hewitt
3
Posted 31/08/2021 at 08:18:38
2-year loan. What a stupid deal. If they want him just buy him.
Ant Sorvoja
4
Posted 31/08/2021 at 08:19:46
Kean deal looks like yet another bad deal for us. Two year loan deal with Juventus paying us only 7m euros and then they have
an option to buy
for 28m euros. Will we ever learn?
Here is press release from Juve link
Iain Latchford
5
Posted 31/08/2021 at 08:21:33
What does an "obligation to buy" mean?
Steve Shave
6
Posted 31/08/2021 at 08:22:10
Just seen it on SPN - at least the money involved looks okay - we will make a profit, EVENTUALLY! I am glad it's over, I am pleased he has gone. £7M loan fee now (smacks of FFP jiggery pokery from Juve) 2-year loan and most importantly an obligation to buy. Total agreement will see us bring in €38M in the next 2 years. Now come on Marcel, show us what you've got fella.
Ant Sorvoja
7
Posted 31/08/2021 at 08:28:43
Oops got that wrong yes it is obligation to buy. I was reading what BBC was reporting as their statement was saying "option to buy".
Rob Halligan
8
Posted 31/08/2021 at 08:32:18
What's so stupid about the Kean deal? The way I see it, we don't pay the annual instalment to Juventus, say about £5.5M pa, so there's £11M saved, we don't pay half his wages(?).
Juventus, according to Ant, are paying us a loan fee of €7M (how much is that in GBP?), then in 2 years time, Juventus pay us, according to Ant, €28M, (again, how much is that in GBP) if they want him permanently.
Although according to the BBC, it's an obligation to buy, meaning they are obliged to buy him, not an option for them. All-in-all, seems a good deal with a small profit on him.
Ant Sorvoja
9
Posted 31/08/2021 at 08:38:24
Rob,
Yes, it is a good deal. I was reading only BBC statement first which stated option to buy instead of obligation to buy.
John Keating
10
Posted 31/08/2021 at 08:44:30
Surprised at the deal.
Looks as if we just concentrated on getting him off the books with minimal profit.
Shane Corcoran
11
Posted 31/08/2021 at 08:52:18
I'm amazed we got what we got.
Of course he could turn out to be the second coming. I think he'll be the second Ballotelli.
Most importantly, I don't have to care any more.
Get Rondon in now.
Tommy Carter
12
Posted 31/08/2021 at 08:52:44
It's just an intricate deal which likely means that Juventus don't have to pay as much up-front for transfer fee or wage, because they can't.
Probably involves us paying some of his wage for the next 2 years at which point he would enter the final year of his 5-year contract. Then he can negotiate his own contract with Juventus from that point onwards.
But, as far as he's concerned, he's still going to be getting his full wage.
Financially it must make sense; otherwise, we wouldn't do it as he has plenty of time left on his contract.
Shame it never worked out. There's obviously a very talented player there but one who does need to mature and he will probably do this more successfully playing for a bigger club, with better players in a country that he calls home.
I still think that it is commendable that we got this deal to bring him to Everton done. But again, shame it didn't work out.
Hopefully this will free up some space to bring someone in.
Andrew Ellams
13
Posted 31/08/2021 at 08:56:48
The key here is what will this allow us to do now.
Michael Lynch
14
Posted 31/08/2021 at 08:58:15
It is a shame that it never worked out. He was certainly given a fanfare of a welcome when he arrived, but he's looked very poor when he's played which, admittedly, is infrequently.
Goes down on the "failure" side of our recruitment spreadsheet, but at least we should (eventually) recoup our outlay.
We desperately need to get James off the books today and a couple of incoming at right back and centre forward or, despite the unexpected success of Gray so far, it's been a pig of a transfer window.
Pat Kelly
15
Posted 31/08/2021 at 08:59:19
The obligation to buy is "subject to the achievement of certain given sporting objectives by end 2023". No indication of what they are. If Kean doesn't perform are we still stuck with him. Looks like all the risk is on us. And the purchase fee, if it happens, is to be paid over 3 years.
Paul Birmingham
16
Posted 31/08/2021 at 09:04:48
Hopefully this transaction will be good for all parties and Everton recouping their initial outlay and a bit more on this player.
Player chemistry is key in any Team, and Moise in my opinion after his I:initial couple of starts didn't want to be here.
Let's move on and see what the hours left in this transfer window bring to Everton.
Simon Jones
17
Posted 31/08/2021 at 09:47:13
Presumably these sort of loan deals with option or obligation to buy will become more common as more clubs butt up against FFP regulations? I have no special insight, but more and more clubs have huge debts. Have a look at what @SwissRamble posts on Twitter, some of the figures are eye-watering.
Football is a million miles away from its roots.
Simon Jones
18
Posted 31/08/2021 at 09:49:10
Also, if we can't get an offer to sell him, this is probably the most pragmatic way forward to deal with a player who has clearly never enjoyed his time in the North West of England.
Paul Jones
19
Posted 31/08/2021 at 12:07:37
Maybe Everton should sign the person who negotiates transfers for Juventus. " We'll sign him if he is good as what you thought when we sold him for less than what you paid ".
Ben King
20
Posted 31/08/2021 at 14:13:39
Why would we take the risk of a conditional obligation to purchase?
So if he doesn't hit the conditions eg 15 goals per season or 25 appearances or play for the national team or whatever then we get the clown back with 1 year remaining on his contract
What????
Justin Doone
21
Posted 31/08/2021 at 14:20:35
How can we lose money on a young, improving, season of Champions League experienced player?
A 2-year loan just adds to the absolute pathetic transfer dealings we are known for. This helps Juve move than helping ourselves. I wouldn't be surprised to learn we are paying for his wages and the agreed fee is negotiable if they want to lower it.
Pathetic negotiations.
However, we now need some better attacking options, wingers, strikers and attacking midfielders.
If we can loan a few players all the better.
Ben King
22
Posted 31/08/2021 at 14:25:24
Justin #21,
Good point!
We can all remember how the Turks (Fenebache?) tried to renegotiate the terms for the Yobo loan to buy. We ended up not selling him for the agreed amount. I really wouldn't be surprised if the same happens here again.
If the deal is a good one then they should make the details transparent otherwise we're obviously going to be suspicious. Especially if no senior striker comes in as a replacement.
Martin Nicholls
23
Posted 31/08/2021 at 14:28:32
So what happens if he picks up a serious injury during the 2-year loan period? Is he dumped back on us like Tosun has repeatedly been?
Barry Rathbone
24
Posted 31/08/2021 at 14:46:01
Justin Doone 21
"How can we lose money on a young, improving, season of Champions League experienced player?"
He had a reasonable season at Juve then was binned by Italy after stinking the place out here after being a squad player at PSG. No-one wanted to part with a bean for him. "Improving?" – laughable.
Andrew Keatley
25
Posted 31/08/2021 at 14:52:42
Barry (24) - Exactly right.
Tony Gavin
26
Posted 31/08/2021 at 15:33:22
Lucky to get that deal for him, another terrible signing. Between him and Iwobi, how Brands is so highly thought of I have no idea.
Phil Smith
27
Posted 31/08/2021 at 15:59:21
If we don't sign another striker, this is madness!
Ben King
28
Posted 31/08/2021 at 16:24:21
Tony #26
Totally agree - Brands' decisions are very questionable
Even his most ardent supports would confess that he's hardly been an unmitigated success
Peter Gorman
29
Posted 31/08/2021 at 17:09:04
Don't let the door hit your arse on the way out, Moise.
Tommy Leigh
30
Posted 31/08/2021 at 17:34:21
Good riddance I say. Never looked like his heart was in it. Seemed to have quite a bad attitude and generally did not look like a decent player to me, at all. Arrivederci e buona fortuna.
Chris Gordon
31
Posted 31/08/2021 at 17:40:33
Loads of potential talent, however a galactic sized ego that far outweighs his current talent. Good ridence to a disruptive influence. Essentially the deal seems to be an agreement to buy in 2023 with the player loaned until then?
Brent Stephens
32
Posted 31/08/2021 at 18:31:01
Kean unfortunately hasn't been able to deliver at Everton. So £6m a year for the next two seasons (and his wages paid by Juve??), with a possibility of another £24m at the end of that is not bad at all, given that we paid "only" £25m for him. With him being on a five-year contract with us, and if things don't work out for him at Juve, then we only have to deal with his final year with us. Would love to know what the conditions are for this to become permanent.
Decent business today.
Chris Williams
33
Posted 31/08/2021 at 18:34:39
Brent,
Another €3M in bonuses also included in the deal, but conditional on targets.
So yes a decent deal.
Brent Stephens
34
Posted 31/08/2021 at 18:36:00
Thank you, Chris. Do you know if Juve are paying his wages (and NI contributions)?
Chris Williams
35
Posted 31/08/2021 at 18:38:57
I don't know Brent, but I'd guess they are paying his wages (and his pension contributions!)
I'd understood the transfer deal was firm, but the bonuses are conditional. But I expect we'll see it in a bit more detail tomorrow.
Perhaps
Brody Beck
36
Posted 01/09/2021 at 06:12:29
Hi all,
Juventus and Italian clubs do this for a few reasons. The first is a historical approach to amortisation and how they account for footballers as an asset on their balance sheet. A loan deal does not appear on the balance sheet as a declining asset and gives the appearance of a 'better' balance sheet. As Italian clubs are Società per azioni (often seen as S.p.A.), the equivalent to a PLC, they have an obligation to disclose their accounts and to make them look as tidy as possible.
The second is FFP. Loan deals ensure the fee is effectively spread out over a wider period.
The only important thing for most people to note here is that Everton will be receiving (£30m/€35m) by the time the deal is completed. This marks a good profit for our club as we paid €27.5m for him (his agent made €5m from this deal) and he did not reach his bonuses. We did not receive loan for his spell at PSG but they did take the entirety of his wages.
In the end, Everton paid a year of his wages and made €7.5m profit for having him on our books.
Bill Watson
37
Posted 01/09/2021 at 12:04:35
Those who are castigating Brands over Kean are probably the same ones who were applauding the club for signing what was, at the time, a player who was seen as one of the best young talents in Europe.
It didn't work out as planned and Kean, like many others before him, was unable to adapt to the pace and physicality of the Premier League. OK, so he scored around 16 goals for PSG but he was being serviced by great players in a weak league.
In the circumstances (Covid etc) I think the Kean outcome is a good deal; we paid £25m and this deal pays £6m in loan fees and a potential £24m transfer fee. Add in the loan fee from PSG and we've made a profit even after taking his wages into account.
Danny O'Neill
38
Posted 06/09/2021 at 20:16:27
We are talking about a 21-year-old who left home and his home club at 19, probably against his will. As with many footballers, treated as an asset and commodity by the club he supports and had been with since 10 years old.
Thrown into a high profile transfer at the age of 19, joining a club that then went through a period of turbulence to be polite. To flip the argument that some accuse others of favouritism to continental or international players with exotic names, if he'd be Mike O'Kean from Kirkby, we'd have had more patience with him. He's a kid and still developing. And he will do in my opinion.
Good article on the Athletic here:
Great management by Duncan. Kill time? Straight out of the Sam Allardyce school of management. I won't say this often and will go and wash my mouth out with soap immediately, but good comments from Carragher.
This lad will be a top talent. The timing wasn't right for him and Everton, but I see this as an opportunity missed. Talking of quality Italian players and Everton, I see parallels with Materazzi. World Cup winner. Just wasn't the right timing for him or us.
He's back at the Old Lady, where he feels he belongs. But he's technically still an Everton player. Still time and opportunity for him to come back to the Grand Old Lady?
---
Add Your Comments
In order to post a comment, you need to be logged in as a registered user of the site.
Or Sign up as a ToffeeWeb Member — it's free, takes just a few minutes and will allow you to post your comments on articles and Talking Points submissions across the site.