Mina wraps up international break in Colombia
Thursday, 14 October, 2021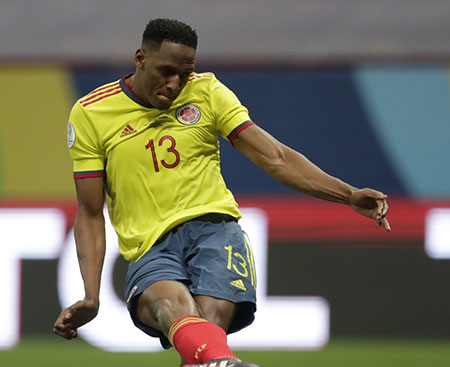 Yerry Mina will return to Merseyside late this week as Colombia play their third and final World Cup qualifier of the current international break.
The Everton defender was involved in his country's two goalless draws against Uruguay on Thursday and Brazil on Sunday and is set to be in the Cafeteros' home match with Ecuador this afternoon.
He will then fly back to Merseyside but it's possible he won't be back in training at Finch Farm until Saturday morning, with the Blues' clash with West Ham coming 24 hours later.
Jordan Pickford was in action for England as they were held to a draw in UEFA qualifying by Hungary on Tuesday after he sat out the Three Lions' win in Andorra.
Article continues below video content
Lucas Digne was forced to pull out of France's qualifiers with a hamstring issue and he is being assessed by the club's medical staff to see if he has a chance of facing the Hammers.
Manager Rafael Benitez will provide an update on his other three injured players from before the break, with fans hoping that all three of Seamus Coleman, Dominic Calvert-Lewin and Richarlison will be available for Sunday.
All three have been building their fitness in individual sessions at Finch Farm, with the Brazilian posting a clip to Twitter showing him doing ball and mobility work.
---
Reader Comments (68)
Note: the following content is not moderated or vetted by the site owners at the time of submission. Comments are the responsibility of the poster. Disclaimer
David Pearl
1
Posted 14/10/2021 at 09:03:11
Ridiculous. Not even sure he will be back in the country on Ssturday early enough to train, never mind getting some sleep. I can't see him playing. He's on top of his game at the minute but l'd be resting him.
Eddie Dunn
2
Posted 14/10/2021 at 09:57:41
Have to hope that Seamus is fit as Digne will surely miss out, therefore giving the manager the option of Godfrey at left-back and Holgate returning in the centre.
Mina will have had 3 games in a short space of time and two long flights. A recipe for injury.
Brian Harrison
3
Posted 14/10/2021 at 10:08:20
So, if he plays on Sunday against West Ham, that will be 4 games in 8 days, seems a big ask to think he will be asked to go again on Sunday. There is another international break in November, then in January it's the AFCON tournament.
To think Wenger wants the World Cup every 2 years – that would mean non-stop qualification games, then the tournament itself, yet Wenger has said he overplayed Jack Wilshire – you couldn't make this nonsense up.
Then next November, because FIFA decided to award the World Cup to Qatar, there will be at least a month to 6 weeks break in the middle of the season. Again bribery and corruption seems to get you everywhere these days. I mean who in their right mind would award the World Cup to a country that has never even qualified for the event?
As for spreading the game, does anybody really believe there will be an upsurge in youngsters playing football in Qatar? They should be looking to build leagues in their own country to help encourage youngsters. Instead, the Arab world seems more intent on buying Premier League teams than promoting football in their own countries.
Robert Tressell
4
Posted 14/10/2021 at 10:15:51
Might end up with a back four of centre_halves: Holgate, Keane, Branthwaite and Godfrey.
Probably better than reshaping the side to a 5-3-2 / 3-5-2 variant. I like Gray and Townsend to be as high up the pitch as possible.
Any news on Calvert-Lewin or Richarlison?
Dennis Stevens
5
Posted 14/10/2021 at 10:19:25
Will we face the 'ammers with a back 4 of Godfrey, Keane, Branthwaite & Holgate? Should be interesting!
As for these International breaks, they do rather get on my tits! If we have to have international football, which I'd happily live without, then let's have the qualifiers consolidated into about a month at the end of the season, same as the tournaments. So, every summer there'd either be qualifying or the tournament finals.
The season could then actually be a bit shorter as all the international breaks would be removed.
Niall McIlhone
6
Posted 14/10/2021 at 11:10:37
Shame if Yerry won't make the West Ham game: The prospect of seeing him match up with Antonio was something I was looking forward to.
Tough game this... but, should Coleman, Richalison and Calvert-Lewin all be fit to play, I think we should edge it.
I also agree with Brian's point (#3) about Qatar, it speaks volumes about the warped priorities of FIFA. The priority should be to promote the game in parts of the world where football is important to the people, such as sub-Saharan Africa, South East Asia etc. The Qatar World Cup will be an absolute farce and won't grow the game in any way.
Martin Reppion
7
Posted 14/10/2021 at 11:21:18
Allowing players to leave for 3 games in a week is ridiculous. Who pays their wages?
I have long been in favour of a 2-way international restriction. It won't happen now because of the money situation.
My view was that clubs should be allowed to play no more than 5 players not eligible for their home league's national side. In addition national sides could not play more than 5 players based outside their own league. This would have encouraged genuine development of football in countries worldwide as, to hold on to their best talent, the local leagues would need to step up.
It would have been possible in the '70s and '80s. But with so much money now condensed into 4 or 5 leagues in Europe, it could not happen.
Incidentally, I am aware that, in the UK in the '70s and '80s, many of our best sides were full of Scots, Welsh and Irish (North and South) players. I would have included these as foreigners to encourage more competitive leagues around the UK. And also to encourage clubs to spend their resources developing English young talent.
I never understood why the English game had to support the Scottish (etc) national side.
Tony Everan
8
Posted 14/10/2021 at 11:33:57
Coleman, Richarlison and Calvert-Lewin were training individually 2 weeks ago so there's a big chance that they will be ready to member right Yerry had a really good game against Antonio in our latest game against West Ham. He seemed to have the measure of him. Against a makeshift central defence play. There's been no news of set-backs.
It will be a blow if Mina doesn't play because, if I recall, Antonio will cause big problems.
Danny O'Neill
9
Posted 14/10/2021 at 11:37:16
I'd go a step further, Dennis, and have feeder / qualifying rounds. I mean, what is the point of England playing Andorra unless Andorra has qualified to get to a certain level? A bit like the FA Cup model. It starts way before the top flight are introduced in January. I know that sounds a bit elitist, but it seems to make sense in my opinion.
I appreciate this might be forced, but I'm not a big fan of playing 4 centre-backs. It's all a bit Tony Pulis / Stoke-like, Robert.
I suppose he done it through choice whereas ours will be out of necessity. It can work, especially when you are using young players such as Holgate, Godfrey and Branthwaite who are still learning and more flexible in their positions. Lescott done a decent job for us there for a while.
Charles Brewer
10
Posted 14/10/2021 at 11:39:33
Tony, that's very good news. It means the team will finally have recovered from the refereeing in the Burnley game.
Robert Tressell
11
Posted 14/10/2021 at 11:47:21
Danny, absolutely, Andorra, Luxembourg, Faroes, San Marino, Scotland etc should play qualifying games against each other to earn the right to play proper teams. It might help them learn and develop as footballing nations too, rather than just experience defeat after defeat.
The 4 centre-half routine is okay as a pragmatic stop-gap. And it's a great opportunity for Branthwaite to have a duel with Antonio and maybe force himself into contention.
ps: Just a joke about Scotland.
Tony Cunningham
12
Posted 14/10/2021 at 11:47:58
Dennis Stevens
13
Posted 14/10/2021 at 11:54:32
Danny, I was going to say it's all a bit Walter Smith, but then remembered we're only talking about possibly playing 4 centre-backs!
A good idea about the qualifying rounds for "lesser" nations.
Pat Kelly
14
Posted 14/10/2021 at 11:58:37
Digne could well be out for a number of weeks. To be caught short across a number of positions this early in the season shows how ill-prepared we are. The squad is paper-thin. Rafa will have to trawl his database for a few more free "gems" in January. Otherwise it's going to be a very long season.
I don't buy this rumour that Fenerbahçe have been scouting Gbamin and might come in for him in January. I mean where were they watching him? In the treatment room? Another £25M wasted.
Jay Wood
[BRZ]
15
Posted 14/10/2021 at 12:29:57
I think it's a forlorn hope to expect Mina to be available v Der 'ammers.
You have to add 4 hours to the South American KO times tonight which means some games will be kicking off at 1:30 am or 2 am Friday morning, UK time.
A couple of hours to get the game done, some hours R&R, 8-12 hours flying time depending on departure location, most players would be lucky to be back in the UK even late Friday night.
The question on quarantining for 10 days on arrival back in the UK is an ever-fluid one. Just this week, the UK removed Brazil from the Covid Red List restricted countries, for example.
As for how Mina is playing, he did a good number on Neymar in Sunday's 0-0 draw in Colombia v Brazil. Got under his skin all game, as he did with Bamford at Leeds. At one point, you even had the Brazilian coach Tite enter the playing field to step between them in the ongoing tête-à-tête.
Quite amusing.
Robert Tressell
16
Posted 14/10/2021 at 12:38:24
Pat, on the subject of January gems, quite an unusual number of quality players are out of contract in Summer 2022. Not just older / injury-prone players but a number of young or in-their-prime mainstays.
These include many we're often linked with, like Corona, Kamara, Zakaria, Romagnoli, Cantwell, Lingard and Boga. Some may move for nominal fees in January. I think it might be the impact of Covid-19 coming home to roost.
Martin Reppion
17
Posted 14/10/2021 at 12:46:26
Robert, are any of these full-backs?
I still think midfield is only a priority if we find a real gem or bargain, such as Lingard maybe.
What I saw of Gbamin preseason was promising if he ever gets some game time, and we still have Gomes and Davies as cover. Anthony Gordon too seems to have trained on this year.
We are light up front. It may be time to use the U23s when Calvert-Lewin and Richarlison aren't available. How else will we know if we need to splash the cash should we be allowed to?
Danny O'Neill
18
Posted 14/10/2021 at 12:53:12
Right-back and centre-back, Martin. Koulibaly, but I fear he's Newcastle-bound unless our manager can use his Napoli links and we've shed the FFP shackles by January. Maybe offload Keane to compensate?
Robert Tressell
19
Posted 14/10/2021 at 13:19:12
Martin, in short, no! But the Ajax right-back, Mazraoui (who I should have mentioned) is out of contract. He's 23, versatile and experienced and would probably be a good signing. Clubs like Bayern have previously been interested.
The trouble is, Newcastle are going to be looking in this market I expect, to quickly strengthen their crap squad without straying beyond FFP etc.
I think we'll get Maitland-Niles in January (or maybe Patterson) because the departure of Rodriguez gives us some freedom to spend. Possibly Van de Beek on loan (but again Newcastle are linked).
Those were the two who wanted to come in summer and remain pissed off at being retained but stuck on the bench.
Doubt there'll be much more activity than that.
Michael Williams
20
Posted 14/10/2021 at 14:45:11
Robert #11 - I see what you did there.
Martin Reppion
21
Posted 14/10/2021 at 15:46:05
Not sure about the lad Patterson.
Is he the same one I saw being roasted in the Scotland game last week?
As I'm sure Robert #11 would agree, if you can't look good in that team then you really can't be all that good.
Mike Gaynes
22
Posted 14/10/2021 at 16:32:10
Martin, how could anybody look good in that team?
Tony Everan
23
Posted 14/10/2021 at 16:45:40
Martin, re Gbamin, I thought he looked impressive preseason too, insofar as the way he covered ground, like a cross between Paul Pogba and Grace Jones. I was really looking forward to seeing if he could get a run of games and bed into the team. For the fee we paid he must have the ability.
Robert, I think you are right about January. Maitland-Niles is a strong possibility for right-back, Lingard too may give us more attacking options. Also, Longstaff may come in. All coming to the end of their contracts, so we could get players in very shrewdly again and still keep our powder dry for summer.
Mike Gaynes
24
Posted 14/10/2021 at 17:06:30
Off-topic, David Brooks (whom I always liked anyway) is now officially my favorite non-Everton player.
24 years old and in his absolute prime. What a horror. All the best to the young man.
Danny O'Neill
25
Posted 14/10/2021 at 17:51:36
God speed to the young man Mike.
@Derek Knox; how is the collection coming along? Have we hit the £1k mark and if not how much do you need?
Tony Abrahams
26
Posted 14/10/2021 at 18:48:35
I second that, Mike G, that's awful news that, I just hope they have caught this horrible illness in time. 🙏
Kieran Kinsella
27
Posted 14/10/2021 at 19:04:59
Mike Gaynes
Yeah, he was great a couple of seasons ago, then his form dipped, I don't know if it was as this awful illness took hold but that's just terrible news to hear about anyone but shocking for such a young, fit and healthy guy. I wish him all the best. He seems to be handling it very stoically -- publicly at least. John Hartson was a little older when he fought through it, so hopefully his countryman can do the same. I am sure everyone will be rooting for the guy and so they should.
Brian Williams
28
Posted 14/10/2021 at 19:06:07
Brooks himself has said that his prognosis is really good with a total recovery very likely.
Let's hope that's the case and he's back playing footie very soon.

Soren Moyer
29
Posted 14/10/2021 at 19:55:37
Danny @ 9.
Are you joking mate!? If bigger nations don't play the likes of Andora, Lichtenstein, Gibraltar, etc how on earth is everyone's darling Ronaldo going to break all sorts of records lol!?
Kieran Kinsella
30
Posted 14/10/2021 at 20:27:40
Danny & Robert,
I was reading that the Falkland Islands were blocked from having a national team because Argentina blocked them from Comnebol which in turn made them ineligible for FIFA. More surprising is that the Isle of Man don't have a team. Much bigger population than San Marino, Andorra, Gibraltar or The Faroes. And they won in 2000 a British Isles tournament with their entirely amateur side up against semi-pros from Wales, Scotland and Ireland.
Paul Kernot
31
Posted 14/10/2021 at 22:46:13
Living in New Zealand, I can see both sides of the debate re earning the right to play the big teams. The flip side of course is, how can they be expected to learn & improve if they never get to play good teams?
I've only watched rugby since I've been here. The Argentinian Pumas have improved massively in a few short years since joining our equivalent of the Four Nations – originally All Blacks, Wallabies & South Africa competed.
Derek Cowell
32
Posted 15/10/2021 at 01:23:46
Kieran at 30, the Isle of Man now have a semi-pro team playing their first season in the North-West Counties League 1 South. A very low standard, not sure what tier that is but well below even San Marino and Andorra.
Derek Cowell
33
Posted 15/10/2021 at 01:35:39
Looked it up and the Isle of Man are in level 10 out of 11 league levels in England and no way suitable for international football. I wonder what level the likes of Gibraltar and the Faroes would play at?
I agree with others who say the minnows should have earlier qualifying rounds to all these international tournaments. They may even then be able to include the likes of the Isle of Man. Only the eventual winners should then play the bigger nations.
There are very few big upsets in international football, unlike the FA Cup etc.
David Ellis
34
Posted 15/10/2021 at 03:13:00
Martin @7,
You stated: "My view was that clubs should be allowed to play no more than 5 players not eligible for their home league's national side. In addition, national sides could not play more than 5 players based outside their own league. This would have encouraged genuine development of football in countries worldwide as, to hold on to their best talent, the local leagues would need to step up."
I don't think this would have the desired effect. Local leagues cannot "step up" magically. They won't have the money to hold on to their top players. So the good players would simply not play internationally, or try and qualify for their country of residence. In Rugby this is exactly what happens, lots of top players simply giving up international careers when countries chose to pick local league players only – and it wasn't very successful and countries like Wales and Australia have had to back off these rules.
Also, the incentive for the local leagues to "step up" generally would actually be reduced as their sheltering from international competition would mean they didn't have to work so hard to keep their players. This may mean more local players will stay local, but there would be less economic incentive to improve playing conditions or pay.
You could also argue that restricting players from playing abroad will restrict their personal development and therefore weaken their international team. It would also reduce the transfer of knowledge and experience from the more developed leagues to the smaller nations. It would have the opposite of the intended effect.
As you say, it wouldn't work now. The only reason it could have "worked" in the '70s was because these rules would not have had any effect as this was how the world worked anyway back then.
Nation states are a purely artificial construct. I think we pay far too much attention to them or which people they "own"...
People are people. Just saying.
Kieran Kinsella
35
Posted 15/10/2021 at 04:26:22
Derek,
I'm not really advocating for the Isle of Man, I was more making a point about Andorra etc. Paul has a good point on Argentina in rugby, but conversely you could highlight Italy's failure to improve in the Northern hemisphere.
Personally I think the real issue is that we have a handful of no-hoper teams but not enough to have a sub standard playoff so they try to fill it out with other "crap" teams but this is where it gets complicated. Iceland population 300,000 have proven to be better than say Belarus population 10 million.
Cyprus are generally crap, occasionally finish above Greece who seem to be either decent or the worst. So what's the cut-off point for no hopers? Population? Recent form? On the latter, the tiny Faroes often out-perform legitimate nation states, eg, Kazakhstan, Azerbaijan.
It's a tricky thing. And, as I say, in 2016, Iceland would have been "no hopers" but they pipped the mighty Netherlands and then beat England. So meritocracy? Or super league type "usually good get a free pass?" It's a tough one. Worse still is the issue, Armenia, Moldova etc are legitimate independent nations whereas Scotland? Wales? Not so much.
Danny O'Neill
36
Posted 15/10/2021 at 06:56:58
Kieran, you gave me a random thought but I wonder if (for saying's sake), a player from the Falklands could opt to represent one of the UK home nations? Much in the same way as Le Saux & Le Tissier did? I haven't done my political research and realise that's a lot closer to home, but talk of the Isle of Man and such made me think. I said it was random.
David Ellis, probably not directly linked to your point, but you made me think of eligibility. Remember Jack Charlton's (RIP Sir), Ireland team that was broadly composed of players from various parts of England and London?!!
Andrew Ellams
37
Posted 15/10/2021 at 07:32:10
Teams representing Isle of Man and Jersey have now both entered the lower levels of the English football pyramid but Jersey did make a failed application to join UEFA as a national team first.
Robert Tressell
38
Posted 15/10/2021 at 08:42:22
Kieran @ 35. I think you'd just do the cut-off based on results over, say, the last 5 years – or FIFA ranking (which must use a similar measure). A bit like the seeding system already in place in tournaments to even out the groups.
The more difficult thing is where you draw the line. As you say, lesser nations' fortunes ebb and flow. But real minnows like San Marino and Andorra have been consistently terrible and will remain so because of catchment area for the national side. At a guess, Gibraltar, Liechtenstein, Faroes and maybe Malta or Luxembourg would make up the numbers.
So it makes sense just to let about 5 or so of these have a mini tournament to find the best crap team in Europe. All the others (Cyprus, Montenegro, Moldova, Azerbaijan etc) tend to be worthwhile opposition with at least one notable player, capable of pulling off the odd shock win (especially at home).
Tony Abrahams
39
Posted 15/10/2021 at 09:26:37
Anyone seen Mina's disallowed last-second goal? You would have to have magnifying glasses to spot the handball IMO. This is why I think that VAR can sometimes get as much wrong as it gets right in certain situations.
John Reynolds
40
Posted 15/10/2021 at 09:58:52
Shure and begorrah, Danny Boy (36) – with a name like O'Neill it's surprising Jack didn't call you up to the squad.
It's also worth pondering how the likes of Jack Grealish and even more so Declan Rice, who grew up in the Irish community, played Gaelic football, and represented Ireland at various underage levels, had their heads turned by agents, clubs and commercial pressures to identify as English.
There are two sides to that coin. A couple of Jack's squad might have had tenuous enough links initially but, if you interrogated the likes of Jason McAteer or Andy Townsend on their Irishness now, you'd get a pretty definite answer.
Shane Corcoran
41
Posted 15/10/2021 at 10:27:20
John, I actually have less of an issue with Grealish than Rice. Rice played a senior international for us and now he sings god Save The queen.
The 15-a-side game toughened Jack up. But he said he went to underage camps for both nations and happened to enjoy the Irish one more. I've no issue with a young lad realising in his teens he feels English rather than Irish.
John Reynolds
42
Posted 15/10/2021 at 10:34:41
Indeed Shane, it's complex, I moved back to the aul sod at 8 so straight-forward for me, but have lots of London cousins. Half of them support Ireland, the others cheer for England.
Danny O'Neill
43
Posted 15/10/2021 at 10:46:55
John, Shane,
I'm a total British Isles mongrel!! English (Liverpool) by birth, but I technically would have qualified for Northern Ireland and Scotland had I been good enough!
Another random one, and I don't know if I've mentioned this on here before, but small claim to fame. My Belfast born grandfather on my mother's side and David Moyes's grandfather were brothers. His grandfather left Northern Ireland for Scotland, mine opted for Liverpool and the Upper Bullens.
I just stick to being British and Everton. It's easier for me!
Jay Wood
[BRZ]
44
Posted 15/10/2021 at 12:03:06
One Everton player who will not be happy with this international break will be Richarlison. In his absence Leeds's Raphinha has really shone and has pushed himself forward as someone to claim Richarlison's starting berth.
Raphinha came on for his debut last week at half-time away to bottom team Venezuela with unbeaten leaders Brazil struggling and losing 1-0. He had a hand in all 3 goals as Brazil rallied to win 3-1.
In the 0-0 draw away to Colombia on Sunday, again he entered the fray at half-time and was the standout player, almost scoring and creating great opportunities.
Last night v Uruguay on home territory in Manaus, Raphinha started and again dazzled, scoring twice in a 4-1 rout. It could have been a lot more.
Little known in Brazil, Raphinha had everyone gushing about his performances.
Astonishingly, last night was his first ever professional game of football on Brazilian soil.
It was the first time in over two years (since the Copa America final in July 2019) that Brazil performed at home in front of match-attending spectators.
And Uruguay – a regional super power alongside Brazil and Argentina – have not beaten Brazil in 20 years. They look a tired and old team right now and are struggling to qualify for Qatar.
Pete Clarke
45
Posted 15/10/2021 at 12:06:30
One of our past heroes was Welsh. I give you Pat van den Hauwe... Not!
Born in Dendermonde, Belgium. Grew up in London, England and played for Wales. Could have played for any of the home nations actually. Bit of a joke really but it gives some players an opportunity to play international football.
The world we are seeing now with mixed parentage could see families with brothers and sisters playing against each other. I actually think this happened recently in the Euros.

Ian Horan
46
Posted 15/10/2021 at 12:11:51
Peter @45, I think the Boateng Brothers (pardon the spelling) – one played for Germany and the other for one of the African Countries.
Steve Shave
47
Posted 15/10/2021 at 12:22:45
Thanks for the info Jay, that's really interesting. I had wanted us to go for Raphinha when he was at Rennes, it would have been brilliant to have him and Richarlison on either side of Calvert-Lewin.
I can't see Richarlison signing a new contract with us so I find myself wanting a big-money move for him in January or in the summer. The way it is these days, more and more players are looking to get their free / big money move elsewhere.
Richarlison moving on seems like good timing for him and the club; we'd miss him but think what we could do with the money (no not piss it up the wall!!!) – by that, I mean for Benitez and Brands to get the right people in.
I don't want to appear ungrateful for all Richarlison has done, he has been a good servant to the club and gives his all; somehow, the timing just seems right and he has never been shy about wanting the big move one day. Perhaps PSG will go for Raphina instead, Liverpool said to be sniffing around him as well.
Dave Abrahams
48
Posted 15/10/2021 at 12:39:35
Steve (47), it's true that Richarlison has never been shy in making it known that he, one day, hopes to move to a big club. I think it is the big clubs who have been shy in making it known, not including rumours, that they are interested in signing Richarlison!!
I hope he realises how much Everton have done him favours in letting him play for Brazil in the past, and still paying for it if he doesn't play on Sunday.
I think if we did a straight swap with Leeds for Raphinha, we'd be getting the best part of the deal.
Nicholas Ryan
49
Posted 15/10/2021 at 13:44:07
A couple of things:
I stumbled on the live TV showing of the Columbia v Ecuador game. Yerry Mina had a goal disallowed [in the 110th minute!!] for handball. Disgraceful, he must be the only human being who has a hand attached to the back of his knee!
On the subject of families and countries; The Van der Merwe brothers in Rugby Union [one South Africa, one Scotland] and the Yashvilli brothers; one for Georgia, one for France.
On the 'birther' controversy in America [that Obama wasn't born in the USA]. He was, but his opponent John McCain was not. He was born in Panama [albeit on a US Navy base].
As for the Isle of Man; they have just beaten Cyprus and Estonia at cricket and are hoping to enter the World Cup. Would GB lose Mark Cavendish and his wonderful semi-Scouse accent?
Finally and bizarrely, as Nicholas Joseph Patrick Dominic Ryan, I would NOT qualify to play for Ireland, but I WOULD qualify for Finland, through my paternal grandmother!
Danny O'Neill
50
Posted 15/10/2021 at 13:46:01
Pete @45 & Ian @46. It's the nature of the transient and migration world we live in. Another example is Podolski. Eligible for both Poland and Germany. He actually wanted to play for Poland but apparently the coach at the time rejected him, so he opted for Germany, where he grew up, over the country of his birth and parenthood. Talk about fate. Although maybe not a prominent member of the squad in 2014, he has a World Cup winners medal to his list of honours.
On Richarlison, I'd give the lad credit for keeping his head down and giving everything for club and country. He just seems to love being on a football pitch even if his facial expression doesn't always convey that. I don't expect him to remain at Everton for the long-term but the regret will be we didn't invest wisely enough to have him surrounded by better players. In the right team is would be and is going to be some player.
Kieran Kinsella
51
Posted 15/10/2021 at 14:10:06
Danny
Podolskis partner Klose was also Polish born but it gets more complicated as he was ethnically German going back to when there was no Poland just Prussia with a mix of Poles and Germans so he never saw himself as Polish though they tried to pick him
Shane Corcoran
52
Posted 15/10/2021 at 14:37:11
Nicholas, there's currently an O'Shaughnessy playing for Finland so Ryan would've looked relatively normal on one of their jerseys.
John McFarlane Snr
53
Posted 15/10/2021 at 14:38:34
Hi Danny 50,
The earliest case I can recall of a player inheriting(?) an international cap was full-back John Hewie of Charlton Athletic. He was born in Pretoria, South Africa, to Scottish parents in 1927, and featured in the 1958 World Cup in Sweden, while I was featuring in Cyprus serving Queen and country.
I'm not saying that he was the first player to play for the country of his parents, but that he was the first person I can recall. Perhaps a little research would prove otherwise.
Danny O'Neill
54
Posted 15/10/2021 at 14:38:56
It fascinates me Kieran. Large parts of what is now Poland were German / Prussian. It's like where I go skiing every year in northern Italy. The region is called Alto Adige in Italian, but it is actually the Sudtirol (South Tyrol). It was part of Austria until 1918 and you wouldn't think you were in Italy for one minute other than the road signs. In some of the villages and towns, it's 95% German speaking and totally Austrian in culture.
A bit like Flanders in Belgium. They're pretty much Dutch whilst the Walloons are French. Never really seen the point in Belgium myself.
I digress.
Nicholas, my youngest sister was born in a Belgium military hospital in central Germany, but was British from birth. As John Senior alludes to, it's not where you're born, it's where you belong and where you view home to be.
For me, I have no international football affiliation as there is no UK team. My background and serving under the Union Flag mean that I am British rather than English. Even if Nicola is going to try and take that away from me and as much as my godfather (rest his soul) and his Dublin born father would tell me off for that!!!
Pete Clarke
55
Posted 15/10/2021 at 15:05:16
I think it's amazing how multicultural society has become and especially kids speaking different languages.
I was camping a few years ago in the south-west of West Australia. My kids don't speak Portuguese but they use simple words like bom dia (good morning) etc so I was happy they were trying. However, in the caravan next to us there were two little typical blonde blue-eyed Australian kids and they were chatting away in Mandarin. Turns out their mum and dad were both working in China where they met and the kids were born there.
Glad I got talking to the dad because he was a fellow blue (because of Tim Cahill).
Talking of Tim Cahill, what an amazing family he has with lots of family members involved with different sports in various countries. He even played for Western Samoa as a youngster.

John McFarlane Snr
56
Posted 15/10/2021 at 15:22:58
Hi again Danny [54] I must make it clear that I was aware of Gordon Hodgson of Liverpool, who was born in Johannesburg and played twice for South Africa, and three times for England, but that was before my time. He was Liverpool's leading goalscorer in a season, until Roger Hunt broke his record in the 60s, doubtless there will be others born outside of the UK, who have played for the country of their parents.
Danny O'Neill
57
Posted 15/10/2021 at 15:47:27
The south west of West Australia Pete. One of the favourite places I've visited was Fremantle when I was over in Swanbourne with work.
John Senior, most important, are you out and about on Sunday for the West Ham game?
Pete Clarke
58
Posted 15/10/2021 at 16:04:53
Take it you were on the Barracks then, Danny?
Margaret River area is where we go generally. Michael Palin actually said in one of his travel books that it is one of the nicest places on the planet and I couldn't agree more. A bit wet down there last week so we headed north instead to Kalbarri which is another lovely area.
Back on the football. I have just watched the highlights of Colombia v Ecuador and have to say how bad the discipline of both teams was. The ref could easily have sent half of both teams off. South American football is notorious for this I think.
John McFarlane Snr
59
Posted 15/10/2021 at 16:58:52
Hi Danny [54] because the thread was about players who had been selected for more than one country, and those who had been selected by descent, I inadvertently mixed them up. I have no idea where the parents of Gordon Hodgson were born, apologies for getting my wires crossed, I guess it's an age thing.
Danny O'Neill
60
Posted 15/10/2021 at 20:50:50
Hi John,
That's made me think. Without looking has any player represented different countries at senior level?
I don't think it's ever been allowed. I suppose you might get a former East or West German who represented a unified Germany, which technically would mean 2 different countries??
Kieran Kinsella
61
Posted 15/10/2021 at 21:51:33
Danny
I'm pretty sure there was a Yugoslavian international in the 80s who got some kind of dispensation and played for France. When I was in high school studying French I used to read L'Equipe so I knew a lot about the French league back then. I can't remember the guy's name. I thought maybe Safet Susic but I just checked and it wasn't.
To your point on East/West Germany, we also had other Yugoslavs and Czhechoslovakians, and Soviets playing for two countries post Berlin Wall. Not sure in about football but I know in cricket/rugby lots of South Africans played for other countries before or after the embargo. That's my response with out looking. Now, I decided to look and apparently Di Stefano is among those who played for multiple countries.
Danny O'Neill
62
Posted 15/10/2021 at 21:54:00
Good point Kieran. Wasn't Kanchelskis a Ukranian who played for the Soviet Union but then played for Russia after it broke up?
Chris Williams
63
Posted 15/10/2021 at 21:58:59
Danny
Alfredo Di Stefano played for a couple of national teams from memory. Argentina and Spain.
Kieran Kinsella
64
Posted 15/10/2021 at 22:01:00
Danny
You're right. In fact he also played for the Commonwealth of Independent States, the sort of hybrid team that played for a bit post-USSR pre-fully independent countries. So he has caps from three "nations" none of which are called Ukraine -- his actual country, lol!
John McFarlane Snr
65
Posted 15/10/2021 at 22:08:58
Hi Danny [60] there is a list of players who have represented more than one country, most notably Alfredo Di Stefano, who played for Argentina, Spain, and Colombia, who were not recognised by FIFA at the time. Ferenc Puskas who played for Hungary and Spain, Michel Platini who played for France and Italy. If you mean nearer to home, quite a few played for Northern Ireland and the Republic of Ireland [formerly Eire], but that may be splitting hairs. Peter Farrell and Tommy Eglington of Everton were among them.
Danny O'Neill
66
Posted 15/10/2021 at 22:12:47
Never knew that about Platini, John. Wow. But now you mention it, the surname makes sense.
Kieran, not that he played for Bosnia as far as I know, but isn't Jelavic technically Bosnian (border / politically), but represented Croatia?
Kieran Kinsella
67
Posted 15/10/2021 at 22:42:15
Danny,
Yeah he was. Also Darko Pancev and Hristo Stoochkov are Macedonian. That would have been some firepower if North Macedonia had a team in the 90s.
John Reynolds
68
Posted 16/10/2021 at 01:12:47
Double codes, Tony. Grealish played Gaelic football for London in Wembley Stadium. Some years later, he played 50-odd internationals for and indeed captained Ireland, as well as captaining Brighton in the 1983 FA Cup Final against Man Utd (and Smith must score!)
---
Add Your Comments
In order to post a comment, you need to be logged in as a registered user of the site.
Or Sign up as a ToffeeWeb Member — it's free, takes just a few minutes and will allow you to post your comments on articles and Talking Points submissions across the site.